There are different types of boots for women to wear with jeans, and ankle boots are my favorite! But how to wear ankle boots with jeans, you ask?
If you have ankle boots that you love but don't know how to wear them or are unsure about what jeans to wear with ankle boots, this post is for you!
In shoe-tease.com's ultimate guide to styling with these two clothing items, I'll show you how to wear different types of ankle boots with all kinds of jeans.
I'll also provide styling tips and outfit ideas. Including – but not limited to – how to style different length jeans with ankle boots, when and how to cuff them, and which socks are best.
Read on to learn how to style your favorite ankle boots with jeans for any occasion!
How to Wear Ankle Boots with Jeans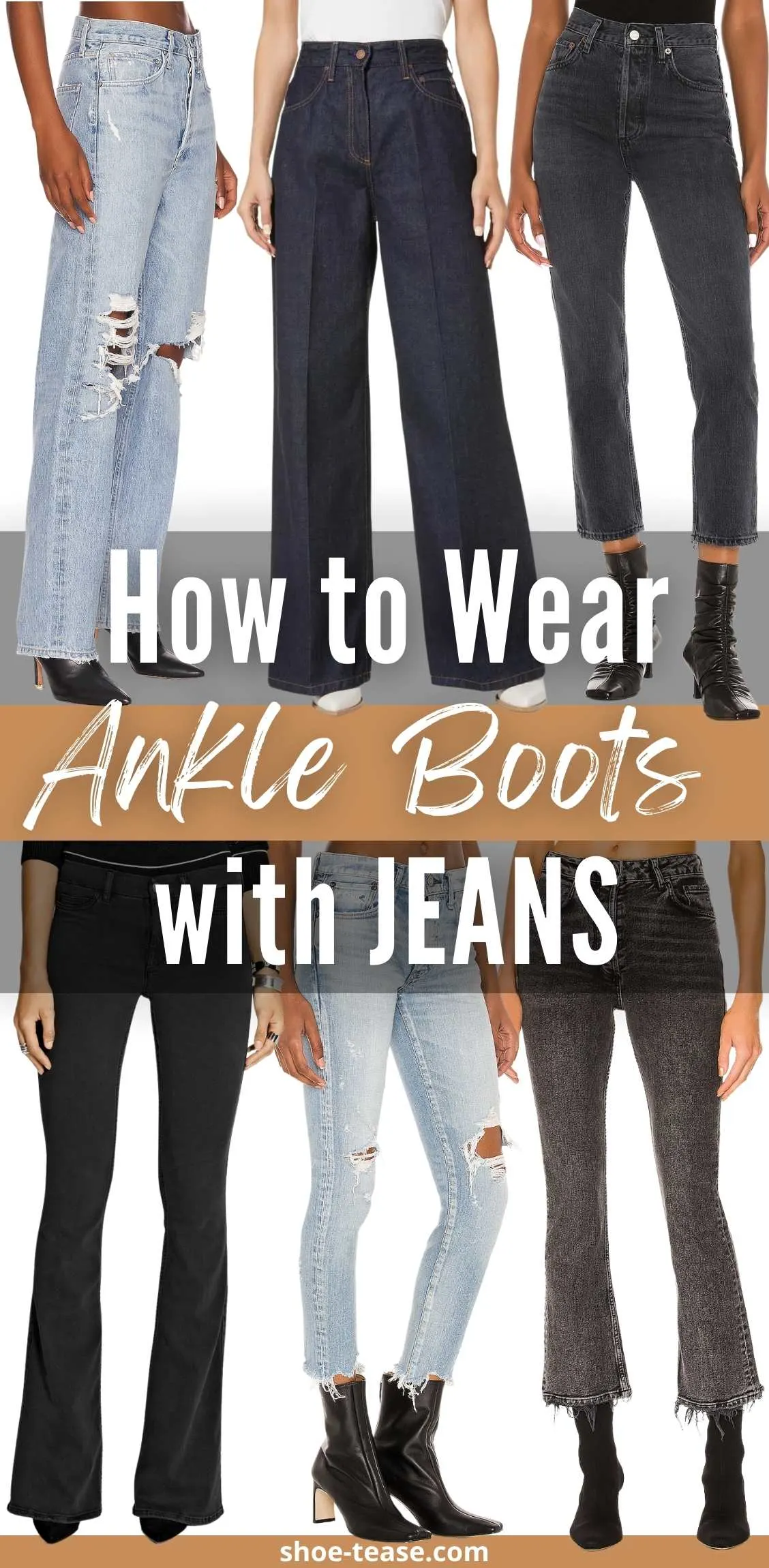 Wearing ankle boots with jeans can be tricky. That's because there are so many ankle boots styles. Not to mention the various heel shapes, and heights, making it confusing.
Just to complicate matters more, how you wear each boot style will depend on the style of jean, the length and width.
Of course, specific ankle boots can elevate some looks more than others. So start out with going over some basic ankle boot shapes!
Ankle Boot Shapes for Jeans
Before delving into the specific jeans to wear with ankle boots, I can't not talk about the ankle boots themselves.
Although there is a slew of ankle boot types, with various visual details, it's the boot shape, boot height and heel specs that make a difference when wearing them with jeans and pants.
Below are the 5 main shapes of classic ankle boots that work well with most jeans. These will be the ones I'll be referencing most in this post.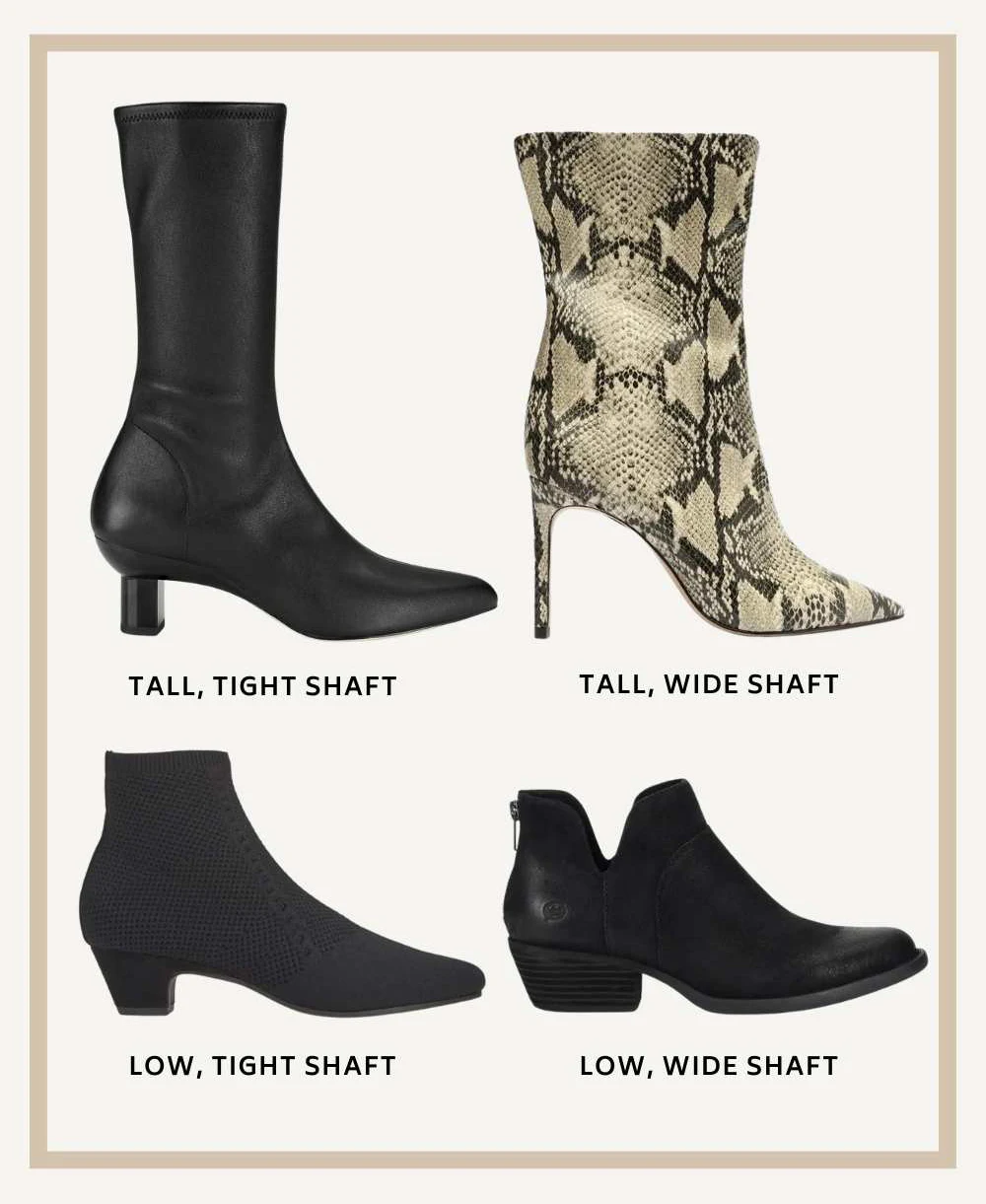 Tall Ankle Boots:
A "tall" ankle boot is a high shaft boot reaching above the ankle on your lower leg. These can be tighter on the foot and calf or looser.
They can have any type of heel and come in different heel heights. You can wear shorter or long jeans over them.
Low Ankle Boots:
Low ankle boots have a low boot shaft. That means the top of the boot falls at or below the ankle. These tend to have a lower block heel, hence making them more casual.
However, others can be made with ankle cut-outs or elasticized sides and with western-style heels. These boots look great with cropped jeans, but are also suitable for longer styles.
Medium Height Ankle Boots:
These ankle boots are classic ankle height. They are versatile booties that can come with various shaft widths and heel types. This is the easiest ankle boot style to wear as they are shoes that go with everything.
Wide Ankle Boots:
These ankle boots are roomy at the ankles, aka have a wider shaft. These tend to be more casual, with many having a western and/or laid-back feel to them.
Wide ankle boots are great for tucking in skinny and straight leg jeans, or wearing them with cropped jeans that show off some ankle.
Tight Ankle Boots:
These are snug at the ankles, and are either ankle height or taller. A great example of this kind of bootie is a sock boot, which has a stretchy sock-like shaft.
Tight ankle boots with a stiletto heel are the easiest ankle boots to dress up, especially black or metallic pairs.
If you want to learn about all types of ankle boots, keep an eye out for my upcoming post about the different types of ankle boots. Until then, read my post all about the different types of boots for women.
Below I will go over 5 main types of popular jean shapes for women and recommend the best ankle boots with all jean lengths:
Styling Ankle Boots with Different Jean Styles
1. Ankle Boots with Straight Leg Jeans
Straight-leg jeans can have a wider or narrower leg. However, all of them will fall straight down from thighs to ankles. As the name suggests, these jeans don't taper or flare out at the knee. They're just, well, straight!
Unlike skinny jeans, straight-leg jeans have enough room around the base to go over certain ankle boot styles. The larger the jeans' leg/hem width, the more room to fit taller/wider shaft ankle boots.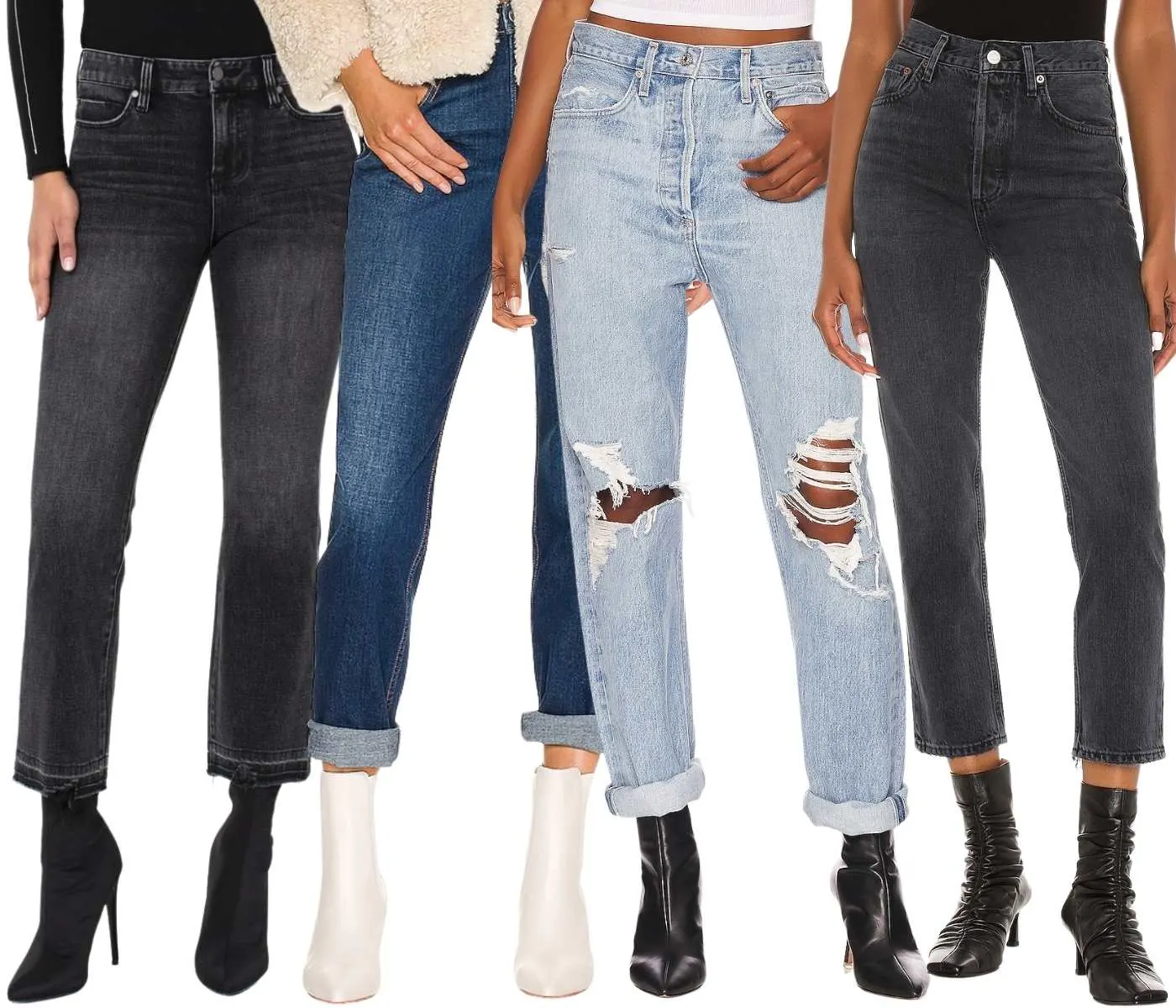 Straight-leg jeans can come in many lengths, including cropped styles. Cropped ones look great with a variety of ankle boots.
How to Wear Cropped Straight Leg Jeans with Booties:
Choose cropped straight-leg jeans that fall over and cover taller, narrow boots, such as sock booties.
Wear lower shaft ankle boots with cropped jeans, where the leg is exposed in between. Or, cuff the jeans above the ankle boots to expose a 2-3 inch of leg
You can also crop a longer straight leg jean by cuffing them so that the jeans fall over the boots. Cropped jeans -cuffed or not – are a great way to show off a stiletto or statement block heel!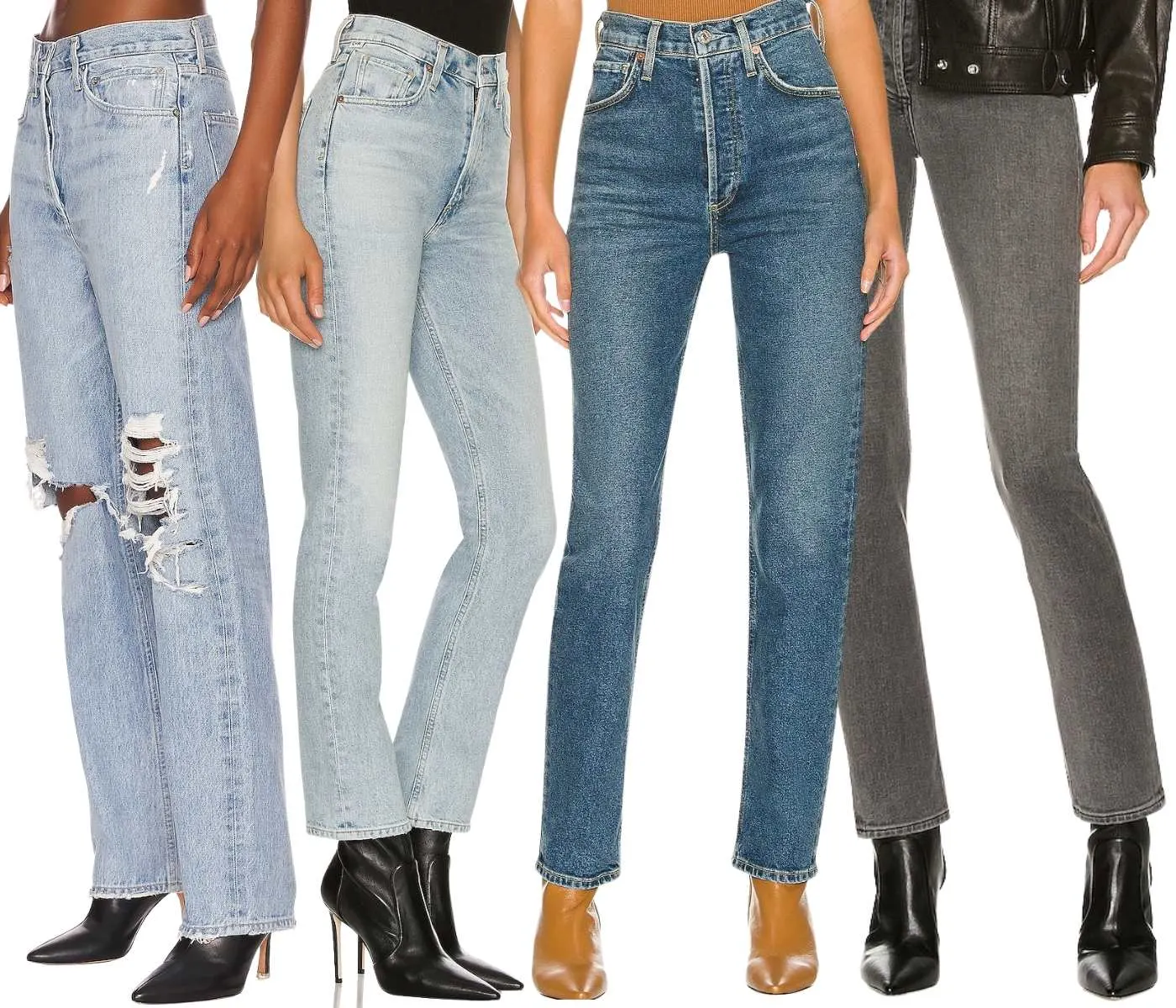 Ankle, to floor-length straight jeans are the easiest to wear. That's because no matter whether the boot is taller, lower, slimmer or with a lower shaft, they will all work. And you can always cuff them to suit your needs!
How to Wear Longer Straight Leg Jeans with Ankle Boots:
Let the jeans fall where they may, making sure the jeans fit comfortably over the boots. You don't want them bunching underneath.
Any boot heel height and shape works. Avoid super-fine stiletto with jeans that touch the floor (tripping hazard alert!).
Cuff any length of straight leg jeans for a more rugged look and/or to show off an interesting boot detail. Cuff once or twice as you feel fit.
Aren't a fan of cuffing your jeans? Try a half tuck in the front of the boots, as many fashionistas have been styling theirs. It makes for a laid-back aesthetic, like below:
Best Ankle Boots for Straight Leg Jeans:
Classic Leather & suede styles – perfect for fall/winter
Western style ankle boot or woven booties – great for spring/summer
Pointed toe, square toe, rounded to, chunky or stiletto heel — there are so many options! For a minimal look, try black or white patent
Pointed toe and stiletto heel – great for a night out or for cocktails. If you're feeling bold, try a snake pattern, metallic finish or sparkly bootie
Check out more boots & shoes to wear with straight leg jeans in my dedicated post!
2. Ankle Boots with Skinny Jeans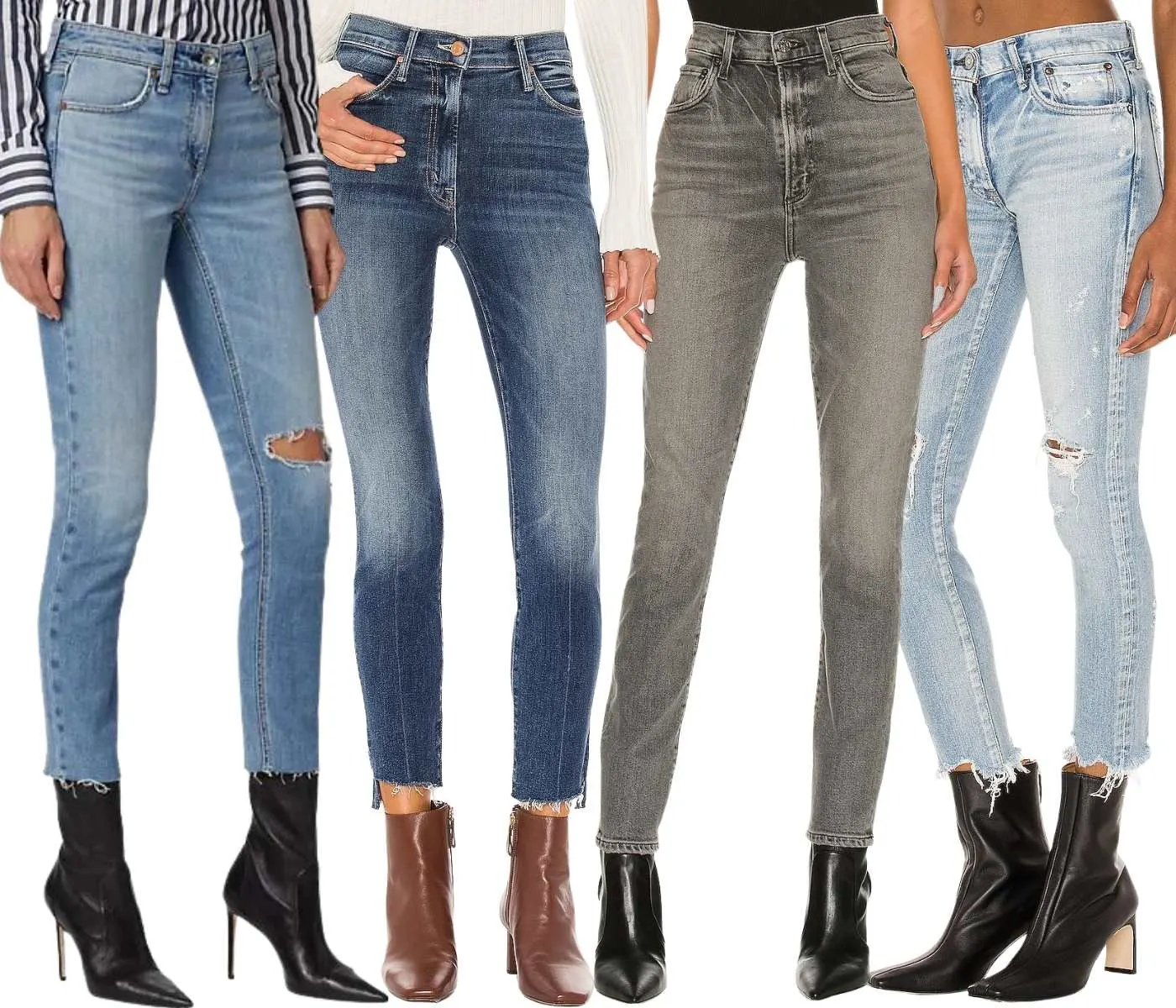 Of all the boots to wear with skinny jeans, ankle boots and skinny jeans are a perfect (and easy!) combination.
There are so many great ankle boots to wear with skinny jeans, too. In fact, skinnies are the simplest jeans to style with ankle boots!
How to wear ankle boots with skinny jeans is simple. Because they're so tight on the leg, most are worn as is, as there will be little to no room for cuffing.
Due to their slim cut, skinny jeans usually look best with tighter, slimmer toe boots to balance out the proportions. However, depending on what else you're wearing, that is relative.
How to Wear Ankle Boots with Skinny Jeans:
Tuck skinny jeans into slim boots for a sleek look. If the jeans are too long, cuff them once over, making sure they don't bunch up in any narrow ankle boot.
Skinny jeans will naturally fall into wider shaft booties, like the image below:
With sock boots or tight-fitting boots, pull the jeans over the boots. This gives a sleek linear effect, especially if the boot color matches the jeans.
With cropped skinny jeans, try a lower shaft booties to expose the leg by 2 inches. You can give longer skinny jeans a single cuff to give a similar cropped effect.
Uneven hemmed skinny jeans look great with ankle boots that touch the jean base or higher. Otherwise, I prefer the hem fully covering the boots or falling a couple of inches above it.
Add a pair of hiking or slouchy socks pulled over your jean hem for fall-inspired styling. This makes for a more casual look with brown or tan ankle boots.
Best Ankle Boots for Skinny Jeans:
Fitted boots are perfect with skinny jeans for more elevated occasions, especially with a pointed or almond toe and a finer heel
Sleek square toe booties with wider heels give off a trendy vibe
Black or sparkly stiletto sock booties are fabulous evening shoes for black skinny jeans!
There are so many great ankle boots to wear with your jeans, but above are my favorites right now. The only ankle boots I'd avoid are very chunky pairs, such as large lug soles or thick platforms booties.
These will make your feet look out of proportion to the rest of your outfit unless you wear a very small women's shoe size.
More tips of how to wear boots with skinny jeans, here!
3. Ankle Boots with Wide Leg Jeans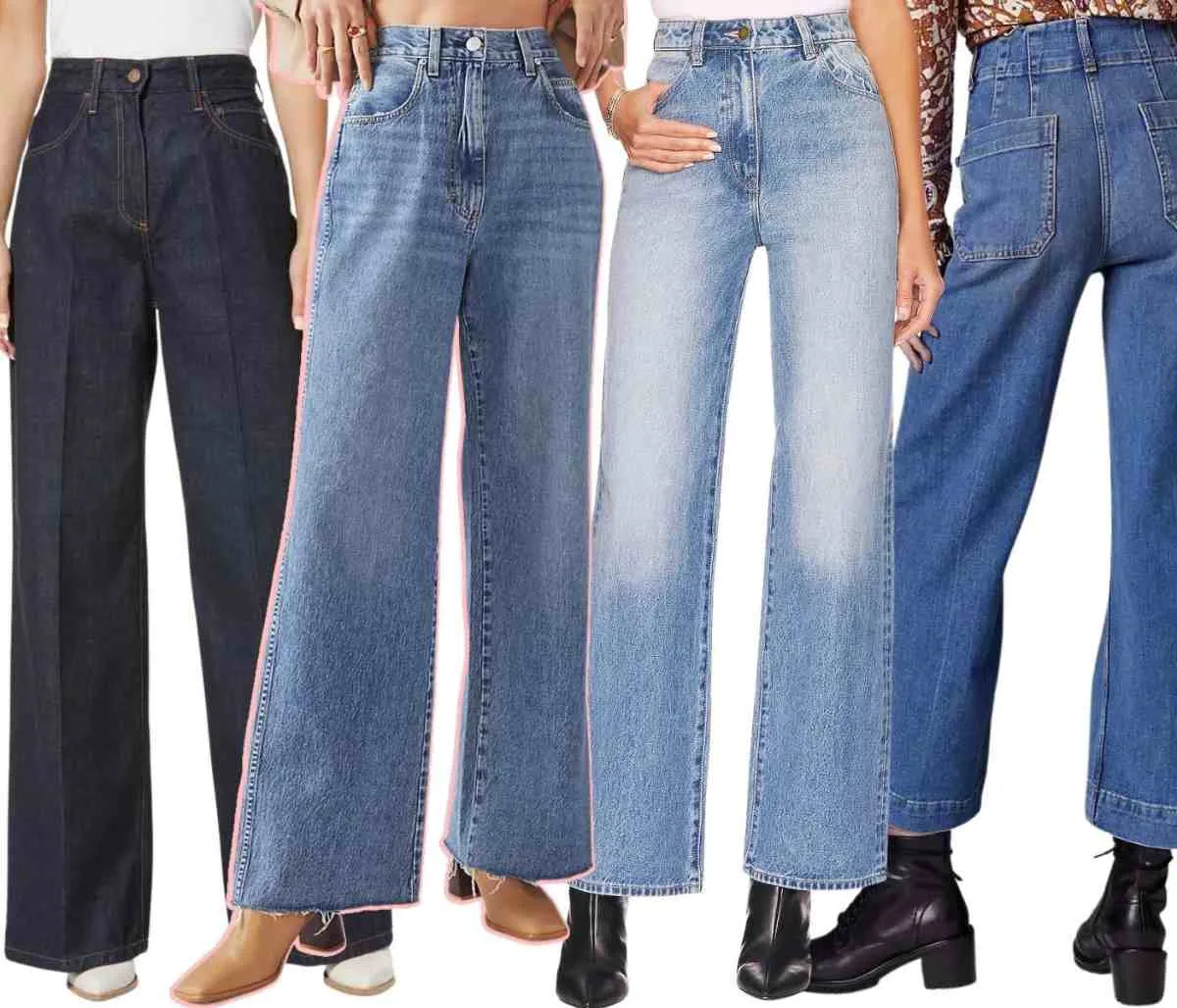 Wide-leg jeans are on-trendy right now and easy jeans to wear with ankle boots! Because of the volume of these jeans, you can easily wear them all kinds of booties, heel/toe shapes and heights – as long as they don't drag on the ground!
How to Wear Ankle Boots with Wide-Leg Jeans:
With longer wide-leg jeans, feel free to wear them as is, so that they fall over your boots. If the jeans are floor-length, make sure your boots have a chunky heel. Fine heels will dig into your hem, eventually ripping at it (been there, done that!).
For cropped wide-leg jeans, wear a taller shaft bootie, so it disappears into the hem. Or, wear a shorter bootie to show off your ankles.
Best Ankle Boots for Wide-Leg Jeans:
Chunky heeled ankle boots, with fine or chunkier toe shapes. Love these in classic colors or a reptile print
Rounded, square-toe boots
Black heeled booties with all wide leg jeans
Taller shaft western booties look great with ankle length or even long wide leg jeans
Check out my post on all the great shoes to wear with wide-leg jeans!
4. Ankle Boots with Bootcut & Flare Jeans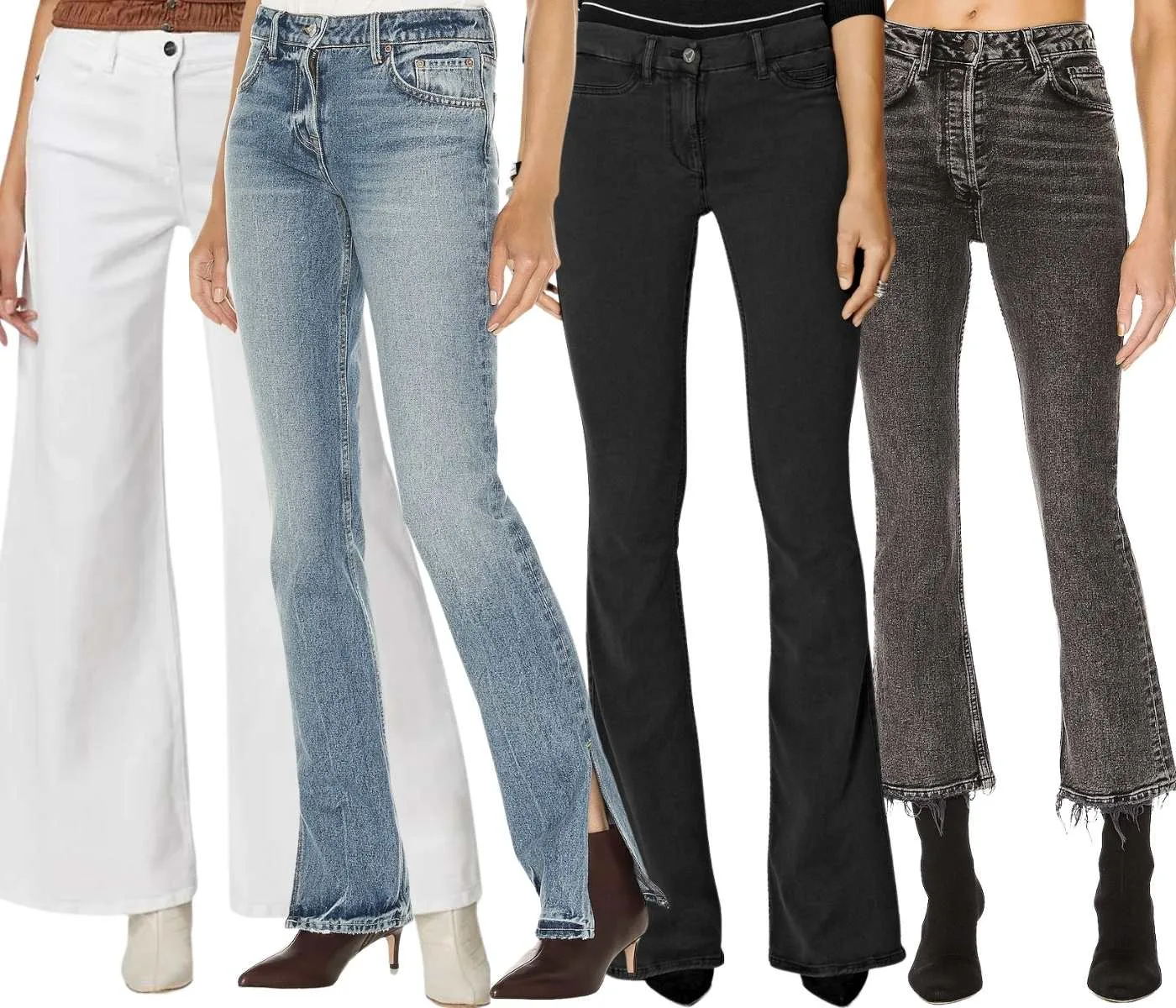 Ankle boots with jeans are a staple pairing. Especially when it comes to bootcut or flare jeans. As the name implies, the jeans literally flare out from the knee to allow for boots!
As these jeans won't cuff (I mean, you can try!?) there's nothing to do, but wear the jeans as they are. That's where boot types come in, as you'll want the right ankle boots for the length and flare of the jean leg.
How to Wear Ankle Boots with Flare Jeans:
Unless you're wearing massive flares, wear ankle boots that are snug on the calf. Especially with bootcut jeans – that are less flared flares – so that the boot doesn't interrupt the pant line from the knees down.
For flared jeans that reach ground level, avoid fine heels, that can rip through your jeans and make you trip. Also avoid bootcut jeans that drag on the floor. Choose a platform or high heeled ankle boot to avoid this.
Toe shape is also important. Ankle boots with square, pointed or almond toes are great boots to wear with flare or bootcut jeans.
A rounded toe, like an almond shape will create a softer look as your boots peek out from under the hemline. A pointed toe will look more edgy.
Best Ankle Boots for Flare Jeans:
Taller shaft ankle boots
Western ankle boots
Sock booties
Leather square or almond toe boots with a chunky heel are top trending choices
Platform ankle boots – great if you need more height or are wearing longer flare or bootcut styles
Need more styling guidance? Read all about the best shoes to wear with flare jeans and shoes for bootcut jeans!
5. Ankle Boots with Baggy Jeans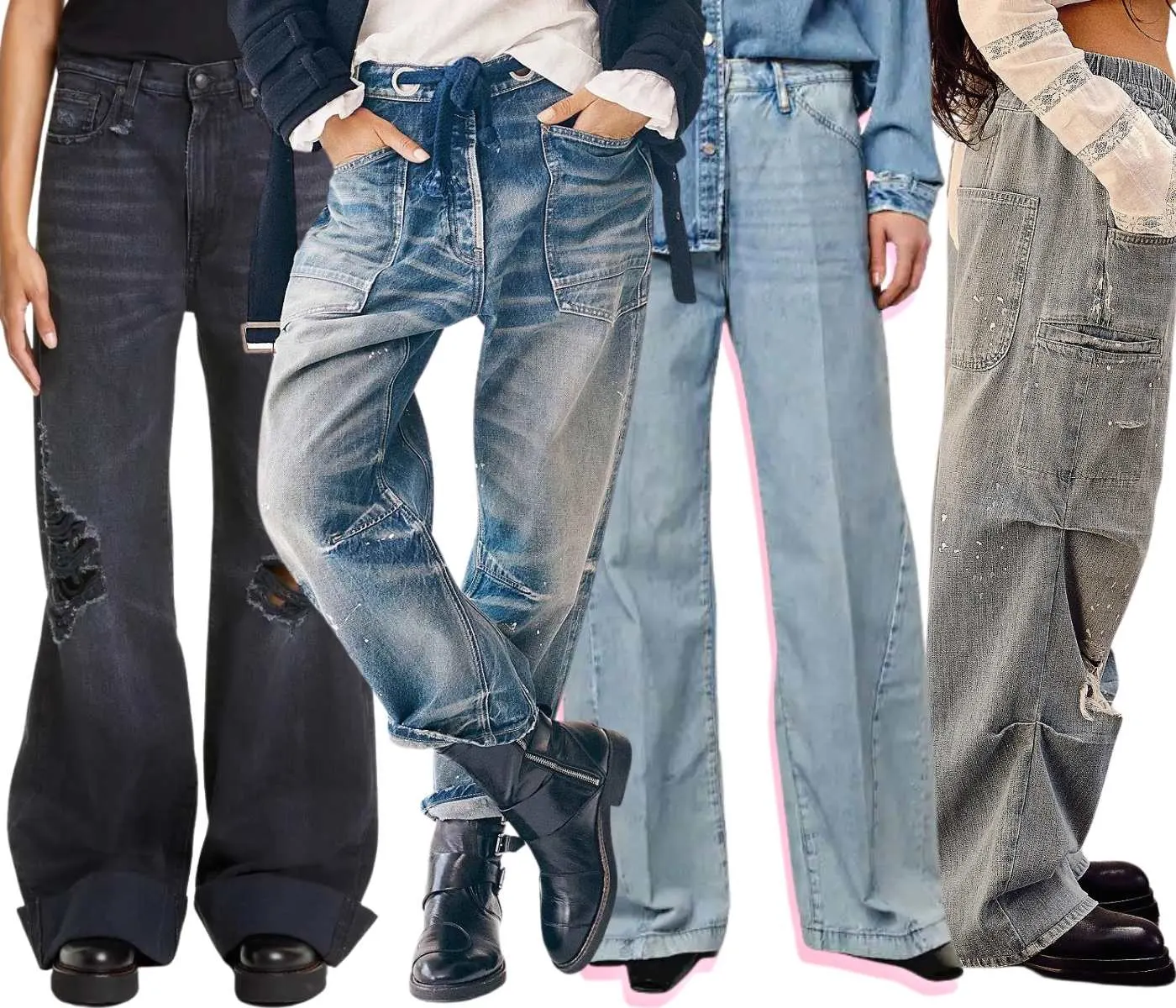 Ankle boots with baggy jeans that have a wider, straight leg work well together. The laid-back aesthetic of baggy jeans makes them easy to pair with all types of ankle boots, whether higher and/or loose on the ankle.
How to Wear Ankle Boots with Baggy Jeans:
Let the loose jeans drape over the boots, no matter the length! Be sure to wear a hefty boot so that you don't trip on the hem.
You can also cuff the jeans once – or twice! – if the jeans are thin & long enough to do so. To create volume, tuck half the jean hem into the top of the boots, like the woman, second to left, has done.
Best Ankle Boots for Baggy Jeans:
For more casual baggy jeans with ankle boots, try a western ankle boot or a lug-sole ankle boot.
Larger and heftier baggy jeans call for a meatier boot. A wider shaft boot and/or one with a platform will work well for a punky aesthetic.
You can also rock with less baggy jeans with finer heeled boots with a pointed toe. Even sock boots or stiletto boots can work well, but only if your loose jeans are rolled up or cropped. This will help show off the heels, while not risking tripping.
You can elevate your outfit further with metallic or reptile print ankle boots. Bodysuits and fitted crop tops can also give a sultry edge under a jacket, to baggy jeans.
Check out all the shoes to wear baggy jeans with all kinds of shoes and outfits, in my dedicated post!
Ankle Boots with Socks & Jeans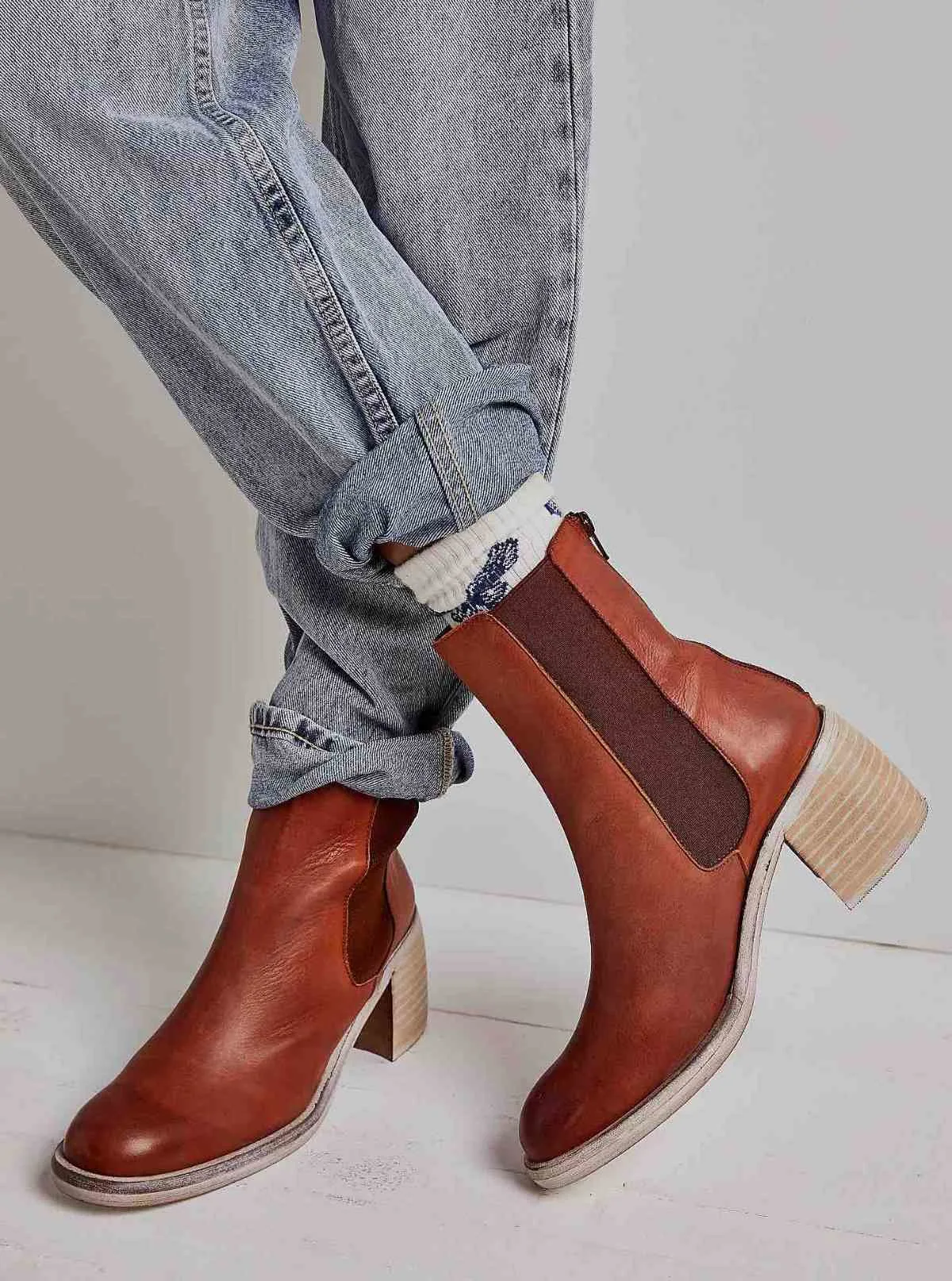 When it comes to wearing ankle boots with jeans or otherwise, socks are important. These can impact your comfort and overall look. There are 5 main types of socks for ankle boots and jeans:
5 Best Socks to Wear with Ankle Boots and Jeans:
No-Show Socks: These work well with lower shaft boots and cropped jean styles when you don't want any socks to peek through. I recommend a thicker, padded sock for increased comfort
Hiking Socks: wear a speckled hiking sock over your skinny jeans for a cottage-core appeal with ankle boots
Slouch Socks: Great for more laid back looks, over slimmer jeans or under wider jean styles
Sheer Ankle Socks: Great to make a statement when peeking over classic ankle boots, under cropped jeans
Crew Socks: Whether simple white or striped, these are the go-to socks with everything right now. They look great with a wide or straight leg cropped jean to show your sporty side. I love the contrast between a simple white pair with dark grey or black jeans.
How to Wear White Jeans and Brown Ankle Boots Outfits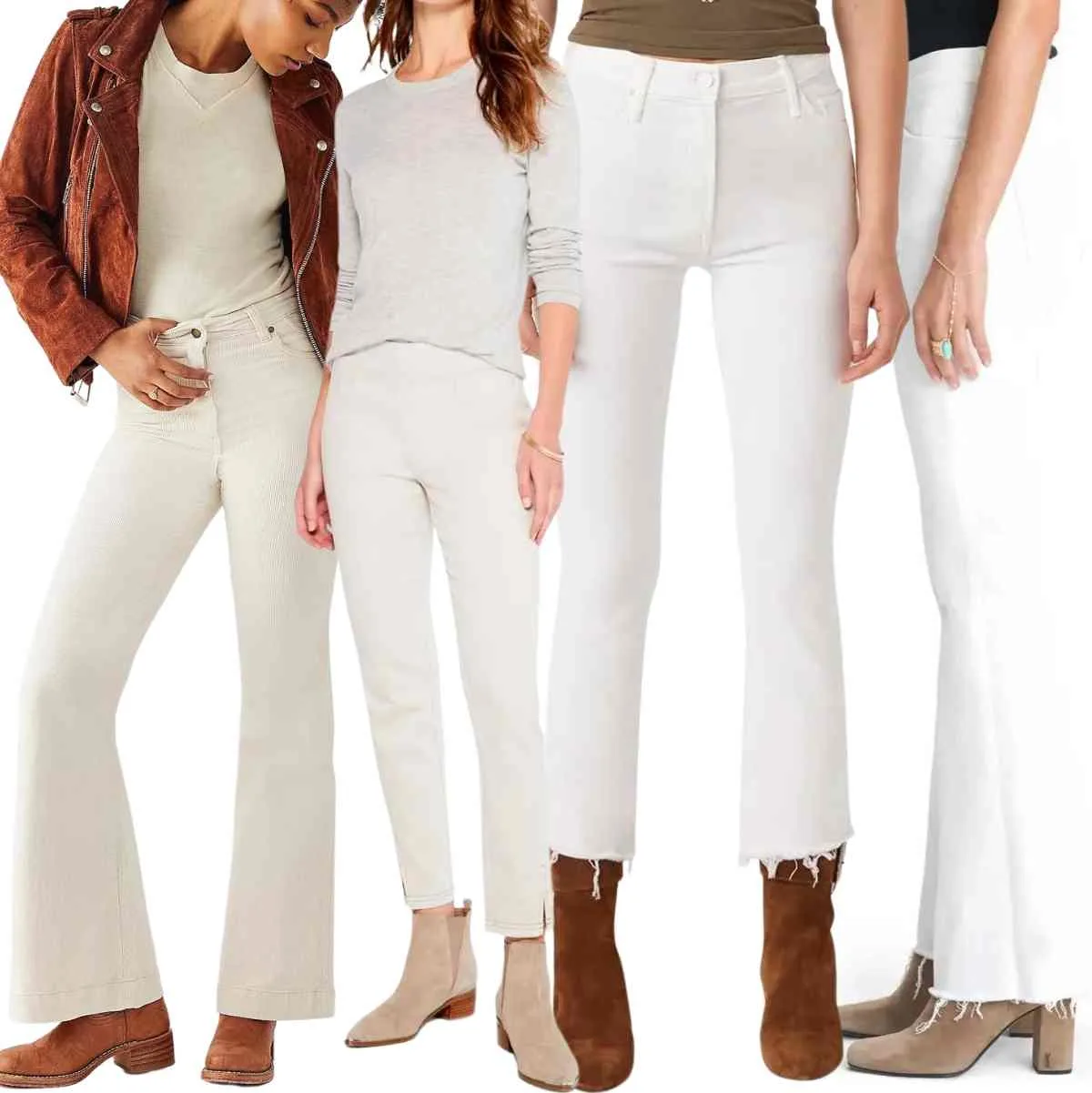 White jeans and brown ankle boots make great transitional outfits in spring and pre-fall. Lighter brown, tan or even beige shoes will give a more softer look.
Because white jeans with brown ankle boots are a staple combo, you can wear almost all colors above. I prefer to add white or beige tops with an earth-tone jacket.
Think a brown leather jacket or a khaki cargo jacket. Add a mix brown plaid blazer to make it an office chic outfit.
Final Words on Wearing Ankle Boots with Jeans
As you've seen there are many ways how to wear ankle boots with jeans. Thankfully this post has given you a better idea of how to pick ankle boots with jeans, and jeans with ankle boots!
If you're ready to shop for ankle boots, below are my favorite brand and retailers you can shop for classic and trendy ankle boot styles:
Ankle Boots We Love:
xo ShoeTease
Cristina is the chief editor, fashion & shoe expert here at ShoeTease. As a seasoned stylist and women's fashion & shoe designer, she boasts over 20 years of experience in the fashion industry. She loves crafting effortless outfits for ladies both online and off and believes that styling advice should be accessible to everyone. Whether you're a styling pro or just starting out, Cristina's here to guide you on your fashion journey! Learn more.