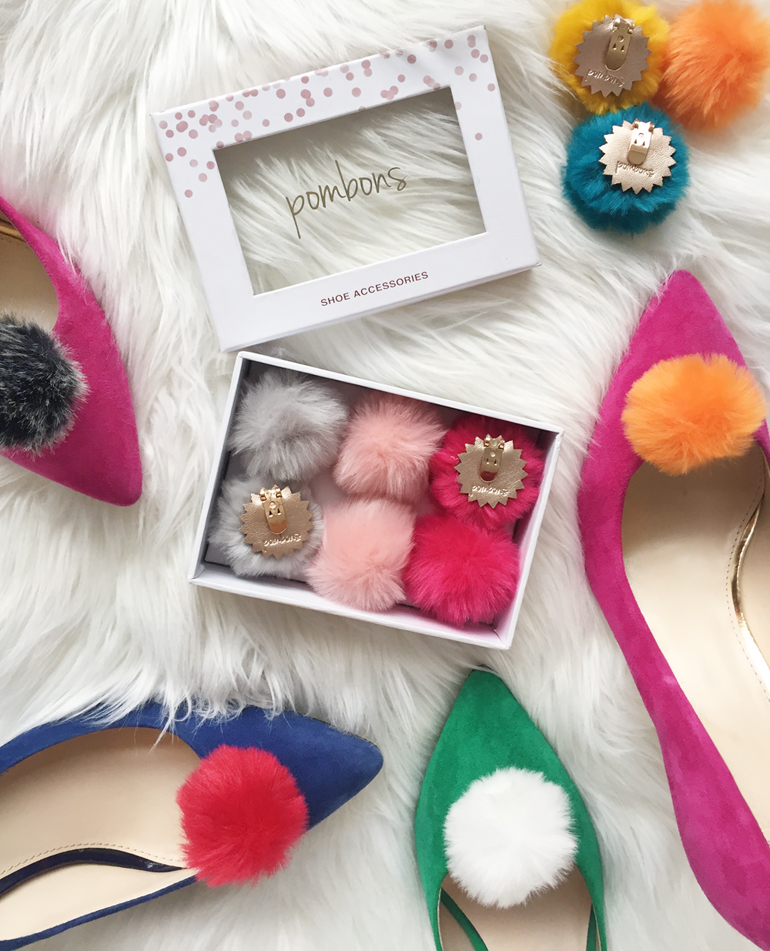 Introducing Pombons faux fur pom pom shoe clips: A little idea with big style impact to help us pom pom lovers create instant pom pom shoes, our way! And these shoe accessories are much better than any DIY. Because quite frankly, who has the time?!
Pombons Faux Fur Pom Pom Shoe Clips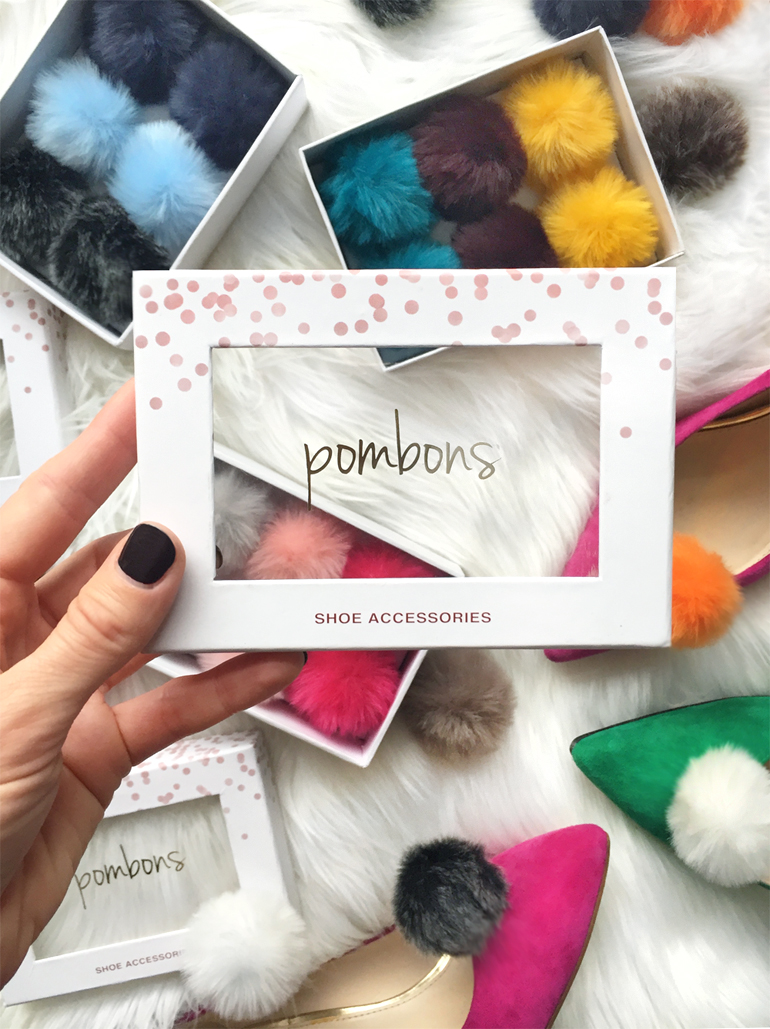 Pom pom shoes have been a hit for a while now, and as a the writer of a shoe blog, I've come across a wide variety. But the thought of perma poms on not so great shoes never particularly thrilled me. And the idea of pom poms on pricey designer styles, well, that didn't either.
I wanted faux fur pom pom shoe clips in many colours to clip on and off as I saw fit. And to style myself. Yet finding this very thing was almost impossible. Unless I wanted to spend a fortune importing sets from overseas. Two by two.
That's why I decided to use my skill set as a fashion designer and create a cute line of furry shoe clips. So for the past year I've been scouring the markets for the perfect faux fur, sturdy clips & fidding with the perfect package design to serve us shoe lovers right!
And in contrast to other shoe accessories floating around, Pombons pompom shoe clips are sold in sets of 3 pairs, packaged in a stylish box for safe keeping. Think of them kind of like a box of bonbons, only filled with pom poms! And yes, the bonbons-meets-pompoms is exactly where the name Pombons comes from! The quirky packaging not only makes it a great gift for the upcoming holidays, but also a cute little stocking stuffer for yourself 😉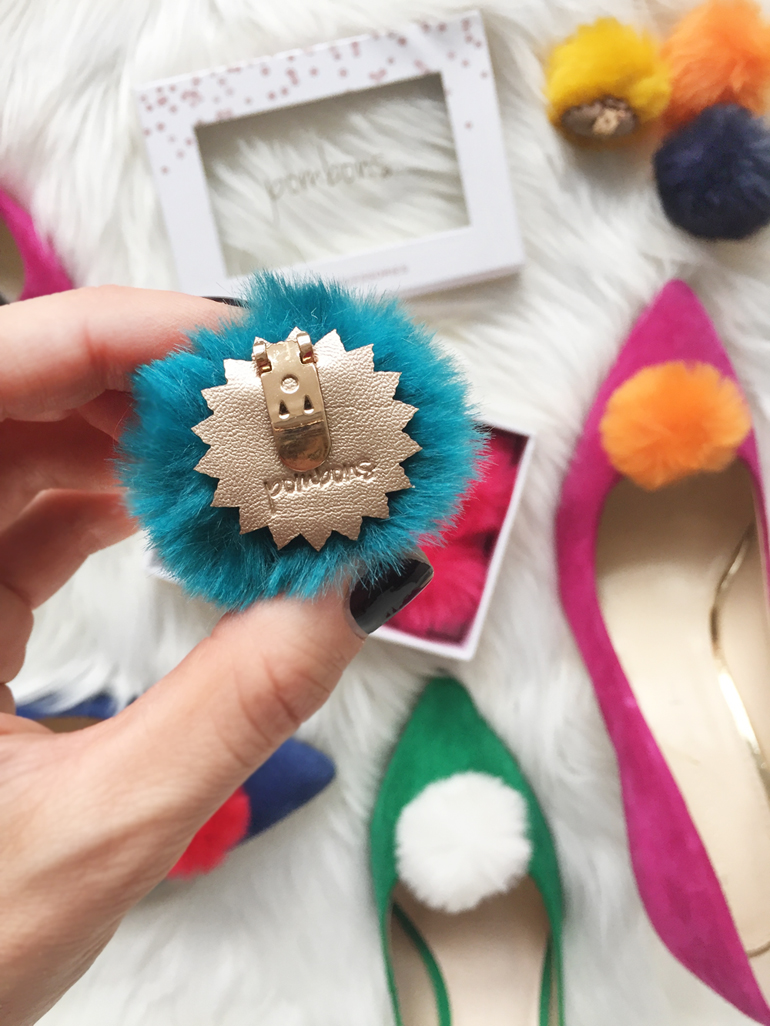 With 15 colors to choose from, you can instantly add fluffy fun to your shoes, bags, belts, hats…you name it, these shoe accessories can likely clip onto it! Pombons shoe clips are sold in blush-speckled bright white boxes of 6 poms.
And if our range of pre-packaged boxes aren't your perfect rainbow, you can pick and choose & customize your box from 1 to 3 colours from the current Fall/Winter collection to suit your mood on the site or right from below:
You can wear the poms day to day or save them as the perfect festive addition to your shoes & accessories. Ugly Christmas Sweater? Oh yes, you can move on over! The following pom pom combos make the perfect holiday shoes! See a post styling my version of the Ugly Christmas Shoe, here!
I love to style my pom pom clips a variety of ways, from 1 to 4 on a shoe, but where you clip them on is really up to you. But if you're curious on how to style them, keep checking the blog for pom pom styling tips & inspiration…one pom pom at a time 😉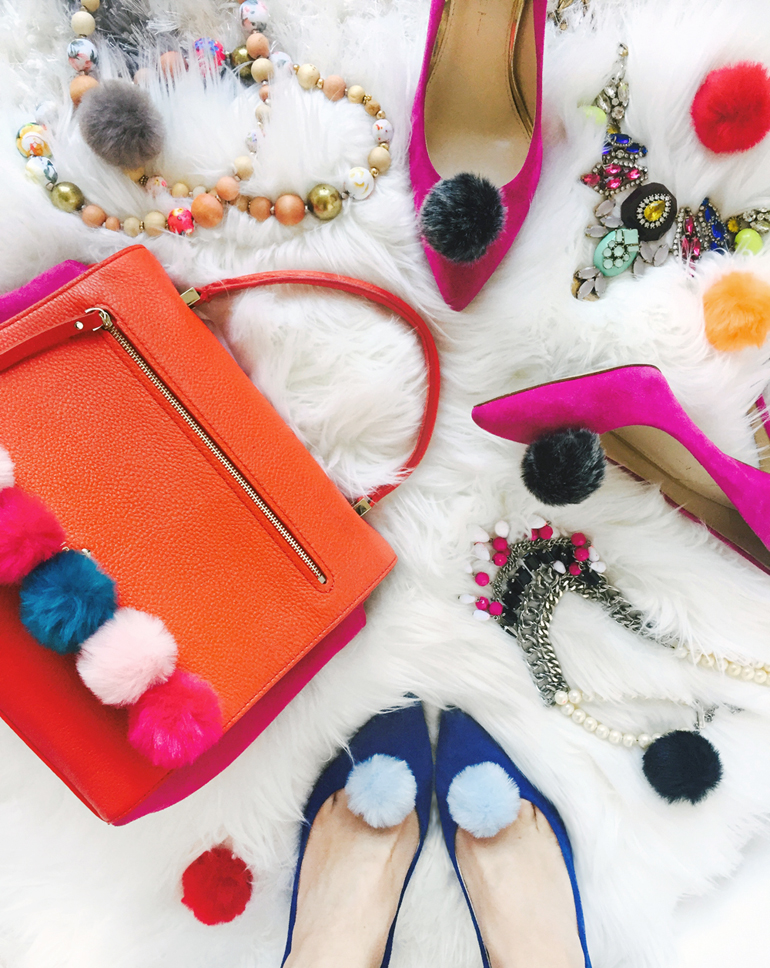 Pombons Shoe Clip Features:
Soft & luscious faux fur pom poms
Sturdy metal rose gold shoe clips with matching Pombons branded leatherette backing
Whimsical, branded box to keep your shoe clips safe
Customize your boxed set of colors if you prefer
Free standard shipping to the US, UK and to Oh-Canada
100% vegan & cruelty free
Pombons Shoe Accessories are perfect for:
Everyday wear on a slew of items, not just shoes! See how I've styled them on a hat and on a purse
Special occasion wear: Christmas, New Year's, Valentine's Day, St Patrick's Day, National Pom Pom day (no joke, it's on March 26th!) etc etc…
A fun alternative to the usual bridal shoe clips on your wedding day. They make a cute bridal party gift too!
Pombons are currently available for sale on pombons.com! Below are a few of my favorite pom pom combinations from the Pombons shop.
What do you think of these faux fur pom pom shoe clips? Sound off in the comments, below!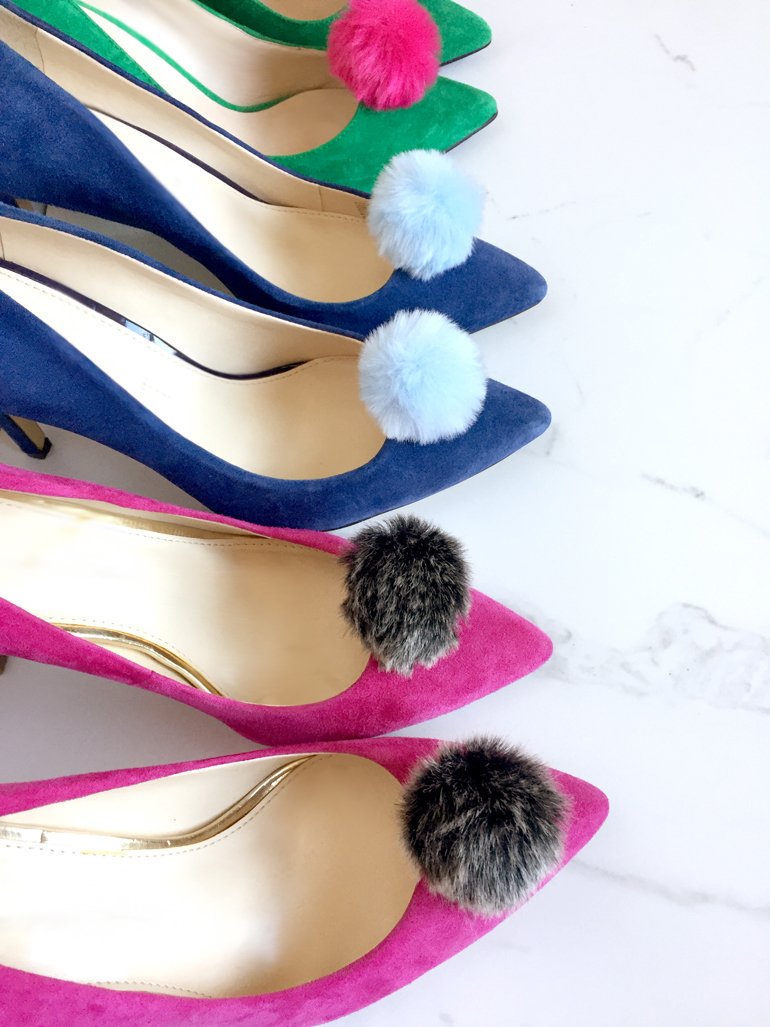 xo Cristina