Looking for the perfect socks for ankle boots? Or curious to find out ways how to wear socks with ankle boots? Well, look no further!
Today on shoe-tease.com, I will share 9 different types of socks that are perfect for wearing with women's booties.
Like other shoe styles, such as loafers, sneakers, or oxfords, socks can be a great way to add personality and style to your outfits.
There are so many different types and styles of socks available these days. Whether you're looking for fun patterned socks, cozy winter socks, or something dressier, we've got you covered.
Keep reading for my top ankle boot socks & how to wear them with ankle boot outfits!
RELATED POSTS:
9 Best Socks for Ankle Boots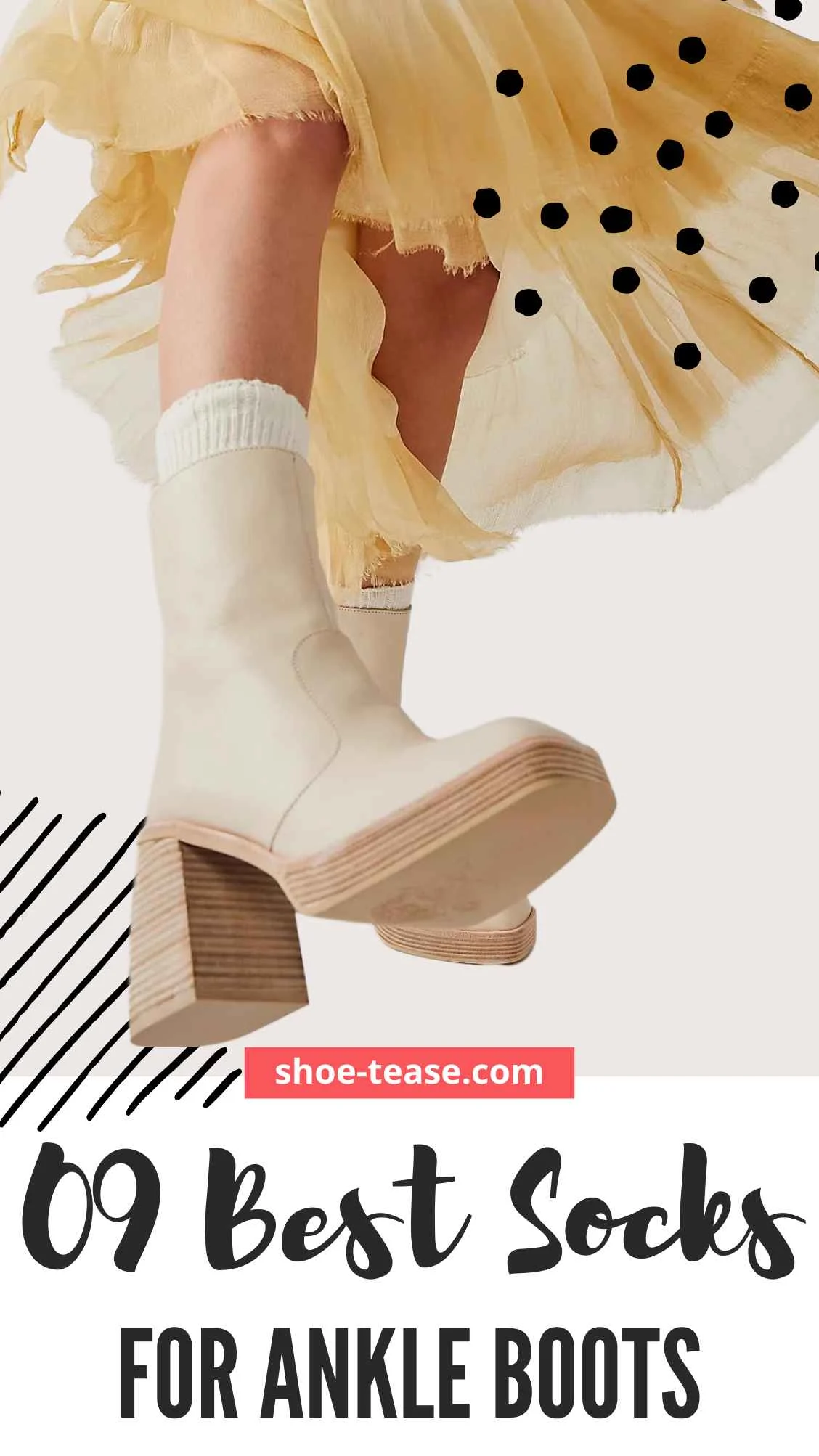 Benefits of Wearing Socks with Ankle Boots
Aside from style and aesthetics, socks are incredibly functional. They add comfort, absorb moisture (reducing boot stink) and can keep you warm.
Heck, they can even make big shoes fit smaller and prevent heels from slipping out of shoes!
It's essential that when choosing socks for ankle boots, you pick socks that will stay in place and not bunch up. So go for socks that fit tight around the ankles and mid-foot.
Wearing sock booties? Make sure you don't wear thick socks that will bulk up the width of the boots. This goes with any tighter/thinner boot.
How to Choose the Best Socks with Ankle Boots
While some might say that the socks you wear with your ankle boots are a matter of personal preference, there are factors to consider. Here are 4 things to think about:
The type of boot will dictate the overall tone of your outfit and help you narrow down your sock options. Are they slouchy and relaxed or sleek and polished?
Think about the occasion you'll wear them for—a casual day out calls for a different sock than a job interview or first date.
Remember to consider how your shoe, dress, or pant and top work together. Will a patterned sock add visual interest or clash with the rest of your look?
Lastly, factor in weather conditions—no one wants their feet to sweat through their socks on a hot day!
Shop a large selection of socks from the following retailers:
Best Socks for Ankle Boots – 9 Cute Socks for Women
1. Ribbed Crew Socks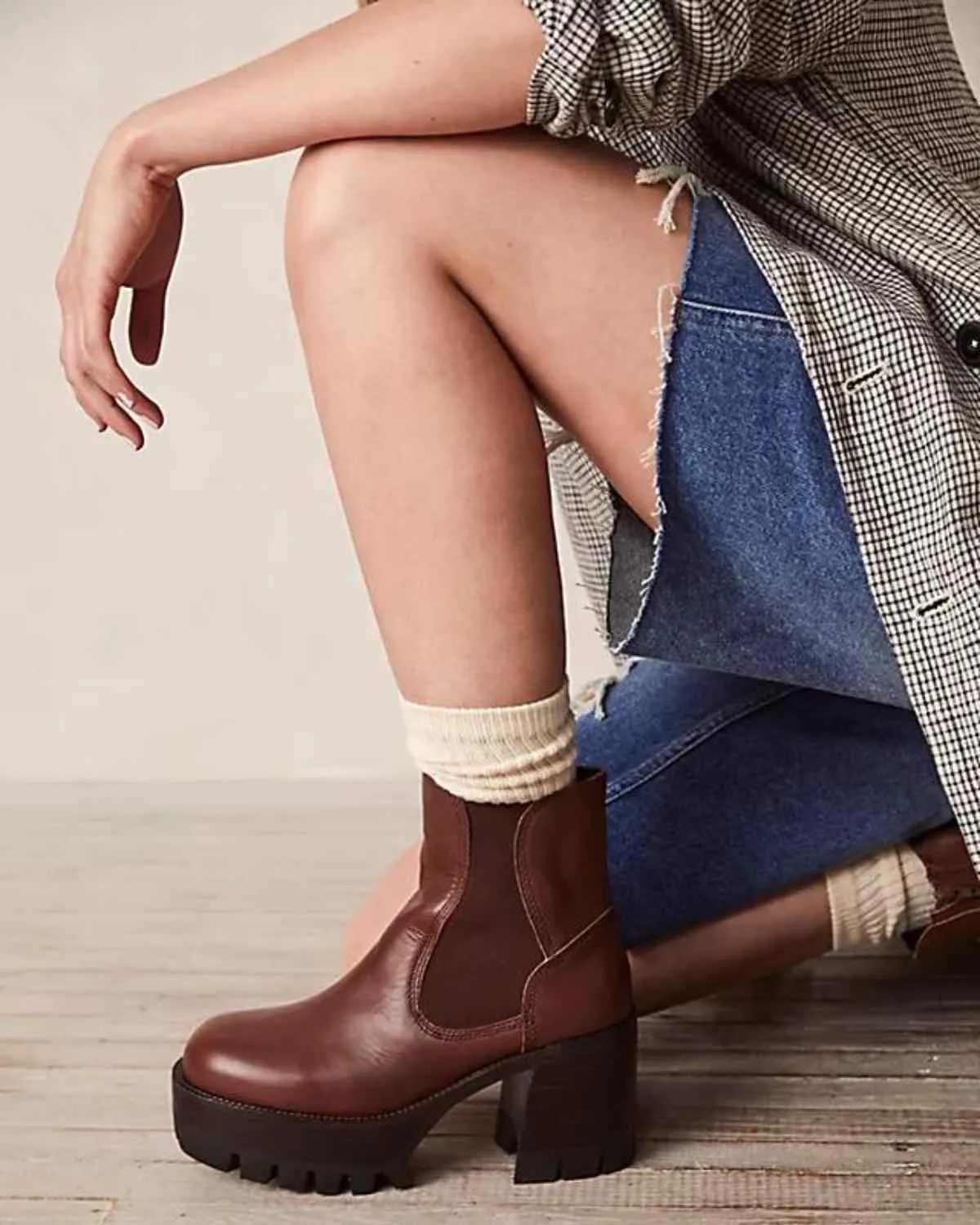 There are many reasons to wear sporty ribbed crew socks with ankle boots. They are a trendy option and provide additional height and comfort. Perfect for everyday wear!
Crew socks work well for casual looks, where the socks can be seen. But if they don't show, you can wear them under any outfit with ankle boots!
For an extra sporty look, go for all white, logo or striped crew socks. You can also match your crew socks with the color of your ankle boots or choose a pair in tone.
Stylish examples: beige crew socks with brown dress pants and ankle boots, white crew socks with black ankle boots and a mini skirt, or with cropped jeans and a tee.
2. No-Show Socks for Ankle Boots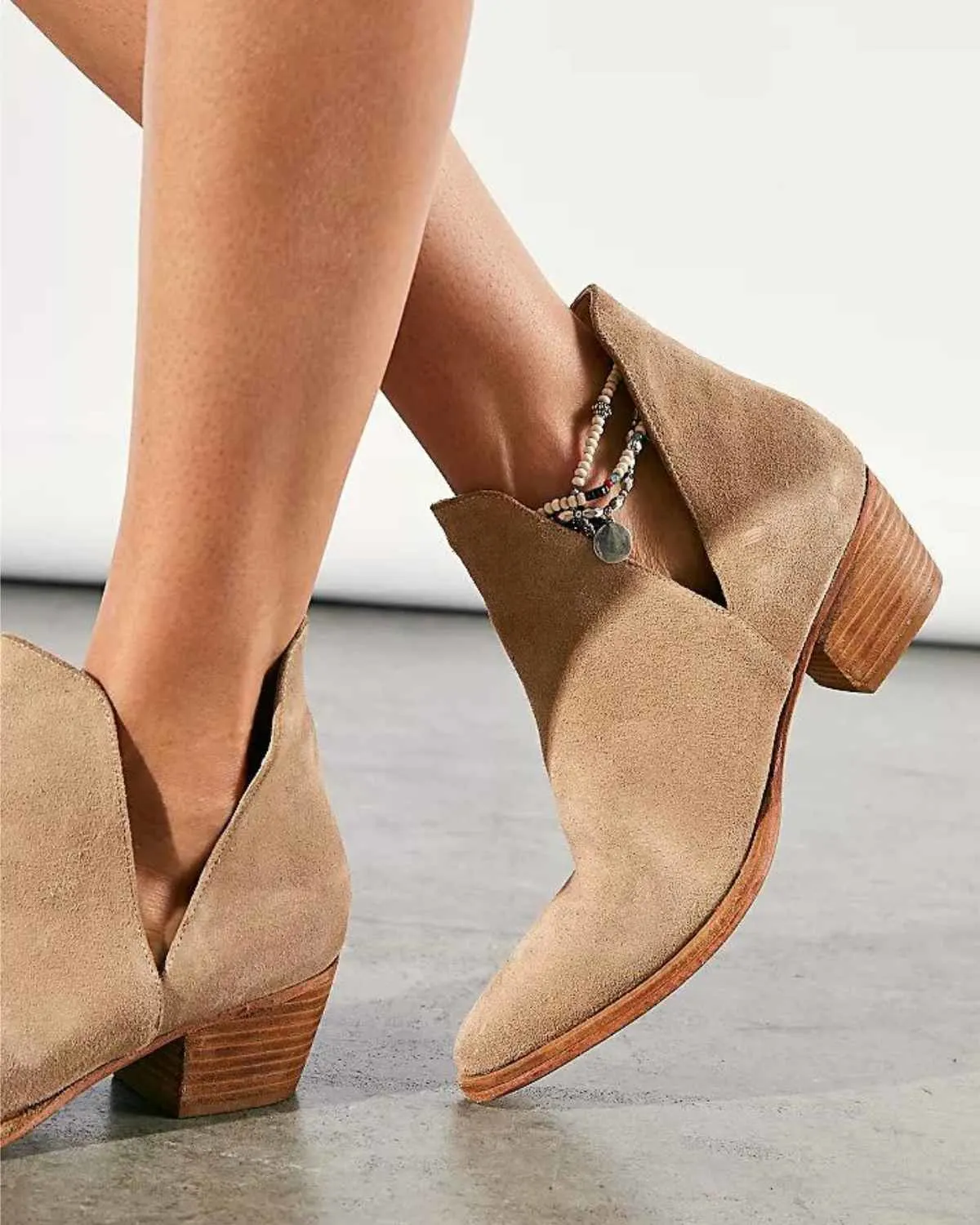 If you want your ankle boots aesthetic undisturbed by socks? Then, no-show socks are the way to go!
No-show socks are low-cut socks that work well for ankle boots. Especially short ankle boots or those with ankle cut-outs.
As it will look like you're not wearing socks, these are great office-appropriate socks if you want to keep things simple. They can also provide an extra layer of comfort over hose and tights.
Of course, how low your socks must actually be, depends on the height of your boots. If your boots are low ankle boots, then these make a great choice! Otherwise, it can be uncomfortable for taller boots.
No-show socks can be thin as they can be thicker – think no-show sports socks. However, the best no-show socks for ankle boots specifically add a bit more padding and grip, so they are comfy but stay put!
Below are some of the best no-show socks I recommend for lower ankle boots. You can easily wear them with higher ankle boots – I often do!
3. Contrast Color Socks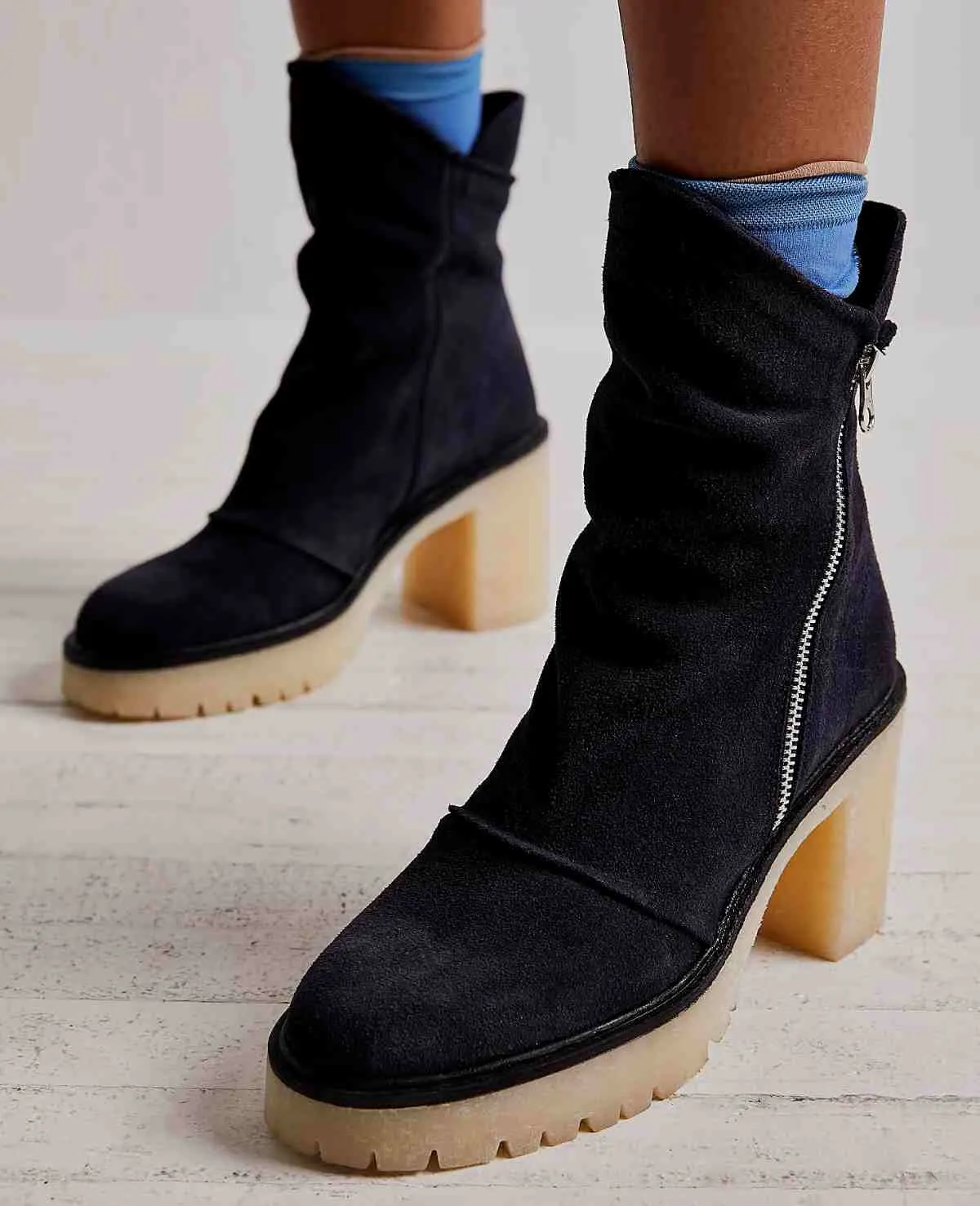 To accessorize your booties with the right kind of sock, try contrasting-colored socks. From contrasting white socks with black ankle boots, or giving your brown ankle boots a pop of color, your creativity is in full reign!
You can choose thin socks for a subtle sheen of color or grab a slouchy pair to make more of a statement.
I love wearing contrasting color ankle socks with knee boots and cropped dress pants, a skirt or mini dress. They can be fun with jeans too!
4. Black Socks with Ankle Boots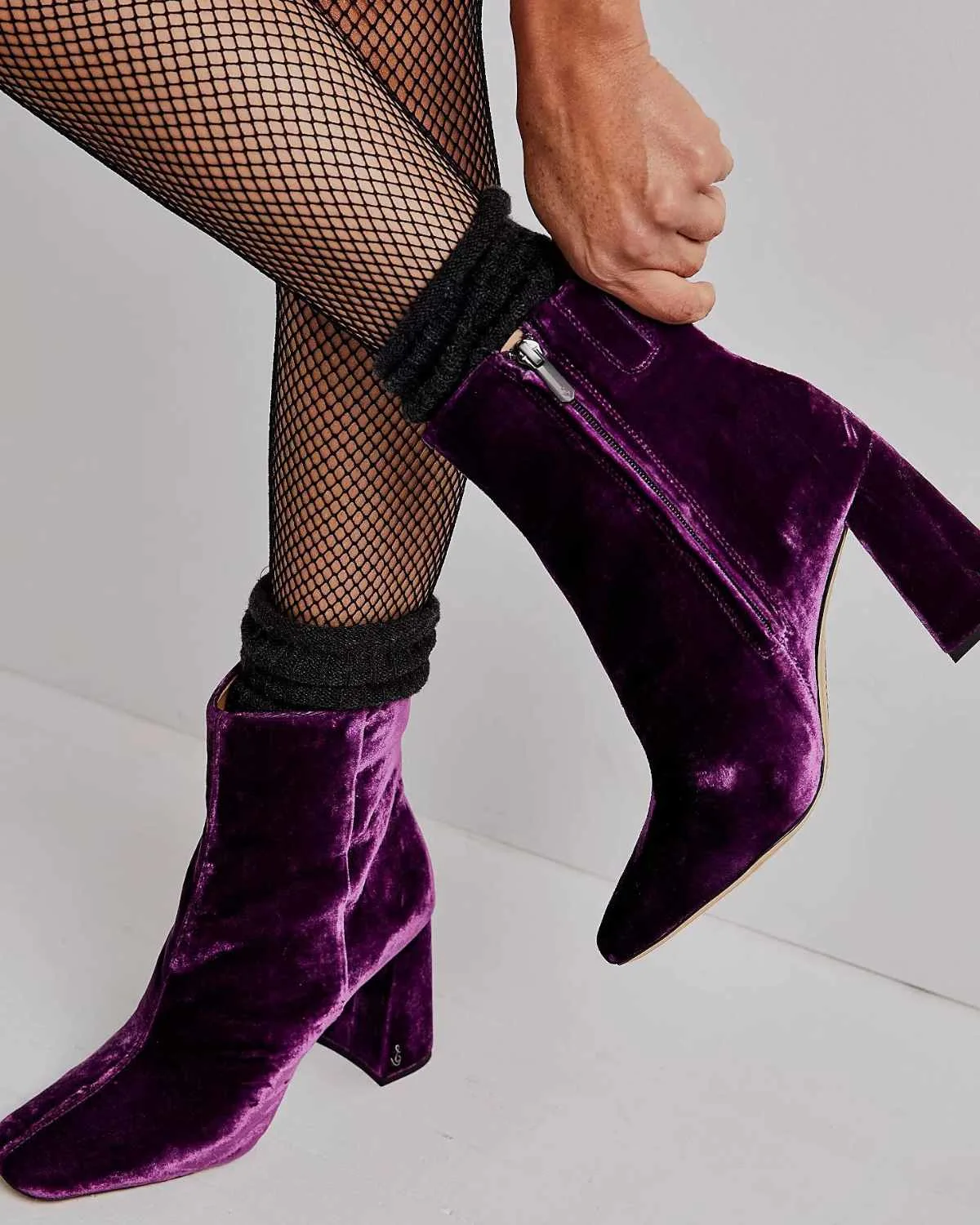 If you're looking for an easy and stylish way to pair your ankle boots with socks, black ankle socks are it!
Black socks on black ankle boots are perfect, and you can even layer them over a black pair of tights or legg
ings. However, they will also make a statement with white ankle boots (especially those with contrasting black details such as elastics or heels).
Black socks are also plenty and come with various features, such as moisture-wicking, breathable bamboo materials, and a plethora of fabrics, finishes and styles. They can be anywhere from thick and wooly to sheer.
The great thing is that black socks can be worn with much more than ankle boots. Yes, they pair great with sneakers, flats and more shoe styles!
5. Patterned Socks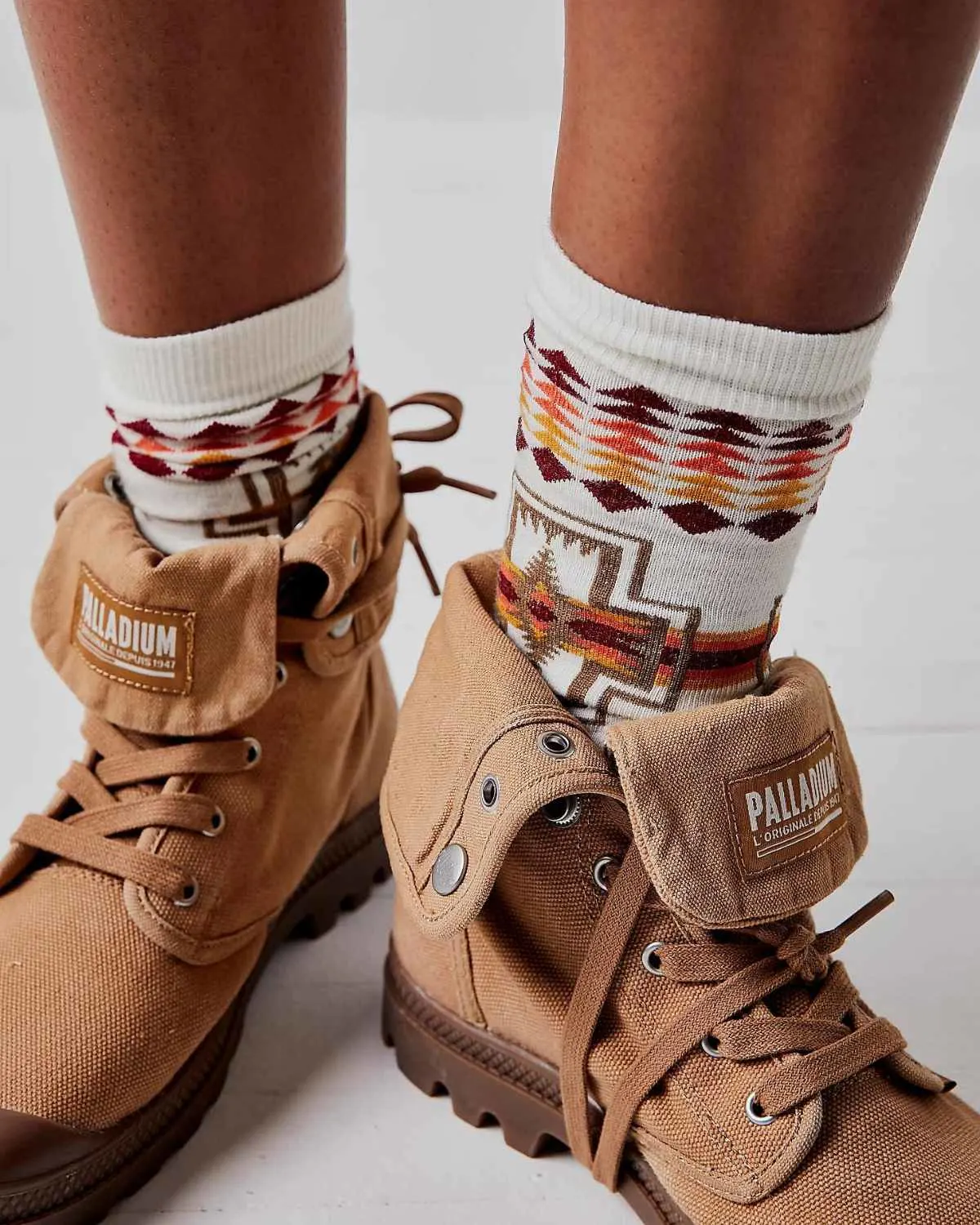 Ankle socks can be colorful and eye-catching with ankle boots, especially when you opt for a pair with a polka dot or similar fun pattern.
No matter how big or small, patterns such as checks, triangles and more will make you stand out in a crowd. They're also an easy way to add a splash of fun to your ankle boot outfit.
You can also choose frilly socks with small polka dots for an extra dose of eye-catching flair!
6. Striped Socks for Ankle Boots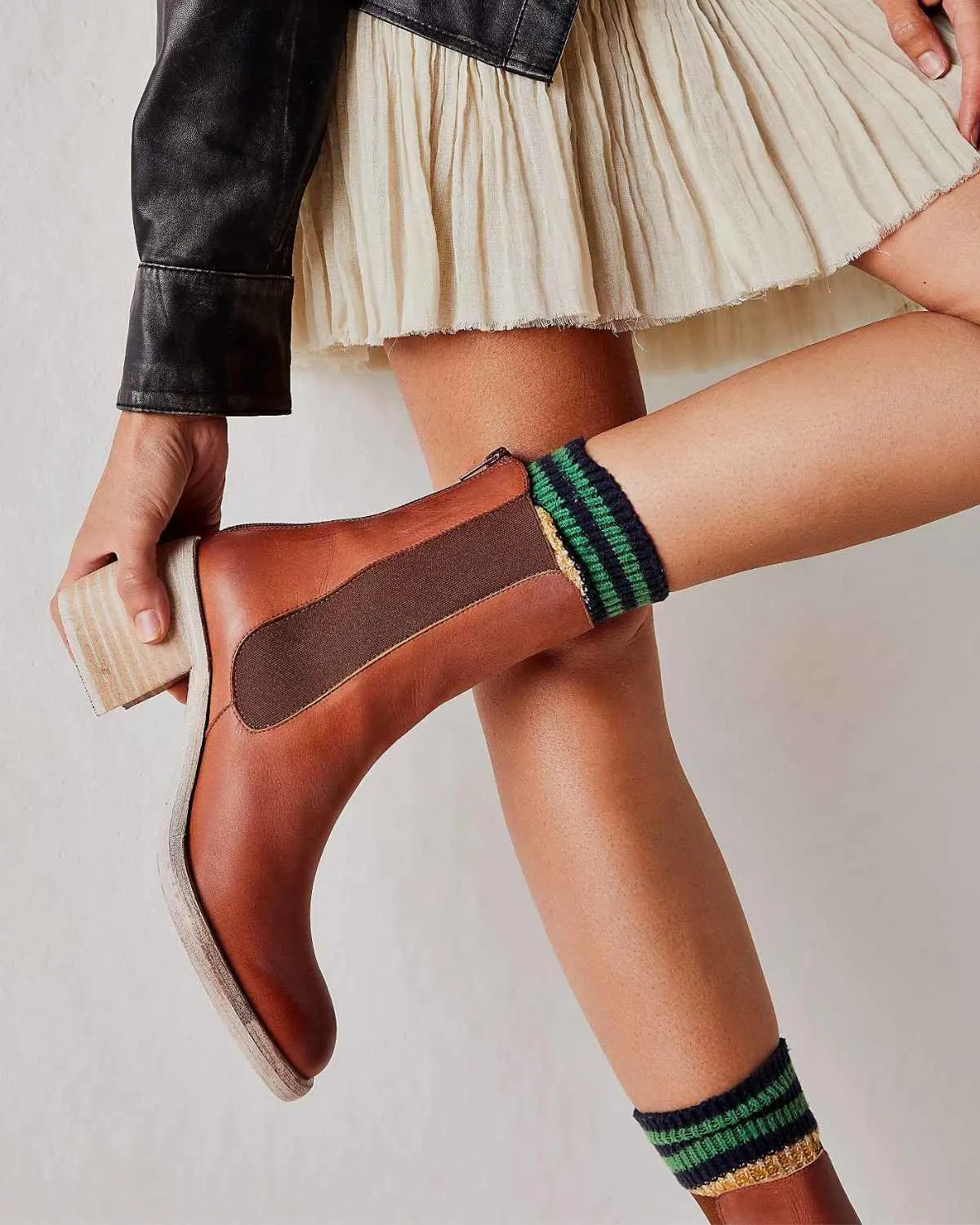 This style can go with almost any shoe, including ankle boots. Whether the stripes are vertical or horizontal, it doesn't matter. Striped socks with ankle boots look great with various styles of boots and outfits.
I love striped socks peeking out of ankle boots with utility shorts and a simple tee. But they can also be fun in ankle height with cropped jeans or dresses.
7. Fuzzy Socks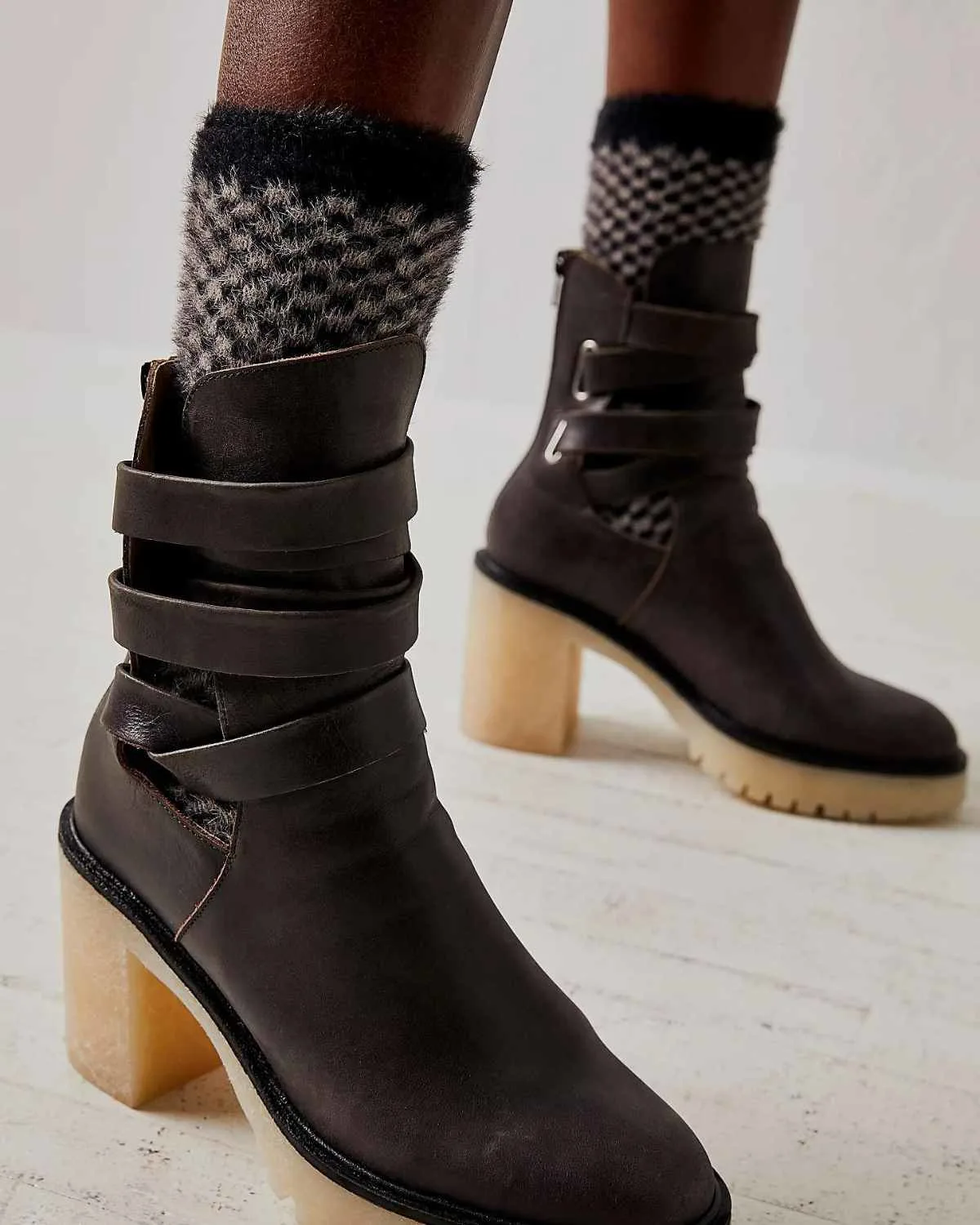 A pair of fuzzy textured socks is a great accessory to go with your women's booties. These cozy socks will add a touch of softness to your winter ankle boot looks – especially in white or pastel colors.
You can be more feminine with a pair of chenille socks, or a pair of printed fuzzy socks. UGG makes these socks in both chenille fabric and fuzzy fabric in a variety of colors!
8. Over the Knee Socks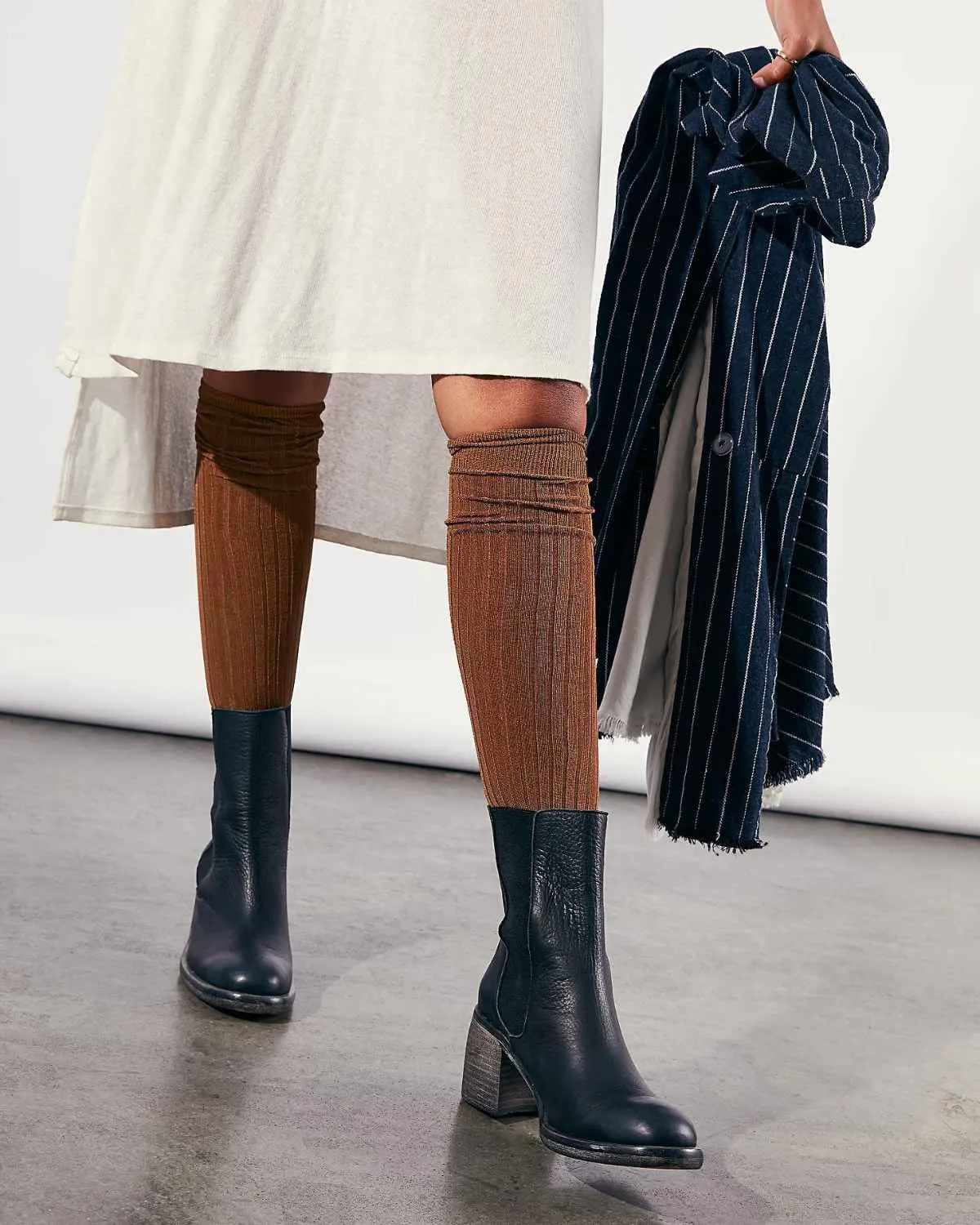 A fun pair of knee socks will be a great option to dress up a pair of ankle boots. And they will add warmth to your outfit during the cold winter months!
Over-the-knee socks are the perfect addition to any ankle boot to create an illusion of thigh-high boots with mini skirts or dresses! You can opt for plain black styles or more funky lace, or cozy knit designs.
You can style over-the-knee socks by pulling them up or slouching them down for a more relaxed look.
9. Knit Socks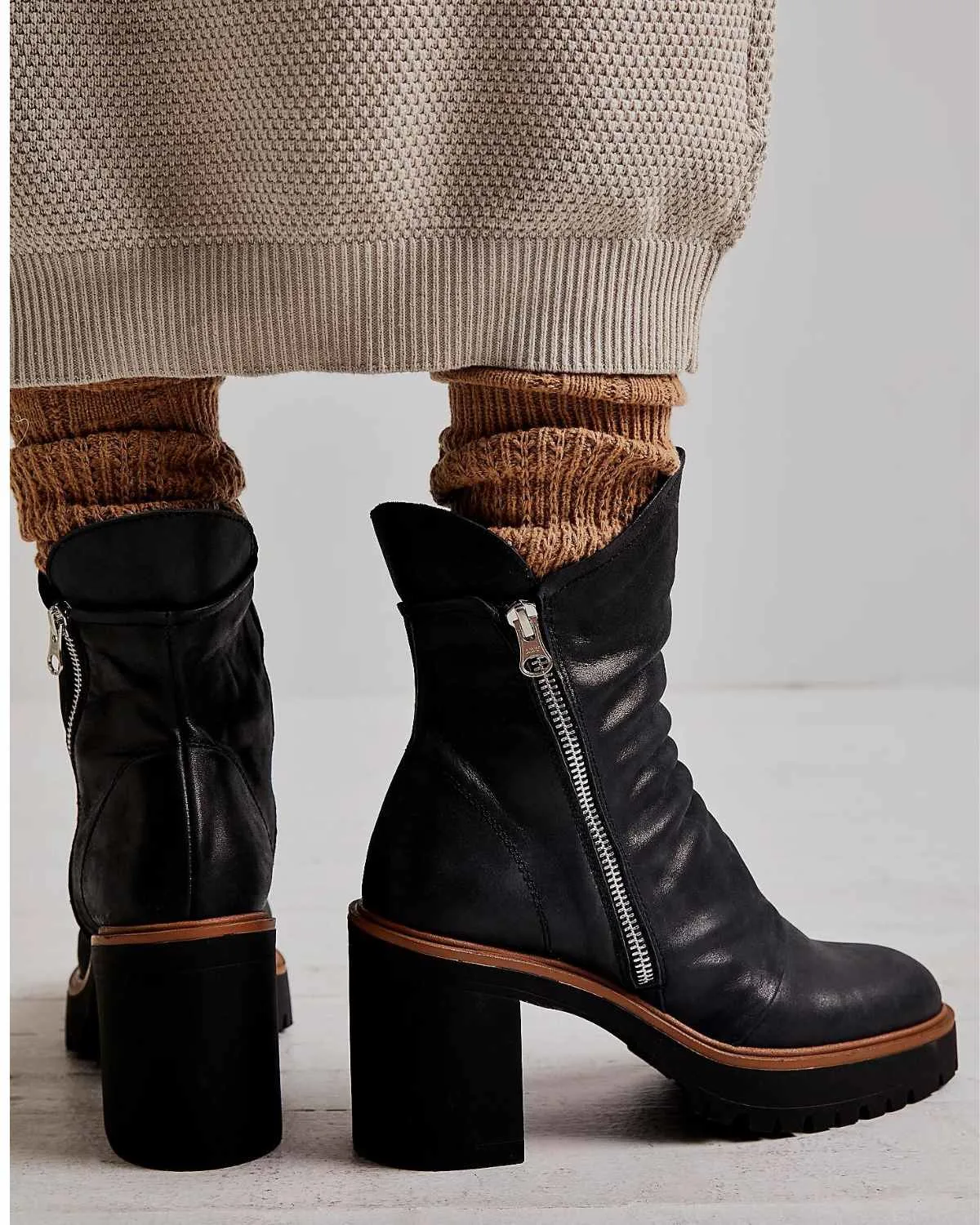 Whether slouchy or just-over-the-ankle speckled cottage socks, knit socks with ankle boots are fab! The wool blend ones will keep you extra warm, while remaining breathable.
Whether you're a fan of neutral or bold colors, you'll find the perfect pair of textured socks to go with your boots.
10. Mesh & Fishnet Socks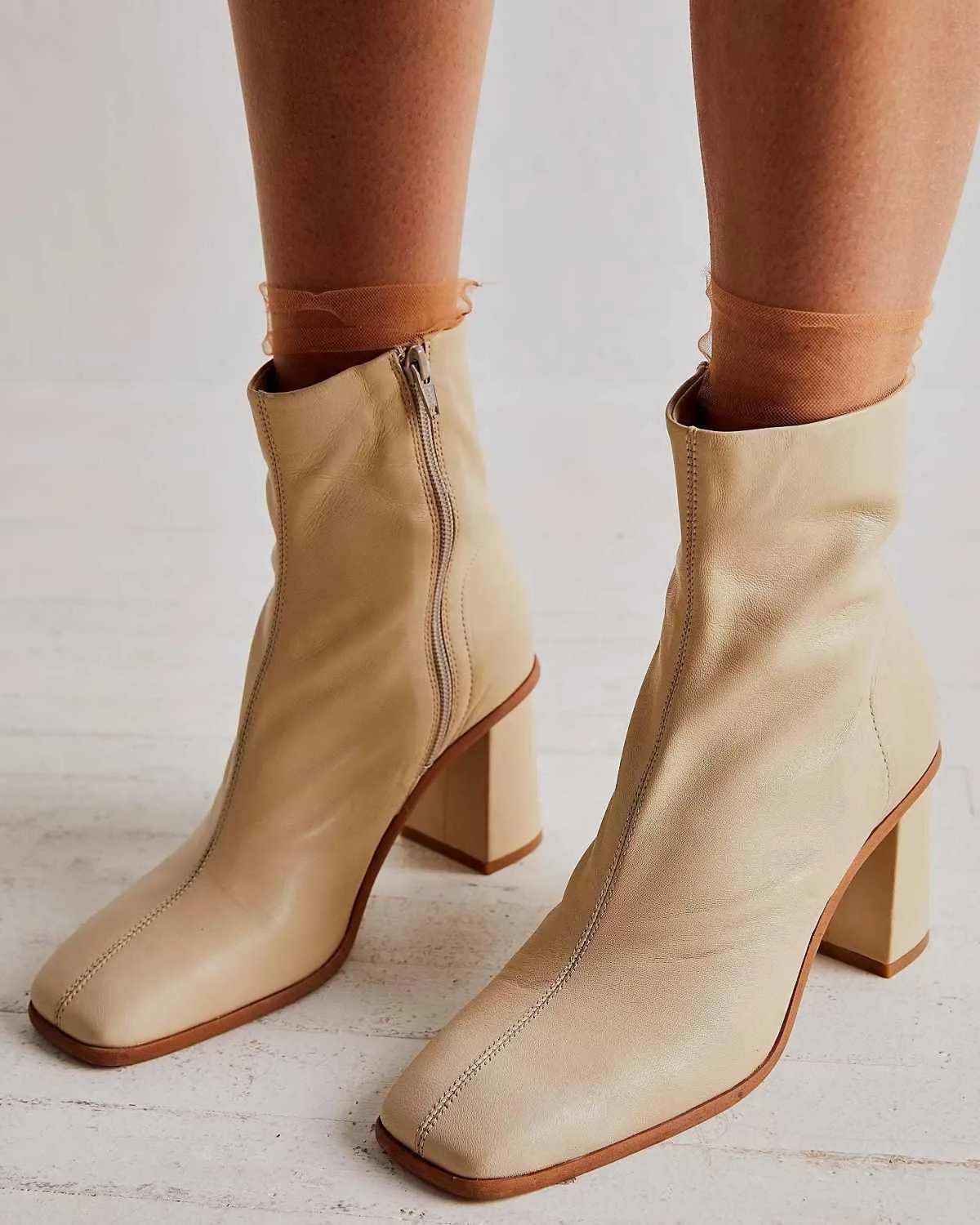 ​​I said I was going to spell out the top 9 best shoes fro ankle boots, but I lied. There is a 10th!
Whether you want to add a little oomph to your ankle boots or add an edgy vibe, fishnet or mesh socks will look fab. Many options are available, including various colors (my fave is black), heights and designs.
Fishnet socks with ankle boots or all types will add a dose of rock 'n roll to your look under dress pants, jeans or skirts.
Mesh socks are more subtle and add a touch of luxury, especially with any embroidery or metallic sheen.
These will look great with high-heeled ankle booties for a night out, and will add a feminine touch to more rugged ankle boots.
Shops Trendy & Classic Socks from:
Final Thoughts on Socks to Wear with Ankle Boots
So there you have it – my top picks for the best socks to wear with ankle boots. As you can see, there are a variety of socks you can choose to show off – or not show at all! – with your ankle boots.
My outfit suggestions with ankle boots and socks are just a suggestion. If your style calls for a certain boot and sock pairing and you love it – do it! Dressing well is all about how good it makes you feel 🙂
Do you have a favorite pair of socks that you like to wear with your ankle booties? I love my black crew socks or fun patterned socks!
Ankle Boots We Love:
More Posts to Enjoy:
How to Wear Ankle Boots with Dresses
Cristina is the chief editor, fashion & shoe expert here at ShoeTease. As a seasoned stylist and women's fashion & shoe designer, she boasts over 20 years of experience in the fashion industry. She loves crafting effortless outfits for ladies both online and off and believes that styling advice should be accessible to everyone. Whether you're a styling pro or just starting out, Cristina's here to guide you on your fashion journey! Learn more.