Looking for Golden Goose dupes or knock-offs of their famous star sneakers? Well, you're in luck!
Today on shoe-tease.com, I've curated a list of the best Golden Goose look alike-sneakers for women (and some men's & children's styles) available in store for 2022. While these aren't fake Golden Goose sneakers per se, they're much inspired by the original brand!
You can find many Golden Goose sneakers that mimic the brand, including the GG Superstars style. These are the first and most popular of the GG sneaker designs.
Many great dupes of Hi Stars, Mid Stars, Pure Star, and Slide Star sneakers can also be found. I even spotted newer some Golden Goose knock-offs of their Star Dan and Sabot star sneakers.
I've included options from various online retailers, brands and multi-brand stores. That way, so you can grab the best Golden Goose dupes that look as close to the originals as possible!
Most have similar, if not all, traits that the GG brand is known for. These include much more than a large star at the side and their signature sleekness. For instance, the distressed look and a specific lack of lace eyelets.
Some share other details with GG such as thick glitter, colorful and shiny laces, mixed materials and prints like leopard print suedes and perforated leathers.
So whether you're on a budget or just looking for a cheaper alternative to the real thing, I've got you covered!
Why are Golden Goose sneakers so expensive?
That being said, you're probably wondering why Golden Goose sneakers are so expensive in the first place. The answer lies in a few factors.
Firstly, their high quality sneakers are handmade in Venice, Italy. As someone who has worked in the shoe designer industry in Italy, this doesn't come cheap!
That's because the craftsmanship is above par, and high quality. The upper suede, leather and mesh materials are soft, yet durable and strong. And the outsoles are well constructed.
And I should know because I own a couple of pairs, which you can read about in my Golden Goose sneakers review!
Their meticulous design, juxtaposed materials, and hidden platforms also add up the cost.
And being the luxury brand they are, they must position themselves in a way that makes them less accessible to the general population. Like it or now, that's just how luxury brands work.
So for those looking for any and all Golden Goose sneaker dupes, luckily others have copied the brand's general look and feel! Now anyone can pay a fraction of the cost and get the scuffed, star-studded luxury sneaker vibe 🙂
Let's find out who makes the best Golden Goose dupes, below!
7 Best Golden Goose Dupes & Look-Alikes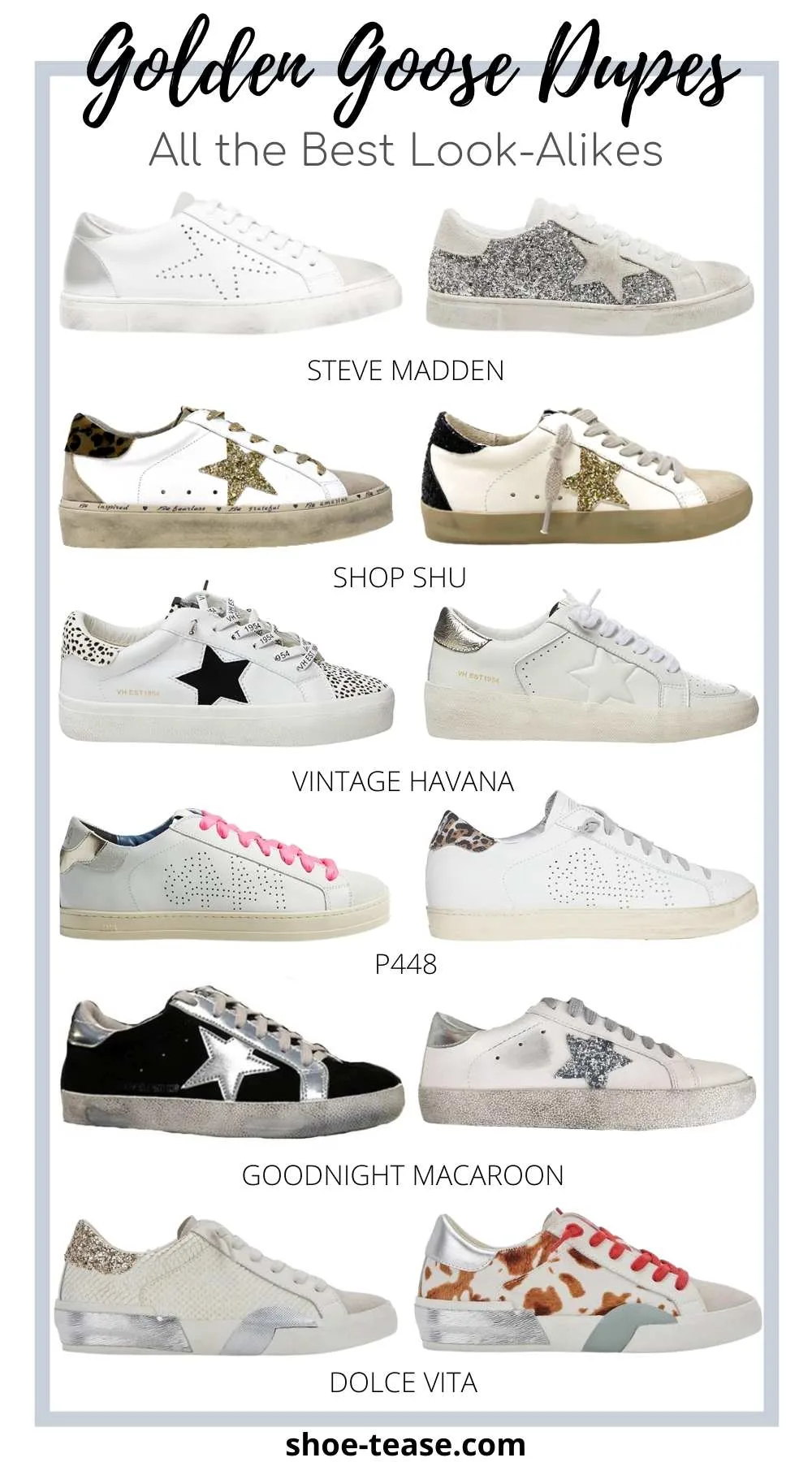 1. VINTAGE HAVANA GG Dupes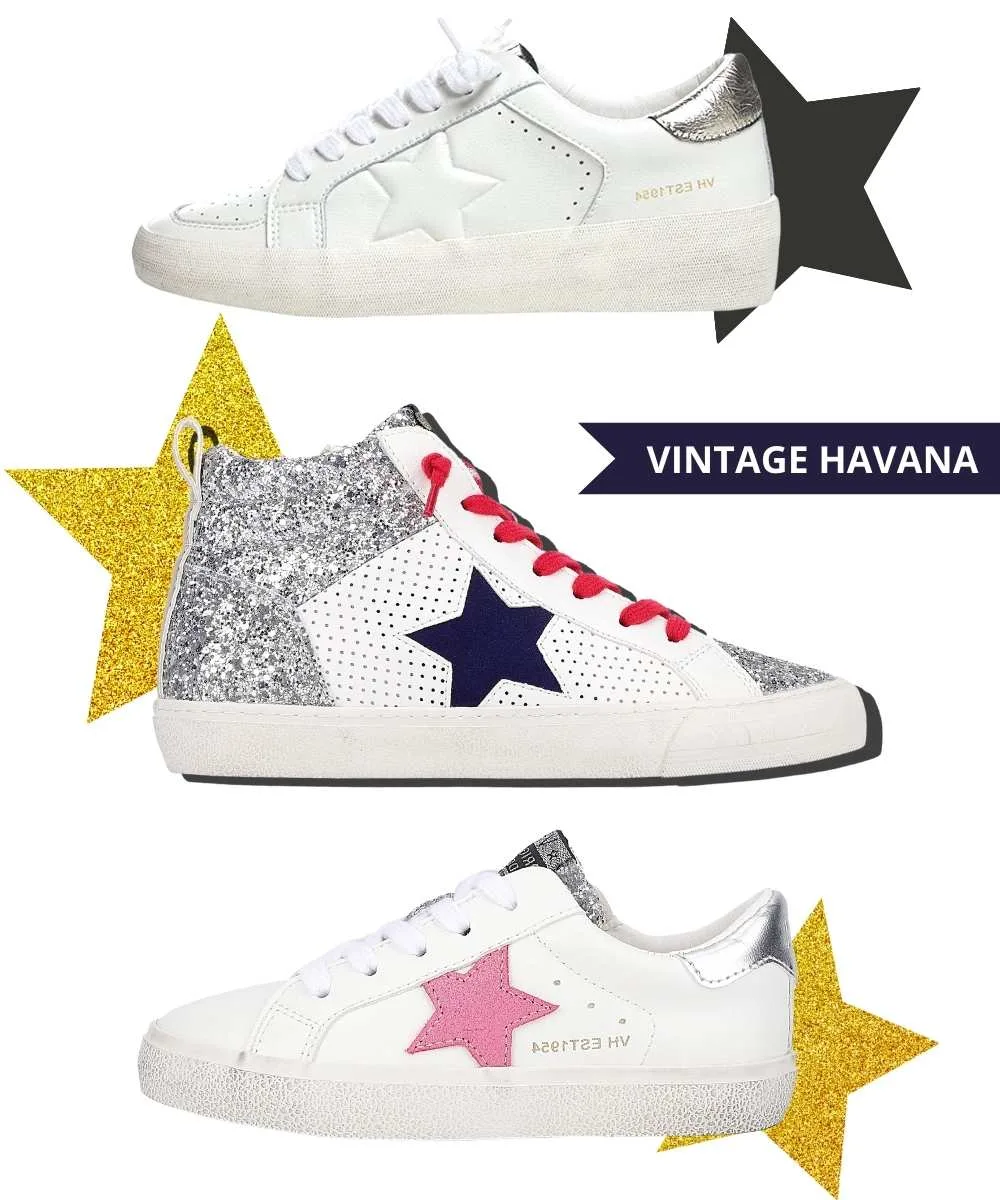 One of the best Golden Goose dupes brands come from Vintage Havana. This US-based brand sells everything from clothing, shoes, bags and smaller accessories for women and children.
However, they're best known for their highly rated GG look alike sneakers! These include an assortment of dupes of the Super Star, Hi Star, Slide high, Super Star Sabot, Stardan, and retro Dad Star styles. They also sell premium printed and plain shoe laces.
When comparing Vintage Havana vs. Golden Goose, the similarities are high. Their most convincing dupes are of the Super Star look-alike.
GG features include the signature GG side star, mixed materials, perforated leathers, metallics, thick glitter, printed laces and a distressed look on many of their dupe styles.
And yes, they also offer a variety of Golden Goose bag dupes, to match your shoes!
Quality: Vintage Havana sneakers have leather uppers, manmade linings and a rubber outsole. Customer satisfaction ratings are high both for look, comfort and durability.
Fit: Although past reports say they run small, more recent reviews say they are true to size.
Cost: Vintage Havana Golden Goose Dupes (along with their other sneaker styles) run between $125-145, but you can find them for about $80 on sale. They ship both within the US and internationally.
Where to Buy: Zappos, Red Dress Boutique and Vintage Havana direct.
2. STEVE MADDEN Golden Goose Look-Alikes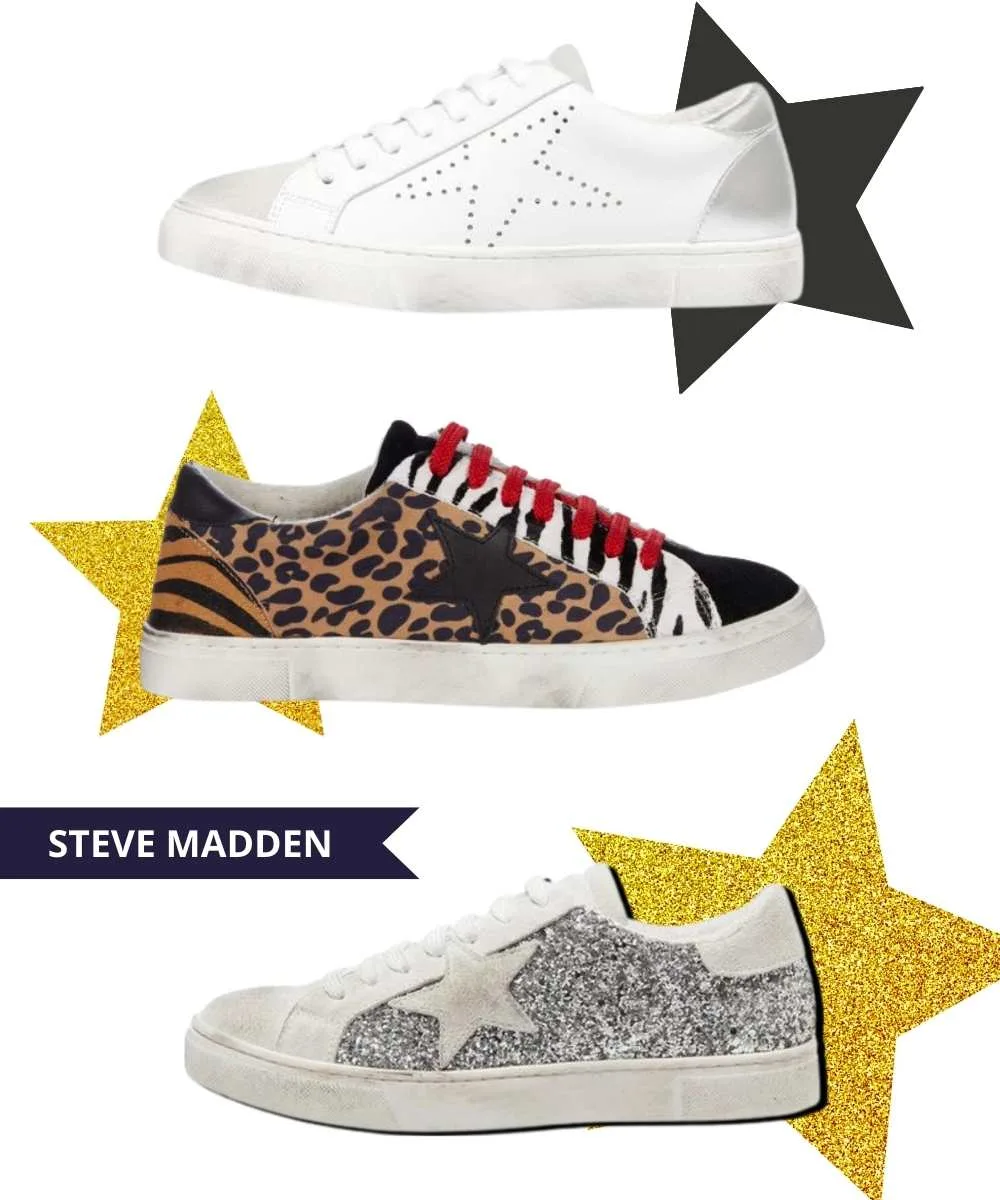 Steve Madden has always done a good job of being on-trend, offering a variety of designer-inspired dupes. Including those that mimic Golden Goose sneakers!
With leather and suede uppers, Steve Madden and STEVER By Steve Madden offer a Golden Goose Super Star and Hi Star look-alike styles including the Rezume, Starling, Rubie and Rezza.
You will find the GG detailing including: the signature star, glitter, scuffed outsole, mixed materials in black, white and animal prints. However, in terms of dupes, these won't fool a keen eye.
The outsole and general sneaker shape isn't as sleek and the perforated stars on the Rezza stars look more like an awkward starfish.
Quality: made of leather uppers and textile lining, both customers and bloggers love their Steve Madden dupes, giving them an almost 5 star ratings all around for all their Golden Goose Dupes. High points for look, comfort and especially quality of materials.
Fit: fits true to size. Wide widths available, which also fit to size.
Cost: These dupes are an average of $70, but the STEVEN BY Steve Madden dupes are $40.
Where to Buy: Shop Steve Madden Golden Goose dupes from Steve Madden, Zappos.
3. P448 GG Look-Alikes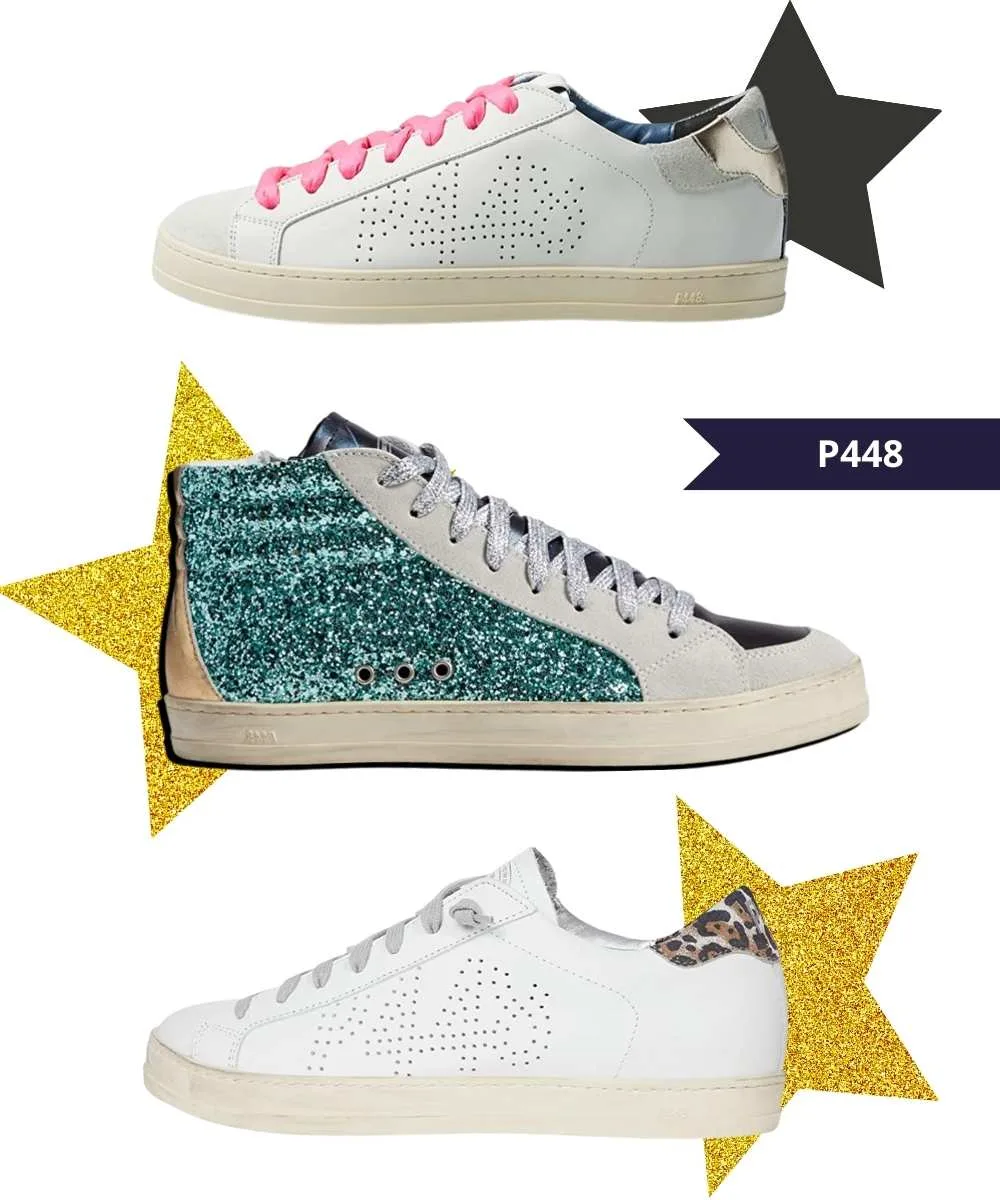 Comparisons between P448 vs. Golden Goose have been made, even with no star on the side! So no, P448 and Golden Goose the same as P448 has their own aesthetic. However, there are hard-to-miss similarities that make these nonetheless a wonderful dupe.
The P448 brand offers women's and men's sneakers that look like Golden Goose styles, especially the Super Star and Mid stars. You'll find many juxtaposed materials, perforations, glitter, metallic, animal prints & contrast laces.
What differentiates the P448 Golden Goose dupes from the rest, is their high quality. This includes high grade materials and Italian craftsmanship.
This makes their price is much higher than that of other brands listed in this post. However, they are still approximately half the price of the original GGs.
If you love the look of these sneakers, they have many other styles that differ from the GG aesthetic, with thick, colorful outsoles, ribbon laces and more.
Quality: Soft, genuine leather and suedes and Italian craftsmanship make for superior quality and longevity.
Fit: fits larger, so it's best to order a size down.
Average Cost: $300, but I have found many styles on sale for all the way down to $110
Where to Buy: Zappos, Bloomindale's, Nordstrom
4. GOODNIGHT MACAROON Golden Goose Dupes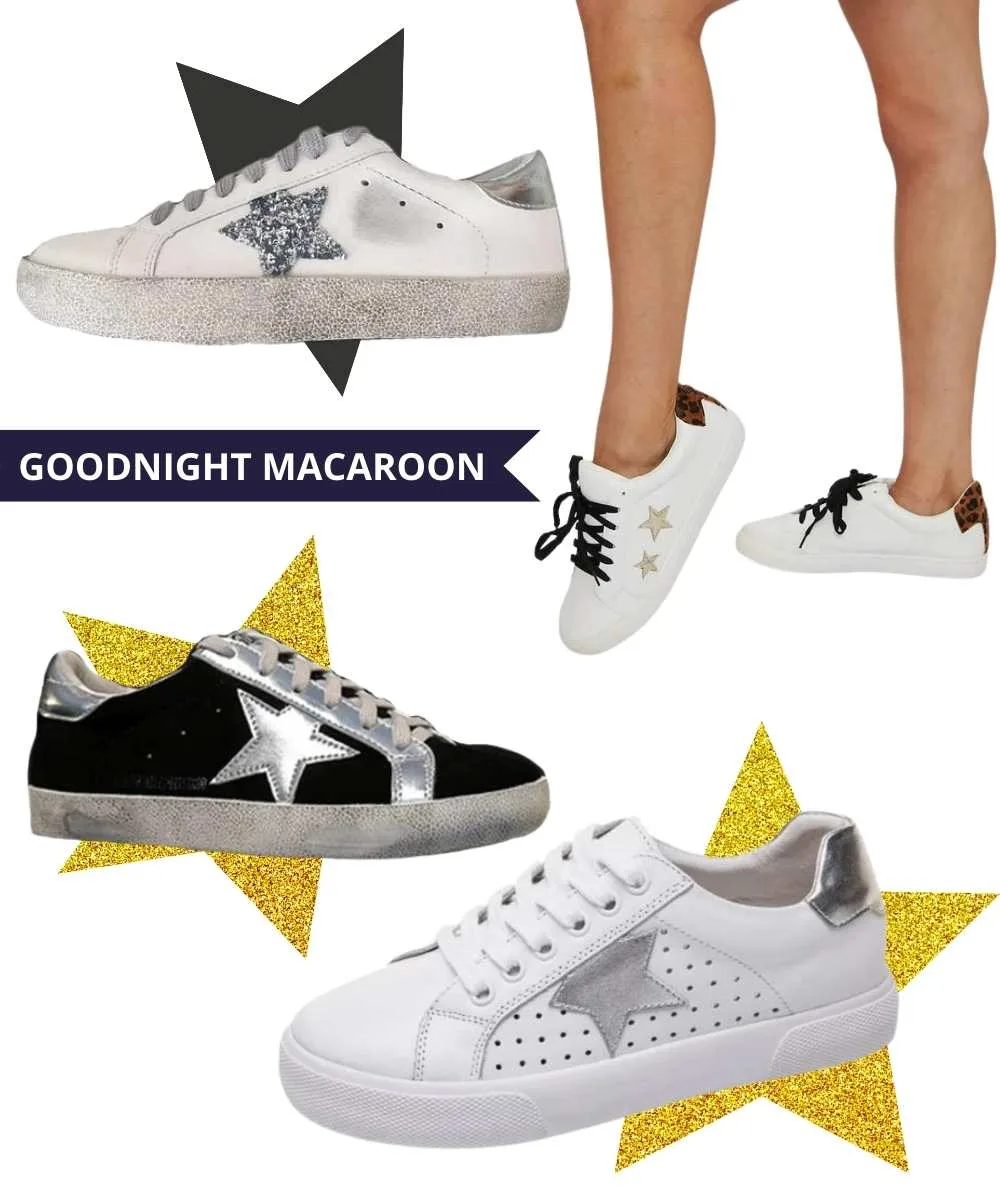 Goodnight Macaroon is a US-based boutique selling trendy mid-priced women's fashion, athleisure, loungewear, shoes and accessories.
They ship within the US and overseas. Some items are produced in the US, while most are shipped from overseas.
They have a small collection of sneakers, including some Golden Goose dupes. Although their styles are more chunky than the streamlined look of GG sneakers, their Vanessa star sneakers make a great Super Star GG look-alike.
Quality: Made of leather lining and insole, these come in a vast array of colors, with or without sequins, leopard print and metallic star detailing.
All have a similar scuffed-sided outsole and distressed upper, with a convincing star placement, that could easily fool the non-GG sneaker owning connoisseur. Reviewers are giving high ratings for the sneakers' look and comfort.
Fit: Goodnight Macaroon Golden Goose look-alikes run big, so it's best to order 1 size down.
Cost Range: $89-94. The Vanessa is currently on sale for $63, while a less convincing dupe named Della is also on sale from $89 to $59.
Where to Buy: goodnightmacaroon.co
5. SHOP SHU Golden Goose Dupes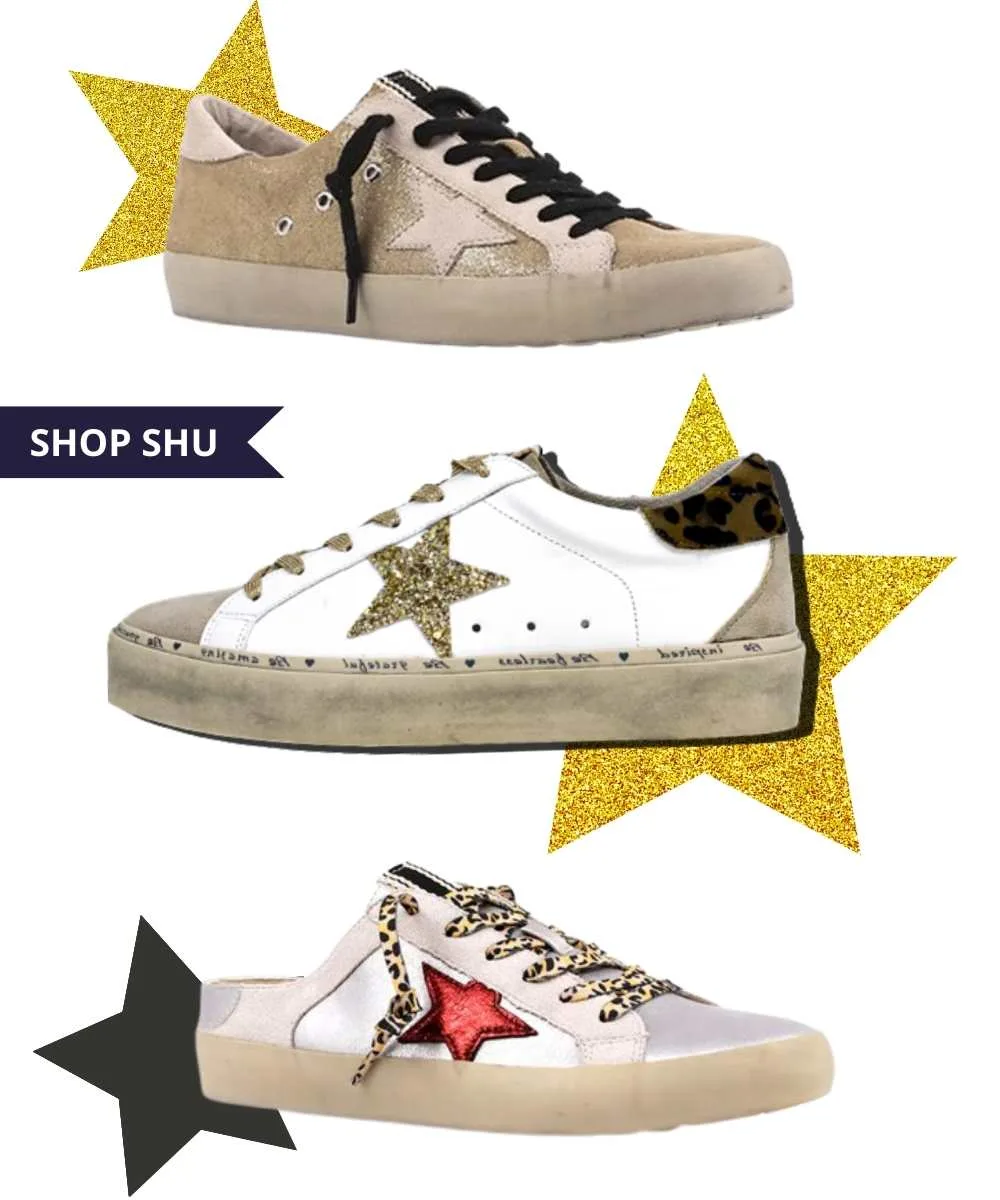 Shop Shu is Florida, USA-based company, specializing in all kinds of shoes for women, children and toddlers. They are best known for their large variety of GG Dupes and mommy & me shoe pairings.
You can find Golden Goose dupes of the Super Star, Mid Star, Hi Star, Super Star Sabot, Running Sole and Dad Star.
Quality: The materials aren't listed on the product pages, but on other retailers, it states Shop Shu sneakers are made of faux suede and imitation leather uppers and lining.
Fit: Run a bit large, so try sizing down a half size.
Cost Range: $79-158
Where to Buy: Walmart, Shop Premium Outlets, Shop Shu
6. DOLCE VITA Golden Goose Look-Alikes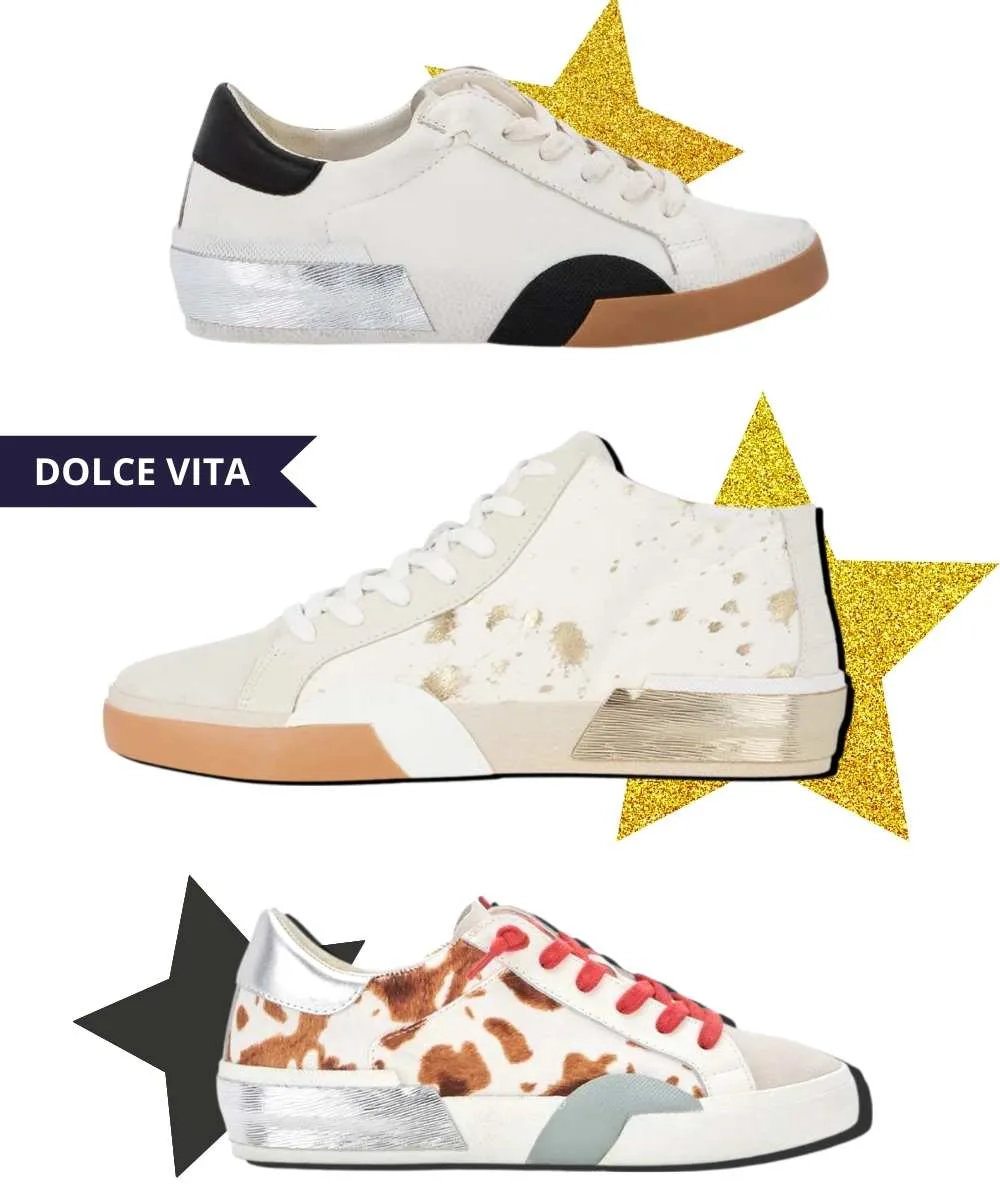 Another set of Golden Goose look-alike sneakers that don't have stars, but the feel is similar are from Dolce Vita. I absolutely love the look of their Zina sneakers (Super Star look-alikes) and Zoel hi tops (Mid Star dupes).
These have the same mix & matched materials, colors, metallics and hidden lift as the original GGs.
Quality: Most reviews on their website and Zappos are 5 stars, some other reviews fall short on Bloomingdale's and Amazon. The most prevalent customer complaint is about poor quality, followed by an odd fit around the heel area and some mentions of general discomfort.
However, that doesn't seem to be the norm so this could have been a badly made shipment.
Fit: Fits to size
Cost: $115-160, but have found them on sale for $75 at Bloomingdale's and $107 from Zappos
Where to Buy: Zappos, Bloomingdale's, Dolce Vita, Nordstrom
7. Golden Goose Dupes Honorable Mention – Walmart
Walmart marketplace offers a slew of star sneakers, some more like Golden Goose dupes and others with less of a GG aesthetic for women, men and children.
You can find many styles from the brands mentioned in this post. These include Shop Shu, Steve Madden, Dolce Vita and Vintage Havana styles. I have found some other star sneakers from Gypsy Jazz, Time and Tru and Scoop.
Cost: Prices range from $30 and upwards to roughly $155
Golden Goose Dupes FAQs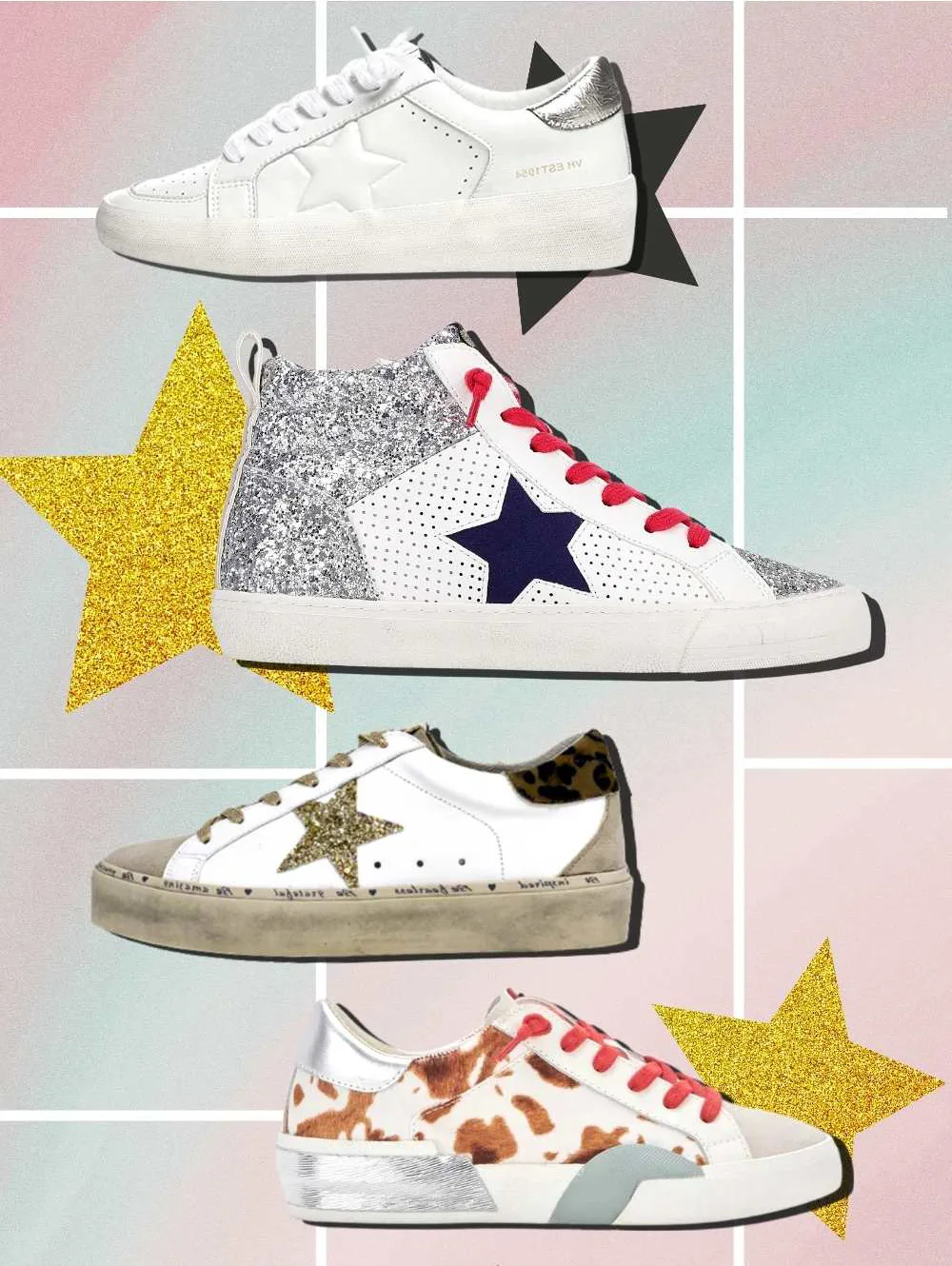 -Who makes the best Golden Goose dupes?
This one's subjective, but in my opinion, Vintage Havana makes the best Golden Goose sneaker dupes. I say this for the look, quality, variety of styles and overall reviews. Even their bags closely follow the brand's aesthetics.
Shop Shu comes in at a close second, just for how similar they look to the originals. However, in terms of quality, I can't attest that. Their sites have many positive reviews, but I'm always skeptical of relying on a website's reviews alone.
-Is Vintage Havana a Copy of Golden Goose?
Well, this depends on how you define 'copy'. Does Vintage Havana have many aesthetic similarities to Golden Goose sneakers. Absolutely. However, they're not an exact copy.
Their outsoles vary, as do the laces, and general shape of the shoe. I would say that Vintage Havana are inspired dupes, rather than straight-on copies or 'fakes'.
-Do Fake Golden Goose sneakers exist?
Most styles that look like GG sneakers are dupes, rather than fakes. They're inspired by the real thing vs. a blatant fake Golden Goose.
That being said, some styles available on the marketplaces of Walmart, Amazon and Alibaba look like fakes vs dupes. From my experience in the industry, there are always more fakes of the most popular brands circulating than we realize.
If you want to verify whether your Golden Goose sneakers are the real deal, check out this article on how to compare fakes with the originals.
-Is Golden Goose a Luxury Brand?
Yes! Golden Golden Goose is a luxury brand based in Venice, Italy. It was created in the early 2000s. Crafted by Italian artisans, Golden Goose specializes in lifestyle pieces.
The brand is world-renown for it's creatively designed high-quality sneakers.
-What is a brand that looks like GG?
Pretty much all of the above, but primarily those with stars, including Shop Shu, Vintage Havana and Goodnight Macaroon.
Shop Golden Goose Sneakers
Looking to invest in the real deal? You can shop for genuine Golden Goose Sneakers at:
Final Thoughts on Golden Goose Dupes
Getting a pair of Golden Goose sneaker dupes is a surefire way to put together a cool sneakers outfit. This, while saving you a ton of money.
That being said, getting a pair of Golden Goose look-alikes vs the real deal is best for those who primarily care about the look.
Or for those who want a more exhaustive trendy sneaker collection without emptying their bank account! Especially since it's almost impossible to find a pair of GG Sneakers on sale.
The materials and craftsmanship of Golden Goose sneakers are high. So if longevity is what you're after and don't plan on buying multiple pairs, investing in GGs, or similar high quality sneaker is always a good idea. These will hold up best.
I can personally vouch for that! I've worn my Super Stars in rain, slush, parks and dirty roads for almost 5 years. And they're holding up beautifully.
Anyhoo, I hope I've given you a good rundown of the current best Golden Goose dupes. I would love to hear which ones are your faves, so feel free to leave a comment in the section, below!

xo ShoeTease