If you're into fashion – especially shoes – then there's no doubt that you're familiar with Golden Goose sneakers.
And today I'm here on shoe-tease.com for a thorough Golden Goose review of both the Superstar and Hi Star sneakers!
The Italian brand Golden Goose has been around since year 2000 and is known for its glam, high-quality, trendy sneakers.
If you find yourself on this post, you're likely wondering whether Golden Goose sneakers are worth it, what's the deal with Golden Goose's sizing and whether they're comfortable – or not.
Or maybe you're just curious why they look dirty and are so expensive – fair enough! As a happy owner of two of their styles – the Superstar and Hi Star – I wanted to share my thoughts on them.
My Super-Stars were bought in 2017 and worn a lot, while my Hi-Stars are new. My review about each will reflect that.
I bought both styles myself for everyday wear, not just for photo ops! So if you're looking for a Golden Goose review to decide how these sneakers will last with frequent wear, this review is for you.
Read on for my honest thoughts about these two styles of Golden Goose sneakers. I will answer common questions about these luxury kicks while comparing them to one another.
RELATED POSTS:
Golden Goose Sneakers Review – General Info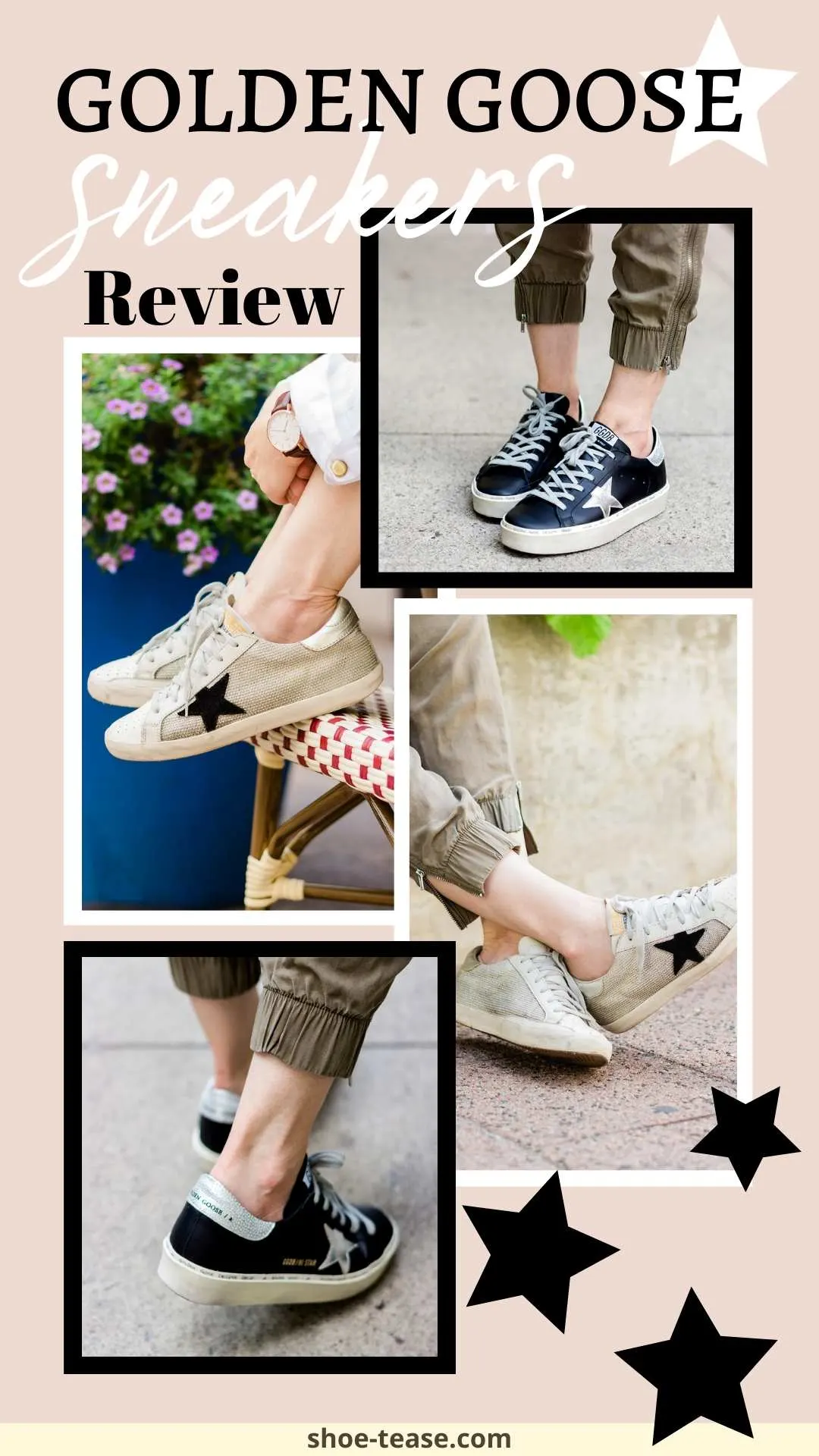 Photos by: Bruna Rico Photo
What are Golden Goose Sneakers?
Golden Goose sneakers are high-end luxury fashion sneakers made by Golden Goose Deluxe Brand. So if you're wondering what GGDB stands for, that's it!
Golden Goose sneakers are handcrafted in Venice, Italy, and made from top-quality leathers and materials.
They're known for their star logo, mixed & juxtaposed materials, and of course, their scuffed, distressed look.
How much do Golden Goose Sneakers Cost?
Golden Goose sneakers cost anywhere between $400 to a whopping $1700. Most come in at around 550 USD for low-tops like the Super-Stars and $650 for the high tops.
Of course, for us Canadians, you're looking at an average of $750+tax.
There is a price range between styles and materials. Limited edition designs are the priciest. They can be slathered in Swarovski crystals, embroidered, or specialty materials like pony skin.
Why do Golden Goose sneakers look dirty?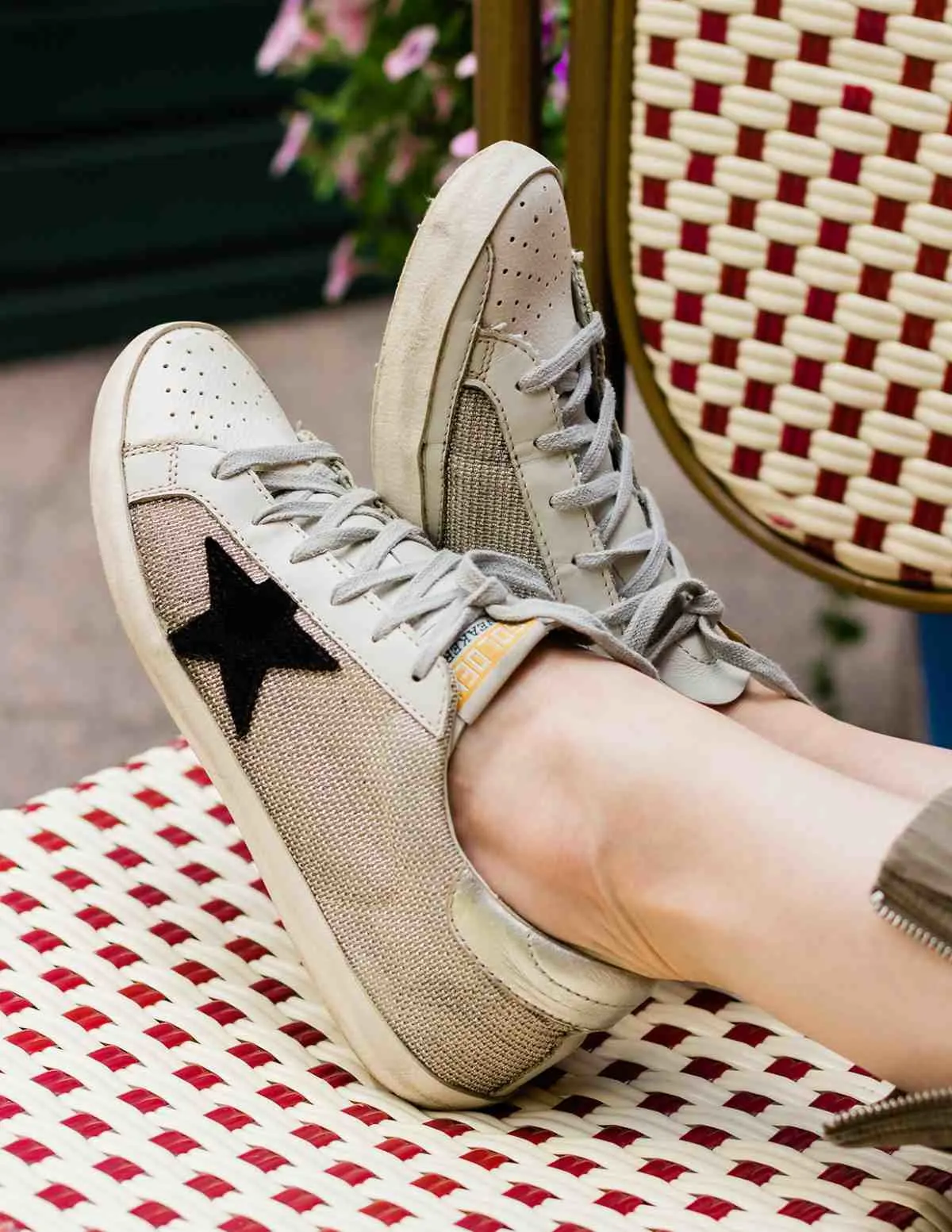 Most of Golden Goose's sneakers have a purposeful distressed, scuffed, and seemingly 'dirty' look to them.
I gravitated towards them for this aesthetic because of their worn-in, less fussy look. These just made sense for me, being a busy, messy mom on the go!
This, I thought, would make it possible for me to wear them out & about without the fear of getting them dirty. And I guessed right!
I went to the park, splashed in small puddles and didn't have to worry about looking slovenly or ruining my shoes.
Not all GG sneakers take on a fully scuffed aesthetic. And due to the hand-distressed nature of each GG sneaker, some pairs will look more scuffed than others.
Some that are not or only partially distressed include some Hi-Stars and Purestars, along with the Starter, and Yatay styles.
Because each pair is scuffed by hand, you'll never get two pairs that are identical, which I love!
What are the most popular Golden Goose sneaker styles?
The most popular GG sneakers for women are, by far, the Superstars. Especially those with a white or off-white base.
Made with a low profile, sleek design and a hidden wedge insole, these are the easiest to wear and style. They're literal shoes that go with everything!
In fact, I even suggest these as great casual sneakers to include in a capsule shoe wardrobe.
The next most popular GG sneakers styles for women are the Mid-Stars, followed by the Hi-Star and Slide (hi top) sneakers. Check out my answers to more frequently asked questions, here!
Golden Goose Sizing, Comfort & Fit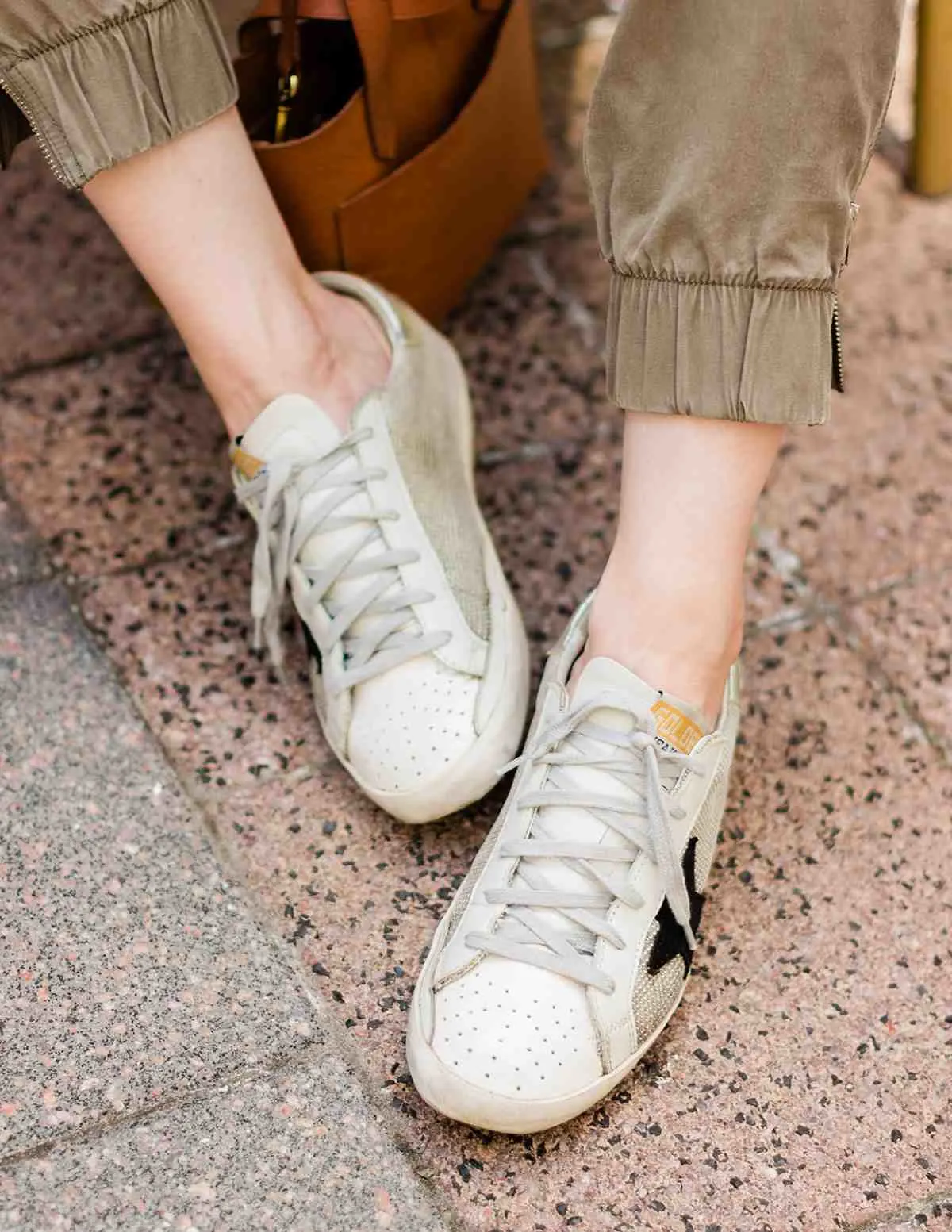 It's impossible to do justice in a Golden Goose sneakers review without a section dedicated to comfort & sizing! So if you're wondering how Golden Goose sneakers fit, read on:
Do Golden Goose run small, big, or true to size?
Golden Goose sneakers fit true to size and come in full European sizes. Sorry, no half sizes! I usually wear a US size 8, and my both my GG sneakers are a size 38. If you're a half size, I'd size up.
That being said, each model and style will feel and fit differently – especially when different foot shapes are involved.
However, my Super-Star sneakers fit snugger and shorter than the Hi-Stars, which fit more like a 38.5 on my feet.
I'll review how the Golden Goose Superstar and Hi Star sneakers fit and the comfort level individually. You can skip on down here for that!
Are Golden Goose Sneakers Comfortable?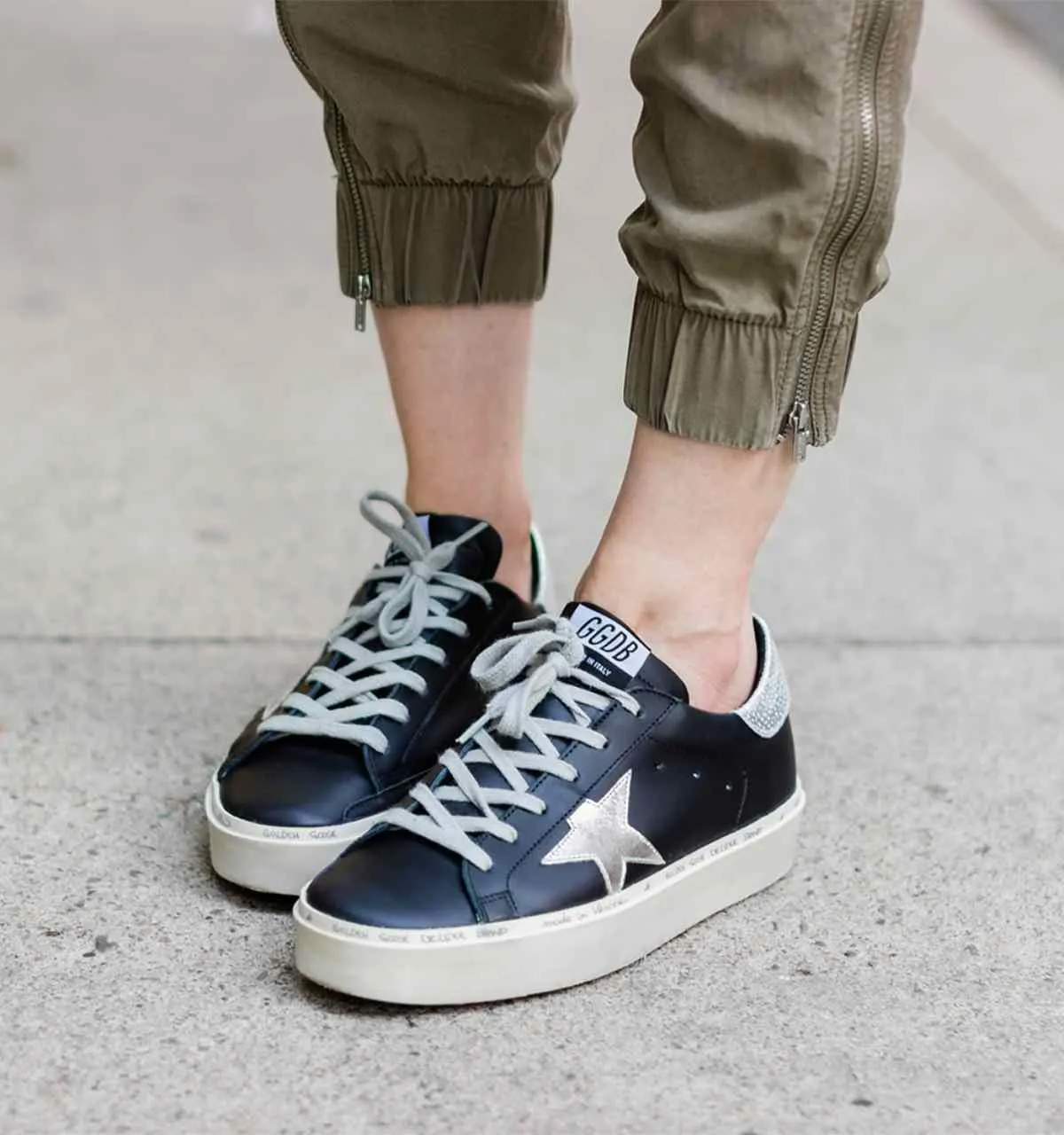 Yes, but only if you get the right size! This is true for any shoe or sneaker, really. Both my GG sneaker styles have padded collars behind the ankles. As such, they've never dug into me or caused blisters.
The inside is lined with a soft terry cloth and suede for those who want to wear them sockless. That being said, I recommend wearing socks, preferably no-show socks with Golden Goose sneakers.
These hidden socks further prevent rubbing and blisters, making them more comfortable. Socks also protect the interior of the shoe from moisture & odor, keep your feet cool and generally make your GGs last longer. So yea, wear socks!
Golden Goose Review of Super-Star Sneakers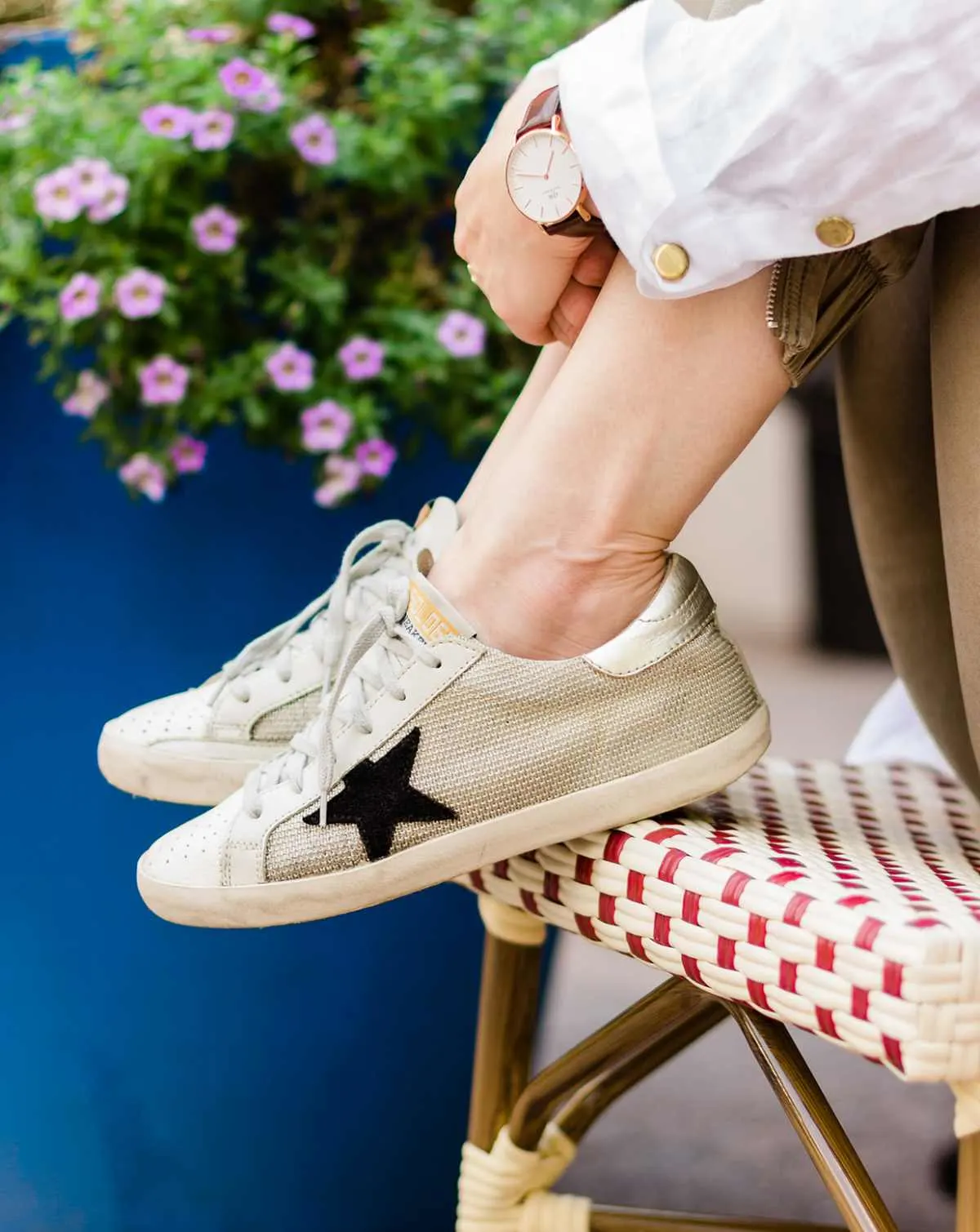 Starting my review with the most popular of the Golden Goose sneaker styles – the Superstar. You will find the most variations of colors and materials in this style.
They keep adding more each season, including special edition Superstars!
When I bought mine in 2017, I opted for a more subdued style with leather trim and silver metallic mesh with a black suede star, as pictured below:
–Sizing & Fit
Purchased in my usual size 38, my Super-Star sneakers fit great width-wise on my narrow feet. However, they do fit a bit short in length. This, with no-show socks.
I should have reached for the next size, but they were on sale (they never go on sale in Canada!) and were the only size left, so I got them anyway. Yeah I know, tisk-tisk!
Worth noting this year (2022), I went to try on some other Superstar styles in a 38, and they fit perfectly.
I am unsure whether Golden Goose has adjusted sizing since 2017 or if this model is just tighter. It's made of strong leather vs. soft suede, after all. I might have to buy another pair to verify 😉
Because of this, I would say that Golden Goose Superstar sneakers fit true to size and will fit a narrow to medium-width foot.
–Comfort
Since they're a smidge tight on me, as long as my feet don't swell and I wear some socks with them, they are comfy.
I have comfortably chased my kiddos, and have stood and walked for some time in them without any discomfort.
I'll rate them a 7.5/10 overall for comforts, vs. a high comfort/orthotic sneaker.
Insoles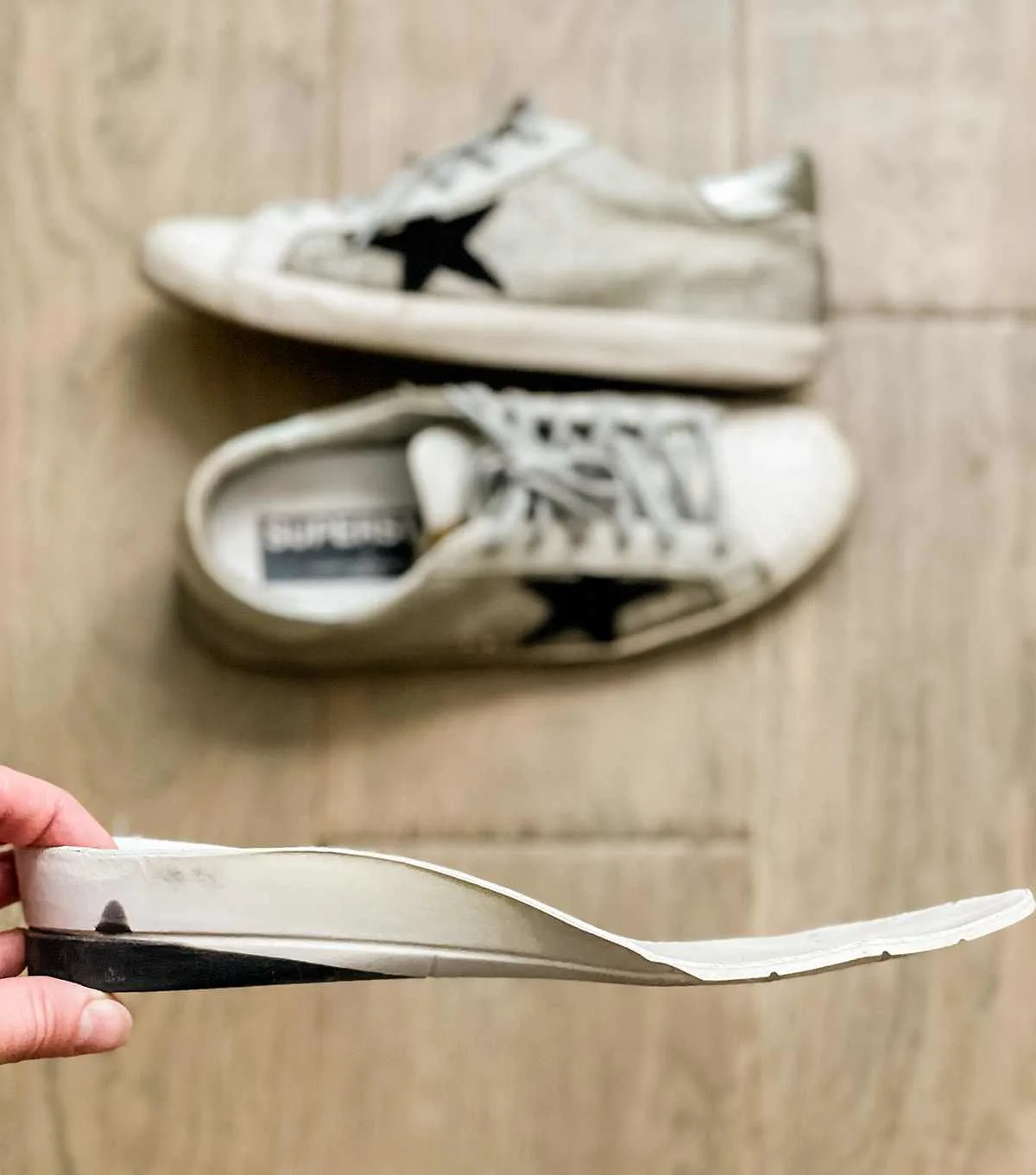 The GG Superstars have insoles with a built-in wedge insole. The top is quite firm, but has a bit of 'squish' to it, which makes for a very comfortable footbed.
Because the insole is fully removable, you can easily replace it with a softer, orthopedic or custom orthotic insole, making the comfort level more adjustable!
Outsoles
The Supers-Stars' outsole is relatively light and bendy. It's able to bend as your foot moves, making them comfy to walk in without weighing you down.
Long-Term Wear (after 5 Years!)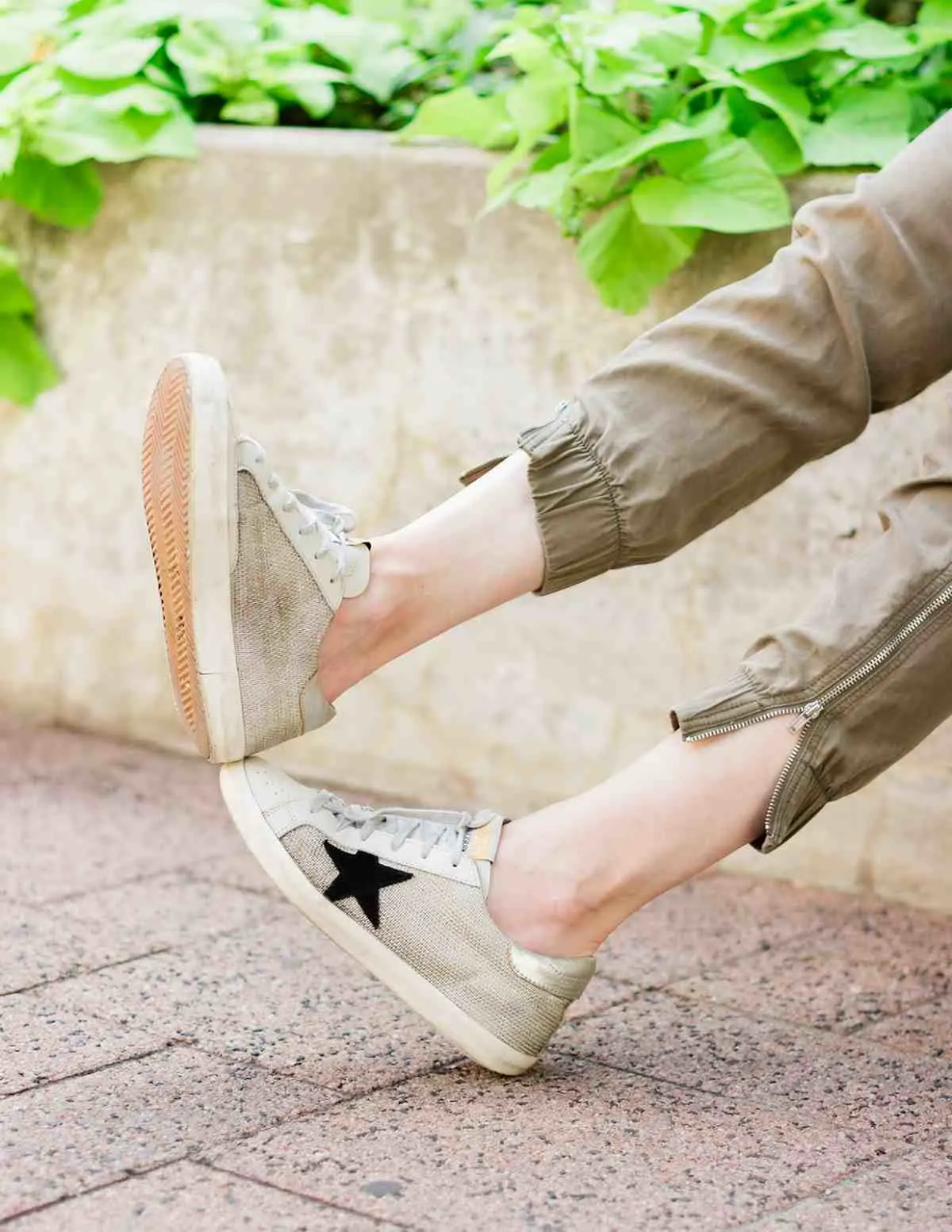 I've had these for almost 5 years, wearing them from spring to fall to the park, running errands and in some light rain. So, pretty much everywhere!
Before taking these photos, I gave them a good clean, and they still look as good as new.
They may have a couple of new scuffs here and there. However, due to the distressed style, these are not noticeable!
The most notable wear can be seen on:
The edge of the back outsole, from walking
Moisture stains in the lining and under the insole. This is my fault for wearing them far too often without socks!) in the rain. So please don't do that, unless you're planning on making the sneakers waterproof!
Pulled stitches on the side of the vamp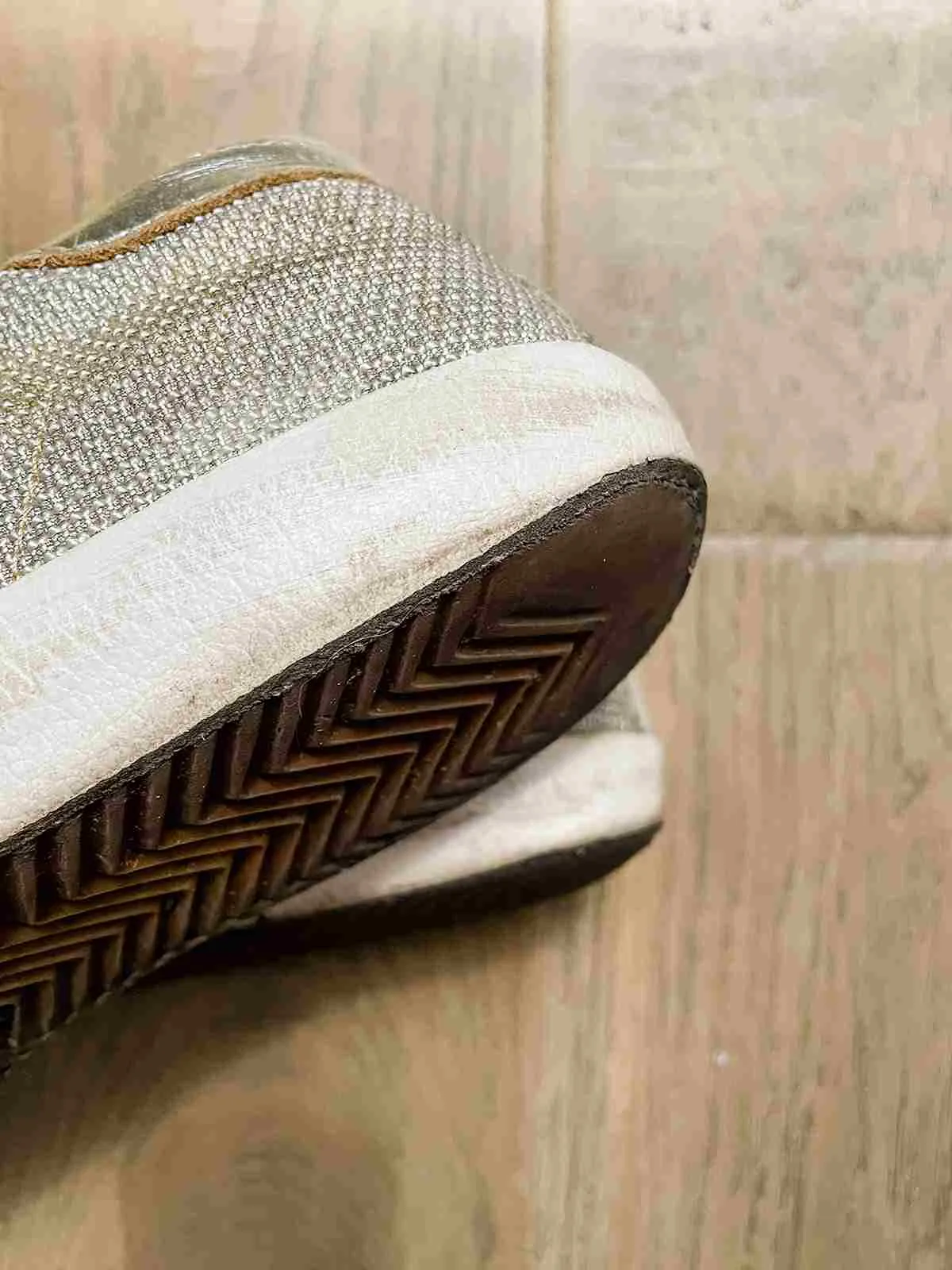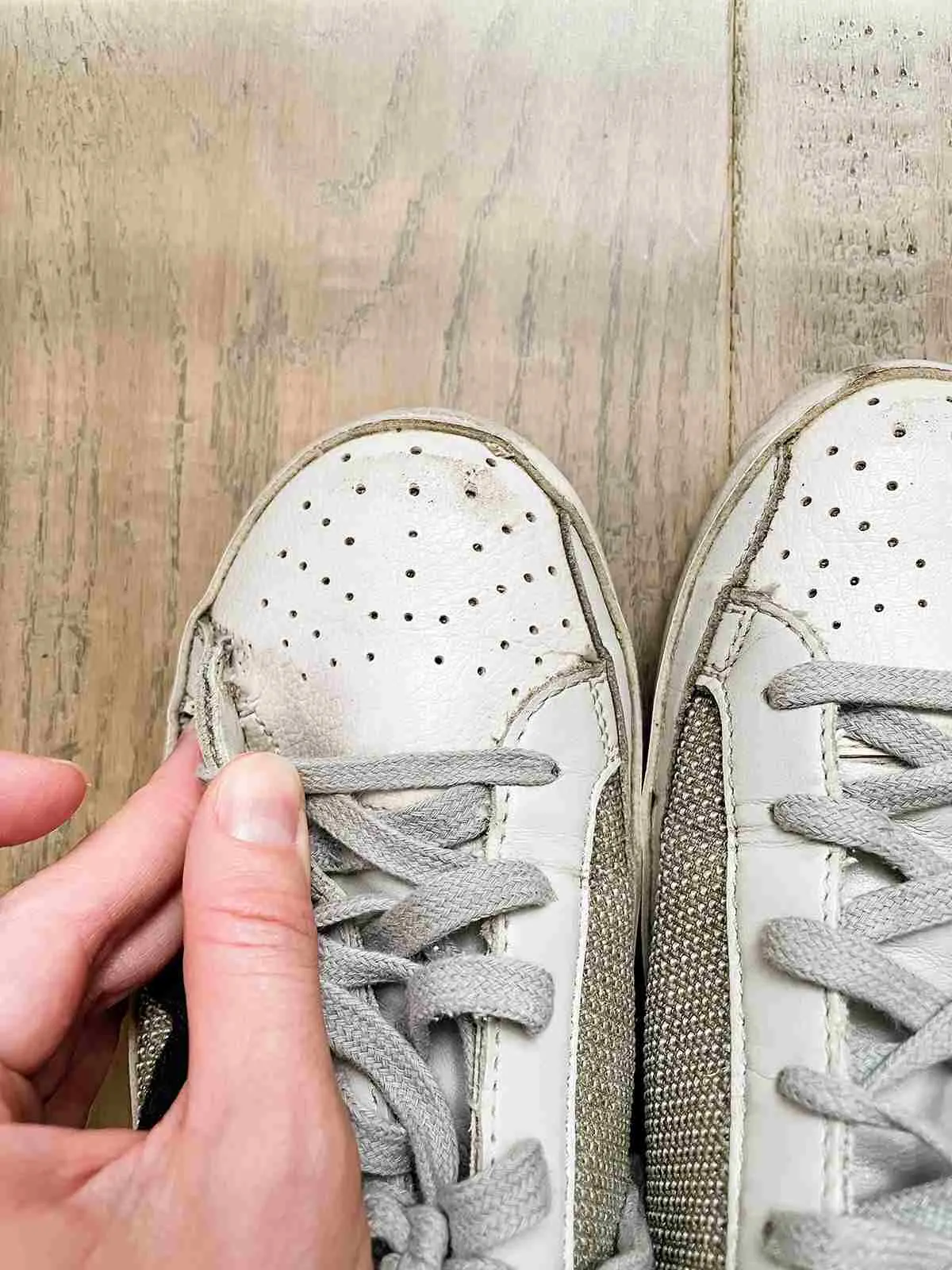 Below is a photo from when they were brand new, captured in the store, for comparison: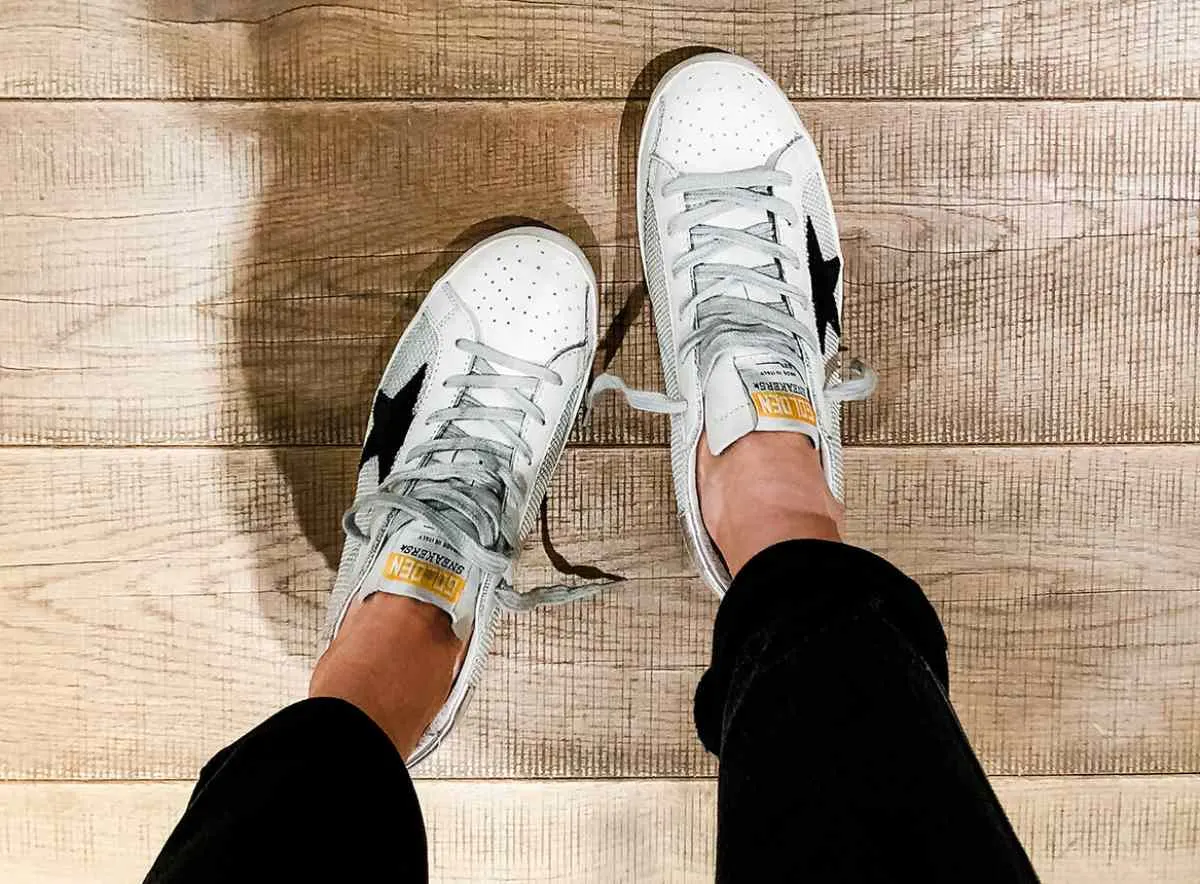 Golden Goose Review of Hi-Star Sneakers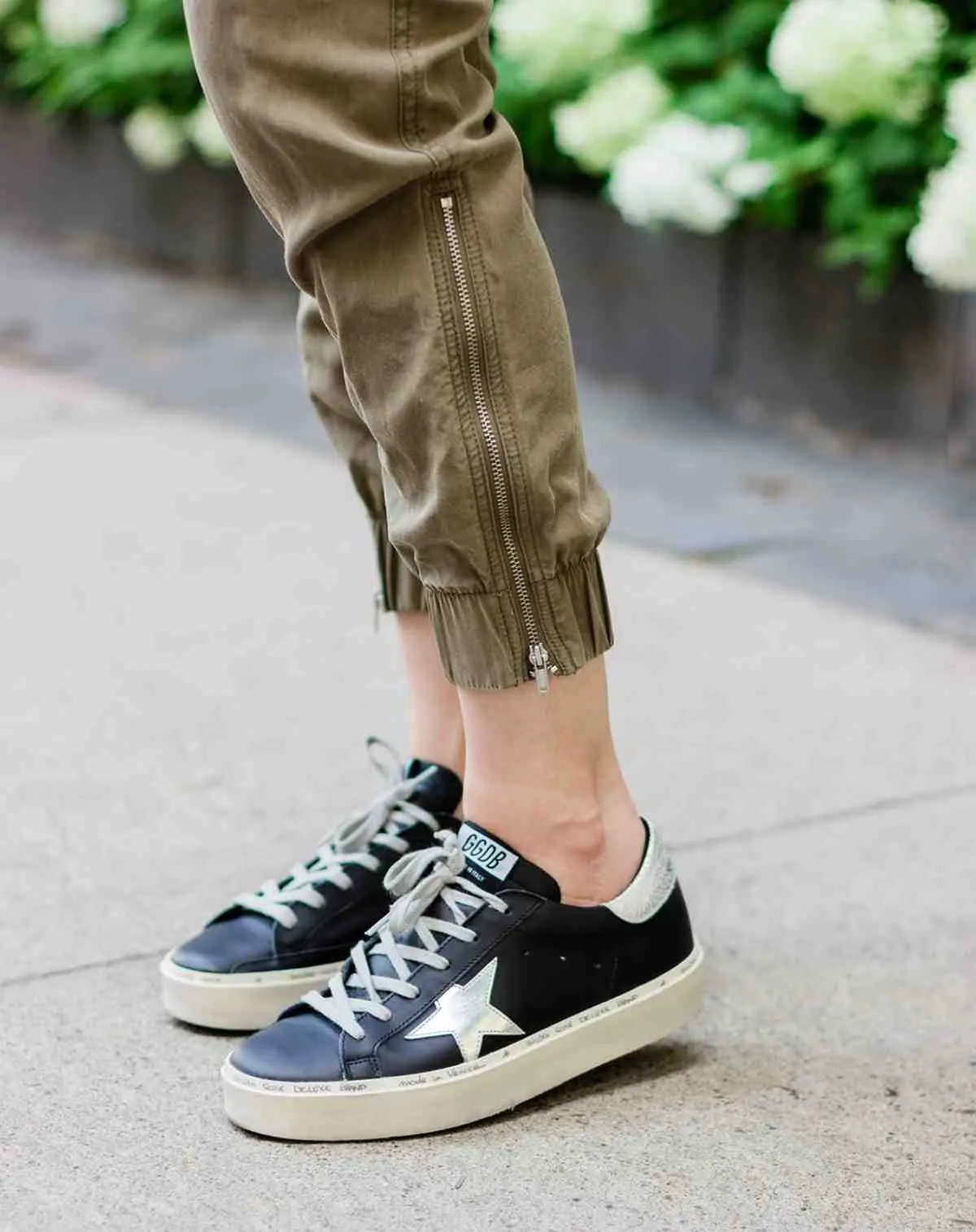 I recently bought a new pair of black Golden Goose Hi-Stars, which I had been eyeing for years!
I have only worn them a handful of times but discovered a slew of surprising things about them. You can be sure that I will add more info to the post as I keep wearing them!
–Sizing
Golden Goose Hi-Stars fit larger than their Super-Star counterparts. I bought my GG Hi-Stars in my usual size 38.
However, the fit is much wider and slightly longer than my 38 Superstars and are a better fit.
I would say that they fit true to size, leaving enough wiggle room (literally) for my feet, toes and some thicker sports socks.
–Comfort & Fit
Because the Hi-Stars are slightly roomier for me, I find them more comfortable than the Super-Stars. The leather is strong but soft. Overall, this is a heavier sneaker and their weight might deter some potential buyers.
After wearing them for the first time, the top of my toenail was a bit sore. However, that never happened after the first wear!
Insoles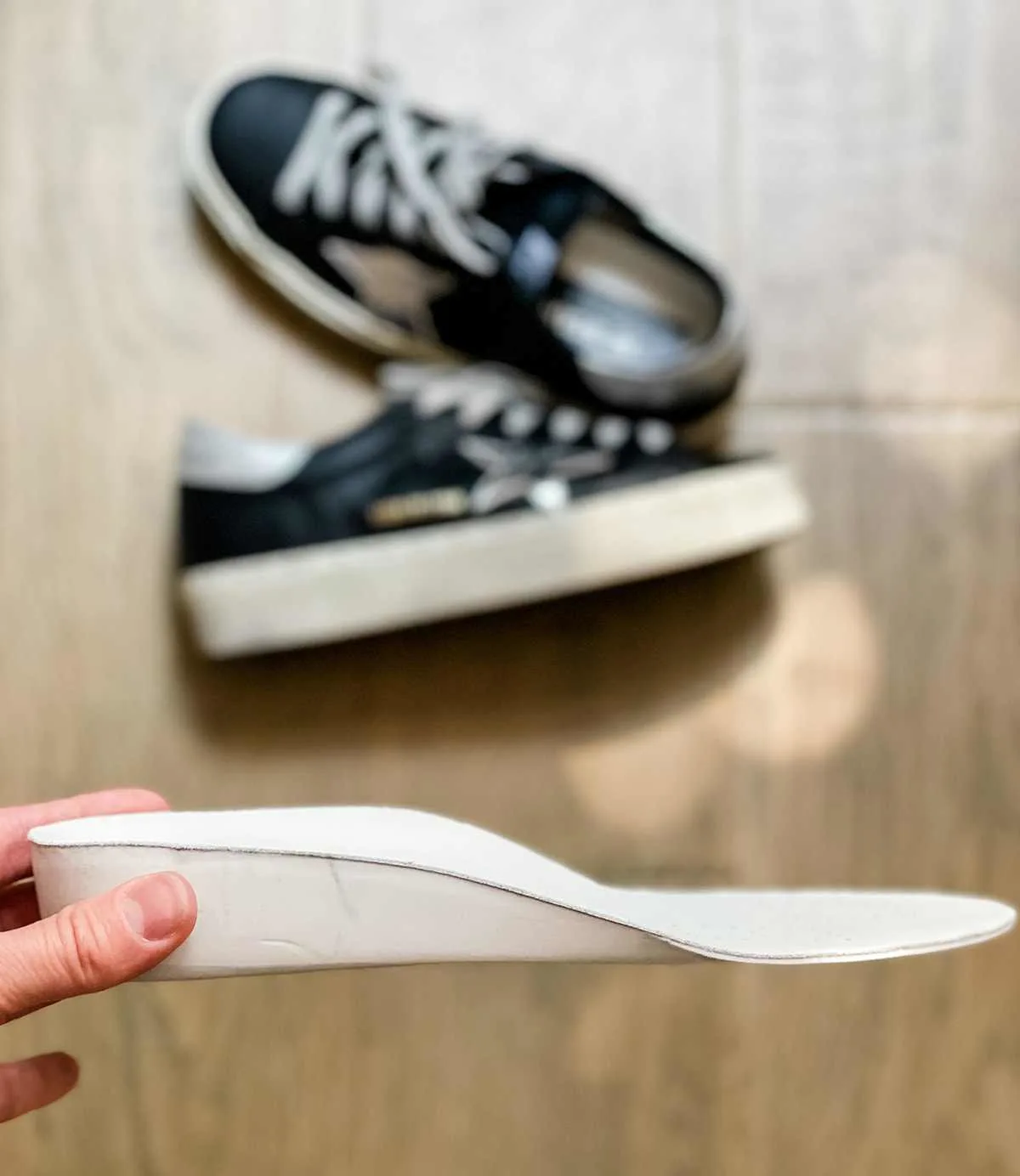 To my surprise, the Hi-Stars also have a wedge insole/heel lift, just like the Superstars. And it's the exact same height as the Superstars!
The insole is also fully removable, primarily firm, with slight cushioning. I enjoy wearing my GG sneakers with padded no-show socks.
Outsoles
The Hi-Star outsoles appear to be a platform, but they are not, as I discovered by lifting out the insole. They appear as such because the rubber comes higher on the shoe upper.
The actually sole height remains lower, when you look on the inside. The Hi-Star outsoles are heavy and more rigid. They do not bend as much as other styles as you walk.
Heel lifting Out of Hi-Star Sneakers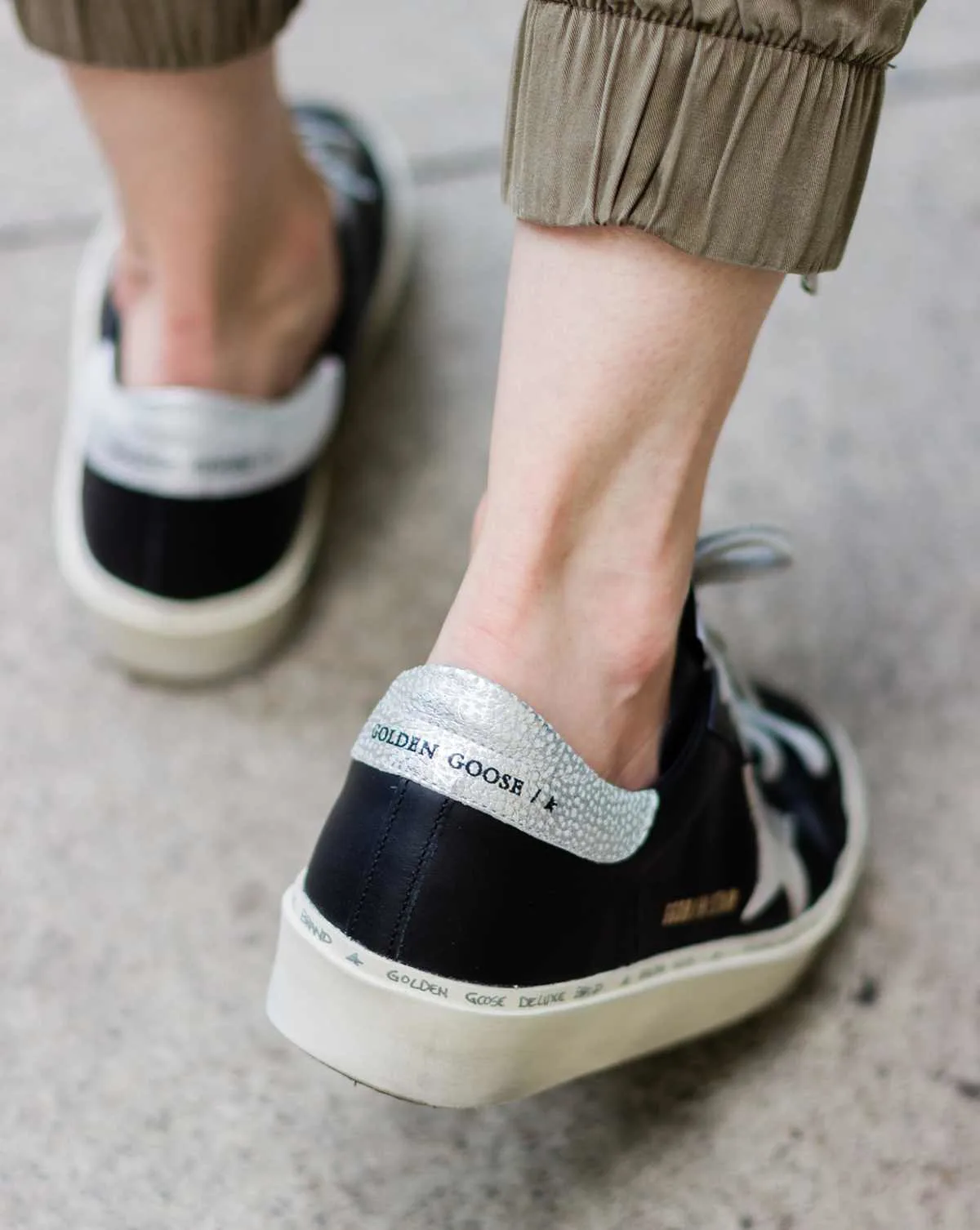 One notable comfort factor in this style is the heel lifting out of the sneakers as you walk. Some noticed this with the Superstar sneakers, but I didn't.
The easy solution I found – as pointed out me in the store – is to tie the laces tightly at the top lace hole (eyelet) on the shoe.
This is actually one of my top tips on how to keep heels from slipping out of shoes. And when I tightly laced up my Hi-Stars, my bony heels stayed put!
The wedge insole could also be a cause of heel slippage. So if this is an issue that lacing won't fix, swap the wedged insole out for a flat one.
-Short-Term Wear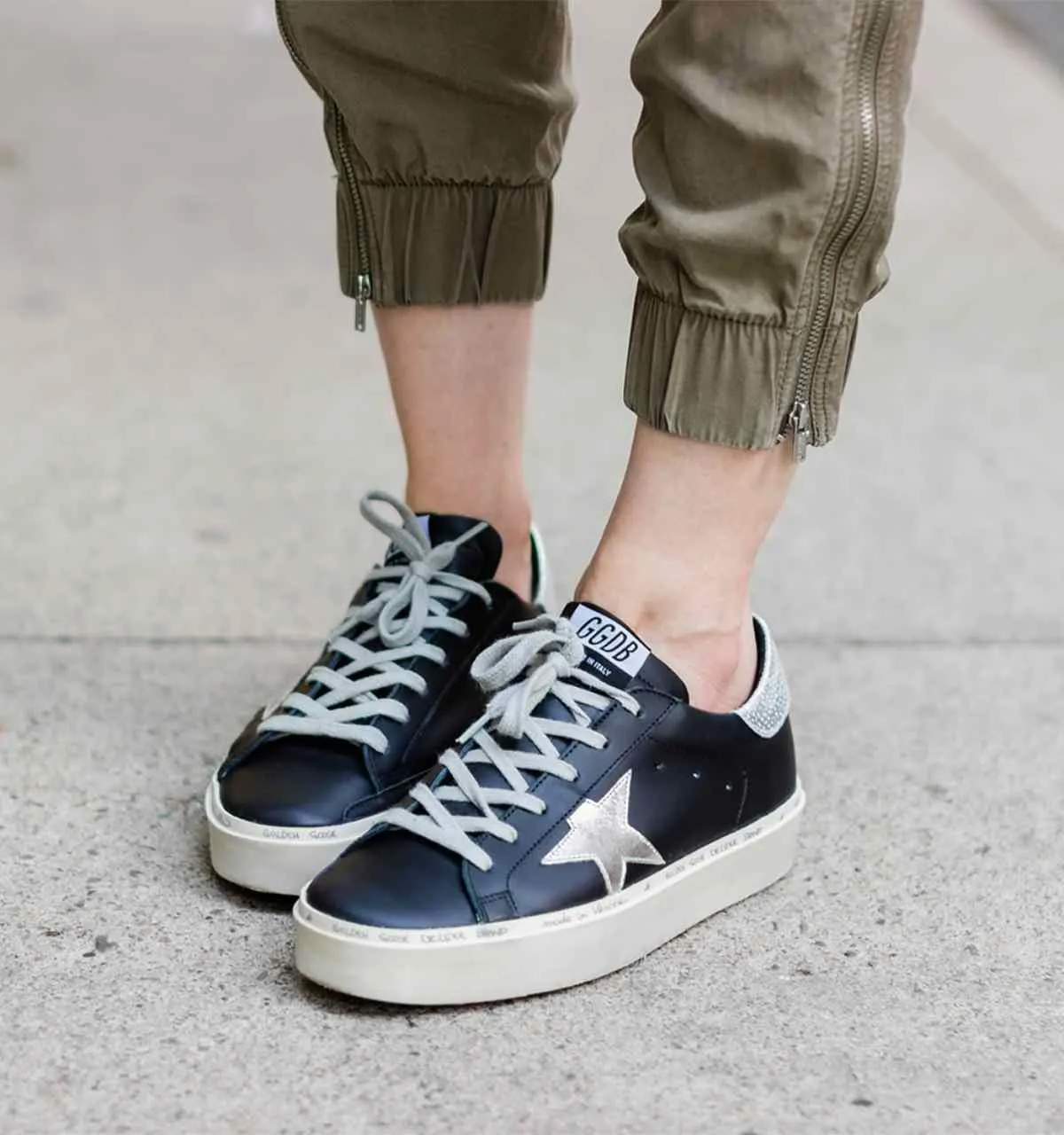 These are new and I've only worn them 4-5 times. As such, I'm unable to say. But when the Toronto heat wave passes and Fall 2022/23 comes along, watch this space for an update. I plan to wear these puppies a lot!
In Sum: Are Golden Goose Sneakers Worth it?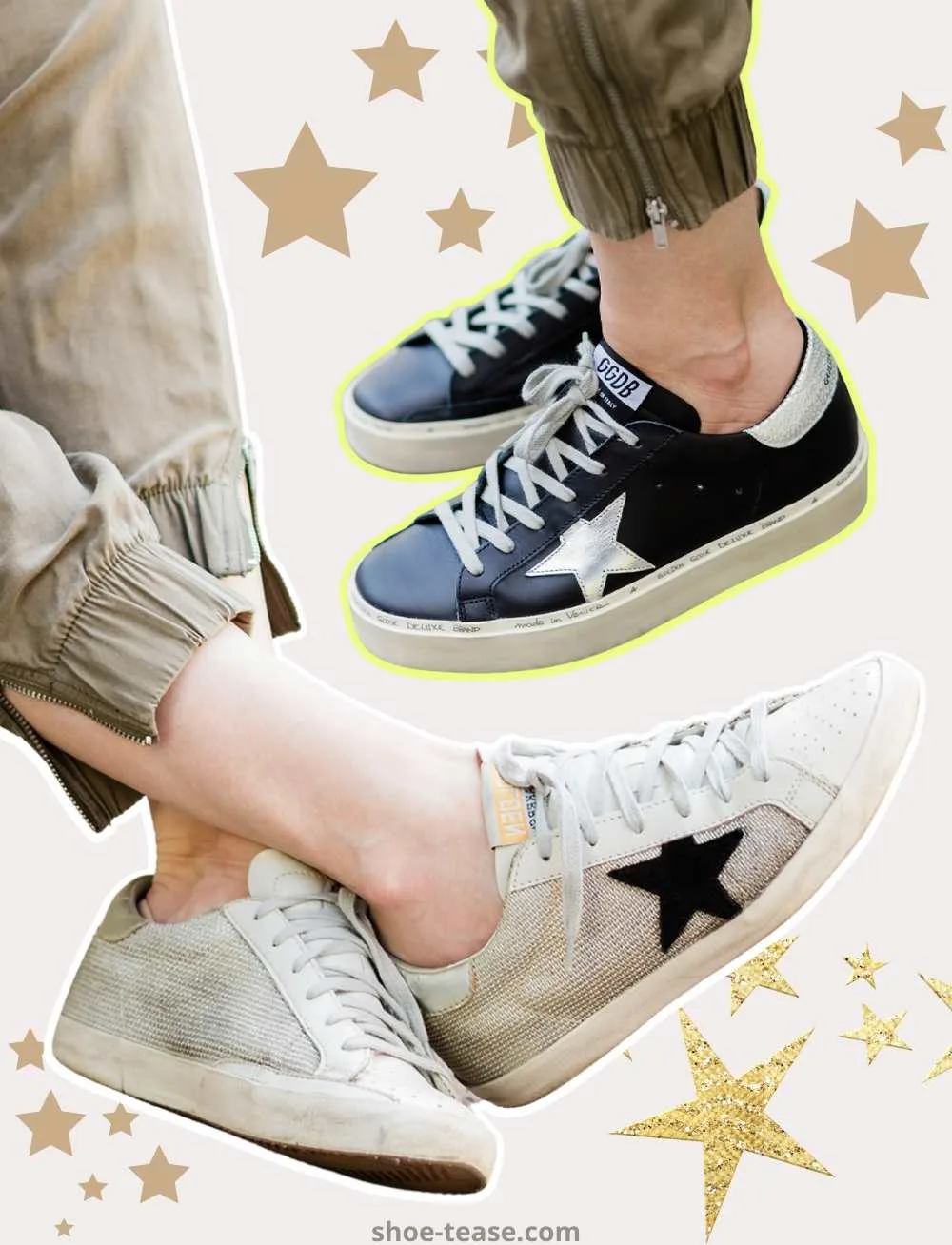 My annoying answer is: it depends on what you're looking for in a leisure sneaker, your lifestyle and fashion game.
For me, these sneakers are worth the price. Worth noting that they come at a lesser cost than other luxury sneakers like Prada, Gucci, etc.
GG sneakers are handcrafted in Italy while other designer sneakers are not (I will not mention names lol).
My Golden Goose sneakers look great, feel great and I can wear them with anything! I love how I can scuff up the sole even more and no one will bat an eye, while still looking trendy and chic.
Even in my sweats or simple t-shirt dresses, my Golden Goose sneakers always elevate my look. They give an added je-ne-sais-quoi to even the most mundane outfits.
As they are easy to wear and comfortable, these will easily become your go-to long-lasting sneakers.
Especially if you opt for classic styles and white or black colors, which I recommend if you're looking to invest in 1 pair.
These colors are wearable with most casual outfits and aren't specific to any season so you'll never look outdated.
And you can easily change the look of the more basic sneakers to a new set of glitter, neon, black or printed laces!
You can find branded Golden Goose laces from Farfetch and non-branded but just as lovely ones from Etsy.
So if GG sneakers give you all the feels, feel comfy on your feet and you can afford them, I say go for it. If you're not ready to fork over the $ or decide these aren't for you, check out my favorite Golden Goose Dupes, here!
Golden Goose Review – FAQs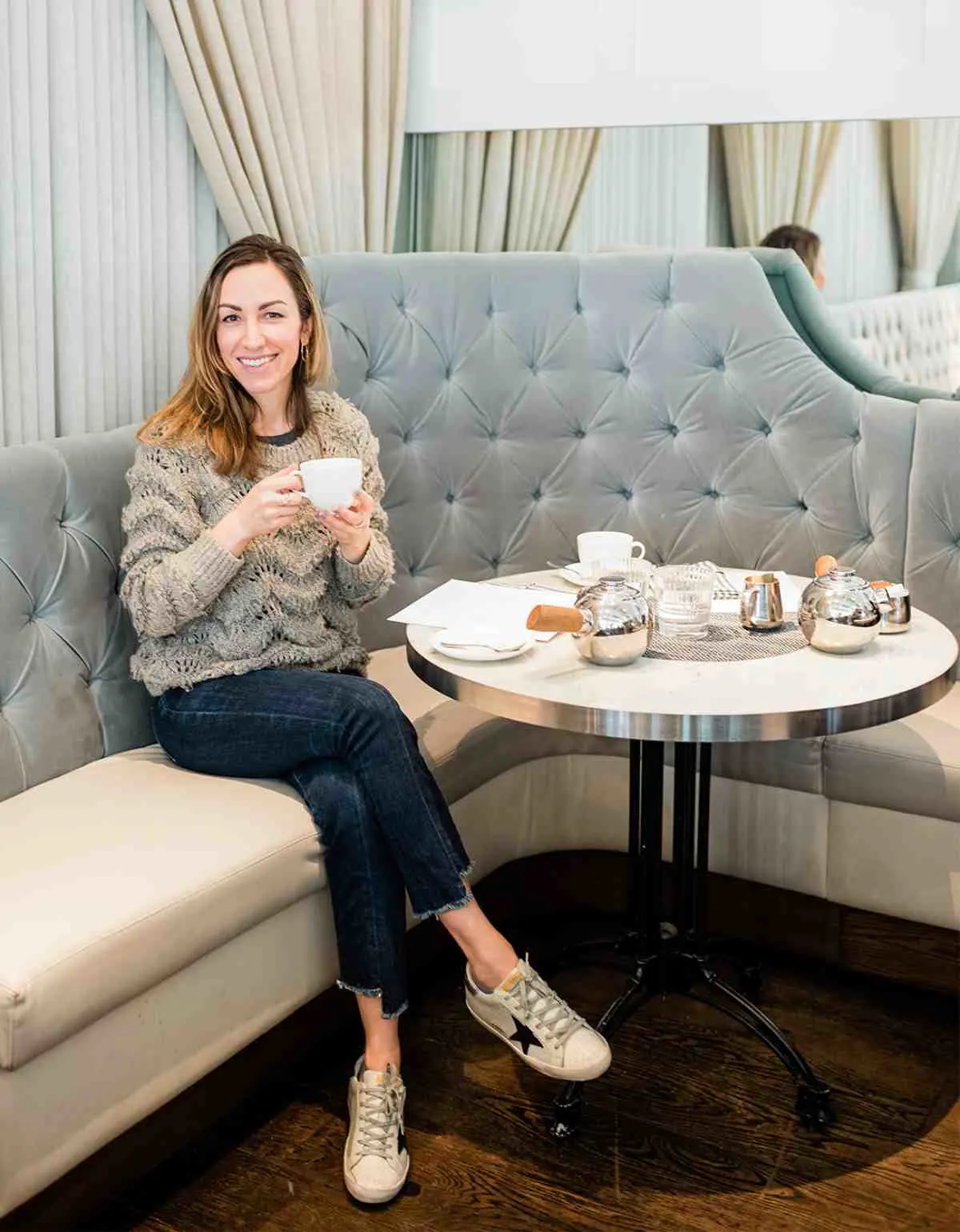 And here I am posing with a tea cup wearing my new Golden Goose Super-Star sneakers. Styled with jeans and a simple sweater – my go-to.
-Why are Golden Goose Shoes so Popular?
I can't say for sure why they're so popular, but as someone who owns them and has been working in the fashion industry for over 20 years, here are some thoughts:
Tastemakers wear them, so they've set the trend. And people follow trends!
They are creative, fun and chic
They make a great mom or busy person's shoe as their distressed aesthetic makes them less fussy and more manageable vs. bright white sneakers
Their price point as a luxury sneaker gives them exclusive appeal – which is how luxury brands make the $magic$ happen
There are styles for everyone: simple white lace-ups, platforms, hi-tops, and sportier styles and all kinds of colors and finishes
Unlike other designer sneakers, you can't pinpoint the exact season any GG sneaker style. That means most will look current and trendy, no matter when they were made. My 2017 GG Superstars are a good example.
-Who Wears Golden Goose Sneakers?
Celebrities, fashion influencers and the fashion elite wear them, as does anyone who wants to make a statement in a high fashion, luxury sneaker.
Michelle Obama, Selena Gomez and Olivia Wilde are all fans, as are influencers such as Sincerely Jules, Fashion Jackson and many others. Oh, and this shoe blogger over here 😉
If you're into celeb sightings, a current meme-worthy photo of Ben Affleck passed out on a boat shows him wearing a pair of white GG sneakers with silver stars!
-Why are Golden Goose so expensive?
Yes, Golden Goose sneakers are expensive! Below are some of the reasons why:
GG shoes are handmade in Venice, Italy. The high quality and craftsmanship and paying fair wages in Italy come at a higher cost.
The materials used to make the sneakers- suede, leather, and mesh- are high quality and robust.
Lots of thought has been put into Golden Goose sneaker design, from the juxtaposition of different materials and added hidden wedges.
GG sneakers have a luxury status associated with them. As a luxury brand, Golden Goose prices its sneakers in a way that makes them less accessible to the general population. Like it or not, this is just the nature of luxury brands.
-Do all Golden Goose sneakers have a hidden wedge?
As I've discovered, it appears that all Golden Goose sneakers have a hidden wedge – not just the Super-Stars. Unsure if the men's GG sneakers do, but so far, it appears that all of the women's styles do.
It is hard to know 100%, as the hidden wedge isn't listed in any of GG's product page details. So unless you pull out the insole of each sneaker, it's impossible to know.
-Which style of GG is the most comfortable?
I haven't tried all of them, and until I do, I can't say for sure. However, from other reviews, the Superstar, Ball-Star and StarDans are the most comfortable. These are also the most purchased, so that's a factor to consider!
I find my Hi-Stars comfy, but many might be deterred by them being heavier.
There hasn't been a lot of feedback on the Running Dad Sneakers, but I bet these are likely the comfiest.
-How do you wear Golden Goose Sneakers?
Because Golden Goose sneakers are such versatile shoes, they go with a lot of outfits! From full-on denim or leather looks, to dresses, jeans and even pantsuits, there's almost no outfit a staple GG sneaker won't look fab with. Check out my post on all the ways to wear Golden Goose Sneaker Outfits!
-Where to Shop for Golden Goose Sneakers?
Looking to invest in the real deal? You can shop for genuine Golden Goose Sneakers at these retailers.
And yes, many of them have sales, at least in the US. In Canada, it's almost impossible to find Golden Goose sneakers on sale 🙁
xo ShoeTease