Readers have often asked if they can wear boots with a short dress and the answer is yes – absolutely! Boots are some of the best shoes to wear with dresses for fall, winter and cooler summer days.
When styling short dresses with boots, proportions are key. This means balancing top and bottom parts of the short dress outfit.
If that sounds complicated, don't worry. There are many types of women's boots that fit the bill!
ShoeTease's in-depth guide to styling mini dresses with the right boots – from ankle boots, low to high boots and everything in between- will help you out!
Aside from creating a proportioned short dress with boots outfit, the type and style of boot you choose will depend on 2 things: the occasion you're going to, and the type of mini dress you will be wearing.
As with boots, there are so many mini dress styles to choose from. Such as baby doll dresses, shirt dresses, cocktail dresses, denim dresses, flirty summer dresses, to tight bodycon dresses. And this is just to name a few!
Below are the best mini dress with boot combinations. I'll specify which type of short dress and boots to choose, including how to complete the outfit with the right purse, accessories & outerwear.
How to Wear Short Dresses with Boots – 9 Perfect Boots for Mini Dresses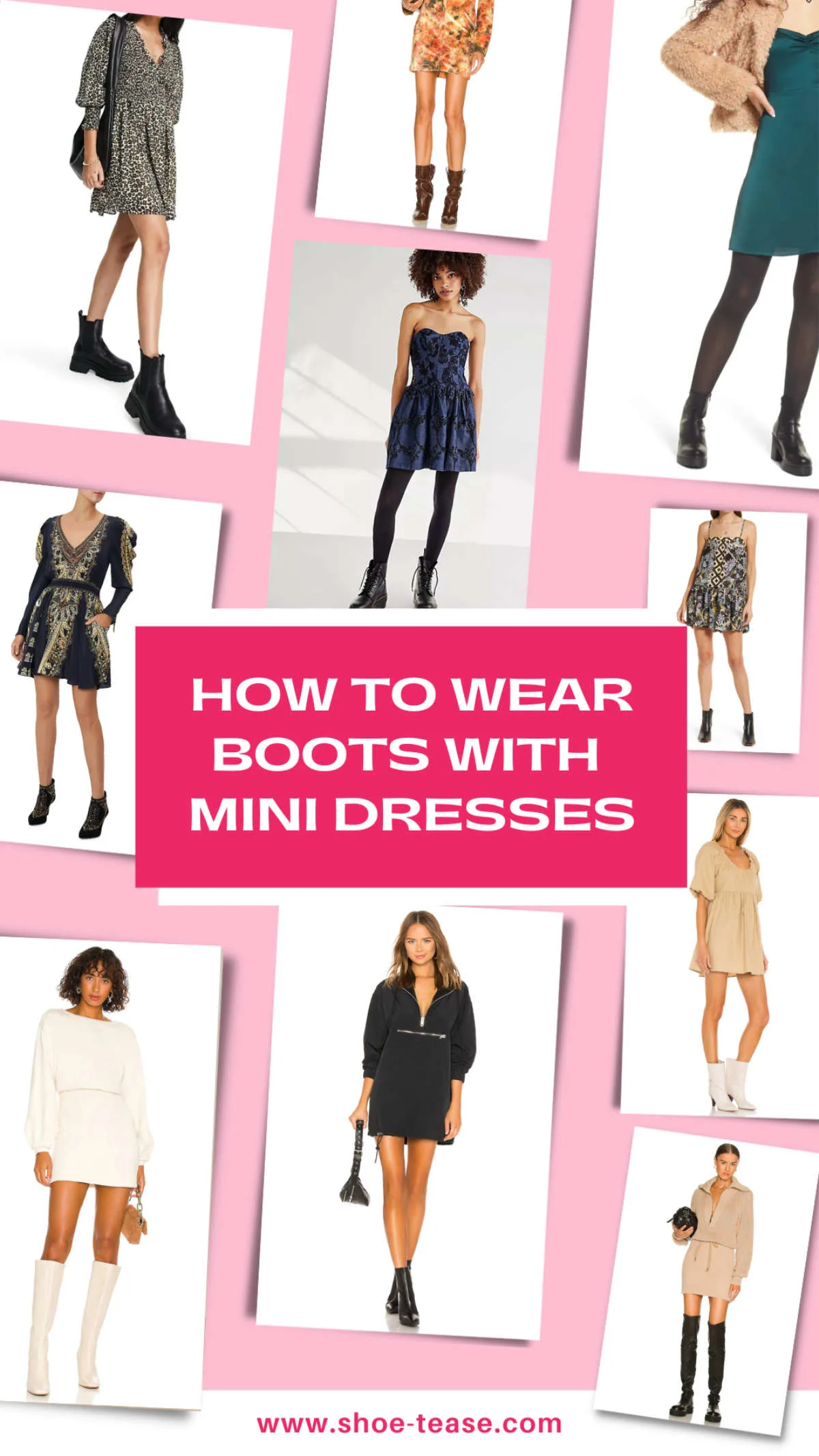 1. Short Dresses with Ankle Boots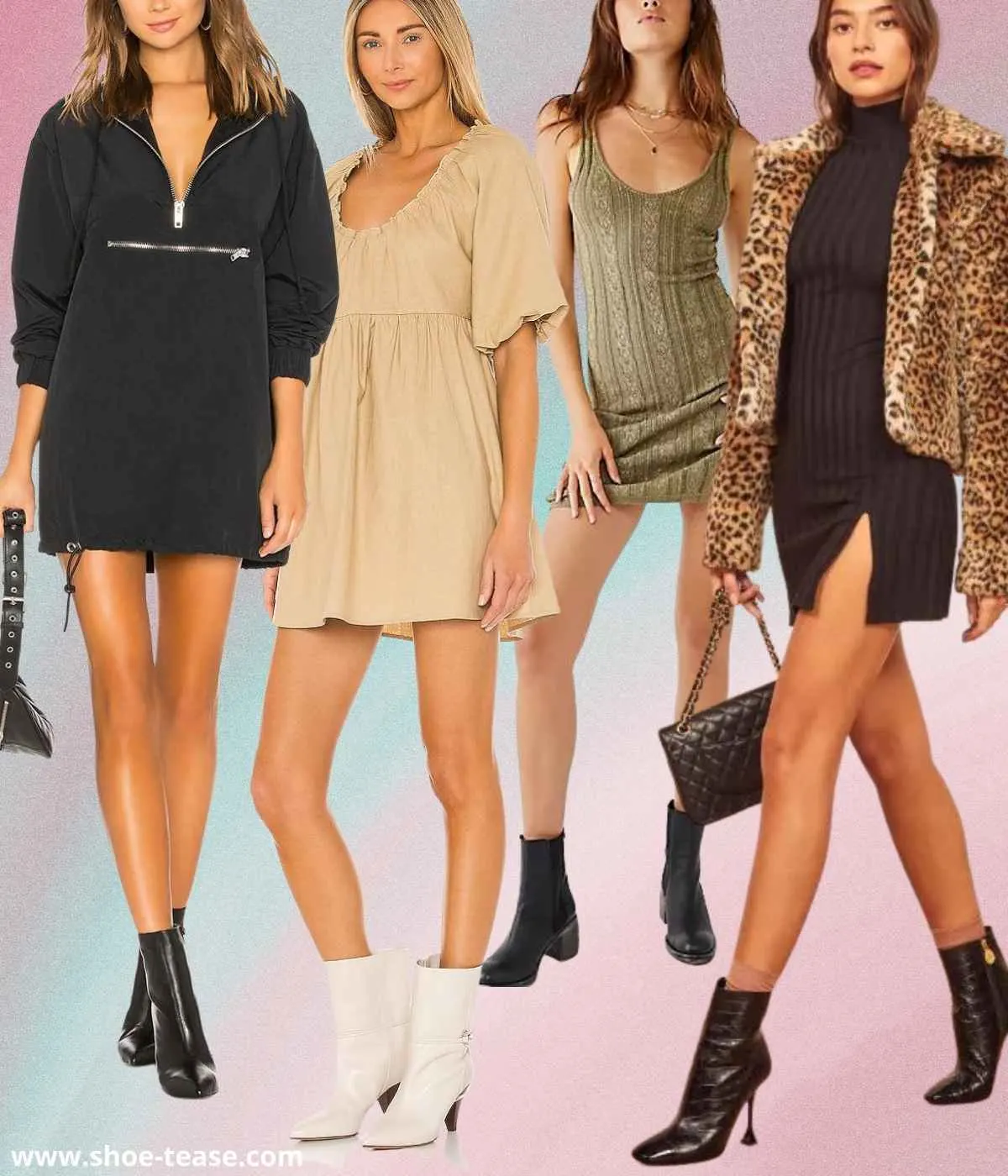 Ankle boots with dresses are a staple combination, including mini dresses. Stylish ankle boots come in many shapes, materials and colors. Trending now are ankle boots that have a pointed or square toe and end anywhere at or just over the ankle.
Ankle boots with short dresses are so versatile that you can dress them up or down depending on the style of dress you've chosen and the boot heel shape and material.
How to Wear Short Dresses with Ankle Boots
Reach for buttery black leather, or patent leather ankle boots with a pointed toe and stiletto heel to wear with a fancy mini dress. Add an Earth-tone suede bootie with block heel for a more casual sweater dress boot outfit.
You can have fun with animal prints too! Suede leopard print ankle boots or snake print leather ankle boots will make a statement, with or without a heel.
If it's chilly outside and prefer to keep warm, you can wear leggings that match your dress and tuck them into the boots. Or, you can opt for a pair of semi-sheer pantyhose.
Add a pair of socks that peek out above the ankle boots for a more casual look. Check out my latest posts for more ankle boot outfit ideas, including the best socks for ankle boots!
Ankle Boots We Love:
2. Short Dress with Cowboy Boots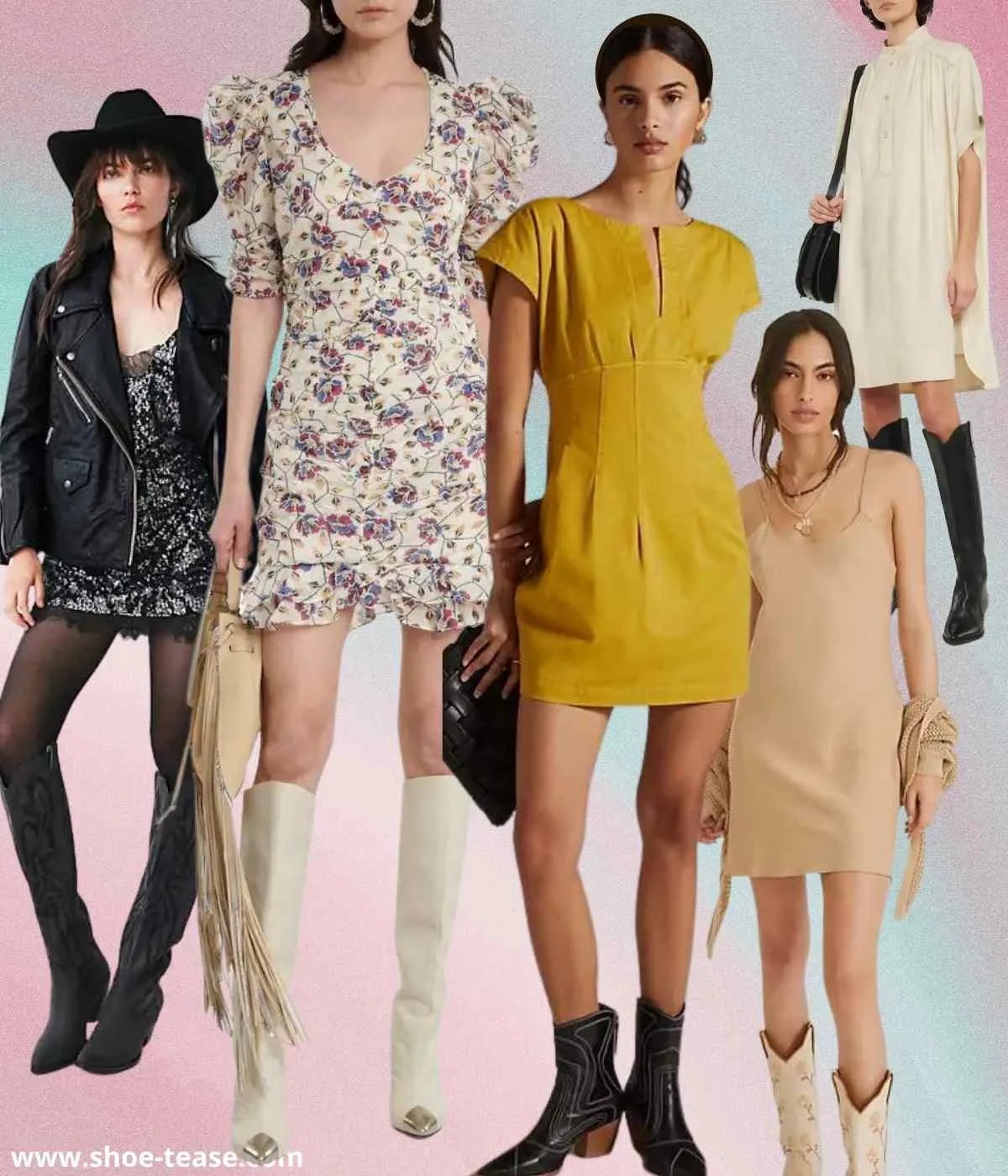 Cowboy boots are incredibly popular to wear with mini dresses! You can choose a classic black or brown pair, or select one of the many colorful western boots available right now.
Western boots have detailing such as a stacked, angled heel with an almond pointed toe. They are popular casual boots with short dresses during spring and fall seasons.
Check out my post on the best dresses with cowboy boots for over 22 great dresses to pair with western boots! Interested in more western boot looks? Take a peek at my post with many cowboy boots outfits to inspire you!
How to Wear a Short Dress with Cowboy Boots
Both frilly, flowy and tiered short dresses look great with Western boots. However, they can look great with tight mini dresses and an oversized cardigan, or jacket too.
Fashionistas aren't even pairing western dresses with cowboy boots! They are reaching for structured blazer dresses and satin short slip dresses instead.
Feel free to belt your mini dress at the waist and add a leather shoulder bag and hoop earrings to complete the outfit. Keep your legs bare without visible socks or tights with this style of boots.
3. Short Dress with Knee High Boots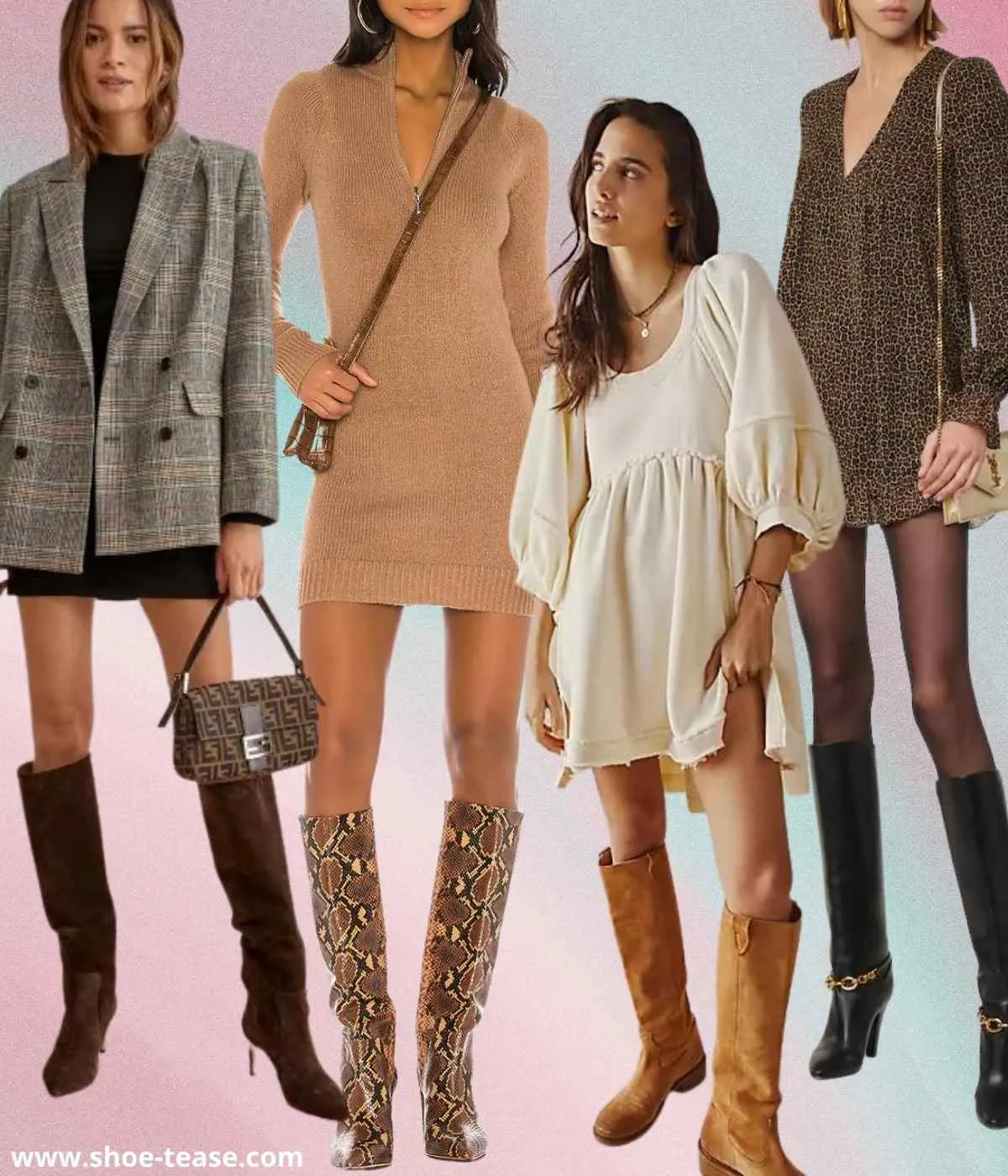 A short dress with knee high boots can look fantastic and there are so many ways to style them! You can reach for a simple black leather or caramel suede knee boot, or be on-trend with snake print or make a splash with a metallic pair.
How to Wear a Short Dress with Knee High Boots
Knee boots can look great with all types of mini dresses, from short boxy styles to bodycon mini dresses. I love the aesthetic of knee boots with mini dresses that are short enough to allow at least 3-4 inches of leg to show from the top of the boot.
I prefer a short dress with knee high boots without hose or leggings – but they can look just as good with them!
4. Mini Dress with Thigh High Boots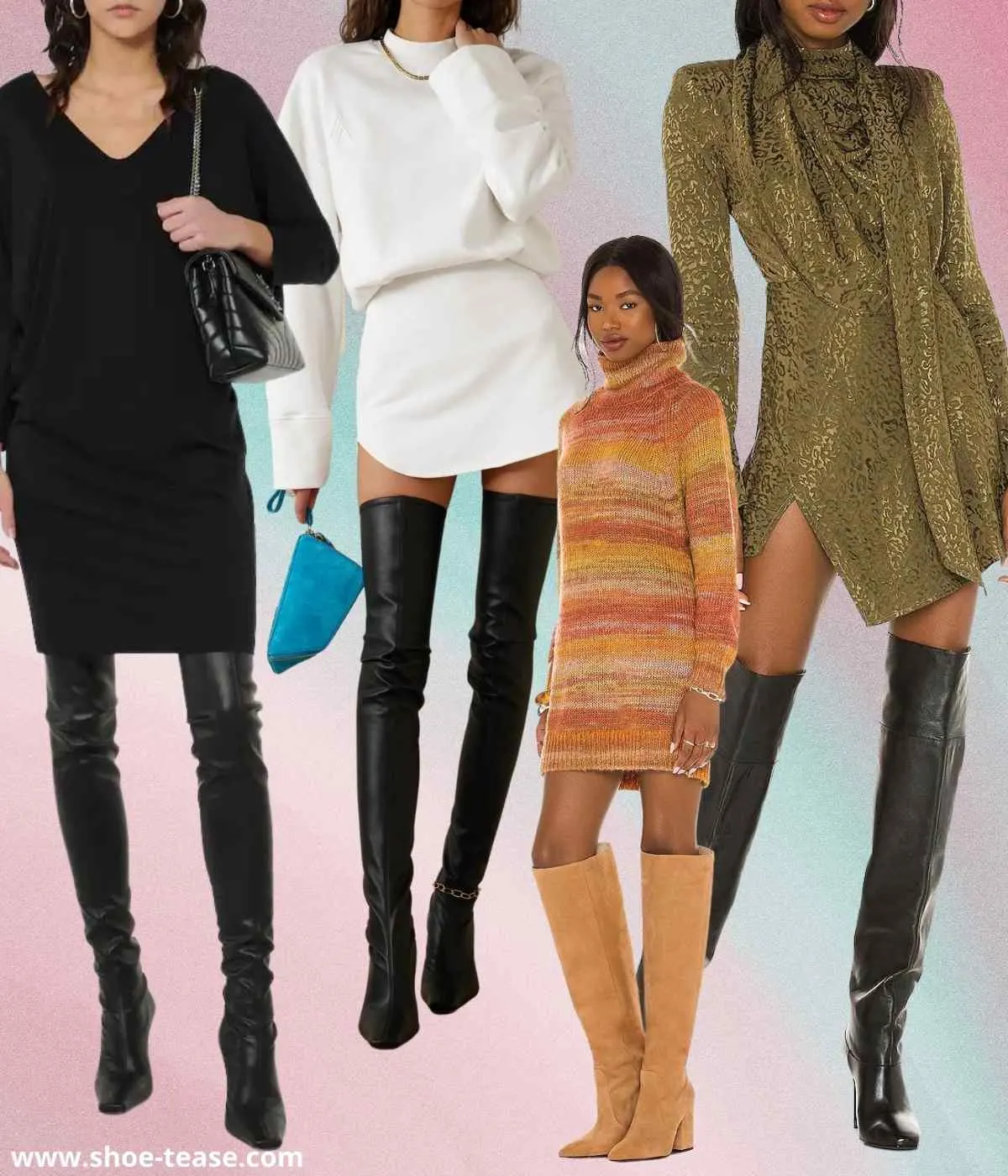 Thigh high (aka over the knee aka tall boots) had their big comeback mid 2010s, but they're still fashion staple. Bonus is how they'll keep your legs warm during cooler seasons!
A short dress with long boots can be a racier pairing. The combination can look great with a variety of mini dresses and boots types, but it has to be styled right.
A wider pair of tall boots with a chunky knit dress looks chic, and a tight pair with a tighter or formal dress can look fun. Add a pair of tights or leggings to mask the exposed leg, if the occasion calls for it.
How to Wear a Mini Dress with Thigh High Boots
You can keep your mini dress outfit casual with a flat-heeled tall boot style, or block heel. Or, to elevate a fancy mini dress outfit, try a stiletto thigh high boot in black leather or suede. You can also match the boot color with the dress to tie the outfit together if you wish.
Skin-hugging thigh high boots will look fab with a tight mini dress or a looser-fitting short dress. Whether the boots are so tall that they end and hide inside the dress, or leave a leg gap, the choice is yours.
Just make sure that if the boots end inside the dress, they are tight enough style that they don't add any unsightly bulk underneath.
I'm not always a fan of tight, mini dresses with thigh high stiletto boots, because the pairing can look a little racy.
However, the combination can look great if you throw on a loose cardigan shaw or choose a more structured, less tight pair of thigh high boots. Or choose a roomier long-sleeved mini dress.
Read my new post all about how to wear over the knee boots with many styles of dresses and outfits for more styling info!
5. Short Dresses with Calf Boots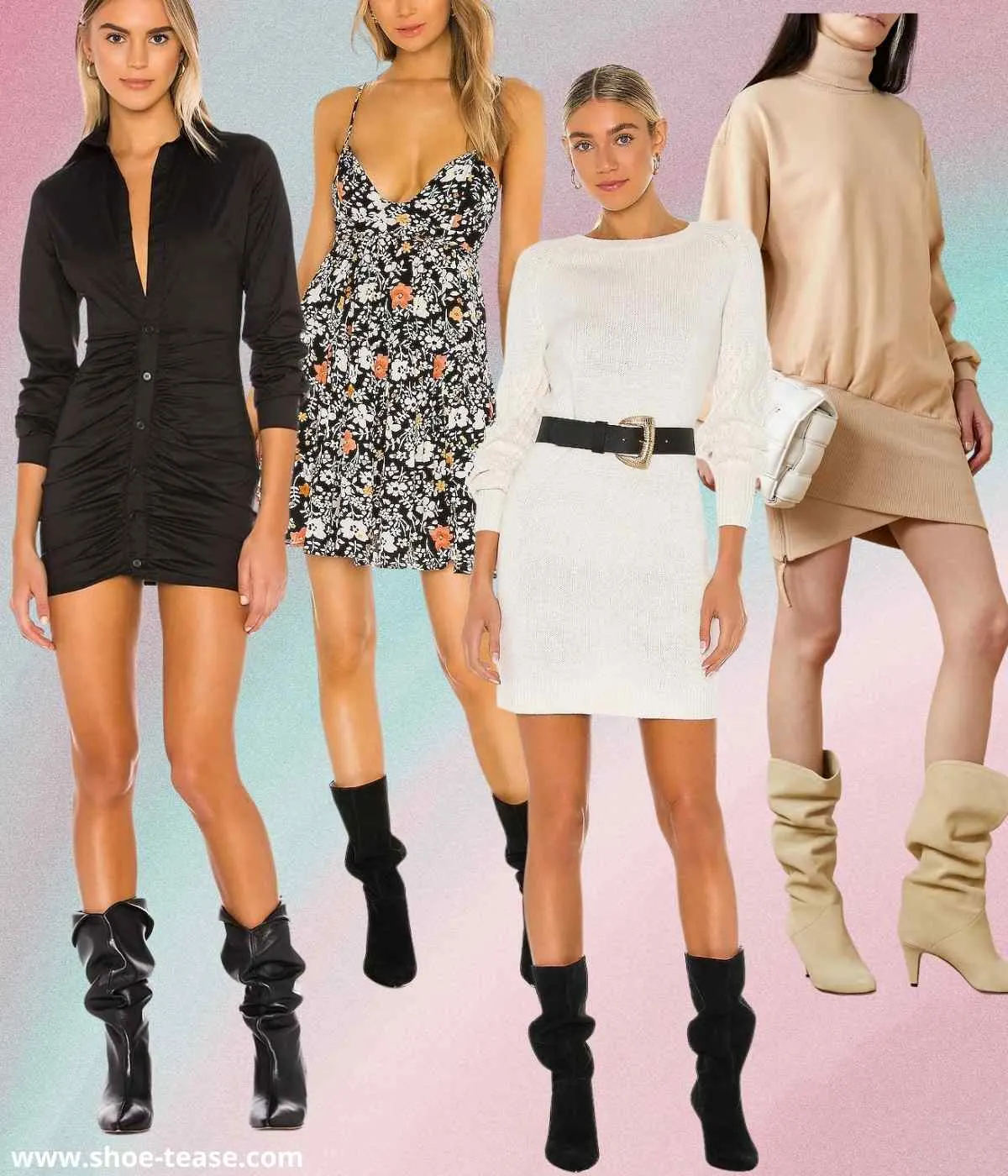 Calf boots are likely the most neglected of all boot heights for women! They are a fun middle ground between knee boots and ankle boots and are a great choice for shorter women too.
They are currently trendy in a slouchy suede and high heel, but you can also find a lot of chunky leather calf boots in a Chelsea-meets-combat boot aesthetic.
How to Wear a Short Dress with Calf Boots
Slouchy suede calf boots can give off a more casual bohemian vibe, especially when paired with floral or loose-fitting mini dress.
Leather calf boots can work with casual to smart casual mini dress outfits when paired with a short sweater dress, structured printed dress or button-front thin knit dress.
6. Short Dress with Combat Boots
Even the most floral or flouncy dress can give a feminine touch to this strong-looking boot! Platform combats are trendy in all shades including black, burgundy and glossy white.
Wear combat boot with any type of mini dress, from a bodycon mini dress, t-shirt dress, even a short cocktail dress if you want to give off rock n roll vibes. I love wearing combat boots with shirt dress outfits at the moment!
How to Wear a Short Dress with Combat Boots
Whether you choose a super short style or something closer to your knees, combat boots will help to ground the mini dress outfit.
Try a short dress with a bold pattern or empire waist for a fresh take. This is a great outfit combination to try with some patterned or polka dot tights!
Polish up your look with a leather handbag and chunky jewelry. Add black opaque leggings if you want to show less skin during fall or winter.
See my style guide on how to wear combat boots and check out my favorite waterproof combat boots if you need them for rainy or snowy days.
Combat Boots We Love:
7. Short Dress with Sock Booties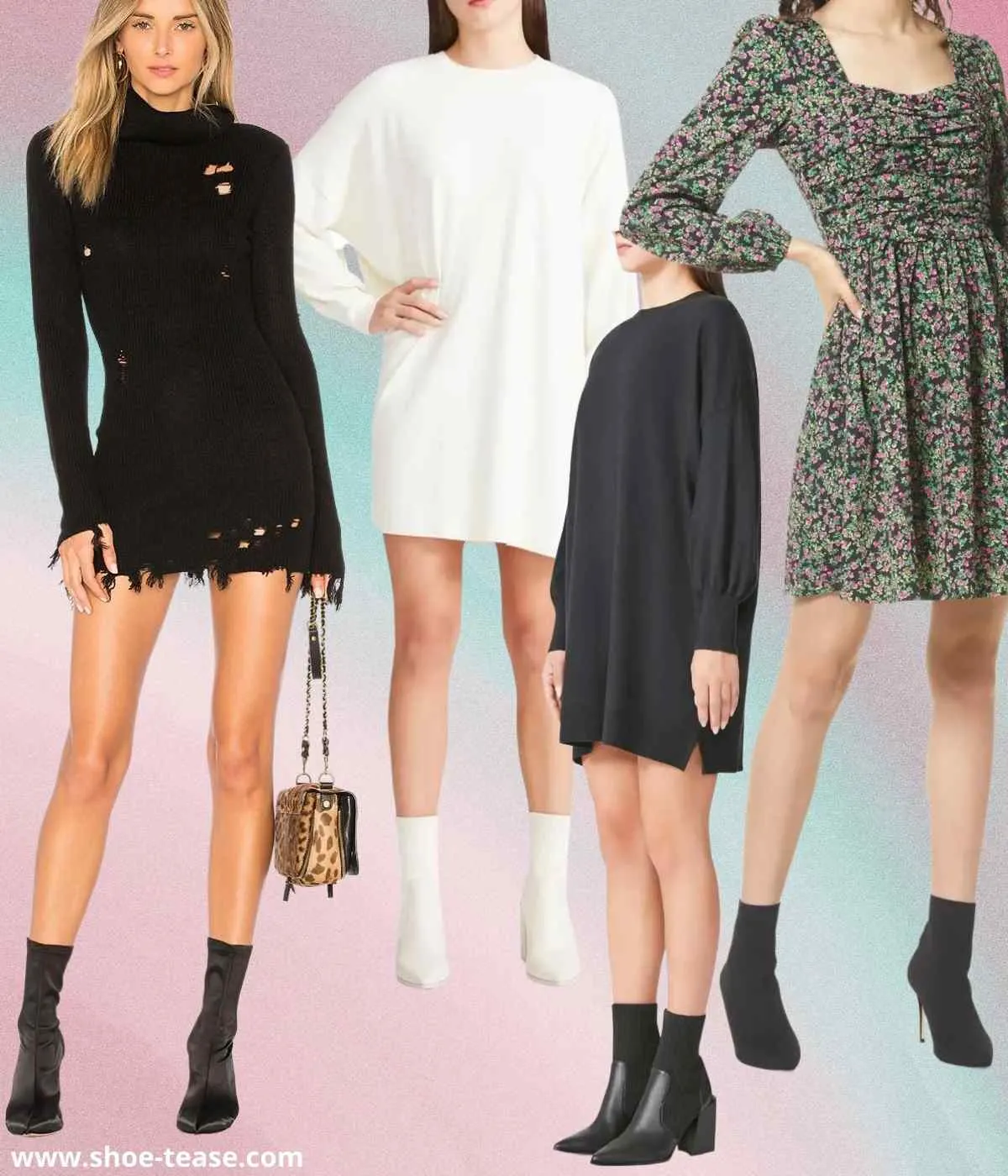 Want to elevate your short dress with boots outfit? Then pair it with tight, minimal ankle boots known as sock boots! They come in a slew of colors and materials but most popular are black in a suede or patent finish.
How to Wear a Short Dress with Sock Boots
Sock booties with high heels – stiletto or block – can work with a fancy mini dress or elevate a simple short dress. Earthy suedes such as caramel booties, work with a casual mini dress look like a knit dress or simple t-shirt dress.
For a formal occasion, sock boots can impress in a high shine or velvet material. A high stiletto heel and pointe toe always makes things fancier.
Semi-opaque black tights to the mix adds a fashion statement. Complete the look with statement jewelry and metallic clutch.
8. Mini Dresses with Chunky Chelsea Boots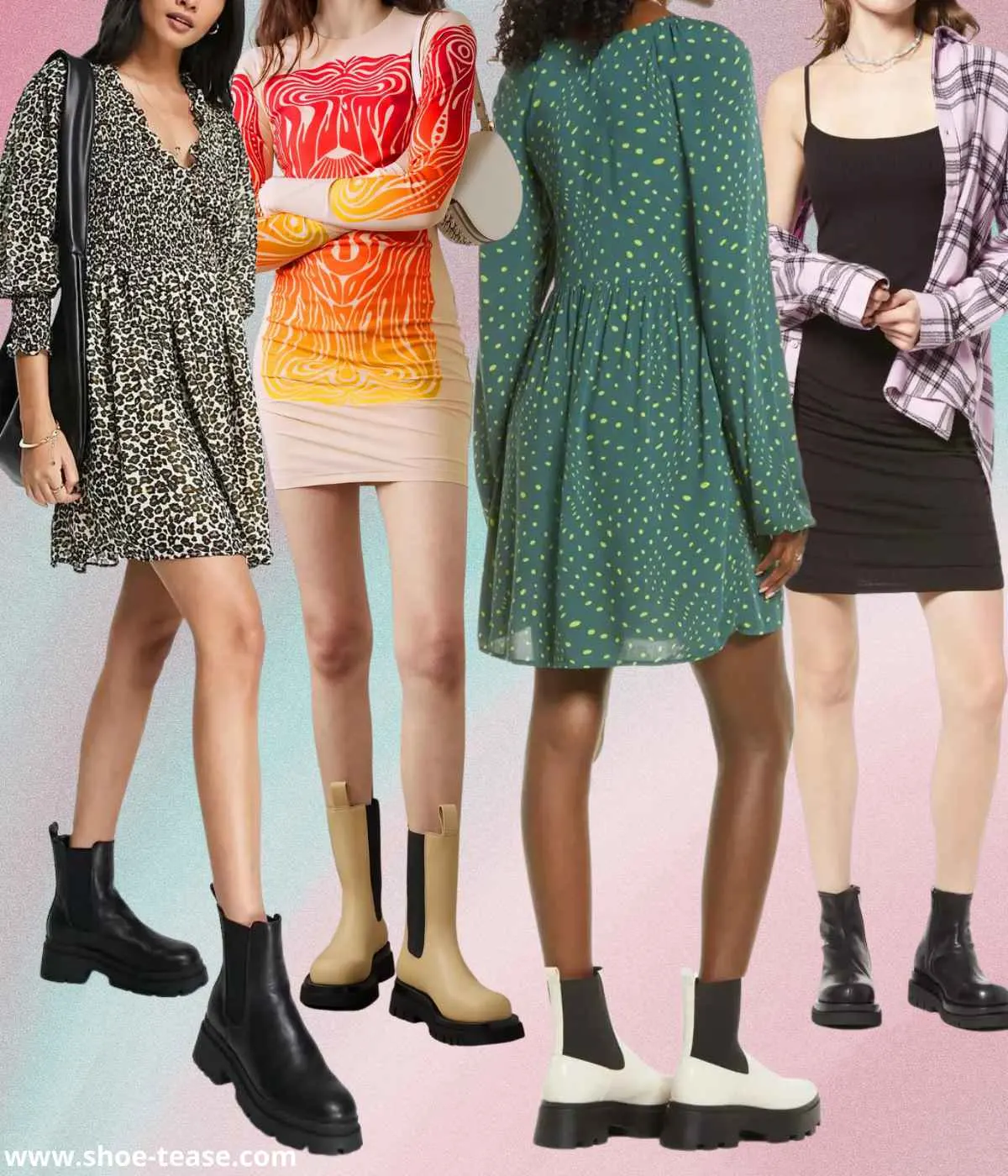 Along with combat boots, chunky Chelsea boots are coming for your money this season! Available in a variety of shapes, colors shapes, heel and shaft heights, this boot is a great option for mini dresses. Some Chelsea boots have a contrasting color elastic in electric colors to pack a bit of a punch!
How to Wear a Sweater Dress with Chelsea Boots
Wearing chunky Chelsea boots with sweater dresses is similar to styling combat boots. You can keep your look extra casual with a looser fitting short dress.
Or elevate the look by wearing a tight black knit mini dress with a pair of shiny black Chelsea boots and a small leather purse.
Throw on a shirt or oversized jacket or blazer to complete the look. More tips on how to wear Chelsea boots in my dedicated post!
Chelsea Boots We Love:
9. Short Dress with Riding Boots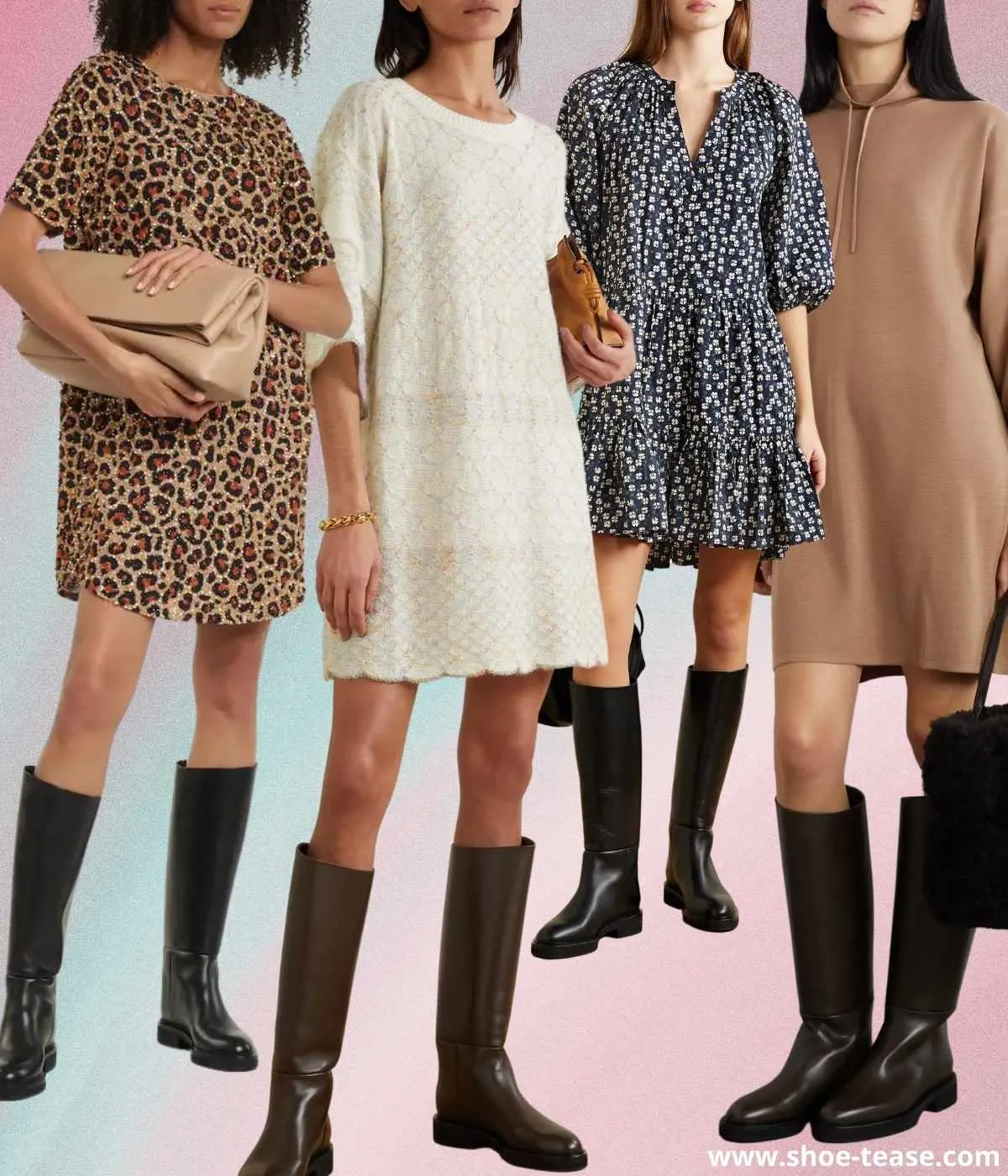 If you're looking for a preppy casual alternative to knee boots, riding boots with mini dresses are what you need to reach for!
To keep things more fashionable, choose minimal modern riding boots like the currently very popular Kaite Derby boots. They are jet black, semi-matte and so chic!
How to Wear a Sweater Dress with Riding Boots
When it comes to riding boots, some are a little more or less knee high. Select the right boot according to how short your dress is.
Short Polo dresses, sweatshirt dresses and mini sweater dresses look great with riding boots. As do fun floral summer dresses topped with a loose cardigan or trench in the Fall.
Final Thoughts on Short Dresses with Boots
Do you feel better equipped to wear a mini dress with boots? As you can see, there are a number of different short dresses with boots that pair spectacularly well.
You really can't fail to find great boots -either classic or trendy – to style your mini dress with whether it tall or ankle boots during cooler seasons.
The choice of how to wear your mini dress with boots really depends on the occasion you're wearing your outfit to, the outfit style you're going for and what you feel most comfortable in.
My advice is to have fun with it! What are your favorite boots to wear with dresses? I love a short oversized knit dress with a pair of straight leg knee boots.
Want to find the best boot color match for your mini dress? Check out my dress style guide for all the best color shoes to wear with dresses in all hues!
xo ShoeTease