Animal print clothing, including cheetah and leopard print dresses, makes fierce styling choices. If you're curious what color shoes to wear with leopard print dresses, read on!
As leopard print has become more mainstream in the last few years, it is now considered a staple by many. Some, like me, even believe it to be a neutral.
With the many leopard print dress styles available – from bold to more muted – there is a leopard print to suit all tastes, body types & occasions. So don't listen to the naysayers who'll tell you to stay away from cheetah or similar prints if you're curvy!
There are quite a few more shoe color choices than you might expect. Yes, black or beige shoes will stun with a leopard print dress outfit, however, there are more options. Including certain metallics and colorful hues.
The same can be said when discussing what to wear with leopard print shoes – so save this other post for later! It can also be argued – by me of course! – that these are shoes that go with everything.
The difference between cheetah vs. leopard prints? Cheetah print has smaller, solid black/brown spots, that look more like polka-dots.
Leopard print, on the other hand, has larger, uneven spots that are often described as 'rosettes'. At first glance, they are very similar and share similar colors.
Shoes to Wear with Leopard Print Dress Outfits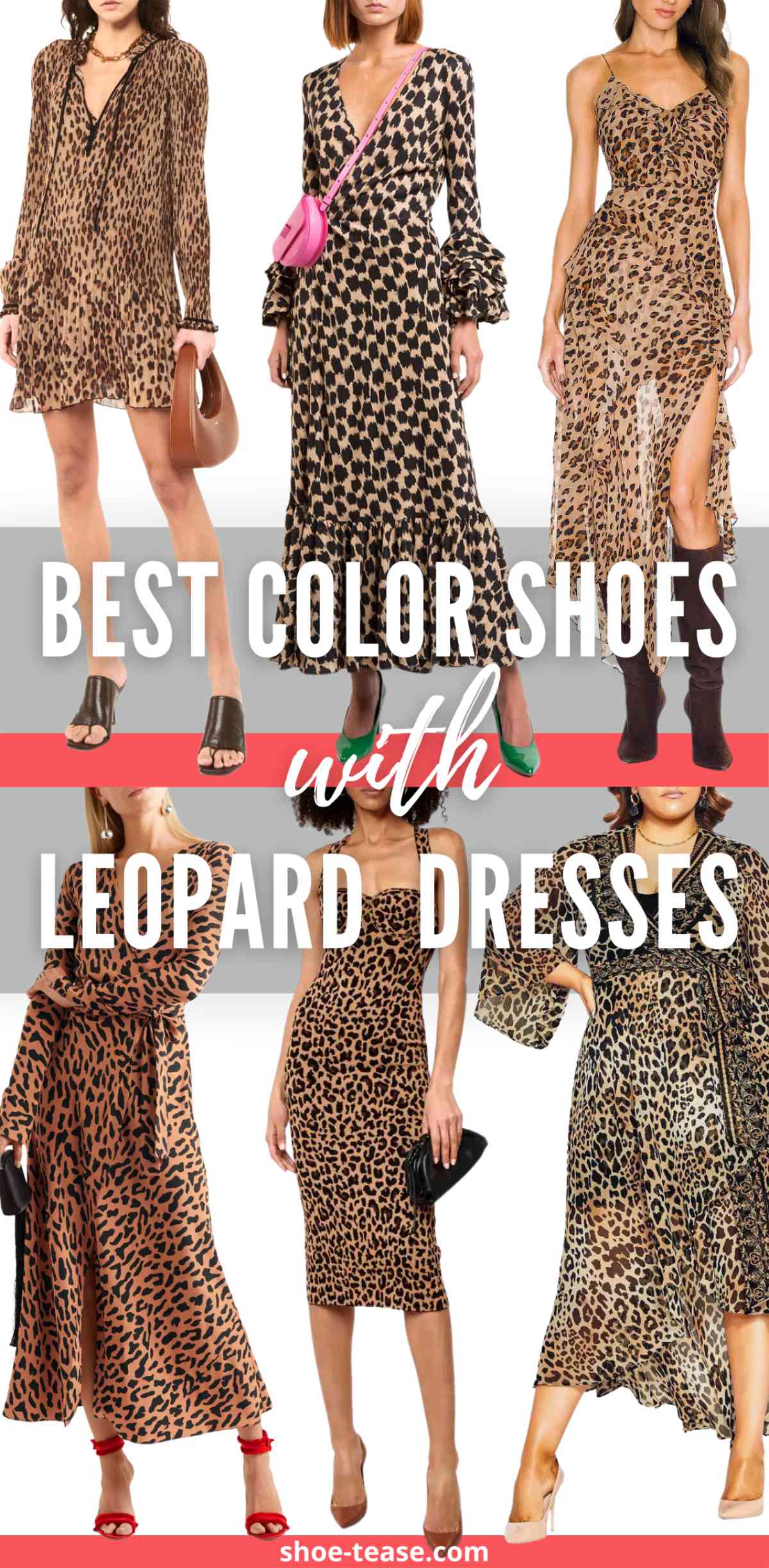 Today on shoe-tease.com, I'll be discussing what shoes to wear with cheetah print dresses, leopard dresses and similar patterns. The animal prints discussed will be brown/beige/black toned leopard print dresses.
If your print is colorful, you can follow advice on the following color-specific dress posts to find the ideal colored shoes:
I hope this post leaves you inspired on how to style leopard print dress outfits with a variety of accessories and shoes!
Find your ideal leopard or cheetah print dress from Zappos, Saks Off Fifth, Revolve, Bloomingdale's, Reformation, My Theresa and Nordstrom.
Shoe Styles to Wear with a Leopard Print Dresses
Shoes for Fancy Leopard Dress Outfits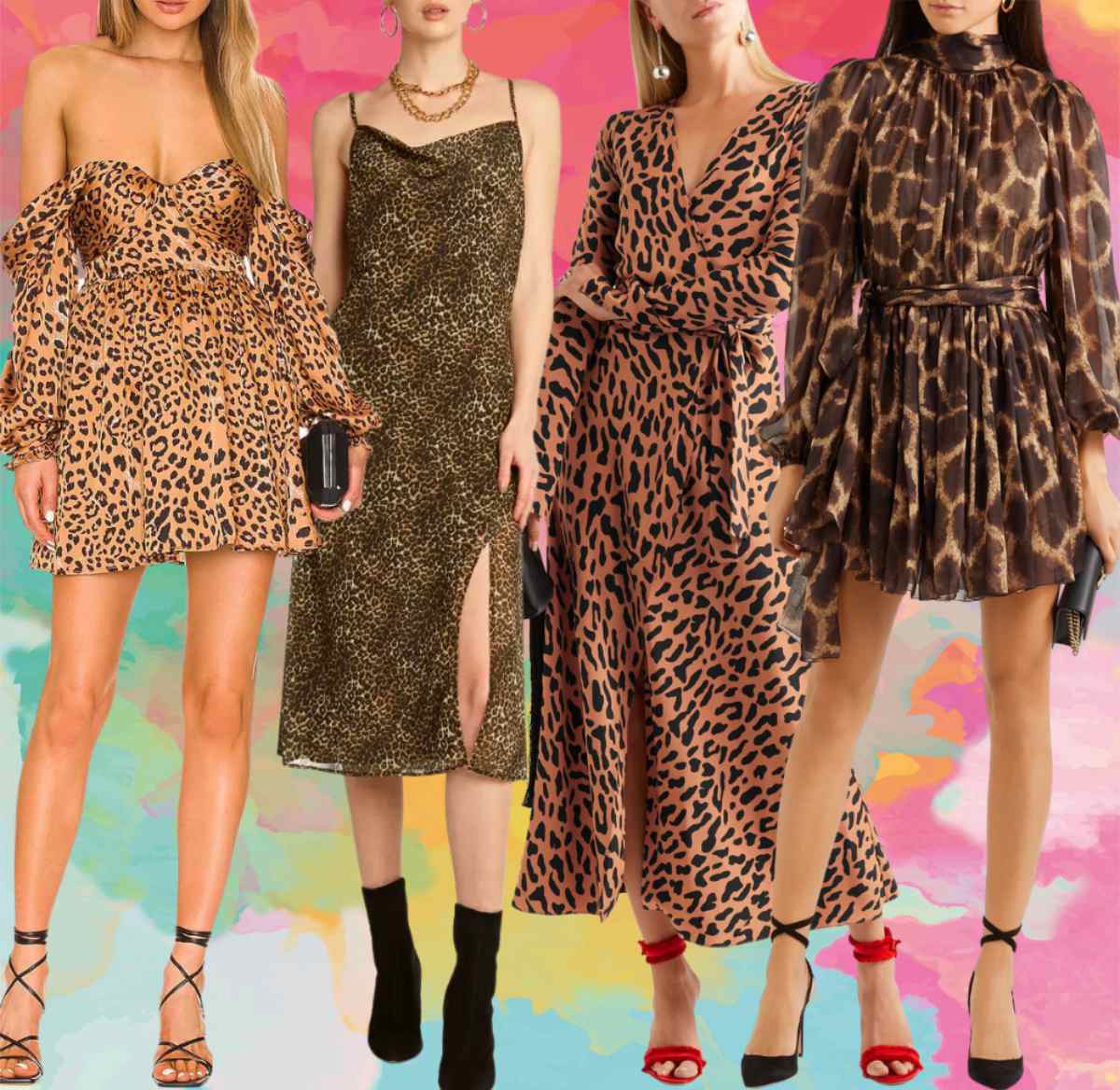 Of course, how fancy your cheetah or leopard print outfit will look also depends on the style of dress chosen. However, when it comes to shoes, there are certain types of shoes and high heel styles that will elevate your leopard dress. My top five are listed below:
Minimal sandals
Strappy stilettos
Kitten heels
Black sock booties
Shoes for Casual Chic Leopard Outfits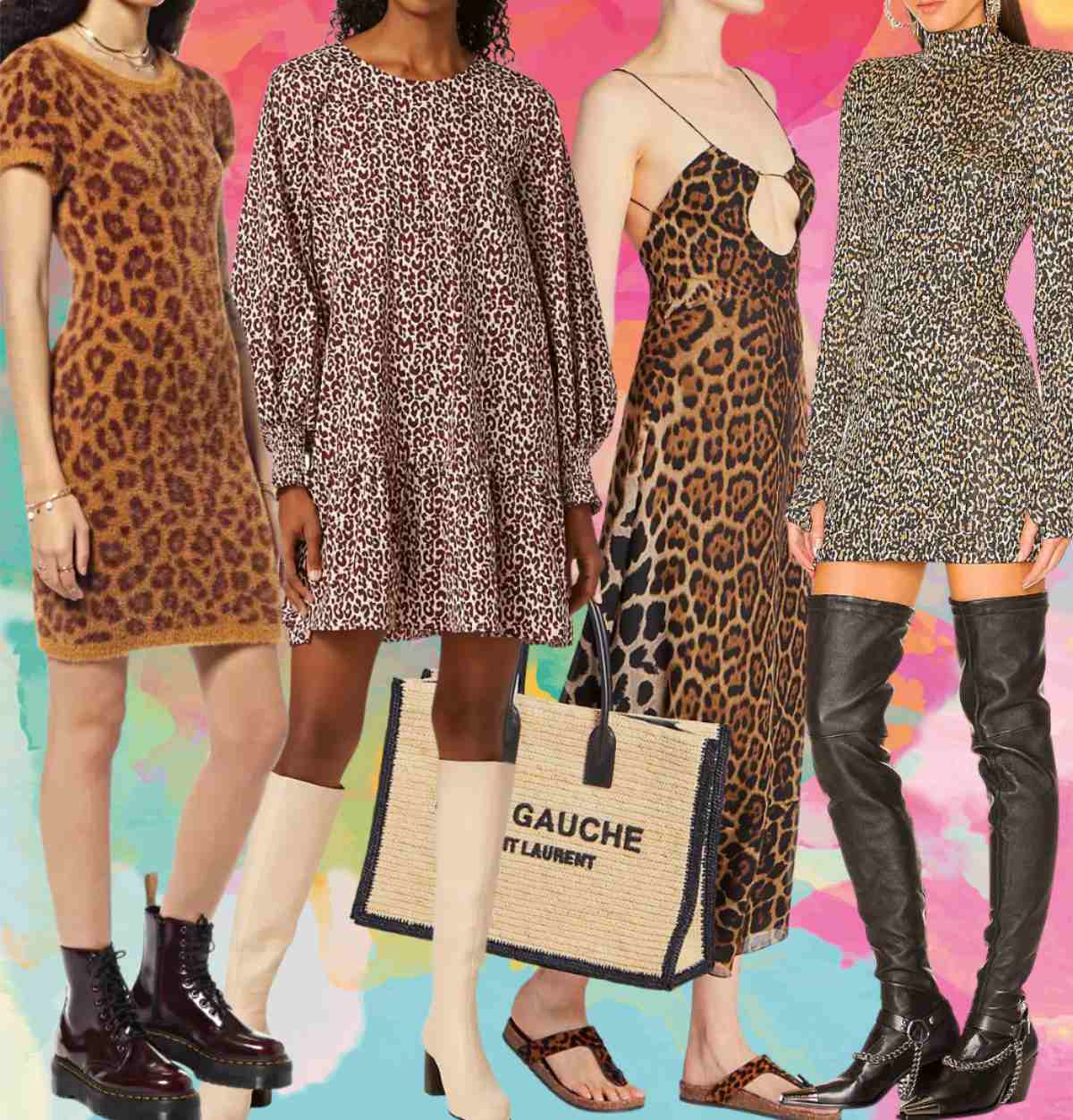 Yes, you can wear leopard print dresses in a more or less casual with certain shoe types too! These include many types of boots and sandal styles. You can wear a leopard print dress casually any season.
Again how casual or business casual your leopard outfit will be dictated not only by your shoe choice but also by your dress style. A larger, more casual bag such as a shopper style will also influence how informal your outfit will be.
Mules and loafer mules
Leather slides
Ankle and Combat Boots
Knee and Tall boots
Cowboy Boots
Leather sneakers
What Color Shoes to Wear with Leopard Print Dresses
1. Black Shoes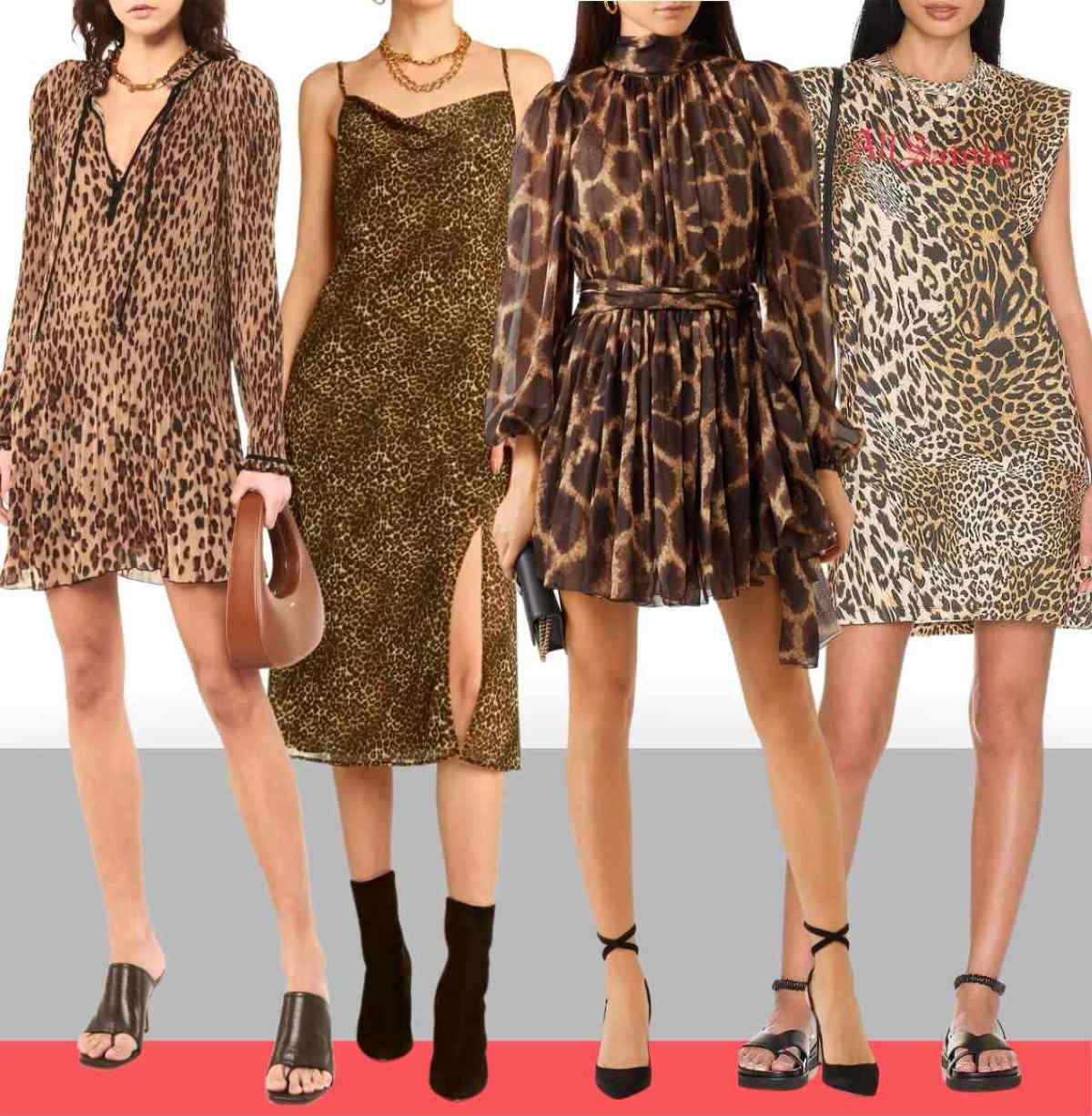 It may seem obvious to pair black shoes with leopard or cheetah print dress, but it's a goodie. There's no other shoe color that completes a leopard outfit more than a great LBS: little black shoe!
You can choose a minimal sandal, strappy stiletto or sleek pair of boots. And don't discount black shoes with metallic or rhinestone detailing, to give your leopard dress outfit a little sparkle!
Or pick a patent leather bootie or tall boot in patent black to contrast a thick knit dress.
Purse Color Tip: Match your outfit with a black purse, or choose a clear clutch for formal occasions. Any neutrals like brown, gold, white or beige will also pair well. A colorful bag will add a pop of fun to your outfit. Choose a bright green, pink, red hue.
2. Brown or Tan Shoes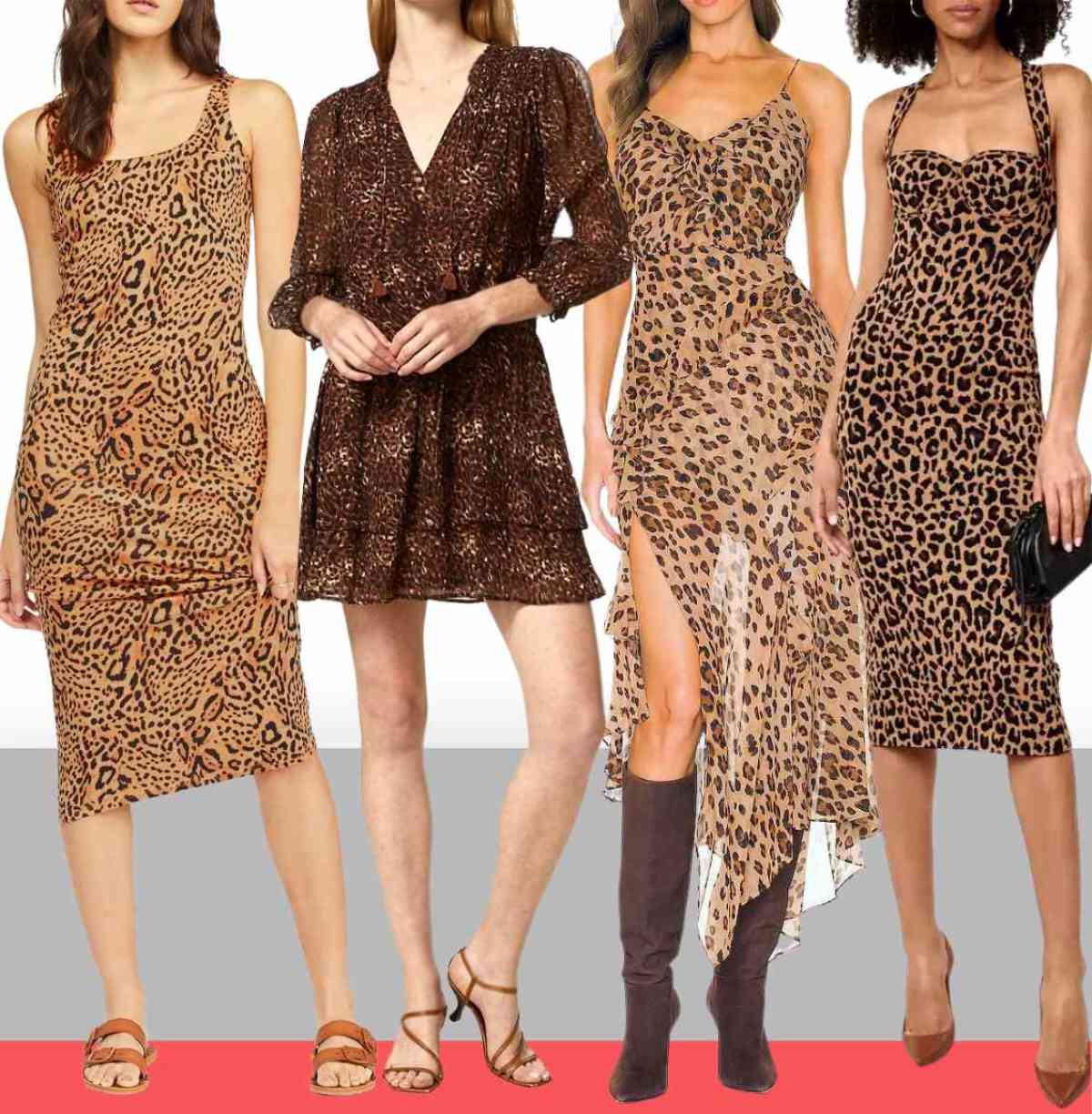 When trying to figure out what color shoes to wear with a leopard print dress, brown shoes are a definite yes!
Whether the tan or brown tone matches your skin tone to create a nude-for-you-shoe, or contrasts it, pick a brown that matches a similar shade in your leopard dress.
Purse Color Tip: Opt for a black, clear, white or beige purse. You can also select a colorful bag. Bright green and hot pink would be my top choices.
3. Beige Shoes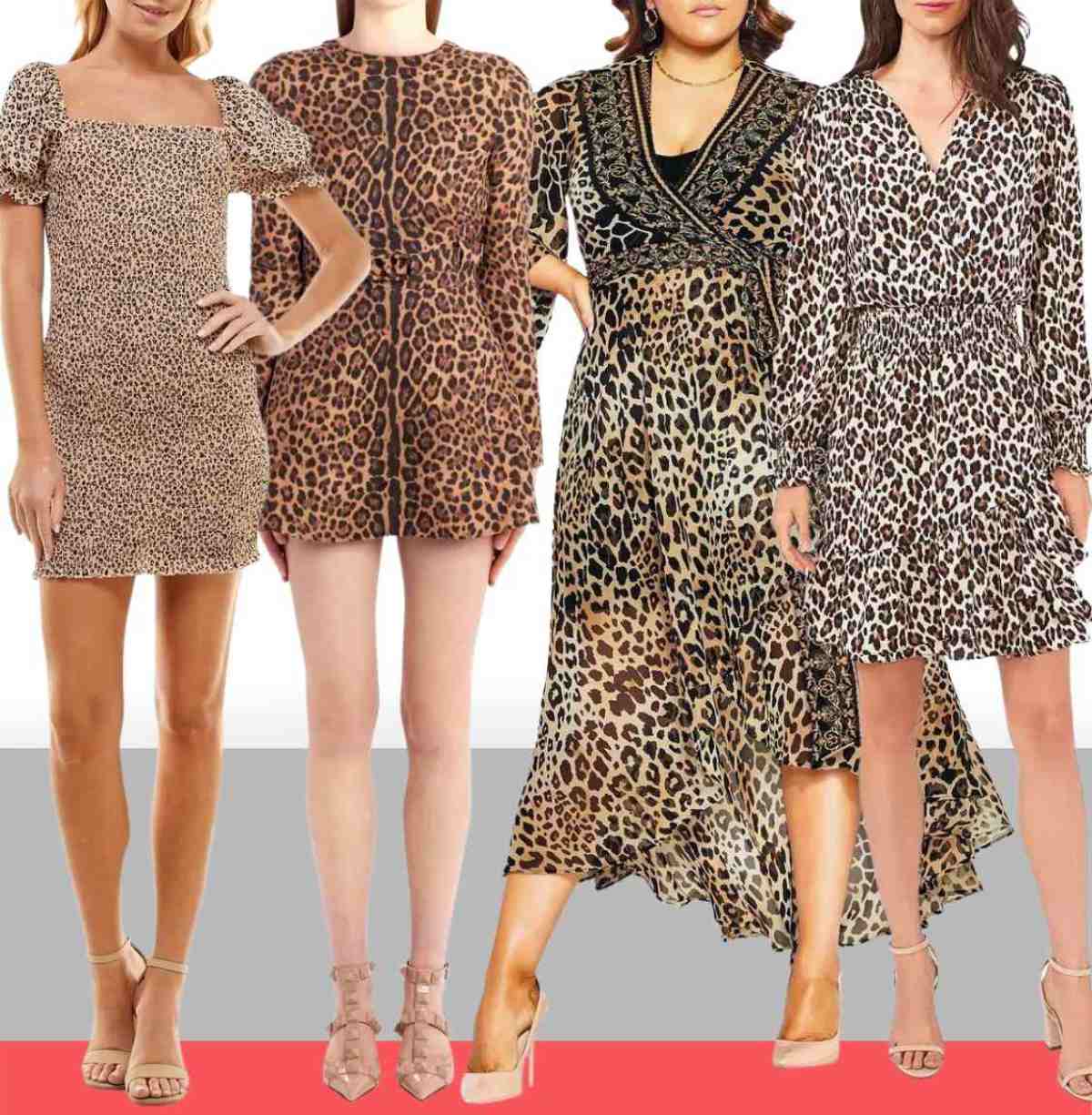 Like brown color shoes with a leopard dress, a beige-toned shoe color can act either as a 'nude' shoe or contrast to a varying degree to your skin. Either works well. Pick a patent beige pair of shoes with your cheetah dress to add shine if you'd like.
Purse Color Tip: With such a neutral pair of shoes, I would choose to stay in tone with browns and beiges. So pick a brown, black or white purse for your leopard dress outfit.
4. Gold Shoes with Leopard Print Dress Outfits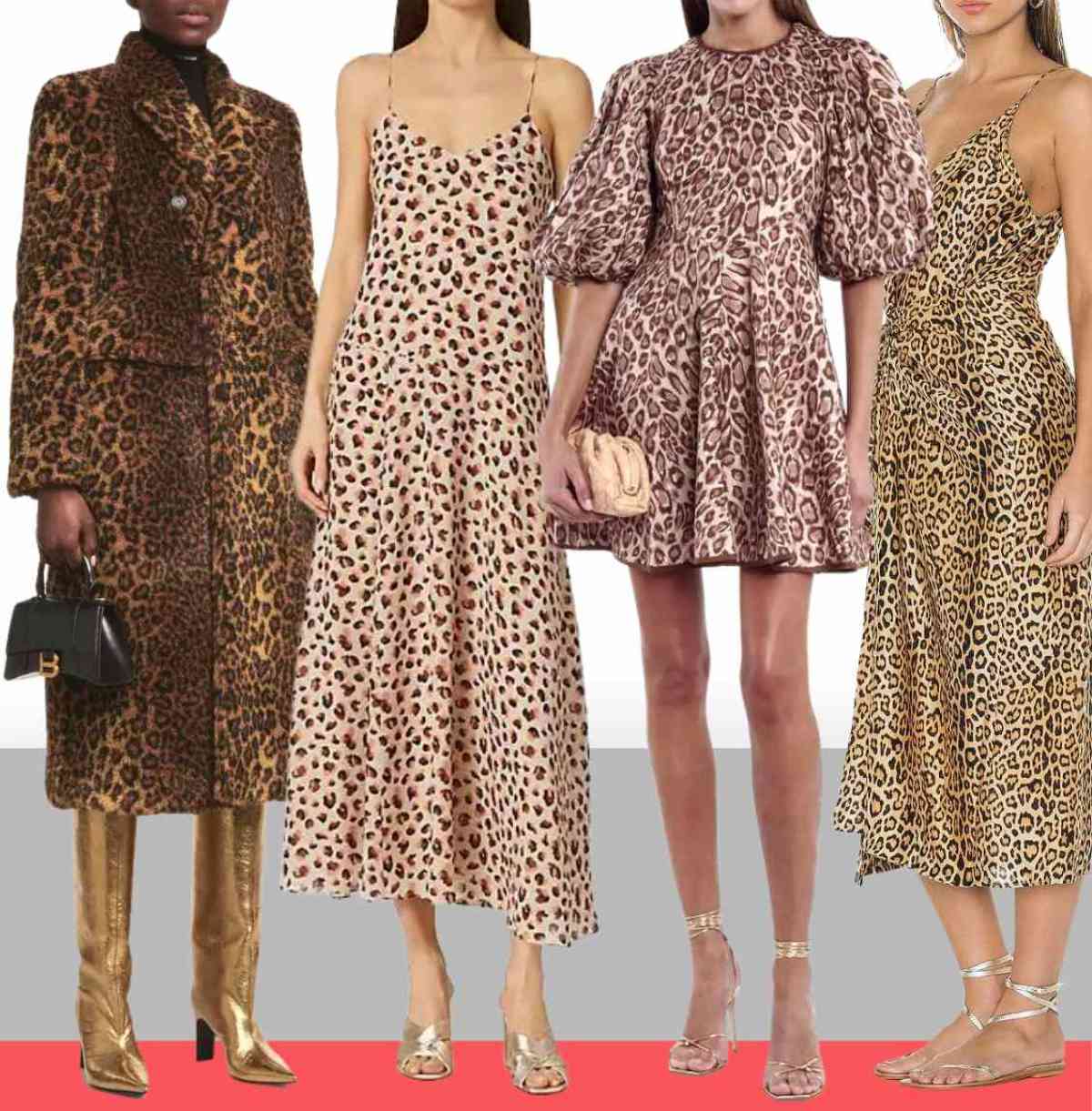 Gold is the best metallic to wear with a neutral-toned cheetah dress or outfit. The warm tones o the dress will play well with warm to cooler gold hues. Choose high-shine gold high heels or a snake print embossed bootie.
If you prefer a subtle, less glossy gold shoe, go for it. I like to contrast shiny leopard fabrics will more matte shoes. Yes, you can wear silver shoes with a leopard print dress outfit.
However, make sure that the dress print includes white, so the metallic can complement it better. Gold is the safer choice.
Purse Color Tip: 3 very different purse options work best for this gold shoe leopard dress pairing. The first is a black purse – patent, plain leather or suedes/velvets.
Contrarily, high-octave color purses look fabulous too. Try a hot pink or green clutch to brighten up your cheetah look! Want something more subtle? Complete your outfit with a small clear purse.
5. White & Off-White Shoes
White or off-white should will work great with your leopard print dress outfit. Especially if your shoes match one of the white tones in your dress.
White shoes and heels will brighten up the leather print. A great choice for winter boots with leopard sweater dresses or strappy heels with a silky midi leopard dress.
Purse Color Tip: I love a black, clear or red purse with this combination. However, if another bright hue is more up your alley – say turquoise, apple green or bright pink – that works too!
6. Burgundy Shoes
Now we're starting to get into that 'color' portion of this post about what color shoes to wear with a leopard print dress!
If you want to add color to your leopard dress, but are looking to be more subtle about it, choose burgundy or wine-colored shoes. I love suede shoes or knee boots in this color during fall/winter seasons.
Purse Color Tip: A black, white or even beige purse are the best handbag color choices with this combination.
7. Contrast Animal Print Shoes with Leopard
Can't get enough of animal prints? You can wear a pair of leopard or contrasting animal print shoes with a leopard print dress. Think black and white zebra print or a varying cheetah print to your leopard print dress – or vice-versa.
Just stay away from pairing your dress print with snake print (not a great combo) or a pattern too similar to your dress. More about what print and color shoes not to style with a leopard dress, read on, below.
Purse Color Tip: you have 2 polar opposite choices with purse colors. You can either add a bright color purse like green, pink, turquoise, blue, or pick a simple black clutch or handbag.
8. Clear Shoes with Leopard Print Dress Outfits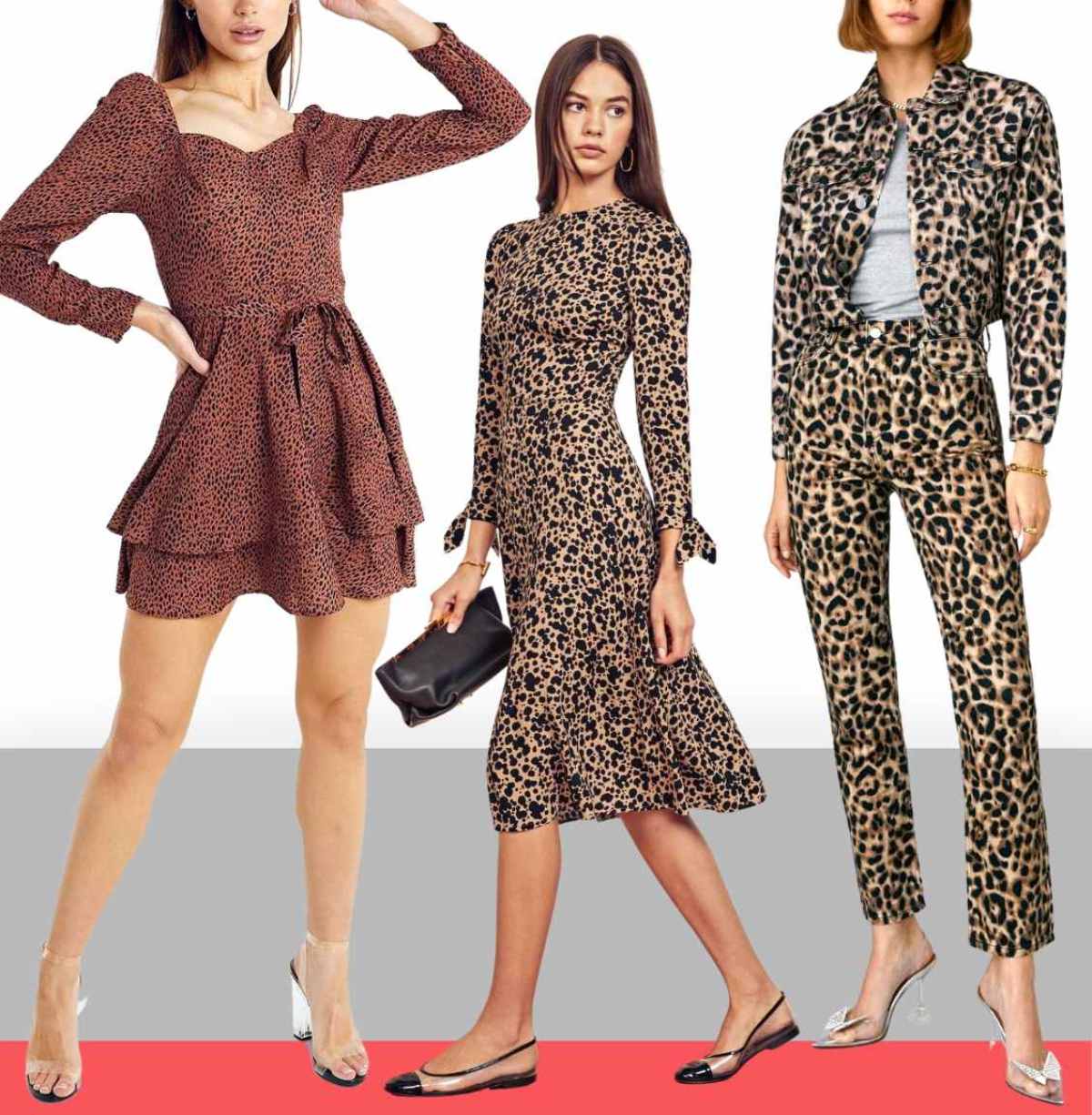 Clear heels are a trendy type of high heel that can be considered the IT shoes of the moment. Unlike clear boots, clear heels and flats are subtle & classy and offer a heightened kind of 'nude shoe'.
Clear heels compliment leopard print dresses or outfits as much as black shoes do. In fact, they're my second favorite low-key color shoes to wear with cheetah print dresses!
Purse Color Tip: Choose a gold, beige, or black purse. If you're interested in injecting some color into your leopard print outfit, try a less bright choice such as burgundy, to keep the look focused on the dress.
Bright Colored Shoes with Leopard Print Dresses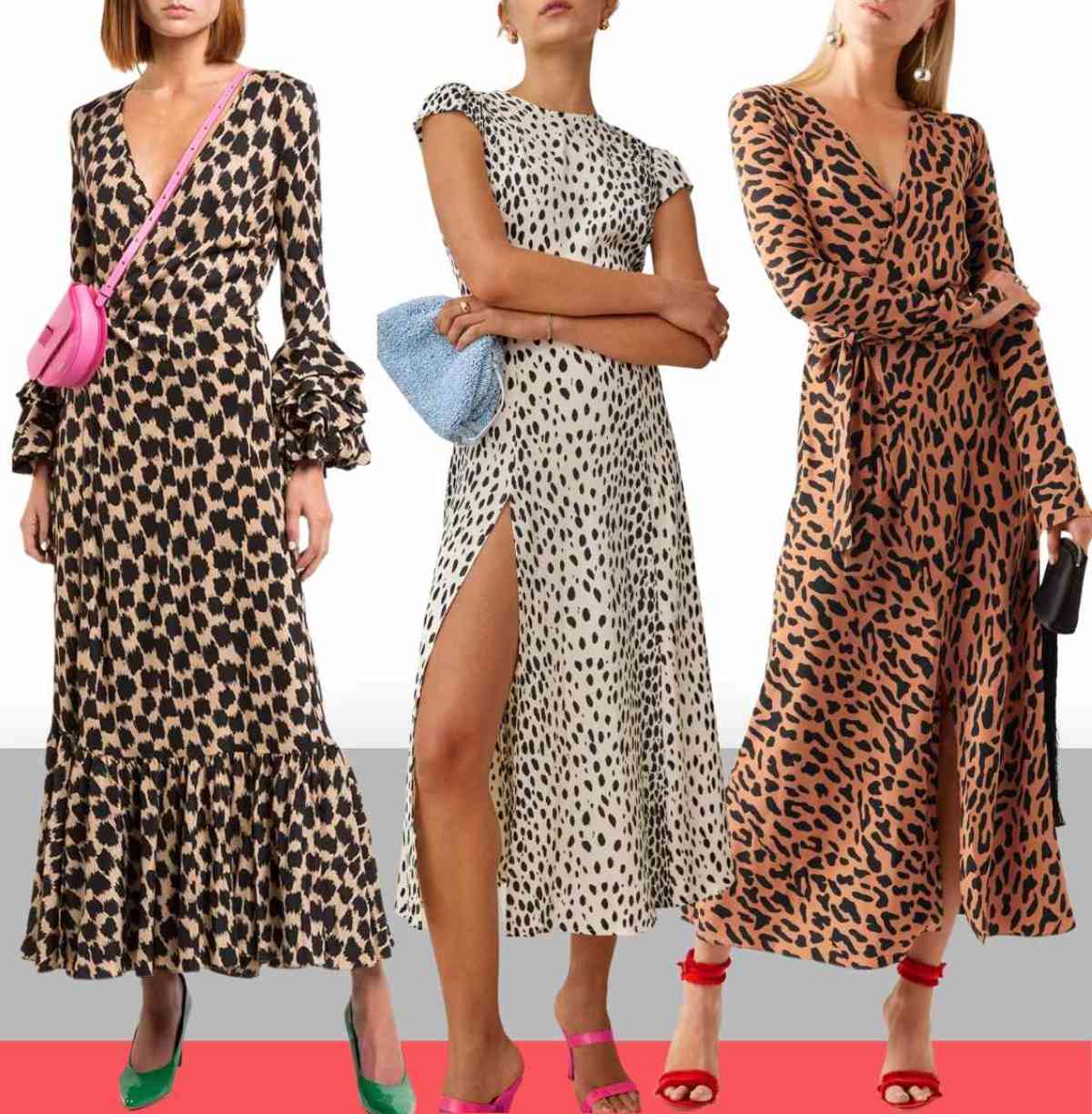 9. Green
Emerald, apple and even lime green can add personality to your leopard print dress outfit. Green is a cooler hue that contrasts well with leopard and cheetah prints. This unexpected color with animal prints makes it all the more fun!
Purse Color Tip: Choose a beige or black purse with this dress and shoe color combo.
10. Hot Pink Shoes with a Leopard Print Dress
Pink continues to be trendy, so it's a great color choice! Bright pinks such as fuchsia, neon pink and similar hot pinks are great color shoes with leopard print dresses.
Purse Color Tip: Opt for a beige, black or gold purse. You can also go for a small contrasting color purse such as emerald green or cobalt blue to add some more punch to your cheetah print dress outfit!
11. Cobalt or Turquoise
These two bright cool hues offer a fabulous contrast to neutral leopard and cheetah prints. Often neglected colors – especially turquoise – they offer a cool contrast to the warm tones of the animal print.
Purse Color Tip: Choose a beige or black purse with this dress and shoe color combo. However, a smaller white handbag would also look good.
12. Bright Red Shoes with Leopard Print Dress
Like burgundy, its darker counterpart, bright red shoes are a fabulous color to wear with leopard prints!
Yes, a daring color choice, but it will make your leopard print dress outfit look even more fierce. I am partial to red shoes, though, as evident in my post all about how to wear red shoes!
Purse Color Tip: a black purse is a top choice for a leopard print dress and red shoes! However, a white or gold purse, if a smaller style like a clutch, will look lovely too.
Color Shoes Not to Wear with Leopard Print Dresses
Pastels with Leopard Prints
When thinking about what shoes to wear with leopard print dresses, pastel shoes do not come to mind. These don't often work as either shoe or purse choices with leopard print or cheetah dresses in brown/beige colors.
Light color shades such as baby pink or blush pink will look washed out against the colors in your dress. A pastel shade that might work, but as a purse? Mint green, but it really depends on the tones of the cheetah print dress.
Similar Leopard Print
I'm all for leopard on leopard, but the prints work best when they contrast. Otherwise, it will be a lot for the eyes to handle. It may even make it look like you're wearing a costume instead of a leopard print dress outfit.
Reptile Prints
The smaller, often gradient hues in snake or similar will not contrast the leopard or cheetah print dress enough to bring out the print. And in shoe form, especially daintier shoes, the reptile print is often not visible.
Most Yellows
Yellow shoes are just too similar to the beiges in a neutral leopard print dress, but not similar enough to offer contrast. Therefore, most shades including pale yellow and mustard will likely clash.
Orange Shoes
I really don't love a leopard print dress with orange shoes, for the same reason as yellow shoes. Orange can clash with the warm browns and beiges of a cheetah or leopard print.
Navy or Dark Grey
These shades are lovely on their own. However, they are just far too dark to offer any contrast or match to a cheetah dress or similar neutral print.
Final Words on Leopard Print Dress Outfits with Shoes
You'll be sure to stand out in the concrete jungle in any leopard print dress, that's for sure!
Ultimately, figuring out what shoes to wear with leopard print dresses and outfits, is as easy as grabbing a black shoe, boot or heel in a neutral or punchy color.
Whether you're a loafer or sneakers gal or prefer something more glam like stilettos with a leopard print dress, there are plenty of color and style options to consider.
I hope I helped answer your question about what shoes to wear with leopard print dress outfits! What are your favorites? I love classic black strappy high heels or black boots.
xo ShoeTease