The mules are back and better than ever! You can wear mules outfits with high heels, loafer mules and clog mules. And from classy kitten heel mules, to chunkier styles, there are loads of styling options available.
But how to wear mules, you ask? Well, here on shoe-tease.com, I'll show you just how versatile this type of shoe for women can be!
From more rugged casual mules outfits to more elevated refined mules simply choose your mule style and go from there!
Of course, we all know that mules aren't just for denim and jumpsuits. Their versatility is why they work with anything from dresses to skirts and dress pant outfits.
They have a laid-back feel that won't look out of place anywhere from the boardroom to your weekend getaway. Read on to see our picks of the best mules outfits for women this season! But first:
What are Mules?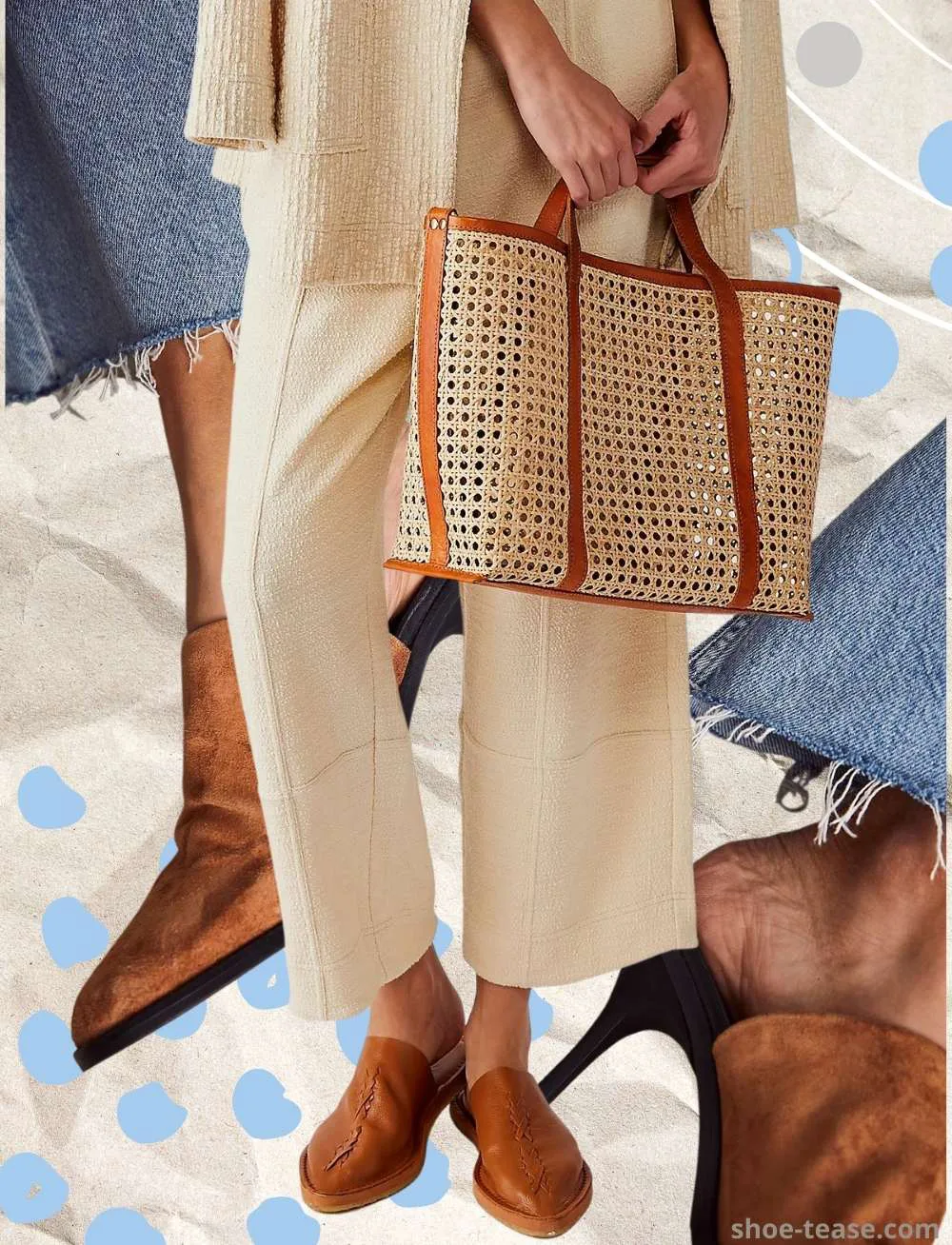 In short, mules are backless, close-toe shoes. They are slip-on shoes, but unlike slide sandals, they won't show off your pedicure. Making them perfect closed-toe shoes for summer!
Mules come in varying toe box shapes, from round to square, to pointed styles. Heels can differ from flat to stiletto to chunky.
Trending Types of Mules for Women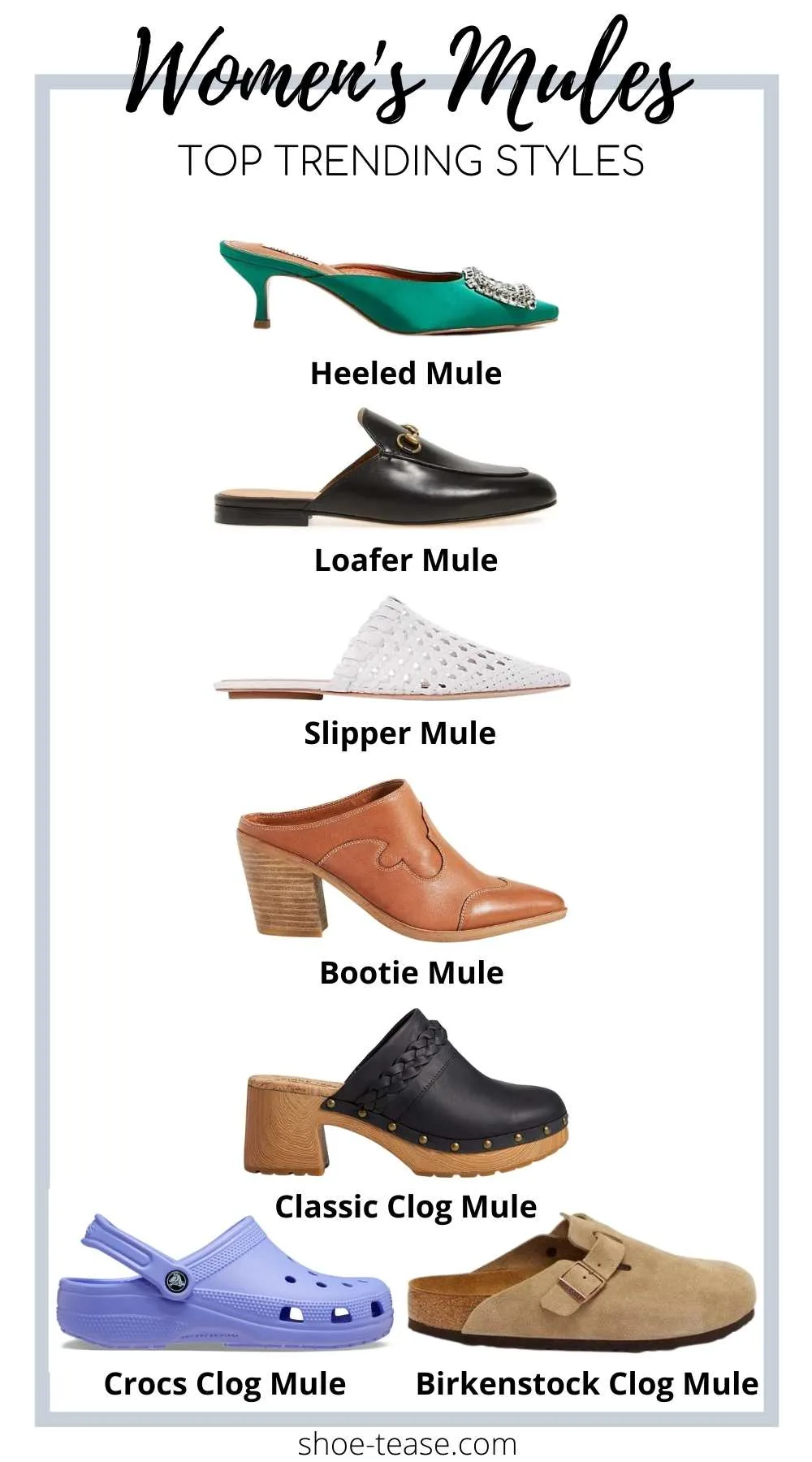 There are many types of mules, from clunky clogs and BIrks to pointed-toe stilettos. Each can be worn in several different ways for various occasions.
How they look will depend on how you wear your mules and the mule style you choose. Below are some popular and trending mules:
Heeled Mules – from kitten heels, comma heels, block heels, and circular sculptural heels to stilettos, there are many to choose from! Love these from Bibi Lou
Loafer Mules – Thanks to Gucci's Princetown, these are as hot as ever. Great paired with anything from joggers, mini dresses to pantsuits.
Slipper Mules – Laid back in leather, suede or even canvas style and espadrilles hybrids. These can be fancier in satin and a pointed-toe, jeweled or not.
Bootie Mules – it's like an ankle boot but without the back. These are trending with cowboy boot detailing such as angled wooden heels.
Clog Mules – Bringing classic 70s laid-back vibes to any and all wearers with wooden heels. However, many styles exist, such as Crocs and nurse/doctor mules with orthopedic footbeds.

Crocs Mules – These need no introduction, as the plastic "ugly" clogs of the century. Many recent designer collaborations, such as with Manolo Blahnik, have made them the casual It shoes for many!
Birkenstock Mules – More popular than ever, seen in both rubber Birkis or Super Birkis and Boston styles and they're trending with wide-leg dress pants, wide-leg jeans and sweatsuit outfits.
How to Wear Mules – Best Mules Outfits for Women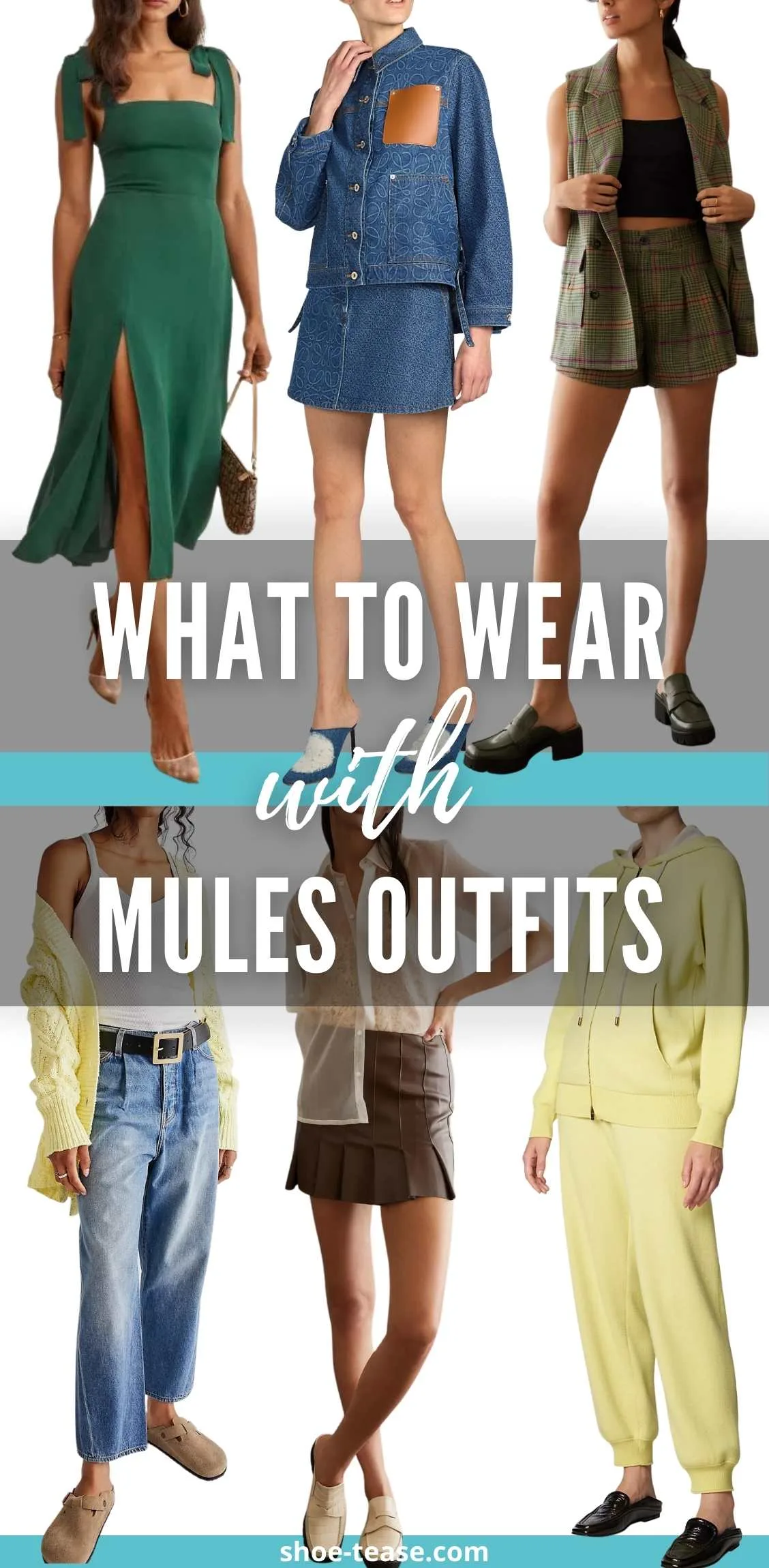 How to Wear Mules with Jeans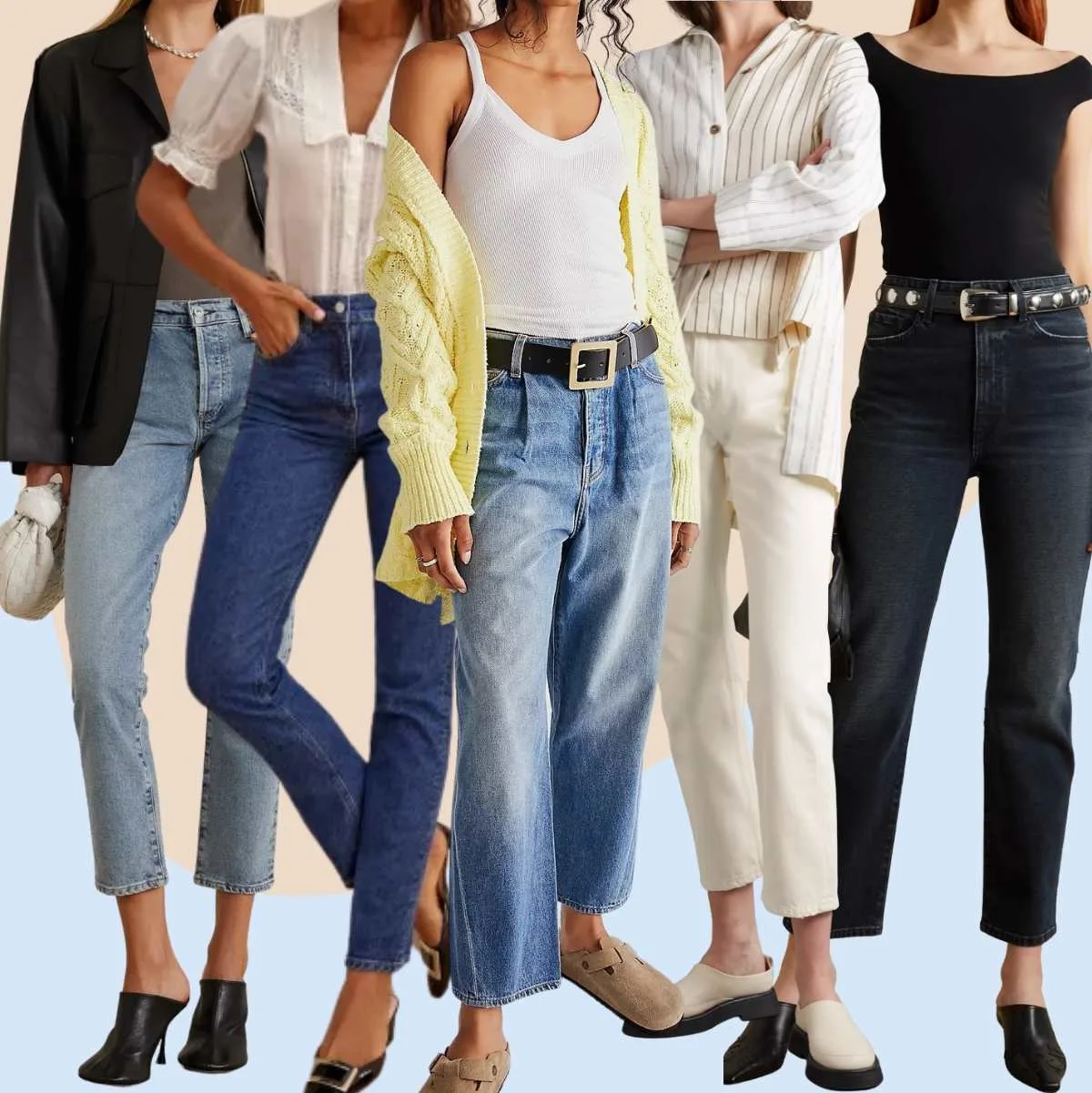 Jeans and mules look great together and make an easy pairing. With higher-heeled mules, pair cropped or ankle-length jeans, so they don't slide off or have you tripping on the hem.
I love slim or cropped wide-leg jeans with a fancy pointed-toe black mule. Makes the perfect jeans with mules outfit when you add a boyfriend tee, rocker tee or crisp shirt.
For more relaxed looks, go for a suede or rubbery Birkenstock Super Birki clog, classic clog or basic leather mule. Wider, looser and even baggy jeans look great with these styles as they balance the larger proportions. Try Birkenstock clogs with socks for cozy appeal!
For a smart casual mules outfit with jeans for work, go for a well-cut, high-waisted straight-leg jean and loafer mules. Tuck in a printed or white blouse (or tight tee) and layer over a fitted blazer to complete the look.
How to Wear Mules with Dresses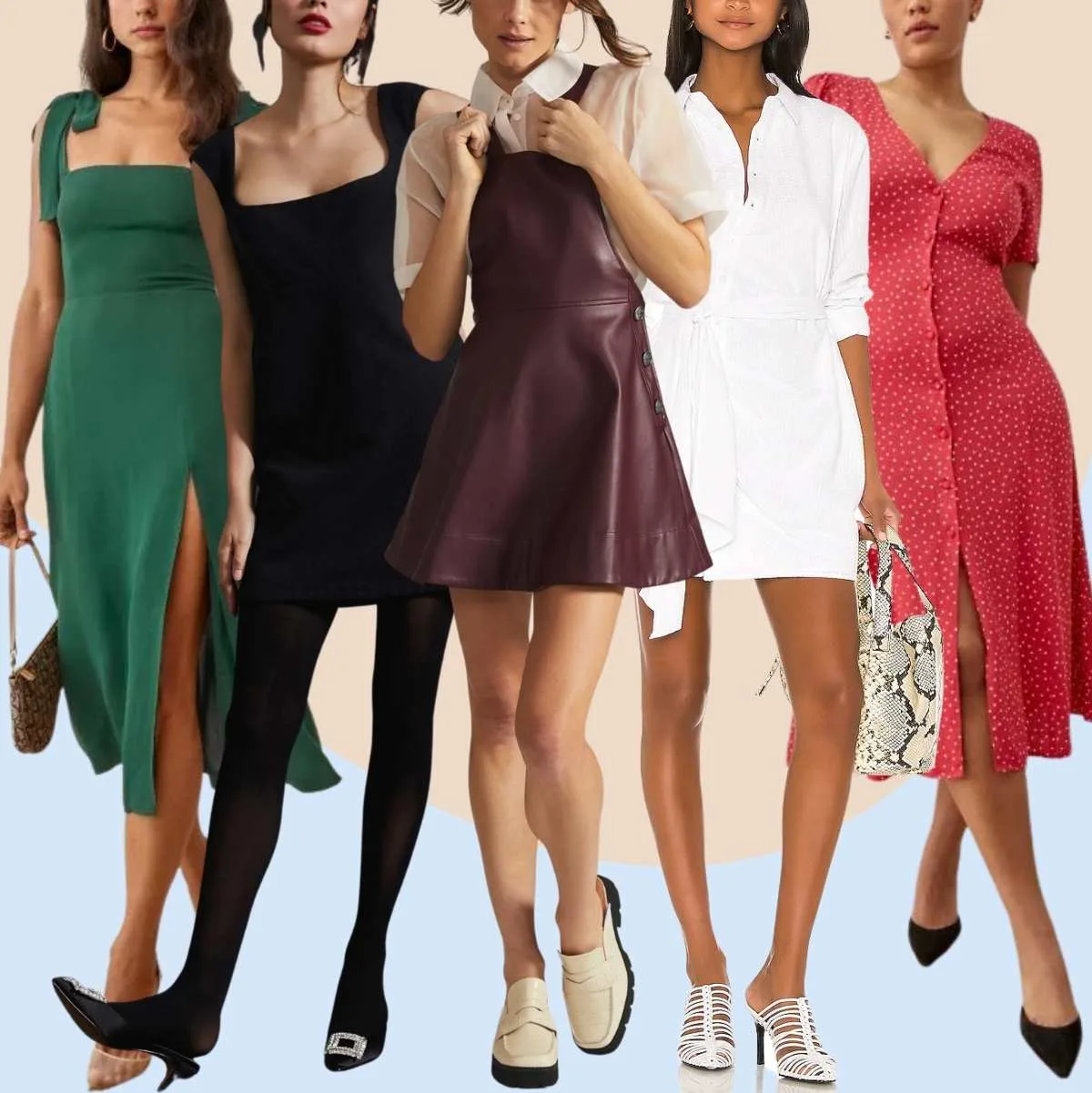 With sleek styles, I love my mules outfits with dresses with midi or minis. They add a refined look, especially with a kitten heel and elegant toe. Think a white mini dress with black satin mules, or a billowy summer midi dress with white strappy heeled mules.
Smart casual looks with loafer mules and dresses look great too, especially in the spring, when you don't want to wear fully closed shoes. Pair them with sweater dresses, blazer dresses or any shift dress.
Wear your heavier clog-like mules extra cozy with a pair of wooly socks to make your dress more casual. Black or white mini dresses with more delicate heeled mules will pair well with semi-sheer black hose.
Mules Outfits with Dress Pants & Pantsuits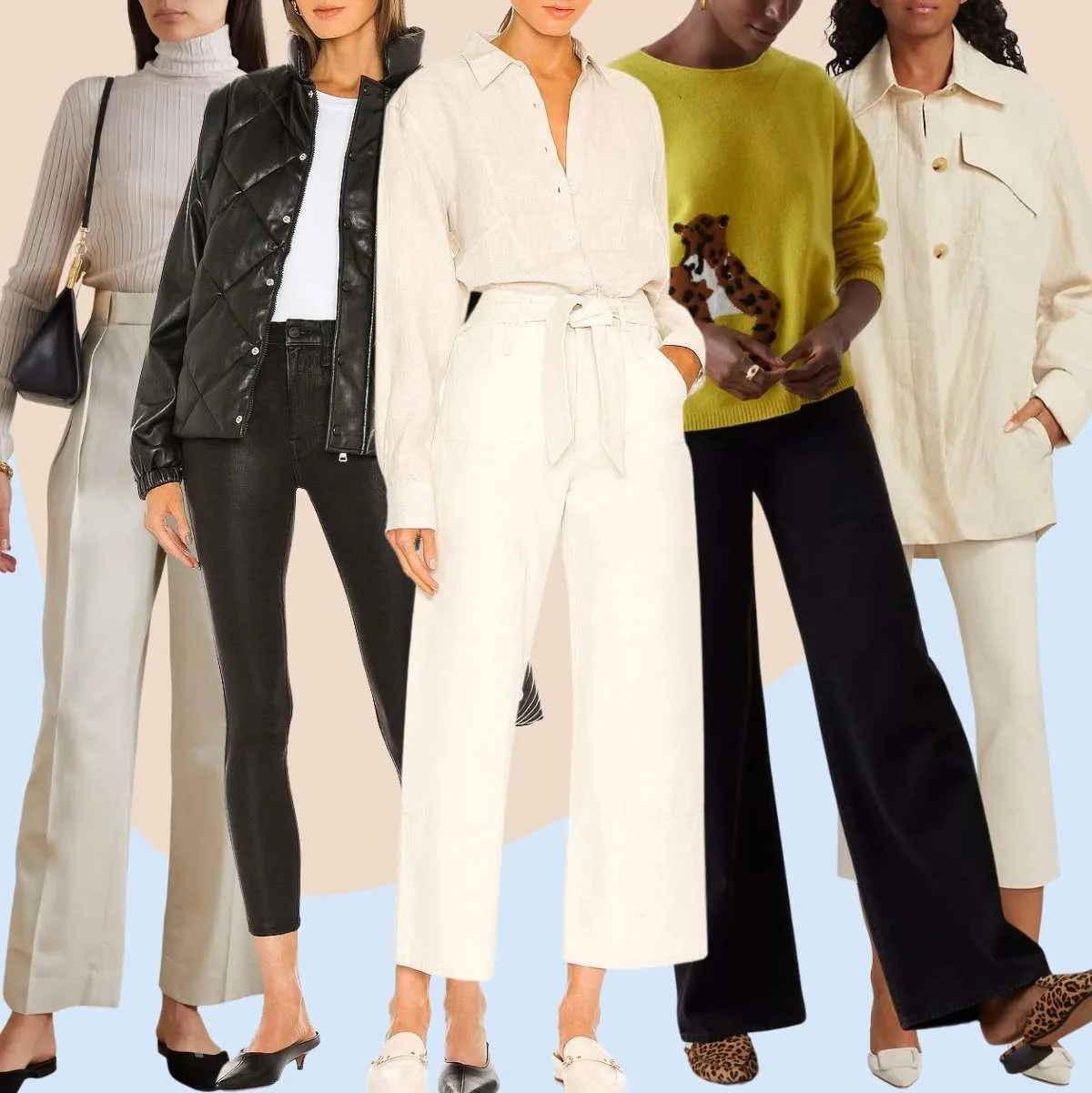 Dress pants and pantsuits are great must-have pieces for any woman to have in their closet. You can wear them casually on any day with a tee or go formal with suitable mules and accessories. There are several ways to wear dress pants and pantsuits with mules.
If you're looking for a chic pairing, add sleek pointed-toe mules with a high or kitten heel. These look best with lightweight wide-leg dress pants, or slim dress pants that end above the ankle. Try leather pants for an added edge.
For more laid-back looks, pair your wide or straight-leg dress pants with clogs. Or add a Birkenstock Boston style to the likes of a high-waisted, loose-fitting linen pants and a fitted bodysuit. Still chic, but giving off relaxed vibes!
Get office-ready in warmer months by pairing white, beige or black loafer mules (with or without horsebit detail) with your suit or dress pants and shirts.
Joggers & Sweatpants with Mules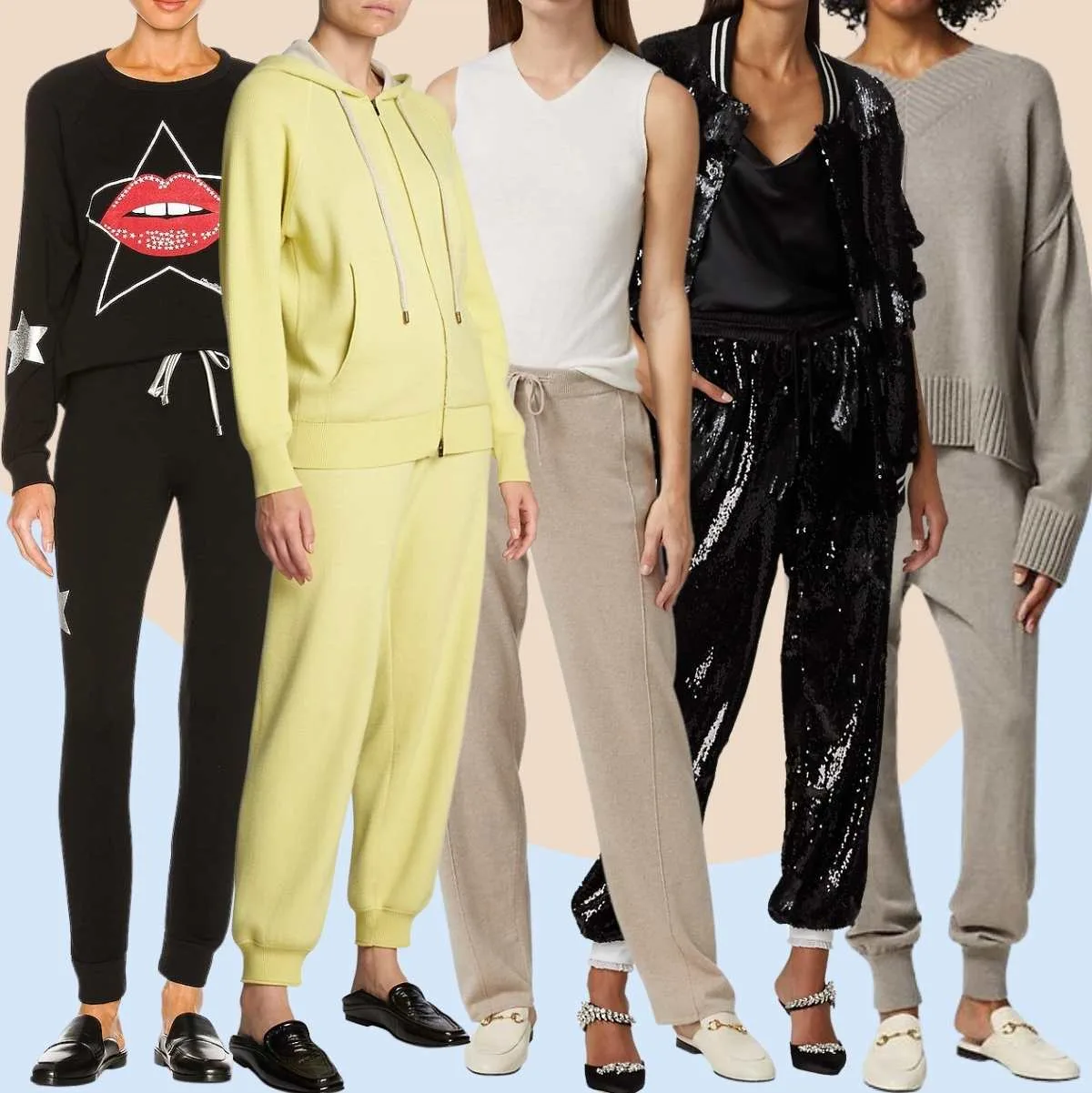 One fun way to wear mules is with joggers, especially if you reach for loafer mules. I love the contrast of more serious vs casual. These look extra cool with sweatsuits, especially when paired with a structured leather handbag.
Or, if you're feeling fancy, pair your joggers with high-heeled stiletto mules. Add with a minimal bodysuit tank and oversized blazer for an unexpected combination! Check out more tips in my post about shoes to wear with joggers.
Jumpsuits & Rompers with Mules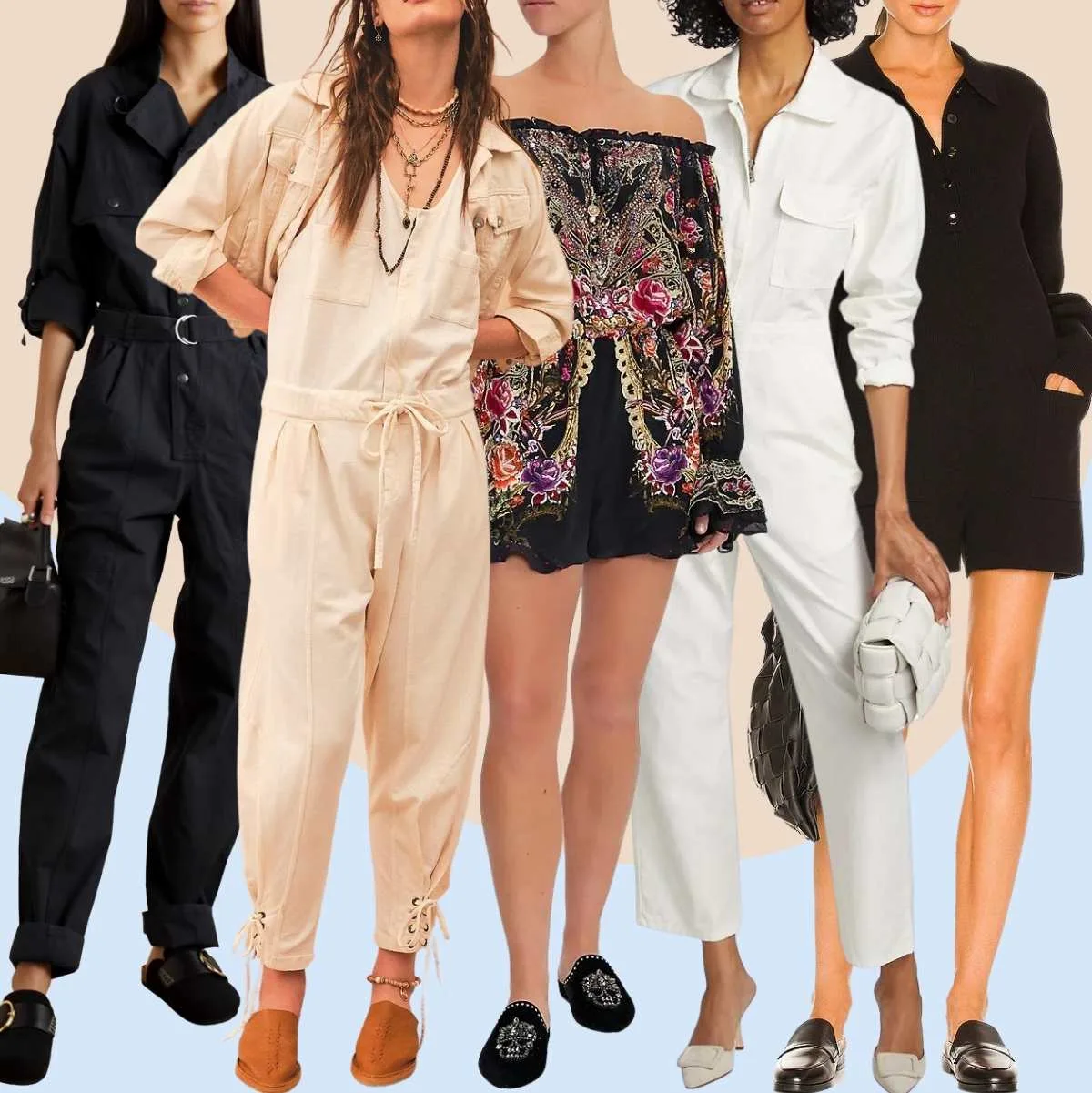 A jumpsuit or romper is a perfect outfit to wear with your mules. They're both easy to slip in and out of. All you need is a leather crossbody or canvas tote to complete the look! Add visual interest to your romper or jumpsuit by belting the waist.
Reach for a structured or tailored jumpsuit or romper with a kitten-heeled or high heel pointy or almond-toe mule. Choose a black outfit with bejeweled matching mules with a metallic clutch for an elegant affair. Like I did with my black jumpsuit and pink satin mules.
Rugged, utility-style or denim rompers and jumpsuits look great with clog-like mules. Especially with earthy suede Birkenstock mules, but can be dressed up with high heel mules too.
See more shoe styling ideas with rompers and shoes to wear with jumpsuits in my dedicated posts!
Mules Outfits with Leggings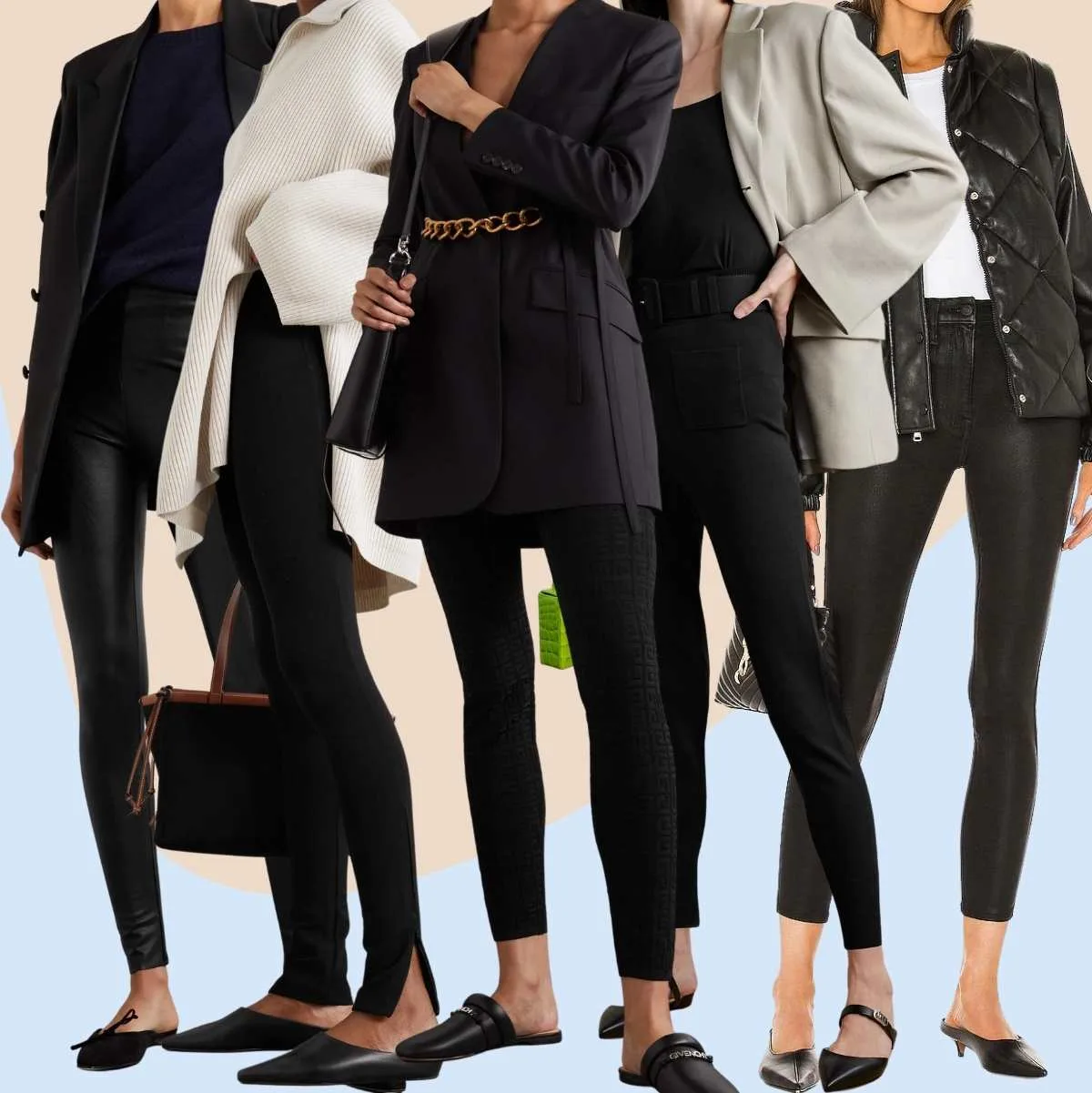 Leggings are a wardrobe staple that can be worn with just about anything. Especially with black or leather leggings. It's a no-brainer then, to pair them with mules for an on-trend look!
The key is finding the right style of mule shoes. I don't particularly like the look of larger clog styles with rounded or square toes with leggings, as they throw the proportions off. I prefer sleeker styles like classic loafer mules or dressy pointed-toe ones.
For a dressy look, opt for sequin or shiny leggings with a sleek kitten heel mule. Add a fitted top, crop or tuck in a silky shirt. Layer with a fitted jacket and add fine gold jewels.
If you're going for an elevated everyday mules outfit with leggings, that's easy to achieve. Just add mule loafers and minimal mules; even chic leather clogs!
To the look, add simple black or dark patterned leggings, an oversized crisp shirt and a dainty cross body and statement earrings.
Layer over a moto jacket, trench or cropped sweater for cooler months. Learn all about the best shoes to wear with leggings, here!
Shorts with Mules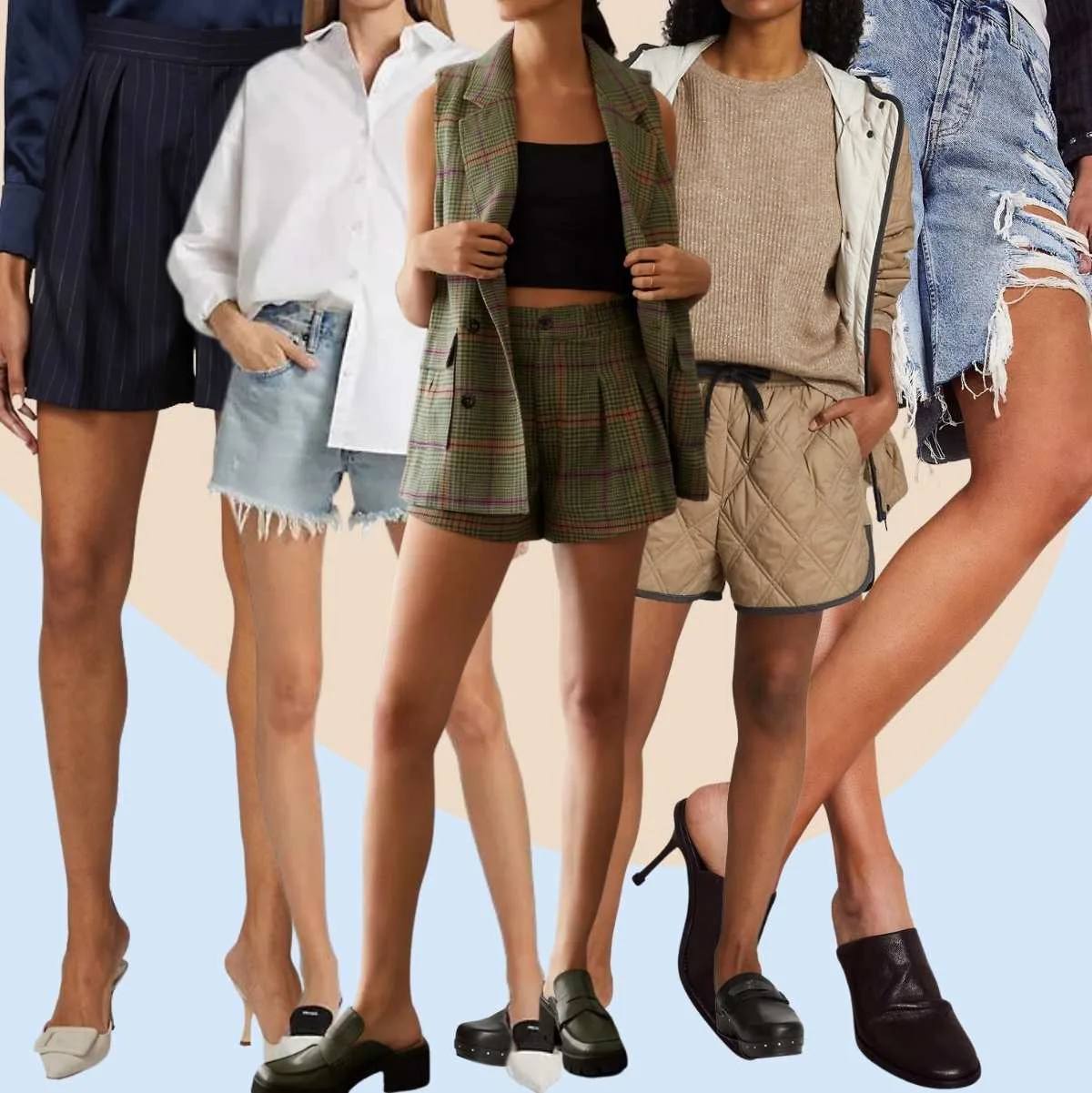 If you're looking for a more casual look, teaming shorts with mules is the way to go! That being said, you can also dress them up. Here's how!
I love good linen shorts, a tucked-in tee and a matching jacket. Pick a high-waisted pair that you can belt, or reach for paperbag waist shorts. Adding a cream colored loafer mules to this outfit makes it perfect for a professional setting when you want a summery vibe.
To dress shorts with mules up to the max, pick a structured satin material instead of linen and pair with you dainty-heeled mule of choice.
Of course, denim is your friend if you're looking for a casual mules outfit with shorts. I love high-waisted frayed white jean shorts with a rocker tee and any low-heeled mules you have on hand!
Skirts with Mules
There are so many shoes to wear with skirts, including various styles of mules! Mini or midi skirts with mules are my favorite at the moment.
Tuck a loose sweater into a leather mini, and make it casual with a black studded clog. Or you can add fancy kitten heel mules with or without sheer black stockings.
Midi skirts, like bias-cut satin styles or side slit pencil skirts and knit versions also look great with mules. A classic pencil skirt with a tucked-in blouse and a sleek heeled mule will take you from work to play!
If you're looking for a more rugged fall look, pick a flared corduroy mini and add some slouchy socks into a suede, wooly or furry mule.
How to Wear Mules in Winter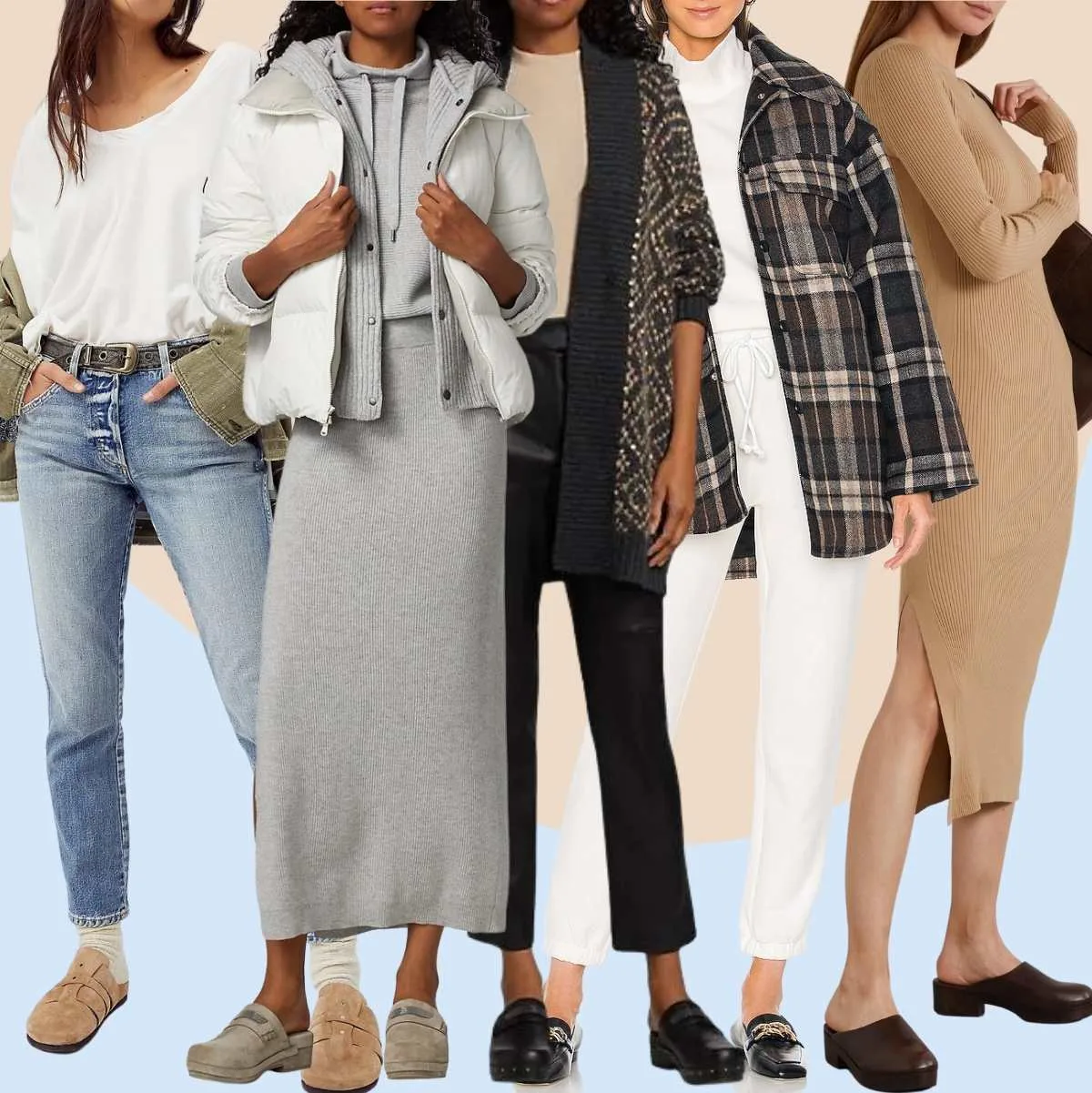 It's no secret that mules are having a moment and showing no signs of slowing down – not even during the fall or winter months!
However, many people wonder how to wear mules in winter. The key is to pair them with the right pieces and mules.
You'll want to avoid delicate materials or colors like white or satin. Instead, opt for leather styles or treated suedes. Pick mules with a thicker outsole and treads for traction. And don't forget the many sherpa-lined mules!
Try wearing your slip-ons with slim jeans and a cozy sweater for a casual winter mules look. Or add multiple layers over basic leggings. Cable knit tights also look great with mini skirts and dresses with mules.
If you're looking to dress things up, grab a pair of mules with a sweater dress or wool blend trousers and cardigan. Add slouchy or wooly socks with wider mules such as clogs, Birkenstocks or rubbery styles for warmth.
No matter how you style them, mules will keep you looking chic all season long. Just make sure you treat your shoes with waterproof shoe spray and don't step into any puddles!
15 More Cute Mules Outfits Ideas
Clog Mule Outfits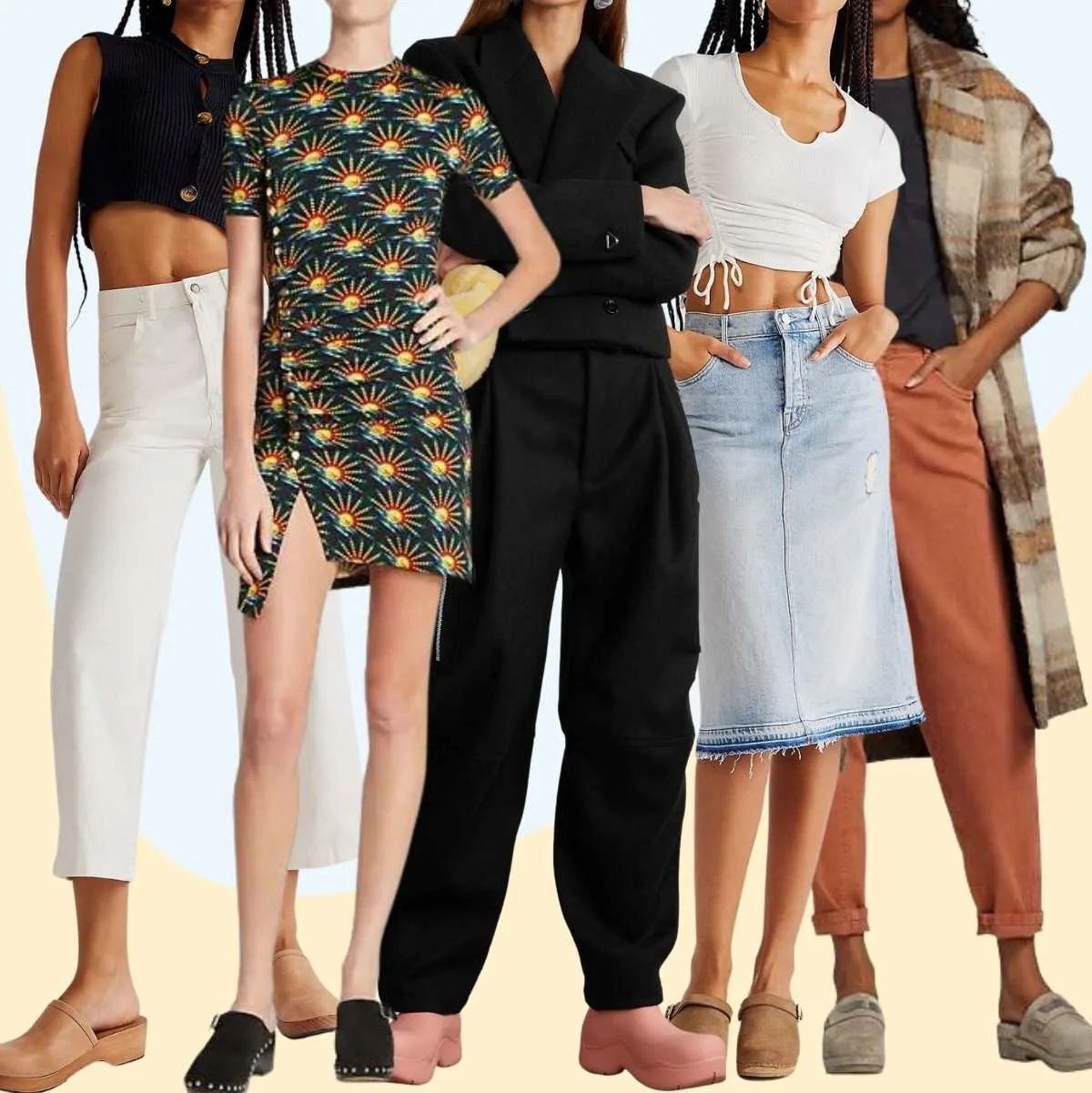 Laid back and rugged, comfort reigns supreme when choosing a clog mules outfit. But that doesn't mean that you can't look chic.
Many wooden clogs are not sherpa-lined, studded, or made of slick materials. When paired with dark denim or leather materials they will look edgy and high end.
When feeling more whimsical, you can go for a boho look with clogs, pairing them with a floral maxi dress or a drapey, wide-legged jumpsuit.
Plastic clogs will give off a sporty appeal (love these with sweats!) and work double duty as a waterproof shoe! More styling tips on how to wear clogs, specifically, in my previous post.
Loafer Mules Outfits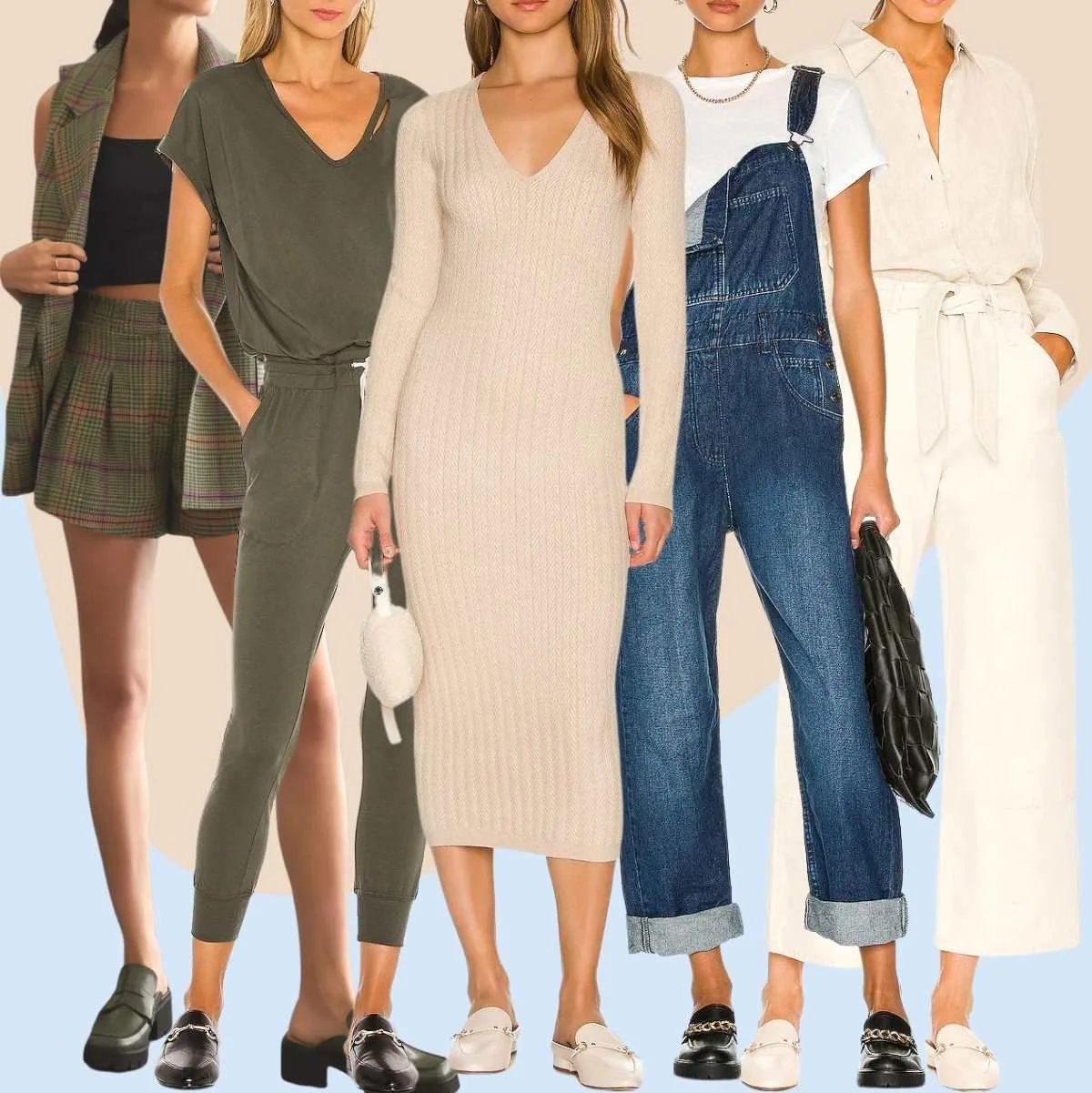 I'm all about loafer mules with anything these days! They're a flirtier version of the more "serious" loafers. They look great with anything from pantsuits to mini dresses.
Loafer mule outfits are great for transitional months. Especially when you don't want to cover up your feet fully yet!
High Heel Mules Outfits
Slide into a pair of high-heeled mules to elevate your outfit as you see fit. Satin, jeweled styles will bring you to cocktail attire levels, when matched with the right dress or suit.
Final Words on How to Wear Mules Outfits
As you can see, mules are versatile slip-on shoes that can be styled in many different ways. I hope my post has made you confident about how to wear mules with different outfits for various occasions.
Whether you are looking for a casual or dressy look, there is a mules outfit for you! And if you are still searching for the perfect pair of mules, you can find the best mules for women at:
Saks Fifth Avenue, Free People, Zappos, My Theresa, Anthropologie, Revolve, Bloomingdale's
Do you have a favorite way to style mules? Let me know in the comments below!
xo ShoeTease