Leggings have come a long way since they first started being worn as more than just workout pants! What hasn't changed is that the shoes to wear with leggings must be appropriate for your outfit and the occasion you're wearing them to.
Leggings may just be the most comfortable pants out there. This is why virtually every woman has a pair of leggings in her closet!
But if you pair them with the wrong shoes or boots, you run the risk of frumpy or pajama-casual. And that's not the point of this styling post.
How you style your leggings with shoes will make or break your leggings outfit. Not surprisingly, the same can be said about shoes with skinny jeans!
And there are so many more leggings available, on top of the classic black leggings everybody loves! The latest leggings styles range from moto leggings (made popular by Spanx), suede and leather-looking leggings, to sporty althletic and printed leggings.
The current hottest leggings styles are high waisted. In terms of leg shape, the upcoming style are split front leggings – like these – that flare out, as you will see throughout this post.
This is not surprising considering the rising popularity of flare jeans. However, versatile ankle length, simple cotton leggings are still a go-to.
In today's post, I'm going to give you shoes with leggings styling advice. You will learn how to make your leggings look casual to chic and everything in between, with the right shoes!
I'll take you through the best shoes to wear with leggings in the summer months. But also outline the best shoes, sneakers, heels and boots to wear with leggings in Fall/Winter.
All the Best Shoes to Wear with Leggings
1. Leggings with Sneakers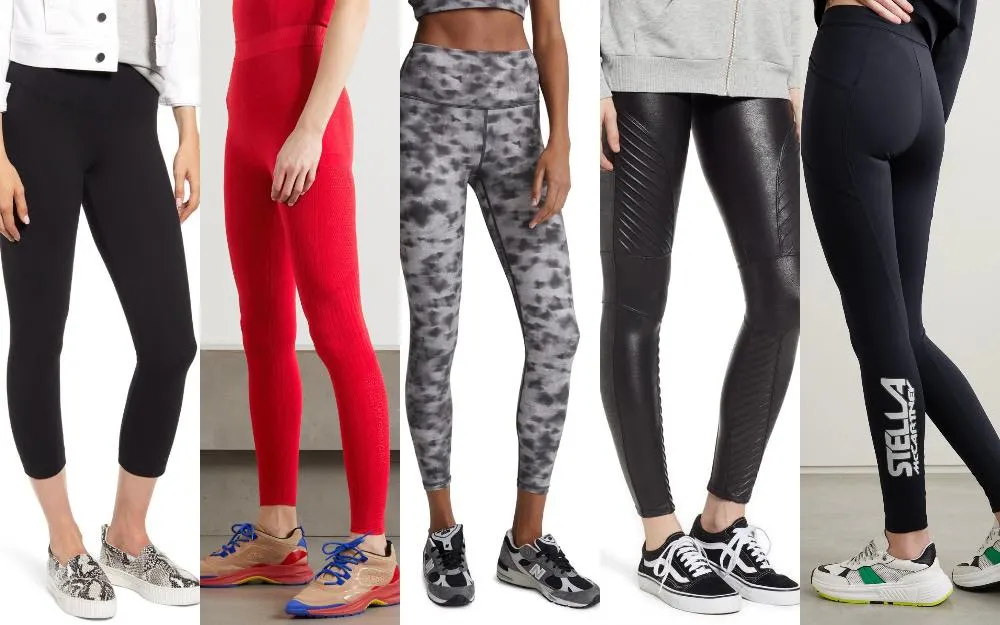 Leggings with sneakers is a no-brainer shoe and legging pairing. Especially if you're keeping things more casual or sporty with a pair of athletic leggings or yoga pants.
However, there are some sneakers that can elevate even the sportiest of leggings.
You can wear any type of leggings style with sneakers! Heck, I've even seen some fashionable ladies pull off sneakers with sequin leggings!
Choose a pair of colorful or black ones, calf-length or ankle-length, flared or skinny. Below are some favorite sneakers to wear with leggings:
Classic Lace-up Sneakers
For a sportier look, you can always opt for lace-up sneakers with leggings. Laces will add an informal touch to your outfit. Perfect to run errands in or meet up for a coffee with friends. Classic lace-ups are my go-to sneakers for skinny jeans and some of the best comfortable shoes to wear with skirts!
You can opt for classic lace-up sneakers like Superga Coty, modern classics such as Nike Air Force 1, or the oh-so-popular mesh sneakers that add extra breathability in the summer months.
Lots of great classic lace-up sneakers come with a slight platform too, if you want some added height.
Slip-on Sneakers
If you're looking for an easy sneaker for your leggings — that is just as comfortable, might I add! – why not slide into a slip-on sneaker?
Perfect for a quick jaunt to the mall or grocery store and perfect for your rushed school morning drop-offs!
A white slip on sneaker will keep things simple, but you can have some fun with a punch of color or metallic version of the sneaker too! From Vans to haute designer versions, you can't go wrong.
Want to add an extra kick? Choose slip-on sneakers with a slight platform! Shop them at Nordstrom.
Chunky Sneakers
If you're looking to wear your leggings with trendy sneakers, a chunky sneaker is your best bet! New Balance makes a popular dad sneaker, and many high end to affordable brands have designed many colorful chunky sneakers!
Running Shoes
Feeling athletic, or just wanting a full-on athleisure look? Nothing beats sporty leggings with a pair of either up-to-date running shoes or retro ones. But they can also complete a simple casual outfit too, if you style it right!
White, black, or boldly colored, mesh or leather, any kind of running shoe goes with leggings. If your leggings are patterned or busy, choose a simpler sneaker and vice-versa. Just don't forget to stretch!
Hi-Top Sneakers
If your style or cooler weather dictates it, hi-top sneakers are a fun sneaker bootie to pair with your leggings. You can find sparkly Golden Goose hi-tops, budget-friendly classic Vans and everything in between!
How to Wear Leggings with Sneakers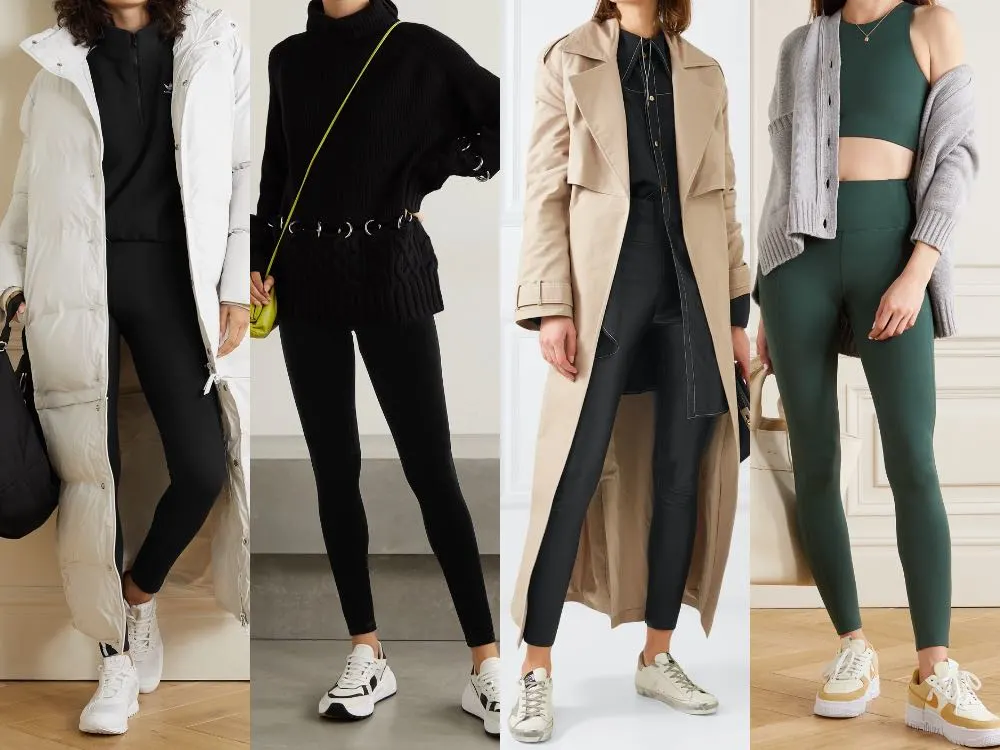 But what to wear with your leggings and sneakers you ask? For a very casual errand run, you can opt for a windbreaker over a simple white t-shirt with your classic black or colorful sporty leggings.
Pull on a trench or moto jacket if there's a bit of a chill in the air. A structured peacoat and colorful scarf, or a puffer coat are perfect for the winter months.
Any crossbody purse, shopper or chic backpack will complete your look. Shop the 4 looks above at Net-A-Porter.
2. Ballet Flats with Leggings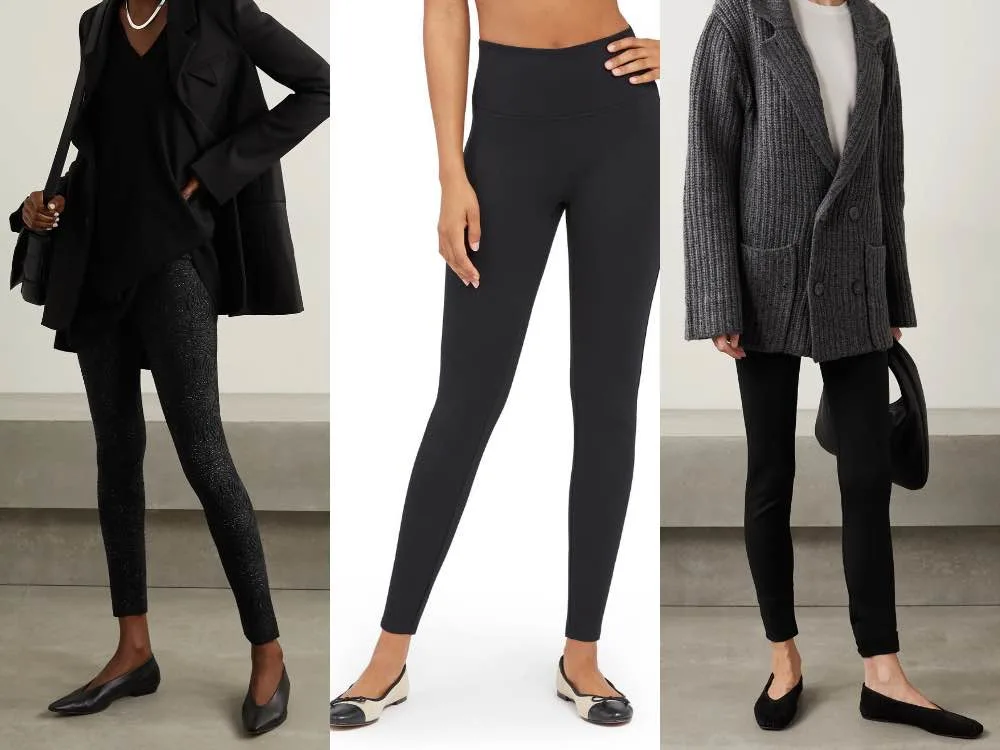 Whether the classic Chanel-inspired ballet flats, trendy designer styles or the continuously popular pointed toe flats, ballerina flats with leggings can do no wrong!
Just make sure your ballerina flats style are a current shape. A dated, wide round toe can make your leggings outfit look frumpy.
Great from Spring to Fall, ballet flats are best worn with ankle-length solid-colored leggings or jeggings. Stay away from sporty and cropped leggings with this shoe style, unless you're sure you can pull it off!
3. Slides with Leggings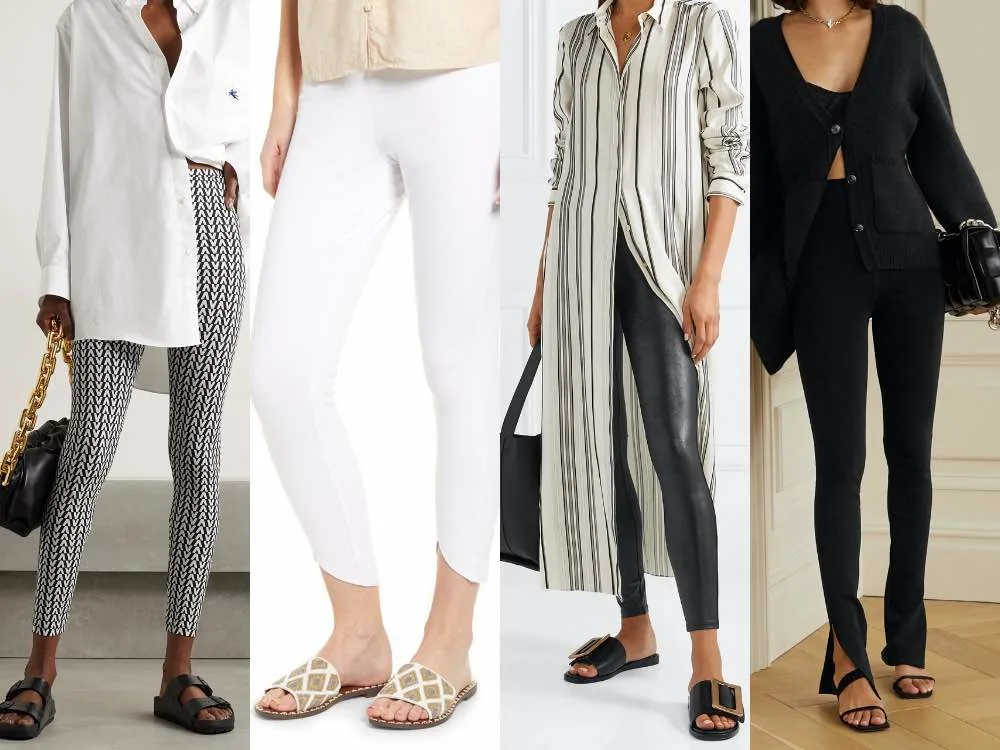 It's hard to talk about leggings and sandals without mentioning slides! Slides are all the rage for summer and you can find all kinds of slide types to match your outfit's occasion.
For instance, you can pair sporty slides with simple or athletic leggings of any length or leg width, with a crop top or sweatshirt can complete a casual look. A platform slide can add some extra fun to your leggings outfit too!
Want to look more rugged? Opt for a leggings outfit with Birkenstocks and tank, layered with an oversized shirt or sweater. And if you want to keep wearing slides with leggings in Fall, you can always opt for a shearling version.
Simple leather slides or more ornate slide sandals will complement a casual look with simple colorful or leather-like leggings.
You can opt for a kitten heel or higher heel slide for a more elevated occasion. Throw on a light cardi on top of your simple tee to finish off your look.
4. Leggings and Heels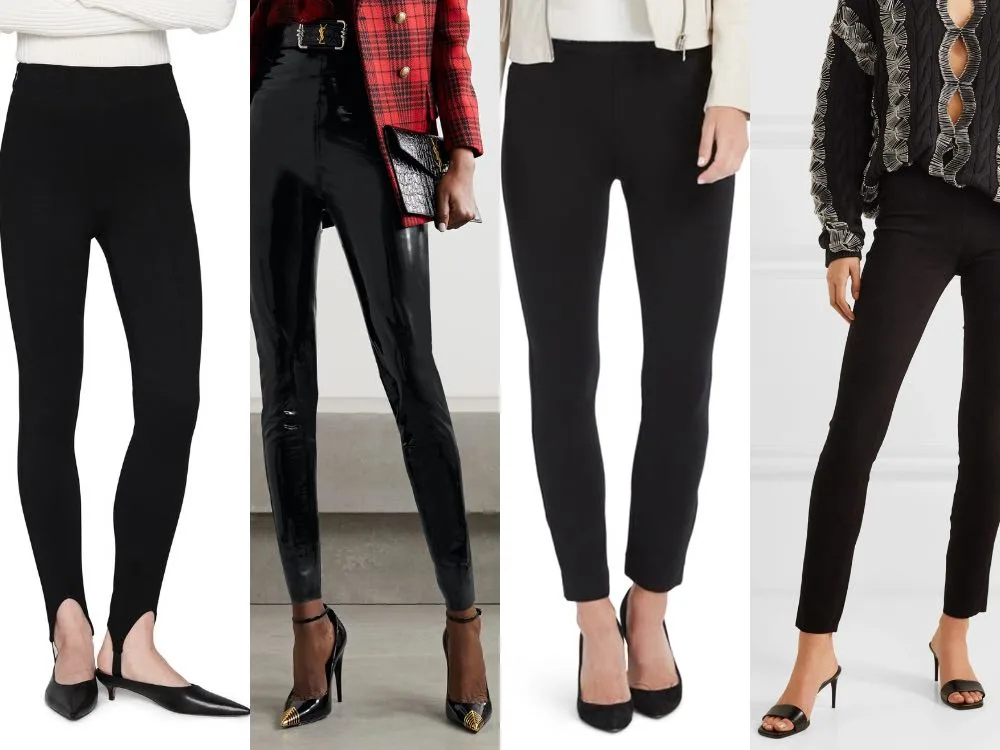 There so many types of heels that I wrote a post about them. Heels can be a bit tricky, as detailed in the above section of strappy sandals with leggings. That's because paired with an unsuitable leggings style (a sporty version for example) can make it a strange look.
If the rest of your outfit is as skin-tight like your leggings, a high heel could make it look the opposite of chic. And we don't want that!
5. Pumps with Leggings
Aside from strappy high heeled sandals, mid to high heeled pumps with leggings can look fabulous when paired with the right tops and outerwear.
Pointy toe pumps with an ankle strap worn over black stirrup leggings are the current, preferred styling for luxury designers Saint Laurent and Dolce&Gabbana. Street style stars are wearing theirs with sling-back pumps.
However, simple ankle length or slit front leggings will go with pumps too. Complete your look with a cute clutch or cross body.
Kitten Heels
If you want to wear leggings and heels, but keep your look classy, choose a kitten heels. These have been a fashion favorite for a couple seasons now has been to wear kitten heels with leggings. Stirrup leggings optional, unless you're wearing J'adior kitten pumps!
I've seen kitten heels worn with black ankle length leggings and an oversized sweater, white shirt or blazer. Finish off your look with a small to medium sized structured handbag.
6. Strappy Sandals
Leggings with sandals are cute, but leggings with strappy sandals will add a dose of chicness to your look. You can keep your strappy sandals as flats for day and add some heeled ones for evening.
Select a more minimal sandal like Stuart Weitzman's Nudistsong (https://bit.ly/38H36mo) or a more ornate, multi-strap sandal.
The current 2023 trend? You'll want to reach for a colorful pair of square toe, strappy sandal! High heeled and kitten heeled strappy thong sandal have also been popular.
Strappy sandals are best paired with a denser, more formal legging that is ankle length or longer. A split hem legging will add some trend to your look!
Avoid sporty leggings with strappy sandals, unless you're going for a hi/lo authleisure look.
Complete your leggings with sandals outfit with a crips white shirt, simple tee or bodysuit base. An oversized blazer will give you a modern business casual vibe, while a black cardigan or sweater will make it a cosier look.
7. Espadrille Flats
I almost didn't include espadrilles as shoes to wear with leggings, but after seeing simple versions in either black leather or beige canvas I am a fan!
This shoe type is a fun, yet classic alternative to most other Spring/Summer flats.
Espadrilles flats are best worn with classic ankle length leggings with an oversize shirt, or tank for summer. Add a shopper bag or crossbody purse.
8. Mules with Leggings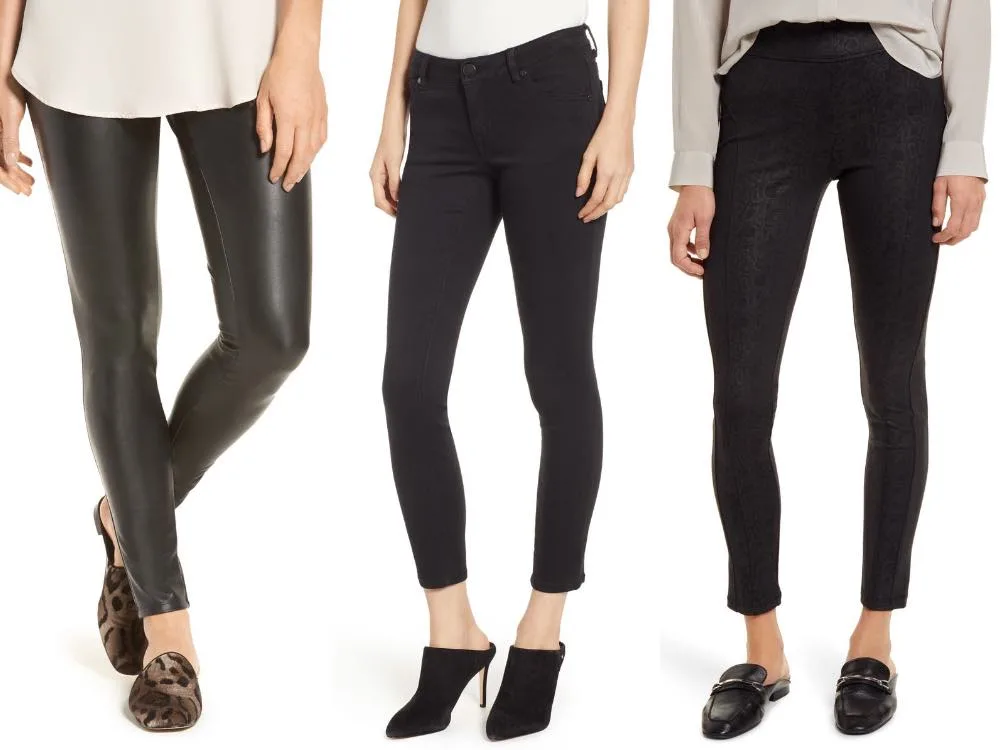 A favorite transitional season shoe are mules, which are closed-toe, slip-on shoes. Mules comes in many heel types and shoe forms, including loafer mules.
Loafer mules have been popular for a few years now thanks to Gucci, which add chicness to business casual. But don't worry, many lesser expensive loafer mules exist.
You can also opt for a clog mule for a more casual outfit. Simple pointed toe mules will go with everything and with the right leggings can be dressed up or down.
Cotton, suede, leather or animal print leggings look great with mules of all kinds! If you opt for a slip-on sneaker mule, steer clear from sporty leggings with mules.
Add a blazer, moto jacket or cargo jacket with your leggings and black leather mules, or jazz up the outfit with a leopard print mule. High heeled mules can be worn to dress up leggings.
9. Loafers & Slipper Loafers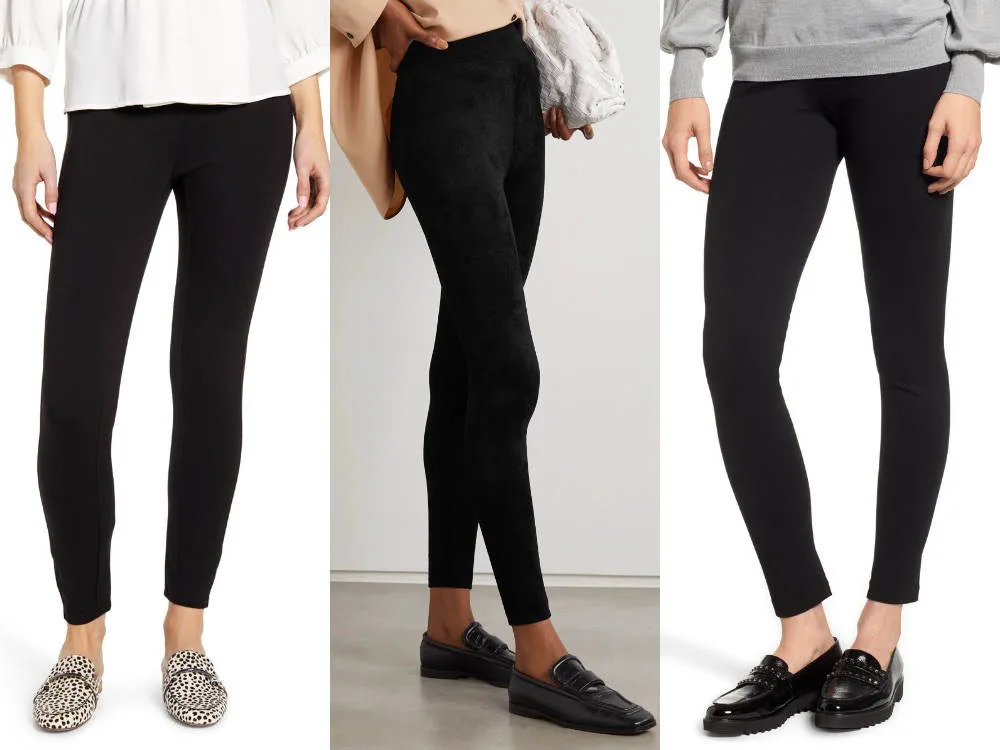 Loafers with black leggings is a stylish, staple look for Fall. You can choose a classic loafer style, a chunky soled loafer, or a slipper style loafer. And don't forget about penny loafers too!
Keep your leggings an even toned, thick cotton, suede or leather-like material. Stay away from printed, sporty or moto leggings.
Choose a metallic loafer – with or without heel – to elevate your leggings look with a black blazer and bodysuit. Or pick a neutral toned loafer for a casual chic look with a cosy sweater.
Complete the look with a leather satchel, crossbody or backpack.
10. Oxfords with Leggings
I call them the lace-up sister to loafers, because they complete a look in the same way. Oxfords or brogues – the oxford shoe's perforated and more casual counterpart.
You can make your oxfords and leggings outfit more chic with a patent or metallic version. A studded or tread-sole platform brogue will give a punch of punk, if you're so inclined. A knit belted cardigan or structured jacket will look great.
Best Boots to Wear with Leggings + Jeggings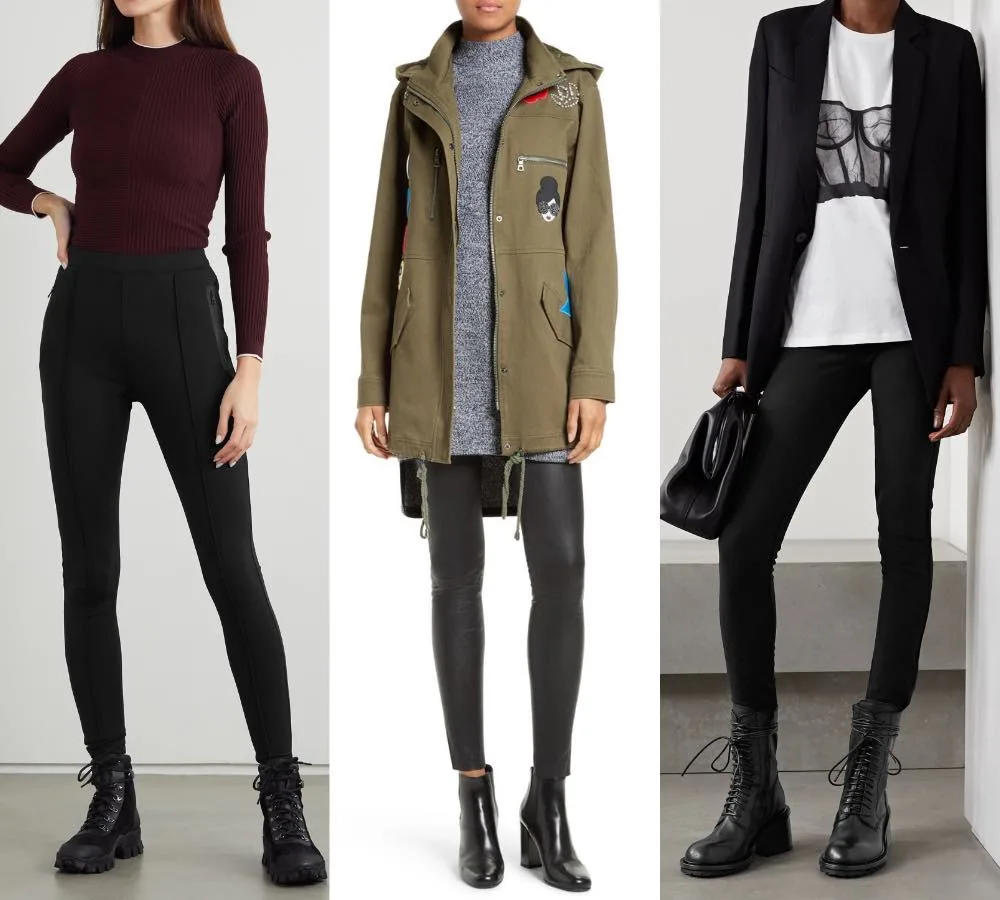 Leggings with boots are one of my favorite pairings for Fall through Winter! I choose a thicker legging type to tuck into boots during the colder months too.
From ankle boots to over-the-knee boots, there are lots of boots to wear with leggings. Below are some of my favorite boots with leggings pairings and how to style them.
11. Ankle Boots with Leggings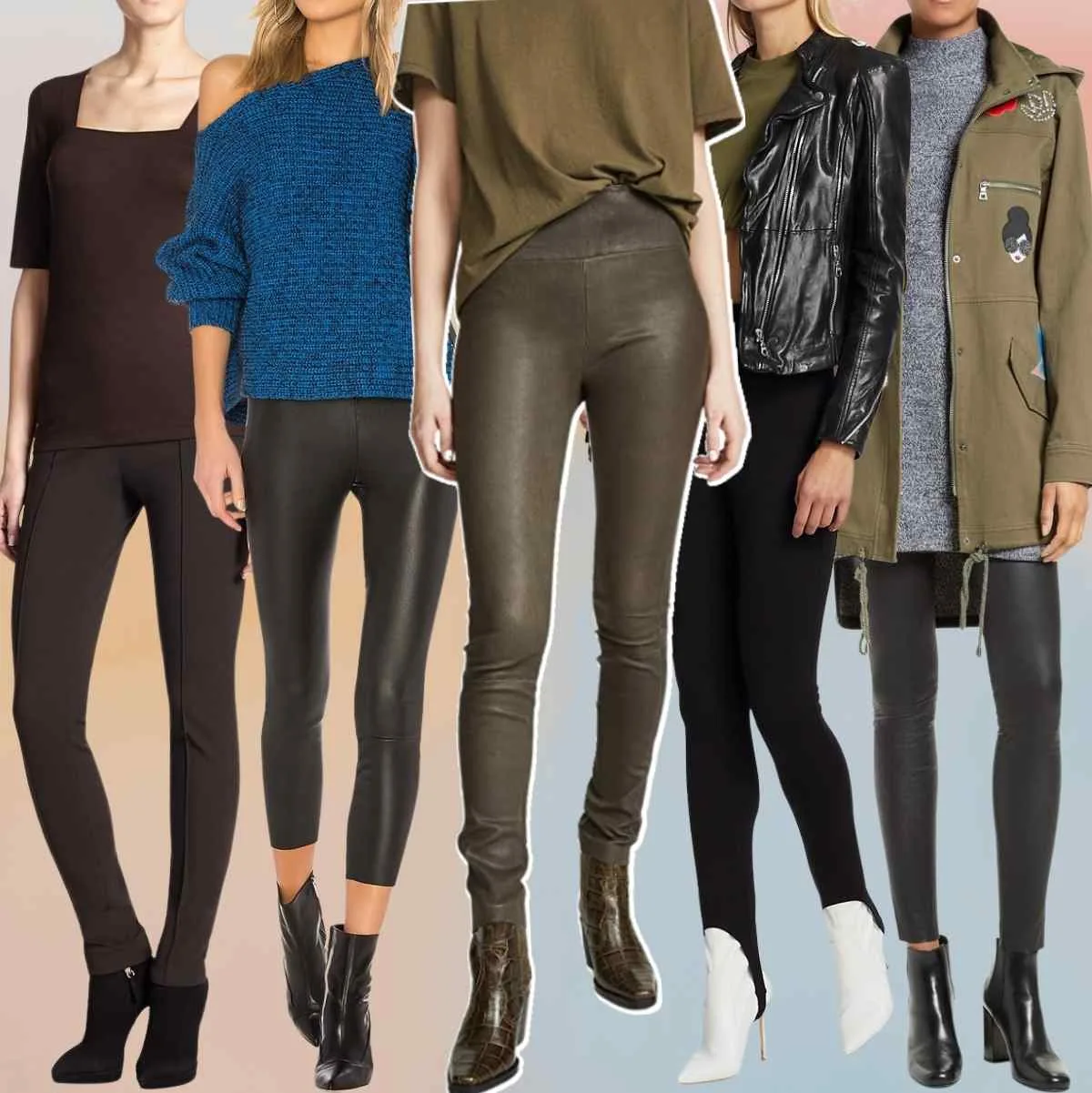 Ankle boots with leggings are a classic pairing. And with so many ankle boots styles to choose from, the only issue will be settling on one pair!
Wear your leggings casually with western style ankle boots, or add a punk vibe with black studded booties. Kitten heel ankle boots and mid-height block heeled leather boots are office chic. High heeled stiletto bootie will take you from desk to dinner.
Whether to pick lace-up booties or slip on booties, that's your choice! Black or white chunky leather chelsea boots, classic and western-inspired ankle boots are all the rage right now. As are snake print ankle boots!
Your low-cut ankle boots will pair best with leggings that end just above the ankle. Don't be afraid to show some ankle skin!
However, avoid cropped leggings with ankle boots at all costs. If you have longer leggings, you can tuck them into your boots. Have your socks peek out above the boot if you'd like.
Wearing intricate or printed leggings? Go for a simple ankle boot. Opting for a fun, busy boots, like an animal print? Choose simple leggings.
Ankle Boots We Love:
12. Combat Boots with Leggings
Combat boots —Doc Martens in particular — have been a staple in alternative wardrobes for years. However, they've since become a mainstream style stape. Taos and Frye make great classic styles.
The current trend? A higher lug soled flatform combat boot with large treads. All the cool kids are wearing them and they style amazingly with any pants.
Combat boots with leggings – especially simple black cotton, leather or suede leggings you can tuck inside, are best.
Pair them with a longer cardigan or khaki jacket over and a simple tee is a no-fail look. Add some gold hoops to punch up your look! But you can really wear them any way you like.
Check out my post on what to wear with combat boots for more styling choices with this popular boot, then grab a pair of women's waterproof combat boots for wet and cool weather.
Combat Boots We Love:
13. Hiking Boots with Leggings
If you need to be more practical or casual, hiking boots with thick or thermal legging during winter are a great idea.
A shacket or moto jacket make a great pairing, but if it'd a little colder outside, you can opt for a long puffer to compliment your casual look!
14. Chelsea Boots with Leggings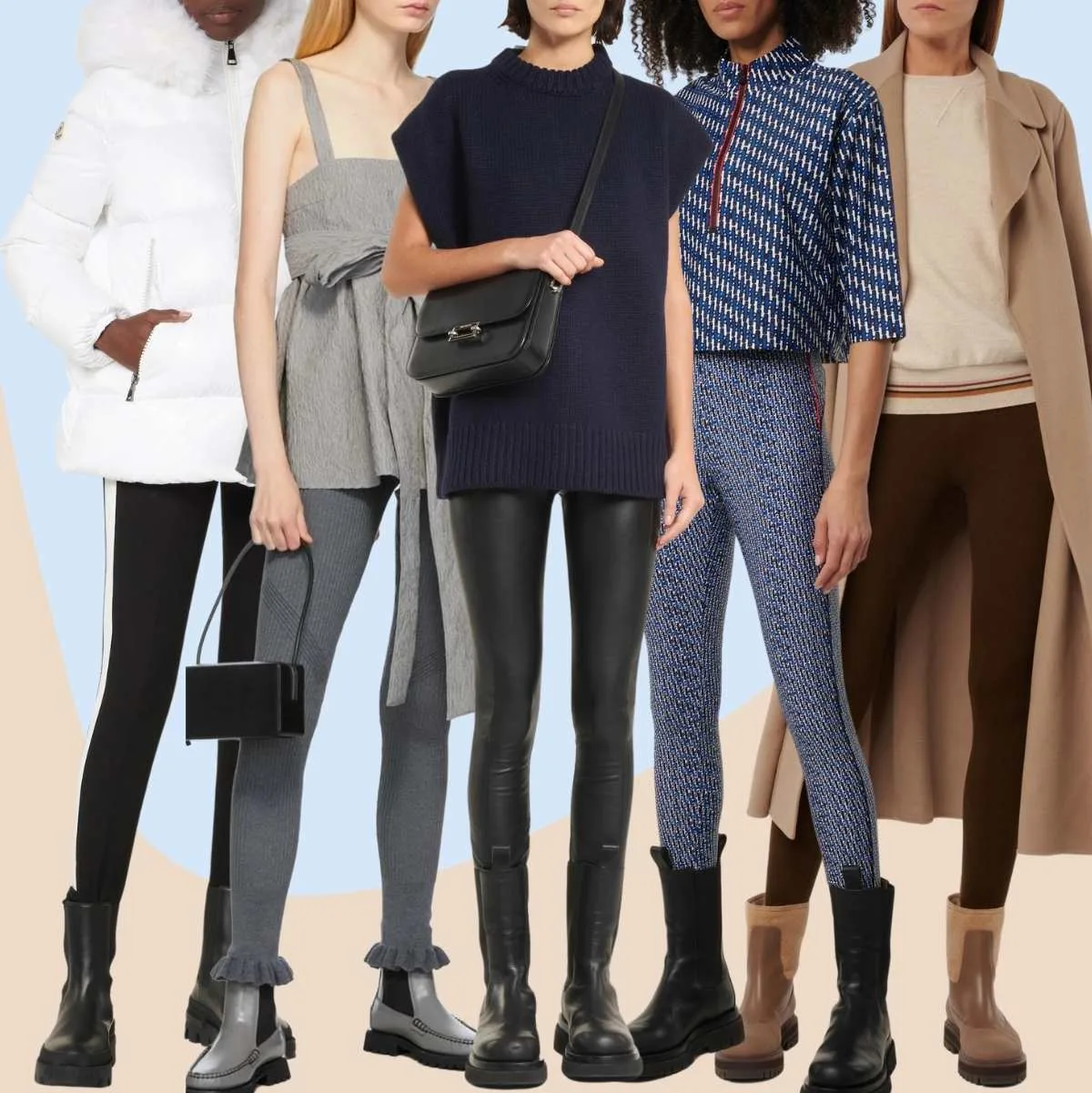 When it comes to Chelsea boots outfits with leggings, the styling principles are the same as with combat boots.
Chunky Chelseas can look clunky, and will draw extra attention to your feet. More classic styles like Blundstones will add an earthy appeal.
Chelsea Boots We Love:
15. Knee Boots with Leggings
The knee boot has finally returned as a Fall/Winter staple after being overshadowed for a few seasons by it's over-the-knee counterpart.
If you're wondering how to wear knee-high boots with dresses, I've got you covered. Or at least, your lower legs covered? They are my favorite shoes to wear with dresses in winter because they keep my legs warm!
Depending on how cold it is, you can choose a chunky knit dress that ends above your knees to show a little skin.
Too cold to bear anything? Pair your knee-high boots with a longer sweater dress or flowy winter florals dress. Layer a moto jacket and a fuzzy scarf on top and you're good to go. Anywhere!
16. Thigh High Boots with Leggings
From just over-the-knee boots to ones that cover your entire leg, high boots with leggings can be a great pairing if done right. Always choose simple leggings that match your boots tone.
Black on black is my personal choice. I favor lower or flat heeled high boots, such as Stuart Weitzman's 50/50 high boot which is sleek and classy.
High boots with leggings that have a high stiletto heel can look a little racy. If that's what you're after, then, please feel free!
If not your intention, but you're still wanting to wear high boots with high heels, keep things simple. Pair them with a long sweater, cardigan or crisp shirt with minimal jewelry.
You can play around more with your low heeled high boots and leggings. I like to wear mine casually with a rocker tee, moto jacket and statement earrings.
Shoes NOT to Wear with Leggings
I've written a lot about shoes to wear with leggings. So how about we chat about shoes not to wear with any leggings?
Yes, style is relative, but unless you're a fashion styling superstar, I would steer clear with any of the following shoes with leggings:
Platform Heels with Leggings
Platform heels, especially when in pump or tall sandal form, have no place with leggings. Ok, maybe if you're styling them with a flare legging and they're barely showing. But even then, the platform should be minimal.
I'll be honest: platform heels with leggings look tacky. And if you've happened on this shoes with leggings post, that isn't the look you're likely going for!
Flip-Flops with Leggings
It's different if you're quickly jetting to the corner store or shower-bound after the gym, but leggings with flip-flops aren't great.
Instead of elevating your leggings outfit, flip-flops will bring it down a few notches. I like to help women make their outfits chic, not the other way around!
Espadrilles Wedges
Another style of shoes with leggings that doesn't make any sense to me is espadrilles. The flat version like mentioned previously can work great.
But espadrilles wedges have a rustic feel – not to mention platform – that would look stylistically odd with has no place with any style of leggings.
UGG Boots
The winter flip-flops with leggings are UGGs. Unless you want to look like you're in your PJs, Classic sheepskin boots – especially when worn with leggings or sweatpants – are best kept on at home.
How to Wear Leggings: Top Styling Questions
How to Dress up Leggings
Sometimes we want to wear leggings, to something fancier. I totally get that, as I've done this myself many a time! To dress up leggings, you must make sure the style of your leggings is appropriate, first.
Best are opaque black leggings, shiny or leather leggings. Opt out of gym leggings and cropped leggings altogether. Your leggings should end right above the ankle.
You can then bring your leggings outfit up a notch with the right shoes. Strappy, high-heeled sandals, pumps or sleek stiletto ankle booties will do the trick.
Pick a patent, neutral leather or metallic/sequin pair to further dress up your leggings outfit.
On top, you have many options: a bodysuit, elevated sweater, or chic shirt. Top it off with a tux-style blazer for a New Year's party look! Want to keep it more low-key?
Wear a crisp white belted shirt, and gold jewelry. Shop the above 3 dressed up leggings look from Net-A-Porter.
How to Wear Leggings to Work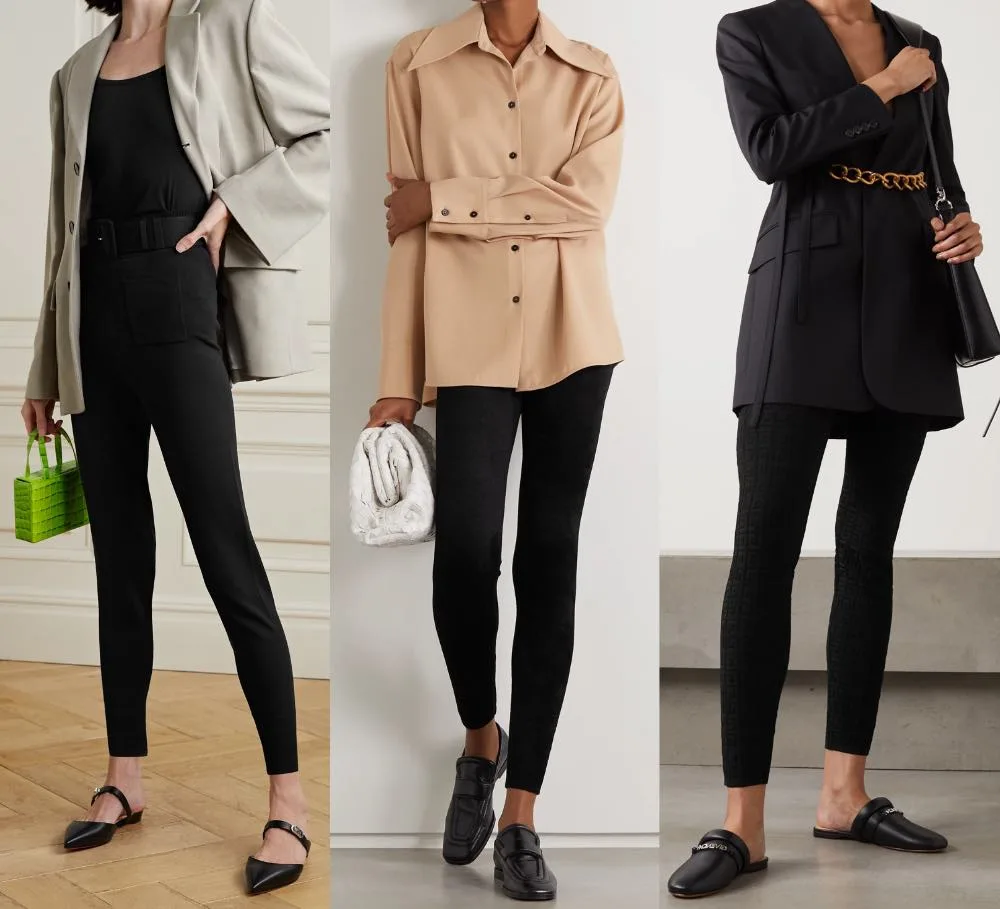 For year, people have said that leggings have no place in an office, especially a more conservative one, but I disagree. It all depends on how you style your leggings, the legging type chosen and of course, wearing the right shoes!
Leggings should be ankle length, thicker than you average sports pair. They should feel more like a pant, preferably in a solid color, such as charcoal grey or black.
Opt for a legging that is a thick cotton, suede or Ponte knit. Stay away from flashy patterns, perforations, shine or any sport logos.
Ankle boots with a low or low/medium block heel will look great, but so do knee boots. Keep the heels under 4 inches tall. Of course, loafers and brogues are the office-chic go-tos!
Combat boots can be a contender, depending on the workplace and boot style chosen (the simple black leather pair will be most suitable).
If pumps are your preferred shoe style, keep them kitten heeled, if you can, or chunky heeled if higher.
Depending on your office, stay away from sandals, sneakers, high-shine metallics, patent, sky high stilettos, red or too-bright colors.
Add a 3/4 length shirt, sweater, poncho, cardigan and/or structured jacket to your look. Make sure these fall mid/under your derrière to be most appropriate — but also most trendy!
Complete your work leggings outfit with a structured shopper bag, or handbag.
How to Wear Black Leggings in Winter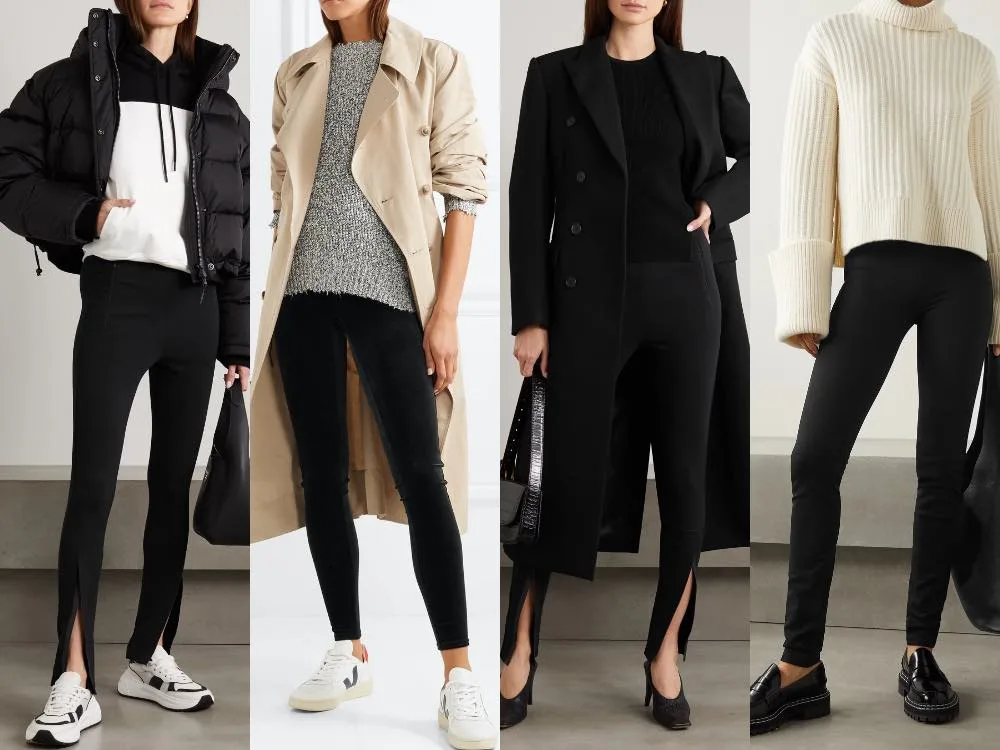 Looking to wear leggings – black or otherwise – in winter but don't know how to style them? First, start by picking out a stylish boot to wear with your leggings.
Any of the above mentioned in this post will do the trick. Then make sure your leggings are thick enough to keep your legs warm, such as a fleece-lined pair, if you're prone to chills.
For an elegant look, wear a chunky sweater, belted cardigan or plaid blazer. These can be paired over a simple neutral tee or boyfriend style shirt.
If you need outerwear, you can choose a structured peacoat or parka to venture into the cold. Add a leather satchel, handbag or cross-body bag and you're good to go!
For a casual look, wear a sweatshirt, or colorful sweater with your leggings and winter boots or shoes. You can even choose a hi-top winterized sneakers if you want to add a sporty edge!
A puffer jacket and a fashionable toque will complete your look.
Now that you know what shoes to wear with leggings, which ones will you choose? Whether you're looking to wear your comfy leggings to work, to a more formal function or for a run to the grocery store, there are plenty of options for you!
From cozy winter leggings outfits to spring outfits, there are many ways to wear leggings and footwear of all kinds, to look chic.
I love simple black leggings with boots in winter and printed leggings with sandals in Spring.
How will you wear your leggings this season?
xo ShoeTease