If you're looking for the best shoes to wear with cropped dress pants or with capris to put together stylish outfits for women, look no further!
Today on shoe-tease.com I'm chatting about the best shoes to wear with capris and cropped trousers. This women's guide will include the perfect heels, flats, sneakers and even boots for cropped pants.
I'll go over the 15 different shoe styles and provide outfit ideas to help complete your cropped dress pants outfit so you will look chic & effortlessly stylish!
So whether you're looking for dressy shoes to wear with your cropped pants office outfits or casual shoes to wear with capris on the weekends, I've got you covered. Literally!
Contrary to popular belief, cropped pants and capris can be worn by women of all ages and sizes. In fact, they can be quite flattering, especially when paired with the right tops and accessories.
I'll give style tips for both wide leg cropped dress pants and slimmer capri pants too, so read on for more.
Shoes to Wear with Cropped Dress Pants & Capris
Different Types of Cropped Pants (a Visual Guide)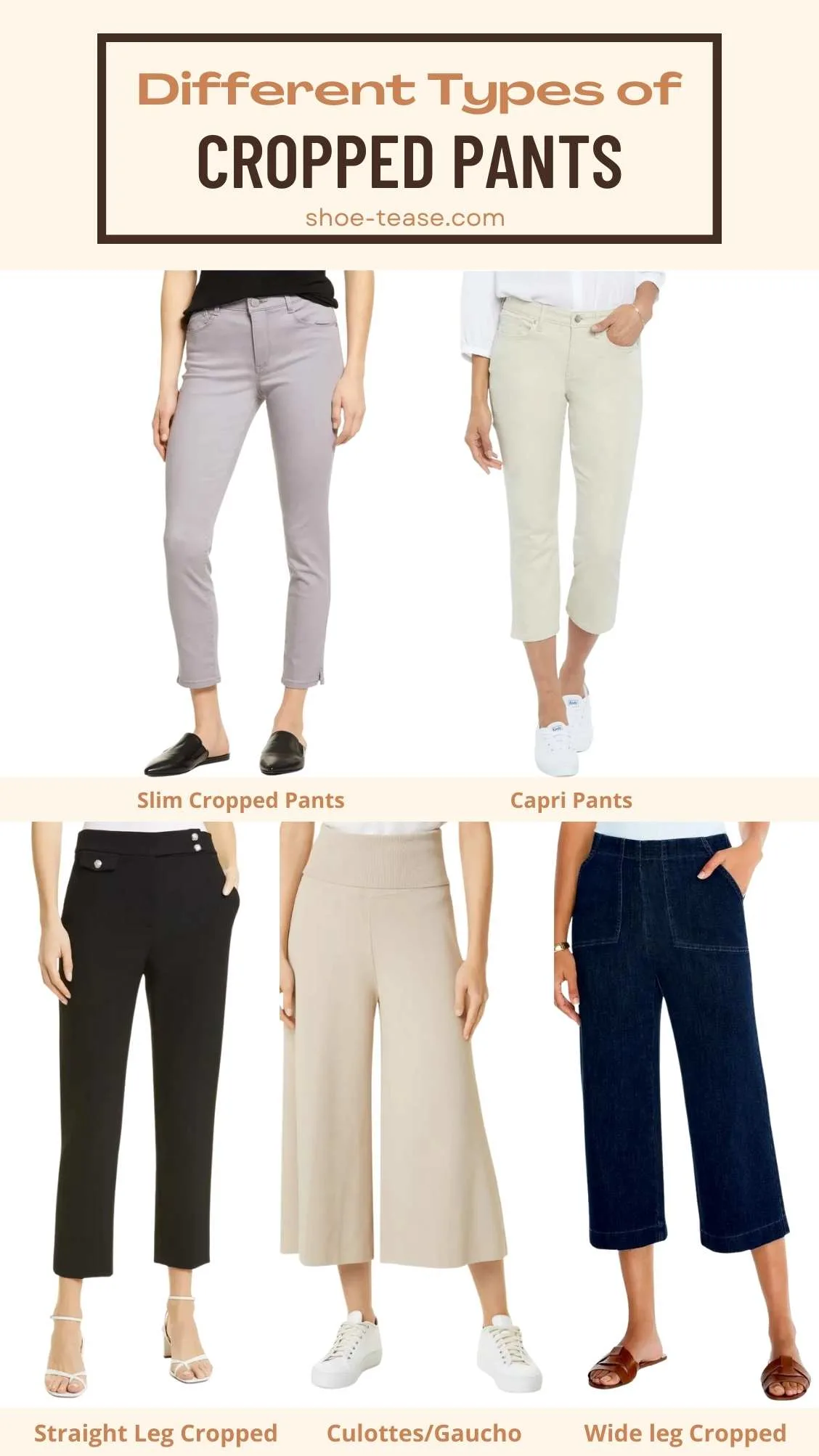 Cropped pants by definition are pants that end above the ankle. In this post, I'll be mostly referencing cropped dress pants. However, most cropped pants, including more casual cropped denim or cargos, will work well with the following shoe suggestions too.
There are a slew of different types of cropped pants. Wide pants range from straight wide, to flared wide, the widest of cropped pants being culottes aka gaucho pants.
Tighter pants are slim to straight leg styles and of course, include capris. Capri pants aka pedal-pushers, refer to any type of cropped slim pants that end somewhere between below the knee to mid-calf.
Above is a visual guide for the different types of cropped pants. Remember that the more narrow the pant leg, the better minimal shoes will look to keep outfit proportions in line.
Wider leg pants like culottes also look great with chunkier shoes, such as those with a platform, chunky heels or wider widths.
Shop classic & trendy cropped dress pants from these retailers:
1. Cropped Dress Pants & Capris with Ballerina Flats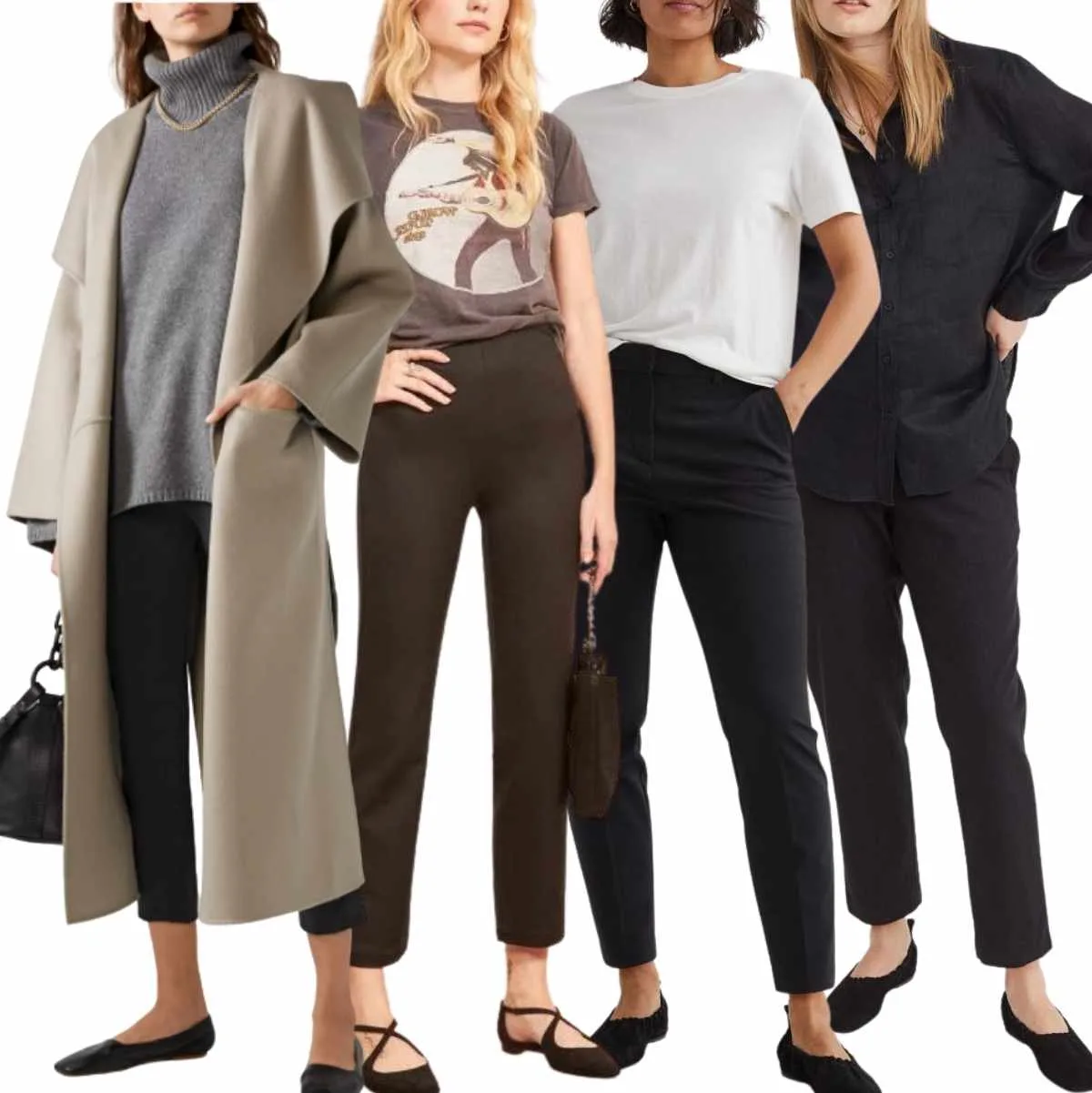 When it comes to finding the perfect shoes to wear with cropped dress pants, ballerina flats are always a good bet. Whether you choose a classic ballerina style or a modern pointed-toe design, these versatile shoes are easily dressed up or down.
Try pairing slim dress pants or capris with black or nude ballerina flats for a chic daytime look. If you're going for a more polished vibe, choose a pair of pants in a darker hue. Black is always a classic!
Pointed toe flats, particularly black or patent styles, will give a more contemporary feel to your look and will easily take your outfit from day-to-night.
Make sure your pants are hemmed at the right length so they hit just above the ankle or above the widest part of the calf for a flattering fit.
Add a cropped tee or crisp white blouse and some minimal gold or silver jewelry to finish off the look.
Opting for classic ballerina flat shoes to wear with capris will give a retro vibe. Add a halter top or turtleneck and a sleek pony, for a 50s style, Audrey Hepburn pedal pusher look!
Wide leg crops or culottes are the way to go for something a little more breezy and fun. Like with slimmer pants, make sure your pants hit the right spot on your leg to prevent squatter proportions on your bottom half.
No matter how you wear them, ballerina flats will give your capris or cropped dress pant outfit a touch of timeless elegance.
2. Cropped Dress Pants with Minimal Heeled Sandals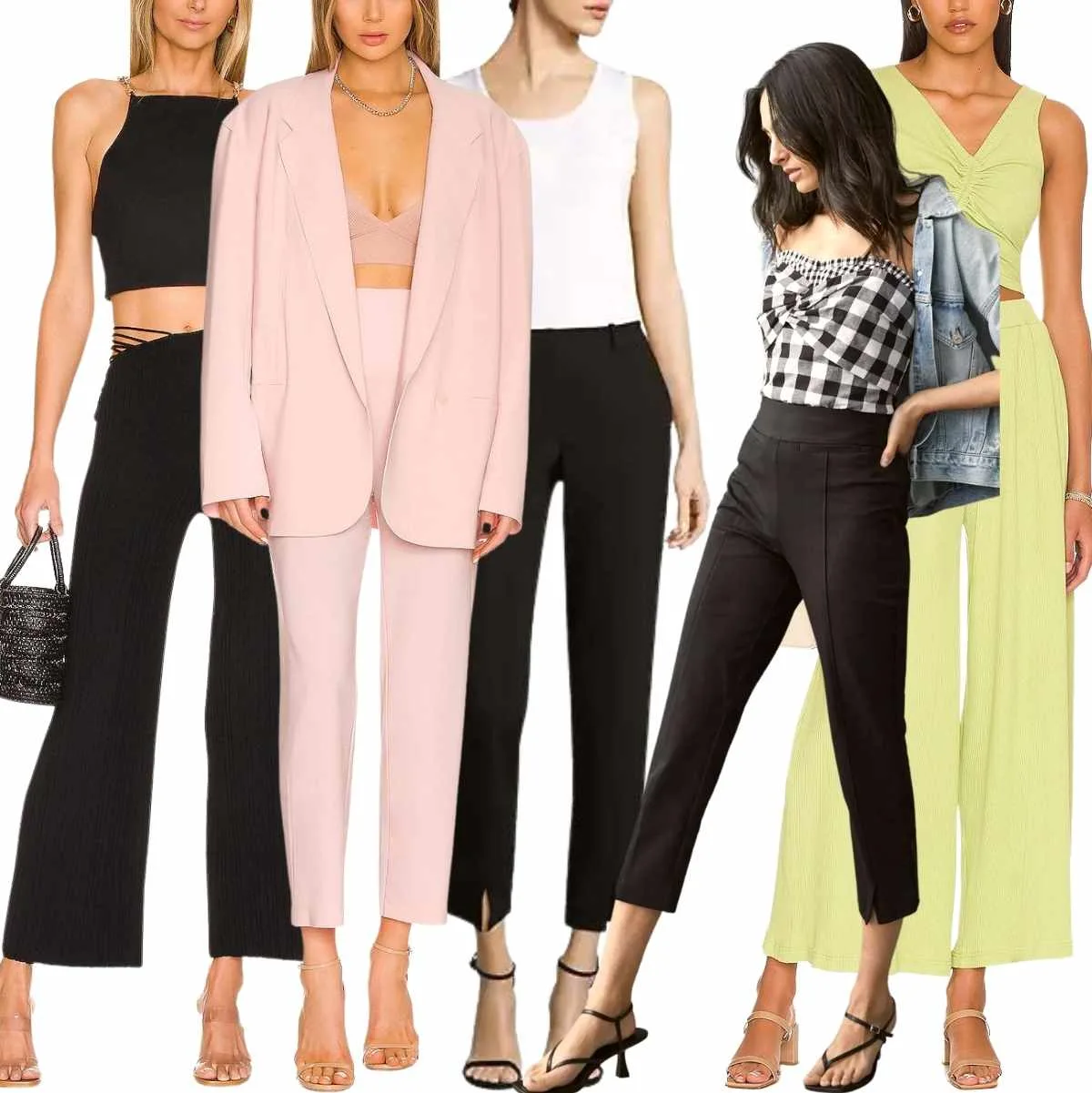 Cropped pants and capris are a great summer staple! Minimal heeled sandals are a great shoes to wear with capris or any cropped dress pant, as they help to elongate the leg and create a stylish silhouette.
Not all heels are created equal. When pairing heeled sandals with cropped pants, consider the height of the heel and the shape of the shoe.
Stiletto heels look chic and tall heeled styles will add inches to your height. They're ideal for all kinds of cropped pants to elevate your look for an evening out or elevated pantsuit outfit.
Try skin-tone matching high heeled sandals to elongate your legs in your cropped pants. Or choose a clear heel for a modern edge.
Block heels are most comfortable and can work for daytime and smart evening looks. However, they can look bulky with slimmer pants and capris. This, especially for women with larger sized feet.
For slimmer cropped pants, I love a kitten heel or if you need to choose a more sturdy heel, opt for a clear lucite heel.
3. Cropped Dress Pants & Capris with Pumps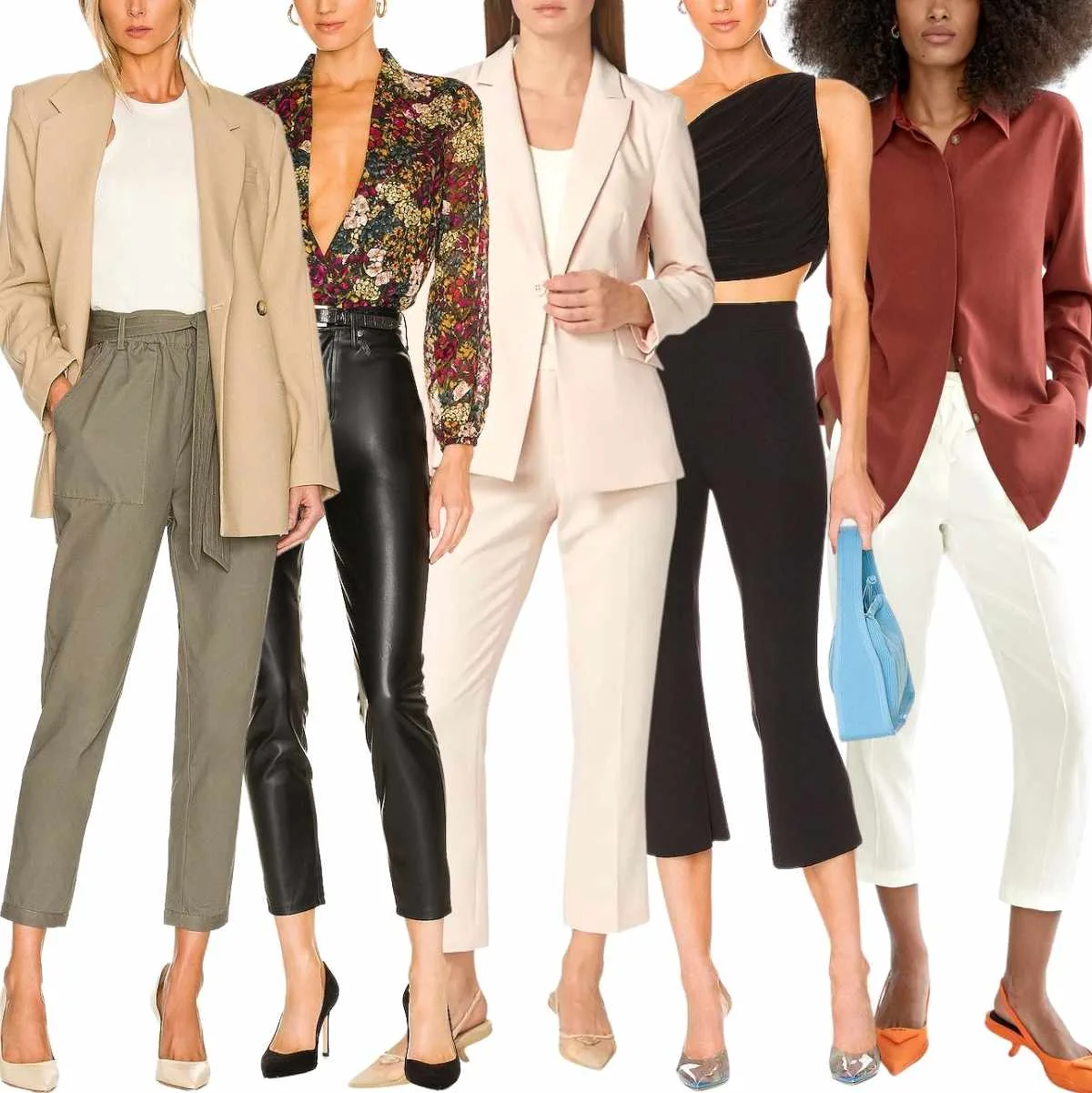 Cropped pants with pumps are a great look. They can, however sometimes be a little tricky to style. The key is to choose the right cropped pant – wide leg or slim – with the right pump style.
Heeled pumps with taller, thinner heels like these from Sam Edelman, are a good shoe choice for cropped pants as they elongate the legs. Avoid thick or bulky ankle straps as they can skew the outfit's proportions.
Narrow, pointed-toe pumps will give a sleek, tall look to your cropped pants. Trendy mesh square toe pumps will help to balance out wide-leg cropped pants.
For shorter cropped pants such as capris, try a pair of trendy kitten heeled sling-back pumps. These also are perfect for fitted cropped pantsuits for work. Complete your outfit with a simple tee or bodysuit and sleek jewelry.
For elevated casual looks with chambray or denim capris, add a low block heel slingback heels such as the famous toe-cap style from Chanel or similar inspired ones from Vanelli.
Throw on a cargo jacket or classic tweed jacket, leather crossbody and you've got yourself a chic day look.
For an evening look, opt for metallic or clear pumps. Wide or straight leg black cropped dress pants with a black or white bodysuit will pair well. Top the look off with a moto jacket or chic blazer and a small colorful, handbag.
4. Cropped Dress Pants with Loafers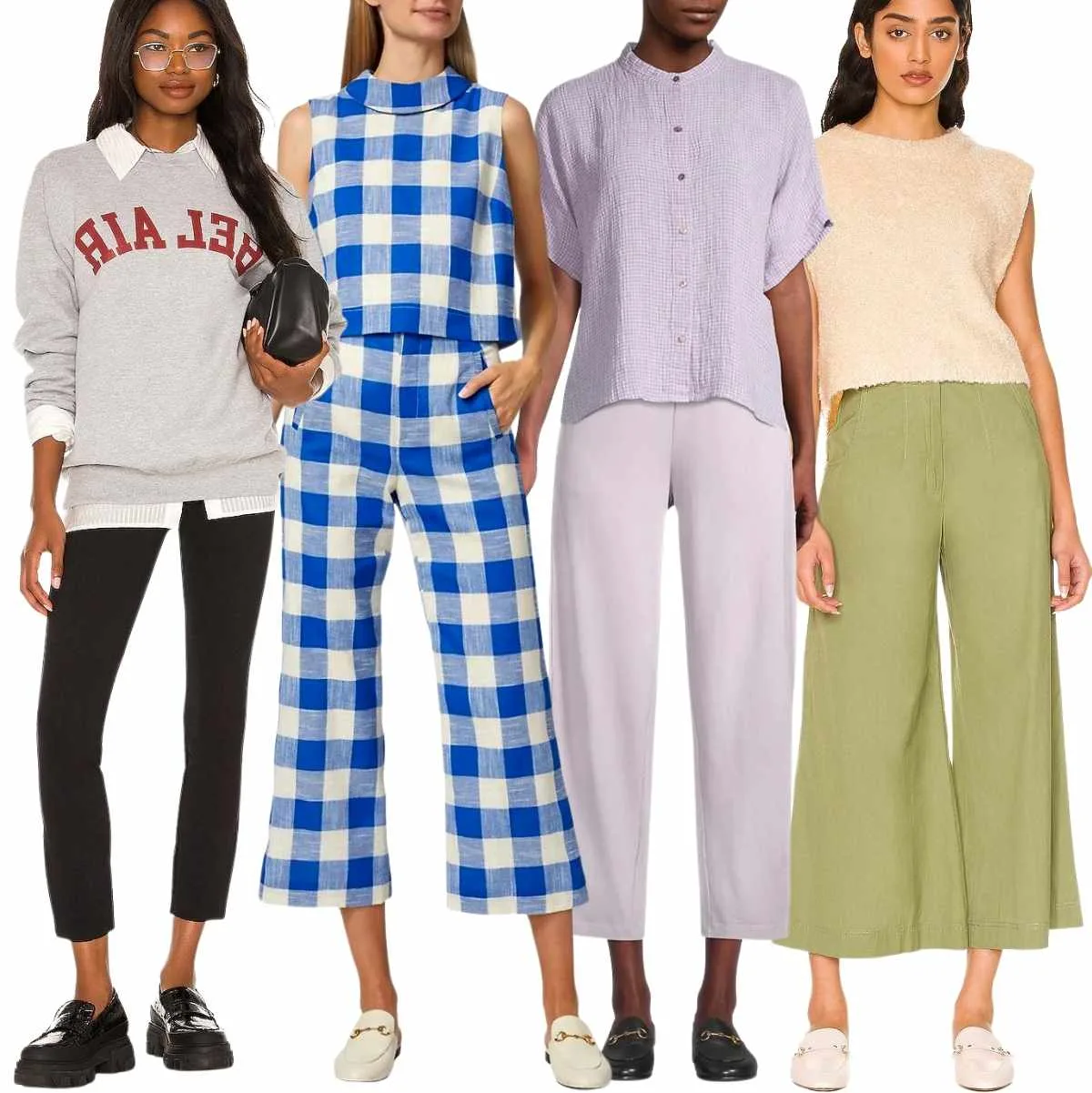 Cropped pants with classic, penny loafers or loafer mules are modern and stylish. Loafers are super trendy, comfortable, easy to wear and come in a variety of styles that can be dressed up or down.
Classic loafers and penny loafers look great with cropped pants, whether you're wearing wide leg cropped pants or tighter cropped pants.
If you want to add a trendy loafer like Prada's Spazzolato to your cropped pant look, opt for a wider straight leg or palazzo style pant with a lug-sole loafer.
These can work for business casual attire with a crop dress pantsuit or blouse. Or pair them with a band tee and studded black purse for a casual punk rock chic look.
If you want to wear cropped capri pants with a more laid-back style of loafers, slip into a pair of loafer mules. Add a tucked in blouse or shirt and a jacket or cardigan for a preppy look.
For a casual date, pair a cotton pair of high waisted cropped pants with loafers and a cropped sweatshirt.
To dress up your look, wear cropped black dress pants with patent leather loafers. Add a billowy blouse or bodysuit, gold jewelry, including statement earrings and you're ready for a night out on the town!
Whether you're dressing for work or play, cropped pants and loafers is a winning and trendy combination.
Unsure which loafer style is best? Pick a classic penny loafer or Gucci Horsebit style loafers for effortless styling with all cropped pants outfits. Check out more in my women's guide on what to wear with loafers.
5. Ankle Pants with Boots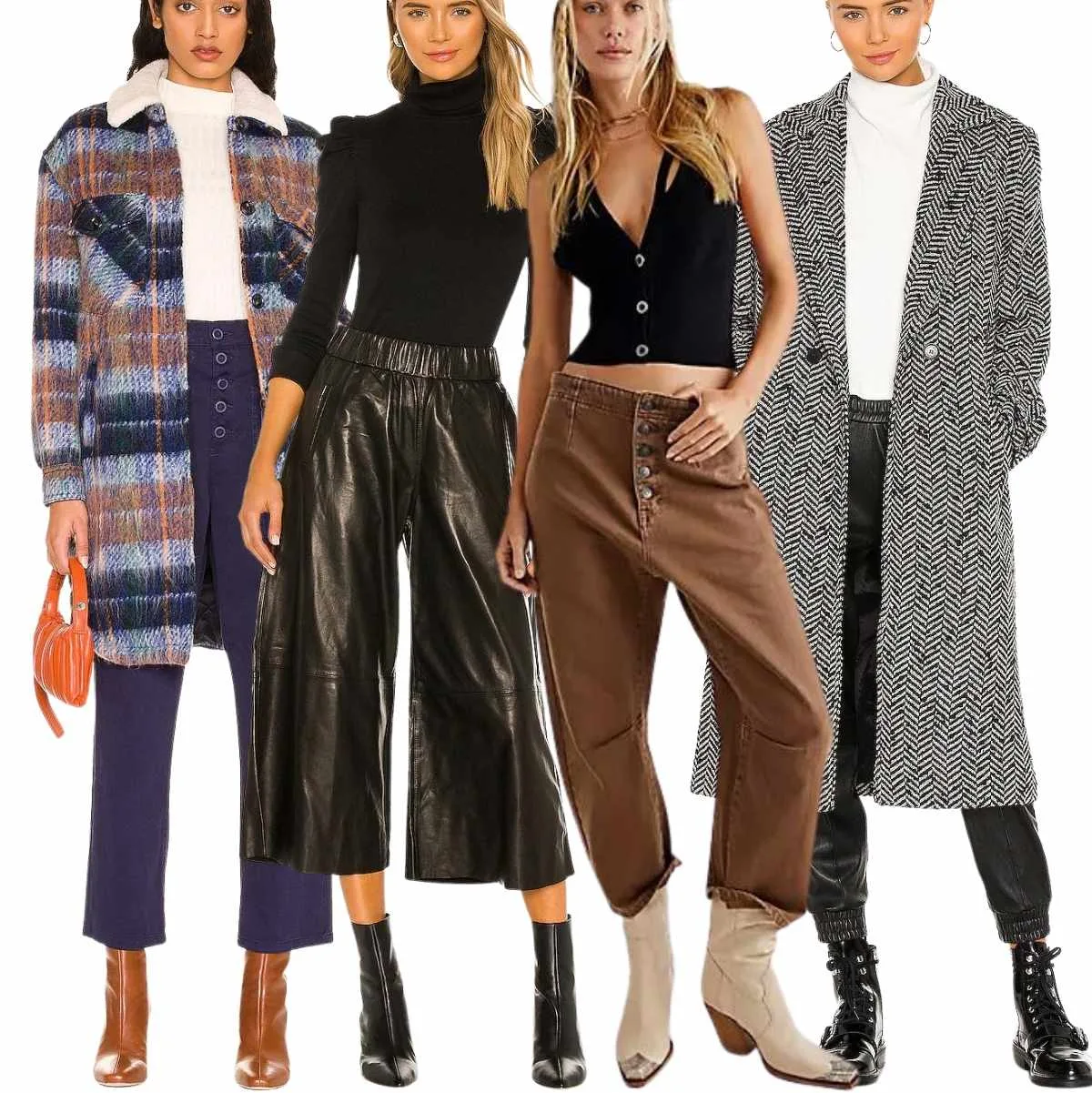 There are many types of boots you can wear with cropped pants and some styles you can even wear with capris. Learn how to style cropped pants with boots below:
5a. Cropped Dress Pants with Ankle Boots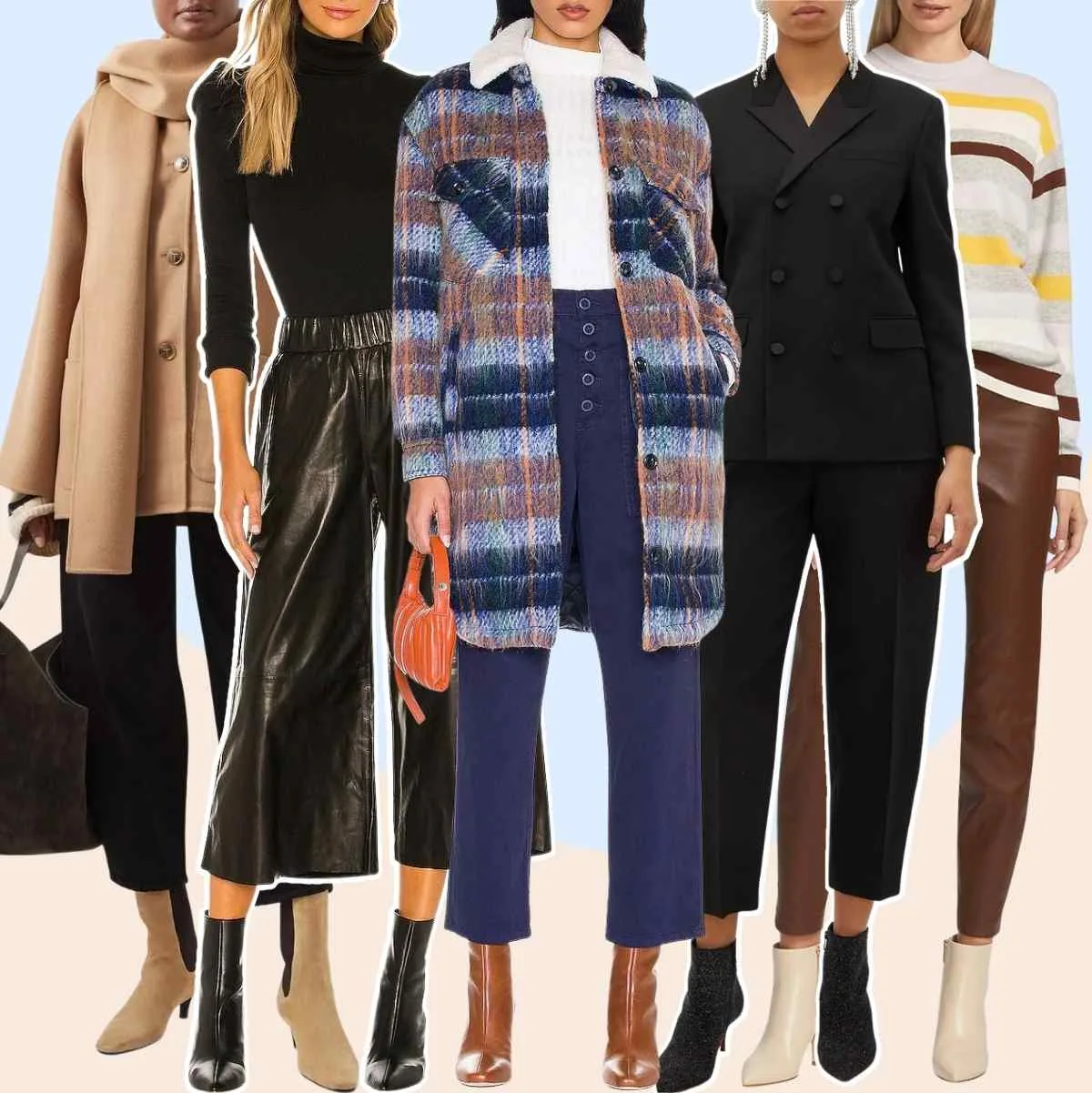 For fall or winter outfits, cropped pants with ankle boots make a great pairing. Low boots, both stiletto heeled and block heeled, help to elongate the leg. They can be worn with both high waisted wide leg and slim cropped pants.
I love a cropped plaid trouser with a simple black or white ankle boot for fall/winter. A metallic or snake print boot looks edgy with a pair of black, navy or dark grey cropped pants. Keep your top in tone or choose a screen printed or rocker tee.
Top off the look with an oversize blazer jacket, moto jacket or roomy cardigan, depending on the look you're going for.
Adding some gold chunky accessories and an elegant handbag, can take an outfit from day to night or from casual to elegant. Avoid capris with boots that hit at the ankle.
Check out how to wear ankle boots with dress pants of all kinds in my dedicated post!
Shop Classic Ankle Boots for Women:
5b. Cropped Dress Pants with Cowboy Boots
Western boots are all the rage right now, in both ankle and classic height. Cowboy boots with cropped pants are best paired when going to casual events or in creative work environments.
Make sure there's enough exposed leg space between your boots and pants. That is unless you're opting for boots that go over the pants. With wider cropped pants, you can opt for pants that partially cover the boots.
Wear your cowboy boots like you would any ankle boot. With this boot style, you can play around with styling. Loose or tight tops, whether minimal or intricate, slim or wide, will work.
You can create a western rocker look or a bohemian aesthetic paired with the right top and outerwear. Think denin or fringed leather jackets and handbags. A cowboy hat is optional!
5c. Cropped Dress Pants with Combat Boots
Slim cropped dress pants will really show off and accentuate your combat boots.
And what to wear with the combat boots and cropped pants combo? Wear all black everything, or have fun with contrast by pairing white combat boots with your cropped pants.
Monochromatic looks are always fun, so try out some dark brown combat boots with cropped beige pants, a neutral tee and blazer.
With cropped wider leg dress pant styles, the combat boots will add just the right touch of hard-hitting vibes. Layer a polished blazer over a silk tank for a smart outfit. Check out my post all about the how to wear combat boots for more styling tips.
5d. Cropped Dress Pants with Knee Boots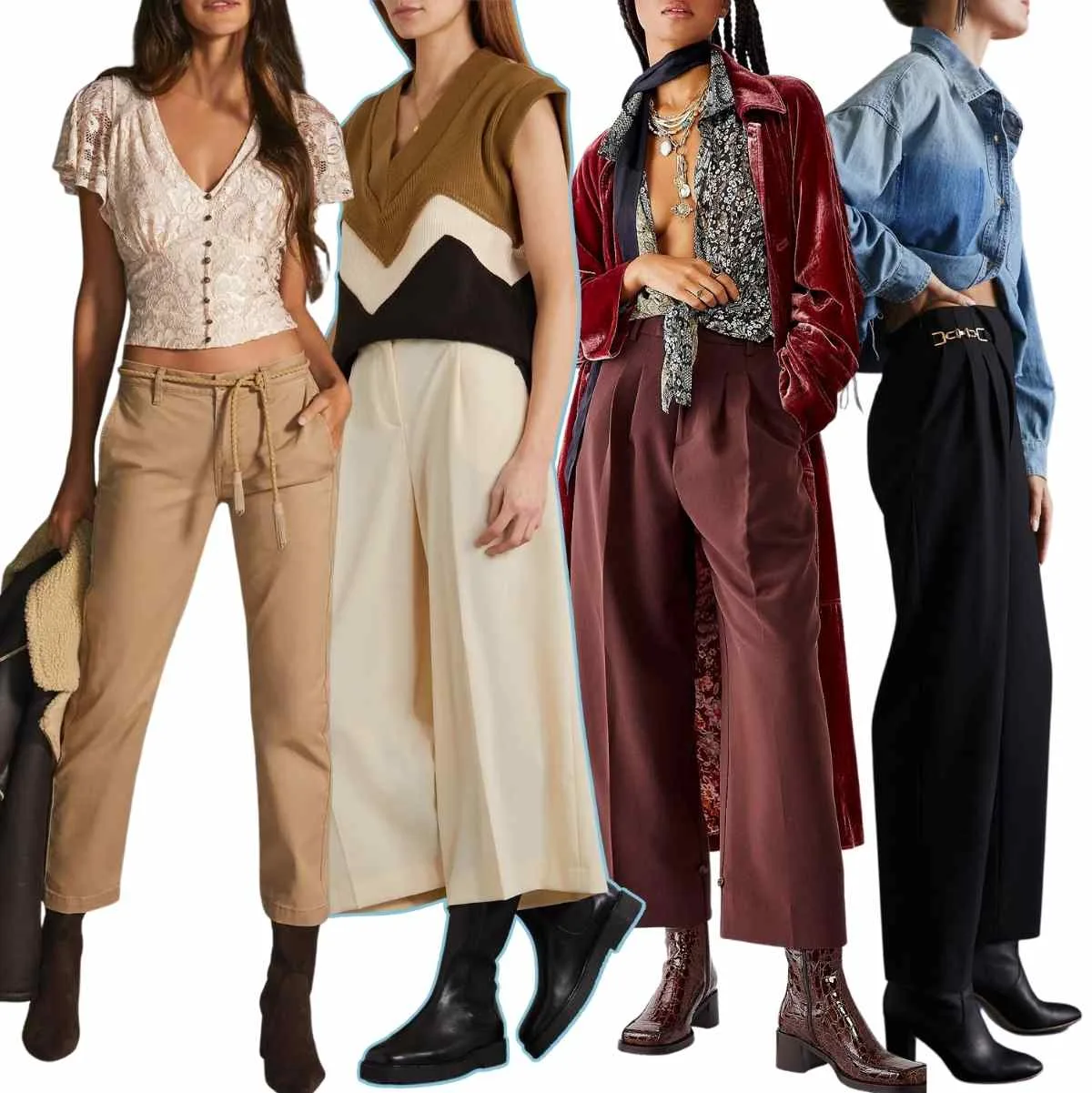 A controversial cropped pants with boots pairing, I know, but hear me out! Certain cropped pants – primarily straight leg and slim styles – can look fab with tall or knee boots just like longer dress pants can. Just make sure the boots fully cover the pants.
Choose thicker cropped pants in a rigid material to wear with knee boots. Think dark denim, Ponte knits and more rigid cottons in any rise. Avoid wider leg pants with paperbag or front pleats unless you want to channel an equestrian aesthetic.
Wear your cropped dress pants with knee or over-the-knee boots as you would wear your boots with skinny jeans. Add a
semi-tucked-in, voluminous sweater. Complete the look with a chain strap crossbody purse and layer over a chic peacoat or trench.
6. Minimal Slides & Mules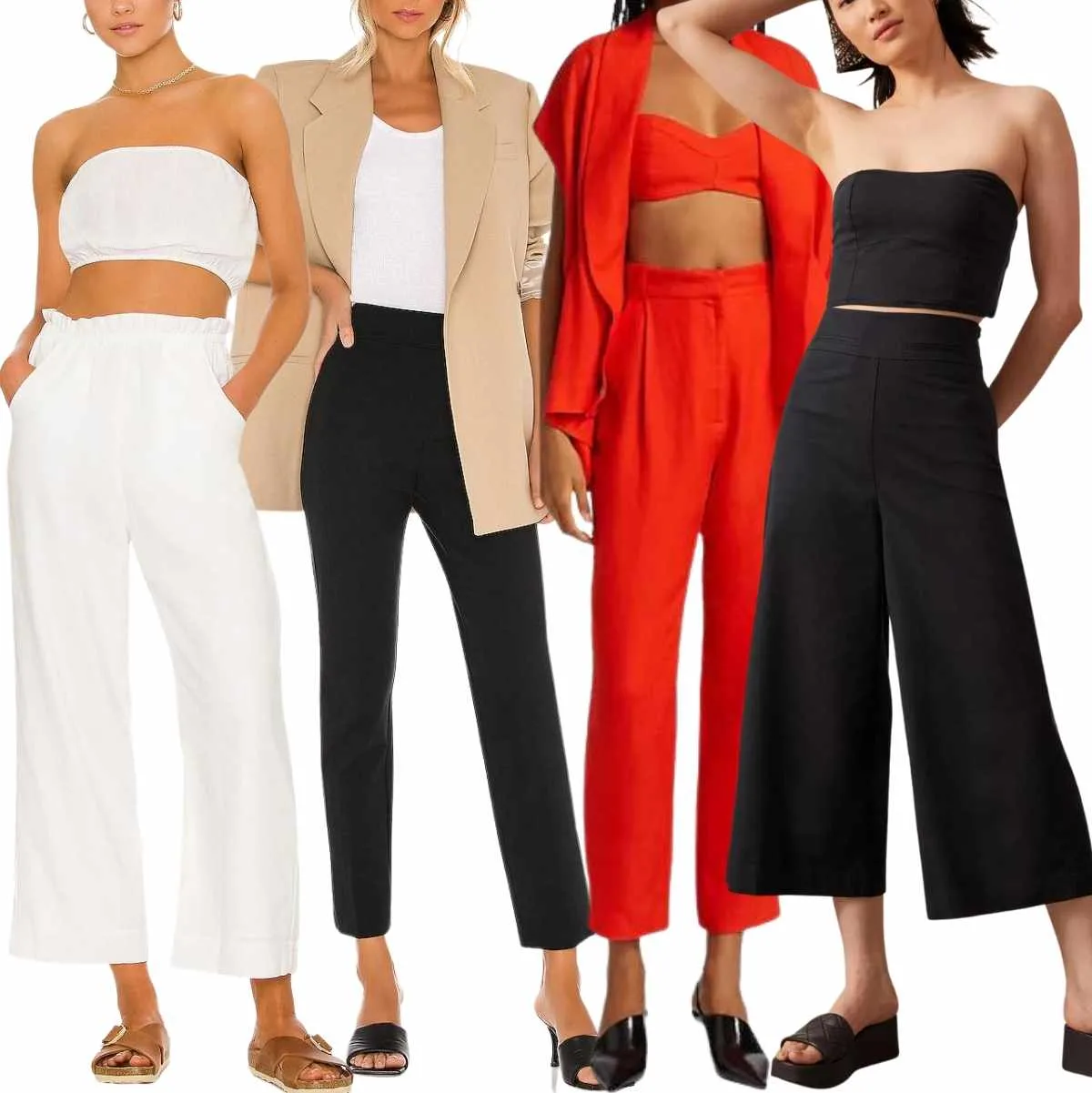 Minimal mules and slides are some of the best shoes to wear with cropped dress pants and capris. They elevate the look without being too fussy. Plus, they're comfortable and easy to wear – just slide them on!
Leather slides and mules work well with both wide leg cropped pants and slim cropped pants. For a more polished look, pair cropped pants with a blouse or semi tucked button-down shirt and a block heeled slide. Add a tailored or oversized blazer and you're office ready.
If you're going for a more casual look, pair cropped pants with a tee shirt or tank top and a simple flat brown leather one strap slides, or sporty slides.
Throw on a denim jacket or trendy trench and you're good to go. This makes for a great outfit with Birkenstocks!
When it comes to accessories, less is more. Keep it simple with an elegant watch or fine gold jewelry. Go hands-free with a crossbody bag, or pick a structured handbag for a chic elevated look.
Whether you're dressing for work or play, minimal mules and slides – both flat or with block heels – are the perfect finishing touch to your cropped pant outfit.
7. Sneakers with Cropped Dress Pants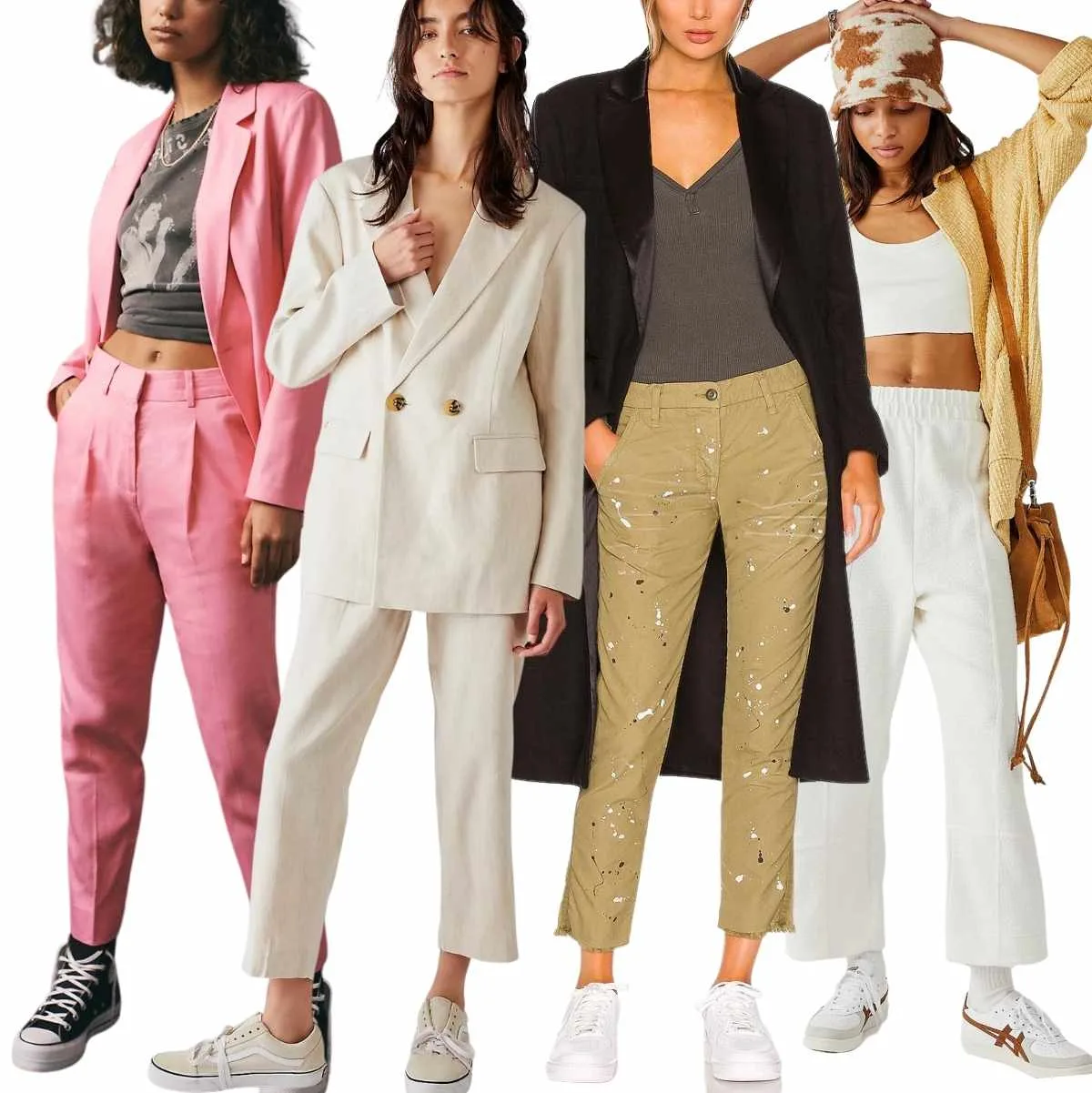 Ah, sneakers: The coolest casual footwear that keeps on trending! Different types of sneakers look fabulous with various types of capri pants and cropped dress pants.
7a. Slip-on Sneakers
You can't beat a classic slip-on sneaker with cropped dress pants. They're great all year long and you can keep cool in the summer, even at work, with a chic pair of perforated slip-ons.
From pastels, white or black leather to metallic styles, there are slip-on sneakers for all kind of tastes. Try a platform pair with wide leg cropped or straight leg pants, with a simple or rocker tee topped with a loose cardigan.
7b. Classic Lace-up Sneakers
From classic white canvas styles like Superga's Cotu or Old Skool Vans, to youthful leather Nike Air Force 1s, to chic Golden Goose styles, there is a ton of lace-up sneaker choices for your cropped pants!
Give your look a rock 'n roll feel with a metal band tee with black cropped pants, a structured jacket and black leather lace-ups. Or, elevate the same black pants with a tight t-shirt, oversize blazer and glittery GG's!
Unless you're wearing culottes of very wide leg crops and are going for a trendy edgy look, avoid chunky, athletic looking lace-up sneakers.
7c. High-Top Sneakers
High to mid-top sneakers can pair well with cropped pants, especially those that are wide to straight leg. You can choose a classic pair of Vans, Converse or a designer pair if you're feeling it!
8. Espadrilles Wedges with Capris & Cropped Pants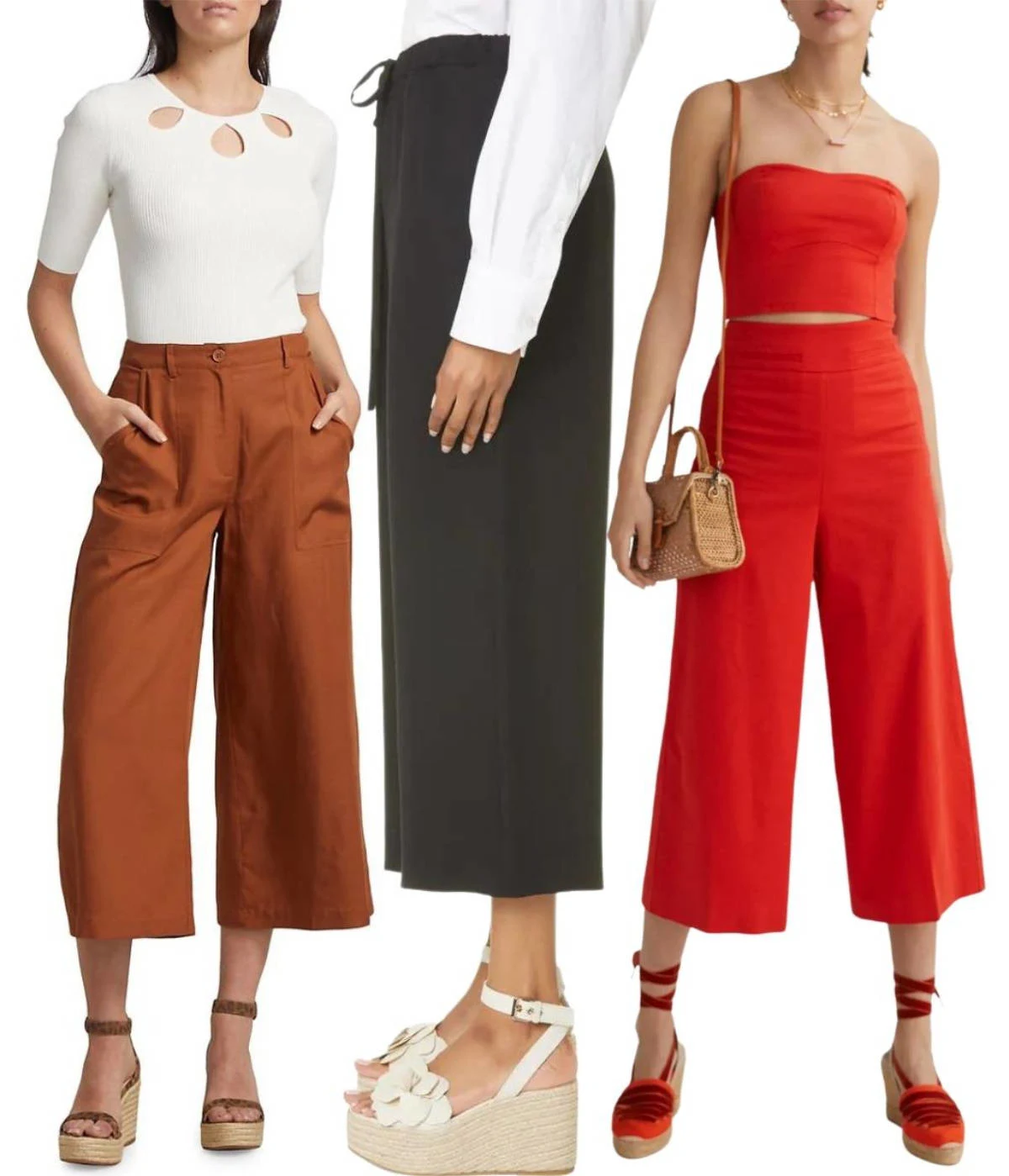 Espadrilles, whether classic styles or modern designs, flat or wedges are some of the best shoes to wear with cropped dress pants and capris for women in the spring/summer seasons.
Espadrilles wedges with their rope outsole and heel, give off a country vibe, making them perfect for casual outfits with both slim and wider cropped pants.
Pick a linen pair of crops of light cotton pair of capris with your espadrilles. Top with a flowy tee, minimal jewels and a straw hat for the perfect summer look!
Give your slim capris a retro look with a tight halter or tank and slicked-back hair. Add a canvas shopper for an easy going vibe, or a tan leather crossbody for hands free outings.
9. Cropped Dress Pants with Strappy Flats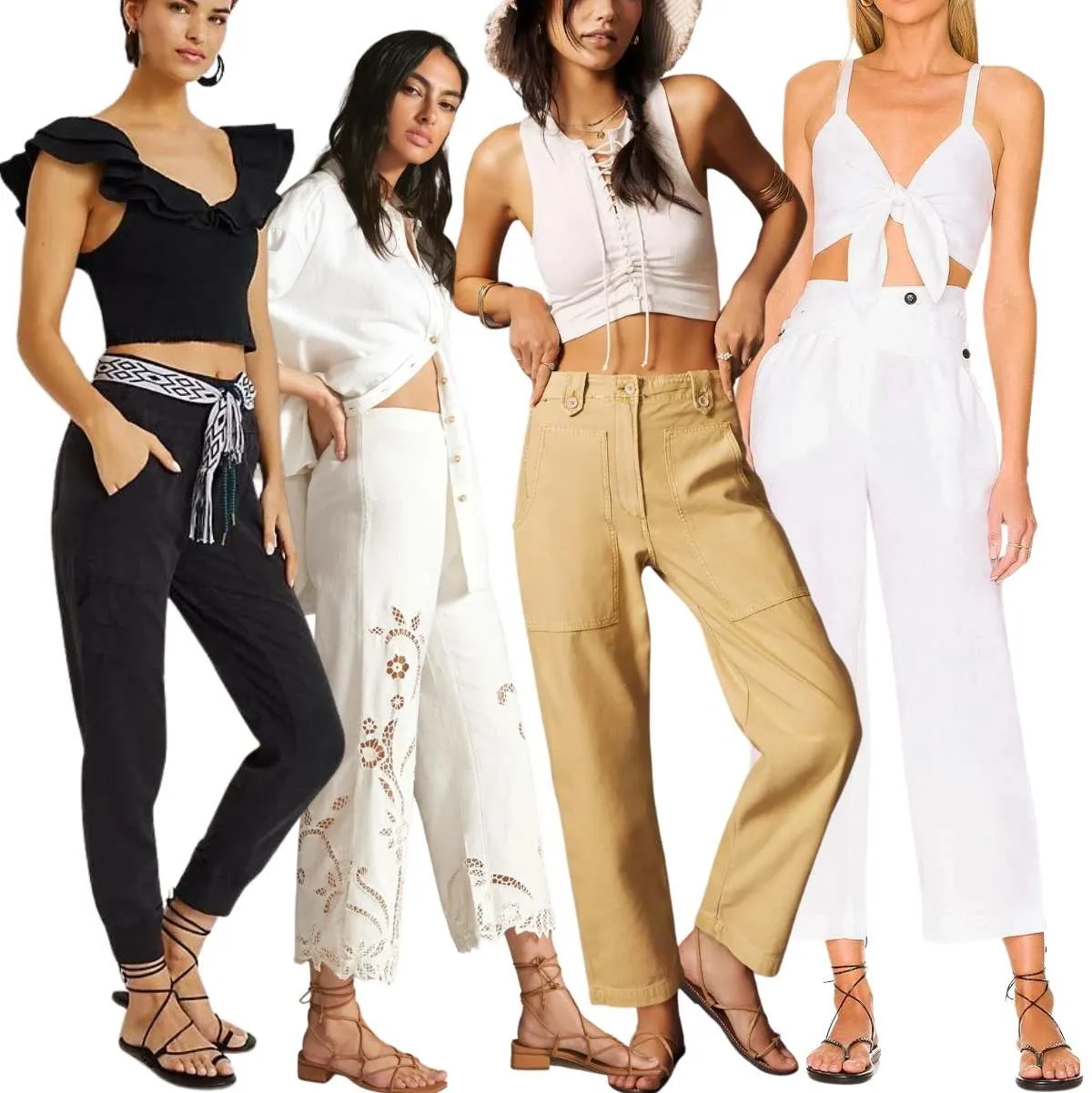 I love strappy flats with all types of cropped pants, especially capris! Opt for a sandal style with thin straps that wrap around the feet and ankles.
I love these styles in brown, beige of skin-tone neutrals for casual outfits. If you want to add some funky vibes to your outfit, pick strappy flats with a platform, paired with straight leg or wide leg cropped dress pants.
Strappy flats work within black look more edgy and great paired with an all black look. For an evening out, pick a strappy style in patent, white or metallics. A low block heel is an option too!
Complete your look with a silky cami topped with a trench and a pair of statement gold hood earrings.
10. Oxfords with Cropped Dress Pants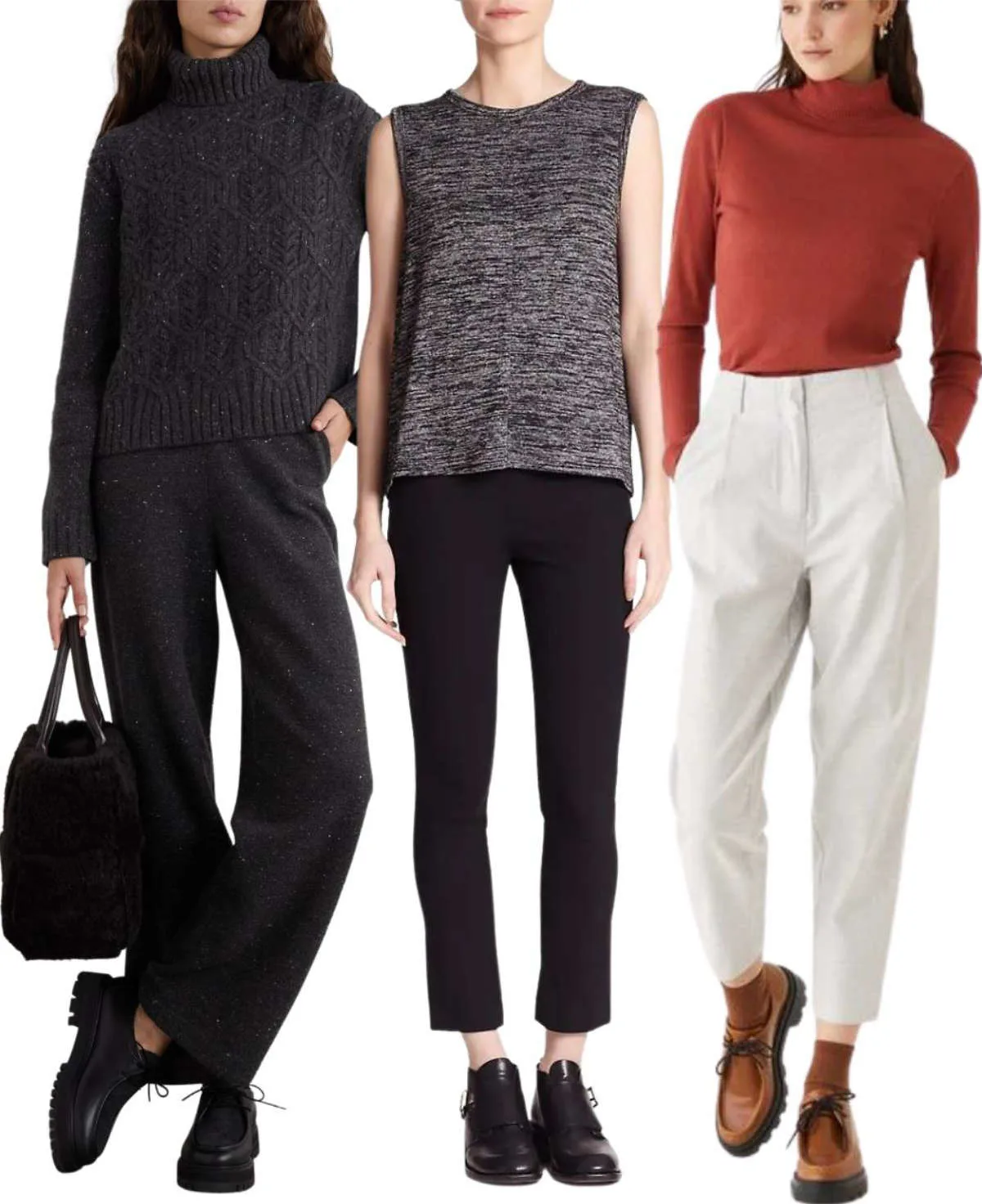 If you want to choose shoes to wear with cropped dress pants to take on the menswear trend, pick a pair of oxfords or brogues.
Oxfords aren't the best shoes to wear with capri pants, so I would keep them paired with just-above-the-ankle pants.
Oxfords can be worn with both wide leg and slim cropped pants, and they look great with both casual and elegant polished looks. Here are some tips on how to wear cropped pants with oxfords:
For slim or tight cropped pants, opt for a classic Oxford shoe. This will give you a polished and professional look that is perfect for the office.
For modern chic looks, pair your cropped pants or capri pants with a platform or chunky lug-sole Oxford. This is a great way to add a touch of stylish edge to your outfit, especially with wide leg crops or culottes.
To dress up your cropped pants and oxfords, add bodysuit, or a frilly silk blouse. With metallic or black patent oxfords and black cropped pants, it will create a chic and sophisticated look that is perfect for evening wear or special occasions when you don't want to wear heels. Match your pants with a structured jacket.
Final Words on Shoes to Wear with Cropped Dress Pants
From cropped pants with boots, sandals, heels and casual footwear, there are quite a few shoes to wear with both capris and cropped pants of all styles!
Now that you know all about the best shoes to wear with cropped pants and capris for women, how will you style your look this season?
Whether you're dressing up or down, there are so many stylish shoe options to choose from. I hope you have as much fun styling your outfits as I did putting this guide together!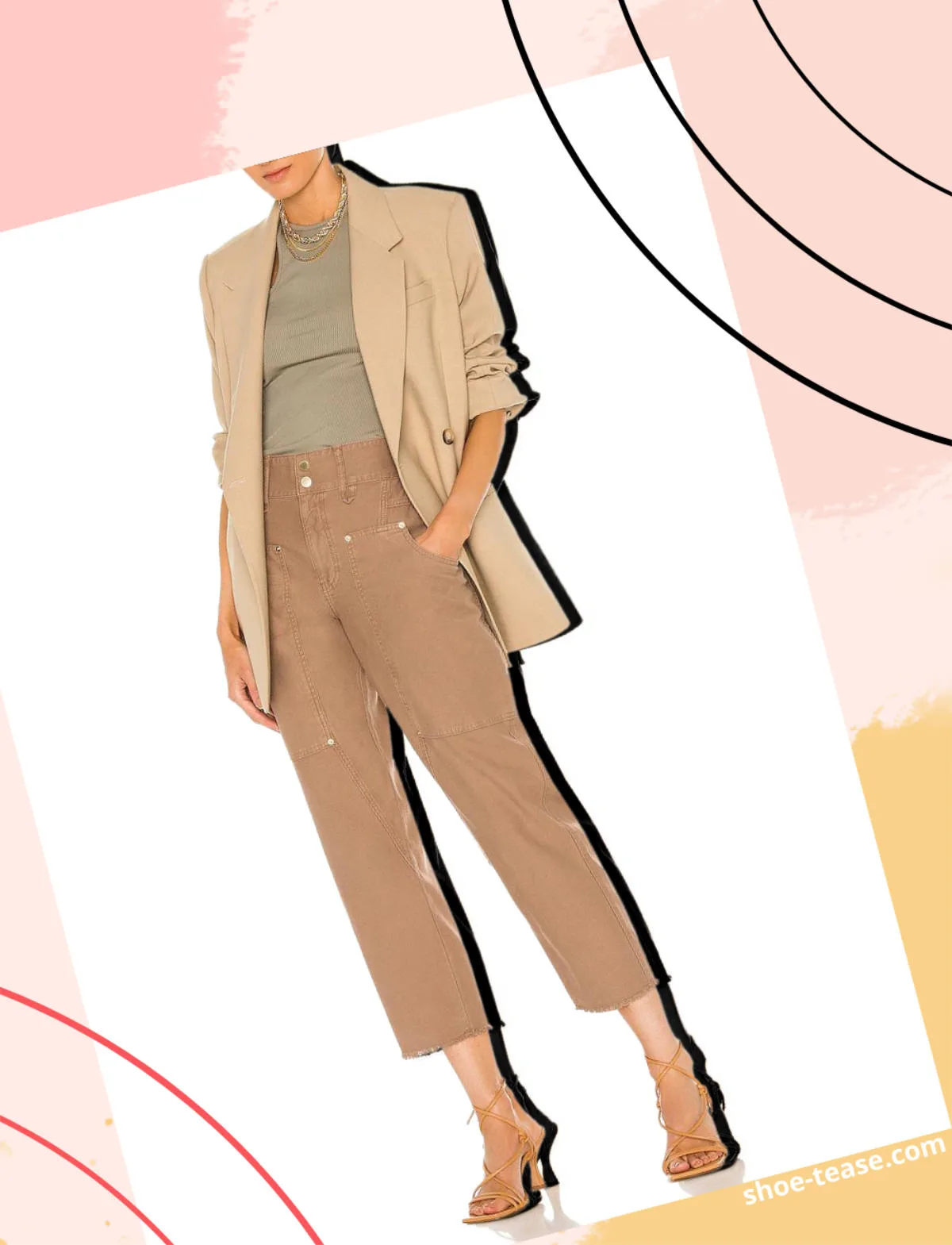 xo ShoeTease