Calling all beach & flip-flop lovers! Searching for that perfect inspirational or funny quote about flip-flops that expresses your deep love of these slappy-happy sandals?
If you're looking for the best Instagram captions for flip-flops or want to add fun flip-flop day messages to your friends or audience, you've come to the right place.
If so, you can grab one of my 60 favorite quotes about flip-flops (aka thong sandals) right below, here on from shoe-tease.com!
Flip-flops bring joy and summer/beach feels to many – which is reason enough to celebrate these types of sandals!
I've hand-selected the best flip-flop quotes for you: from funny flip-flop quotes and celebrity flop quotes to that famous Mean Girls quote about flip-flops and cargo pants!
Here are some of our favorite quotes about flip-flops to help you enjoy the simple things in life, all year long!
60 Best Flip Flop Quotes & Saying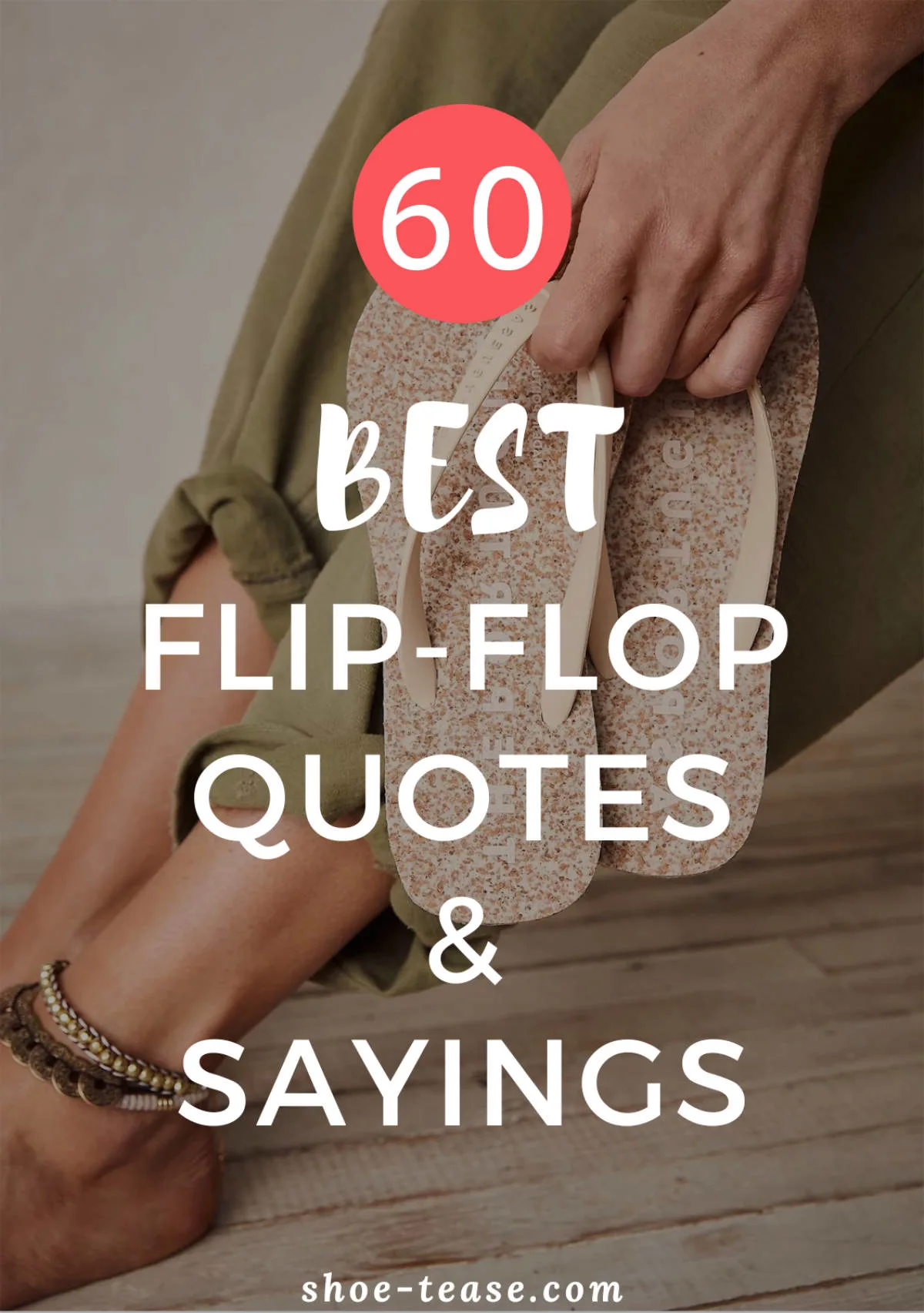 "I saw Cady Heron wearing army pants and flip-flops. So I bought army pants and flip-flops." – Mean Girls
"With a sunny outlook, every day can be a flip flop day."
"Flip-flops – the glass slippers of the south."
"Always look on the flip-flop side of life." – ShoeTease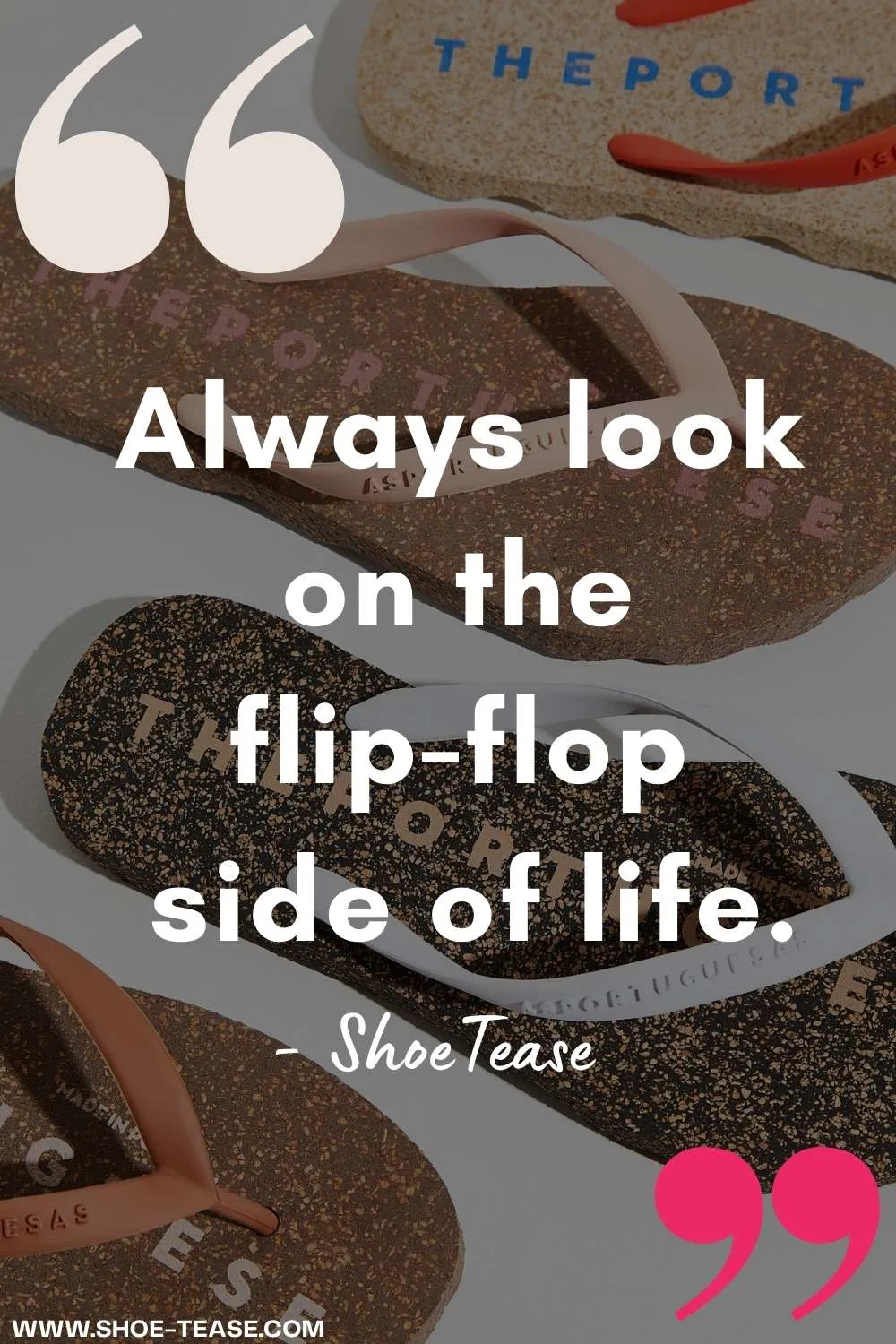 "Flip-flops are my favorite summer shoes."
"Sun, lotion, bikinis, flip-flops and sandy toes." – ShoeTease
"I can hear the ocean in my flip-flops."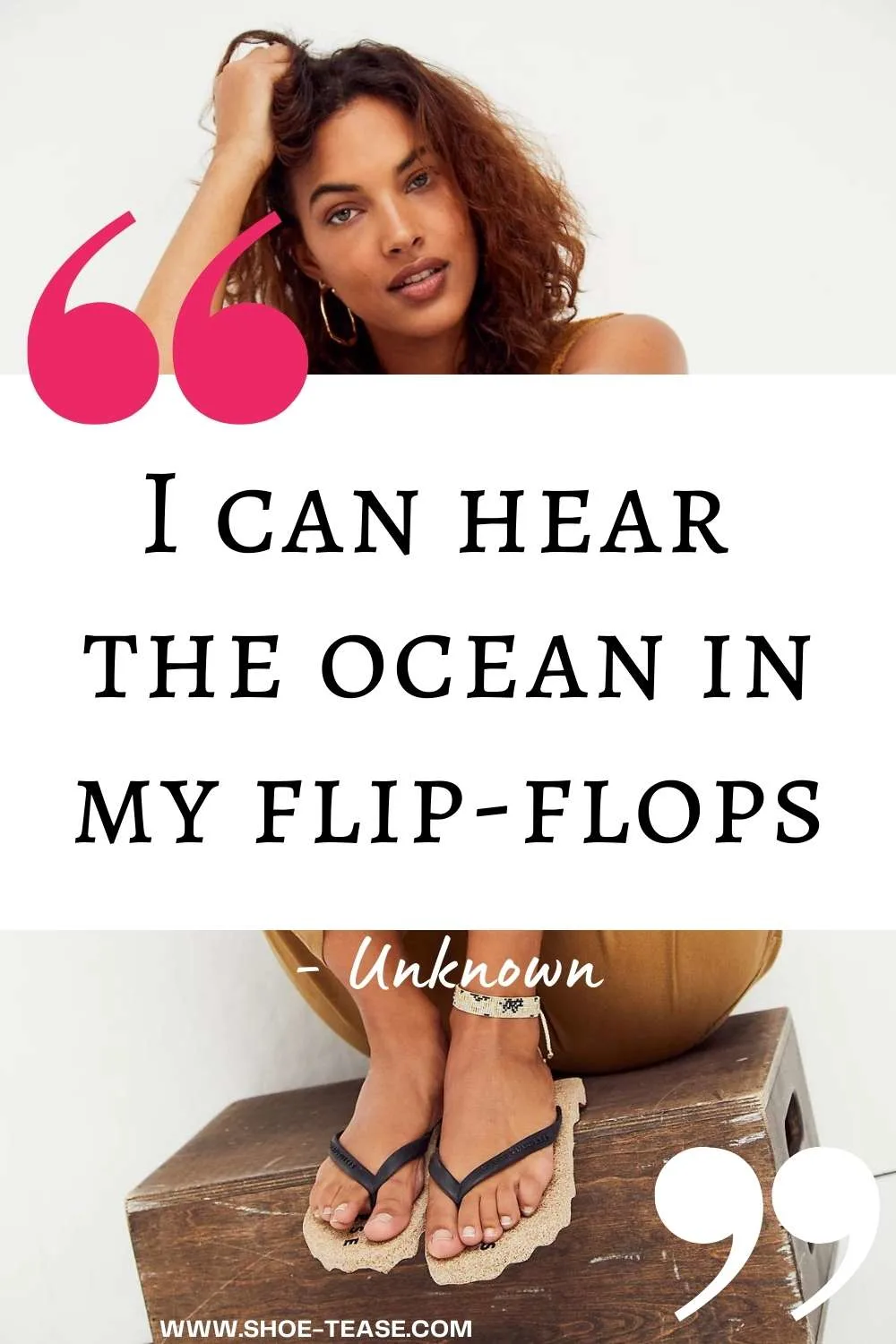 "Flip-flops, t-shirts, and shorts are all I need."
"There's nothing like a cold drink and a pair of flip-flops."
"I'm a flip-flop kind of girl."
"Flip-flops are mythic devices that have the ability to transport both body and mind to a comfortable casual, calm state of being."
"Life is better in flip-flops."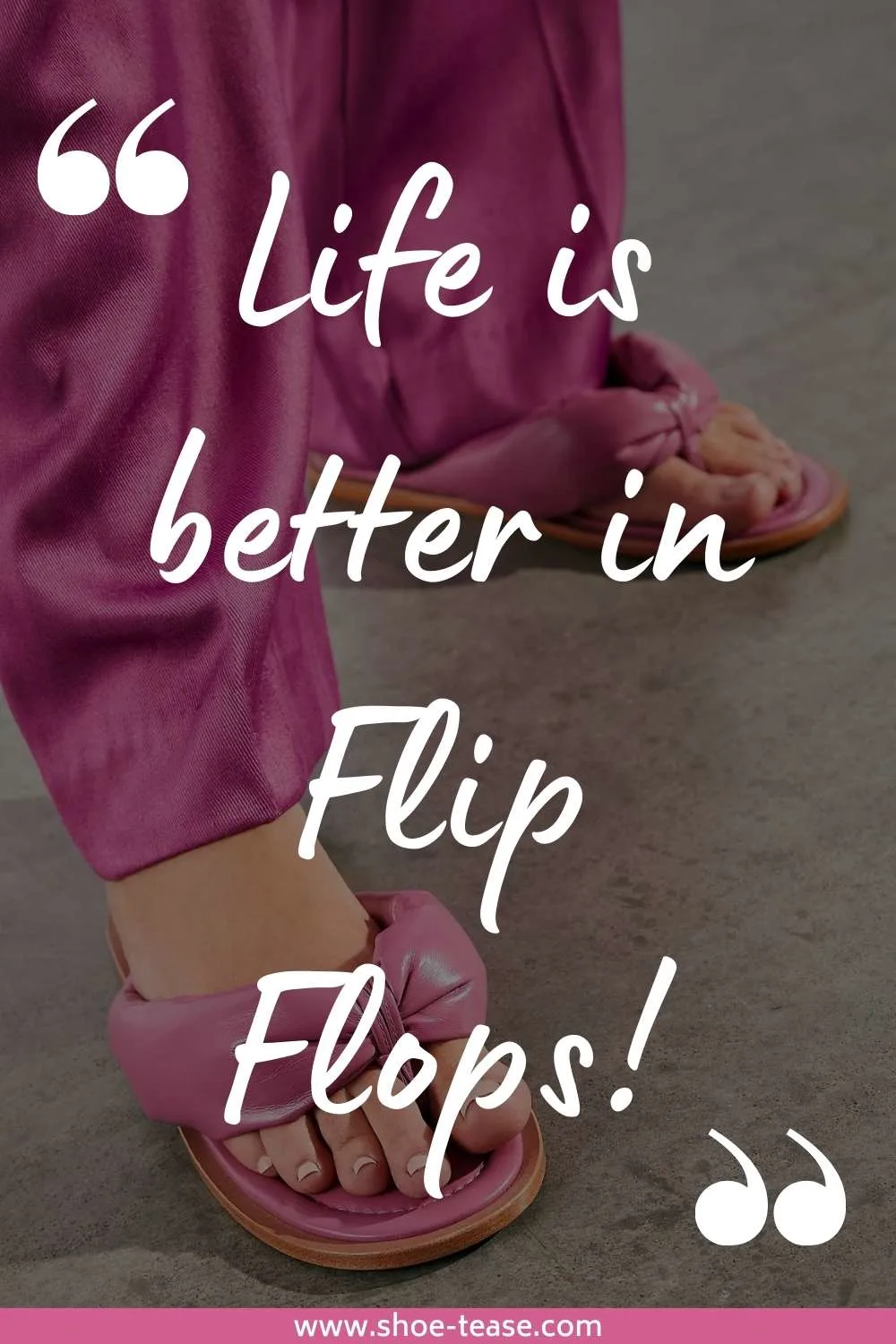 "Life is better in flip-flops; enjoy your life, stress-free."
"Good morning! It's going to be a flip-flop kind of day!"
"There was a story that I was in a shoe shop and that I threw a pair of flip-flops at the wall, shouting, 'I can't believe how overpriced these are!' I thought, 'Gosh, if I'm gonna take a big stand on something I would hope it would be for more than flip-flops!' – Rose McGowan
"I'll trade my boots for flip-flops in a heartbeat."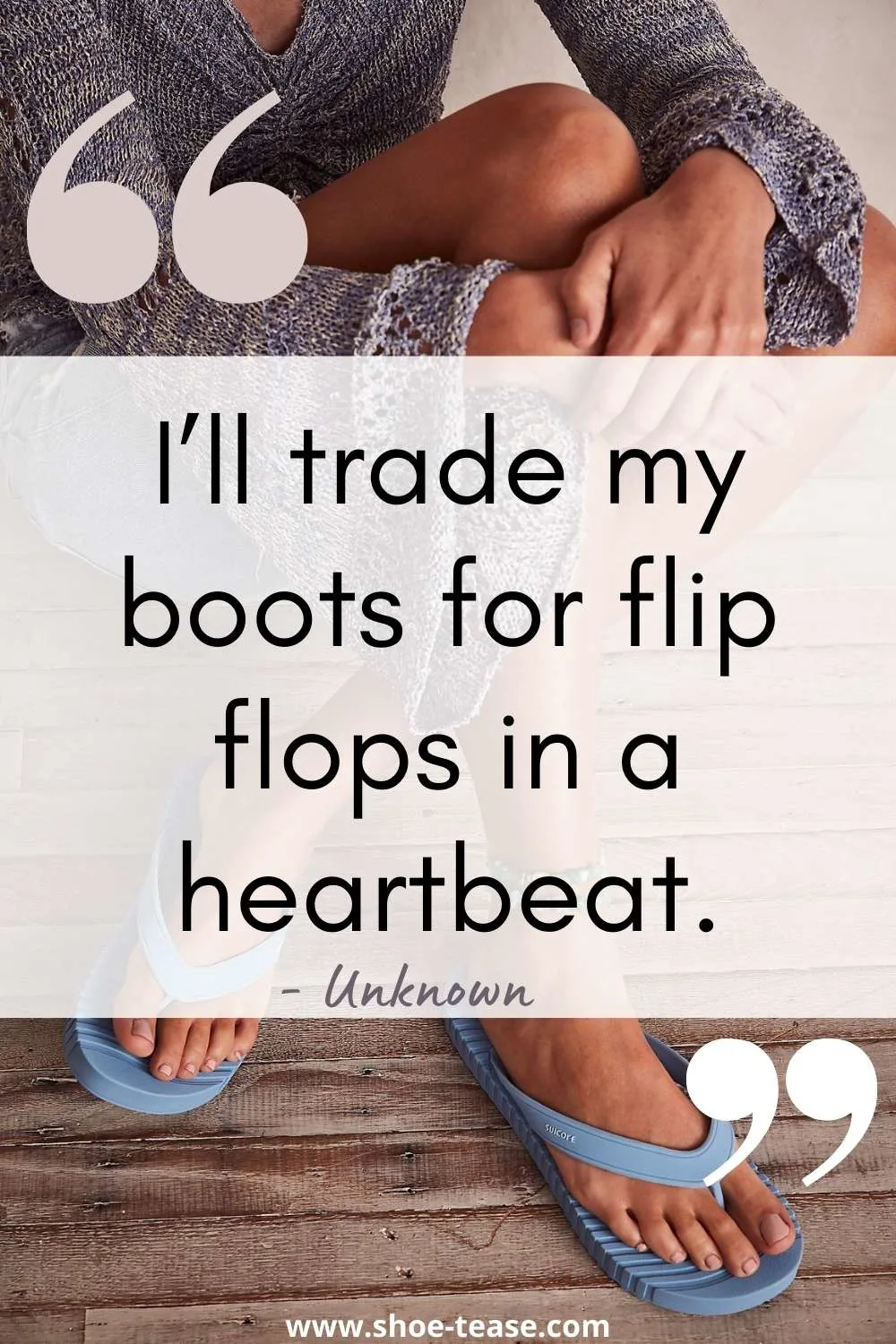 "Sometimes I think all I really need in my life is a beach bag and flip-flops."
"Don't judge a person by just his flip-flops and jeans; a person has a lot more than that for his recognition."
"Don't make me slap you with my flip-flops!"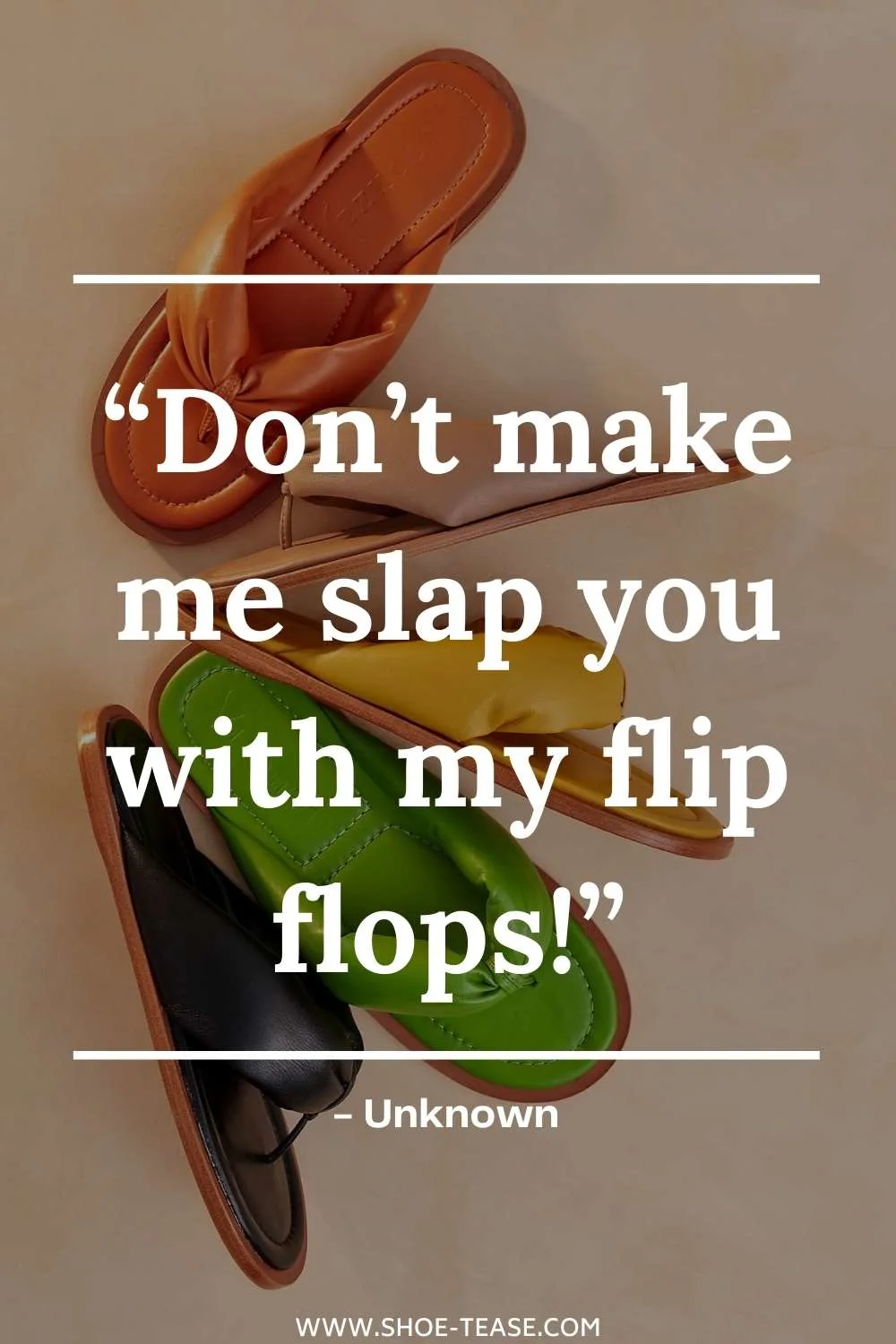 "Flip-flops are yoga pants for your feet."
"I'm in a flip-flop state of mind."
"I'll mix a lot of things. I'll wear a Temperley dress with flip-flops, or I might be in head-to-toe Gucci and have on a ring that I got from a gumball machine for 50 cents." – Sara Blakely
"Please take a treat for your dancing feet in a flopped pair and move through a good and comfortable life."
"Keep calm and flip-flop on."
"Life is short, wear the flip-flops."
"Cheers for the day where you can take a day off and enjoy it by the beach with a pair of flip-flops."
"I love politics. It could be that, or it could be that my dad was always really big on, 'This is your job. You are going to work…' You know, it's really funny cause he was such a cowboy, and he doesn't like the concept of guys coming in like cowboys – unshaved and wearing flip flops – and stuff like that would eat him alive." – Cody Rhodes
"Some of the best memories are made in flip-flops" – Kellie Elmore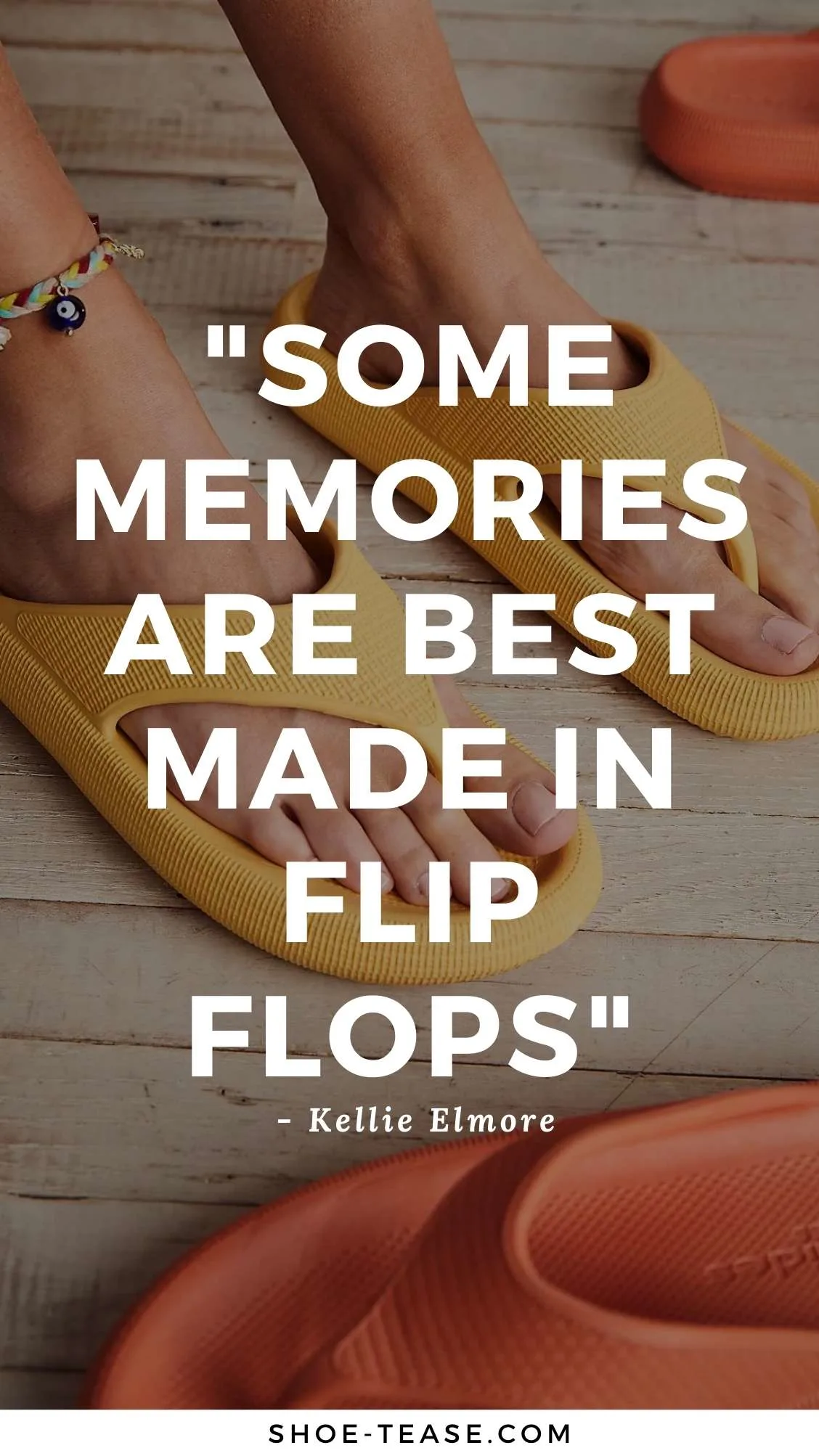 "Tank tops and flip flops."
"You will never find your flip flops complaining. They are too busy getting around."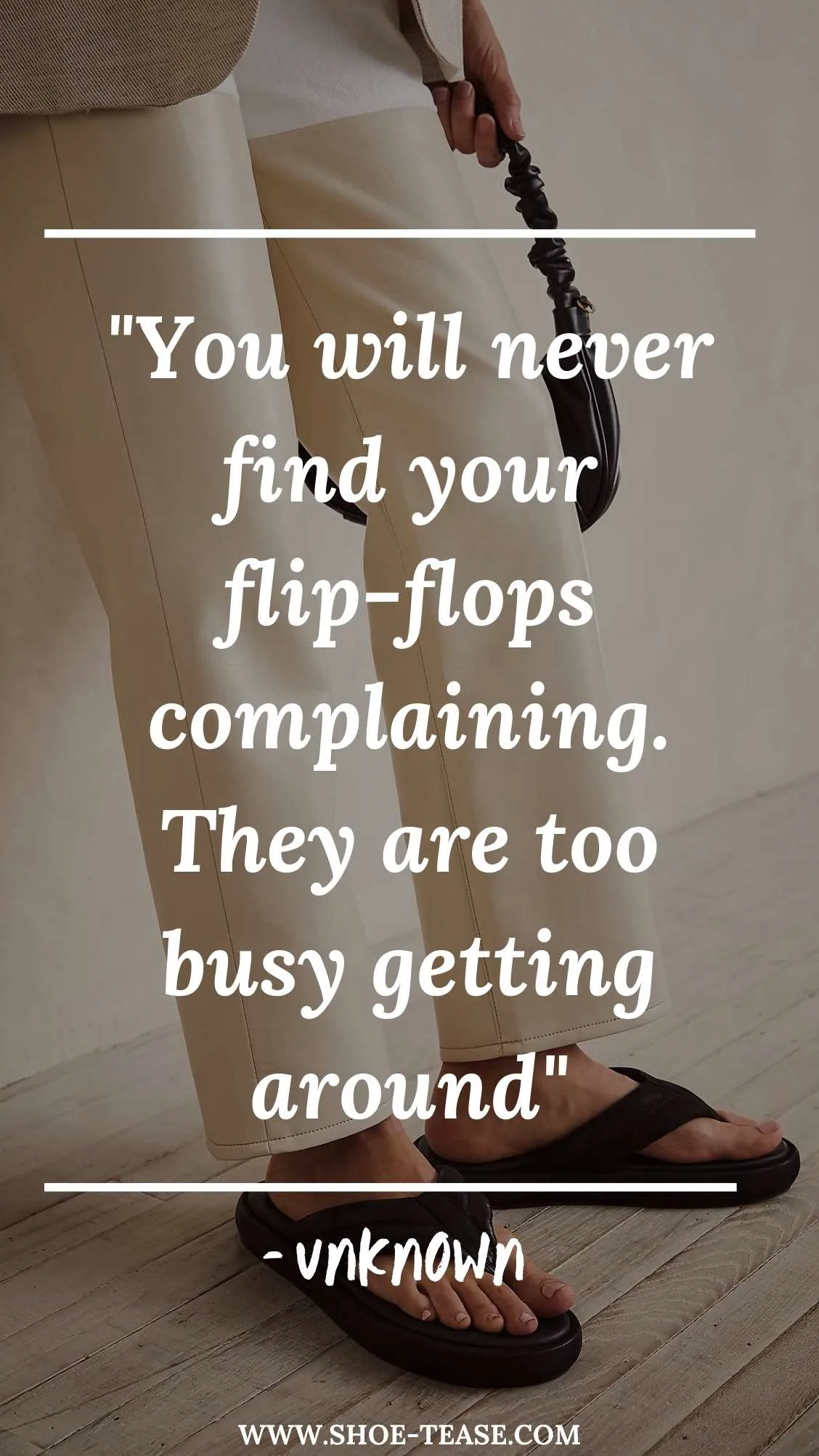 "I'm super, super casual. I like boxer shorts or jeans or tank tops, tennis shoes and flip-flops. That's about it for me." – Shannon Elizabeth
"Sunshine and flip-flops are my happy place."
"Moving back to New York is perhaps what I'm most excited about. Alternate side of the road parking. Flip flops on the subway. And any food I want delivered. Sometimes more than once a day." – Michelle Beadle
"Flip flops make your toes feel like they're on vacation."
"You are the flip to my flop."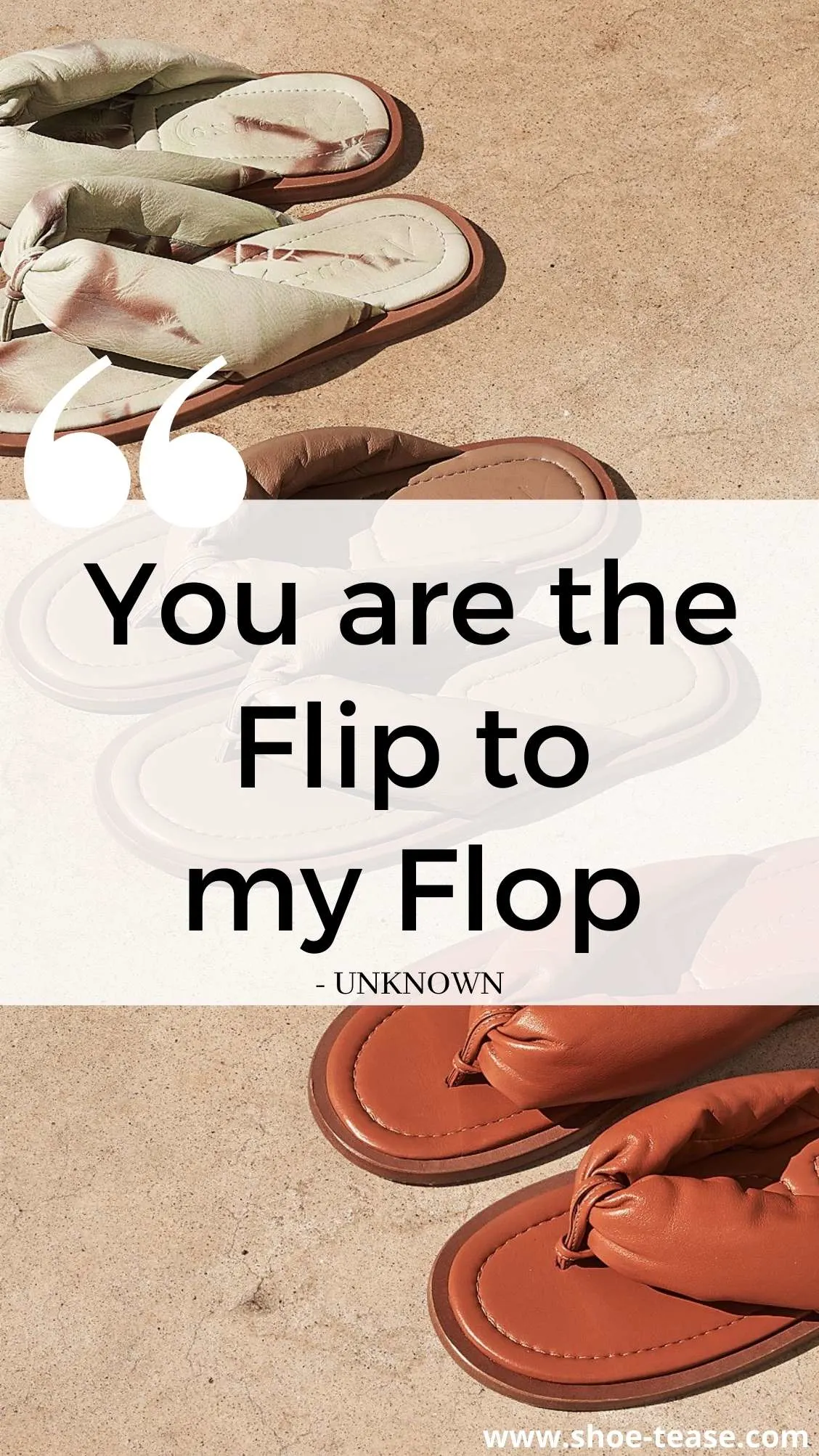 "I wasn't made for winter, I want my flip-flops."
"All you need is love and flip-flops."
"Summer always calls for a pair of flip-flops and a day off."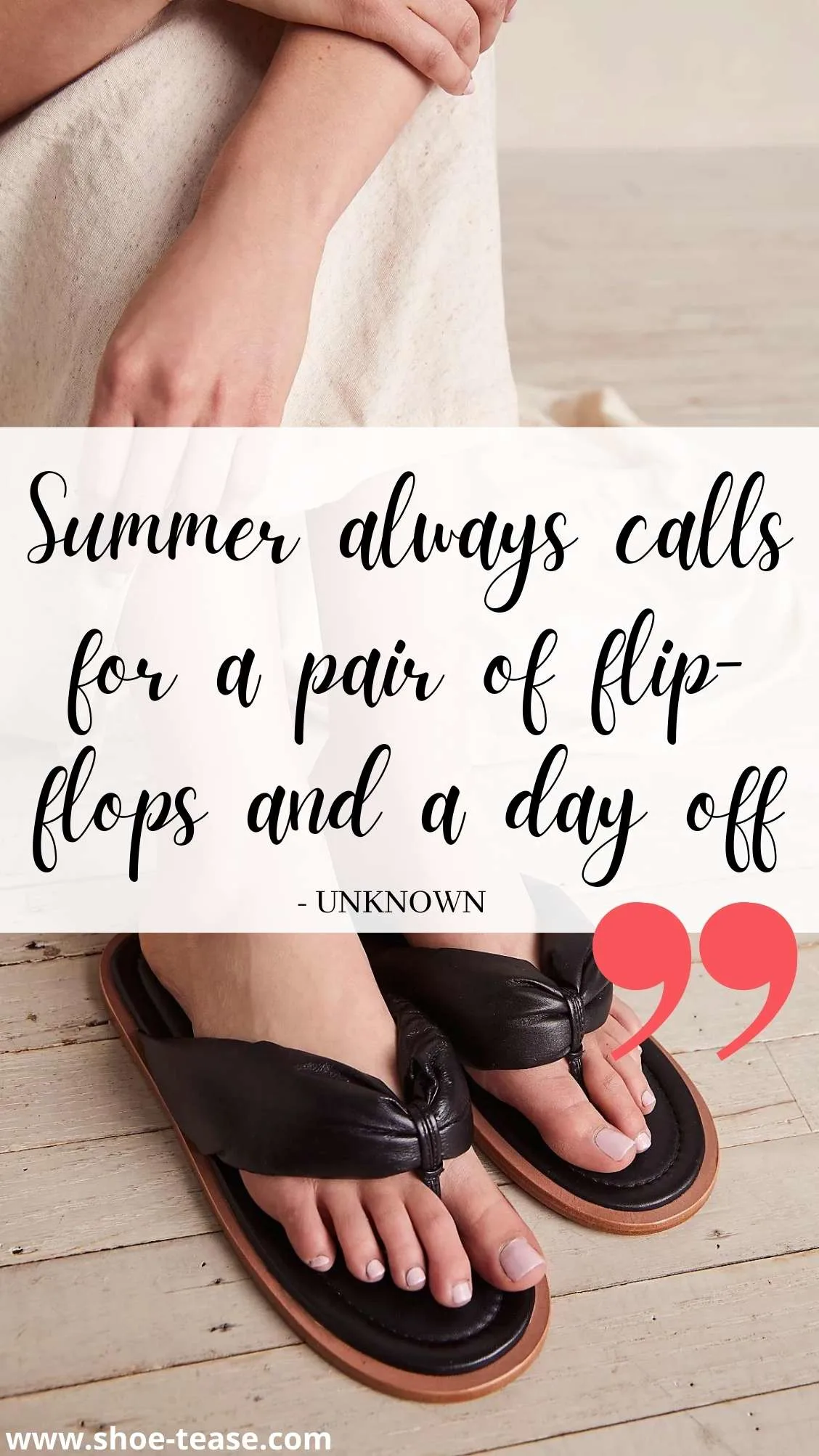 "Deck docks and flip flops."
"Home is where your flip-flops are."
"I've been barefoot most of my life: either flip flops or barefoot on the pool deck. Although you'd think that would make me a good candidate for barefoot running, that doesn't work with me." – Summer Sanders
"Perhaps summer's ephemeral nature is what inspires us to embrace the beach read. We tell ourselves that these twisted plots and wild characters are literary ice cream sundaes – extravagant treats that aren't as calorie-laden when we're wearing flip flops." – Sarah MacLean
"I'd rather be in flip-flops."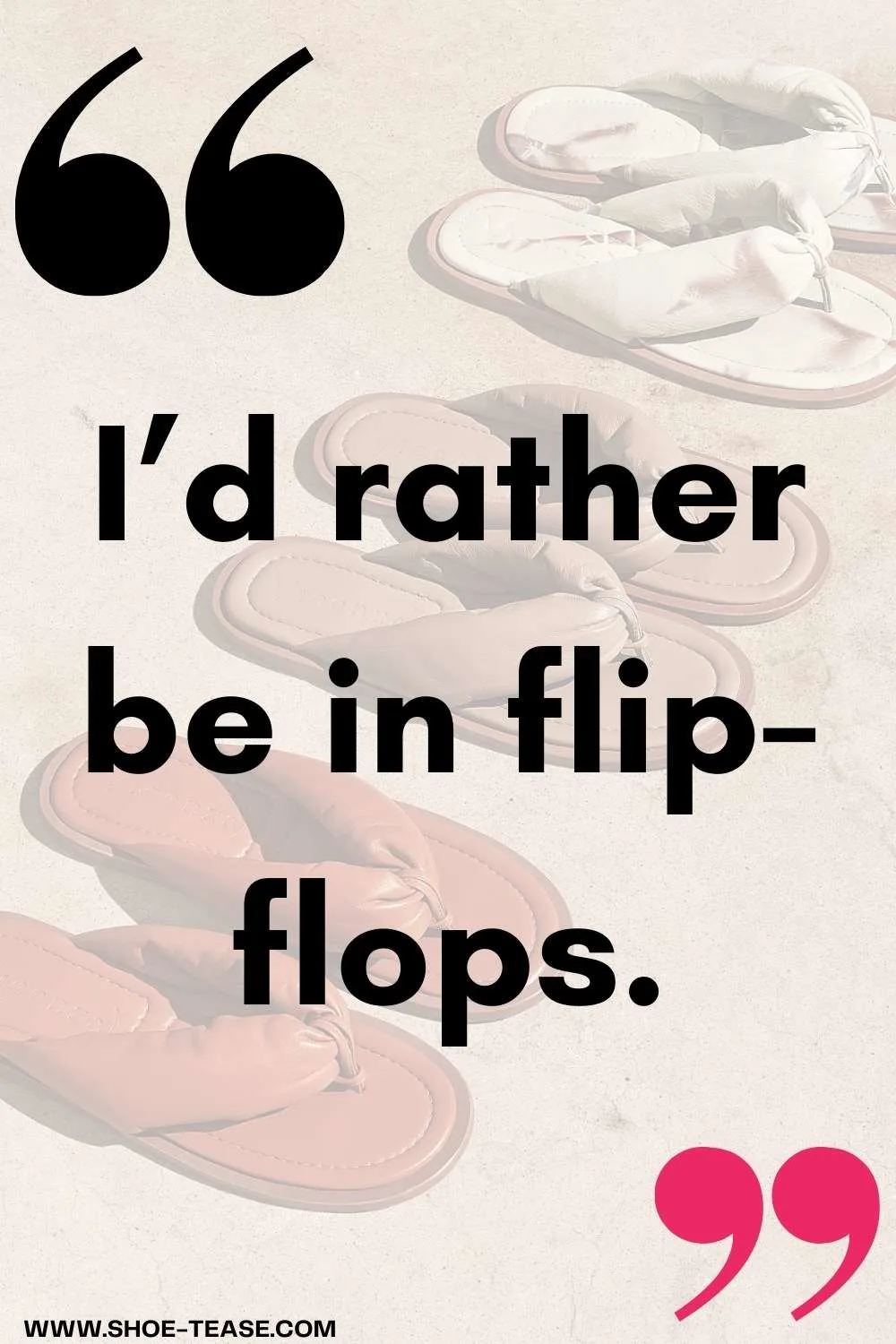 "Flip flops, that's how I roll."
"I had no style when I was 17! I look at teenagers now and say, 'I wish I'd looked like them when I was that age.' I had no style whatsoever, but style also wasn't as prominent as it is today. I was just very laid back, usually wearing jeans and tank tops and flip flops." – Candace Cameron Bure
"Instant joy is the first day of flip-flop weather."
"I am just your everyday, average girl. I live by the beach. I wear flip-flops. I don't wear make-up. I go to the gym." – A. J. Cook
"Ladies who walk around in high heels I admire. Ladies who fall over their own feet wearing flip-flops are my soul sisters."
"If I can't wear my flip-flops I'm not going."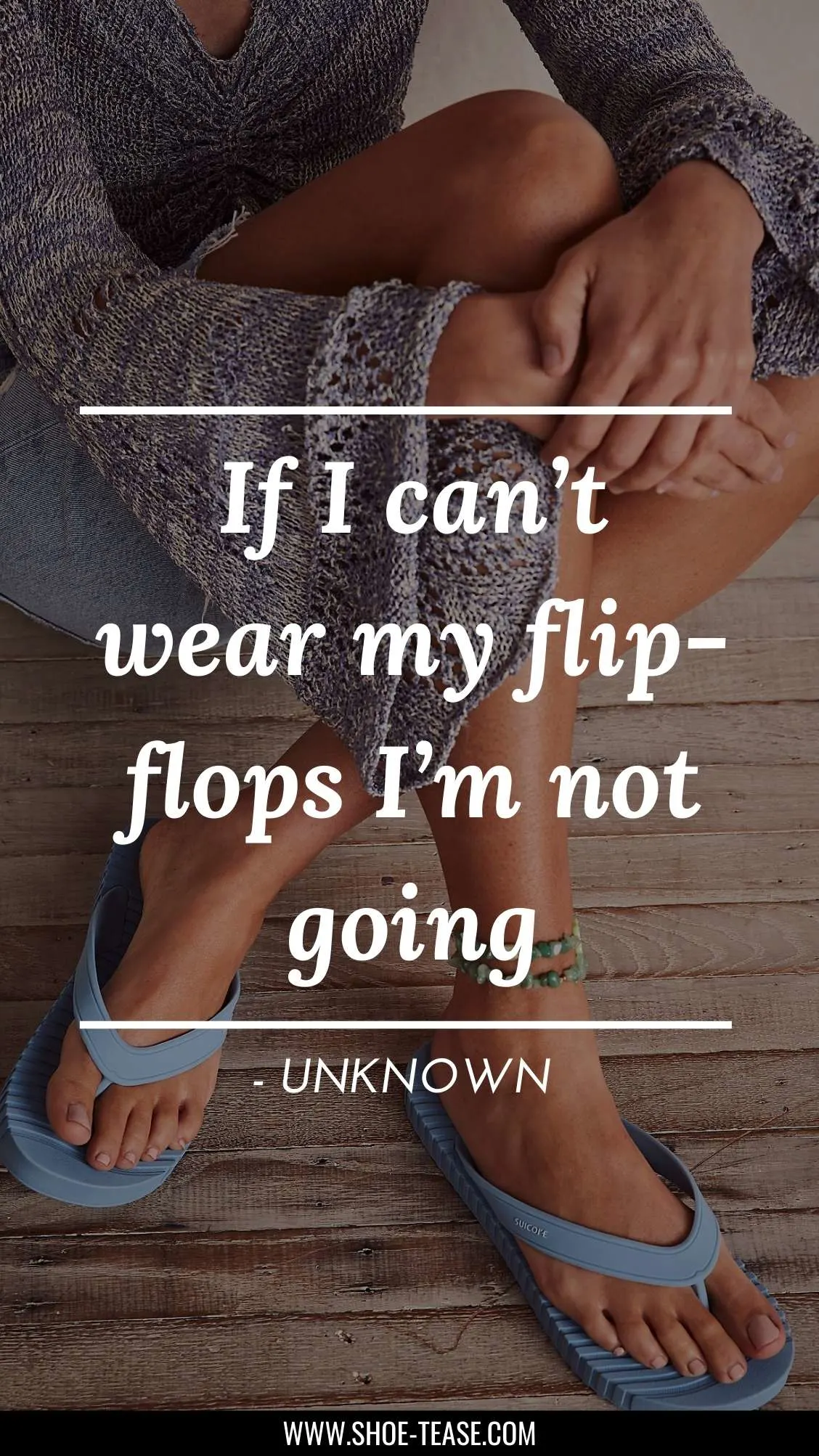 "If my flip-flops sound different, it says slap slap slap."
"Flip-flops never let minor irritations like sand in the toes get in their way of enjoying a sunny day."
"May you flip-flop through life with ease."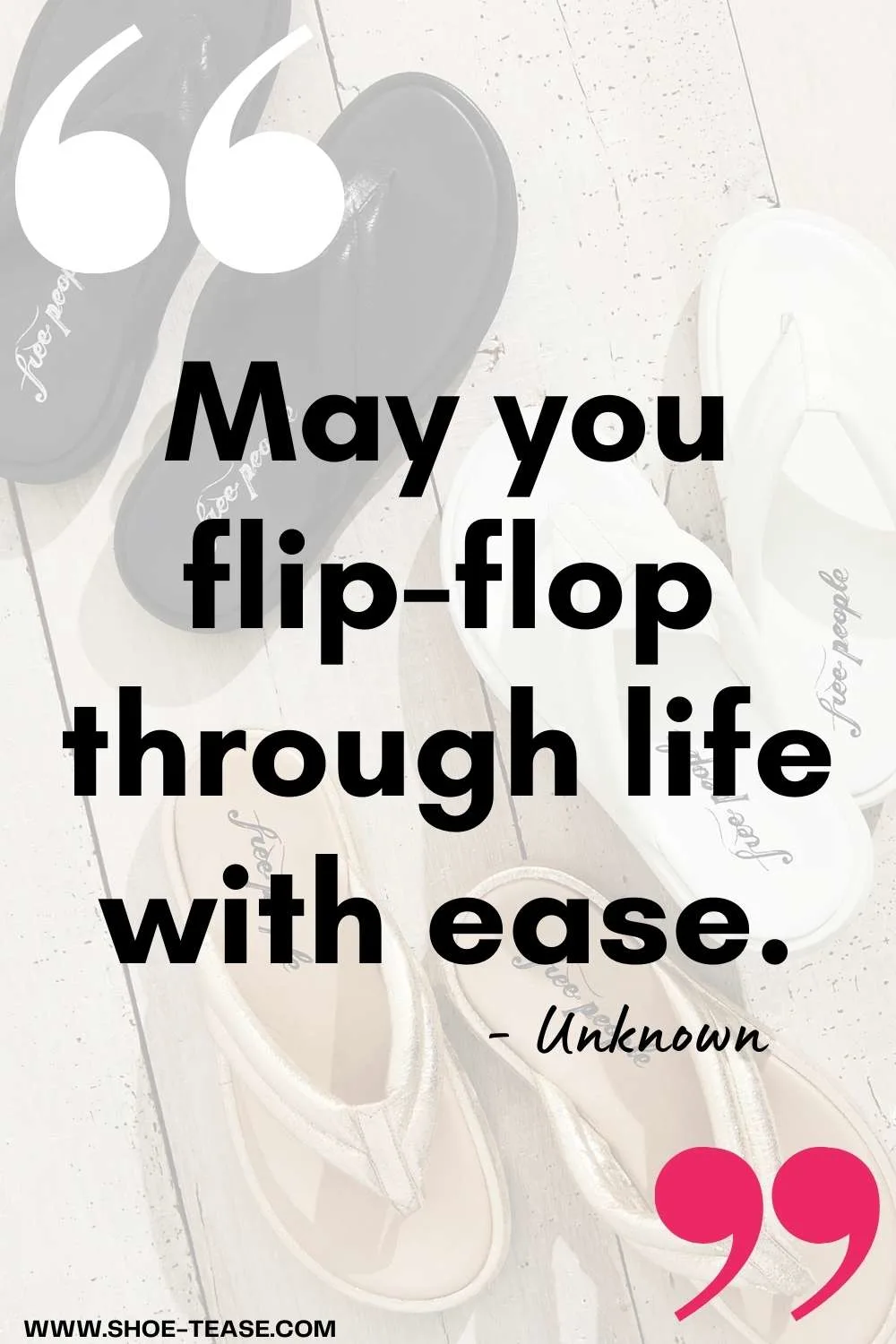 "Relax, unwind, get in a flip-flop state of mind."
"If Bertie was a god (a favorite fantasy), she would be manufacturing things there was a shortage of – bees, tigers, dormice – not flip-flops and phone covers and toothpaste." – Kate Atkinson, A God in Ruins
Final Thoughts on Flip Flop Quotes & Sayings
From funny quotes about shoes to more sentimental ones about loving life and summer, I hope you enjoyed my collection of flip-flop sayings & quotes!
I mean, flip-flops are the perfect shoes for a summer day. They're easy to slip on and off and let your feet breathe, and great companions at the gym or camping trip! Also, with them available in so many fun styles and colors, it makes them so hard to resist!
What's your favorite saying or quote about flip-flops ? Let me know in the comments below!
PS: don't forget to put on your favorite pair of flip-flops and celebrate your beach vacation!
More Quotes & Shoe Posts:
xo ShoeTease
Cristina is the chief editor, fashion & shoe expert here at ShoeTease. As a seasoned stylist and women's fashion & shoe designer, she boasts over 20 years of experience in the fashion industry. She loves crafting effortless outfits for ladies both online and off and believes that styling advice should be accessible to everyone. Whether you're a styling pro or just starting out, Cristina's here to guide you on your fashion journey! Learn more.