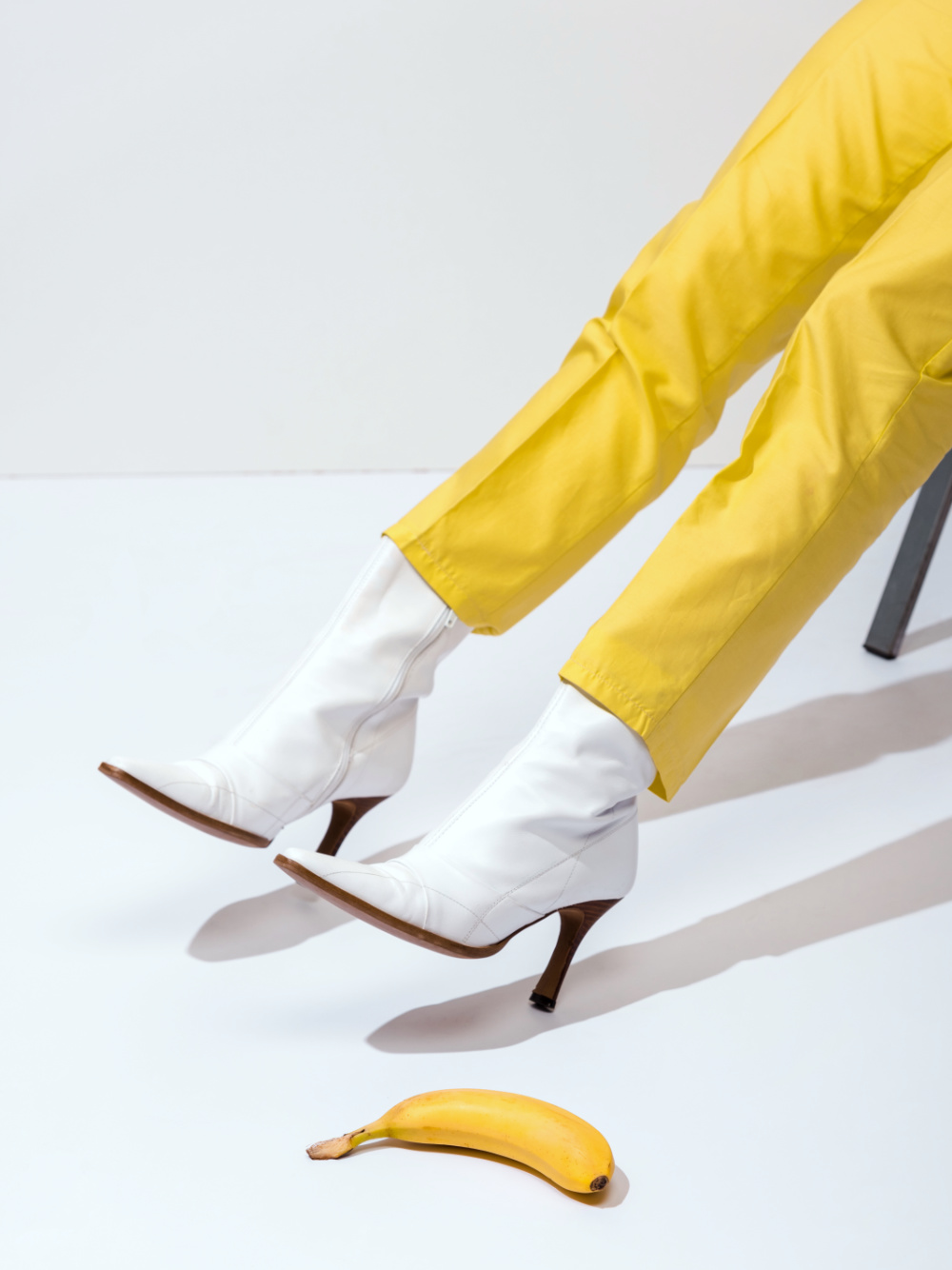 Slippery Shoes? How to Make Shoes Less Slippery
When you go shopping for shoes, you look at the most important things. The style. The height of heel. The color. The fit. But do you ever look at the sole of the shoe (Louboutins not withstanding!) to determine if they'll be slippery or not? Nope!
Because why would you? But have you ever lost your balance, slipped or fallen? Or almost fallen? Not because you can't walk in them, but because of slippery shoes.
If so, then you need to read this post! We have compiled a list of tricks & tips on how to make shoes less slippery. Especially important now that some of us are entering winter season. Yikes!
Slippery shoes are the bane of every shoe addict. What's the point of buying shoes that make you constantly slip? Or make you scared to even walk in?
Luckily, there are lots of ways to make sure you don't slip in your favorite shoes! Including ways on how to put traction on shoes & make heels less slippery. Because traction = non-slippery shoes. And that, friends, is a good thing!
How to Make Shoes Less Slippery
1. Non-Slip Outsoles
For a more permanent solution for your favourite (and unfortunate) slippery heels, you can shop for non-slip soles. Much like the adhesive bandages trick, you stick these non-slip soles to the bottom of your heels. Walmart sells a bunch of great anti-slip shoe grips, like, Boottique's sole savers are great for the outsoles of your heels, to create traction, but also to protect them.
They're often made of rubber or have some grit to them that'll keep your heels safe. And most importantly, doesn't involve permanently damaging them. It's truly the best way on how to make heels less slippery!
---

---
2. Scuff the Outsoles
This is one of the more permanent solutions on this how to make shoes less slippery list of hacks. So be sure that you don't want to return your shoes before trying this!
To scuff the outsoles of your shoes, go grab some sandpaper at your local hardware store. The grit of the paper will scuff your shoes enough to give them a rough surface that'll make sure your the outsoles of your shoes stick to the ground vs sliding on it.
Another way of doing this — for the less faint at heart!– & don't want to worry about sleet and ice? Simply take a pair of scissors (or anything that you can cut with: a knife, blade etc) & cut into the soles of slippery heels.
Not too deep, of course! But enough to give some much-needed traction. A perfect solution for anyone looking to stay safe this winter!
3. Use Hairspray (Yes, Really!)
A temporary and often cheap fix to slippery heels: hairspray. Spray a little (or a lot) of hairspray onto the soles of your shoes until it feels sticky. Usually about a 10-15 second spray hold.
The stickiness will help your soles stick to the floor much better. This is a great fix if you're in a bind & need a simple non-slippery shoe hack fast. However, this solution doesn't last very long and & need to be re-applied after each wear.
4. Use Adhesive bandages
A less permanent way on how to put traction on shoes: adhesive bandages. By placing bandages adhesive side down on the soles of your shoes, the rough surface on the band-aid will help grip the floor, so your feet stay on it!
This is why we tell readers to always keep a few bandages in your handbag: not only does it allow for you to create a grippy outsole, it will help prevent blisters & make heels more comfortable too!
5. Try Traction Spray for Shoes
A great product for winter shoe gals out there: shoe adhesive spray. AKA anti-slip coating for shoes. It works much like hairspray, but it lasts longer. You never have to worry about slipping on ice again with traction sprays.
Brands to consider who make a great traction spray product are: Bare Ground makes a great shoe adhesive spray & slip grip.
It's usually also water-resistant, making it perfect for those dreary winter days.
6. Tack on Puff Paint
An easier (and colorful!) way that works is using puff paint! The reason this trick works is that puff paint naturally dries down into a bumpy surface to create traction between the outsole & the ground.
Those bumps almost act as grooves that help you walk more steadily. And you can have fun with this trick by using whatever color you want! This could actually be fun, folks, so get your puffy paint groove on with these fab colors:
---

---
7. Use Ice Grips
The best way to never slip and fall in winter weather again? Ice grips. While it doesn't work for all shoe types (ex. heels) it's a good way to transform any fashion boot into a winter boot.
You simply attach the grips to the bottoms of your shoes and voila! Instant ice age (i.e.winter)-ready shoes!
---

---
8. Salt/Sand and Glue
This is another permanent fix that's perfect for winter! Using a mixture of salt (or sand!) and glue, apply a thin layer onto the soles, creating traction. The grit will help you travel through anything winter can throw at you with ease.
9. Go to a Cobbler
If you don't want to hack your shoes, why not get someone to do it for you? A cobbler is a shoe care professional that help you with many shoe solutions, such as stretching your shoes, making shoes smaller & general handbag and shoe repair!
10. Shop for Non-Slippery Heels
Seems obvs, but sometimes it ain't. As we said before, thinking of the slippage factor of your heels isn't the first thing on our mind when we buy shoes!
There's nothing more annoying then trying on a pair of shoes in-store, finding that they're comfortable & affordable, only to discover later on that you can't wear them anywhere without falling down!
Of course, there are also brands that make non-slippery shoes. What you want to look for are shoes with textured soles. The texture helps provide grip when you walk. The technology in the traction department is pretty impressive, actually.
And it works on all floor surfaces meaning that you don't have to worry about taking a slip or tumble anywhere.
Some of the brands that offer non-slippery shoes that aren't just for working are: Tory Burch, Geox, Naturalizer & Hush Puppies.
Luckily for you, these happen to be some of the most comfortable shoes you can buy as well! We've shared a list below with some of the best — and stylish — slippery resistant shoes for every occasion.
---
Shop Non-Slippery Shoes:

---
Smooth soles are not your friend if you're looking for non-slippery shoes. No texture, means slips are bound to happen. Especially on hardwood floors. And slick tiles, oh gawd! So if you're attending an event indoors, make sure that your shoes' soles are not smooth.
Hopefully our list has taught you how to make shoes less slippery. Or at least has introduced you to a few retailers that make cute non-slippery shoes.
Did we miss anything? Did any of our tricks and tips help you? Let us know what you think of our list, in the comments below!
Looking for more shoe care hacks? Check out all my post talking about shoe care tips, here.
Written by Meagan E. & Cristina M.
Disclaimer: Attempting to make your shoes less slippery by yourself may cause irreparable damage to your beloved heels & boots. It's usually safer to take your footwear to a professional specializing in how to put traction on shoes. Highly recommended for your pricey Choos & Blahniks!