Are you wondering what shoes to wear with rompers to create casual spring-to-fall outfits? Or perhaps you want to learn how to dress up a romper outfit for a date or fancy outing?
In today's post here at shoe-tease.com, I'll show you which heels, flats, boots and shoes to wear with a romper. Yes, any romper!
In this post, you will learn how to style a romper with the right shoes and accessories. You'll also know how to complete your romper outfit for casual and formal events.
Any "romper" that falls under the knee is considered a jumpsuit, but don't fret! Feel free to read my post about the best shoes to wear with a jumpsuit, instead!
11 Best Shoes to Wear with Rompers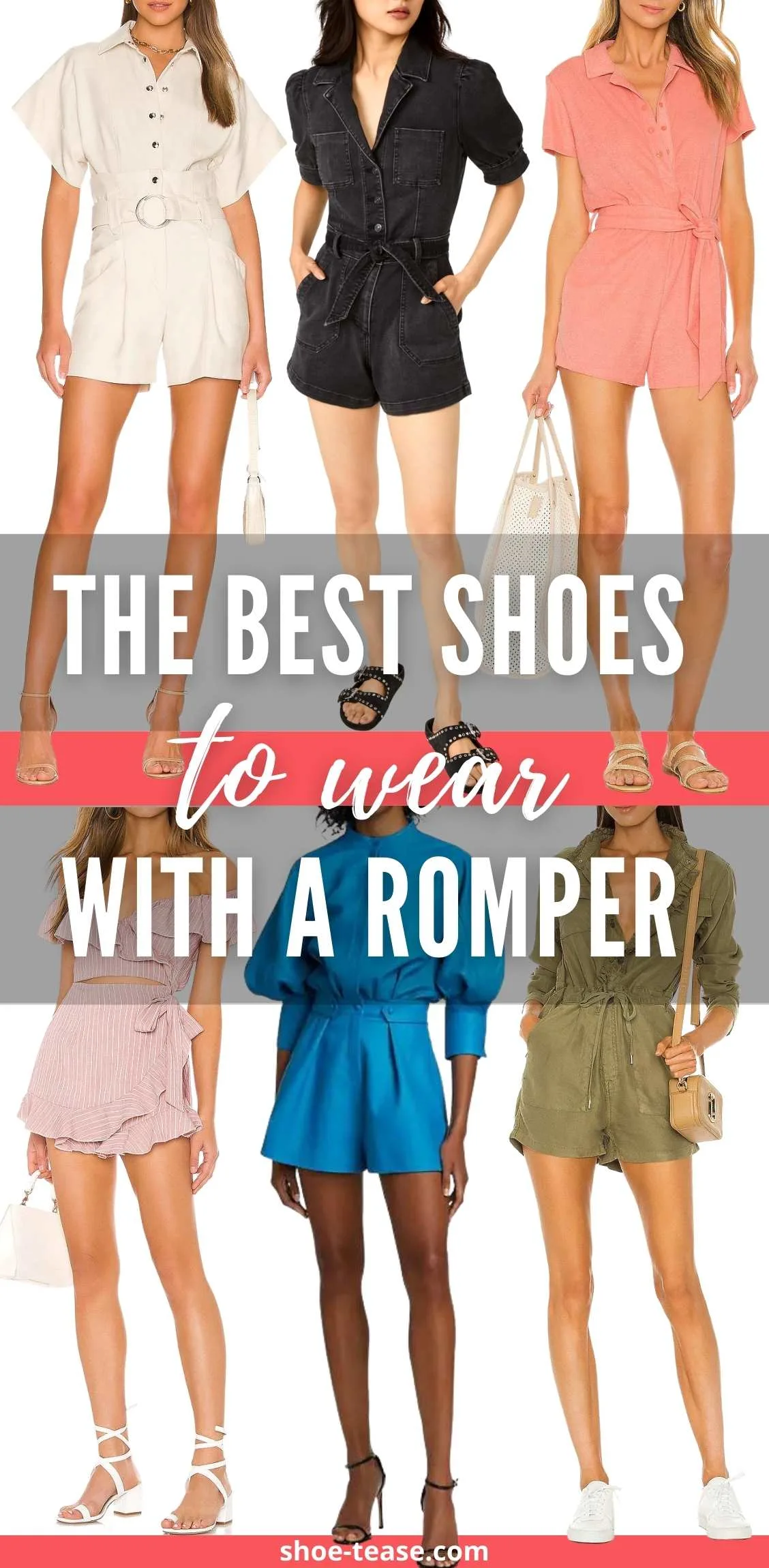 What is a Romper?
But wait..what is a romper exactly? A romper is a fun article of clothing that combines shorts and a top to create one piece of clothing. Some people wonder what the point of a romper is.
I mean, why not just wear a pair of shorts and a shirt and be done with it? This is fashion, baby, so the purpose is much less important than the look!
Rompers can be loose or fitted, over or at the knee. Some can even look like mini dresses. Although most are suited for casual summer occasions, you can also dress certain styles up or down and layer jackets and sweaters over them. Of course, the shoes you select will be critical!
Since rompers continue to be fashionable, they are available in various fabrics, colors, prints, styles and sizes for different body types. So you've got options, and don't have to settle for a basic black style.
That being said, I love a simple, streamlined classy black romper. Because with the right shoes, accessories and hairdo, you can make it fancy enough to attend a summer wedding or dress it down for a quick jaunt to the grocery store.
Below you'll find my top 11 shoes to wear with rompers:
1. Romper Outfits with Sneakers & Tennis Shoes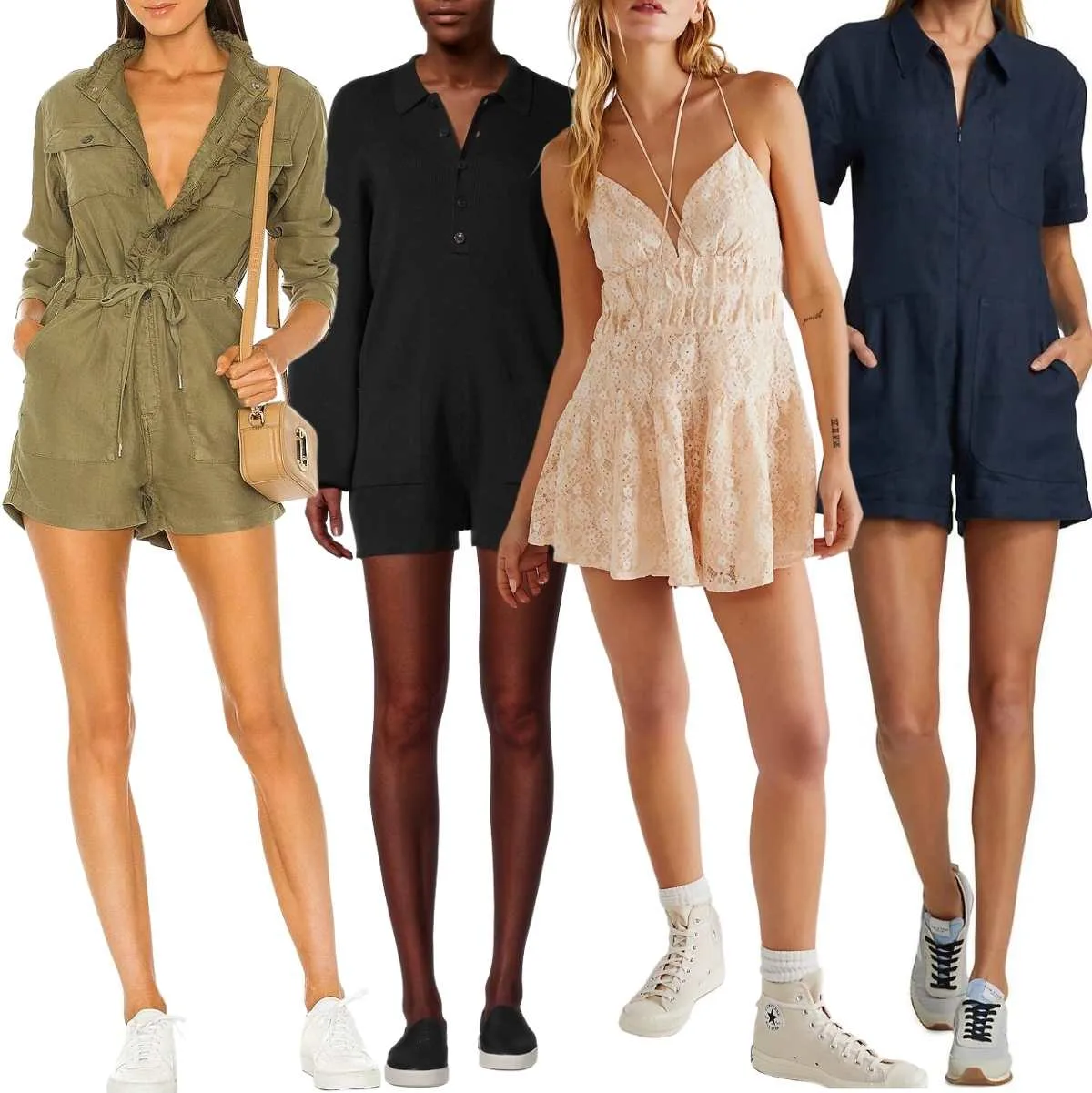 Sneakers are a great choice if you're looking for casual shoes to wear with a romper. Sneakers and tennis shoes are comfortable, but they're also incredibly chic – especially trendy white styles.
No matter what your romper looks like, you can find a sneaker style to match! Keep your look ultra-casual with a denim, chambray or loose floral romper, paired with canvas lace-ups or perforated slip-on sneakers.
Add a utility or jean jacket with a canvas shopper or leather cross-body bag to complete the look.
Opt for a structured romper in black or white with slick pair of white leather or metallic sneakers for a slightly more elevated outfit. Want something edgier? Pair a minimal romper with a chunky pair of color-blocked sneakers.
Add a trench or moto jacket, structured purse and gold hoop earrings and you're ready for that concert or brunch date!
2. Romper Outfits with Leather Slides & Clogs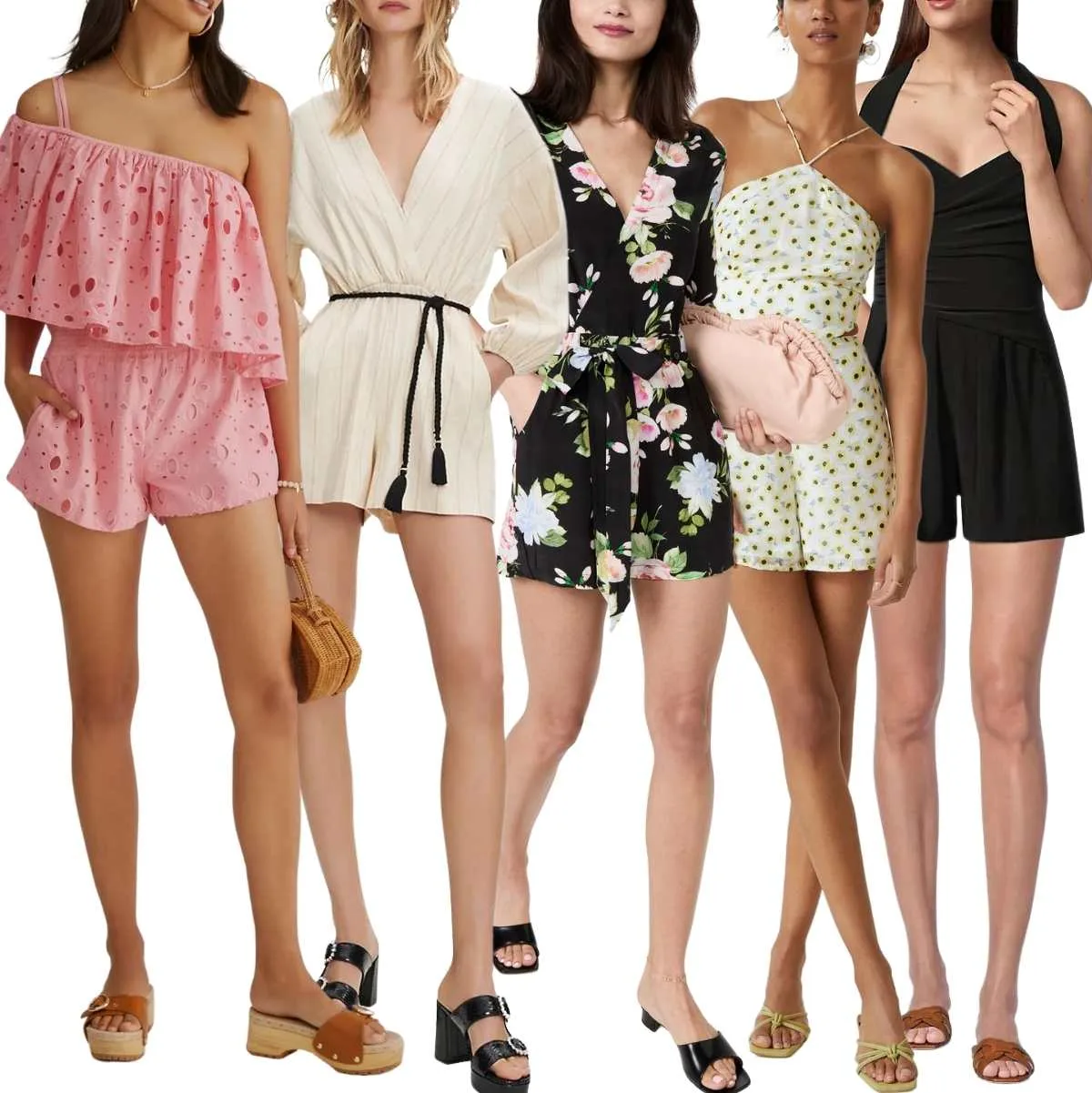 Rompers are one of the hottest trends this summer, and they can be styled in a variety of ways. One of my favorite looks is pairing a romper with a great pair of leather slides.
Leather slides can dress up a romper and take your look from day-to-night. If you're looking for a more casual look, try pairing your romper with a pair of flat leather slides.
For a night out, add a touch of glamour with a pair of leather slides with a platform heel. Need a lift, but want to keep things casual? A classic Dr. Scholl's clogs are the way to go.
No matter how you style them, leather slides are the perfect finishing touch to any romper outfit. Check out more great outfits to wear with clogs in my latest post!
3. Romper Outfits with Sporty Slides & Birkenstocks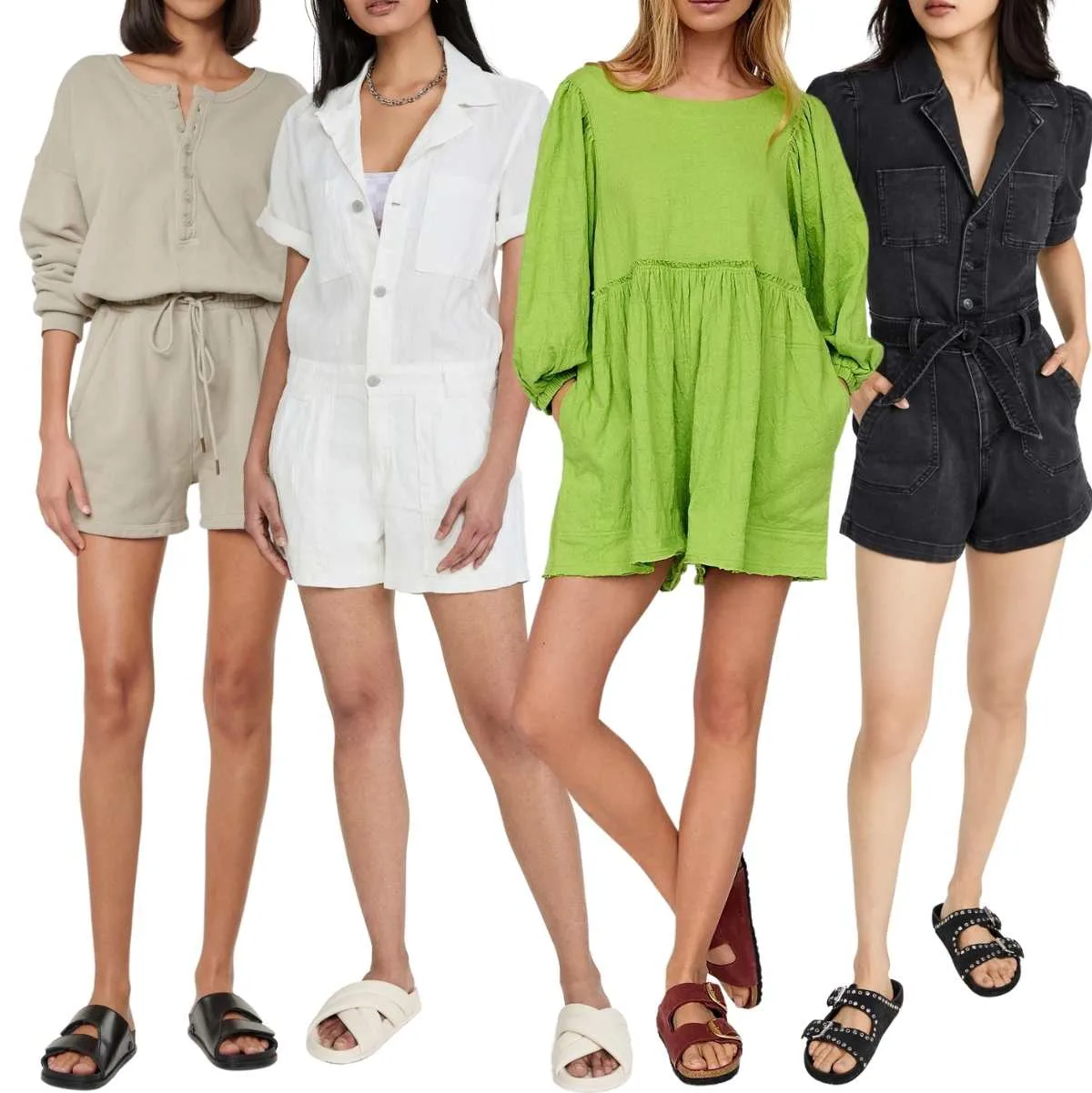 If a laid-back look with your romper is what you're after, slip into some sporty slides, whether classic Adidas Adilettes or a trendy, puffy criss-cross style.
For a more earthy vibe, Birkenstocks are the way to go. I love a black leather version, especially if studded, to add an edge to a structured romper without making it too casual.
If casual cool is your vibe, reach for a low-key linen or drapey romper with a classic suede pair of Birks. However, if you reach for this kind of sandal, make sure they are in great condition, so it won't make your romper outfit look drab.
Layer over a utility jacket, or light, flowy sweater and finish off the look for a similarly styled purse to your slides. Fringe crossbody purses or straw handbags look fab with Earthy sandals. Leather handbags or totes are a great pairing for studded or athletic looking slides.
Check out more ways to wear rompers and other outfits with Birkenstocks in my dedicated Birks styling post!
4. Romper Outfits with Minimal Sandals
Rompers make the perfect summer outfit – they're cute, stylish, and comfortable. But what shoes should you wear with them? While there are many heeled options, minimal sandals with thin straps are the way to go.
Not only do they give you extra height (which is always welcome), but they also elongate your legs and make them look even more gorgeous. Plus, they're the perfect shoes to show off your pedicure! Pick a high stiletto heel, kitten heel, or block heel if you want a more sturdy strut.
If you're looking for the perfect shoes to wear with rompers, look no further than minimal sandals. Try a skin-tone matching pair with thin stiletto heels or clear heels with transparent straps and lucite heels. You'll love the almost naked way they look!
5. Romper Outfits with Strappy Sandals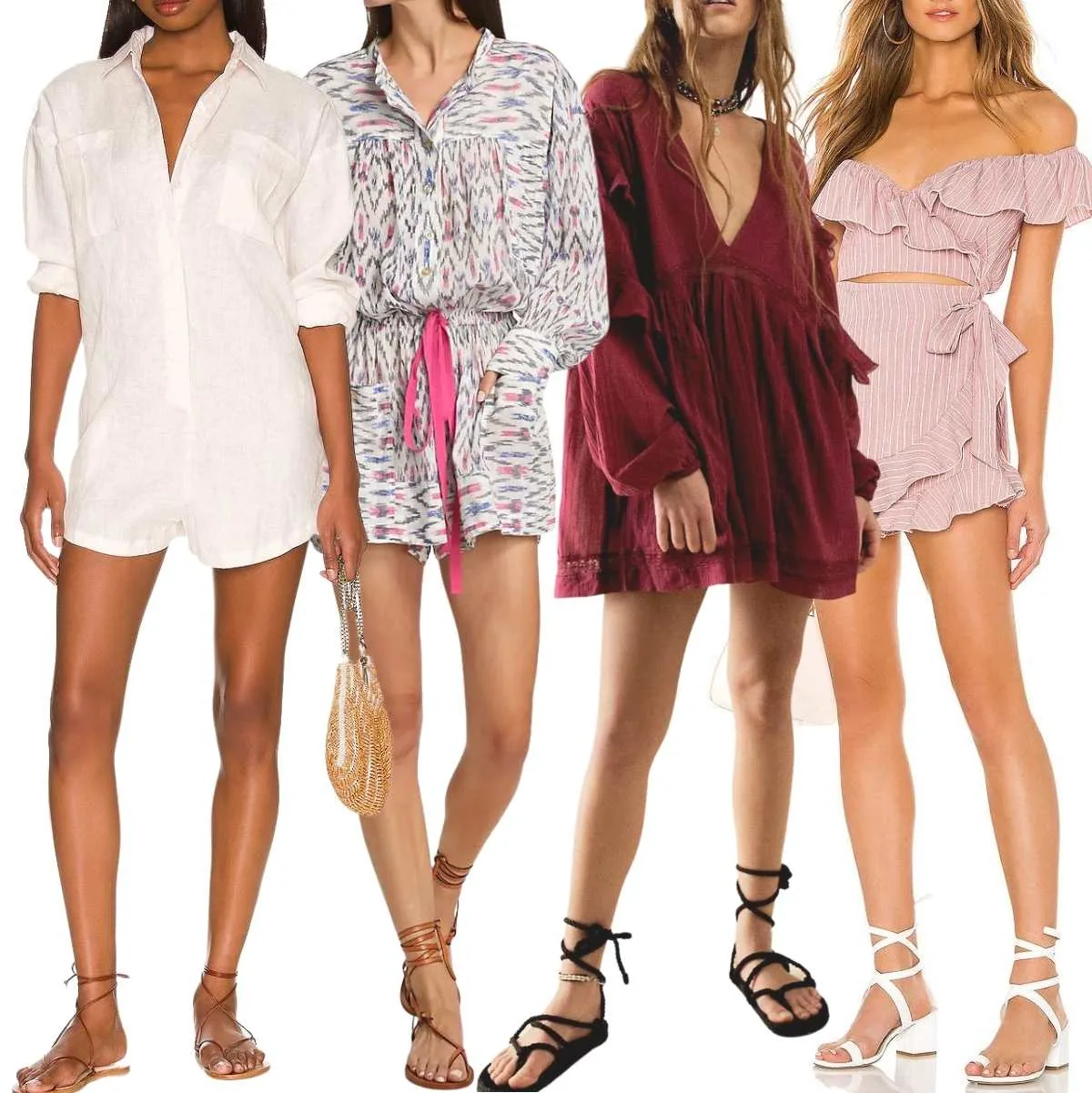 Strappy sandals that wrap around the ankles, whether low heeled or flat make great shoes to style with a romper outfit.
They're flirty, and are a good balance between a high heeled formal shoe & a more casual one. Because of this, strappy sandals with rompers can be easily dressed up or down.
An all-black or white fitted romper with black strappy block heel sandals is perfect for a night on the town. Add a metallic clutch, sleek hair and a pair of statement earrings.
Choose a tan, brown or skin-tone pair of strappy sandals to complement a day look with any type of loose or linen jumpsuit. A brown leather tote bag or cross ody will complete the look.
6. Romper Outfits with Espadrilles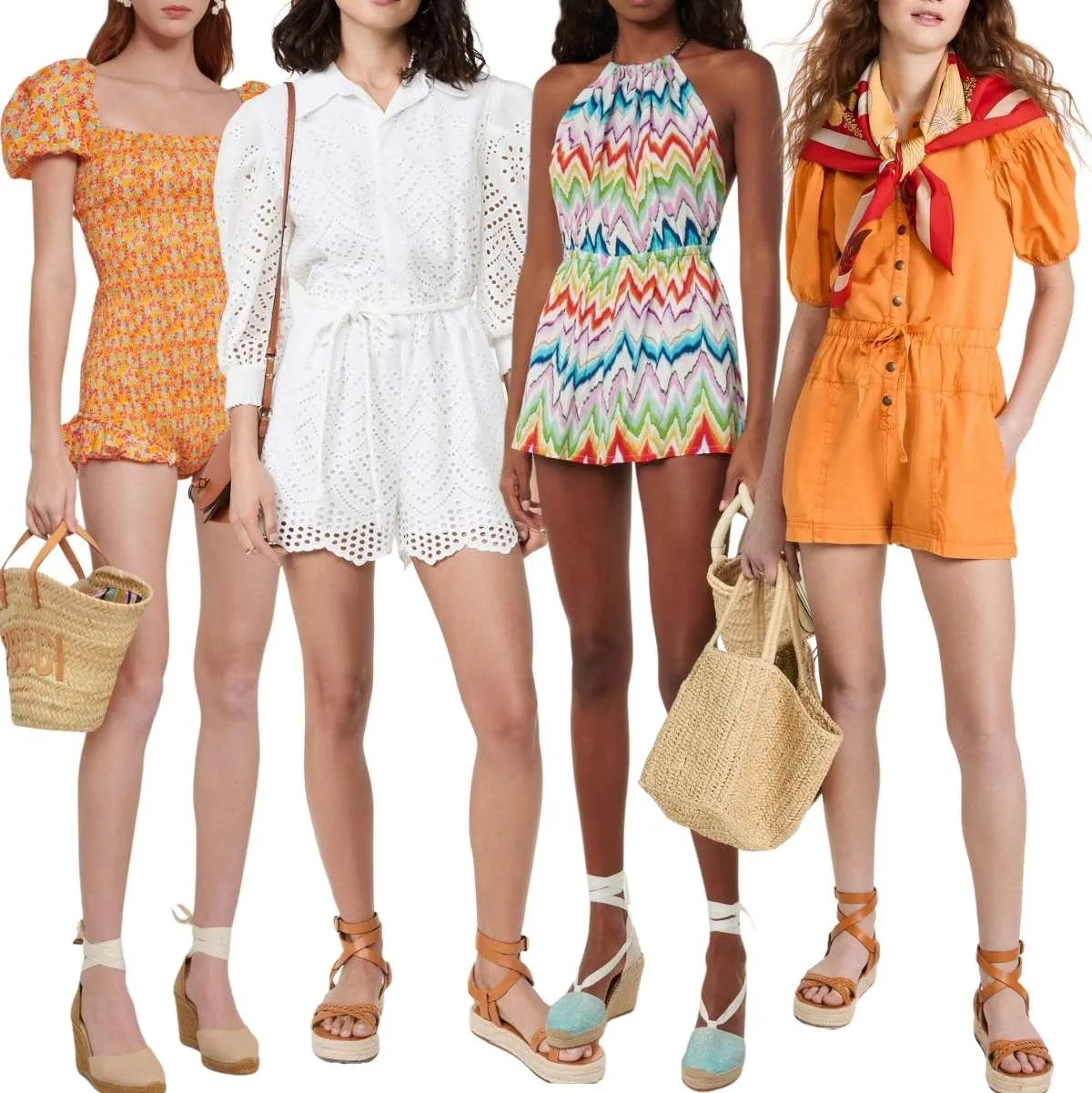 There's nothing quite as effortlessly chic as a romper, and when it's paired with the right shoes, it can be downright unstoppable.
While high heels can sometimes look too formal, and flats can be a little too casual, espadrille wedges strike the perfect balance. They elevate the romper in just the right way and are also super comfortable.
They have that cool, bohemian-meets-country-girl feel that looks effortless for summer romper outfits. And when it comes to styling a romper with espadrilles, there are endless possibilities.
Throw on a denim jacket for a casual look, and add your favorite summer straw hat.
7. Romper Outfits with Combat Boots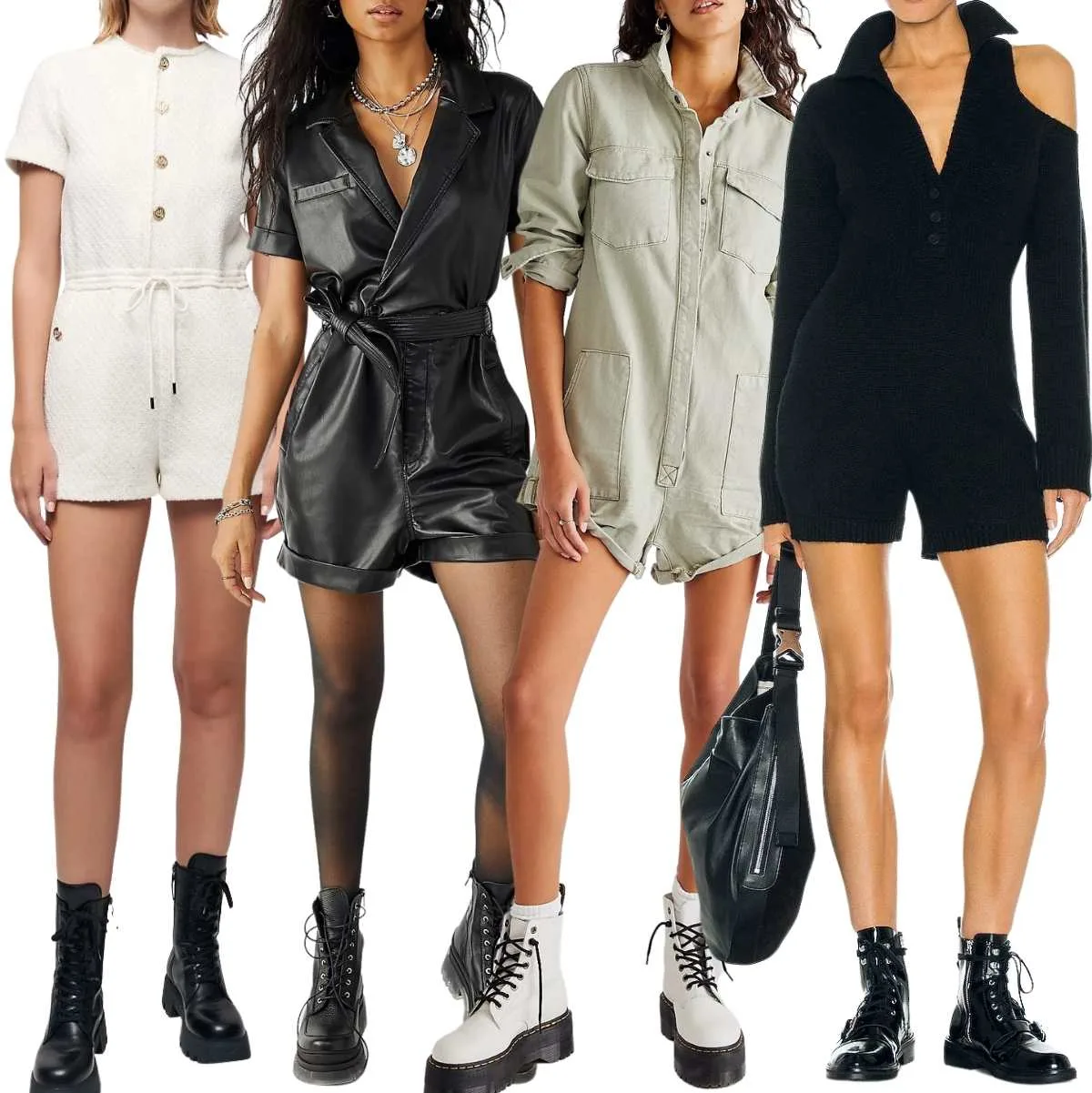 Transitional months call for combat boots and rompers to give your look an edge. Combat boots are shoes that go with anything, including any kind of romper.
However, I prefer sleek black leather or utility rompers to create an edgy vibe. Especially black combat boot with a lug sole! A fun option to try is a Chanel-style tweed romper. I love moto or military jacket with this look, complete with a chic leather handbag.
You can also pair of bohemian style romper with white or tan combat boots for a more toned-down look. Layer over a denim jacket and an in-tone purse such as brown or beige. Learn more on how to style combat boots in my dedicated post!
8. Romper Outfits with Cowboy Boots
Cowboy boots are one of the most versatile and stylish trendy boots that can be worn year-round, but I love them for spring/summer.
They pair well with a romper as they can give either an edgy or bohemian vibe with the right romper and accessories.
Wear a black romper with a metallic, black or black/white leather cowboy boot for a night out. Adding metallic hoop earrings, jewelry and a fun clutch to complete the look. For a chilly evening add an oversized blazer.
For a touch of bohemian cool, pair a white romper with beige leather or tan cowgirl boots, adding a denim jacket & fringe crossbody. Put on a Western hat to go all out!
No matter what style of romper you choose, cowboy boots are great shoes to wear with rompers to add a touch of trendy cook to your look. More info on how to wear cowboy boots with dresses, if you're interested!
9. Romper Outfits with Pumps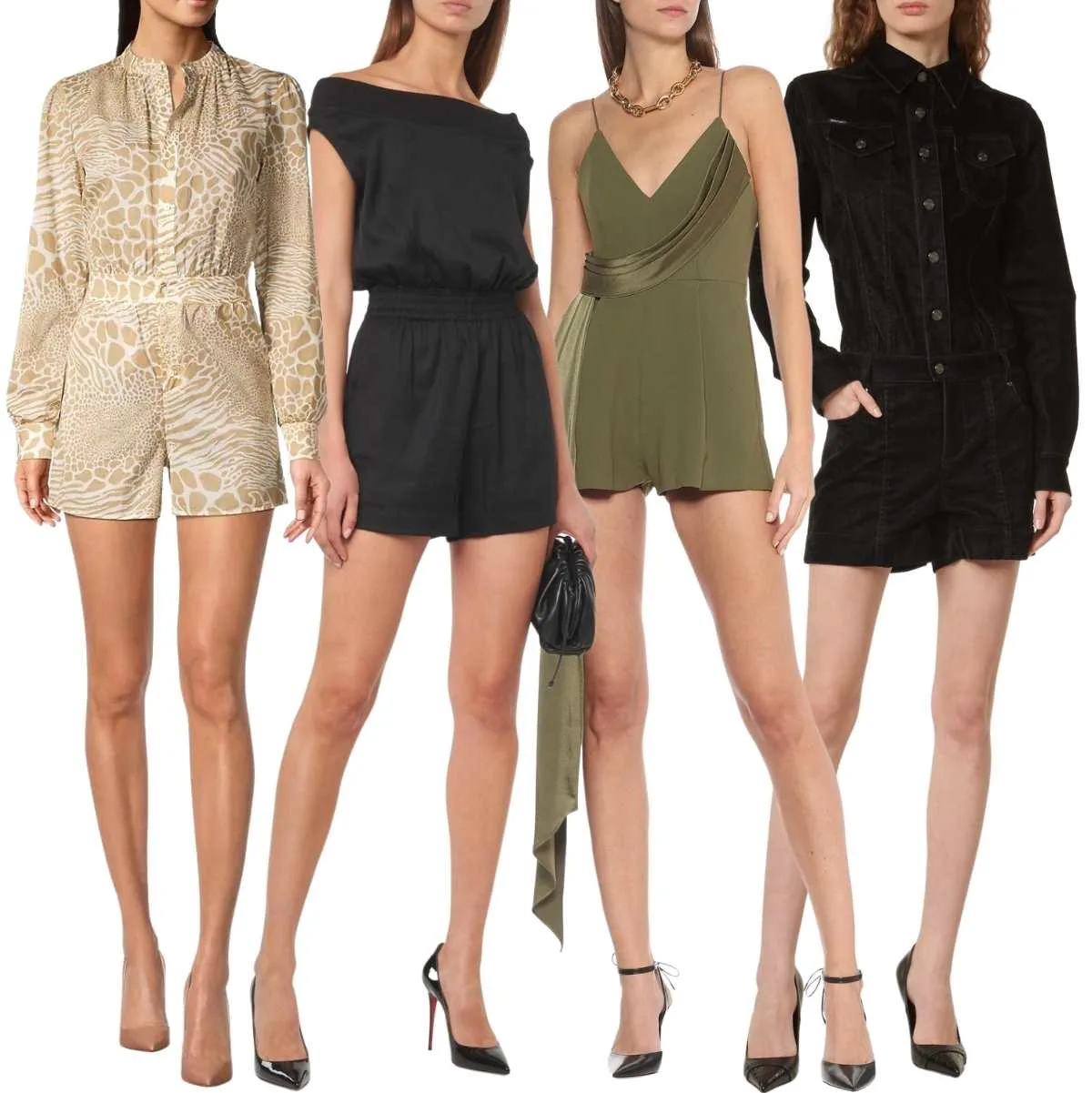 If you're looking to wear a more formal jumpsuit to a party or fancy occasion such as a wedding, pumps are a great shoe choice.
Black or silky dairy rompers look fab with pointed-toe stiletto pumps. I love a fine ankle strap, but that's optional. Layer over a tuxedo jacket and fine jewelry and a swanky updo for an elevated occasion.
Black or brown pumps with shorter kitten heels can work well with a more casual look with a long-sleeved utility romper. Add a matching handbag and pair of trendy shades to have lunch with the ladies after a day at the office.
10. Romper Outfits with Loafers & Oxfords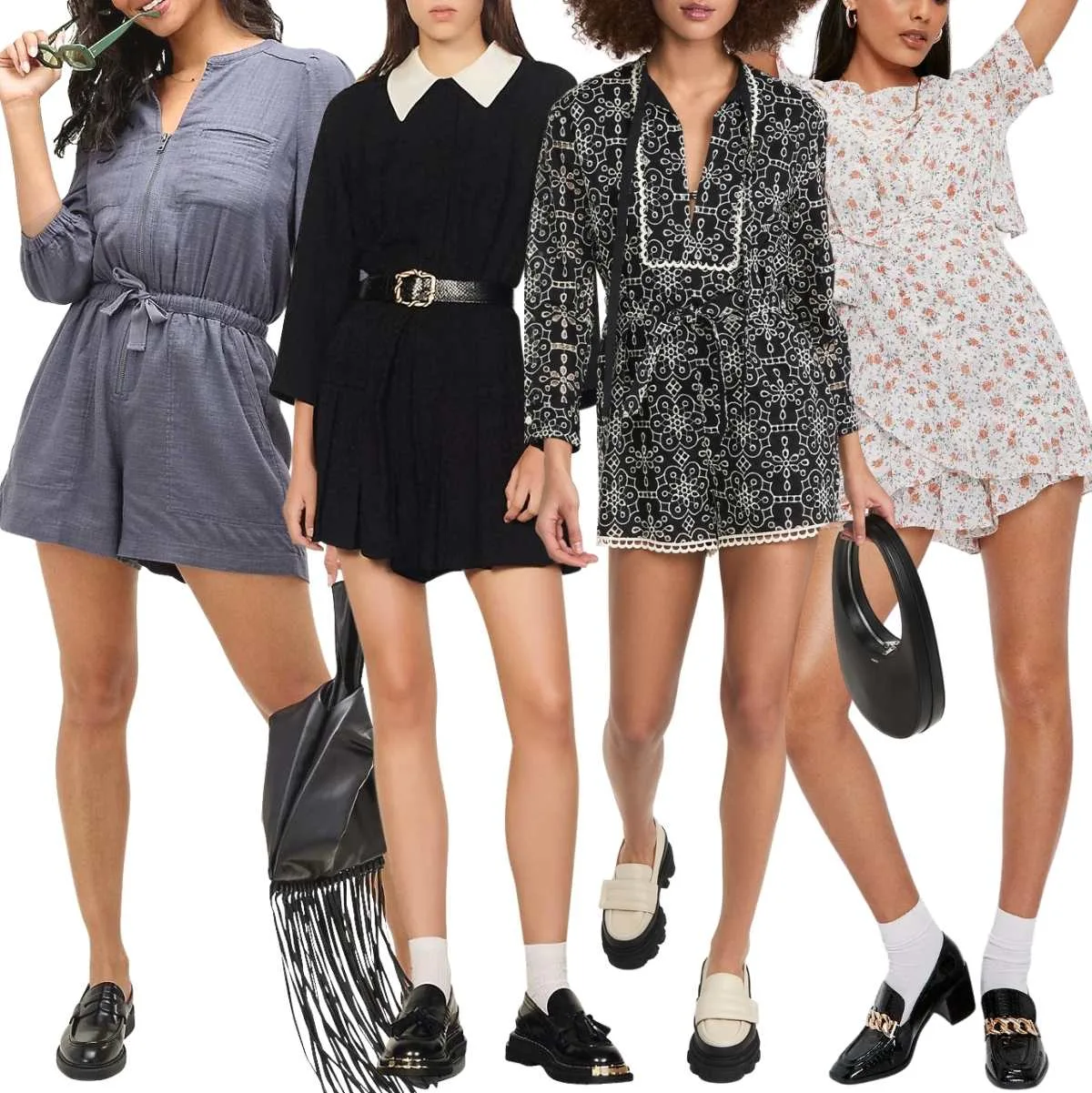 Loafers and oxfords are classic shoes that are great to style with a romper. A great combo for office looks or more conservative romper outfits. Below are a few tips on how to wear rompers with loafers and oxfords:
Choose a shoe in a similar color family as your romper. This will create a cohesive look. Try an oxford with a sporty platform or lug sole loafer if you're wanting to add a touch of style.
Consider adding a pop of color or metallic shine with your oxfords. These will brighten up a neutral-colored romper and inject some fun and personality into your romper outfit.
Keep the rest of your accessories simple. Since shoes are the star of the show, stick to basics when it comes to jewelry and handbags. A pair of hoop earrings or a delicate necklace will suffice.
With these tips in mind, you'll be ready to take on anything life throws your way – all while looking fabulous in loafer romper outfits, of course! Check out my posts about the best socks for loafers and how to wear loafers with different outfits.
11. Romper Outfits with Ankle Boots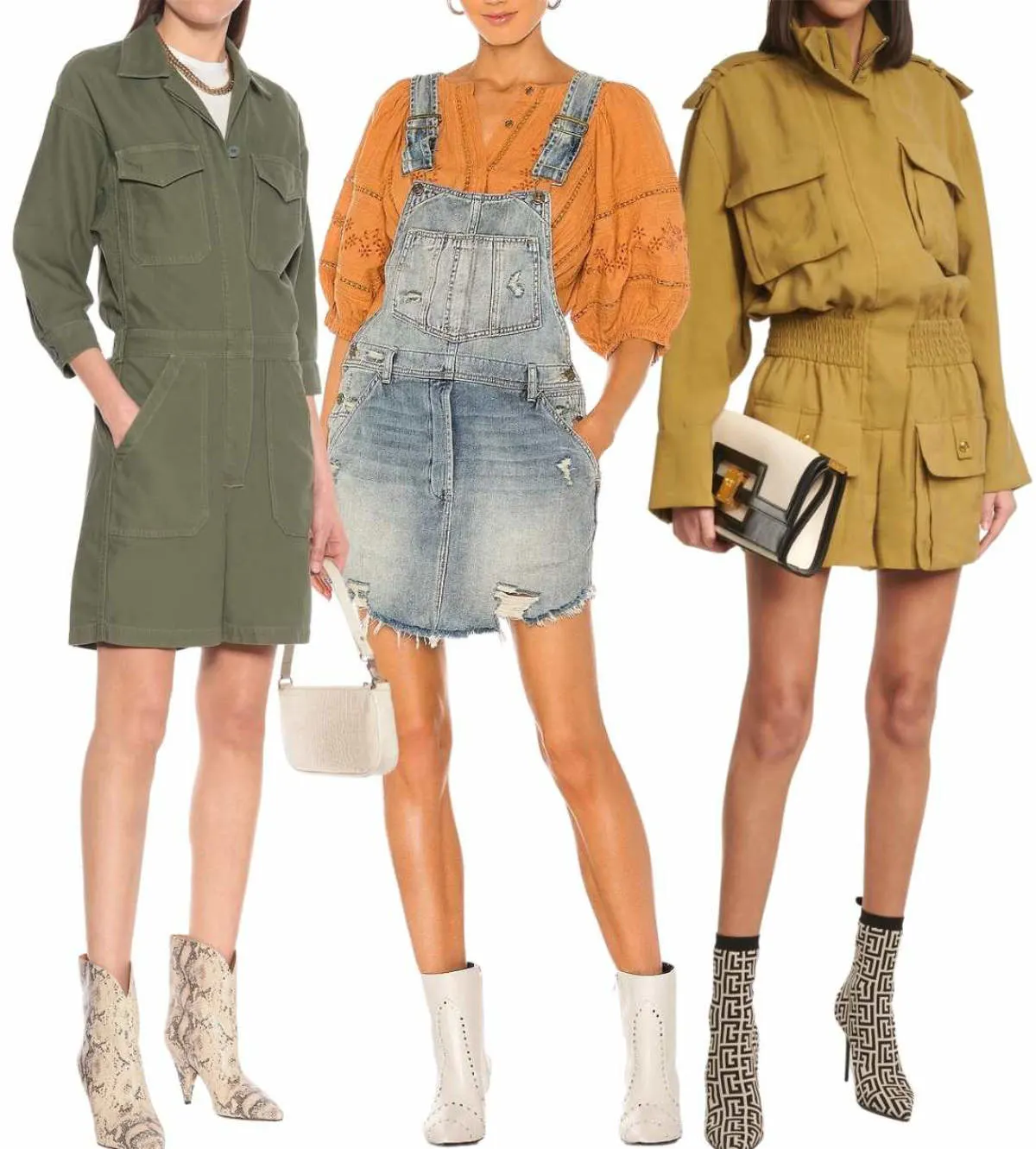 Rompers are a versatile and stylish piece that can be dressed up or down, making them perfect for transitional weather. And what's one of the great shoes to wear with a romper that you likely already have in your closet? Ankle boots, of course!
These simple low ankle boots are great to wear with a romper during transitional months. Leather ankle boots work well with utility and leather rompers during the fall. Western style or perforated ankle boots make great boots for rompers during the spring.
Pick a pointed toe stiletto sock bootie for a more formal romper outfit. Whether you're headed to brunch with the girls or a date night with your person, ankle boots are the perfect way to take your romper from day-to-night.
Shop Classic Ankle Boots for Women:
Final Thoughts of Shoes to Wear with Romper Outfits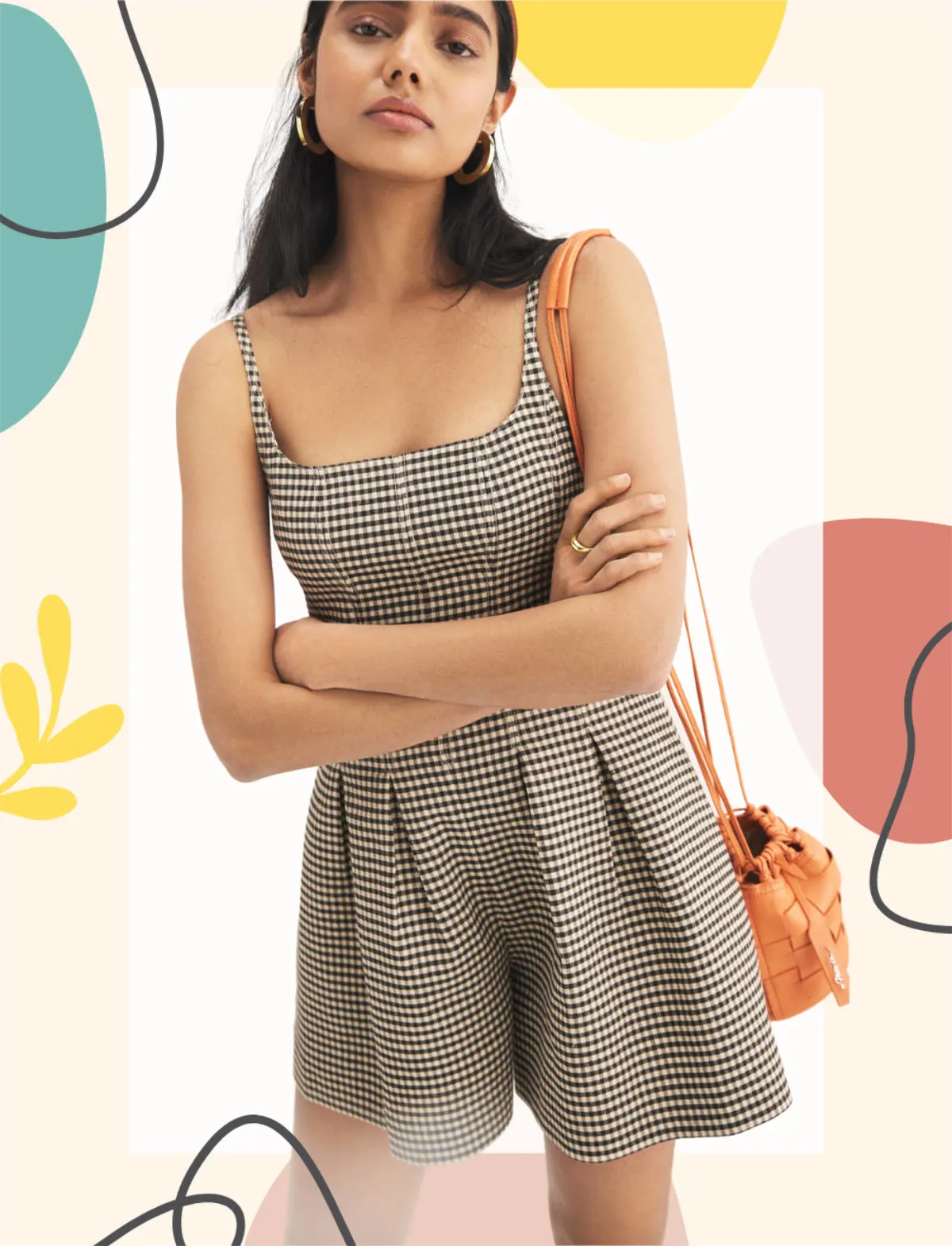 Now that you've read through this post on how to style a romper, you'll see that there's a lot to think about when wearing them! These include the type of shoes you want to wear, the right color pairing and which accessories to style them with.
You'll also need to consider the romper style and the occasion you're wearing it, for a proper shoe pairing. That being said, rompers are easy casual pieces of clothing that can look great for a beach outing, depending on the design.
Fitted and more structured rompers can be worn to a more formal event. All with the right shoes & accessories, of course!
Hopefully, now that you know what shoes to wear with rompers for any occasion, you're ready to create a stunning look with this trendy one-piece. Make sure the event you're wearing won't call for too many bathroom trips 😉
How are you planning on wearing your romper outfit and where to? Let me know below. I will be happy to help you find the perfect shoes to wear them with!
xo ShoeTease