Skirts are fabulously versatile. For decades, they've been a go-to outfit choice for women of all shapes and sizes!
But what are the best shoes to wear with skirts? Shoe-tease.com will answer this question in detail! Whether it's business casual, feminine, or formal, there's a skirt out there for you – and a perfect shoe to pair it with.
Mixing and matching shoes for skirts is easy. And this fashionable combo can be easily worn all year round too! From mules to sneakers — and everything in between — here are all of the shoes that go with skirts.
The first section is dedicated to the various shoes and boots for all skirt types. While the second part is all about the best shoes for specific skirt styles: mini, maxi, pencil skirts & more!
Shop stylish skirts featured in this post from Zappos, Modcloth and Nordstrom.
Grab designer skirt styles from Saks Fifth Avenue, Luisaviaroma, My Theresa and Revolve. Happy skirt styling!
Best Shoes to Wear with Skirts of all Styles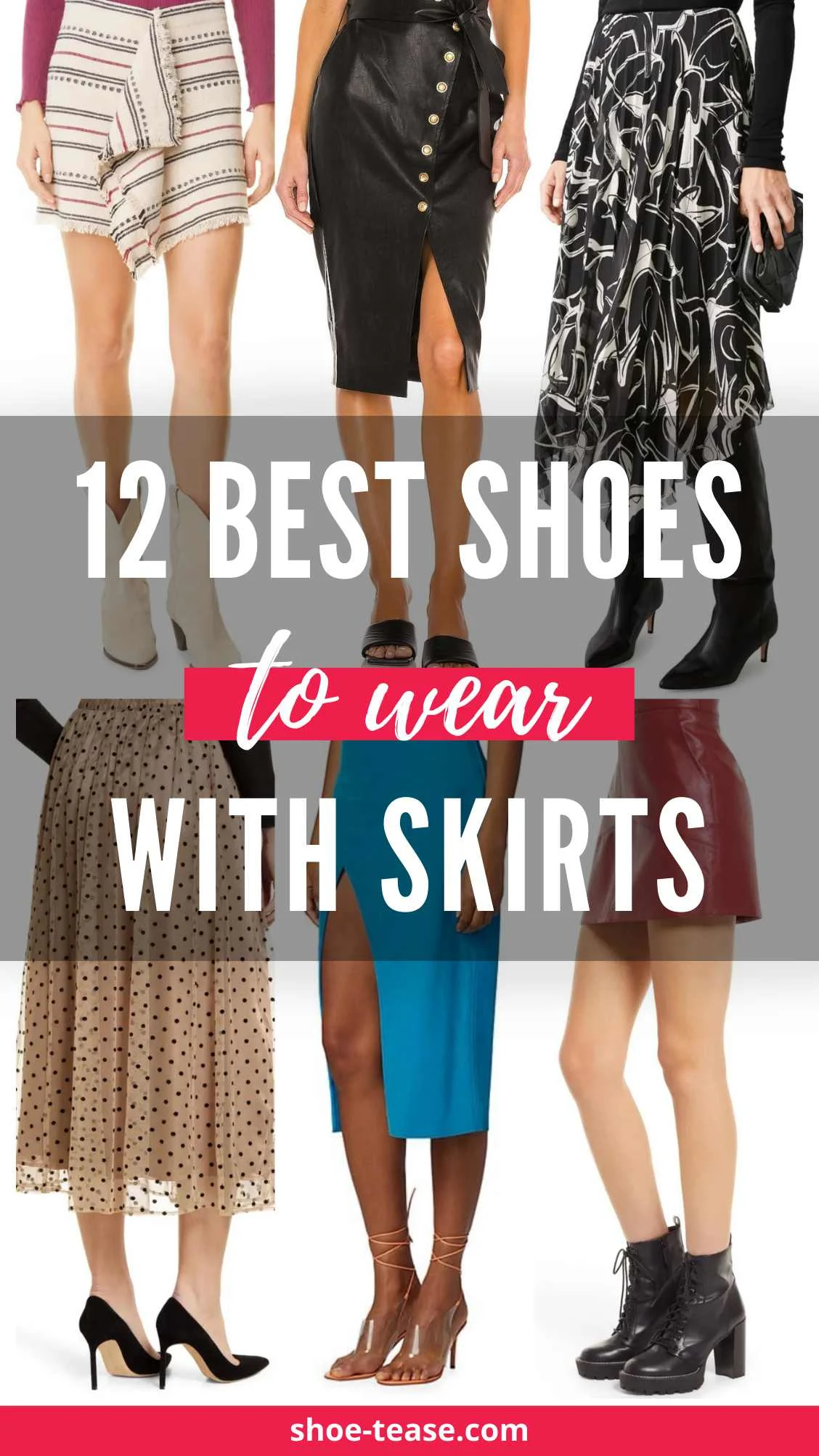 With the abundance of skirts and women's shoe styles out there, it can be challenging to pick which ones go together best. For an easy go-to for footwear choices, you can also reference my post on shoes that go with everything – including skirts!
I'll break down different shoe styles and show you which skirts will look the most stylish. After all, the options are endless!
1. Mules with Skirts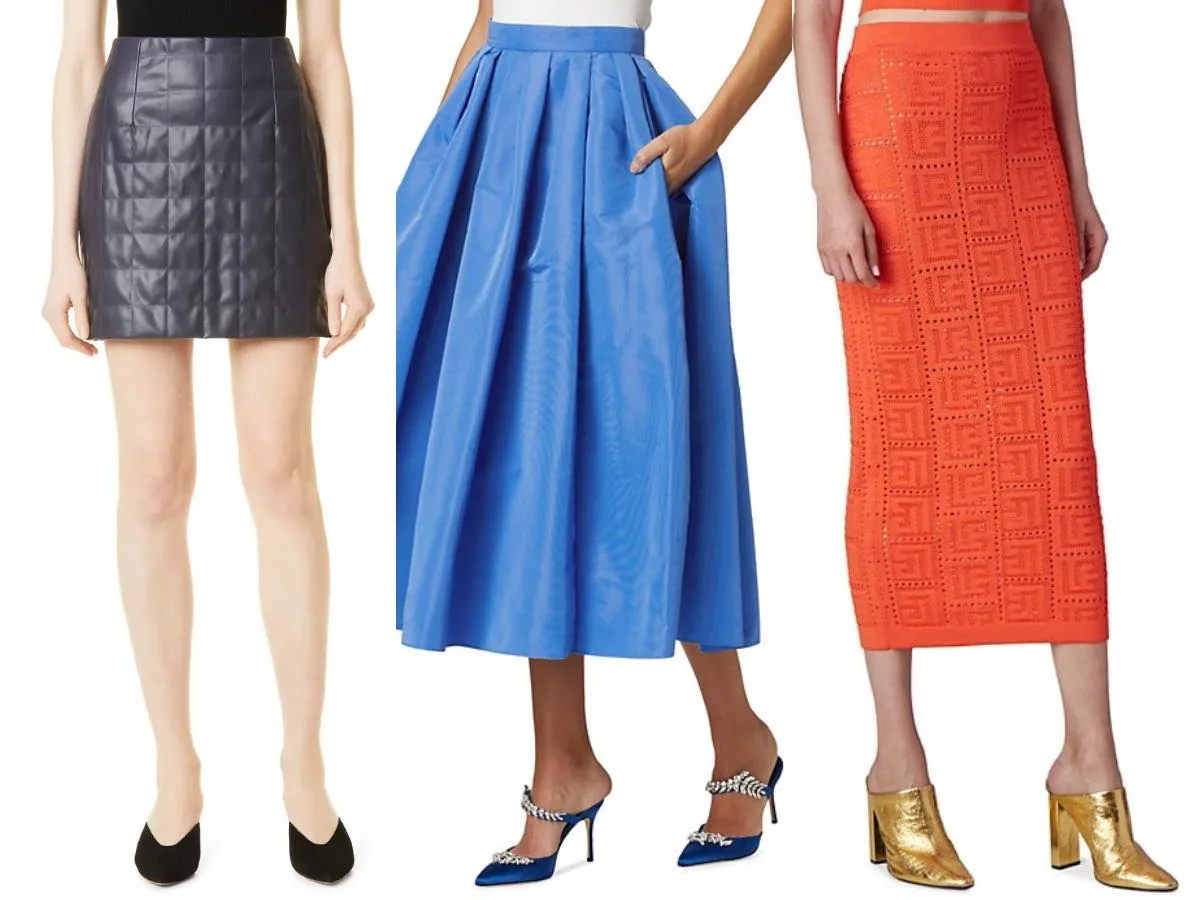 Minimalist mules
Minimalist mules look clean, with little detailing. They're a versatile shoe choice because they can adapt to your outfit. Try wearing a black pair with a leather mini skirt, cotton T-shirt & motorcycle jacket.
Loafer mules
Loafer mules have a more professional edge to them. Wear them with a midi skirt to the office with a cute, patterned blouse. Loafer mules can also be jazzed up with buckles or tassels.
High heel mules
Get your sexy on with high heel mules. Going for mile-long legs? Wear them with a mini skirt.
For something more fashion-forward, try a voluminous midi skirt. High heel mules may also feature gems, studs or other intricate details, especially for more formal occasions.
2. Tall Boots with Skirts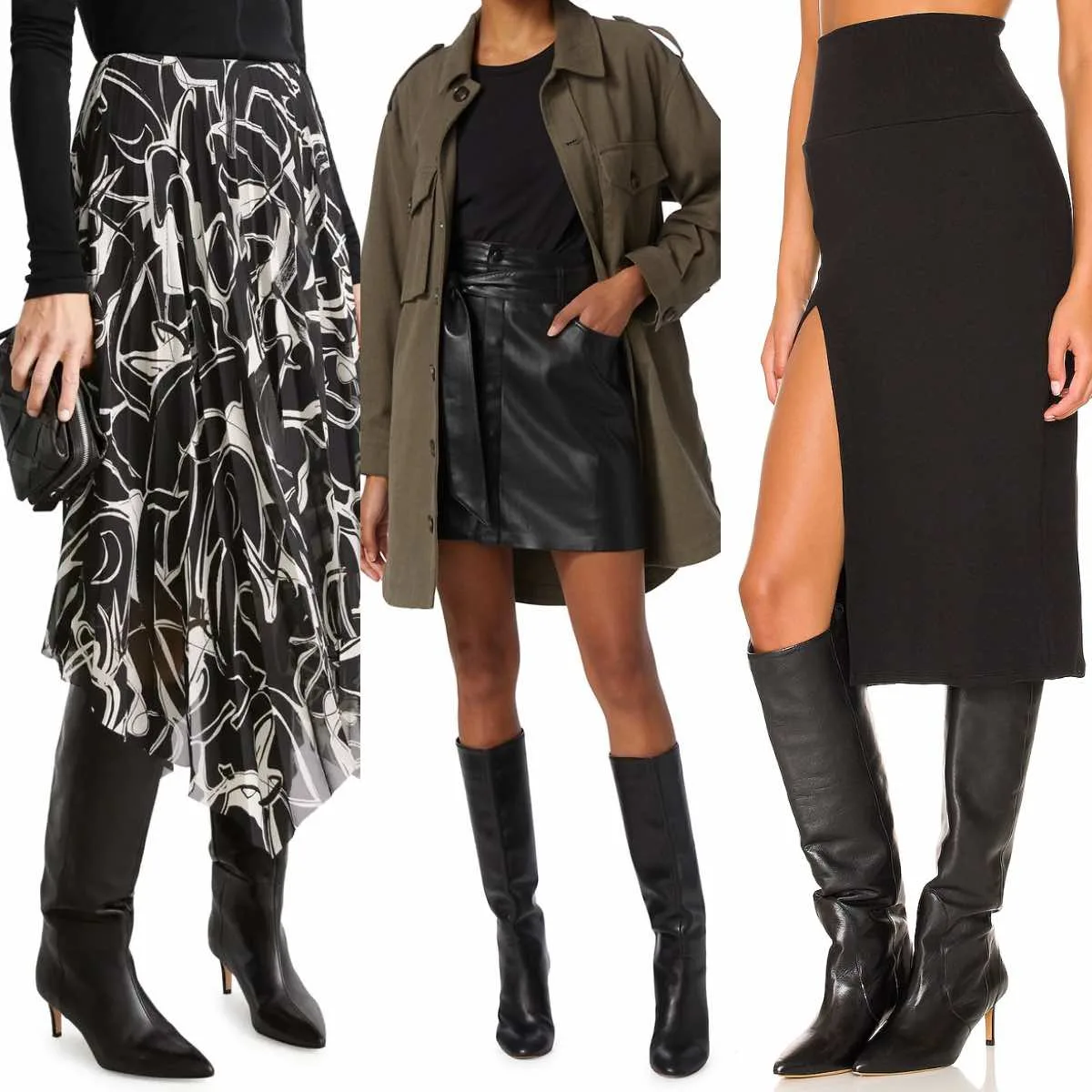 Straight Leg Knee Boots
Knee-high boots with a straight leg are a classic pair to own. They will never — and I repeat, never — go out of style. In the winter, wear them with a heavier midi skirt that reaches below the top of the boots. A gap is key!
You can get away with wearing them in warmer months too. Just keep your skirt short and breathable and your knee boots a thinner material. Check out my latest post all about how to wear knee high boots outfits with various skirts and clothing.
Over the Knee Boots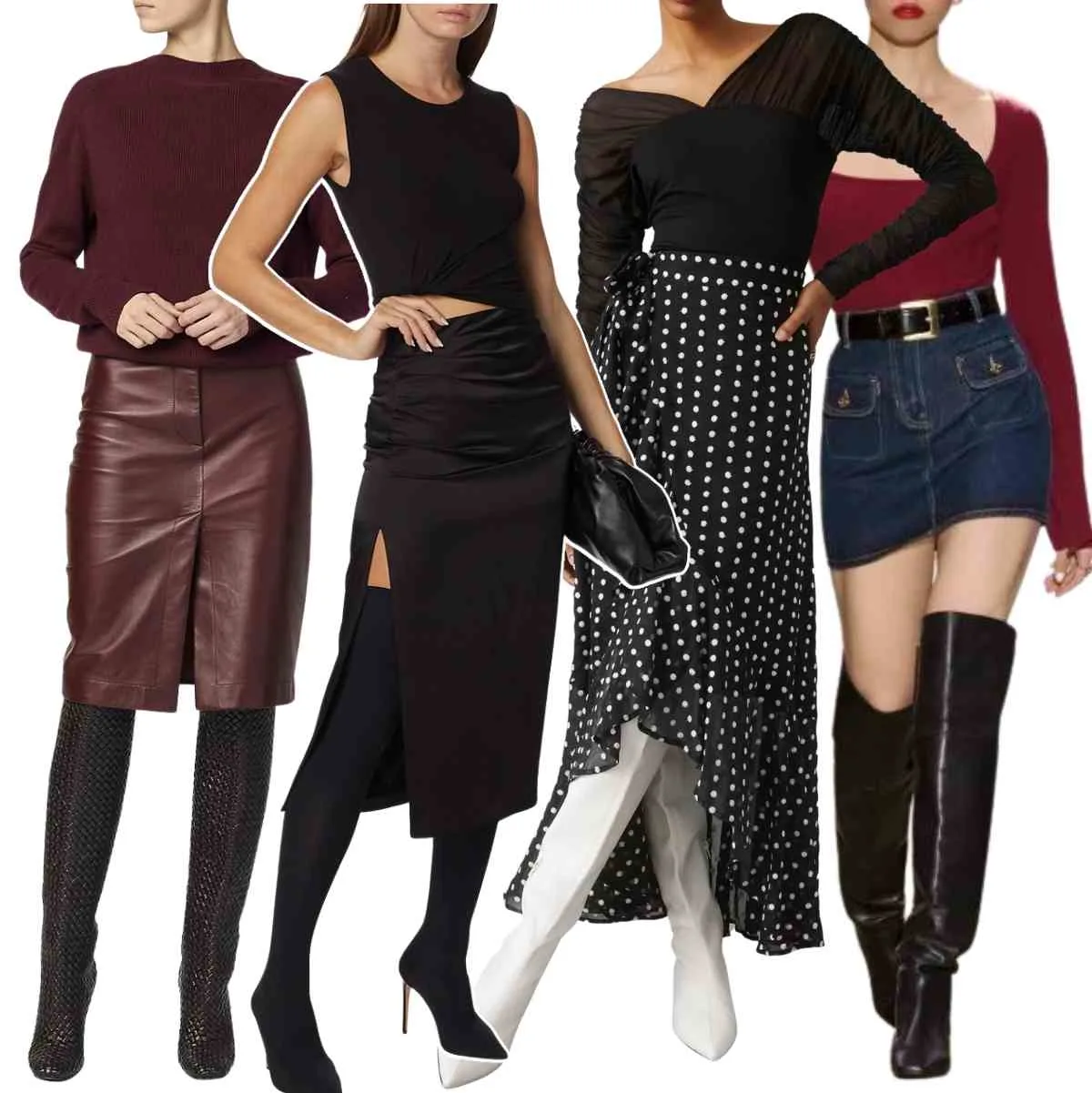 In the winter, over-the-knee boots are especially coveted. They totally remove the need for tights! They can be worn with longer skirts that feature a high slit. Or even a mini skirt.
Try a leather mini with block heel or flat over-the-knee boots plus a knit sweater. OTK Boots will help stretch your skirts into different seasons, and keep your legs warm in the process.
Check out all the ways to wear thigh high boots outfits in my latest post!
Flat Boots
There's no denying that flat or low heeled boots are flatter flat boots are easier to get around in. And they can be great shoes to wear with skirts too.
Great contenders are flat ankle boots or riding boots to give your skirt outfirt an equestrian edge.
For busy days, try flat boots with a long wrap skirt. If you still want a heel, find a boot with a kitten height or chunky block heel. Flat boots are also a great option for mini skirts, worn with or without leggings.
3. Pumps with Skirts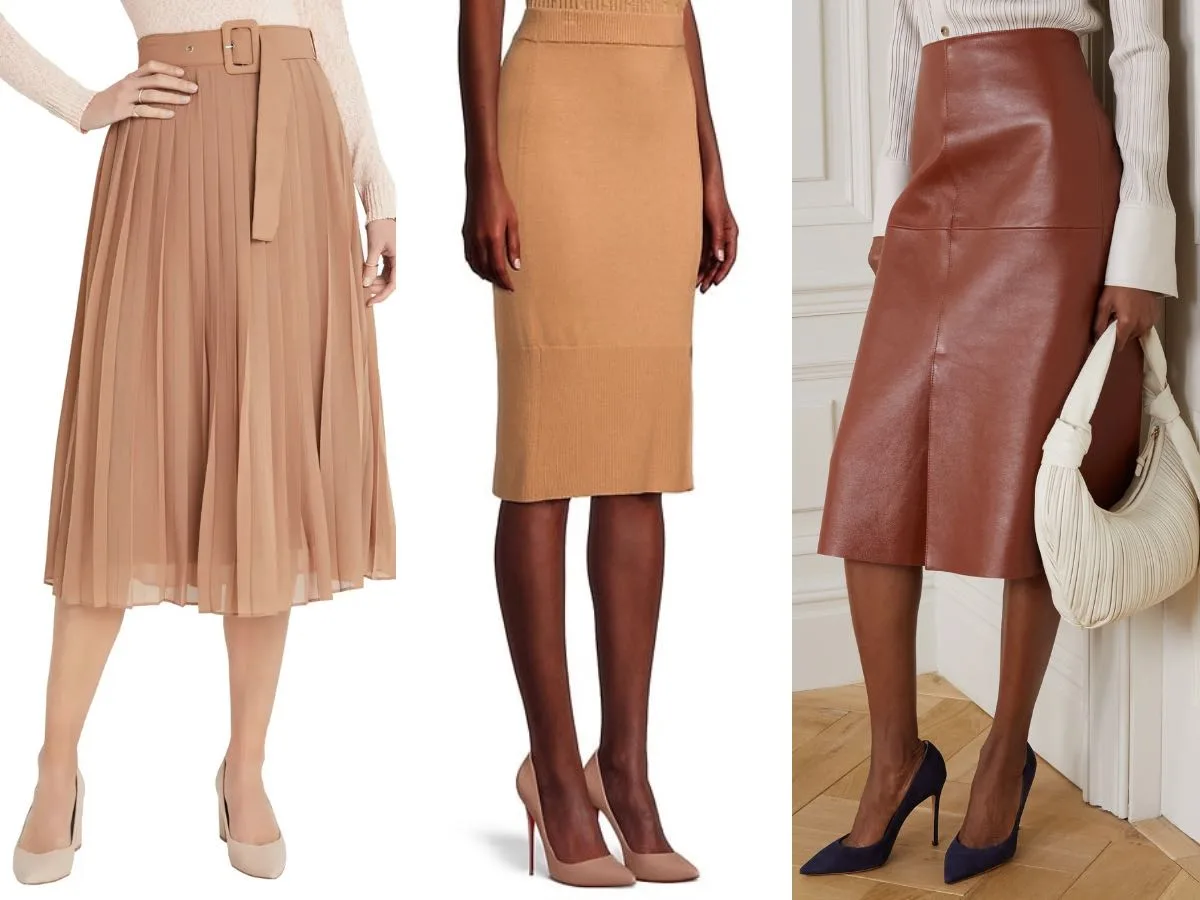 Pumps are best with knee-length and midi skirts, whether full flared skirts or pencil skirt styles. They'll give you a professional aesthetic. Plus, some extra height!
Try pointed toe leather or patent pumps with a silk slip skirt. Pair with a T-shirt and tailored blazer for a polished approach to everyday dressing.
4. Slides & Flat Sandals with Skirts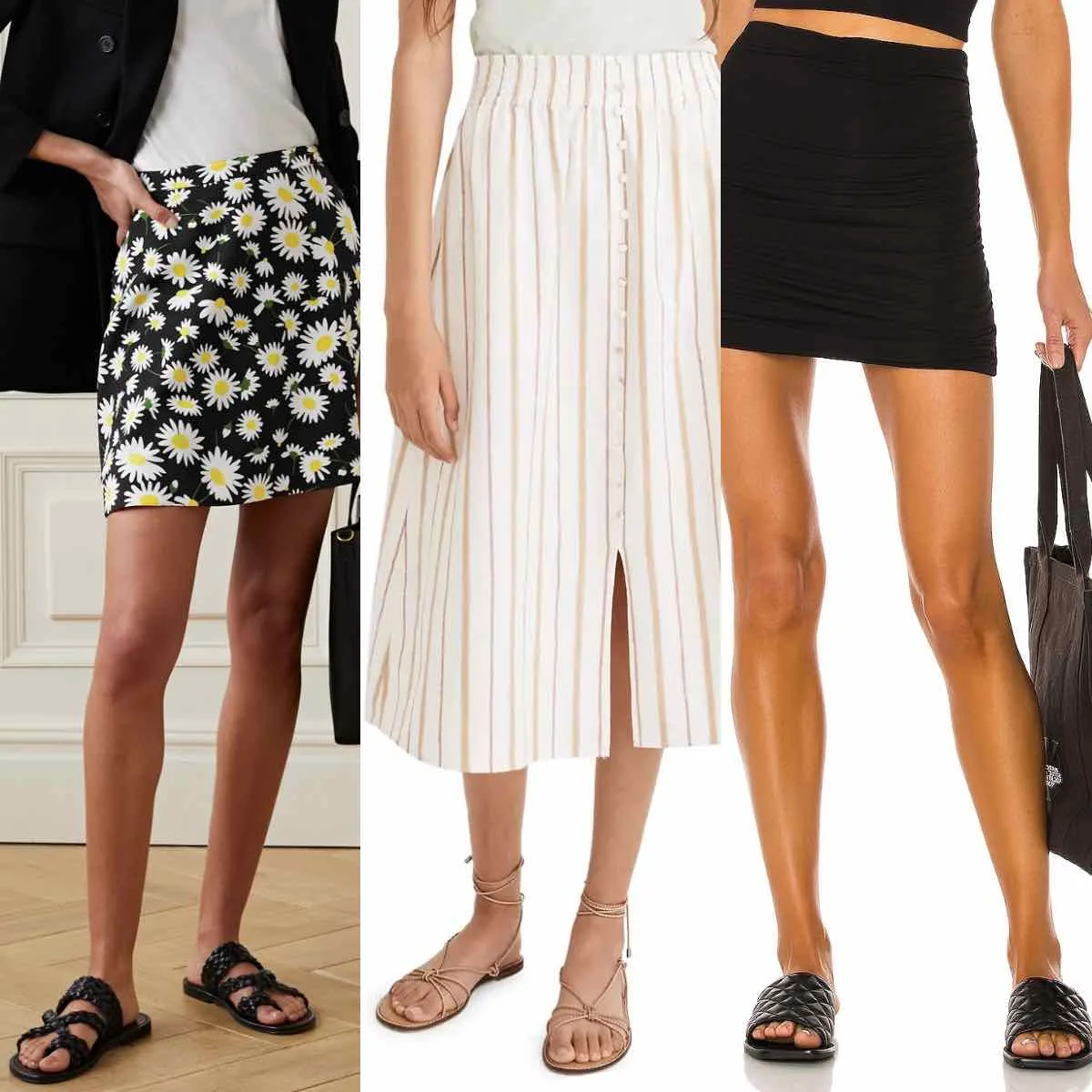 Slides for Summer
Summer style is all about staying cool. And yes, I'm talking about temperature. Throw on a cotton or linen mini skirt and slip your feet into a pair of braided leather slides. Or if you're feeling more athletic, try a stretchy mini with sporty slides.
Strappy Sandals & Lace-Ups
Strappy sandals don't always have to have a high heel. They can be totally flat. Also, they can be braided, embellished or have cute straps!
Lace-ups will easily style with a casual midi skirt — perhaps with buttons or stripes. However, strappy sandals will look great with almost every kind of skirt. I would just avoid them with pencil skirts.
5. Sneakers with Skirts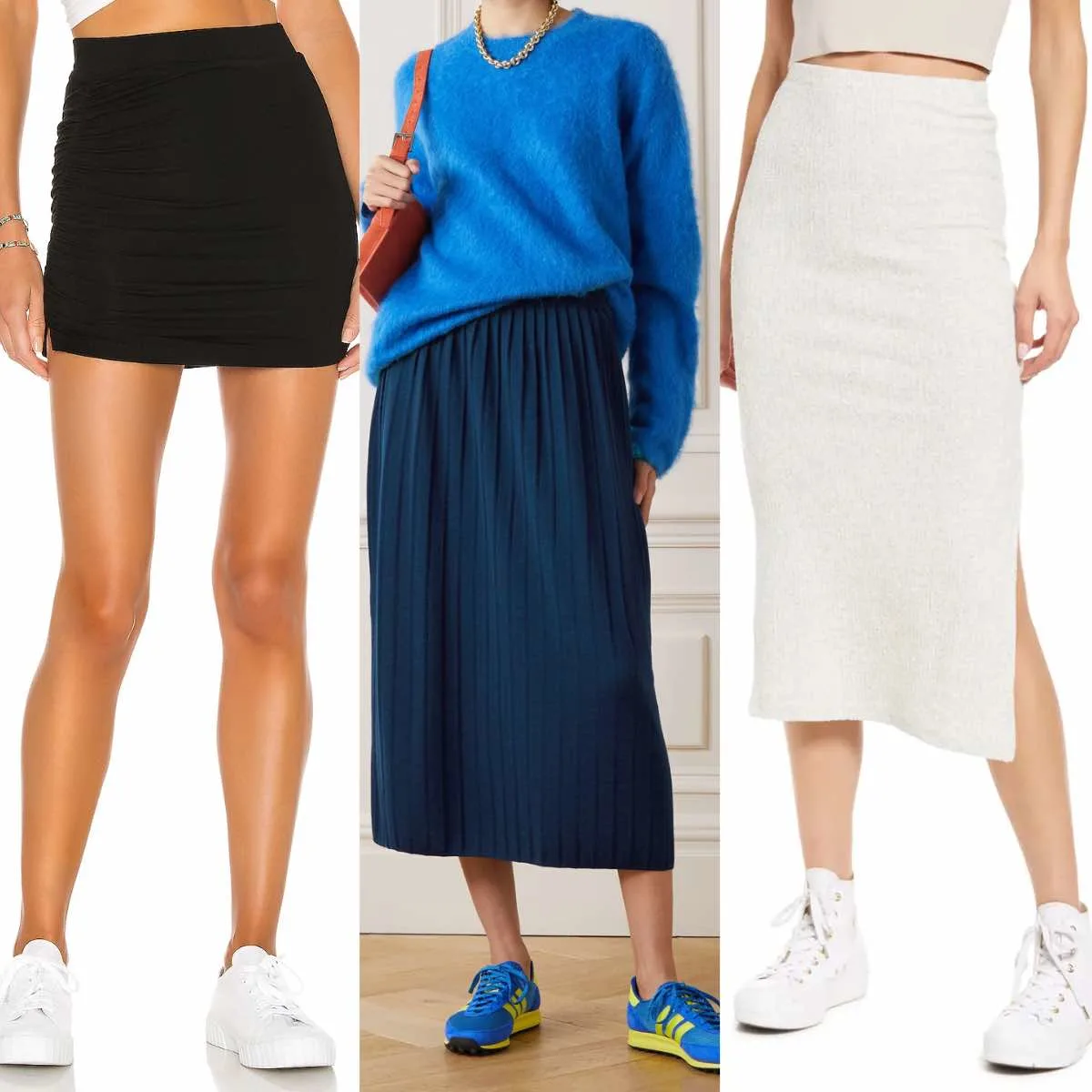 White canvas or leather sneakers
Sneakers exude a certain "cool" vibe that fashionistas love. White canvas or leather sneakers can easily dress down a fancier skirt. They're perfect for running errands, taking your dog for a walk or a stroll to your favorite coffee shop.
Perfect for summer, white sneakers are the types of sneakers that go with everything, including skirts!
Retro sneakers
Go for an old-school vibe in retro sneakers. A chunky knit sweater, pleated maxi skirt, and retro sneakers will be a go-to weekend look.
Keep in mind: it's totally okay to wear your sneakers with more elegant skirts. The high-and-low contrast is very on-trend and will make you a surefire street style fashionista!
High top sneakers
Effortlessly cool, high-top sneakers are a great pairing for midi skirts. Or even mini skirts. For longer skirt styles, try choosing one with a dramatic slit. The high tops will keep your look grounded.
High-top Golden Goose, Vans or Converse always look great with skirts!
6. Strappy Sandals with Skirts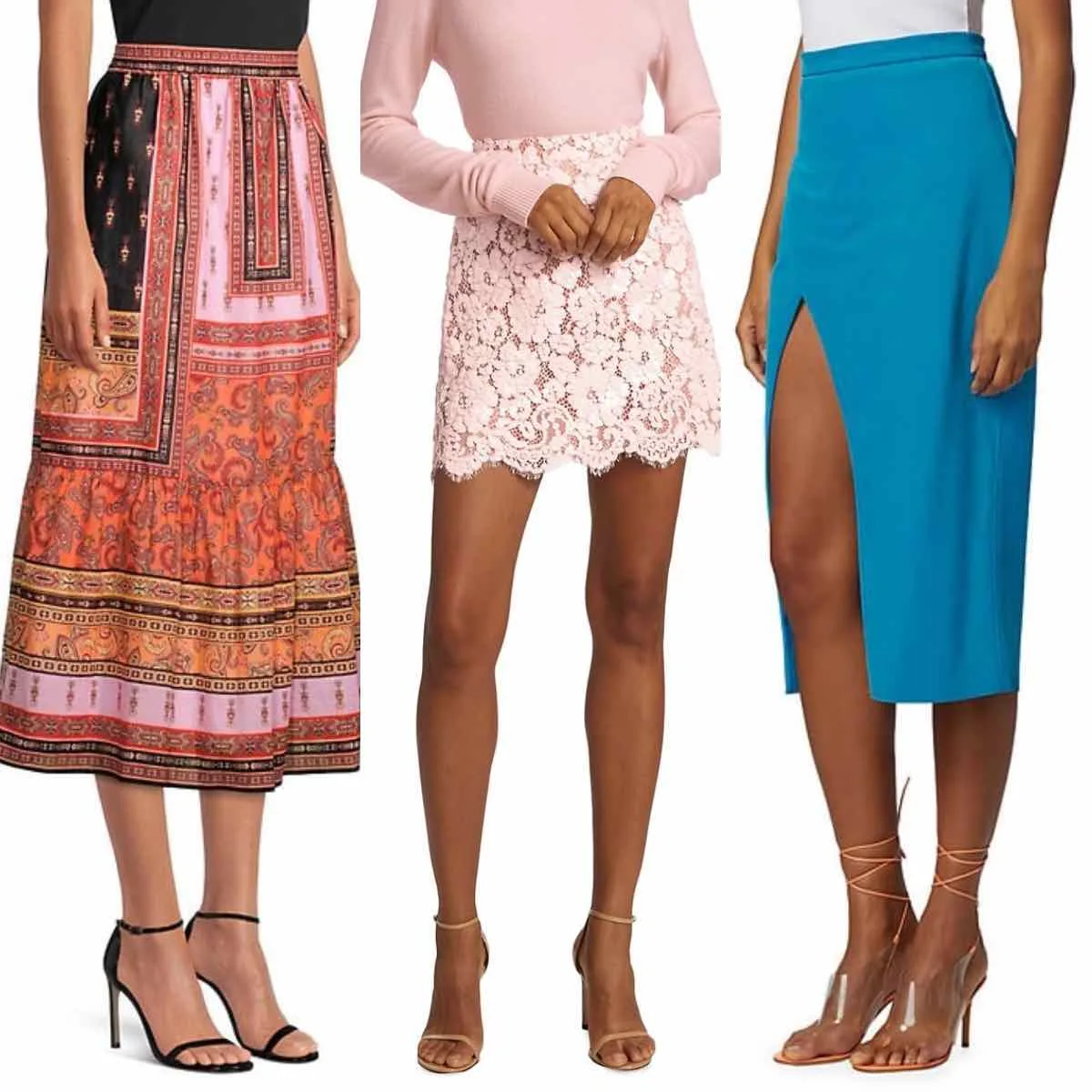 High Heels, Kitten heel, Stiletto or Block Heel Sandals
No matter what kind of heel you favor, there's a skirt you can pair them with. Block heels are fabulous when you need to walk around a lot.
Same with kitten heels, because of their low height. High heels and stilettos will transform any skirt from day to night, when paired with the right top!
Minimal or Mega Strappy Sandals
Barely-there sandals compliment any outfit. And skirts are no exception. Mega strappy versions will add interest to your pedicured feet as well.
Although I'm partial to a heel, flat sandals can add a contemporary vibe to your midi, mini, or maxi skirt.
For Fancy Events or Casual Outings
Who doesn't love getting dressed up for a night out? Or a fancy event? Have some fun with your strappy sandals for this kind of occasion.
You can choose a metallic hue or a pair with fun embellishments. If your skirt is rich with bold patterns, opt for neutral sandals and a minimal tee, shirt or bodysuit.
7. Kitten Heels with Skirts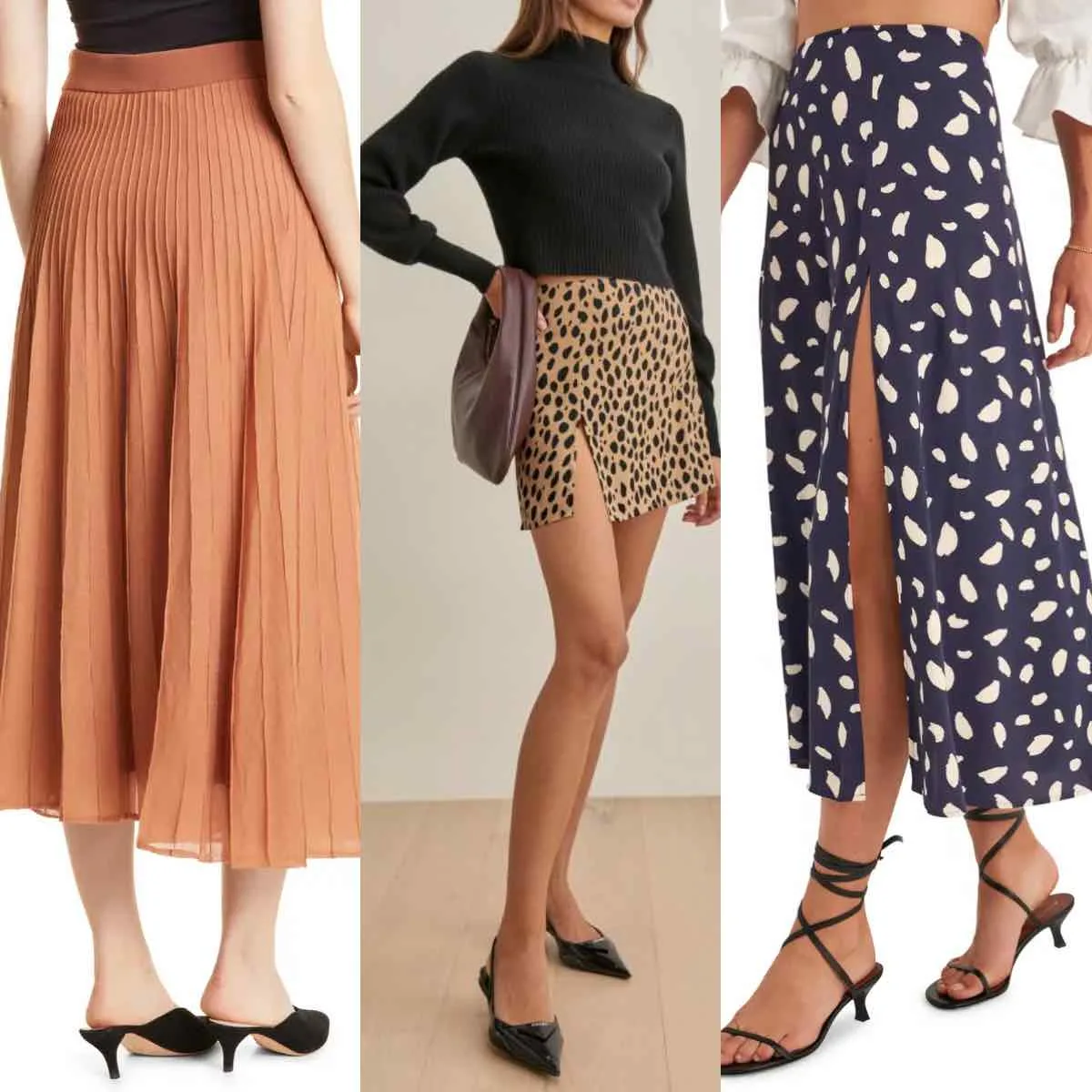 Kitten Heel Slingbacks
Slingback kitten heels are very on-trend right now. After all, they're timeless, cool and comfy. Wear a polished pair with a leopard print mini skirt with a mock-neck sweater and a leather bag.
Kitten Heel Sandals
Even a tiny heel can make you feel infinitely more polished than flats. An inch or two is all you need. Try a lace-up strappy sandal with a polka dot printed midi skirt.
These are great for summer with a mini skirt to midi skirt – even a maxi skirt if it ends at or above the ankles.
Kitten Heel Pointed-Toe Pumps
Pointed toes add a sophisticated vibe to any outfit. Choose a pleated skirt — with or without a pattern — and your pointed kitten heels will take you from day to night with ease.
Kitten Heel Booties
Low-heel booties are excellent footwear for skirts. They'll look great with everything from a mini skirt to ankle-skimming styles. Your choice whether you choose an ankle boot or knee boot with a kitten heel.
8. Loafers with Skirts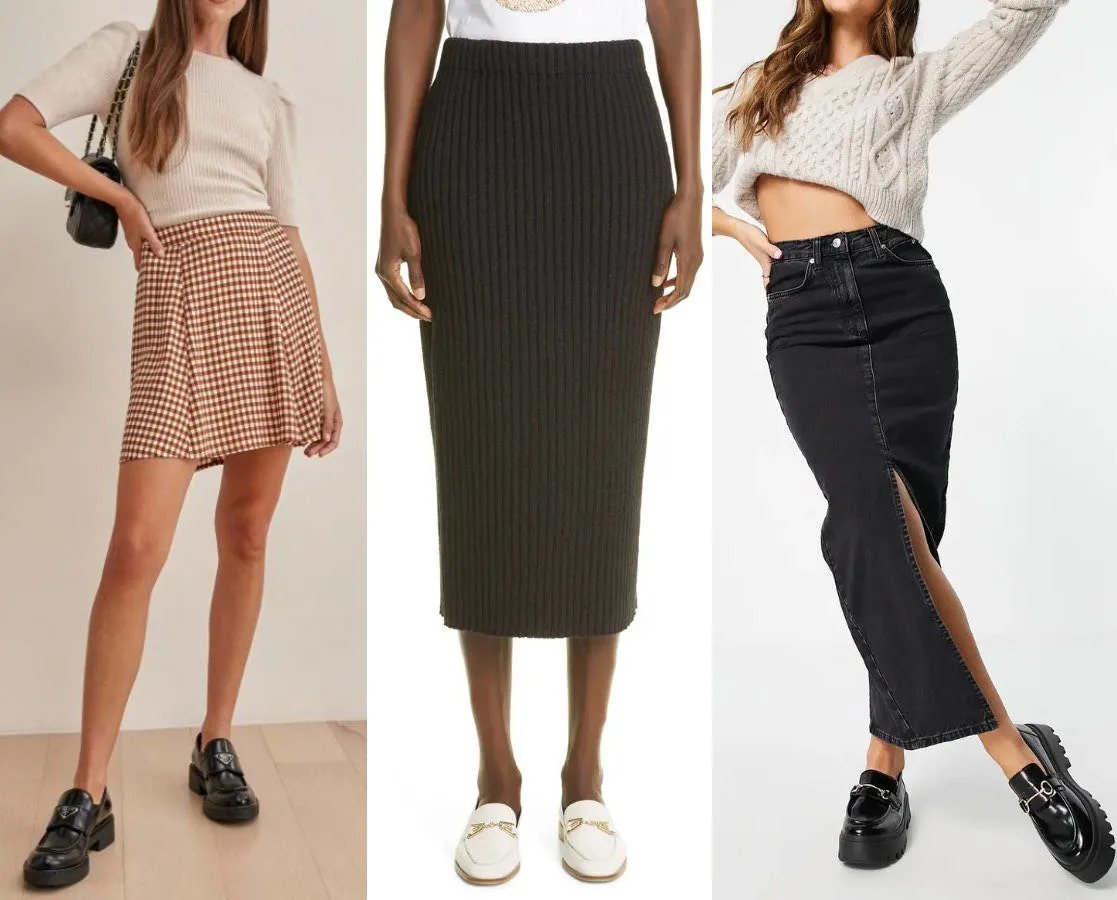 Classic Loafers
A classic pair of loafers won't go out of style. You can choose a plain leather or patent pair. Or add some pizazz with metallic details. A checkered mini skirt will complete the look.
Chunky Tread Sole Loafers
Loafers with a chunky or tread sole are super trendy at the moment. Wear them to keep your look down-to-earth. A long denim skirt, or mini skirt with a chunky knit sweater is a flawless choice.
Loafer slides
Remember when everyone on earth was wearing Gucci's loafer slides? Well, this style hasn't lost its traction. Try a mid-calf length knit skirt with your loafer slides.
Loafer slides look so fabulous with loads of outfits and make great shoes to wear with sweater dresses and skirts!
9. Ankle Boots with Skirts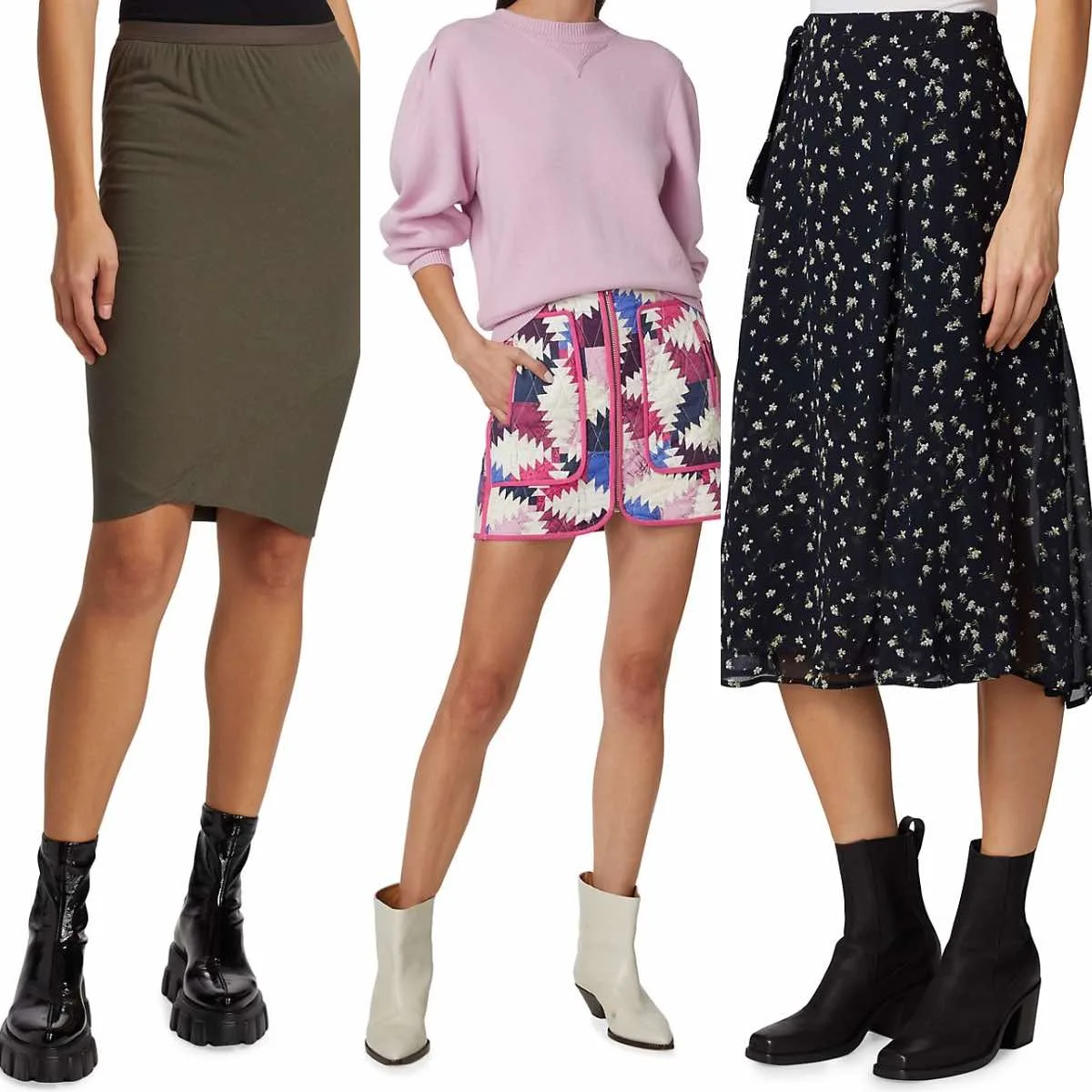 Ankle boots are some of the most versatile shoes you can own. You can choose from a variety of styles, materials and heel heights. They're one of the best shoes to wear with skirts!
From mini to maxi, ankle boots will keep your look fresh, current and trendy. Only wear ankle boots with midi skirts, if they don't end too close to the top of the boots.
10. Combat Boots with Skirts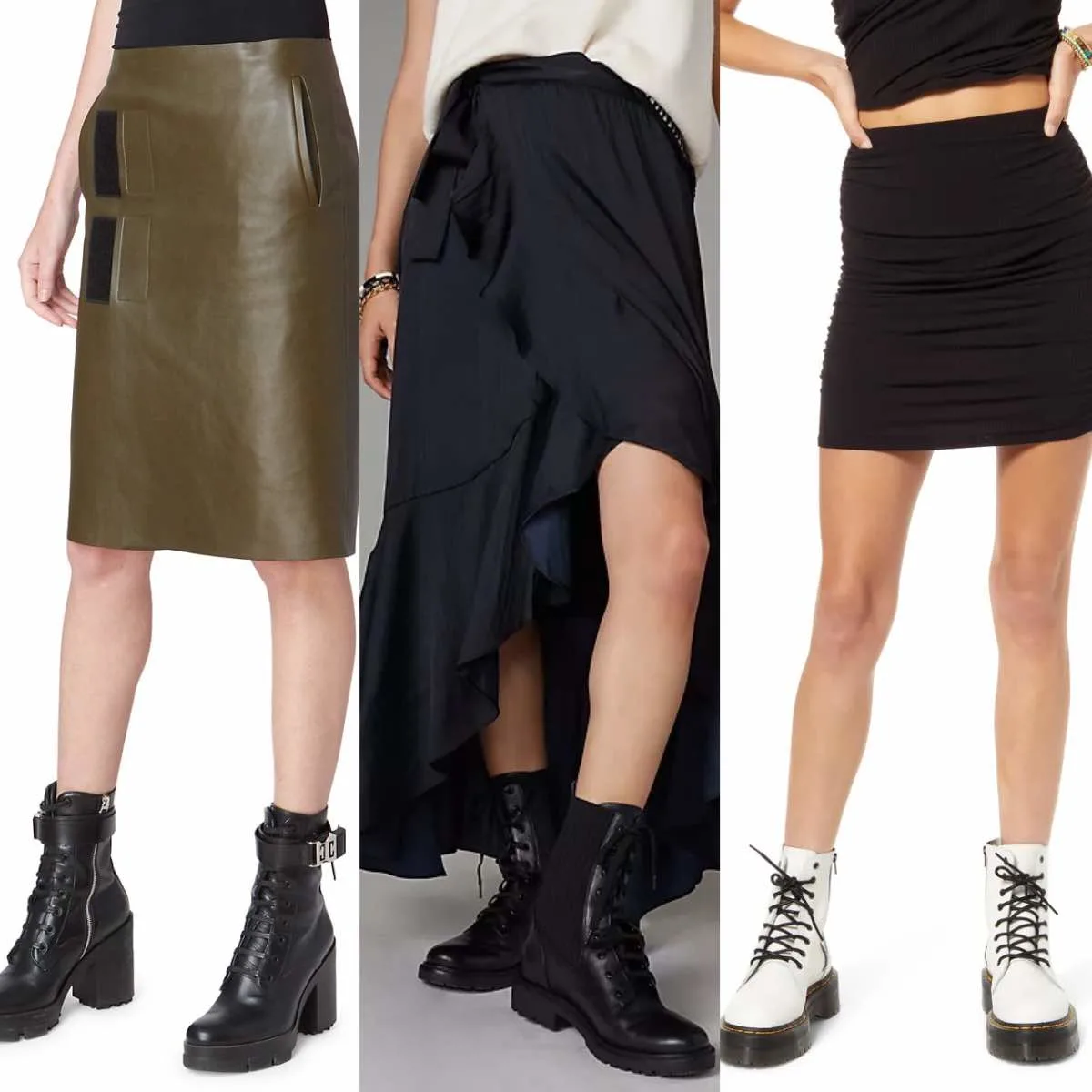 Classic Combat Boots
Classic combat boots exude an effortlessly cool edge. A colored leather skirt that ends around your knees can look amazing with combat boots! A bonus? Combat boots are extremely comfortable to wear all day long.
Chunky styles
The chunkier, the better. Chunky combat boots are even grungier than classic styles. Especially if you opt for a white or patent finish.
When paired with a feminine skirt, you'll achieve a cool, fashion-forward contrast – like with a tulle or floral skirt. Take a deeper look at how to wear combat boots in my latest post!
11. Western Boots with Skirts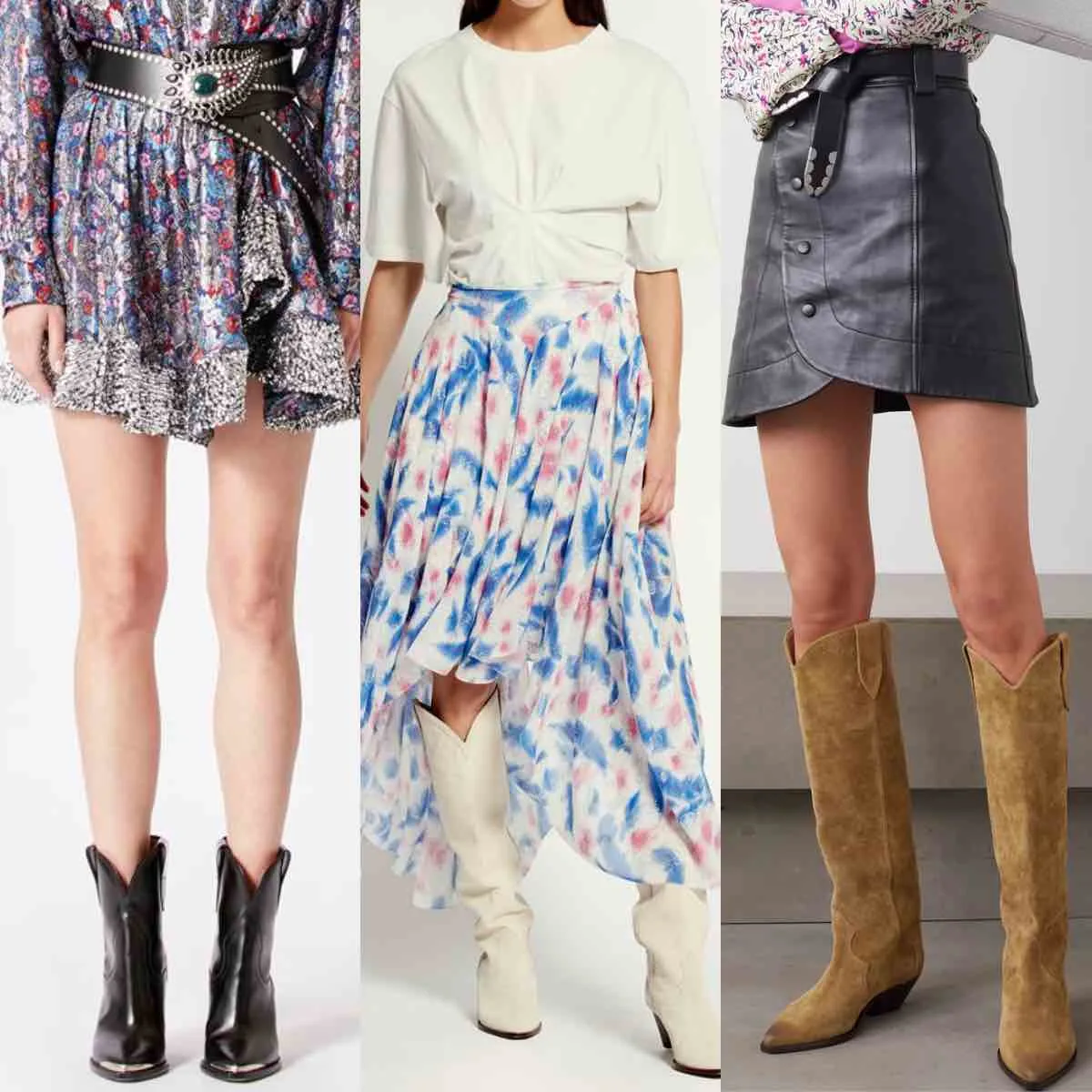 Classic Cowboy Boots
Cowboy boots continue to have their moment. Everyone from the Hadid sisters to Priyanka Chopra loves them.
Not to mention they've been a staple footwear choice for Isabel Marant this season! They can be worn with knee-length skirts, long flowy skirts, or structured mini skirts.
Western Ankle Boots
For a true western look, you can try wearing ankle boots with a denim mini or midi skirt. For a modern twist, choose a flowy, feminine skirt. Perhaps with a floral or animal print pattern!
12. Chelsea Boots with Skirts
SImilarly to Combat boots, Chelsea boots outfits look great with a variety of skirts. Classic Chelseas will add a casual, chill vibe, white chunkier styles will make your look more edgy.
Have fun with Chelsea boots and mini skirts (socks and tights will add some interest)to maxi skirts and every length in between!
Shoes to Wear with Skirt – Specific Styles
If your biggest dilemma is figuring out what shoes to wear with specific skirt styles, this section of shoes to wear with skirts is for you!
I'll cover everything from midi skirts to pencil skirts to tutus. So, whatever your personal style is, there is a skirt and shoe combo that's right for you – for all occasions and seasons!
-Shoes to Wear with Midi Skirts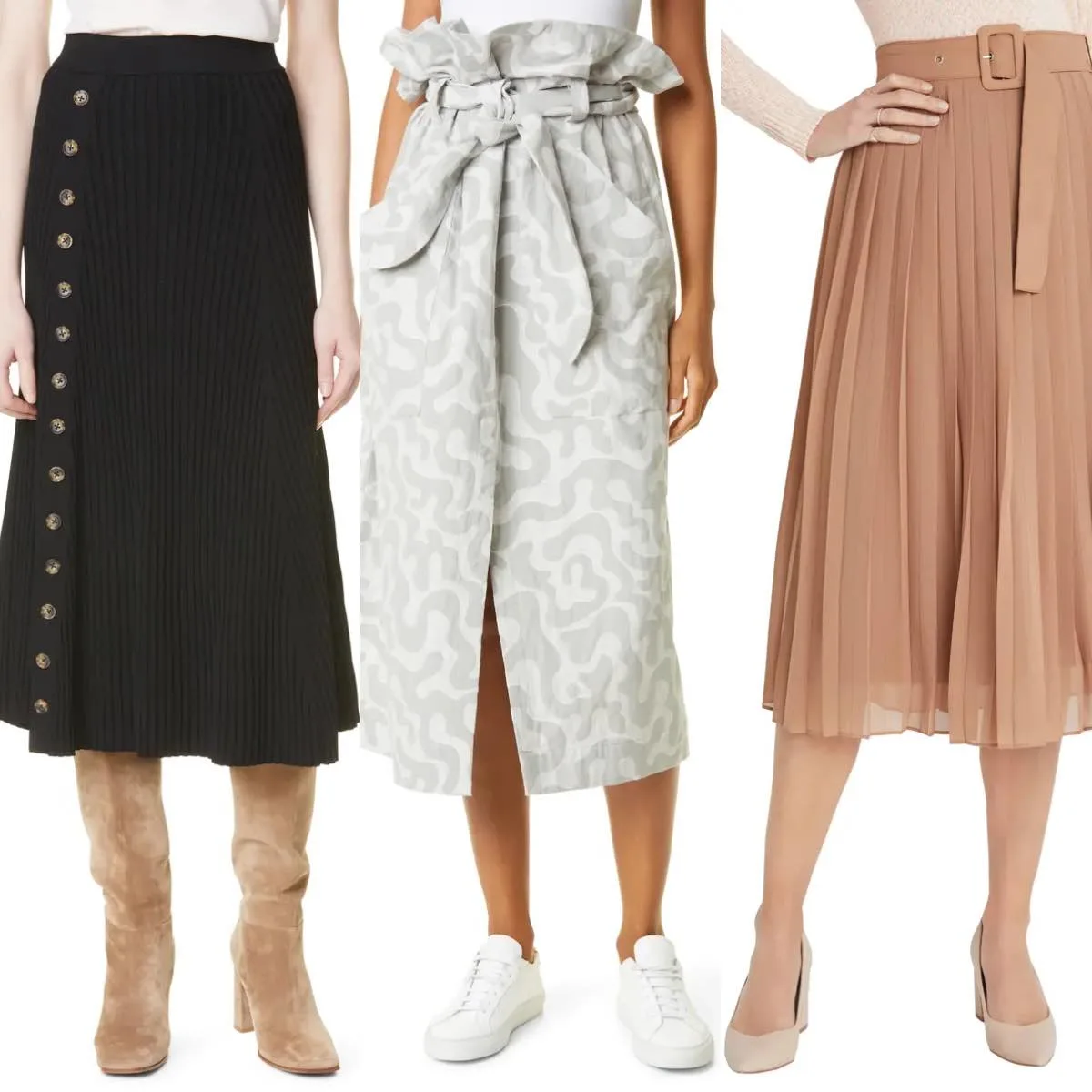 Mid-length skirts are the perfect in-between style. They fall around the calf area and are usually flared, but can also be straight. Midi skirts are great as they can easily take you from the office to post-work cocktails.
Not to mention that these have become a staple in many women's wardrobes! As for what shoes to wear with midi skirts?
Heels are best to avoid frumpy looks unless you're freshening up a casual skirt with a cool pair of sneakers. Here are my faves:
High heeled pumps
Heeled knee high boots
Loafer slides
Strappy sandals
High heel mules
Chic sneakers
-Shoes to Wear with Long Skirts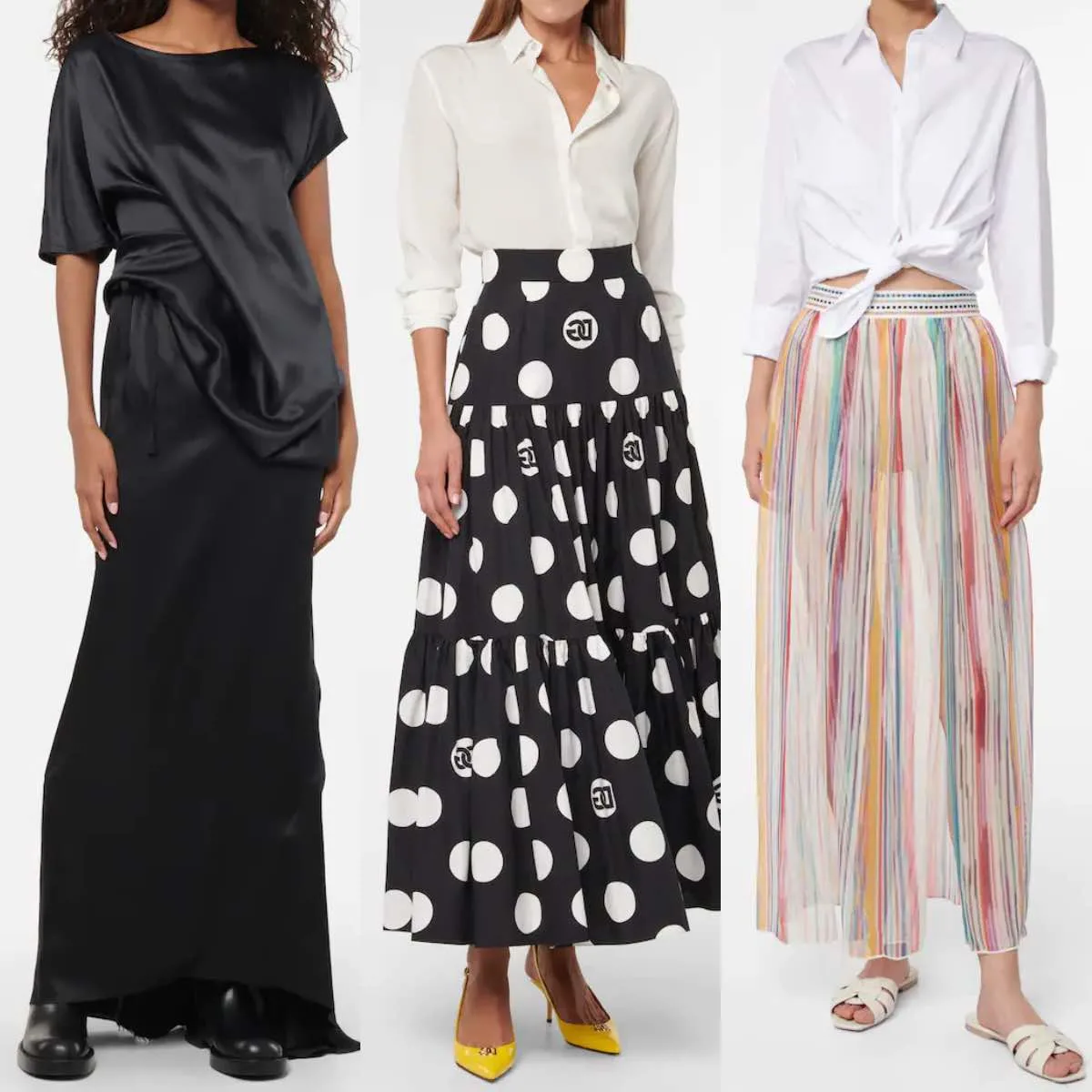 Shoes to wear with long skirts can be a bit trickier than other skirt lengths. Mostly because it depends on where the hem falls. A maxi skirt that ends right at the ankle will be easier to style will heels, as you won't trip on the hem.
In the fall, you can wear a chic loafer for work. A pair of lug sole combat boots, or western boots will give a rugged look. Even a chic sneaker will work for optimal casual comfort! Your choice of shoes to wear with maxi skirts in winter could be knee boots as well.
For fancy occasions, you can opt for strappy sandals or pumps to elevate your look. Even a tight sock bootie could look chic, but I would avoid ankle boots. Here are the best shoes to wear with maxi skirts:
Knee boots
Leather slides
Classic loafers
Slingbacks
White sneakers
Combat boots
-Shoes to Wear with Pencil Skirts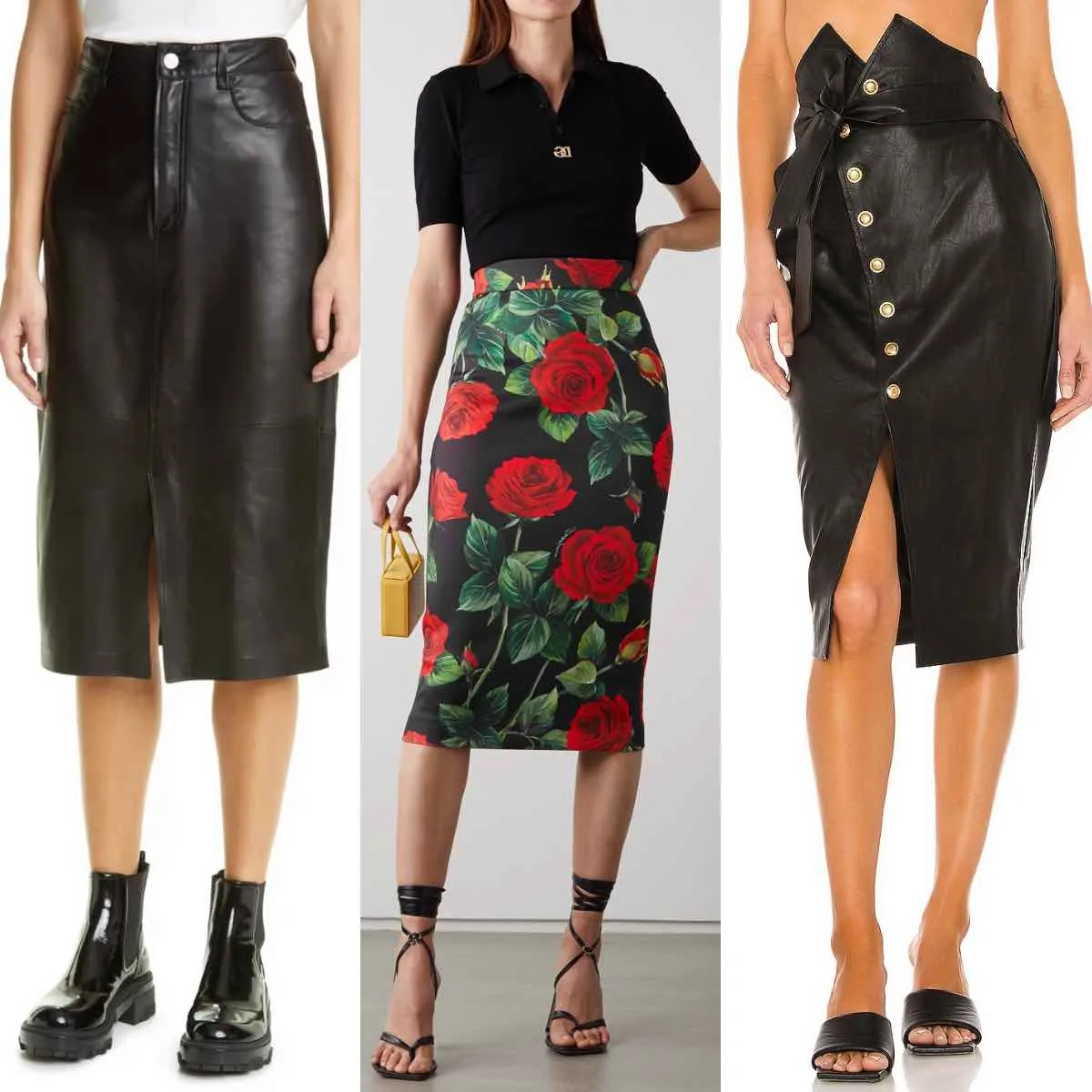 There are plenty of shoes for pencil skirts. This classic skirt style is so versatile! Pencil skirts are cinched at the waist and hug the body, usually knee-length or just past the knee.
If you choose one with a slit, you have more options for higher boots. A slit skirt with a classic silhouette will look great with dainty high heels, elongating your legs. Below are the best shoes to wear with pencil skirts:
Stiletto pumps
Leather boots
Heeled sandals
Flats
Combat boots
-Shoes to Wear with Mini Skirts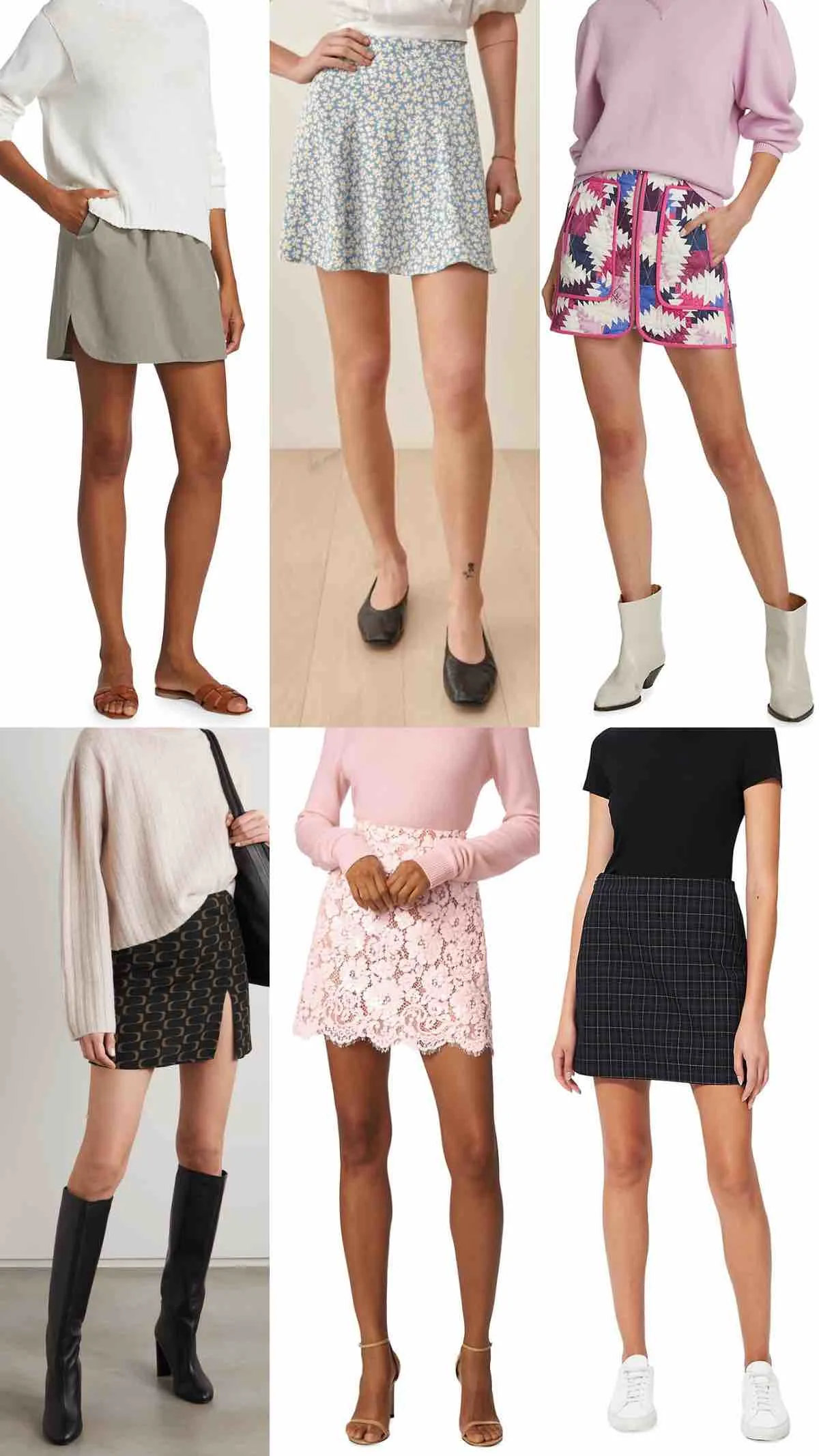 There really isn't a wrong shoe to wear with mini skirts. Mini skirts come in all shapes and sizes: leather, suede, cotton, patterned, lace, with a slit — you name it. Some mini skirts are shorter, higher, longer or wider.
For transitioning into cooler months, you can pair your mini skirt and most shoes with leggings or fun tights. There are many shoes to go with leggings if you want to read that post later!
Here are some of my favorite shoes to wear with mini skirts:
Retro sneakers
Boots: knee-high, ankle, thigh-high
Cowboy boots
Strappy sandals
Mules
Modern ballerina flats
-What Shoes to Wear with a Tutu Tulle Skirt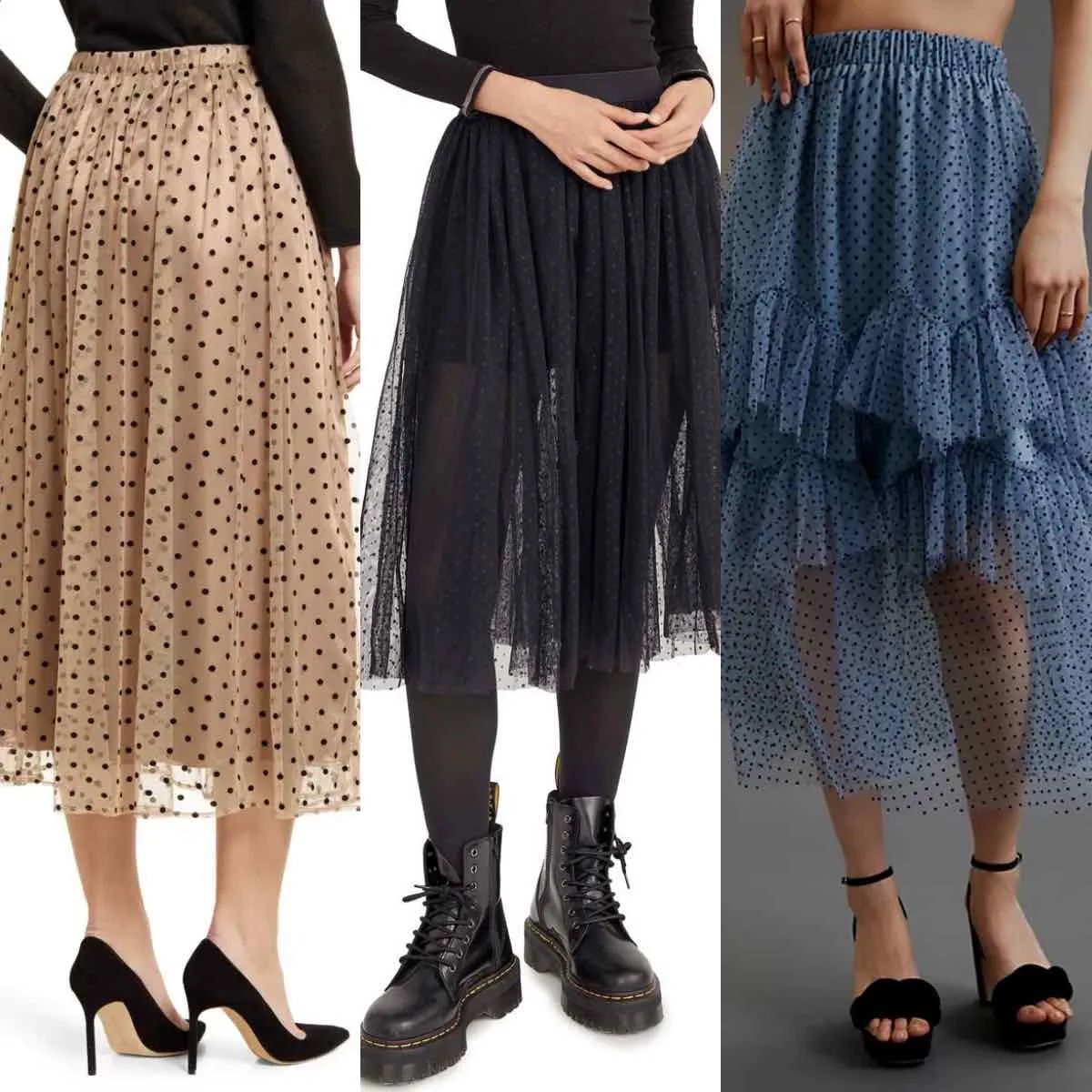 Whimsical and feminine, tutus — or tulle skirts — add some fun to your look. Just like Carrie Bradshaw in the Sex and the City opening credits!
Tutus can be flirty no matter what the length, but the most popular tulle skirts are midi length. And yes, anyone can wear a tulle skirt at any age! Pair a tutu with a simple tee or bodysuit, completing the look with a moto jacket or oversized blazer.
Here are the best shoes to wear with a tutu skirt, or tulle skirt:
Pointed toe pumps
Strappy sandals
High-heel mules
Combat boots (for a rugged look)
Slingbacks
-What Shoes to Wear with High Low Skirts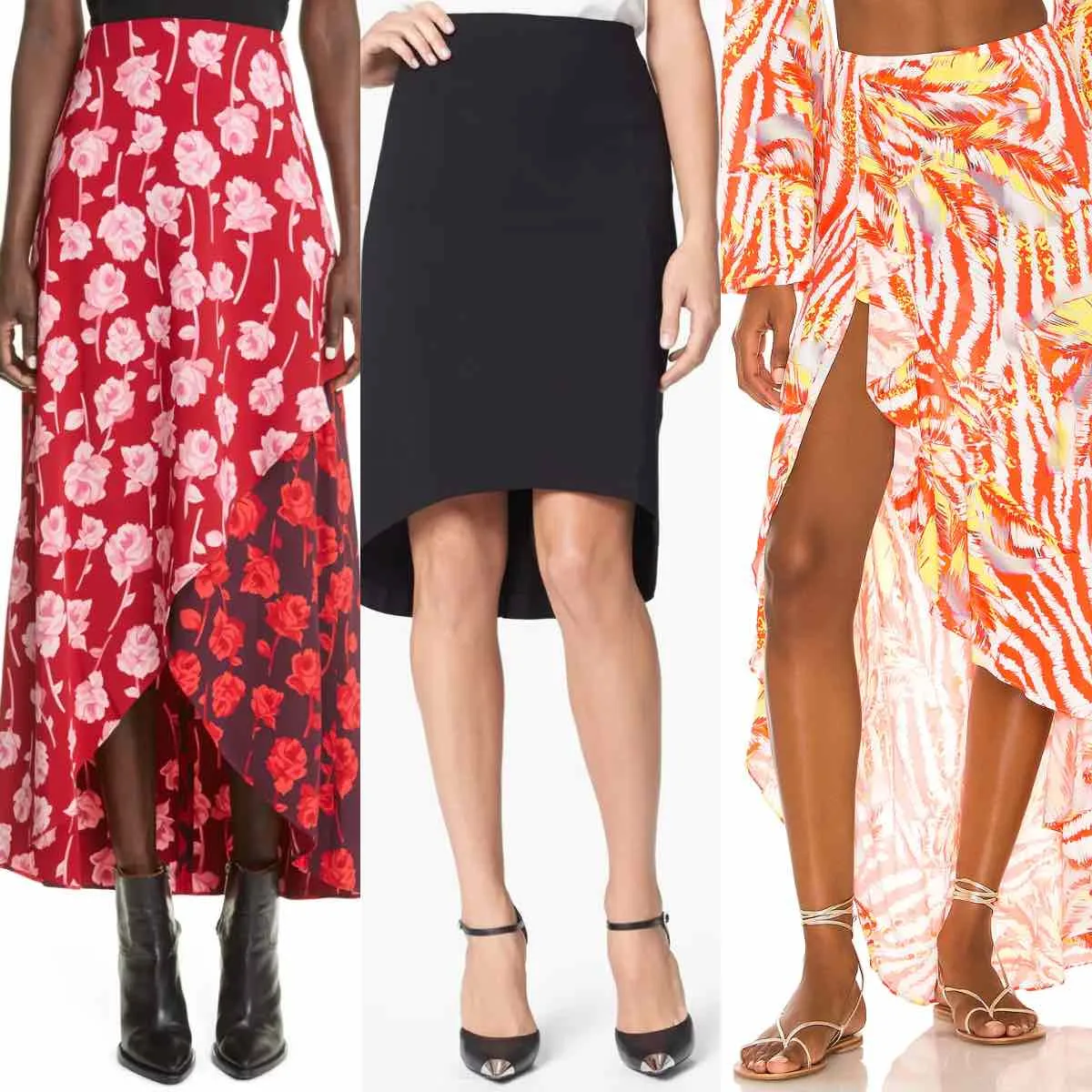 What shoes to wear with high low skirts are many. Hi-lo skirts do a fabulous job of showing off your shoes. With the hem sitting higher in the front, you'll get a good glimpse of whatever footwear you choose. Even if the skirt is long!
These will also make walking a breeze, much more so than with a maxi skirt, so there's no worry about tripping or your heels catching at the hem. The best shoes for high low skirts are below:
Ankle boots
Chunky loafers
High-top sneakers
Lace-up sandals
Embellished mules
-Shoes to Wear with a Flared Skirt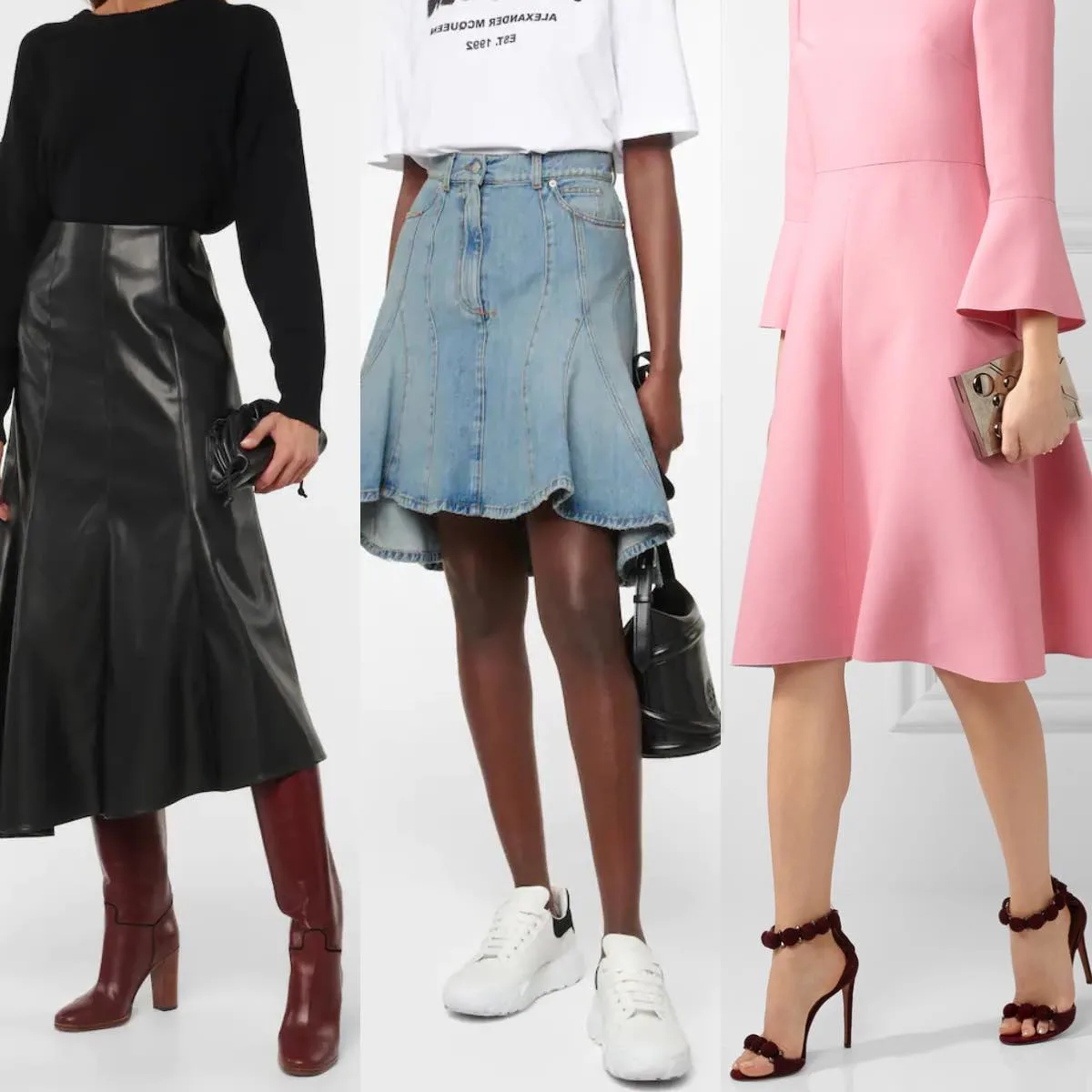 A flared skirt will keep your waist looking trim while flattering your legs. That's because flared skirts are fitted at the waist, expanding towards the hemline, creating a feminine silhouette.
What will make your legs look amazing in any flare skirt length, for formal occasions, especially? Heels! Choose any of these shoes with a flared skirt, below.
Heeled boots
Pointed-toe pumps
Slingbacks
Strappy sandals
High-heel mules
Combat boots + Sneakers for casual outfits
-Shoes to Wear with a Slit Skirt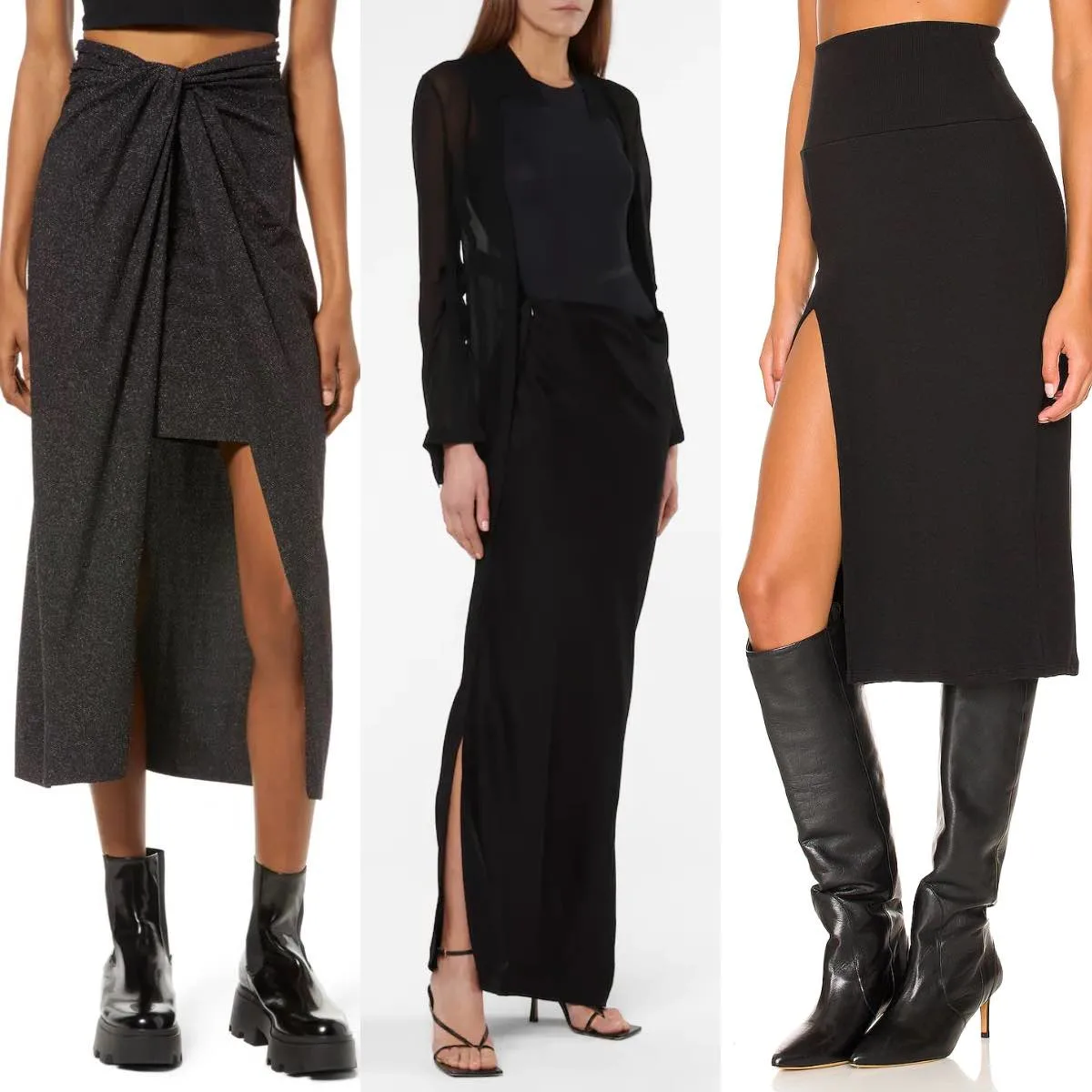 We talked about pencil skirts before, but the rules for this style don't apply when the skirt has a part! Shoes to wear with slit skirts or side-slit skirts are many.
That's because the opening created by the slit allows for more wiggle room – literally – to include and make many shoes & even boots compatible.
For instance, I generally discourage midi skirts or pencil skirts with knee boots, because they both end at the same spot. Or do not leave enough room underneath for the boots. However, a side or front slit skirt will allow knee and over-the-knee boots room enough to move and be seen, like the model above right.
Generally, the thinner and tighter the slit skirt, the more dainty the shoes should be. Slit skirts with high heels are a match made in fashion heaven, but flats can also work! Below are the best shoes to wear with slit skirts:
Pointed pumps
Strappy stiletto sandals
Tight heeled knee boots
Sock booties
Sneakers or combat boots for casual outfits
-Shoes to Wear with an A-line Skirt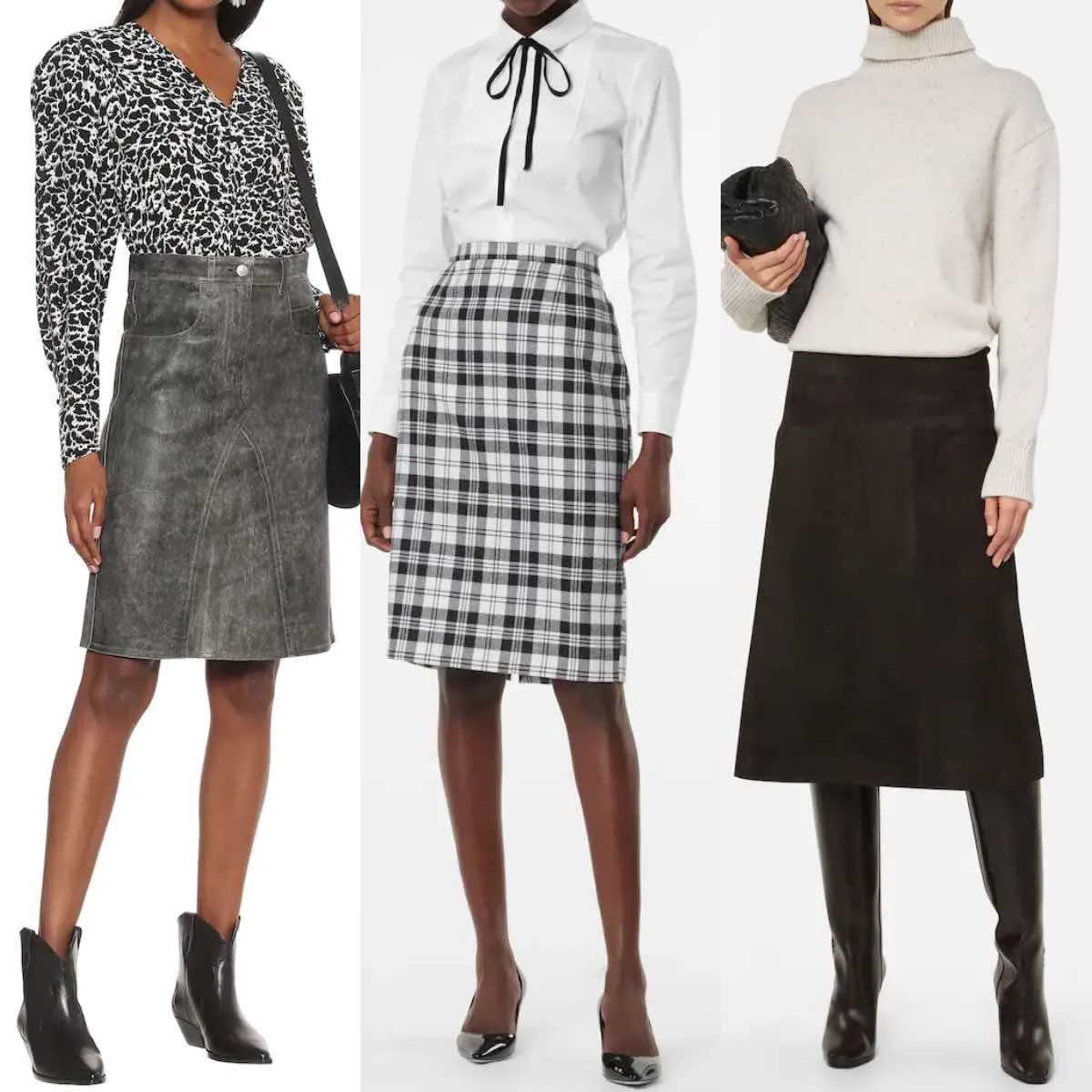 A-line skirts are similar to flare skirts in that these also flare – AKA widen downwards the bottom – creating a letter "A" shape. They are usually made of thicker fabric vs flare skirts, and are cinched at the waist.
A-line skirts come in mini to mid-length and can be slightly flared to or more flared. The length and width of these skirts, along with the style itself will dictate the best shoes to wear them with.
Mid-length A-line skirts look great with heeled shoes, while shorter ones – if for a casual occasion – look best with lower heels, even flats such as loafers, sneakers and ballerinas. And the wider the flare the higher the heels!
You can follow the shoes with skirt length guidelines previously outlined in this post for what shoes to wear with various A-line skirts. On the whole, these are the best shoe styles for mid-length skirts:
Heeled ankle boots
Pumps
Wester boots
Knee boots (for Aline skirts under the knee)
High heeled mules
Final Thoughts on Shoes to Wear with Skirts
Ultimately, there really isn't a shoe that doesn't look good with skirts. As I hope you've learned in this post! You really can't fail to style your skirt during any season with a fashionable or classic pair of shoes.
In the end, whatever shoes make you feel the most confidence will always be your best choice. That means the exact shoes that go with skirts to complete your outfit are really up to you!
What are your favorite shoes to wear with skirts? I love a good combat boot or pointed-toe pumps for formal occasions.
xo ShoeTease
Cristina is the chief editor, fashion & shoe expert here at ShoeTease. As a seasoned stylist and women's fashion & shoe designer, she boasts over 20 years of experience in the fashion industry. She loves crafting effortless outfits for ladies both online and off and believes that styling advice should be accessible to everyone. Whether you're a styling pro or just starting out, Cristina's here to guide you on your fashion journey! Learn more.