Wondering what shoes to wear with a jumpsuit to create casual outfits? Or to style one for the office or a dressier occasion? Like a cocktail party, perhaps?
In today's post, I'll be showing you which heels, flats and shoes to wear with a jumpsuit, any jumpsuit. From a cropped jumpsuit to jumpsuits of all colors, including black and red.
I'll even show you how to wear a black jumpsuit to a wedding as a wedding guest (a personal favorite look of mine!). Curious what shoes to wear with a jumpsuit in winter? I also have you covered. Yep, pun intended 😉
What Shoes to Wear with a Jumpsuit
Of course, the accessories, including the shoes you wear with a jumpsuit, are going to depend on which occasion you wear it for. So picking the right shoes is critical.
I'm a fan of wearing a simple black jumpsuit when it comes to either going to a fancy affair, or doing my weekly grocery run. You can see my two black jumpsuit outfits by scrolling through in this post.
However, since jumpsuits continue to be mighty fashionable nowadays, they are available in a variety of different fabrics, colors, prints, styles and sizing for all body types. So you've got options, and don't need to opt for a plain 'old black jumpsuit, like I have!
If you'd rather keep your jumpsuit simple in color, but want to try some fun shoes, you can always wear a black jumpsuit with leopard shoes! Or maybe try a jumpsuit with different types of heels.
What is a Jumpsuit?
Before I begin, maybe you're curious as to what a jumpsuit is, exactly. Or what purpose does a jumpsuit serve? Well, this is fashion, baby, so the purpose is much less important than aesthetics!
A jumpsuit is a one-piece garment with sleeves and pant legs with openings for the feet and hands, often even full arms, if the jumpsuit is sleeveless.
What is the difference between a romper and a jumpsuit, then? Unlike a romper, which is more of a top-meets-shorts, the pant legs on a jumpsuit are full length, cropped or below the knee.
Just like the ones featured in the post. So if your jumpsuit has short pant legs, check out my post on the best shoes to wear with rompers, instead!
And if you're wondering – yes – you have to take the whole thing off to go to the bathroom. So it's up to you whether the inconvenience is worth the fashionable look!
The great thing about these full-length rompers, so to speak, is their ability to dress them up for fancy occasions. But you can also just as easily dress them all the way down.
Normally, I love wearing a jumpsuit in lieu of a tracksuit, just for bumming around the house, but this time around I decided it was time to dress it up a little. To make that little black jumpsuit feel a little more important 😉
Shop Trendy Jumpsuits at these stores:
Casual Shoes to Wear with a Jumpsuit
What shoes do you wear with a jumpsuit to make a casual outfit? So many great options for you to choose from, especially in the summer months!
Purse Styling Tip: If your jumpsuit look is casual, you can take advantage by pairing it with an easy-to-carry bag. Such as a shopper bag, crossbody bag or even a backpack.
I love leather bags myself, but canvas and cloth styles can also look great if you're wanting to keep things low-key and are lighter in weight.
1. Sneakers with a Jumpsuit
Sneakers are one of my top shoes that go with everything for casual occasions. Depending on the sneaker itself, sneakers can even work for business casual occasions when choosing a more refined sneaker style.
Sneakers are great because they are comfortable and effortless and are a prime choice shoes to wear with a jumpsuit, because jumpsuits are also effortless. Sneakers are the absolute perfect shoes to wear with a denim jumpsuit, if that's your thing!
What sneakers to choose? You cannot go wrong with an It-sneaker du jour or a classic. Depending on your style, you can opt for chunky fashionable sneakers, simple canvas sneakers (think Superga Cotu sneakers), breathable knit sneakers or one of Golden Goose's low tops or high tops to add some glam.
The failproof sneaker with a jumpsuit, however? A simple white sneaker, either made of canvas (for summer) or leather (for all seasons).
2. Ballerina Flats with a Jumpsuit
Another go-to shoe of mine is a ballerina flat and another comfy, flat shoe you can wear if sneakers aren't your thing or the occasion calls for it.
Making a comback this current season, a classic flat can effortlessly take you to the office and then for a cocktail, or for a stroller walk around the block. A fancy ballerina flat can also make a jumpsuit look fancy, if accompanied with a cute clutch.
3. Wedges with a Jumpsuit
A summer staple that adds comfort even to a heel, is a wedge shoe or sandal. There are so many styles available today, that it's really up to your personal preference how you'd like to wear your wedges with a jumpsuit!
If your jumpsuit is wider legged or flared, you can easily choose platform wedges to complement your look and make you that much taller!
For casual looks, I love a good cork wedge or espadrille heels with a jute sole (rope) wedge. Like these Soludos wedges which are timeless.
4. Espadrilles with a Jumpsuit
Whether espadrille flats or wedge espadrilles, mentioned above, they will both look great with your jumpsuit. A flat, classic espadrille shoe, because of its rugged details,is one of the most casual shoes to wear with jumpsuits.
Just like sneakers. Espadrilles are a great option for those looking to create a laid-back vibe for their jumpsuit outfit. You can find a huge selection over at many retailers, including Nordstrom.
5. Slides with a Jumpsuit
A sporty slide or a sleek leather slide – both extremely fashionable at the moment!- are the more summery counterparts of the sporty sneaker and sleek ballerina flat.
Sporty slides are great for the beach or a park meet-up. Leather slides with your jumpsuit can be accessorized with a metallic purse and chic jewelry/belt for a more refined look. Earthy sandals such as casual jumpsuit outfits with Birkenstocks are great for laid-back summers at the cottage.
If you do want to wear flip-flops with your jumpsuit, I would avoid doing so, unless you're off to the beach!
6. Flat Sandals with a Jumpsuit
If you're looking for more foot support than a summer slide, flat sandals are a great choice. They are in style every season and there are so many kinds to chose from, whether it be ultra strappy, gladiator styles or more minimal, conservative ones.
Formal Shoes to Wear with a Jumpsuit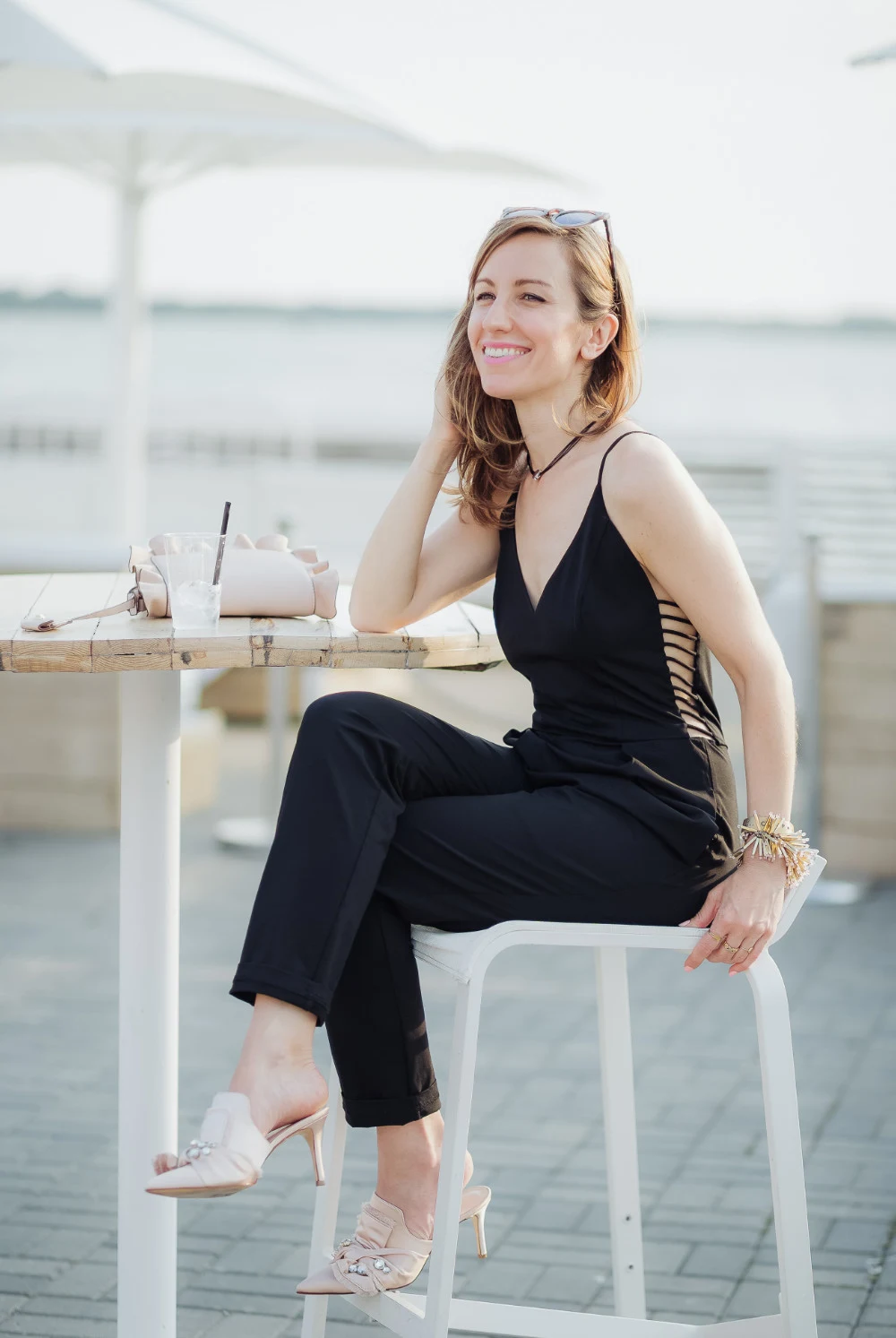 If you're looking for what to wear with a black jumpsuit to a wedding or similar fancy occasions, this section is for you. Of course, if you're going to be uplifting your jumpsuit – no matter what color – for an elegant soiree or cocktail party, a few tips:
Make sure your jumpsuit isn't already very casual, such as a jumpsuit made of denim or a beachy linen jumpsuit. I would stick to sleek fabrics and simple shapes.
There are also ultra-glam jumpsuits made of satin materials, or available with extra large bows, or made with lace or metallic fabrics.
These are perfect choices for wearing jumpsuits elegantly and allow you to not put as much pressure of your shoes and accessories to do the elevating for you.
However, as long as you don't choose a rugged/beachy jumpsuit, you can wear any of the shoes with a jumpsuit to make it fancy, below.
Purse Styling Tip: A small clutch in either a neutral or metallic hue would complement your fancy jumpsuit outfit. A velvet or embroidered purse is also a good choice if your jumpsuit is a simple black or one color.
You can also opt for a smaller handheld purse if freeing up your hands is more convenient for you.
7. Heeled Sandals with a Jumpsuit
A jumpsuit with heels is never a bad look! Great for summer looks, there are so many high heeled, even lower heeled sandals that will glam up your jumpsuit outfit. You can choose any of the heeled sandals below:
Multi-strap Sandals
Block heel Sandals
Stiletto Sandals
Bejewelled Sandals
Minimal Sandals
Platform Sandals
I am a huge fan of Stuart Weitzman's Nudist sandal for the minimal aesthetic, but you can also find similar styles with jewels and accessories.
Want to keep your heeled sandals more minimal but don't want to spend Weitzman prices? Have a look at these Yaro ankle strap sandals by Sam Edelman.
8. Pumps with a Jumpsuit
If you want to keep your toes covered, but still look chic, pumps are a no fail shoe to wear with a jumpsuit. Both classy and classic, pumps come in many styles, colors and heel heights & types.
You can also add a shoe clip onto a plain pump to make it instantly more glamorous, if your event or personal style, calls for it.
I own these Tatiana pumps from Nine West which I 10/10 recommend for both style and quality. Sam Edelman's Hazel pointed pump is another great shoe and comes in many colors and has great reviews.
9. Mules with a Jumpsuit
For the fashionable gal that always wants to be right on trend, mules are for you! You can choose a closed toe mule or an open toed mule, depending on what you prefer.
Seen in high fashion magazines and on influential fashion bloggers alike, there are a plethora to choose from. I've seen loads of chunky strapped mules along with the very popular woven strap mules, like these from Vince Camuto.
Make sure you don't go too high on the heel height with mules, as they have no back strap for support. They can be tricky to walk in – or even stand – so keep that in mind if you have to go to a function which involves much of either.
Steer clear of mules if your jumpsuit is very long legged and/or wide legged as it could be a tripping hazard. So please hem your jumpsuit accordingly, or stick with ankle length, at least! More info on how to wear mules in my dedicated post.
10. Kitten Heels with a Jumpsuit
Cute as can be, and a favorite for those who prefer lower heights, kitten heels are a dainty option of shoes to wear with a jumpsuit. They come and go in style, but in my mind, they are a classic that as long as the toe shape is current, they are a strong contender to complement your fancy jumpsuit look.
What to Wear with a Black Jumpsuit To a Wedding
Do pick a flattering, simple black or one tone jumpsuit, like red or gold. A black and white jumpsuit could be a great choice too
Make sure at least the top or pant portion is somewhat fitted. We don't want you looking like you're wearing a black sack!
If think you might get chilly, a black tuxedo-like blazer or shawl (pashmina-style) look most elegant
A jumpsuit with heels is a great option for wearing it to a wedding
A high heel style that won't overpower the jumpsuit work best. These minimalist high heel strappy sandals from Stuart Weitzman are personal favourites
Blush, gold heels or skin-tone shoes work wonders with any clothing item, especially black jumpsuits
Black or white shoes will look great too
Steer clear of round-toe pumps or high platform shoes: they'll look too clunky
Pick a medium to small sized clutch that has a some shine or sparkle to it. Texture is even more important if you're opting for a black one to match the jumpsuit!
Shoes to Wear with a Jumpsuit in Winter
Lots of readers are searching for appropriate shoes to wear with a jumpsuit in winter and I have you covered! Winter, depending on where you are located, might call for more material to keep those toes warm!
Purse Styling Tip: for the winter, you can opt for thicker materials and even larger purses. I would opt out of canvas-style bags all-together.
11. Casual Ankle Boots
Ankle boots with a jumpsuit can be a great combination for various occasions. To keep your look casual, camel colored ankle boots or more rugged styles with fringe or cutouts can be a great option.
If you're looking for high heeled ankle boots for a casual outfit, a chunky or block heels is best and also most comfortable.
12. Fancy Ankle Boots
If you're wanting to wear ankle boots for a more formal winter occasion, you'll want to find a pair that is simple and chic. Great choices would be velvet sock booties, satin ankle boots or pointed toe leather ankle booties.
To keep things elevated, opt for an ankle boot with a stiletto or thin heel. Higher heights can help with the glam factor, but depending on your jumpsuit style, and your personal comfort level, a kitten heeled ankle bootie can also be fun.
Shop Classic Ankle Boots for Women:
13. Oxfords
Lace-up shoe styles such as oxfords or brogues are a great shoe choices to pair with a jumpsuit for a business casual look in the Fall or Winter.
This shoe style comes in a ton of materials and finishes, so you can choose any lace up style from a simple leather pair, to a multi-colored sued pair, to a low or high heeled metallic pair.
These are particularly great with wide leg jumpsuits that are both long or cropped in length.
14. Loafers
My comments on oxfords also apply to loafers, both classic loafer shoes and trendy slipper loafer shoes. Again, loads of choices, from platform to loafer flats to patent slipper styles, the only issue you'll have is which one to choose!
You can even get away with a silver or gold slipper loafer, or a patent black loafer for a fancier occasion. Paired with the right clutch, hair and jewelry, of course. Check out my guide on what to wear with loafers for more loafer styling tips!
Final Thoughts on Shoes to wear with a Jumpsuit
Now that you've read through this jumpsuit styling post, you'll see that when wearing a jumpsuit, there's a lot to think about! You need to think about the type of shoes you want to wear, the right color and which accessories to style them with.
You'll also need to consider the style of the jumpsuit for proper shoe pairing, where you'll be wearing it to, and the dress code that's expected.
With this list of what shoes to wear with a jumpsuit, I hope you are ready to create a fabulous look with your trendy one-piece. Just make sure the occasion you're wearing it to doesn't call for too many bathroom trips!
How are you planning on wearing your jumpsuit and where to? Let me know below, and I would be more than glad to help find the perfect shoes to wear with it!
Photos by Bruna Rico and HZD Photography
xo ShoeTease