When deciding what sneakers to wear with skinny jeans, taking a great big cue from street style stars & fashion bloggers is always a good idea.
The trick to styling the best sneakers with jeans and most outfits (skinnies included) is by following a few sneaker styling rules (as loose as these might be!).
When specifically thinking sneakers with skinny jeans in 2023, you've really got to put those into practice so you 1) don't look like a sloppy tourist & 2) keep an element of chic to your look. Are you ready for this?!
---
Shop Current Skinny Jeans:

---
Ok, so you've got your skinny jeans from last season. And the ones before that.
And to interject, yes, even though wide leg jeans and flares are coming on strong in fashion (thanks GenZ!), skinny jeans have indefinitely left their mark and have become a wardrobe staple.
Trust me, when a clothing item has had so much longevity (in this case over a decade!), it is no long a trend and it'll be here to stay for a loooong time! I'm loving these classic Madewell skinny jeans with a high waist!
Some sneakers have also left their mark, while some have not – or at least not for very long.
Best Sneakers to Wear with Skinny Jeans
Now comes the part about which sneakers with skinny jeans look best. Luckily, there are quite a few. Listed below are my favorites casual non-running shoes to wear with skinny jeans right now, in almost 2023.
Worth noting that if you're also looking to pair sneakers with straight leg jeans, these styles will work just as well.
1. Retro New Balance Sneakers with Skinny Jeans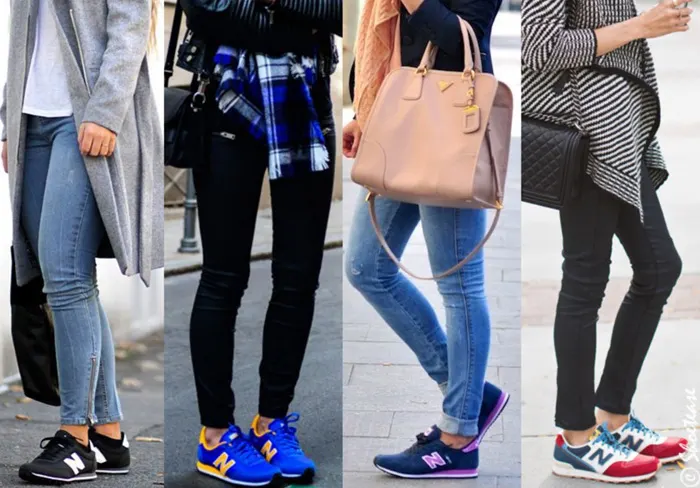 ---
Shop New Balance Styles for Skinny Jeans:

---
I have a particular weakness for New Balance sneakers. I love how they come in so many styles & colors. Really, the possibilities are endless!
Although the 574 is the brand's most popular lifestyle design, they're not optimal for skinny jeans.
Why? Because with their wide fit & larger toe cap, they'll look really clunky unless you have small feet compared to your ankle/calves (or just teeny feet to begin with!).
Here are my suggestions for the best New Balance sneakers for skinny jeans:
410, 420, 620, 996 styles specifically
I particularly love the colorful NB sneaks with black skinnies & simple black/white versions with either blue or black jeans.
2. Golden Goose Deluxe Brand Sneakers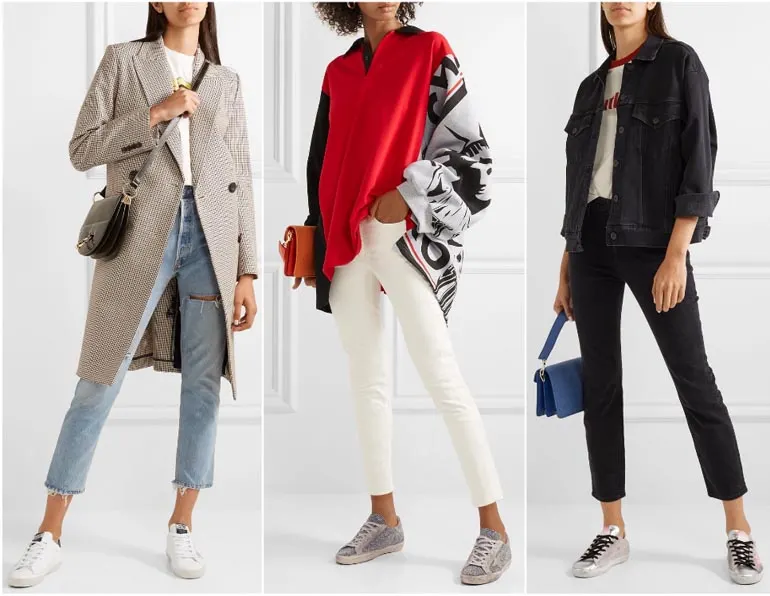 Ok, to this is an haute sneaker to wear with skinny jeans (read: expensive!). However, I own two pairs which you can see in my Golden Goose sneakers review.
I think they're worth the cost in both quality & chic factor. Probably one of the hottest sneakers to hit retailers in the last couple of years!
As someone who has trouble finding sneakers to make her long yet skinny size US 8 feet look smaller, Golden Goose Deluxe Brand sneakers do just that. The slight hidden platform that most of their styles have definitely helps!
These sneakers are also slightly distressed, so that they look the perfect amount of worn in casual. I mean, they honestly work with all kinds of jeans, as you can see illustrated in my post on how to wear Golden Goose sneakers outfits!
I've worn mine a ton and they still look exactly the same. The leathers/materials used are very sturdy and they come in many colours/finished and sparkle to suit anyone's fancy! Don't want to spend the GG money? Check out one of the many Golden Goose dupes!
3. Superga Sneakers with Skinny Jeans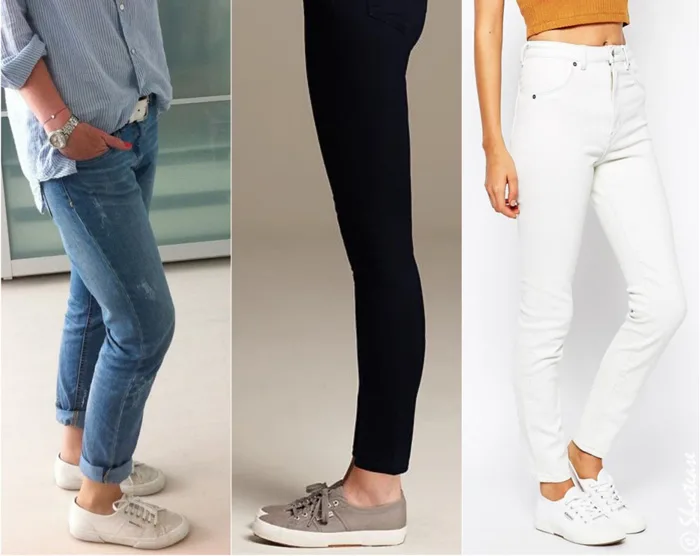 ---
Shop Superga Sneakers for Skinny Jeans:

---
Superga's classic "Cotu" casual sneaker has been around for what seems like forever! And are VERY reasonably priced! But they made a comeback last year & as the Stan Smiths, are a great runner to wear with skinny jeans.
The new Superga kicks in town? The 2750 Superga sneaker & 2990 platform. The 2795s high tops are pretty great for the cooler months as well!
The great thing about these sneakers is that they're relatively inexpensive & because they've become a cult favorite, you'll be fashionably pairing them with your tight jeans for quite some time.
Best to choose a leather version for Fall/Winter & canvas ones in the Summer. But now they've expanded their range to include slides & Cotus with fabulous fabrics & textures!
3. Slip-on Sneakers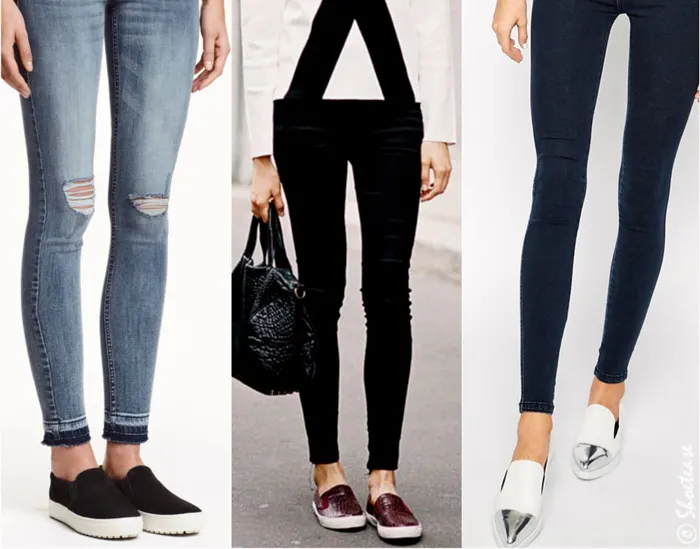 Slip-on sneakers are great shoes to wear with skinny jeans & the greatest thing about them is the variety!
So many styles, prints & material to choose from, you will probably have trouble picking just one!
If you want to add some height, a slight platform slip-on sneaker can be chic, like the pair above left or these pretties from Vince.
If you want to be chic to the max, pair a sneaker/loafer hybrid with a pointed cap toe, like the ones from Asos, pictured above right. A similar, yet just as chic version is available from Karl Lagerfeld at Nordstrom for around $130.
A chic leather pair, especially in black or dark snake print look great paired with a dark denim or black skinny jean for office casual look.
5. Adidas Superstar, Gazelle & Stan Smith Sneakers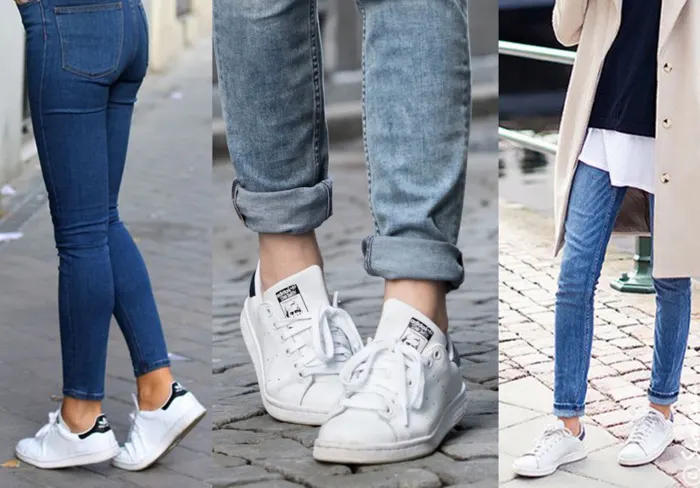 ---
Shop Adidas Sneaker Styles for Skinnies:

---
Adidas' Stan Smith sneaker has been quite the hit for the past couple of years. If sales have any say on the matter, they're still going strong as are the Adidas Superstars.
The Stan Smith in every color (my fave as you can tell is white!) looks great with any smart casual outfit.
It's called "Stan Smith fashion" for a reason! And yes, this sneaker style look particularly fantastic with skinny jeans! But you don't need to stick with this exact sneaker:
Many fast fashion brands such as H&M, Mango & Zara, heck even Target at this point have designed many non-branded alternatives that look just as good.
Adidas also makes a "Superstar" style (among many similar ones) that's every bit as chic as the Stan Smith, but with a sportier edge. Again, with this type of sneaker, avoid any white or bright colors if you have a big long foot. Pick a chic black version instead.
New in the bunch are the Adidas Campus & Adidas Gazelle sneakers, of which the latter is huge right now. A force to be reckoned with and oh so lovely with skinnies!
6. Nike Sneakers with Skinny Jeans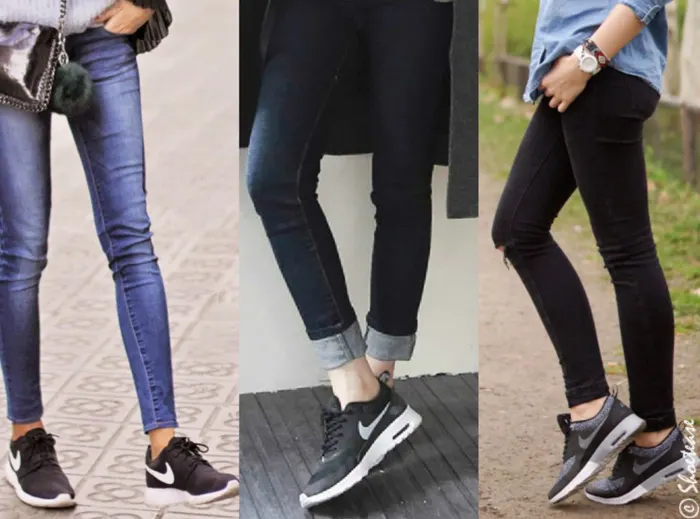 ---
Shop Nike Sneakers for Skinny Jeans:

---
Remember what I said about actual running shoes? Well, the Nike Air Max, Rosche & Flyknit are a family of sneakers are actual sports shoes, as in used for running.
But remember what I said about seeking out a trendy sneaker? Well, the Air Max (the Air Max "Thea" being more streamlined) is a great "real" fashionable sneaker to wear with skinny jeans. As are Nike Roshes.
The Mariah Air Zoom Flyknit is amazing & my fave at the moment! The newest style is the Air Max 90 which is a little chunkier but I love the look!
However, I think these fave Nike sneakers looks best in blush, pink and black & white versions or monochrome tones for Fall & Spring.
Great paired with black skinnies, a menswear-inspired coat & haute looking structure handbag! Love Nike? Check out some of the best Nike quotes!
7. Vans Old Skool Sneakers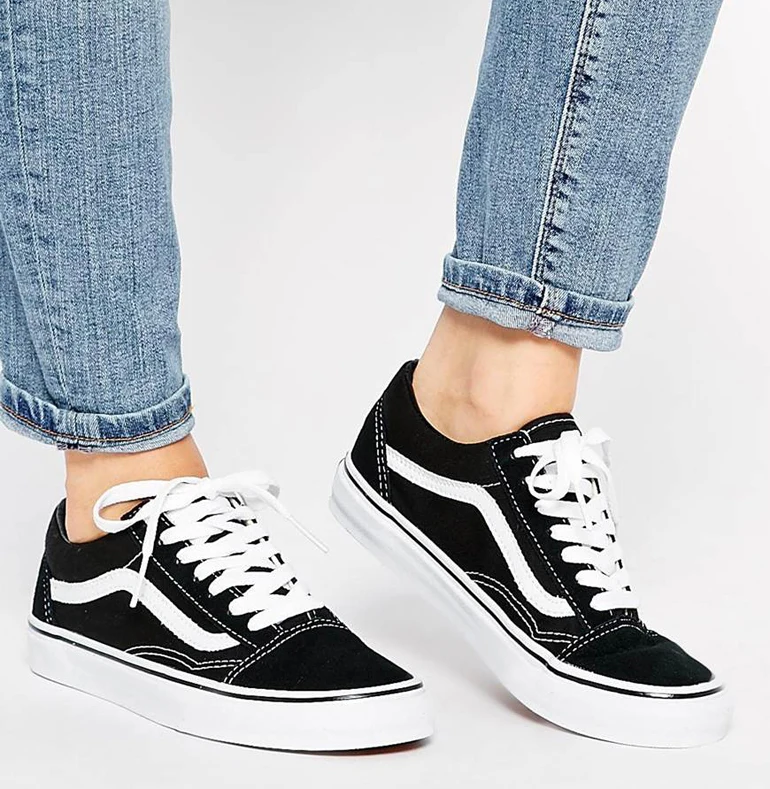 ---
Shop Vans Old Skool Sneakers:

---
The newer (but not at all new!) kid on the block is the Old Skool sneaker. Coming back with a vengeance from Vans.
Although both hi top & low are available, I prefer the classic style with skinnies. The black suede version with white stitching is my fave, but the Van Old Skool also comes in pastel versions and high tops!
Of course, there are many other sneakers & brands that work well with slim jeans. Like the ones I listed in my best knit sneakers for women post, as the perfect transitional shoe.
But aesthetically speaking, these are the 7 best branded styles above are what come to mind. But as I said previously, when a certain sneaker look is "in" there will be a plethora of copy cat versions (both high & low) to suit most needs.
So don't feel you have to stick to a particular brand when designer X has made an even superior looking sneaker!
It's just always to think skinny jeans with tennis shoes vs slim jeans with running shoes. Even though some runners to do look fab (yeah, I know, confusing!!).
---
How to Wear Skinny Jeans with Sneakers
But what are the aforementioned sneaker styling rules you ask? Well, there are a handful devised by yours truly, listed below.
Make sure the sneaker type is fashionable or at least infused with some retro cool. If you go for retro, make sure your clothes are contemporary
As with fashionable sneaker styles, opt for trending colors too. As you'll see illutrated in this post the following are fashionable sneaker color choices:

All bright white sneakers or white sneakers with black outsoles
Black leather sneakers with white outsole
Bright & colorful detailed sneakers on a neutral base
Printed sneakers can be fun, but often more difficult to style

Keep away from running shoes. You know, actual running shoes. Aside from a couple exceptions, you'll simply look like you've forgotten to change your shoes when you left the gym. Aim for a "lifestyle" sneakers with skinny jeans. Aim to pair skinny jeans with tennis shoes so to speak
Big feet? Honestly, unless you keep to an immensely minimal sneaker in black or navy, they won't work. Yeah, I know, I hear your pain. But you risk having your sneakers look clunky & miles long with your skinny jeans
Small feet? Say, size 7 or smaller? You can pretty much ignore all of the above. Lucky bastards.
If you thought gym sneakers were bad, try walking shoes. Some brands like Hogan have tried to make them cool but they're hideous, above all with skinny jeans. You'll look like you belong in a nursing home. You will hopefully become very old some day, so please wait 'till then, k?
Keep your sneakers squeaky clean. Otherwise, you'll look homeless. Sorry for my lack of Political Correctness here, but it's true. A little soap & water can go a long way!
---
Sneakers not to Wear with Skinny Jeans
In sum, when it comes to pairing sneakers with jeans, skinnies are the ones that really require a more prominent attention to footwear detail.
Because the pant is so straight & skin tight (hardly there, really) any particular good or bad shoe detail will show & even look exaggerated.
With flare jeans, you can get away with so much because you can't see the shoes & the boyfriend jean's, looser fit will mask a few footwear flaws. So folks, only the perfect sneakers with skinny jeans will do!
Which comes to my point about not including the much beloved Chuck Taylor by Converse. And this is my reasoning: I've never been a fan & truly believe only 1% of the population can pull them off. With skinnies, maybe 0.1%!
Because Chuck Taylors visually lengthen the foot, pairing them with skin tight jeans will just make you look clown-ish. Just take a peek at the model, below.
I mean, look at how loooong her feet look in those shoes!! Her legs almost literally resemble hockey sticks! Need I say more?!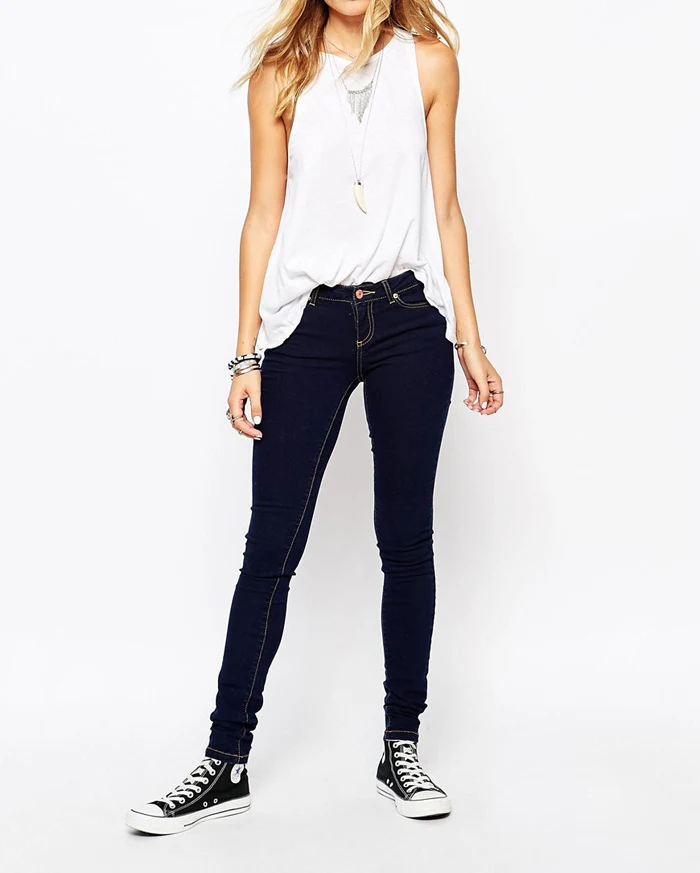 Looking for more shoes ideas for your skinnies? Check out my post on the best shoes to wear with skinny jeans for the full shoe with skinny jeans round-up.
And let's not forget about boots! I picked out the top boots to wear with skinny jeans too, so have a read over there too.
More Sneakers & Jeans Posts:
Shoes to wear with Bootcut Jeans
Shoes to wear with Boyfriend Jeans
Best Shoes for Straight Leg Jeans
xo ShoeTease
Cristina is the chief editor, fashion & shoe expert here at ShoeTease. As a seasoned stylist and women's fashion & shoe designer, she boasts over 20 years of experience in the fashion industry. She loves crafting effortless outfits for ladies both online and off and believes that styling advice should be accessible to everyone. Whether you're a styling pro or just starting out, Cristina's here to guide you on your fashion journey! Learn more.