Due to popular ask, I've put together a list of what shoes to wear with denim dresses of all kinds. From shoes to wear with a denim shirt dress, denim mini dresses to denim maxi dresses, I've got your denim dress outfit covered!
And yes, if you're wondering, I will be giving styling tips on denim high heels outfits, denim dresses with boots, denim dress fall outfits and summer shoe pairings too.
Whether you call it a blue jean dress, denim dress or chambray dresses, this post will help you choose the right shoes!
You might be asking yourself whether denim dresses are fashionable and in style at the moment? And it's a straight up yes! Denim dresses have become classics, especially denim shirt dresses.
The best way to keep them up-to-date is with the right shoes and boots, of course!
You will find that many of the types of shoes that go with dresses in general, will work extremely well for denim dresses too. As will all the tips on how to style a shirt dress!
Fashionable & Cute Denim Dress Styles
These are the cutest denim dress styles to wear with your favorite shoes right now:
Denim Shirt dresses: timeless either structured or flowy. Mid-knee length are popular. Wear them from casual with sneakers to business casual with neutral pumps, loafers and brogues. Ankle boots look fabulous with denim shirt dresses too.
Denim Mini Dresses: cute and flirty, pair this type of denim dress with strappy heels, slides or mules for a fun summer look.
Tiered Denim Sun Dresses: perfect and breezy for summer, these types of jean dresses are mostly made of chambray. They look great with more casual shoes such as sneakers, slides of all kinds.
Long Denim Dresses: denim maxi dresses can be structured or made of chambray for a fuller, flowy look. Wear them will summery, more casual sandals and sneakers.
Denim Overall/ Pinafore Dresses: the sportiest of all blue jean dresses are in pinafore or overall form. They will look fab with a classic or super trendy sneaker of the moment!
Hopefully this styling post will give you lots of jean dress outfit ideas! You can find some of the best designer denim dresses over at Net-A-Porter, while various denim dresses of all sizes, styles and price-points can be found below:
Best Color Shoes to Wear with a Denim Dress
I will mostly be speaking about blue jeans dresses today. That being said, the list of shoe and boots styles I've put together will also look great with other denim dress colors, such as grey, beige and more.
Shoe Colors for Denim Dresses: white, beige, blush, pop of color (yellow, pink), all metallics.
Shoe Prints for a Denim Dress: Polka dots. Plaid for Fall/Winter. All animal prints, including leopard, zebra, cheetah and snake print especially.
In terms of materials I'm partial to suede and leather looking shoes. Depending on the occasion, other materials and fabrications can work well too.
Want to know more? Read my post on what shoes to wear leopard print shoes!
And for more in-depth posts on specific color shoes to wear with your denim dresses, check my posts on the best color shoes to wear with light blue dress and best shoes with navy dresses.
What Shoes to Wear with Denim Dresses
1. Slides with a Denim Dress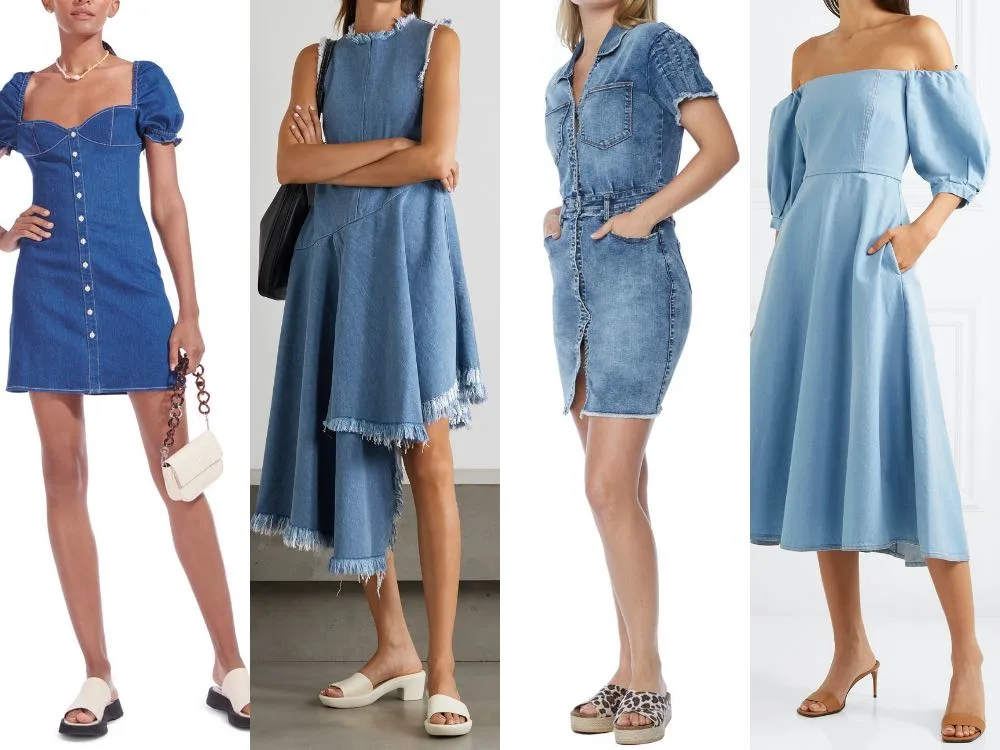 Summer's favorite sandals are also perfect shoes for a denim dress. Opt for sporty slides with a long denim dress and crossbody for a casual day look. Any color slide will work well, even a leopard print one!
Wear a neutral or metallic high heeled leather pair with a mini or midi denim dress for a more elevated look. A clutch or cute handbag will complement your outfit nicely.
For an ultra-casual look, go style a pair of Earthy sandals such as Birks for a no-nonsense denim + Birkenstock outfit.
2. White & Neutral Sneakers
White sneakers are the shoes that go with everything, including a jeans or chambray dress of any color. In fact, white kicks are some of the best sneakers to wear with dresses in general!
You can choose a classic style – either lace-up or slip-on – from Vans and Superga.
Make your denim dress outfit super stylish in Golden Goose sneakers. Looking for a more sporty look? Try a white high top sneaker or a more running shoe style.
You can create extra trendy denim dress outfit with a white chunky sneaker or platform sneaker. Right now, you can't go wrong with a white Nike Air Force.
Complete your white sneakers and denim dress look with a patterned canvas shopper bag, caramel cross-body purse, or even a backpack if it suits your style.
You can even add some statement earrings or hoops too. Not into white sneakers? Beige, metallic, black will look fab as well.
3. Strappy Sandals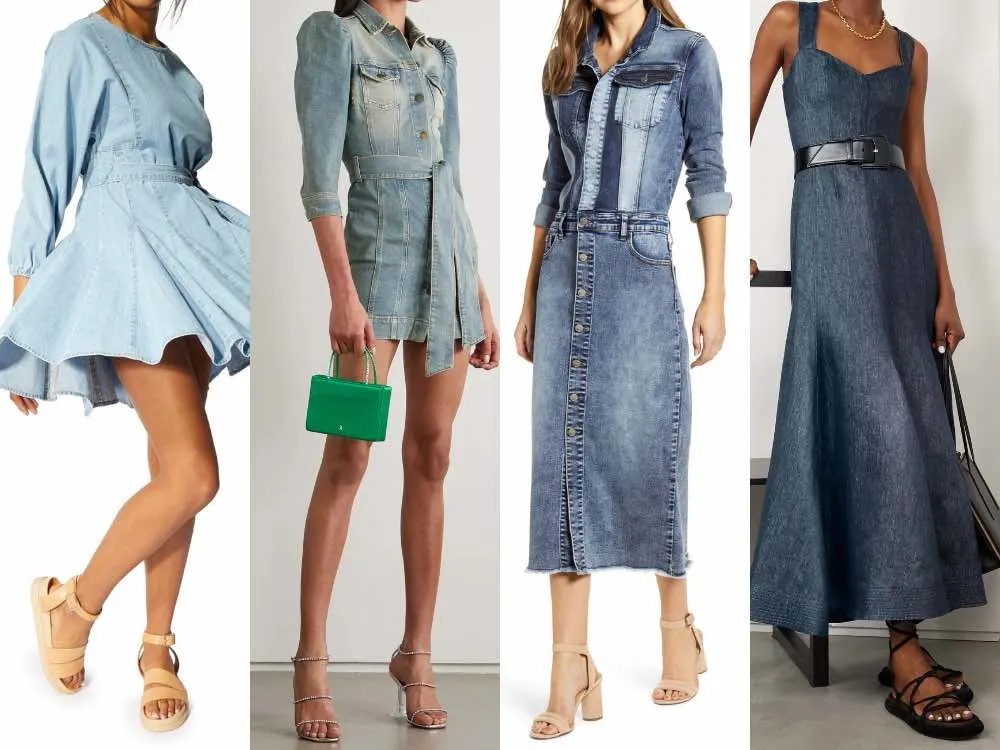 Strappy sandals will make your jean dress outfit happy. Or so I say! Strappy sandals styles come in both flat, mid and high heel form. Since the nineties, they've been a staple in just about every woman's summer wardrobe.
How to wear a fancy denim dress outfit, you ask? Add strappy stiletto sandal in a metallic hue and cute clutch and you'll have the perfect denim dress date look!
Looking for more casual jean dress outfit ideas? Opt for a black strappy flatform sandal for a fashionable stroll.
This will pair well with a shoulder bag. Choose the style of strappy sandal that works for you!
4. Espadrille Wedges
I love a classic or trendy espadrilles wedge and are such great shoes to wear with denim dresses in the summer! You can choose a style, heel height and color to suit your needs. This shoe type will work with literally any type of denim dress.
Espadrille wedges are more on the casual side, but you can dress up the right ones with a nice leather bag and minimal jewelry to elevate your denim dress look!
5. Clogs
A laid back favorite for summer, but can also work for the Fall season, clogs and denim dresses are a match made in fashion heaven! Depending on how you style the two, you can go for a current look or give it a 70s vibe.
You can find clog mules and sandals, with a high or low platform. So many pretty clogs, including sherpa lined ones to keep your feet toasty.
Put your hair in a topknot, grab a shoulder or shopper bag and you're good to go! Check out all my styling tips on how to wear clogs in my dedicated post.
6. Mules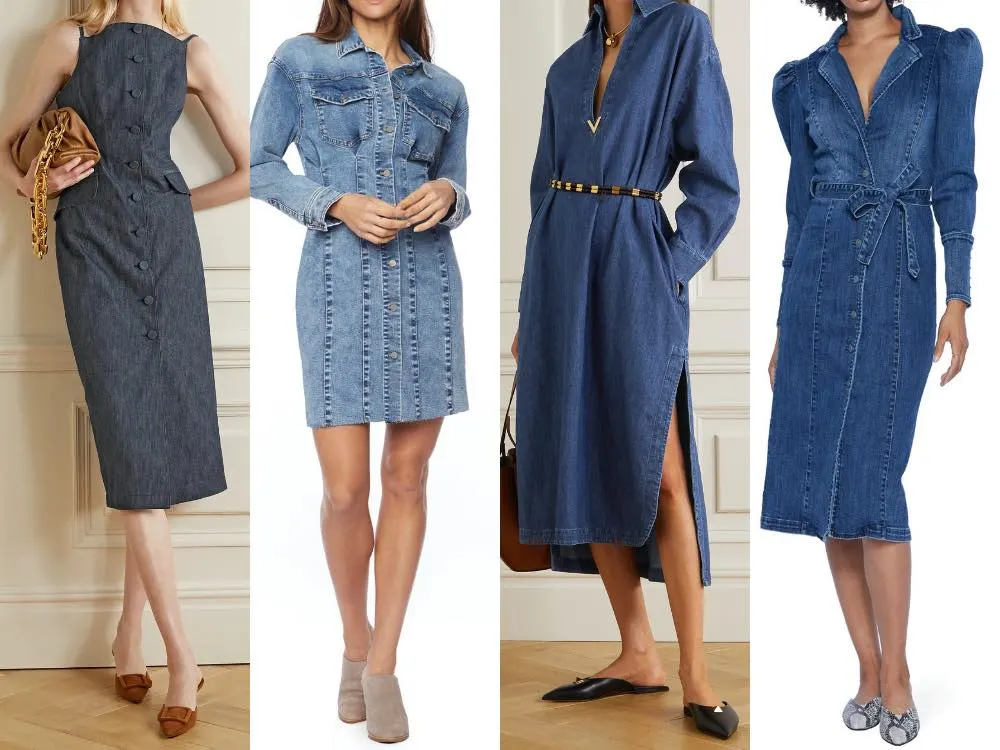 I love mules as they're such an easy shoe to slip-on/slip-off shoe! And then come in many forms. You can find mules that are flat heeled, low heeled and high heeled.
They are also offered in many neutral colors and prints that go with a denim dress.
Loafers mules (backless loafers) are the perfect shoes with a denim dress if you're looking for an up-to-date a bit business a bit casual look.
Black leather loafer mules are popular thanks to Gucci, but with a blue, navy or grey denim denim dress, I love cream, beige or off white suede pairs with a jeans dress.
Want to elevate your mules and denim dress look for an evening date or to grab cocktails after work?
Slide into high heeled mule, add a metallic clutch with some minimal gold jewelry and your denim outfit dress is complete!
7. Pumps
Pumps with a denim dress are great for Fall/Winter or transitional months. I like to wear pumps with a block heel with a structured shirt dress.
Along with a classic purse, it will work as a more polished and business-ey casual outfit, especially if the denim dress is navy or black.
For a more flirty look, pair a flowy chambray midi dress for spring/summer with nude, pastel or mesh stiletto pumps of any heel height.
Pumps will also work with mini dresses, but if so, keep the heels are the lower side, such as a kitten heel and pair with a small purse or clutch.
You can see the way I paired my mid-length chambray dress with white ankle strap pumps and matching white clutch. Check out the full post here.
8. Loafers
I already mentioned in the mules section, I love slip-on mule loafers with denim dresses! They come in so many colors too.
But if it's classic loafers you're wanting to wear with a denim dress, there are even more loafer picks for you.
From classic brown leather penny loafers, to lug sole patent loafers, slipper loafers and even high heeled loafers, the only issue will be picking a favorite for your denim dress!
Keep your denim dress outfit more conservative with a structured dress and black loafer, topped with a cardigan.
Add a simple leather purse and your minimal loafers with denim dress look is complete to a day at the office or parent teacher conference!
If you want to have more fun with shapes and colors, leopard slipper loafers are a great choice, as are a metallic or patent loafer. A thick outsole is not only trending these days, but convenient for Fall/Winter months.
What Boots to Wear with Denim Dresses
A denim dress with boots is a solid choice all year round. In fact, many will say that they prefer boots over shoes to wear with denim dresses!
Denim dresses with ankle boots and cowboy are perfect all year round, while taller boots such as knee height and over-the-knee boots make great Fall/Winter boot choices.
Learn about all the boots to wear with denim dresses, below: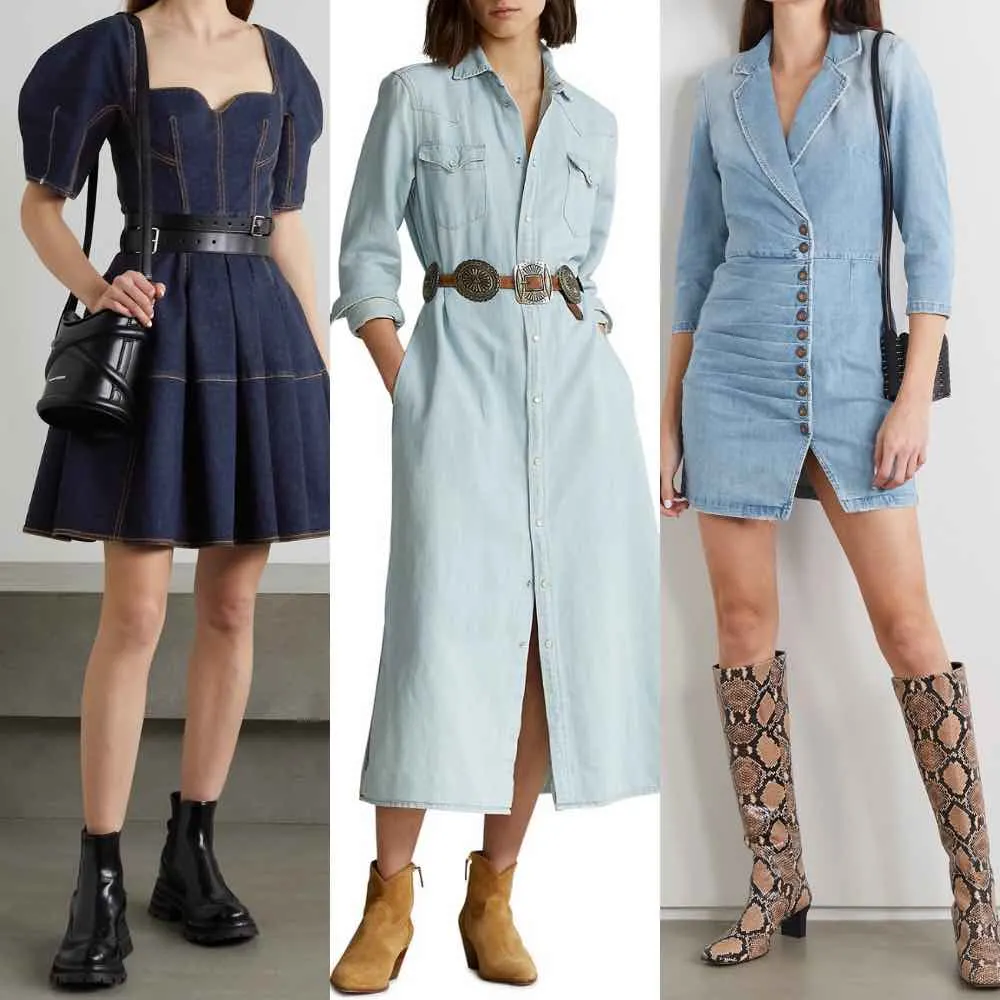 Denim Dress with Ankle Boots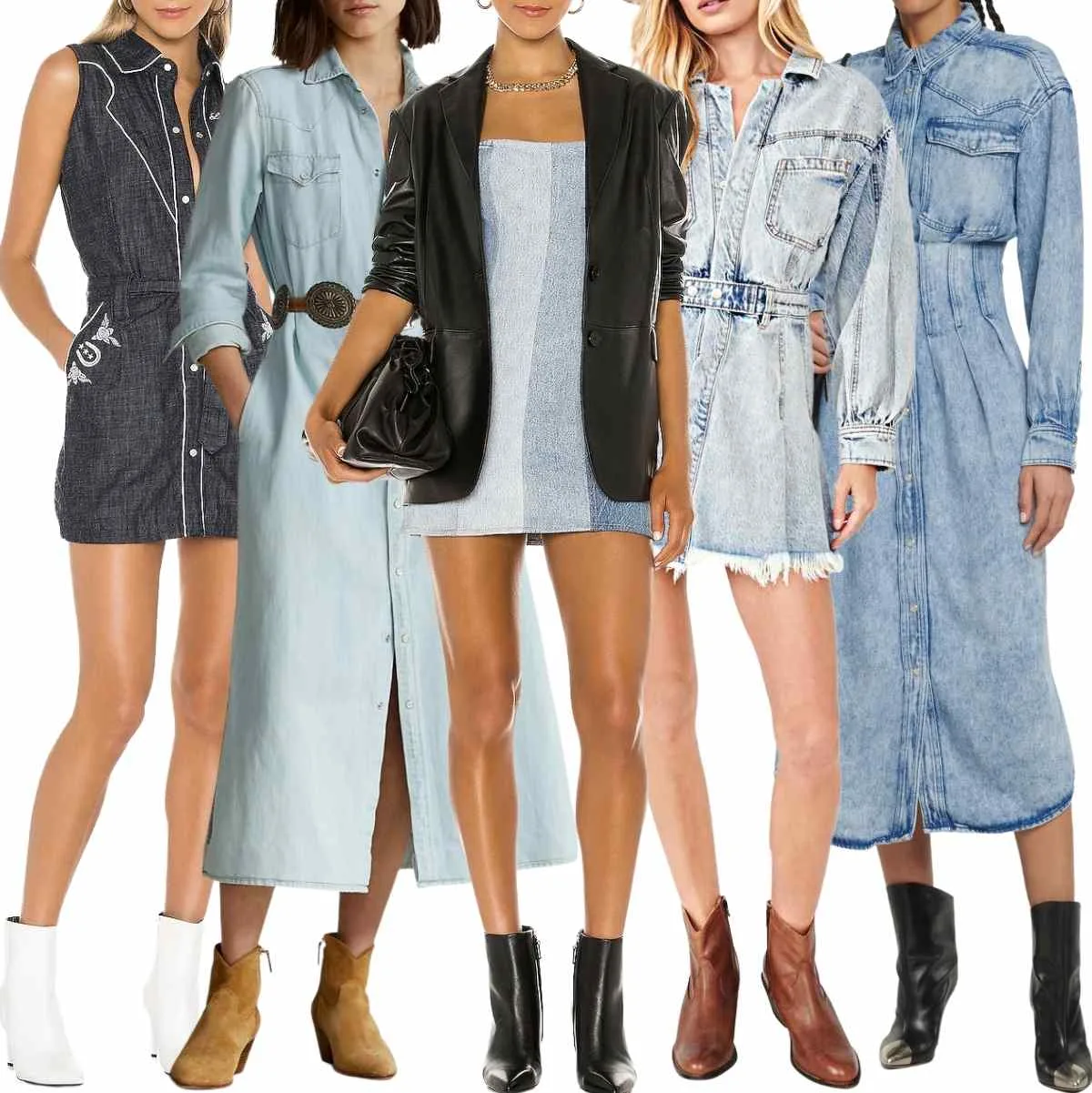 Classic Ankle Boots
Classic ankle boots with an almond toe and mid or high block heel can never go wrong with denim dresses, or any outfit, really!
And the go-to to complete any denim dress fall outfit! Your denim dress and ankle boots will look great in neutral boot shades such as black, tan, beige or brown.
You can even have fun with leopard print and studded booties for Fall. For summer, you can choose perforated or cut-out ankle booties too.
Most casual style purses and minimal jewelry will style well your denim dress and ankle boots look. Check out my post on how to wear ankle boots with dresses.
Ankle Boots We Love:
Western Style Ankle Boots
Western style has been influencing footwear, especially ankle boots and mules for a while now. They are my favorite denim dress with boots pairing at the moment.
And with so many colors and materials to choose from, you can have your pick!
My top choice? A black leather western boot or suede pair with a contrasting wooden stacked heel.
Choose a simple or studded leather backpack, crossbody or shopper style bag and even belt your dress, to complete your look.
Knee High Boots
Knee high boots are back and are great shoes to wear with a denim shirt dress, denim a-line dress and midi blue jeans dress.
A creamy tan or leather pair with a medium block heel is a classic. But you can have fun with snake prints and stiletto heels too. Complete your look with a contrasting neutral purse and sleek hairstyle.
Combat Boots
The hottest boot of the season is a chunky soled combat boot. Like those from Doc Martens or new styles from Steve Madden. But don't dismiss the classic shapes, such staples styles from Taos or Frye, either!
Any type of combat boot works great with a denim dress, denim mini dress and midi dress.
You can't go wrong with a classic black leather pair. However, you want to be extra trendy, try a chunky white combat boot such as Doc Martens, or opt for a black patent pair.
Read my new post on how to wear combat boots with dresses and countless other types of clothing!
Combat Boots We Love:
Cowboy Boots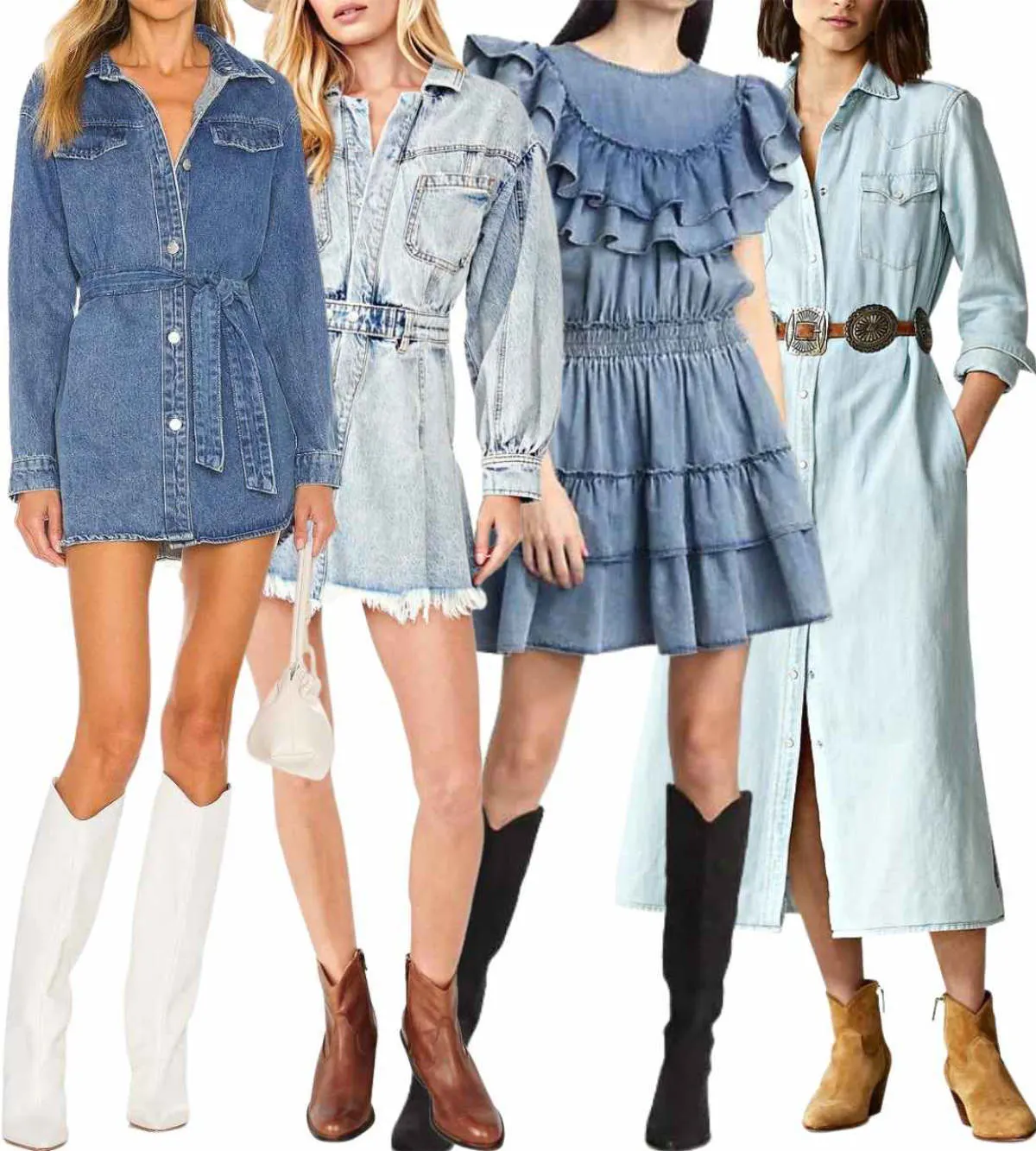 A classic pairing of boots with a denim dress is cowboy boots. Great for summer and transitional months.
Rugged and tough like a denim dress, cowboy boots with a leather shoulder bag or crossbody will make you want to yell yeehaw! Shop various cowboy and Western style tall boots for women at Nordstrom.
Tall Boots
Depending on the style of denim dress chosen, over-the-knee boots can look great. I personally love wearing block heeled tan suede tall boots with a mid to long length denim shirt dress.
Your boots can either end inside your dress, or you can pop open a few buttons to have them peek out! See more about how to wear shoes to wear with maxi dresses, here.
If you're looking to wear a denim dress with boots that are tall, keep all else minimal, including any belt, purse or accessories chosen.
How to Accessorize a Denim Dress
Belt your dress: Belts are great for flowy chambray maxi dresses or denim shirt dresses. Add a western style belt with ankle boots or cowboy boots. A thin leather belted denim dress looks great with a loafer, mule or sneaker.
Choose a great purse: Neutral colored leather purses, handbags, backpacks and shopper bags look great with denim dresses of all kinds. Have some fun with animal printed bags too! If you're looking to elevate your denim dress outfit, pair your dress with a smaller purse or clutch in a black or metallic hue.
Wear minimal jewelry: From simple minimal gold layered necklaces to simple silver studs, minimalist jewelry is a great addition to a denim dress.
How to Wear a Fancy Denim Dress Outfit
Pick the right denim dress: Looking to wear a denim dress but make it a bit fancy? It's all in the dress you choose! Pick a darker denim material, in navy or dark grey. Faded denim looks very casual, so it's harder to dress up.
Choose elevated footwear: It's all in the shoes, as they say – or maybe it's just me! You want to chose leather, satin or metallic materials for your shoes. Keep the shape simple, and opt for heels if you can. A gold strappy stiletto sandal or black patent kitten heel are great choices.
It's all in the bag: Your purse is vital is securing your fancier denim dress outfit! A clutch is preferable, or else a dainty and minimal handbag. You can match it to your shoe hue, or contrast with a black, neutral or even bejewelled choice. Why not have fun with a punch of color too, if it fits the occasion?
Minimal Jewelry: Steer clear from chunky jewelry. Minimal fine jewelry that is matte gold, rose gold or silver will work. If you've got diamonds and want to show them off, this is the time to sparkle!
Final Words on Shoes to Wear with a Denim Dress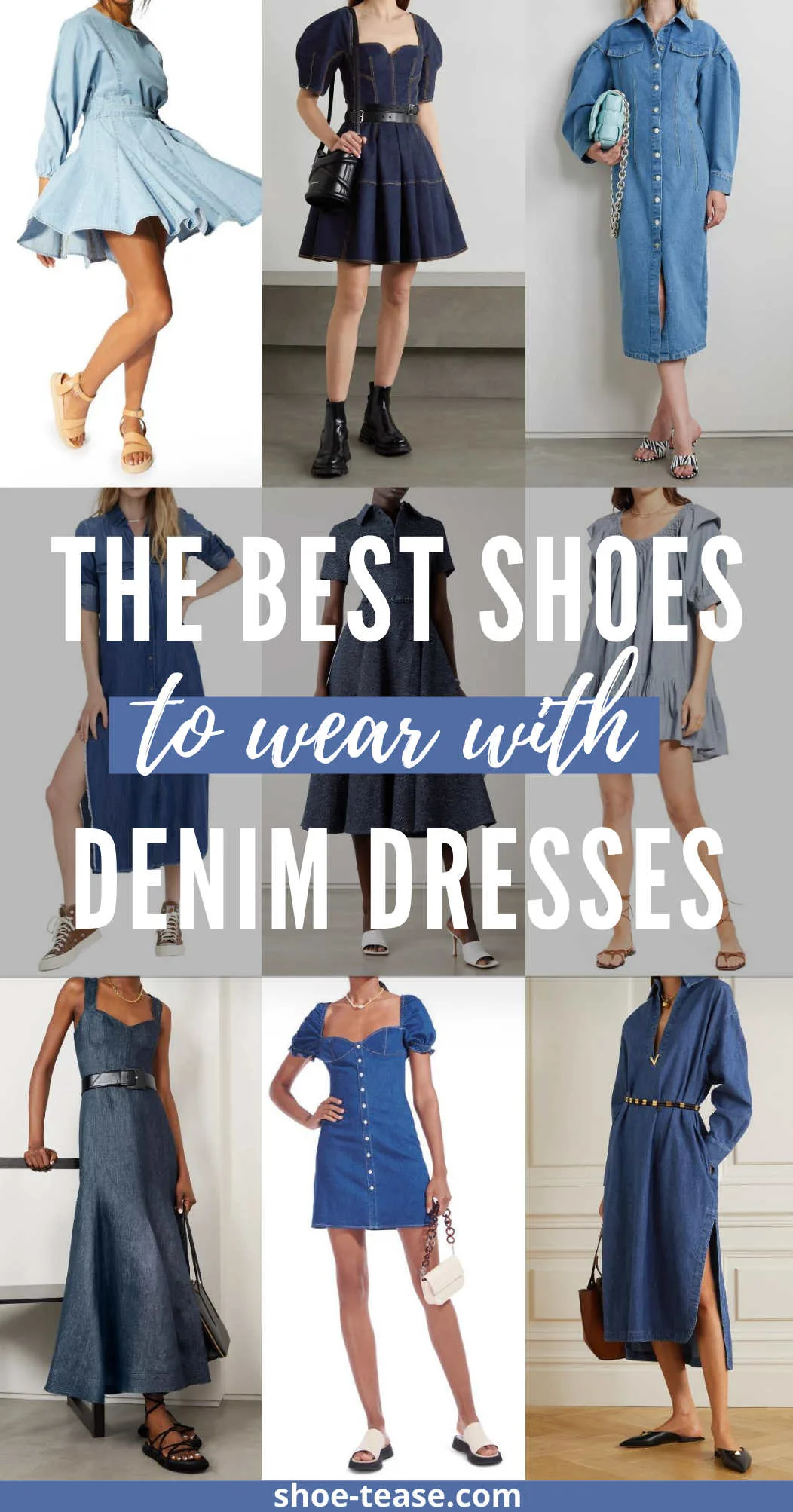 As you've come to see, what shoes to wear with denim dresses are many. There are so many shoes and sandals to style your jeans dress during summer.
As for denim dress fall outfits and even winter outfits, there are many fashionable shoes, boots and heels to choose from during colder months as well!
Not to mention all the purses, jewelry and belts you can style it with! I hope I've given you lots of shoes for thought, along with new blue jean dress outfit ideas you can try on soon.
Of course, the final choice you make on how to wear your denim dress with shoes and boots, really depends on the type of denim dress being worn (structured, loose, long, short, or shirt dress styles).
Also important is where you're headed, and what the current seasonal weather is like.
My main advice? Have fun with your shoes and denim dress! As long as you feel confident and true to yourself in what you are wearing, nothing much else matters.
Check out my comprehensive post on the shoes to wear with all dresses and my other articles about the shoes to wear with maxi dresses!
What are your favorite boots or shoes to wear with denim dresses and denim shirt dresses?
xo ShoeTease