Dresses are fun, and so is dressing up! So it's no wonder there are so many dress quotes and quips about dressing up. And from various sources, like Sophia Lauren to Coco Chanel, to Lauren Conrad!
Here on shoe-tease.com, I've gathered some of the best quotes about dresses, red dress quotes, black dress quotes, and dressing up quotes.
Like Talulah Riley said, "there's a real power in heels and a good dress." And I couldn't agree more!
Quotes about dressing up can be funny, inspirational, or simply observations about the act of getting dressed. The best thing about these quotes is that they'll make you want to get dolled up in your favorite dress and have fun!
Pick your favorite dress quote for the perfect Instagram caption or to inspire your style! Here are some of my favorites dress quotes, red dress quotes, black dress quotes and quotes about dressing up, below:
Best Dress Quotes & Instagram Captions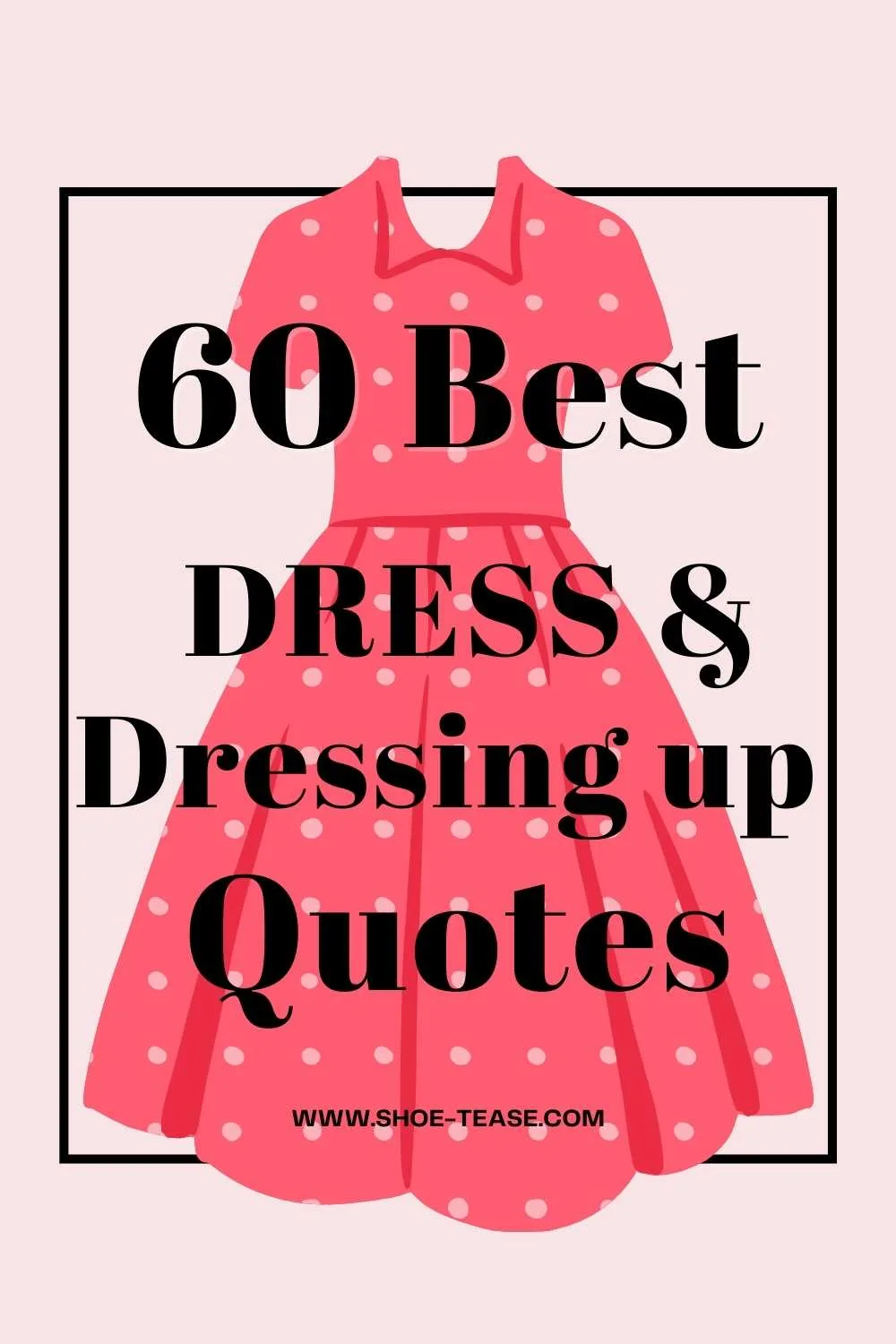 "The dress must follow the body of a woman, not the body following the shape of the dress." – Hubert de Givenchy
"All I need is my Chanel dress, my Louboutins, and some red lipstick." – Blake Lively
"At some point, I told myself: the dress doesn't own you; you own the dress! So, act like it and attack." – Magdalena Frackowiak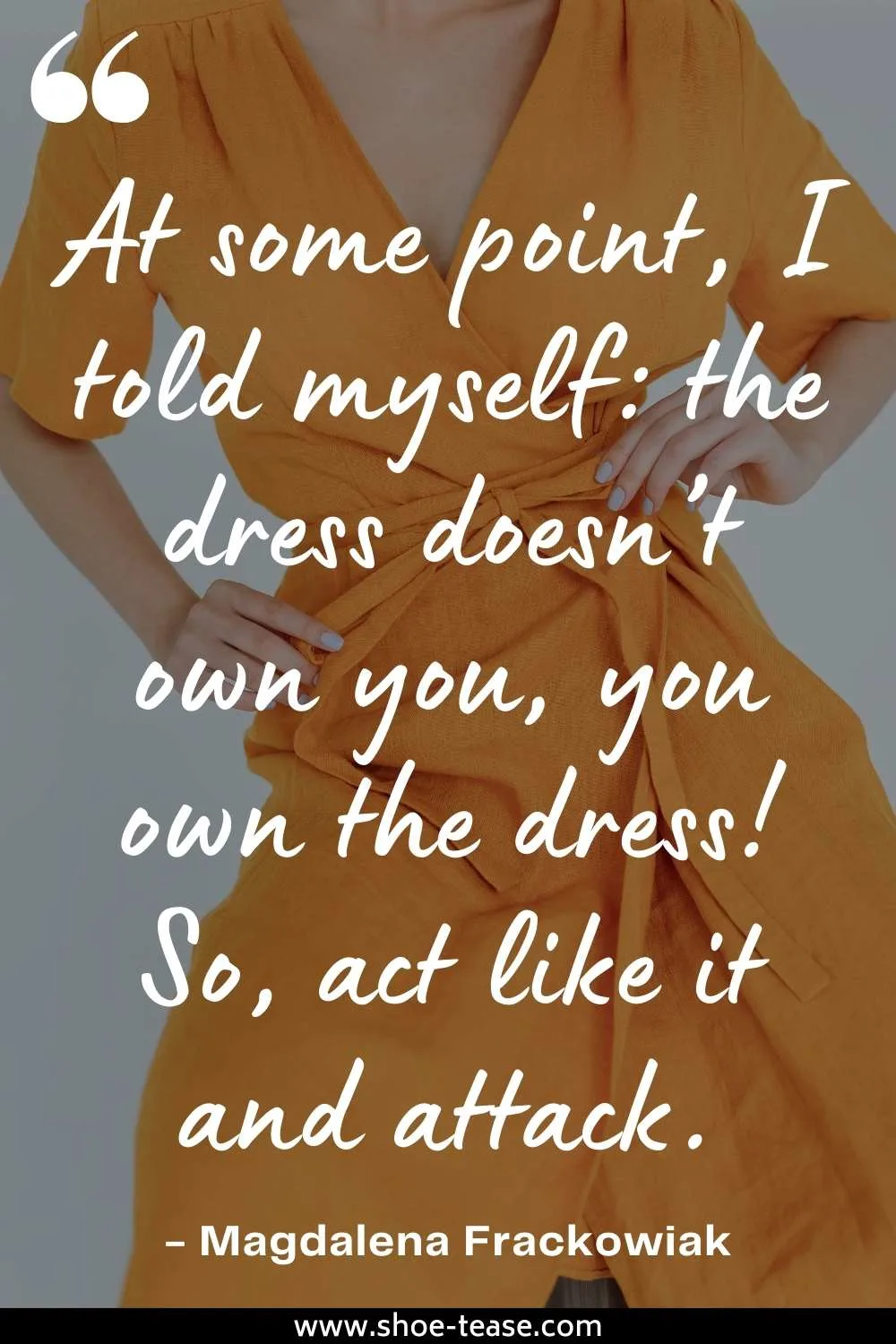 "If you ever meet a guy and you fall in love with him, but because of some weird genetic mutation he doesn't seem to return the feeling?… Wear that dress." – Ann Brashares
"A dress made right should allow one to walk, to dance, even to ride horseback." -Coco Chanel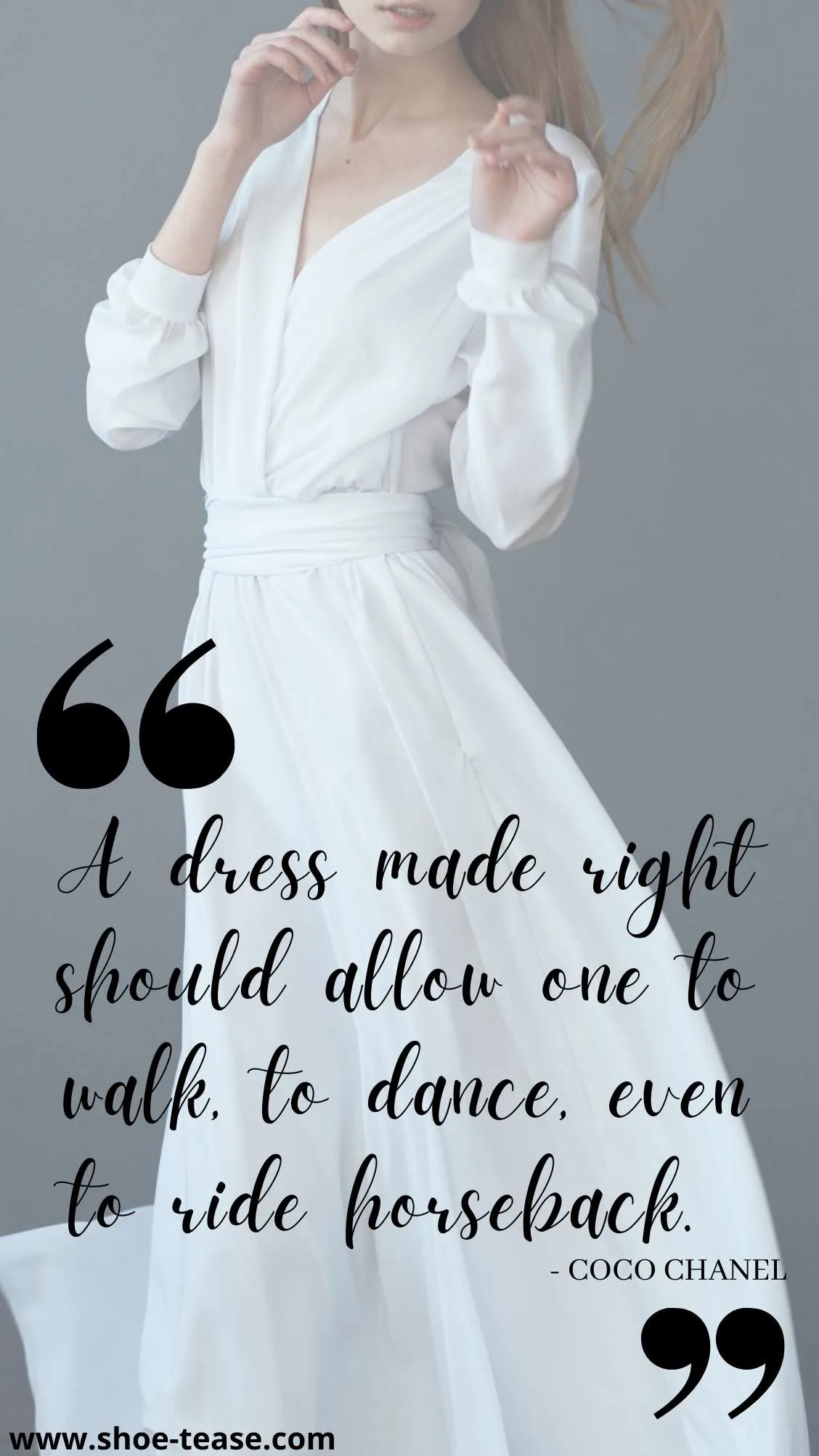 "A woman's dress should be like a barbed-wire fence: serving its purpose without obstructing the view." – Sophia Loren
"Honestly, shopping beats therapy, anytime. It costs the same and you get a dress out of it." – Sophie Kinsella, Mini Shopaholic
"A great dress can make you remember what is beautiful about life." – Rachel Roy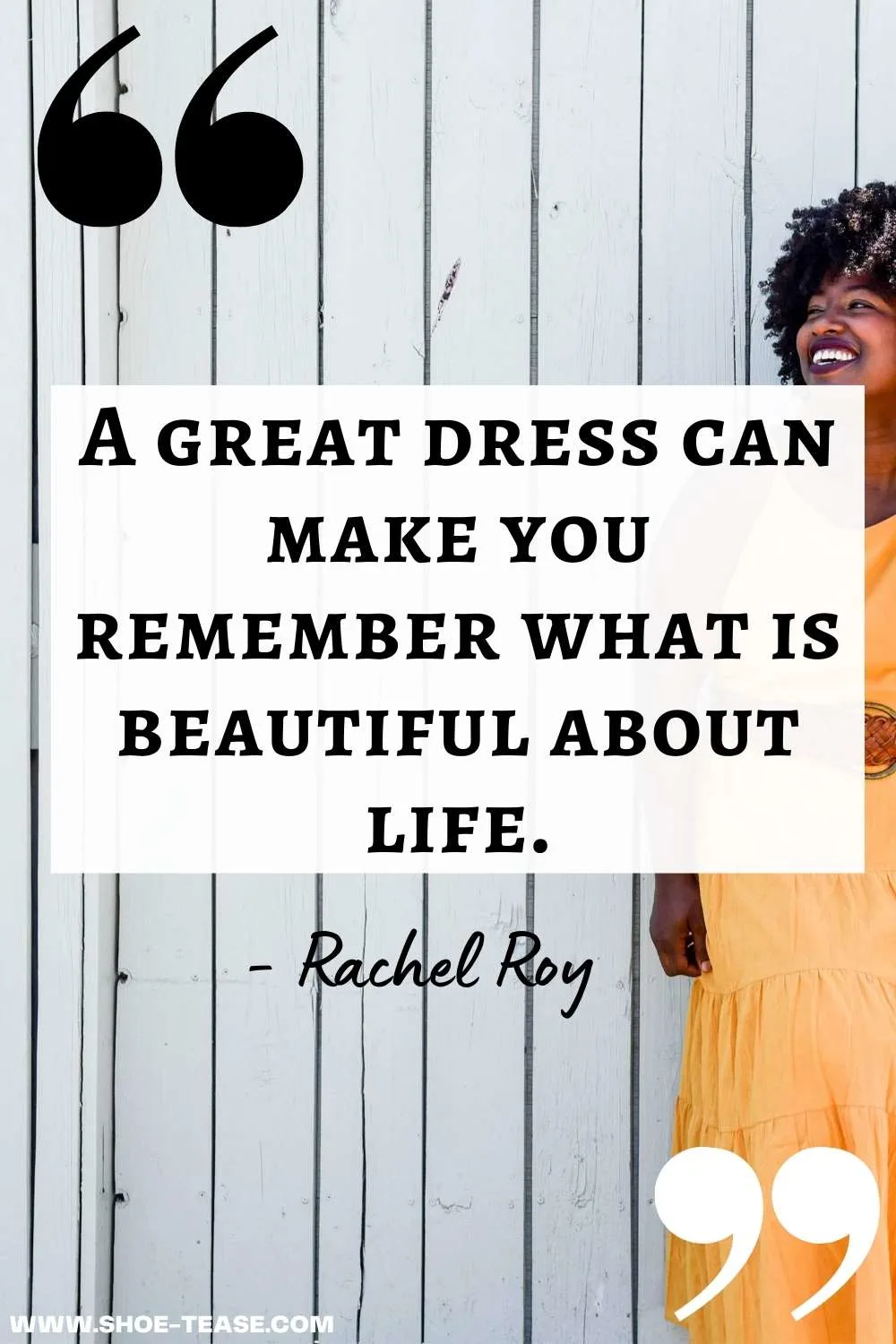 "Happiness lends poetic charms to woman, and dress adorns her like a delicate tinge of rouge." – Honoré de Balzac
"I always think you can never go wrong with a cute party dress." – Lauren Conrad
"There's a real power in heels and a good dress." – Talulah Riley
"You know when you find a great dress, you've gotta hold on to it." – Rachel McAdams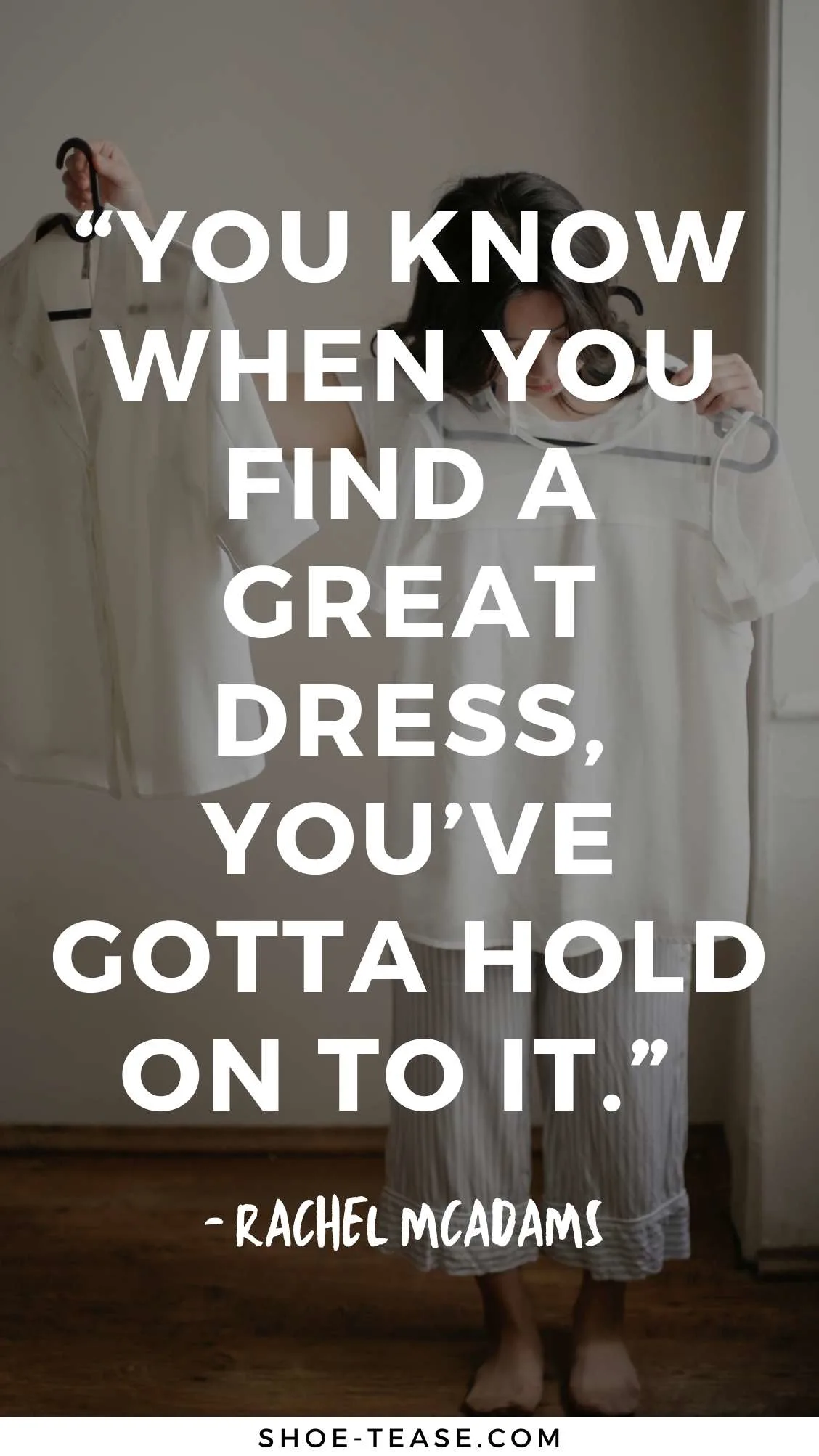 "If I'm going dancing, then I wear the highest heels with the shortest dress." – Kate Moss
"I always think the best way to dress is when the person notices you first and the dress after."-Oscar de la Renta
"There is no doubt a new dress is a help under all circumstances."- Noel Streatfeild
The plainer the dress, the greater luster does beauty appear." – E. F. L. Wood, 1st Earl of Halifax
"All I want is a dress with puffy sleeves." – Lucy Maud Montgomery
"A woman has no need to be perfect or even beautiful to wear my dresses. The dress will do all that for her." – Cristobal Balenciaga
"A dress can hold the power to alter perceptions and opinions, to disguise and reinterpret, to heighten or lessen the wearer's very sense of themselves for better or for worse." – Lydia Edwards
"Dresses! We love them, we hate them, we gawk at them, we long for them, we disdain them and we buy them. If dresses could talk, what stories might they tell?" – Peter Lang
"Dress stories reveal so much more than we may realize about who and how we are in the world and what sort of culture we are living in." – Peter Lang
"Artistic dress communicates your unique expertise and profession." – Jamie Yasko-Mangum
"A dress is a piece of ephemeral architecture, designed to enhance the proportions of the female body." – Christian Dior
"Put even the plainest woman into a beautiful dress and unconsciously she will try to live up to it." – Lucy, Lady Duff-Gordon
"Sometimes women are afraid to be se xy and women should know that sometimes a dress can change her life." – Roberto Cavalli
"And the women who had thought they wanted dresses never realized that what they had wanted was happiness." – John Steinbeck, East of Eden
"Dresses don't look beautiful on hangers." – Amit Kalantri, Wealth of Words
"The dress only means something if you want it to. What is important are the people behind it. When it comes to these things that are handed down from generation to generation, each woman leaves her own mark on it, so that it tells ours story, stitch by stitch" – Brenda Janowitz, The Grace Kelly Dress
"Over the years I have learned that what is important in a dress is the woman who is wearing it." – Yves Saint Laurent
Best Red Dress Quotes & Instagram Captions
A red dress is always a head-turner. Whether you'll wear it to a party or a special event, a red dress commands attention and oozes confidence.
A bold choice, many shoes go with a red dress, as do purses and smaller accessories. In fact, a red dress can be accessorized with belts, necklaces, tights and shoes to suit most occasions.
If you're looking for a little dose of inspiration, check out our favorite red dress quotes below!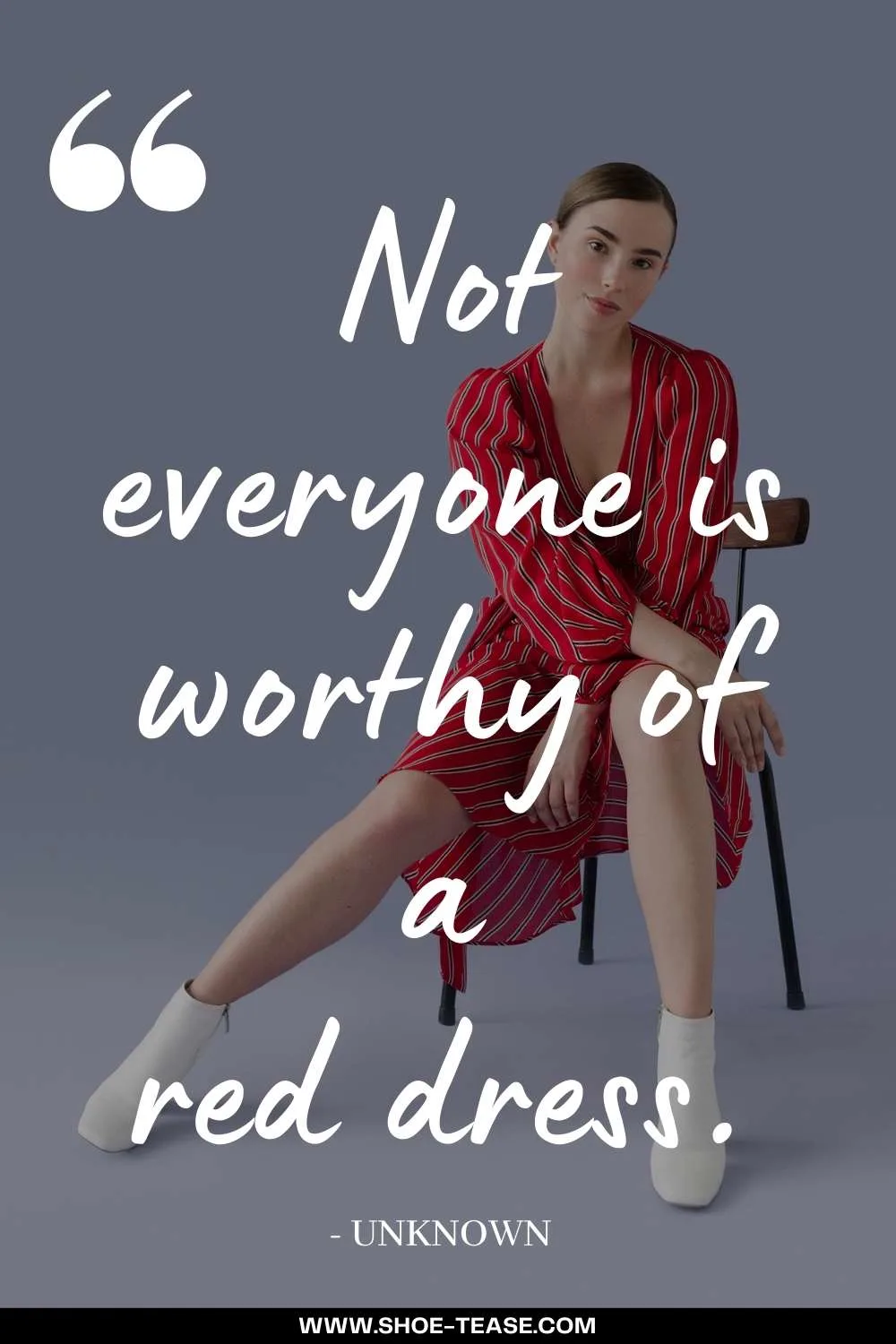 "Not everyone is worthy of a red dress." – Unknown
"Nothing attracts attention like a red dress." – Laura Bush
"I think that red polka red dress is just iconic." – Christian Siriano
"A red dress gives the confidence to walk out, the freedom to live and the power to conquer." – Shilpa Ahuja
"Never has it been inappropriate for a girl to wear a red dress." – Caroline George, The Vestige
"Red dress is not a trend. It never was. It's an expression. A lifestyle." – Unknown
"Two things in the world are not meant to be hidden – love and your red dress." – Unknown
"The power of a red dress." – Moira Young
"If only Cinderella had a red dress in her closet, she wouldn't need a prince to save her." – Unknown
"Confidence is rocking a red dress." – Unknown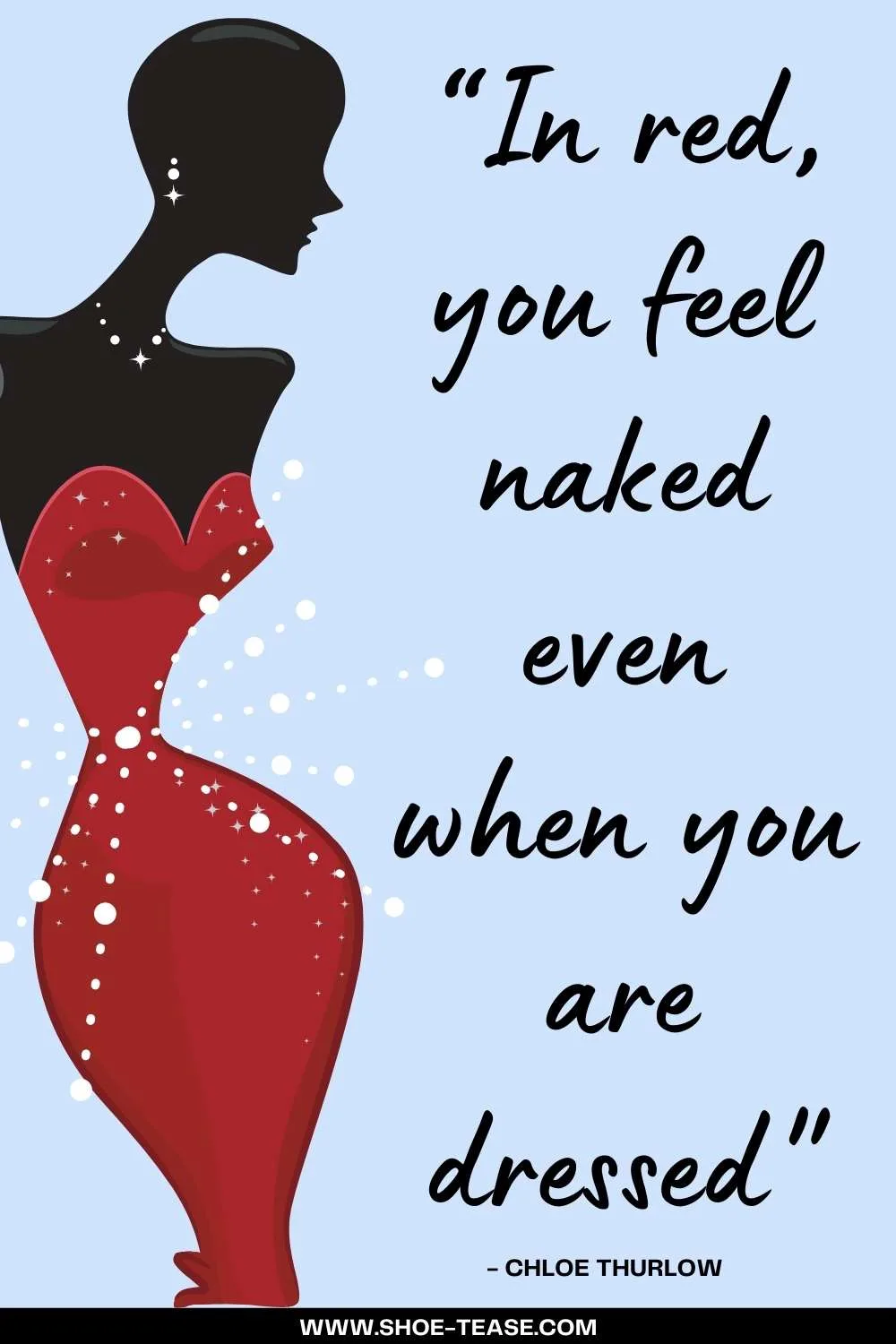 "In red, you feel naked even when you are dressed." – Chloe Thurlow
"When we put on a dress, we give it life; but in the red dress it is the opposite, it is not the dress that is given life, but the one who wears it!" – Mehmet Murat ildan
"Some girls are born to be nice. Others are born to wear a red dress." – Shilpa Ahuja
"My formula for a great evening: red dress, red wine and red lipstick!" – Unknown
"I may have more issues than Vogue but at least I can rock a red dress like a cover girl." – Unknown
Best Black Dress Quotes & Instagram Captions
There's no such thing as having too many shoes…or too many little black dresses! It's a wardrobe staple that never disappoints.
The black dress is a fashion staple that has been around for centuries. It is the perfect go-to for any occasion, and can be dressed up or down to suit your needs. I even have a whole post on what accessories & shoes to wear with a black dress to help you out!
Over the years, many style icons have proclaimed their love for the little black dress, and their words of wisdom still resonate today.
Below are some of the best little black dress quotes to use as Instagram captions if you like:
"One is never over-dressed or underdressed with a Little Black Dress." – Karl Lagerfeld
"A black dress is like a blank canvas. The real art lies in how you accessorize it." – ShoeTease
"If all else fails and you don't know what to wear, put on a black dress, and you'll be happy." – Lily Donaldson
"One favorite find of mine has to be a 1980s black dinner jacket that I wear as a dress." – Lily Donaldson
"Every girl should have a little black dress, a great boyfriend blazer and a pair of skinny jeans in their wardrobe." – Lauren Conrad
"The zenith of elegance in any woman's wardrobe is the little black dress, the power of which suggests dash and refinement." – Andre Leon Talley
"I'm usually all about the tight jeans and little T-shirt, but sometimes I want to put on a black, sequined dress and be a freaking girl." – Britney Spears
"Shopping trips are simple – there's always a nice new black dress to bring home!" – Unknown
"I love black because it affirms, designs, and styles. A woman in a black dress is a pencil stroke." – Yves Saint Laurent
"A black dress is forever!" – Unknown
"Always have a good little black dress, pearls and stay in the best hotel, even if you can have only the worst room." – Tilly Losch
"You can wear black at any time. You can wear it at any age. You may wear it for almost any occasion; a 'little black frock' is essential to a woman's wardrobe." – Christian Dior
"I'll stop wearing black when they make a darker color." – Wednesday Addams, The Adams Family
"A little black dress is something to rely on. To fill you with confidence and ease. To have an attitude that is pure and effortless, yet se xy and classy." – Stella McCartney
Best Dressing Up Quotes & Captions
A well-dressed person is a sight to behold. But what exactly is best dressing? Is it dressing up in the latest fashion trends?
Or is it dressing in a way that makes you feel comfortable and confident? Perhaps it's a bit of both.
So, whether you're dressing up for a special occasion or simply dressing to impress, remember that it's not about what you wear, but how you wear it.
With that in mind, here are some of our favorite quotes about dressing up and looking your best: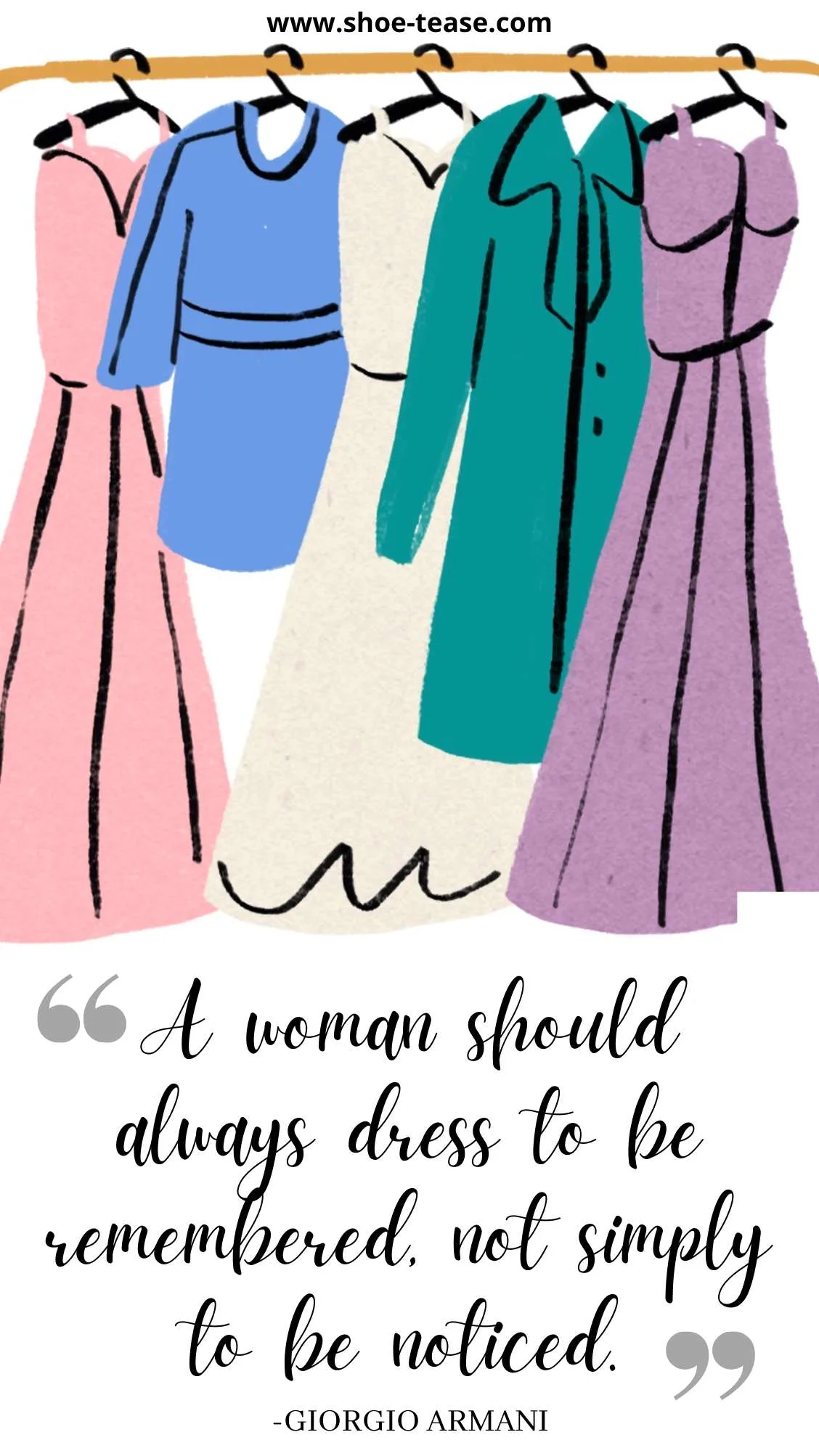 "A woman should always dress to be remembered, not simply to be noticed." – Giorgio Armani
"Dress for the story that you'd like to have people know about you before you even open your mouth." – Rachel Roy
"I had decided early on that if I couldn't dress elegant, I'd dress memorable." – Barbara Kingsolver
"You can wear black at any time. You can wear it at any age. You may wear it for almost any occasion." – Christian Dior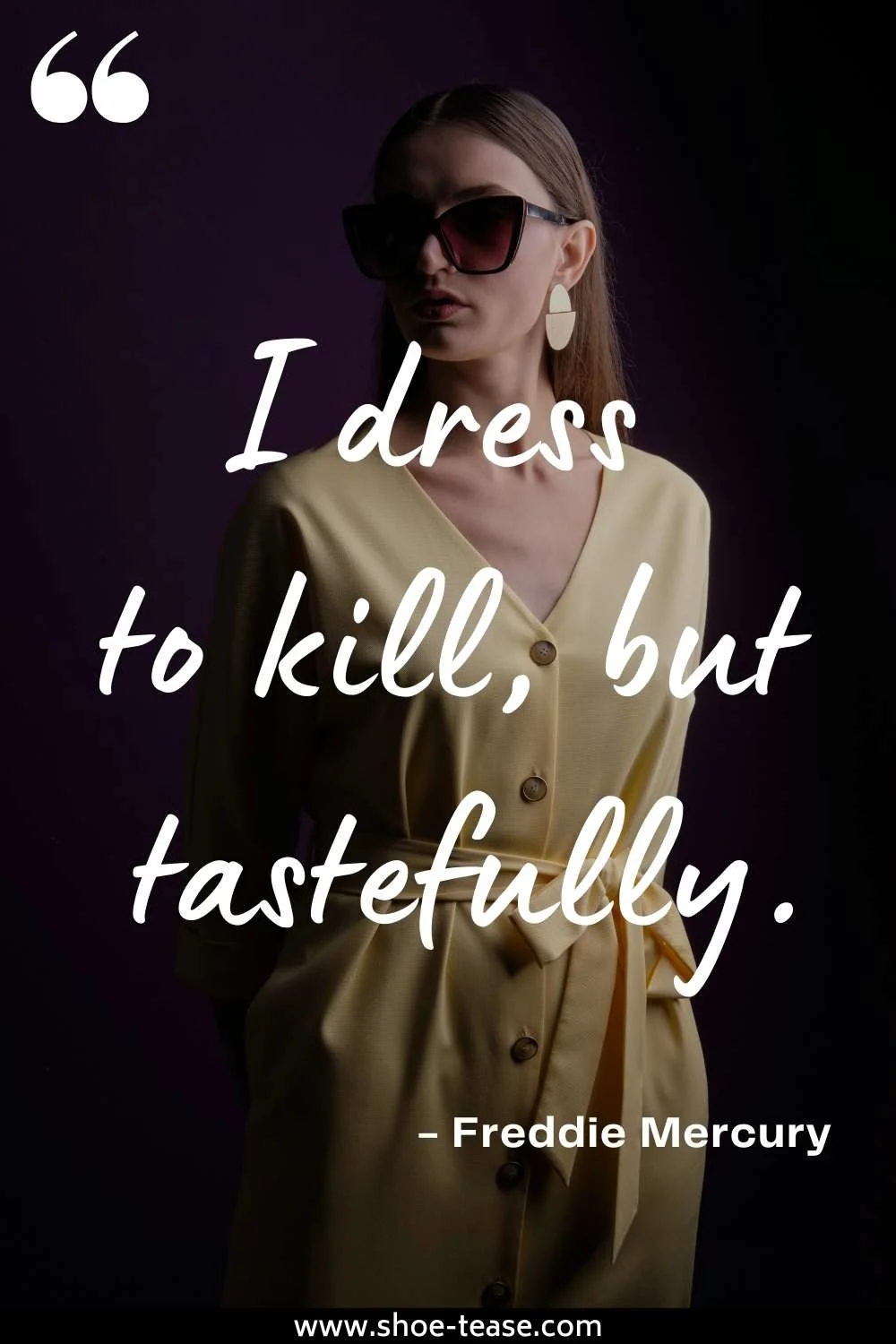 "I dress to kill, but tastefully." – Freddie Mercury
"It's good to stay as close to real life as you can, and then kind of dress it up." -Nelson DeMille
"If you can't be better than your competition, just dress better." – Anna Wintour
"You can have anything you want. If you dress for it." – Edith Head
"What you wear speaks so loudly that I cannot hear what you say." – Ralph Waldo Emerson
"We say something every morning when we decide how to dress." – Alison Lurie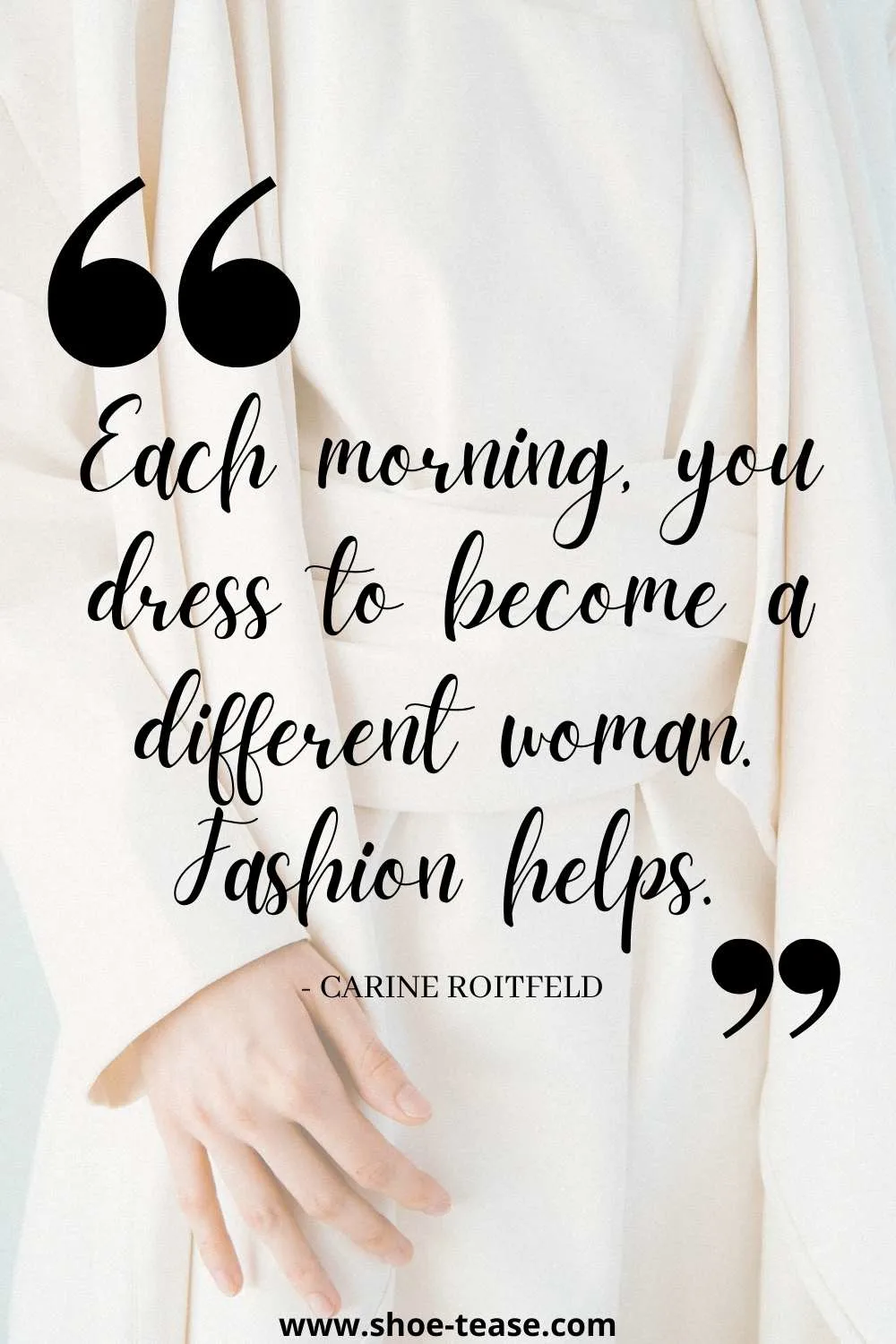 "Each morning, you dress to become a different woman. Fashion helps." – Carine Roitfeld
"She did what girls generally do when they don't feel the part: she dressed it instead." – Zadie Smith, On Beauty
"Fashion is part of the daily air and it changes all the time, with all events. You can even see the approaching of a revolution in clothes. You can see and feel everything in clothes." – Diana Vreeland
"Fashion is what you're offered four times a year by designers. And style is what you choose." – Lauren Hutton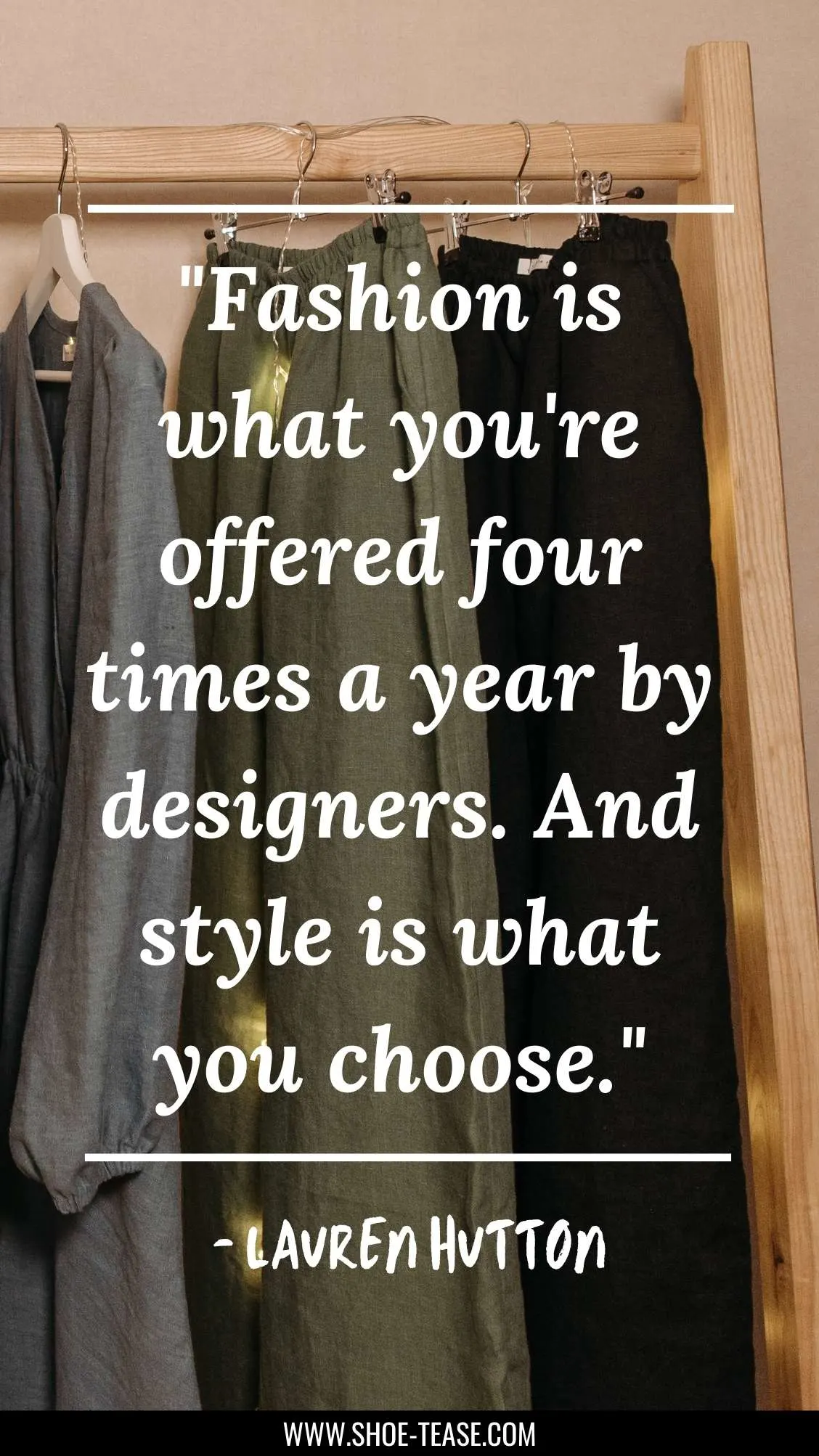 "When you don't dress like everyone else, you don't have to think like everyone else." – Iris Apfel
"Dress shabbily and they remember the dress; dress impeccably and they remember the woman." – Coco Chanel
"Fashion is about dressing according to what's fashionable. Style is more about being yourself." – Oscar de la Renta
"The joy of dressing is an art." – John Galliano
"What you wear is how you present yourself to the world, especially today, when human contacts are so quick. Fashion is instant language." – Miuccia Prada
Final Words about Dressing up and Dress Quotes Captions
The quotes I've shared about dresses and dressing up have shown us that much thought goes into getting dressed up!
Whether you love wearing red or black dresses, putting on a dress or getting dolled up can make you feel powerful and confident.
I hope these quotes have inspired you to wear your favorite outfit and enjoy feeling beautiful and fabulous! And feel free to use any in your next Instagram captions about dresses!
What's your favorite quote about dressing up? If I missed any, please let me know in the comments below!
More Dress & Quotes Posts:
xo ShoeTease
Cristina is the chief editor, fashion & shoe expert here at ShoeTease. As a seasoned stylist and women's fashion & shoe designer, she boasts over 20 years of experience in the fashion industry. She loves crafting effortless outfits for ladies both online and off and believes that styling advice should be accessible to everyone. Whether you're a styling pro or just starting out, Cristina's here to guide you on your fashion journey! Learn more.