A shirt dress is a closet staple for every woman's wardrobe. How to style a shirt dress outfit starts with the shirt dress, but layering & accessories will give the look its final touches!
Of course, picking the best shoes to wear with a shirt dress are important too!
Such a versatile piece of clothing that can be dressed up or down when styled with the right shoes and accessories. Whether you are going to work, out on a date night, or just running errands, there is a shirt dress outfit for your taste!
What is a shirt dress, exactly? Shirt dresses are dresses that look like shirts, similar to a classic tailored men's shirt. Typical shirt dresses are made of cotton, but they come in many materials such as silk, chambray, denim & more.
Whether you prefer to buy a shirt dress itself of style a man's shirt – à la Carrie Bradshaw – the choice is yours!
Today on shoe-tease.com, I'll show you 20+ different ways how to wear a shirt dress for any event. From casual, to business chic to elevated for an elegant soirée, I have styling tips for you!
I'll start by showing you trending shirt dress styles of the moment, followed by the various accessories, layering options and of course shoes, for all your shirt dress styling needs. So let's get to it!
FYI: you will find that many of the types of shoes that go with denim dresses will generally work well for shirt dresses too.
Top 10 Popular Shirt Dress Styles:
Dress shirts come in many different fabrics, shapes, prints & colors. White classic dress shirts are made of a crisp cotton poplin material, although they have significantly evolved.
Shirt dresses now take on some creative forms, including hybrid dresses like knit and front-tie shirt dresses. They can be made of soft silky fabrics, stiff materials, be long or short, oversized or slim-fitting.
You can find shirt dresses with various sleeve lengths (or no sleeves at all!), puffed or straight sleeves, different collars, buttoned-down or partially buttoned-down and more!
Below are some trending and classic shirt dress styles for women:
Classic Crisp Shirt Dress – your classic shirt dress that looks like a shirt!
Denim Shirt Dress – in various shapes, colors, made of denim or chambray
Plaid Shirt Dress – different plaids, including Buffalo plaids, usually fleece material
Leather Shirt Dress – a more structured dress made of leather
Mini Shirt Dress – short dress shirt style
Maxi Shirt Dress – long dress shirt style
Front Tie Shirt Dress – has built-in front panels made of the same material as the dress that tie at the front waist
Asymmetrical/Deconstructed Shirt Dress – creative use of fabric draping that varies in shape on either side. Seen in many high-end designer collections
Utility Shirt Dress – large front pockets at the front, similar to a safari-style jacket usually with belt of the same material in tan/khaki/beige tones
Knit Shirt Dress – shirt dress made of knit material; a sweater dress meets shirt dress
How to Wear a Shirt Dress – 20+ Shirt Dress Outfit Ideas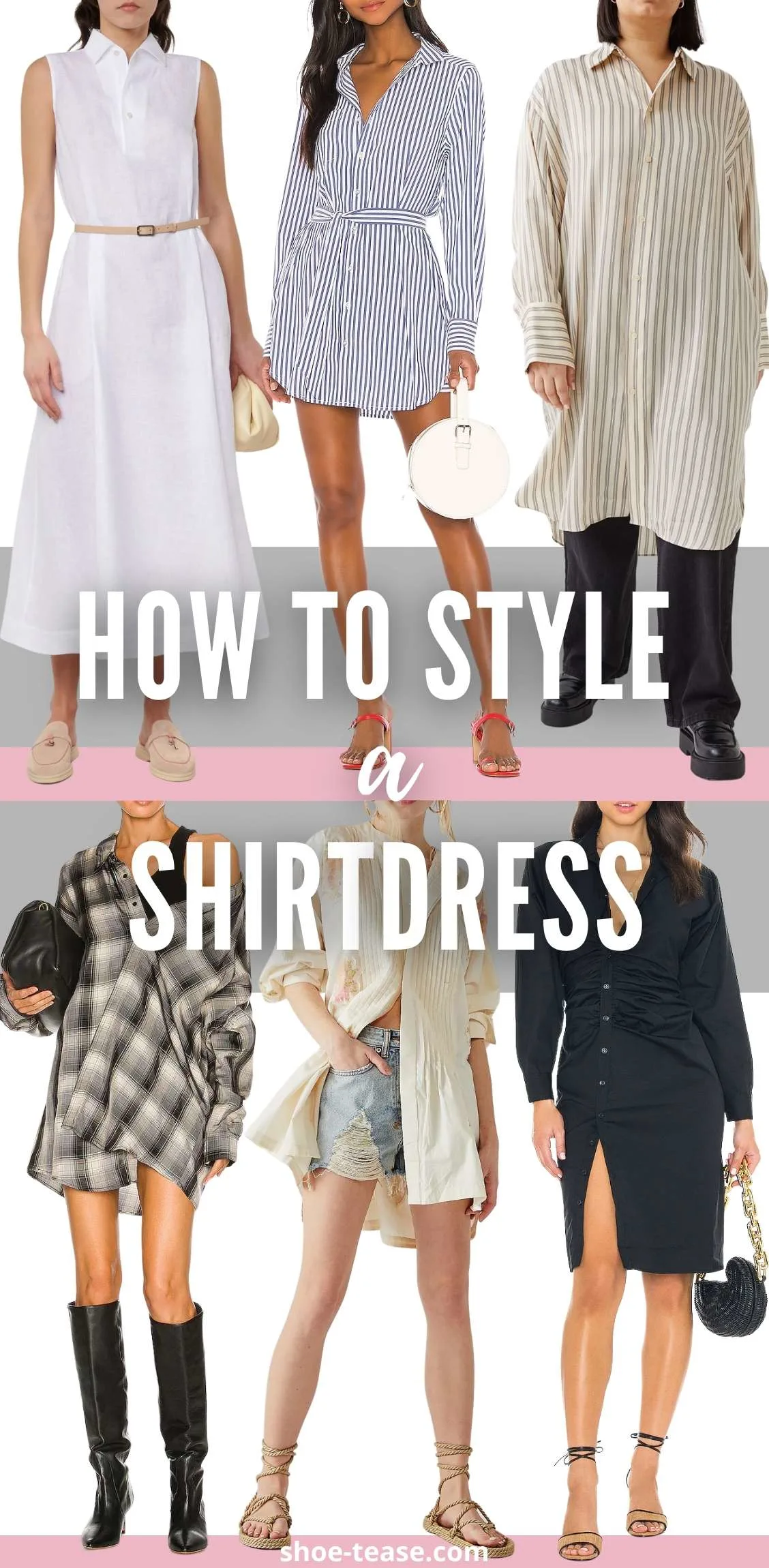 1. Wear It as Is (and Keep it Simple!)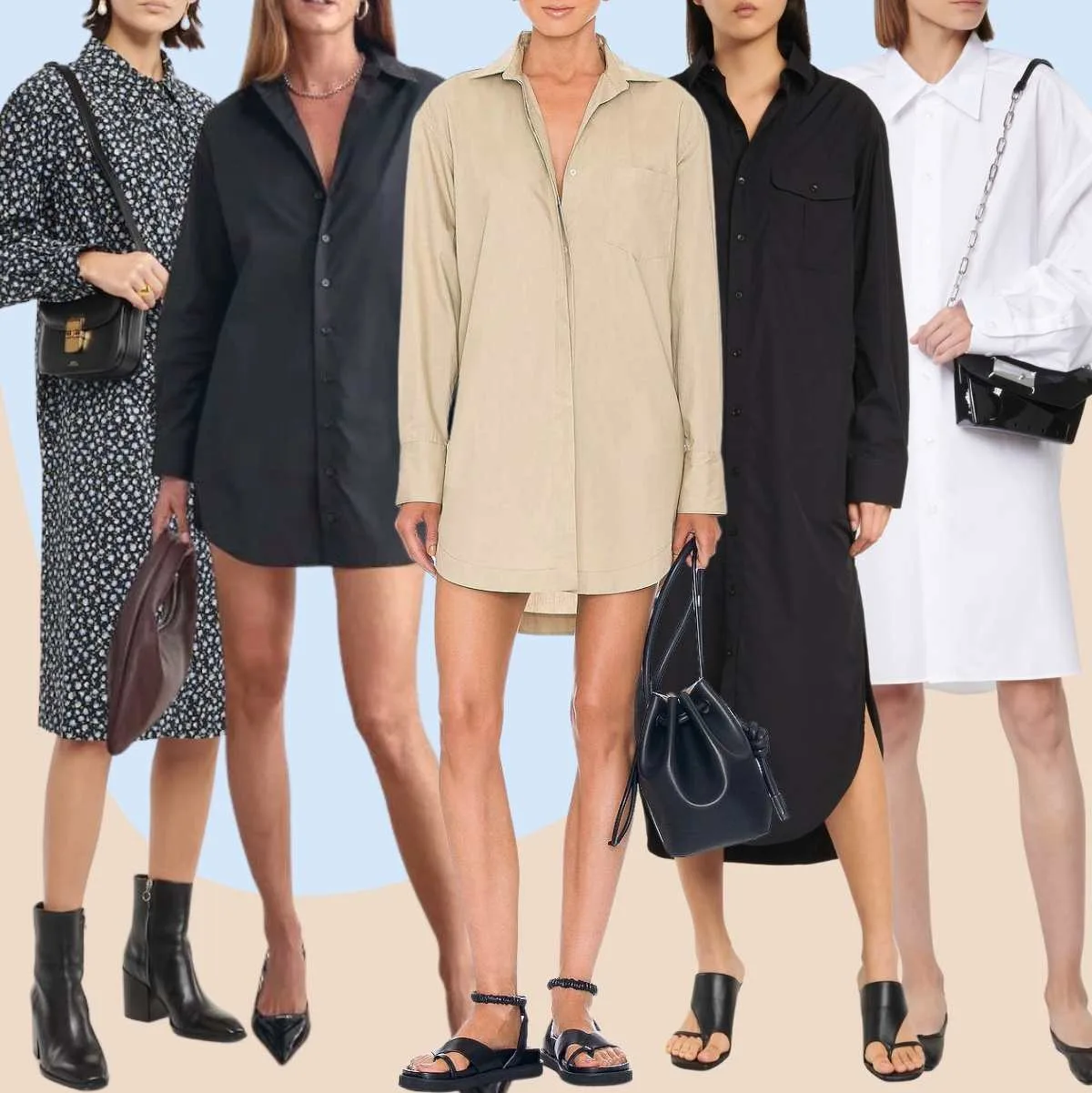 Wondering how to wear a shirt dress? It simply could not be easier – just throw it on and go. While your shirt dress outfit can be styled different ways, shirt dresses also do just fine on their own!
Pick a neural colored shirt dress or fun printed one. Each style will speak for itself!
Pair with sandals, slides, classic sneakers or ankle boots in summer. Yes, the shoes will have a direct impact on whether the shirt dress will look more casual or formal.
Jewelry too! Grab a delicate necklace or layer several chains and charms. Or punch up the style with statement show-stopper earrings.
If it's chilly out, layer with a blazer, cardigan or pullover, scarf, or a denim or leather jacket. Voila! No fuss, no muss and a whole lotta cute when it comes to simple ways to wear a comfy, classic and chic shirt dress.
Just one thing: don't forget to either press of hang your cotton and linen shirt dresses to dry for it to look crisp and chic!
2. Belt Your Shirt Dress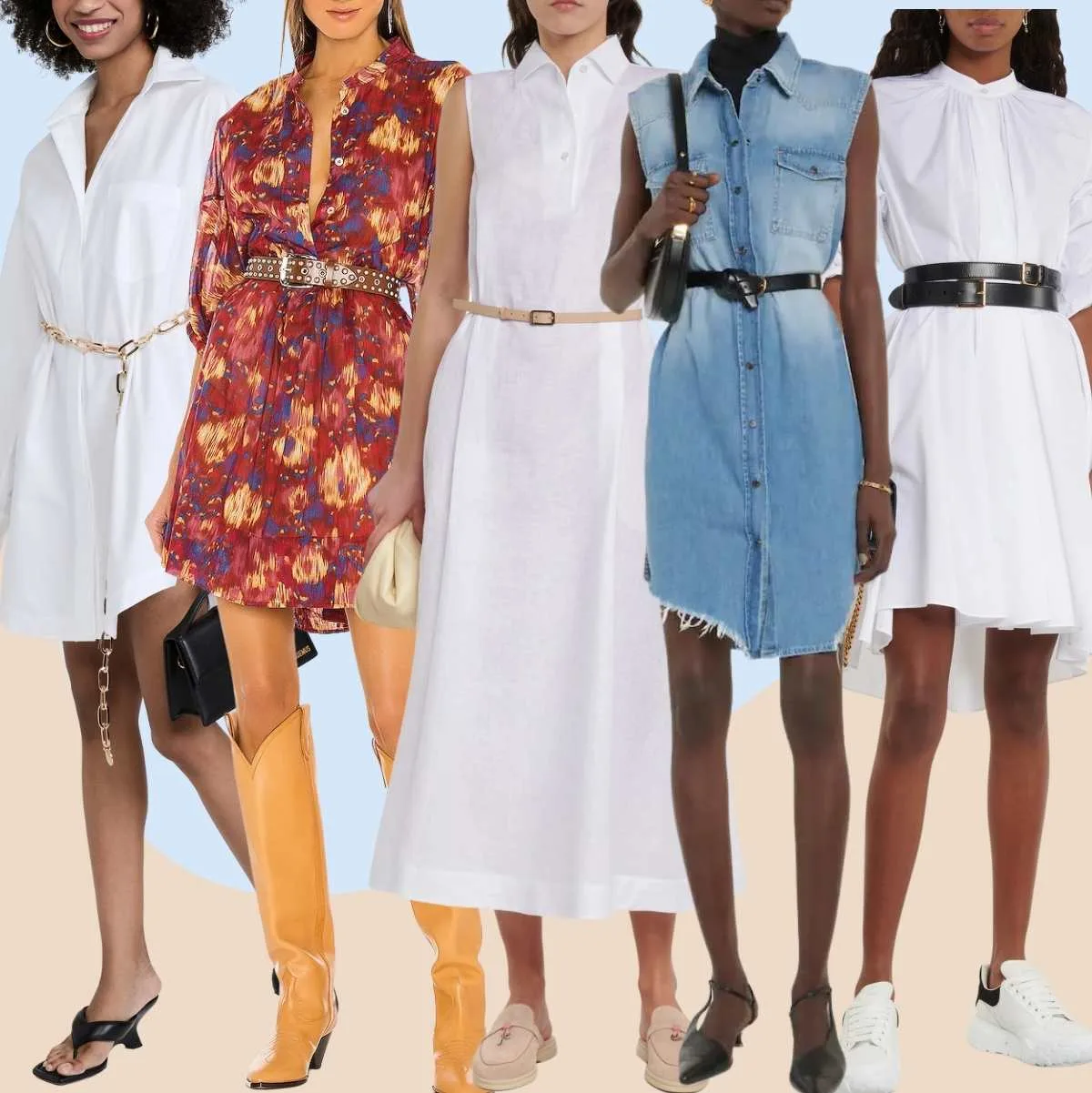 When thinking about how to style a shirt dress, the beauty of this unassuming closet staple is that it will pull you together in a cinch. Speaking of cinch, if boxy shapes are tricky for your silhouette, a belt or drawstring waist will add definition.
Go for a rope belt or a cloth belt with a double ring buckle. This is a fun look perfect for summer. Or pair with a thin tie belt or a wide corset belt. Just wear the corset belt with a longer shirt dress to maintain dress length.
You can also belt your shirt dress with a long silk scarf or a contrasting shirt, tied around the waist. If you put the shirt on over your dress later, leave it unbuttoned and tie the ends in a knot at the waist. This will also help cinch your shirt dress.)
A metal belt or designer buckle belt will up the ante on the shirt dress style! Just match with a similarly hued purse and add some delicate jewelry and you're good to go!
3. Roll Up the Sleeves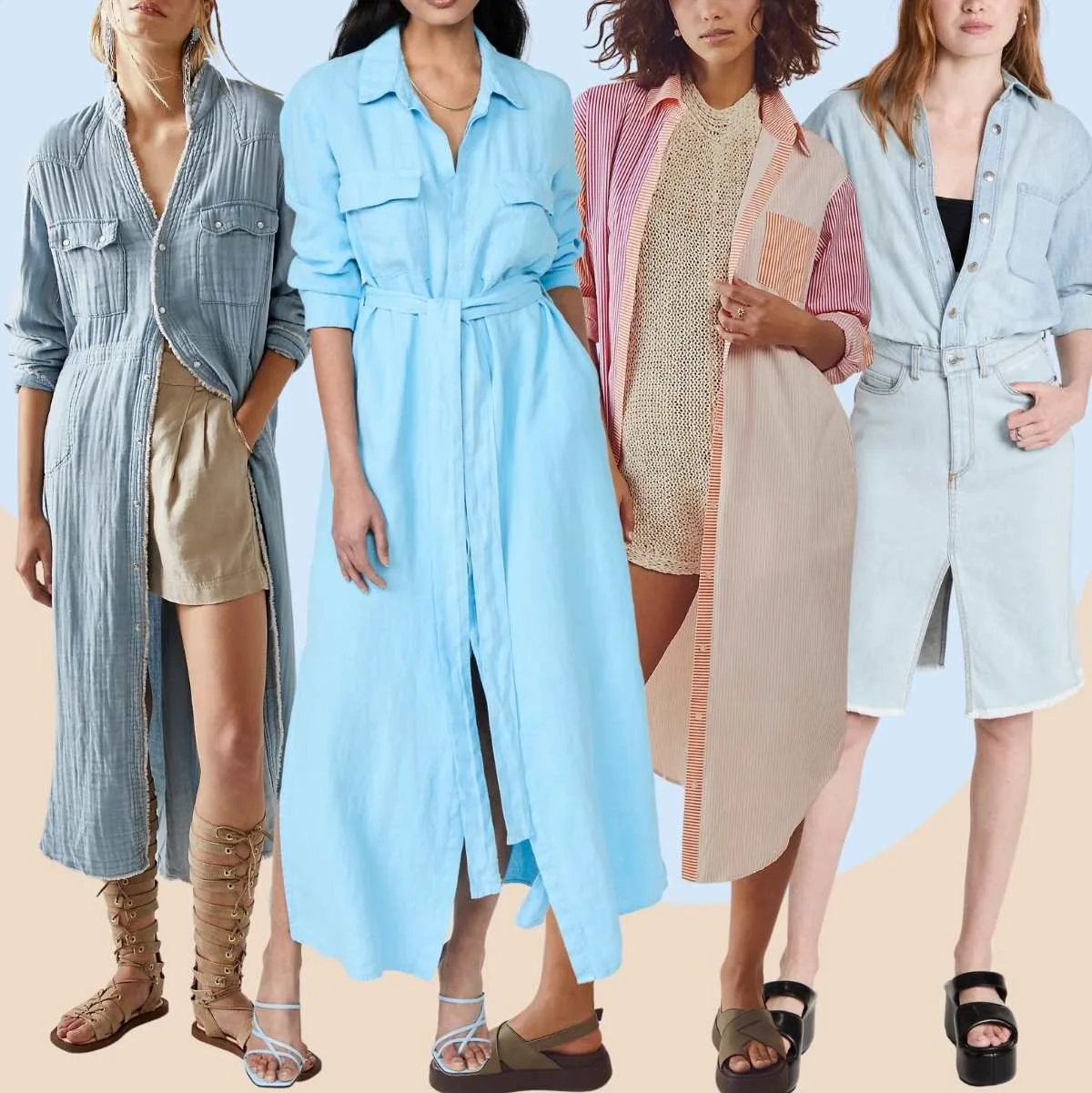 To bring a sporty, casual, not-trying-too-hard look to the mix, roll or scrunch the sleeves. You can roll them neatly to make three-quarter length sleeves. This works to ease the look of stiffer shirt dresses in particular!
Or you can fold the unbuttoned sleeves up in one big cuff, then scrunch them up above your elbow. Add a baseball cap or wide-brim straw or Panama hat and crisp white tennis shoes.
4. Wear It as a Shirt
If your shirt dress hits at least around mid-to-upper thigh, like a tunic, you can wear it as a shirt. With straight-cut trousers or wide-leg pants, loosely front-tuck it, leaving the back untucked.
However, with certain clothing, a longer shirt dress will work well too! Just leave the bottom buttons, unbuttoned if you may. You can also wear a simple tank top underneath. Consider shorts, leggings and even jeans with your shirt dress/tunic, too. Front-tuck the top or add a thin belt.
Or, with a bodysuit underneath, unbutton your shirt dress (of any length) all the way and wear it as a lightweight top layer/jacket. A fashion-forward look perfect for pants, jeans and shorts! Just add sandals, flats or slides. The choice is yours!
5. Layer a Shirt Dress Over Clothing
– Over Jeans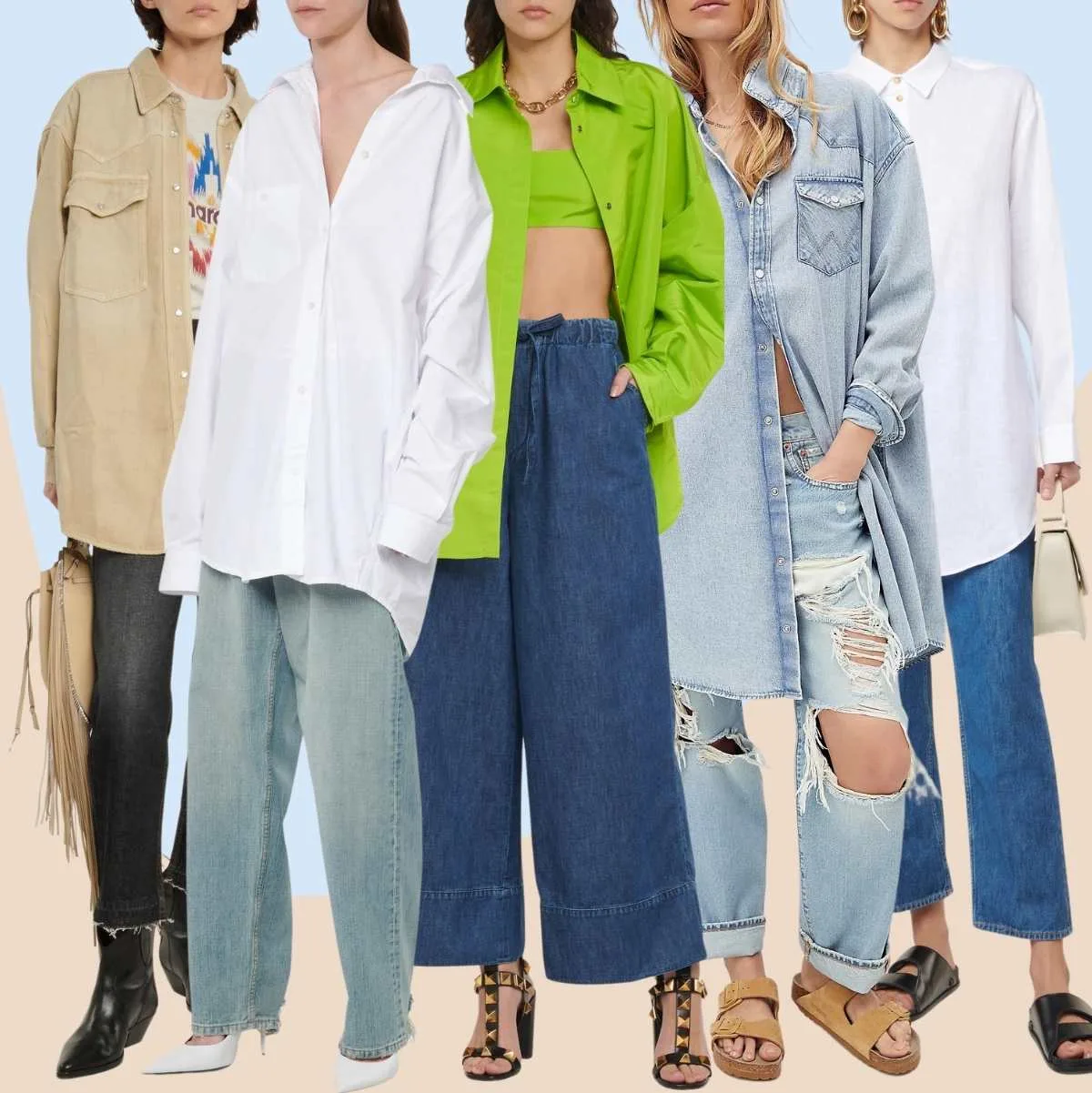 Just as your shirt dress can be worn with pants or shorts, it can be layered over other pieces in your closet. I love the versatility that comes with wearing a shirt dress.
With denim (think high-waisted, straight-leg, or wide-leg jeans), wear your shirt dress with several (or all) buttons unbuttoned.
I love a denim shirt dress over any type of jeans. You can contrast the denim color or match the tone. Keep it all baggy styled with Birkenstocks or add a roomy shirt dress with a pair of slimmer jeans, adding a pair of colorful pumps and a small handbag for an easy day-to-drinks look.
Of course, you can keep things looking smart with a simple short white shirt dress over a pair of cropped wide leg jeans. Add a pair of loafers for a casual Friday at the office.
– Over Shorts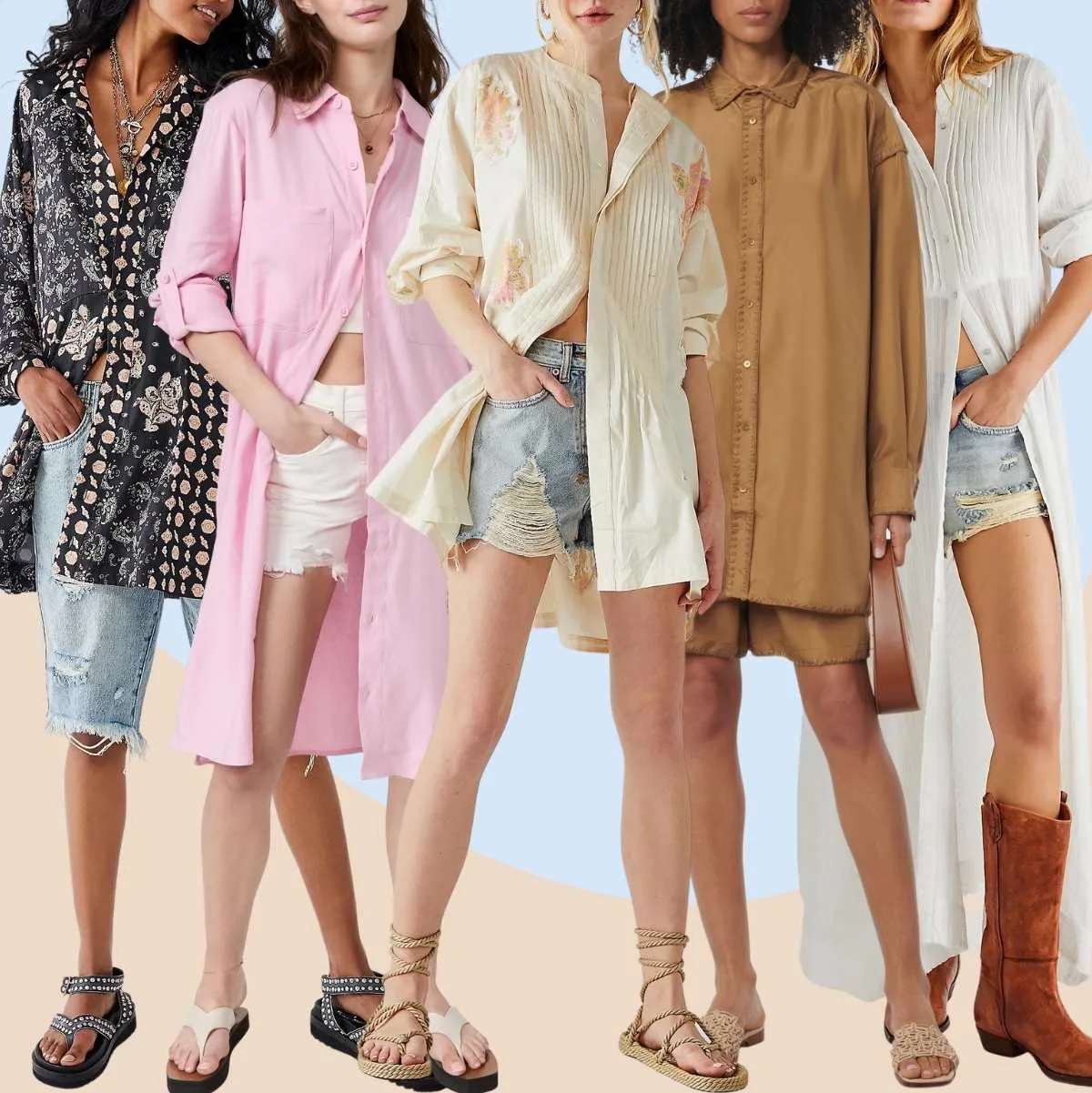 I love this easy-breezy pairing of wearing a shirt dress with shorts! Reach for a crisp white, black or colorful shirt dress worn over a slick pair of high-waisted tailored shorts. Add a thin monogram buckle belt a matching handbag and a pair of loafers or mules for a chic office look.
For more laid-back shirt dress styling with shorts, I love the following 3 options:
First, try a soft white long shirt dress unbuttoned from the waist down. Add a pair of distressed jeans shorts with strappy flat sandals or sporty slides and fine gold jewelry for a boho vibe.
For a sportier, but equally casual look, opt for a pair of black bike shorts, matching cropped tank or contrasting bodysuit. Layer over an unbuttoned, thicker cotton shirt dress that ends just below your bottom. Think men's oversized casual shirt dress. Add a soft leather handbag and matching slides with a black baseball cap. All medium gold hoops if you're feeling la-di-da!
For a PJ vibe, wear a silky short shirt dress with a pair of matching Bermuda shorts. You can elevate the look with high heel slides and an elegant clutch, or reach for minimal flats and a matching leather bag to suit the occasion.
– Over Dress Pants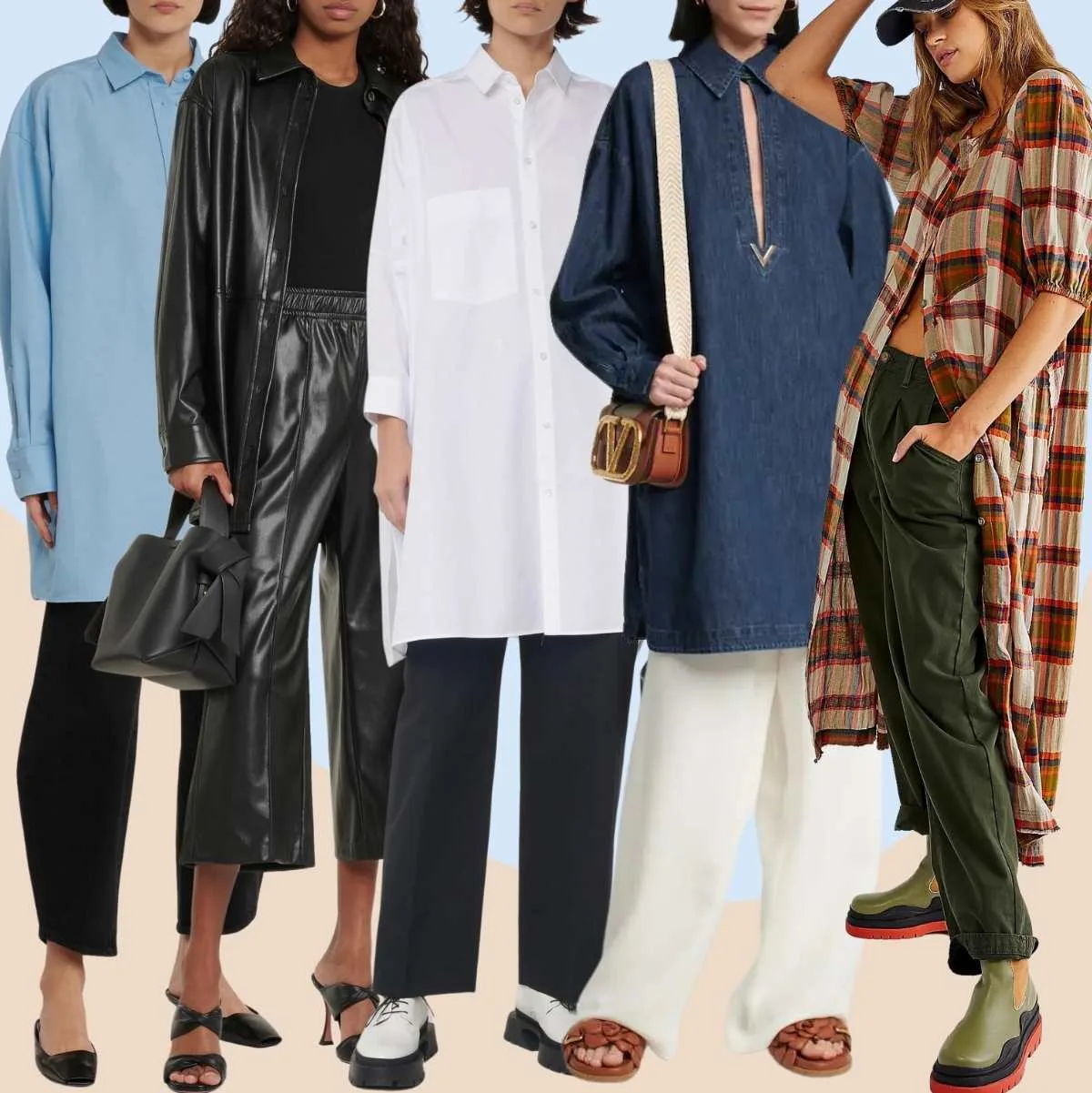 A classic pair of wider leg dress pants with sensible shoes and a shirt dress is an easy pairing. Great for those preferring a looser, tunic-like aesthetic. But that's not the only way to a wear shirt dress with dress pants!
I love a matching set, so a cropped pair of leather dress pants with a tucked-in tank and layered leather shirt dress is my type of pairing.
With a pair of lug sole shoes, white sneakers or a sleek pair of heeled sandals, you can transform this look from casual to elegant.
The same matchy shirt dress with dress pants looks great in silky satin fabrics. Add a pair of kitten heel slingback pumps and a thin-strapped cross body to complement a refined look.
If laid-back casual is your game, reach for a pair of cargos and a tight tee. Layer over a long loose plaid or summery shirt dress and add a pair of comfy shoes. Now you're all set to run errands or pick up the kids from school!
– Over Leggings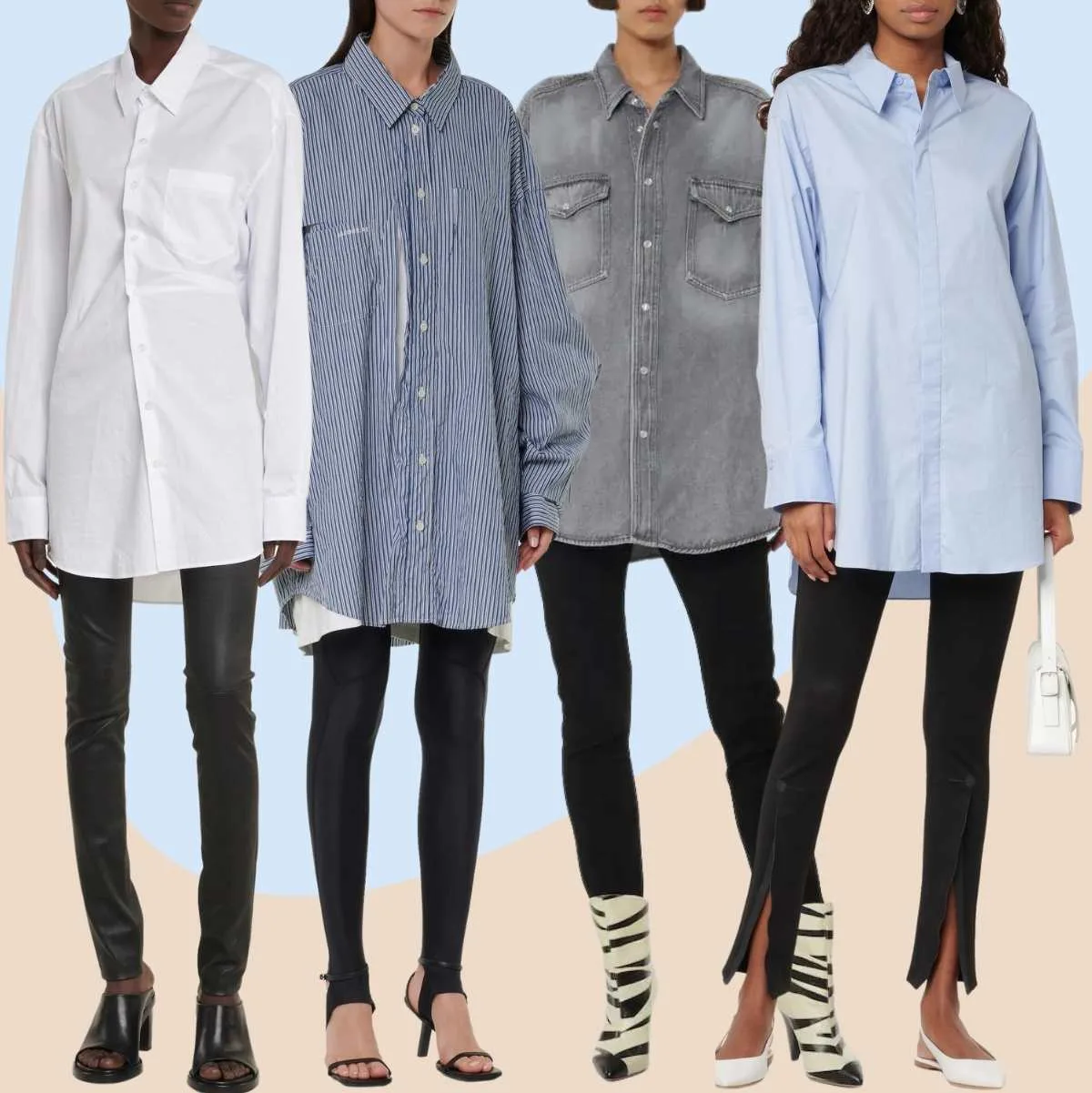 Perfect for cooler days or to simply add a sprinkle of 90s cool, try wearing your shirt dress over black leggings as a long shirt. You can add a moto jacket over it and wear combat boot or pumps for an edgy look.
Or, belt the shirt dress, layering over a trench for a minimal chic shirt dress outfit. So many ways to style leggings, as well as how many different shoes to wear with leggings!
– Layer a Shirt Dress Over a Skirt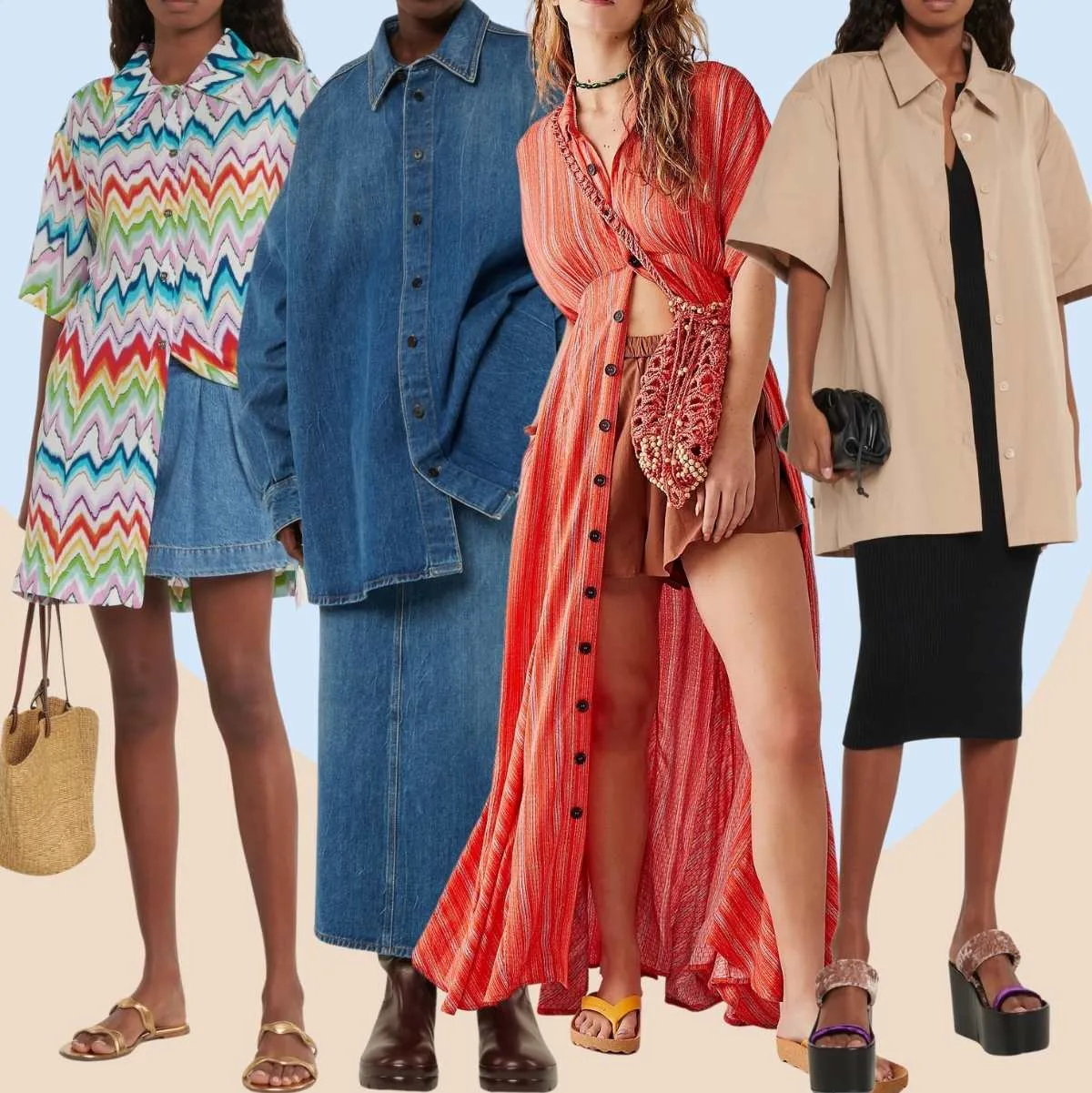 Give your shirt dress outfit high-fashion vibes by wearing it unbuttoned over a tee or tank with a pencil skirt and sneakers, flats or sandals. If you're thinking of pairing a shirt dress with a longer skirt, go for a shirt dress that hits mid-thigh or higher.
Then belt it or front-tuck it into your longer (think maxi!) skirt. Add a chunky belt and a neutral strappy sandal to complete the look.
Another idea: wear your unbuttoned shirt dress layered over a slip dress. Add strappy sandals, sneakers or other casual shoes to wear with skirts, jewelry of your choice, and a tote or slim-profile crossbody bag.
7. Wear a Shirt Dress as a Beach Cover Up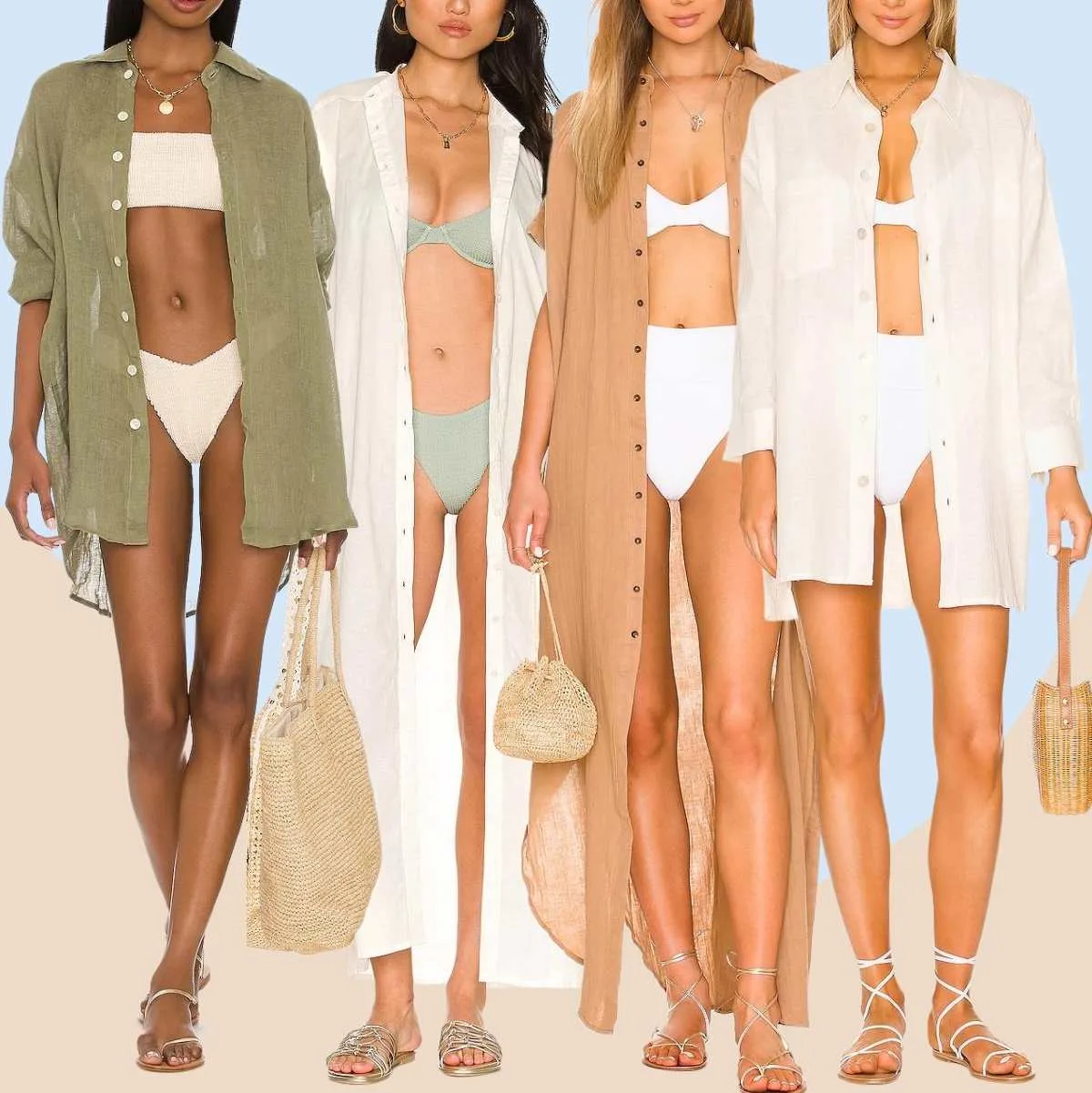 Talk about versatility! Another shirt dress outfit idea is to make it do double-duty as a beach coverup. Tunics work especially well for this purpose.
Linen or lightweight cotton are breezy fabrics that will keep you comfortable at the beach or poolside. Partially buttoned, unbuttoned and sleeves pushed up or down…the sunny blue sky is your only limit on how to style your shirt dress as a coverup!
Opt for a lighter color in warmer temps. Flip-flops, tennis shoes, sandals or canvas boat shoes all work well with your shirt dress/beach coverup.
8. Add Tights with a Shirt Dress
Make your shirt dress works hard for you in cooler months, too. Black tights are a safe bet with most shirt dress colors and styles. For a fall day at the office, try a cotton, knit or wool white shirt dress with black tights and loafers.
Go for sparkle on your night out on the town – wear sheer black glitter tights with a black mini shirt dress and pumps. Or have a little fun and contrast textured or printed tights with your striped or floral shirt dress.
Of course, tights and shoes go hand in hand. Check out the best shoes to wear with tights for more!
9. Add a Cardigan or Sweater Vest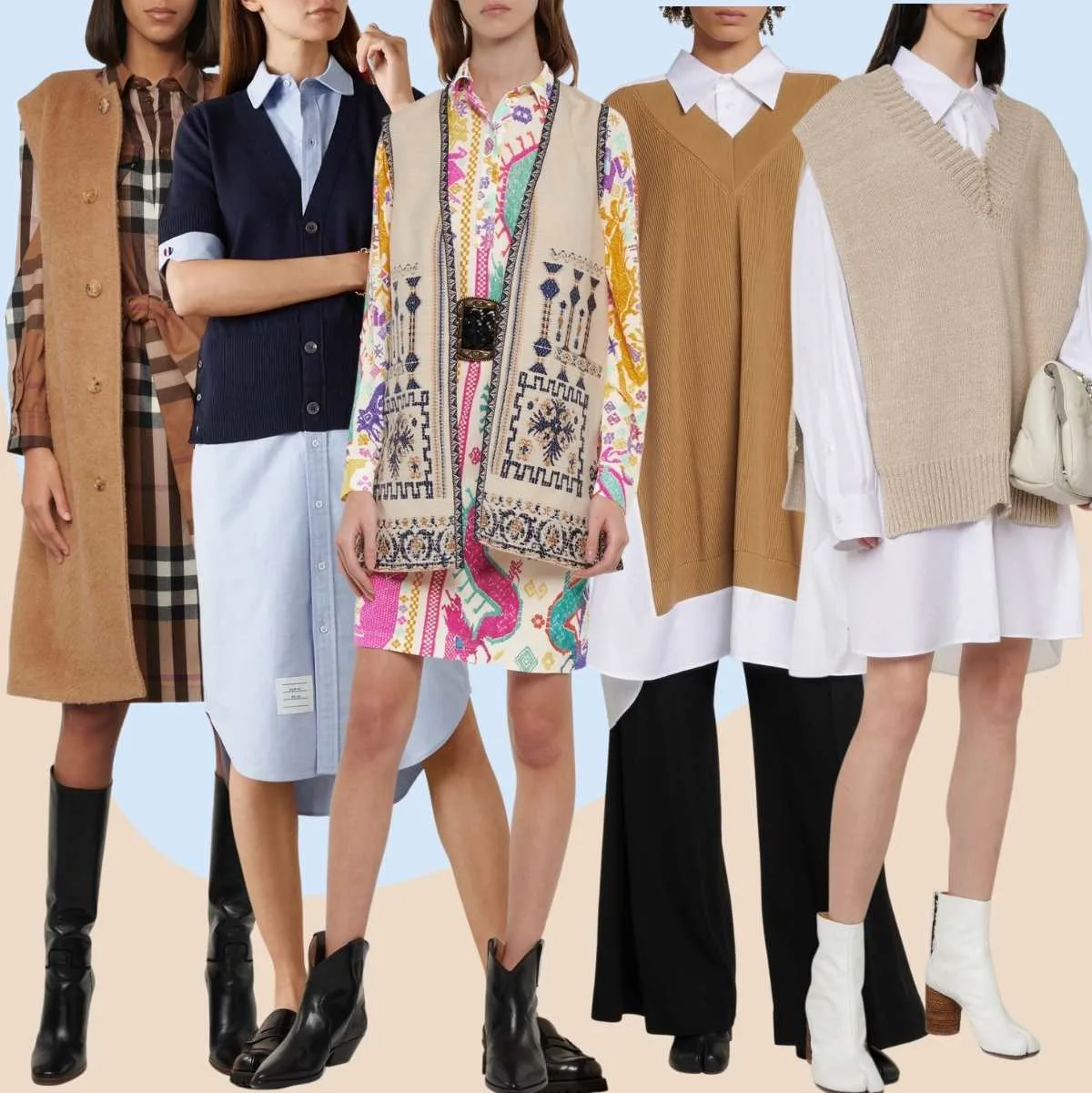 Here's more proof that your shirt dress deserves a spot in your closet in all seasons! In fall and winter, wear your shirt dress over leggings, tights or skinny jeans. Go for a second layer on top, too.
A chambray shirt dress calls for a neutral or brightly colored cardigan. Your shirt dress will also steal the show when it's paired with a sweater vest.
Scrunch your sleeves and add suede booties. Just like that, you're ready for the catwalk.
10. Wear a Jacket Over a Shirt Dress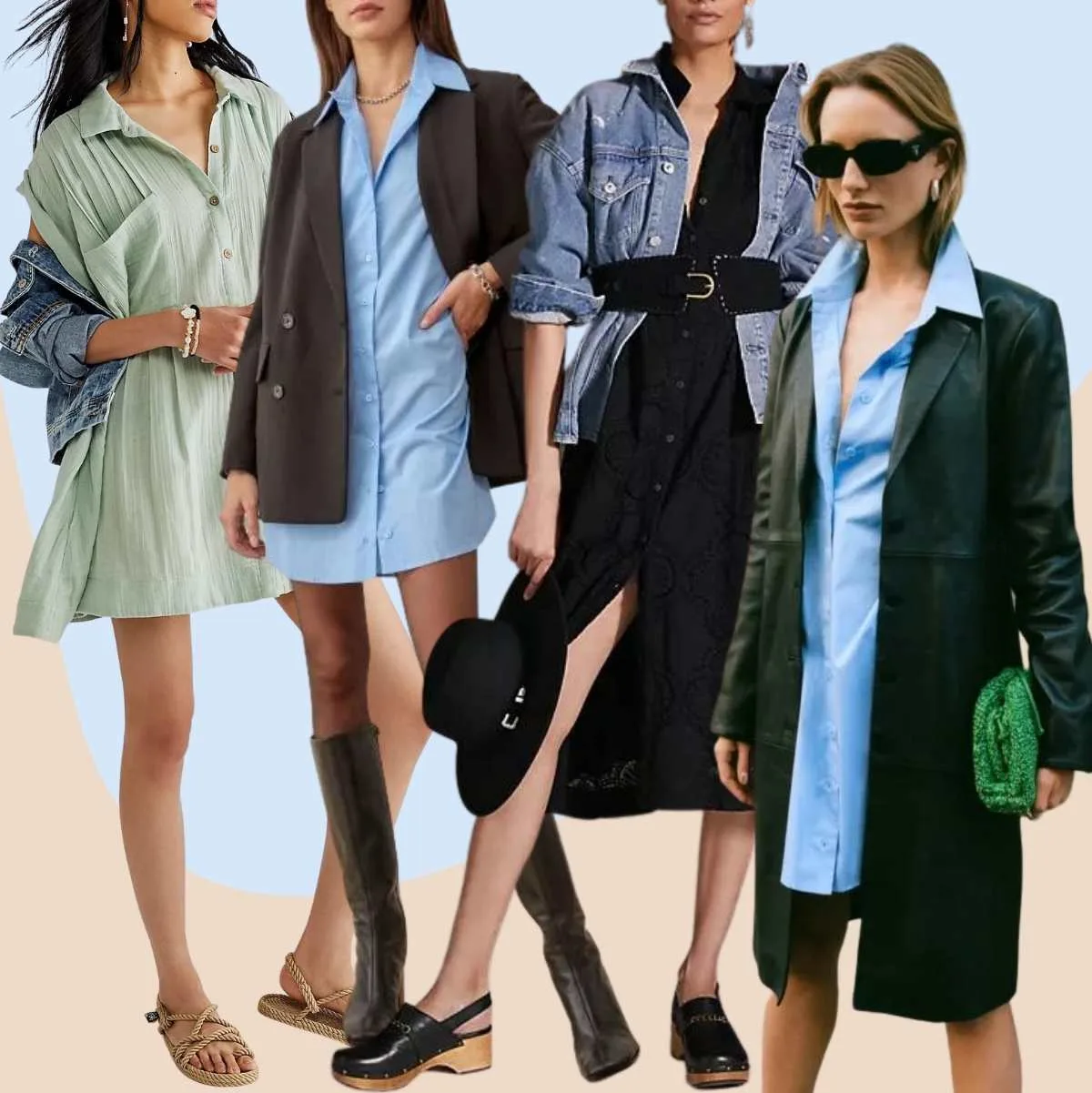 Easily elevate your shirt dress with a jacket. Whatever your go-to style, it's certain to work with your shirt dress outfit.
A moto jacket brings an edge to any party, but pair it with a feminine belted shirt dress for a more balanced look. Unexpected, too!
Wear your black, white or navy oversized blazer over your shirt dress for a business casual day or date night. For a more casual look wear an army green utility jacket over a light blue pinstriped loose-fitting shirt dress.
Then cinch the jacket with a brown leather belt and add strappy sandals or sneakers. You can wear your trench coat over your shirt dress in much the same way.
If possible, make sure your trench is longer than your shirt dress to create a layering effect when unbuttoned. This will be especially helpful if it's raining!
11. Choose the Right Shoes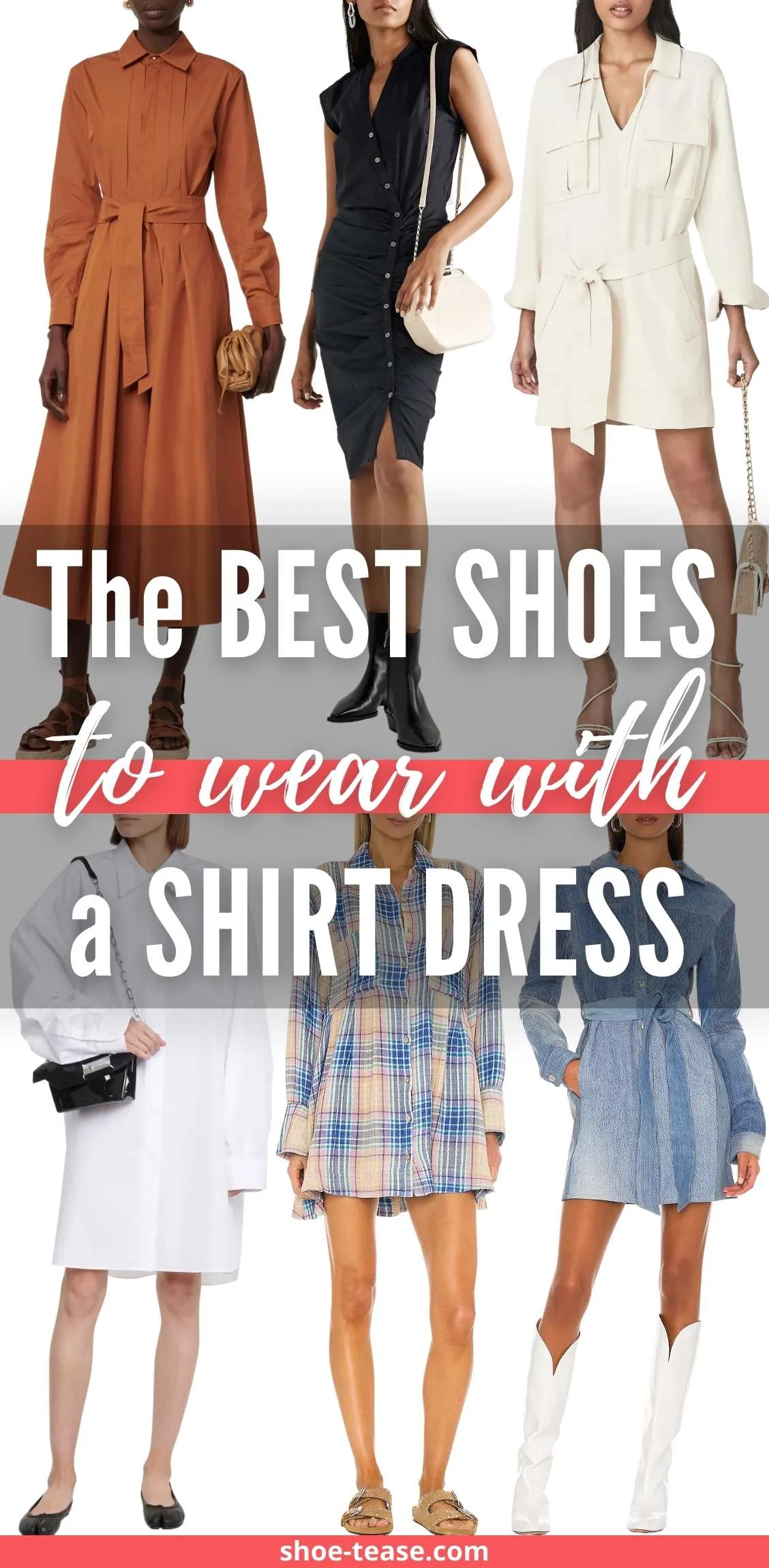 As you can see, the shirt dress is not picky – adaptable is its middle name. So feel free to experiment with your shoe choices. For quick and easy shoe pairings for your shirt dress outfits, here's a guide:
For casual outfits: your shirt dress will look fabulous with flip-flops, strappy sandals and sneakers. Reach for cowboy or combat boots if you want to bring the unexpected to a maxi or mini printed shirt dress (think stripes and even florals).
Basic flats (from pastel ballerina to earth-toned mules to leopard slides) go great with any style or length of shirt dress.
For the office: reach for pumps, loafers or Oxfords, ballerina flats, ankle boots, mules or knee boots. To dress up your shirt dress, think heels. Pumps, strappy heeled sandals and sock booties are sure winners. And as the seasons go, look to your closet for shoes to go with shirt dress outfits.
For spring and summer: espadrilles and wedges are cute with shirt dresses. So are strappy sandals and slides, sneakers, mules and Birkenstocks.
For fall and winter: easy choices are loafers and Oxfords and all styles of boots. Cowboy boots work year-round with your shirt dress – and nearly everything else in your closet, too!
Take a peek at my in-depth post on the 15 best shoes to wear with a shirt dress for more!
---
FAQs on How to Style a Shirt Dress:
How to Style a Plaid Shirt Dress: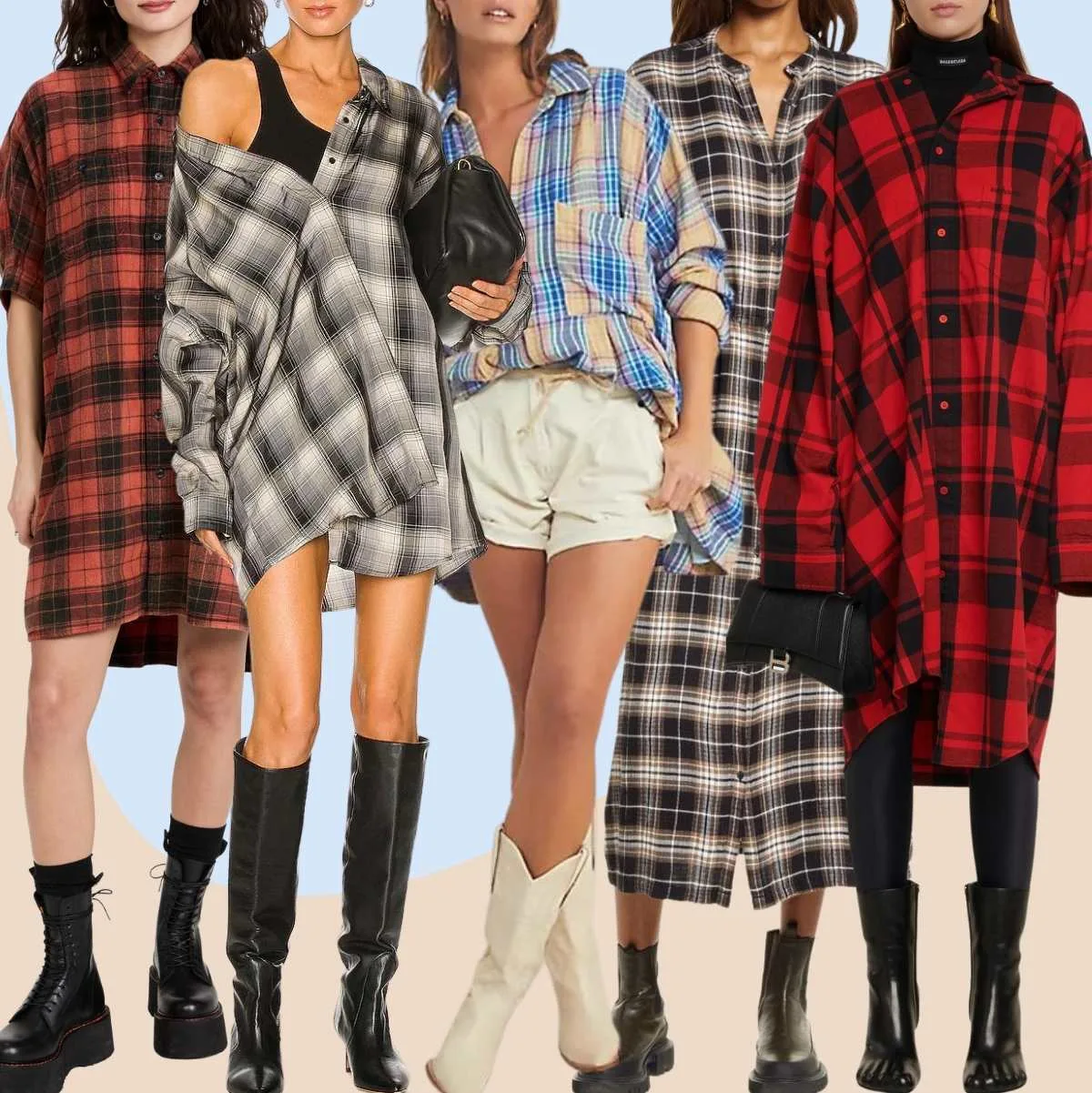 Plaid shirt dresses are a timeless style that can be worn in a variety of ways. If you want to go for a more relaxed look, opt for a loose-fitting dress. If you want to create a more structured look, go for a fitted dress.
For a preppy vibe, try pairing your dress with a cardigan and loafers. If you're going for a more grunge aesthetic, layer your dress over sheer black tights with Doc Martens combat boots or chunky-soled Chelsea boots.
You can also dress up a more refined plaid shirt dress by pairing it with heeled boots or pumps and a statement purse. However you choose to style it, a plaid shirt dress is sure to give you an effortlessly cool look.
How to Style a Shirt Dress in Winter: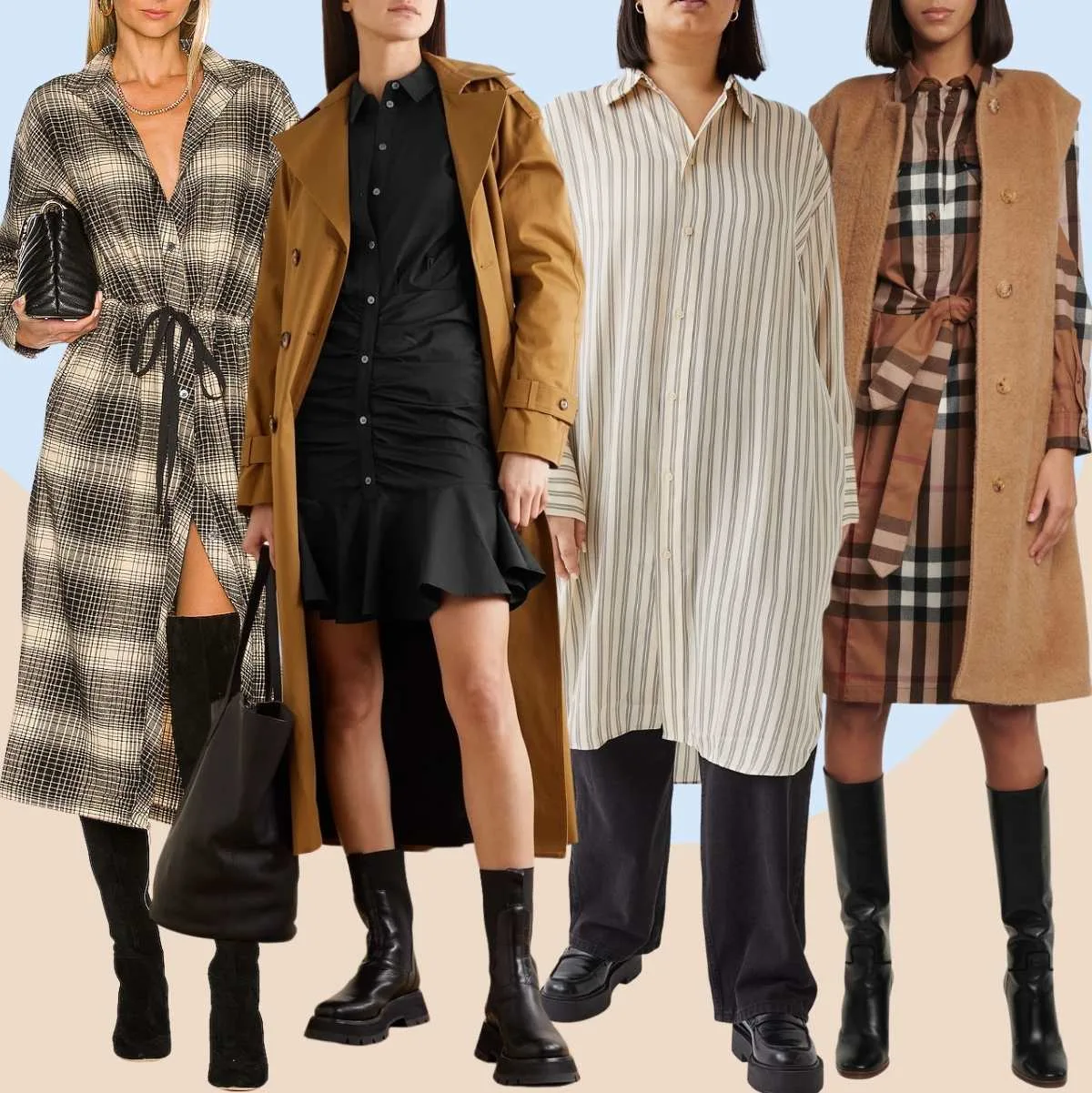 Styling a shirt dress in winter can be a bit tricky, as you want to stay warm without looking bulky. Here are some tips for how to style a shirt dress in winter:
Layering helps: Layer it over skinny jeans, leggings or flowy pants: This will help to keep your legs warm without adding too much bulk.
Pair with tights: Wearing tights or hose underneath your shirt dress will add an extra layer of warmth. Choose a pair in a neutral color or matching color so they don't compete with the dress – unless you want them to!
Opt for a longer length: A longer shirt dress will help to keep your legs warm, and it will also give you the option of layering over tights or leggings.
Choose a warmer dress material: such as a flannel shirt dress, thicker denim shirt dress or wool blend material
Finish with Boots: Knee boots or tall boots are a great way to add both warmth and style to your outfit. Undo the bottom few buttons of your shirt dress to show off your boots.
Layer a cardigan or vest over your shirt dress and under a chic wool coat to keep you warm all winter long!
What to Wear with a Pink Shirt Dress: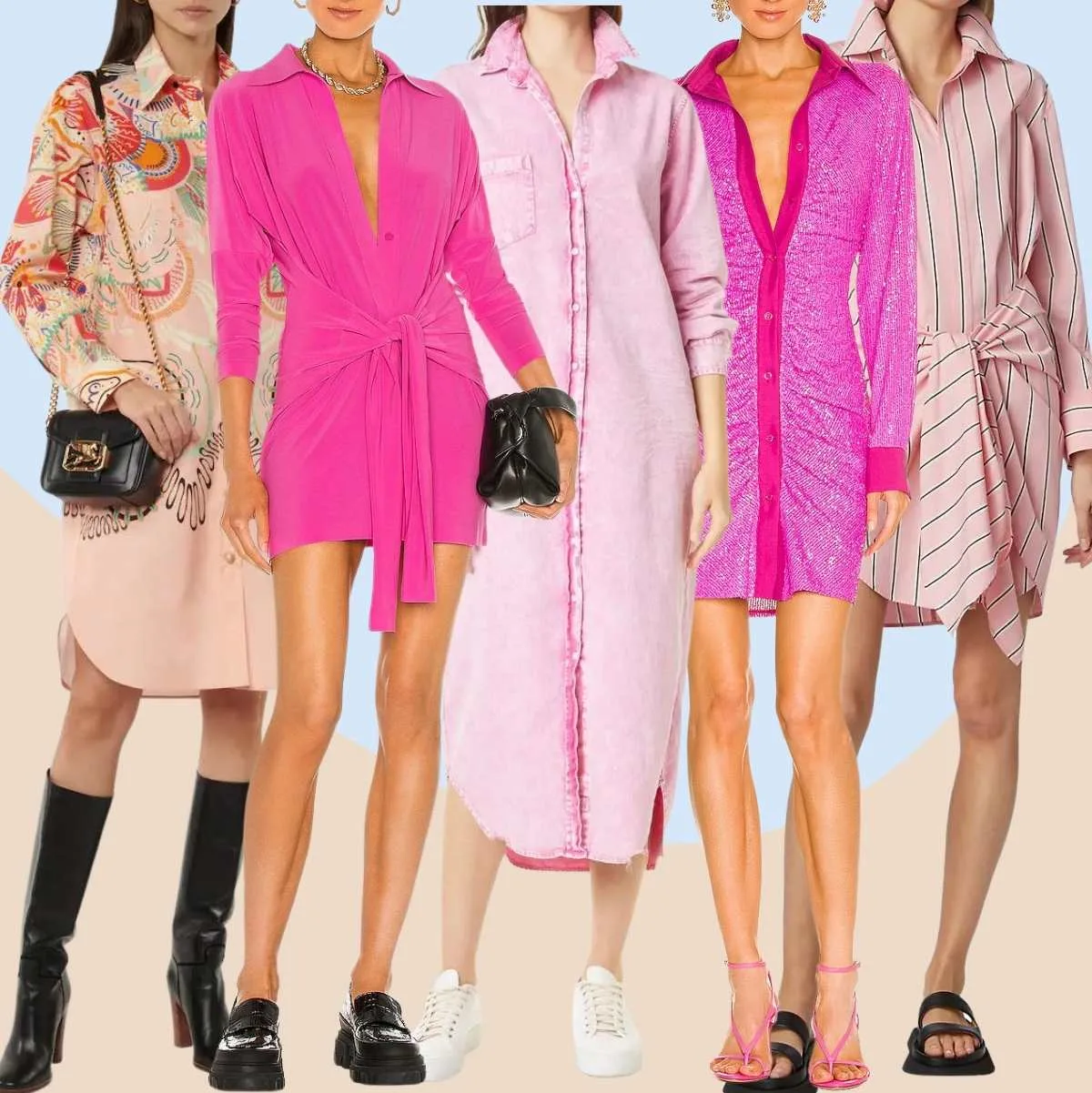 For a casual look, pair your shirt dress with sneakers and a denim jacket. Try to style a pair of Birkenstocks with your shirt dress.
These flat sandals will contrast the dress with their laid-back appeal. For a more polished outfit, swap the sneakers for nude or black heels and add some refined, minimal gold jewelry.
If you want to make a statement, try pairing the dress with leopard print heels or matching pink sandals and bold red lips. No matter how you style it, a pink shirt dress is sure to turn heads.
Read about what color shoes to wear with a pink dress in my dedicated post!
What to Wear with a Blue Shirt Dress: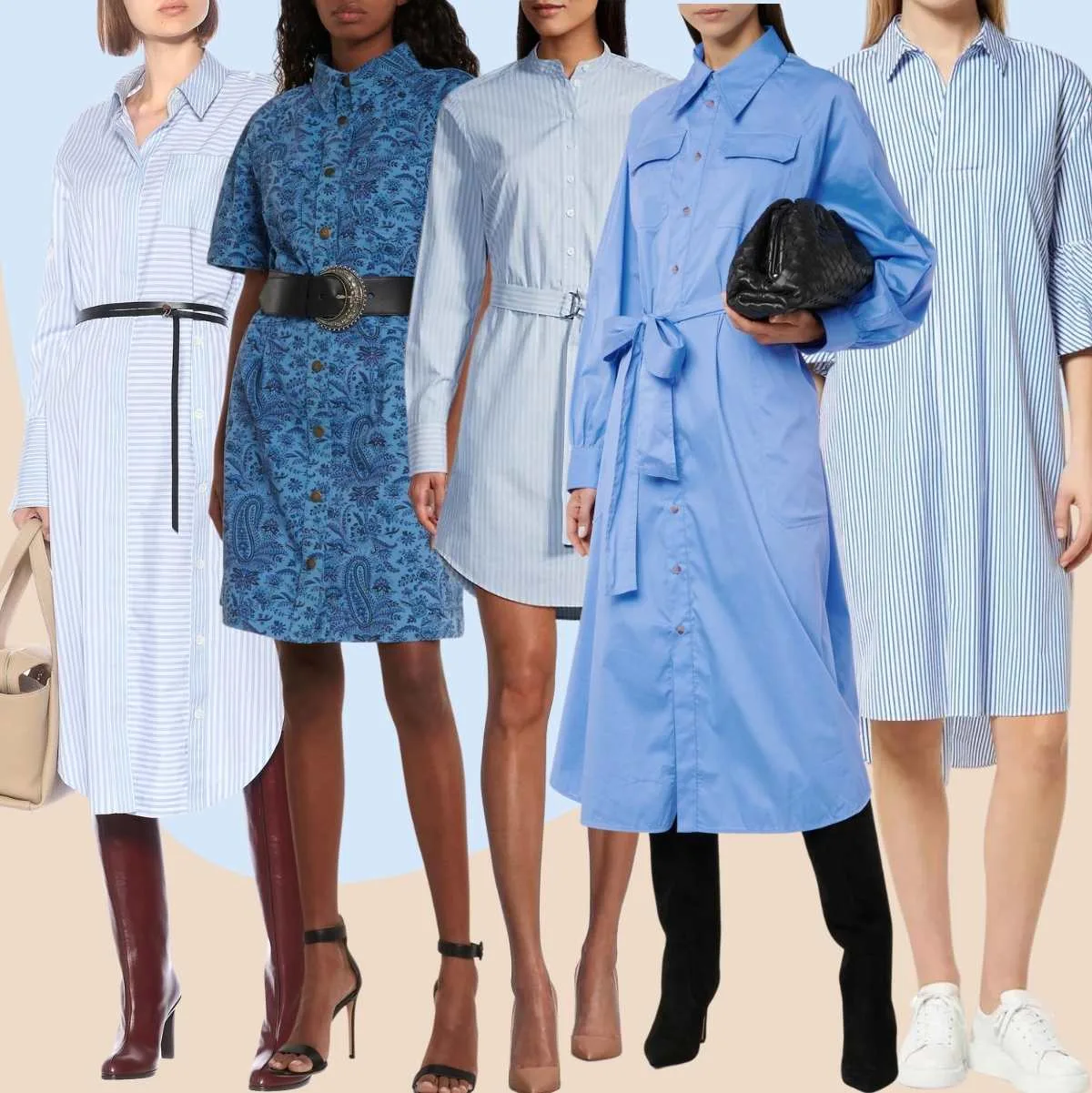 Nothing more classic than a blue shirt, and a blue shirt dress is included in the mix, especially those striped ones!
Give your blue shirt dress an edge by pairing it with a moto jacket and black boots. White sneakers and a beige army-style jacket will also go hand-in-hand for a more casual look.
Add a colorful silk neck scarf, sheer tights and belted waist for a cheeky nod to the flight attendant. For fall, layer over a black, brown or tan jacket and a pair of knee boots.
Shoe and accessory colors that look great with a blue shirt dress include brown, beige, black, tan, white, gold, silver and coral. Learn all about the what color shoes to wear with a blue dress in my blue-dress specific post!
How to Wear a Fancy Shirt Dress Outfit:
Pick the right shirt dress style: Looking to wear a shirt dress but make it a bit fancy? It's all in the dress you choose! Pick a darker dress material, in navy or dark grey. Tie dye or certain prints like fine stripes and can look rather casual, so it's harder to dress up. The same can be said about certain types of fabrics. Look for silks, satin and chiffons.
Choose elevated footwear: It's all in the shoes, as they say – or maybe it's just me! You want to choose leather, satin or metallic materials for your shoes. Keep the shape simple, and opt for heels when you can to elongate your silhouette. A gold strappy stiletto sandal or black patent kitten heels are great choices.
It's all in the bag: Your purse is vital to securing a chic shirt dress look. A metallic or satin clutch is preferable, but a similarly minimal handbag is also an option. You can match the purse to your shoe hue, or contrast with a black, neutral or even bejeweled choice. Why not have fun with a punch of color too, if it fits the occasion?
Minimal Jewelry: Although chunky jewelry can be fun, minimal, fine jewelry in a gold, rose gold or silver will refine your look. And if you've got diamonds and want to show them off, this is the time to sparkle!
Final Thoughts on How to Style a Shirt Dress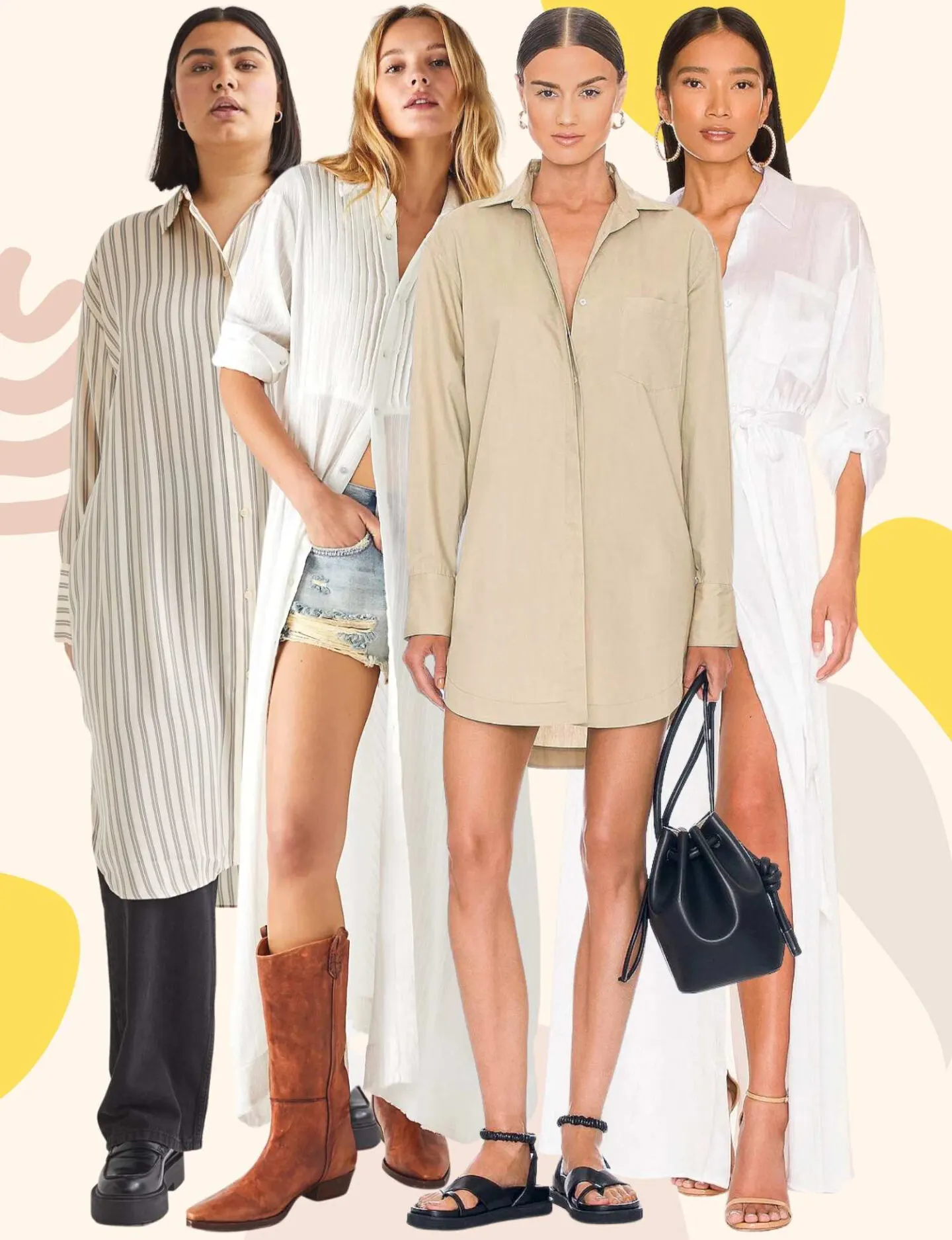 As you can see, there are so many ways to style a shirt dress. From casual looks to elegant shirt dress outfits in winter or summer, all you need is the right combination of shirt dress, accessories, shoes and of course – style!
You can wear shirt dresses just as they are, belt them, roll up the sleeves, wear them as a shirt or tuck them it into pants, jeans, shorts and skirts.
Thicker shirt dresses can double as a jacket. And when the weather starts to cool down? Layer over a cardigan, denim, moto jacket or blazer.
What's great about shirt dresses is that they go with just about everything – heels, sandals, boots or sneakers. How do you like to style your shirt dresses?
xo ShoeTease