There are oh so many different types of high heels for women. So many, in fact, that getting all the shoe styles mixed up can be pretty easy. I mean, who hasn't asked themselves, what are stilettos, exactly?
Also confusing is seeing the difference between stilettos vs pumps or, kitten heels vs stilettos and other heels. It becomes that much more confusing when you realize that hybrid versions of heels and shoe types exist!
Today we're going to talk about one of my favorite heels: stilettos! I'm going to tell you all about them. What is a stiletto heel? Where did this heel originate from? How high are stiletto heels are (or how high can they be)?
You'll also find out what stiletto heels are made of, some pros/cons, tips on how to wear them and the best retailers to shop them at!
I'm also going to be including an in-depth comparison between stilettos, pumps, kitten heels and more. But first up, what are stilettos?
Related Posts:
What are Stilettos?
What is a stiletto heel? A stiletto is a type of high heel defined by the heel itself: specifically the heigh, size (specifically, the width) and even the shape.
Stiletto Height: stiletto heels can vary in height, but are usually above 2 or 3 inches tall. Anything less would be considered a kitten heel (more about that below).
Stiletto heels are most popular in high heel form (above 3 inches tall) and can reach heights of up to or over 12 inches.
So if you're wondering how high stiletto heels are, well, they can get that high — or higher! — if combined with a platform.
Stiletto Size: The size of the stiletto is also defined by its thinness, usually less than 10mm or .4 inches in diameter at the base — where the heel touches the ground.
Because it is so small, it's important to protect it. I recommend my post about the best high heel protectors to learn how to safeguard them!
Stiletto Shape: Stiletto heels often taper from top to bottom, like their dagger namesake. More on that, below..
History of the Stiletto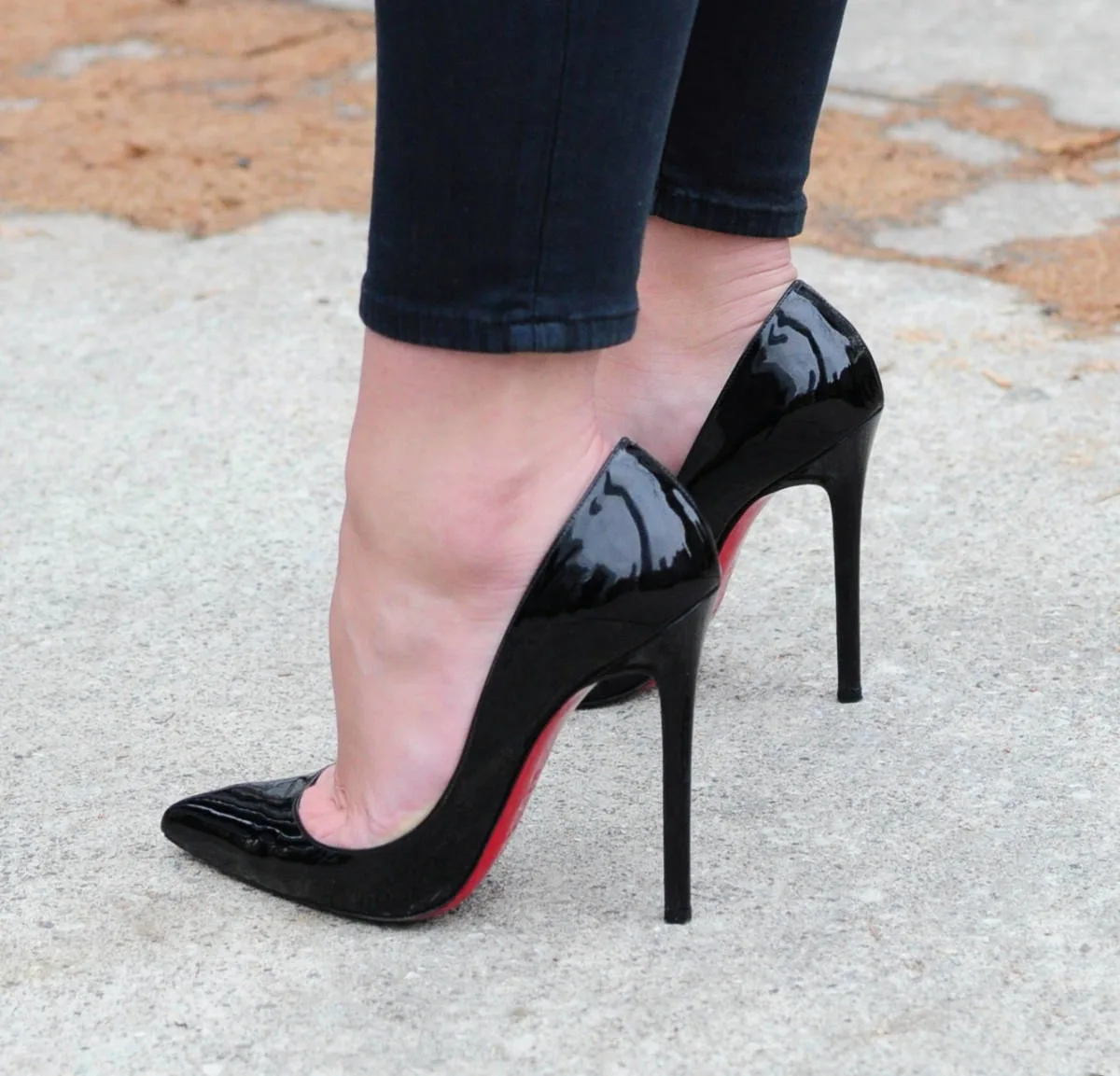 The heel name "stiletto" is an Italian word that comes from the Latin root stilus. A stilus was used for engraving various materials, including clay, during Ancient Roman times.
It was later repurposed during the later part of the Middle Ages as a weapon (ref: wikipedia).
This "stiletto" weapon was a short dagger with a tapered blade. Stiletto heels are similar. They are thin and start larger at the top(where heel is attached to shoe) and thin out towards the base (where the heel touches the ground).
However, present day stilettos can vary is shape, as long as they meed the size and height criteria.
Today it's Christian Louboutin's famous stiletto heels — particularly his So Kate stilettos, pictured throughout this post — that comes to mind when thinking of this particular heel.
Stilettos vs. Pumps: What's the Difference?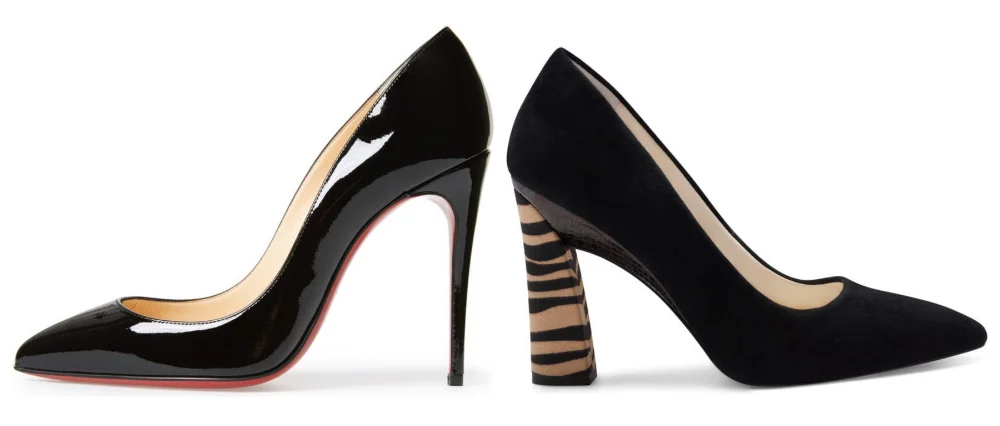 Stilettos and pumps are words that seem interchangeable when describing women's heels. However, they are two completely different things.
When you're looking to compare stilettos vs pumps, the main thing to understand is that the stiletto is a type of heel, while pumps are a shoe "body" type.
Shoe designers call the "body" of the shoe the "upper", which is the part of the shoe that sits on and above the sole.
Pumps are a popular type of women's shoes — known as court shoes in England — that are low cut in the front and usually enclose the toes.
However, pumps can have a variety of heel shapes, sizes and heights, along with various features, such as a peep-toes, various straps and toe shapes.
And yes, one of the heels that can be appear on a pump is the stiletto heel! But pumps can also come with many other heel types, such as chunky heels (like the leopard-heeled pump, above) and kitten heels.
More about kitten heels, below. And we'll talk about chunky heels in a bit too.
Kitten Heels vs Stilettos: What's the Difference?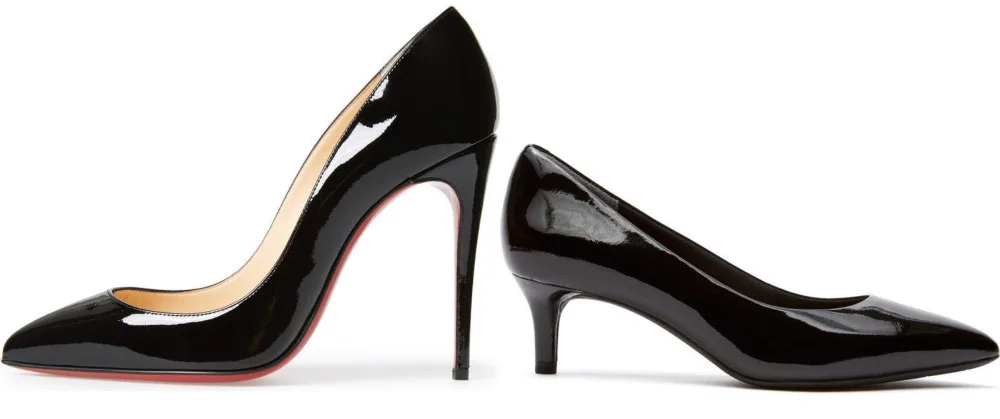 Kitten heels are a type of heel defined by their height: less than 3 inches tall. Stilettos are, along with their width, also defined by their height: more than 2/3inches tall (depending on who you ask!).
Kitten heels can be any shape and width.
So if a heel looks thin like a stiletto but is less than 3inches high, it will be considered a kitten heel. And that, my shoe loving friends, is the difference between kitten heels vs stilettos!
Chunky Heels vs Stiletto Heels: What's the Difference?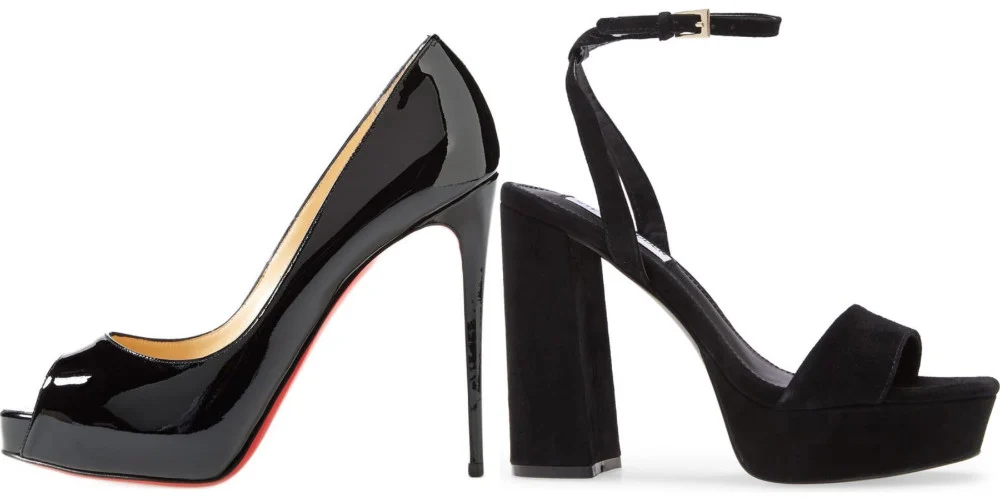 This one might be obvious if you're read the beginning of this post! Stiletto heels are defined by their height and how thin the heels is – usually around 1cm or less in diameter.
So chunky or block heels are the polar opposite of stiletto heels. The image above gives a great comparison of chunky heels vs stilettos.
What are Stiletto Heels Made of?
Stiletto heels can be made of a variety of materials. These materials are usually dictated by fashion and shoe trends. However, they can also be dependant on where they're manufactured and for which brand.
Some examples of common materials used to make stiletto heels are: leather, wood, metal and plastics. At the designer's discretion, stilettos can also be embellished with gems, rhinestones, pearls, feathers and logos.
Stilettos can also be covered in leather or fabric materials to match or contrast the shoe.
The stiletto heel is secured onto the base of the shoe with the use of shoe glue. For extra reinforcement, screws and/or nails are added to keep the stiletto heel from falling off the shoe's upper.
These aren't usually noticeable unless the heel is transparent, as they are placed inside the stiletto itself.
Stiletto Heels: The Pros & Cons
Stiletto heels are amazing (I think my option on this thin heel might obvious at this point!). However, they don't come with their own set of drawback. Are stilettos worth it for their benefits, though?
Have a look at my pros and cons list and you tell me!
Pros:
A lot of ladies (and men!) love stilettos. Much of their appeal comes from the thin, high heel, which has a dangerous quality –makes sense due to their origin!– but they are also considered very sensual. In fact, very high stiletto shoes have become quite the fet!sh object for many.
Stilettos elongate the foot, legs and add height to the person wearing them. If you wear high heeled skin-matching stiletto heels, they can also elongate the appearance of the wearer's legs, especially when wearing shorter hemlines.
Stiletto heels are appropriate for many occasions, because they can be found on various kinds heeled shoes. However, stilettos are often reserved for formal functions such as galas and fancy weddings.
Cons:
Stilettos aren't the most comfortable shoes to walk in, due to the added pressure on the ball of the foot in order to balance properly on such a thin heel. This, especially, if the heel is very high and/or don't fit properly. Here's how to walk in heels properly!
Stilettos, if very high, will not be appropriate for all occasions, such as conservative offices and events. But like I said above, it really depends on the shoe type it's attached to.
If a heel is going to break off a shoe, it'll likely be a stiletto heel!
What to Wear with Stiletto Heels
Stiletto heels are extremely versatile because there are so many shoes that can have stiletto heel attached. Some include pumps, peep-toe pumps, ankle boots, high boots and strappy sandals.
In the end, how to wear them really depends on what type of stiletto shoe you are wearing, the stiletto heel height and the occasion you're wearing them for.
Stiletto heels in pump or ankle boot form can be appropriate for the office, and they can also complement denim pant outfits such as with skinny jeans.
Pointed toe pumps with stiletto heels are the most versatile as they can even be worn with cocktail dresses and a wide variety of dress colors.
Stiletto sandals, both strappy and minimal, are perfect to wear to weddings and black tie functions. They also look great with all kinds of dresses and jeans outfits. The possibilities are virtually endless!
Where to Buy Stilettos
Depending on where you live, there are plenty of shoe and fashion shops –both physical and online locations– that sell all the stiletto heels. Here are a few of mine, below:
---
Shop Favorite Stilettos, below:

---
I hope my post about stiletto heels has helped you understand what stilettos are, where they originated from and more about the popular heel style.
I'm a big stiletto heeled pumps fan, myself. What's your favorite kind of stiletto heel?
Photo credit: Bruna Rico (main image), ShoeTease
xo ShoeTease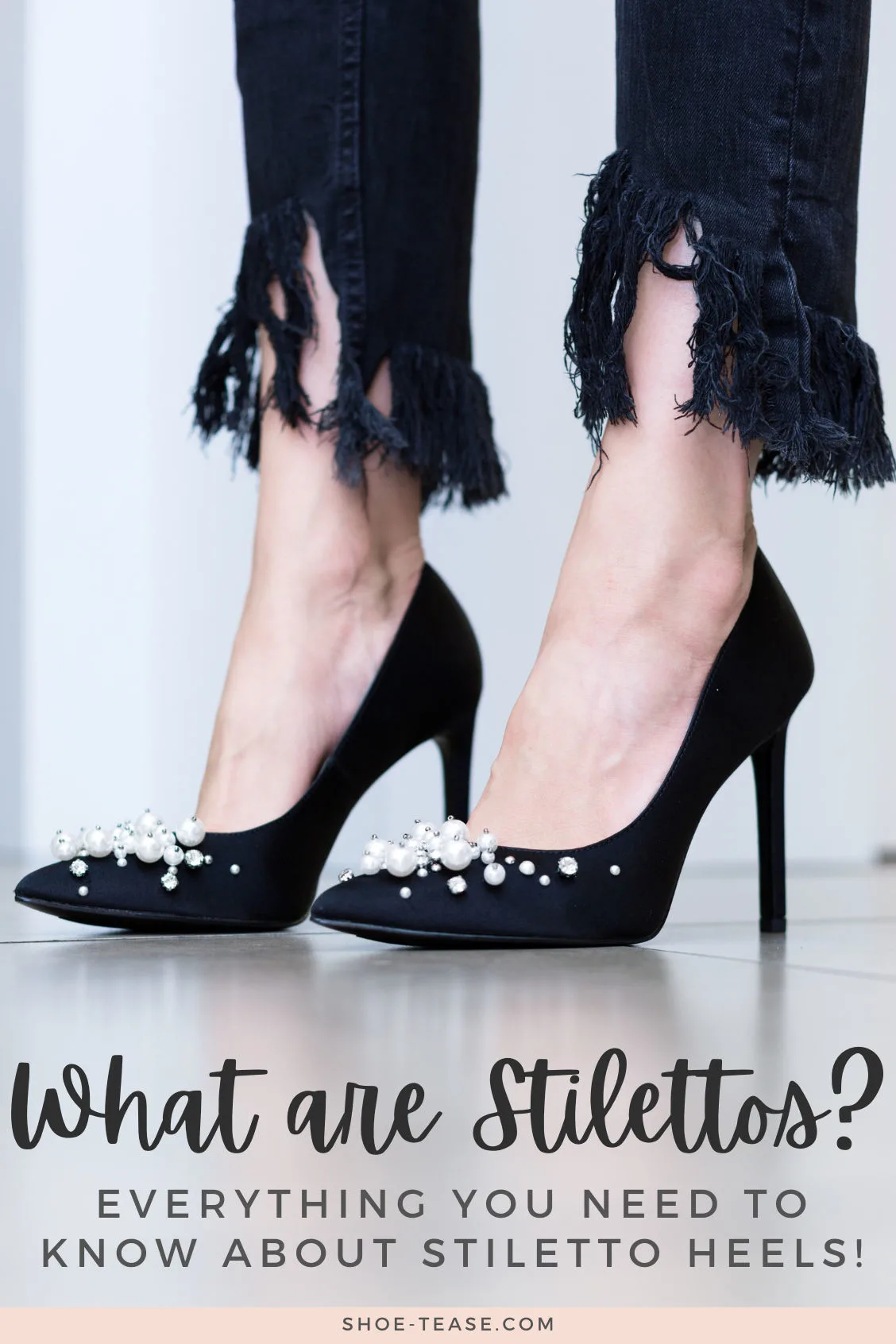 Cristina is the chief editor, fashion & shoe expert here at ShoeTease. As a seasoned stylist and women's fashion & shoe designer, she boasts over 20 years of experience in the fashion industry. She loves crafting effortless outfits for ladies both online and off and believes that styling advice should be accessible to everyone. Whether you're a styling pro or just starting out, Cristina's here to guide you on your fashion journey! Learn more.