Fashionable shoes to wear with maxi dresses is what this styling post is all about! Maxi dresses can sometimes be as difficult to style as they are easy to trip on.
Whether you're looking for shoes to wear with a long dress in the summer or winter season? Or in a casual or more elegant way?
I've rounded up the perfect shoe pairings to suit anyone's floor length dress style! And trend appropriate for 2021 & beyond. Of course 😉
I styled my first ever maxi dress in an outfit post recently & the footwear possibilities seemed endless. However, some shoes definitely looked better than others. Luckily, you probably already own one of the flats or heels that do!
For the purposes of this styling post, I'll be talking about casual long dress styles vs. elegant gowns (definitely room for a separate spiel on that one soon!).
These will include how to style shirt dresses, boho dresses, knit dresses and summer dresses that are long.
Here are 7 of my favorite shoes to wear with a maxi dress & some cute currently-in-store maxis that I'm crushing on, below.
Where to shop for maxi dresses you ask? Most of the beautiful dresses in this post are featured from luxury online retailer Net-A-Porter, while others (more budget-friendly) are from Nordstrom.
Best Shoes to Wear with Maxi Dresses
Ankle Boots with Maxi Dresses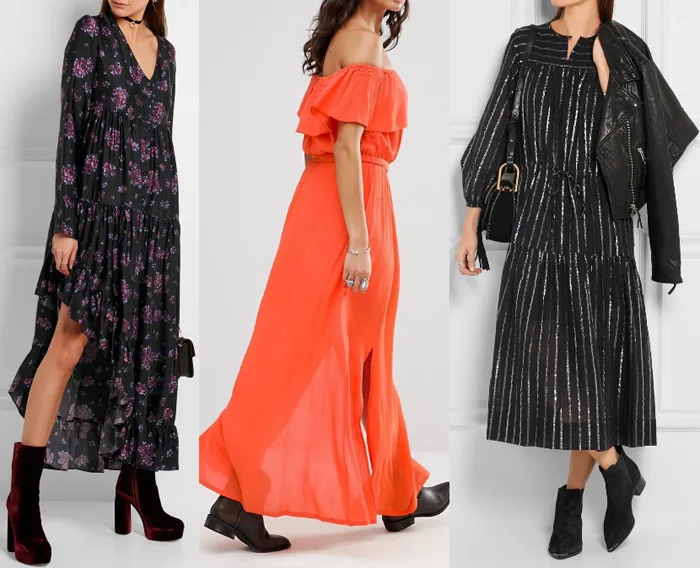 For entering or exiting the winter season, nothing beats wearing a maxi dress with ankle booties! Ankle boots are actually some of the best shoes to wear with maxi dresses in the Fall!
Lower ankle boots look best, but why not try a high ankled pair of trendy platform boots à la Bowie?
If a less dramatic look is more up your alley, you can take full advantage of the off-the-shoulder trend with a pair of Western style boots for a cowboy-meets-country-girl look.
However, if you prefer to wear a taller boot, that hides up into your dress, that is a trendy look right now too! Check my post on all the ways to wear ankle boots with dresses!
Ankle Boots We Love:
Combat Boots with Maxi Dresses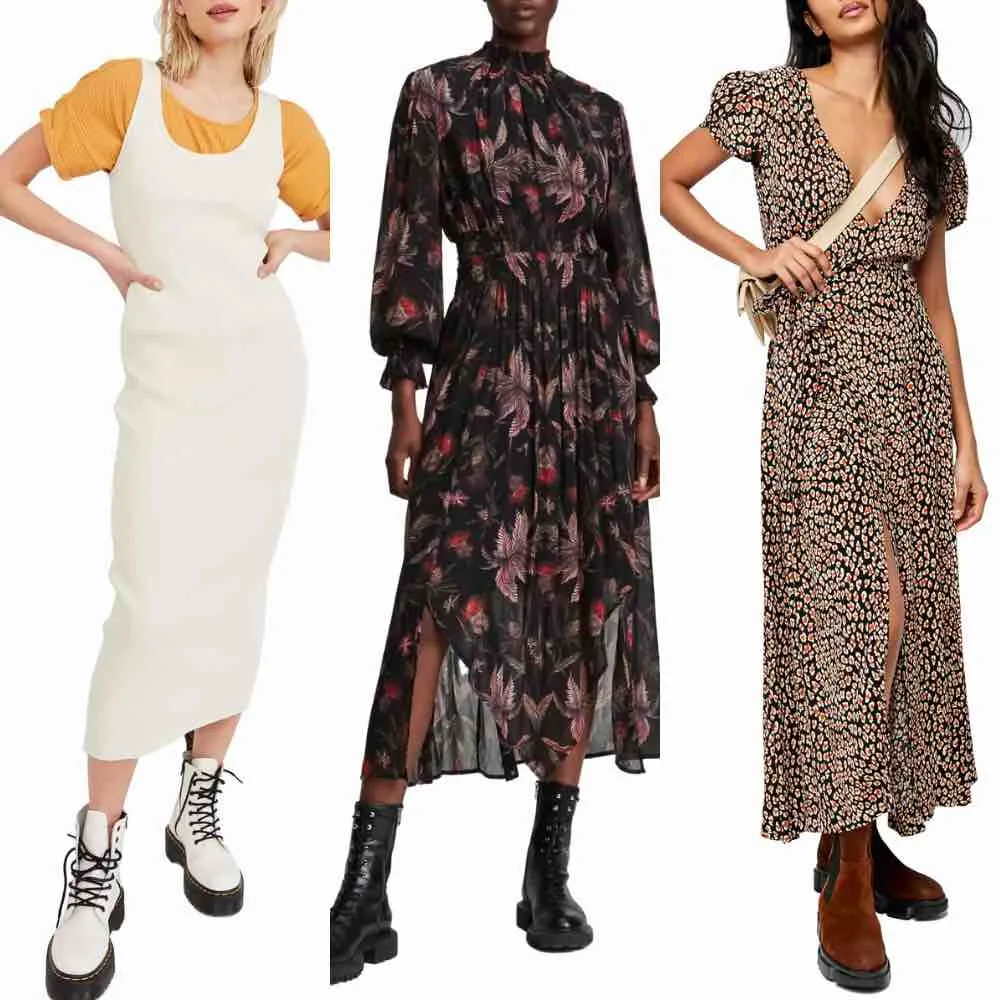 I personally love a maxi dress with combat boots, as it gives it a bit of an edge. Especially when you mix a soft, flowy dress with these rugged boots. These are some of my fave shoes to wear with leopard print dresses for casual outings.
You can wear a long maxi dress that covers the boot – with of without a slit to show off your boots. Or, you can opt for a slightly shorter maxi dress that shows off your boots (and a bit of leg).
I love wearing combat boots with dresses of all kinds. But really, what do combat boots not look good with!? Choose a pair of funky and chunky combat boots from Doc Martens or Steve Madden.
If you want to stick with more classic styles for fashion longevity, Taos and Frye have great high quality choices.
Combat Boots We Love:
Minimal Heels with Maxi Dresses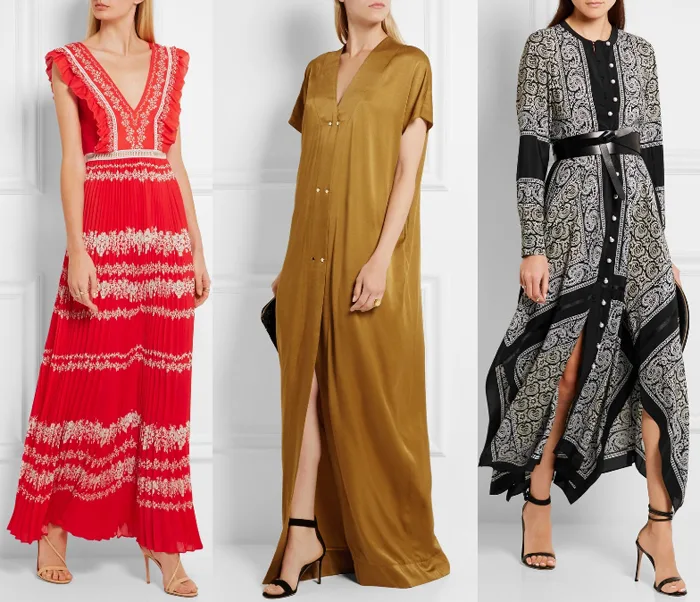 If you've got a maxi dress that you want to wear from the beach to a fancy dinner, you can easily transform your maxi into a gown with a pair of beautiful in-style strappy sandals.
Add a clutch to the outfit & belt the dress if you like & you're good to go!
Opt for either very minimal sandals (think Stuart Weitzman Nudistsong sandals), or a multi-strap shoe. Of course, the busier the dress's print, the more neutral & minimal the heels should be!
Maxi Dresses with Flat Sandals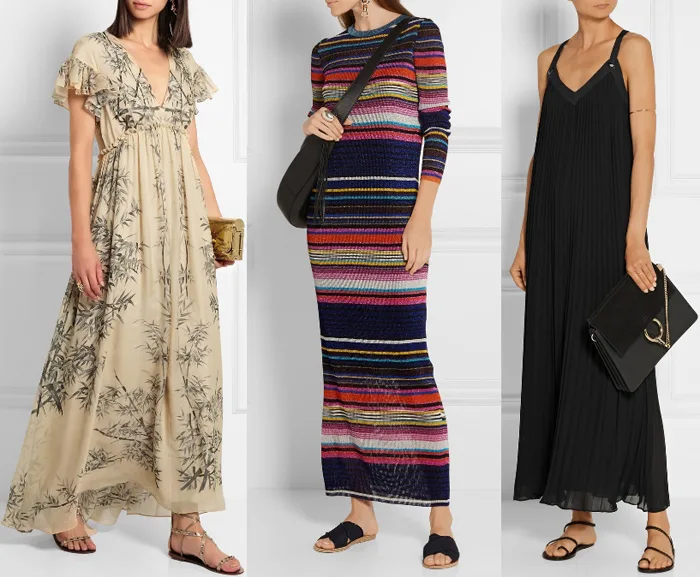 Of course, the go-to shoes for a maxi dress in the summer has and will continue to be the flat sandal. Love me a maxi dress with gladiators, but simple slides will look just as sleek.
I'd stay away from flip-flops unless you're actually going to the beach. Birkenstock outfits with maxi dresses will make your whole outfit look earthy, so keep that in mind if you're wanting a more sophisticated look.
Sneakers with a Maxi Dress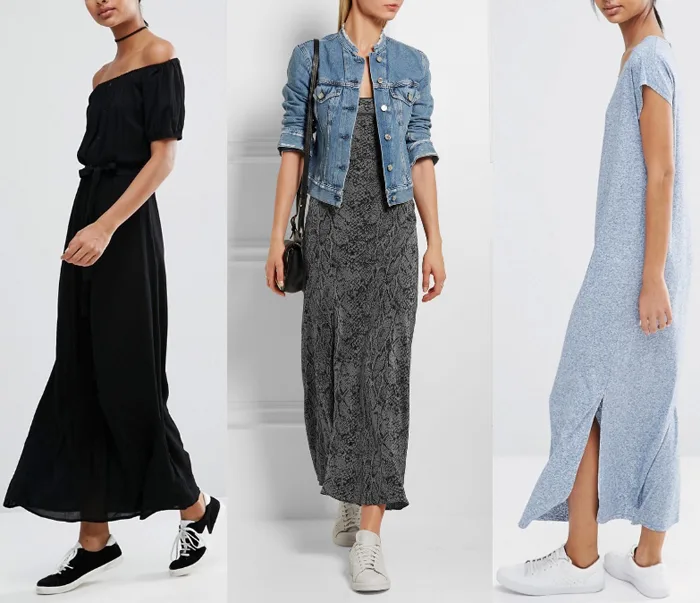 Sneakers are the perfect footwear when you're scratching your head, wondering what shoes to wear with maxi dresses! And the greatest thing is, you probably already have some great casual sneakers to pair with your long flowing dress.
Some of the best sneakers to wear with dresses are all-black or white sneakers. However, a pair of retro kicks of platform sneakers make for the trendiest look.
Now that long slip dresses are back in style, you can get both a dressy and casual outfit out of this type of maxi by wearing it with tennis shoes & sweater and/or jacket.
Pairing sneakers with a maxi dress and jean jacket is a personal favorite "how to wear a maxi dress" solution, when going casual. The more layers, the better too (and always a good idea in the Fall/Winter).
Maxi Dresses and Platform Shoes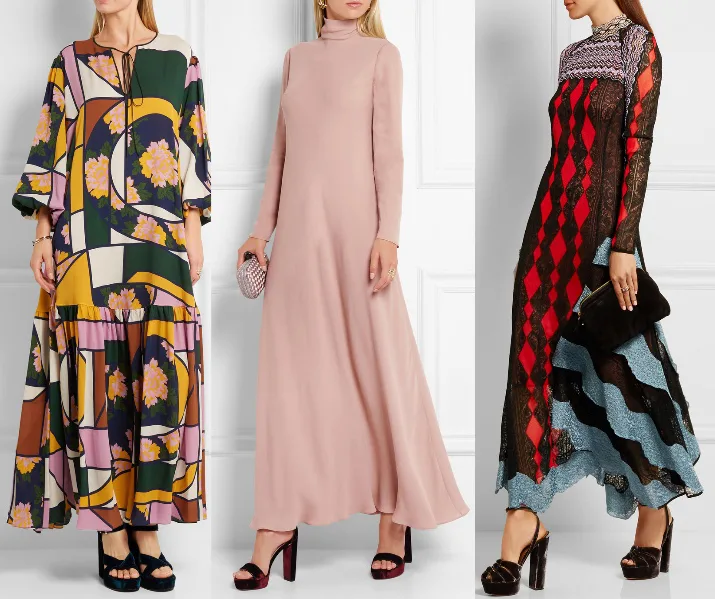 If you're more petite or itching for some extra height in your maxi dress, a fun way of wearing them is with a chunky heeled pair of platforms. Platform sandals, pumps & boots with chunky heels are a serious shoe trend since 2016.
Velvet heels are also a big deal, especially for Fall/Winter maxi dress pairings. A velvety platform shoe like the ones featured above will definitely add a solid dose of trend to your maxi dress outfit! These are great shoes to wear with cocktail dresses too.
Looking for more heels to wear with maxi dresses? Have a look at the many different high heels for women over on my shoe guide.
Feeling la-di-da? Why not warm up your feet in the winter with platforms and socks? Yes, even sandals! You can get some ideas on how how to style socks with shoes, here.
Maxi Dresses with Loafers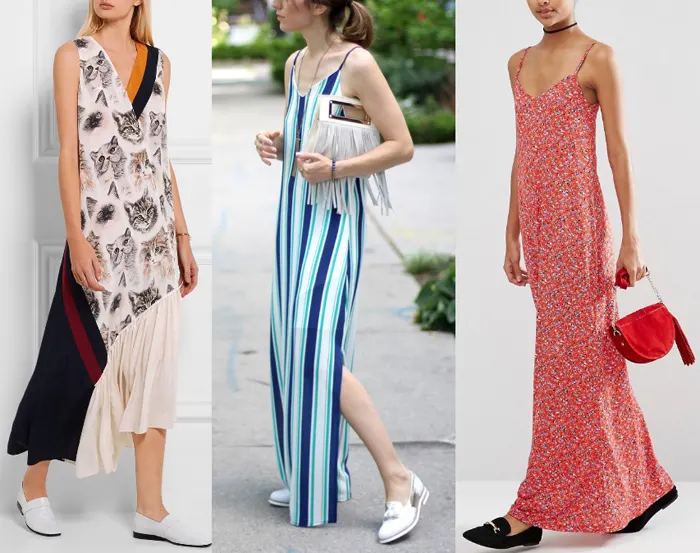 An unlikely choice, but loafers look great styled with maxi dresses. Not only, they can be a perfect way to incorporate a long dress into your work wardrobe. Just add a blazer to complete the look for pretty preppy look!
Loafers are also a good choice when you'd rather not wear heels, but feel that sneakers would be far too casual. Check out all the ways to wear loafers with dresses and other outfits in my loafers styling post!
Espadrilles with Maxi Dresses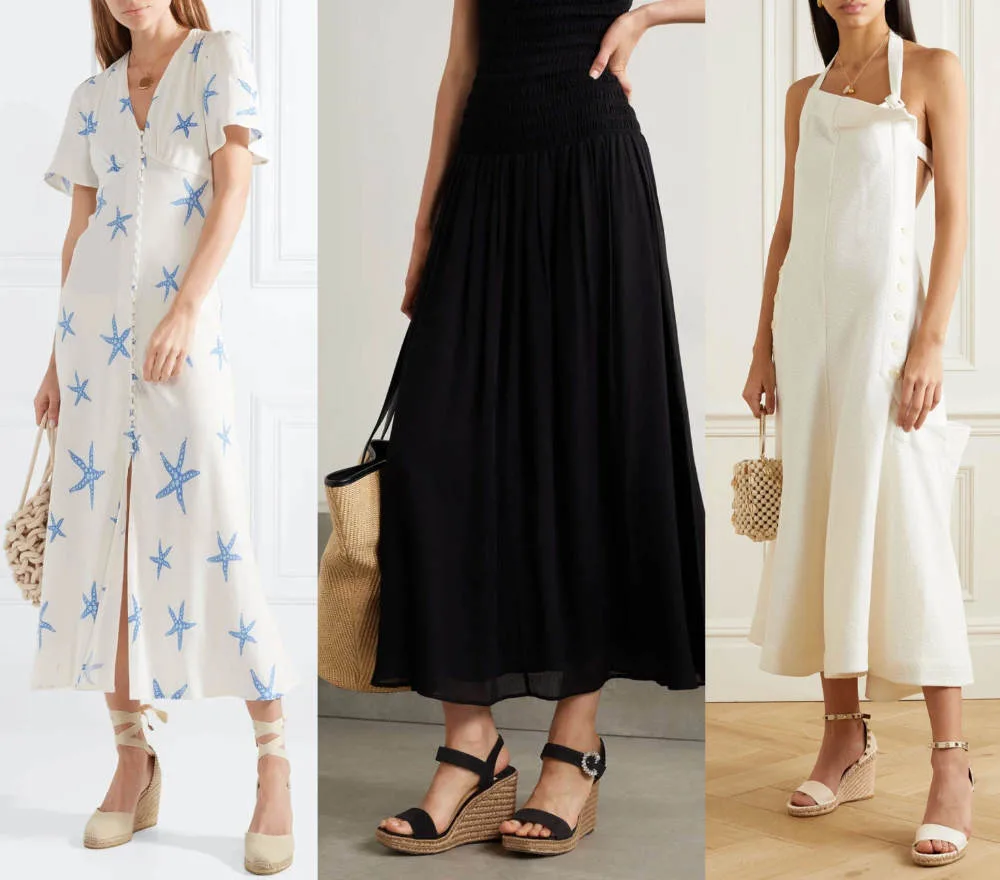 Other great shoes to wear with maxi dresses in summer are espadrilles — especially those with wedge heels. Whether you opt for an open or closed toe version, espadrilles have been a summer classic staple for decades!
A decidedly summer style, espadrilles are one of the best shoes to wear with long dresses. I love a long, flowy cotton dress or a tiered linen style with this type of shoe. A dress with a bit of flounce can look amazing with espadrilles too!
Try keeping things neutral with a white dress, beige espadrilles and a rattan bag. Or if you're a black dress kinda gal, you can opt for black maxi dress with black espadrilles or contrast your black frock with a cream hued espadrilles!
Many brands make espadrilles nowadays, but if you want to go with the one of the original espadrilles shoe companies, opt for Cantañer or Soludos!
Clogs with a Maxi Dress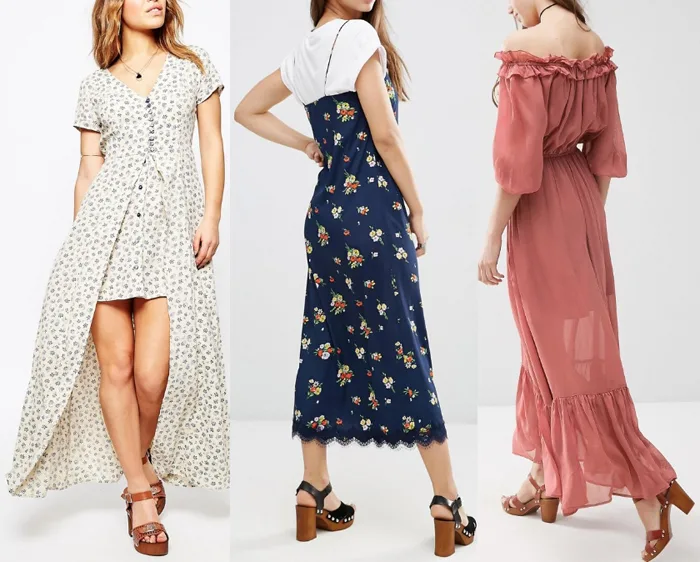 For the ultimate summery high heeled look (and bohemian gal in you!) take your maxi out with a pair of clog mules or sandals. I mean, when it comes to what to wear with clogs, dresses are a surefire win!
There's something about mixing clogs with maxi dresses that never gets old & looks fiercely stylish! It gives a long dress a 70s feel that's so popular at the moment.
Final Words on Shoes to Wear with Maxi Dresses
As you've come to see, the types of shoes to wear with maxi dresses are many! There are so many shoes to style your maxi dress during summer, winter or all the months in between with a fashionable or classic pair of sandals, shoes or boots.
The choice on how to style your maxi dress with shoes really depends on the type of maxi dress being worn, where you're going, and the seasonal weather.
My main advice is to have fun with your shoes and maxi dress. As long as you feel great and confident, that's all that really matters!
What are your favorite shoes with maxi dress pairings?
More Dress Styling Posts:
How to Wear Short Dresses with Boots
Shoes to Wear with a Shirt Dress
Shoes to Wear with a Denim Dress
xo ShoeTease