Scroll through any fashion magazine or peek at recent celeb street style snaps, and you'll see that the combat boots aesthetic in 2023 is going strong!
In this post, I'll show you how to wear combat boots either casually or glam and look amazing either way. Soon enough, you'll see that your closet is full of outfits to wear with combat boots!
Just ask Bella Dakota Johnson or Julia Roberts who frequently wear them. Combat boots are practical, stylish and easier to style than you may think. That means you'll be able to wear combat boots whether you're Gen Z or GenX!
Combat boots come in many different colors and styles. The style is most commonly is lace-up at the front. However, many call rugged Chelsea boots "combat boots" as well.
Combat boots can have taller silhouettes, shorter ones, chunkier soles and sleeker versions.
The most popular current combat boots are black or white in either matte or patent versions. Chunky platforms with lug soles are currently preferred by the fashion glitterati! Like those from Doc Martens or new styles from Steve Madden.
However, classic combat boots are staple types of boots that never go out of fashion. These might be a more suitable choice for those that don't want to hone into a particular combat shoe trend. If so, opt for styles from Taos or Frye.
However, no matter which type you choose, you'll confidently know how to style combat boots after reading this post.
Check out my combat boots outfit ideas below for inspiration, including the hottest combat boots for 2023!
---
How to Wear Combat Boots in 2023: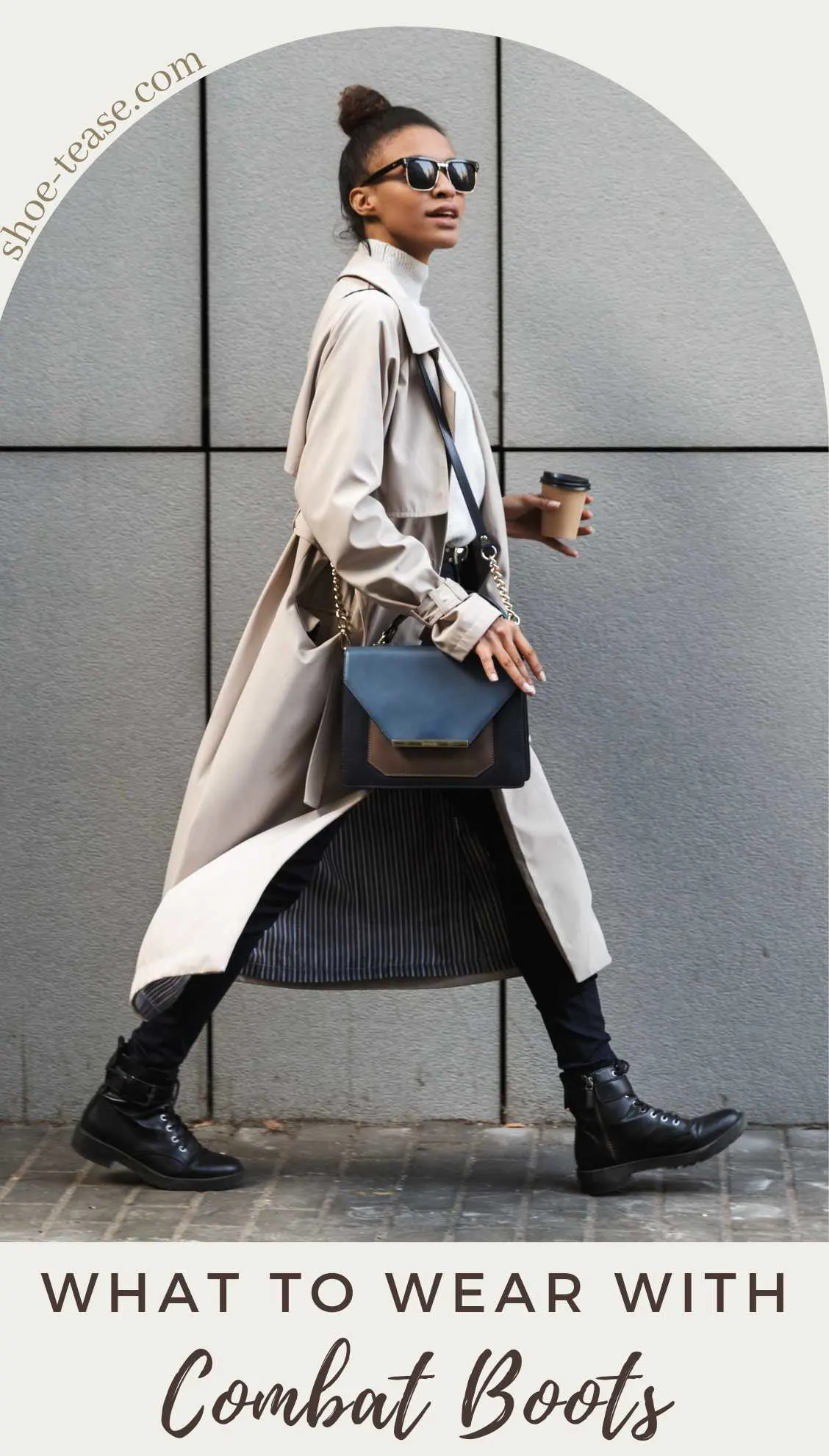 1. How to Wear Combat Boots with Jeans
Combat boots with jeans are a fabulous combination. A celebrity and real woman combat boots outfit pairing favorite, they will style well with virtually any type of jeans: long or short, skinny or loose.
That's because this type of boots for women is like a magic styling shoe! The trick of how to wear combat boots with jeans depends on the style of jeans in question.
Can you tuck your jeans into combat boots?
Yes, but it depends on the style of jeans you're wearing and whether it's cropped or not. With ankle to longer skinny or slim straight leg jeans, you can tuck them in.
If your jeans are very wide legged or flared, this will not be a practical or good look, as the cuff will unroll and look floppy.
With jeans that are cropped, tucking them in is not an option. Unless your combat boots are taller than ankle height!
Combat Boots and Skinny Jeans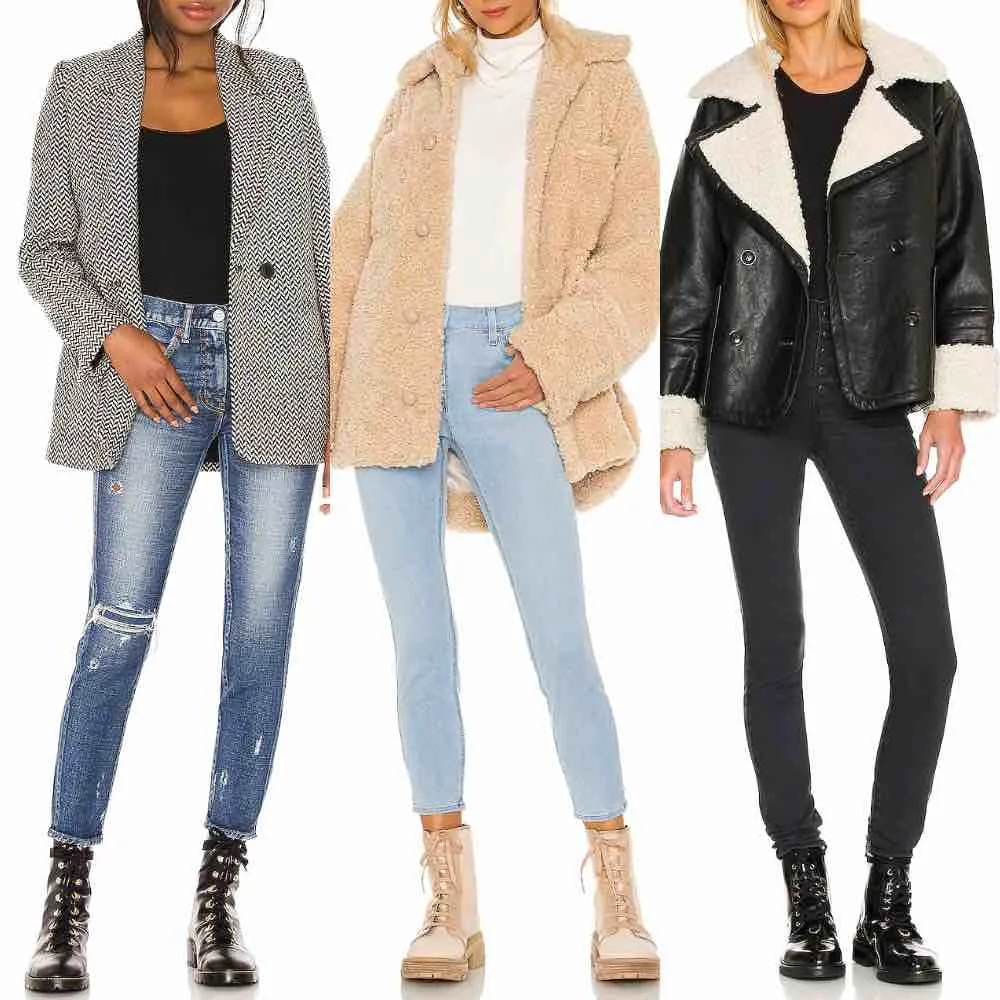 Pairing classic skinny jeans with combat boots – especially in a high waisted fashionable version – is a great combo. If your skinny jeans are ankle length or longer, you have 4 boot styling options:
Tuck the jeans into your combat boots.
Let them bunch or lie above the boots.
Roll up your ankle jeans to create a cuff above or at the boot shaft.
Wear ankle socks over your jeans so they peek out above your combat boots.
If your skinny jeans are cropped, you can slip into your combat boots and you're good to go! I prefer there to be a small gap between the end of the jean and top of the boot, but that's simply a personal choice. Many chose to have their jeans end where their combat boots begin, and that is fine!
You can complete your combat boots outfit with a cropped tee, tucked shirt or bodysuit for higher waisted styles. Layer a midi-length cardigan and any jacket if it's cooler outside.
Read more on how to wear boots with skinny jeans in my dedicated post.
Combat Boots and Straight Leg Jeans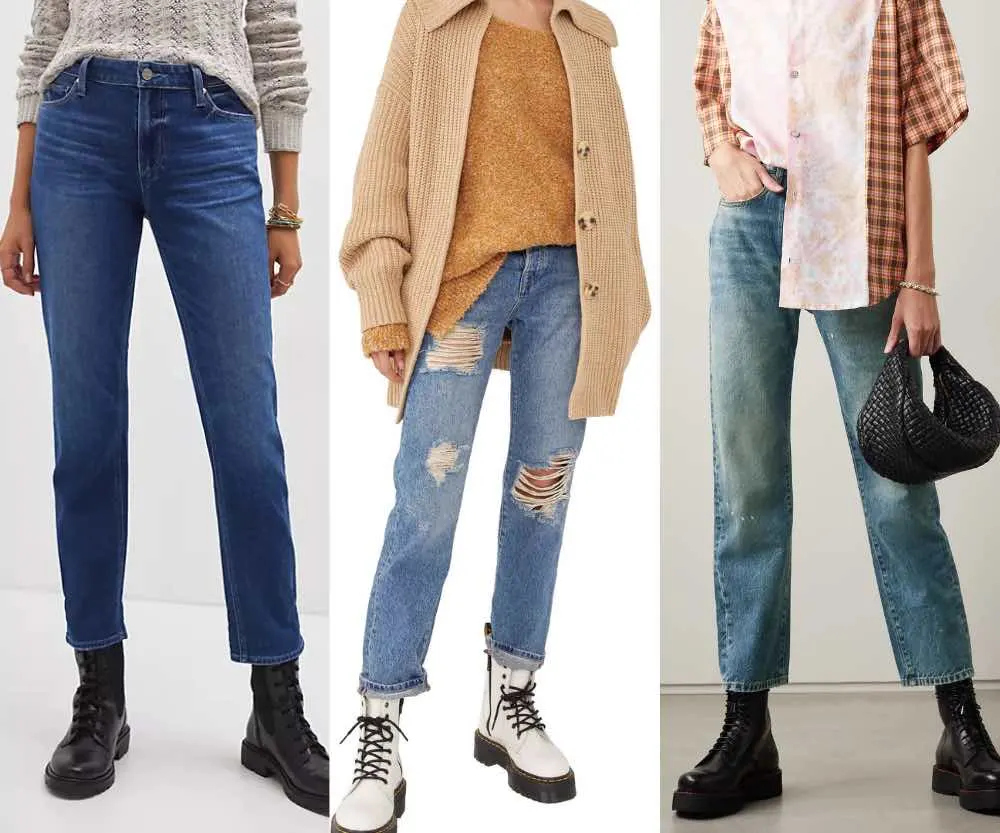 Straight leg jeans, whether slimmer or looser, make for great outfits with combat boots! In fact, they are one of my top choices of boots to wear with straight leg jeans.
As the images above show, your jeans will be wide enough to just pass over your combat boots, if you want to wear them over.
But if you feel like giving a more casual spin to the look, you can definitely roll up your jeans. Once, or twice, depending on length. Complete your look with a semi tucked sweater or shirt. You can layer over anything from a moto jacket to a cozy cardigan.
Combat Boots and Wide Leg Jeans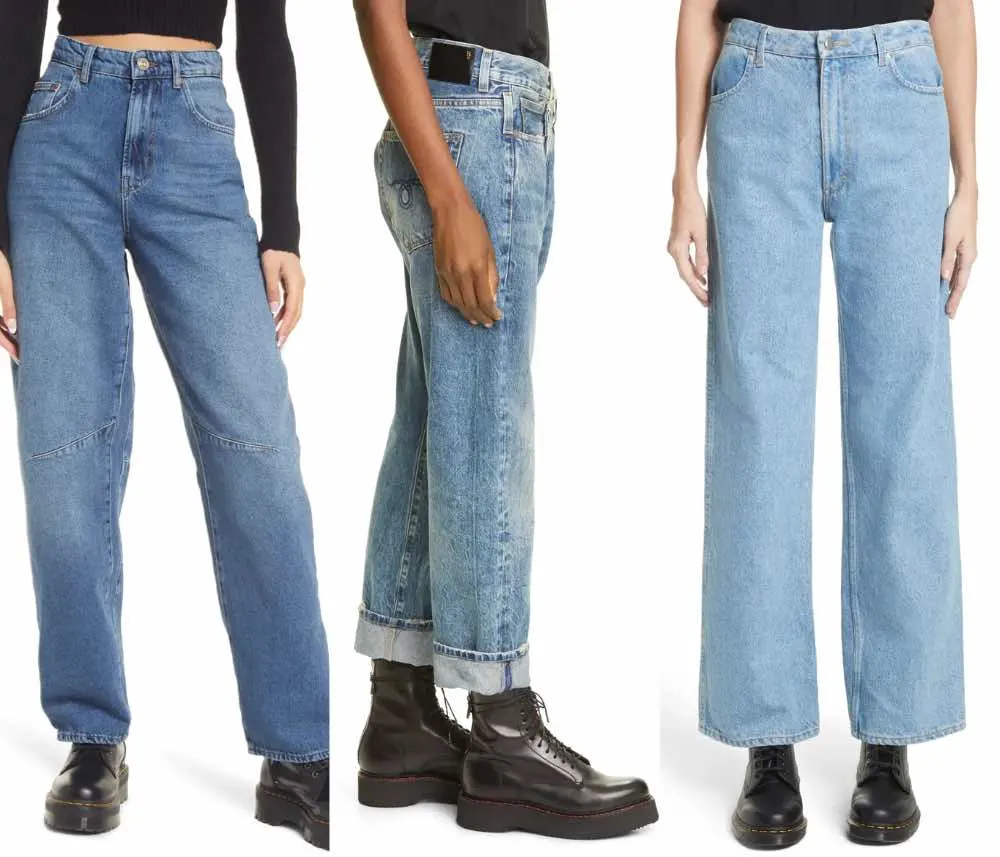 This pairing is much simpler, as wide leg jeans don't cuff as well, unless they're not too wide and have a straight leg, like the middle photo.
Longer wide leg jeans will simply fall over and partially cover your combat boots. This is a current styling favorite for Winter 2022/23! For cropped wide leg jeans, let them end where they must. Either way, you're good to go!
Create a casual look by tucking in a sweater, and layering with an army jacket, or a bodysuit with an oversized blazer. Add a cross-body purse or backpack. Check my post on all the great shoes to wear with wide leg jeans!
2. How to Wear Combat Boots with Leggings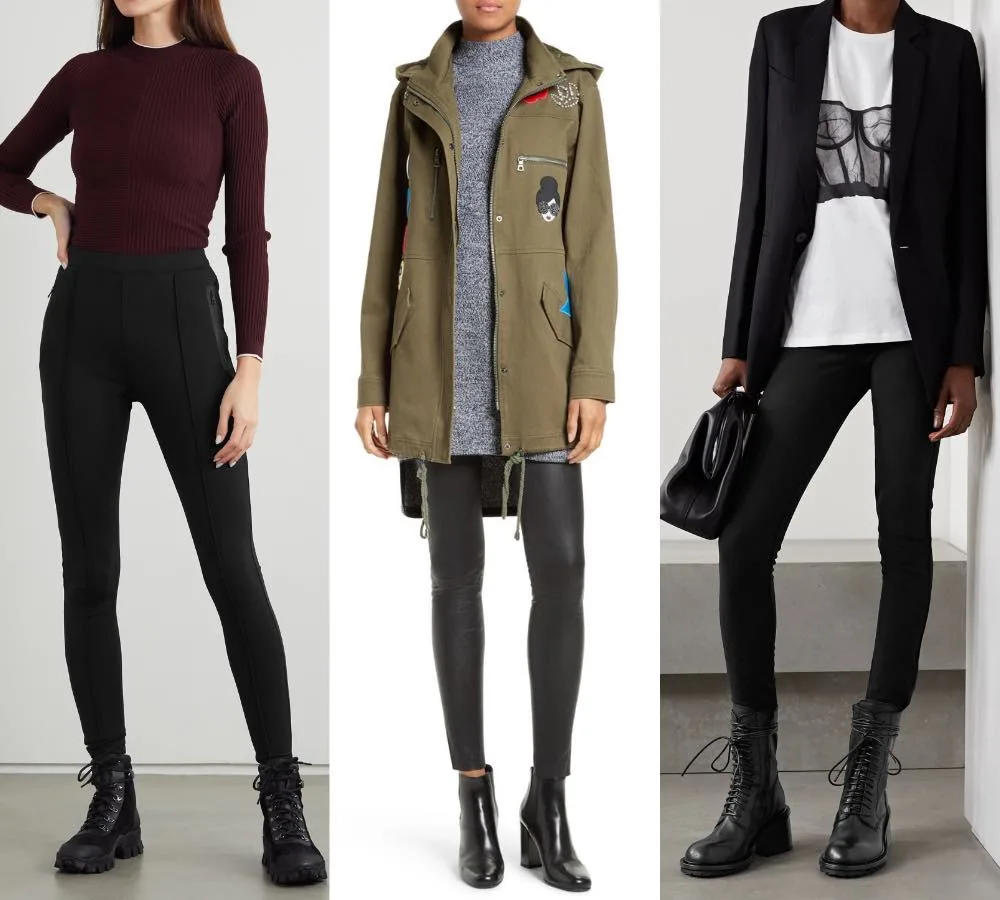 Stuck on what to wear with combat boots? Leggings are an easy choice! Especially faux leather leggings. They've been at the top of the trends for years now and show no sign of disappearing.
Choose a plain black pair of leggings with black or white combat boots. Maroon ones are great too! For more style, try moto leggings with chunky zippers, quilted panels, or studs.
Complete the look with an oversized sweater or a graphic tee. Check out my posts on the best shoes and boots to wear with leggings or shoes to wear with leggings!
3. How to Wear Combat Boots with Dresses
There's no denying it, combat boots outfits can often look masculine and rugged. This is why I love pairing them with more feminine pieces.
They are some of my favorite boots to wear with dresses! So whenever I think 'what to wear with combat boots', pretty dresses come to mind!
Of all the dresses with boots that pair well – and there are many! – combat boots are one of my favorites, especially with softer dresses.
So, if you're asking how to wear combat boots with dresses, read on! I've outlined my favorite ways on how to style combat boots with slip dresses, sweater dresses, mini dresses and more.
Little Black Dress with Combat Boots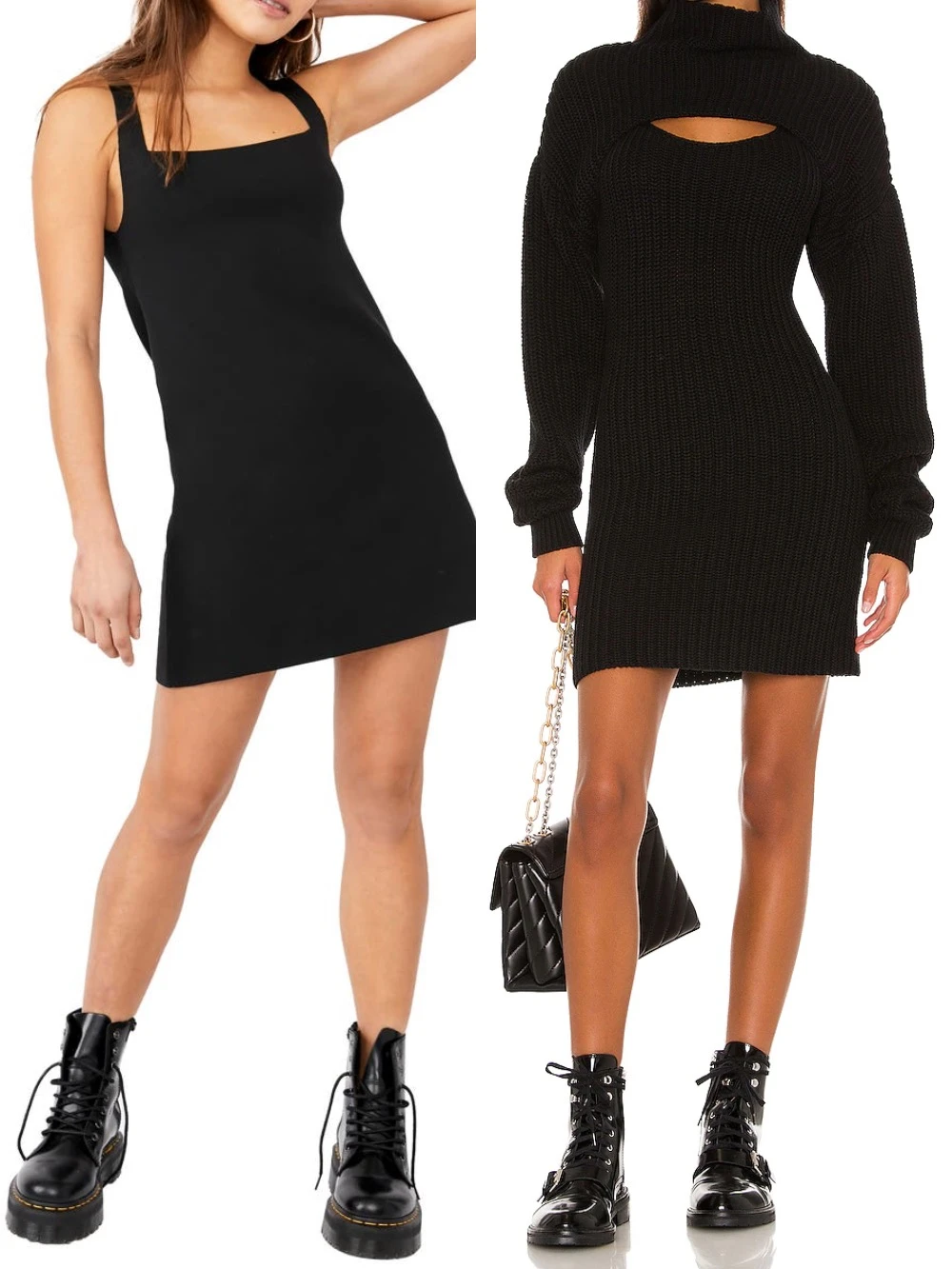 Little black dresses go with everything. Seriously. Everything! And just because combat boots can be seen as grungy, it doesn't mean your outfit has to match.
After all, opposites attract. And nothing is more opposite than a satin little black dress and a pair of patent combat boots.
Silky fabrics work well for nights out, and combat boots ensure you can keep on dancing! Or for cozy and cool looks, a fun little black sweater dress can fit the bill.
For a flirty casual look, opt for a breezy poplin little black tunic dress. Popular ones at the moment are empire waisted with full or puff sleeves.
Prefer something tighter? Grab a mini or midi bodycon LBD. You can wear it under an oversized denim jacket or leather moto jacket for a casual and cool combat boots outfit.
Tights are optional, but can look very fun, like how Emma Roberts styled them! Looking for more inspo? Check out my post all about the best short dresses with boots pairings!
Sweater Dress
Casual outfits with combat boots are perfect for laid-back, cozy days. Cue: the sweater dress. Is there anything comfier during cool, crisp days? How to style combat boots with a sweater dress is easy!
Choose a knee to calf length dress, opt for tights or bare legs (if the weather allows) and slip on your boots. Throw on a cozy trench coat on top.
Take a look at my post on all the boots and shoes to wear with sweater dresses for more sweater dress styling.
Maxi Dress
Make your flowy maxi dress more rugged looking with combat boots. Especially if sneakers or heels aren't really your thing — boots can be a fun alternative. Maxi dresses made of linen will be great in the summer.
And for fall, choose something a little heavier. I love a velvet or flowy floral dress with combat boots! Add a denim jacket and leather tote bag and you'll be ready to tackle your daily errands in style.
Learn about all the shoes to wear with maxi dresses in my long dress-specific styling post!
Slip Dress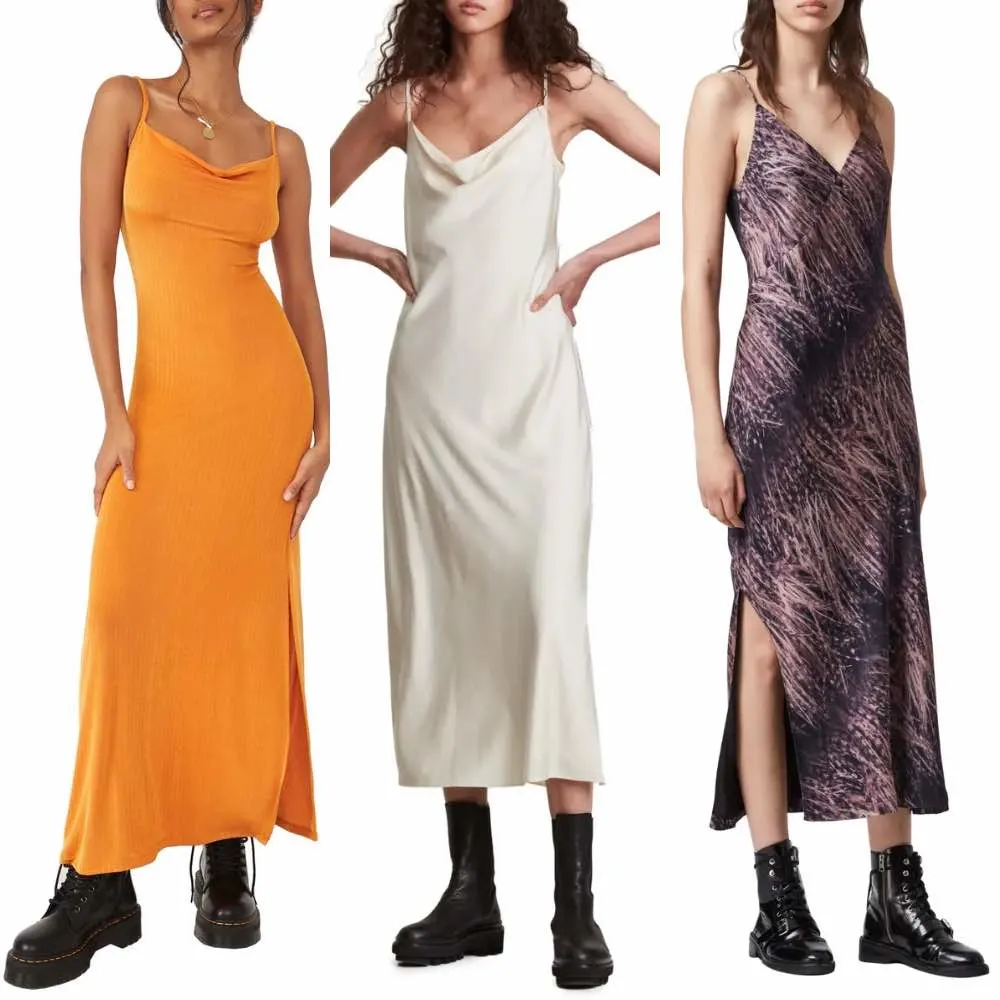 For a gorgeous hard vs soft contrast, throw on a slip dress with combat boots. Try layering a leather jacket on top for extra edge. If leather jackets aren't your thing, shrug on a cute furry cardigan or pashmina type shaw.
A cropped sweater will also look amazing! PS: a slip dress with a sexy slit will take you from a first date, to cocktails with friends, effortlessly.
Summer Dress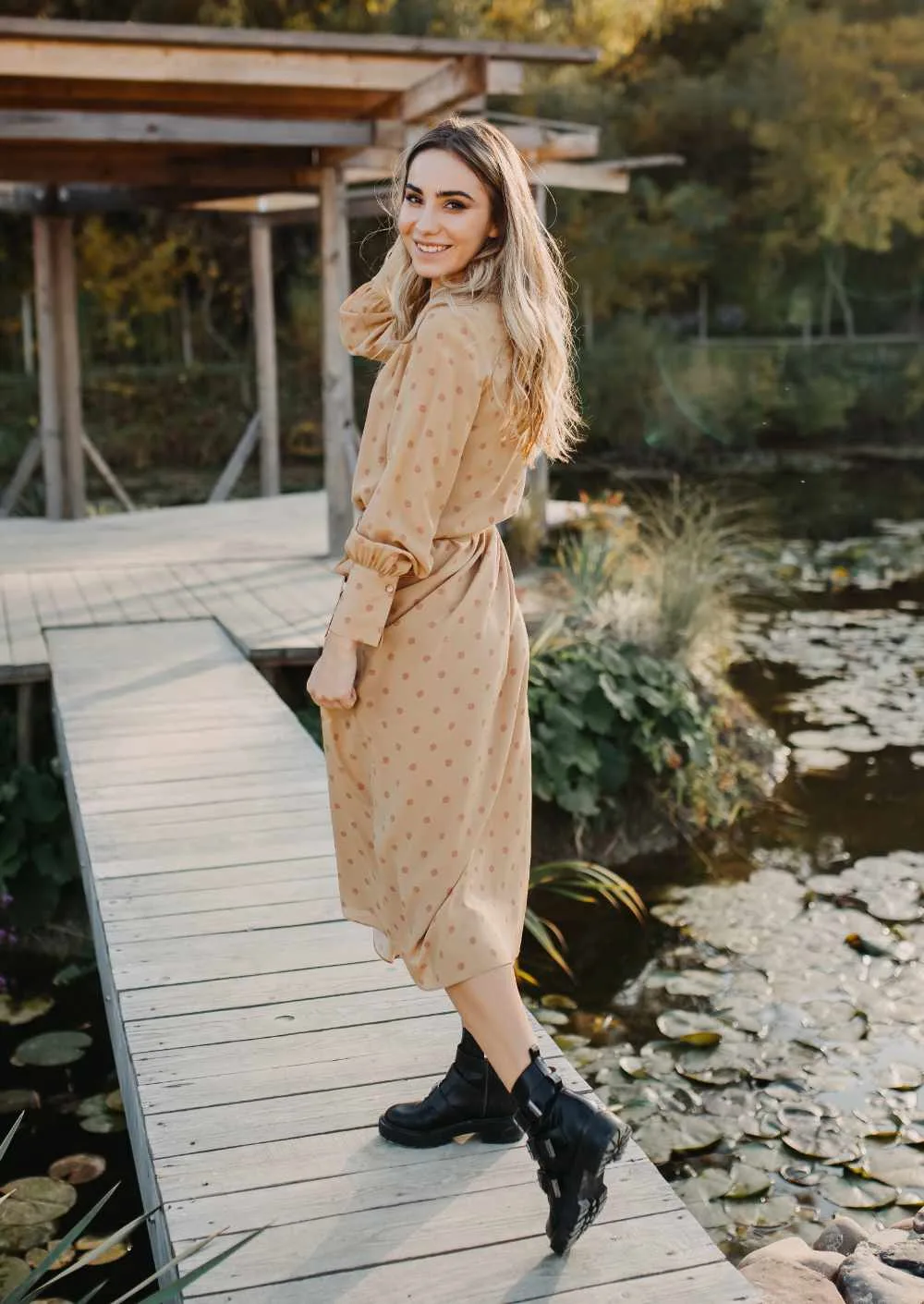 A "girly" dress can be toughened up with a pair of rugged boots. These are my favorite shoes to wear with sundresses in the fall! Your dress will still look pretty but a little edgier. Try a dress with a floral print or ruffled details.
The flirtiness of your outfit will be a fresh contrast to the rough and tough combat boots. You can choose a dainty purse or a rugged crossbody to add a bit of edge to your outfit!
Denim Dress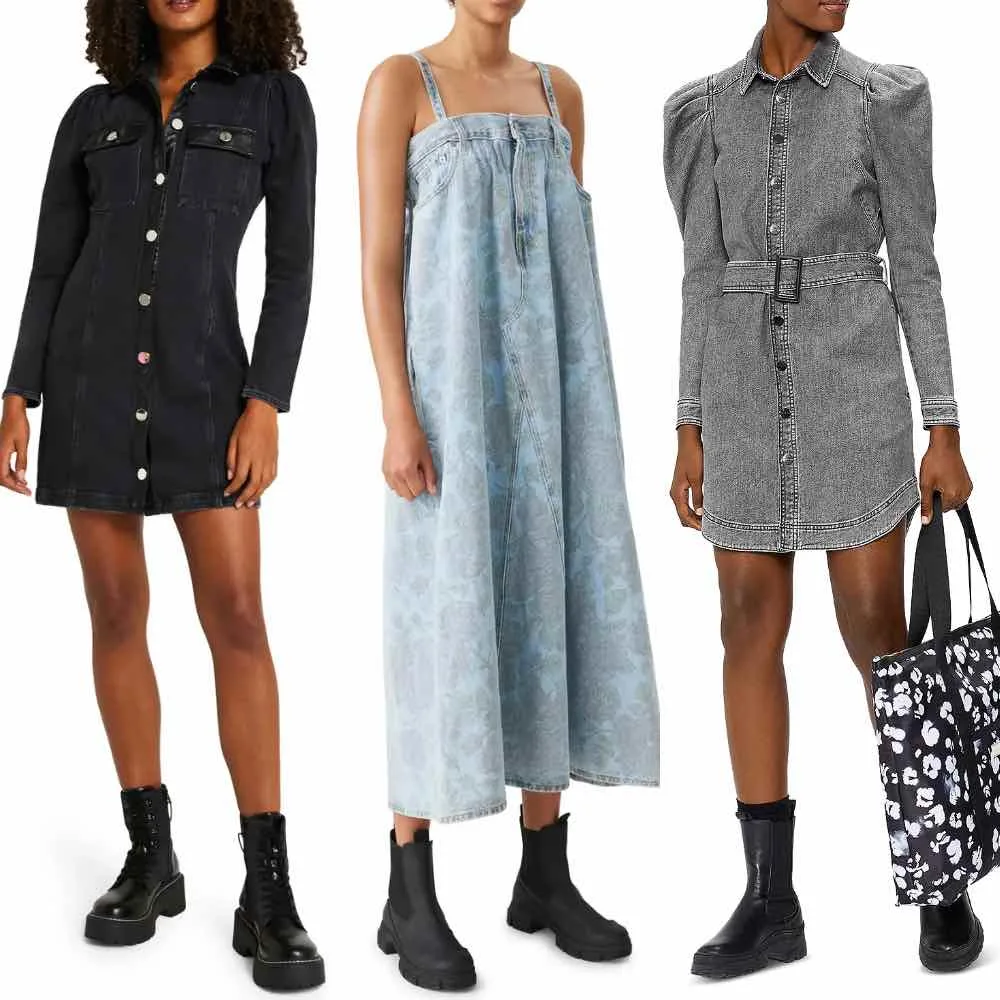 This utilitarian dress works great with combat boots for a casual, full rugged look. I love white or beige combat boots with either grey denim dresses or blue hued ones. But black combat boots will also look amazing!
The style will speak for itself, so grab your purse or choice (I'm partial to a shopper or cross-body purse) and you're ready to go. Check out more great shoes to wear with denim dresses in my dedicated post!
Mini Dress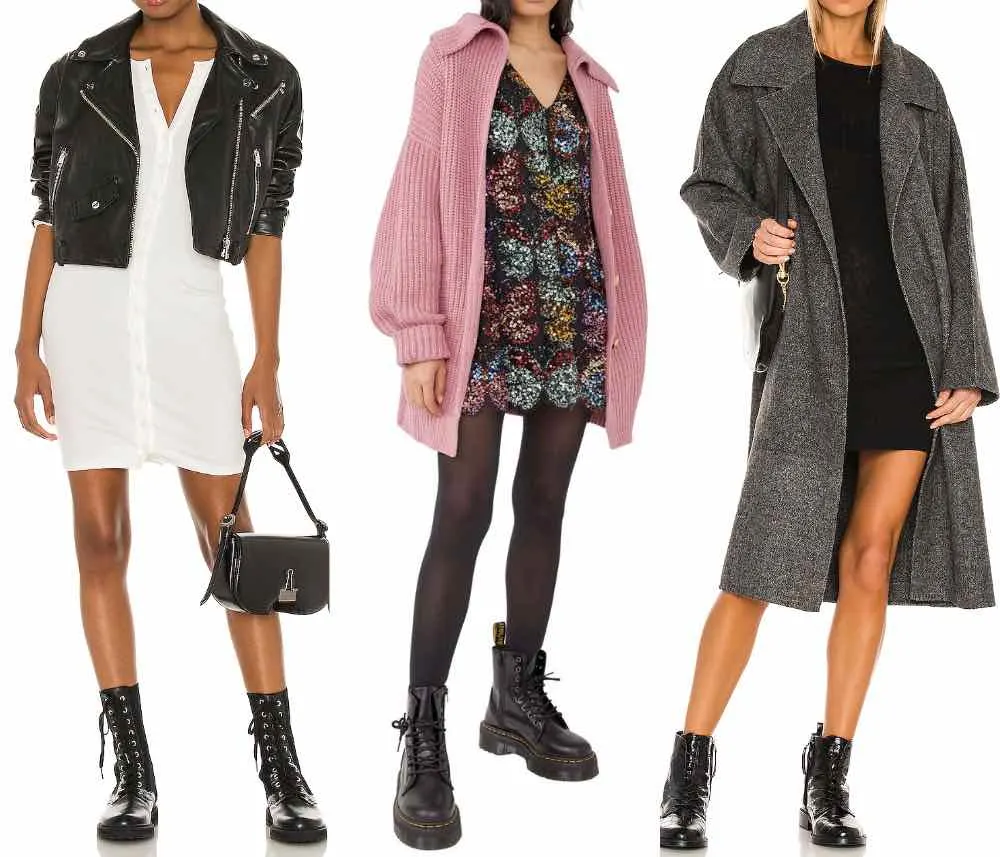 Move over high heels! There are so many great ways to wear short dresses with boots. So why not try pairing your mini dresses with combat boots?
Whether you choose a super short style or something closer to your knees, combat boots will help to ground the outfit. Try a mini dress with a bold pattern for a fresh take. This is a great outfit combination to try on some simple of patterned tights!
Polish up your look with a leather handbag and chunky jewelry. Throw on an oversized denim jacket, shapely cardigan, moto jacket or blazer, depending on the vibe you're going for.
Add leggings if you want to show less skin or for cooler days. Follow my post on how to wear a short dress with boots of all kinds!
Shirt Dress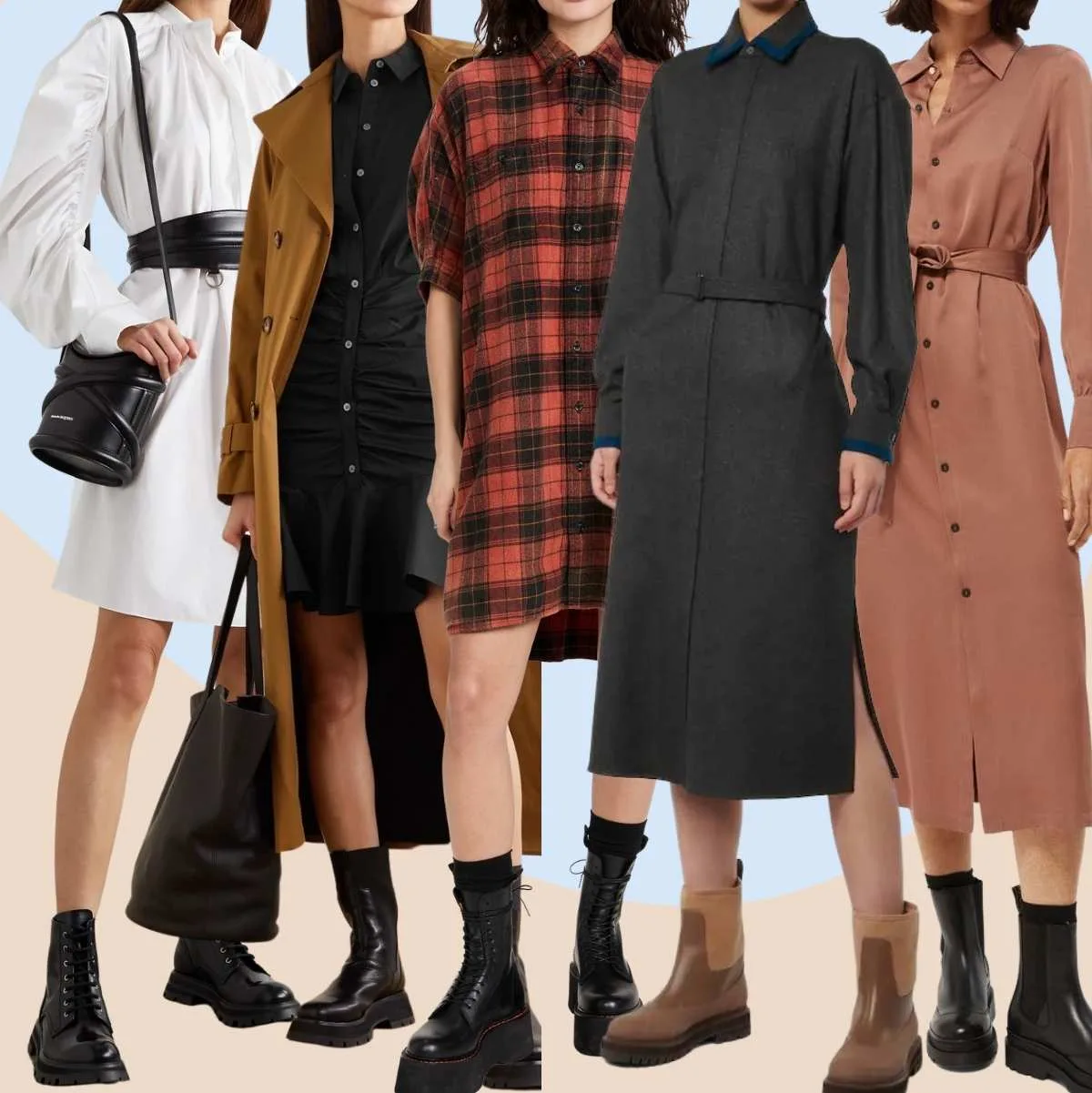 A shirt dress is a refined choice for on-duty days. Take it from preppy to perfectly toned-down with a pair of combat boots.
This is still an outfit you can get away with on a professional level. Layer a blazer on top for an even more polished approach.
Chose your combat boot style accordingly. Check out my post on all the best shoes to wear with a shirt dress!
4. How to Wear Combat Boots with Skirts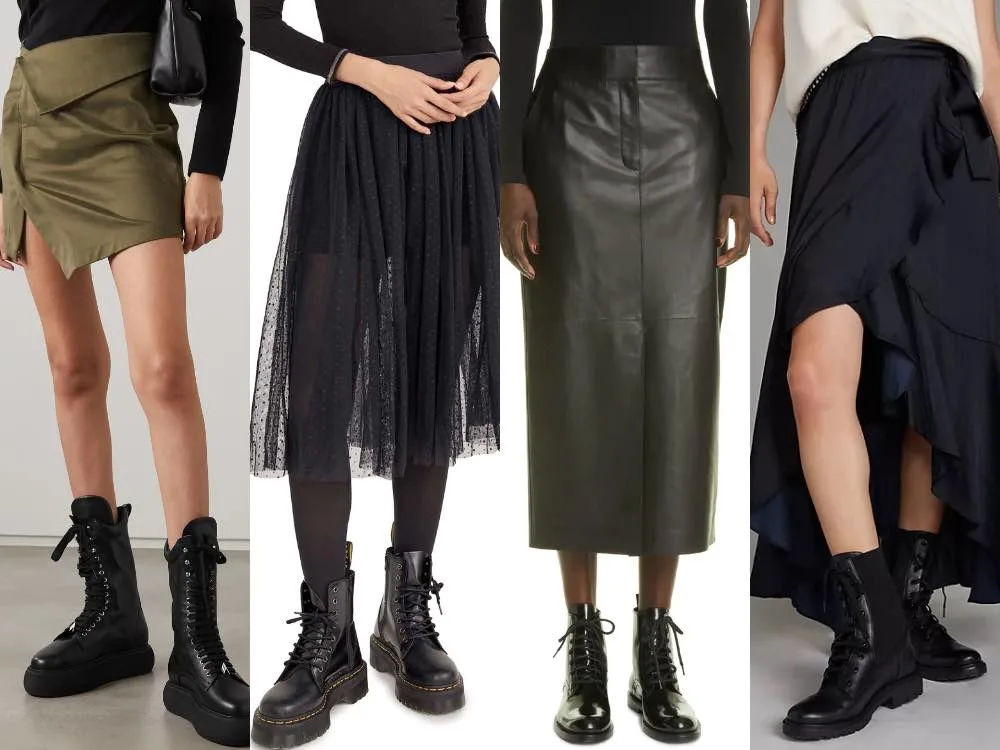 If you're looking for what to wear with combat boots to give your look an alternative edge, skirts are where it's at!
Like dresses, combat boots with skirts make a great combo. I feel that these are some of the best shoes to wear with skirts! And what's even better? You get to play around with what you wear on top too!
Below I'll talk about wearing combat boots with many skirts. These include mini skirts, denim, midi, and leather skirts. Try wearing super tall socks with your combat boots that peek-a-boo out the top for something different!
Mini Skirt with Combat Boots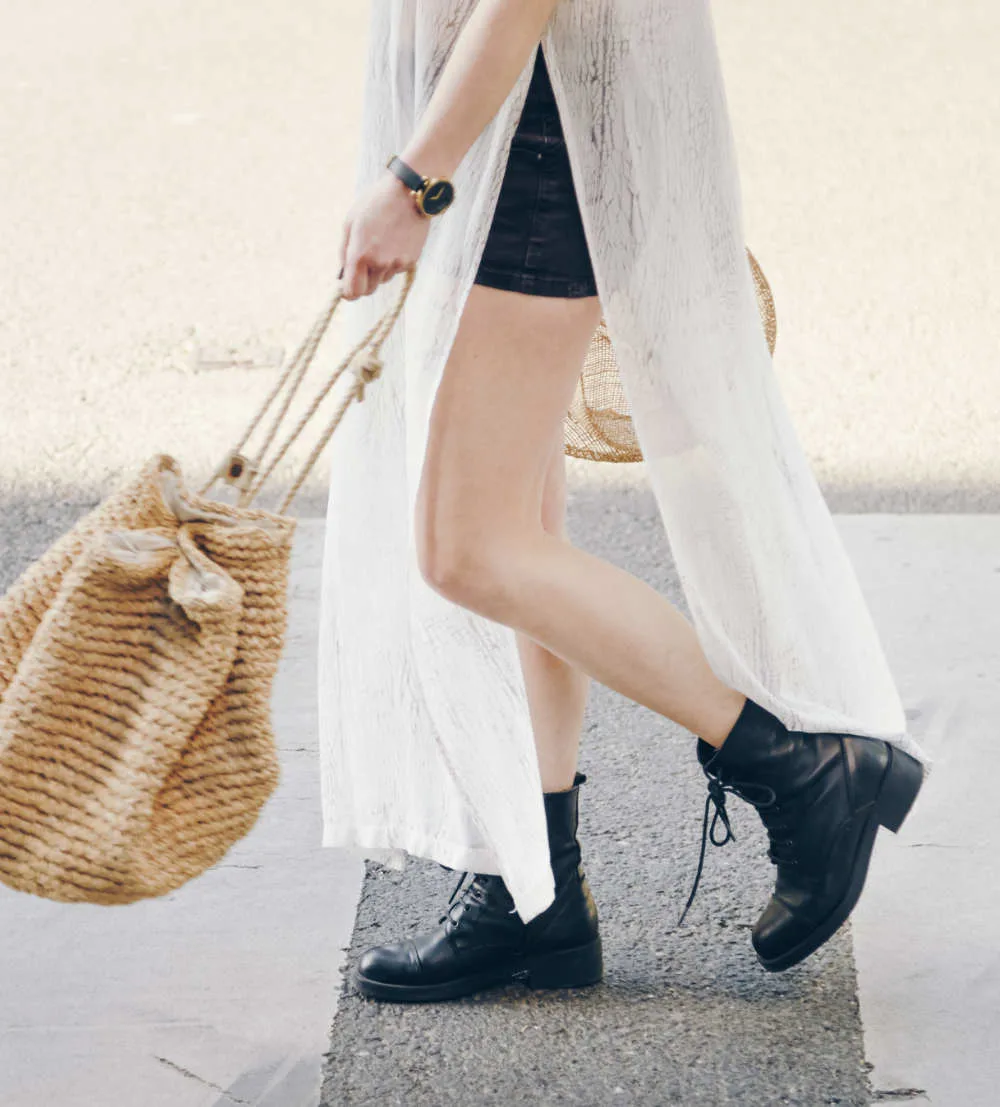 Mini skirts have been ruling the trends forever. Or at least it seems that way! Freshen up the style by wearing yours with combat boots.
Since mini skirts are so short, it's nice to choose a taller combat boot. Perhaps something that reaches towards your calf.
A long shirt or sweater can give you a bit of extra warmth. On chillier days, layer a lengthy wool coat on top and even a pair of warm leggings in fall/winter.
Denim Skirt
Denim skirts are so easy to style. Slides, sneakers, mules. And now combat boots! A lighter wash denim skirt can look great with white combat boots.
Darker washes team up well with black boots. It can also be fun to play around with patterns. For example, a leopard print calfskin combat boot.
For an Ivy League look, wear a collared shirt under a knit sweater. You can also opt for a double denim look, by pairing your denim skirt with a chambray top.
Leather Skirt
Everyone needs to own a leather skirt. Especially a black leather skirt! This timeless wardrobe staple works perfectly with combat boots.
Black boots will, of course, pair flawlessly. But you can also try brown, red or white boots too.
For a streamlined look, match your top to the color of your skirt and your boots. I love a silk camisole with a leather skirt and combat boots for an evening in the city. You can even glam up the look with a sequin top!
Midi Skirt
For a night out, choose a midi skirt with a high slit. Show off a little leg with your combat boots! It's nowhere near as scandalous as showing skin in sky-high stilettos.
Try a white button-down blouse on top for a sleek effect. And don't forget a studded leather purse, for a rock 'n roll vibe!
Want a more conservative look? Opt for a pleated midi skirt with your combat boot. Semi-tuck in a shorter sweater for a cozy look.
Tulle Skirt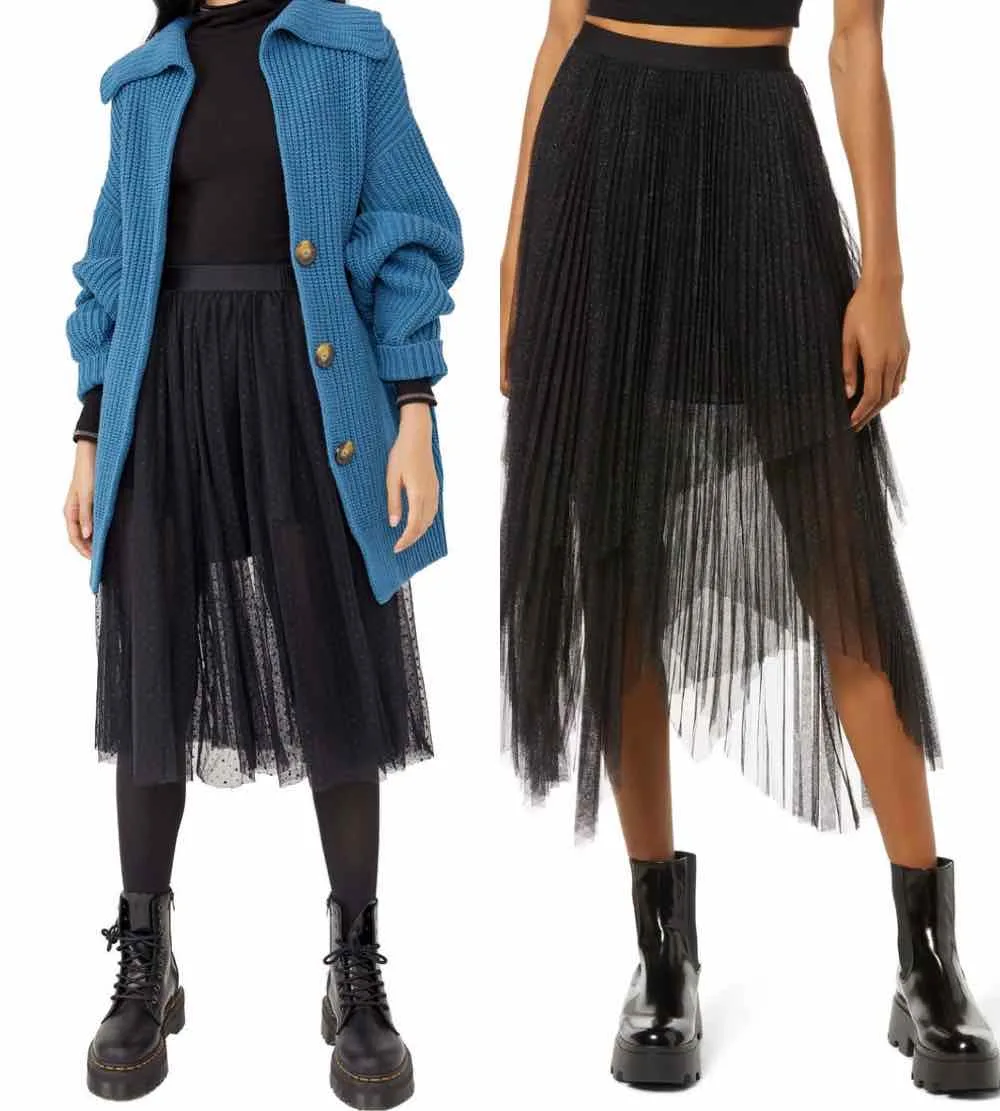 Betcha didn't see this combat boots with skirt type coming! This combo is not only for little girls! Take this look and make it your own with a sophisticated tulle skirt, rather than a thick, rigid one.
Tuck in a simple tonal tee, or a shirt with an under-the-bum cardigan. Opt for a mid-length wool coat, moto jacket or a puffer to complete the look.
5. How to Wear Combat Boots with Dress Pants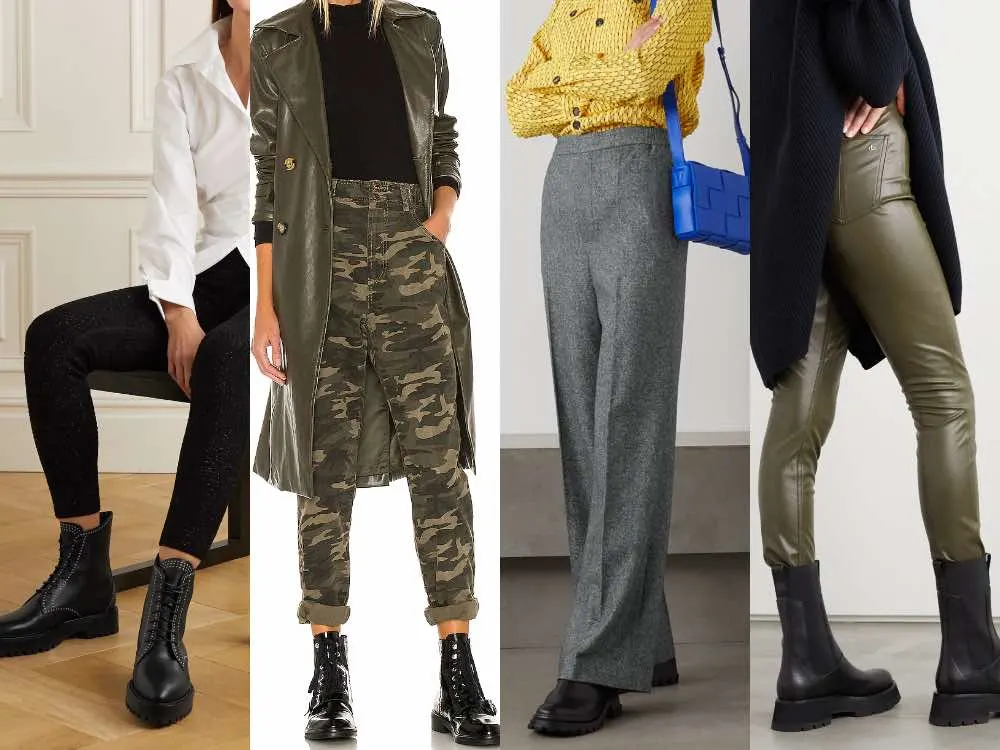 Slim Dress Pants
Slim dress pants that end just above your ankle will really show off your combat boots. Tuck them if they're longer. And what to wear with black combat boots? All black everything!
A chic way to wear your dress pants with combat boots is to keep the look monochromatic. Add a punch of color with your jewelry.
Wide Leg Dress Pants
Wide leg dress pants will easily fall over the top of your combat boots. With this style of tailored trouser, the boots add just the right touch of hard-hitting style.
You can be edgy without being too edgy. If you know what I mean! Layer a polished blazer on top of a silk tank for a smart outfit. Check out my post all the best shoes to wear with wide leg pants.
Leather Pants
Combat boots are a total autumn staple. And so are leather pants. So, naturally, they'd look fantastic together!
Whether your leather pants are jet black, chocolate brown or maroon, they'll team up perfectly with combat boots. I love a matte leather pant fabric with contrasting patent combat boots!
Style the look with a sleeveless knit top, gold jewelry and a slouchy suede bag. Add some texture with a furry coat or cardigan. You can opt for slim fitting to wider legged leather pants.
Cargo Pants
Cargo pants go hand-in-hand with combat boots. Think Kim Possible, from the action-adventure cartoon! I mean, who doesn't want to look that ready for action? Choose a pair of cargos with an elastic hem that ends at the top of your boots.
In the fall and winter, a shearling or faux fur coat is the perfect layering piece. This outfit makes a bold street style statement so get ready to shine!
6. How to Wear Combat Boots with a Pantsuit
You might think that pantsuits won't pair with combat boots because they are more formal. Well, the answer is: that's not the case!
They really can look fabulous together. Go for a Clueless or school girl vibe with a plaid pantsuit and navy-blue or black combat boots.
A neutral suit will coordinate with any pair of combat boots you own. Or if you dare, opt for a bold colored pantsuit with matching patent combat boots!
And never forget a good optic white with colorful or black combat boots, or an all-black pantsuit with contrast white combat boots! However you wear it, you'll look cool yet polished.
7. How to Wear Combat Boots with Shorts
Denim Shorts
Are you wondering what to wear with white combat boots? Denim shorts! Especially a light-wash pair. Lace-up your chunky boots, throw on a graphic T-shirt and tie a cozy button-down around your waist. A crossbody bag will complete the outfit.
Bonus points if you choose a tee with a rock & roll vibe! PS: black combat boots look great too, especially with dark or black denim shorts.
Wear boyfriend shorts or cropped shorts, but longer, knee-length shorts are not a favorite. Combat boots outfits with shorts are definitely more youthful and give a solid dose of punk vibes!
Leather Shorts and Tights
When the weather turns cold but you still want to wear your shorts… wear them with tights! It's the perfect solution. Leather shorts with black tights and black combat boots is a sleek yet seasonally appropriate outfit.
Why not throw on a leather jacket on top? Want to have even more fun? Reach for semi-sheer tights with a tonal pattern!
FAQs About How to Wear Combat Boots
Q1 – What to Wear with Black Combat Boots?
It's hard to get this one wrong. Black combat boots go with just about everything in your wardrobe. As you've seen illustrated in this post. Maybe not a ball gown or a bathing suit, but everything else.
But then again, I've seen great gown and combat boot pairings, so if you can make it work, go for it!
Walking your dog in the park? Jeans and black combat boots. Meeting your friends for lunch? A ruffled dress or slip dress and black combat boots. Heading out on the town? Try black leather pants and — you guessed it — black combat boots!
Q2 – What to Wear with White Combat Boots?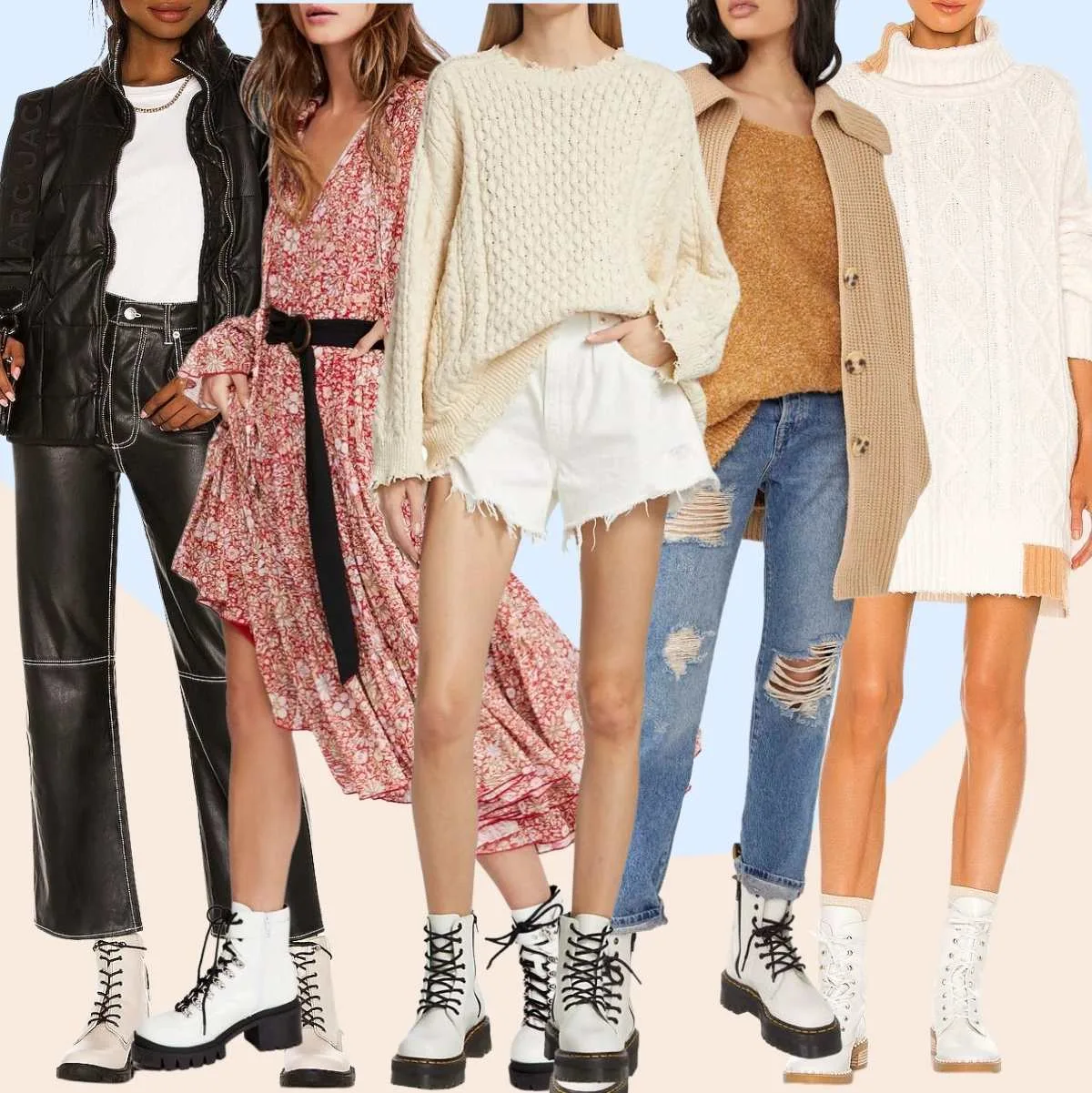 White combat boots can seem a bit trickier than black ones. However, there's no need to be scared. One foolproof option is to wear white combat boots with jeans. Jeans are always a safe bet.
Another way to wear them is with a black pantsuit. White combat boots can provide a fun "pop" to your outfit. And if pure white isn't your style, try a light beige or sandy tone boot.
White combat boots pair well with various dresses too! I mean, white shoes are one of the shoe colors that go with everything. Learn how to wear white boots in my dedicated post!
Q3 – What Socks to Wear with Combat Boots?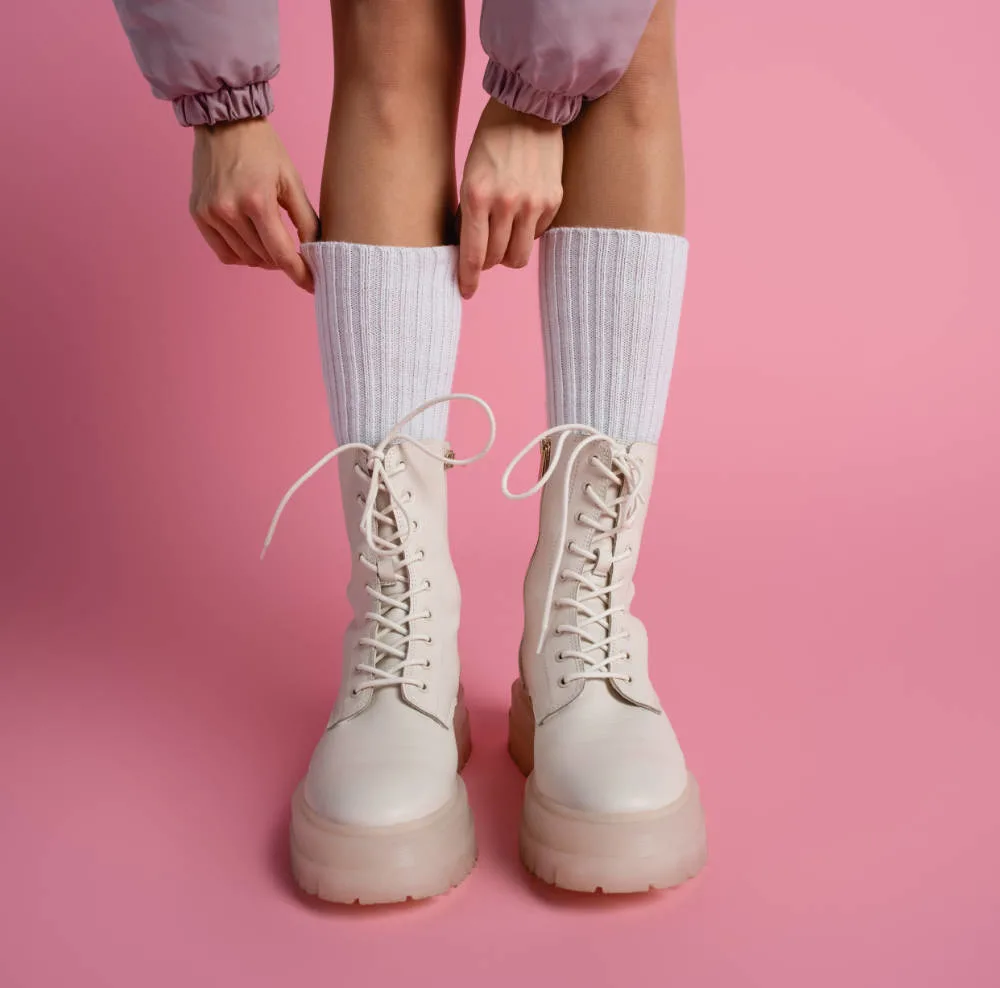 Like with any boots, you'll want socks that feel comfortable. And that gives you enough coverage. This isn't the time for short ankle or footie socks!
Is there anything worse than boots irritating a bare part of your leg while you strut around all day? No.
Depending on the roominess of your combat boots, you might want to choose a chunkier sock. Especially in the winter!
If you like the bare leg look, you can choose socks that end below the top of your boots or peek out.
This last one is especially great for when you're wearing leggings with your combat boots, for a cozy look. Opt for a contrast sock color or keep it the same color as your leggings.
Q4 – How to Wear Combat Boots over 40?
I don't usually like telling women over 40 – including myself – what they should or shouldn't wear. But since many women are asking this question, I thought I would try to answer it!
If you're over 40 or 50 and you're looking to wear combat boots, I suggest 2 options. It all depends much more on your comfort and style choice than your age!
You can go bold or go home. So do what you want and make it fun, including extra chunky combat boots paired with some wide leg jeans and a fun top. If a younger generation looks cute wearing it, you'll also look fab, as long as your attitude & general vibe goes along with the outfit!
Always choose a pair of combat boots that you feel most comfortable with. These can either be classic looking combat boots or ones with a higher heel or platform. Patent shine is optional!
Final Words on How to Wear Combat Boots
If you've made it this far reading my post, you'll know that combat boots are great boots that go with virtually any casual look.
They can look youthful, funky, or even conservative, depending on what you chose to wear with them.
I consider them an essential boot type to have in your closet, that will never go out of style. Pick a quality pair and they will last you for a very long time.
Combat boots also come in a variety of shapes, heights and heel types, so there's definitely a combat boot for everyone!
Shop combat boots from Saks Fifth Avenue, Zappos, and Bloomingdale's among the larger stores. Steve Madden has a great selection of trendy styles. At Stuart Weitzman, you can indulge in some quality styles without the high high-end prices.
Where will you be shopping for combat boots this season?
xo ShoeTease