They may have once been skin-tight, but the women's jeans trend has shifted! With this much more comfortable style, there are many great options of what shoes to wear with wide leg jeans.
And if you opt for cropped wide leg jeans, many more shoe opportunities open up. In this in-depth guide, shoe-tease.com will show you how to style wide leg jeans with the right shoes, boots, sneakers and more!
17 boots and shoes for wide leg jeans, to be exact! And let's get real for a second – most shoes go with wider jeans, but how you wear them is key.
Are wide leg jeans still in style in 2023? Yes, they are! Women's wide leg jeans have arguably become one of the top trending denim staples of 2023, thanks to Gen Z's fashion influence.
The right fit can flatter most body types with the right clothing and accessories – like shoes! – to bring you right on-trend.
Wide leg jeans can be different leg widths, such as cropped, ankle length, or super baggy. High-waisted, wide leg jeans are popular, but can also be found in a medium rise.
Of course, you can find a variety of washes from light to dark and all shades in between – with or without distressed fabric and tears. Which often makes pairing shoes with jeans sometimes challenging!
Wide leg jeans can be dressed up or down, worn casually or to a fancier event. If not too wide or baggy, these jeans can also take you from an office setting to a night out with friends. Very long and loose wide leg jeans give a retro 70s laid-back vibe.
If you're looking for shoe pairings with very loose & wide leg jeans, check out my post on the best shoes for baggy jeans!
14 Best Shoes to Wear with Wide Leg Jeans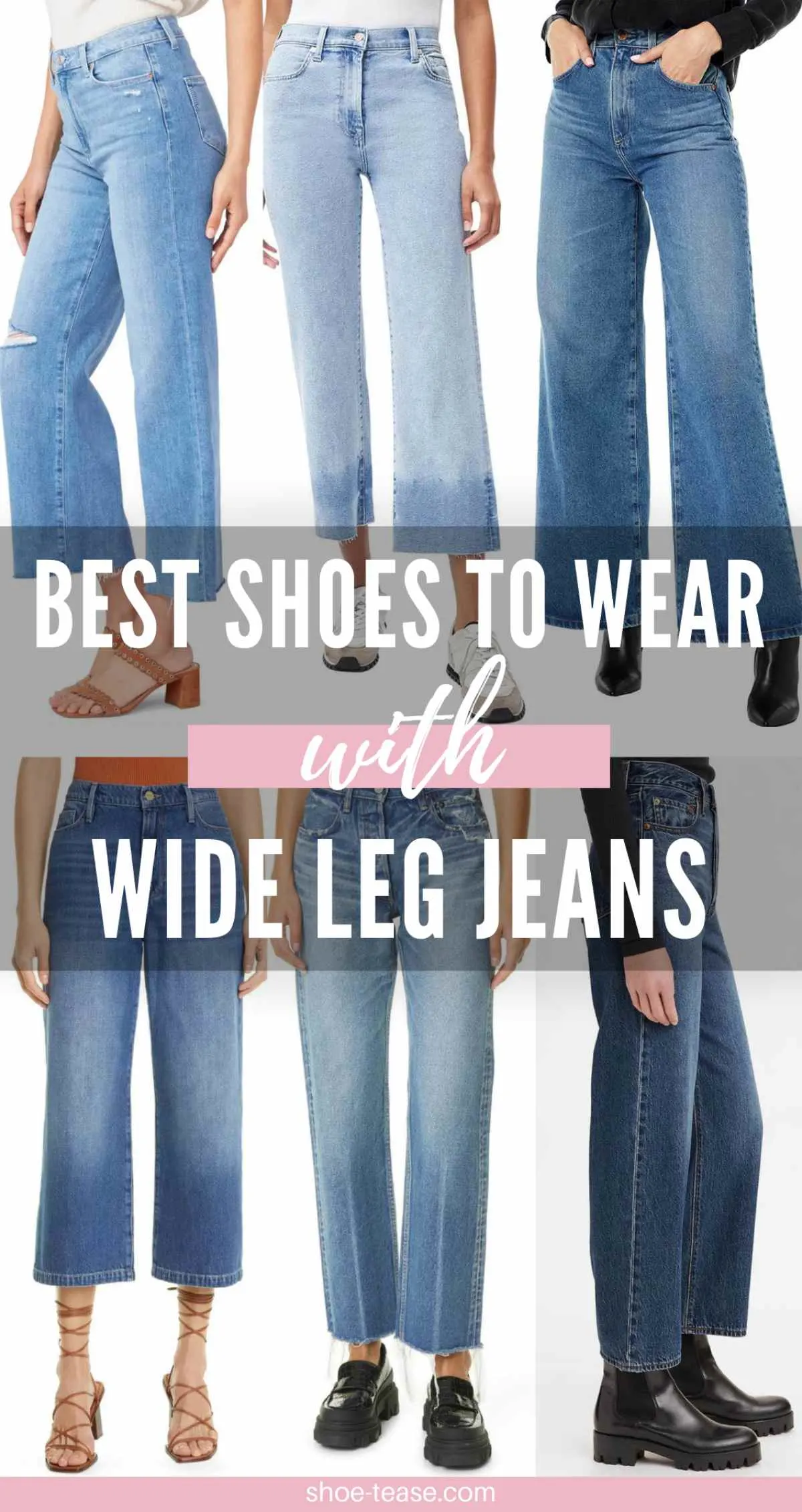 If you're curious about what shoes to wear with wide leg jeans, keep reading! I'll give you examples of everything from chunky heels to clogs, western boots to ankle boots.
Be sure to check out my post about what shoes to wear with wide leg pants or shoes to wear with baggy jeans if those are more appropriate posts for your needs.
Want to shop trendy wide leg jeans? Have your pick from Zappos, Saks Fifth Avenue, Bloomingdale's, MyTheresa, Luisaviaroma, just to name a few!
Best Boots with Wide Leg Jeans
1. Ankle Boots with Wide Leg Jeans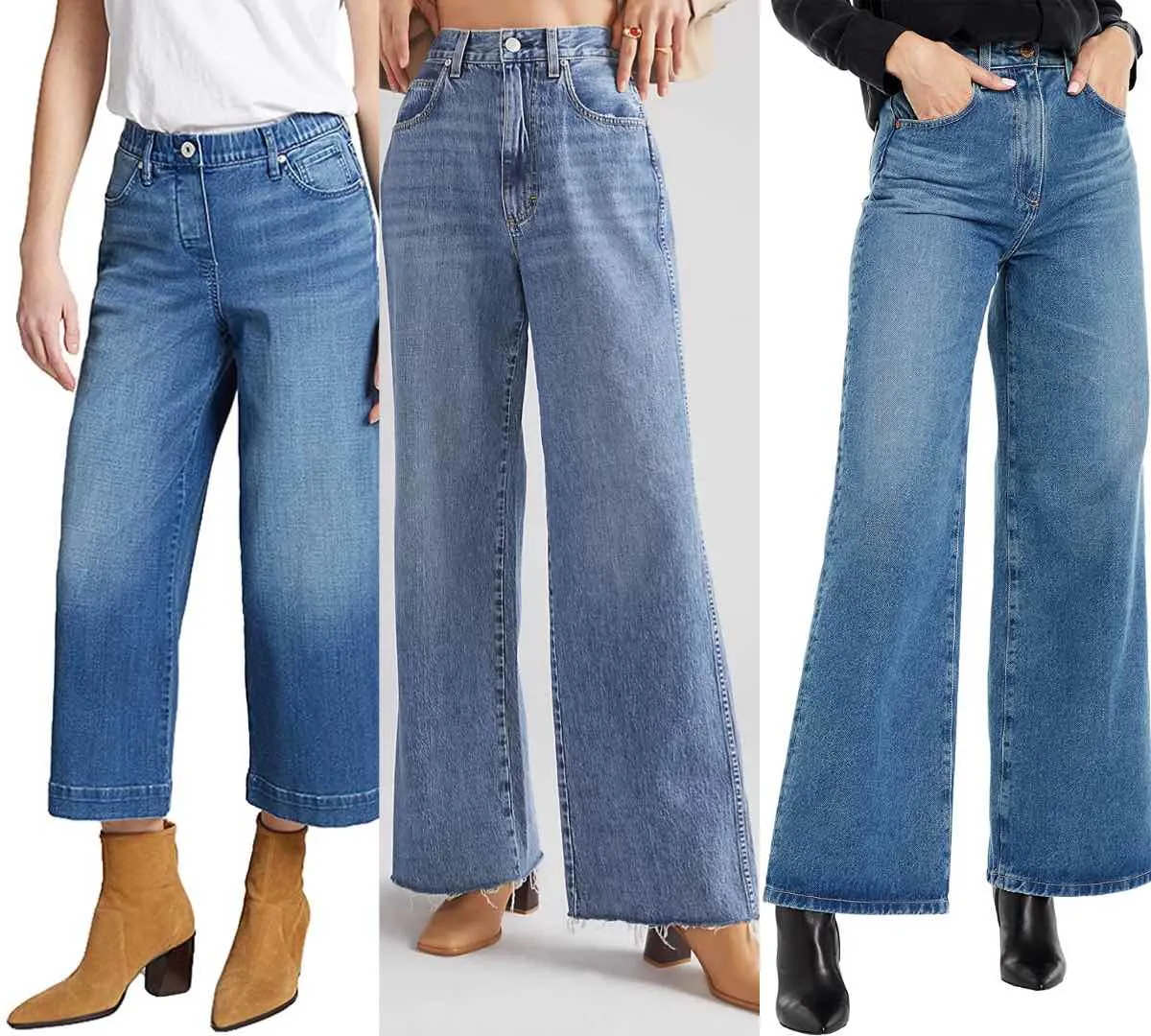 Ankle boots with any type of wide leg jeans work well – but with a cropped versions of the jeans, you'll have more options. If they fall to or higher than your ankles, you can choose chunkier, looser-fitting ankle boots.
Cropped wide leg jeans also allow you to show off are any embroidery or detailing your ankle boots might have.
Favorite ankle boots for all wide-leg jeans: square toe and almond toe, especially at longer lengths. Color-wise, anything goes, but worth noting white, snake print and metallic ankle boots are having a moment!
So many more ankle boots with jeans styling tips in my dedicated guide!
Ankle Boots We Love:
2. Lug Sole Combat Boots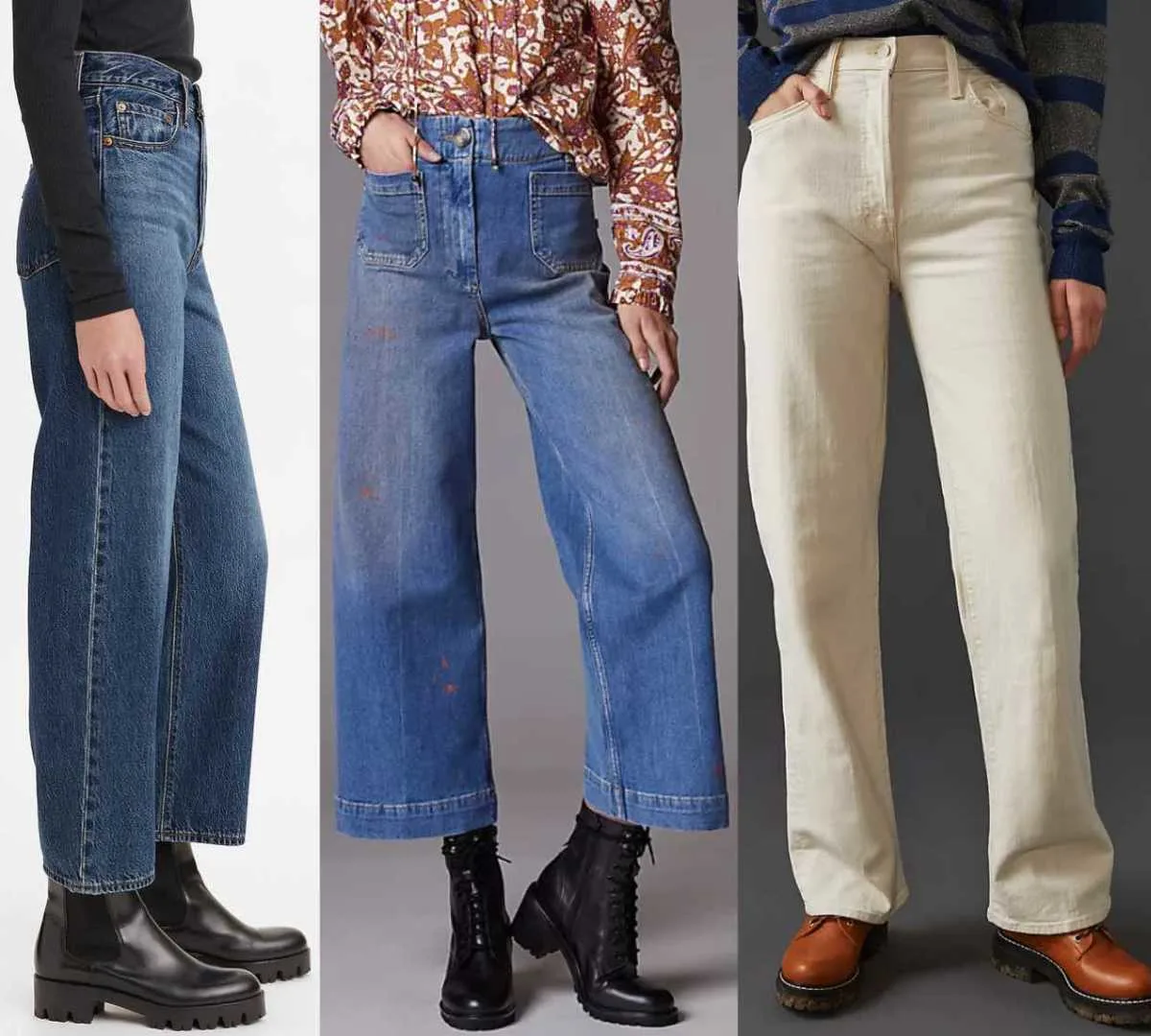 As chunky Chelsea boots, combat boots are having a mega moment, particularly with a lug sole. These will look fab under a loose pair of baggy wide leg jeans or peeking out of a cropped pair.
The trendiest combat boots of the season? Black, white, burgundy in both matte leather and high shine patent.
Elevated lug soles are all the rage, and make great, shoes to wear with wide leg jeans in the winter. Especially waterproof combat boots!
But if you prefer to keep things classic, a simple black combat boot will still look fab with your wide leg jeans.
Check out my style guide on how to wear combat boots with jeans of all styles! Keep your tops and jacket on trend with the season, selecting minimal pieces with clean lines.
Combat Boots We Love:
3. Western Boots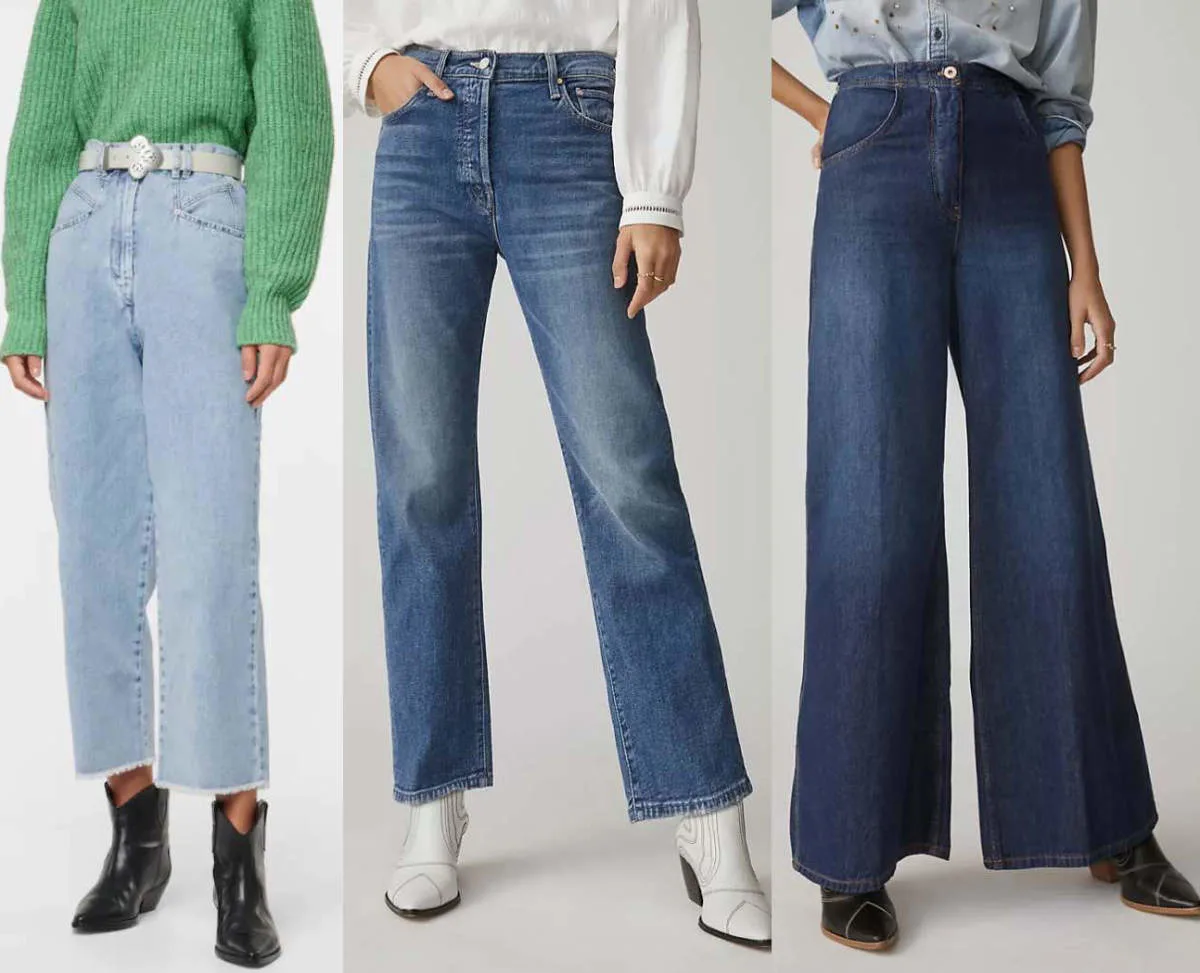 Short western boots are so trendy right now. They are great shoes to wear with dresses, fun shoes to wear with skirts and – you guessed it – look fab with wide leg jeans!
Whether your wide leg jeans are floor length, or over the ankle, low western boots will pair well.
Complete your outfit with a crisp blouse, cosy sweater or double your denim with a chambray shirt! Buckle up with a western belt if you want to give cowgirl appeal, and add a leather cross-body purse.
4. Knee High Boots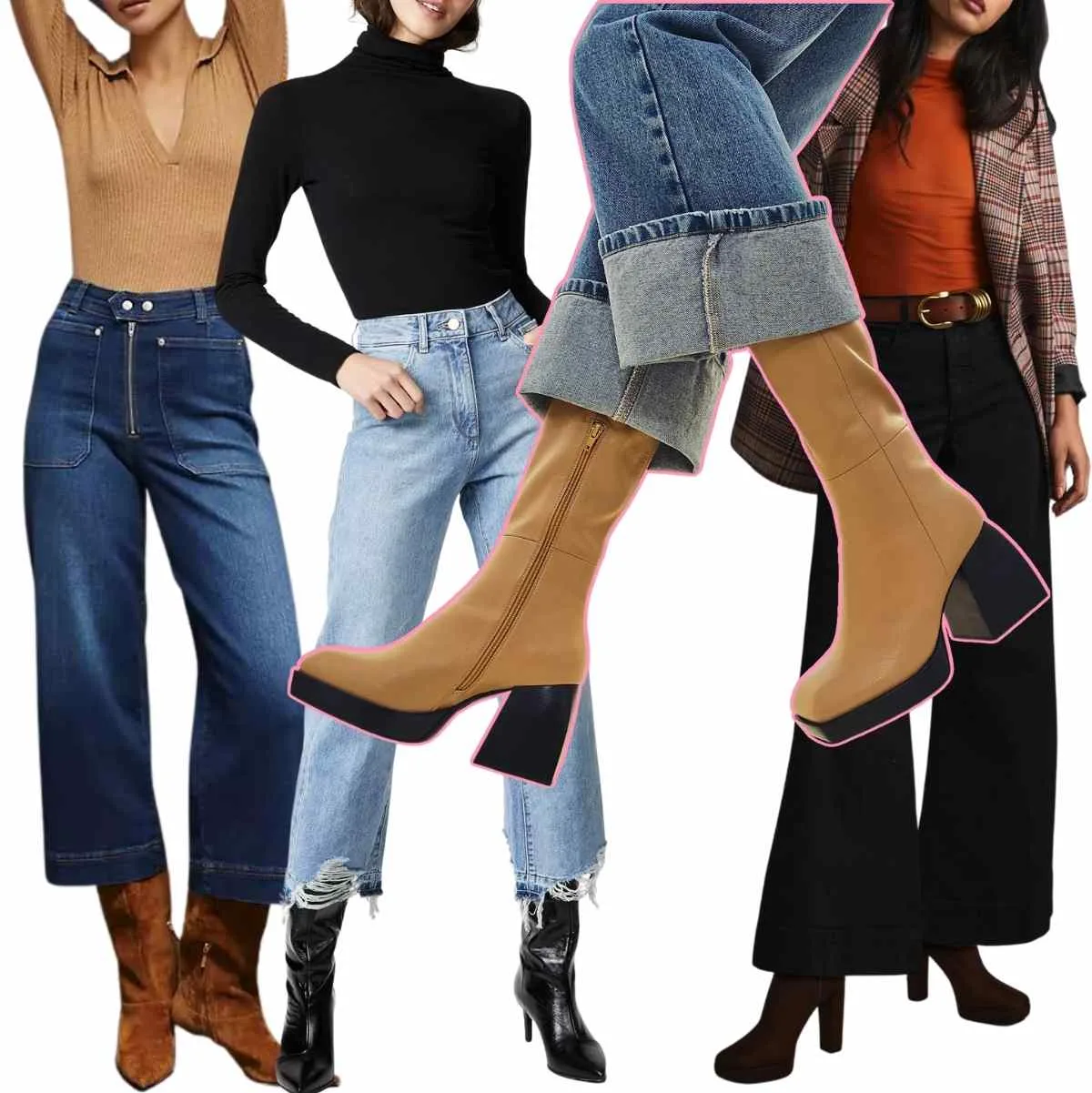 Knee high boots with wide leg jeans don't usually make sense, but there are times when they do! Cropped wide leg jeans that fit over slimmer knee high boots will look fab.
With straight leg wide jeans that aren't as baggy, you can even cuff the boots up once to get a similar look.
A tight sock-like knee boot with a cropped wide leg jean will look more elevated, a combat/Chelsea knee style will look more rugged, while a platform knee boot will look more edgy.
I mean, do calf or ankle boots make more sense with a wider leg jean, yes often. However, with a cropped jean, knee high boots can look great.
That's because knee boots will fully hide under your jeans, leaving no awkward gap at the leg. Just always make sure there's enough room beneath the boots so that they don't protrude.
Take a look at ways on how to wear knee high boots with jeans in my dedicated post.
Sneakers with Wide Leg Jeans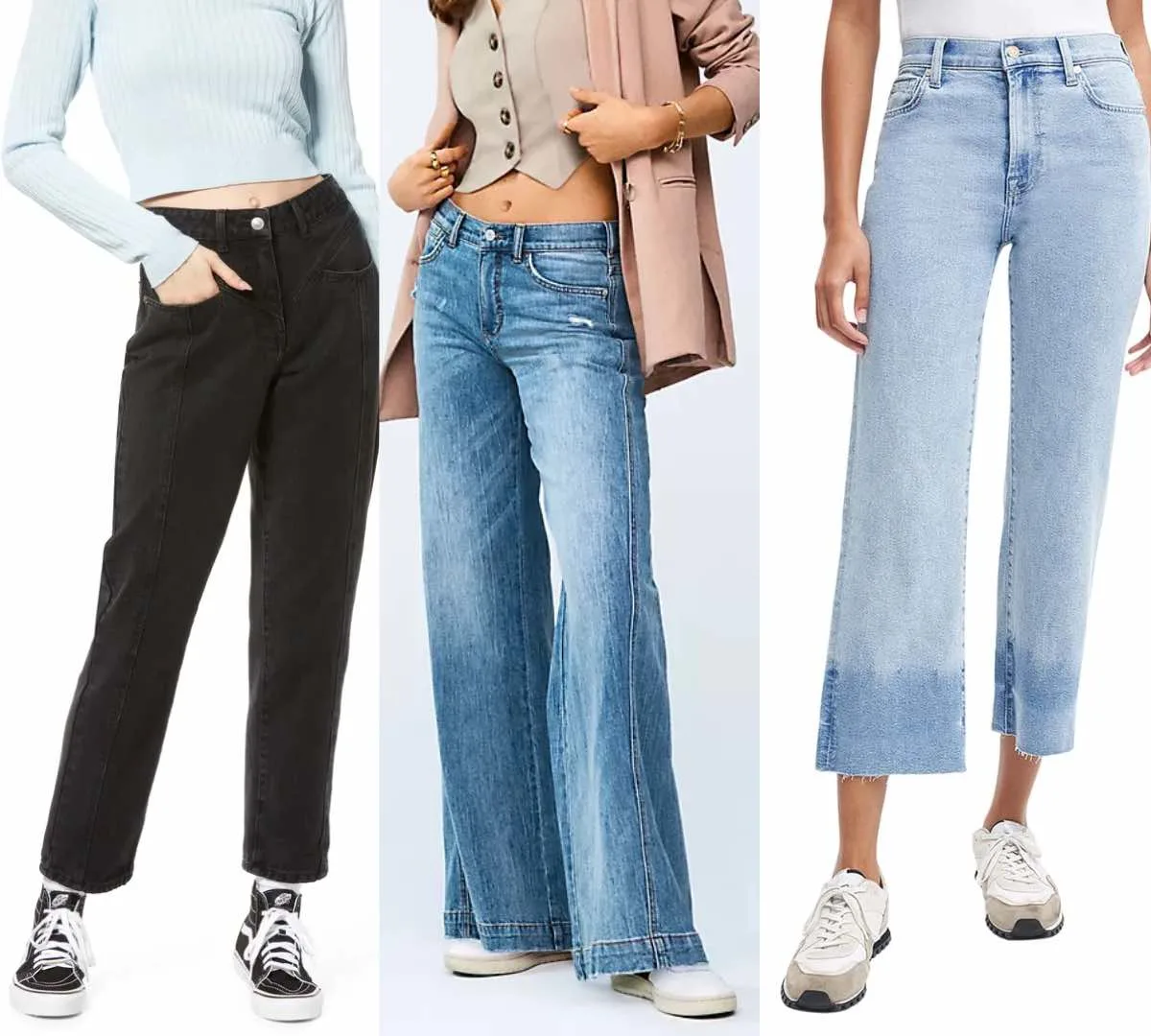 4. White Classics & Retro Styles
Sneakers are, of course, just as timeless as jeans. So it's natural they'd go together with wide leg jeans too! White lace-ups, in leather or canvas, can look great with every kind of denim wash.
White Nike Air Force 1 sneakers are a go-to for Gen X and Millenials. You can elevate your look with a less sporty white sneaker from Veja or Golden Goose.
To play with your sneakers and wide leg jeans outfit, try a colorful retro shape or style.
Think a bold mix of leathers and suedes or color-blocking like the iconic New Balance 574s. These will look great peeking out of your ankle-length wide leg jeans!
5. Chunky Sneakers
Make a statement in chunky sneakers and wide leg jeans – the ultimate laid-back look! Their standout silhouette will add a solid fashion statement to any pair of wide leg jeans.
You can opt for a comfy pair of dad sneakers, a trending designer pair or platform style to take you through the seasons in style.
Whichever you decide to choose, you'll add a youthful vibe to your look – no matter what your age.
6. High Top Sneakers
High top sneakers are an easy pairing with wide leg jeans. You can have longer jeans all but cover them or show off a classic high top Vans or Golden Goose in a cropped pair.
Finish your high top sneakers and wide leg jeans look with a basic hoodie and wool overcoat to winter. Or try a stretchy crop top in the summer. Add a light jacket or leather moto for Spring.
7. Simple Mules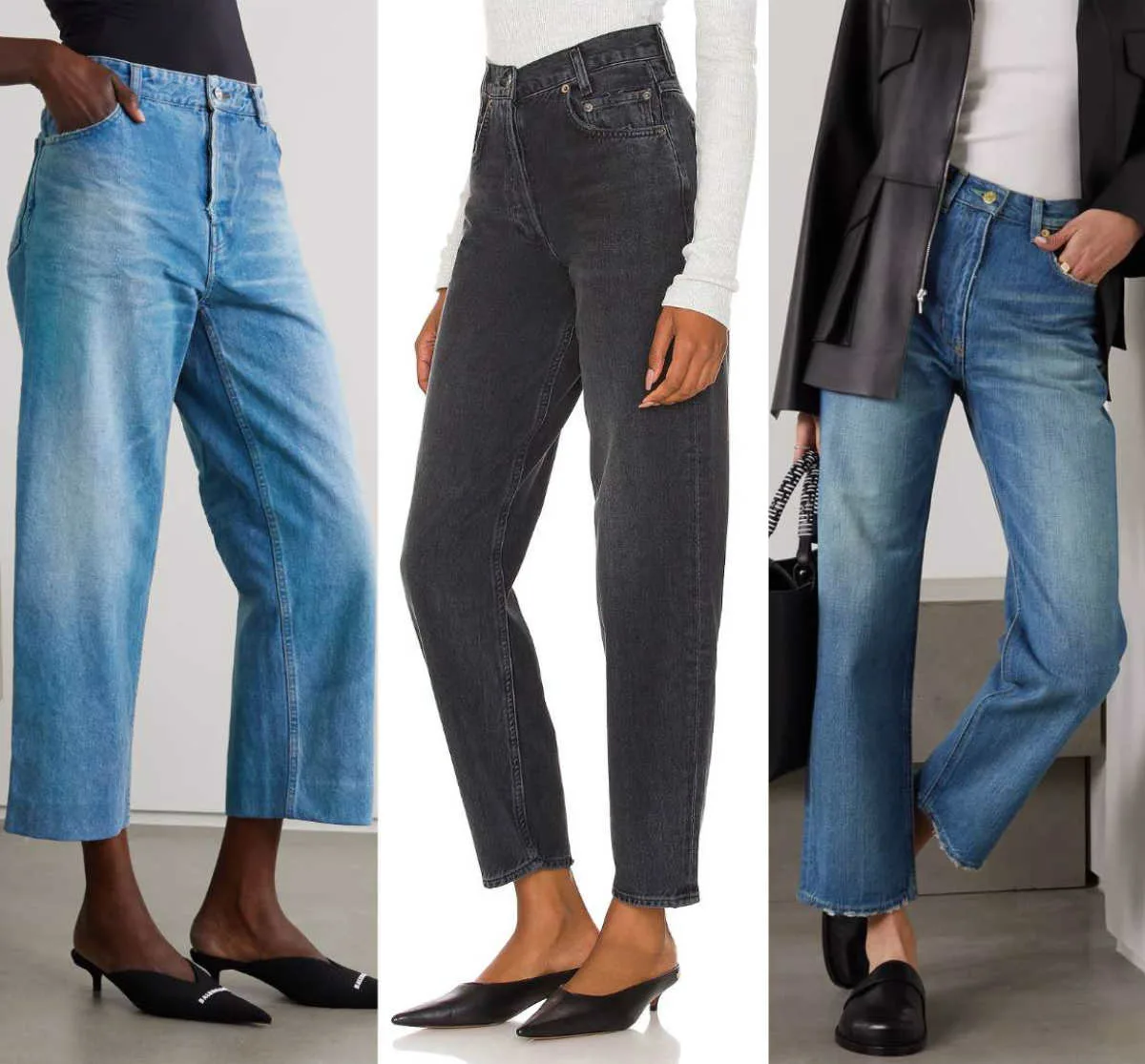 Move over ballerina flats – your new favorite shoes hare arrived! Mules are perfect for spring, summer or a warm fall.
With a square heel, dainty kitten heel, or orthopedic style, there is no shortage of mules to wear with wide leg jeans.
With cropped wide leg jeans, a pointed toe low-heeled style will make your outfit chic and sophisticated, especially when paired with a bodysuit or trendy blouse.
Chunky mules will effortlessly dress up a casual look, while casual Birkenstock-like styles are perfect for laid-back outings.
For a casual day running errands, slip on a pair of wide jeans and your favorite mules. Just make sure your wide leg jeans aren't too long and bulky, otherwise you risk tripping on those roomy jeans (and losing a shoe or two while you walk)!
Flat Sandals with Wide Leg Jeans
8. Leather Sandals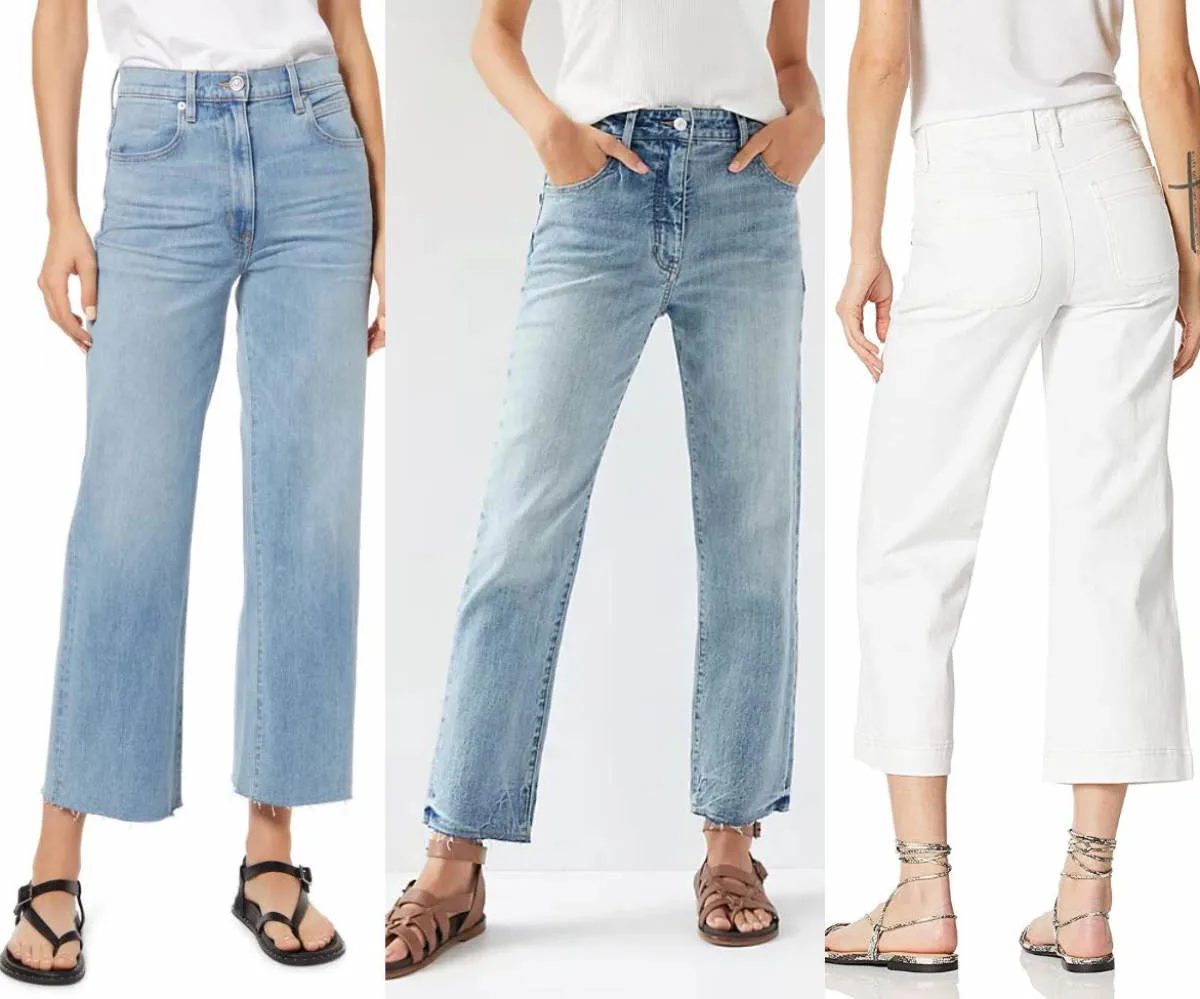 Sleek leather sandals with many or few straps are a go-to with wide leg jeans in the warmer months. From greek sandals to simpler leather styles, these look great with ankle or cropped wide leg jean.
That doesn't mean they don't look great with longer, baggy wide-leg jeans too! This baggy jeans style is coming back with a vengeance and a fully supportive leather sandal will be a great addition.
A minimal tee or tank, topped with an effortless cardigan go hand in hand with this wide leg jeans outfit combo! Finish the look with fine, minimal gold jewelry.
9. Sporty Sandals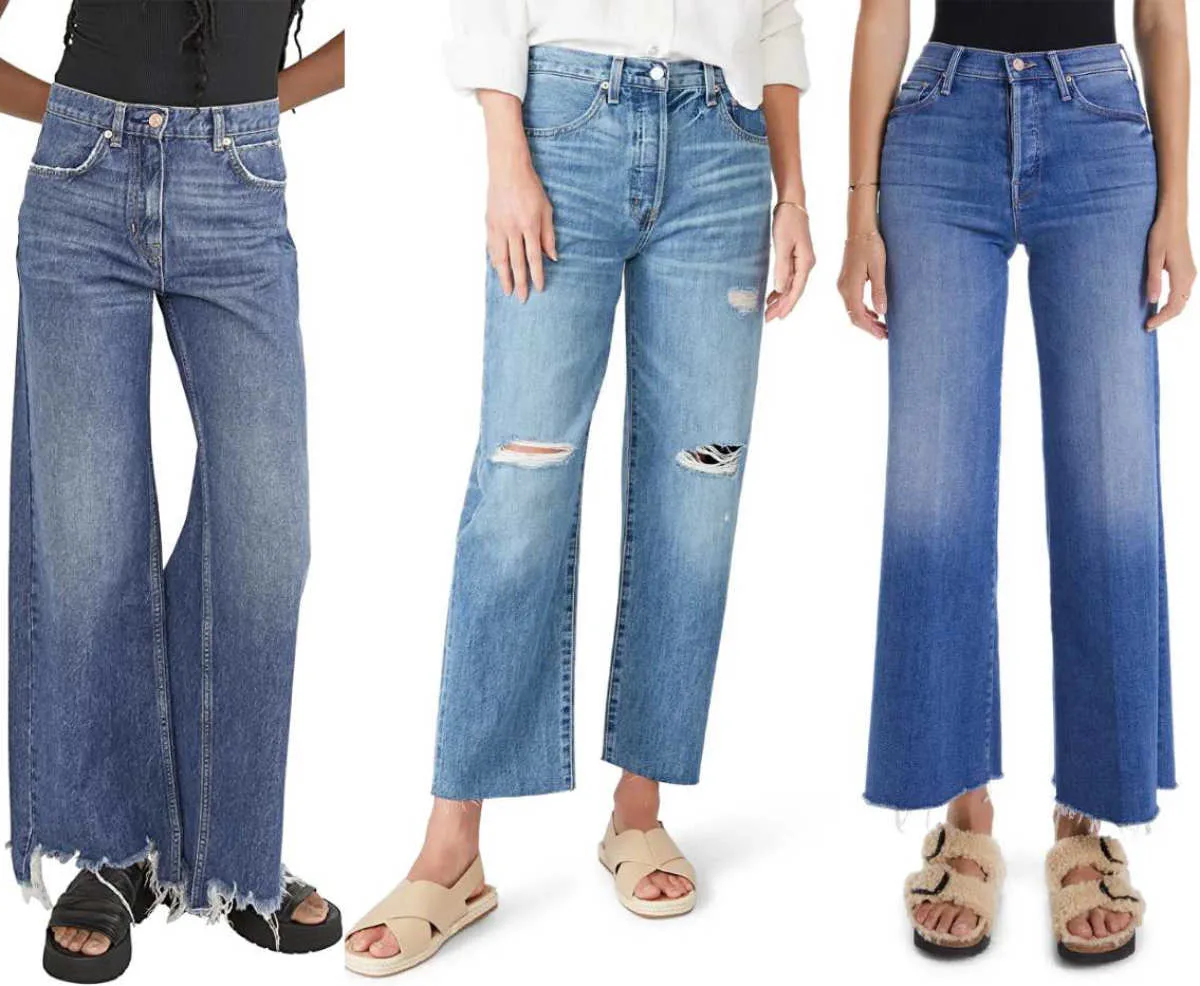 When you've got places to go in your wide leg jeans, sporty sandals and slides are what you'll want to wear. They often feature a contoured, ergonomic footbed that adds cushioning and comfort with every step you take.
Also, earthy yet sporty Birkenstock sandals – furry or not – are very on-trend. Not to mention the cork footbed is a total dream to walk on! Check out my post all about how to style Birkenstocks for more.
I also love a classic Adidas or Nike sporty slide. Platform or colorful Tevas are pretty rad as well. With these shoes, you can get away with a sportier jean as well, including cropped wide leg jeans. Wear them with a rocker tee and a casual cross-body purse.
10. Sleek Slides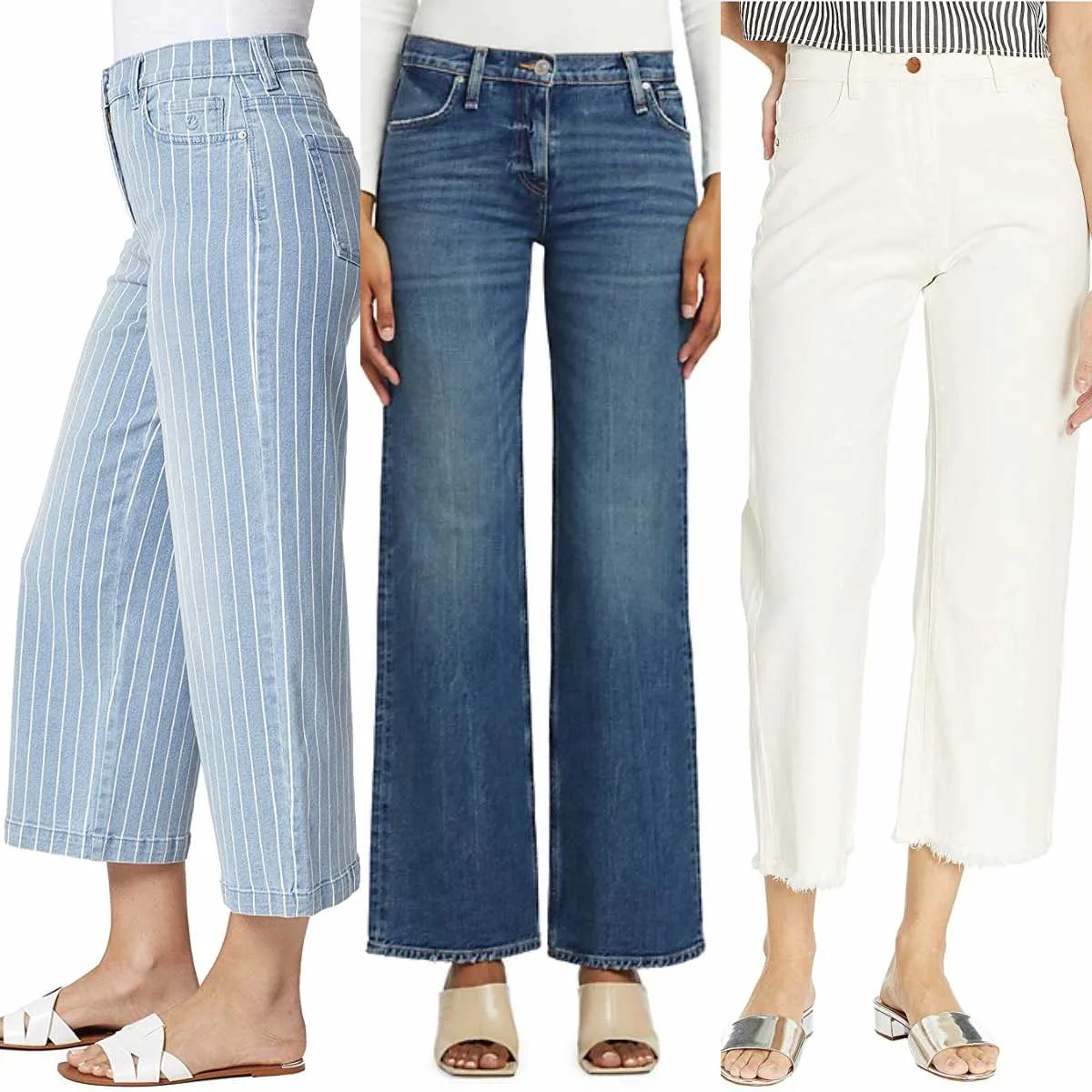 Simple slides, the sister sandal to sportier versions, will be your absolute go-to in the warmer months. With only a strap across the top of your feet, they're effortless to slip right into.
Slides can give you the comfort of strappy sandals while staying on the casual side. Choose a block heel for added height.
For a laid-back outing, try baggy wide leg jeans and a pair of soft leather slides with a white, feminine blouse.
11. Chunky Heels with Wide Leg Jeans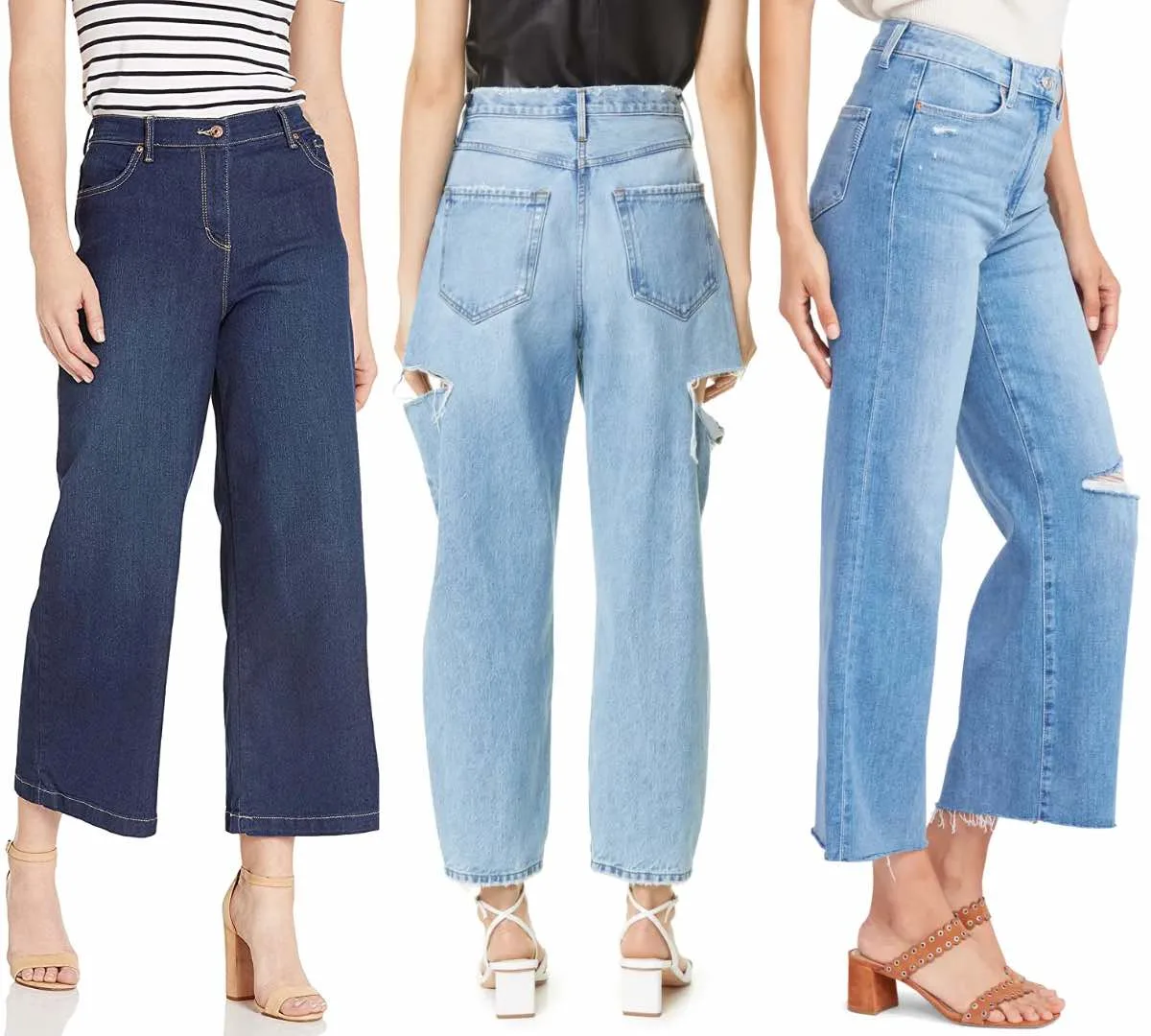 Chunky heels are a trending style of heels right now, but they also look great with wide leg jeans. With longer jeans especially, this means your chunky shoes won't be dragged away by the weight and sway of the jean. Or slipping out of your heels.
I like how a more significant heel on a sandal can even out the visual weight of a wider leg jean. Top the look off with a cropped top or boxy tee.
12. Platforms with Wide Leg Jeans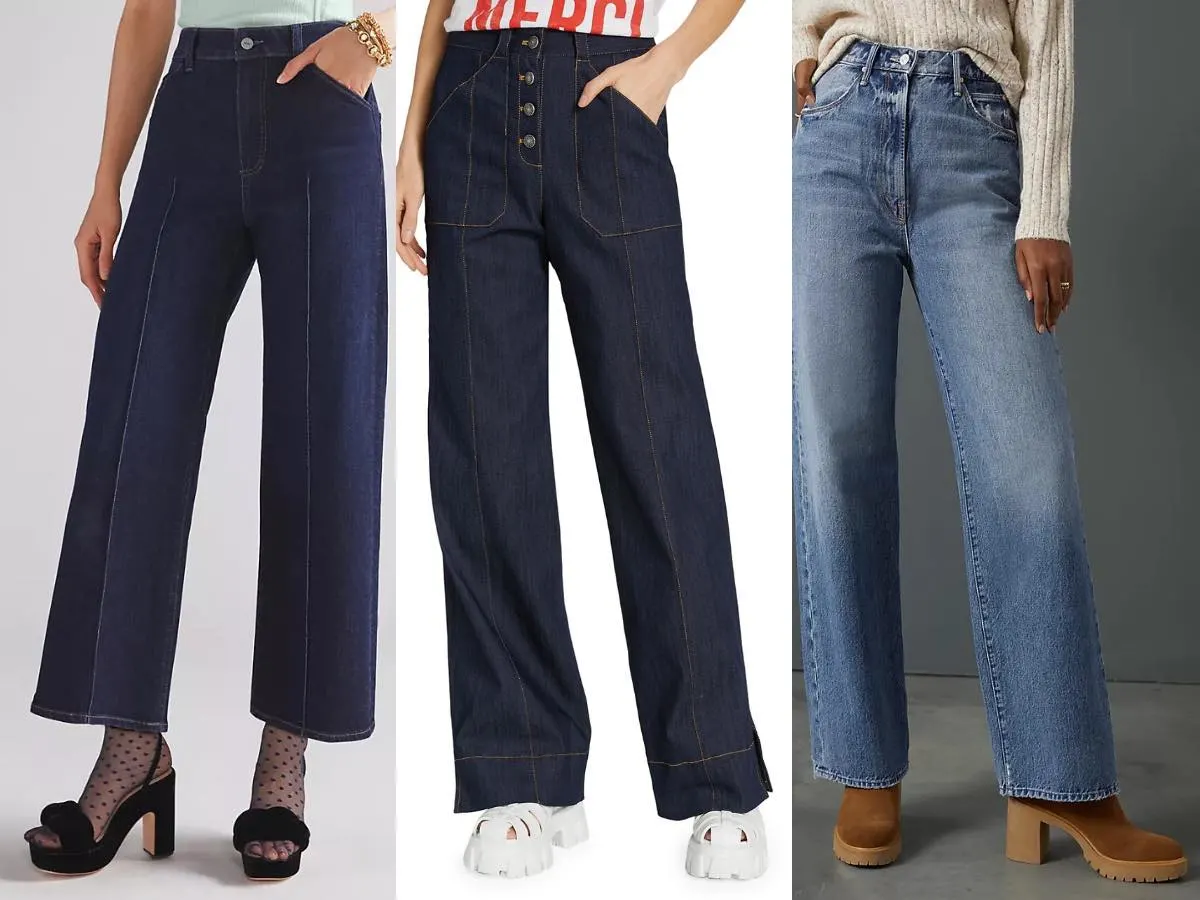 If you have wide leg jeans, you'll be hard-pressed to find a platform shoe that doesn't go with it. I personally like to pair a more substantial jean with a similarly noteworthy shoe.
Choose a platform lug heeled boot with chunky heel to wear with your wide leg jeans for fall/winter and tuck in your favorite sweater.
For summer, slip into a pair of funky platform slides, sneakers, clogs or sandals. For a night out, wear an ankle or cropped pair of wide leg jeans with a velvet pair of 70s inspired platform sandals. T
ake a cue from the image above and add interest with a polkadot semi-opaque stocking. And if you're wondering platform footwear looks great with wide leg jeans too!
13. Wedge Heels with Wide Leg Jeans
If platform shoes with wide leg jeans go hand in hand (or is is it leg in foot!?), a wedge heel is also going to work well. I love wedge espadrille sandals, boots and pumps with floor-length wide leg jeans.
With a cropped version of the wide leg jean for summer, pick a dainty wedge such as a low espadrille, or block wedge slide.
14. Strappy Sandals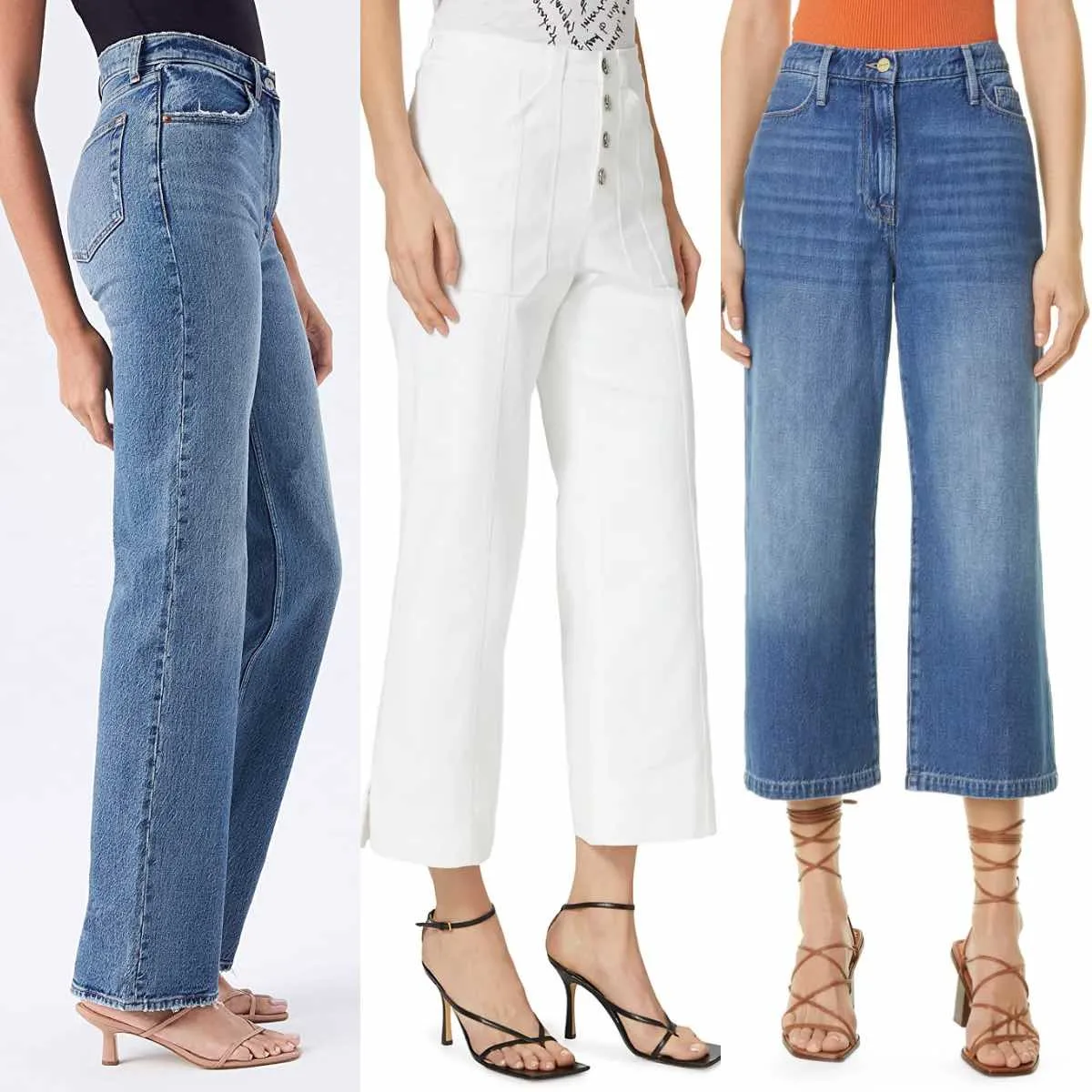 Strappy sandals are THE pretty shoes that every woman needs to own. These heels go with everything. And wide leg jeans are no exception! All the cool Instagram gals are wearing this pairing.
As an essential to your shoe collection, they can take your denim from the coffee shop to the lounge in style. Try cropped wide leg jeans to show off lace-up ankle straps and a little leg.
A platform strappy sandal will work best with a longer wide leg jean. At night, wear black or metallic sandals with dark denim. These are also my favorite shoes to wear with a jumpsuit!
15. Clogs with Wide Leg Jeans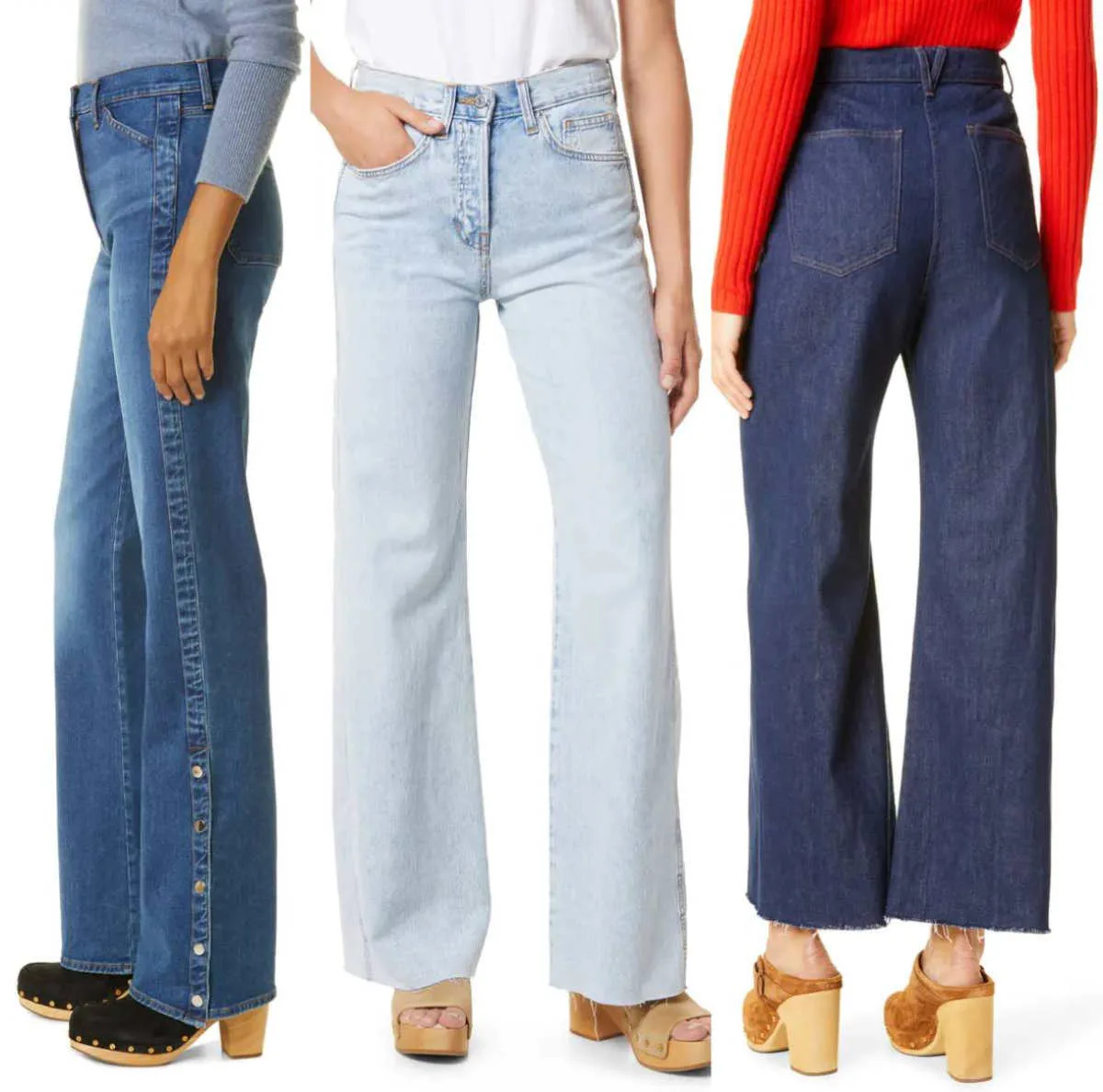 The 70s are having their moment and you can step right into that groovy era and into a pair of clogs. Black, tan, brown, and other neutral colors all complement wide leg jeans.
Opt for slip-on clogs with cropped wide leg jeans and clogs with ankle straps for baggy ones. Choose a pair of wide leg jeans with a distressed or live-edge hem for a funky look with your clogs.
Complete the look with a tight tee and cosy cardigan for winter or a frilly floral blouse for summer. Get styling tips on how to wear clogs with all the jeans and outits in my dedicated outfit post!
16. Pumps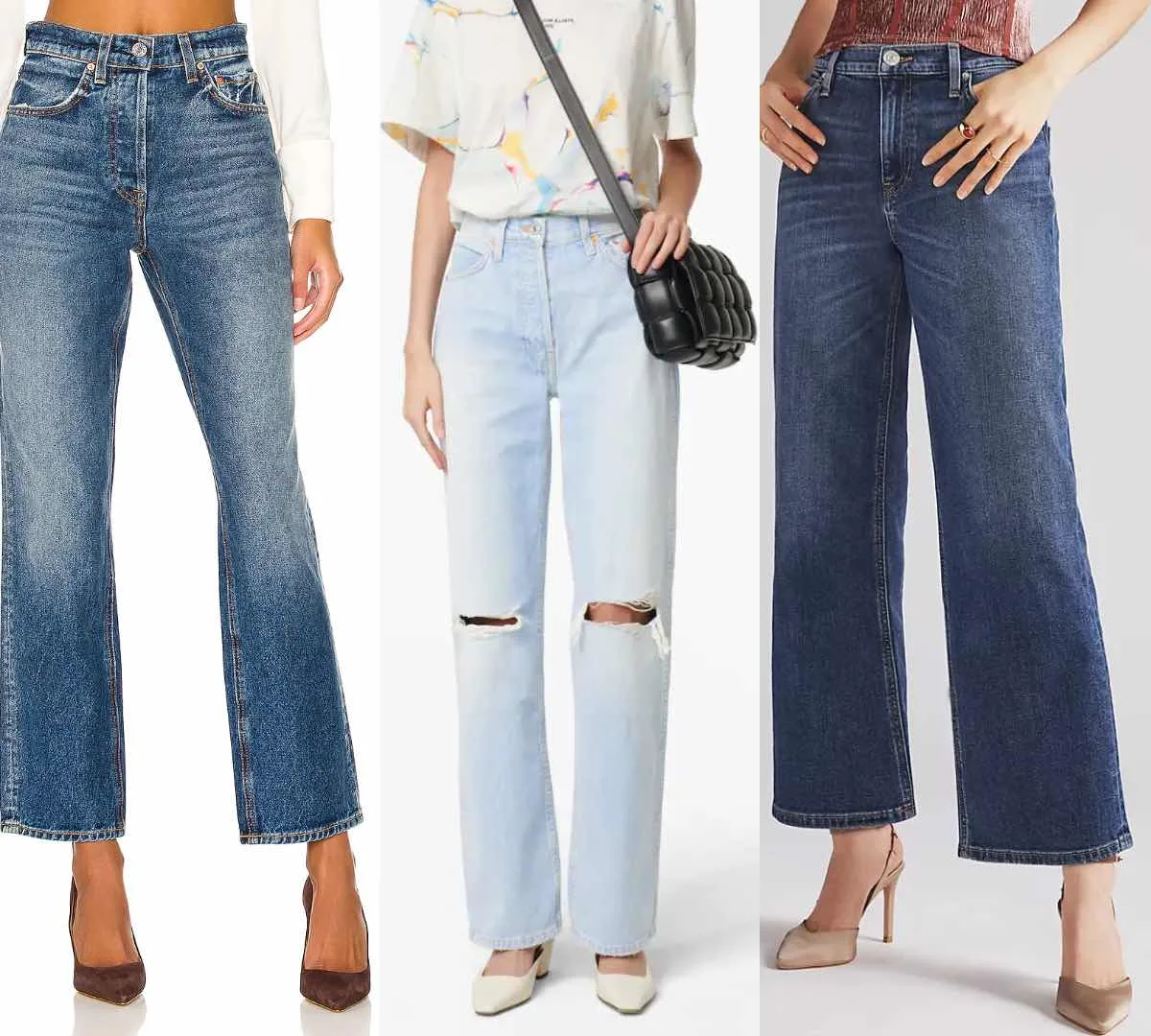 I don't normally advise wearing pumps – especially stiletto styles – with wide leg jeans. But not if the wide leg jeans in question are cropped or ankle length!
You can maximize height with high stilettos and keep with the pointy toe trend, especially with a high waisted wide leg jean.
For all-day comfort and for a slightly longer jean, opt for a pair of squared or almond toe pumps with a low to mid-height heel. A chunky heel will even out the look.
Fashion tip: If your jeans skim the ground in flats, opt out of a stiletto, otherwise you risk stepping on your jeans with the heel. Block heel pumps can give you enough surface area to avoid that.
17. Loafers with Wide Leg Jeans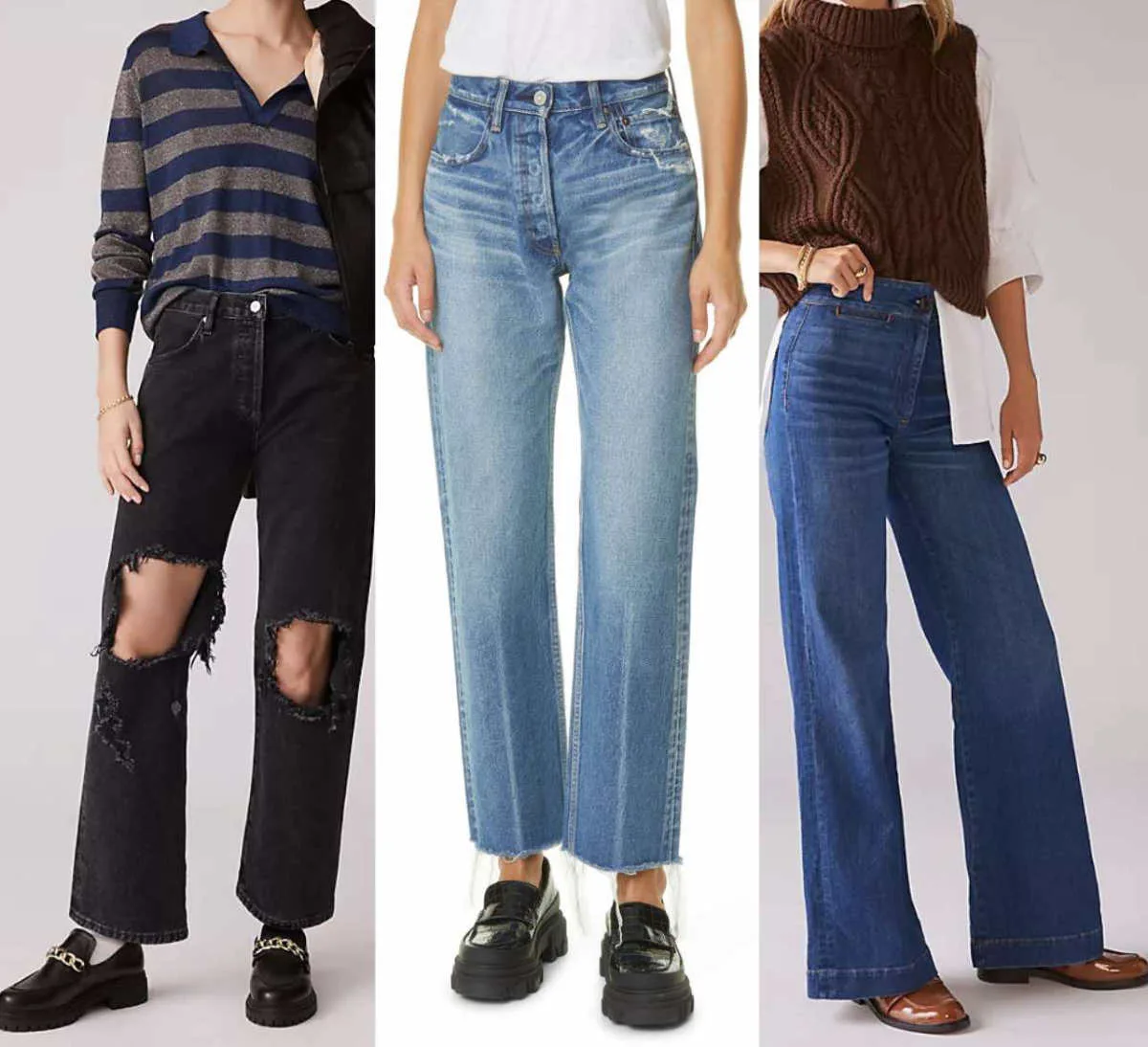 For boxy wide leg jeans, choose a chunky soled loafers, with or without metallic hardware – whichever is more your style.
For a finer, higher-waisted, 70s-inspired floor-grazing wide leg jean, pick a classic loafer with a slightly square toe. Patent versions can be fun too!
A simple low loafer makes a great conservative office shoe with wider jeans, when paired with a simple blouse.
Cropped wide-leg jeans also work well with loafer mules, and if you're wearing Gucci's Pricetown slip-ons in black or white, you can't go wrong!
Final Thoughts on Shoes to Wear with Wide Leg Jeans
As you can see, if you're looking for the best shoes to wear with wide leg jeans, there is no shortage of classic and trendy styles to can style with your jeans.
Whether you're looking to wear these laid-back jeans to go to a party, a casual outing, to the office or on a date, there will be a shoe, boot, sneaker and yes – even heel – that will look just right!
What kind of outfits and shoes with wide leg jeans do you prefer to wear most often? For me, it's a more substantial shoe such as a sturdy sandal with a block heel, or platform ankle boot.
Don't forget to take a look at my favorite retailers to shop for wide-leg jeans: Zappos, Saks Fifth Avenue, Bloomingdale's, Mytheresa and Luisaviaroma.
If I've missed one of your preferred types of shoes for wide leg jeans, let me know in the comments down below. I'll do my best to include it to my post!
xo ShoeTease