If you're a regular reader of my blog, you'll know that I love combat boots. Especially waterproof ones!
My most worn and loved ones are Taos Crave Boots in waterproof all-black, which I'll be reviewing today on shoe-tease.com.
In this Taos Crave boots review, I will give my thoughts on the fit, comfort, performance, styling and general pros and cons.
Keep in mind that I've had these boots for 4 years, which I've worn for just as many seasons. The pictures reflect that length of wear. They still look amazing, if I may say so myself!
Taos Crave boots are my go-to combat boots for Fall in Canada. And when real winter comes, I switch to my Canadian winter boots!
For full transparency, these boots were gifted to me by Taos to try out, with absolutely no obligation to post about them.
Since then, I've included them in multiple posts as they are a pleasure to wear & style. They're my top boots in my shoe Fall shoe rotation!
Hopefully, this will be one of many Taos footwear reviews, so I can help you better shop for shoes 🙂
Taos Crave Review – General Info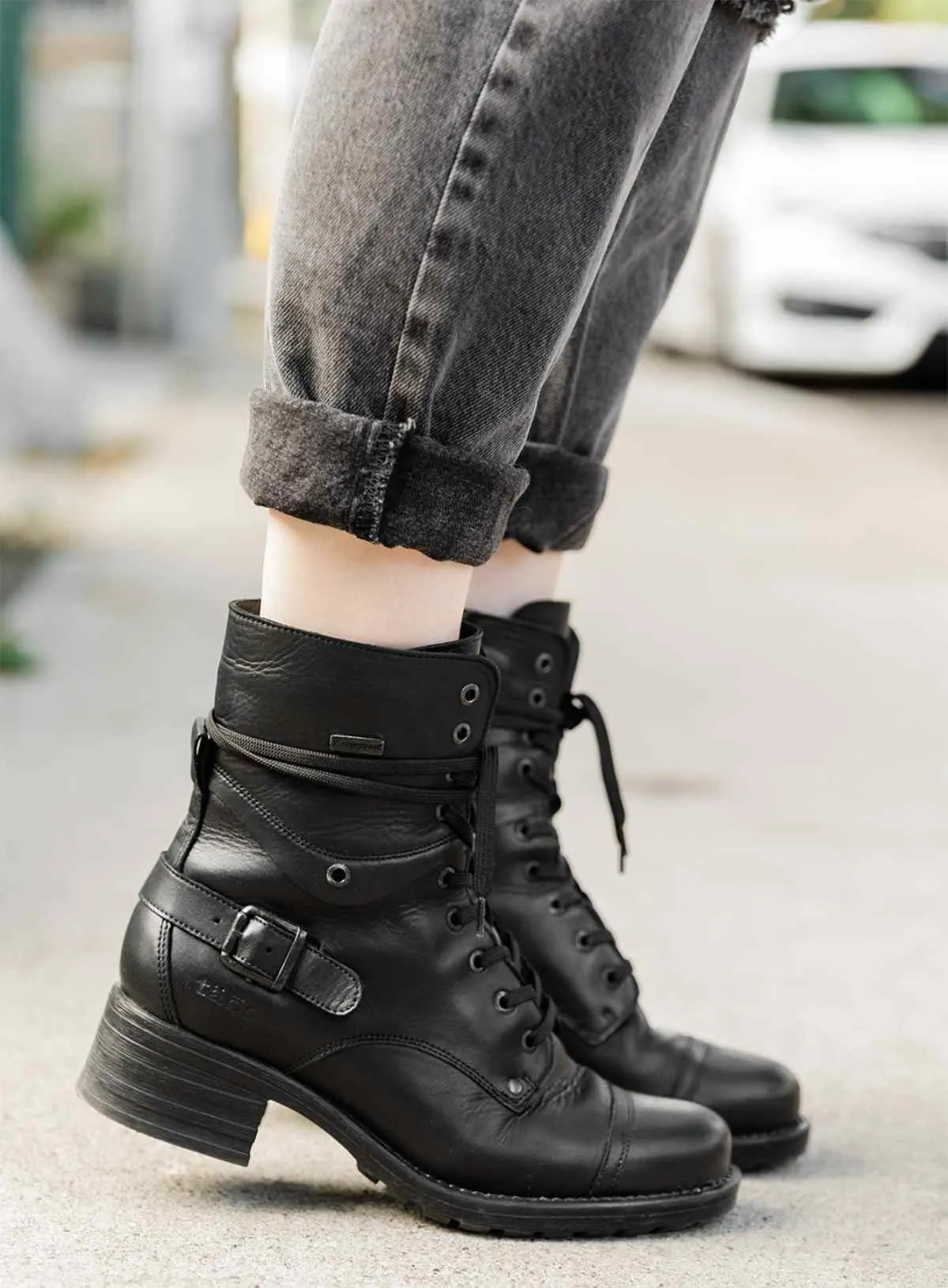 If you're unfamiliar with the Taos brand, let me give you a little point-form presentation:
Taos footwear is designed for comfort and long-term wear. Many of their shoes, including their Crave boots, are made in Portugal.
Their signature removable Curves & Pods® footbed is made with durable and dense materials that support the foot and arch. This makes them easy to walk and stand in for a long time. My high-arched feet love them, as will any flat-footed person!
These combat boots are made of high-quality leather and a rubber outsole, and a handy size zipper.
Taos' Crave boots are one of the top-selling boots on their website. It is a staple style that they replenish yearly and come in many incredible colors!
You can find all specs and information directly from the Taos Footwear website.
Taos Crave Boots Review – Fit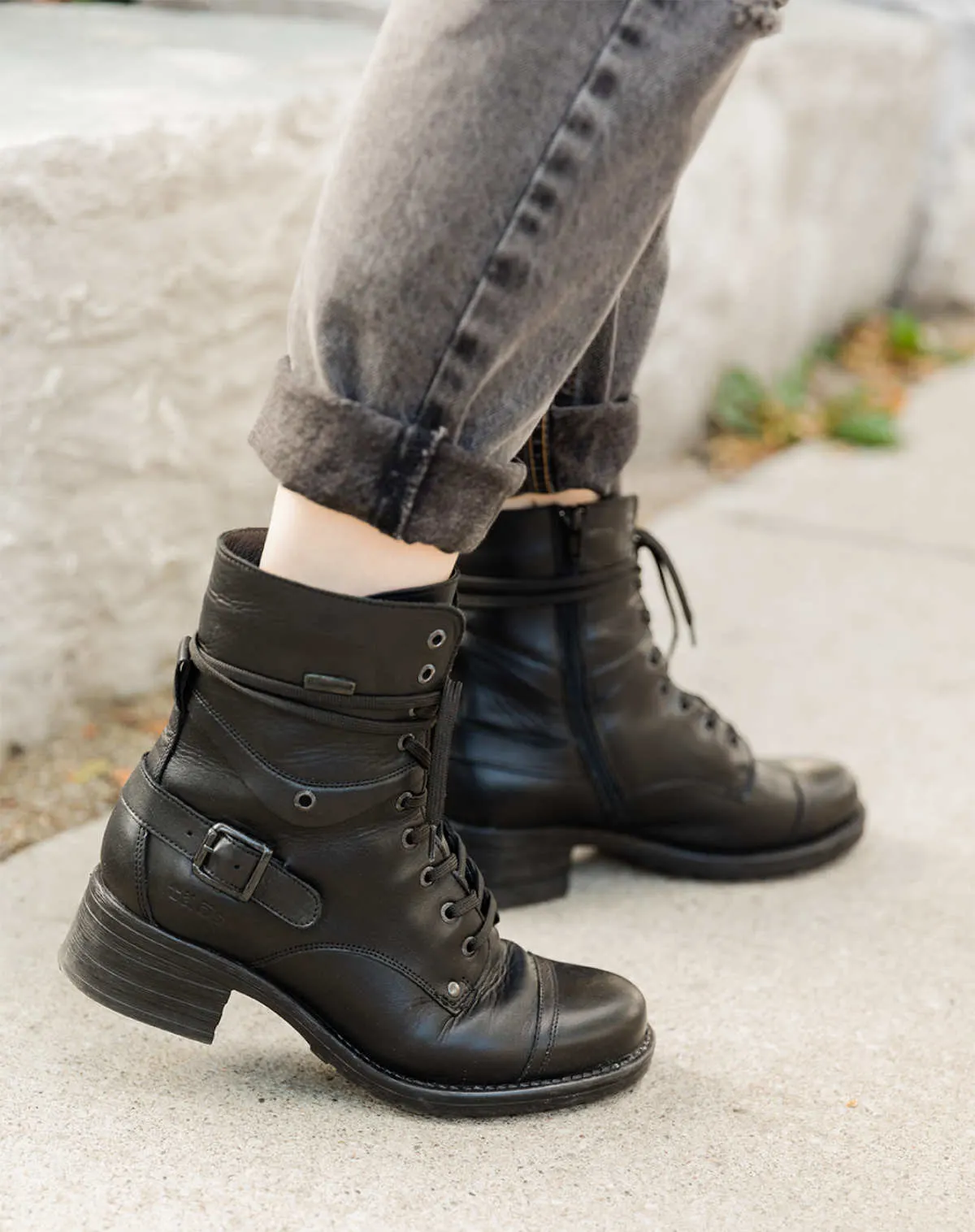 Taos' Crave boots come in full European sizes, and you can choose from a regular or wide-width fit. As someone with narrow feet, I opted for a regular fit.
Although they have a size zipper (very handy btw!), the laces are adjustable, as is the back buckle. I've never had to adjust the buckle personally.
My shoe size is an 8 US women's and usually fit a 38 European shoe size. I was told to size up in the Crave boots, and I'm glad I did. Thicker wool and simple crew socks fit inside perfectly without tightening the boots.
As the regular Taos Crave fit is shorter in length, I suggest sizing up. This is especially important to do if you're in-between sizes.
As someone with a narrow foot, these boots fit great, even sizing up. My foot feels snug and well-supported, with just enough wiggle room.
For those with a regular to wide foot, choose from their wide-width sizing.
Taos Crave Boots Review – Comfort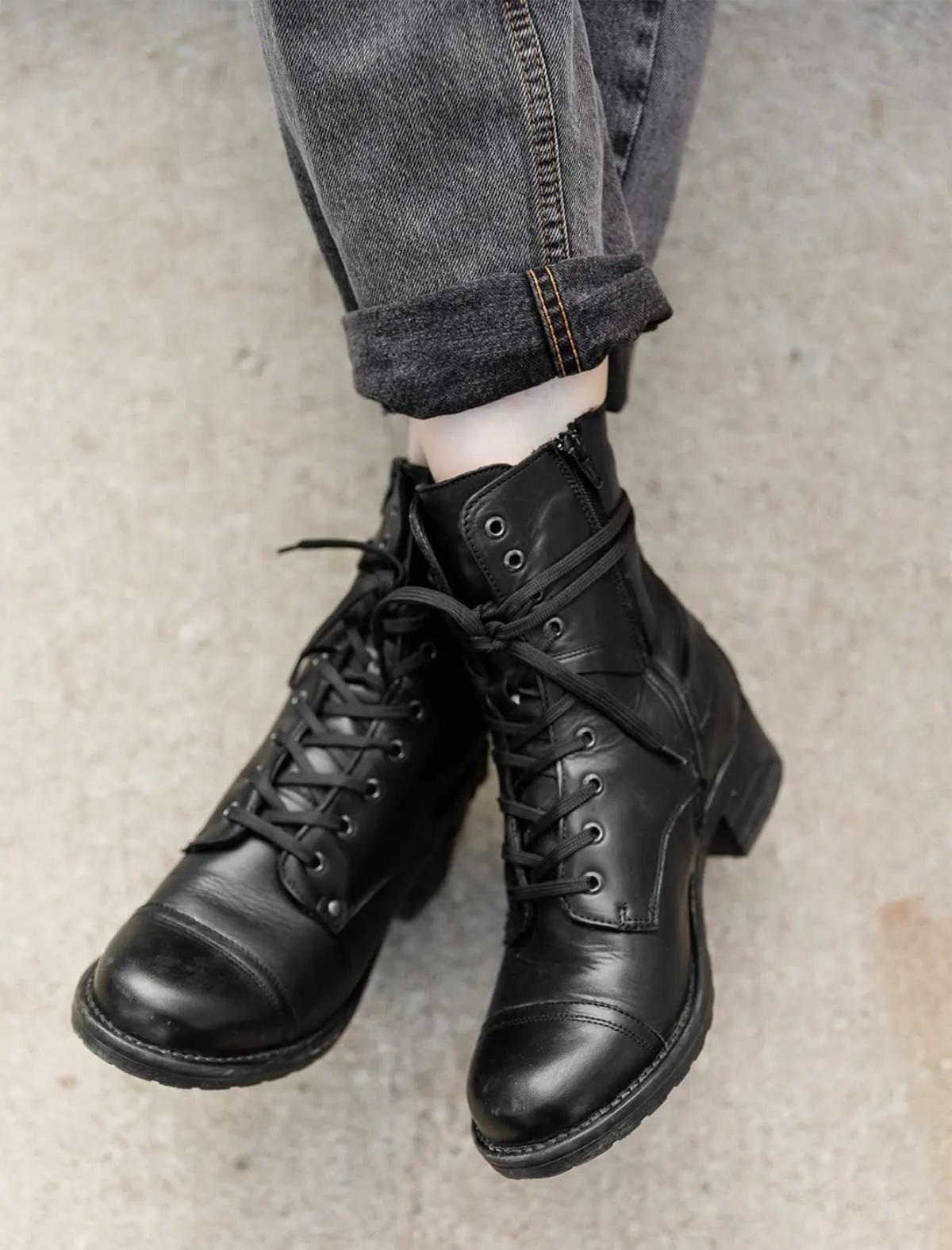 My Taos Crave boots feel amazing on my feet. From day 1 of wear, they have provided fantastic support, with the insoles cradling my feet.
While many shoes have given me leg, foot and lower back pain, these boots never have. The main reason is that they hug and support my high arches.
Which is one reason I wear them so often! The insole is firm yet cushioned enough for stability.
The platform soles are bendy and comfortable to walk in. I really don't feel like I'm wearing a heel at all, but I definitely 'feel' the 2 inch heel height in terms of feeling tall & powerful when strutting in these combat boots!
I have always been comfortable wearing my Taos Craves and haven't gotten anywhere close to the start of a blister.
Their rounded toe box leaves more room for my toes, so the boots don't rub against them. They have never caused discomfort anywhere: not on my heels, soles, upper feet, or ankles.
Even when wearing thick socks, I've never felt overheated in my Taos boots. My feet have gotten sweaty once while walking indoors for a few hours at the mall, but that's about it.
So 9/10 on breathability, which is exceptional considering these are insulated, waterproof boots!
Taos Crave Boots Review – Durability & Wear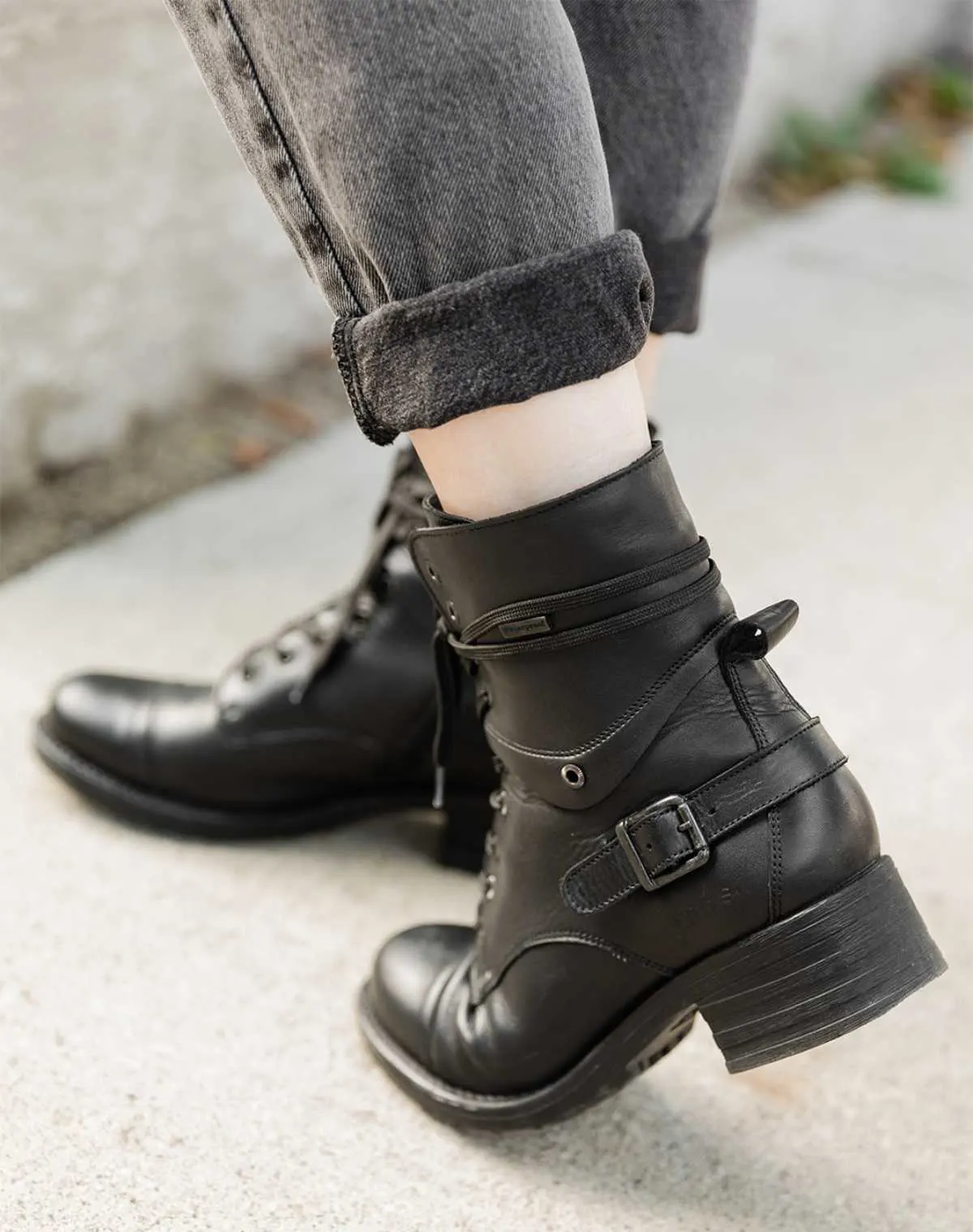 As I've said, I've had my Taos Crave combat boots for 4 years. That means I've been wearing them for 4 falls to almost winter seasons.
Aside from some usual leather creasing (where they bend as I walk), the boots look virtually the same as the first day I unboxed them.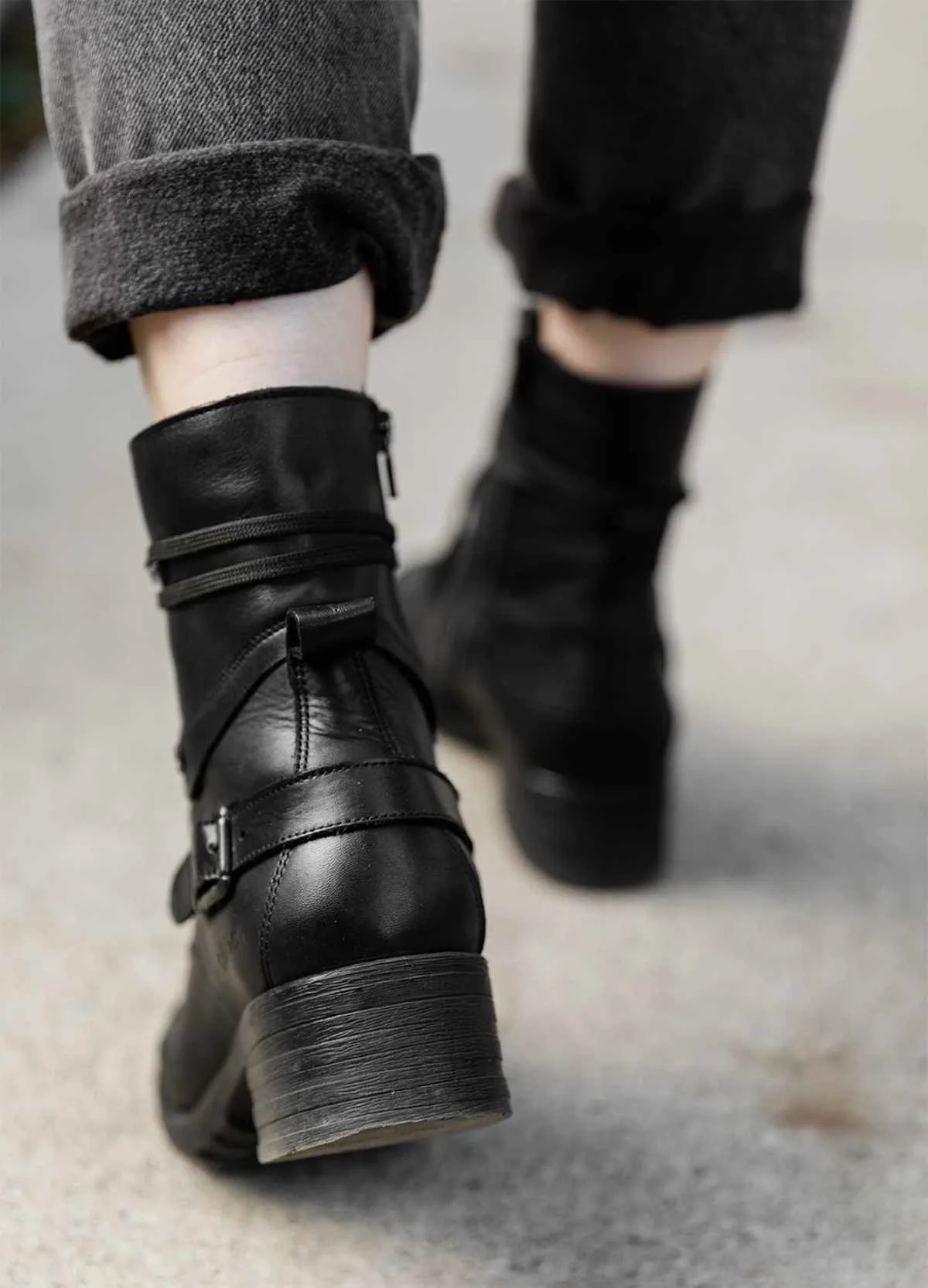 As you can see above, the outsole is holding up very well with minimal signs of wear. The leather itself is in pristine condition. And to think I've only properly cleaned/conditioned them only before putting them away for summer!
The thick border of the lug sole creeping up on the upper helps keep the leather from getting easily scuffed. Have I scuffed them a bit, yes, but it's minimal. The leather is thick and high quality, which is why it's holding up so well.
Taos Crave Boots Review – Performance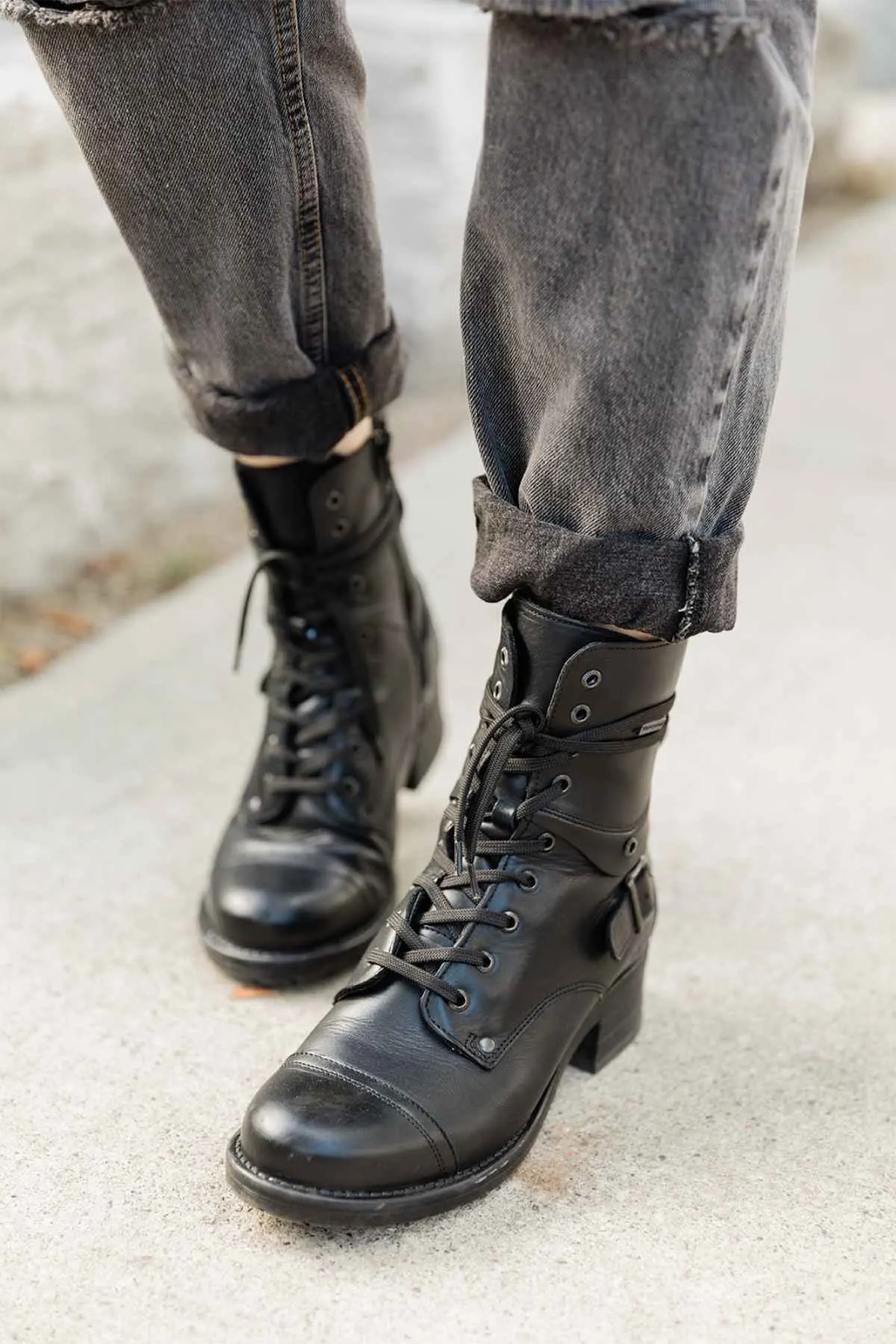 Waterproof performance:
Although Taos Crave boots come in a slew of colors, this all-black pair is the only one that is waterproof. Worth noting that the waterproofing ends at the seam right above the ankles, so don't go stepping in foot-deep puddles!
So far, I have had no issues with water coming into my boots from the soles. These are amazingly sealed shut, which you can see by looking at them closely.
Outsole Grip:
The outsole has great tread and grips well on all terrain. I've never slipped on any wet ground. Still, as I mentioned previously, I do prefer wearing my -25 degrees Celcius-proof winter boots on icy and/or snowy days! That's because Taos' Crave boots don't have good traction on ice.
Insulation:
In terms of thermal insulation, the natural and faux leather do keep feet from getting too cold. As I said earlier, I can wear these boots until the dire cold sweeps over Canada.
However, if you live in an area where harsh winters aren't applicable, then these could easily take you through the whole winter!
Taos Crave Boots Review – Styling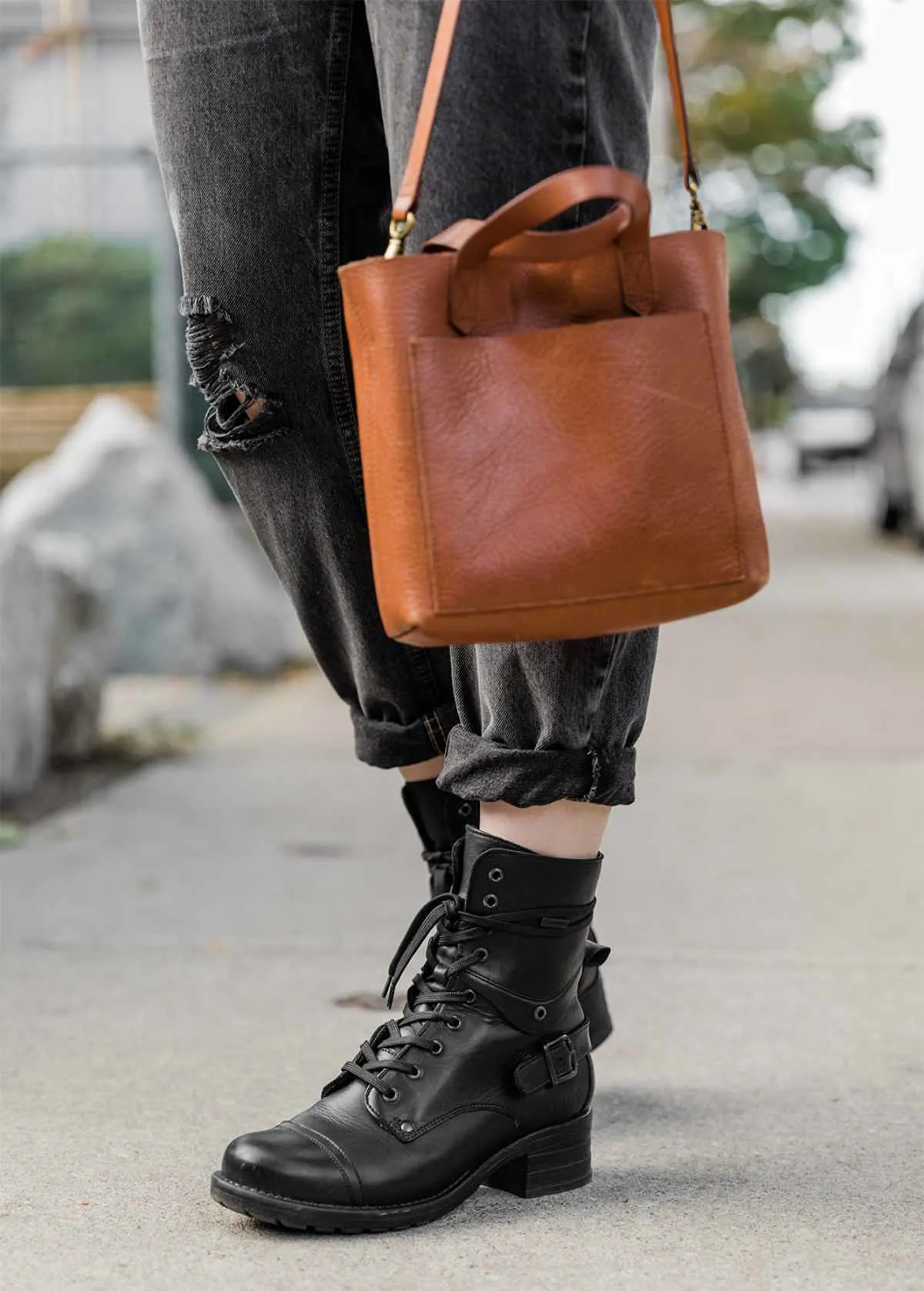 Outfits with Taos Combat Boots
Coming to my favorite part: how I style my Taos Crave boots! Although I'm no longer taking outfit pics, here are my 5 favorite ways to wear them:
Black or leather leggings + rocker tee + oversized denim jacket
Dark jeans (straight leg or skinny) + loose white tee + fitted blazer
Black midi or mini dress + black slouched knee socks + oversized cardigan or moto jacket
Cozy beige sweater dress + creamy tights + peacoat
Mini skirt + black tights + ribbed turtleneck + short furry coat
These are my top 5 ways to wear my boots. Check out my dedicated post for more styling info on how to wear combat boots!
Socks to wear with Taos Boots:
And let's remember socks! My favorite socks to pair with my Crave boots are simple sports or organic crew socks. These can creep out from inside your boots or hide entirely inside.
You can choose thinner or thicker socks depending on how your feet fit into your boots. My top choice is my PACT premium crew socks (also available from Zappos). These are organic, padded & breathable – I love them!
Like with all dark boots, I recommend darker-colored socks to prevent any dye from rubbing off and staining your socks.
General Pros and Cons of Taos Crave Boots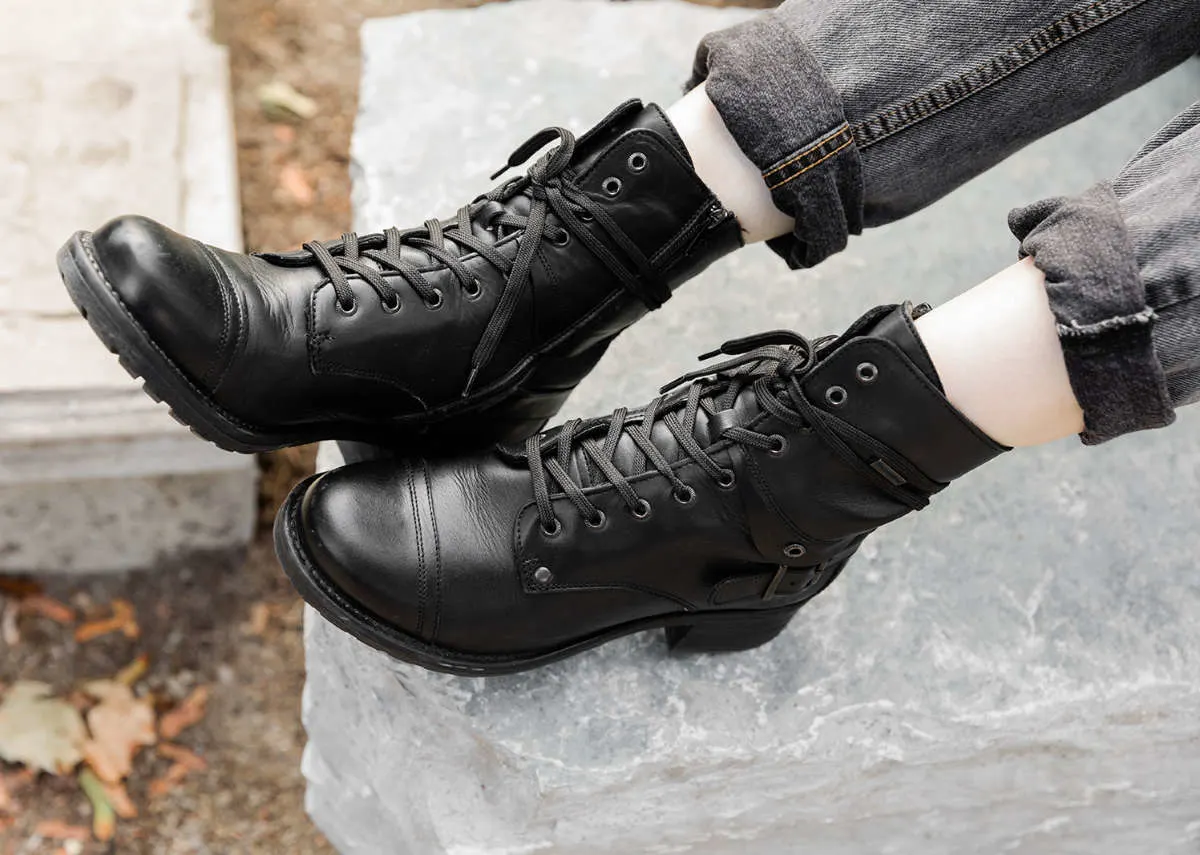 The pros of purchasing Taos' Crave boots far outweigh the cons (in my opinion), of which the biggest is the price point. The $250 price may not be accessible to all.
However, I'm seeing a lot of cheap brands that use faux leather with little durability that can cost between $50$-100. If you can make the splurge, Taos' boots will last you for years. And by years, I mean about a decade of wear, costing you less in the long run.
Taos offers a 4-month interest-free payment plan of under $70, making it even easier to purchase if you can't front the total cost upfront.
Pros:
Very comfortable, with excellent foot support
Durable and high quality that is long-lasting
Easy to clean (for daily cleans, I use Boot Rescue wipes)
Classic, timeless style
Look great with many casual outfits
Offers regular and wide width sizes
Cons:
Higher price-point (250 USD)
No half sizes available
Not suitable for hot climates (they will make your feet sweat in the heat!)
Smaller fit length-wise (size up)
Final Thoughts on my Taos Crave Boots Review Post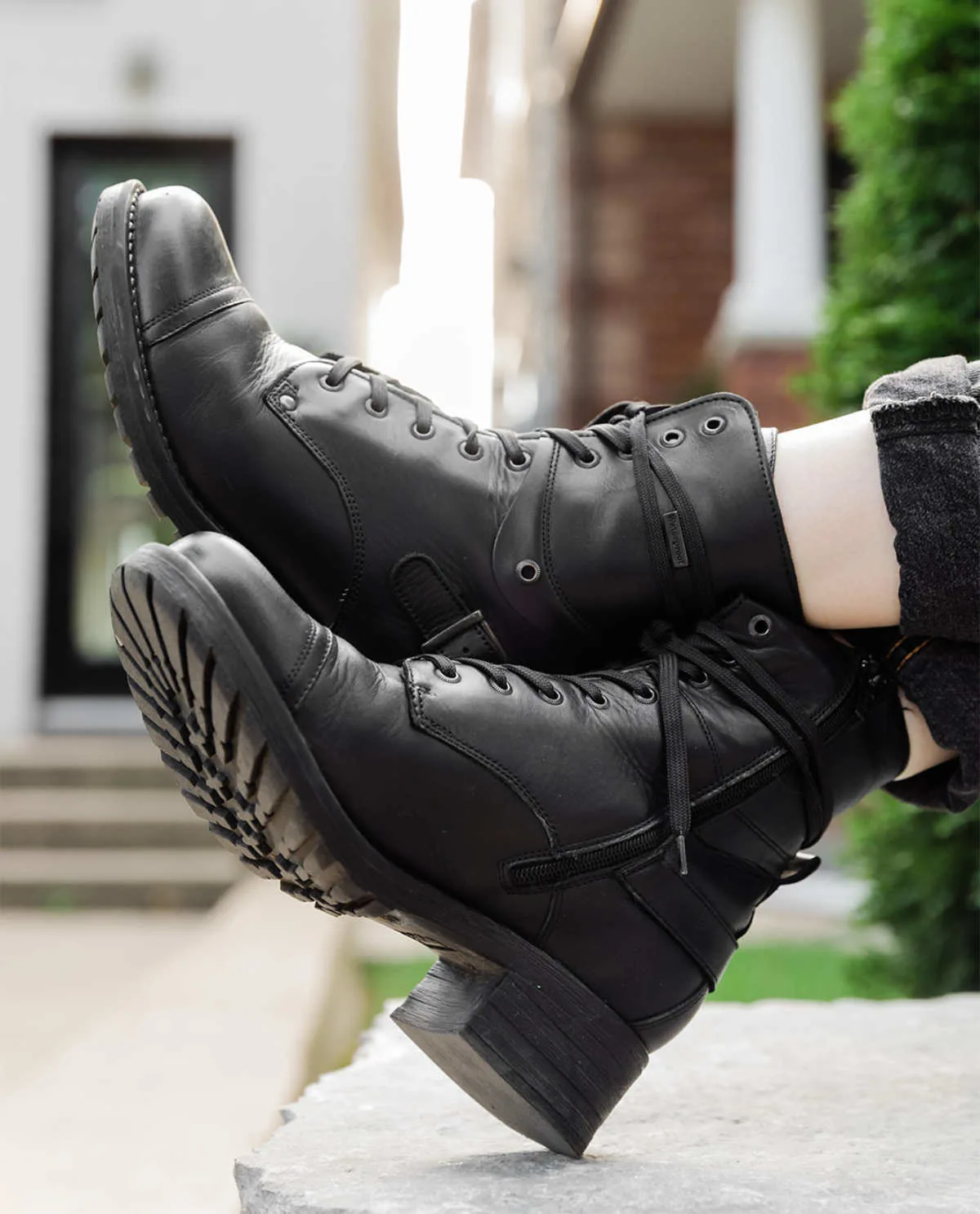 So there you have it, my 360-degree Taos Crave boots review! As someone who has worn these waterproof combat boots for many seasons, I hope it was helpful to see how the Taos boots fit and wear after all these years.
I 100% believe these combat boots are worth every penny. They look great, will last a very long time and the comfort level is unmatched!
Where to Buy Taos Crave Boots
You can find the Taos Classic crave boots from taosfootwear.com and Zappos. For my Canadian shoppers, you can also get them from taosfootwear.ca.
I don't see them offering the waterproof version of the Crave boots anywhere at the moment of writing this post (October 2022, to be exact).
If that's a deal breaker for you, hop on over to my post with all the best waterproof combat boots for women! However, there are a slew of similar styles from Taos.
Combat Boots from Other Brands:
Read More Posts:
How to Wear with Chelsea Boots
What to Wear with Knee High Boots
xo ShoeTease