Jeans are arguably one of the best woman's wardrobe staples ever. They're eternally on-trend. There is hardly another pair of jeans with as many shoe options!
However, what shoes to wear with straight leg jeans can be the hardest part of styling them.
Don't worry — in this post, I'll be covering 22 boots and shoes for straight leg jeans. Because let's be real, there many shoes to wear with jeans, but how you wear them is key!
Are straight leg jeans still in style in 2023? Yes, they are! I would say that they've become a classic shape that flatter everyone with the right accessories – hello shoes! – to bring you right on trend.
This type of denim pant works wonders for women of all sizes and ages. Straight leg jeans can be slim cut, wider in the leg, cropped, ankle length or long, and mid rise to the currently popular high rise.
The wash types range from light to dark and every shade in between – with or without distressed fabric and tears.
They can be dressed up or down, worn casually or to a fancier event. Furthermore, straight leg jeans can take you from the office to a night out with friends.
Keep things laid-back with a light blue wash and choose something inky and dark – even black – for a more conservative dress code. White straight leg jeans give off a crisp, summery vibe.
So, if you're wondering what shoes to wear with straight leg jeans, keep reading! I'll give you examples of everything from classy flats to clogs, pumps to ankle boots.
Wondering where to purchase straight-leg jeans? Have your pick from Saks Fifth Avenue, Bloomingdale's, Zappos, and Net-A-Porter & more, below:
21 Best Shoes to Wear with Straight Leg Jeans
1. Classy Flats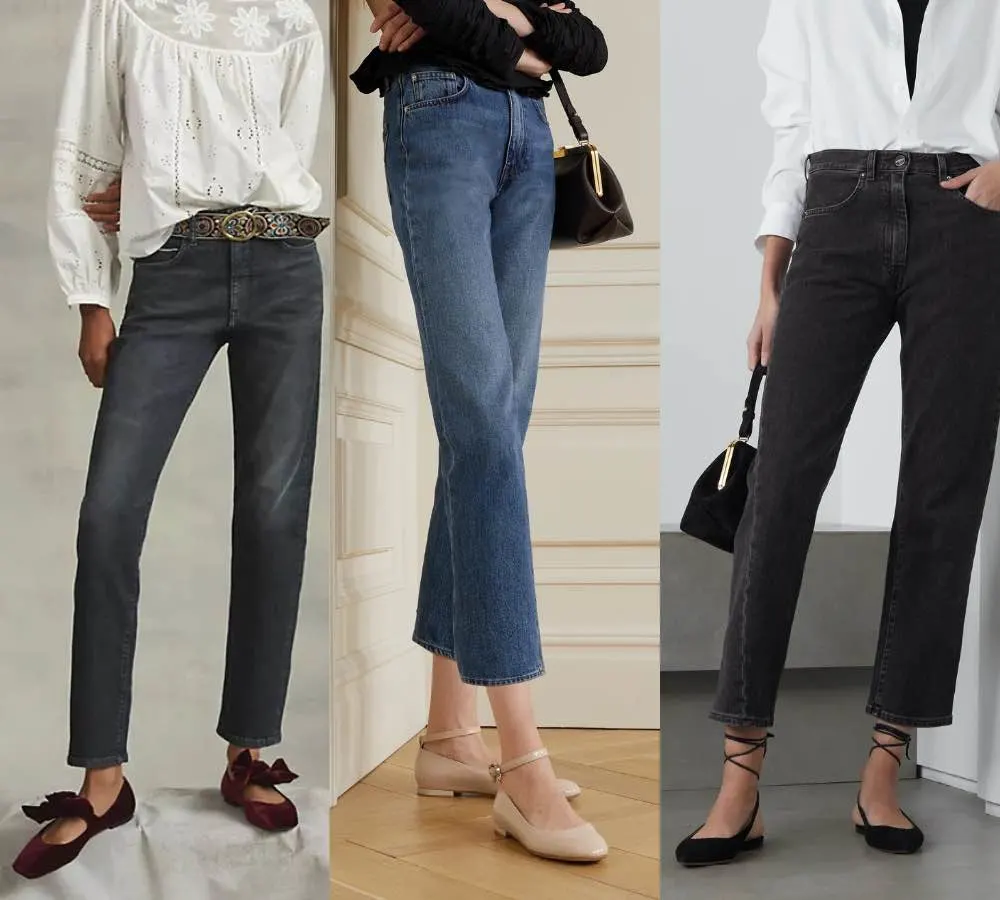 Flats keep it classy no matter the outfit. Both classy and classic flats are on of the top women's shoes that go with everything. And of course, are great shoes to wear with straight leg jeans!
With a timeless silhouette and endless styles to choose from, you can literally have a closet full of flats and still need more. Pointed toe flats, for instance, scream sophistication.
New on the shoe trend radar? Square toe ballet flats, perfect to give your outfit a little edge. Classic ballet flats exude classic charm.
If you want an elevated type of ballerina flat, try a suede or lambskin pair from Repetto. Each classy flat will team up well with any kind of straight leg jean.
2. Mules with Straight Leg Jeans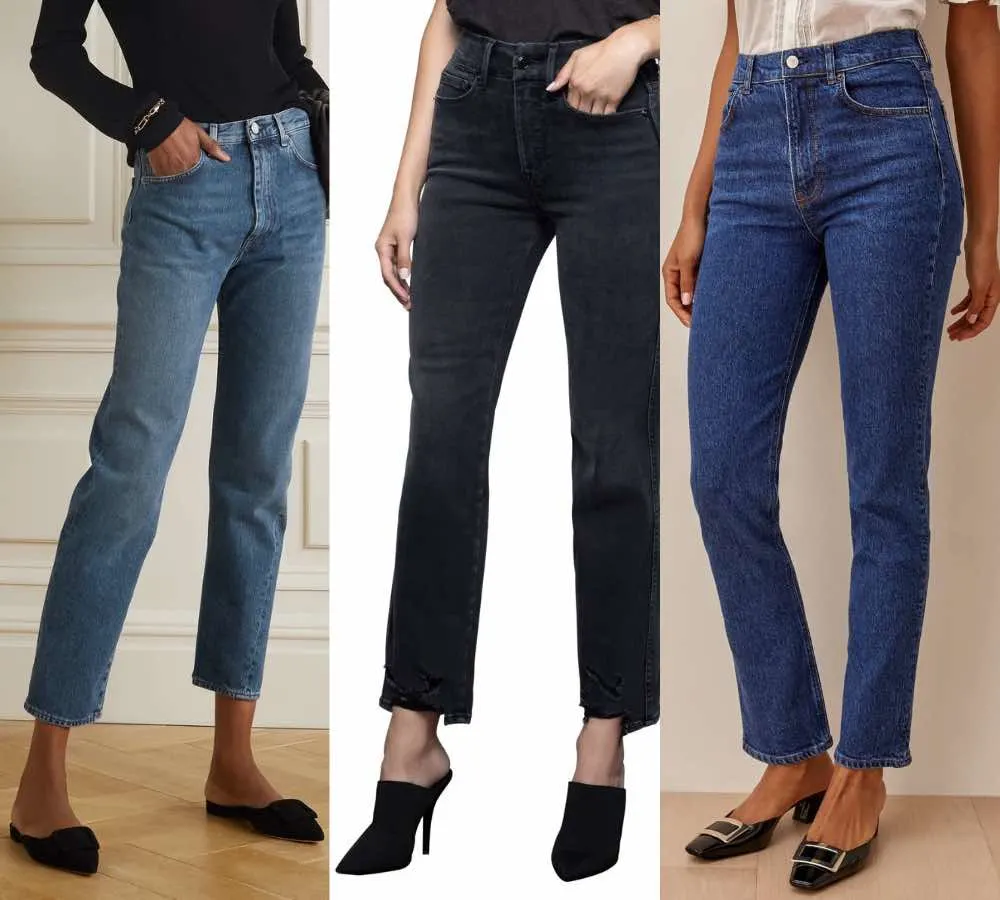 Move over flats! (Not forever though.) Your new favorite shoes are here. Mules are perfect for spring, summer or fall.
A pointed toe style can take your outfit from boring to beautiful. Chunky mules will effortlessly dress up a casual look. Add a slight heel for extra height.
For a casual day running errands, slip on a pair of ripped jeans and your favorite mules. Maybe an animal print mule, if you're feeling bold! If so, check out my post about what to wear with leopard print shoes.
3. Classic + Retro Sneakers with Straight Leg Jeans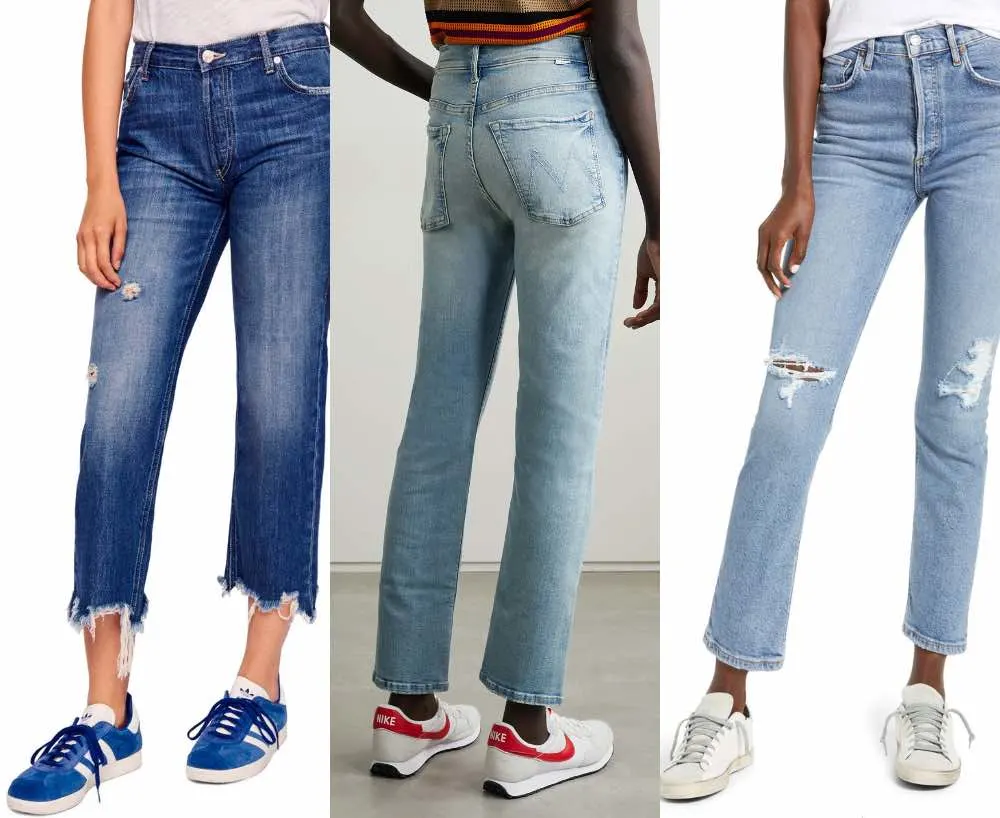 Sneakers are, of course, just as timeless as straight leg jeans. So it's natural they'd go together as well as they do! White lace-ups, in leather or canvas, can look great with every kind of denim wash.
To take your look up a level, try a colorful retro shape or style. Think: color-blocking or a bold mix of leathers and suedes.
4. Slip-On Sneakers
Choose a slimmer pair of straight leg jeans to show off your slip-on sneakers. They're honestly so easy to wear and style! Slip them on, and you're out the door.
They'll take you from groceries to school pick up in total comfort. Sling a tote bag over your shoulder and you're set.
5. Chunky Sneakers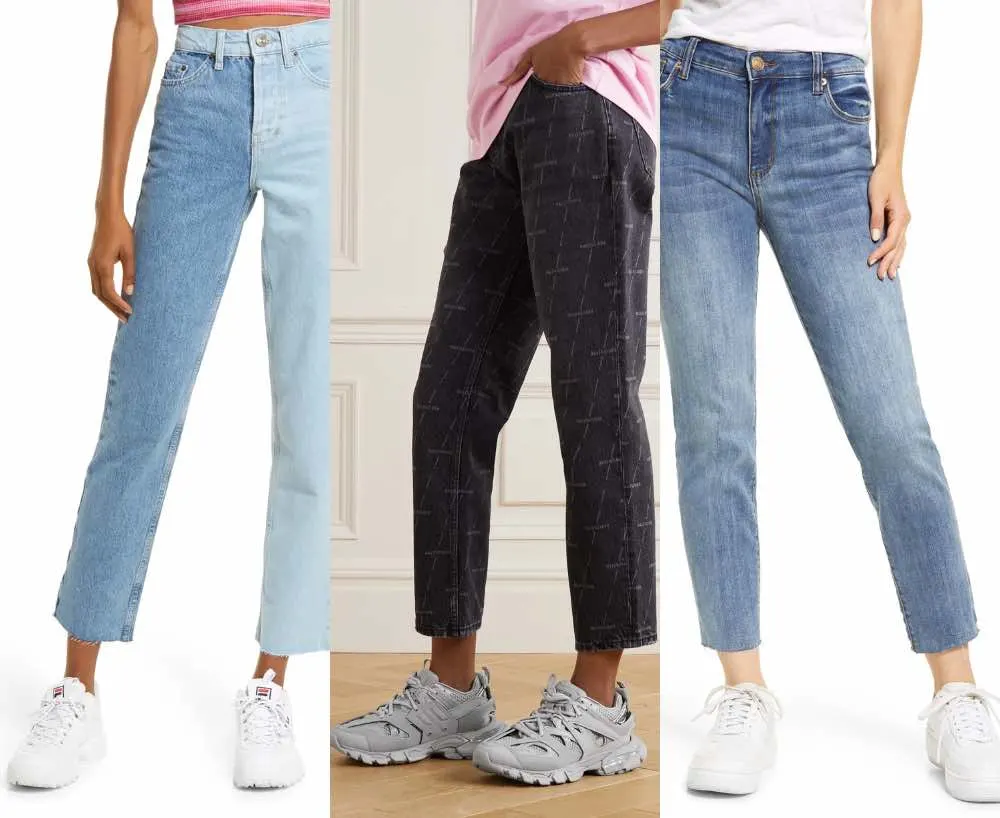 Make a statement in chunky sneakers. With their bold, standout silhouette, they'll add a touch of fashion to any pair of straight leg jeans.
You can choose a comfy pair of dad sneakers or even a trendier pair that will take you through the season in style. Whichever you decide to lace up, you'll add a youthful vibe to your look.
6. Strappy Sandals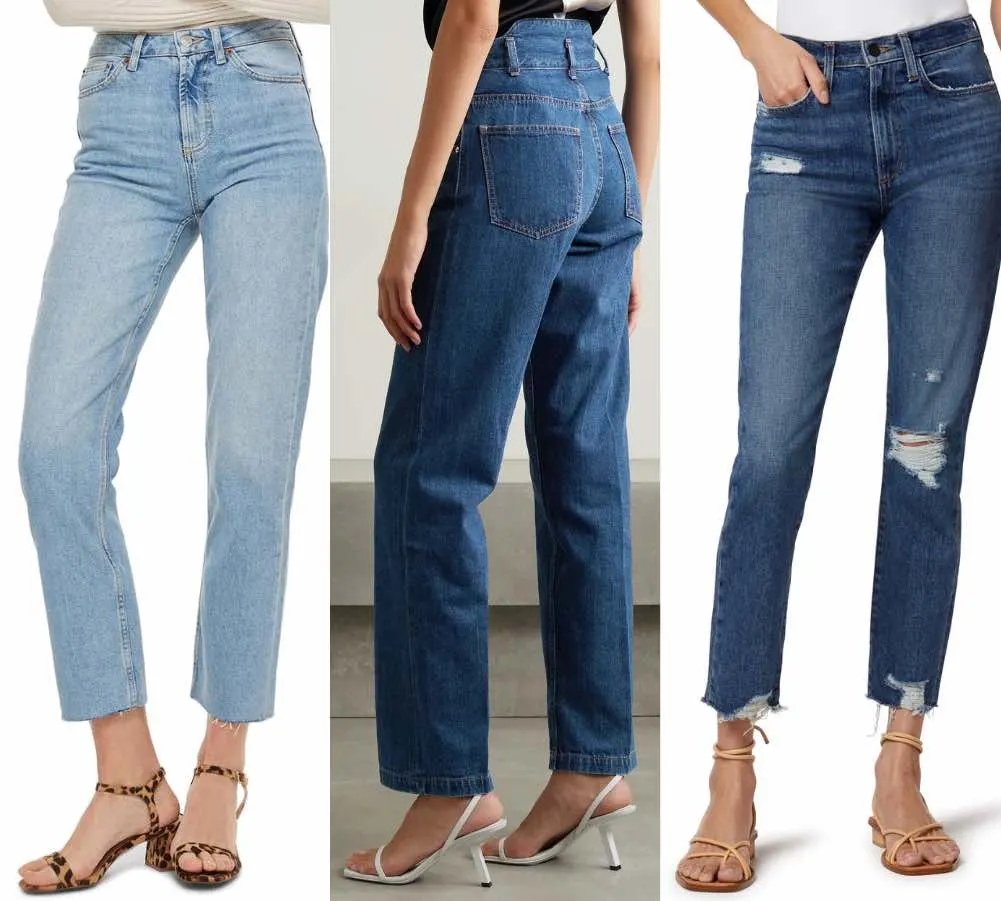 Strappy sandals are one of those shoes that everybody needs to own. They go with everything. And straight leg jeans are no exception!
As the pièce de résistance of your shoe collection, they can take your denim from the coffee shop to the lounge in style.
Try brown strappy sandals with a medium wash jean with a slimmer leg. At night, wear black sandals with dark denim. Also my favorite shoes to wear with a jumpsuit!
7. Kitten Heels with Straight Leg Jeans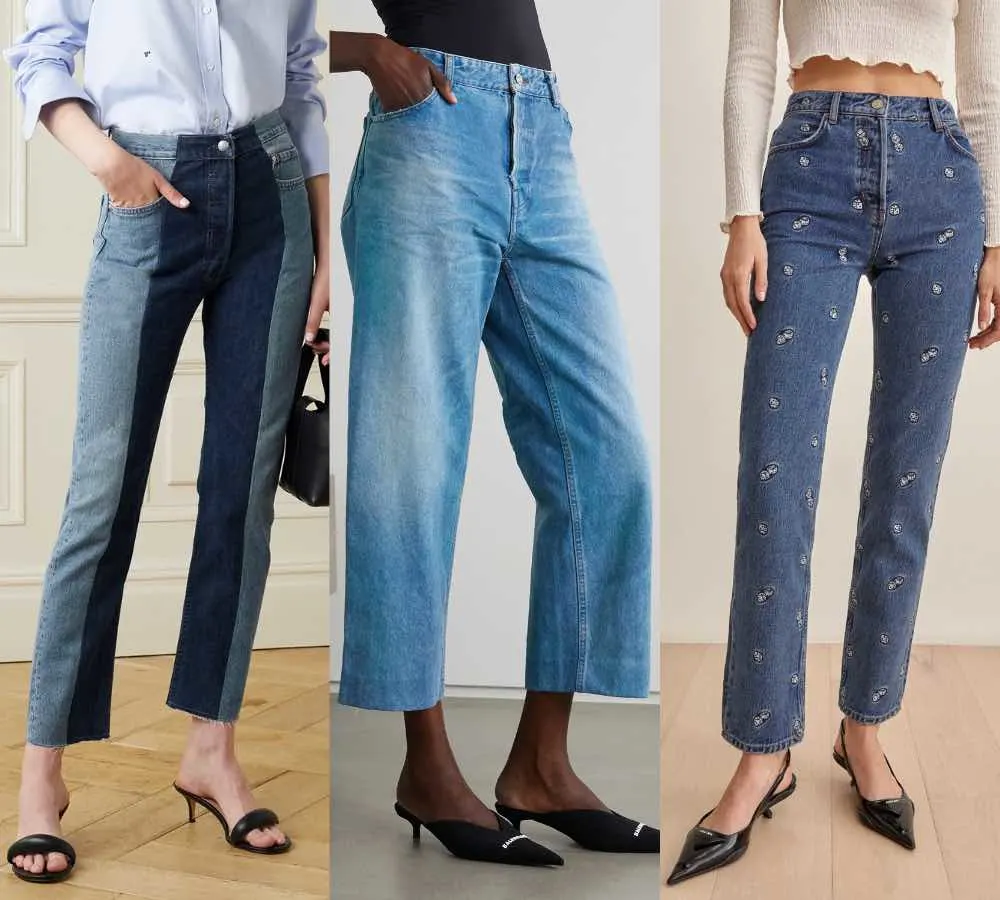 A little bit of height can be your best friend. From slides to sandals, mules to sling-backs and everything in between. These are currently my fave heels with straight leg jeans!
Kitten heels can feel fancier than a flat but not as intimidating as a pump. With a shorter height, they can also feel more comfortable than your sky-high stilettos.
Choose a pair with a bow or accent on the toe to take your straight leg jeans to the next level.
8. Pointed Toe Pumps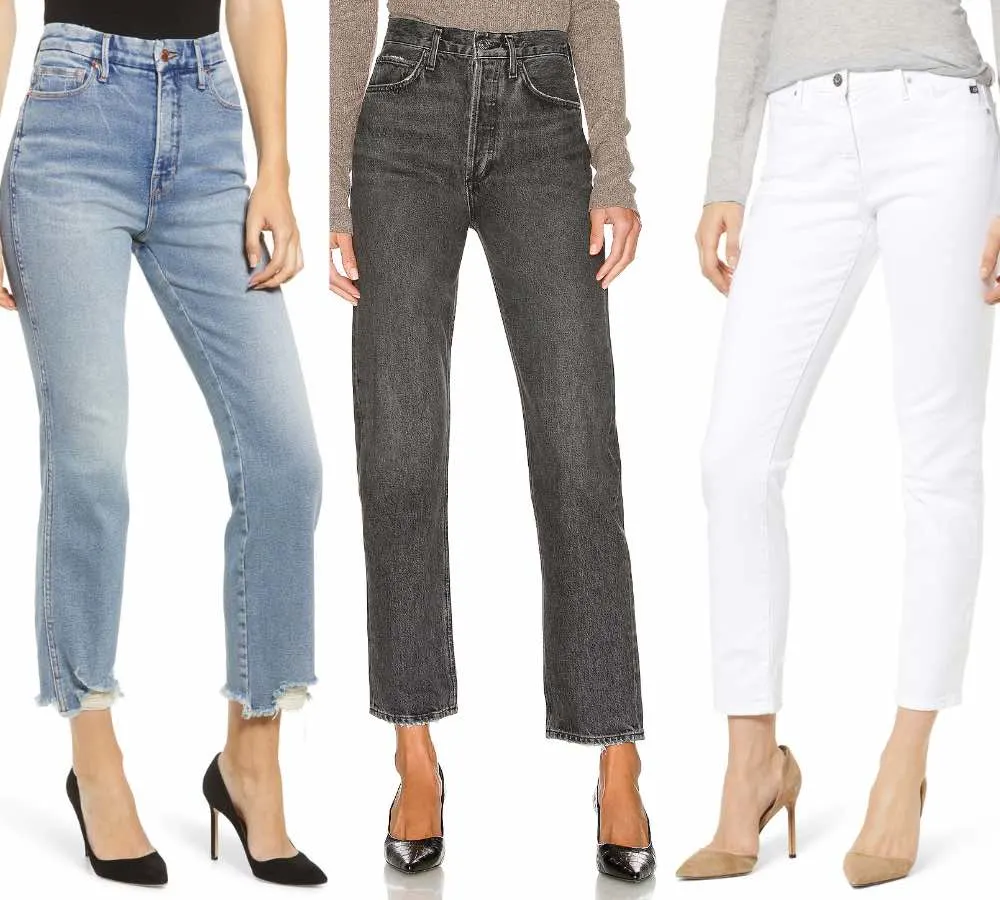 Pumps were made to be worn with straight leg jeans. For all-day comfort, opt for a pair of almond toe pumps with a low to mid-height heel. A chunky heel will help too!
However, you can take it to maximum heights if you want. Heels with straight leg jeans are a winner every time.
Any kind of straight leg jeans will work. From mom jeans to distressed jeans, skinny jeans and high-waisted.
I love cropped jeans to show off the heels and a trendy pointy toe, but a more conservative venue might work better with a longer jean that covers your ankles.
Fashion tip: If your jeans skim the ground in flats, pointed toe pumps can give you just enough lift to fix that.
9. Flatforms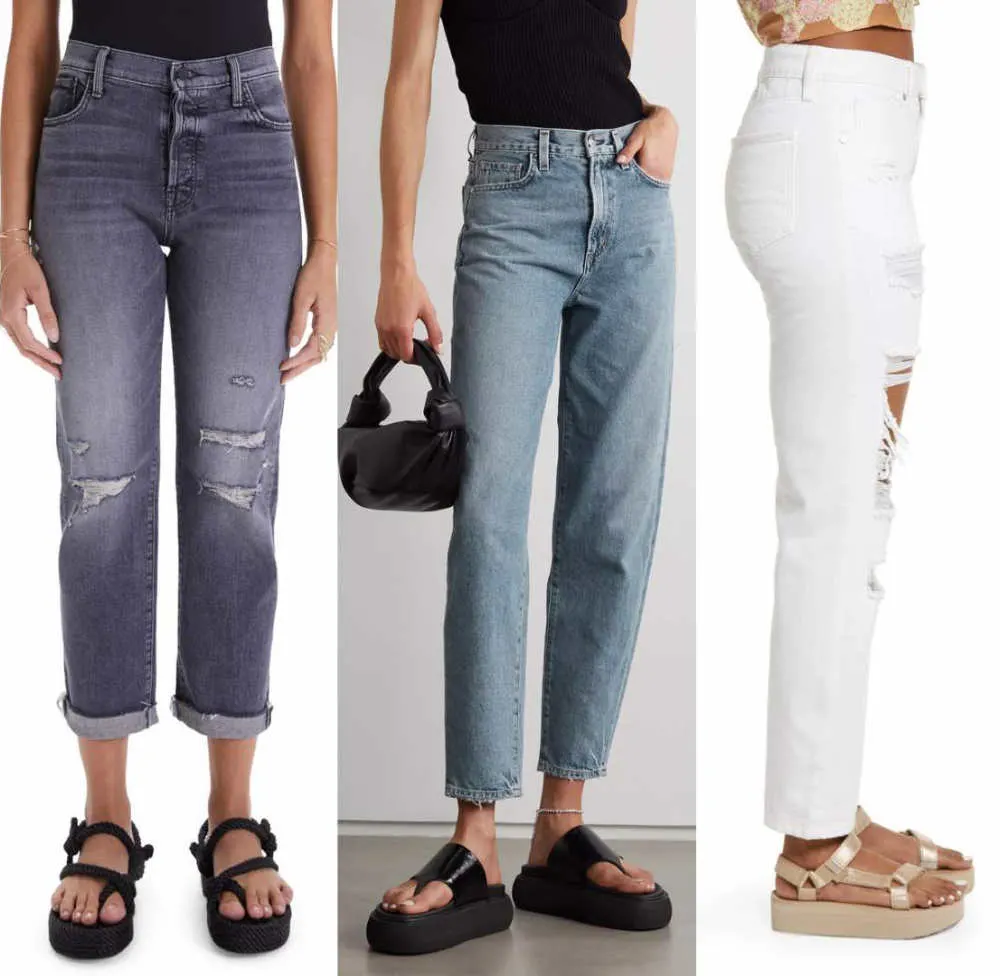 Hello, comfort and style! Flatforms give you added height without hurting your feet like heels can. Their silhouette is chunky but your foot remains relatively flat.
Try a pair with criss-cross straps for a night out, sandals for a casual summer out or flatform sneaker for busy errand running.
And during the day, opt for a leather flip-flop style. Either will look fabulous with your straight leg jeans! This is one 90s trend I'm so happy to see making a comeback.
10. Sleek Slides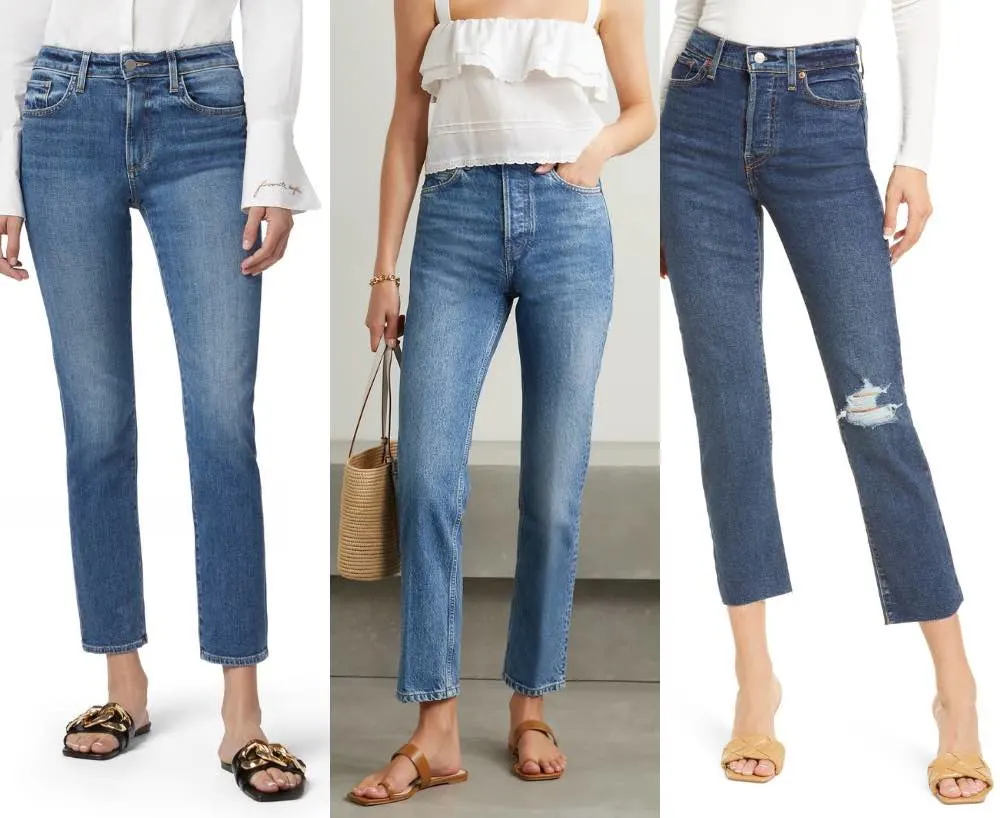 Sleek slides, the sister shoe to sportier versions, will be your absolute go-to in the warmer months. With just a strap across the top of your foot, they're effortless to slip into.
Slides can give you the comfort of strappy sandals while staying on the casual side. For a low-key outing, try baggy boyfriend jeans and a pair of soft leather slides.
11. Earthy Slides
Can you think of anything earthier sandal than Birkenstocks? They're the perfect "slip on and go" kind of style. The cork footbed will also keep you comfy all day long!
A worn-in pair of jeans will look best. Try rolling up the hems for a fresh and casual take on your straight leg jeans. Want to add some quirk? Opt for an earthy sandal with sheepskin!
Check out more ways on how to style Birkenstocks in my new post all about Birks fashion!
12. Sporty Sandals with Straight Leg Jeans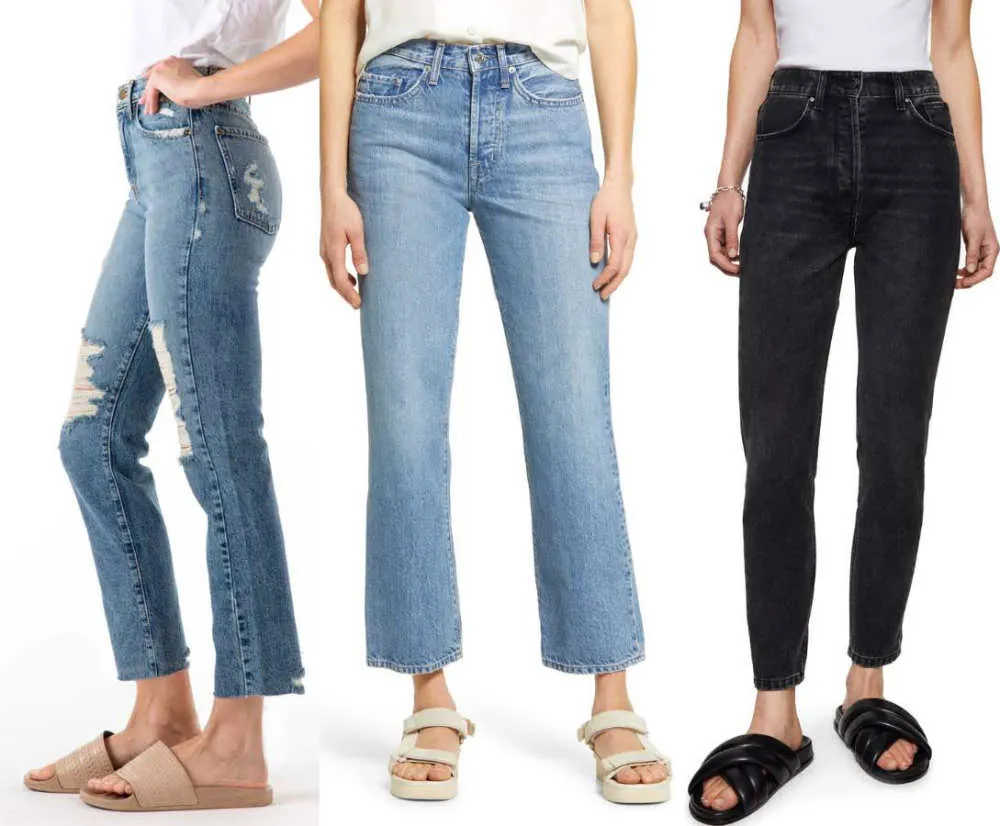 When you're on-the-move, sporty sandals and slides are what you'll want to wear. They usually feature a contoured footbed to add comfort and cushioning with every step.
Also, Teva sandals (like the middle image), with their Velcro straps and spongy sole, are very on-trend.
Not to mention a total dream to walk on! Also love a puffy upper sporty slide as well, which are so quirky and fun.
With these shoes, you can get away with a sportier jean as well. Perhaps with a jogger silhouette and cropped leg!
13. Clogs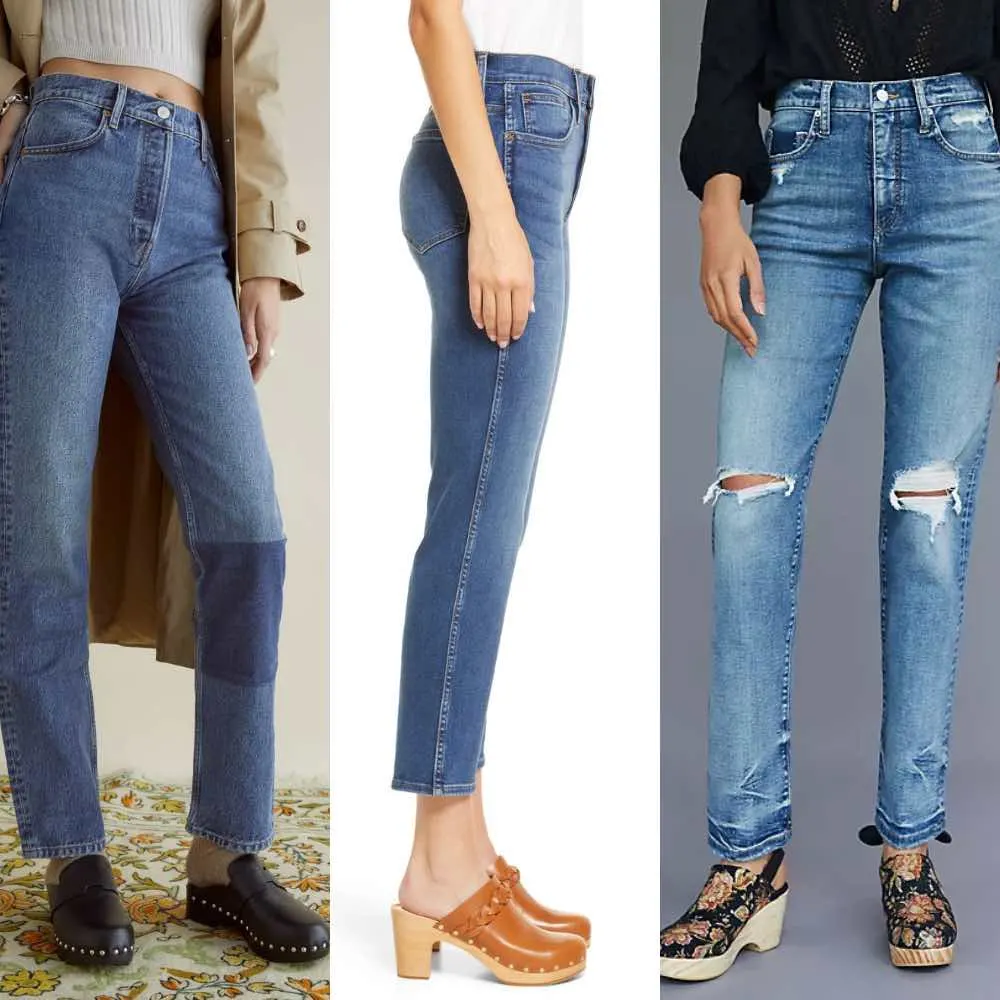 Take a cue from the 70s and step into a pair of clogs. Colorful, neutral, patterned or plain — they all complement straight leg jeans.
Choose a pair of jeans with a distressed, frayed hem for a funky look with your clogs! I also love a looser fit straight leg jeans with a cuffed hem with clogs.
They're making strong comeback this season, so get on the trend before the rest of the crowd! More clogs outfits to inspire you in my post all about how to style these rustic shoes!
14. Loafers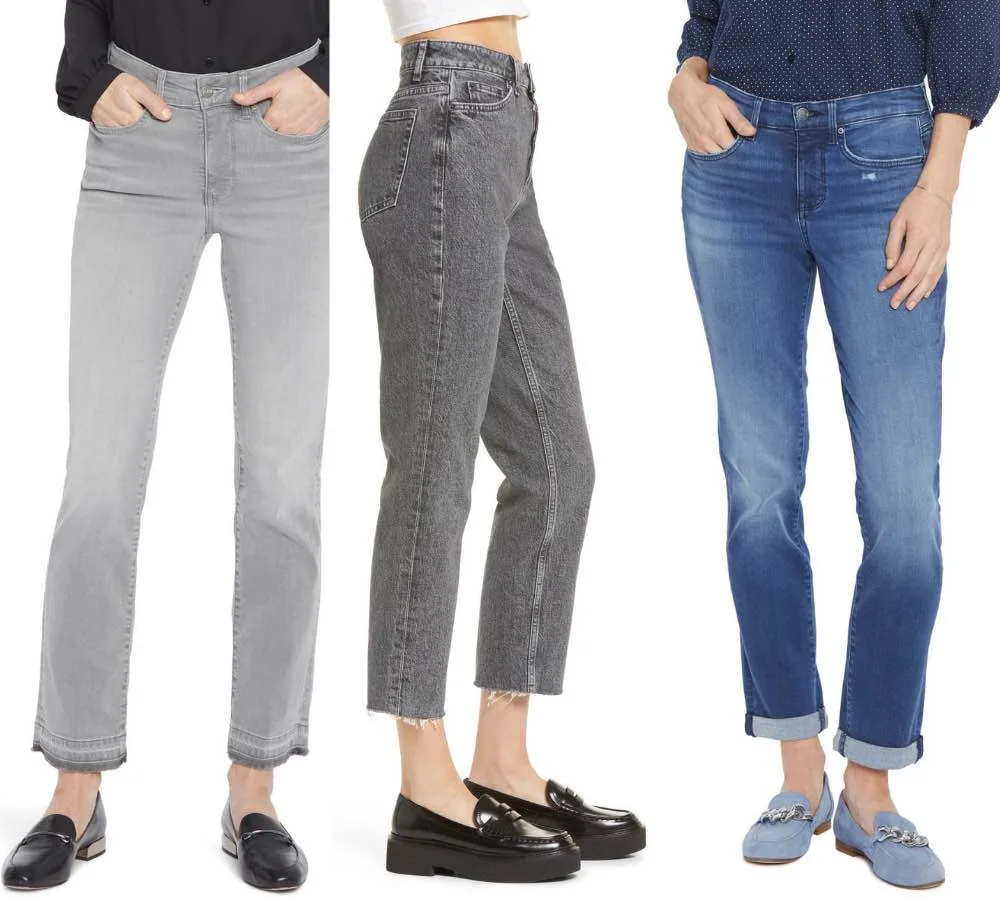 Depending on the style of loafer you choose, it can actually help refine your jeans! A loafer with a metal buckle, chain or leather tassels will instantly elevate your jeans to date night or an evening out. A simple low loafer makes a great conservative office shoe.
Opt for a pair with lug soles for extra grip and comfort while running errands. The chunky lug sole look is new, and it's defining trending on the Fall runways as the streets of NYC!
All the IT fashion girls are currently wearing the retro-inspired Prada Loafers called Spazzolato!
15. Open Back Loafers
If there is a casual yet professional shoe to wear with straight leg jeans to seek, it's the loafer mule!
A take on the classic loafer, open back loafers – aka loafer mules – have been made exceedingly popular thanks to Gucci's Princetown slip-on loafer style that became (and still is) all the rage.
The ones I'm wearing, featured above, are a great Gucci loafers dupe and you can see my full styling post there as well!
Loafer mules are a great style style to give a slightly more casual style vibe to your straight leg jeans outfit.
16. Oxfords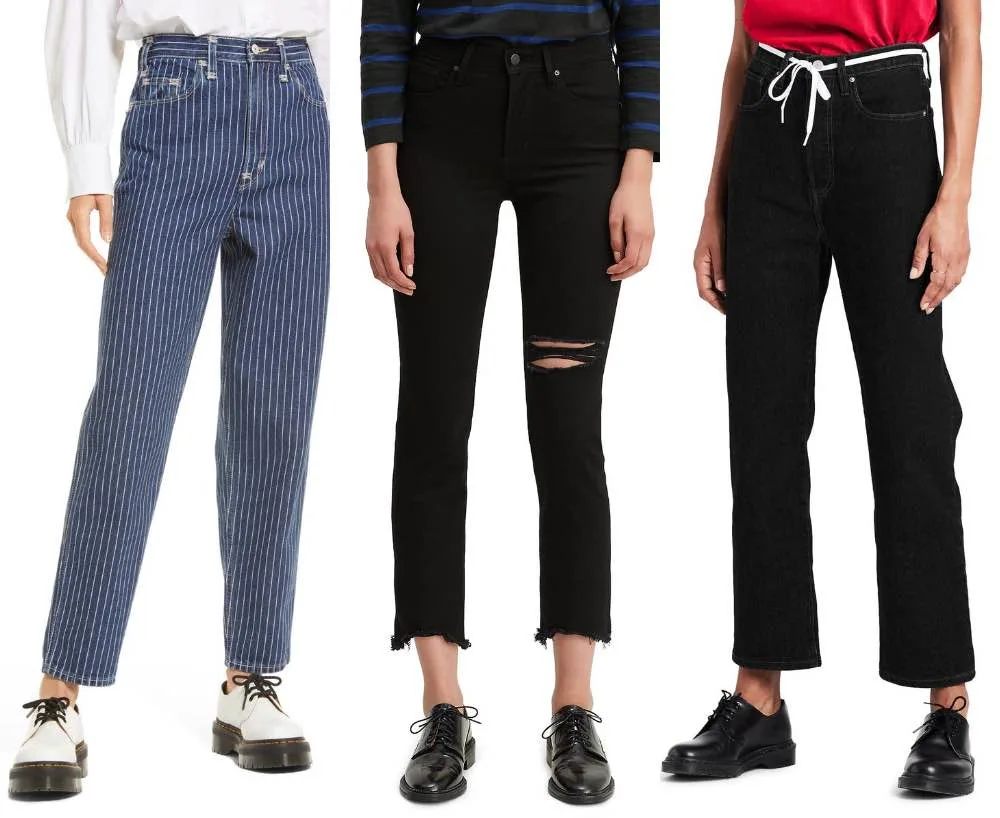 Heading to class? Oxfords come to mind. Or any time you want to add a bit of smart sophistication to your look. For a different take on the timeless style, try platform Oxfords with skinny jeans!
You can choose a classic oxford in black, patent or even high shine metallics. For a funky and more youthful look, Doc Martens oxfords with chunky outsoles are coming back with force!
Boots to Wear with Straight Leg Jeans
17. Ankle Boots with Straight Leg Jeans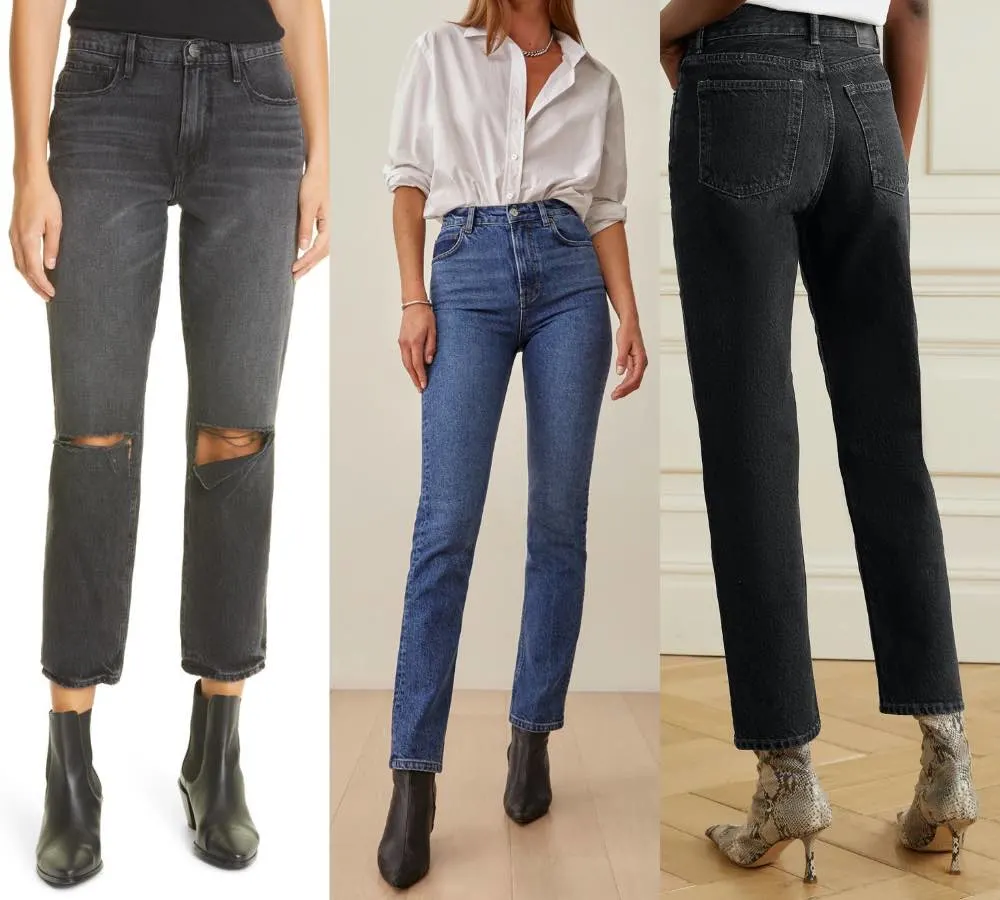 If you're looking for shoes to wear with straight leg jeans in winter, leather and suede ankle boots are perfect. These are the shoes of your dreams!
Pointed toe, square toe, rounded to, chunky or stiletto heel — there are so many options! For a minimal look, try black or white patent.
A night of cocktails? Go for a pointed toe and stiletto heel. If you're feeling bold, try a reptile pattern or a metallic hue.
18. Chunky Chelsea Boots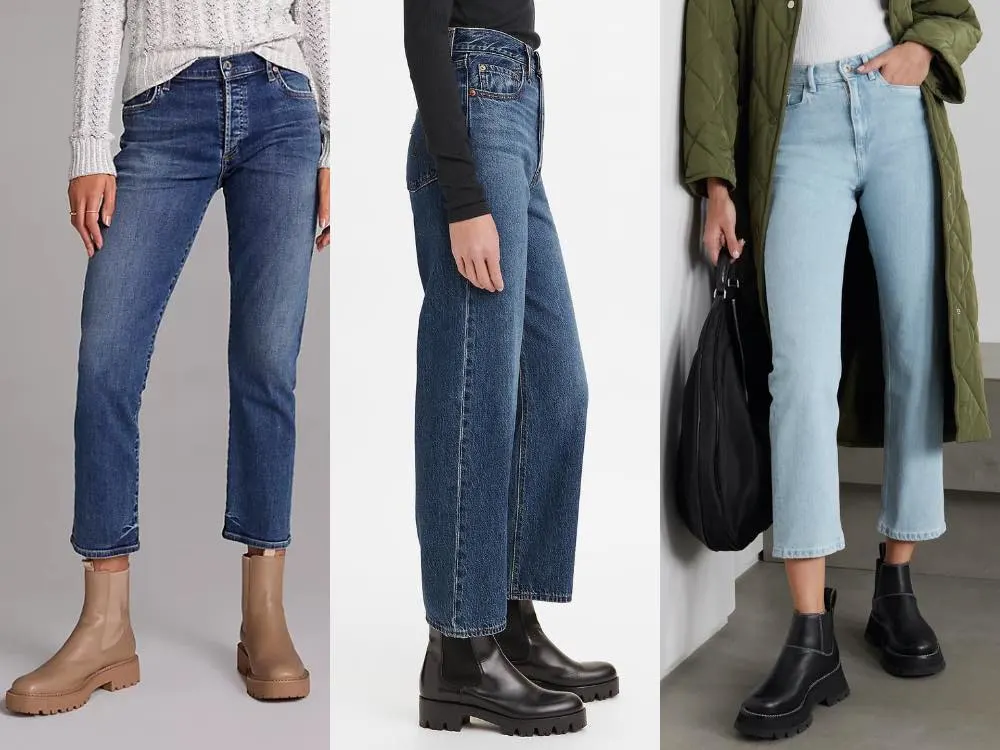 Chunky Chelsea boots are great shoes to wear with straight leg jeans in winter. Next time there's no snow on the ground, ditch your clunky weatherproof boots in favor of these ones!
You'll instantly feel better about your outfit. Choose a trendier pair with a thick sole and higher silhouette for an of-the-moment look. Check out more styling tips in my post all about how to style Chelsea boots!
Chelsea Boots We Love:
19. Western Ankle Boots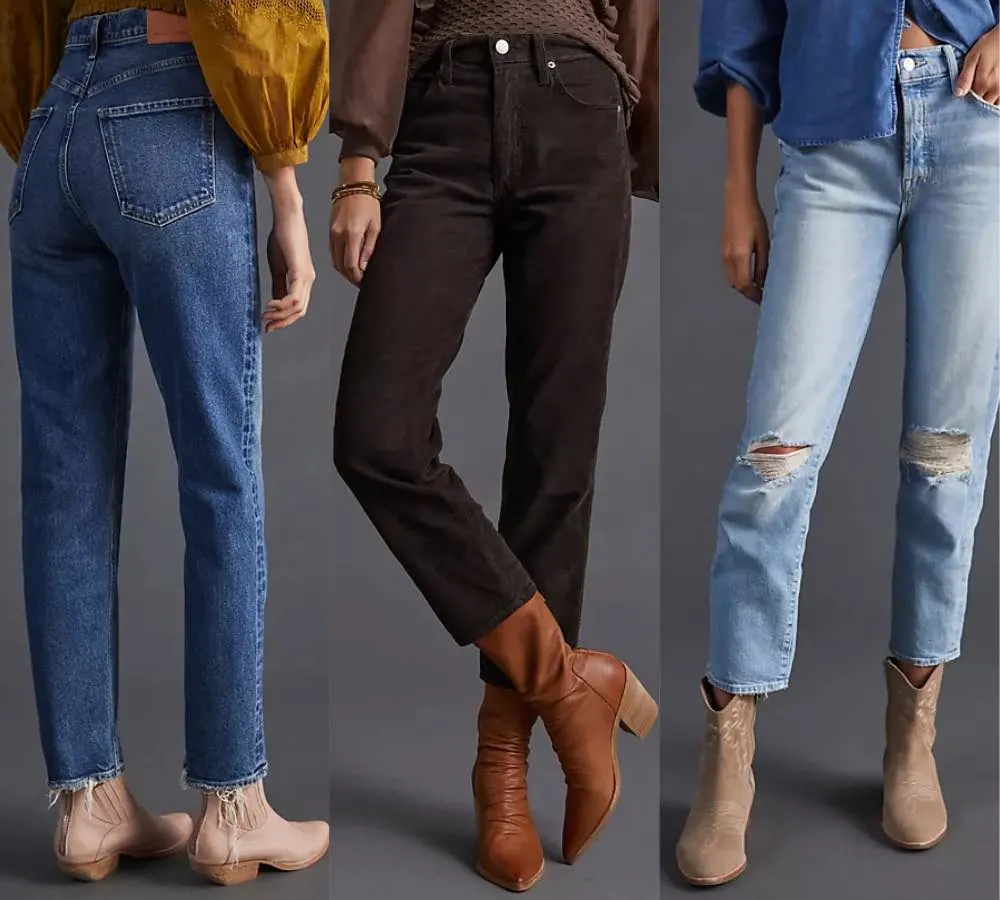 Have you ever just felt like saying yeehaw because your outfit looks so good? That's the effect that western ankle boots have.
Especially with straight leg jeans! Whether you tuck the hem of your jeans in or let them naturally flow over the boots.
Bonus: their chunky heels mean they'll be comfortable all day long! Choose a pair with studs or snakeskin accents for added style.
Tall western boots can also look fab as long as your straight leg jeans aren't too wide. Learn more about how to wear cowboy boots with all kinds of jeans & outfits in my dedicated post!
20. Combat Boots with Straight Leg Jeans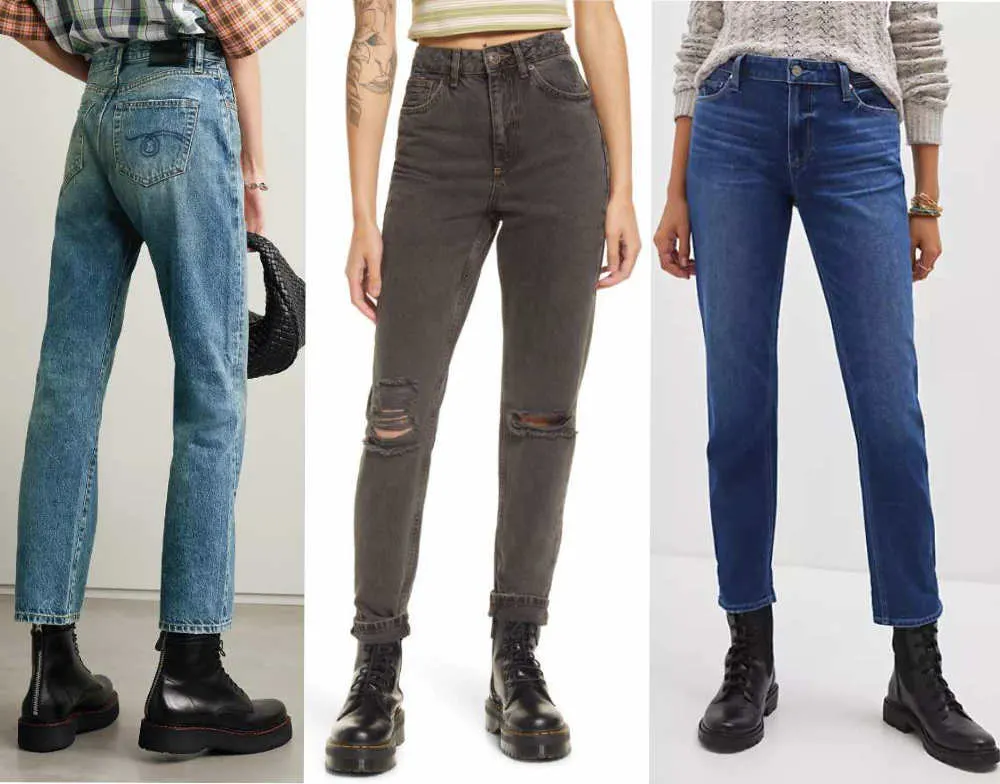 Like chunky Chelsea boots, combat boots are having a big moment, especially in chunky form! Wear your straight leg jeans over them or roll them up for a more rugged styling.
The trendiest combat boots this season? Black, white, burgundy in both matte leather and high shine patent.
Elevated lug soles are all the rage from Doc Martens to new styles from Steve Madden. These make great, grippy shoes to wear with straight leg jeans in the winter, like these women's waterproof combat boots.
But if you prefer to keep things classic, a simple black combat boot will still look fab with your straight leg jeans.
Check out those from Taos or Frye. Learn more about how to wear combat boots with jeans of all styles, in my dedicated post!
Combat Boots We Love:
21. Knee High Boots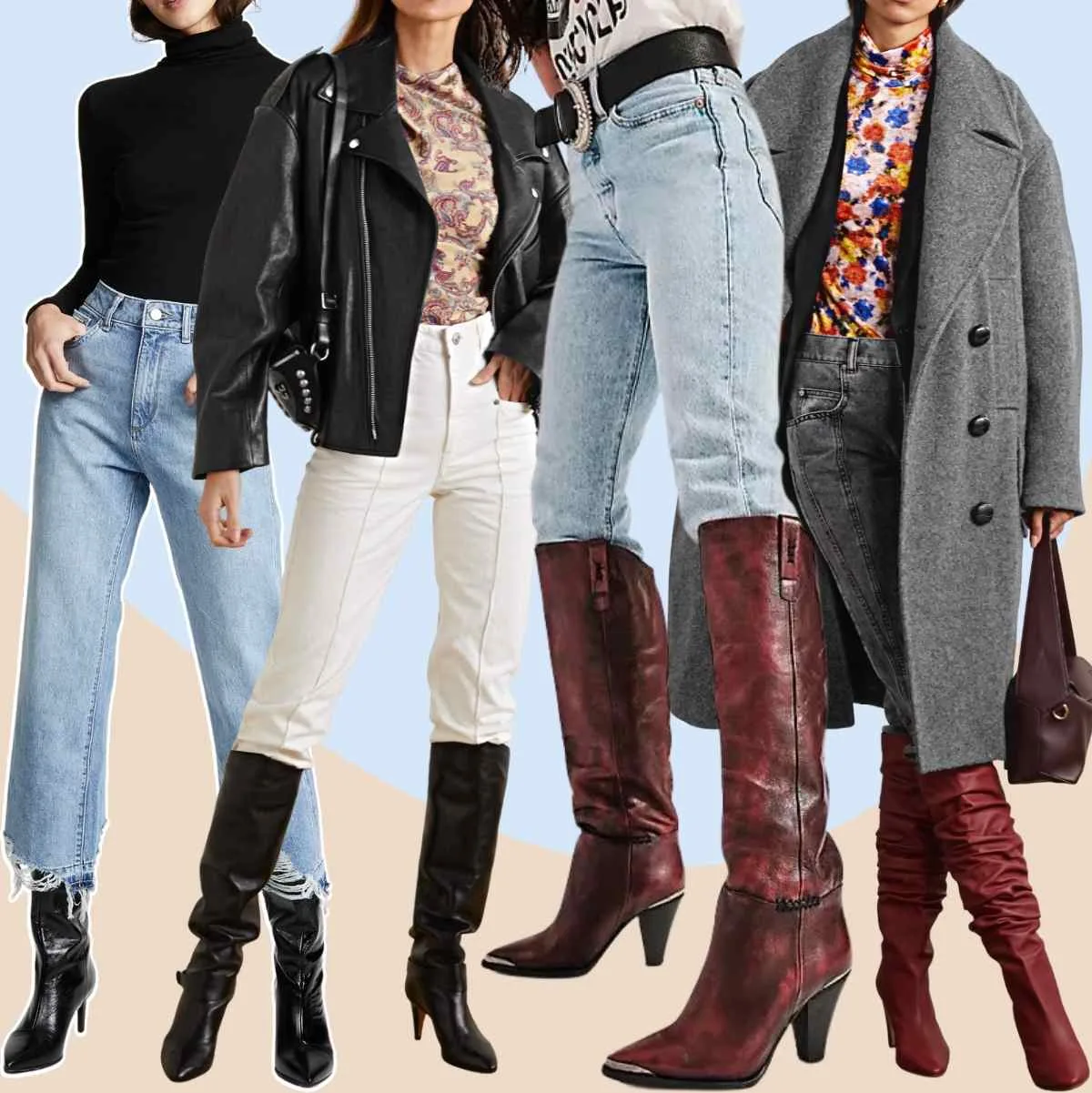 You'd not likely think of knee high boots for any other jeans than skinny jeans, but that's not necessarily true!
Both wider and slimmer straight leg jeans can accommodate certain styles of knee boots, depending on how you wear them.
Wider leg straight jeans can fit knee boots underneath. You can cuff the jeans or wear them with cropped styles.
Slimmer leg jeans can be tucked inside wider knee boots such as western and straight leg styles.
Of course, no matter how you wear them – inside or over the jeans – these knee boots outfits with straight leg jeans will give off a more laid-back vibe. Perfect for more casual looks!
22. Sock Booties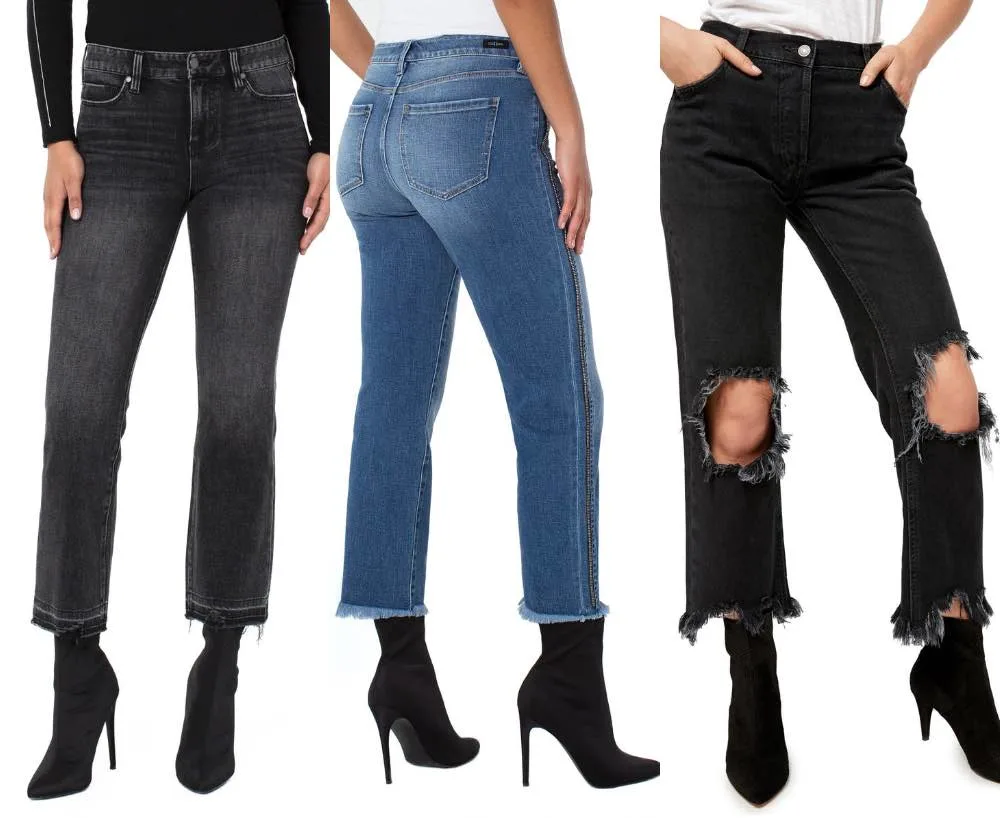 Sock boots feel like you're sporting your favorite, well, socks. But in public. They're so cozy, it almost feels like you're wearing nothing at all. Even dramatically pointed toes don't seem as restricting in this style of booties.
Stiletto high heeled versions make for a fancier boot with your straight leg jeans. Especially if in black, patent or metallic fabrics.
Choose a more cropped pair of jeans to showcase your sock boots. Just check the weather first or you might end up with soaked feet!
Final Thoughts on Shoes to Wear with Straight Leg Jeans
Ultimately, it's all about playing around with the styles you love. Straight leg jeans are a great base for any footwear combo.
As we discussed here, there are many different shoes to wear with straight leg jeans! Don't forget to add your favorite purse and accessories to really complete the look!
What are your favorites shoes and boots to style with straight leg jeans? I do love combat boots and chunky heeled ankle boots for winter! For summer? A strappy sandal or slide.
Let me know what your favorite way to wear straight leg jeans is, in the comments below!
xo ShoeTease