Gladiator sandals, especially tall gladiator sandals, have hit an all-time trend high this Spring/Summer season. But are they easy to wear? See for yourself by checking out my style tips on how to wear gladiator sandals!
Tall gladiator sandals were everywhere on the Spring 2015-2016 catwalks. And this fashionable of many types of sandals is a heck of a lot easier to style in 2015 than you'd think! From the most trendy lace-up gladiators to stunning strappy ones, they all looked amazing! Well, most of them anyhow 😉
I can see how it'd be easy to shy away from this particular shoe trend, considering how eye-catching these shoes are. So if you want attention, these are surely the shoes you should put on this summer! And they're easy to wear in all of the neutral shades they come in, too.
But if you're a little shy about wearing tall gladiators, you can stick to a pair that is closest to your skintone. Less showy, yes, but no less spectacular! Easily paired with many more outfits than you'd think, here are my top 10 ways to wear tall gladiator sandals (and one way to definitely not)!
RELATED POSTS:
How to Wear Gladiator Sandals this Summer
1. Knee-High Gladiator Sandals with Shorts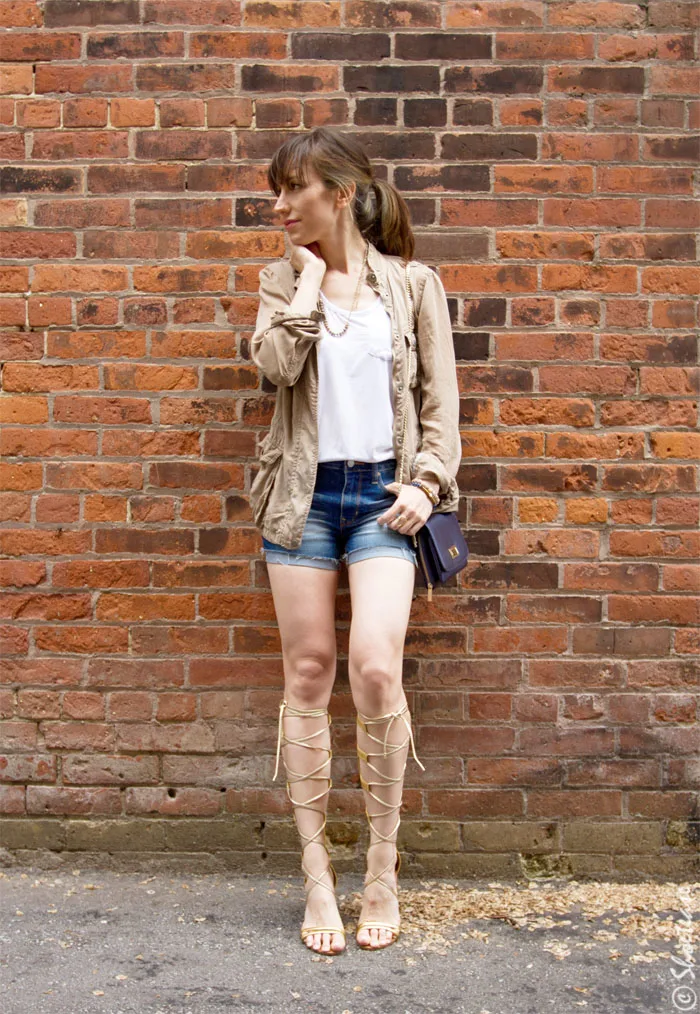 Update any old shorts,or denim short shorts with a pair of tall gladiator sandals. A looser, distressed/frayed pair of denim shorts will add a more relaxed, vacation vibe. A pair of tailored shorts either short or mid-thigh length, will give your gladiators a more clean-cut aesthetic. If you think shorts are boring, styling them with a pair of high gladiators will definitely change your mind!
2. Gladiator Sandals with a Romper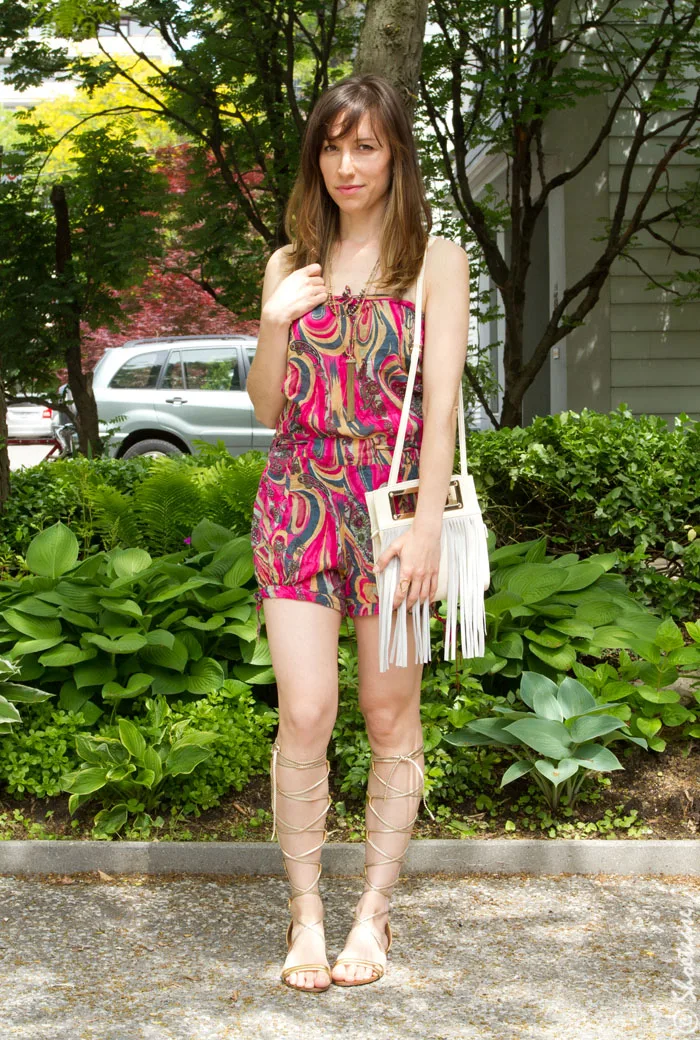 This summer is still all about rompers, so why not style one with a pair of high gladiators? Whether color blocked, singled hued or printed with a pattern, it doesn't matter. These sandals look great with all short jumpsuits!
How to Wear Gladiator Sandals with Dresses
There is no shortage of dresses to pair with tall gladiators this summer! From 70s inspired silhouettes, to city chic styles, there is a dress for every one (and every gladiator sandal!). Below are my 7 favorite dresses to wear with this strappy shoe trend:
3. Tall gladiator Sandals with a Printed Dress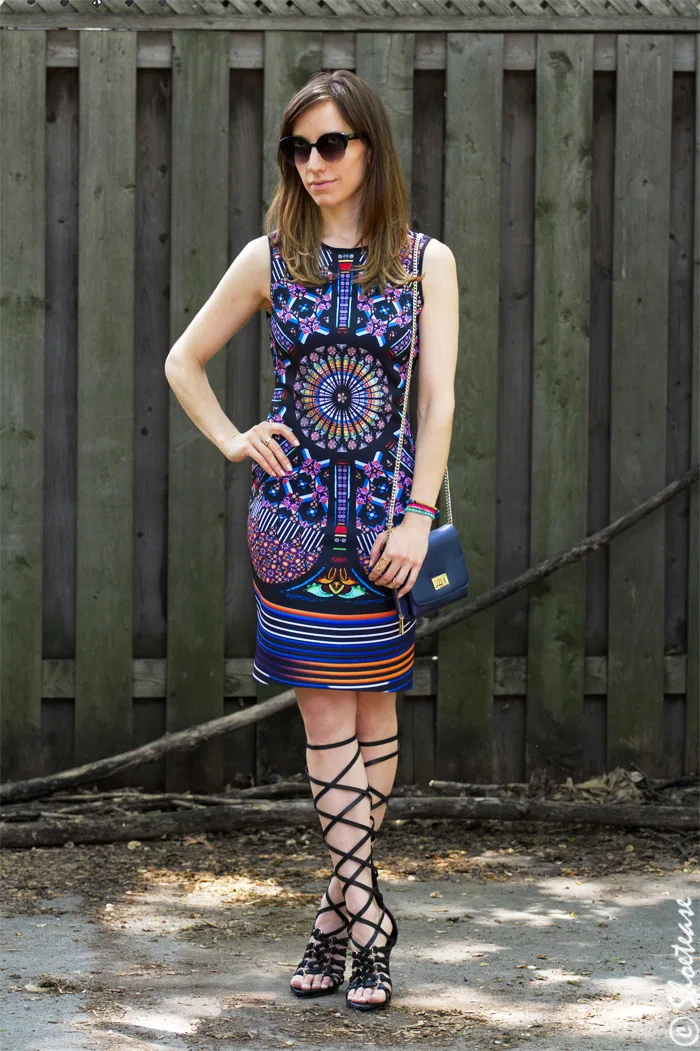 If you're up for it, adding a little colorful, patterned dress can really take your tall gladiator sandals to the next level. Add a high heel gladiator sandal with a semi-formal bodycon dress & you've got yourself a statement-making outfit for a stylish night out!
Styling Tip: keep other accessories simple, as the print + the strappy knee-highs add enough drama already.
4. Maxi Dress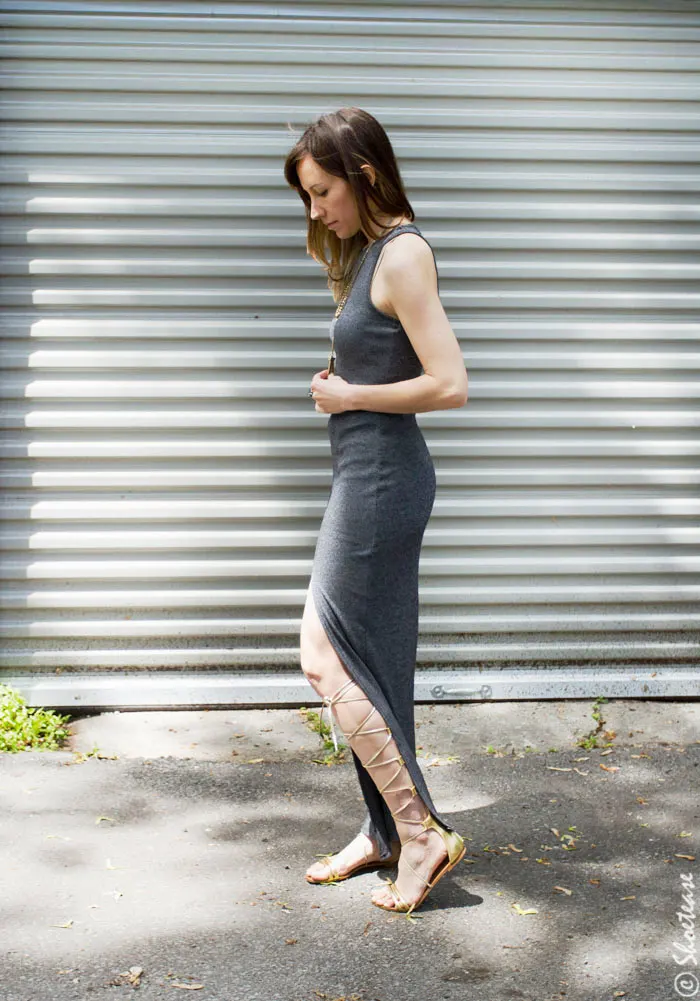 I was recently asked what the point of wearing tall gladiators with a maxi dress is, if, in the end, the sandals remain hidden under all that material. The answer to that questions is one (or two!) side slits. That way, when you walk, your trendy footwear will pop out. See the maxi dress & gladiator pairing I'm wearing, above.
However, there's no reason you shouldn't wear your tall gladiator sandals with a maxi dress that covers your legs, either. Yes, no one will know they're tall gladiators, but they'll still look like you're wearing cute sandals underneath! And no harm with that 🙂
5. LBD with Gladiators
The MOTHER of all dresses to wear with gladiator sandals is the LBD (and likely at the top of all lists on how to wear gladiator sandals!). Depending on the style of the dress, you can transform your outfit from festival ready boho-chic, to city cool in a minute. In any event, your little black dress will keep your gladiators chic, no matter what type it is!
Style Tip: Add black gladiators with a black dress to add a strappy dose of glam. I love the strappy high heel tall gladiators with the black slip dress with side part in the image above, right. So glamorous!
6. Little White Dress with Tall Gladiator Sandals
Not into wearing black in the heat but still want to keep thing simple? Then pair your knee high gladiators with a little white dress, which is, of course, the summer dress du jour!
Styling Tip: Be right on trend with a crocheted or lace white dress, like the styles pictured above.
7. Denim Dress with Gladiators
I'm a huge denim & chambray fan, so I absolutely adore the chambray dress + tall gladiator sandal pairing! Seen on Chloe's Spring 2015 runway with a very 70s denim dress, this is my personal favorite dress to wear with gladiators. Take a look at all other shoes to wear with denim dresses.
Styling Tip: Wear with the light blue hue are a taupe-y brown shade, to give the outfit an earthy feel. Black gladiator sandals will give a chambray mini dress a lot more edge, due to the more prominent color contrast.
8. Gladiator Sandals with a Striped Dress
Like wearing a printed dress, striped dresses adds some extra lines to the already strappy, linear sandals. Pair your high gladiators with a striped dress that has thicker, contrasting lines or more subtle stripes.
Any type of striped dress will do: like a tshirt dress, shirt dress or other striped style. The tall gladiator sandal & stripey dress combo is an unexpected & fun departure from the simple one colored dress!
9. Shirt Dress with High Gladiators
Another extremely trendy dress in 2015 is the shirt dress. Crips & clean, I've seen the oversize boyfriend shirt (dress) styled with many a different shoe, boot & sandal. So why not throw on a pair of strappy tall gladiators for some added footwear drama!? I absolutely adore the outfit in the middle (image above). How
10. Unusual Tall Gladiator Sandal Styling
I found a few unconventional, yet interesting ways to wear tall gladiators exist too.
I'm not sure how I feel about Kourtney Kardashian's destroyed knee length denim shorts with tall gladiators. I don't love it, but I don't hate it either. It's definitely an original way to wear gladiators with longer shorts if short shorts are not your cup of tea!
A maxi fringe skirt with the matching black tall gladiators can look looks incredible! So much visual play with the lines that I love.
Although I'm not completely sold on the tall gladiators hiding the midi dress with tall gladiators. But I kinda like the surprising proportions & how the gladiator straps hide into the skirt with no break in between.
How NOT to wear Tall Gladiator Sandals
Tall Gladiators Over Jeans & Pants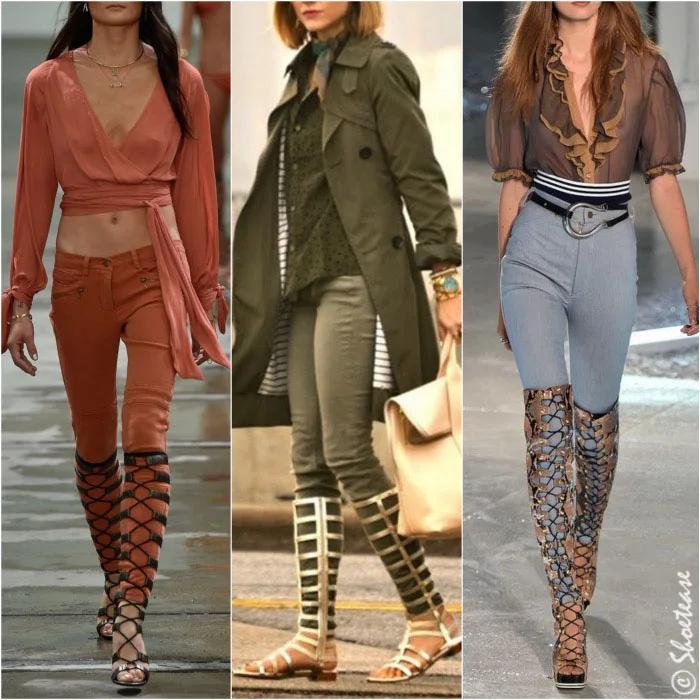 There aren't many ways to screw up wearing tall gladiators. But there is one particular pairing I haven't seen a lot of: tall gladiator sandals over skinny& jeans Strangely ;enough, I have a hunch that this may be the next styling step with respect to gladiators, but let's hope not, shall we? So far I've seen this styling on a couple of designer catwalks & one fashion blogger look on Pinterest. Thankfully that's it for now, ha!
However, this is a huge no-no in terms of how to wear gladiator sandals in my books. I get that maybe this pairing may create a certain amount of drama the creative director intends on his runway, but in terms of street styling, tucking your skinnies into your knee or thigh high gladiators is just plain weird. I'd highly suggest wearing them with low gladiators instead! If not, see more shoes to wear with skinny jeans here 🙂
xo ShoeTease
Photo Credits: Conrad Collaco