Calling all shoe lovers! Are you looking for that perfect shoe quote that expresses your deep love of shoes? Or looking for the best Instagram caption for shoes for your footwear obsessed audience?
If so, you can grab one of my favorite quotes about shoes from my post, below.
And don't you worry, if you're looking for shoe quotes to give you some guilt-free shoe shopping inspiration, this is a judgement free zone 😉
I've hand selected the best footwear quotes for you: from famous shoe quotes, funny shoe quotes to celebrity shoe quotes. I've also sprinkled in a shoe proverb or two, from past & present to inspire you on your shoe loving journey.
Looking for a heels-specific quotes post? Check out my posts that specifically cover high heels quotes, boots quotes, flip flop quotes, sneaker quotes and socks quotes!
Most shoes pictured in this post can be purchased from Net-A-Porter.
All the Best Shoe Quotes, Ever!
Classic Shoe Quotes
Let's get you started with some classic quotes about shoes – which make great shoe captions for Instagram, btw!
Often inspired by women's footwear, some of the most famous sayings about shoes are from powerful Hollywood royalty and that certainly includes the fabulous Marilyn Monroe.
Short and sweet, these shoe quotes are some of the most recognizable to date. And as you might guess, they never get old! This is what also makes these classic famous quotes perfect for your shoe-inspired captions on Instagram.
Need a few clothing quotes to go with your shoes? Check out my post all about dress quotes when you're done perusing these!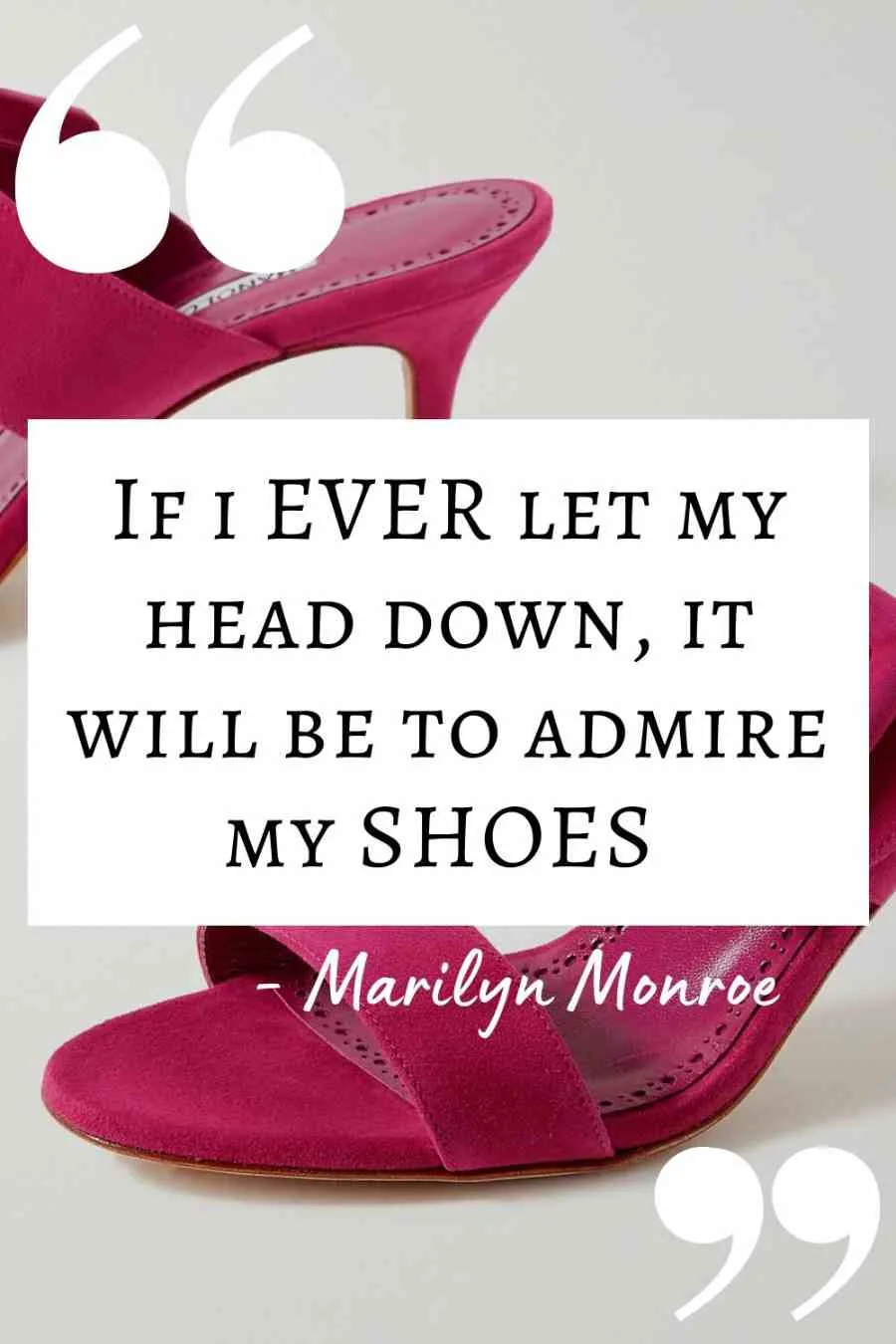 "If I ever let my head down, it will be to admire my shoes" – Marilyn Monroe
"Keep your head, heels and standards high." – Lola Stark
"With four pairs of shoes, I can travel the world." – Coco Chanel
"Give a girl the right shoes and she can conquer the world." – Marilyn Monroe
"You have big shoes to fill." – Idiom
"Buy good shoes and a good mattress, because when you're not in one you're in the other." – Unknown
"They went into my closets looking for skeletons, but thank God, all they found were shoes, beautiful shoes." – Imelda Marcos
"Always buy a good pair of shoes and a good bed – if you're not in one, you're in the other." – Gloria Hunniford
"A girl can never have too many shoes." – Unknown
"I did NOT have three thousand pairs of shoes, I had one thousand and sixty." – Imelda Marcos
"What do women want? Shoes!" – Mini Pond, writer
"Behind every successful woman is a fabulous pair of shoes." – Unknown
"Walk In My Shoes" Quotes
Ever heard the saying about "walking in my shoes" or "walking in someone else's shoes"? he original proverb is of American original and goes something like: "Before you judge a man, walk a mile in his shoes".
This saying is to help someone understand others and also a way to feel empathy to before judging others. Because you never know what someone else is or has been going through, so we shouldn't be so quick to judge!
A similar idiom is "put the shoe on the other foot," meaning if the situation was reversed, you would trade places with someone else. Which, yes, would also have that person walking in someone else's shoes!
This shoe idiom has become has been adapted, reinterpreted and mostly taken out of its original context. And this isn't necessarily a bad thing!
Below are my fave shoe quotes and variations of "walk in my shoes" and "walk a mile in someone's shoes" quotes to inspire and even make you laugh!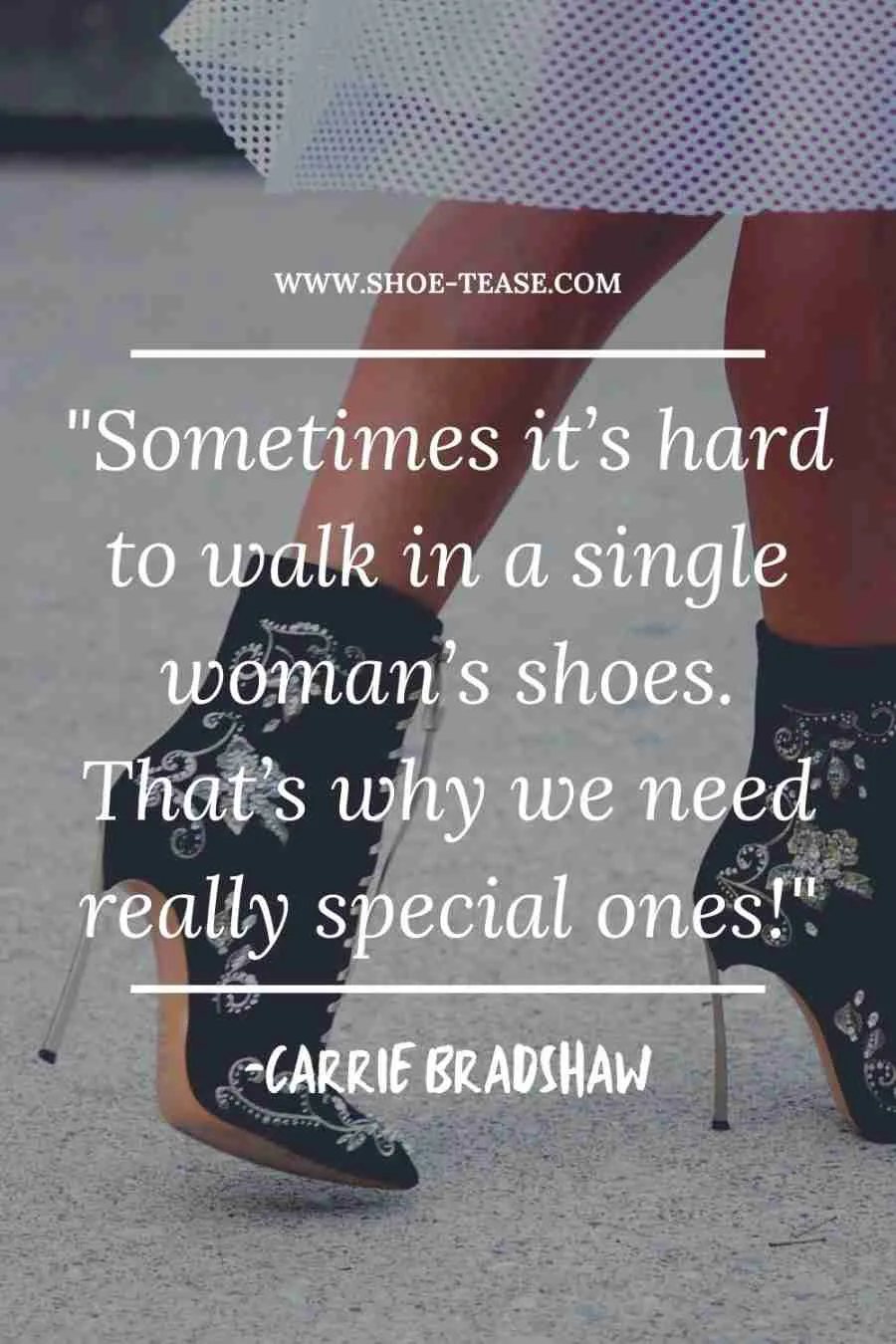 "Before you judge a man, walk a mile in his shoes. After that, who cares? He's a mile away and you've got his shoes!" – Billy Connolly
"When people tell me nothing has changed, I say come walk in my shoes and I will show you change." – John Lewis
"If you could walk a mile in my shoes, you would be crazy too." – Tupac Shakur
"The fact is, sometimes it's hard to walk in a single woman's shoes. That's why we need really special ones now and then to make the walk a little more fun." – Carrie Bradshaw, SATC
"Until we as a gender refuse to wear any shoe that would be uncomfortable to walk a mile in, we're perfectly screwed." – Cheryl Strayed
"You'd have to walk a thousand miles in my shoes just to see what its like to be me." – Eminem
"I tried to walk a mile in a man's shoes once. I ended up running most of the way. Seems he wanted them!" Neil Lockman
"Forget the shoes, forget the long walk. Just stop judging each other." – Stuart Duncan
"If the Shoe Fits" Shoe Quotes
Does the quote "if the shoe fits, wear it", sound familiar? According to various dictionaries, this phrase was coined in North American, although it originated from the original English "if the cap fits", from the 1700s.
The meaning behind this saying, is that a remark- usually a criticism – that another personal has made, is true and applies to the person it has been directed to.
For instance, if someone proclaims, "Charles called me a shoe addict!" and the other person thinks it to be true, they would reply with "well, if the shoe fits…". This popular idiom has also been used literally, like in some cases, below!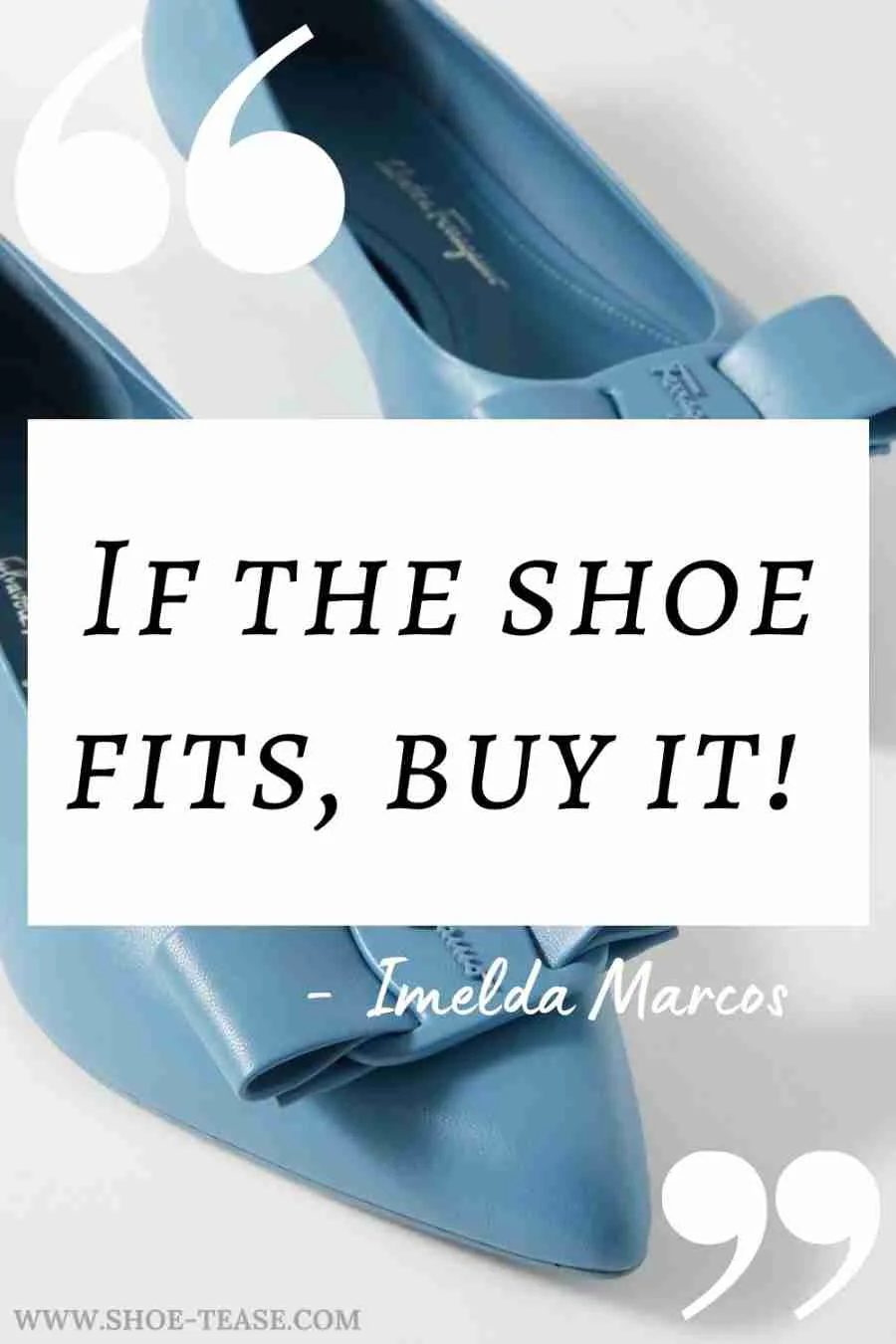 "If the shoe fits, buy it!" – Imelda Marcos
"If the shoe fits, steal it!" – Lou Krieger
"If the shoe fits, it is probably worn out." – Craig Reucassel
"If the shoe fits, buy another one just like it." – George Carlin
"If the shoe fits, you're lucky." – Malcolm Forbes
"If the shoe fits…strut!" – Unknown
"If the shoe fits, feel free to lace that b*tch up and wear it!" – Imaan Sheikh
"Cause see they call me a menace, and if the shoe fits I'll wear it." – Eminem
Funny Shoe Quotes
There are classic, inspiring, serious and seriously hilarious shoe quotes floating around! If want to have more laughs about shoes from funny sayings and quotes about shoes, just read on.
See below for your ultimate shoe-humor enjoyment!
"I only buy shoes on two occasions, when I need them, and when don't need them." – Unknown
"Shoes are like ice cream. There's always room for more!" – Unknown
"I have too many shoes: said no woman ever." – Unknown
"I just rescued a pair of shoes; they were trapped in a store." – Unknown
"I am only one pair of shoes away from a good mood." – Unknown
"You can't buy happiness, but you can buy shoes, and that's kind of the same thing." – Unknown
"Chocolate is good, but shoes are carb-free." – Unknown
"No matter how much I eat, the shoe still fits." – Unknown
"Shoes are like ice-cream, there's always room for more!" – Unknown
"The only BS I need are bags and shoes." – Unknown
"I make shoe contact before eye contact." – Unknown
"So many shoes but only two feet!" – Unknown
Famous Fashion Icon Shoe Quotes
Designers and fashion icons — most famously, shoe designers – have said some of the best nuggets about shoes.
And of course, famous red-bottomed shoes designer Christian Louboutin has been quoted with some of the most famous quips about shoes.
Which is why he gets his own subsection of this shoe quotes corner! Check out my favorites, below:
"If your hair is done properly and you're wearing good shoes, you can get away with anything." – Iris Apfel
"To wear dreams on one's feet is to begin to give a reality to one's dreams." – Roger Vivier
"The right shoes can make everything different." – Jimmy Choo
"Some people have a shoe fet!sh, and there's nothing wrong with that." – Jimmy Choo
"Shoes are the quickest way for women to achieve instant metamorphosis." – Manolo Blahnik
"Men tell me that I've saved their marriages. It costs them a fortune in shoes, but it's cheaper than a divorce" – Manolo Blahnik
"I can be naked as long as I'm wearing the right pair of shoes." – Anna Dello Russo
"You can never take too much care over the choice of your shoes. Too many women think that they are unimportant, but the real proof of an elegant woman is what is on her feet." – Christian Dior
"If loving shoes in a crime, I'm looking at life without parole." – Brian Atwood
"Craziness in a shoe is great – you can have much more freedom, you can exaggerate and it doesn't feel stupid. But to have too much craziness near your face, that would just feel weird." – Miuccia Prada
"The average woman falls in love seven times a year. Only six are with shoes." – Kenneth Cole
"Shoes are like makeup for the feet." – Edmundo Castillo
"The prettiest of shoes makes a sorry hat." – Chinese Proverb
Christian Louboutin Shoe Quotes
"A shoe is not only a design, but it's a part of your body language, the way you walk. The way you're going to move is quite dictated by your shoes." – Christian Louboutin
"Shoes transform your body language and attitude. They lift you physically and emotionally."

– Christian Louboutin
"A woman carries her clothes. But the shoe carries the woman." – Christian Louboutin
"I have not met a woman who dosen't like shoes." – Christian Louboutin
"The shoe is the most perfect thing in footwear – it always fits." – Christian Louboutin
"I mean, the shoe – there is a music to it, there is attitude, there is sound, it's a movement. Clothes – it's a different story." – Christian Louboutin
"I would hate for someone to look at my shoes and say, "Oh my God! They look so comfortable!" – Christian Louboutin
"I always say that women know that shoes are the most important thing in their wardrobe." – Christian Louboutin
"I don't know what it is about a shoe. Sometimes I look at a shoe and think, 'That's the last shoe I'll ever buy.' And then I buy it, and then I find another shoe that's even better, and I think, 'Okay, this is the last shoe.' And then I find another one. It's like they're taking me on a journey." – Christian Louboutin
"New Shoes" Quotes
Quotes for new shoes are great used as Instagram captions to inspire someone (including yourself!) to buy that new pair of shoes! That's because they're short, sweet and very well known!
"Cinderella is proof that a new pair of shoes can change your life."

– Noortje de Bijl
"Take the road less traveled, but first get some new shoes." – Unknown
"Sometimes, the best thing you can do is stop, breathe and focus on the positive. And if that doesn't work, try a new pair of shoes." – Unknown
"All you need is love (but a new pair of shoes never hurt anyone)."- Unknown
"Repeat after me: I deserve new shoes!" – Unknown
"New shoes are always a good idea." – Unknown
"Life is short, buy the shoes." – Unknown
"If a little voice in your head says, 'buy the shoes' that's the one you should listen to!" -Unknown
"Don't throw away your old shoes until you have new ones." – German proverb
Red Shoes Quotes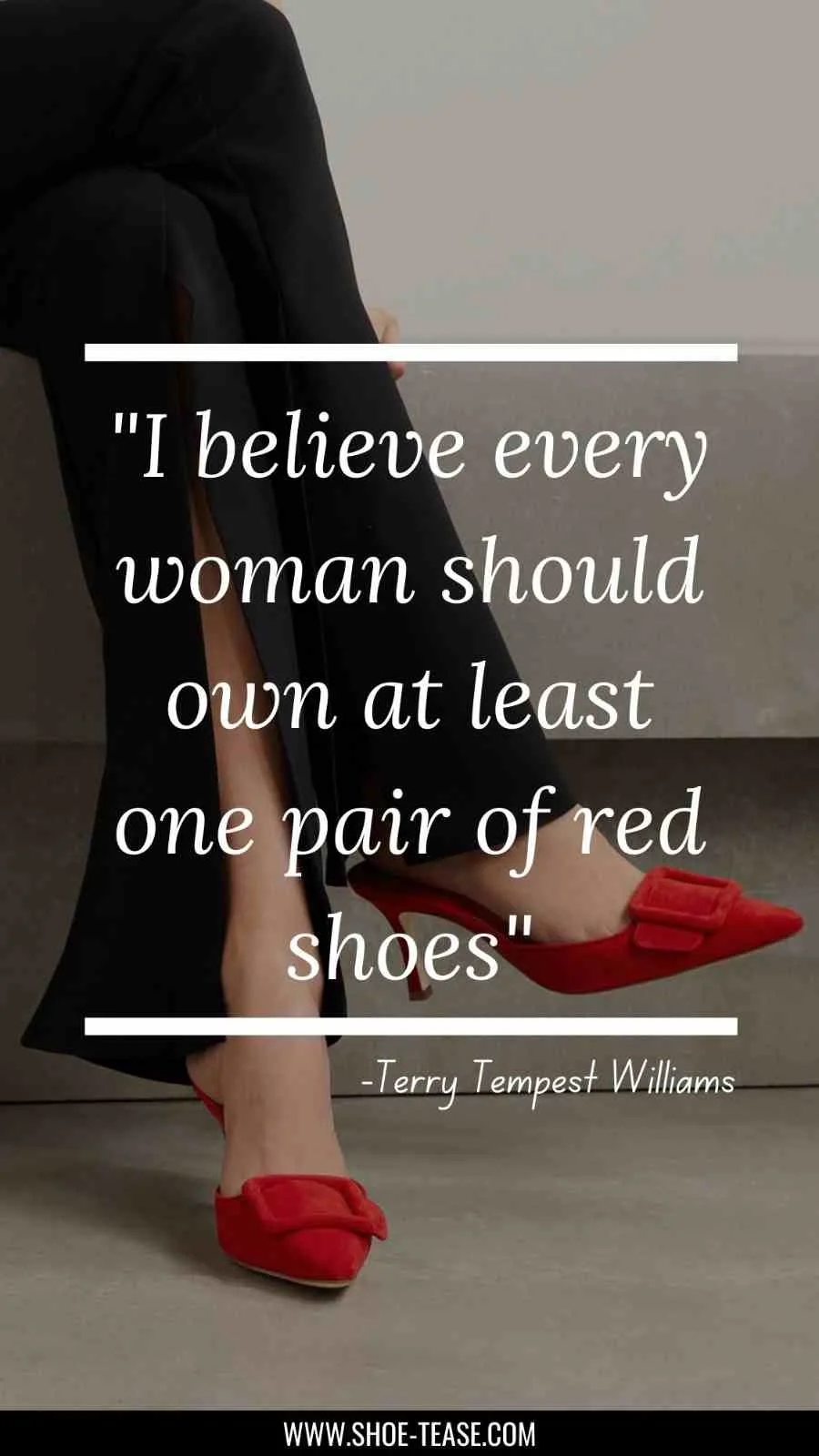 "I believe every woman should own at least one pair of red shoes." – Terry Tempest Williams
"I like my wine as I like my shoes: Red." – Unknown
"Put on your red shoes and dance the blues." – David Bowie
"I remember as a child/ I was absolutely wild/ 'Bout some red shoes that my aunt Lucy wore/ She would let me stomp around/ In those high heels up and down." – Dolly Parton, Lyrics from Red Shoes
Celebrity Shoe Quotes
It wouldn't be a ShoeTease shoes quote post if it didn't include some celebrity quotes on the subject too! Now, these celebrity quotes are some of the most celebrated quotes about shoes you can find.
And they do include some of my favorite snippets about shoes, ever!
"I firmly believe that with the right footwear one can rule the world." – Bette Midler
"I can't concentrate in flats" – Victoria Beckham
"I love it when people stare at my shoes. It means they're paying attention." – Emma Stone
"I buy expensive shoes, and then I don't wear them." – Jennifer Aniston
"Women need food, water, and compliments. That's right. And an occasional pair of shoes." – Chris Rock
"I see a pair of shoes I adore, and it doesn't matter if they have them in my size. I buy them anyway." – Keira Knightley
"I actually have more shoes than anyone will ever know" – Tamara Mellon
"I like Cinderella, I really do. She has a good work ethic. And she likes shoes. The fairy tale is all about the shoe at the end" – Amy Adams
"Nicki Minaj has a better booty; but I have better shoes" – Rihanna
"Put on your red shoes, and dance the blues" – David Bowie
Shoe Quotes from Movies, TV and Books
Last but definitely not least, I couldn't write a post regarding quotes about shoes without the famous one (sometimes two!) liners about shoes in our favorite fiction, could I?
Between the great Se x and the City shoe quotes that Carrie Bradshaw blessed us with, to some lesser-known shoerrific gems from great characters on screen or script, here are the crème de la shoe, below:
"Momma always says there's an awful lot you could tell about a person by their shoes. Where they're going. Where they've been. I've worn lots of shoes. I bet if I think about it real hard I could remember my first pair of shoes. Momma said they'd take me anywhere. She said they was my magic shoes." – Forrest Gump, Forrest Gump
"It's like all of my life everyone has always told me, 'you're a shoe'. And then today I just stopped and I said, 'what if I don't want to be a shoe? What if I want to be a purse, you know? Or a hat?" – Rachel Green, Friends
"It doesn't matter how great your shoes are if you don't accomplish anything in them." – Martina Boone, Compulsion
"The only difference between everybody and nobody is all the shoes." – Amor Towles, A Gentleman in Moscow
Carrie Bradshaw Shoe Quotes from Se x and the City
"I'm not afraid of heights, have you seen my shoes?" – Carrie Bradshaw, SATC
"With no man in sight, I decided to rescue my ankles from a life of boredom by purchasing too many pairs of Jimmy Choo shoes"

– Carrie Bradshaw, SATC
"I've spent $40,000 on shoes and I have no place to live? I will literally be the old woman who lived in her shoes!" – Carrie Bradshaw, SATC
"I have this little substance abuse problem…Expensive footwear." Carrie Bradshaw, SATC
"I may not know, but shoes? Shoes I know." Carrie Bradshaw, SATC
"Here lies Carrie. She had two loves and lots of shoes." Carrie Bradshaw, SATC
"Hi, I' not here right now, but my shoes are…leave me a message!" Carrie Bradshaw, SATC
"When one door closes, a shoe box opens." – Carrie Bradshaw, SATC
"Please sir, you can take my Fendi baguette, you can take my ring and watch but you can't take my Manolo Blahniks." – Carrie Bradshaw, SATC
---
Final Thoughts on Quotes for Shoes
I hope you enjoyed the many quotes about shoes that I've assembled for you here in this post! I've searched far and wide to appropriately find the author of every shoe quote.
If I have left any as "Unknown" and you know the person who spoke those words, let me know!
Looking for even more shoe literature? Check out my review of the fabulous coffee table book featuring street style captures of shoes "It's All About Shoes," to elevate your love for shoes.
You know, if that's even possible! And have a look at my new guides outlining all the types of shoes for Women and different types of heels, and the various kinds of boots for women.
But before you go, please tell me: which are your favorite shoe quotes? Any that I've missed that I should add to this list? Let me know in the comments below!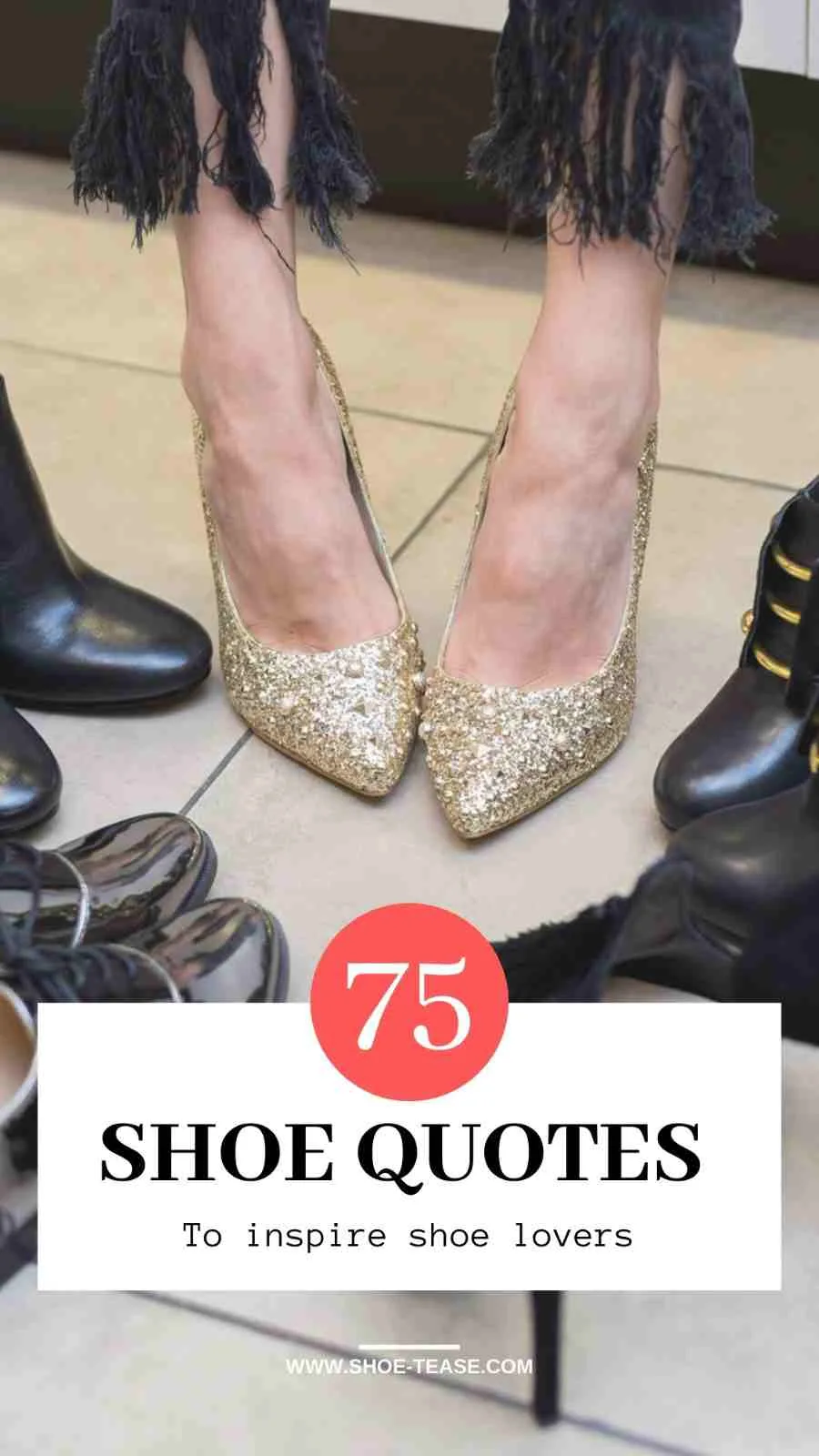 xo ShoeTease
Primary shoe photo by: Bruna Rico