Unsure how to style Birkenstocks, but love their comfy sandals? Fear not! Today on shoe-tease.com, I will teach you what to wear with Birkenstocks to create year-round stylish Birkenstock outfits.
When thinking of Birkenstocks, you wouldn't automatically think of fashion and style. However, Birkenstocks have become more than just comfortable sandals that are good for the feet.
Following the ongoing ugly sandals faze, high fashion has adopted these sandals – in design and amid multiple brand collaborations – as a fashion staple.
These types of sandals, paired with the right style and outfit, can look stylish and put together. However, ratty, overused Birkenstocks that are literally falling apart at the seams need not apply!
But what about when you want to dress up a bit? Can you still rock your Birks and look chic, or are they relegated to being solely casual footwear?
With a list of the most fashionable Birkenstocks, Birks styles and colors, I got you. Below you will find 10+ staple items to create a multitude of outfits to wear with Birkenstocks to rock your Birks all year long.
What are Birkenstocks?
Birkenstock is a German shoe company founded in 1777, made famous for double strap slide sandals with an orthopedic footbed.
The brand's original purpose was to create a type of shoe to support the foot, in contrast to the flat soles famous at the time.
Currently known as more of a sandal style, rather than the brand that it is, many Birkenstock designs have been extensively copied.
With the real deal, however, you're assured quality and longevity. As someone who owns a couple of pairs, I can attest to that!
But before I start counting down what to wear with Birkenstocks and how to style Birkenstock outfits, let's first talk about the most trendy Birkenstock styles for women.
12 Trendy Birkenstock Styles for Women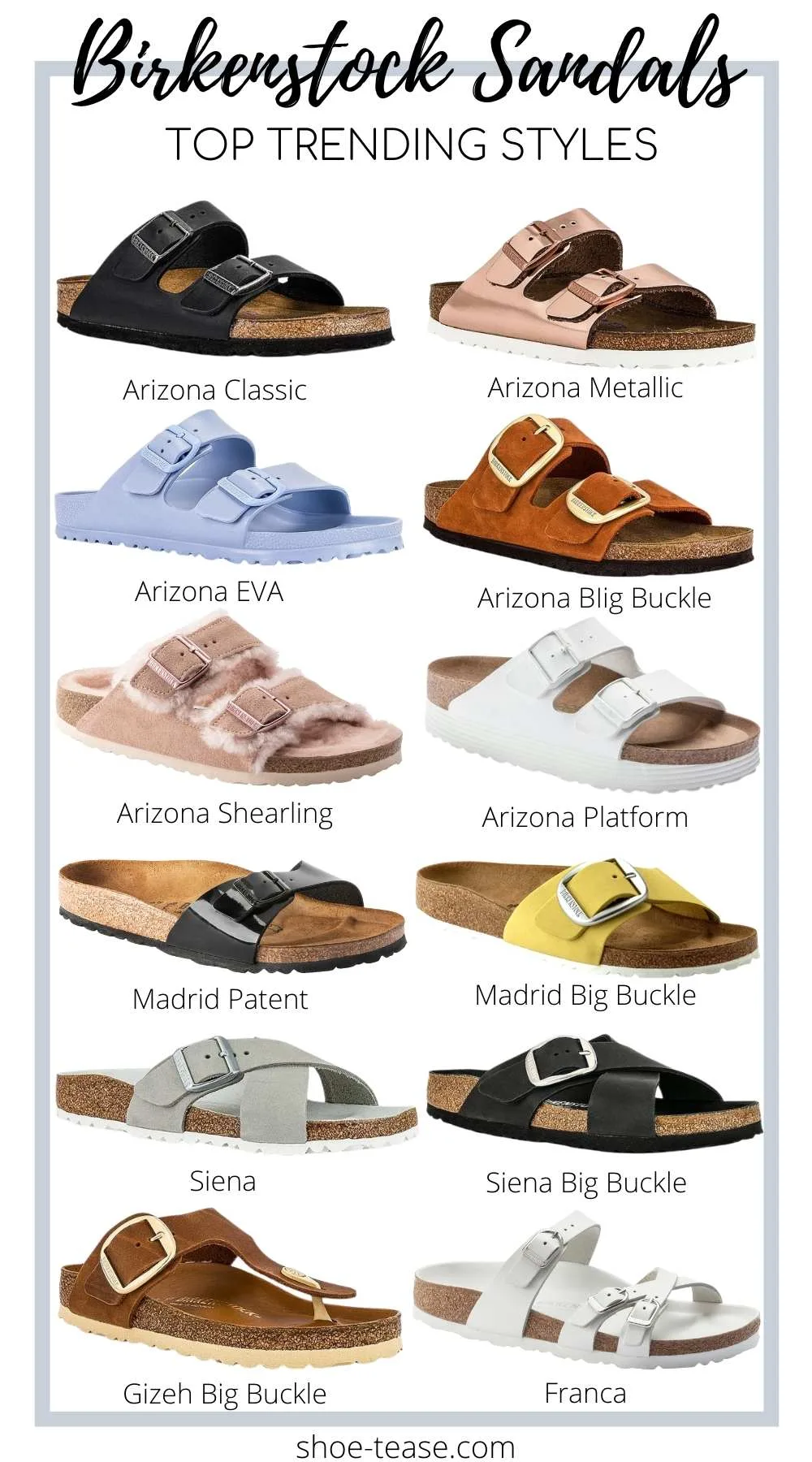 Classic Arizona Sandals – double front straps

Arizona Big Buckle – double front straps with large buckle
Arizona EVA – double front straps fully made of plastic, waterproof, sporty
Arizona Platform – double front straps with added height
Arizona Teddy – added touch of sherpa or teddy fabric

Madrid Sandals – thinner front strap (especially size 7 and under)

Madrid Big Buckle -thinner front strap with large buckle

Siena Sandals – Modern criss-cross front straps that is in line with the multi-strap sandal trend

Siena Big Buckle– Criss-cross front straps with a large buckle

Gizeh Sandals Big Buckle– hippie thong. A great look for more boho Birkenstock outfits
Maari and Franca Sandals – thinner and more straps
For Boho Birkenstock Outfits:
Opt for a suede style of warm or jewel toned Birks with gold buckle. Pick a multi-strap style like Maari, Franca Siena or Gizeh thong Birkenstocks, or keep it classic with the Arizona style.
For Contemporary Birkenstock Looks:
Patent leather, big buckle styles and/or those with a platform will do the trick. Optic white, jet black, metallic and studded Birks will elevate your look and give it an edge. Pick a Big Buckle version of the Arizona, Madrid or Siena sandal, or go for a matching buckle color.
For Transitional Birkenstock Outfits:
Choose a plush teddy/shearling lined Arizona style for added comfort and warmth. Or add a pair of cozy socks to your leather or suede sandals.
For Sporty Birks Outfits:
Pick a waterproof EVA style in white or one of the many delicious pastel shades like pink, blush or mellow yellow.
How to Style Birkenstock Outfits – 10 Great Items for Unlimited Styling!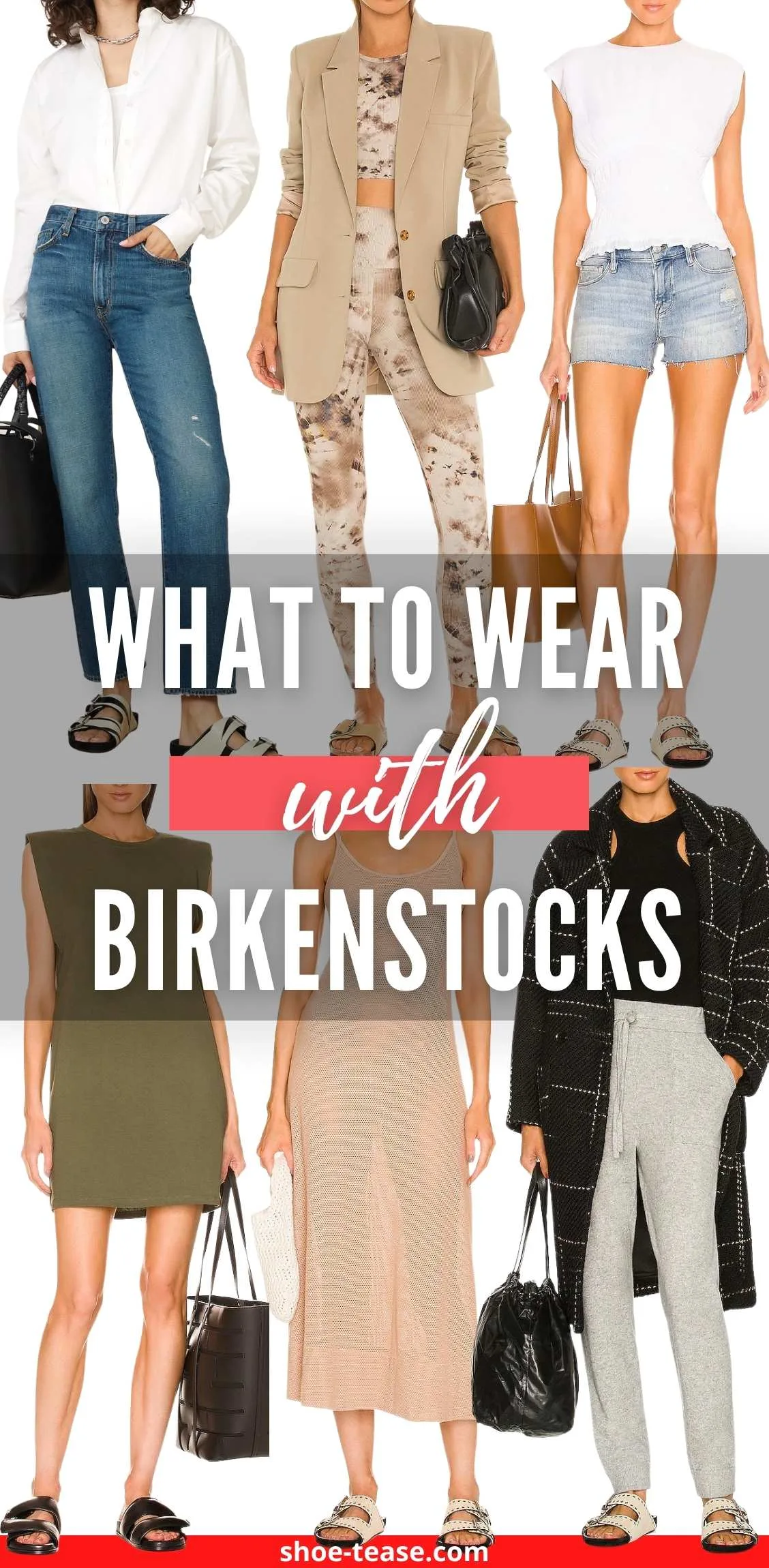 Shop Trendy Birkenstocks from the following retailers:
1. Birkenstocks with Jeans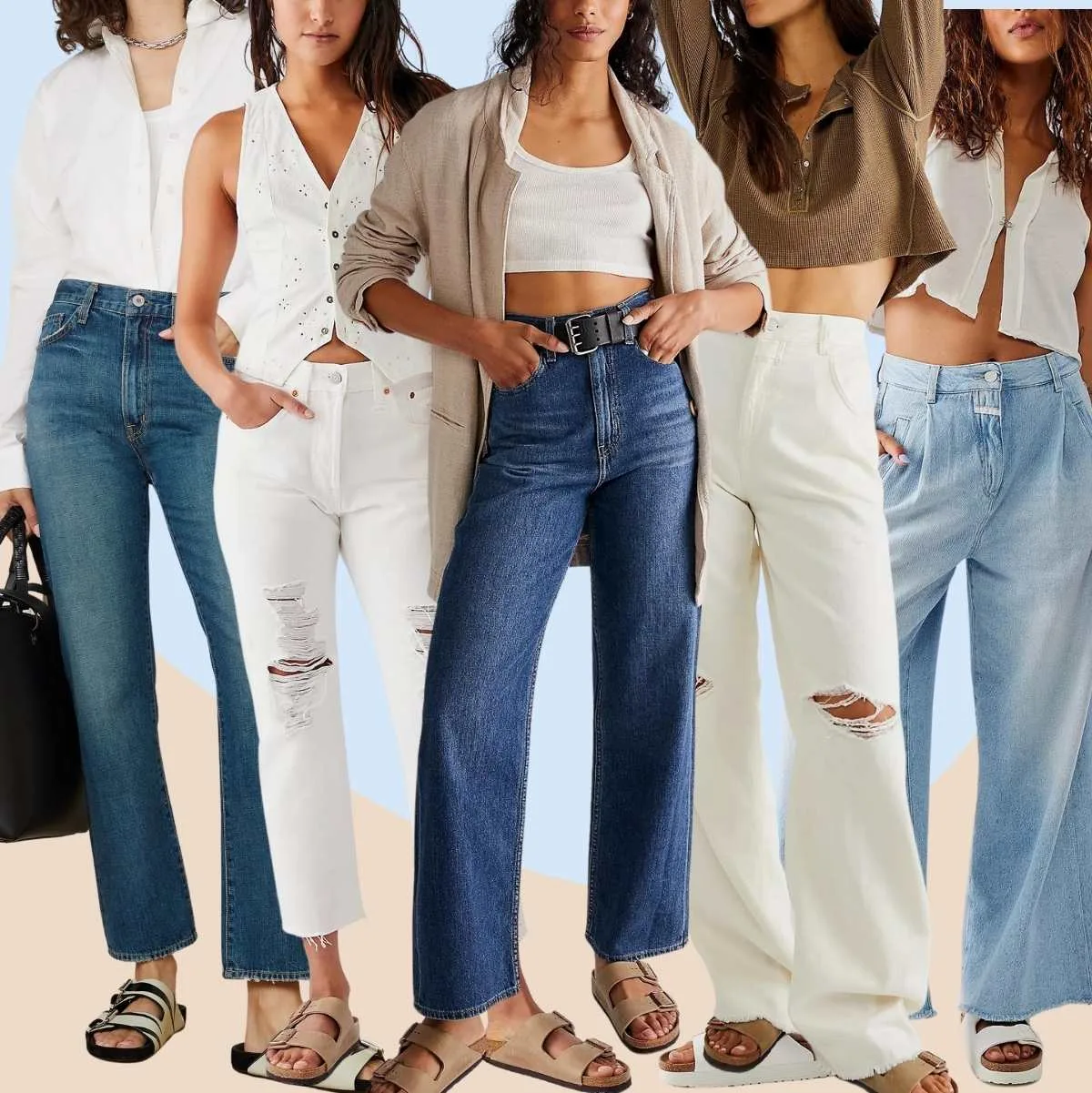 Birkenstocks are the perfect sandals for lazy summer days and weekends spent frolicking. And one of the easiest ways to style Birkenstocks is with a pair of jeans.
Wide-leg jeans, straight-leg jeans, mom jeans, flare jeans, boyfriend jeans…you name it, Birkenstocks will look good with them!
How to Style Birkenstocks with Jeans:
For a casual outfit, pair Birkenstocks with ripped jeans, a cropped tank and a sleek leather purse. Opt for ultra-casual denim outfit a pair of baggy frayed jeans and loose tee. Any color sandals will do, but I'm a sucker for metallic rose gold or silver!
If you're feeling a bit more adventurous, try tucking a flowy dress into your jeans à la Free People and adding suede Birkenstocks for an effortless summertime look.
For transitional months, keep your Birkenstock-clad feet warm with pair of wooly socks. Add a pair of cuffed boyfriend jeans, long-sleeved henley under a long knit sweater and you're all set for Fall.
Birkenstocks and jeans can also be dressed up for smart-casual outfits. For more sleek denim looks, stick to straight leg jeans, moderately wide leg jeans or contemporary mom jeans. Add a classic tee, bodysuit or crisp white shirt under an oversized blazer for a chic yet casual look.
Birkenstocks tend to look bulky – especially the Arizona and Gizeh sandals – on larger foot sizes. So unless your feet are under a size 7, or under, skip the skinny jeans.
2. Birkenstocks with Dresses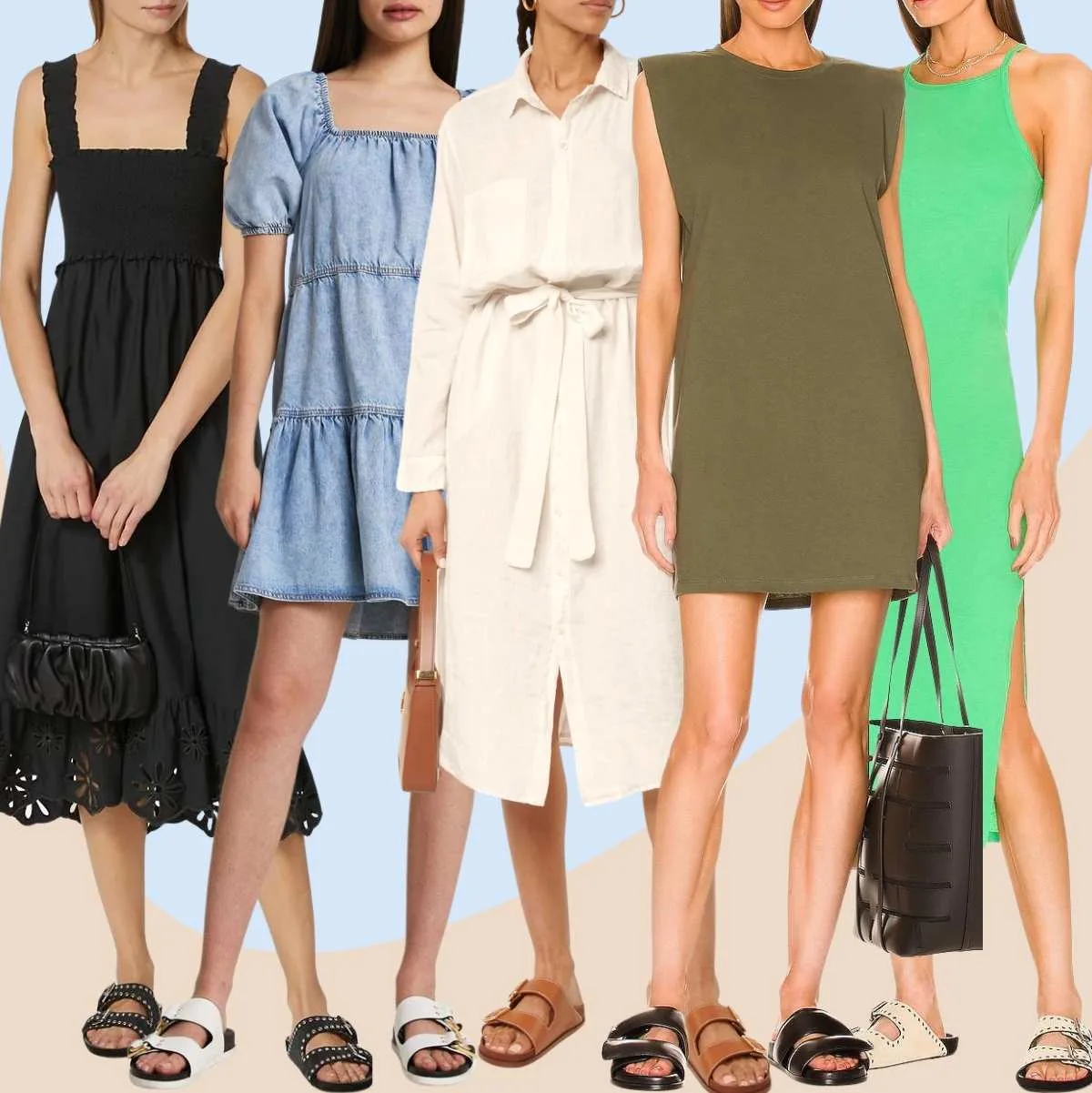 If you're looking for comfortable shoes to wear with dresses, Birkenstock sandals can be your answer. And if you're wondering how to wear Birkenstocks with dresses, you'll be pleasantly surprised to find out it's not hard at all.
Birkenstock outfits are a no-brainer with most styles of dresses, whether midi dresses, maxi dresses or short dress styles. Just make sure the style of the dress matches the feel of the Birks style.
How to Wear Birkenstocks with Dresses:
Lots of favorite casual dresses to wear with any style of Birks include denim dresses, t-shirt dresses, shirt dresses and sweatshirt dresses.
Tailored, minimal or contemporary dresses including shirt dresses look great with black, studded or patent Arizona Birkenstock styles. My favorite Birks, however, are the Siena and Madrid with a statement big buckle! Match your sandals to your handbag and you've got yourself a modern chic look.
For laid-back outfits with Birkenstocks, pair floral or flouncy boho dresses with strappy Birks like the Franca or Maari. Add a fringe purse, floral hairband and you're ready to walk into any musical festival this summer!
A slinky slip dress can also look fab with a pair of Birkenstock slides, especially the minimal Madrid style.
For cooler months, a midi or mini sweater dress with Birkenstocks and wool blend socks give off cozy vibes. Add a trench or peacoat for extra warmth.
The only dresses with Birkenstocks I would avoid? Formal dresses and ballgowns or any cocktail attire. But, you know, to each their own!

3. Birkenstocks with Dress Pants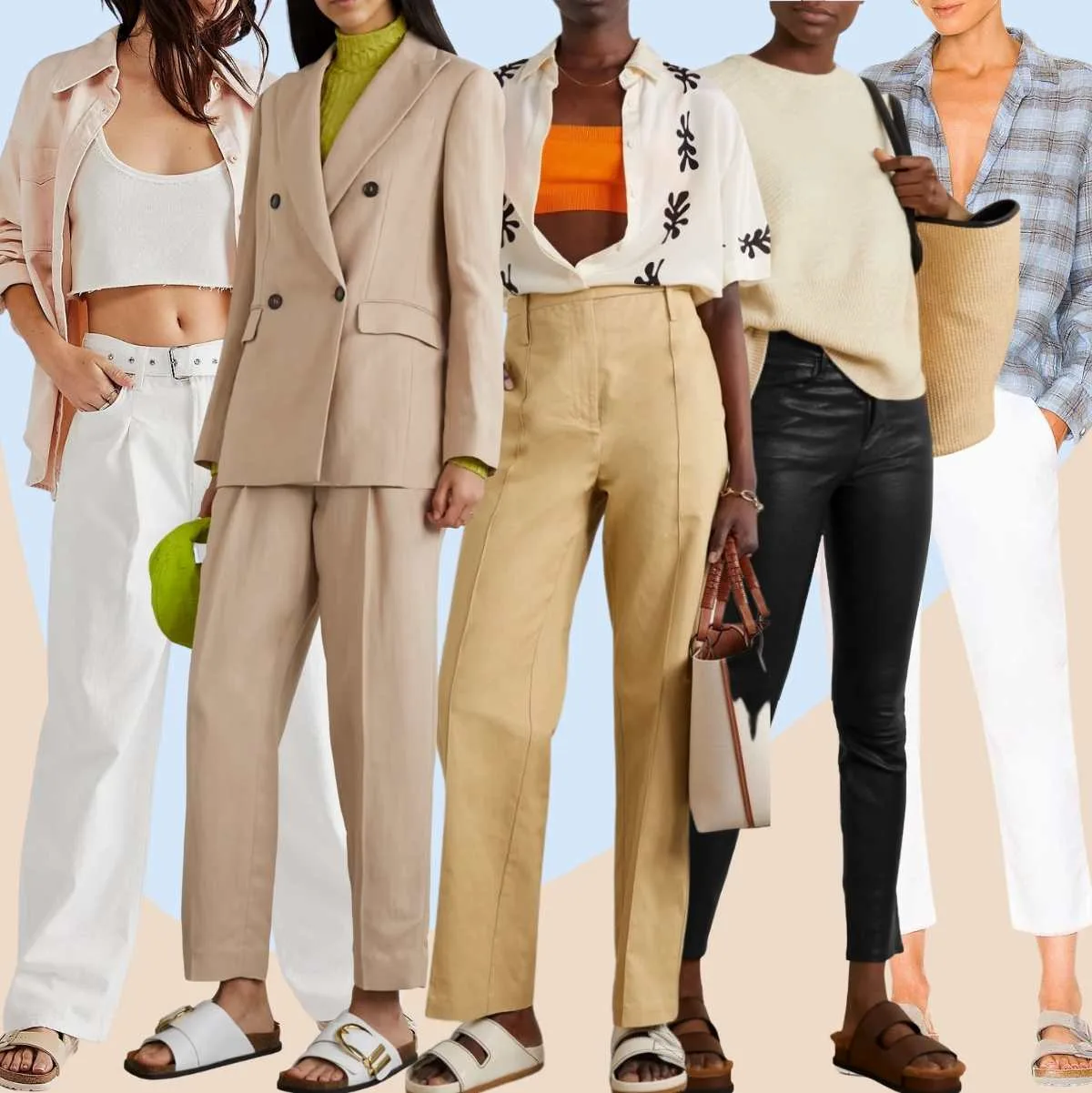 Move over dainty slides, Birkenstocks with your dress pants give off serious fashionista vibes. Less casual than sporty sandals (unless you opt for a classic Arizona or Gizeh style in basic brown) Birkenstocks will be a trendy, informal, yet demure way to wear trousers or pantsuits in spring/summer.
How to Style Birkenstocks with Dress Pants:
Most dress pant styles will work well with Birks, from linen trousers, cargos, leather pants, cropped and wide leg styles. Below are my 3 favorite types of pants to wear with Birkenstocks:
Wide Leg Pants: I prefer more hefty shoes with wide leg pants, and Birkenstocks are a great choice. Match the wide nature of your pants with the chunkier look of Birkenstock's Arizona style. Whether the wide leg dress pants are long or slightly cropped, opt for a high waisted pair (I love a paperbag waist!) over your top or blouse for a sleek look.
Cropped Dress Pants: Birkenstock sadals are great shoes to wear with cropped dress pants too! Choose from chinos to straight leg linen pants, to colorful denim styles. Gizeh thong sandals will match soft cropped pants with a roomy top. Big Buckle Birks in a sleeker Siena or Madrid style will look polished with a tucked-in tank, or half-tucked shirt.
Leather Pants: Tight or boxy, simple or paper bag waisted, all leather pants look fab with the right Birkenstocks. Stick to neutral colors like khaki, beige or black pants. You can match your leather pants in tone with your Birks, or have fun with a contrasting optic white, jet black or bright color sandal like yellow or lime.
4. Birkenstocks with Shorts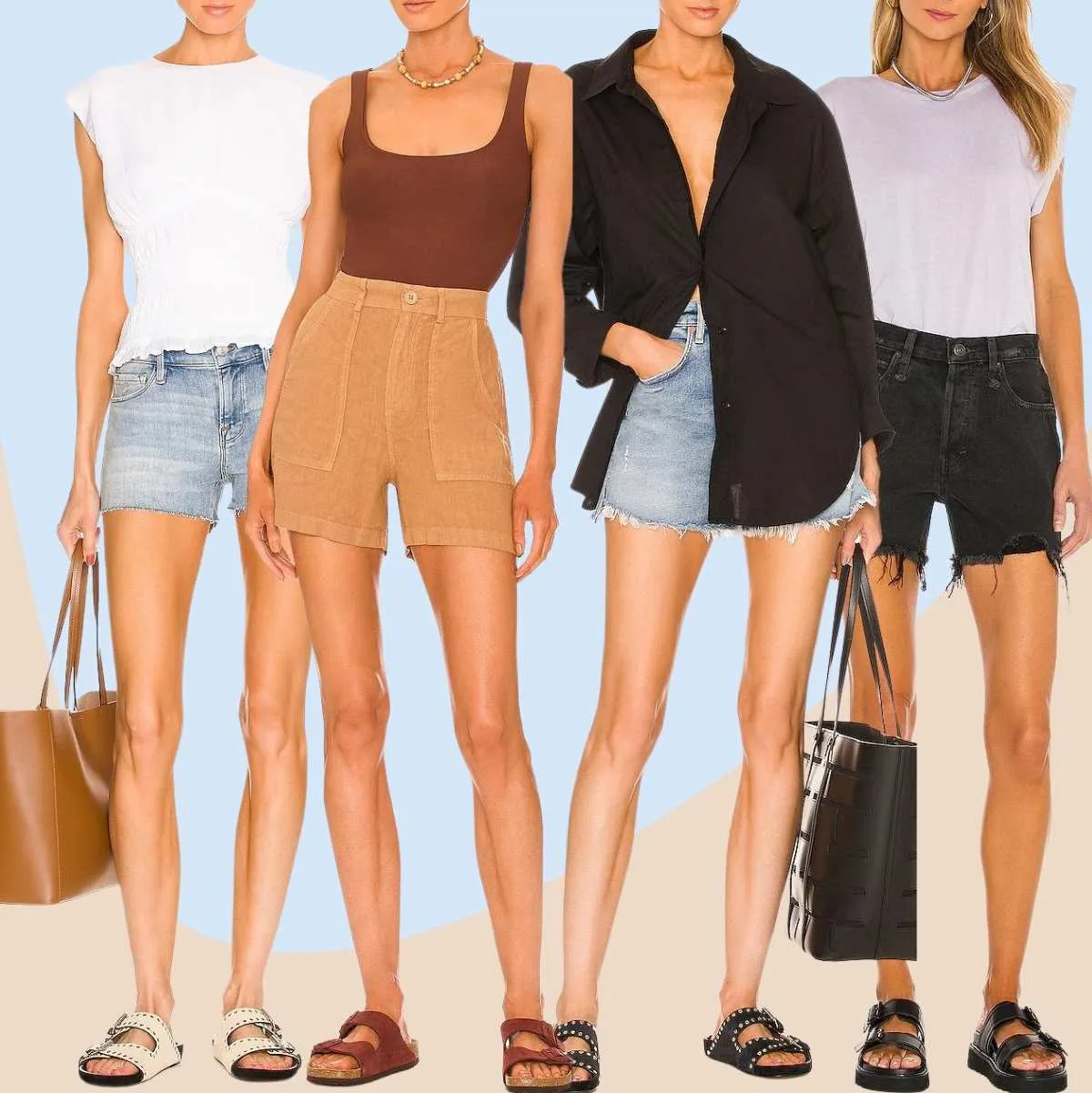 One of my favorite looks is Birkenstocks with shorts. Whether you're wearing denim cutoffs or a pair, khaki utility shorts or flowy linen shorts, Birkenstocks will look right at home.
How to Style Birkenstocks with Shorts:
Casual Neutrals: For more demure outfits, stick to neutral color shorts and clothing and Birkenstocks like black, brown, or white. This will help them easily go with anything and everything. I love a wide leg breezy short with this kind of laid-back outfit.
Denim Shorts: If you're wearing denim shorts, pair them with a black studded or colorful pair of Birkenstocks. This creates a nice contrast between the two pieces. Birkenstock EVA sandals in pastel colors make great shoes to wear to the beach or poolside by adding frayed denim shorts, a graphic tee and a large canvas tote.
Structured Shorts: For dressier shorts, like linen or leather, you can experiment with different colors and prints for your Birkenstocks. I love a bold animal print, camo motif or a bright pop of color!
Evening outfits: If you're wearing Birkenstocks at night, stick to a pair of black or a patent version with large buckles and a white or black pair of shorts. Play up the look of leather or sleek black shorts with a half tucked-in blouse to or bodysuit and hoop earrings matching your Birks' buckle.
5. Birkenstocks with Leggings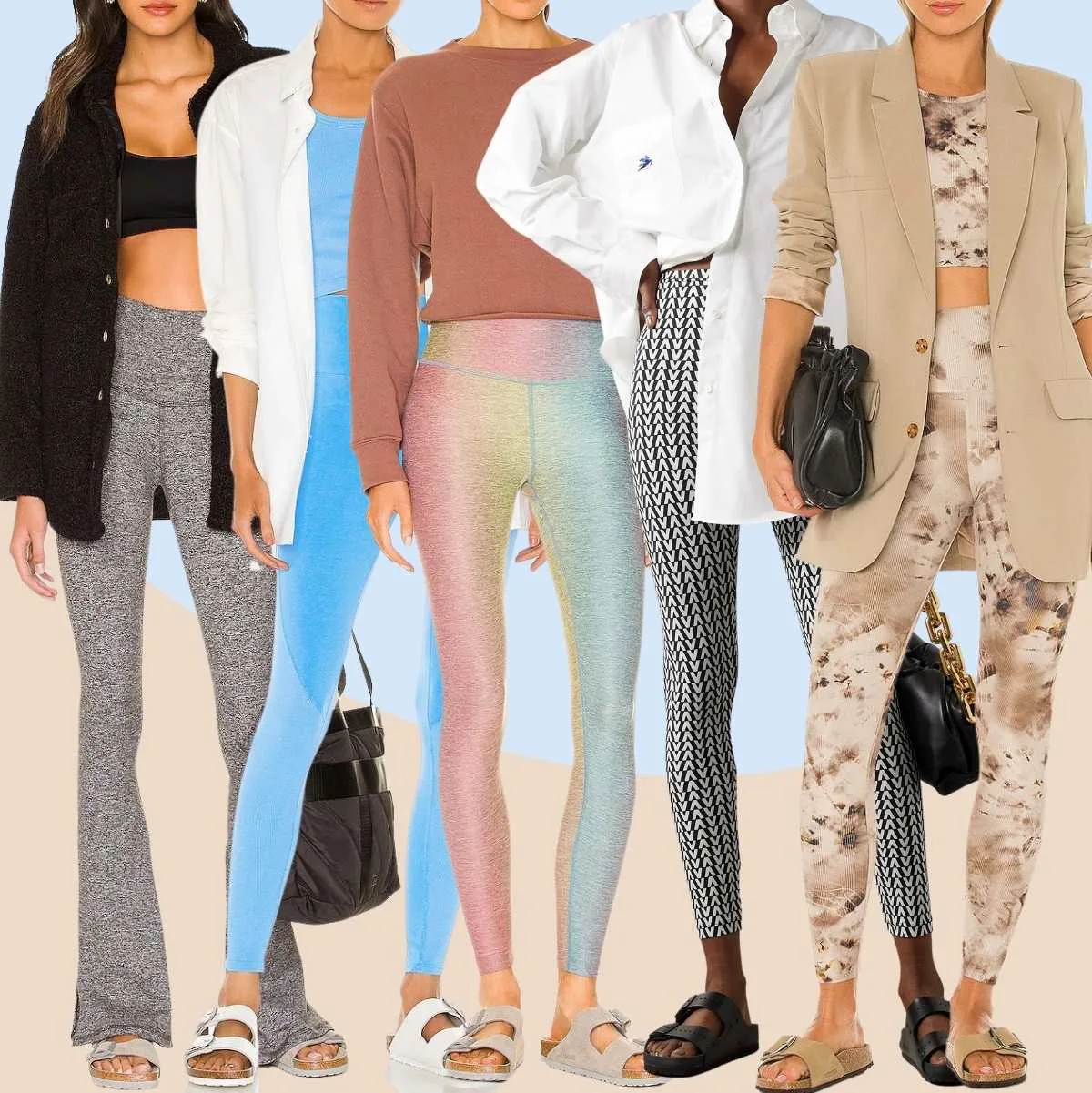 Leggings are comfortable, flattering, and go with just about anything—including Birkenstocks. Comfortable and practical but with the right elements, can create a stylish, not just sporty, outfit!
But as Birkenstocks are not all made the same, neither are leggings. How to style Birkenstocks with leggings definitely depends on the leggings themselves. These can be classic black, leather-looking or moto style, printed, sporty, skinny and even wide-legged. Yes, the flared yoga pant is coming back!
How to Wear Birkenstocks and Leggings:
Black Leggings: An easy casual way to style Birkenstocks with leggings is black leggings with a white tee. Add a denim jacket, a roomy cardigan or utility jacket for a bit of extra warmth and you're good to go. Want to look more sporty? Wear a tight tank with your black leggings, layering over an oversized white shirt and finish the look with a large leather shoulder bag and black cap.
Neutral Leggings: Want to look extra sleek in your Birks and leggings? Pick a black or neutral color legging and a sandal that matches in hue or contrasts it completely. Add a tight tank with an open or partially buttoned white shirt, or a matching blazer with a statement handbag and you've got yourself a chic daytime Birkenstock outfit.
Leather Leggings: For an edgy vibe, pair optic white or black leather (studs optional) Birkenstocks with a pair of black leather or shiny leggings. Elevate your look with a white tee and a tailored jacked with some gold jewelry & hoop earrings. A trench or moto jacket make a great topper for this outfit.
Check out more sandals, boots, heels and shoes to wear with leggings in my other post!
6. Birkenstocks with Jumpsuits & Overalls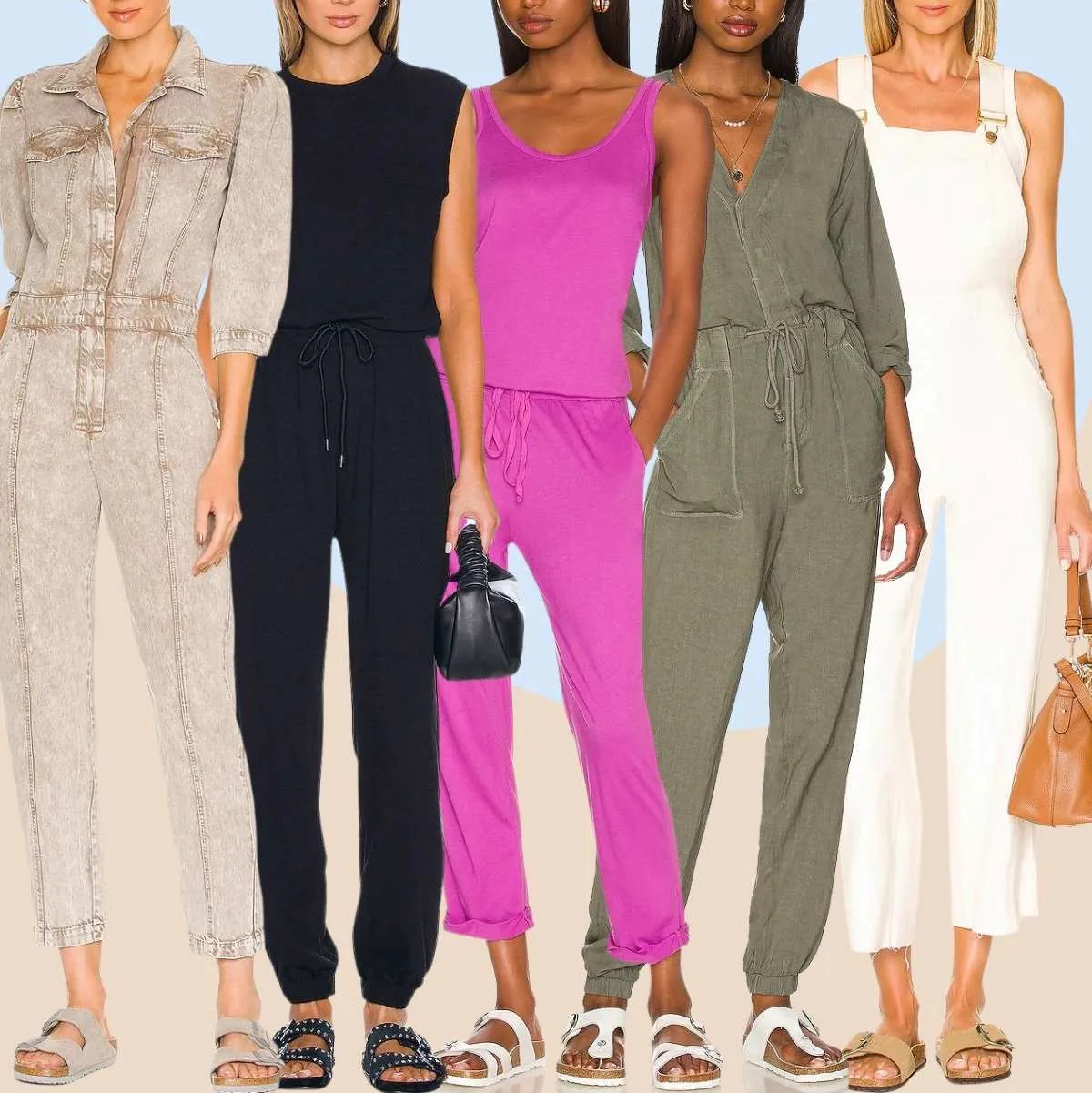 Jumpsuits are one of the most versatile and easy-to-wear items in any woman's wardrobe. So it's no surprise that Birks are great shoes to wear with jumpsuits too! They can be dressed up or down, depending on the occasion, and they always look cool, especially when paired with Birkenstocks!
How to Style Birkenstocks with Jumpsuits:
Keep it Neutral: To style a jumpsuit with Birkenstocks for an earthy feel, simply choose a soft or silky jumpsuit with a pair of sandals in a neutral color like black, brown, or nude. Add belt to cinch in your waist and you've got yourself a stylish and comfortable Birkenstock outfit that's perfect for any low-key summer outing.
Elevated Black Jumpsuits: Going out, but still want to wear your Birks? Pick a denim or sleek black jumpsuit, a black studded pair of slides, and a buttery black leather purse. Add statement earrings to complete your look.
Overalls and Birkenstocks: Avoid the farmer look by opting for white or black denim, or linen overalls. I prefer a Big Buckle style of Birks for these looks. Match your sandal color to a mid-sized handbag and add a soft cardigan or oversize white shirt overtop if layers are needed.
7. Birkenstock Outfits with Joggers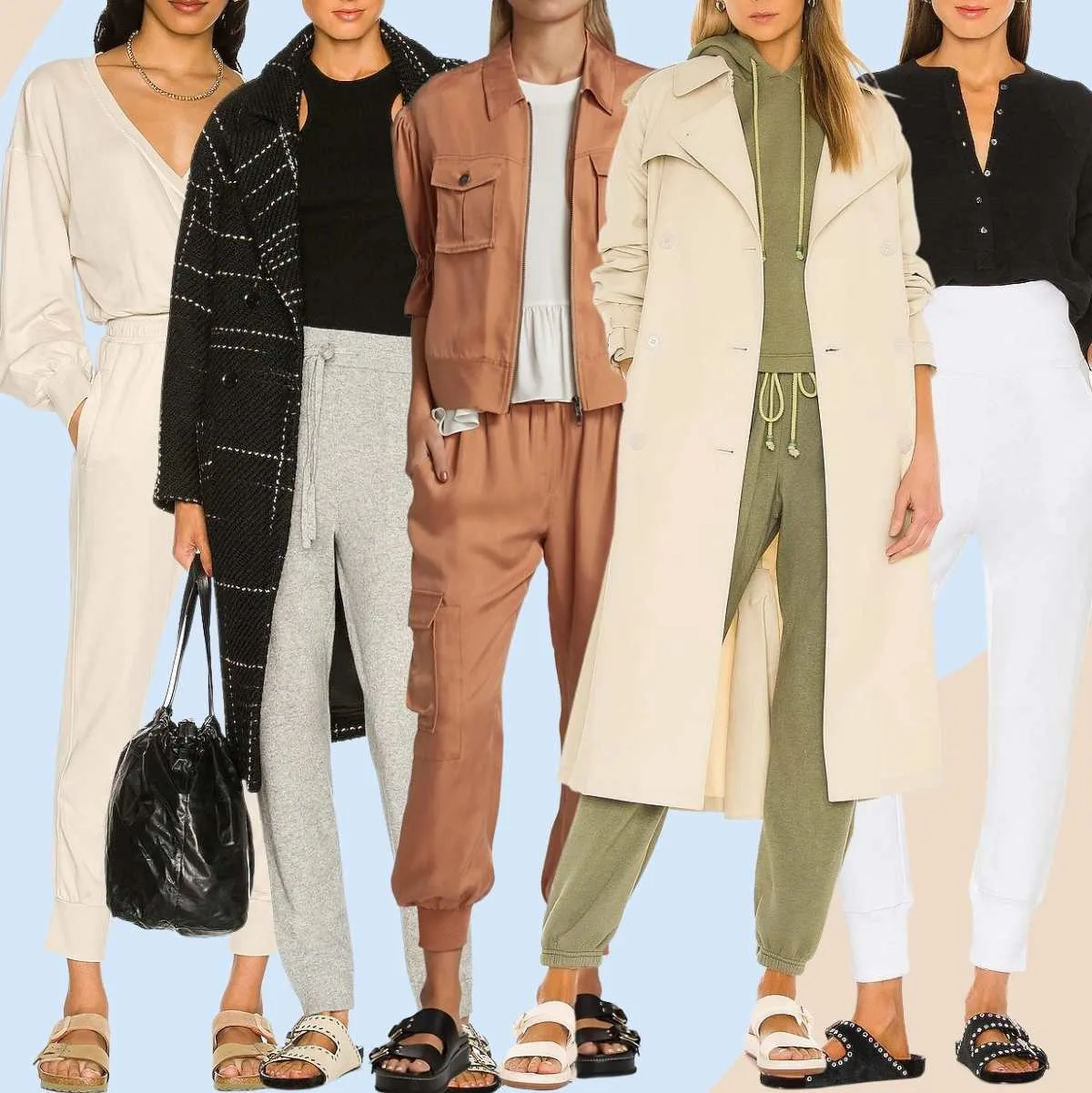 If you're looking for laid-back shoes to wear with joggers, Birkenstocks are up high on the list. More breathable than sneakers and more comfortable than simple flats, Birks pair well with the low-key vibe of any joggers or sweats. And with the right outerwear and accessories, your look can go the extra mile!
How to Wear Birkenstocks with Joggers & Sweatpants:
Matching Sweatsuits: This is a great way to rock the Birkenstocks with joggers look while also staying warm. Simply pair your matching sweatpants and hoodie/sweatshirt with a contrast color Birkenstock. I love a bright white, or colorful contrasting pair of Birks, especially the Arizona EVA styles! Pick a leather pair and layer over a trench for an chic look.
Jogger Pants: For a more casual look, pair Birkenstocks with jogger pants and a t-shirt. I love the addition of a jacket that matches the joggers. If your joggers are soft or silky, opt for leather or metallic Birkenstocks.
Chic Sweatpants Outfit: Even though sweatpants are bulkier and thicker than joggers, they won't drag down your Birkenstock outfit. Reach for a sleek studded pair of Arizona sandals in black, white or beige or pick a Big Buckle of any Birkenstock slide sandal style. Tuck in a fitted top. For cooler months, add a long wood coat and large leather handbag. Comfy socks are optional!
8. Birkenstocks with Rompers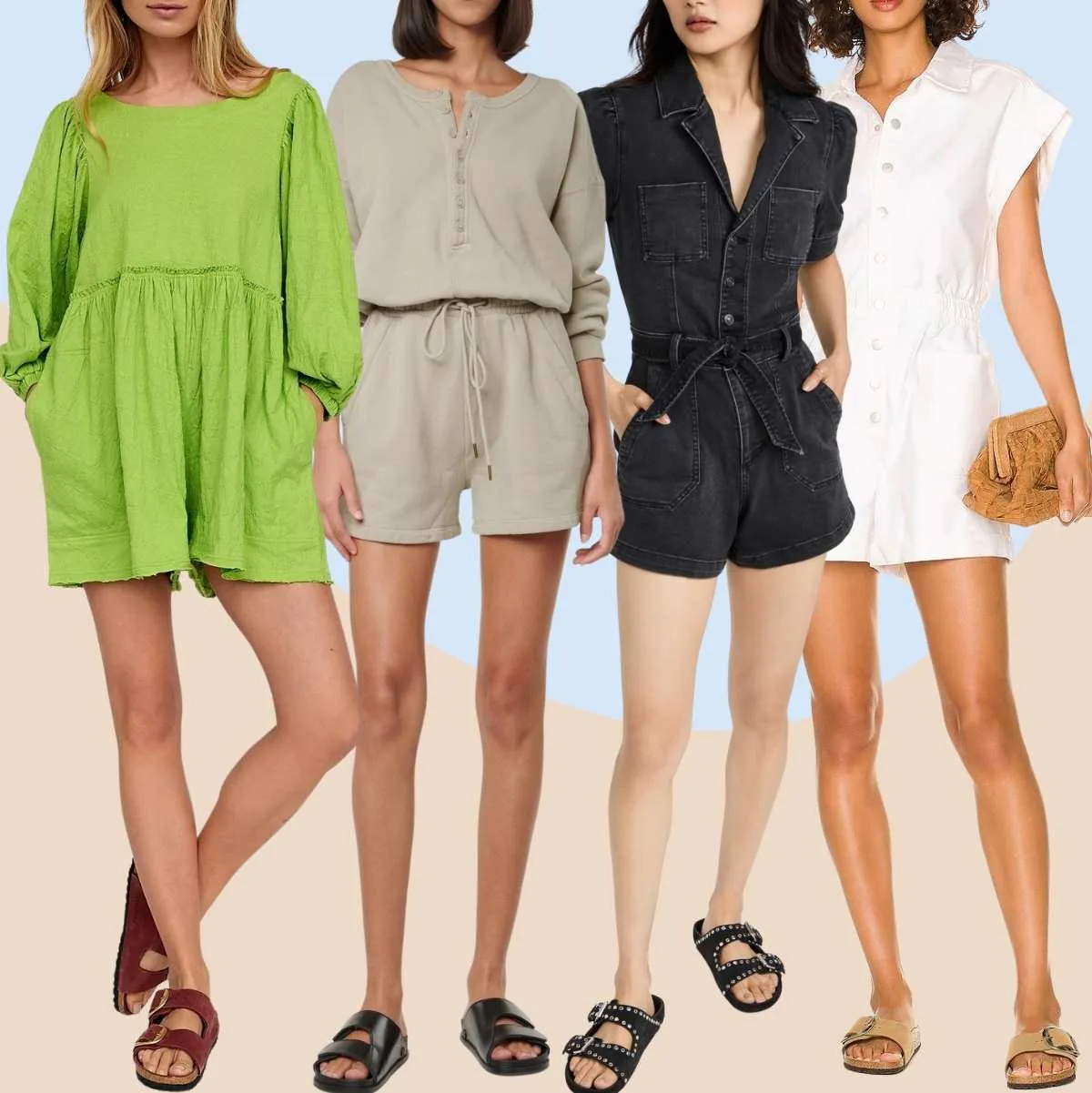 Take your romper on a casual stroll with a pair of Birkenstock sandals! With a similar, but more polished vibe than shorts, rompers offer a wide variety of casual and fancier styles that you can pair your Birkenstock outfits with.
How to Wear Birkenstocks with Jumpsuits:
Breezy Summer Outfits: Choose a romper in a lightweight fabric like cotton or linen. Breezier rompers with wider shorts will give off a beachy vibe with brown, grey or beige-toned Birks. Try a white romper with beige Madrid Birks and add a matching straw purse.
For Edgy Looks: Pick a utility style or denim romper for more edgy looks, pairing them with studded or shiny black leather Birkenstocks. Add a fierce pair of dark sunglasses and a structured handbag to complete the look.
Casual Chic: For an elevated casual night out, pair Big Buckle Madrid or Siena Big Buckle leather Birks, a silky romper, layering over an oversized blazer. Add hoop earrings to match the tone of the sandal buckles.
Looking for more footwear options for rompers? My post all about the best shoes to wear with rompers might be for you!
9. Birkenstocks with Skirts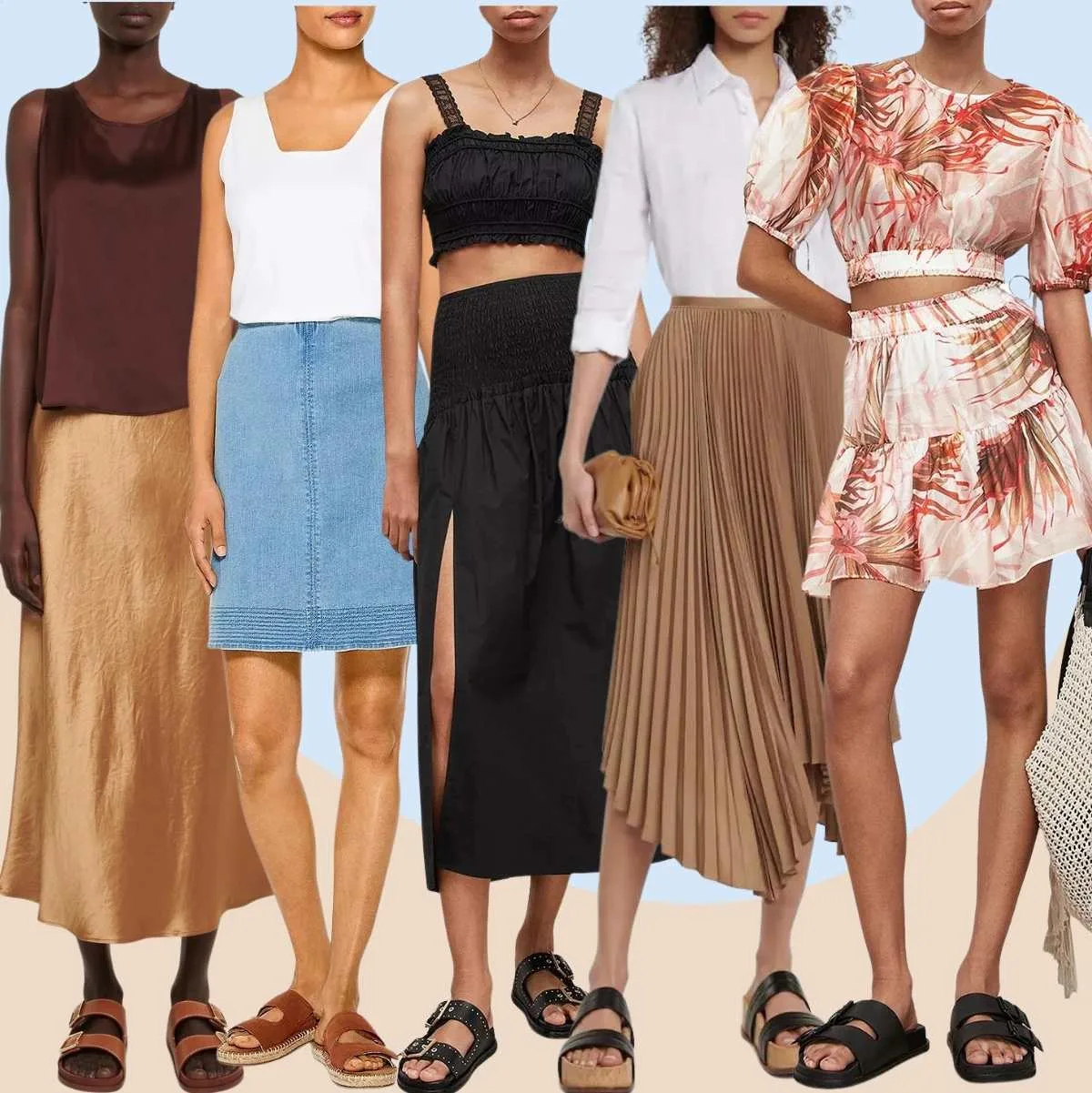 You might not think of Birkenstocks as shoes to wear with skirts, but there's so much styling potential! Wearing skirts with Birks is a super simple way to create laid-back and chic looks.
It's easy to create different Birkenstock outfits with skirts. There are so many skirt lengths and top styles to pair them with. From mini skirts to long flowy skirts, the choice is yours!
How to Wear Birkenstocks with Skirts:
Denim Skirts: denim skirts with Birkenstocks were meant to be. You can play up the look with a pair of metallic Birks and a silky tank, or make it ultra-casual with a light wash frayed denim skirt, light-coloured Birkenstocks, a simple white tee and a pair of crew socks.
Mini Skirts: Give your Birkenstock outfit an edgy look with a black leather mini and platform black Birks. Or go for a more flirty summer vibe with a matching top and tired circle skirt, Birkenstocks and casual knit purse.
Midi Skirts: try contrasting a silky bias-cut skirt with a simple tee or cropped top and sandals. Or have fun with a pleated midi with a crisp white shirt and platform or either Madrid or Siena Big Buckle slides.
Maxi Skirts: Maxi skirts and Birkenstocks might sound like a cliché, but it's a combo that just works! If you're not keen on a typical flowy boho skirt, try a button down or side slit maxi with a matching top or crop.
Knit Midi Skirts: for a cozier outfit, pair a knit midi with a pair of classic Arizona Birks, ribbed socks, and a half-tucked oversized sweater to balance out the look.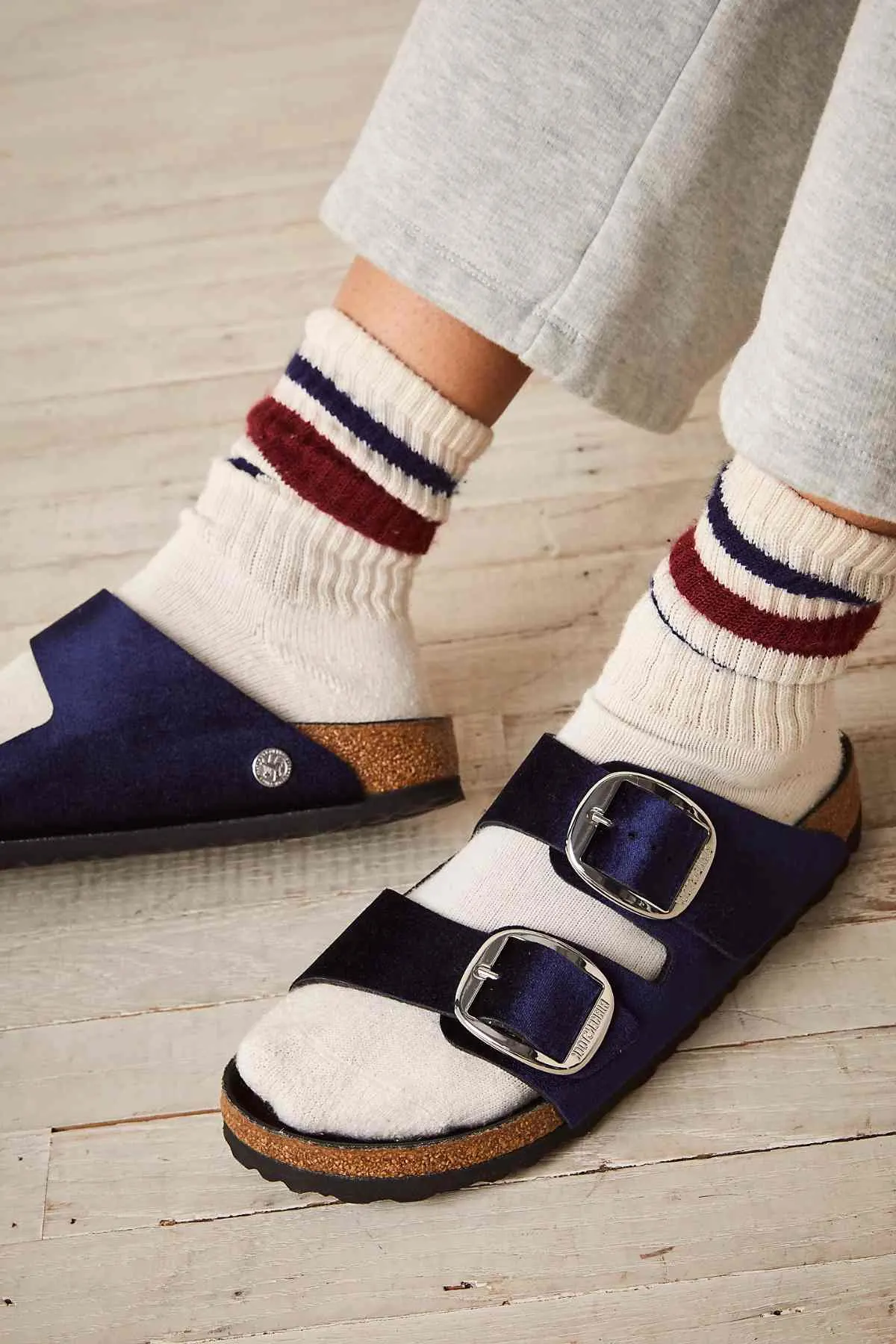 I would be hard-pressed to end a post about how to style Birkenstocks without a section on completing Birkenstock outfits with socks! As the weather gets cooler, it can be tempting to put away your Birkenstocks for the season.
However, there's no need to put away your favorite comfy sandals just yet! Birkenstocks can be worn year-round, with or without socks.
In fact, wearing Birkenstocks with socks is a great way to both keep your feet warm in the colder months and add a bit of personal style. There are endless ways to style Birkenstocks with socks.
How to Style Birks with Socks:
For a chic and effortless look, try pairing white crew socks with a pair of high-waisted ripped jeans and a cozy half-tucked sweater.
You can try a contrasting sock color or keep both Birkenstocks and socks neutral. I love styling black Birks with white socks, or the earthy look of brown sandals and beige socks.
For extra cool days, try a pair of Shearling Birkenstocks with a pair of wooly socks, doubling up on warmth!
For a more whimsical look, try pairing your Birkenstocks with mesh socks. Need a little extra? Add a pair of jeweled or embroidered mesh socks for an extra dose of quirk! Add a midi skirt or a cropped pair of wide-leg pants, and a fun tee to complete your Birkenstock outfit.
I would avoid sheer tights with Birkenstocks unless you're layering over them with tights.
Final Thoughts on Birkenstock Outfits & Ideas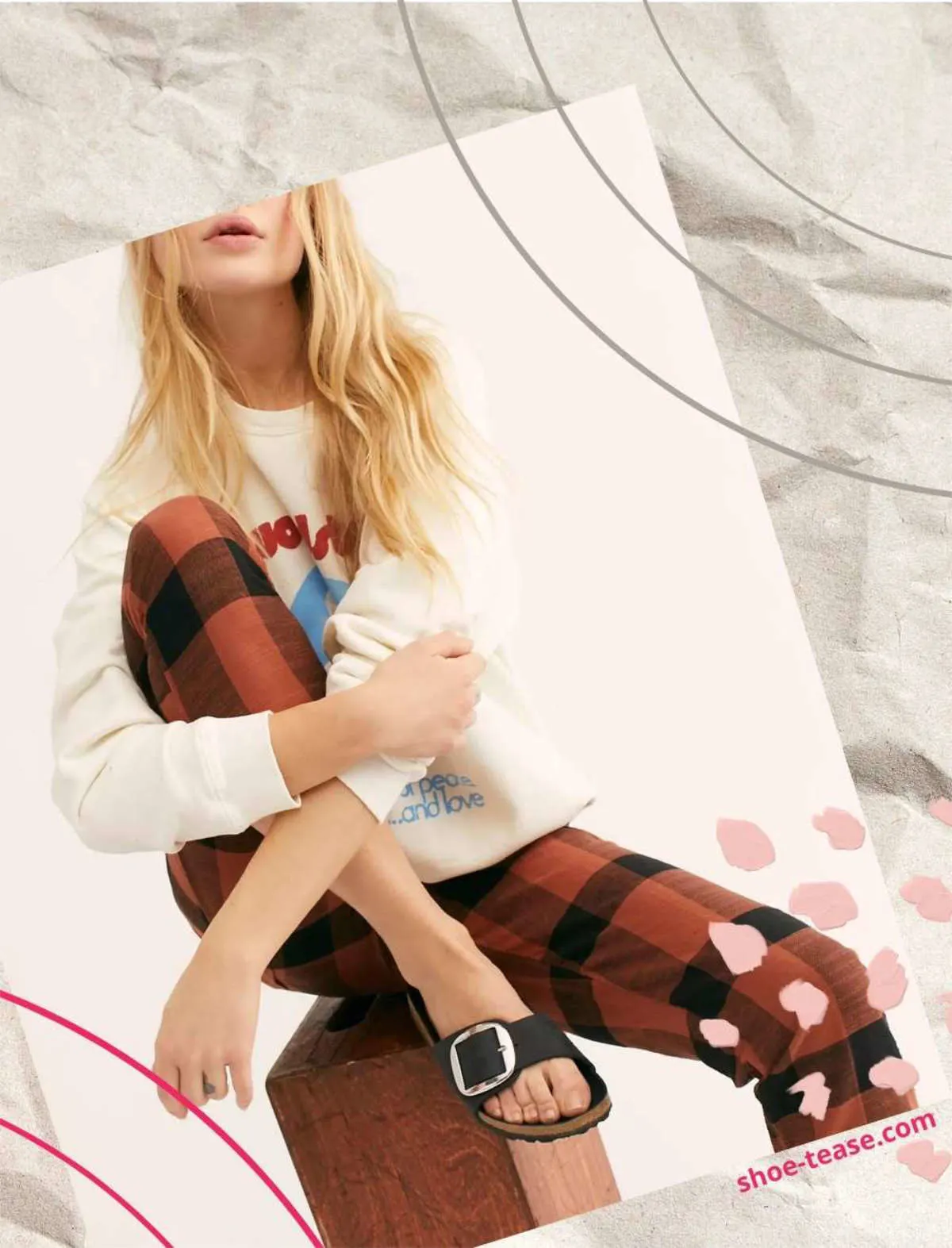 Birkenstocks are the epitome of comfortable shoes. They're perfect for running errands, taking a leisurely stroll, or even working out. Although as you've seen, trendy Birkenstocks can actually be quite stylish.
With the right outfit and some creative styling, you can take your Birkenstock game to the next level. I hope you learned a few fashionable ways to style Birkenstocks and get away with wearing them anywhere. Yes, even a casual business meeting!
Just make sure your feet look just as polished as your sandals and look. To elevate any open-toed look, a colorful pedicure or at the very least, clean, well-groomed nails are in order!
How do you prefer wearing your Birkenstock outfits? Do you reserve them mainly for casual styles or do you like to elevate them? Let me know in the comments below!
xo ShoeTease
Cristina is the chief editor, fashion & shoe expert here at ShoeTease. As a seasoned stylist and women's fashion & shoe designer, she boasts over 20 years of experience in the fashion industry. She loves crafting effortless outfits for ladies both online and off and believes that styling advice should be accessible to everyone. Whether you're a styling pro or just starting out, Cristina's here to guide you on your fashion journey! Learn more.