With the trending throwback to the 70s, flares are coming back…again! From slight bootcut styles to fully flared out bell bottoms, flare jeans are all the rage for 2023 & beyond.
But which are the absolute best shoes to wear with flare jeans and bell bottoms you ask? Let's take a look at the best shoe styling for flares, below.
Best Shoes to Wear with Flare Jeans in 2023
Flare jeans – whether more subtle or wide legged bell bottom styles, make footwear choices a little easier compared to skinny jeans.
(If you haven't read my post about what shoes to wear with skinny jeans, please check it out!).
Most flared hemlines are so exceedingly long in length and wide, that most shoes can go relatively unnoticed. Think Rachel Zoe's street style (& she certainly knows what to wear with flare jeans)!
Or these Frame Denim flares, below. It's like, shoes…? What shoes?!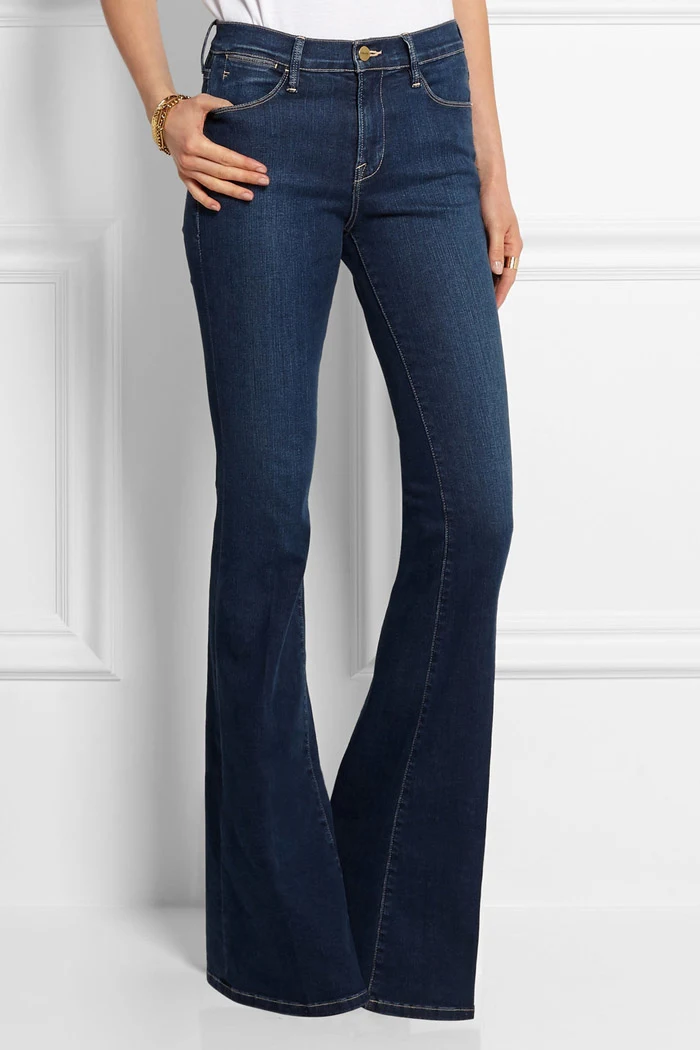 I'm loving the return of the flared jean & bell bottoms in jeans and pants in general, which haven't been big since 2015!
And that's because they flatter most body types & are the perfect jean to sneak in a pair of comfortable shoes such as wedges, platforms, flats & sneakers. You can hide almost anything under those!!
Unless, of course, when you wear shorter or cropped flare jeans, your shoes will definitely have more impact to the overall look of your outfit, as they will be clearly visible.
8 Fave Shoes & Boots to Wear with Flare Jeans
How to wear flare jeans or bell bottoms with the right shoes? It's a bit tougher, say, than deciding what shoes to wear with other jeans.
Because of the belled bottom of flare jeans, both shoe type & hemline is important: one compliments or ruins the look of the other.
The same can be said about the shoes to wear with wide-leg jeans, and best shoes for baggy jeans (yes, I have posts about those jeans too!).
The tricky thing about either flare jeans or bell bottoms is that not every pair will go with every shoe height or heel heigh. But cuffing at the ends, you ask?
Due to flare shape itself & surplus fabric, rolling up or even slightly cuffing isn't an option. I mean, you can try it, but they'll just unfold before your very eyes!
So if you'd like to keep your shoes & flare jean pairing options open, you'll likely need 2 pairs with 2 different hemlines: 1 for heels & one for flats.
I personally love wearing flares with high heels, but that's not your only choice, as you'll soon find out, below!
Ankle Boots with Flare Jeans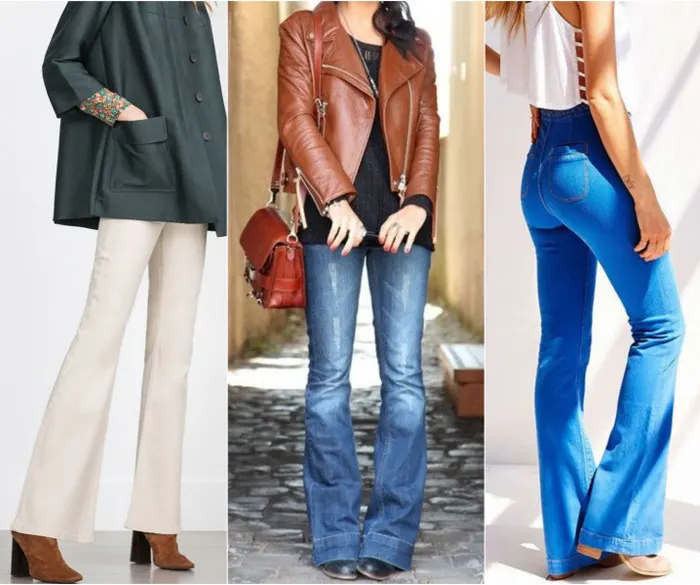 Ankle boots with square or almond toes are great boots to wear with flare jeans. Not high boots (they'll show at the knees) but simple ankle boots are a great choice with flare jeans.
Preferably with a chunky heel, since they'll be more comfy & with shorter flares they'll give off that 70s vibe which is so fashionable right now. Also fashionable right now? Long bell bottoms, also reminiscent of the 1970s!
The important point here is to have an ankle boot that is tight at/above the ankle. This way, you'll get a clean, uninterrupted pant line from the knees down!
Toe shape is also important. Opt for a more rounded/almond shape for a softer look when your boots (great with longer flares) peek out from under the hemline of your jeans. Whether you opt for a platform or not is entirely up to you!
Great thing about these types of boots is that they work well with almost all jean & pant types! I even have a whole post on boots to wear with skinny jeans!
Take a look at all the ways to wear ankle boots with jeans, including flare and bootcut jeans, in my latest post.
Shop Classic Ankle Boots for Women: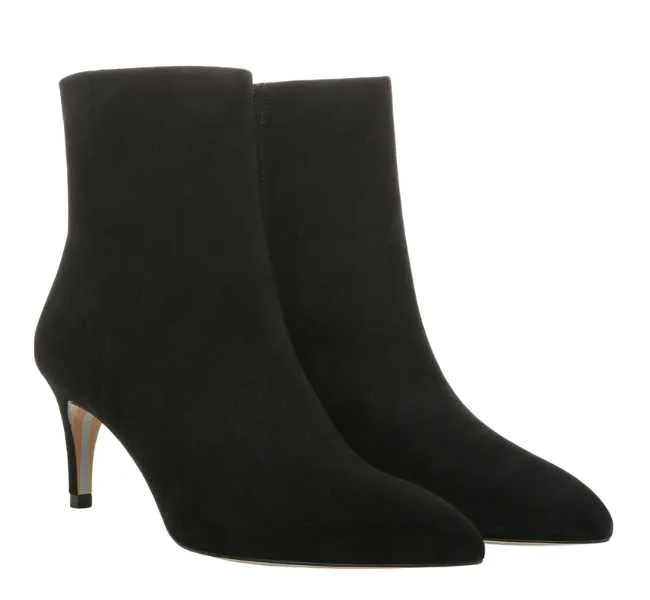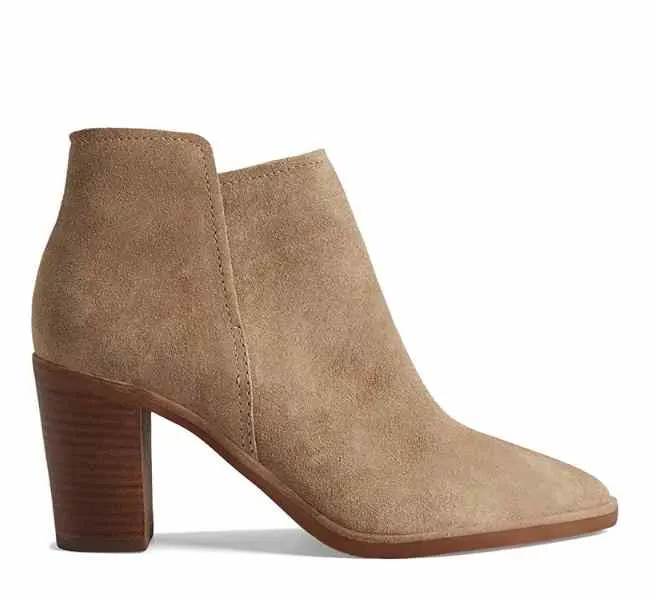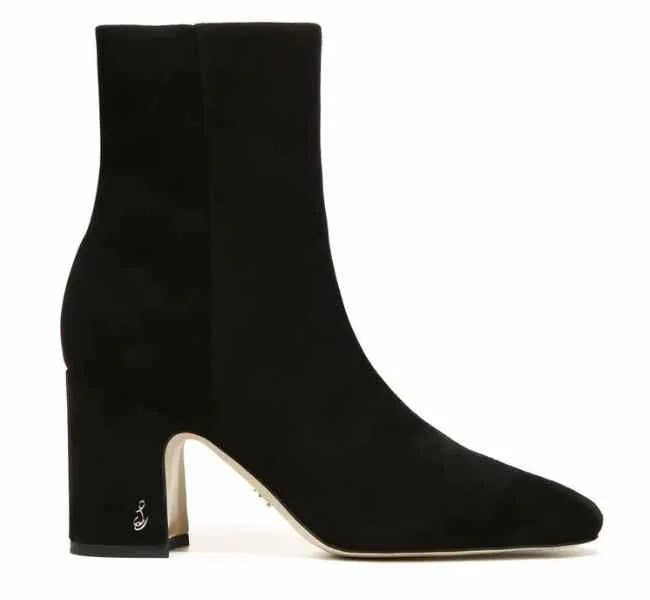 Platforms with Flare Jeans and Bell Bottoms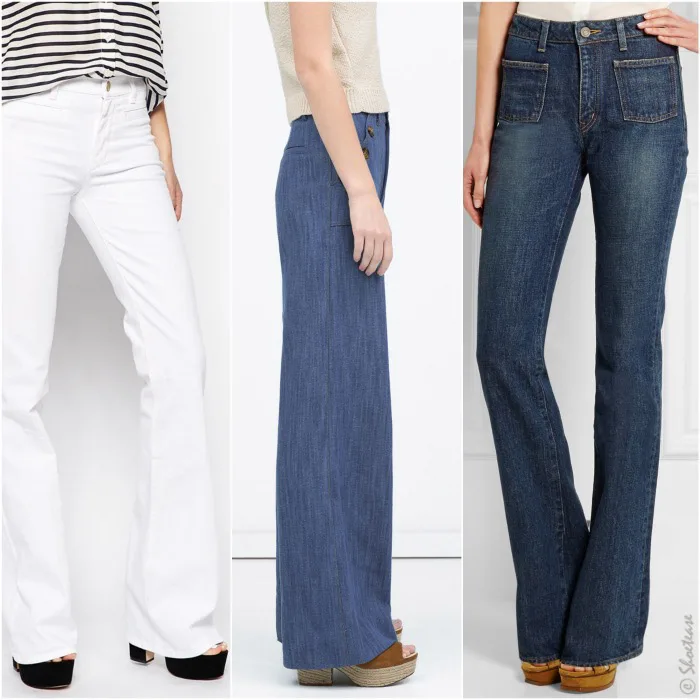 Looking for shoes to wear with bell bottoms, specifically? If you want the perfect 70s shoe to wear with oh-so-very 70s flare jeans, the platform it is! Platforms allow us to wear 6 inch heels (& make us feel like we're only walking on only 3″!).
These look ideal tucked away under those flares. Great for Spring/Summer 2023 are platform sandals with chunky heels because, why not? They're fashionable & comfortable, so a win-win, really!
Flare Hemline tip: you can either hide them underneath floor-length jeans or, if you prefer to show off your fab platform sandals, have your hem end 1/1.5 inches above the base of the heels, like the image above.
Chunky Boots with Flare Jeans
In ankle or calf height form, heeled or not, chunky boots work great with flare or bell bottom jeans. Especially the trendy ones with a high lug sole and similar aesthetically to combat boots that are THE trending boots of the 2023 season.
But you can't go wrong with classics like Doc Martens, even more so those with a platform! So many to choose from this season. My favorites? Ones with a slight platform, to elevate you and your look!
Flare jeans hemline tip: any and all flare jeans lengths work with chunky boots. Cropped flares or bell bottoms will show them off all the more!
Shop my favorites below, or directly from Nordstrom or Net-A-Porter.
Wedges and Flatforms with Flares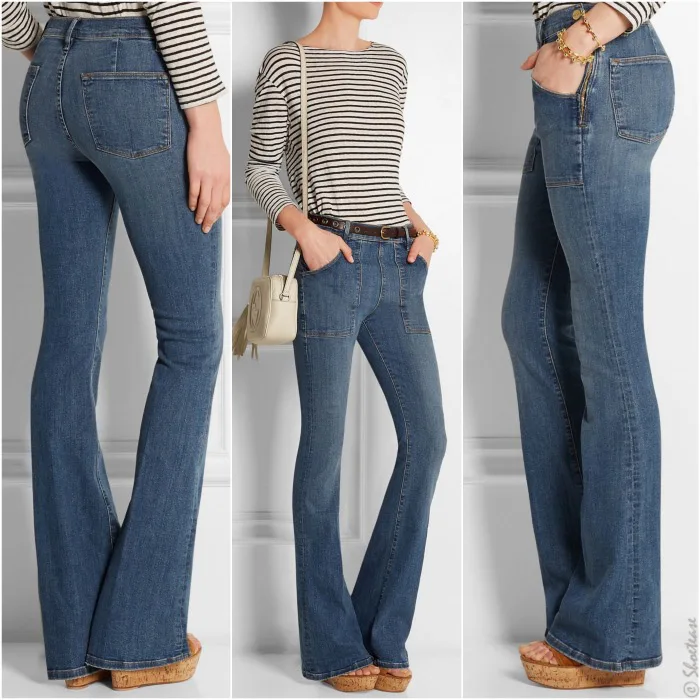 Wedges are another top shoe choice to pair with wide leg jeans, such as bell bottoms, particularly if you want to keep with that 1970s feel.
Wedge heels & even flatforms perfectly compliment a flare pant, giving you that extra lift in the most comfortable way, taking the pressure off the balls of the foot. Choose a cork base for a casual and rugged look!
Flare Hemline tip: same as platforms with flares.
Chunky Heels with Flares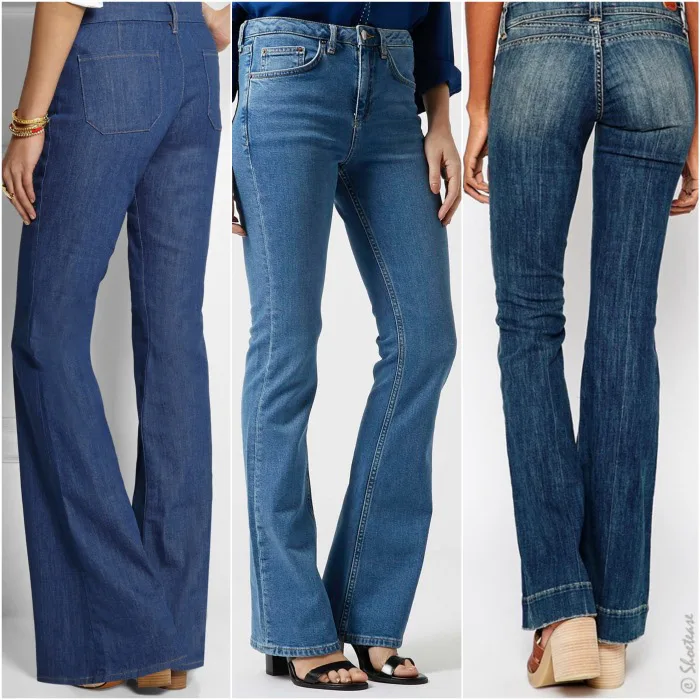 As mentioned in the ankle boots section, block heels are a great choice! From higher heeled slides to lower sandals, chunky heels are the perfect heel type for flare jeans.
They'll literally keep you more grounded & are a great shoe to have in 2023 to update pretty much any outfit. Also, it helps that they're much easier to walk in than stiletto heels.
Flare Hemline tip: anything goes with a chunky heel. Just avoid flared hemlines above the lower ankle as they're not very flattering!
Clogs with Flare Jeans and Bell Bottoms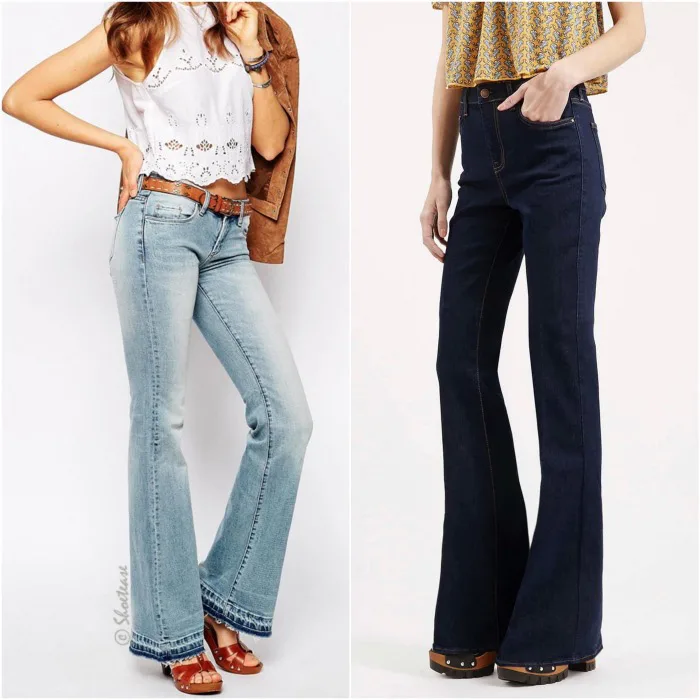 Clog sandals are a fun & retro way to wear with your flare jeans. From Swedish Hasbeens, to the new Dr. Schols, to those classic closed-toe'd clogs, any clog will work (Frye & Ugg makes great ones too).
These shoes will definitely make your feet happy & add a little flair to your…uhm…flares. But these aren't the only jeans that pair well with these types of shoes. See my post on how to style clogs for more jeans styles & more to wear with them.
Flare Hemline tip : If you keep the hemline a little shorter, say 2-3 inches off the ground, the nailing detailing of the clogs will look fun peeking out from underneath! Love these shoes with flare jeans.
Flare Jeans with Flat Sandals
Want to keep it casual & heel-less but don't want your feet cooped up in a pair of sneakers? Although flats may not come to mind when thinking of how to wear flare jeans, they're definitely an option.
Why not try on a single-soled strappy flat or gladiator sandal with your flare jeans, for a relaxed bohemian feel?
I'm currently crushing on those white flare jeans with beige sandals above, myself! These are definitely a better option with flare to barely boot cut jeans.
I would definitely not recommend a flat shoe with extra wide bell bottoms, for both comfort and styling reasons, such at the image of the model wearing bell bottoms with her sandals on the right. Although it definitely is a particular look, if not worn well, if can make you look messy.
Flare Hemline tip: hemlines are even more important here, as the longer the jean, the more of a laissez-faire vibe you're going to emit.
Translation: you'll look sloppy. See image above, right. But if that's what you're going for, then who am I to stop you!? My two cents?
Aim for a hemline where the back edge barely scrapes the pavement: you'll drag less dirt around, prevent edges from fraying & your jeans will be far easier to walk around in.
Example: pant/sandal combo in the image above on the left & centre.
Sneakers with Flares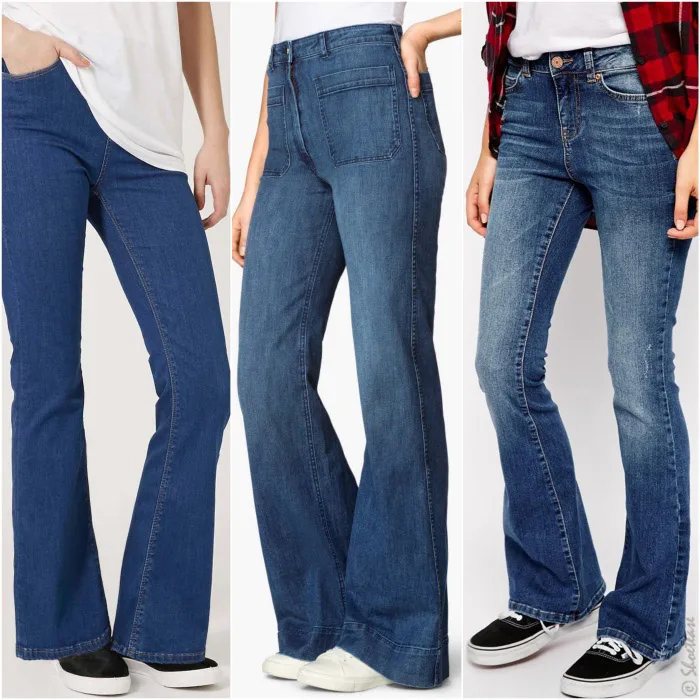 If you're opting for a sporty & more casual look with your flare jeans, sneakers are the way to go. I remember wearing my flares with sneakers in high school, right through university & there was nothing more comfortable.
Well, aside from sweats, but I refrained from wearing those in public!
You can wear your flares with the classic kick of the moment (Adidas Stan Smith & Superstar come to mind!) or even better: a sneaker with a thicker outsole. Heck, why not a flatform sneaker?
Flare Hemline tip: my personal preference is to keep the back bottom edge of the pant aligned with the top of the sneaker outsole.
Just with flat sandals, you may want to avoid having the flares too long & having them bunch up at the bottom.
Birkenstocks with Flare Jeans
Why not add a pair of Earthy sandals with your flare jeans? There are lots of ways to put together outfits with Birkenstocks and bootcut jeans are definite winners!
Tuck in a flowy blouse to your jeans and grab a fringe purse for a full boho look.
For a sleeker look, opt for a pair of white or black flares, a contrasting pair of leather Birks and a simple tee or bodysuit. Layer over an oversized blazer or utility jacket and gold hoop earrings for a chic, yet cool vibe.
Shoes Not to Wear with Long Flare Jeans
Thin Stiletto Heels (especially stiletto mules!)
With all that bulky fabric near your heels, a little misstep & your stiletto will have you tripping & face-planting in no time!
And I can't imagine how difficult it must be to walk in a stiletto mule or slide with the weight of your jeans pushing them from side to side, either.
Also, if your jeans are so long that your heels stomp over them, you'll puncture the bottom back ends of your pants. I know this from personal experience!
However, if you're desperate to wear your spikey stilettos with flare jeans, opt for shorter, wide leg pants or a flared jean with a raised hemline. This way your heels don't trample over them! See below images from ASOS: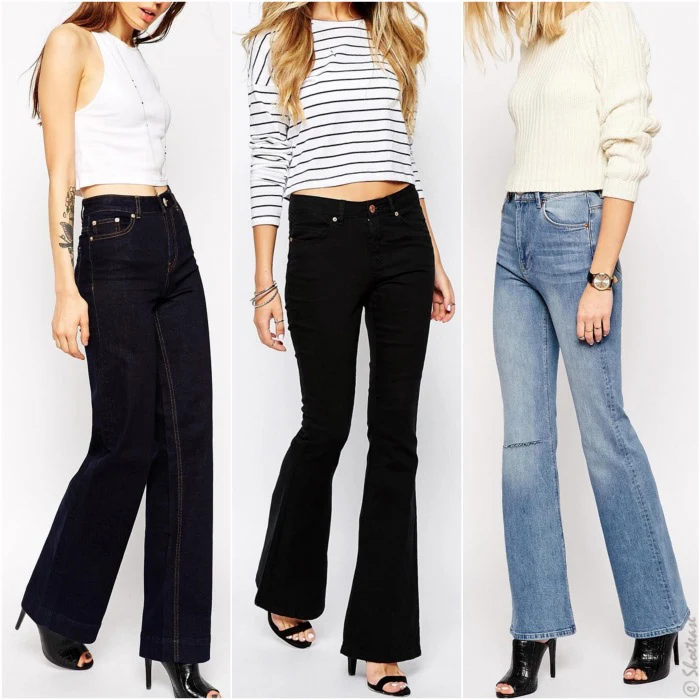 Pointed Pumps with Flare Jeans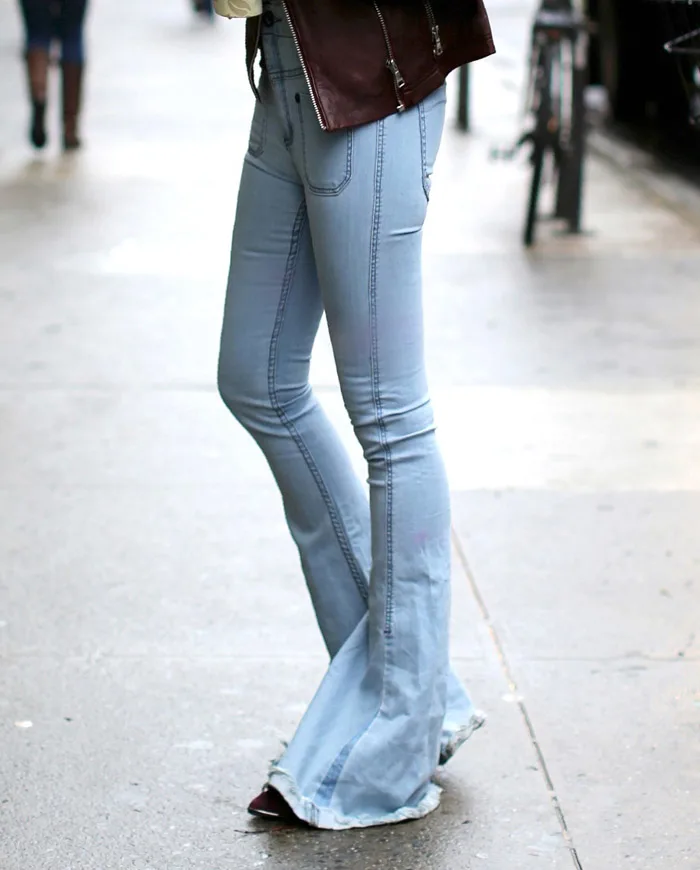 Oh, I can just hear the uproar on this one! Yes, many will state that pointy toe pumps work great with EVERY jean type, but remember: we're not talking about a simple bootcut jean, but super bell bottom jeans here.
Bell bottoms are wider & bulkier, which is why the dainty nature of a pointed toe isn't ideal. Flared & wide legged jeans generally need a heftier shoe to go underneath, especially longer styles.
A pointed pump peeking out underneath kinda makes it look like you're wearing witch shoes under those jeans, don't you think?
It's also easy to snag the back of the jeans with the thin heels and not only rip your jeans, but it is a tripping hazard. Not the ideal shoes to wear with flare jeans for sure! See the photo above from weworewhat.com as an example.
Then again, if your flares are to cover even the tip of the pointed toe, no one ever has to know 😉 But remember ladies: this is your time to wear comfortable shoes, so why not take advantage of it?!
Final Thoughts on Shoes to Wear with Flare Jeans
Not ready to make the women's flare jeans leap quite yet? No worries; skinnies are still very much in style!
Check out the ShoeTease guide outlining the best sneakers with skinny jeans!
xo ShoeTease