Ever since the surge or work from home hit in 2020, joggers and sweatpants have become a staple. But don't fret: there are many ways in which you can look presentable in public wearing joggers outfits. And that means well styled hair and the right pair of shoes!
Shoes to wear with joggers are many. Some of the best shoes to wear with sweatpants are obviously sneakers, for all-over comfort. But many sweatpants and boots, even heels can also work well. Especially if you want to elevate your look!
In our post on ShoeTease today, I'll be going through 8 perfect shoes to wear with joggers and how to top it off with the right coat, purse, accessories and coats, if the weather calls for it.
You'll even learn what shoes to wear with dressy joggers, like those silky faux leather ones so you can enjoy the comfort of joggers even at a fancy soirée.
So if you thought only fancy shoes with cropped dress pants worked for a night out, allow this post to change your mind!
Joggers vs Sweatpants – What's the difference?
Before we dive into what shoes to wear with joggers, let's differentiate between joggers and sweatpants. Most people refer to this pant type interchangeably, like I do and will continue doing in this post. But there is a difference.
Joggers are made of a lighter material, with a bit of a stretch to them. This was originally for the purpose of breathability while running.
If you have a tracksuit, the pants are likely a style of joggers. Most are tapered to the ankles, cinched by a ribbed cuff.
Sweatpants are made for cold weather and are composed of a thicker material, usually with a fuzzy lining. As such, they are much bulkier than joggers.
Many have a straight leg, are sometimes wide legged. However, they can also be tapered at the ankles by an elastic cuff.
Most shoes that go with joggers also go with sweatpants. In each shoes with joggers section, I'll specify what style of jogger, or even sweatpants go with the shoes in question and how to complete the look.
What Shoes to Wear with Joggers & Sweatpants – 15 Fashionable Combos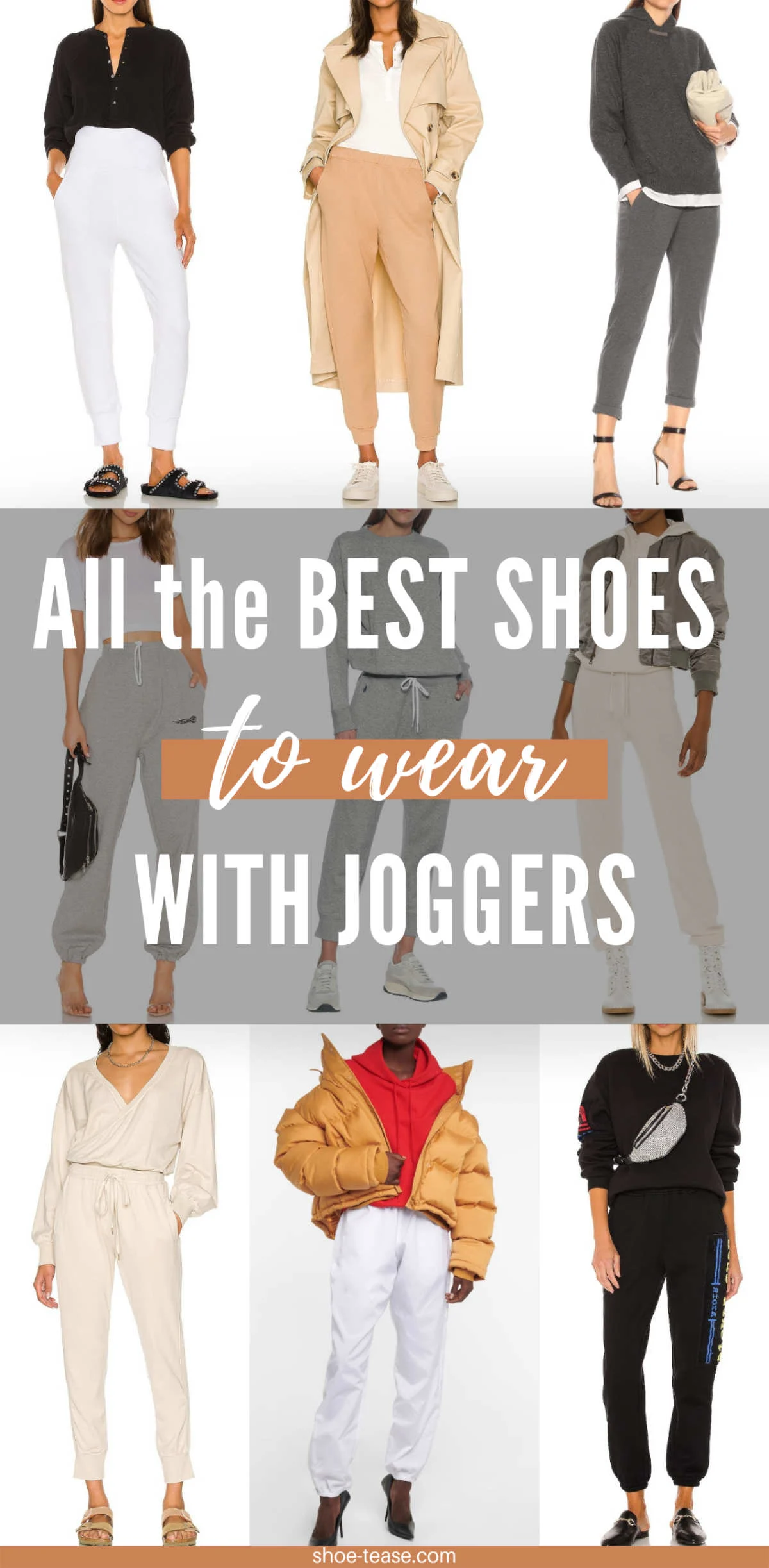 Joggers with Sneakers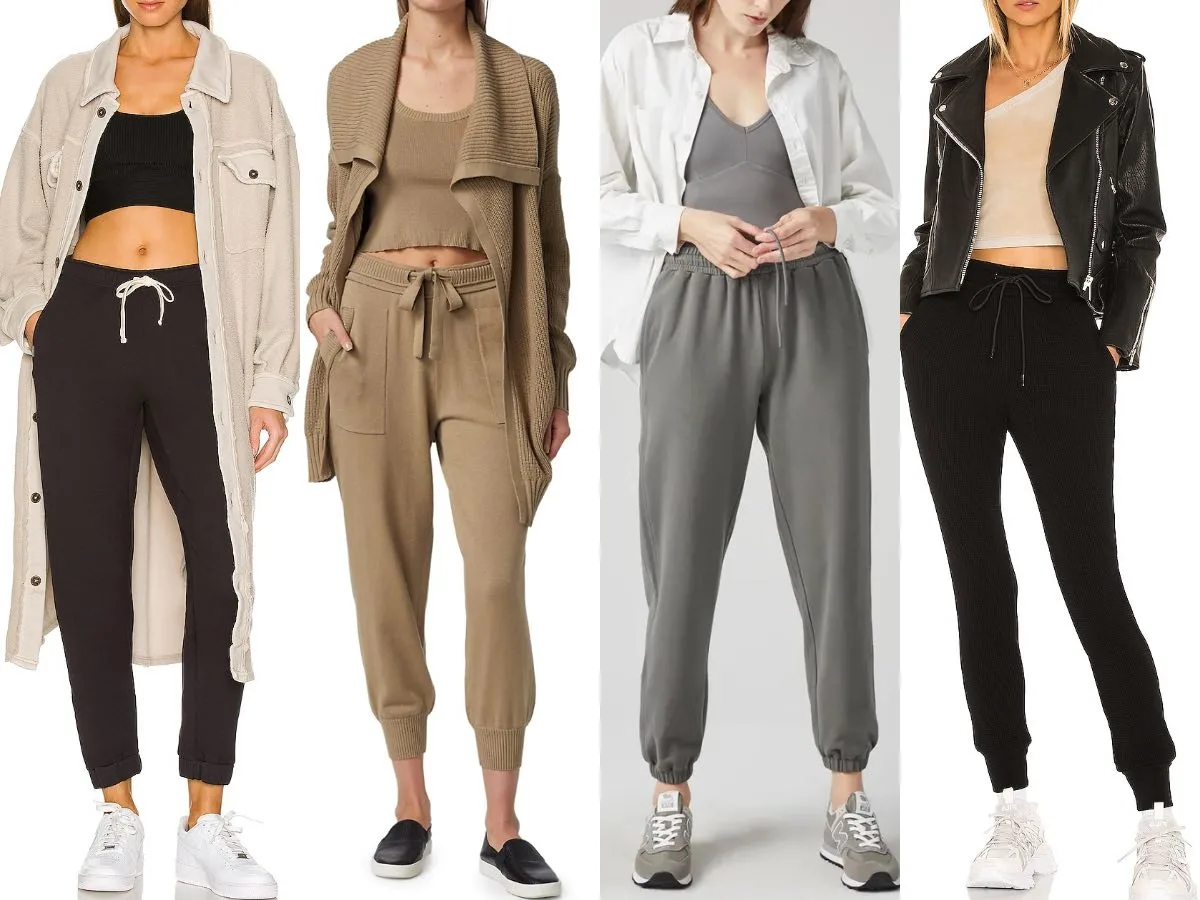 There are a slew of sneakers to wear with joggers. I mean, comfy pants such as sneakers with joggers and sneakers are meant to be.
Thankfully there are many classic tennis shoes and trendy sneaker styles that can give your joggers outfit a slightly different edge. Below are the best sneakers for joggers:
How to wear Joggers with Sneakers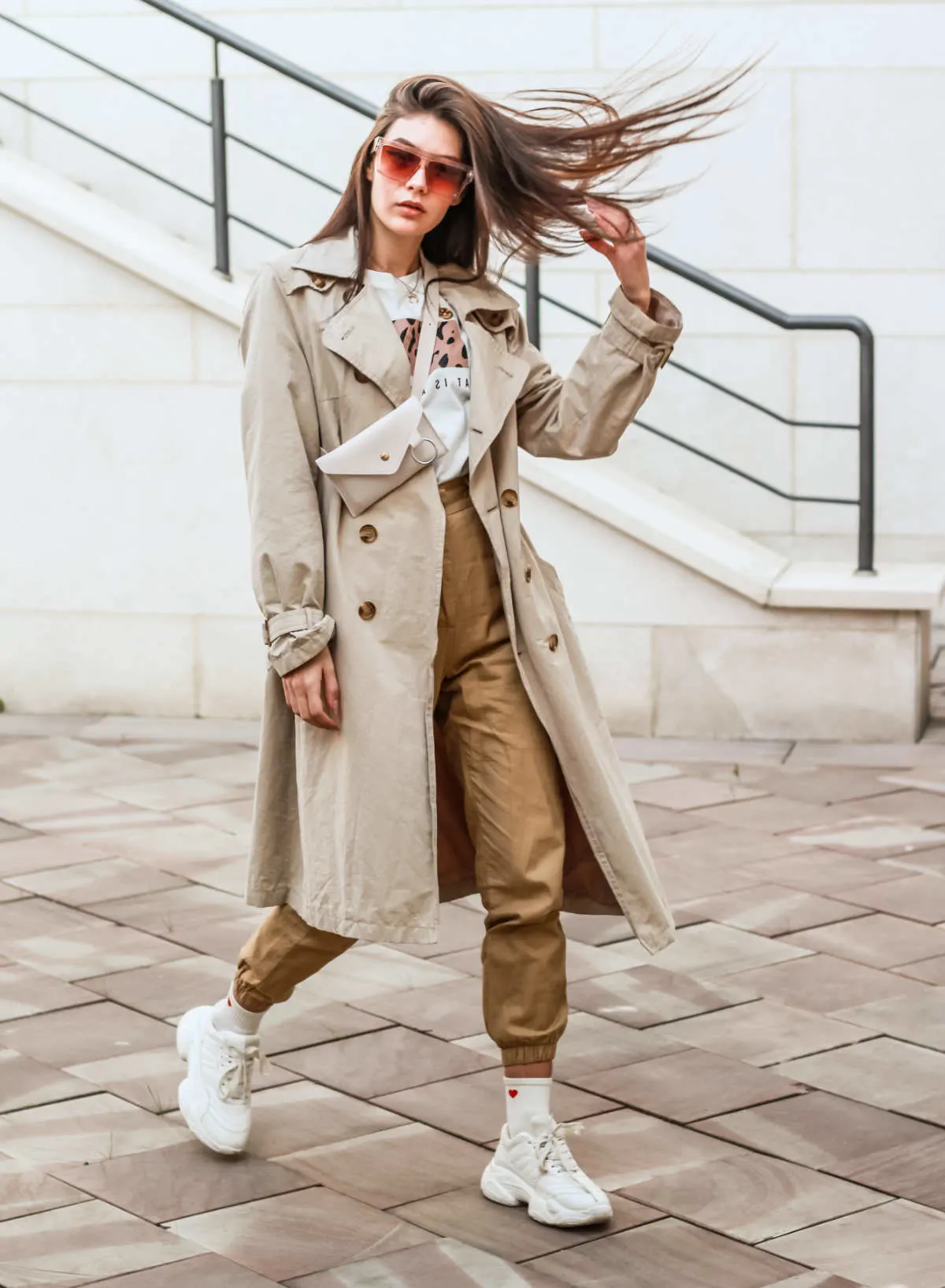 Sneakers go with fancy joggers and more casual sweatpant styles alike. Like with any more casual shoe, you can elevate the look with a near hairdo, small gold jewelry accents and chic leather purse. I love them with a matchy sweatsuit for very casual outings.
Dad Sneakers with Joggers
The most popular joggers with sneakers combo are joggers with dad sneakers. We're talking retro styles here, with the comeback of New Balance including the 990 style – these grey-toned ones are all the rage right now! These look best for casual joggers outfits, including wearing them with a matching sweatsuit.
Chunky Statement Sneakers
Almost every designer has a statement sneaker each season, but so do popular sneaker brands like Nike and Adidas. I love color-blocked chunky sneakers, but many monochromatic styles exist including Fila Disruptor.
White Classics
You can't go wrong with white canvas tennis shoes by Superga for summer, or deny that Adidas' X or Nike Air Force 1 don't look fabulous with sweatsuits of casual cool joggers outfits all year long.
Slip-on Sneakers with Joggers
Slip on sneakers are the epitome of laid back sneakers, but can add a touch of glam choosing in leopard prints sneakers, snake motif or shiny metallic. Or pick a pair of classics from Vans.
With or without a platform, slip-ons will look great with joggers or sweatpant pant legs alike, whether a tapered jogger or bulky straight leg sweats.
Women's Joggers with Boots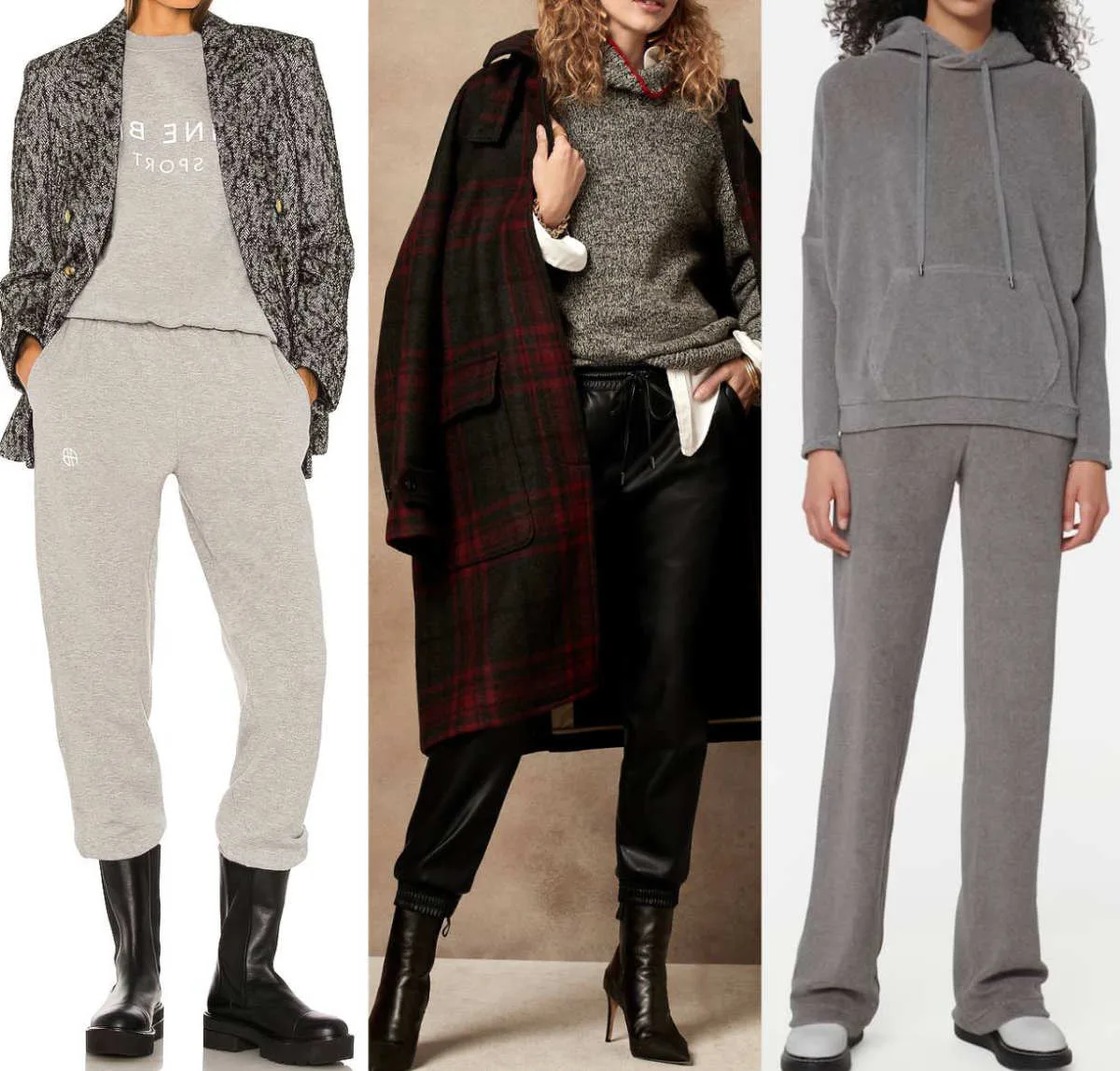 Can you wear boots with joggers? Yes you can! There are a few more women's joggers with boots that go together well. These are perfect for fall or winter, especially if you choose a waterproof pair.
Below you will learn how to wear joggers with boots, including the best boots with joggers to look chic!
Joggers with Combat Boots
Again, combat boots prove that they can pair with just about anything and that includes joggers and sweatpants! Pair your tapered joggers or sweatsuit with a complimentary combat boots color and add a pair of tube socks poking out of the boots for sporty flair.
If your sweaters or joggers are wide or long, you can either wear them on top of your boots or tuck them in, as many fashionistas are currently doing. I love white combats with pastel sweatsuits, but they also look great for all white joggers outfits.
Want to look stylish in dress joggers and combat boots? Choose a pair of classics from Taos or Frye, or lug-sole combat boots in a black patent finish, like Doc Martens or Steve Madden. Complete with a white tee and moto jacket and large, soft clutch.
Wear a pair of waterproof combat boots for wet and/or cool weather. Check out my post for more info on how to wear combat boots.
Joggers with Chelsea Boots
Yous, you can wear joggers with Chelsea boots as well! Opt for a pair of higher Chelsea boots with a trend and tuck in your tapered joggers.
Or, if you're wanting to keep things more traditional, pair your joggers with Chelsea boot classics like Blundstones, which also happen to be perfect shoes to wear with sweatpants in the winter.
Shop Chelsea Boots for Women:
Joggers with Sock Booties
If you want to wear your joggers in a dressy way, but don't want to wear sandals or pumps, heels black sock booties are for you!
At ankle height, sock booties – or very tight ankle boots – pair best with black joggers, either in a sporty or silky material and even leather joggers. Bulky wide-legged sweatpants won't work.
Add a black or white bodysuit, and oversized camel blazer or trench to elevate your joggers to a smarter casual, or even fancy outfit, with the right metallic purse and jewelry.
Women's Joggers with Heels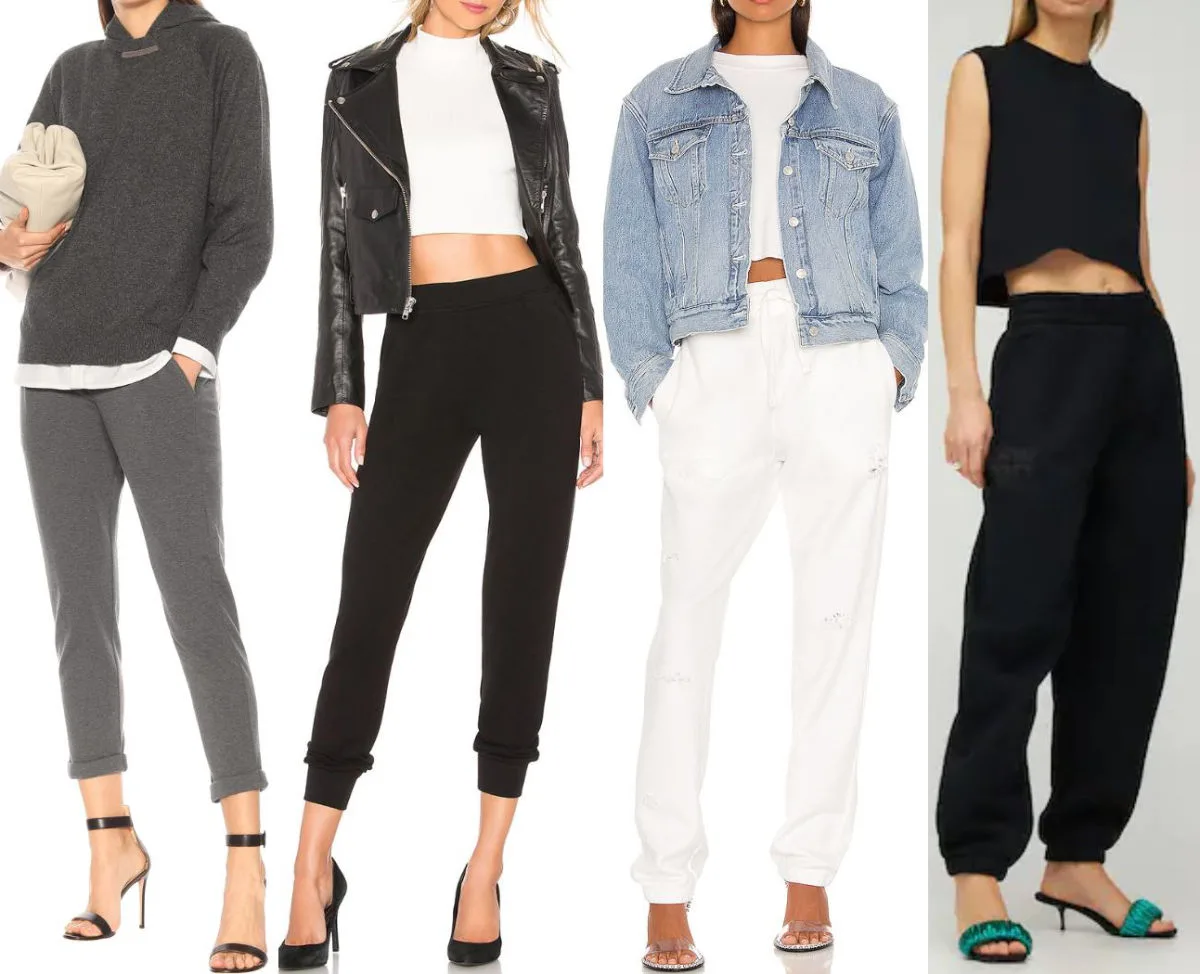 Joggers and Kitten Heels
If you want to be as trendy as can be, wear your sweatpants and heels outfit with a kitten heel. Slingback kitten heels are all the rage and really perk up a classic or dressy jogger pant.
Show off your kitten heels in tapered joggers or straight leg sweatpants that end at the ankle. Complete the outfit with a tucked-in tee, oversized blazer and a small chain cross-body purse. Kitten heels also look surprisingly fun worn with a matching sweatsuit!
Joggers with Strappy Heels
If your joggers are tapered, cropped or rolled up, you can show off plenty of strappy heels. Especially those straps around the ankle, while showing off a little skin. My favorite strappy heels are minimal strappy sandals, square toe or otherwise.
Wear these for when the weather calls for it with colorful or black joggers, a cute top and a fun coat or jacket. Play up your heels with a dainty handbag and statement earrings.
Want a minimal high heel look? Try on a pair of clear heels with your joggers! Check out my post all about how to wear clear heels, including various outfits with joggers!
Joggers with Pumps
Strappy or minimal, pumps give a certain flair to joggers pants for women. I prefer a cropped or tapered jogger with pumps to show off the high heels.
Pointed toe stilettos are my go-to, but a block heel or current trendy square toe mesh pumps will also work well.
They can easily dress up a fancy pair of joggers, or uplift simple sweats when paired with a chic jacket or trench. Carry a large soft clutch or leather purse.
Joggers with Sandals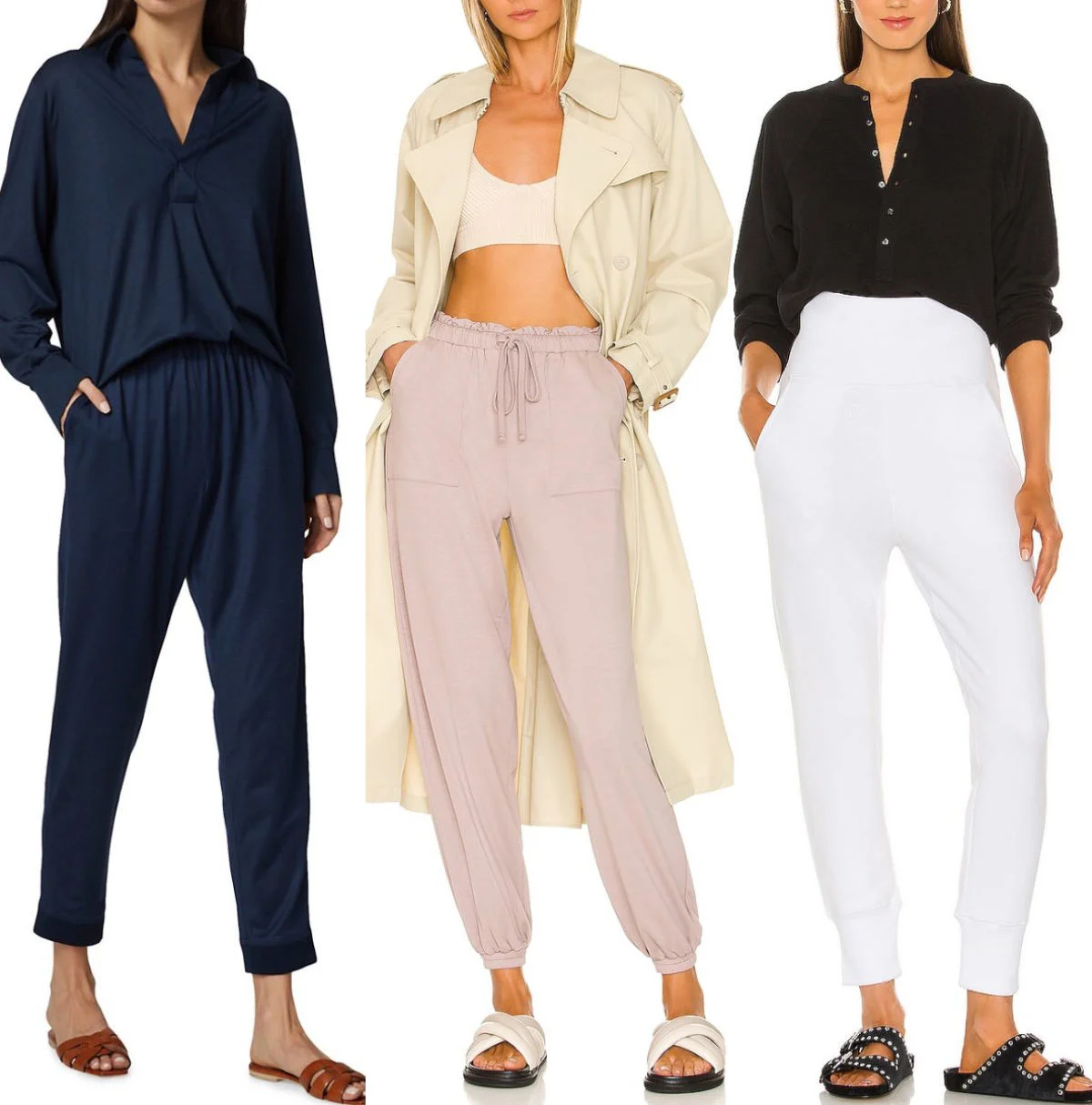 Sporty Sandals
It's hard to write a post about what shoes to wear with joggers without mentioning laid-back slides and sporty sandals. I like to refer to them as après-sport sandals, myself!
I'm talking Teva sandals – either the classic or platform version- and sporty slides such as the Adidas Adilette. These are perfect sandals to slide into when you're wanting to keep things super casual, but sporty chic.
Wear your sporty sandals with any type of joggers or sweatpants – tapered or flared will work. Add a matching hoodie or contrast tee, a chic topknot and a minimal shoulder bag and you're good to go.
Birkenstocks & Earthy Sandals
Birkenstock-style sandals with joggers are a popular combo, as are their clog slides. I love a black leather version, especially if studded, to add an edge, whether to a one-colored sweatsuit or black joggers and pastel tee.
However, if you reach for this type of sandal with an earthy feel, make sure they are in tip-top condition, so it doesn't drag down your jogger outfit. My favorite Birkenstock outfit pairing? Any style with their extra big buckle!
Any sweatpants or jogger works with this shoe type. You can also try a pair of fuzzy-lined slides or clogs during cooler months.
You can also rock a matching sweatsuit with your Birkenstocks as long as the shoe color works with your outfit. A cute leather bag will tie things together. A vintage band tee under a utility jacket would be a fun mix with satin joggers.
Minimal Leather Sandals with Sweatpants
Strappy or minimal slides with a one or criss-cross strap will look fab with jogger pants for summer. Wear cropped joggers if the sandals or gladiator types or lace up at the ankle.
Even the most minimal leather slides will make bulky sweatpants look polished, especially with a chic purse and trench coat, if the weather calls for it.
Opt for a block heel sandal slide to elevate your joggers' outfit further.
Joggers and Ballerina Flats
Lift your casual joggers to smart casual with a pair of minimal ballerina flats. From classic Repetto styles to pointed-toe designs, there aren't many ballerina flats that don't flatter a good jogger.
Ballerina flats look best with light to medium weight joggers that cuff at the ankle, rather than bulky, wide-legged sweatpants.
Ballet flats will look great with sportier to dressier joggers, alike. Elevate your look with metallic or fun printed flats.
I love a black ballet flat with joggers! Wear a cropped tee or bodysuit under a classic trench, with a smooth leather cross-body purse to complete the look.
Joggers with Slip-on Loafers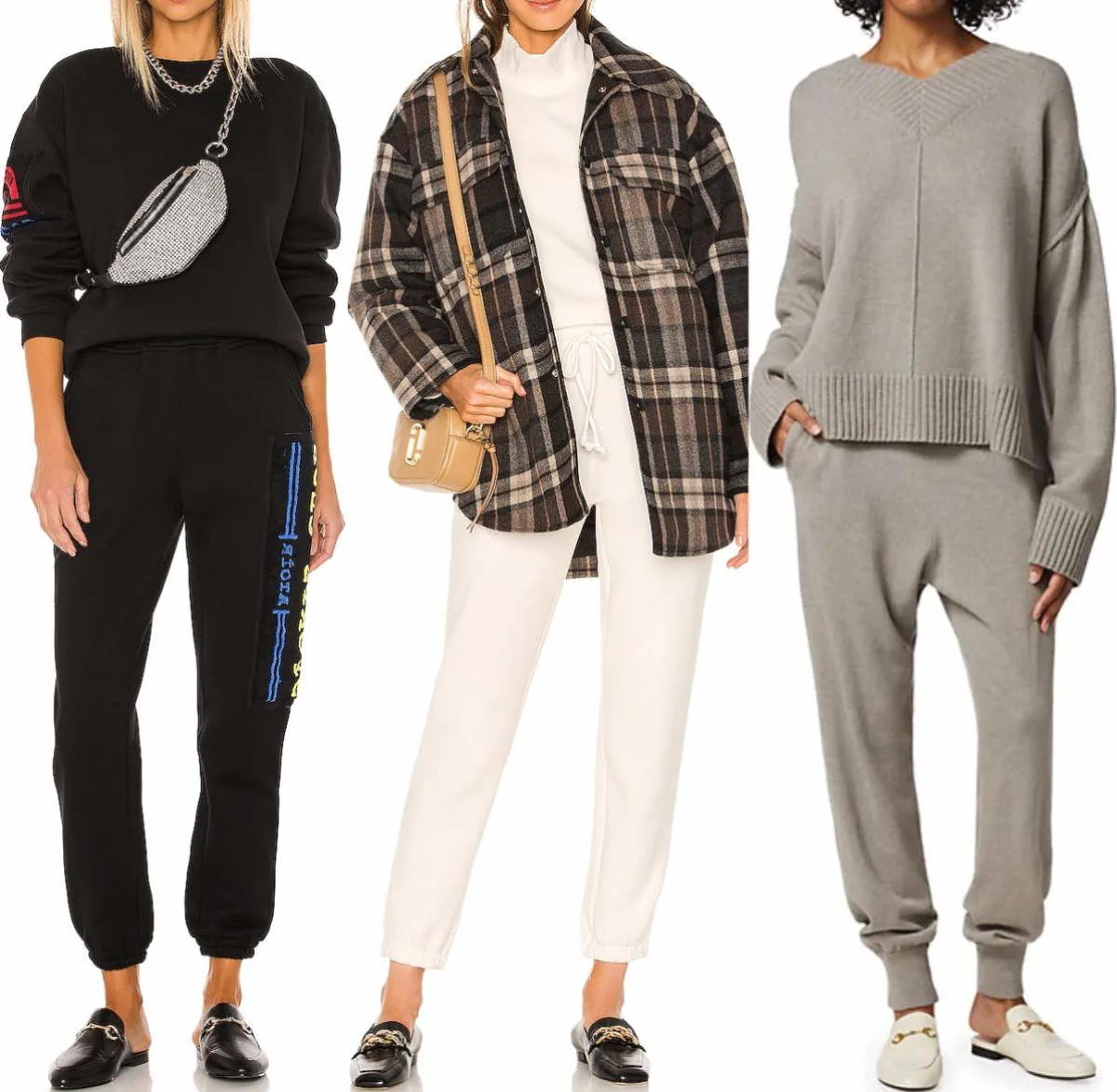 Perfect for spring or fall, loafers are fun, but slip-on loafers are even better! Thanking Gucci for making this shoe type mainstream, slip-on loafers are shoes that go with everything, including almost every type of jogger pants.
Pair your black, white or metallic detailed loafers with any black joggers or sweatpants. Add a tucked-in crisp shirt topped with a moto jacket. Along with gold hoops and jewelry, grab a shopper bag.
For more casual looks, wear your loafer mules with a matching sweatsuit, but don't forget a luxe looking handbag, to keep things chic.
What Shoes to Wear with Dressy Joggers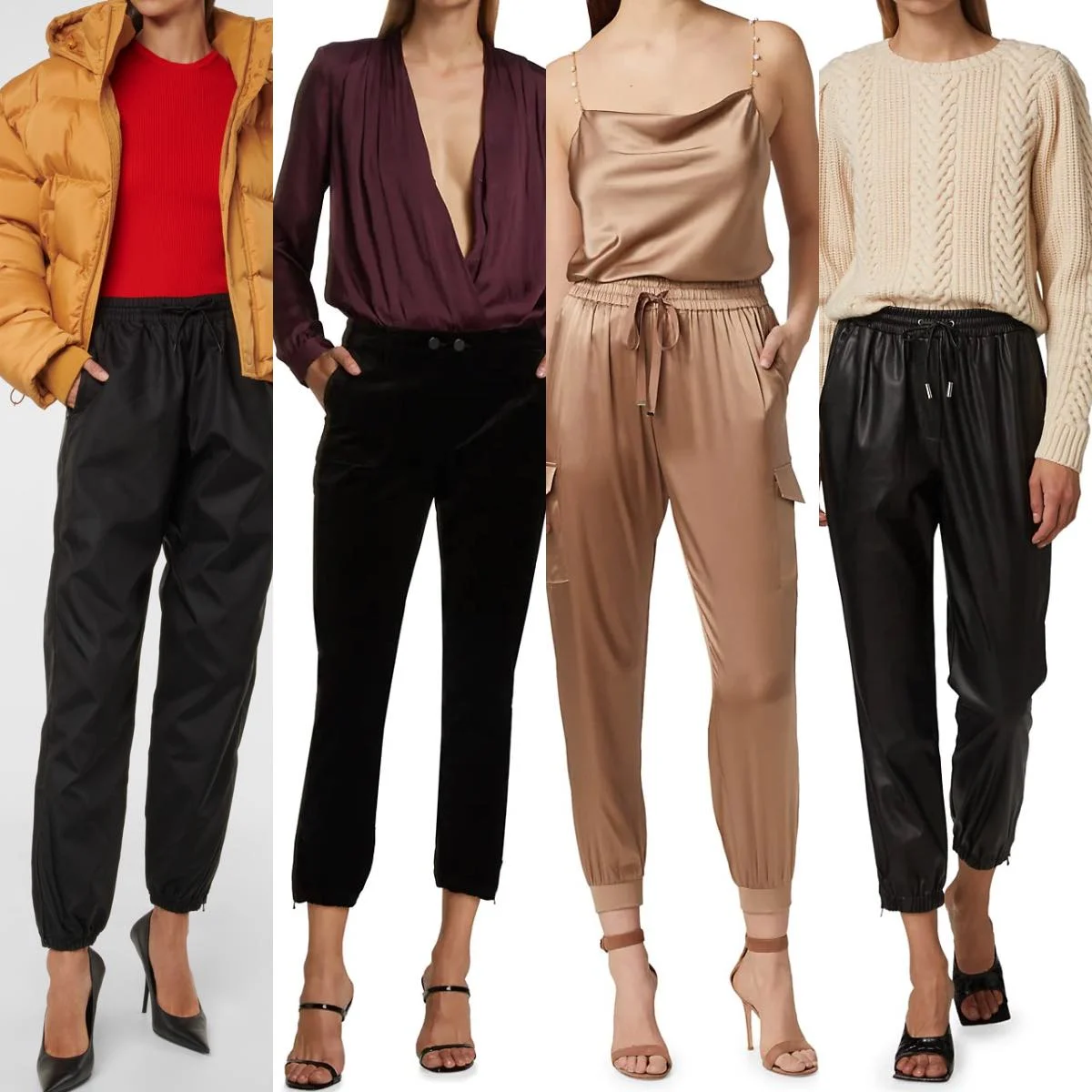 Dressy joggers come in many materials and finishes faux leather, satin, metallic, sequin and Ponte knit classics. Bulky sweatpants need not apply! You can get away with making dressy joggers even chicer, with the right shoes.
That way, you can attend a function with a more strict dress code or wear them as office attire. And that doesn't necessarily mean you need to choose heels, either.
Black sock booties and patent loafers & boots can also shnaz up a look!
I love wearing my military green joggers made of silky viscose with a cotton shirt, caramel crossbody purse or white handbag and buttery leather ballet flats or pumps. See my outfit, here.
But you can also make a black pair fancy with an in-tone bodysuit and satin blazer.
Even a pair of classic black or grey tapered joggers can be elevated with a nice top, trench or tailored jacket. These are my favorite shoes to wear with dressy joggers, below:
Strappy Stilettos
Patent Loafers
Leather Mules
Pumps
Sock Booties
Metallic Sandals
Ballet Flats
What Shoes NOT to Wear with Joggers
I usually don't like telling friends what they shouldn't wear with this or that, but I have strong feelings about the following shoes with joggers.
Needless to say, I do not recommend any of the following shoes be worn with sweatpants if looking stylish in your sweats is your goal!
Ugg Boots with Sweatpants
This is a combo I will never understand, especially if the UGG boots in question are particularly tattered. I have a post about how to clean UGGs if this is you 😉
This look, usually worn with bulky sweatpants does nobody any favors. Not only does it create an unflattering silhouette, but you'll look disheveled and anything but chic.
Choose another boot, like a combat style, which will make you look more put together.
Flip-Flops with Joggers
Worse than Ugg boots are flip-flops with joggers. will make you look sloppy/only appropriate for gym locker rooms or beach settings.
Unless your flip-flops are a chic leather style like studded ones from Valentino, or fashionable kitten-heeled thongs, opt-out of wearing your favorite plastic clackers and replace them with a sports sandal instead.
Slippers
To avoid looking like you're outdoors in your PJs, please avoid any slides that resemble house slippers.
Some fuzzy slippers, you can get possibly get away with, if paired alongside a style sweatsuit – and if you're under the age of 20. How about a pair of chic ballerina flats instead?
Final Words on Shoes to Wear with Joggers
If you've been looking for the best shoes to wear with joggers or some great shoes to wear with sweatpants, now you know that there is no shortage of choices!
Whether you're looking to wear these comfy joggers or swear to a casual coffee date, a stroll in the park, or even to elevate dressy joggers, there is a shoe and a look that will make sense. And I didn't even list them all – just ones I believe are the best shoes to wear with joggers and similar pants.
Not only do joggers' outfits make a comfy look, they're also super trendy at the moment and I don't see them going out of style anytime soon.
Especially when you have boots with joggers like combat styles, joggers with heels that are strappy and lots of sandals and dress shoes that can make even the most casual sweatpants look chic.
On the lookout for a new pair of joggers or sweats to add to your wardrobe? Take a peek at my favorite retailers to shop for women's joggers: Zappos, Saks Fifth Avenue, My Theresa, Revolve and Luisaviaroma.
More Styling Posts:
xo ShoeTease