I recently chatted with a friend about my writing a blog post about the best shoes to wear with black dresses. And she asked me if there were shoes that didn't look good with a black dress.
And she has a bit of a point. An LBD does look great with so many shoe styles & colors!
As such, I've divided this black dress styling guide into two parts. Part 1 will list the what color shoes to wear with a black dress. Part 2 will go over the best shoe styles with black dresses, from formal to casual & all styles in between.
So whether you're looking for the right color pairing and/or a sporty, office casual or glam look,
You will come out of this post with a solid grasp of the most fashionable boots and shoes and know what color shoes with black dresses work best in 2024.
12 Best Color Shoes to Wear with a Black Dress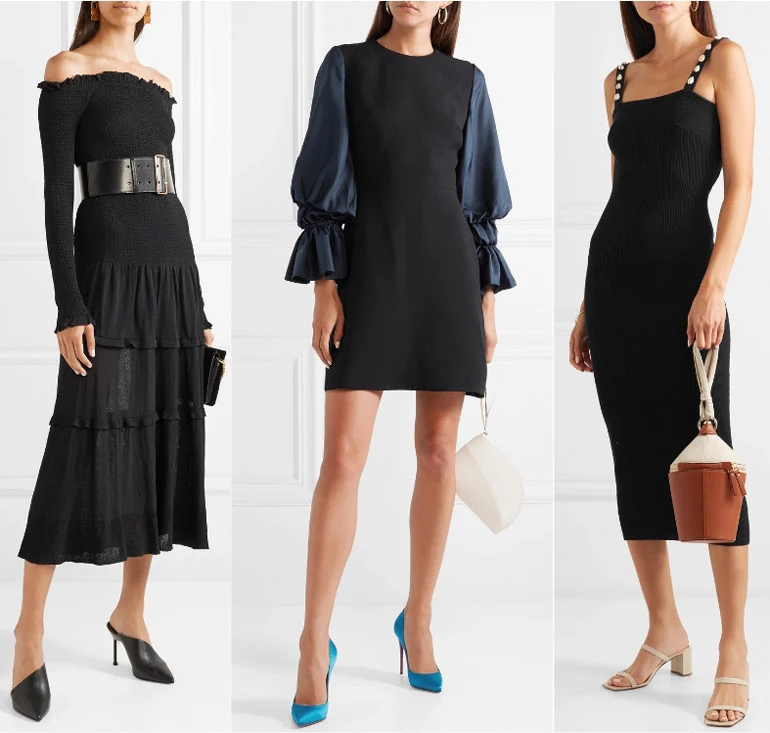 As go-to color shoes to wear with black dresses, neutral shades can't be beat due to 2 main factors:
We have a high likelihood of having them in our closets already
They're a stylish no-nonsense shoe shade pairing with black outfits
BLACK DRESSES WITH NEUTRAL COLOR SHOES
1. Black Dress with Nude & Beige Shoes
Black dress nude shoes? Yes please! If you're wondering if you can wear nude shoes with a black dress, also yes! One of my go-to shoe colors to pair with (almost) any color dress is nude (whatever that means for your skin tone) and beige. Rose gold works just as well.
Because when your shoes match your skin tone, they will elongate your legs while allowing your dress to take center stage. But a lighter tone also looks great!
Beige and blush shoe shades are also extremely flattering, no matter what your skin color. And they are more subdued than, say, wearing a bright white, or even off-white pair of heels.
Neutral shoe colors are my fave colors for wearing a sweater dress with boots!
Favorite Nude Heels – Each Available in Various Tones:
Favorite Beige Shoes & Heels:
2. Black Dress with Silver Shoes & Metallics
Yes, metallics are a neutral in my eyes, especially when it comes to silver. But don't discount gold, copper or rose gold metallic hues which do well when paired with similar colored jewelry or handbags.
Metallic shoes (especially silver!) are a surefire answer to the "what color shoes to wear with navy dresses" question too.
The little stilleto'd strappy number by Chinese Laundry from Nordstrom has been favorite of my readers this season & is priced at under $100!
Favorite Silver Shoes & Heels:
3. Matching Black Shoes with Black Dresses
Black on black on black on…(well you get my drift!) never goes out of style. It's a chic pairing for an easy yet chic office look, or a glam cocktail way to dress. You can play with textures & materials here to have more fun with your black shoes.
Try a reptile embossed pump, patent sandal or velvet brogues to add more interest to your black dress with black shoes outfit.
Favorite Black Shoes & Heels:
4. Black Dresses with White Shoes
A black dress with white shoes gives a stark contrast for those who prefer to keep things monochrome. Best of all, white shoes pair perfectly with pretty much any other dress color, so a definite must for any woman's shoe closet!
Try on sleek white boots outfits with a black dress. Or pumps or strappy stilettos if the occasion calls for it. With a black dress and white shoes, you can have fun wtih purse colors. Opt for a brightly colored apple green, red, cobalt or bright yellow purse.
Feel like keeping things more neutra? Try a beige, or metallic handbag, or always go for a classic – the black purse. Brighten things up with silver jewelry.
Favorite White Shoes & Boots:
5. Black & White Shoes
If black shoes and white shoes go with a black dress, then why to try a black & white shoe combo with your black outfit? The black element will tie in with your black dress, while the white (or even silver) will make for a lovely fresh contrast.
Favorite Black and White Shoes :
6. Brown Shoes with Black Dresses
Can you wear brown shoes with a black dress, you ask? Yes, YES you can! Black outfits with brown shoes is the perfect shade to wear for a more casual, bohemian vibe.
I'm partial to cognac brown, myself, like the outfit above in the middle, but darker brown shades such as chocolate work well too. Keep in mind that brown shoes make a black dress more casual. I highly recommend strappy tan sandals as great shoes for a sundress!
7. Black Dresses with Colorful Shoes
One of my fave suggestions when asked the "what color shoes with black dress es work best" is definitely color! And the brigher the better! You can even go for a satin or high shine patent version of any bright color to be that much extra.
Red Shoes
If you're dipping your toes in red shoes for the first time, pairing them with a black dress will make for an extraordinary look!
It will make a statement, especially if you choose a bright red bootie or pump. Love red but don't want your feet to get so much attention? You can opt for a dark red, wine or burgundy shoes instead! Check out more on red shoe styling in my post about what to wear with red shoes!
Favorite Red Shoes & Heels :
Pink Shoes
Pink is so darn popular right now, that it deserves its own mention! If you want to add a pop of color to your black dress through your shoes, but want to be VERY fashionable, pink shoes are where it at.
Whether it be a hot pink or a softer shade, you will be wearing the more fashionable color on your feet! And of course, pink shoes look stunning with black outfits!
Other Colorful Shoes for Black Dresses
Pink or red shoes aren't your only options with little black dresses! Any bright, fun, even slightly muted hue will work with a black outfit. Here are some fun ones:
Apple Green
Sunny or Mustard Yellow
Burnt Orange
Mint or Teal Green
Cobalt Blue or Turquoise
I prefer bright color shoes with black dresses and outfits, but pastel colors work well too, like blush, powder blue and lavender.
8. Black Dress with Snake & Leopard Print Shoes
If you're looking for playful color shoes to wear with a black dress, then animal prints are where it's at. Not as contrasting as a bright color, but a snake, leopard or cheetah print will add texture to your outfit while remaining fairly neutral.
So essentially, you're getting the best of all worlds! Love leopard? Learn how to wear leopard print shoes in my in-depth style guide!
Best Boot & Shoe Styles with Black Dresses
So here are the most fashionable casual, fancy and office-appropriate shoes to wear with a black dress in 2022! Of course, style is subjective & someone's 'casual' can easily be another woman's 'office' look (depending on your office environment, of course).
Nothing styles a little black dress better than the right pair of shoes. As a firm believer that footwear easily makes or breaks an outfit, I think the right shoe type can take your black dress outfit to the next level. And what are the best shoes to wear with a black dress you ask?
Because let's face it: a little black dress will look fabulous with oh-so many shoes. Similar to when thinking what shoes to wear with a white dress: sooo many options!
Casual Shoes to Wear with Little Black Dresses
Firstly, let's start with shoes that will complement a casual look, consisting of an LDB. Of course, some of the shoes types below are more or less casual than others.
Here are 5 types of shoes to wear with black dresses to create informal looks.
Sneakers
Sneakers are particularly cute shoes with a little black dress. And there are so many great sneakers for dresses, including black ones!
Gold, colorful or a pair of classic white Adidas Stan Smiths, Nike Air Force 1s or stylish Golden Goose tennis shoes will make your LBD ready for a sleek tourist adventure or a grocery store run.
Strappy Flat Sandals & Slides
There's nothing that screams casual chic more than strappy flat sandals with a simple little black dress. Or if you're not into so many straps, a chic leather slide or sporty looking slide can also work well with an LBD.
Looking for a more laid-back vibe? Style Birkenstocks with your long, short or black midi dress for a casual look.
Black Dress with Ankle Boots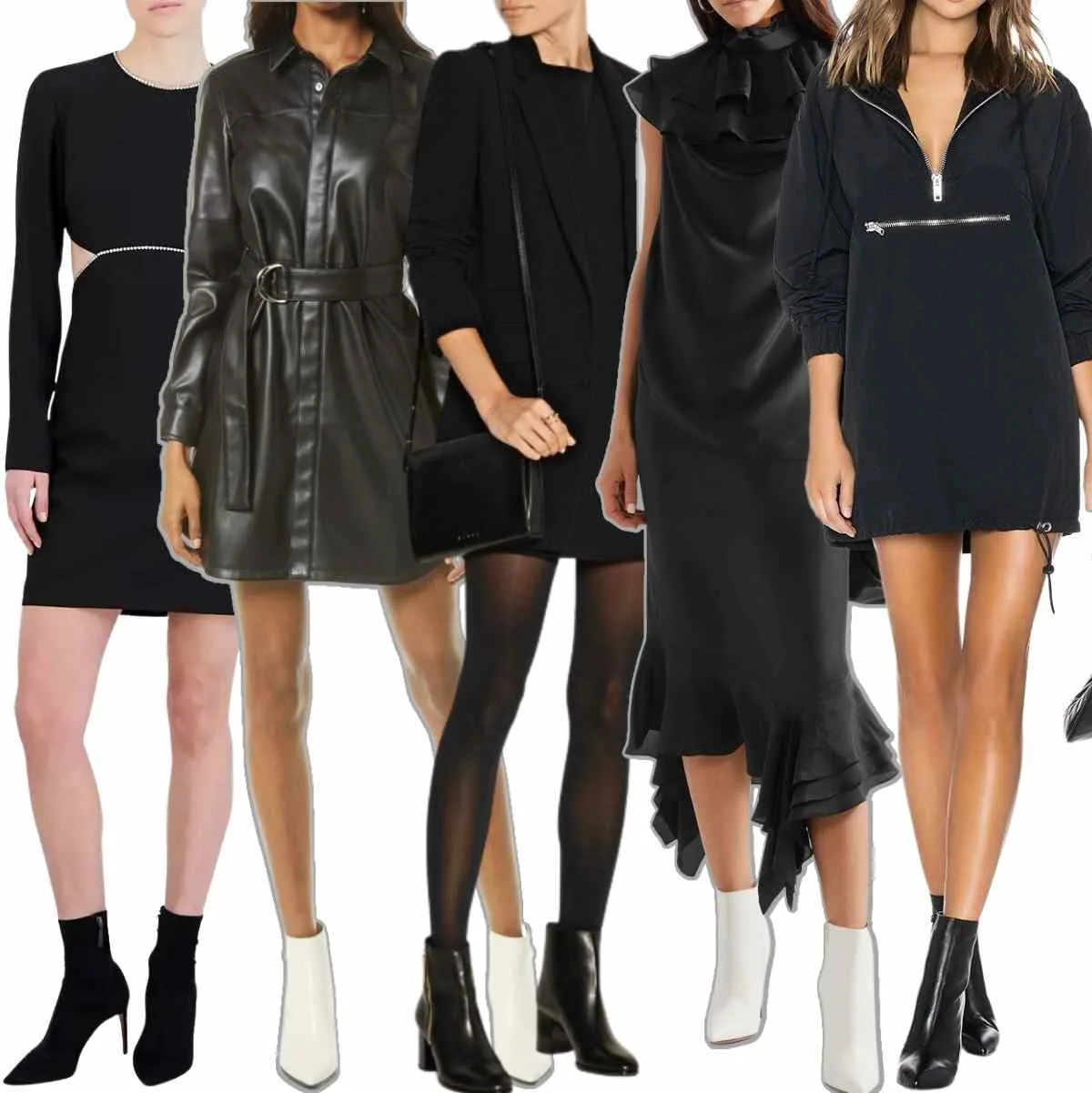 Ankle boots with dresses is an easy go-to outfit for every season. Especially with a little black dress. These are great boots to wear with dresses in general!
So if you want to keep a rock 'n roll vibe, go for buckles & fringe ankle boots will give a boho vibe.
Ankle boots are also a great shoe type, when worn correctly & depending on boot style, to create not only casual, weekend looks, but office-appropriate looks as well. A block heel or wedge will make the boots even more casual.
Ankle Boots We Love:
Knee High Boots
Knee-high boot are at an all time trend high! Especially straight leg knee boots. Easier to wear than a thigh high boot, you likely have a pair in your closet that will look great with long, short, or just-above-the-knee black dresses.
Check out all the ways how to wear knee high boots in my dedicated post!
Tall Boots
Over-the-knee & tall boots are a great boot type to wear in-between seasons, weather permitting. The higher up the leg they show, the less likely they are to be appropriate in a typical office unless they are so high they get lost in the dress.
That being said, when paired with a thick stocking or worn with a longer dress, these boots can go the distance in the corporate world too!
I love a sophisticated black dress with heels & below are my best shoes to glam up your LBD:
Chic Office Shoes to Wear with a Black Dress
As I said, there's a time & place for different shoe types & pairing them with your LBD. The office or a more conservative office environment will give certain shoe types a thumbs up & others, the polar opposite!
If you want to make sure you're staying safe at work, here are my top 3 choices. Of course, if you work in fashion…well, you can throw all of these suggestions right on out the window!
Leather Ankle Boots
Yep, ankle boots as stated above, are fabulous for casual black dress style pairings, but can also be a great shoe to wear to the office too. Best if the ankle boot is polished & minimal.
Block heel or stiletto, as long as it's a clean, minimal design (and of course styled for the occasion!) it's a winner even in the most conservative of office environments. That's why ankle boots are possibly one of the most versatile of shoes to wear with a black dress!
If you have a more serious work dress code, I'd stick with simple leather & suede ankle boots in neutral colors (black/brown/tan) vs. say, sparkly disco purple or bright red.
Ankle Boots We Love:
Pointed Toe Flats & Pumps
Pointed toes on heels & flats are so fashionable in everyday life right now. A pointed-toe pump will look polished with your work wardrobe & chic enough to carry you straight to dinner & drinks!
Of course, the higher the heel the more 'fancy' the shoe becomes. Be careful of showing too much toe cleavage if you're working in a more 'traditional' work environment.
Loafers
Join the boys club & add a dose of androgynous chic to even the most feminine of black dresses at work with a pair of loafers. Chunky lug sole loafers are some the most fashionable of the moment.
However, a classic horsebit or preppy penny loafer will never go out of style (especially not at the office!).
Check out how I styled my black summer dress with loafers for LBD outfit inspiration!
Best Heels & Shoes to Wear with Black Cocktail Dresses
Off to a glamorous evening or champagne & cocktails? Well, then a dainty shoe is your best bet – blocky and sporty-looking shoes need not apply! Think classic elegance here, especially if it's a black-tie affair.
You can also make your black dress outfit fun & funky, especially if you're off to a more eccentric themed party such as a holiday or New Year's eve bash.
Head on over to my post about how to pick shoes for a cocktail dress, where I outline different types of shoes to wear with party dresses of different fabrics, patterns & finishes.
Pointed Toe Stiletto Pumps
With a pointy toe & a sinuous svelte heel, stiletto pumps will never do you wrong on a red carpet, fancy gala or wedding reception!
Maybe it's the toe cleavage or the sinuous design, but in any color, skinny heeled pumps with a black dress will look sensational. Mirror metallic & glitter pumps will dress up your outfit even more.
Strappy Heels & Sandals
The shoe details of the moment are definitely straps & laces. Even better when combined into one shoe! Multi-strap pumps or sandals are an exceptional pairing with a black dress. L
Even & especially in black, straps will visually shine (especially against a fairer complexion), so don't be surprised if no one is looking at your cute LBD, but gawking at your shoes instead!
Naked Sandals
The Stuart Weitzman Nudist took minimal shoe dressing to the next level! Seen multiple times on every red carpet and concrete runway, minimal sandals in a shade that matches your skin tone are your best shoe bet when you want your dress to take center stage.
Another option for barely-there sandals are clear heels. With a lucite heel and transparent straps, it will barely look like you're wearing any shoes with your black dress!
Final Thoughts on Shoes to Wear with a Black Dress
If you arrived wondering what shoes to wear with a black dress, I hope you came out of the post feeling good about possible shoe type & dress pairing! Depending on the occasion, shoes can definitely make all the difference 🙂
If you're looking to wear a long dress, hop on over to my post about shoes to wear with maxi dresses for all the latest styles.
If mini dresses are what you're into, I've written a full post about how to wear short dresses with boots. More info on all kinds of dresses and shoe colors, on my dress styling advice page!
Have style questions or need more advice on how to wear a black dress? Leave me a comment, below 🙂
Most black dresses featured in this post are shoppable via Net-A-Porter.
xo ShoeTease