Black Off-the-Shoulder Dress with Two-Tone Loafers
It's been a while since I've purchased an LBD, as I have so many great shoes, whether statement heels, or these two-tone types of loafers that I could easily wear with one.
I was happy to spot this black off-the-shoulder dress not too long ago (on sale, btw!) that's a little more fun than your average little black number. And literally feels like I'm wearing pajamas as it's so roomy and the fabric so stretchy!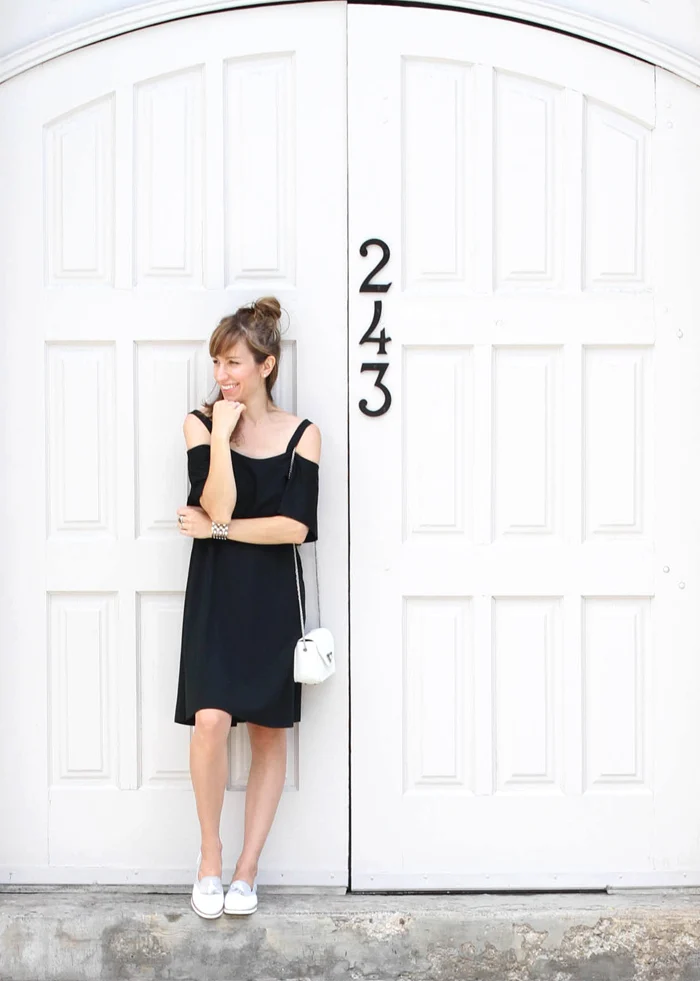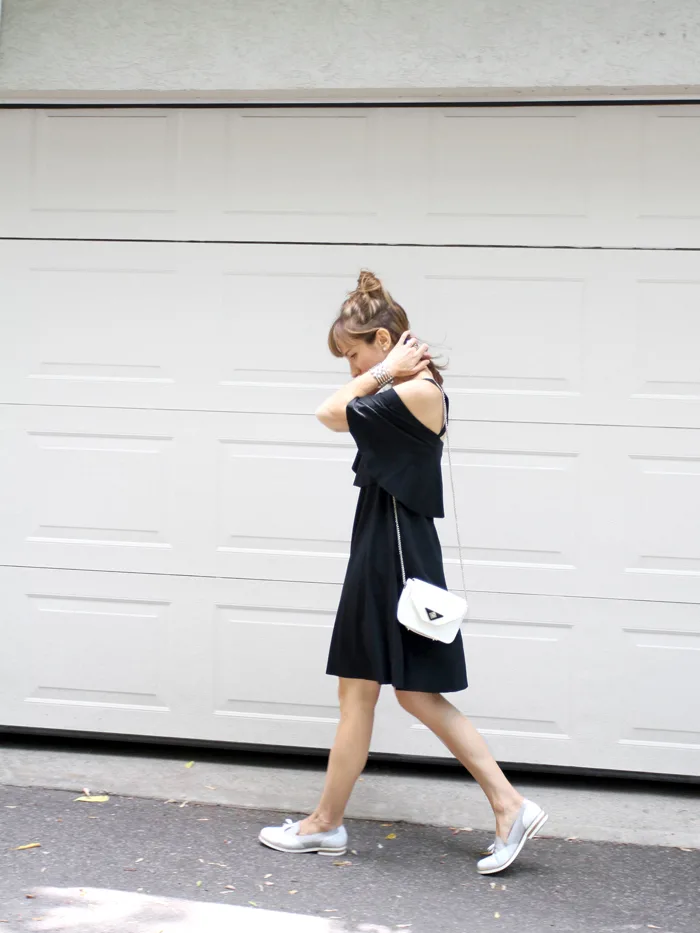 Loafers: ShoesinItaly. Off the shoulder black dress: Anthropologie (on sale!). Jewelry: old.
I've spoken about my technical difficulties with off the shoulder tops & dresses before, and this little dress solves that entire problem for me. The solution would be the two straps, yes, to keep the darn thing on!
Aside from the straps, it's such a fun, even useful transitional dress, because the wider, A-line shape can easily fit a long sleeved tee or turtleneck layered underneath.
Blame it on Pinterest or the ubiquitous monochrome Instagram account, but I'm really getting back to loving black & whites as I start thinking of the upcoming Fall season.
Although I love my brights, there's something about the black/white contrast that is so chic for the cooler months, especially when dusted with a few grey elements too!
You've probably noticed I have a similar pair (actually two similar pairs!) of these two-tone loafers from ShoesinItaly. I wore the gold and white ones recently in this post, styled with a striped maxi dress. They literally go with everything! These tasseled flats are so comfy, and I think I've mentioned before that they're a great substitute for sneakers! Not that I would stop wearing sneakers, mind you!
Talking about shoe types, I'm already starting to mentally free myself from the thought of wearing sandals (*sigh*) and as you can see, am now beginning to opt for loafers & sneakers instead.
To be honest, I won't miss sandals very much. Because during the Fall/Winter season, pedicures become completely optional, if not obsolete. Yay to that 🙂
Some things such as doing my nails, are so time consuming that even if the end result is great, I'm just so happy to forgo the process! I mean, waiting for them to dry is such a hassle, especially with toes.
Often even waiting most of the day for the polish to dry, won't even prevent a closed-toe shoes from ruining all that hard work :/ I hate it when that happens!
What will you be happy to do away with come Fall?
xo Cristina