I'm all about Adidas Stan Smith fashion & outfit pairings for Spring/Summer right now. I mean, we all know how coveted looks with the classic white Stan Smith sneakers are. Sooo many fashionable street style stars have been spotted wearing them out & about since last year and it's kind of a relief, really. They're comfortable shoes that look fabulous with pretty much everything. And I mean EVERY THING!
Especially trending outfits. For all the nay-sayers out there? I thought I'd show you proof, via trendy retailer Scoop NYC's Spring 2015 look book, that these white sneakers will look smashing with virtually any top summer trend. And for those who already believe in the power of chic Stan Smith outfits, here's how to wear the white sneakers of the moment. Take a look…
1. Double Denim Styled with White Sneakers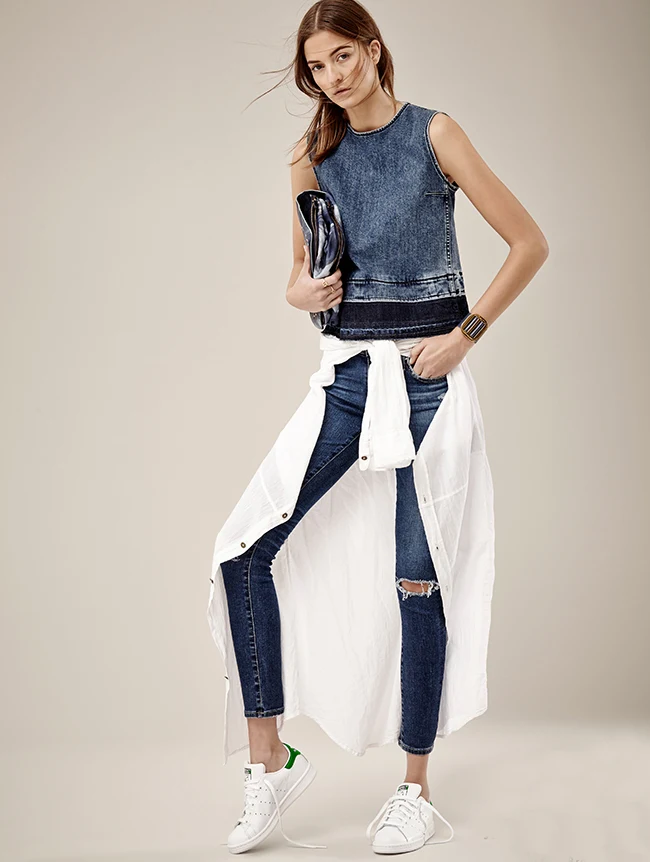 I'm a huge double denim fan & a white pair of sneakers really freshens up the look, giving it a perfectly summery & casual feel. Darker denim looks amazing with contrasting white shoes. This would be my go-to Stan Smith Adidas style combo!
2. Culottes & Adidas Sneakers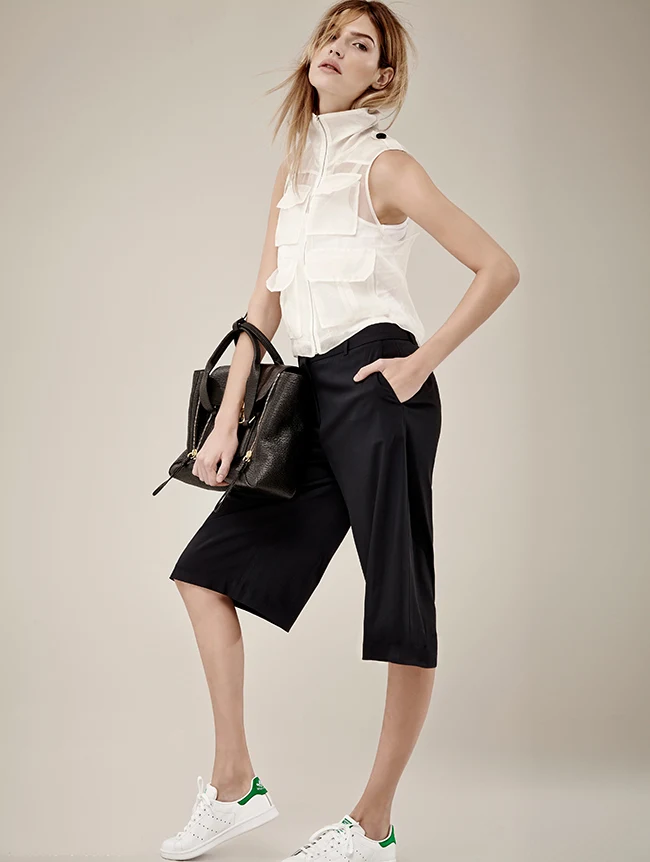 The new "IT" pant has arrived & this time around, it's the wide leg culottes. When in doubt with what shoes to wear with this shorter hemmed, wide leg pant, go for a pair of Stan Smiths. Perfect to dress down a slick office look for literally running errands.
3. Little White Dress + White Sneakers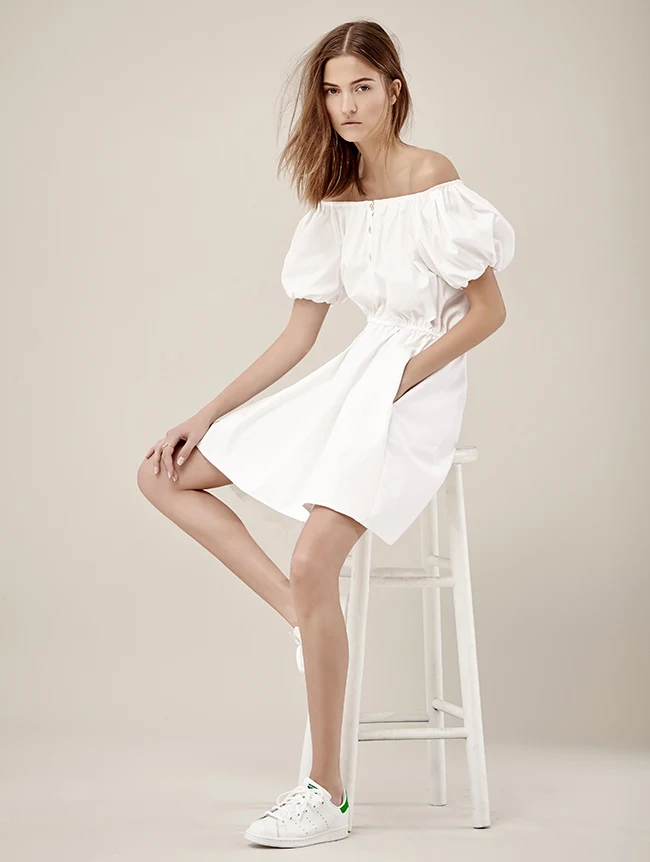 Every woman at the moment is coveting this key piece: the white dress. And the more billowy the better! I'm loving the 70s silhouettes coming out this season: relaxed & easy to wear. You can dress the LWD up with a strappy sandal, or be the cool girl wearing them with your white Adidas. The choice is yours!
4. Eclectic Midi Skirt & White Adidas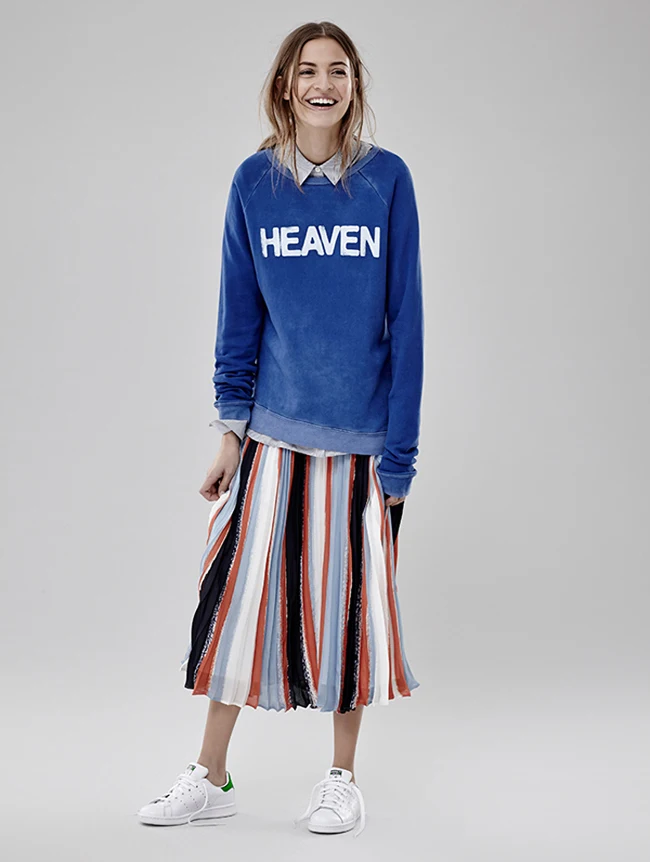 This is how I believe a true street style star wears her trendy white sneakers: with an original pleated midi skirt, quirky sweater, messy hair & a smile. She wouldn't be wearing any other shoe style either! Hopefully she does up her laces, though.
5. A White Jumpsuit with Sneakers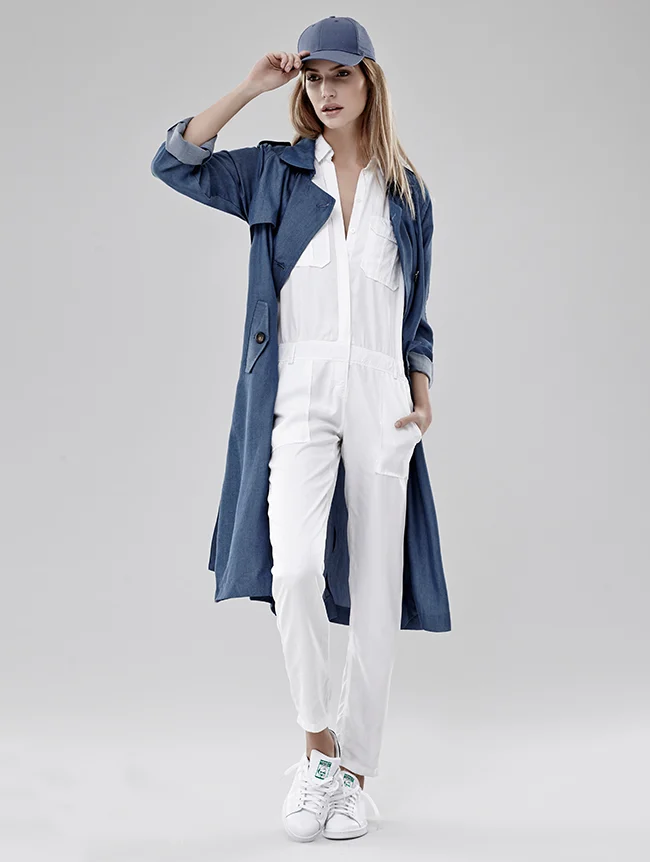 A white jumpsuit or with any jumpsuit really! But as white is the color du jour, it seems fitting to outfit your Stan Smith sneakers with a crisp white version. Love the chambray trench draped over the look & the baseball cap to protect your mug from the harsh rays.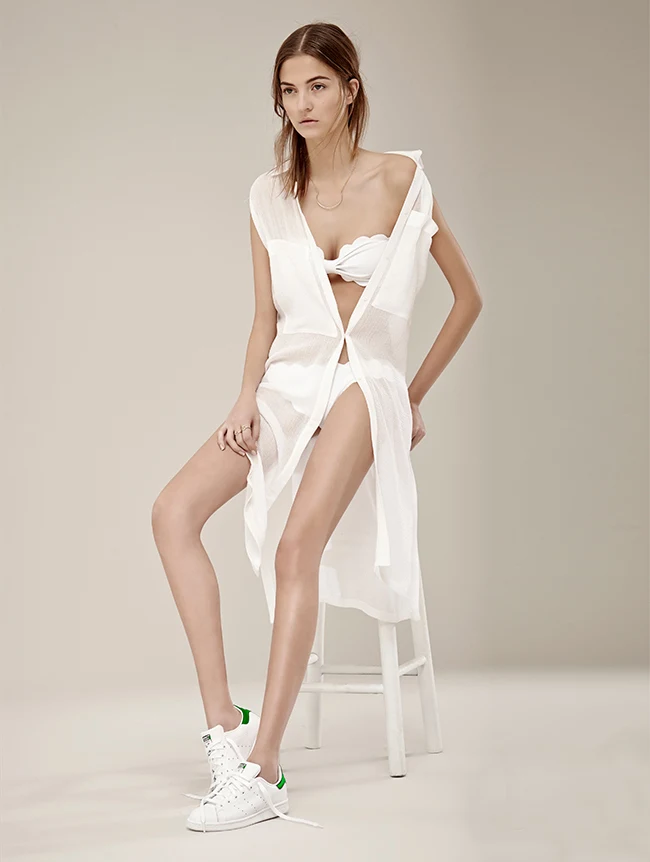 Ok, so I've added a "6th" look just to prove my point: there isn't a Summer trend that these classic white sneakers aren't going to look fabulous with. Even a scalloped bikini!
Was I right or was I right?
If you're going to wear white sneakers this clean white sneak is your best bet. However, that certainly does not include this Adidas Stan Smith wedge (please just, don't; stick with the classics, ok??). The white Stan Smith it's terribly on-point, easy to wear & incorporates effortlessly with Spring's most fashionable looks whether culottes, jumpsuits, midi skirts & the like. If you still don't believe me, Google "Adidas Stan Smith Outfit" & you'll be put to shame quite fast 😉 Heck, they even look good styled with your bikini! And even though it is always a sneaker (read: casual), because of it's sleek & timeless design, you'll never look frumpy or come anywhere close to resembling a cheesy tourist. Adidas Stan Smith fashion: it's what this Spring/Summer is all about! If you love these looks & key pieces, check out Scoop NYC's boutiques or online store. You'll find the most coveted shoe styles & trends of the season without having to sift through a mountain of products.
Which Adidas Stan Smith sneaker & outfit pairing are you?
xo Cristina
**This sponsored post is brought to you in collaboration with Scoop NYC. All opinions expressed are my own**
Cristina is the chief editor, fashion & shoe expert here at ShoeTease. As a seasoned stylist and women's fashion & shoe designer, she boasts over 20 years of experience in the fashion industry. She loves crafting effortless outfits for ladies both online and off and believes that styling advice should be accessible to everyone. Whether you're a styling pro or just starting out, Cristina's here to guide you on your fashion journey! Learn more.