If you're looking for the best shoes to wear with a pantsuit, you've found them!
Originally designed for men, a pantsuit is a matching set of dress pants and a jacket, a classic and versatile outfit famous in women's workwear. Pantsuits for women look chic and are a versatile choice for women in the office or dressed up for a fancy night out.
These can come in different fabrics, colors, and patterns and can be tailored to fit snugly or have a looser, more relaxed fit. This makes picking the right shoes for women's pantsuits tricky.
A slim, tapered pantsuit will suit different shoes, than an oversized and full-length, wide-legged style.
And, as you all know, shoes can make or break an outfit – including a pantsuit!
I'm your stylist-in-chief Cristina, and I'll walk you through the best shoes for pantsuits of different styles, shapes, and colors.
With the rising trend of women's pantsuits–and not just for work–let's check out all the best way to complete your look with the right footwear!
Best Women's Shoes to Wear with a Pantsuit
Factors to Consider When Choosing Shoes for a Pantsuit:
Color: pantsuit color will dictate possible shoe colors
Style: what shape and style is your pantsuit trouser? Larger-legged ones will suit more shoe styles than slimmer pants.
Occasion: Are you going to a casual lunch, a formal dinner party, or just another day at the office?
Comfort: Will you be walking or standing a lot?
1. Leather Loafers for An Easy Work Outfit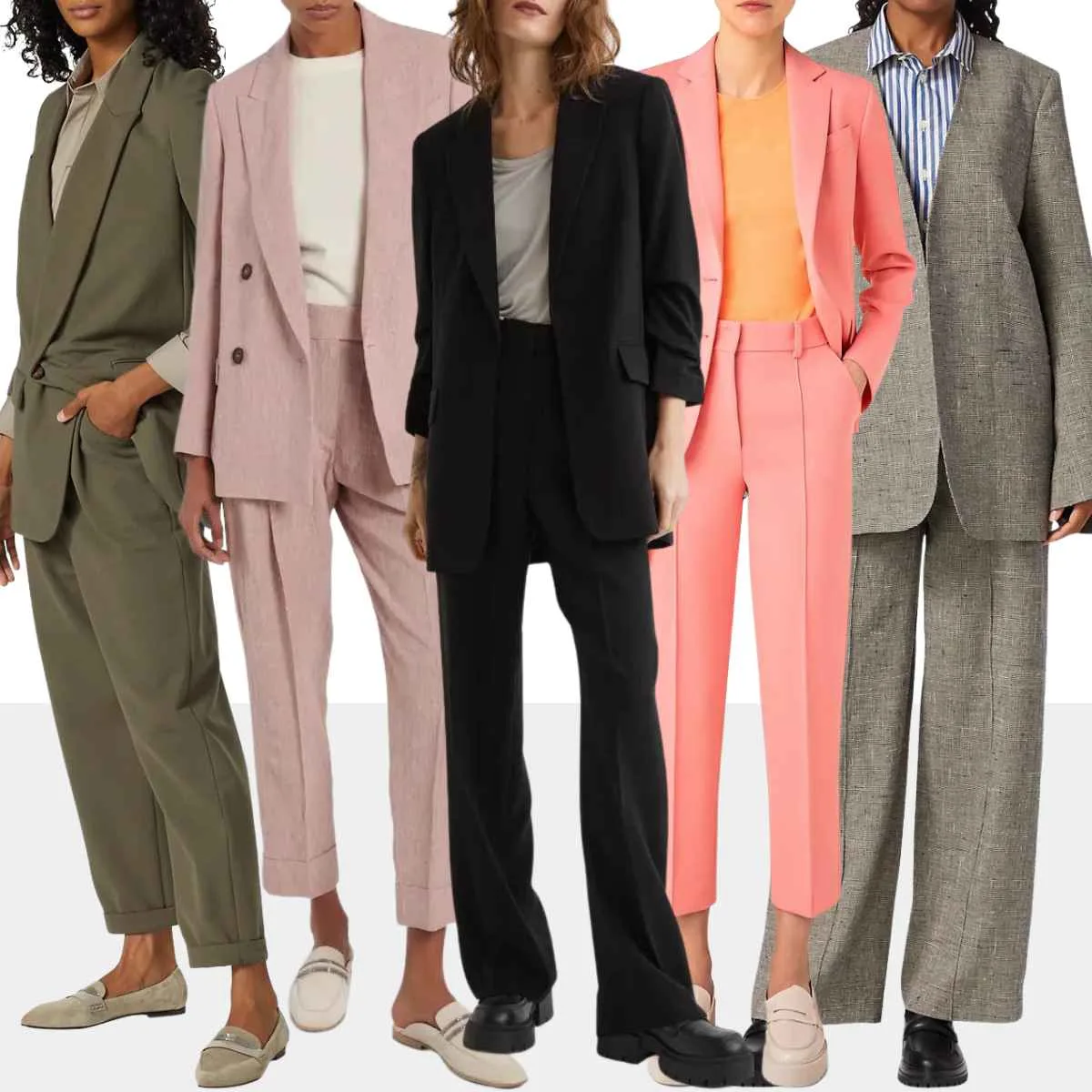 For a casual yet stylish look, try a pair of leather loafers. From Horsebit loafers to chunky loafers, there are many loafer styles to choose from!
These add chic sophistication to a pantsuit and won't look out of place at the office or semi-casual affair (patent loafers are great for this!).
Loafers come in classic colors such as tan or black and more eye-catching shades of pastel, bold colors, metallics, and bright white.
2. Pumps with a Pantsuit for Maximum Sophistication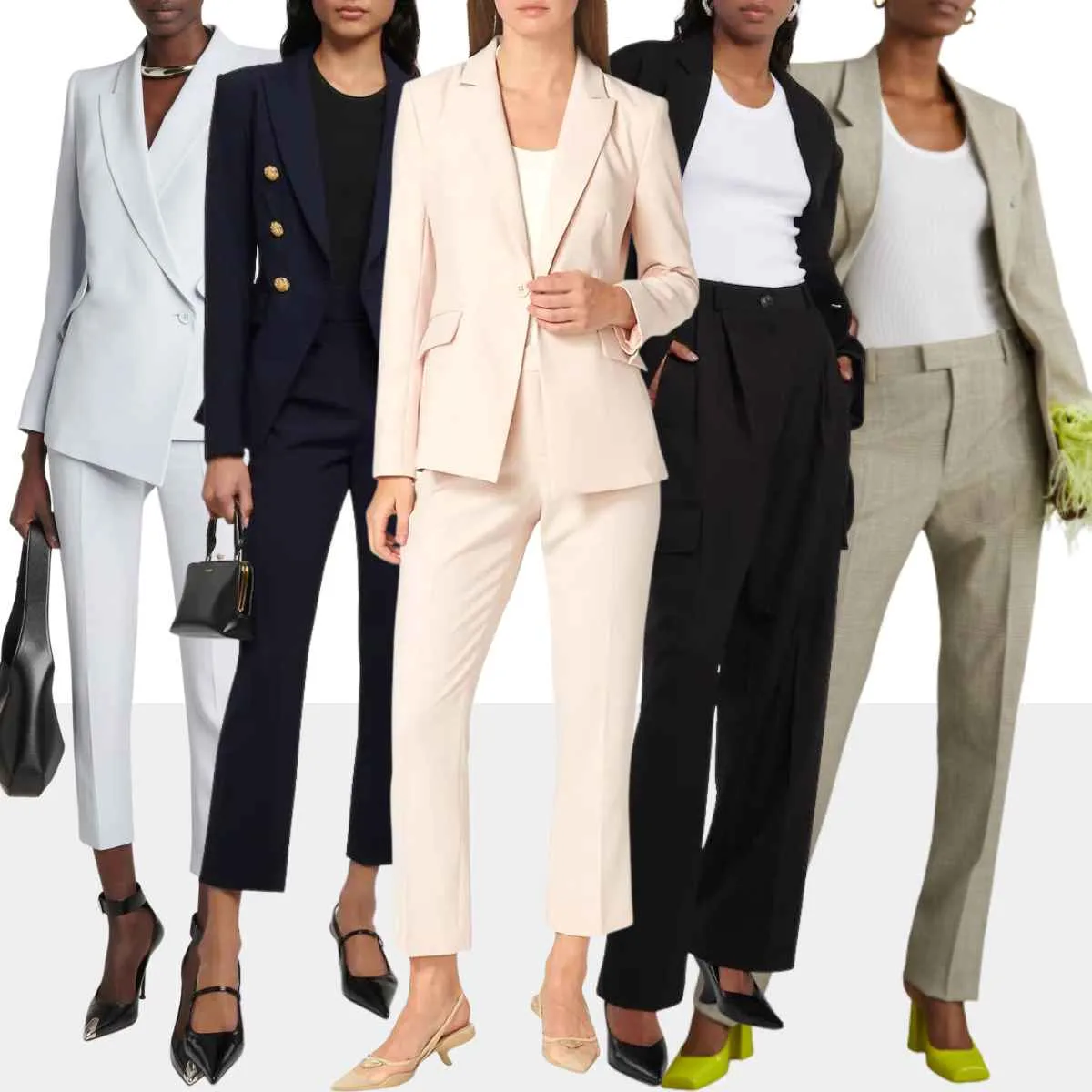 From classic pumps to strappy pumps to slingback pumps, there are many elegant pumps to wear with a pantsuit.
If you are looking for an elegant pair of heels that will complete your office wardrobe, slingback pumps may be the right choice. These high heels in chunky heels provide both support and stability.
Slingback pumps are appropriate for various occasions, from casual springtime events to client meetings. They look sleek and sophisticated, especially in a kitten heel – a trending silhouette at the moment!
3. Sneakers for a Sporty Pantsuit Look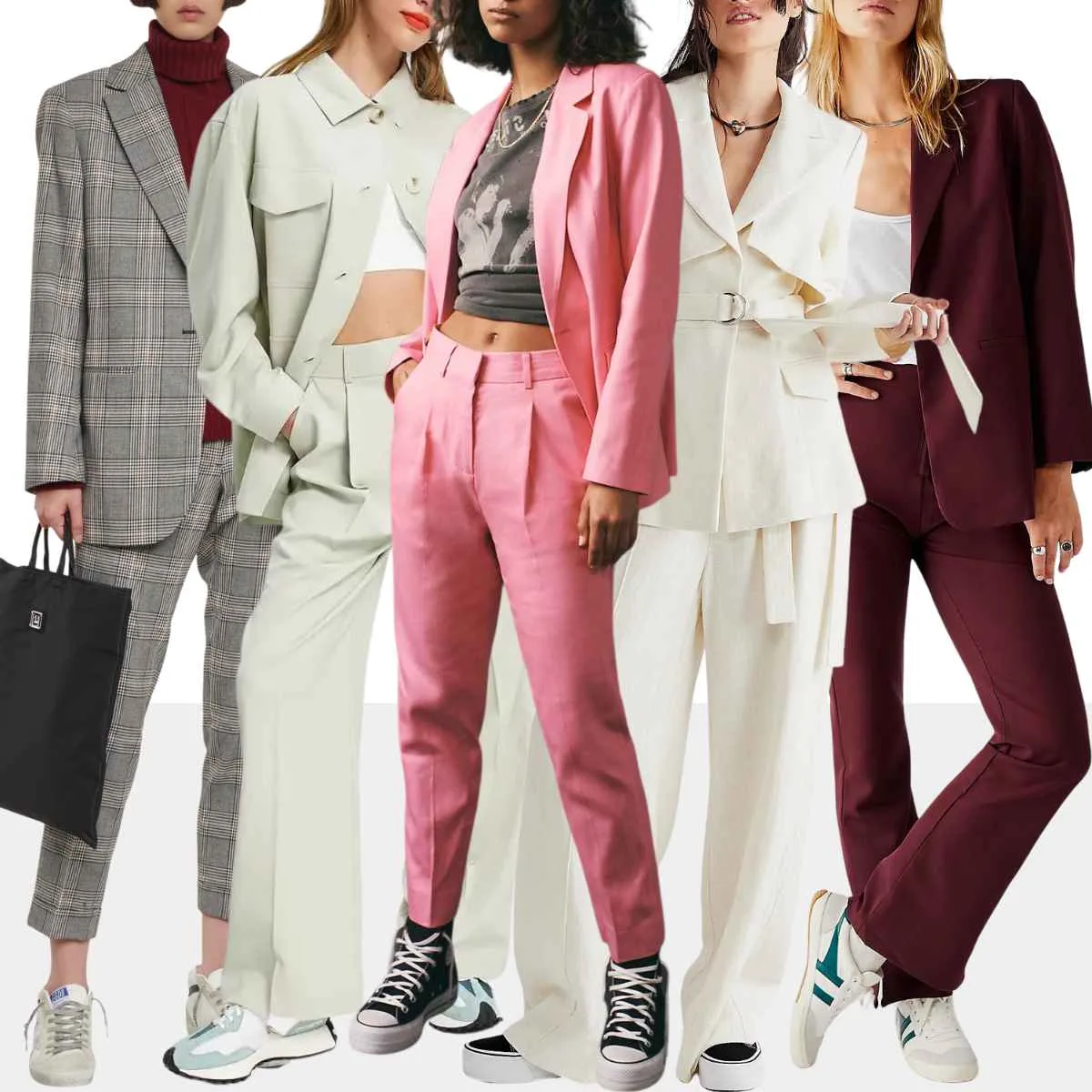 Yes, you can wear sneakers with a pantsuit for women. They can give a more casual and laid-back look to the outfit. You can opt for white sneakers for a timeless look.
Low-profile sneakers such as Adidas, Stan Smiths, or Golden Goose sneakers can compliment virtually any women's daytime pantsuit.
Or, choose chunky or platform sneakers for a more trendy and edgy look. These modern styles balance a wider leg and even a baggy pantsuit. Pair them in a similar shade to your suit, or color block with a contrasting color.
4. Heeled Sandals to Elevate Your Pantsuit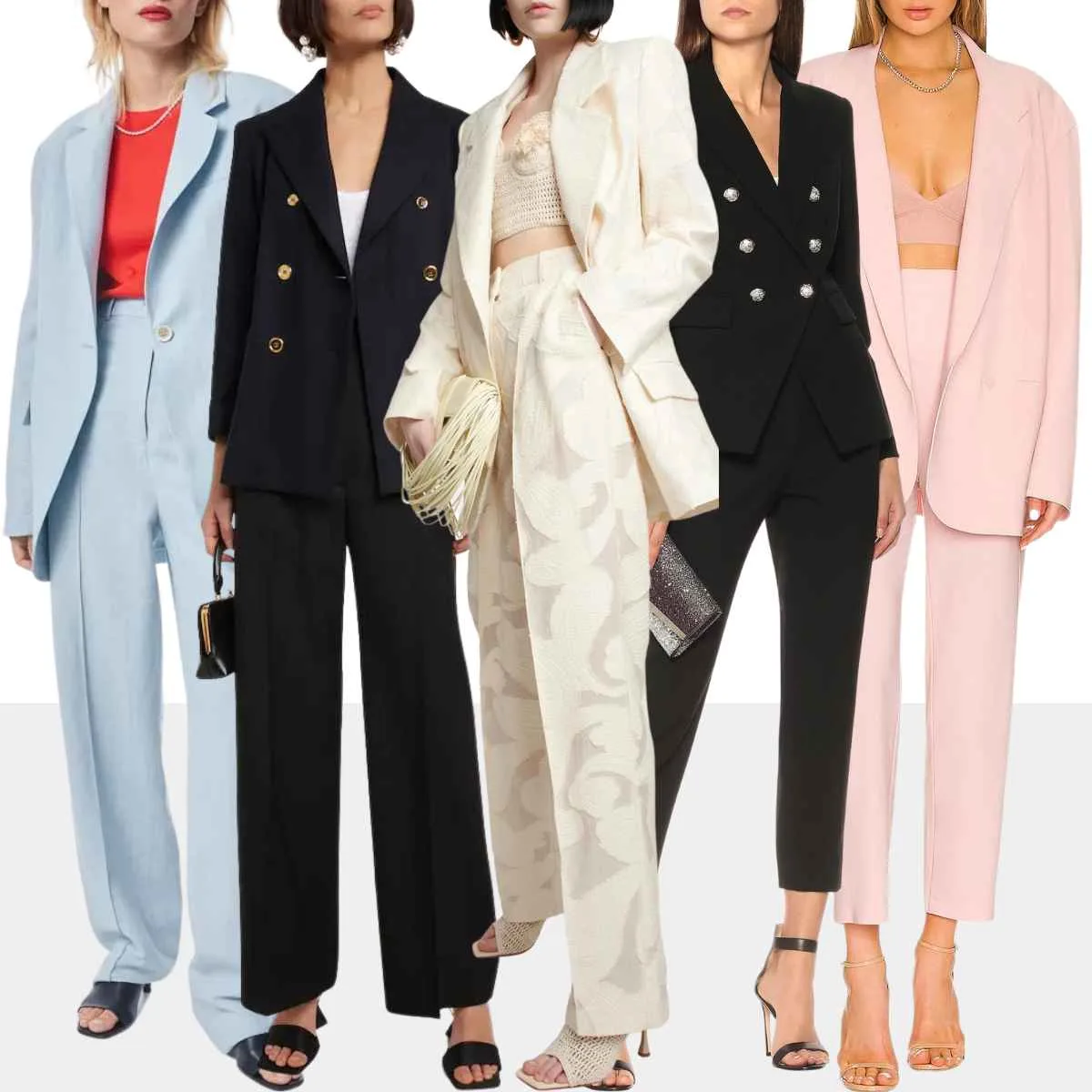 For warmer months or a fancier affair, heeled sandals with a pantsuit look fantastic! I prefer a one-strapped sandals for suits that end right at or under the ankle.
Strappy sandals can also look fun with a more tapered pantsuit that ends at or over the ankle. Heels can be high for a formal occasion or kept kitten height for everyday wear.
Platform heels are all the rage right now, especially with the current Barbie Core trends.
Platform sandals look great with flared, baggy and wide leg pantsuits. They can appear bulky with a slim pantsuit, unless the shoe has a shorter platform.
5. Slides & Sporty Sandals with a Pantsuit for Laid-Back VIbes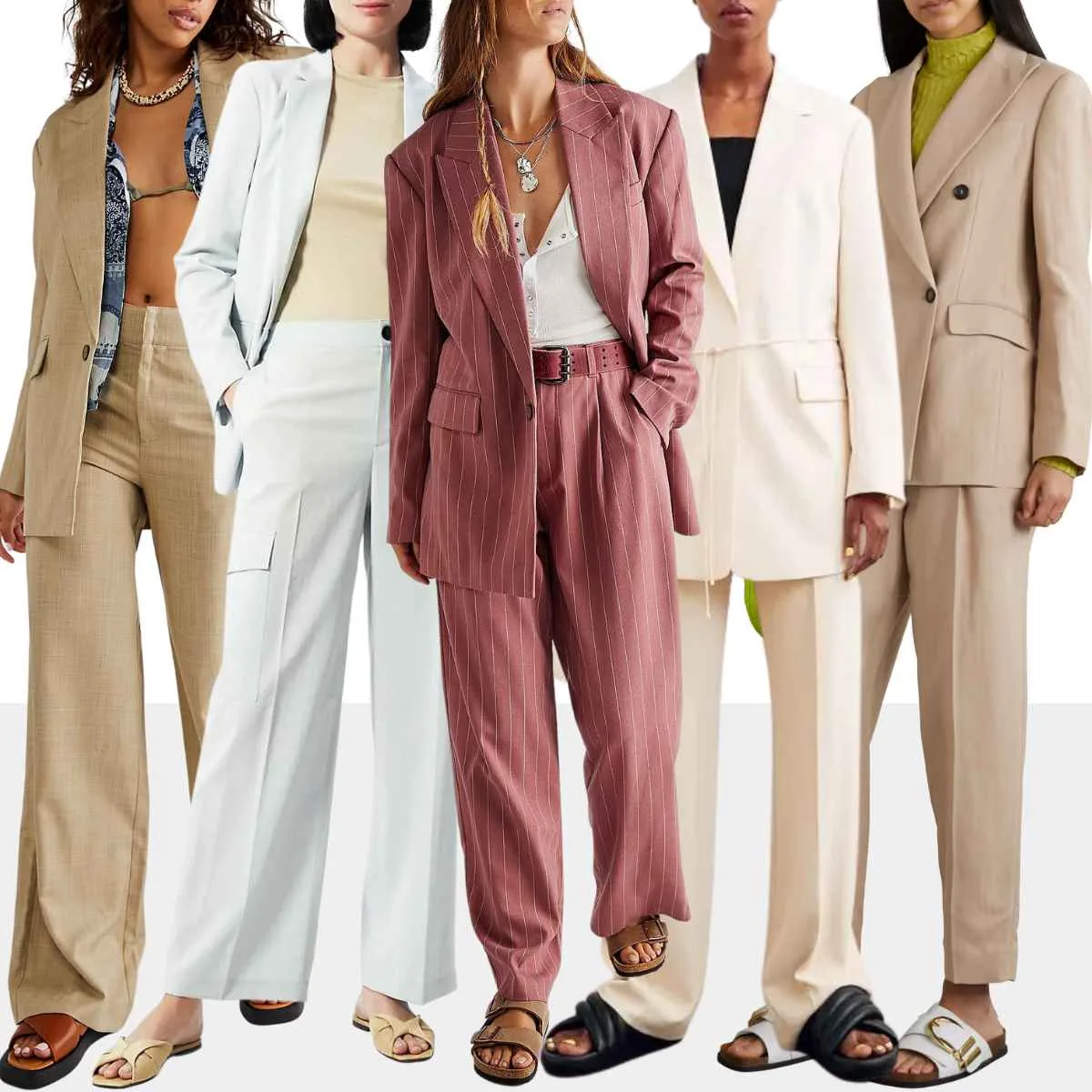 A controversial combination, yes, but these shoes with pantsuits can work! Think flowy linen pantsuits with Birkenstocks for an Earthy, summery feel with a bit of boho flair.
Or, oversized pantsuits, ones in all white, pastel, or bright colors with a pair of sporty platform sandals, or those chunky puffy sandals everyone's wearing these days. With the right attitude and pantsuit, a woman can look laid-back yet chic!
Check out my post on what to wear with Birkenstocks for the best Birks to wear to look chic and how to combo them with different types of pant legs! Wear this pantsuit outfit to a casual brunch or for a casual Friday at an open-toe-friendly office.
Boots with a Pantsuit for Women
6. Combat Boots + Chelsea Boots for a Rugged Look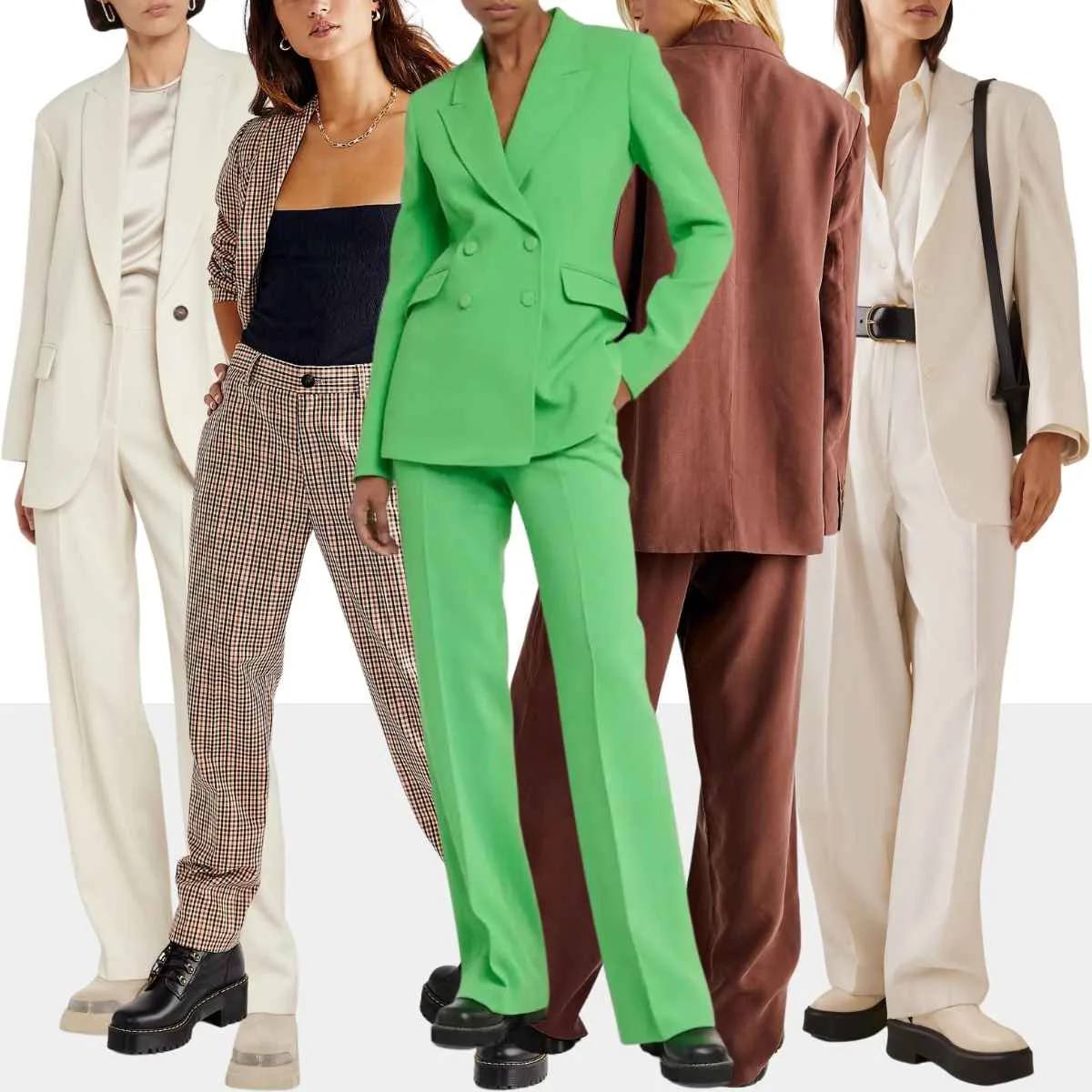 In terms of boots with a pantsuit for everyday wear, combat boots or Chelsea boots look great. For a more rugged look, choose a chunky lug sole or a two-tone boot for a more casual look.
Combat or Chelsea boots are great with wide to straight-leg pants. Choose a taller boot that fits over a snugged pantsuit leg for a military vibe.
Combat Boots We Love:
7. Ankle Boots for All Occasions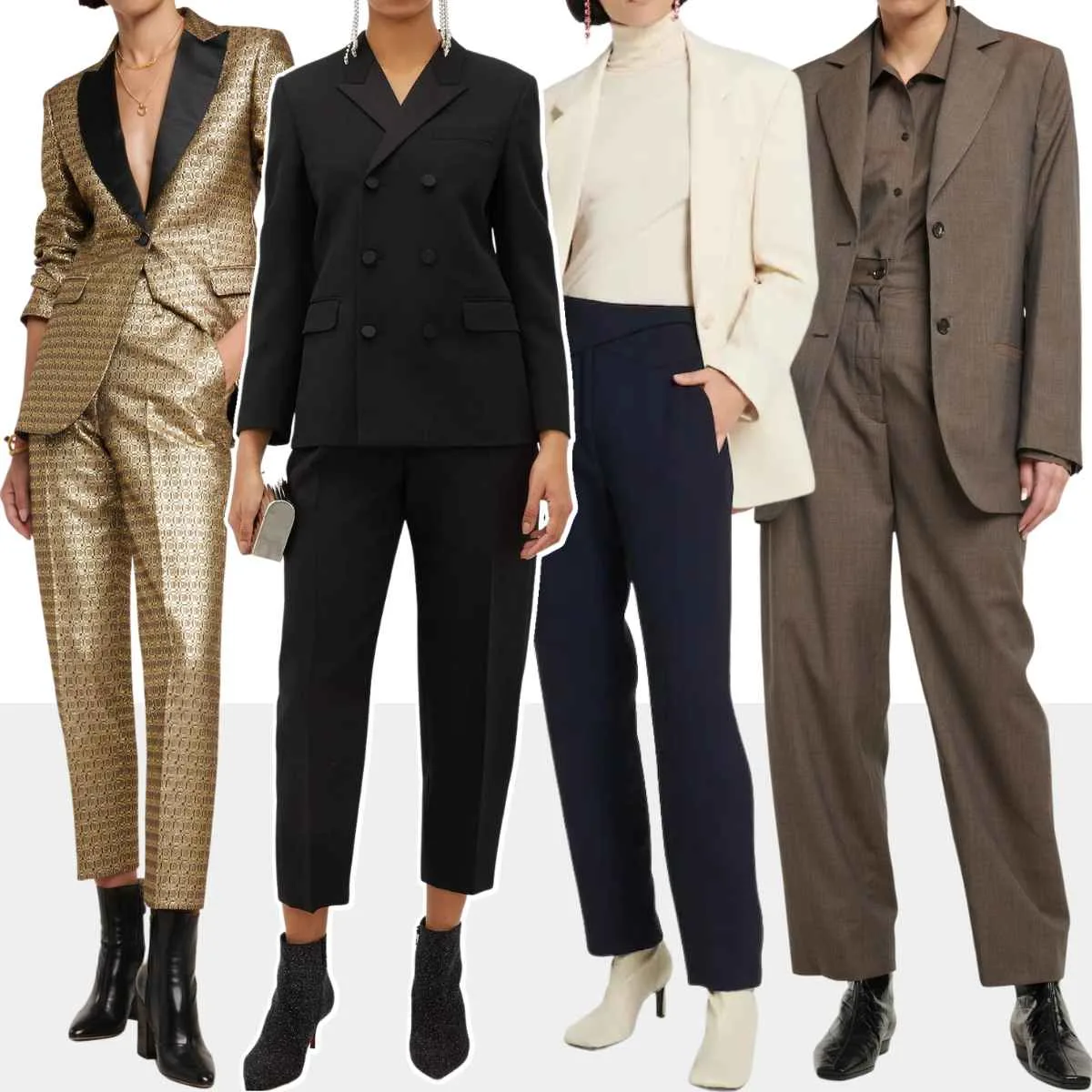 Ankle boots great shoes for a pantsuit for fall or spring can be worn with various pantsuits. From cropped trousers, wide legged pants to skinny fits, you will find a pair of ankle boots that will match the suit style and occasion to which you're wearing it!
Choose black leather, patent or metallic pointed-toe leather ankle boots or socks booties for a more formal event. Try suede ankle boots or chunky heeled boots for a more casual setting.
If you're into patterns, ankle boots in an animal print or ornate embroidery can make your pantsuit outfit that much more interesting!
Ankle Boots We Love:
8. Western Boots for a Country Chic Style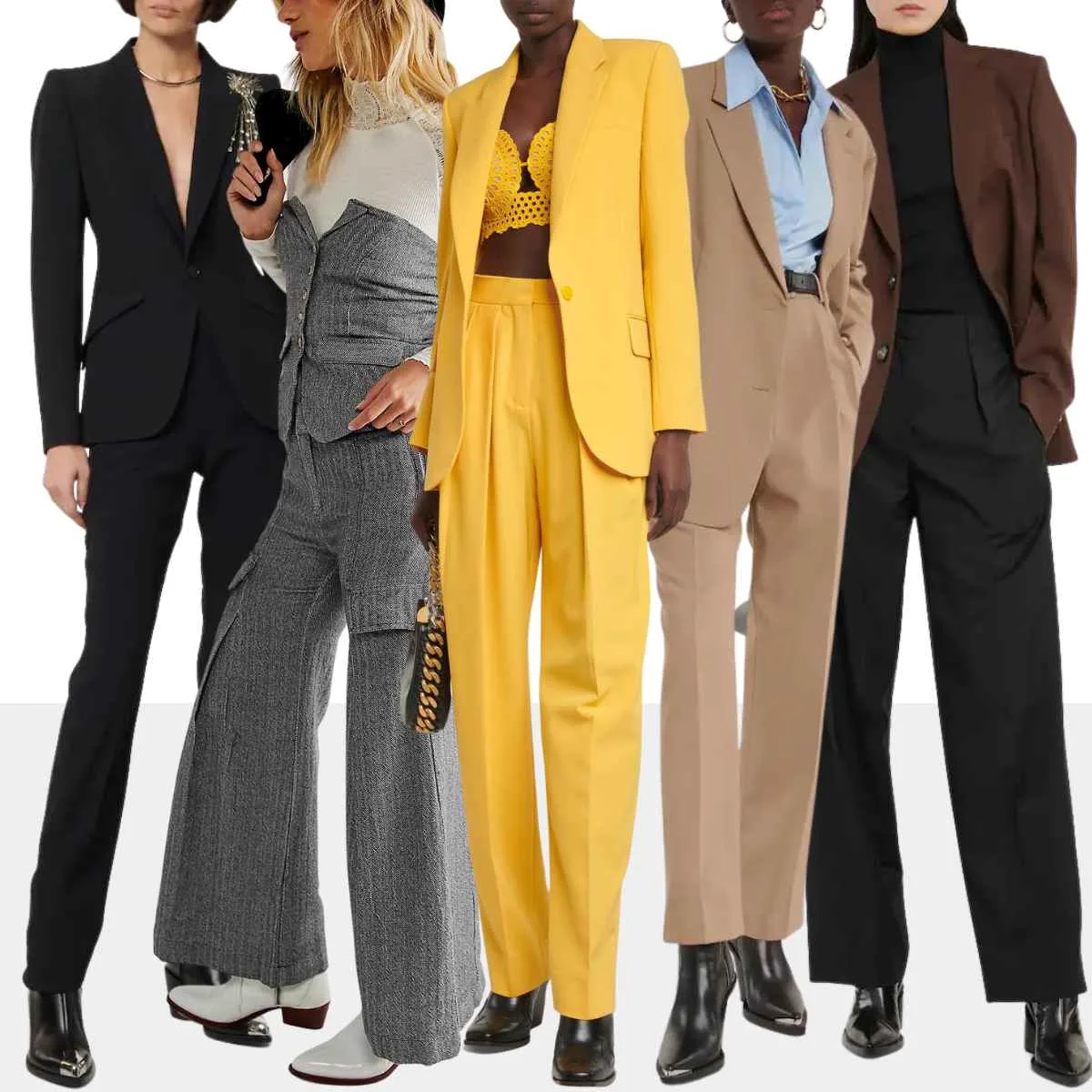 Ever thought about pairing your cowboy boots with a pantsuit? It's currently a stylish and unexpected way to add a casual western feel to any pantsuit.
You can experiment with your outfit's overall look with Western boots and pantsuits. You can mix and match loose or tight tops, whether they're minimal or intricate, slim or wide.
For a chic look, pair your pantsuit with a crisp shirt, rolling up the sleeve so you mean business! Complete the look with a belt and a sleek leather shoulder bag.
Alternatively, you can create a bohemian vibe with a billowy blouse and fringe purse. For a western rocker look, choose a slim fitting pantsuit with metallic accent cowboy boots paired with a band tee.
Get more styling advice on how to wear cowboy boots in this post!
9. Knee Boots for an Unconventional Look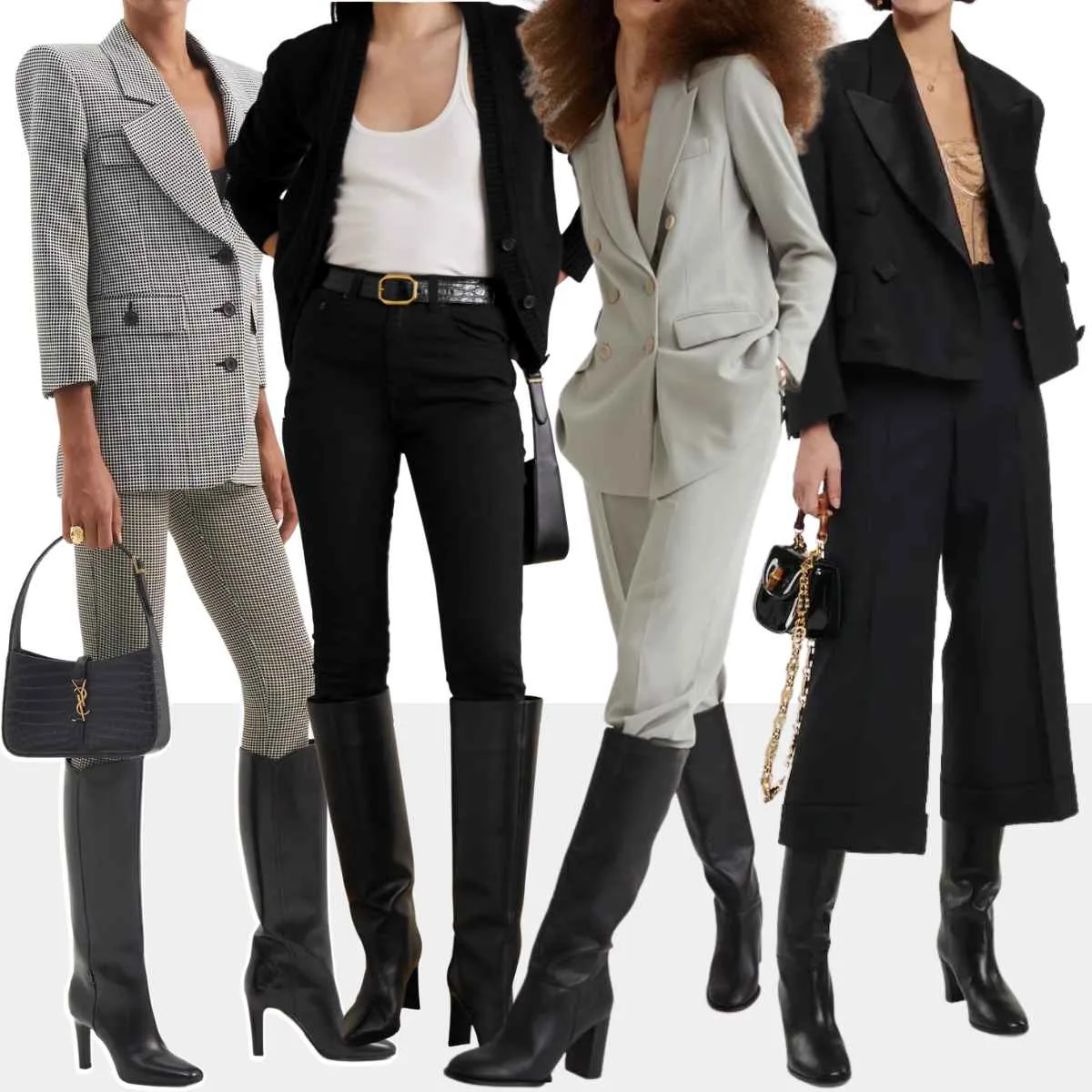 One of the most controversial shoes for pantsuits in this post has got to be knee boots! But it's a trending pairing that can't be ignored.
Of course, this pairing is great for women looking to get more creative or go against the grain of conventional dressing. Wear a less fitted pantsuit with straight leg jeans tucked into the boots for those who are more adventurous.
For a sleeker look, pick a tight fitting pantsuit – or at least one with slim pants – and glide your knee boots over them for a more equestrian feel. You can also wear them ankle of cropped palazzo or culotte pantsuits, to show off more of the boots.
However, if you decide to wear them, do so with caution. This isn't a pairing for beginners or for the fashion faint of heart! Check out my post all about how to wear knee high boots outfits, for more.
Shoes to Wear with Pantsuits to Work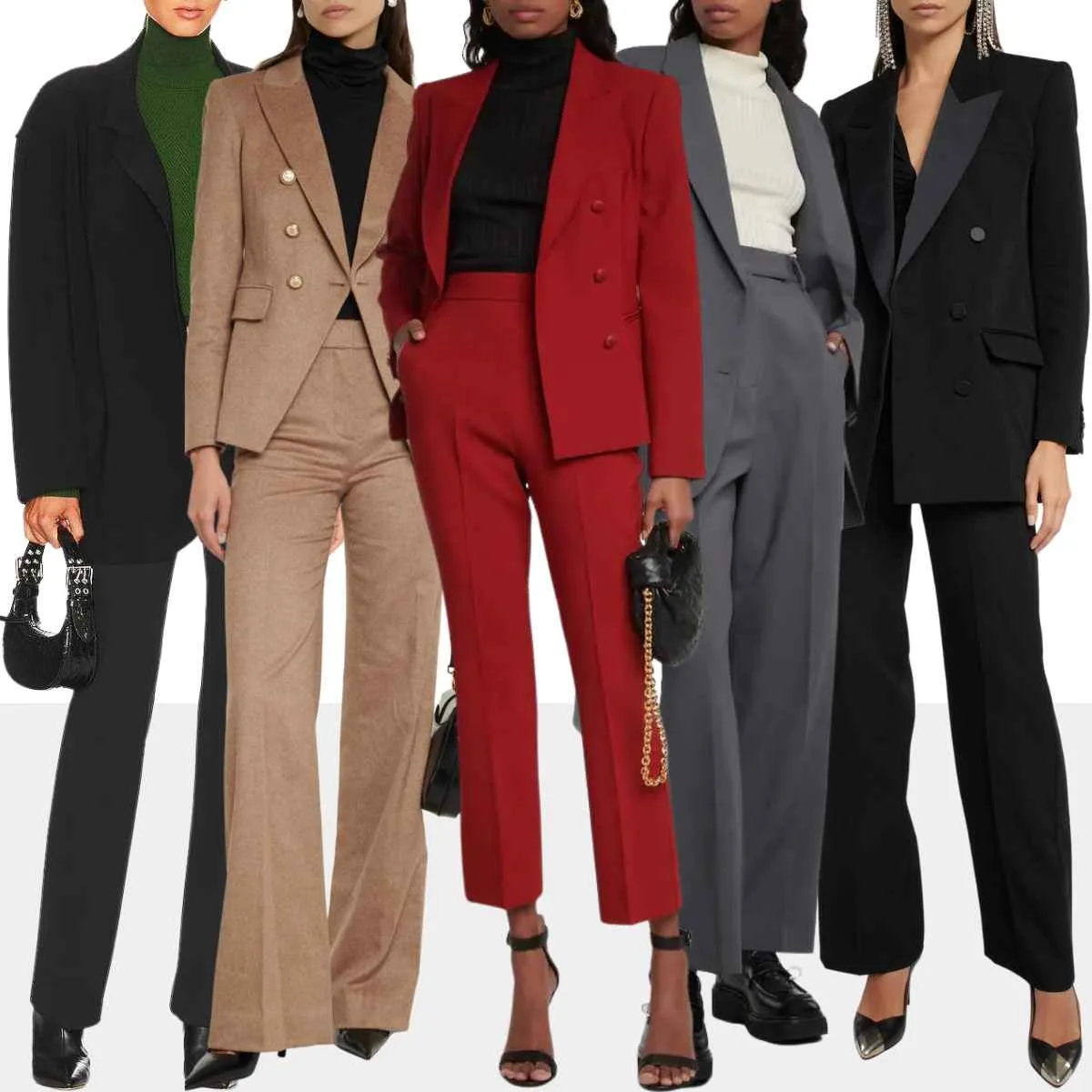 Classic pumps are a go-to choice when picking the best shoes to wear with a pantsuit for women to work.
These shoes are elegant, timeless, and add a touch of sophistication to any outfit. Especially if these are fashionable, like a sleek pointed toe with a refined heel. Choose any heel height from a taller stiletto to a lower block heel.
Leather ankle boots are an excellent choice for cooler temperatures, where black, brown or tan make versatile staples.
Loafers and pointed-toe flats are always great chic, as are classic oxfords or brogues. Wear them with a lug sole for a chunkier, more rugged look.
Shoes to Wear with a Fancy Pantsuit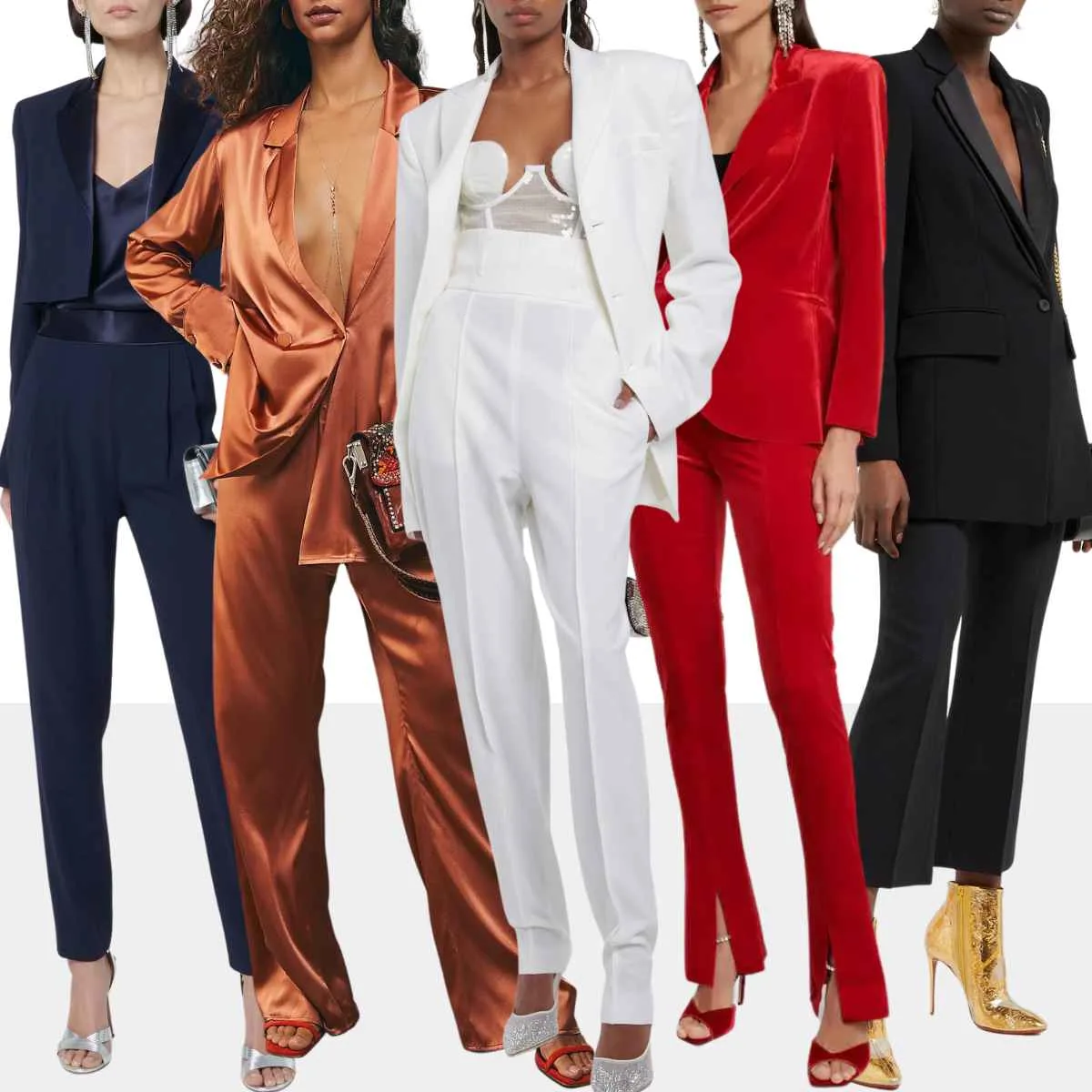 Stiletto heels look stunning when pairing shoes with a fancier pantsuit or tuxedo style suit. Pumps, strappy sandals or slides are classic choices, especially in a patent finish or metallic material.
If your pantsuit is cropped, you can show off a more ornate or higher heel, elongating your legs. Opt for clear sandals or pumps with or without jewels if you're looking for glamour.
Not a fan of heels? Choose a pair of embellished flat sandals or pointed black patent flats to add elegance to your pantsuit.
And remember booties! A tighter-fitting, pointed toe bootie in a metallic or shiny finish can add some je ne sais quoi to your winter pantsuit dressing!
Dos and Don'ts of Wearing Shoes with a Pantsuit
There aren't many dont's to wearing shoes with a pantsuit for women. However, pant leg and pantsuit color can make styling a pantsuit confusing. Here are a few tips:
If your pantsuit is longer in length and you're wearing it to work or an elevated function, ensure your pant leg ends at about an inch above the heel.
You can get away with sleek or chunky shoes with a wider leg, straight leg or flared dress pant leg.
For cropped pantsuits, sleeker shoes and heels work best. Or, if choosing ankle boots, opt for a pointed toe sock boot, which will look streamlined to the outfit.
In terms of pantsuit color with shoes, you can never go wrong with beige, white, black or gold. Feel free to add a colorful shoe to your pantsuit, if you see fit.
To keep things neutral, you can add a shoe color that fits with the tone of the suit (tan shoes for a brown suit, for example).
Or, if your suit has multiple colors within it, match your shoes with one of the most prominent colors. Otherwise, match your shoes to your suit, for a cohesive look.
Color Shoes to Wear with Pantsuits FAQs
What Color Shoes to Wear with a Navy Pantsuit
Lots of color shoes will match a navy pantsuit! Black, white, tan and beige are great neutrals. Pink, lavender and green will add a pop of color to your look.
If you're feeling fancy, add a pair of clear heels, gold or silver shoes! Leopard print is also a great pairing with navy pantsuits to liven up the outfit.
What Shoes to Wear with a Black Pantsuit
You can have so much fun with a black pantsuit and shoes! If you want to elevate your black pantsuit, add a pair of metallic or bejeweled shoes. Too much for you? Opt for a black patent shoe to add some shine.
If you're looking for shoes for a black pantsuit for work, espresso brown, black and beige look great. White shoes will also make a solid contrast.
Of course, any bright or pastel color works with a black pantsuit if you want to liven it up!
Color Shoes to Wear with a Grey Pantsuit
Grey is a tricky color, but it's easy to pair many shoe colors. There's much to choose from, from colorful brights and metallics to black, white, and brown!
In terms of metallics, I love a rose gold or silver pair of shoes best. Patent black shoes are also great for more formal events.
For contrast, you can wear dark grey pantsuits with pastel shoes such as blush pink, powder blue, pale yellow and lavender. Light grey pantsuits also suit these pastels, especially for spring/summer.
Patterns such as leopard print or snake in neutral tones are also stylish! And remember, bold colors can also work. Think mustard yellow, cobalt blue, hot pink or apple green.
Final Thoughts on Shoes to Wear with a Pantsuit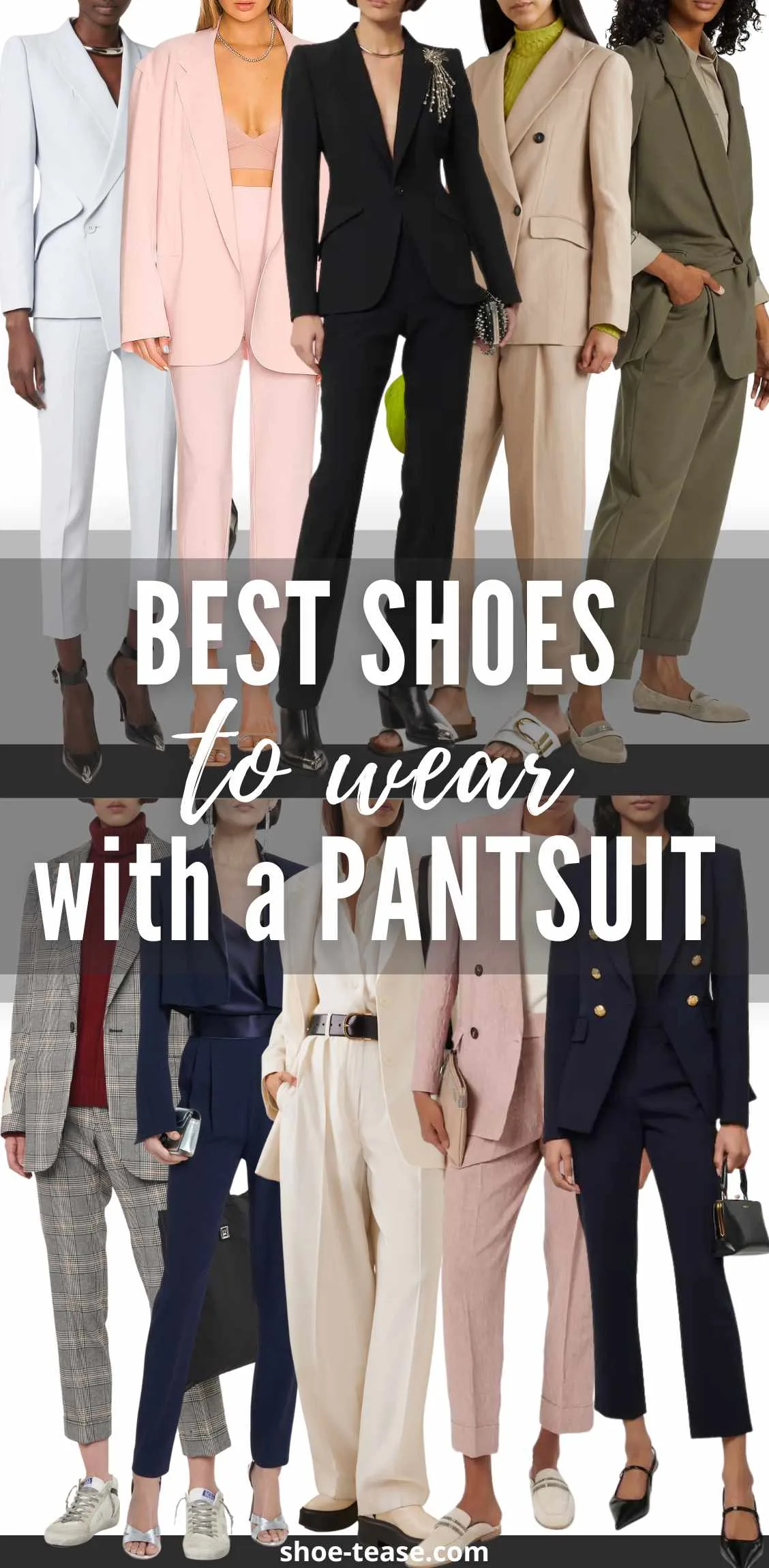 Where to Buy Pantsuits for Women:
Finding the perfect pair of women's shoes to wear with a pantsuit can be challenging. And with so many choices, it makes the selection process even more difficult!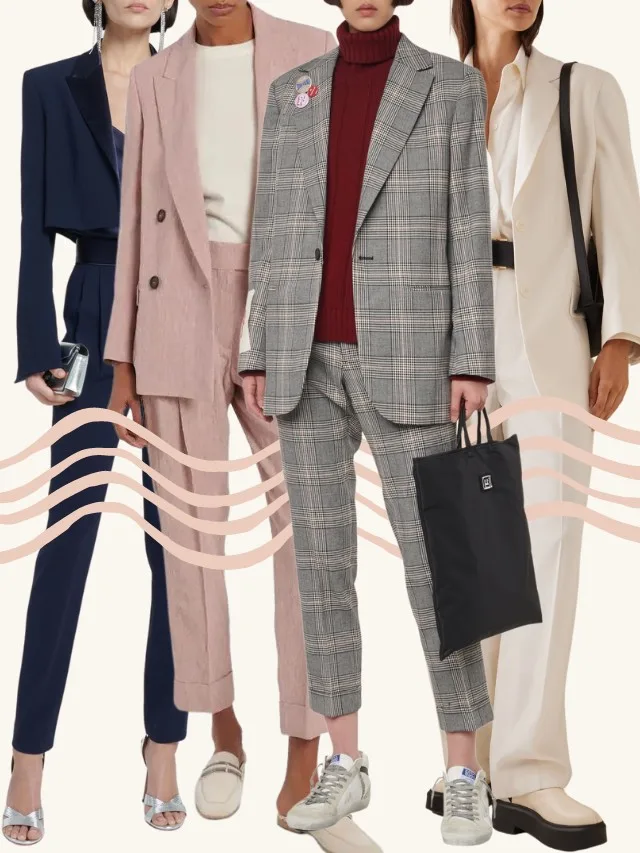 Whether you choose classic pumps, pointed-toe flats, ankle boots, strappy sandals, or sneakers, it's essential to pick a pair that complements the pantsuit style, the venue you're wearing it to, and, of course, the event.
With the help of this comprehensive guide of shoes to wear with pantsuits for women, I hope you feel confident about elevating your pantsuit with the perfect pair of shoes!
So tell me, what shoes will you wear with your pantsuit?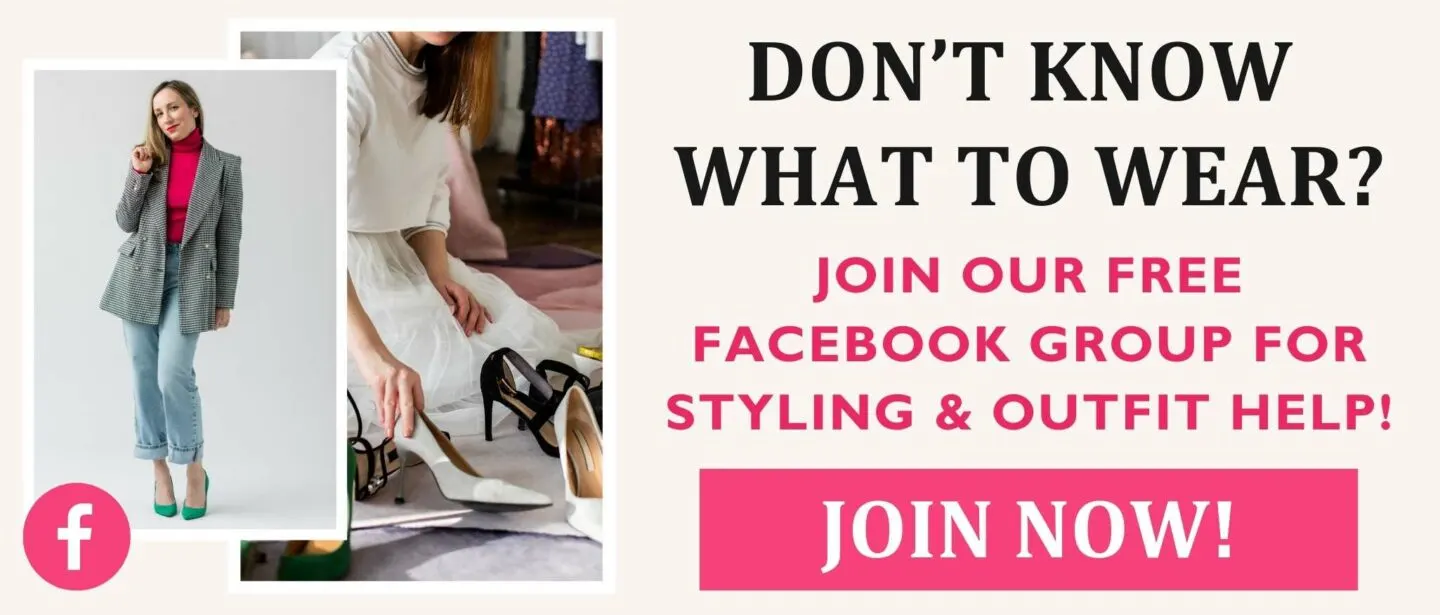 Cristina is the chief editor, fashion & shoe expert here at ShoeTease. As a seasoned stylist and women's fashion & shoe designer, she boasts over 20 years of experience in the fashion industry. She loves crafting effortless outfits for ladies both online and off and believes that styling advice should be accessible to everyone. Whether you're a styling pro or just starting out, Cristina's here to guide you on your fashion journey! Learn more.