With many women stepping away from tight jeans, bootcut jeans outfits are becoming more prevalent. Many say these jeans never went out of style and are a flattering staple!
But which are the best shoes to wear with bootcut jeans, you ask? Today on shoe-tease.com, I'll list the best shoe styling for bootcut jeans.
There are 12 versatile shoes, sandals, and boot styles that will look great with bootcut jeans outfits for women.
What are Bootcut Jeans?
Bootcut jeans are slim-fitting jeans that lightly flare out from the knee, just enough to fit a boot. Hence, the name!
Some retailers are even calling them skinny flares! This makes sense, as they're a tighter, more subtle flared jean style. They are also extremely flattering on all body types.
You can find bootcut jeans of all lengths including cropped, ankle and floor length. I prefer bootcut jeans that hit right at the ankle. These are more versatile as they will accommodate any type of shoe or boot!
Bootcut jeans can be dressed up or down with the right shoes, depending on the wash. These jeans are simpler to style than bell bottom jeans or large flared ones.
This is because the look is more subtle, giving just enough calf and ankle room for a boot.
Best Shoes to Wear with Bootcut Jeans Outfits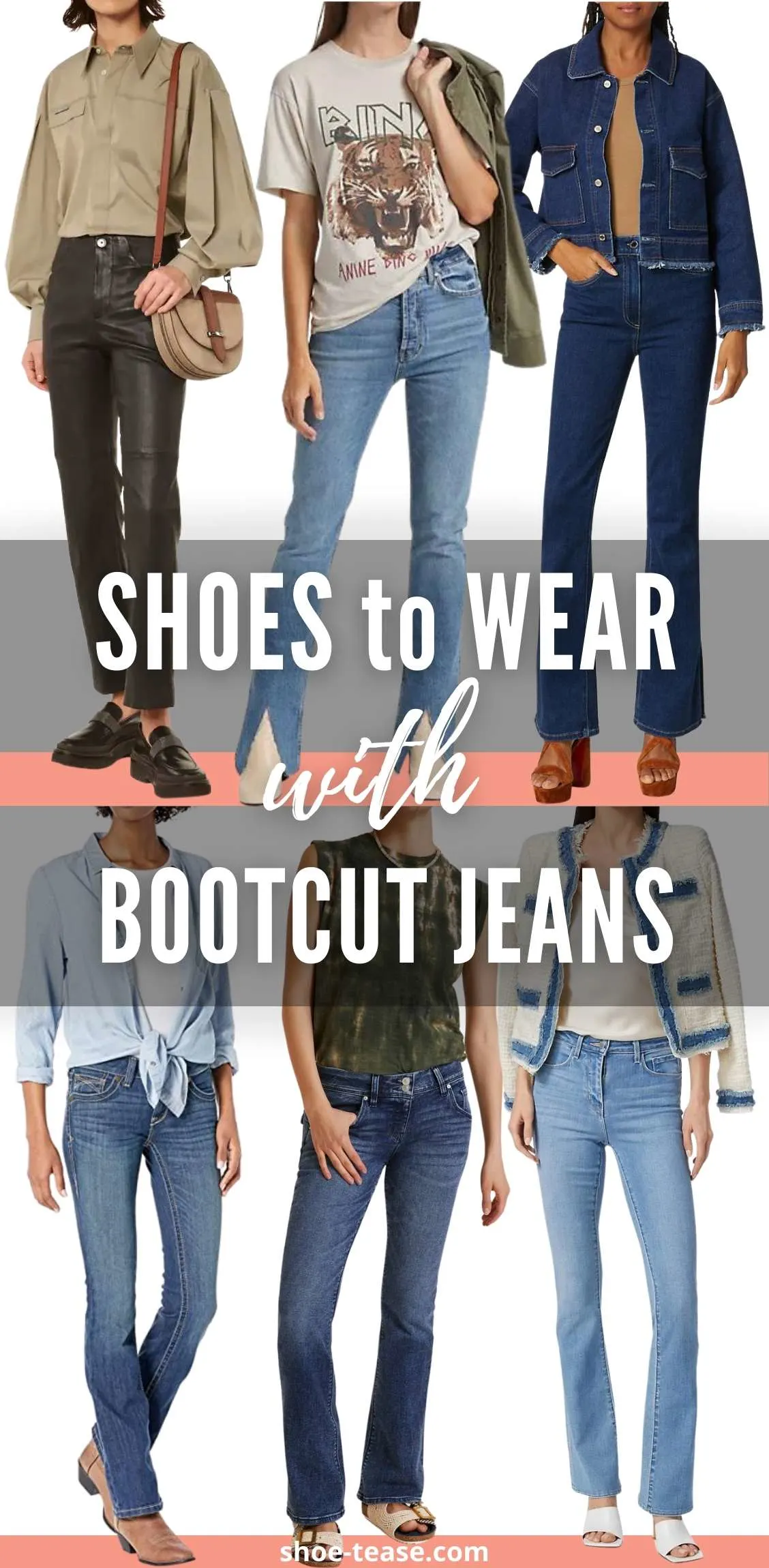 RELATED POSTS:
Platform Sneakers with Bootcut Jeans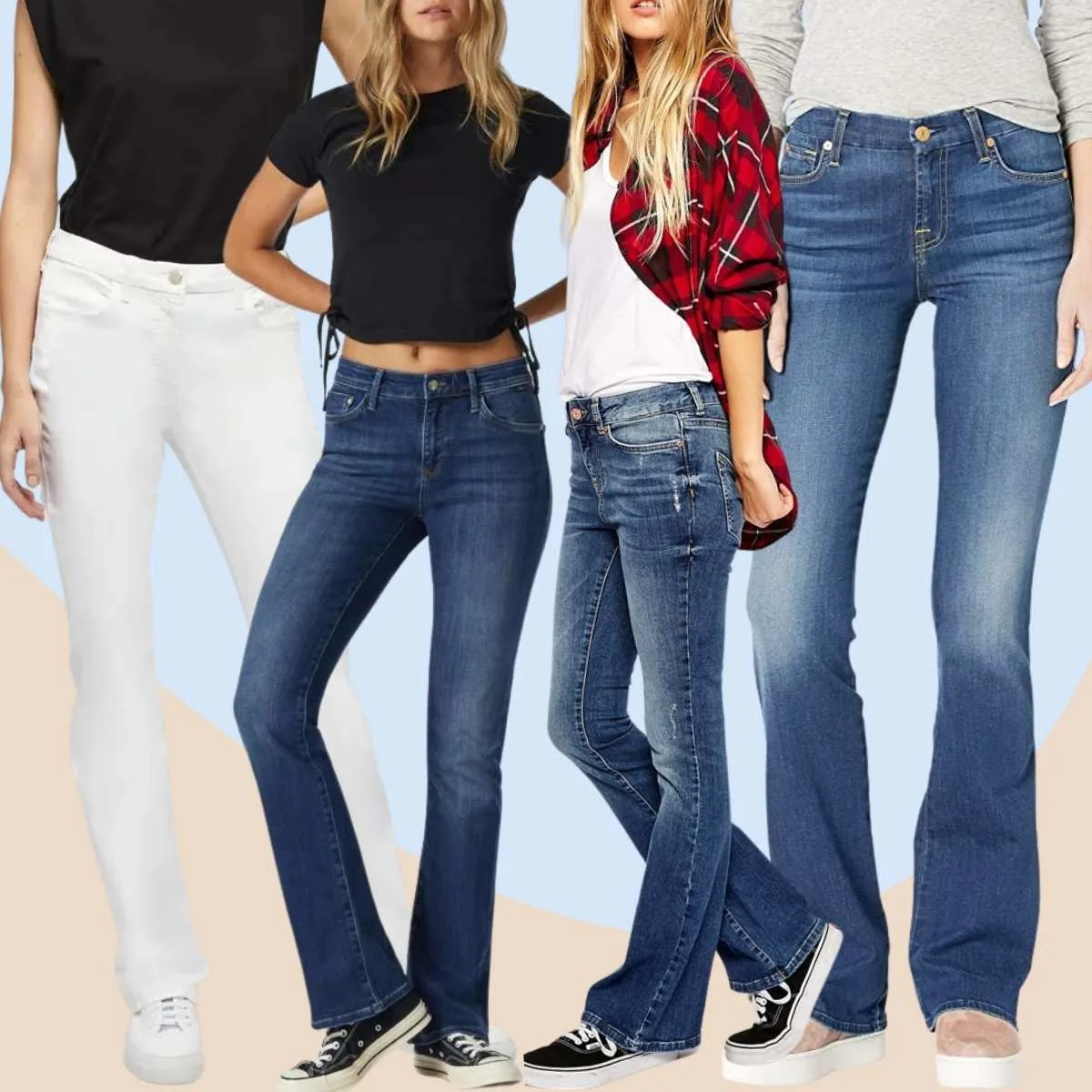 Platform sneakers are a trendy and versatile shoe style that can be dressed up or down. They are perfect shoes to wear with bootcut jeans, as they add a touch of height and lengthen the legs.
You can pair cropped, ankle-length or longer bootcut jeans with platform sneakers.
Wearing platform sneakers with bootcut jeans starts with finding your favorite pair of platform sneakers. I love platform Vans, tall slip-ons, platform Supergas and my fave: Golden Goose Hi Stars!
Next, put on a pair of bootcut jeans that fit well and flatter your figure. That's all there is to it!
If you're going for a more casual look, pair your shoes and jeans with a minimal t-shirt or tank. For a dressier look, opt for a silky blouse or button-down shirt. Finish off the look with statement earrings and/or delicately layered necklaces.
Strappy Sandals with Bootcut Jeans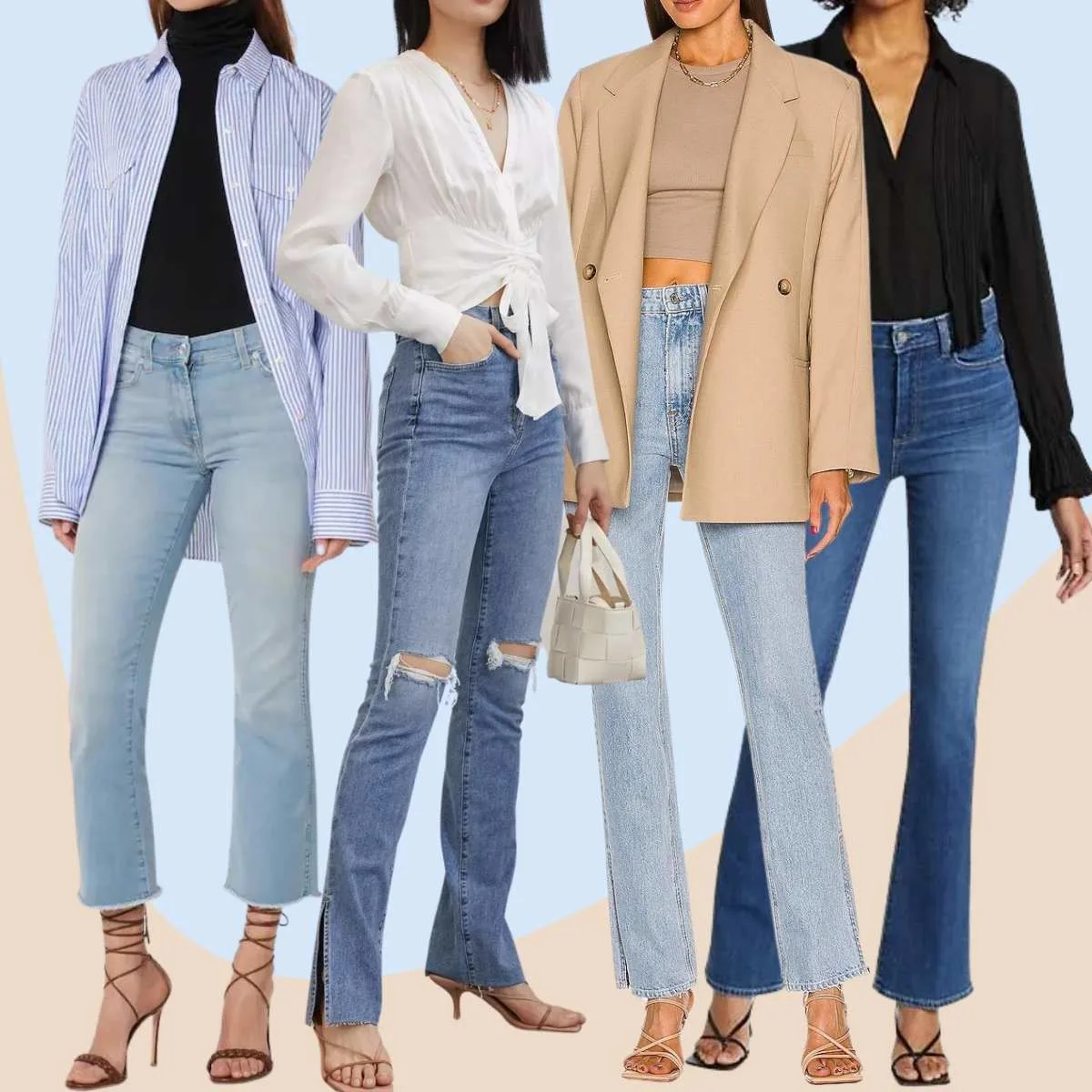 I love a bootcut jeans outfit with a strappy sandal! They are chic, trendy and look good for more elevated and stylish casual outfits.
Tall strappy stiletto sandals will dress up the look of your jeans. However, you will keep the outfit relaxed and casual with bootcut jeans. Try a cropped pair of bootcut jeans to show off any ankle straps.
Choose a flowy tucked-in top for a feminine look with white or light wash jeans, adding a trench for cooler weather. Wear a tight bodysuit tank with a moto jacket and a black or dark pair of bootcut jeans for an edgier vibe.
Pumps with Bootcut Jeans
Pumps with bootcut jeans and a fab pairing that will never go out of style. Or at least I hope! Longer or cropped bootcut jeans can be paired with them. I love a shorter pair to show off an ankle strap!
Tall pumps give an elevated feel, especially with taller-waisted bootcut jeans and a smart top and jacket. This makes an excellent combo for work.
If your bootcut jeans are darker, pair them with a light colored pump for a fun contrast. A contrast toe-cap is really fun too!
If you want your legs to look longer, add a pair of similarly toned pumps to a longer pair of bootcut jeans that almost touches the ground. Your choice if you want to give off 90s vibes like Megan Fox has!
Platform Sandals & Wedges with Bootcut Jeans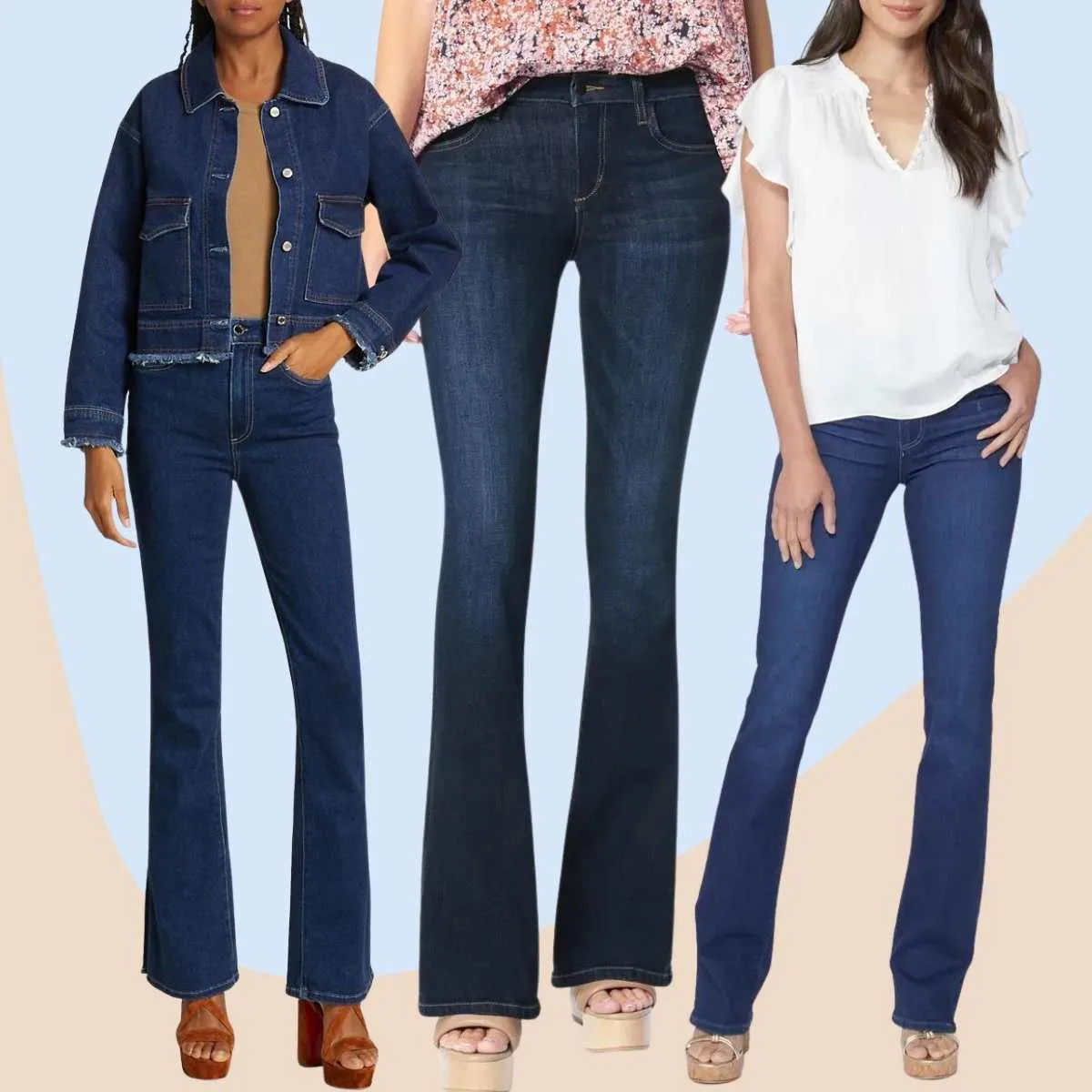 Platform sandals and wedges fit nicely under your bootcut jeans to give you a big 'ol lift! Because bootcut jeans aren't as wide as wider flares, pick a pair of sleeker platforms and wedges. That way, these will fit perfectly under your jeans!
These types of sandals call for a peasant blouse and a fringe purse if you want to give off boho vibes. Longer bootcut jeans in any wash will look fab for this pairing.
For a more contemporary feel, reach for shiny metallic or velvet platform wedges under cropped or ankle length bootcut jeans. Complete the look with a tight bodysuit, chunky cardigan, or a moto jacket if you feel edgy!
High Heel Mules & Slides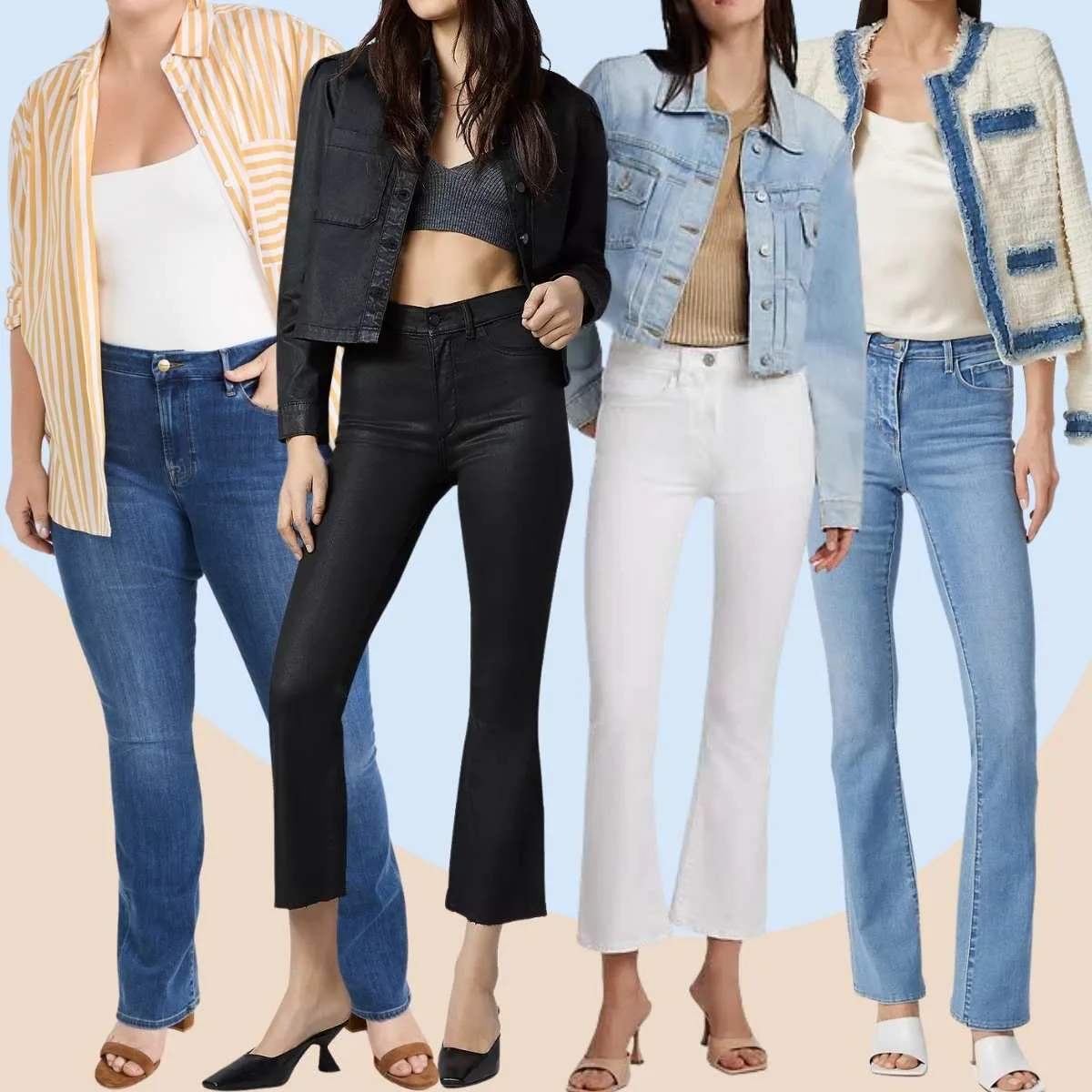 I love to wear mules outfits with jeans! Like pumps, high heel mules will add a slick element to your bootcut jeans outfit. Show off your heels by wearing jeans that are cropped or right above the ankle.
Especially if your shoes have added detailing. This will also make the pairing easier to walk in.
Pick a low kitten stiletto or a tall block heel for easier walking. I love how a pointed-toe mule with a slight heel can elevate even the most casual bootcut jeans outfits.
Add a silky tank or blouse, minimal gold jewelry and throw on a tailored jacket. Learn more on how to wear slides with different jeans and outfits!
Slide Sandals with Bootcut Jeans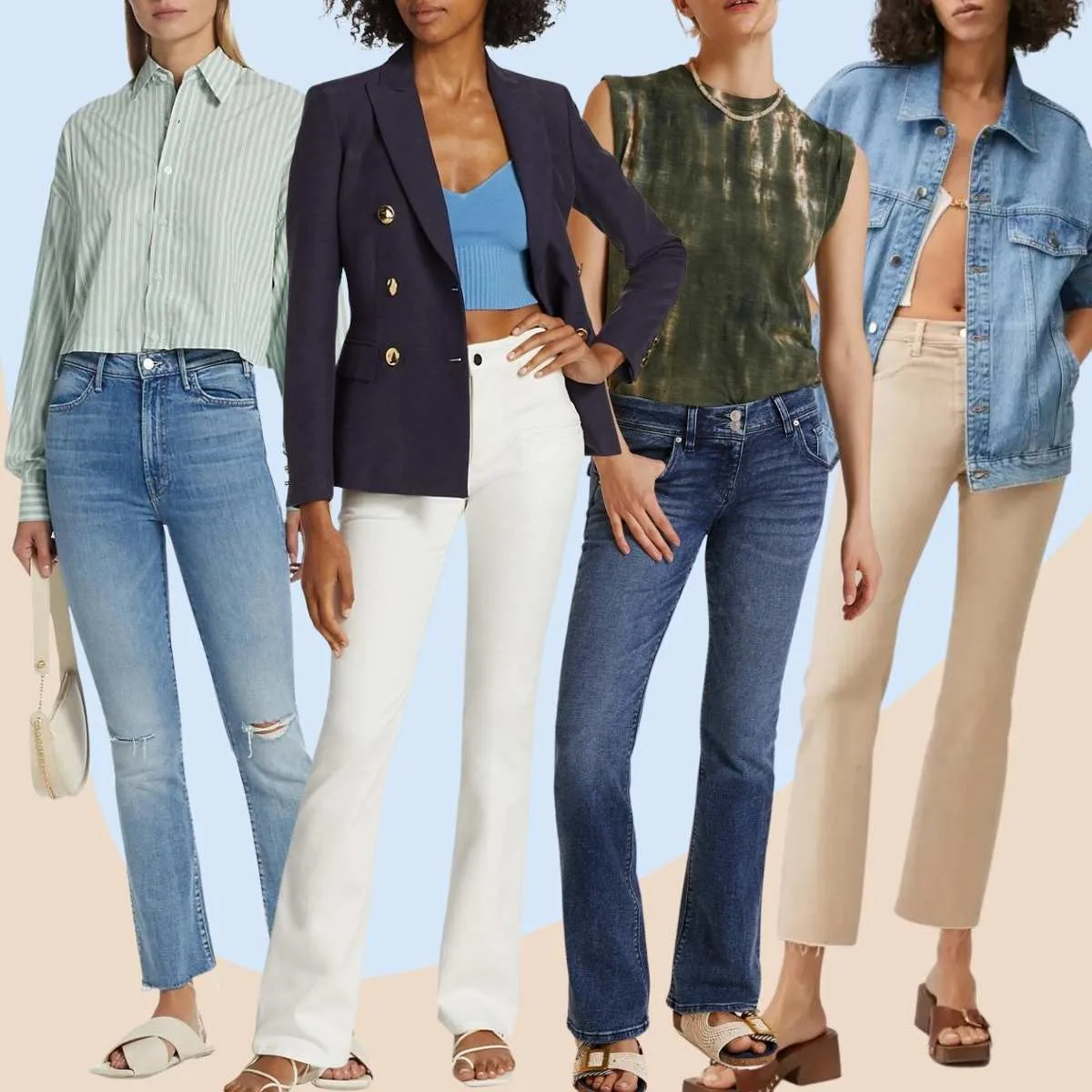 When it comes to shoes to wear with bootcut jeans outfits, slide sandals are a versatile and stylish choice. They can be dressed up or down, making them an excellent option for any type of look.
For a casual look, simply pair the tan slide sandals and a simple tee tucked into your bootcut jeans. Add a crossbody bag and you're ready for anything coming your way! Or, choose a clunky clog or earthy Birkenstock sandal if you're looking for a more rugged look.
For a dressier, crisp look, pair the white slide sandals with dark wash bootcut jeans and a white bodysuit. This look is great for lunch dates or casual days at work when layered with a trench.
When wearing slide sandals, avoid bootcut jeans that go past the ankle. These will drag on the ground and get caught between the foot and the shoe.
Learn how to wear clogs and what to wear with Birkenstocks in each dedicated post!
Loafers with Bootcut Jeans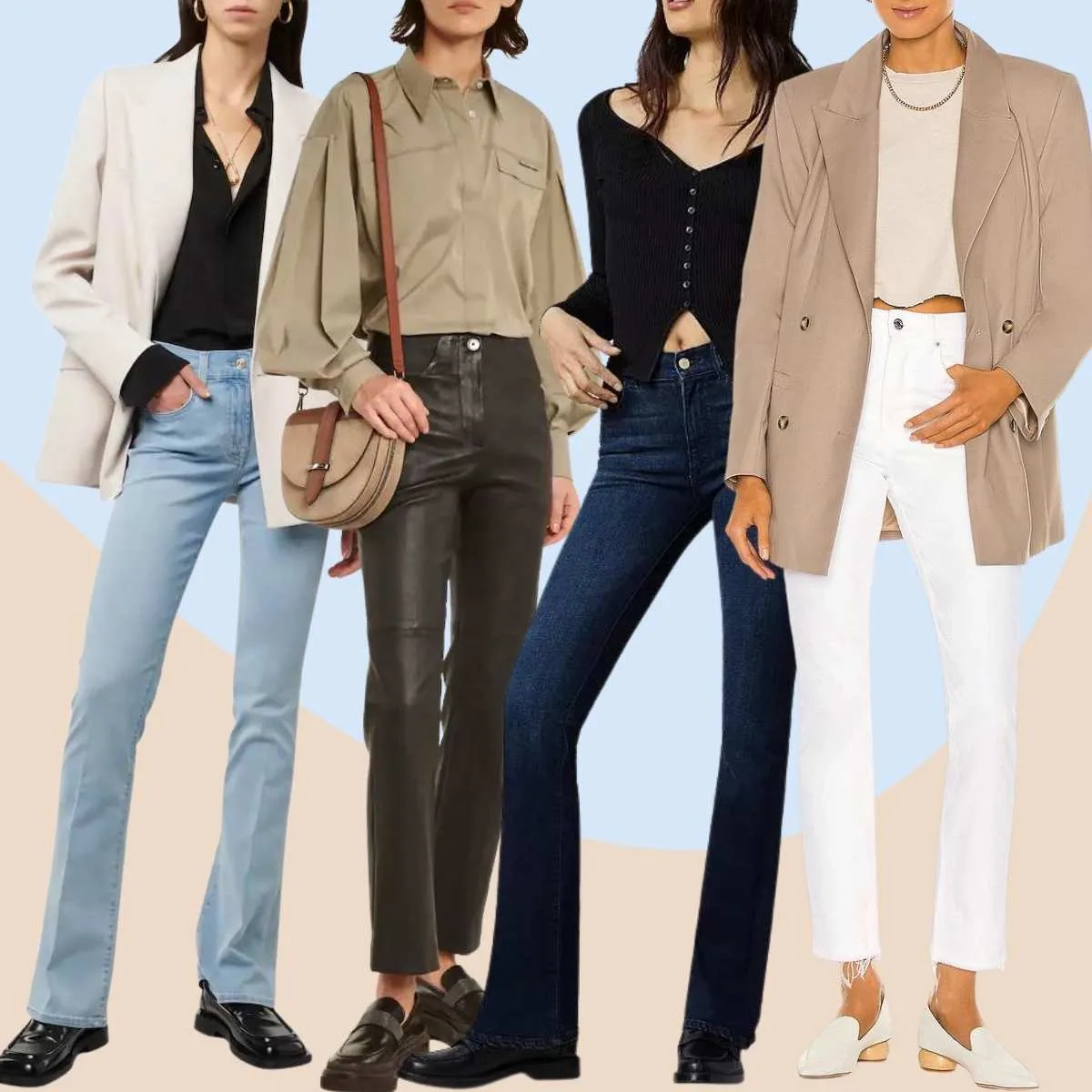 Bootcut jeans are a great style to wear with loafers. The slightly flared leg shape of the jeans helps to balance out the roundness of a trendy chunky loafer.
Think Prada Spazzolato or a similar lug-sole loafer! These look great with a longer or ankle bootcut jeans outfit.
With darker wash jeans and a contemporary top, you'll have a polished look perfect for work or play. I prefer cropped or ankle length bootcut jean with finer loafers, or mule loafers. You can also add socks with loafers! More style tips on how to wear loafers, here.
5 Perfect Boots with Bootcut Jeans
Bootcut jeans are the perfect type of jeans to wear with boots. I mean, you kind of know this, just by the name! Boots provide a good balance and proportion to any bootcut jeans outfit.
When choosing boots to wear with bootcut jeans, it's important to remember the overall style you're going for. Toe shape, heel shape, color and style will all play a part in the look.
Cowboy Boots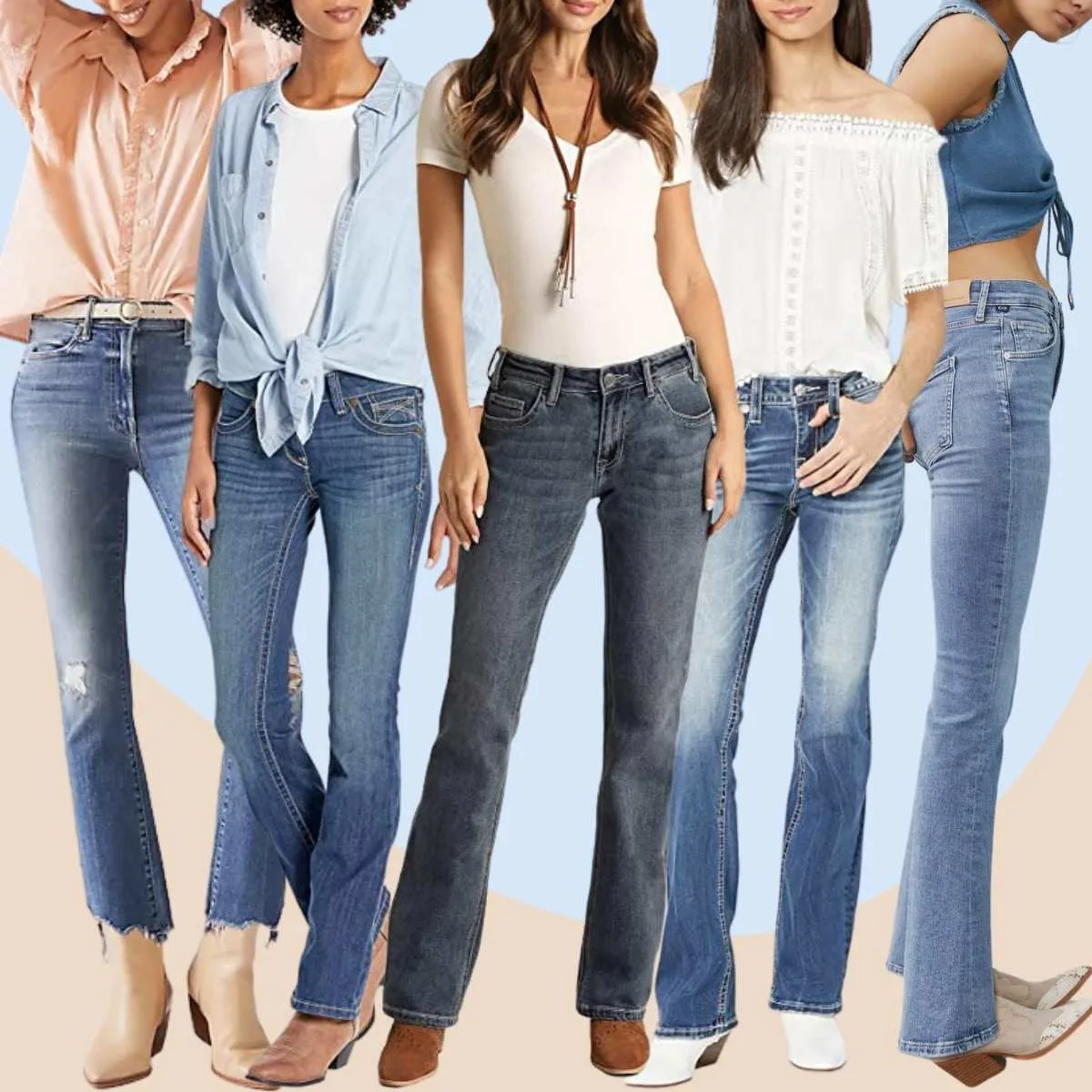 For a more casual look, wear your bootcut jeans with cowboy boots. They are a great way to make your jeans outfit ultra casual and channel your inner cowboy (or cowgirl)!
Of course, you don't need to live on a ranch to pull off this look. In fact, cowboy boots outfits are all the rage right now! The key is to choose pieces that are both stylish and comfortable.
For instance, you might want to pair your cowboy boots with a flowy blouse and a pair of distressed jeans. Tuck in your jeans if the western boots are calf height. Read my other post for more on how to wear cowboy boots with jeans & other outfits
You can add a nod to your cowgirl look with some Western-inspired jewelry and a fringe purse. A cowboy hat is optional!
With more contemporary cowboy boots and bootcut jeans outfits, less is definitely more. Try on a darker wash or black jean, black/white cowboy boots, a white blouse and a sleek blazer. Read my other post on how to wear cowboy boots with jeans & other outfits!
Ankle Boots with Bootcut Jeans Outfits
Leather ankle boots are a staple with all kinds of clothing, not just jeans. But ankle boots and bootcut jeans fit perfectly together. You just need to figure out what style you're going for in your look.
Pointed-toe boots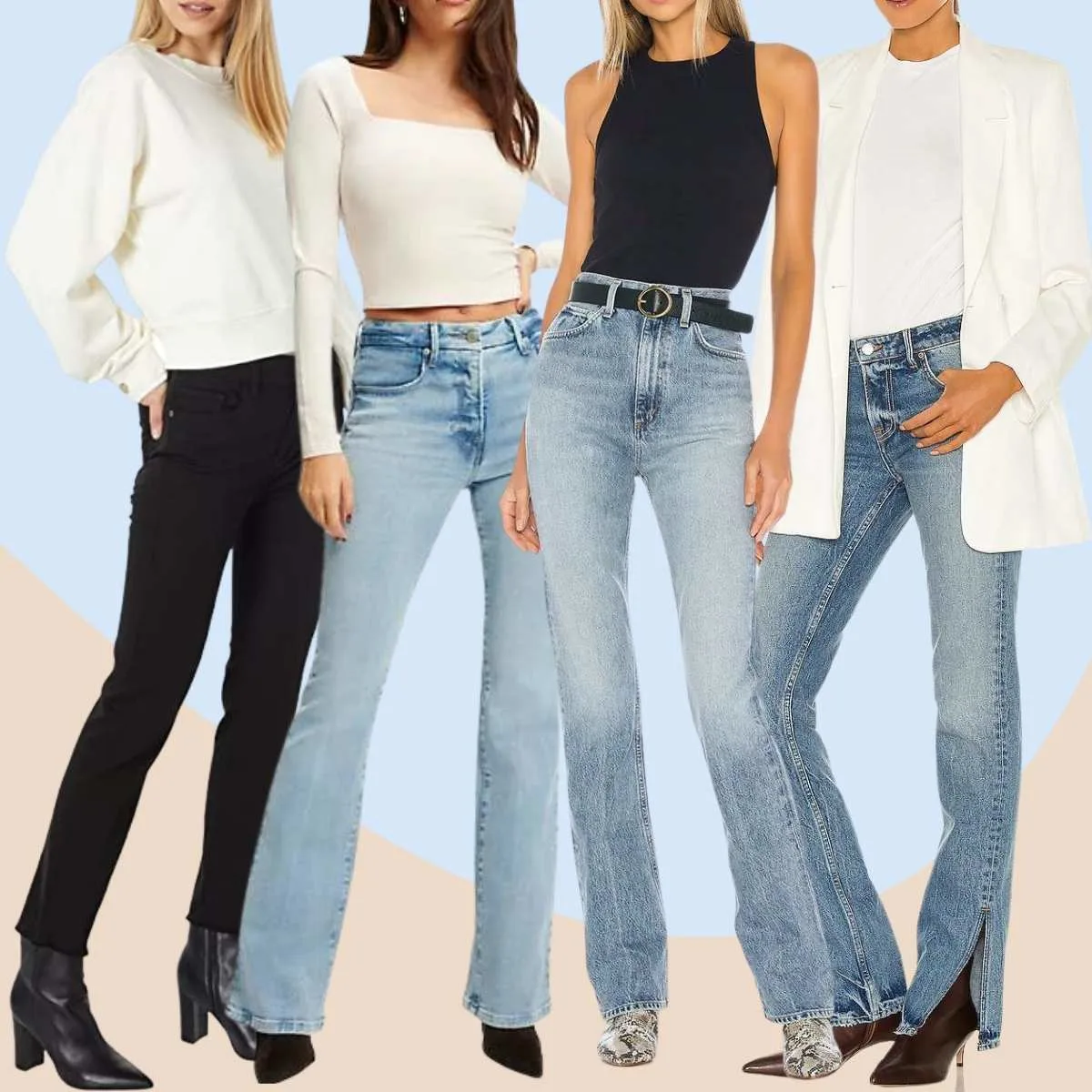 I love a pointed-toe boot with bootcut jeans. If you're not feeling this aesthetic, you can opt for an almond toe, as the look will be more subtle.
A more pointed-toe bootie can elevate your bootcut jeans outfit, especially if you're wearing a darker denim wash or black pair. Try a high waisted pair with a bodysuit and black or metallic booties with some statement jewelry for a night out.
You can also dress down a pointed-toe ankle boot in all colors. Choose a chunkier heel, medium to light wash jeans and a boyfriend tee or oversized sweater.
Square-toe Boots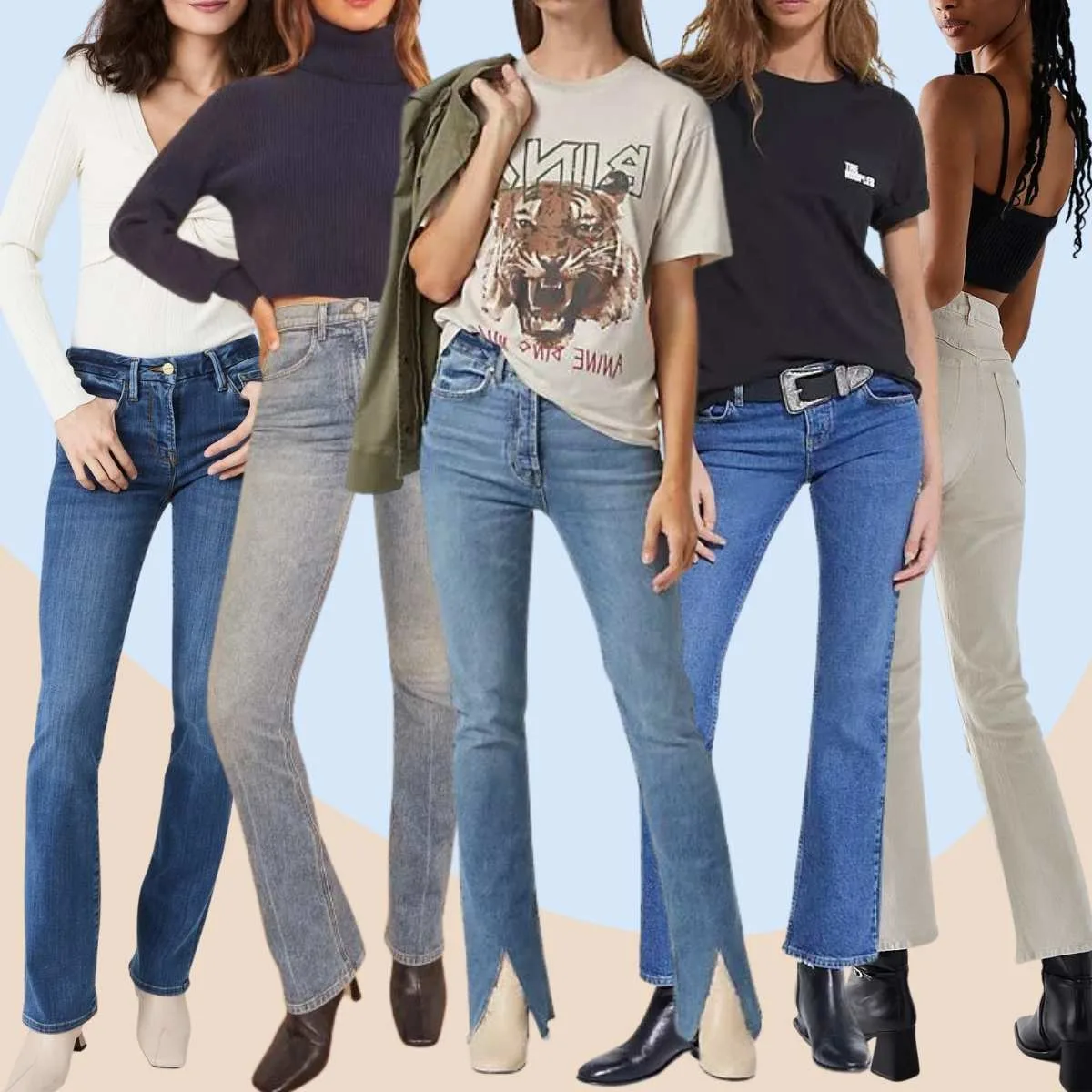 Square-toe boots are really fun and unexpected. You can find them with smaller, rounded, more subtle toe shapes to more pronounced ones.
The latter will look more casual with your bootcut jeans outfits, especially in a brown, tan or beige color, with a lower chunky heel. Try an ankle or cropped bootcut jean with a square-toe boot to show off any detailing it might have.
Go to my specific post outlining how to wear ankle boots with jeans for an in-depth guide!
Chunky Chelsea Boots & Combat Boots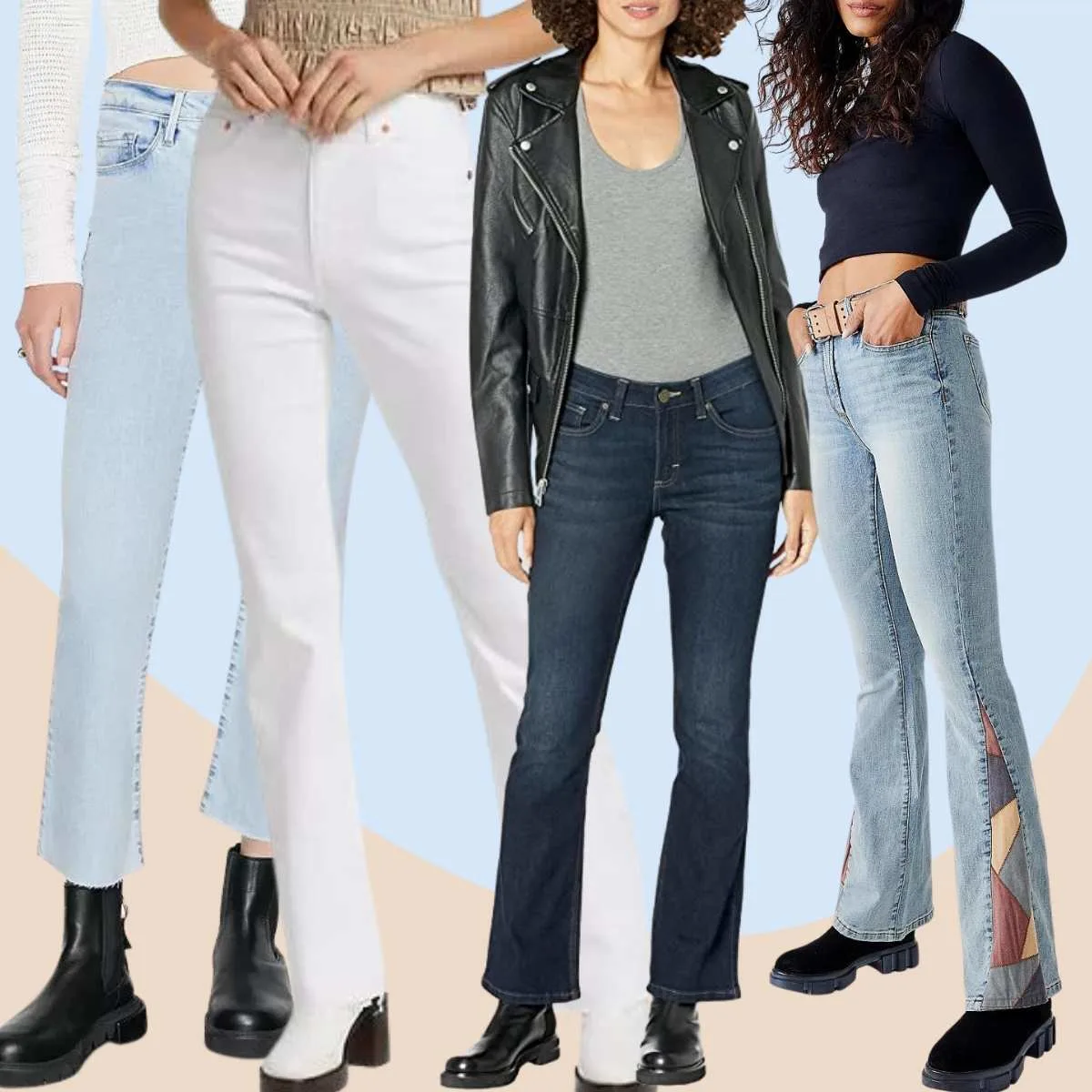 Chunky Chelsea and combat boots are two of the most popular boot styles to wear with boot jeans. Even the less trendy styles have a chunky, gritty aesthetic that will add an edge to any bootcut jeans outfit.
I love these types of boots with bootcut jeans that are ankle length or slightly taller. That way you can show off any contrast Chelsea boot side elastic or combat boot laces.
Wear these chunky boots with your jeans, a rocker tee and a tailored black blazer for an unexpected edgy chic look. Pull your hair back in a slicked bun and add gold hoop earrings and a black crossbody to complete the look.
Get more styling insight on the how to wear with Chelsea boots and what to wear with combat boots in my dedicated posts!
Chelsea Boots We Love:
Combat Boots We Love:
Final Words on Shoes to Wear with Flare Jeans Outfits
Bootcut jeans are a fashion favorite for many women, and with the right shoes, they can be dressed up or down for any occasion.
In this post, I've run down a list of the best boots & shoes to wear with bootcut jeans outfits for women. Whether you're looking for cowboy boots, leather ankle boots, pointed-toe boots or square-toe boots, I've got you covered!
So, next time you're wondering what shoes to wear with your bootcut jeans, think about which style best suits your outfit and the occasion. You can rock any bootcut jeans outfit with the right pair of shoes!
Which shoes with bootcut jeans will you choose?
xo ShoeTease