When thinking about what shoes to wear with midi dresses, I'm sure a lot of shoe, heel and boot types come to mind.
There are probably just as many midi dress styles to mention as there are shoes! Thankfully, that means lots of great combinations for you to plan.
These include little black midi dresses, midi bodycon dresses, structured shirt dress outfits, midi sweater dresses and flowy calf-length styles. And that's just to name a few!
Today on shoe-tease.com, I'm going to outline which boots, sneakers, flats and heels, are the most flattering and stylish shoes for midi dresses.
What is a midi dress, you ask? A midi dress is a dress style that refers to the dress' length. Midi dresses fall between the lower knee and upper ankles, averaging mid-calf. This variance in length is key to choosing the right shoes.
If you're looking for ideas on what shoes to wear with a midi dress in winter, I've included many styles such as combat boots, tall boots and loafers.
For summer, there are just as many – if not more – shoes for midi-dresses and sundresses. Slides, sneakers and strappy sandals are some of my favorite styles for warmer months.
Many of the best shoes to wear with a midi dress work not only seasonally, but year-round as well. So the options listed will not limit your styling choices throughout the year!
Are midi dresses flattering on short ladies or smaller people? With the right shoes and dress style, a midi dress on a shorter person can most definitely work! You will also find specific styling tips in each section for petite ladies.
However, I've written a whole section about the best midi dresses for petites, if you want to skip right to that part.
I will specify which shoes and dresses make the best choices for formal or more casual functions and how to complete your midi dress outfit.
Looking for non-midi-specific dress styling? Check out my post all about the best shoes to wear with dresses of all kinds.
15 Best Shoes to Wear with a Midi Dress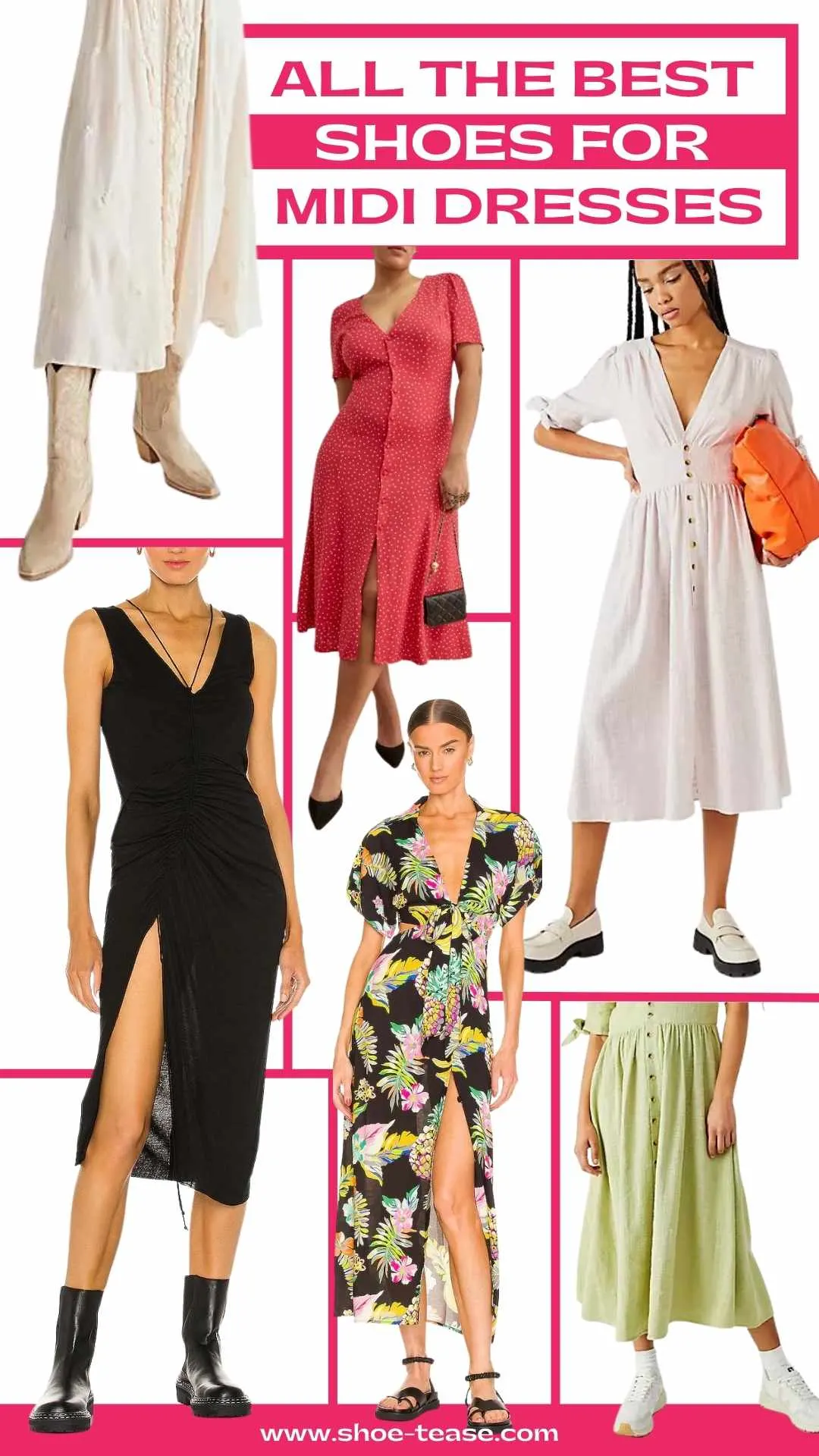 How to Wear a Midi Dress with Sneakers
If you're looking for comfortable shoes to wear with midi dresses, sneakers are the way to go. Wear them in spring, fall, summer or even winter (if you dare!) sneakers make a stylish addition to any type of everyday midi dress style.
Best to opt for a midi dress that falls above or below the largest part of your calf. If not, this dress + sneakers combo could make you look shorter, especially in chunkier sneakers.
I hope this section gives you a few midi dress outfit ideas with sneakers! Below are some of the best sneakers for dresses, including midi dresses:
White Lace-up Sneakers
To create a casual-cool outfit with your midi dress, a pair of white lace-up sneakers is a great way to go about it. Known in some parts of the world as tennis shoes, white sneakers always look fresh and trendy.
Made of various materials, there are so many styles and designers to choose from. Like the ever-popular leather Nike Air Force One and Veja Campo.
Or try Superga's Cotu or Old Skool Vans for a summery canvas option. I'm currently gushing over this stunning platform pair of Golden Goose Hi Stars!
Pair your white lace-up sneakers with a floral, bodycon, or flouncy midi dress. Finish off the look with a leather crossbody or tote bag. It's hard to find a dress that won't look good with white sneakers!
Slip-on Sneakers
For those on the go, or who want a sleeker sneaker alternative to those with laces, slip-ons are a great alternative. With so many colors, metallics, animal prints and detailing – I love a gold chain or leather flower on mine! – any midi dress can find its slip-on sneaker counterpart.
Pick a comfortable perforated style like Dr. Scholl's Madison a sleek leather pair like UGG Cahlvan or this platform pair from Vans.
You can choose a lower or platform slip-on sneaker style. These make a great pairing with a little black midi dress or knit midi. I love to wear mine with a sweater dress in the fall.
Chunky Sneakers
For a funky casual look, choose a pair of chunky sneakers. They've been trending for a while, either in all white or color-blocked and patterned styles.
Chunky sneakers with midi dresses work best to make a statement with a minimal dress such as a bodycon. Or a combination like a silky midi slip dress paired with a soft sweater.
Choose from a variety of styles and colors like these black and white ones from Ecco, these animal print color-blocked pair from Steve Madden, or these Sorel Kinetic sporty mesh upper sneakers.
How to Wear a Midi Dress with Boots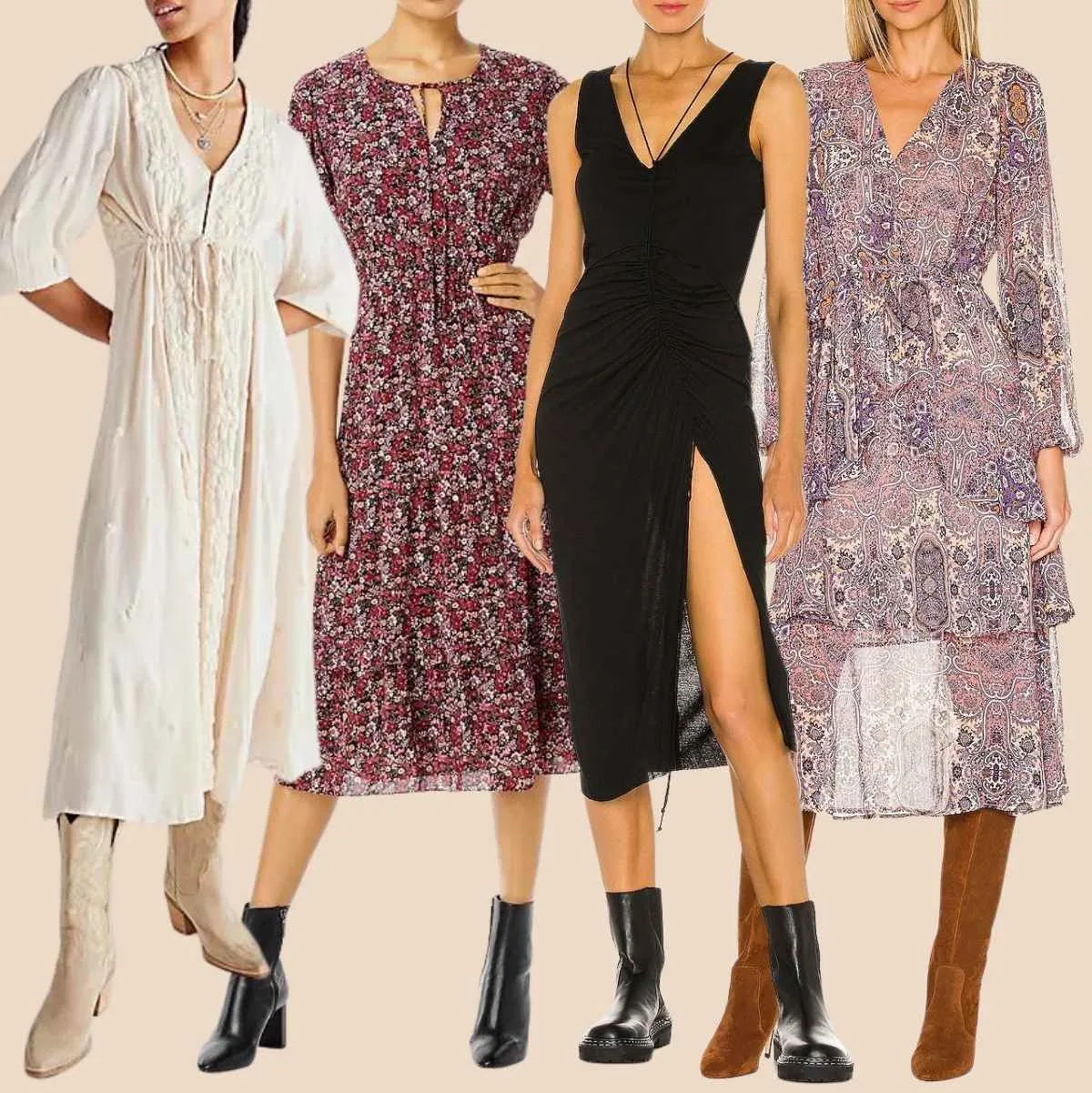 Boots are great shoes to wear with a midi dress for winter and fall months. Although a midi dress with boots is a perfect combo for cooler months and more casual events, with the right boot style, they can also work for spring or more elevated outfits.
For instance, you can even pair certain boots with a floral or thin knit midi dress in spring if the leather is breathable or perforated. It all depends on what you're most comfortable with.
The best midi dresses to wear with low and high boots are those with a side slide so you can show them off. Alternatively, you can choose a dress that covers taller boots or one that leaves a substantial gap between the dress hem and boot top.
Ankle Boots with Midi Dresses
Can you wear ankle boots with midi dresses, you might ask? Yes, but how to wear ankle boots with a midi dress completely depends on the style of the dress as well as that of the ankle boots.
Even your height is a factor. That's because midi dresses tend to make you look shorter, especially if the dress falls right at the widest part of your calf. So you'll want to avoid these lengths, especially if you're a shorter woman.
How to Wear a Midi Dress with Ankle Boots
If you're pairing tight sock ankle boots with a midi dress, any type or dress length works. That's because these boots are tight and sleek. And when it comes to styles of shoes that go with everything, these dainty boots are it!
Other ankle boots with midi dresses can be tricky with calf-length dresses. That's because both midi dresses and ankle boots truncate the legs, potentially making you and your legs look shorter.
This, especially if you're petite and the boots you've chosen have no heels or are clunky in any way. Generally, midi length dresses look best with tighter high heeled ankle boots and flowy dresses.
If you're a petite woman, opt for knee boots with a midi dress instead, as the former combo will make you look shorter. Opt out of wearing tights with these shorter boots to show off some leg.
Check out my post all about how to wear ankle boots with dresses.
Ankle Boots We Love:
Knee Boots
Speaking of knee boots, I really love them styled with midi dresses for fall, winter or spring. From suede pairs with floral dresses to glossy black knee boots with black side-slit dresses, so many boot styles can look fabulous.
How to Wear a Midi Dress with Knee Boots
Wear your midi dress so that it covers the boots or leaves a noticeable gap to show off some leg. Avoid wider or bulky knee boots with tight midi dresses.
It can throw proportions off and if the tight midi dress meets the boots or is longer than them. This will add unnecessary bulk under the dress and make it hard for you to walk.
You can, however, wear over-the-knee boots with midi dresses if they are tight enough to disappear into the dress hem. Tall sock boots or stretchy suede ones are a good choice.
Cowboy Boots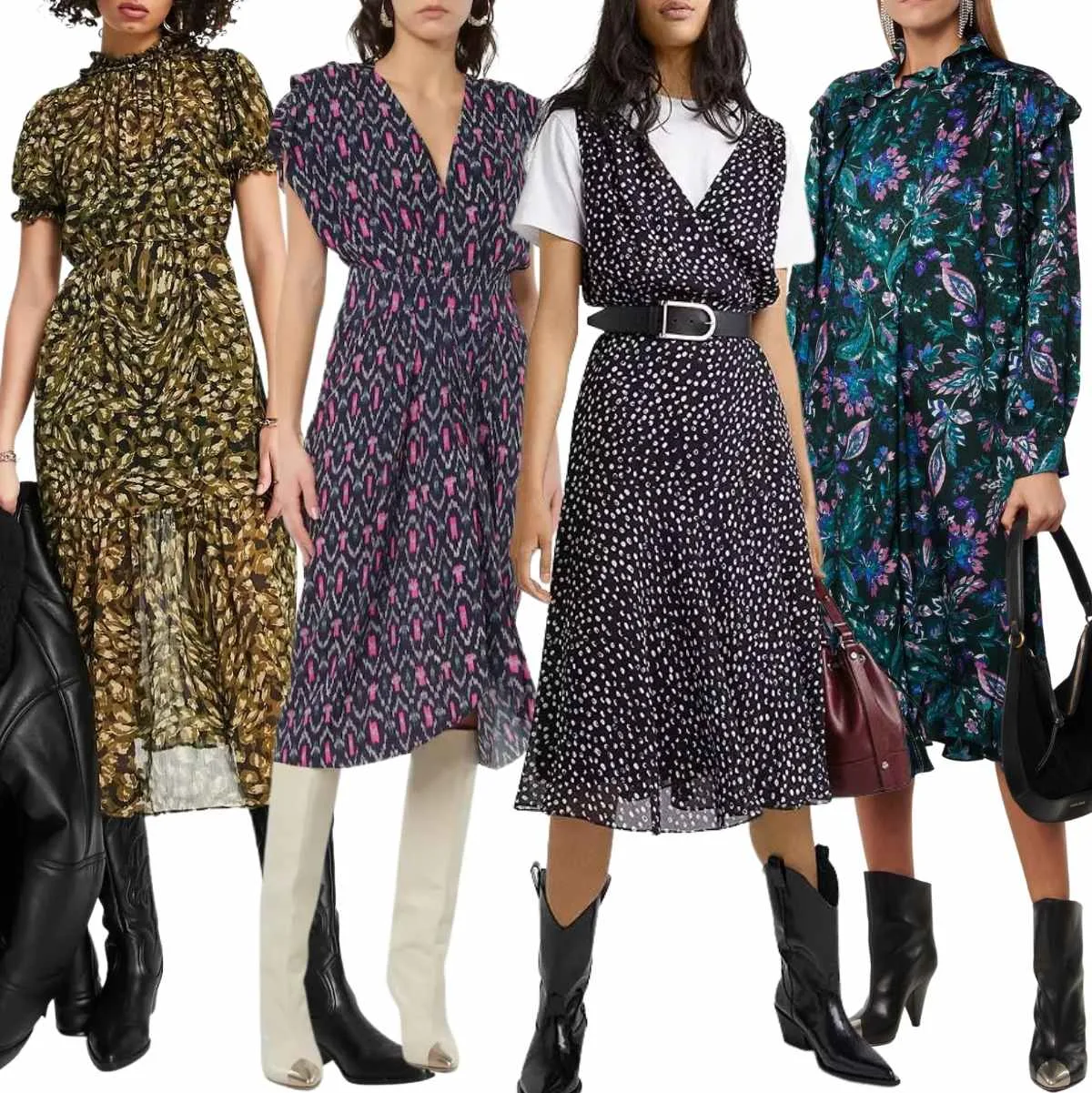 I'm loving styling a dress with cowboy boots, and wearing them with a midi dress is no exception! Western style boots are making another comeback. They are extremely popular amongst the fashion crowd styled with mid-calf dresses.
How to Wear a Midi Dress with Cowboy Boots
Not only for comfort and esthetics, but you'll want to choose a midi dress that really shows off this trendy boot. Especially if you opt for a metallic or funky black and white pair!
Classic, almost-knee high cowboy boots look great with midi dresses will fuller skirts, midi side slit t-shirt dresses, or wrap midis. Ditch bodycon midi dresses with these boots unless it has a side slit to make room for the boots and to move.
Layer over a soft sweater and complete the outfit with a studded or fringe crossbody bag. If it's a cooler day, add a denim jacket for a utility aesthetic, or opt for an oversized blazer. A fringe or studded purse – as a cowboy hat! – are optional.
Combat Boots & Chelsea Boots
Lace-up combat boots or chunky-soled Chelsea boots with a midi dress will give an edge to your outfit, no matter which midi dress style you decide to wear.
Choose your boots in a white, off-white, or jet-back color. Burgundy boots can work great too depending on the color of your dress. You can play around with taller Chelsea boots too if that works better with your dress length and style.
How to Wear a Midi Dress with Combat Boots
You can completely change the vibe of even the most feminine of midi dresses with one of these strong-willed boots. Try contrasting the softness of a white or floral tiered midi dress with a chunky pair of combat boots. Or give even more edge to a black midi bodycon or sweater dress.
For winter, reach for a soft midi sweater dress with a side opening to pair of stylish black waterproof combat boots.
Top with a moto jacket, cozy sweater or classic beige trench. Add a leather cross-body or handbag that matches the boots. Check out more outfit recos and tips in my post about how to wear combat boots.
Chelsea Boots We Love:
How to Wear a Midi Dress with Flats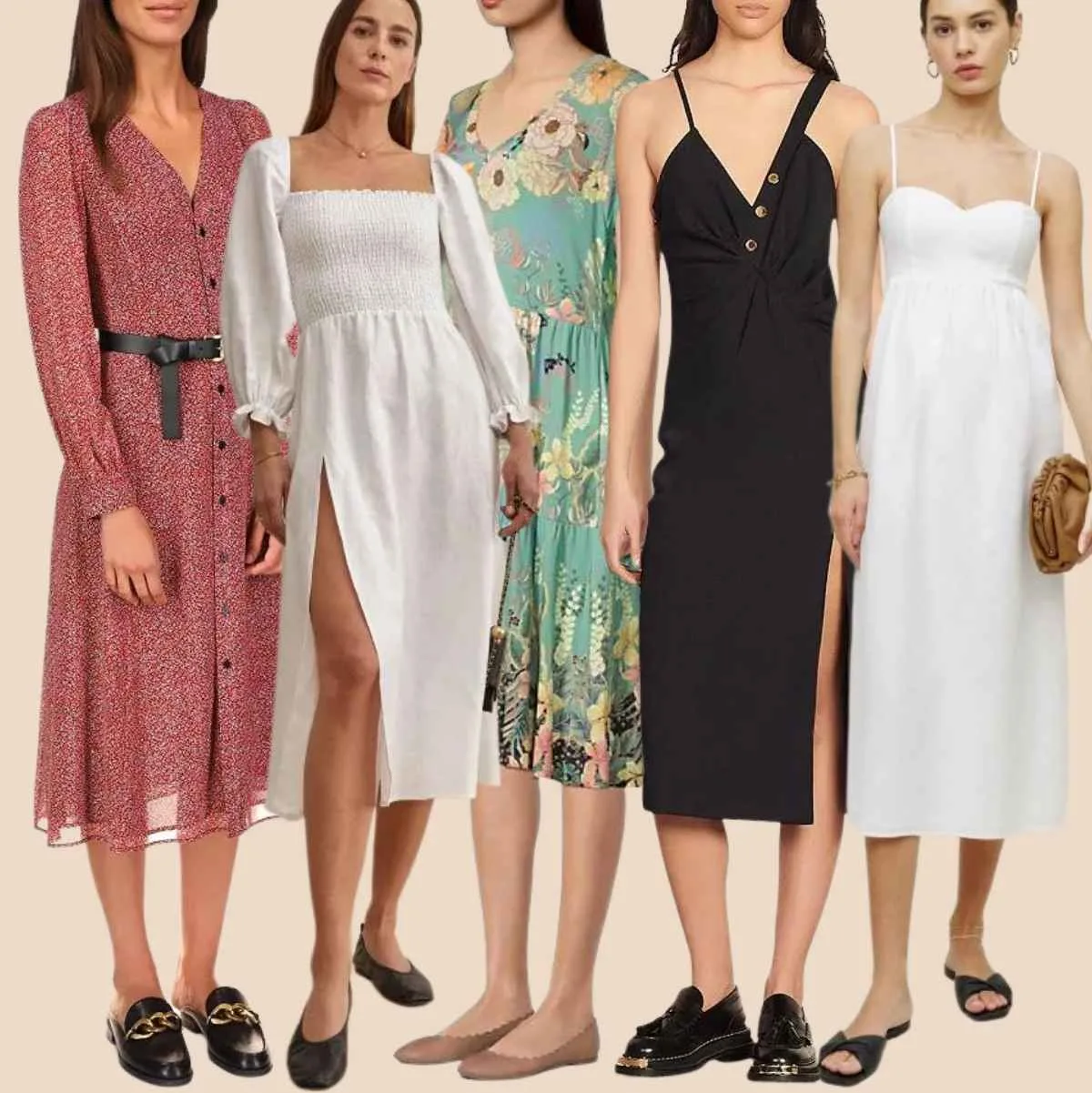 There are many fantastic flats to wear with midi dresses! For this style of shoes, I would opt for a midi dress that falls just below the knees and above the calf.
A somewhat shorter hemline that ends under the knee will prevent the dress from making your legs seem shorter. This is particularly true for those with larger calves, shorter legs or petite women.
Leather Ballerina Flats
Classic ballerina flats will add a touch of Audrey Hepburn retro-chic to any cinched waist midi dress with a full skirt. I love classic black leather flats with a minimal in-tone bow detail such as these Repetto flats.
Trendy ballerina-style flats with a pointed toe can make great alternatives to a classic flat. Choose a pointed flat in patent, satin or metallic finish, and pair it with a cocktail midi dress.
An office-appropriate midi can look just as professional with a buttery black or nude pointed or almond toe flat. Any strap detail is optional.
If you're in the market for funkier looking flats with a midi dress, pick a simple black or beige square toe flat with a higher instep like these by Bottega Veneta ones that are flying off the e-shelves.
Sleek Slides with Midi Dresses
A pair of simple or ornate leather slides are the perfect summer shoes for a midi dress! You can opt for a minimal one-strap pair, a puffy criss-cross style or even a funky square-toe base slide with a minimal block heel. A platform slide is a great choice for shorter women or anyone who wants to add some height.
There are so many slide styles to choose from. Most of them will look great with any type of midi dress, including summer dresses, slip dresses and all-over tight styles. Choose a purse to match the style funky or classic style of your slides.
Loafers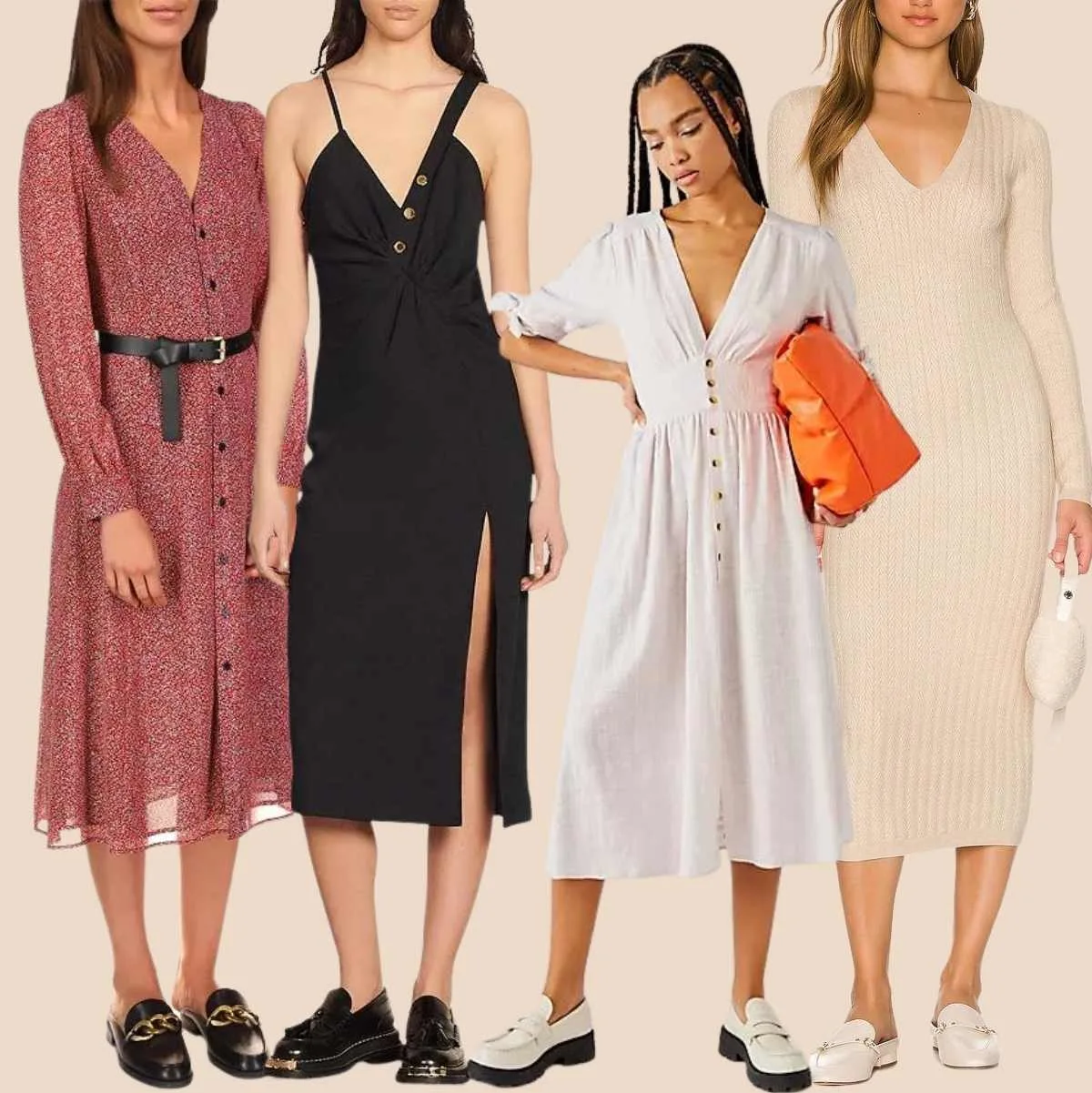 Loafers are on the rise, even with midi dresses! A great footwear choice with any midi on cooler fall or spring days and a great flat shoe to wear to the office.
Add extra preppy appeal by wearing your midi shirt dress with brown or burgundy penny loafers, or with a front button sweater or knit dress.
Add a bit of quirk with some great socks for loafers including white ankle socks and monogrammed crew socks. Socks do work best for midi dresses that are on the sorter side, so keep that in mind!
To play up the contrast, wear a pair of black chunky lug-sole loafers with a satin midi slip dress to add an edge to the dress. Top with a moto jacket, trench, or fuzzy sweater to add some softness.
Choose a pair of cream or blush Horsebit Gucci loafers or similar loafers styles, with a feminine floral or flouncy midi dress. Wear no-show socks to add hidden comfort, or make a statement with pair of flirty ruffled socks or any other trendy socks for loafers.
Loafer mules also look great with all types of midi dress outfits, whether for a casual meeting or night out. Check out my post on all the ways how to wear loafers for more loafer styling info.
How to Wear a Midi Dress with Heels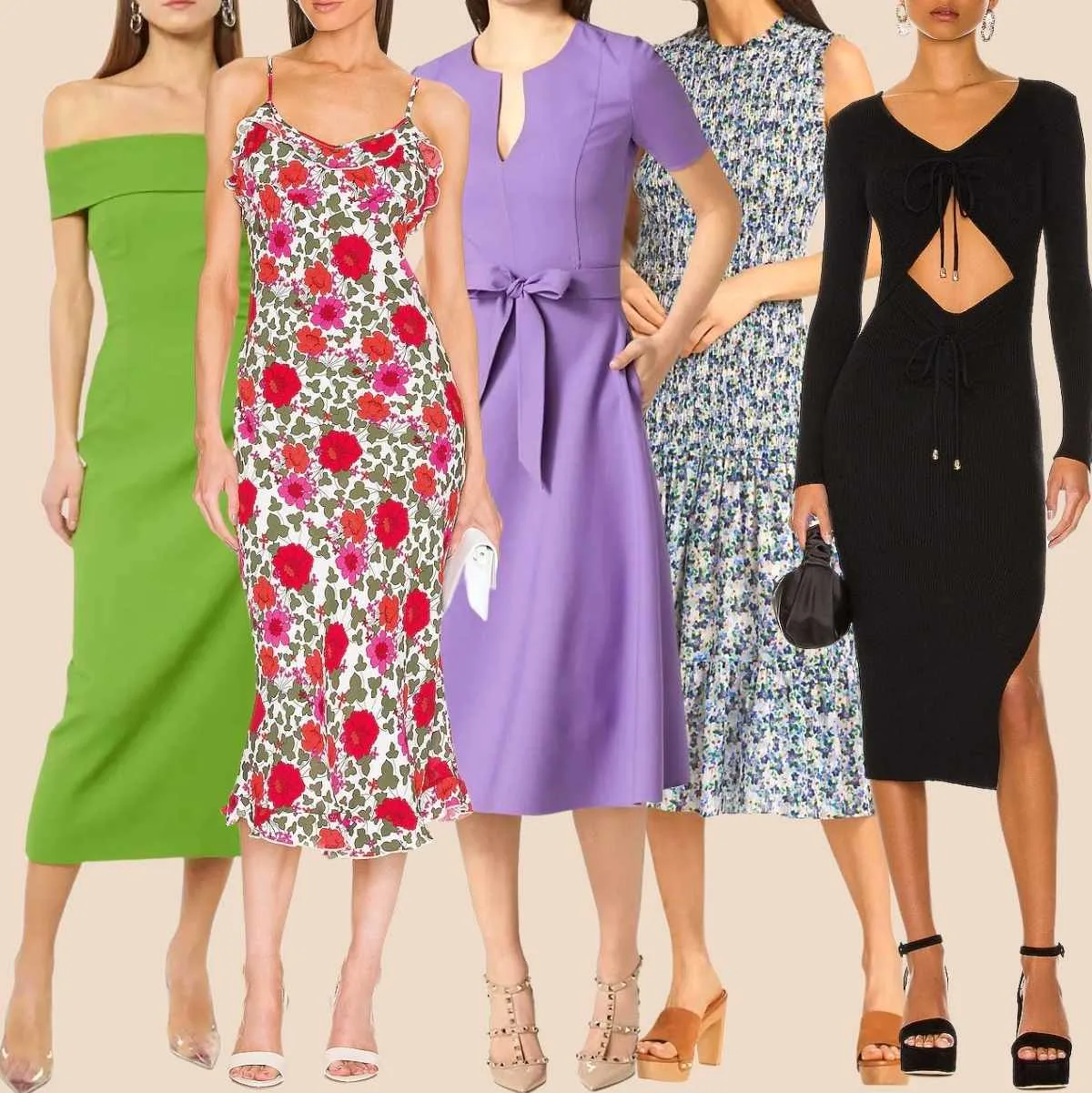 Midi dresses with heels are my favorite when playing dress-up! Unlike lower-heeled flats and boots, heels – especially taller, thinner ones – elongate the legs, which pair well with a dress type that can potentially make legs and body look shorter.
Choose a lower, chunky heeled sandal or go all out in a sky-high stiletto pump. The choice is yours! Make sure the high heel style complements that of the dress and the ensemble is suitable for the occasion. When it doubt, always dress up – that's my motto, anyhow 😉
Pumps with a Midi Dress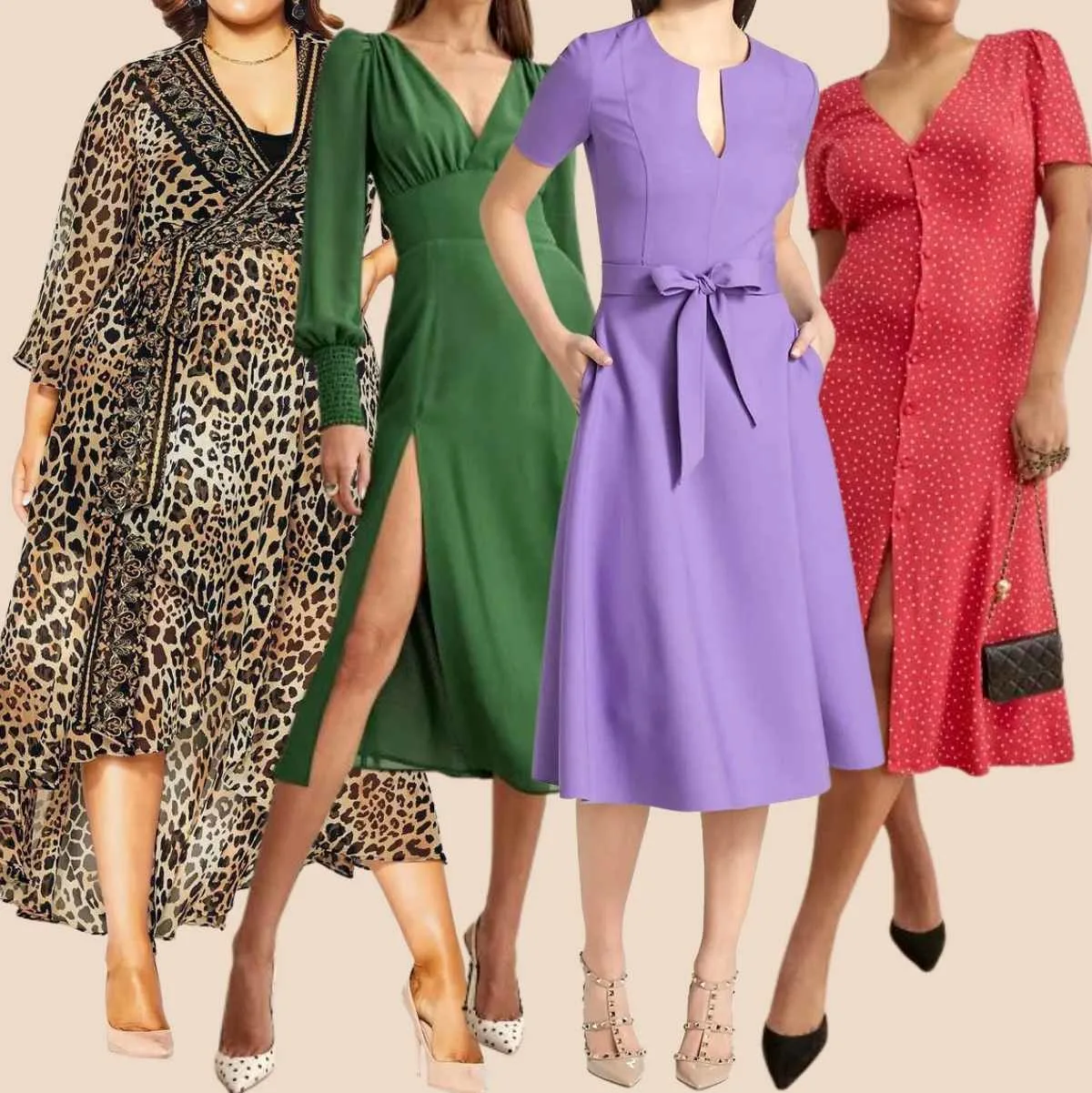 Pumps are the most classic type of heels to wear with midi dresses and deserve the first mention. A low-profile pointed toe stiletto pump is my first choice, but you are absolutely not limited to only these!
Stiletto pointed toe pumps look fabulous with midi cocktail dresses, and can also elevate a more casual midi.
Chunky heeled pumps with an almond toe shape can serve as a more casual shoe with a variety of midi dresses, including sweater dresses, especially if the heel is lower. These will be more comfortable than a thinner heel and may be more suitable for more conservative functions.
The trendiest of all designer pumps are square toe mesh pumps with lace detail designed by Bottega Veneta which can be found at a lower price point at many stores including ASOS.
Pumps without ankle straps look best with midi dresses, however, those in a skin-matching shade can work, or when opting for a shorter, just-under-the-knee midi.
Nude pumps are a great choice when you want to focus more on the dress or extend the look of your legs. Play up the barely-there trend factor in a pair of clear pumps, with or without any sparkly detail!
Strappy Sandals & Slides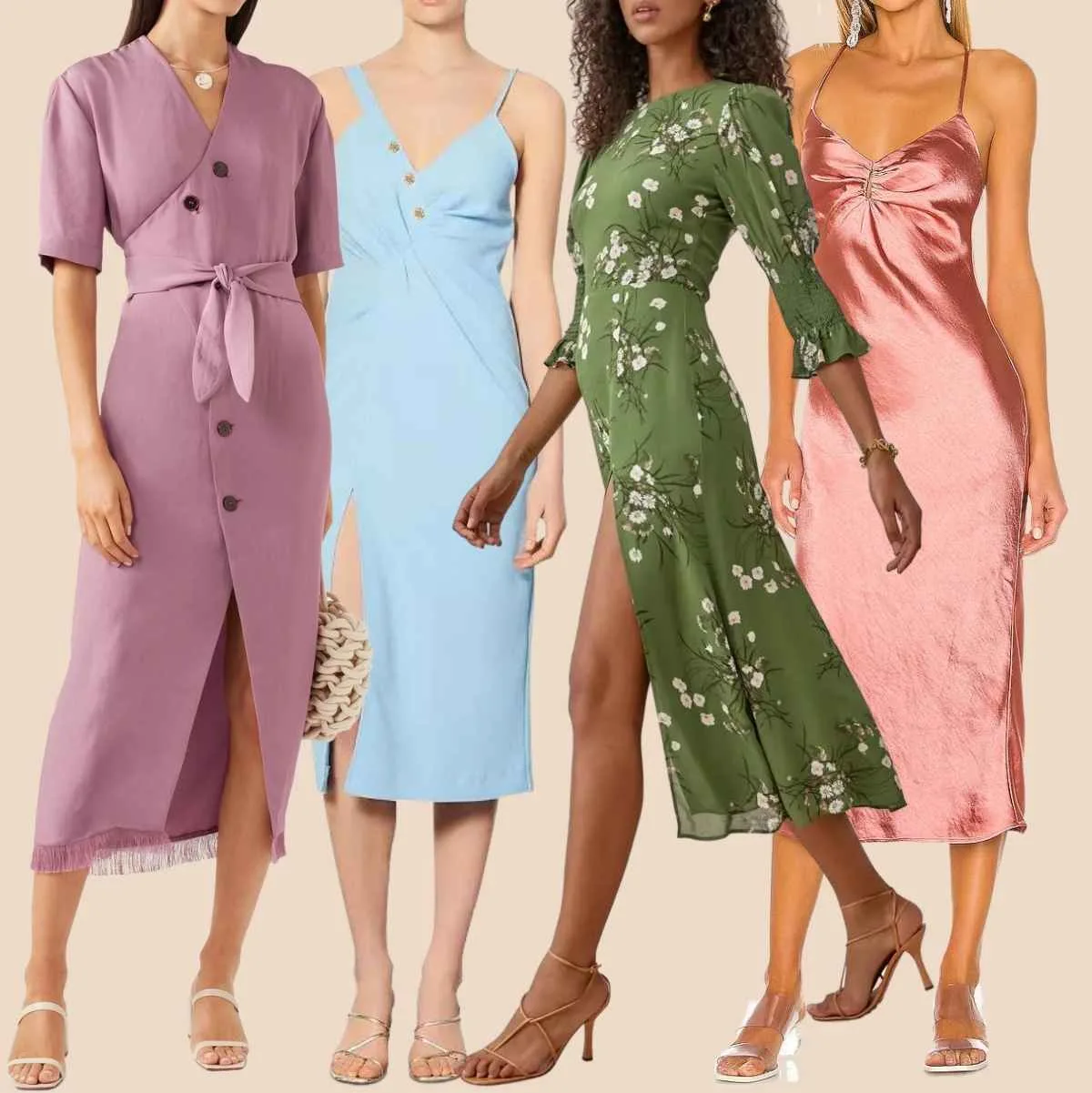 Strappy high heel slide sandals are a fancier version of simple flat sandals. These heeled slides can have multiple or singular straps.
I love neutral block heel slides with transparent straps like these from Steve Madden. They'll make it look like you're barely wearing any shoes at all!
Strappy kitten heels or block sandals with a low or high heel are a great choice of summer shoes with midi dresses for all occasions. I love a heeled sandal with thin straps that subtly wrap around the ankles.
High Heel Mules
If you're looking for toe coverage in your heels, but don't want to wear pumps with a midi dress outfit, slip on a pair of high heel mules!
A minimal stiletto or kitten heel mules are a breezy shoe type that can be dressed up or down depending on the style of your midi. I have a pair of rhinestone-adorned mid-height mules that look lovely with any fancy midi dress!
Espadrille Wedges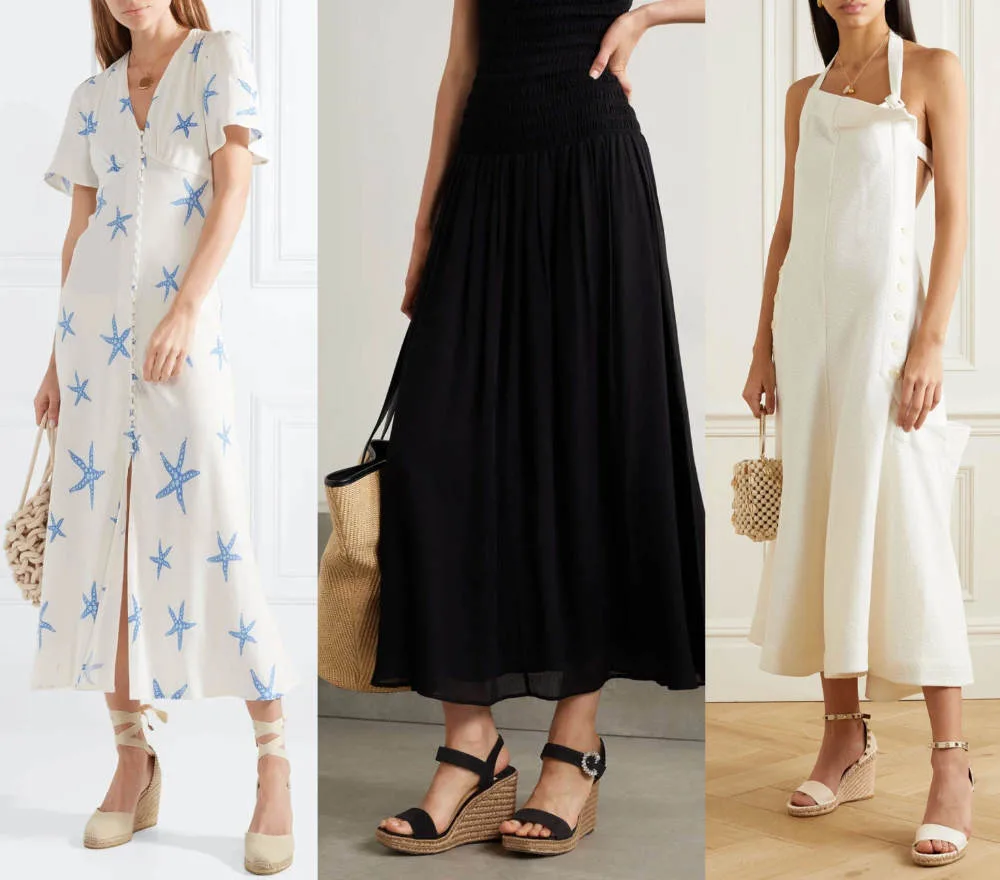 Perfect for summer days, espadrilles are some of my favorite wedges to wear with any dress, including midi dresses. They are a casual summer shoe staple that any woman can incorporate into their wardrobe.
These rope-soled classics make me want to put on a gingham button-front dress, grab a straw handbag and move to the country!
As espadrille wedges have lace-up ankle straps, these can shorten the look of your legs and frame. If you're petite, opt for a taller wedge espadrille to even out the proportions of the outfit.
Platform Sandals
If you thought disco-era platforms would never come back in style, we're now welcoming them back! This season, many designers and brands have reintroduced platform sandals.
Even Stuart Weitzman, known for the ever-popular, single sole stiletto Nudist heel, has introduced the fancy Ryder platform to his list in a variety of colors. Anyone vying for the Studio 54 era needs to get a pair!
Platform sandals with midi dresses look particularly good as they add height, even when the dress ends at the largest part of the calf. Great for petite women or women who want to stand tall and make an entrance!
Choose a metallic pair with a classic or trendy black midi dress, or a soft suede pair in warm brown tones for a more bohemian feel. You can reach for a platform clog sandal to keep your midi dress outfit more casual.
Clogs with Midi Dresses
This segues into my section about clogs – another shoe style that is coming back with a vengeance! These will give any midi dress a 70s-era, laid-back appeal.
Even though we're used to seeing slip-on clogs with brown uppers and wooden heels, these shoes come in a variety of colors and styles. Swedish Hasbeens make a great assortment of clogs from classic to classics with a twist.
Many high end, and high street designers are jumping on the trend as well. Just take a look at Weitzman's high heeled Pearl Clog and the many clog style shoes available from Free People.
Choose a floral or simple-colored linen dress with a pair of clog mules. A t-shirt or sweater midi dress works well too and is great for layering a soft sweater or denim jacket.
When wearing clogs with dresses, I like matching my handbag with the warm (red, brown, gold, beige) or cool tone (black, grey, silver) of the purse I choose to complete the outfit with. A soft sweater or denim jacket makes a great casual topper for a flirty midi dress and clogs outfit.
FAQs:
What are the best midi dresses for petite women?
A pressing question that I considered starting this post off with is are midi dresses flattering for short ladies and smaller people?
Midi dresses can look great on petite women, however, they aren't always the top choice for shorter women. That's because depending on the dress style and length, they can make a petite women's legs and body look shorter, creating a less flattering overall look.
The best midi dress for petite women and shorter people are ones that end above or below the widest part of the calf. If the dress falls at the widest place, it will visually truncate the legs.
This will make the person and their legs appear shorter and thicker than they actually are. Unless that's the look you're going for (you never know!).
In terms of the style of midi dresses for short ladies, avoiding boxy styles is key. Opt for a cinched-waist midi dress with an a-line skirt or full skirt, or choose a form-fitting midi dress style, such as a bodycon with a side slit.
What shoes to wear with a black midi dress?
Deciding what shoes to wear with a black midi dress all depends on the style and material of the dress. For fancier black midi cocktail dresses, like a slip, lace or sleek wrap dress, a dainty heeled sandal or pump will look lovely.
With more casual black midi dresses, such as a black linen summer dress, you can opt for a minimal slide sandal, white sneakers, clogs or a pair of open-back loafers.
For casual winter outfits in sweater dresses, any type of tall or shorter ankle boot, combat boot or even contrasting white sneakers would look fabulous. As for shoe color choices, check out my post on the best color shoes to wear with a black dress.
What shoes to wear with a midi bodycon dress?
Bodycon dresses are tricky to pair with the right shoes, especially midi bodycon dresses. What shoes to wear with a midi bodycon dress really depends on whether the dress has a knee-high slit and where that part is located.
Side slit bodycon midis have the most options as you can make any taller boot like a cowboy or knee high style, work. For all-over tight bodycon midi dresses, these look best with a minimal heel style, sneaker, or tight boots such as sock booties.
Combat boots are my favorite shoes to wear with casual bodycon midis for fall/winter, and sneakers for fall. Minimal or clear high heel sandals with a thin stiletto are top choices for a formal bodycon midi dress.
Final Thoughts on Shoes to Wear with Midi Dresses
I hope you now feel qualified knowing what shoes to wear with midi dresses. As you have read, the number of shoes to wear with midi dresses is many.
Thankfully, that means that you have a variety of flats, sneakers, heels, tall and ankle boots to wear with midi dresses during winter, summer and all seasons in between.
Whether you opt for a trendy or more classic pair of shoes for your midi dress, it should make sense with the style of midi dress you're wearing and the event you're wearing it to. How the overall look plays together is an important factor.
A shoe or boot can completely change the style of an outfit. Think a pair of classic pointed toe pumps with a midi bodycon dress vs styling that same dress with a pair of cowboy boots. Because style is as personal, I say wear what you feel best in and have fun with it!
What are your favorite shoes to wear with midi dresses? I love a strappy stiletto sandal with a voluminous midi dress. With a midi sweater dress, I like a solid pair of black combat boots for casual fall/winter outings!
xo ShoeTease