Tights are a great way to add an extra layer during the cooler months, while also adding a splash of je ne sais quoi to your outfit.
If you're looking for what shoes to wear with tights or stockings including dress shoes, boots, tights with heels – and yes, even sandals! – I've created this tights shoe styling guide to help!
The right tights and heels or stocking with shoes can add greatness to an outfit – from short dresses, to maxi dresses to leather skirts and cropped pants.
Think of how sparkly sheer tights under your little black dress will add a festive touch, or how opaque black tights with colored shoes will create a bold contrast! Tights are an important accessory and should be treated as such!
Also known as stocking, pantyhose, or simply hose, these super tight socks-meet-pants can be sheer, opaque, and printed. They come in a variety of styles including lace, fishnet and thicker weaves.
If you're looking for style tips for footless 'tights', I've written a post about the best shoes to wear with leggings. However, in this post I'll be focusing on tights, aka stockings that have a foot – or sock – attached to them.
With each shoe choice, I'll outline what color and opacity of tights look best, with tips on what clothing and outfit style will look best.
Of course, there are certain shoes and heels that look good with tights and others that do not. If you're ready to find out all the best shoes that go with stockings and tights, which tights with heels look best and if you can wear tights with open-toed shoes, read on!
9 Best Heels, Boots & Shoes to Wear with Tights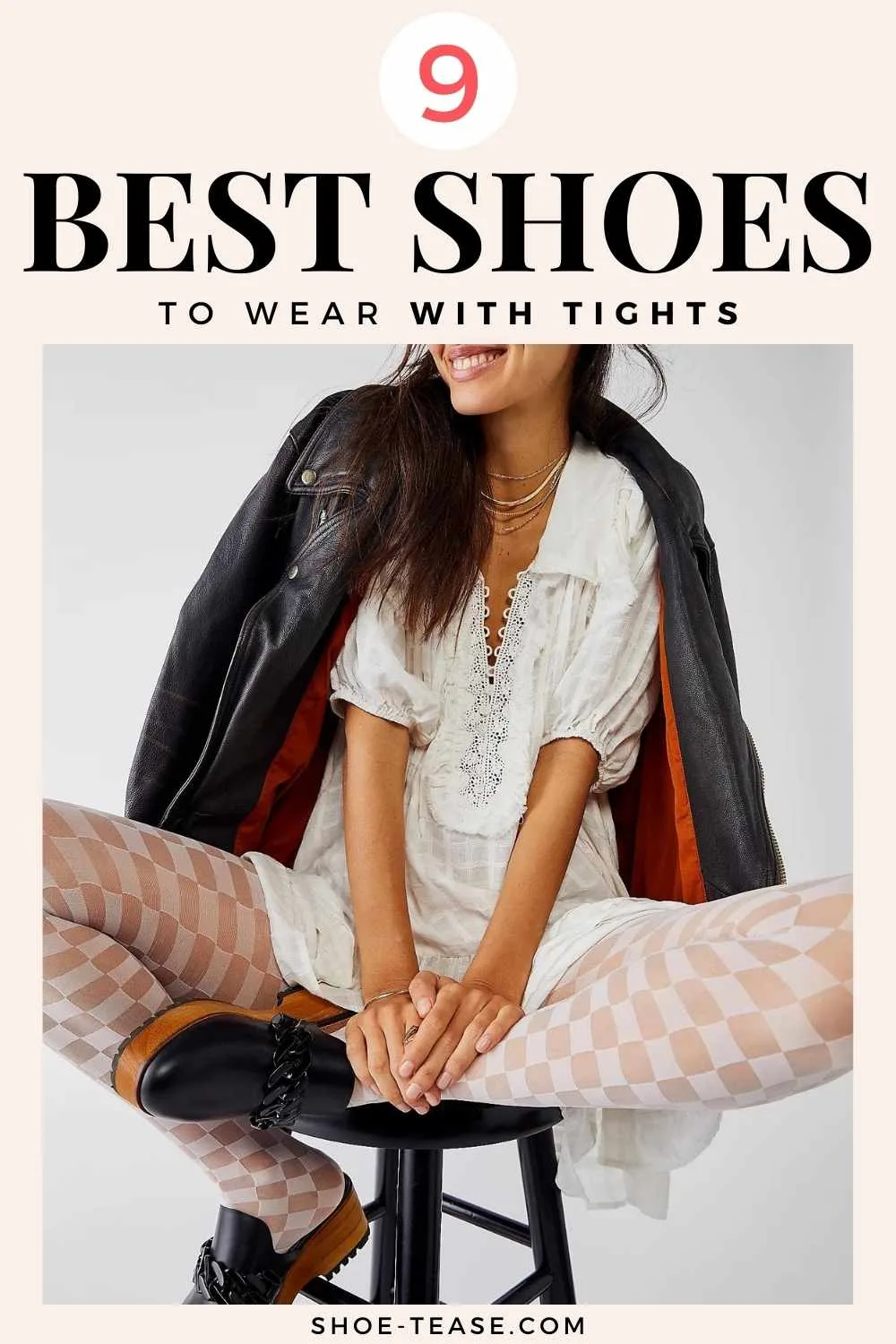 1. Ankle Boots with Tights
When the fall weather hits, the boots and tights come out! Simple heeled or lug-sole ankle boots are the most popular boot types during the cooler months and look great with tight, as do sock booties.
They come in a variety of different styles, colors and finished. Classic black leather and suede ankle boots are an all-time favorite and I love them with sheer or semi-opaque black tights best. Below are some combinations of ankle boots and tights that work best:
White leather ankle boots + white, lace or semi-sheer black tights
Brown sheer tights + beige or brown ankle boots
Monogram tights + in-tone ankle boots
Silver booties + patterned black semi-sheer tights
Opaque or sheer black tights + all ankle boots
Complete your ankle boots and tights outfit with a mini or midi dress and cardigan, layered with a moto jacket or peacoat. Add a dainty leather crossbody with chain strap detail, or a quirky handbag.
Check out all the best socks to wear with ankle boots in my latest post!
2. Platform Sandals with Tights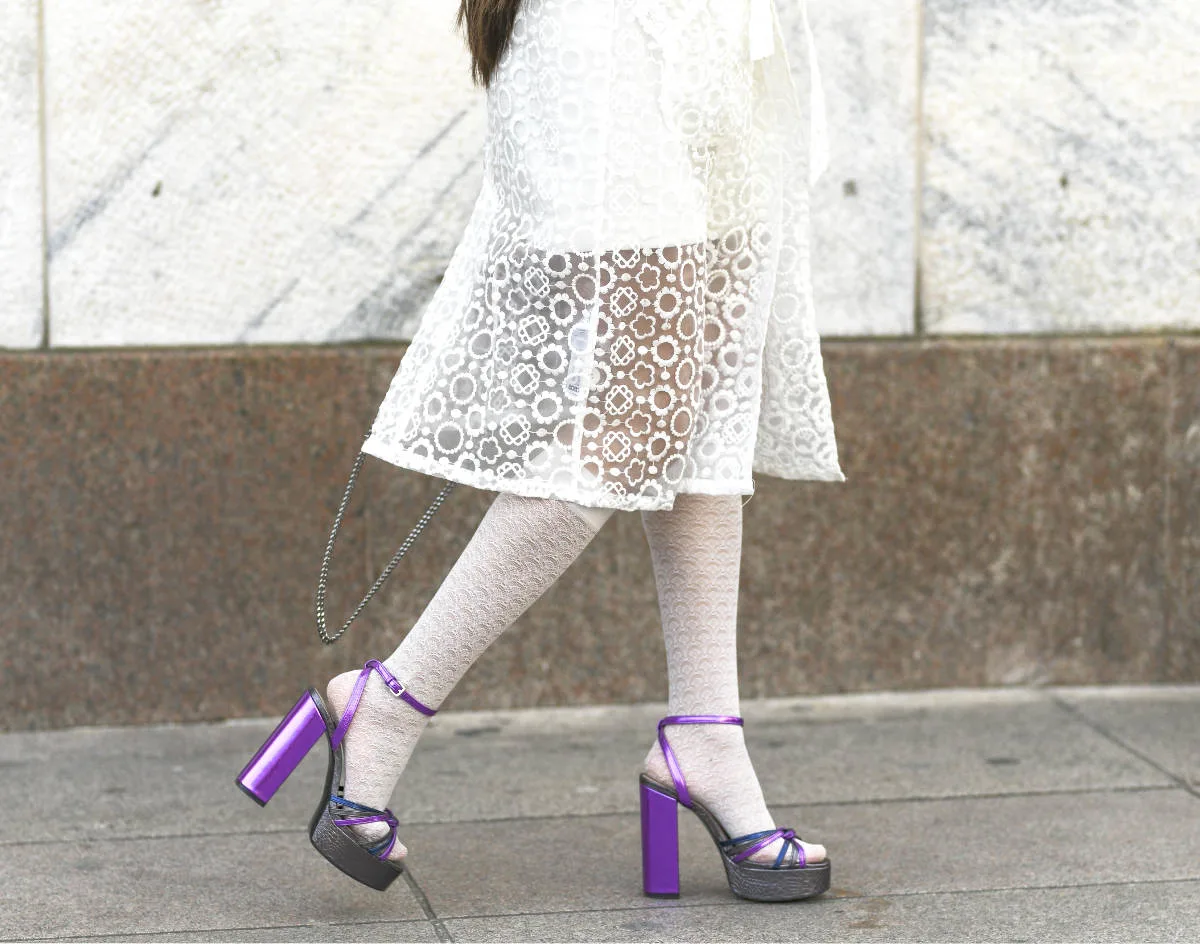 Yes, the eternal debate of whether you can wear tight with heels! And yes you can. Platform sandals are making a comeback and once again, styling them with tights can look amazing (no matter what the nay-sayers spew!).
From sheer black tights, lacey numbers or rib knit styles, there are many options to consider. They look best with short hemlines, especially to show off a pair of patterned lacy tights.
I love thicker knit stockings for cooler months, paired with suede, velvet, patent or contrast color sandals. Opaque black tights look fabulous with metallic and leather styles, just stay away from matching them with a black platform.
White tights, however, match great with black or any color sandal, especially any contrasting bright or pastel hues.
For lace or patterned tights, pick a platform sandal that doesn't show the seam at the toes. The color and sheen of the lace tights will dictate which sandals look best.
Velvet, shiny metallic sandals or patent styles are all fab in combination with opaque lace tight. This tight and sandals combo works great to elevate an evening outfit, such as a slip dress, cocktail dress or satin skirt suit.
3. High Heel Pumps with Tights
There's nothing more timeless than wearing sheer hose with strappy pointed-toe stiletto pumps! But that doesn't mean you can't switch things up a bit.
For a vintage feel, pair opaque white, pastel or colorful tights with a higher vamp, or block heel. To add another layer of edgy style to black or colored lace tights, try a pair of black patent, multi-strap pumps.
For work-appropriate looks, simple semi-opaque black tights with black leather pumps or sheer skin-tone hose with neutral pumps can do no wrong.
Of course, monogrammed tights, whether Gucci or Fendi are always stunning with a pair of pumps, mini dress or skirt. Finish off the look with a leather trench or blazer.
4. Loafers with Tights
There are many great socks for loafers, but these can look fabulous with or without them. What can they look even better with? That's right, tights!
Pick a chunky black pair of Prada loafers or similar style with semi-sheer black tights with or without a polka dot detail. Or try pair of black fishnets to add some edge to an LBD or black shorts and rocker tee outfits.
A current trend is layering white ankle socks over sheer tights and loafers. As is matching your Gucci Horsebit loafers with a matching pair of Gucci monogram lace tights. Another great choice is an opaque pair of colorful tights with black loafers in warm fall tones.
Wear your loafers and tight with a sundress or simple tee and mini skirt, topped with a neutral or plaid blazer or a trench, for a preppy feel. More styling tips on what to wear with loafers in my loafer-specific post!
5. Combat Boots with Tights
Classic black combat boots or platform combat boots in a patent finish add an extra edge to any outfit. So why not add even more style layers by wearing combat boots with tights?
Black fishnet stockings are the obvious choice for a rock 'n roll vibe, but any opaque, semi-opaque or sheer black tights, with or without a pattern will look fab. Pick a ribbed knit black, burgundy or dark grey pair of tights for cooler days, under a fluffy sweater dress.
Classic black combat boots will always look great, but don't be shy – try a white or patent pair to switch things up. Add a floral midi dress or a little black dress. My favorite classic combat boots? I love the ones from Taos or Frye, but if you're looking for designer, Khaite's Cody combat boots with block heels are stunners!
You can't beat a minimal outfit with combat boots a denim or moto jacket with this combo! Learn more about what to wear with combat boots in my dedicated post.
6. Mary Janes with Tights
Another shoe type coming back on the rise is the Mary Jane. Flat, lug-soled or in dainty stiletto form, Mary Janes are a shoe type that is surprisingly versatile. Of course, the tights you choose, really depend on the shoe style.
High Heeled Mary Janes with Tights
With a finer high heel Mary Jane, like Manolo Blahnik's Campari heels, finer simple black hose with some sheen are perfect. You can opt for a small polka dot of detail as well.
Complete your outfit with a sleek skirt suit, shift dress or dress the heels up with a mini party dress and sparkly hose to add some festive fun.
Chunky or Lug-sole Mary Janes and Tights
Chunkier versions of this shoe, similar to Doc Martens' 8065 Mary Janes or Chloe's lazer-cut platforms, also look great with thicker plain or chunky lace, cable knit or herringbone tights, to match the shoes' energy.
Of course, you can choose a simple dress to pair them with or have fun wearing them with jean shorts, cropped or ripped jeans, a rocker tee and an oversize blazer. However, you can also wear a chunkier shoe and tight to contrast a mismatched skirt suit.
Mary Jane Flats with Tights
A minimal leather Mary Jane flat can look great with thicker, matte tights in a rich jewel tone or even off-white or pastel, depending on the shoe color and outfit. These are versatile and work with most outfits as they can be dressed up or down for the occasion.
7. Knee Boots with Tights
Can you wear knee boots with tights? With the right boots and outfit, yes you can! Many ladies love to wear hose with knee boots and that's ok.
I do, however, prefer the stockings to be semi or opaque with leather knee boots, so they don't heavily contrast the heaviness of the boot. Yes, a subtle fishnet or polka dot can also look great. Stay away from larger, punchy patterns as these can look awkward.
With suede boots, you can opt for slightly sheerer tights, but I do prefer semi-opaque in-tone tights with all suede boots, whether straight leg, slouchy, tall or ankle heights.
I love knee boots with tights with a mini or midi skirt, where the tights show enough to make a statement. A structured mini dress with straight leg boots, or a flouncy boho dress can work wonderfully with a soft boot such a slouchy suede style.
8. Minimal Black or White Sneakers with Tights
Nope, sneakers aren't only limited to socks! Tights can look great with the right pair of sneakers and outfits. I especially love tights with black or white sneakers.
Contrast or in-tone black or white lace tights are my favorite combination of tights with sneakers. However, black statement tights with opaque prints – like checkers, and large or small polka dots – are fun with black, white or metallic sneakers.
You can add sneakers to pretty much any outfit with tights to make the outfit less formal. This, especially, if you choose a minimal lace-up leather style. And let's not forget the classic pairing of Chuck Taylors and fishnet stockings!
9. Oxfords
If loafers aren't your thing, but you love oxfords, they can look wonderful with tights too. Pick a pair of chunky Doc Marten oxfords with thick black or a fun pair of patterned tights for a punky look.
Alternatively, you can wear a semi-opaque pair of black or any contrasting tights with all oxford types.
With a minimal oxford style, most tights styles can work, aside from thick knit or ribbed tights with daintier shoe styles. Elegant leather oxfords with black tights work well for conservative work environments.
Feel free to contrast your oxford's patent or matte leather with a pair of tights that are matte or have a sheen/sparkle.
Shoes Not to Wear with Tights
Although this post is all about the shoes and heels to wear with tights, there are a few styles that I just don't love paired together. Here they are, below:
Peep-toe heels or flats: these will just look awkward with tights especially if they show the front seam of the tights.
Cowboy Boots: classic style cowboy boots look best without tights, although with leggings or certain lace tights, they look great with the right outfit.
Strappy flat sandals: can you imagine a pair of gladiator or thing strapped sandals with tights? Yeah, neither can I, so please avoid this combo.
Slides: I can stomach socks with slides, but if you're wearing anything from a sport slide, Birkenstock or even minimalist slides with tights or hose, please don't. The 2 have no place together.
Ballerina flats: now, not all ballerina flats should avoid tights. Classic style ballerina flats look ok with sheer tights with no or minimal pattern. thicker tight will overwhelm this shoe style, especially cable knit or loose tights, and look child-like. Opt for bare feet or no-show socks instead.
Frequently Asked Questions:
What shoes with black tights look best?
What shoes to wear with black tights, you ask? Black leather tights are like a little black dress – they pretty much go well with any type of shoes! From combat boots to stiletto high heel pumps, there aren't any type of shoes with black tights that don't pair well.
Chunky heeled or clunkier boots look best with thick or semi-opaque tights. Thinner, more translucent black tights with heels, especially dainty styles look best.
Black tights with colored shoes are also a great pairing! The more opaque the black tights with your colored shoes, the larger the contrast. Think black tights with yellow, blush pink or red shoes!
However, even darker colored shoes with black tights look fab, such as with burgundy shoes – a great pairing for Fall!
Is it ok to wear tights with open-toed shoes?
It might be taboo to some, but with the right tights you can most definitely wear them with open-toed shoes! High heeled platform sandals with thicker upper and ankle straps are my favorite open-toed shoes to wear with tights.
That's because the style is funky, but also shows off the tights from the heel, sides and ankle, rather than just at the front (an awkward look!).
How to wear tights with open-toed shoes?
Now that you know you can wear tights with open-toed shoes, you might be wondering how. I love this combo with fancy outfits in particular. Particularly little black dresses, slip dresses or satin mini blazer dresses.
Pair any of the above with, metallic, velvet, or contrast patent platforms that are all fab in combination with translucent or semi-opaque black, slightly metallic, or lace tights. Avoid black on black tights with heels, unless there's a strong contrast.
You can also wear them for a day-to-day outfit with thicker ribbed tights, making sure the tights contrast your sandals and the rest of your outfit.
Final Thoughts on Shoes to Wear with Tights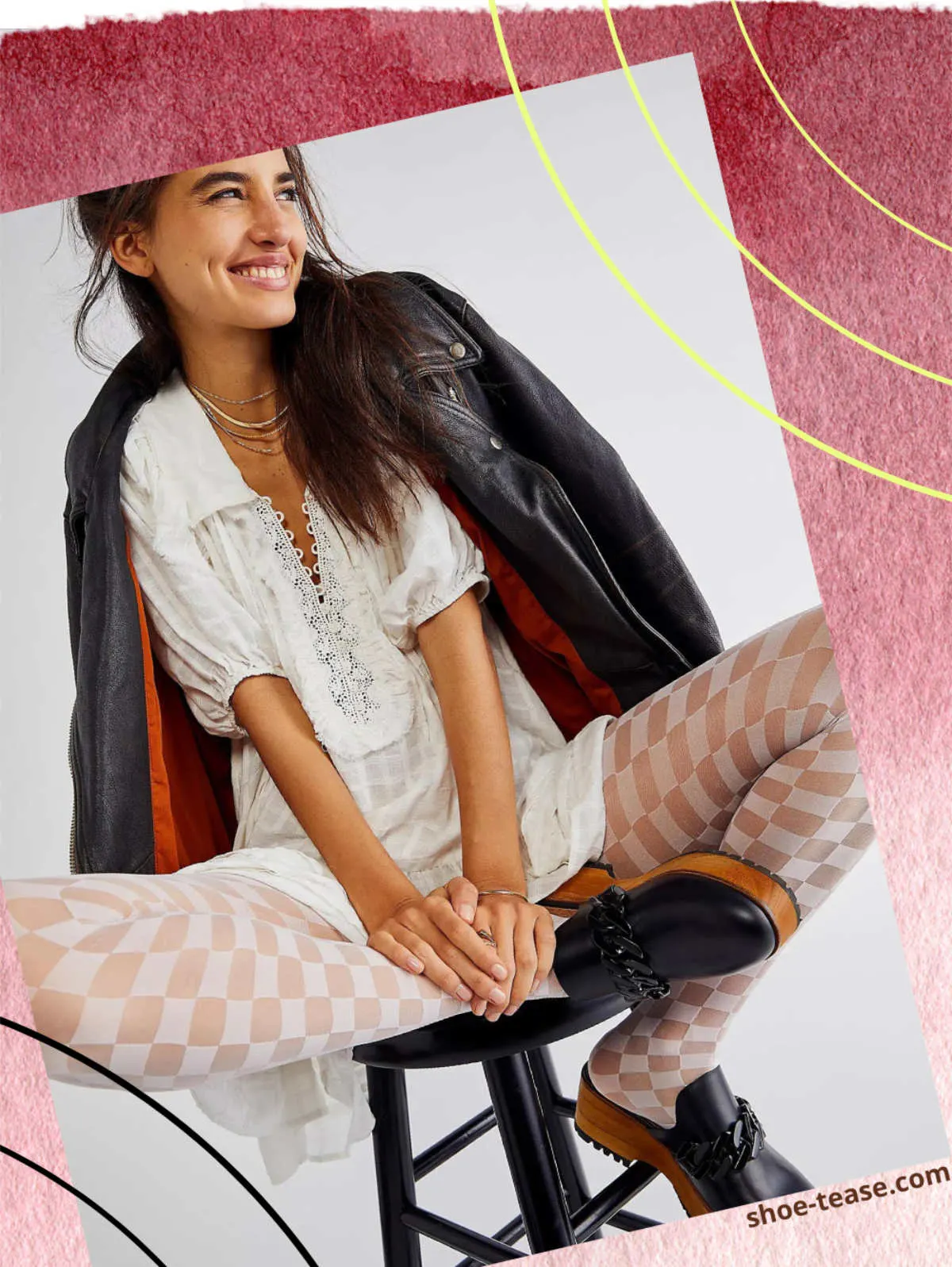 Now that you know all the best shoes to wear with tights and can even pair tights with heels, I hope you're ready to make a style splash!
Adding tights, whether sheer or opaque, black or polka-dotted, can completely transform your outfit. And in some circumstances, can even make your outfit more work appropriate.
Of course, there may be other boots and shoes that you wear with tights that aren't mentioned in this post. If you love the look and feel comfortable wearing the combination, for it!
Style is subjective and personal and my styling tips are here for guidelines only, or to give you food – aka shoes! – for thought.
If you're looking for posts on how to wear leggings or other posts about socks – and I've written a lot about socks and sandals! – take a peek at those 🙂
What are your favorite shoes that go with stockings? I love a good ankle boot with semi-sheer dotted tights, but also can't get enough of patterned tights under short hemlines, paired with platform sandals or pretty flats.
xo ShoeTease