What Color Shoes to Wear with Grey Dresses & Outfits
If you're on Instagram, scoping out fashion & OOTDs, you've probably noticed a trend towards neutral, colorless outfits for all seasons. As much as colors might be trending on the catwalk, bloggers & fashionistas alike are loving their black, white and grey tones even more, each season.
But as we at ShoeTease, specialize in shoes, I'm here to chat about the best color shoes to pair with your grey dress or outfit, no matter how light or dark your greys may be!
You can find find great grey dresses for all occasions from Saks, Bloomingdale's and Net-a-Porter.
---
Shop Grey Dresses:

Alt text for clickable widget images above: Women wearing grey dresses.
---
What I love most about grey outfits & frocks is their ability to play well with most colors. They are also so versatile: you can wear them casually or easily dress them up for work or dinner.
I personally favor grey (especially heather grey – that light & dark grey blend) not only because it looks oh-so chic, but also because it never looks dirty!
This is great if you're dealing with kids or wanting to look polished from morning until evening, when you don't have time to change.
The shoe type you're going to want to wear with your grey outfit completely depends what kind of style & occasion you're wearing it for.
If you're also curious about shoe type in particular to pair with grey, hop on over to my shoes to wear with black dresses post. Yes, it's about the LBD, but the styles are perfectly applicable to your LGD (Little Grey Dress) as well!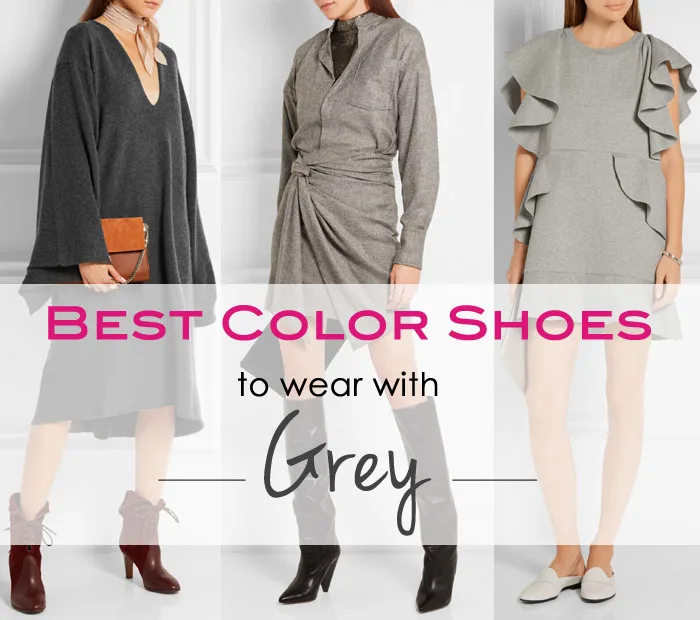 What Color Shoes to Wear with a Grey Dress or Outfit
Today I'm counting down my top 8 color shoes to wear with a grey dress outfit, with purse tip suggestions too. Because how to wear a grey dress or outfit successfully, has more to do than merely the shoes 🙂
Although there are a slew of amazing colored shoes you can wear with this neutral shade, below are my current favorites. As always, style is completely subjective.
If you don't see something suggested below that you think you'd pull off beautifully, just go for it. Nothing completes an outfit more than confidence!
1. Grey Dress Red Shoes/Burgundy Shoes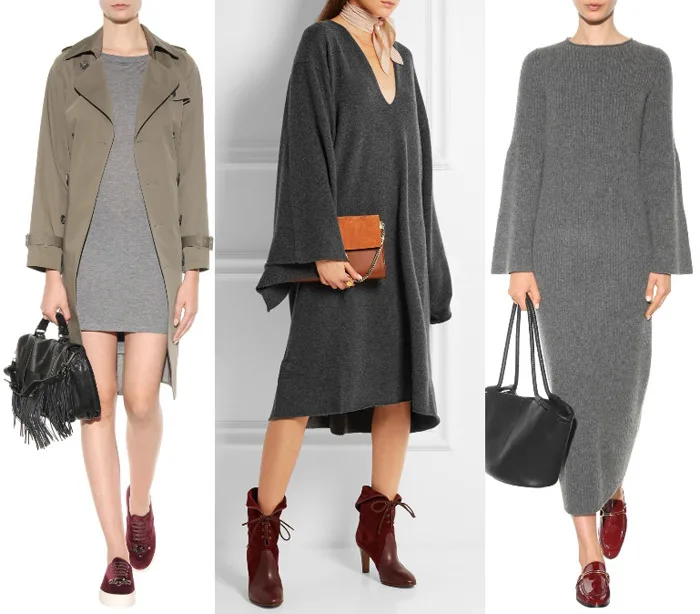 Grey dress, red shoes? I say yes! Not only a hot shade for fall, but burgundy or red shoes look sleek and sophisticated with grey dresses. Go with bright, cherry red shoes for casual and fancy outfits.
If you're wanting colors with your grey ensemble but want to keep it more demure, nothing beats a beautiful wine-hued tone.
Perfect colored shoe for a more conservative office look. Love darker red shoes with lighter grey frocks, myself. If you're looking for more red shoe pairings, check out my post on how to wear red shoes!
Purse styling tip: black or white purses are my fave accessory colors for red/grey combos, but an army green with burgundy shoes would look amazing too.
If you have a brown purse, make sure it contrasts enough with your shoes, such as the image above, where burgundy booties are styled with a bright orange/brown purse.
Favorite Red Shoes & Heels :
2. Black Shoes With Grey Dresses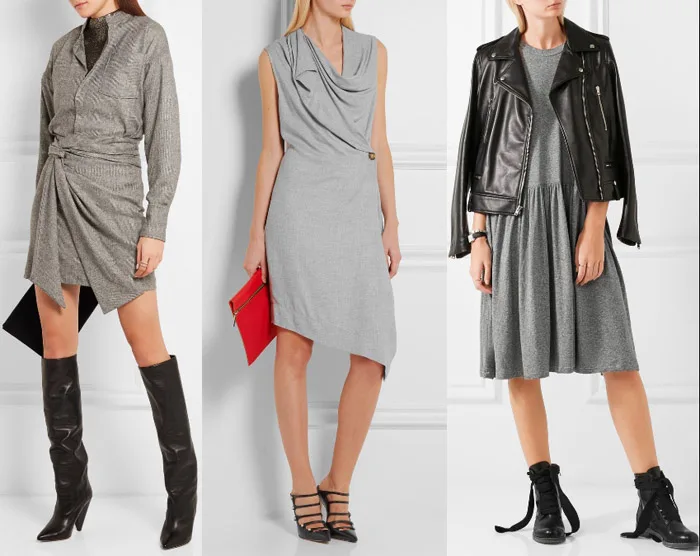 You already have them in your closet, so why not wear your black shoes with a grey outfit? I love black leather with grey best, because it gives an edgy contrast to the softer, grey tones.
Purse styling tip: pretty much anything goes here! Keep it simple with a black purse or go wild with a brightly colored bag. A personal preference is a bright red bag with this pairing.
Favorite Black Shoes & Heels:
3. Beige Shoes with Grey Dresses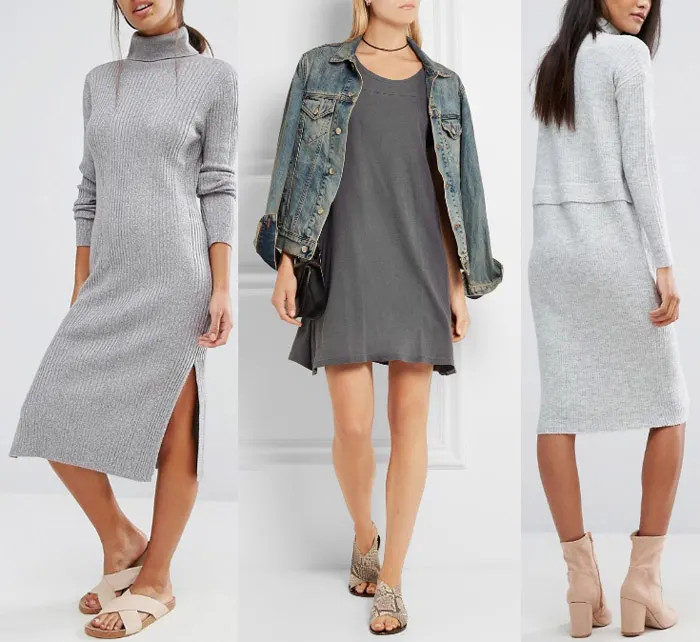 Something that's grown on me is beige with greys. Although the contrast is subtle, it's a pretty and neutral pairing for those wishing to inject a bit of warm color to their outfit. Loving the peachy-beige shoes in suede for winter grey outfit!
Purse styling tip: this one's easy. I'd opt for either a black, white or contrast grey purse. You can play a bit with a contrast pastel such as powder blue or lavender. Stay away from pink handbags with this combo.
Favorite Beige Shoes & Heels:
4. White Shoes with Grey Outfits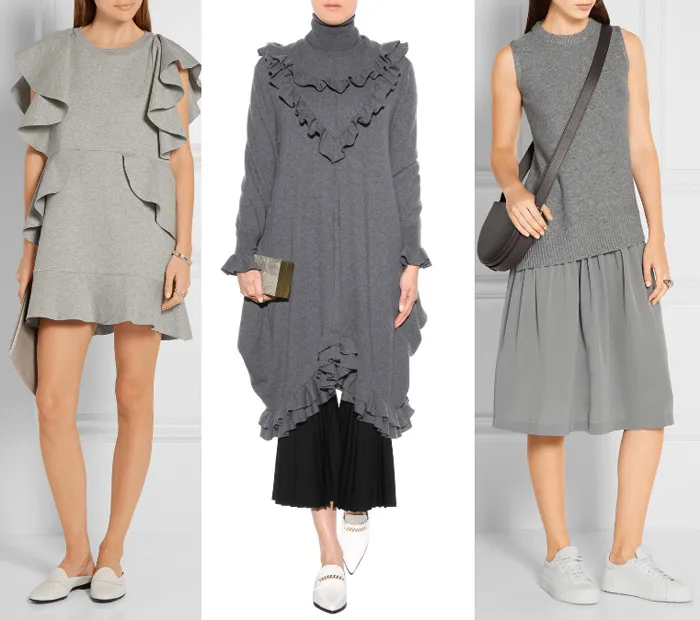 White shoes look so sophisticated with grey! Wear a pair of white pointed pumps or loafers with your grey office dress. Looking for a casual vibe?
Nothing beats fashionista-friendly white sneakers with your grey shift of sweater dress! But with any grey outfit, white shoes will look sleek & polished.
Purse styling tip: when your dress & shoes are neutral, you can either keep it trendy & monochromatic with a black purse or have some fun with color, such as bright pink, red or powder blue as a few favorite examples!
Favorite White Shoes & Boots:
5. Silver & Chrome Metallic Shoes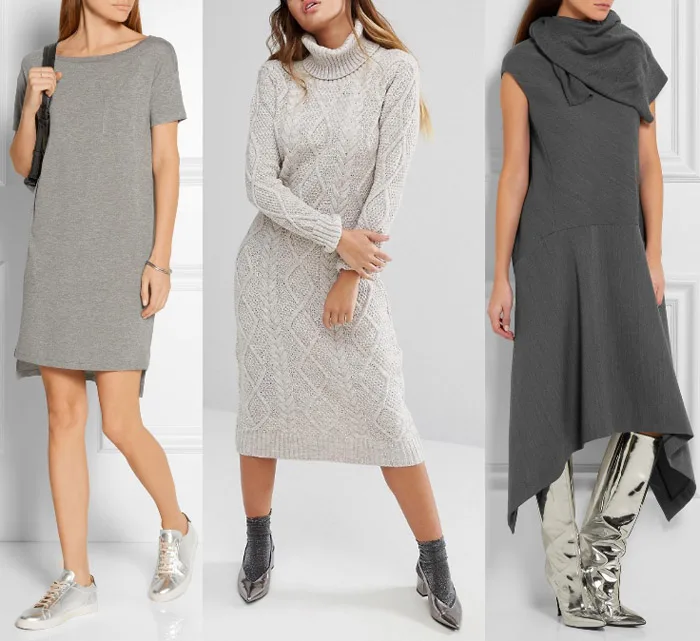 As with the greys, aim for a contrast metallic with this combo. Like bright silver shoes with a darker hued grey dress or a light grey dress with metallic chrome shoes. I'm a definite fan of a mirror metallic silver + charcoal grey dress, like the outfit on the right!
Purse styling tip: Add a black or white purse or go for a dark color such as wine or magenta.
Favorite Silver Shoes & Heels:
6. Black and White Shoes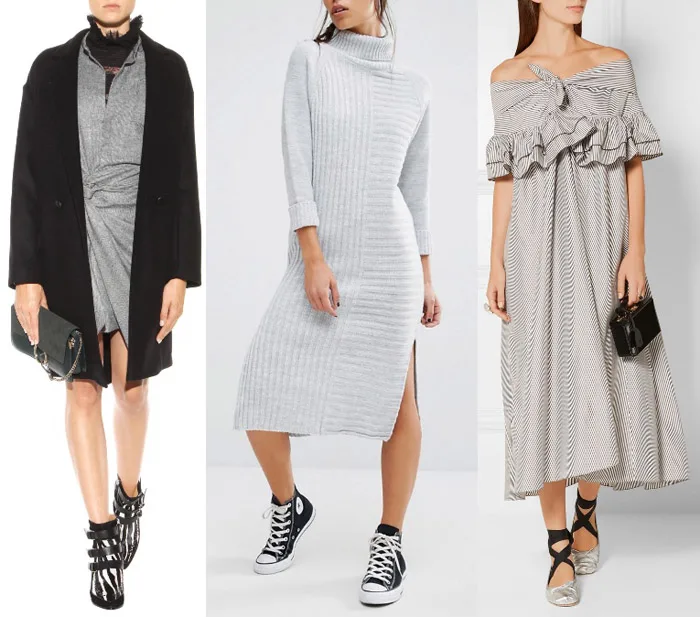 When solely black or white shoes aren't doing it for you, get your feet into a two tone black & white shoe! My absolute favorite contrasting shoe looks fab with grey dresses.
Whether black & white animal print, pattern or simple color blocking, there are so many black & white (+black and silver!)shoes out there to suit your grey outfit!
Purse styling tip: contrast your outfit with a neon purse or brightly saturated colored clutch. If you want to keep it moro chromatic, grab your best black purse & get on with your day 🙂
Favorite Black and White Shoes :
8. Pop of Color & Contrast Prints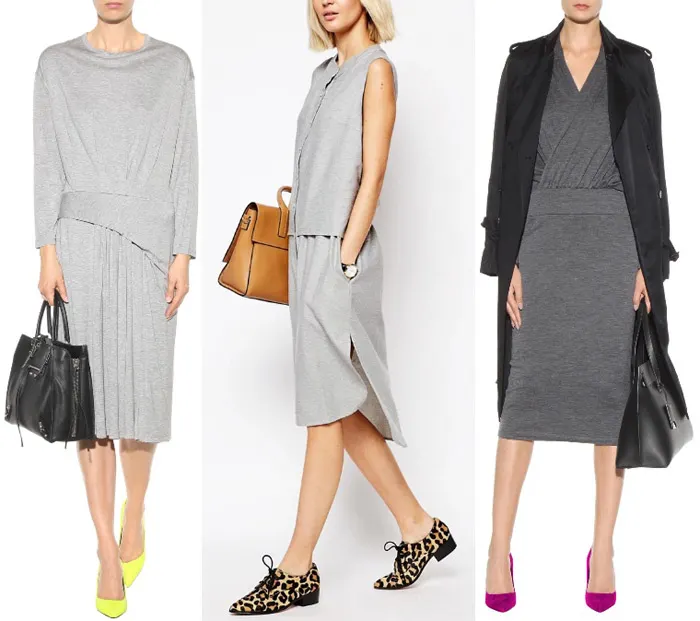 If you're looking to add some fun to your grey outfit, a pair of contrasting shoes or heels with your look are a must! Neon colors look fantastic with light greys.
Deeper shoe hues such as magentas or cobalts look particularly fabulous with medium to dark grey outfits. Of course, leopard print shoes themselves, the "neutral" that they are, look fab with greys as well. Neutral or very colorful snake and reptile prints look fun too!
Purse styling tip: Opt for a handbag that picks up one of the hues in your animal print shoes (like the caramel purse with leopard print brogues, above). If your shoes are a solid contrast color, choose a white or black purse.
However, if you're feeling like it, you can have even more fun contrasting your bright shoes with a differently colored purse. Fave combos include: pink & green, green & cobalt, red & cobalt, yellow & pink.
7. Contrast Grey Shoes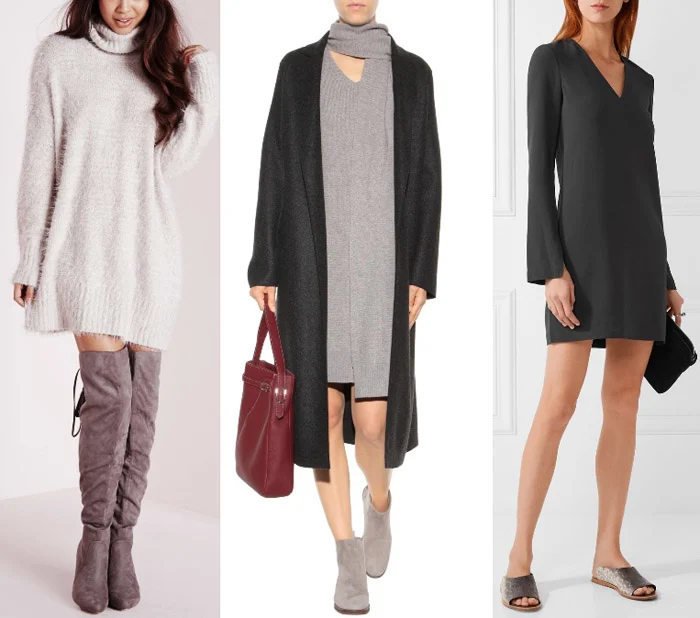 Grey on grey can look fab too! Although I'd steer clear of matching shoes to the dress unless you're injecting contrasting tones to your outfit (like the outfit above, in the middle), go for a grey shoe that is much darker or lighter than your dress.
I love a pair of charcoal grey OTK boots with a sweater dress or lighter grey flats with an almost black grey dress.
Purse styling tip: Black, white or deep hued purses such a burgundy will complete your grey dress outfit.
Final Thoughts on Shoes to Wear with a Grey Dress
These are my two cents (or shall I say, eight cents!) on what color shoes to wear with grey dresses and outfits! I hope it's given you some inspiration for the upcoming Fall season!
I can't wait to wear my grey dresses with black coats and jackets. See all other styling posts, here. Grey is such a stylish color for all seasons, don't you think?
xo ShoeTease
Cristina is the chief editor, fashion & shoe expert here at ShoeTease. As a seasoned stylist and women's fashion & shoe designer, she boasts over 20 years of experience in the fashion industry. She loves crafting effortless outfits for ladies both online and off and believes that styling advice should be accessible to everyone. Whether you're a styling pro or just starting out, Cristina's here to guide you on your fashion journey! Learn more.