Pink dresses are fun, flirty & completely on-trend! This is why I'm excited to show you what color shoes to wear with pink dresses look best, in my complete guide to pink dress styling!
I've already written about what color shoes to wear with light pink dresses ,shoe colors for hot pink dresses and shoes to match peach dress outfits, So it's about time I wrote a comprehensive one about shoes for pink dresses and outfits!
The pink color dresses that I'll be giving styling advice on bubble gum to medium pink to bright pink in tone. Yes, Barbie would approve! And I've picked all the right shoe colors that go with pink 🙂
What Color Shoes to Wear with Pink Dresses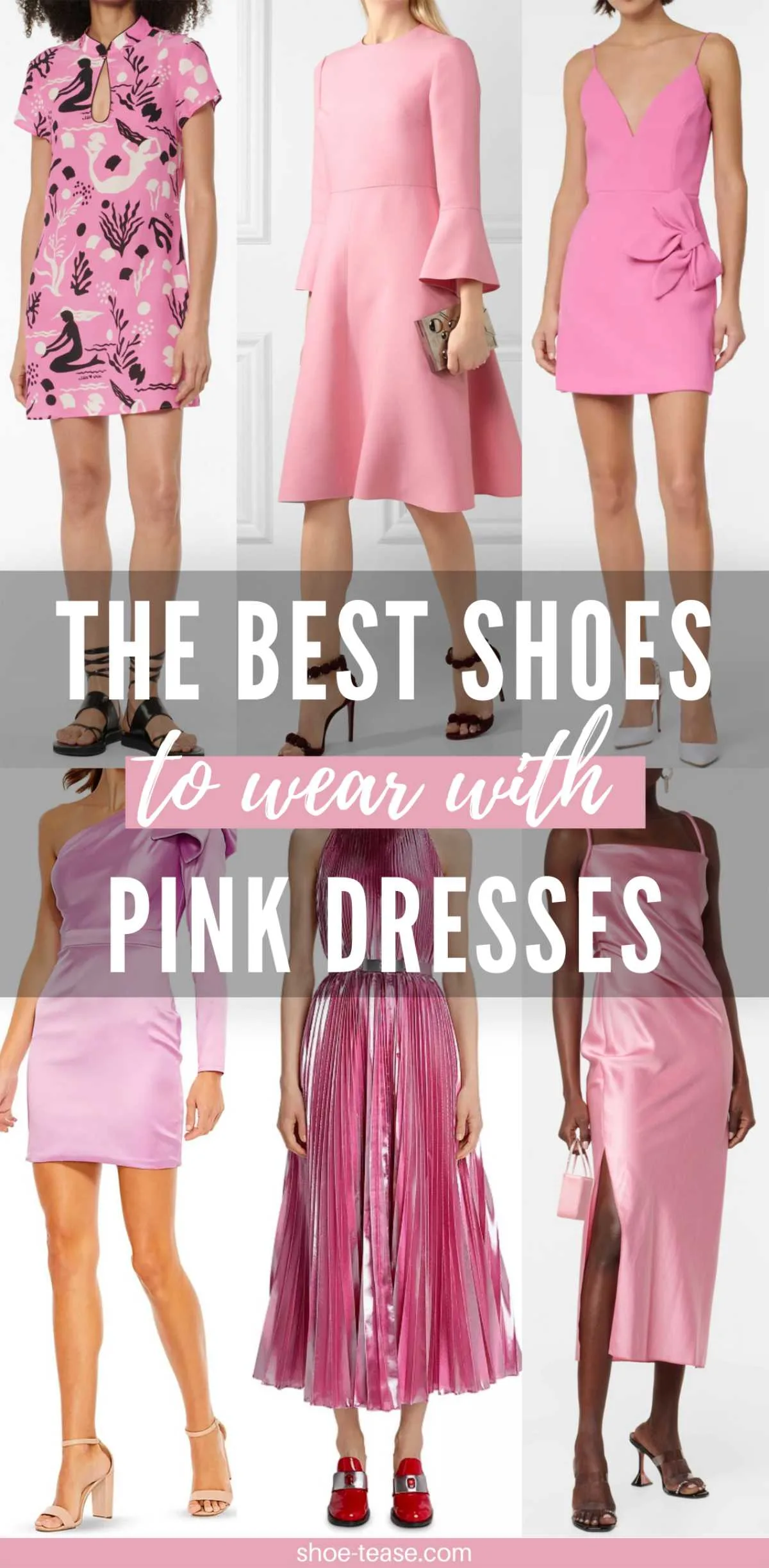 If you're specifically looking for what color shoes to wear with pink dresses and outfits to a wedding, prom or even for a chic office look, this post is for you!
Alongside each shoe color recommendation for pink dresses, you'll also get a guide to the perfect color purses and jewelry to match your pink dress, pink suit or any pink outfit!
Pink Dress with Nude Shoes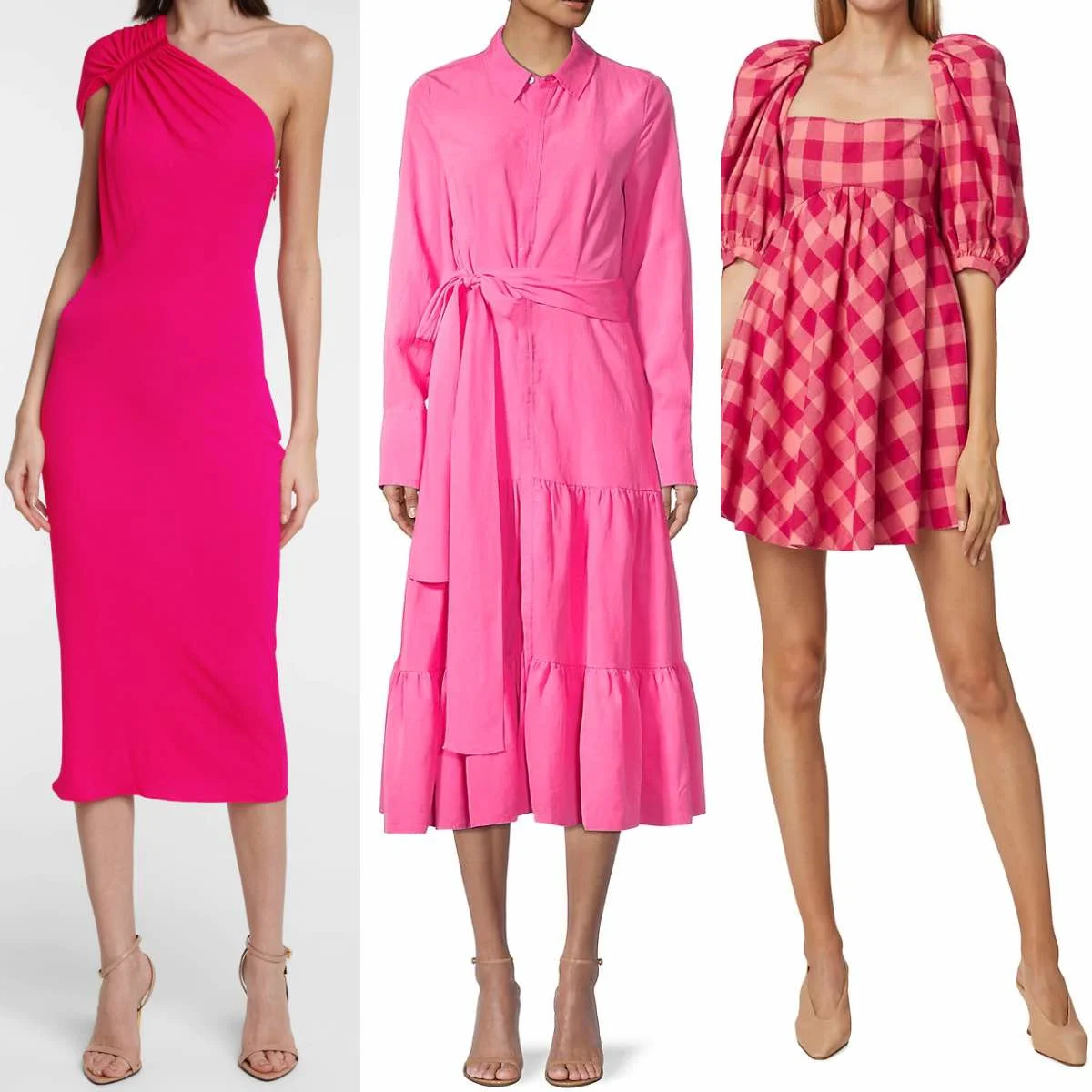 One of the most popular color shoes to wear with pink dresses are nude shoes. Especially nude heels for pink dresses! Of course, I use the word "nude" as the color that matches your skin tone – whatever that may be.
The goal is that the nude shoe matches your leg skin tone. That way – especially with a shorter dress – it will make your legs seem like they go on for miles!
If you want your nude shoes to blend in with your skin, pick a strappy pair of stiletto sandals or pointy-toe pumps.
Purse color & jewelry tip: A gold, white or black purse will look best with your nude shoes and pink dress. You can opt for any jewelry tone, but I prefer gold or rose gold accents with this combo.
Favorite Nude Heels – Each Available in Various Tones:
Pink Dress

with White Shoes and Heels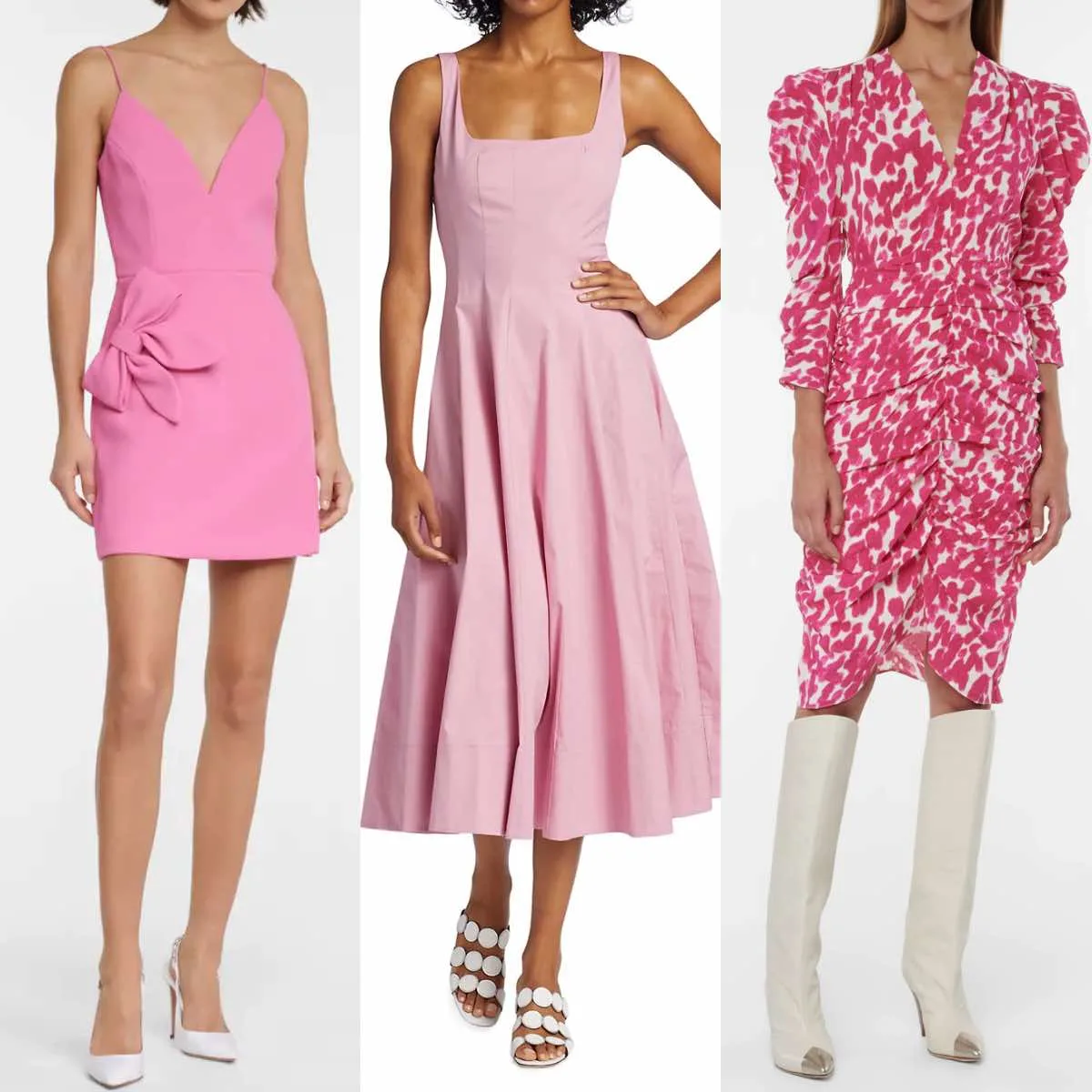 Great for the summer months or worn as a winter bright, a pair of white heels, ankle boots or sandals will perk up a pink dress for any occasion!
White shoes will look fresh and fun. However, they will be look more informal than some of the other color shoes.
This is especially true if you opt for a high heeled pump like Sam Edelman's Hazel, a minimal sandal or sleek white booties. These will really pop with a pink dress!
Purse color & jewelry tip: Match your pink dress and white shoes with a white purse. A small silver metallic clutch will add a touch of glamour.
Choose a small purse, such as a cross-body or clutch. Especially if you're going to a wedding or elegant soiree. Otherwise, it may overwhelm the outfit. I like silver jewelry with this pink dress outfit & purse combo.
Favorite White Shoes & Boots:
Pink Dress with Gold Shoes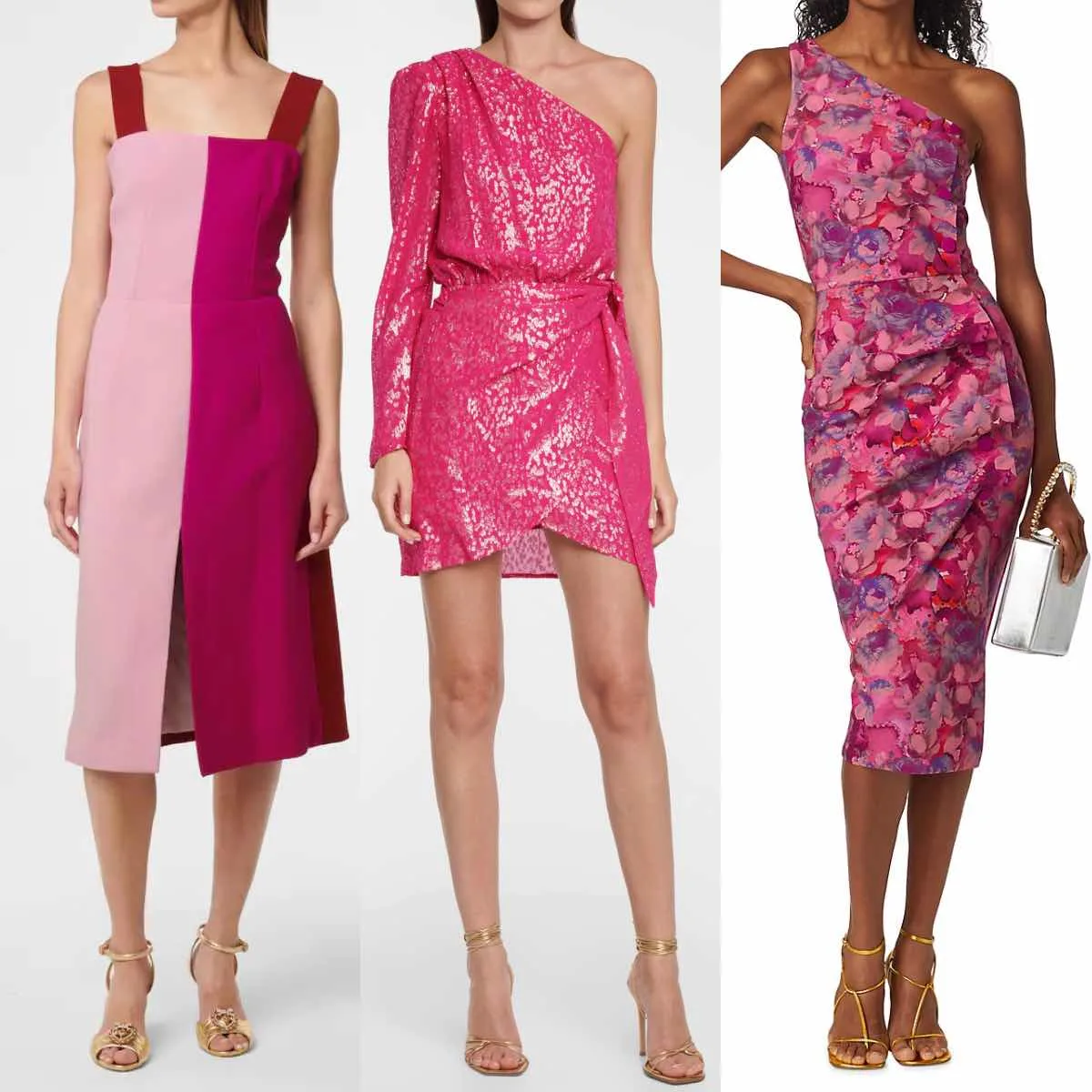 All metallic shoes look great with a bold pink dress, but especially gold – the metallic of the moment. Perfect if you're wanting to look chic at a fancy party or at a wedding.
In fact, gold is a great color for shoes to wear with cocktail dresses too!
Unlike silver, gold is a warm metallic that will create a more contrasting effect when paired with a cool pink outfit. Gold shoes are also great shoes to wear with purple dresses too!
I prefer paler, less yellow golds with pink dresses. Rose gold shoes can also look fabulous with a bright or light pink dress.
A favorite wear-with-everything gold sandal, is Schutz Altina textured sandal or Sam Edelman's Yaro. Looking for a pump style? Sam Edelman gets another vote with his pretty Hazel Pumps.
Purse color & jewelry tip: Choose white or beige, if the gold you've chosen is not too vibrant. You can pair that outfit with a small matching purse and you'll look stunning!
Pink Dress with Black Shoes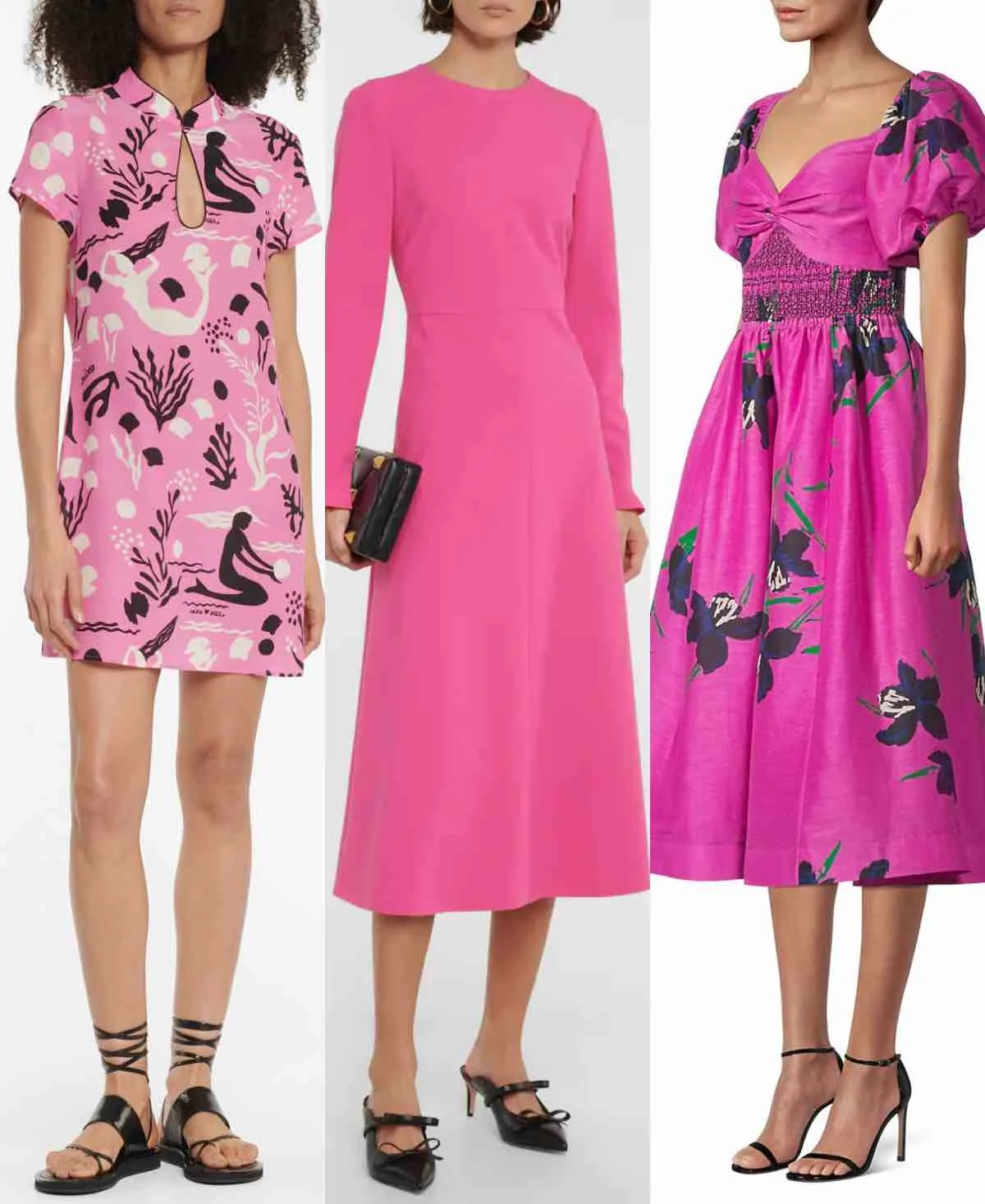 Can you wear black shoes with a pink dress? You may have asked yourself that. And the answer is YES – you can wear black shoes with a pink dress.
It's actually a lovely bold shoe option with an equally bold dress color. Your outfit will get attention!
For specific shoe designs, I love Stuart Weitzman's NudistSong strappy sandals (available here at Zappos) – or any of his heels from the Nudist collection.
If a price is what you're after, take a look at this pretty sandal, here from Vince Camuto. Sam Edelman also has a simple, but comfy pointed pump called Hazel, available at Saks and at Zappos.
The sleek toe & fine heel plus the competitive price-point makes this shoe style one of my top selections of shoes that go with everything – I even wrote a whole blog post about it!
Purse color & jewelry tip: Match your pink dress black heels outfit with a black purse – maybe even a jeweled or glossy patent version – or a metallic purse. Silver, gold even rose gold will be charming!
But don't forget about a white bag. A small white clutch will look great with this color mélange! Match your jewelry tone with the same metallic as your purse or shoes. What will always look great, is silver.
Favorite Black Shoes & Heels:
Pink Dress with Beige Shoes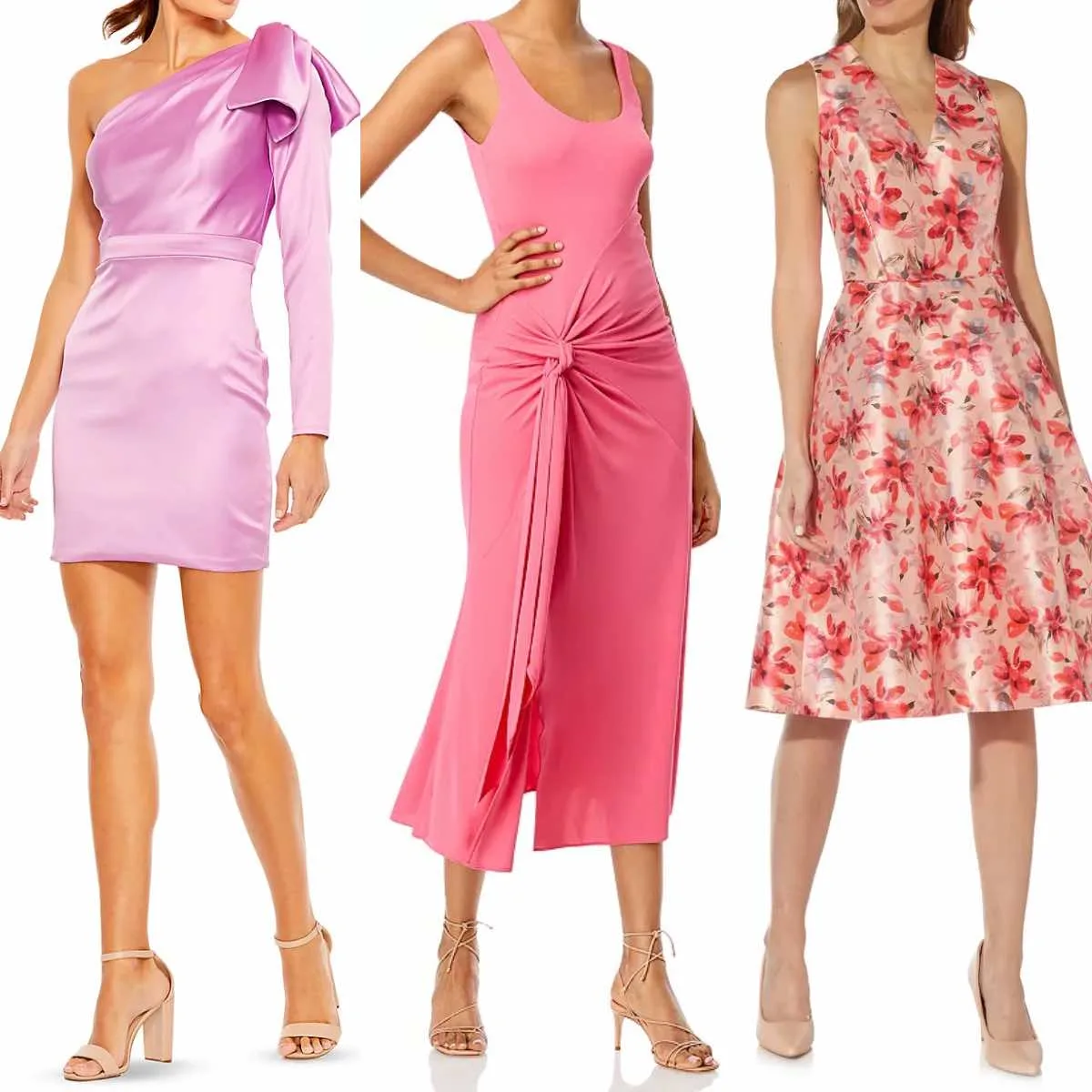 When thinking about styling shoes for a pink dress, beige heels are a classic. Beige or blush looks fabulous on all skin tones and matches most pink hues.
Beige shoes will be less formal looking than wearing a metallic or black shoe unless you choose a patent (glossy) material.
That being said, pairing beige shoes with a pink dress also depends on your dress fabric.
Beige heels are best for busy dresses, like lace dresses, jeweled cocktail dresses or pink bridesmaid dresses. It will put the dress in center focus! Choose minimal beige shoes such as these patent sandals from Stuart Weitzman.
In an office setting, a classic pointy beige pump in suede or buttery leather, will look great with a streamlined pink shift dress or suit.
Purse color & jewelry tip: A white, black, gold or rose gold purse will look best. Gold or rose gold accents and jewelry with this combo. Especially true if your beige shoes are more blush pink in tone.
Favorite Beige Shoes & Heels:
Pink Dress with Silver Shoes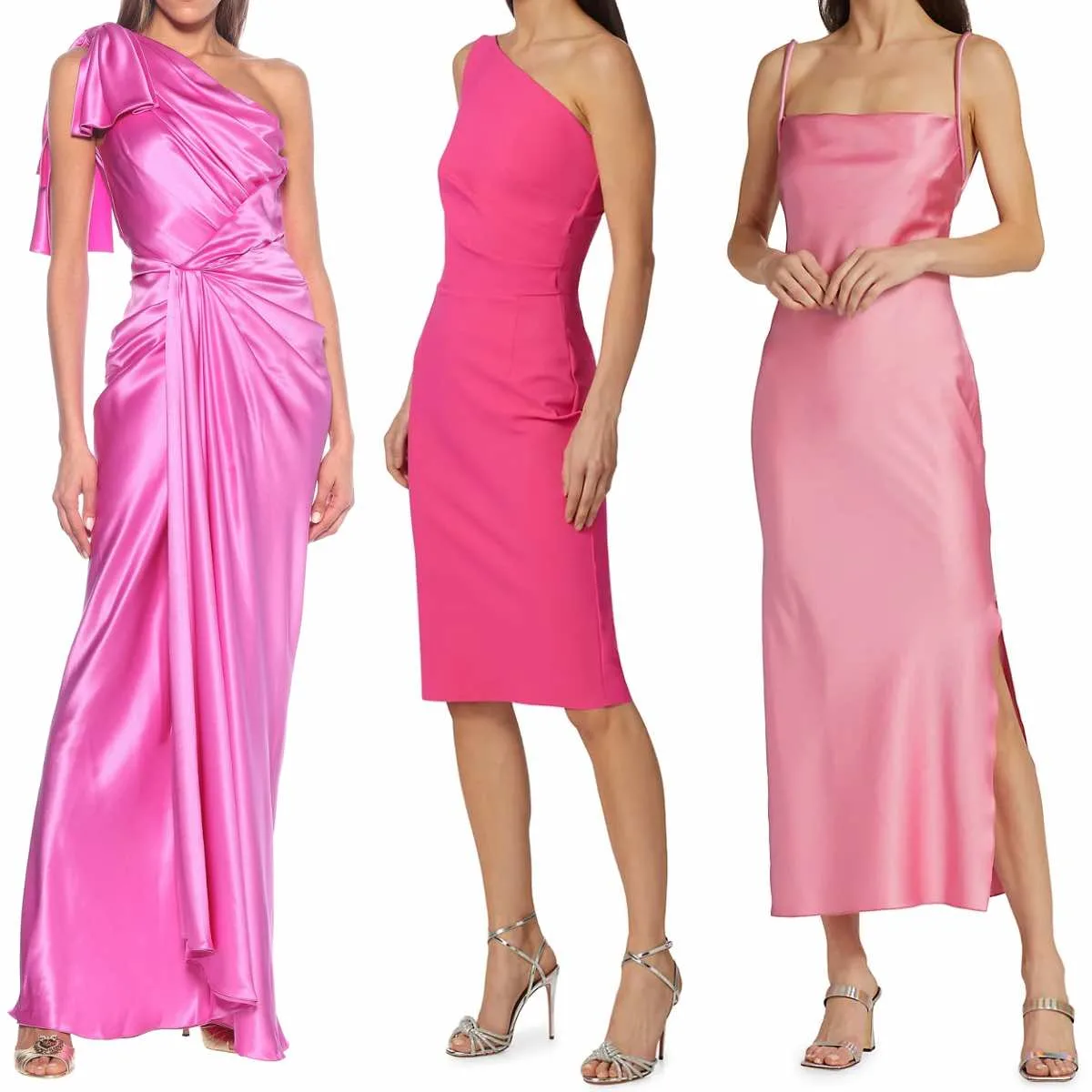 A bright pink dress with silver shoes is also a fab combination! I love metallics, but silver or opaque silver shoes will work too.
A newer contender to the shoe scene is a holographic silver color, which is fun and flirty (and looks great with all color dresses!).
Silver shoes and accessories look particularly good with bright or muted pink bridesmaid dresses or formal gowns. It isn't surprising that grey shoes- the opaque version of silver – also go with a pink dress.
Purse color & jewelry tip: Silver heels with a silver clutch works. Paired with pink it won't look too matchy because silver is fairly neutral.
A white or black purse would look great as well. Keep all smaller accessories along with jewelry iin a silver hue, rather than gold or bronze.
Favorite Silver Shoes & Heels:
Pink Dress with Brown Shoes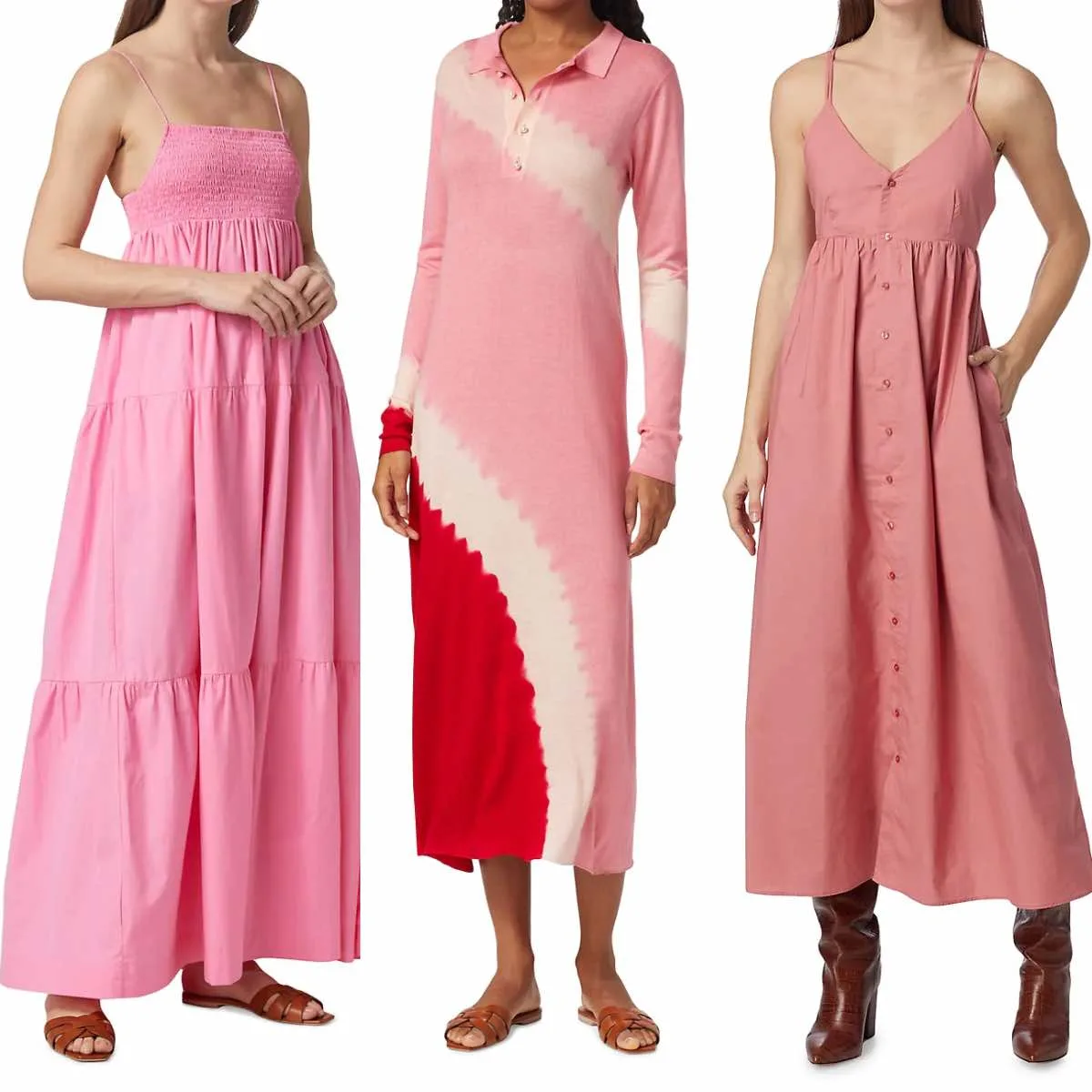 Many of us disregard this staple shoe color. However, brown shoes work incredibly well with different color outfits. And yes, brown shoes with a pink dress will also look great!
Unless it blends in with your particular skin tone, brown shoes are better suited to looser-fitting, or shorter casual dresses. Caramel is my brown shoe color of choice for any shade.
They are not ideal for wearing with a formal or pink cocktail dress – unless worn as a nude. I think brown shoes with a pink dress office look is a great combo.
Purse color & jewelry tip: Any matching brown, black or white purse will look great. Finish off the look with warm-toned accessories and jewelry, like gold.
Pink Dress with Red Shoes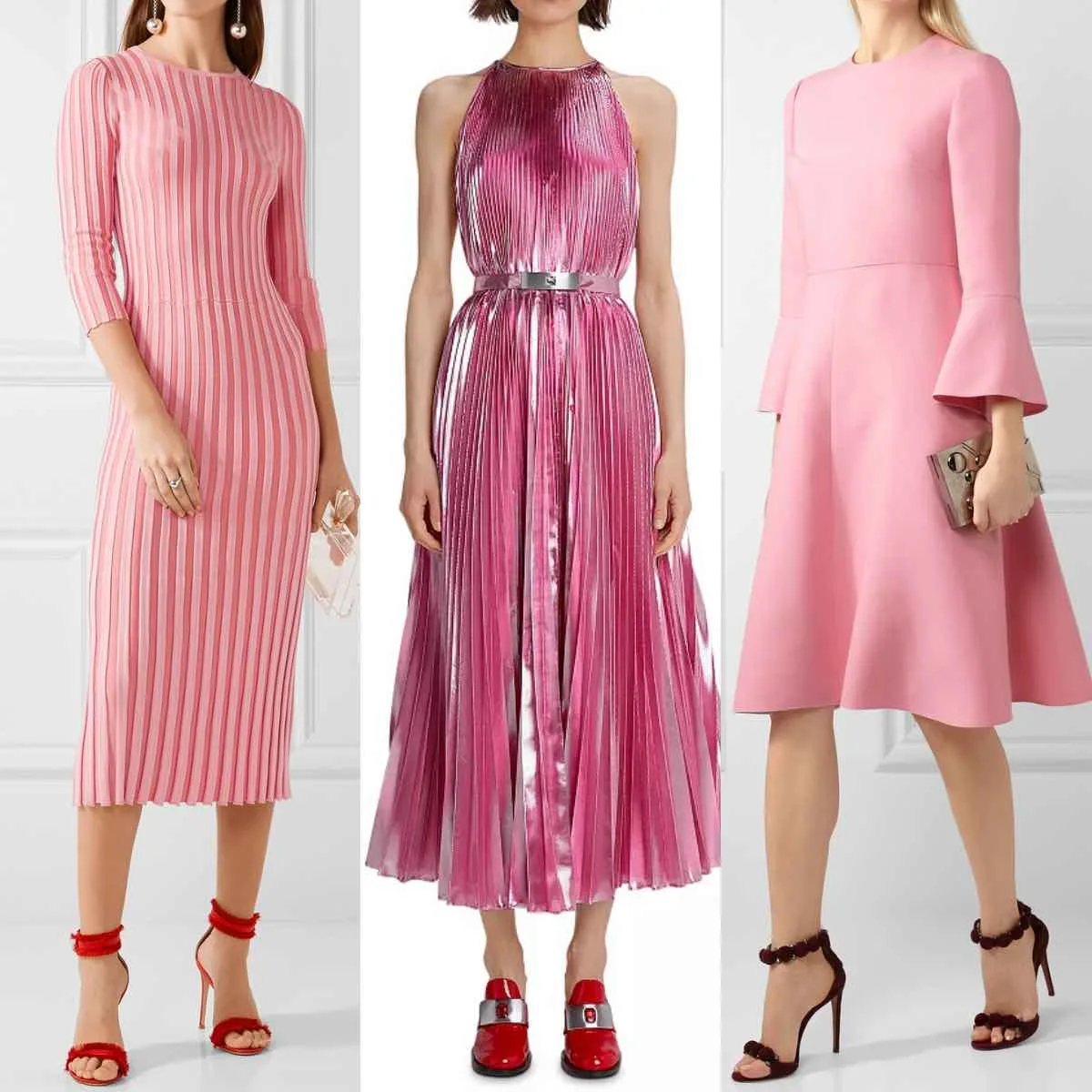 Red shoes are a classic that works wonderfully with pink outfits, particularly pink dresses. And the more contrast, the better. You never want to pick a red that is too close in tone to your pink frock.
For instance, burgundy shoes with darker pink dresses wouldn't create enough contrast for optimal styling. However, wine-hued shoes with light pink dresses including bubble gum pink dresses offer a fun and original contrasting color choice.
Purse color & jewelry tip: A small white, silver, or even gold purse will look great. Feeling feisty & choosing red heels with a pink dress for work? Grab a neutral briefcase or bag in beige, black or caramel.
Favorite Red Shoes & Heels :
Pink Dress With Green Shoes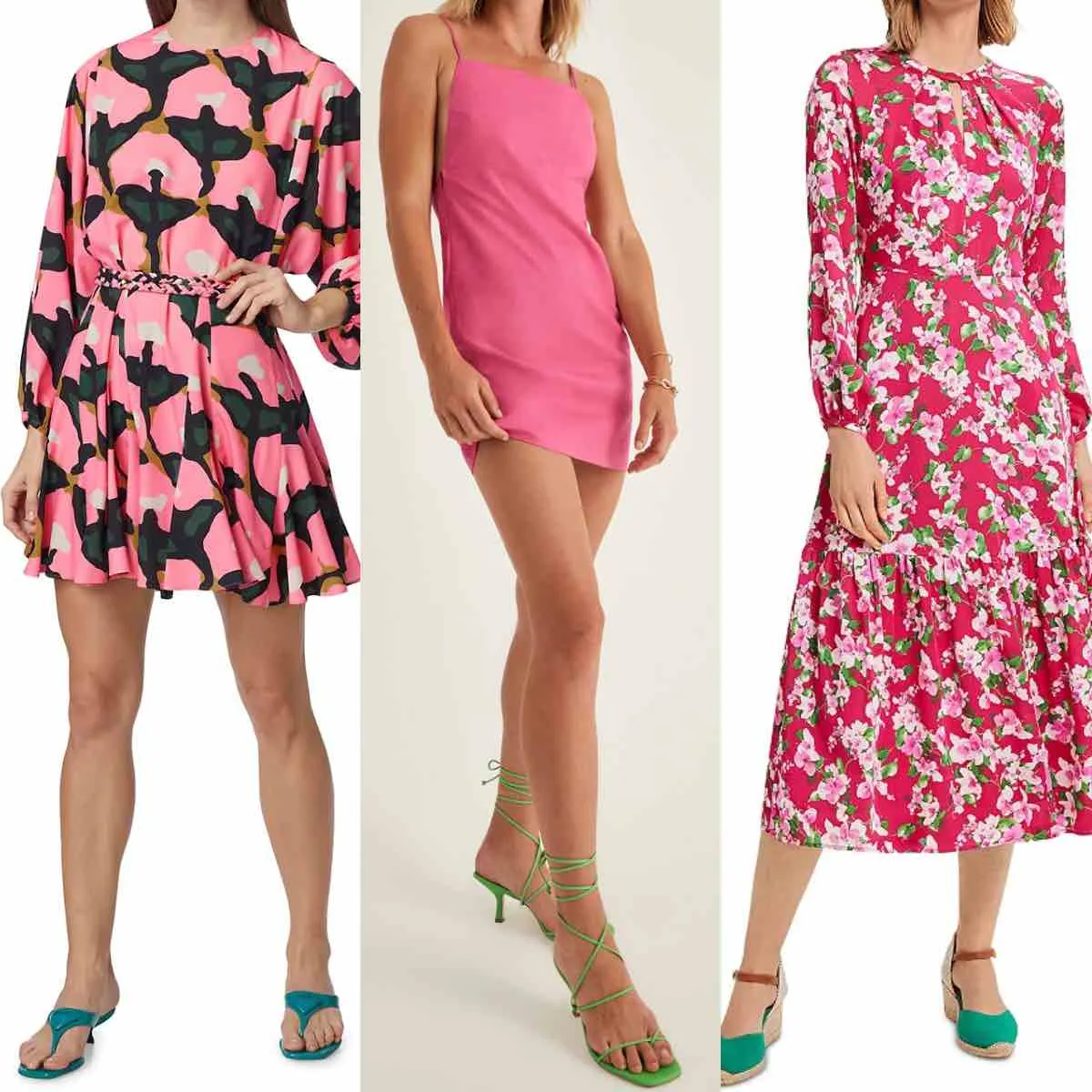 If you're looking for bright colored shoes to wear with a pink dress, green is as fun as it gets!
Apple green specifically as featured in this post, is a great green color to pair with any pink outfit – no matter which shade of pink you're wearing.
Want to wear green shoes but are unsure about adding too much color? You can always opt for a deeper emerald hue or hunter green for a more subtle contrast. Take a look at my post all about outfits with green shoes to learn more.
Purse color & jewelry tip: Add even more fun to your look with MORE color in your purse choice! A sunny yellow, or bright blue clutch will look fab.
If you want to keep your outfit's bright color strictly on your feet, opt for a beige, white or brown purse.
Pink Dress With Blue & More Colorful Shoes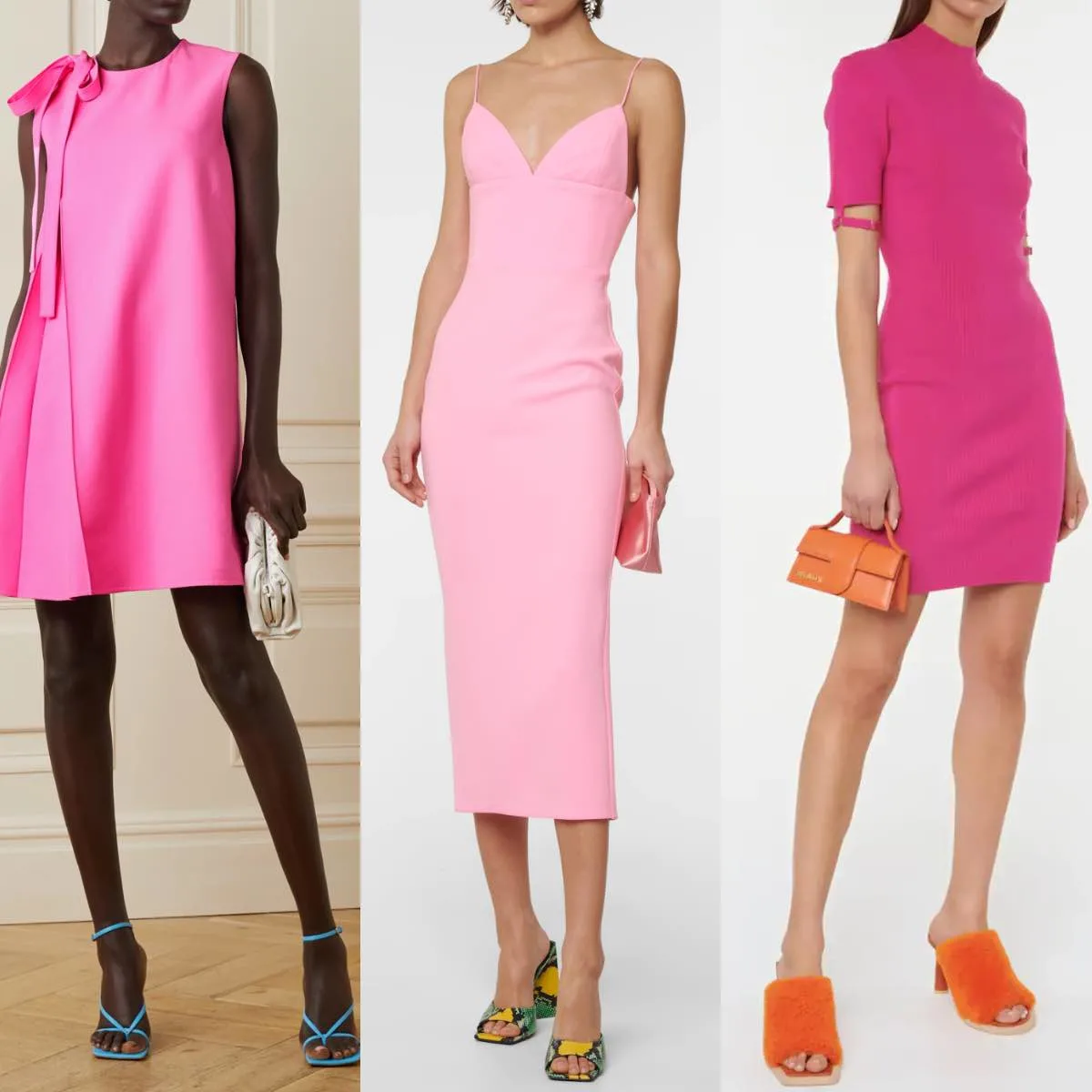 I love pink dresses with blue shoes! From navy, baby blue to cobalt blue, there are so many blue shoes with pink dress combos! Dark blue will look regal, bright blue will look fun, and baby blue shoes will look flirty.
Purse color & jewelry tip: Keep your purse simple and neutral in color: beige, white or black. Silver, gold or rose gold jewlery will all match.
Clear Shoes and Heels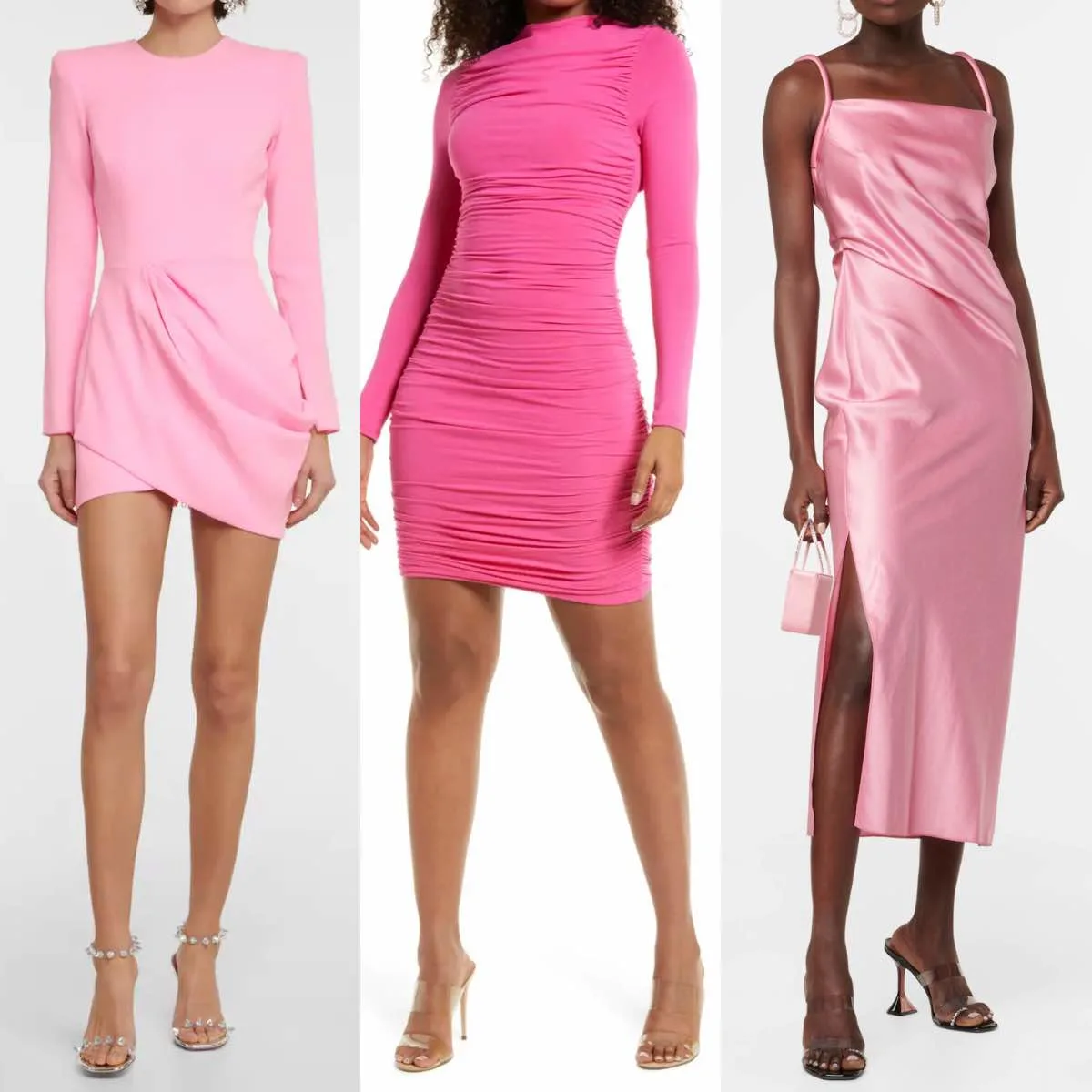 Clear shoes are THE shoes trendy shoes of the moment, especially in high heel form. These are shoes that go with everything, including a bold pink dress. If there was ever a true "nude" shoe, it would be a clear shoe!
You can choose bejeweled lucite heeled shoes if your dress is simple. However, wear simpler clear heels with no added detail if your pink dress is lacey or has a busy pattern.
Purse color & jewelry tip: match your purse with the same base color of your clear shoes – most are usually neutral, such as black, beige or white.
Choose silver jewelry with this combo. However, gold will work if your shoes have some warm gold or beige tones.
Favorite Clear Heels:
Animal Print Shoes
From leopard print shoes, to faux snake skins, to zebra print footwear, animal print shoes look great with all pink dresses.
If the animal print is dark or light, with a large or small print/texture, it makes no difference.
Just make sure to wear this bold print with a plain pink dress, otherwise, it might distract from your overall look.
Purse color & jewelry tip: Match your purse selection with a color in your animal print shoes. Choose gold jewelry if the outfit tones are warm; silver jewelry if the tones are cool.
How About a Pink Dress with Pink Shoes?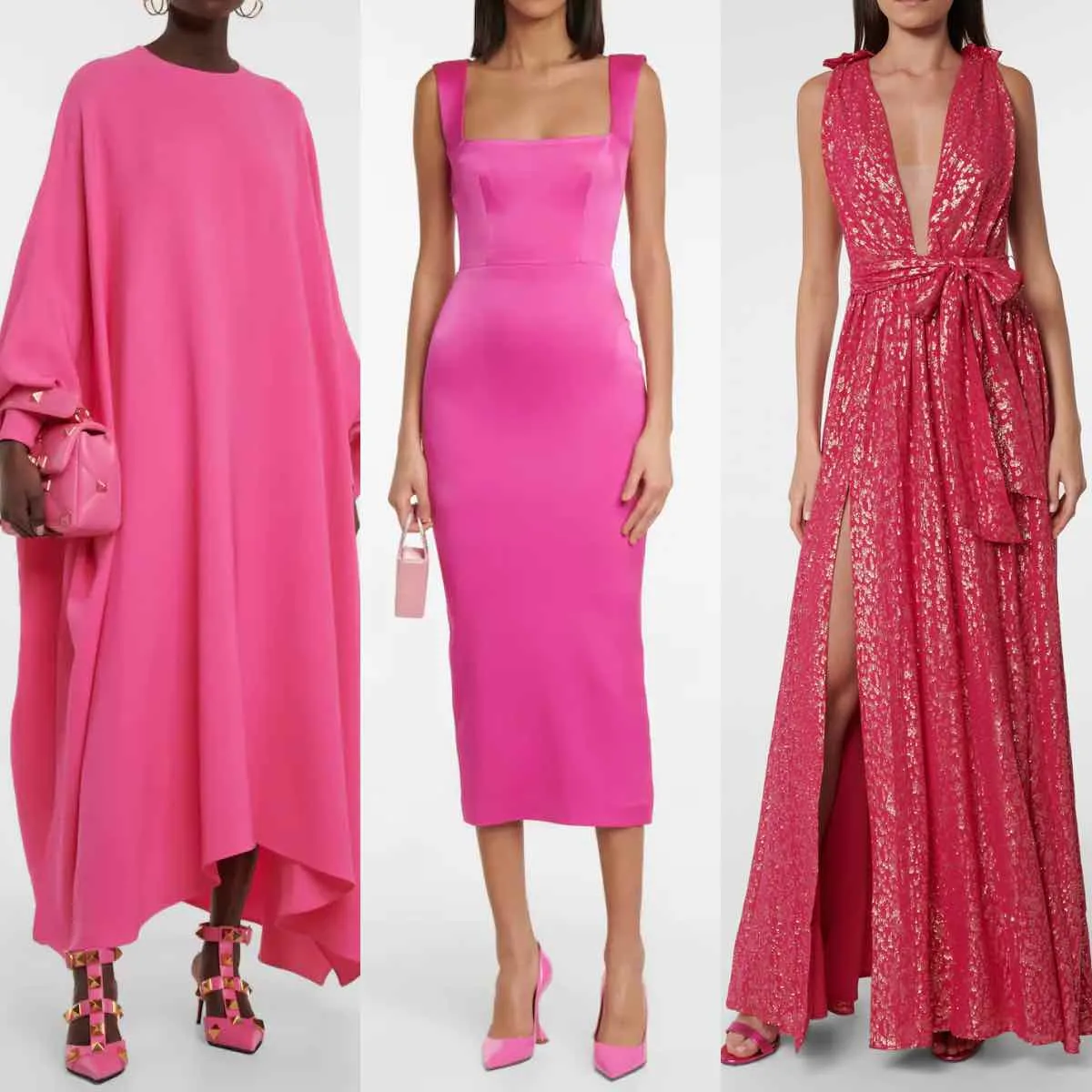 Pink dress and pink shoes, you ask? You risk looking like you're part of a bridal party, but that's not always a bad thing. It really depends on the specific dress and shoes you've selected.
Matching your pink shoes with your dress can look great for a cocktail or gala event if dyed the same shade. Want to have some fun with pink? Opt for a contrast pink that is either much lighter or darker than your dress.
Purse color & jewelry tip: If your shoes match your pink dress, opt for a metallic, white purse or black purse.
If your pink shoes contrast your dress, keep your purse small and neutral such as white, black beige or gold. Complete your pink dress outfit with diamond and/or gold jewelry.
Final Thoughts on What Color Shoes for a Pink Dress
I hope this post has made it simpler to choose what color shoes to wear with a pink dress and inspired you with many pink dress outfit ideas!
Of course, personal style is subjective. You might prefer to wear a different shoe color or purse combination with your pink dress than outlined in this post.
How your pink outfit works together as a whole is really what matters. Along with it making you feel confident!
Now that you're aware of what shoes go with pink dresses – from bright pink to bubble gum pink – check out my post library on how to style different color dresses with the right color shoes & accessories.
These include every dress color and outfit you could possibly want to pair. Such as shoes to wear with a black dress!
What's your favorite color shoes to wear with pink outfits? Mine is gold or black!
xo ShoeTease