Not only is green a fashionable color, it's the perfect holiday hue to celebrate Springtime, Christmas & New Years, among other celebrations such as summer weddings! And why not?
Such an under-appreciated color needs more air time, don't cha think? Today I'm lining up the best color shoes to wear with green dresses & outfits in 2021 into 2022.
Whether you're looking to clothe your bridesmaids in the perfect shoes to match their emerald green dresses, you'll get some great options. You'll also see that the shoes detailed in this post will go with your hunter green dress, khaki green dress, lime green skirt or green anything outfit, really.
Below is the complete shoe guide to green dresses of all shades of green!
---
Shop Green Dresses:

---
In putting this shoe styling post together, I noticed that almost all of my top colors to pair with shades of green are virtually the exact same color shoes that go beautifully with red as well. It might be due to green & red being complimentary colors & whatnot, but it was surprising nonetheless!
One of the great things about green is that aside from a couple of exceptions, the following shoe choices will work with any shade of green. Yep, this includes, mint green, apple green, emerald, even teal & khaki green!
Which is great news, because khaki is the trendiest of all greens this coming Spring/Summer. So if you're looking to wear a green outfit or flowing gown & having trouble deciding which colored sandals or pumps to pair with it, you've come to the right place!
If you're looking for shoes to wear with green jumpsuit click the link to read all about it.
Related Posts:
10 Best Color Shoes to Wear with Green
1- Silver Shoes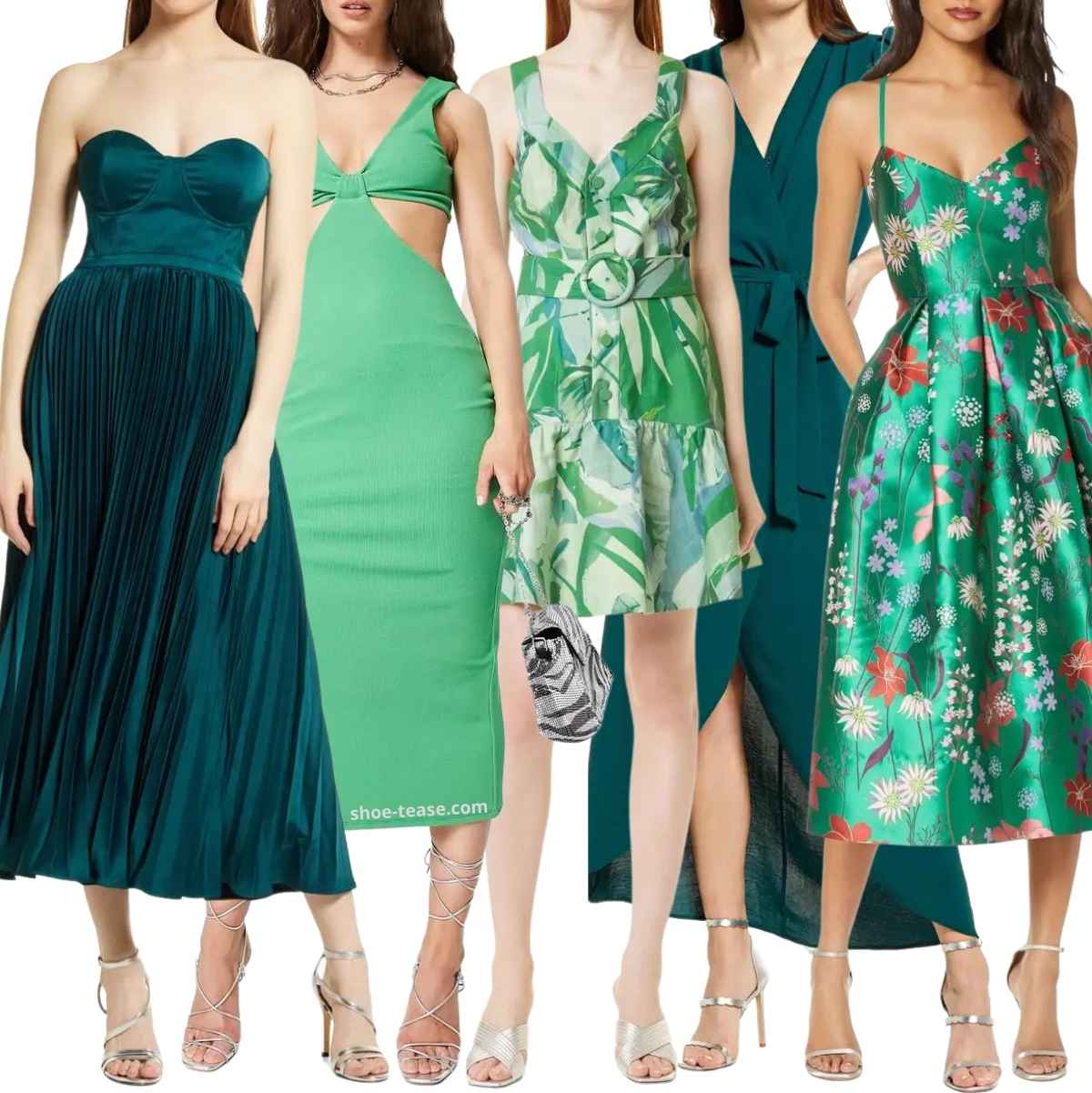 ---
Shop Silver Shoes:

---
Whether it's a minimalist sandal, brogue or pump, it doesn't matter. Silver, looks exceptional with green anything & absolutely any shade of it, as you can see from the pictures above. This color combo makes for a great bridesmaids dress + shoe pairing.
Not only that, it's a shade that works with almost every outfit color (& my fave color shoes to wear with navy dress!), so silver a great metallic option to have in your shoe closet.
Popular silver heeled designs at the moment are: Leith's Chinese Laundry from Nordstrom (priced for under $100) & J. Renée's Maressa metallic silver pointy pump.
Shoe Styling Tip: Mirror metallic silver is a my top choice material for your silver shoes, giving it an up-to-date feel & modern edge. That being said, even opaque or sparkle silver metallics will look great with green (they're just not my favorite choices!)
2 – Gold Shoes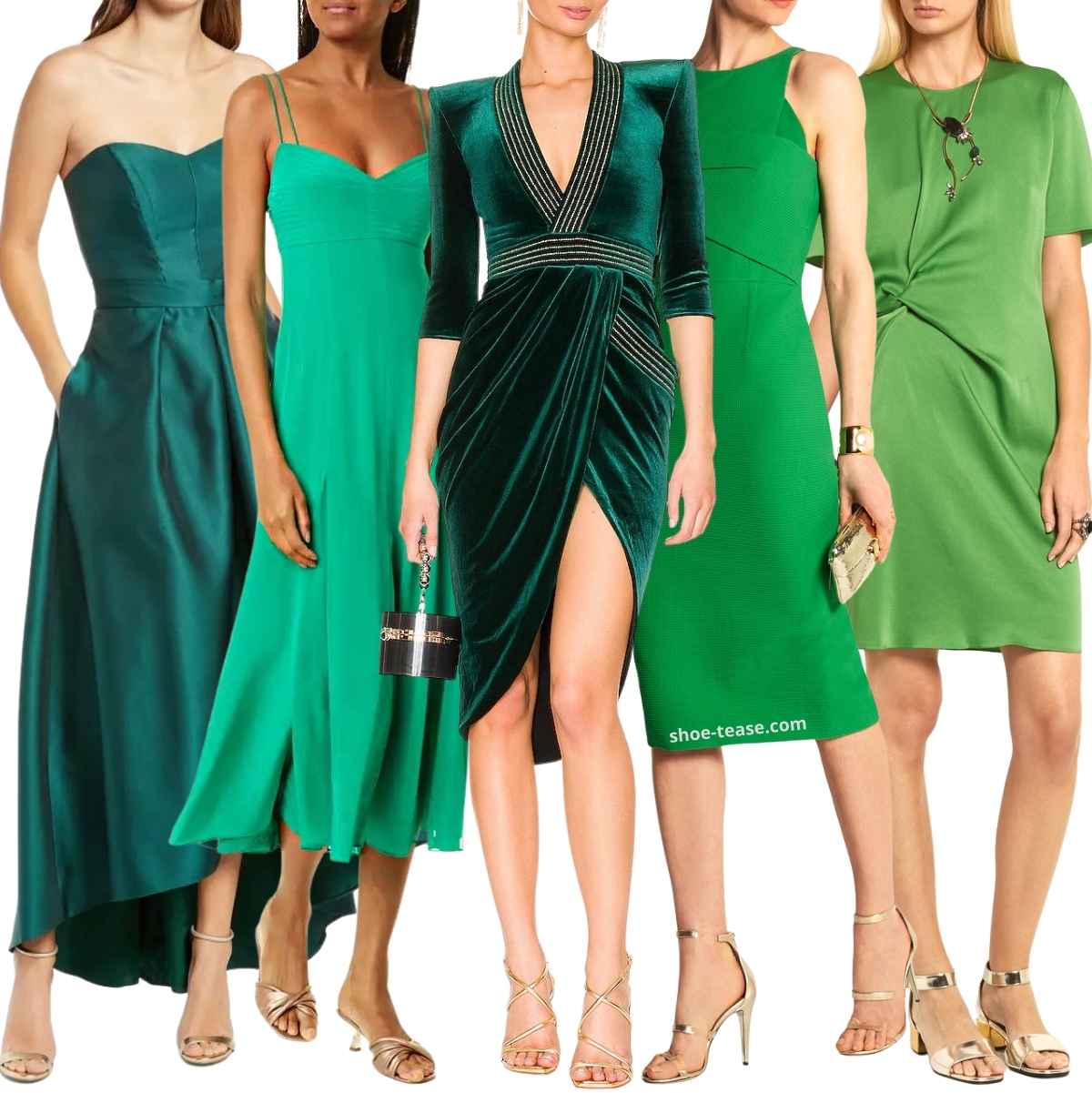 ---
Shop Gold Shoes:

---
A warmer alternative to silver, gold is one of the most sophisticated shoe colors you can wear with all green dresses. Whether a dark green dress, hunter green dress, mint green or vibrant green! And as the trendy metallic of the moment, you really can't go wrong with gold!
A light, almost silver-gold will look fab. Rose gold shoes with a green dress is also a great choice. Especially when pairing it with a mint green dress like the picture above right.
If you're looking for a pretty gold sandal, check out Sam Edelman's Yaro. Out for a pump? Vince Camuto's Gabe pump is a great contender. If gold loafers are more your thing, these gold Gucci-inspired loafers are amazing!
Shoe Styling Tip: Gold shoes look elegant with emerald green evening looks such as gowns & prom dresses. When wearing gold heels, opt for matching gold accessories such as jewelry.
3 – Black Shoes with a Green Dress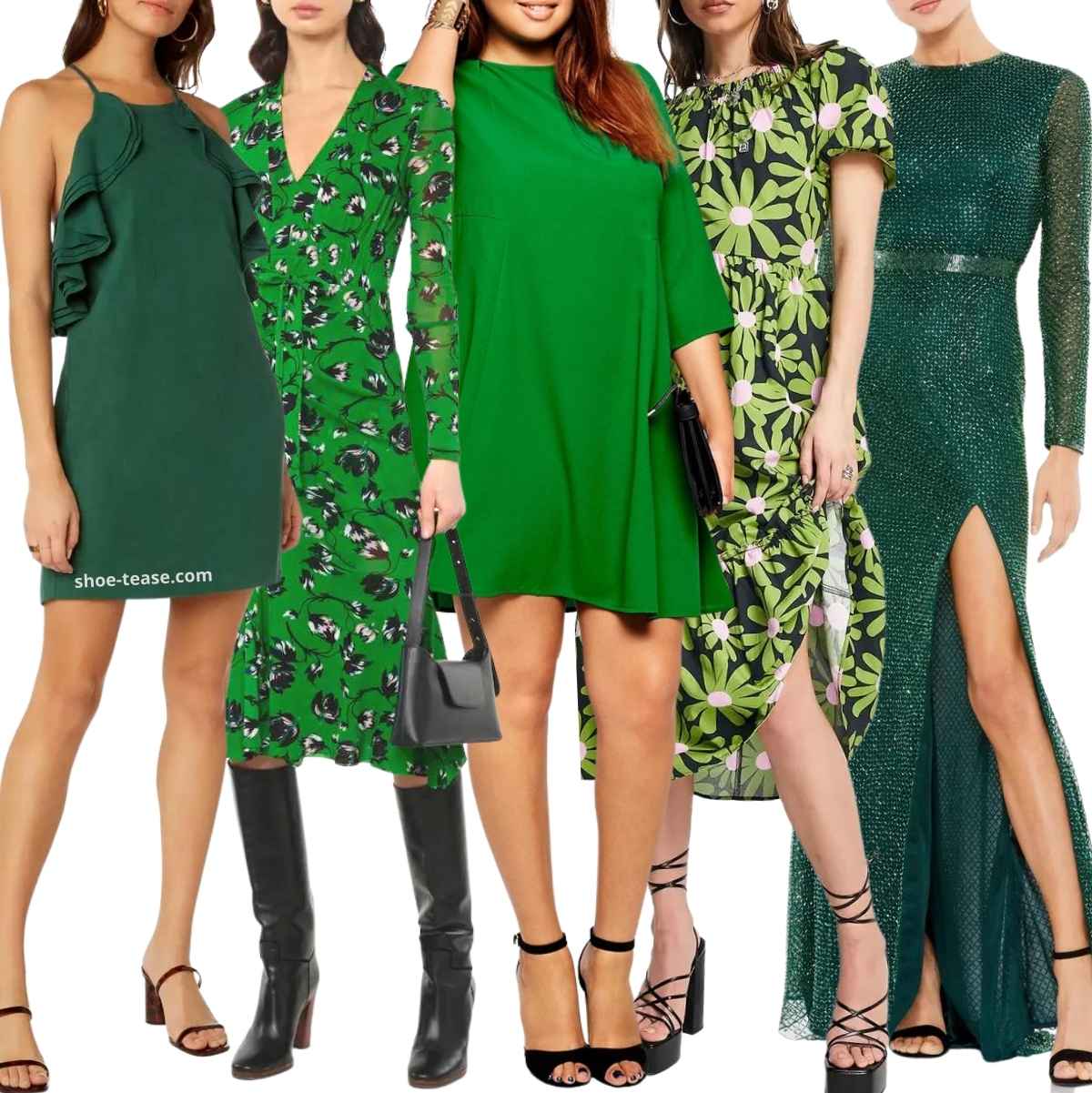 ---
Shop Black Shoes:

---
Didn't think I'd omit this one, did ya? Black shoes are almost guaranteed to look great with anything, so this one is a true no-brainer! I especially like a hunter green dress with black shoes. Check out the two hunter green outfits, above as an example.
The only thing black heels or flats with a green look won't do is add much contrast, especially when pairing it with darker khaki greens. Minimal black heels & sandals are a great choice when you want your green clothes to take the spotlight!
I love Stuart Weitzman's NudistSong strappy sandals (available at Nordstrom). If you're looking for a lower price, Steve Madden makes a nice minimal sandal called Stecy that you can also buy here. Sam Edelman makes a great, simple but comfy pointed pump called the Hazel. It comes in many colors & you can take it from ballroom to boardroom to the bar!
Shoe Styling Tip: If you want to add a little punch to your black footwear, look for either patent uppers or textured materials such as a reptile print. A black shoe with a plexiglass or metallic heel will also add a little something to your little black shoe!
4 – Green Dress with Nude or Beige Shoes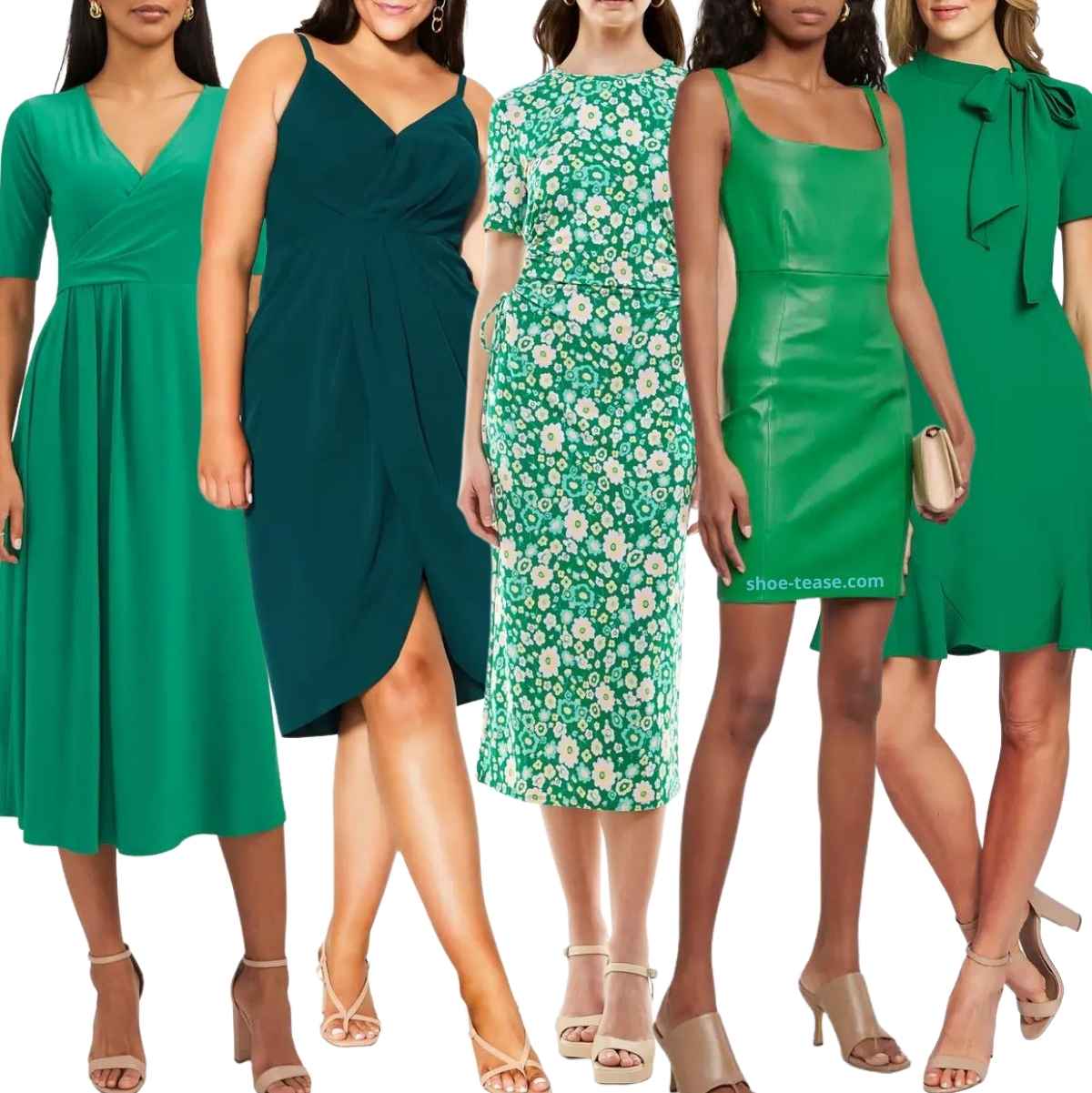 ---
Shop Beige/Blush Shoes:

---
Nude, beige or blush shoes are a great go-to shoe for any outfit & one of the best color shoes to wear with green. The nude should be the nude for you: whatever matches or is a slightly lighter tone vs your skin color.
In terms of beige, I prefer a beige heel or sandal to a blush one, but if you only have a blush pump to choose from in your closet, rest assured it will still look good with your green frock. Or pantaloons!
Shoe Styling Tip: The best 'nude' is a flesh tone that matches your own complexion (and it doesn't hurt that this will give you a leggy-er look in your short hemline!).
5 – White Shoes with Green Dresses/Outfits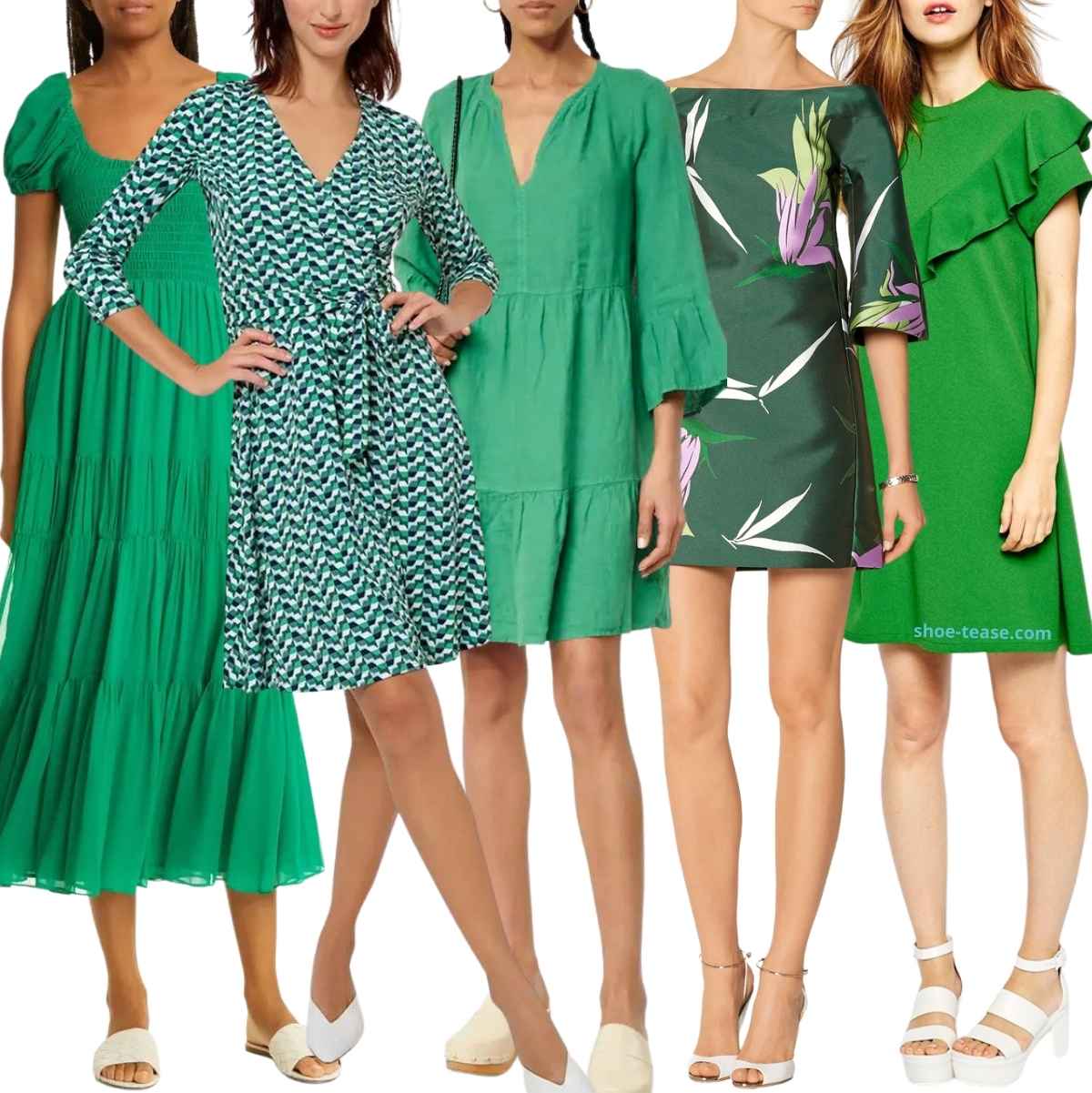 ---
Shop White Shoes:

---
White shoes work well with green clothes & the less minimal the shoe, the more casual it becomes. If you'd like to wear white heels with a more formal green look, I'd opt for a basic sandal such as Stuart Weitzman's Nudist, or a simple leather pointed-toe pump.
Shoe Styling Tip: As basic white running shoes are the Spring 2015 staple, they'll make your green t-shirt dress & khaki sweats look on-point!
6 – Brown Shoes with Green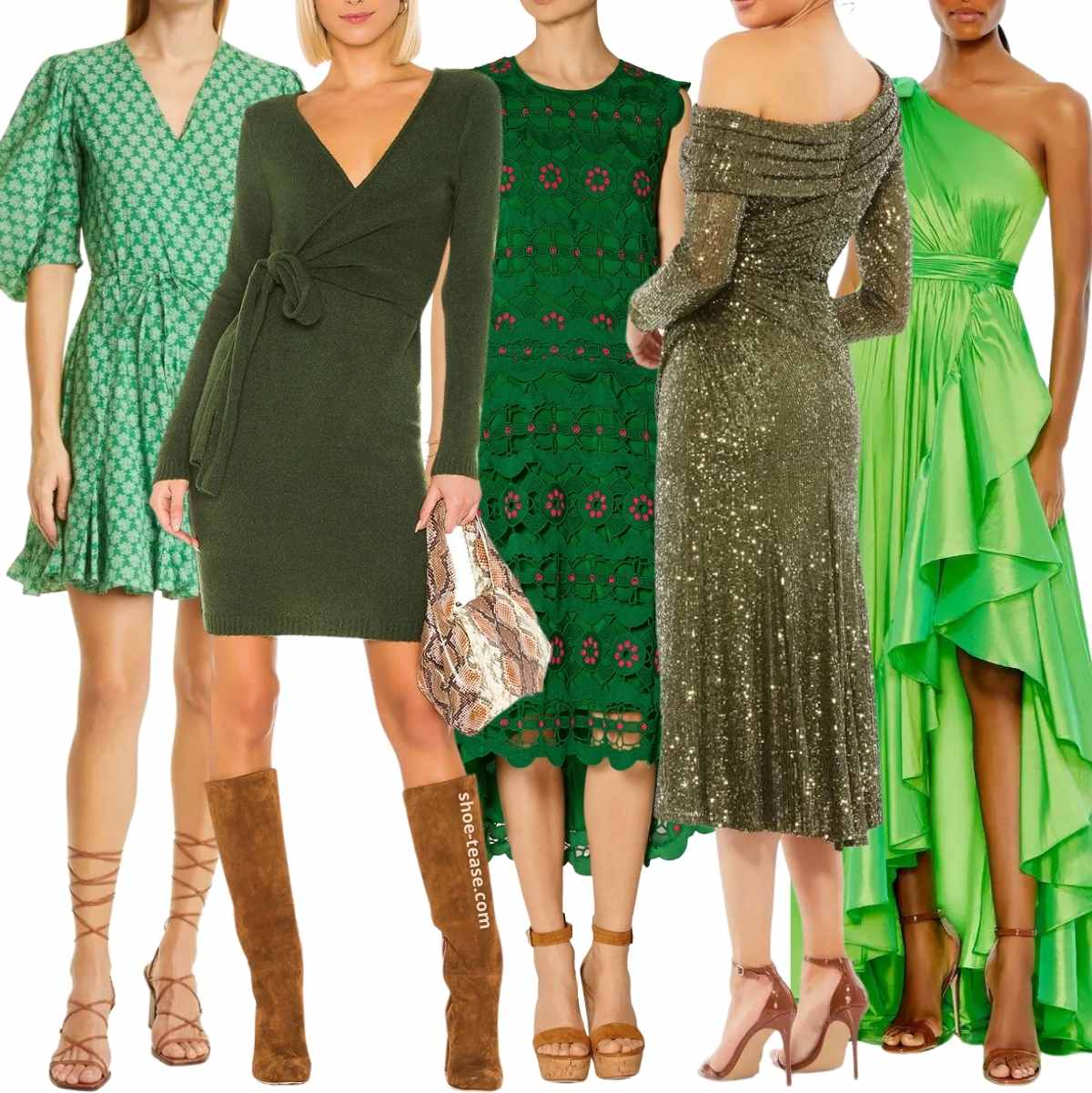 ---
Shop Brown/Tan/Caramel Shoes:

---
Another great shoe color to wear with green in order to create a more laid-back & "earthy" feel, is a brown shoe. All shades of brown work well with green, but I think a richer chocolate brown hue looks best with shades of green (especially khaki!). Or you can go the opposite route with a light taupey-brown.
7 – Leopard Print Shoes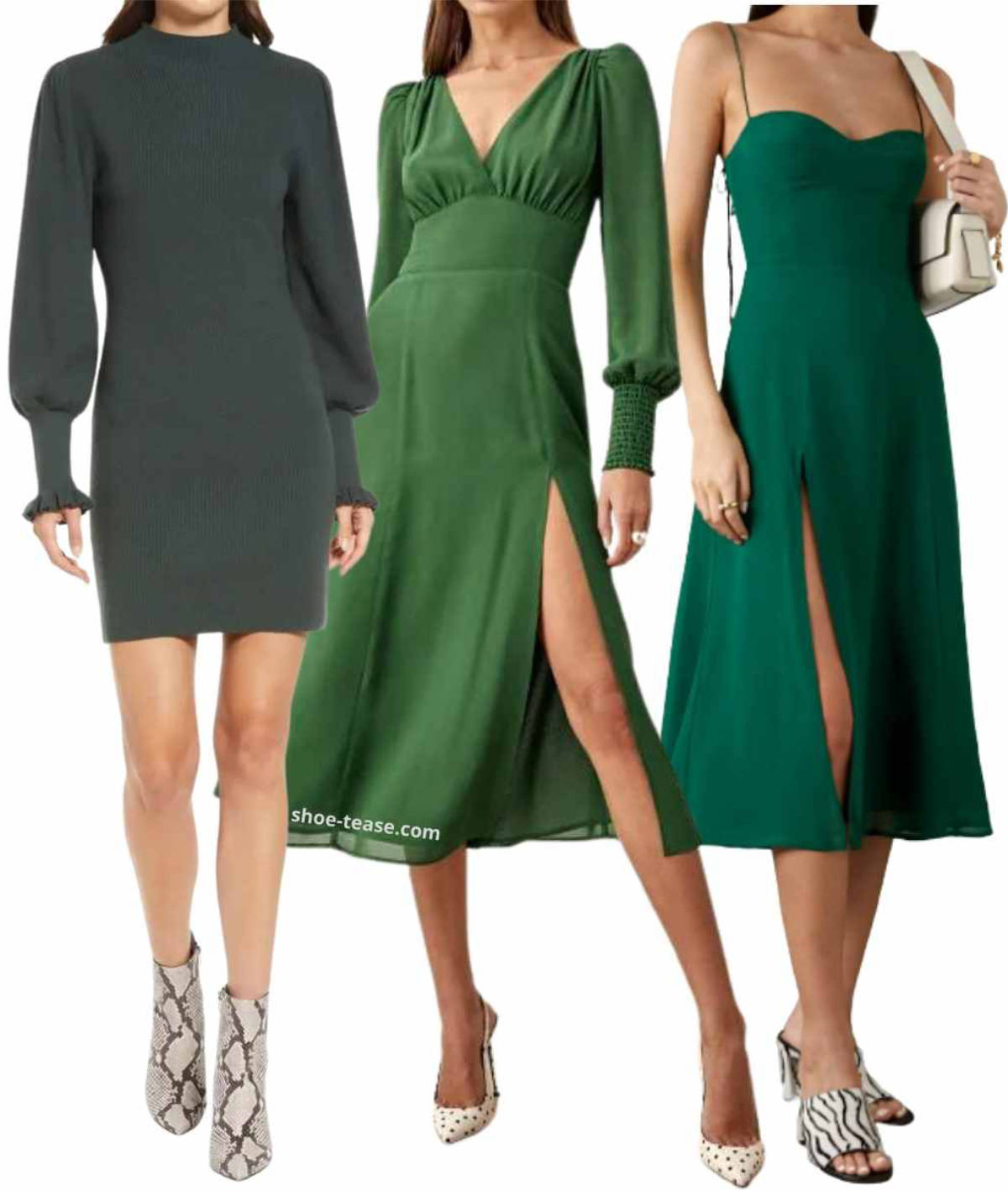 ---
Shop Leopard Print Shoes:

---
I looove leopard print shoes & booties with green! This animal print works really well with any bold colour, really. As you can see from the pics above (which happen to all be leopard print pumps by coincidence), khaki & apple green make a great pairing with it!
And if the ladies from the top-tier blogs Atlantic-Pacific (left) & Pink Peonies (center) are pairing this print with their green garb, then you know can't go wrong 😉
Shoe Styling Tip: Although most greens look ravishing with classic leopard or cheetah printed shoes, the bolder the color, the better.
Although I have to admit that personally I'm not a huge fan of mint green dresses, pants or skirts with leopard, the two can actually look good together, as long as the shade of mint isn't too much of the pastel variety. Check out my guide on what to wear with leopard print shoes!
8 – Contrast Color Shoes with Green Dresses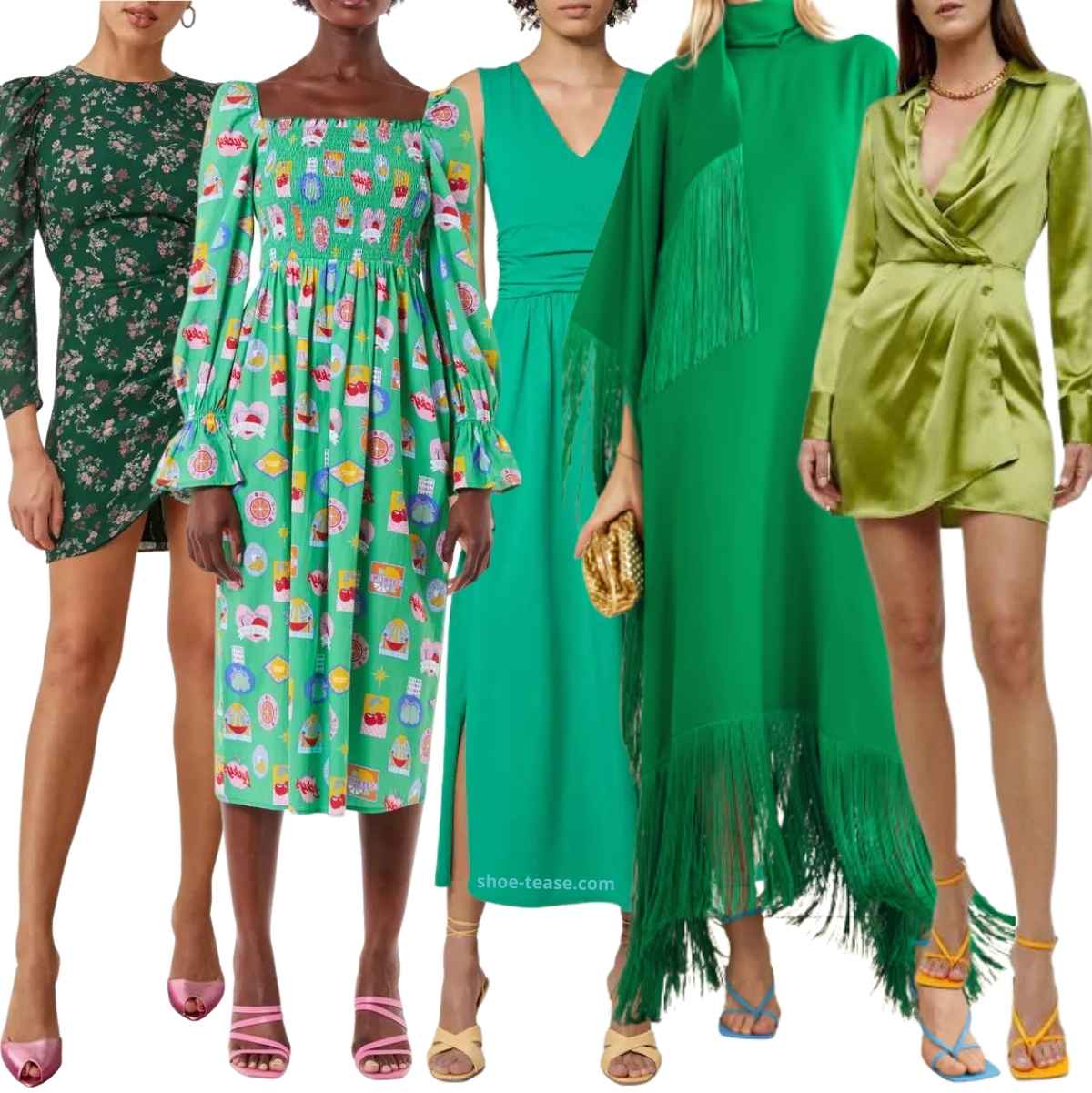 If you want to go the opposite direction of neutral, pairing green ensembles with a contrast color is a fun way to do it! This will certainly get you noticed, as both your outfit & your shoes complement each other further to make you stand out–just guessing here–black clad crowd. These are my top shoe color picks to wear with green:
Yellow Shoes: any shade will do. I love pale yellow with mint & khaki greens, vibrant sunshine yellows with emerald green and & lime greens. Love this color shoes with emerald green dresses especially!
Pink & Coral Shoes: Barbie pink looks great with a lime green dress. Fuchsia looks fab with darker shades of green like hunter green and army green. A coral shoe is great choice for darker greens, but make sure it's more pinkish than orange, otherwise you might look dressed for Halloween.
Purple Shoes: an amazing contrast with greens of any sort, especially apple & emerald.
What Color Shoes Not to Wear with Green?
There are the best color shoes to wear with green dresses and outfits & then there are the notsomuch! The three no-no colors with green include, in no particular order:
Red Shoes – unless you're aiming for a Christmas-themed outfit. Yikes. Which is my exact advice on my post blabbinb about how to wear red shoes!
Blue or Navy Shoes– too similar the outfit shade to look great
Orange Shoes – could make you look a bit pumpkin-like when wearing a bright green dress or pants, but it can work with very dark khaki colors
Green Shoes – unless you're pairing 2 completely opposite shades of green together, or are going to be making an appearance on a red carpet somewhere, getting all matchy-machy with your greens will just be waaaay too much (just google Kim+Kardashian+green to get an idea!).
Oh & green shoes are so fun in the summer with a white dress! Check out the full round-up of shoes to wear with white dresses here!
And if you love green shoes & unsure how to wear them, here are some outfits with green shoes to inspire you!
xo ShoeTease