I absolutely love the look of black & white: black and white footwear, dresses, outfits, decor…you name it! But what color shoes to wear with black and white dresses or outfits, you ask?
That, my friends, is a very good question & one that I can definitely help you answer!
Whether you're looking to pair a black & white dress or outfit that has stripes, polka-dots, random black/white color blocking or pattern, it really doesn't matter.
This guide takes into account & includes all of the above & more. This way, you can go out looking like the street style star you know you are 😉
What matters most is that the outfit is a contrasting monochromatic frock or look with no "beigey" or warm undertones. Below are my top 10 favorite shoes colors & patterns to pair with monochrome.
Shoes to Wear with a Black and White Dress
1. Black Shoes, Heels, Boots & Sandals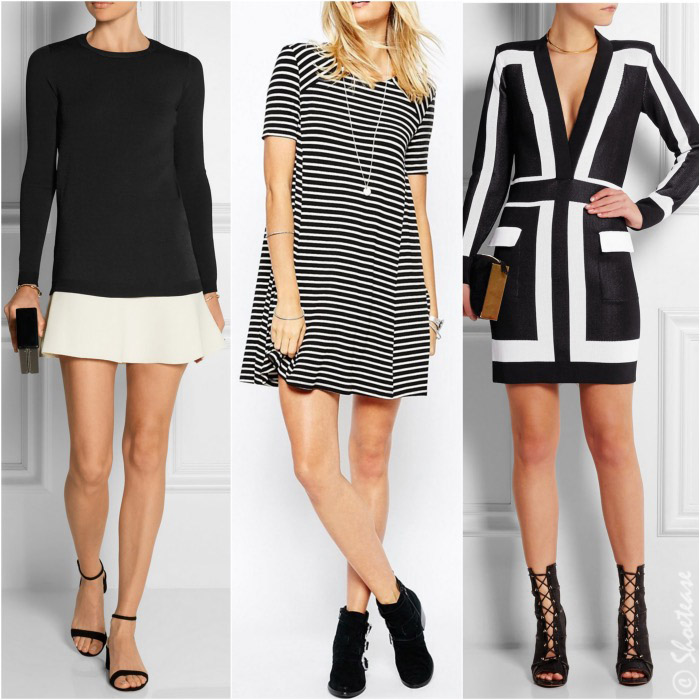 An easy answer to what color shoes to wear with black and white dress es is black. No big surprise here, as black shoes look great with pretty much any outfit & are an easy go-to choice for black & white outfits.
Opt for a black boot for a more casual shoe & dress pairing, while a minimal sandal, high heeled or not, compliments an evening look.
Shop Black Shoes & Heels:
2. White Shoes With Black And White Dresses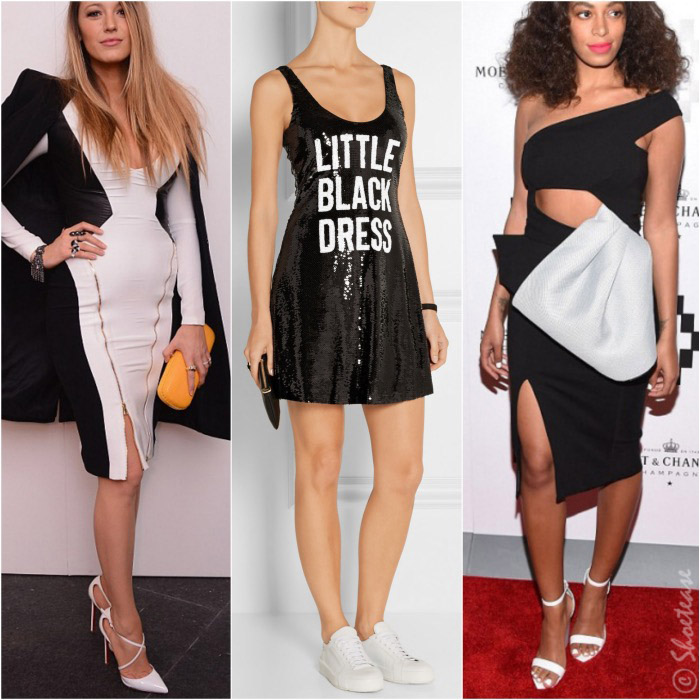 White shoes, heels, sneakers or sandals are a great match with these monochrome dresses. Just make sure the while in the heels is the same shade of white in the dress.
Otherwise your outfit will look mismatched to the shoes. White shoes with hot pink dresses also look amazing!
Shop White Shoes & Heels:
3. Black & White Shoes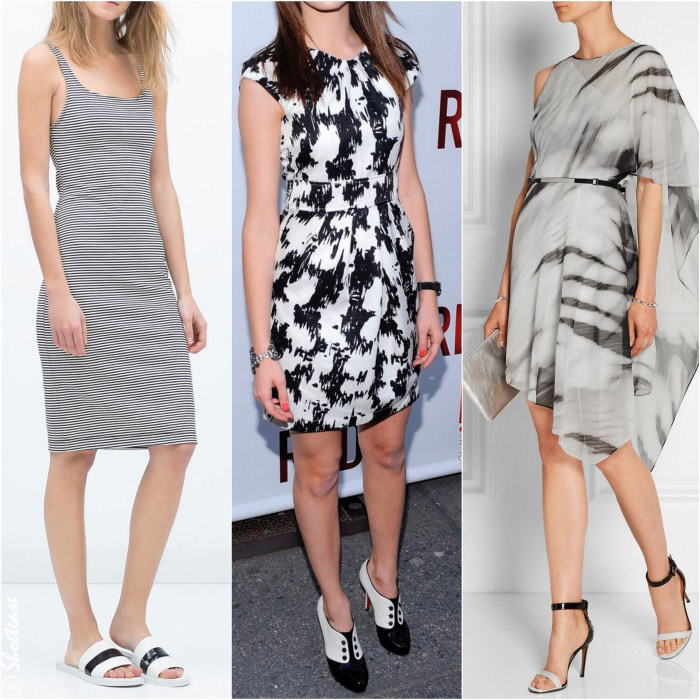 You wouldn't think off-hand that this pairing would work, but it's my absolute styling favorite! Black & white shoes look fabulous with white and black dresses, jumpsuits or the like.
For optimum impact, aim for more of a black shoe if the outfit has more white in it & vice versa. Black & white shoes also work great with most colorful dresses too. And are awesome shoes to wear with black dresses!
Shop Black and White Shoes :
4. Black and White Dress With Silver Shoes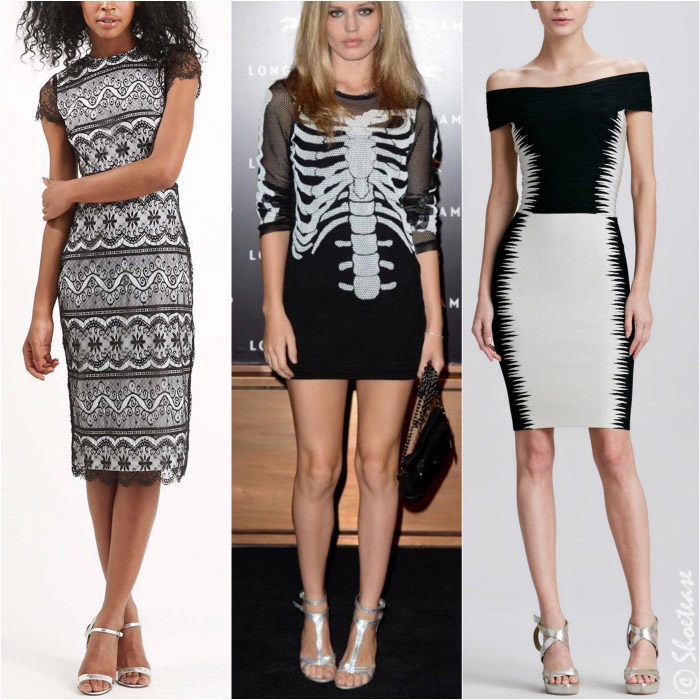 If you're looking that isn't black, or white or a combination of the two, silver shoes are a great best. Because the best metallic shoe to pair with a black & white dress is hands-down, a silver one!
It's kind of like the shiny version of white shoes & happens to look amazing on all skin tones. Shoot for mirror metallic silver, which is much more dramatic & striking with black and white dresses. And my personal color shoes to wear with navy!
Shop Silver Shoes & Heels:
Colorful Shoes with Black and White Dresses & Outfits
Bright, colorful shoes look amazing with black and white outfits. To be honest, there isn't a color that won't complement them, but the brighter & more saturated the color, the better it will look!
Are you familiar with the color wheel at all? Well, any primary or secondary color will look fantastic & contrast well with black & white.
Keep in mind that bright, colorful shoes are a great way of how to go about adding color to your black & white dress/outfit. But the real question is, what color of shoes are best with these ebony/ivory outfits? Here are a few of my faves:
5. Black and White Dress with Red shoes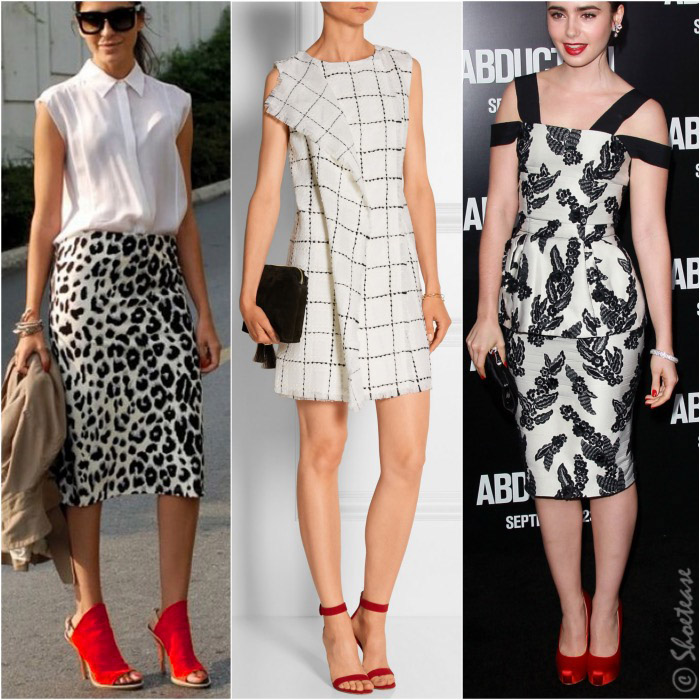 By far, the most popular color to wear with black & white outfits is red. Blood red, specifically! And you can't blame the prevailing pairing: it looks incredible, with a high contrast!
I mean, there's a reason it's a showstopper (and the chosen color for a stop light & sign!). Find out more outfit options with this bright shoe color on my post about what to wear with red shoes.
Shop Red Shoes & Heels :
6. Bright Green Shoes

People don't normally think of adding green shoes to an outfit, but seriously folks, many of you are missing out!
Apple green like the Nine West pumps I'm wearing above are a great shade that looks smashing with black and white outfits, but also pairs well with a ton of other colors & patterns.
And best of all, green is an unconventional shoe color & a great change to the more ubiquitous pink & red choices. See more amazing green shoes outfits in my dedicated post!
7. Black and White Dress with Pink Shoes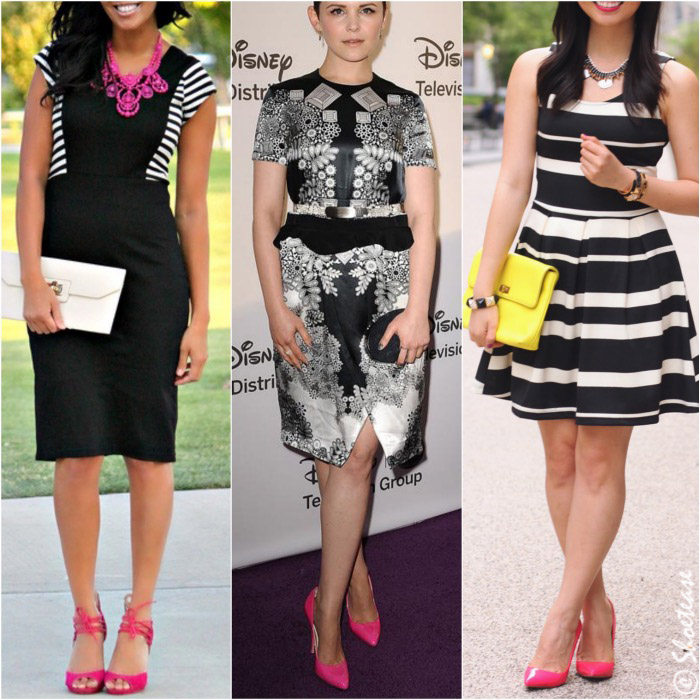 Fuchsia & hot pink are fashionista favorites when it comes to matching shoes to black & white dresses (striped black and white dresses in particular!).
But it doesn't mean that other pink hues won't look just as good.
An orangey-pink or salmon, magenta or purpley-pink shades–as long as they are bright & happy–will make your contrasting outfit fashion blog-ready!
8. Black and White Dress with Blue Shoes (Love Cobalt!)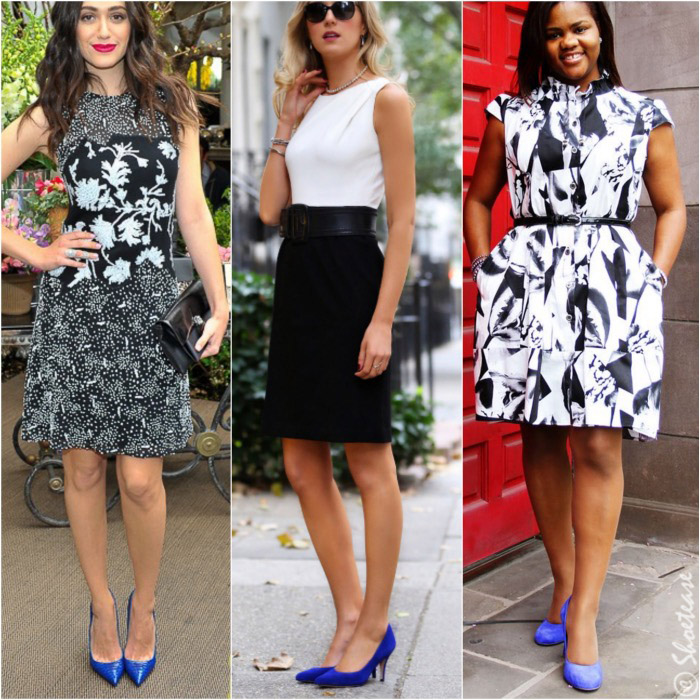 Cobalt is such a trendy color & its ability to creep into high & low fashion looks season after season is a testament to this hue's staying power. It also happens to match &/or contrast well with almost anything!
In pump or sandal form, cobalt shoes look great with black and white dresses & outfits and can easily take you from day to night.
It's also a great alternative to other colors such as red, which might be too racy for certain work environments.
If you're keen on wearing blue shoes with a black and white dress or outfit, other blues that will work well include turquoise, royal blue & a deep baby blue.
9. Orange Shoes & Coral Footwear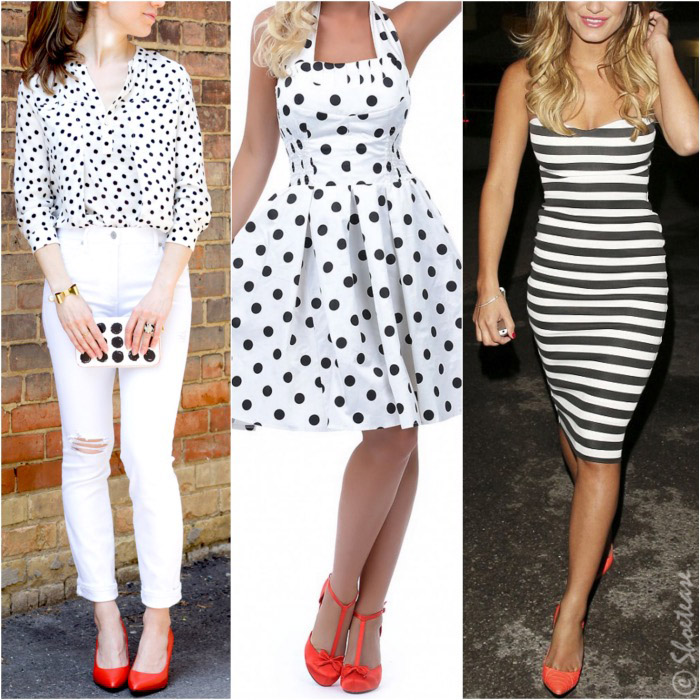 If you want to break out of the simple ruby red mold, why not give orange a chance? A great, unexpected shoe color & coming back with a vengeance within fashion in general is coral.
This is an orange-red hue that beautifully combines with black and white outfits. Take a look at my coral shoes outfit with my white jeans and polkadot top, for more black and white outfit inspo!
10. Black and White Dress, Yellow Shoes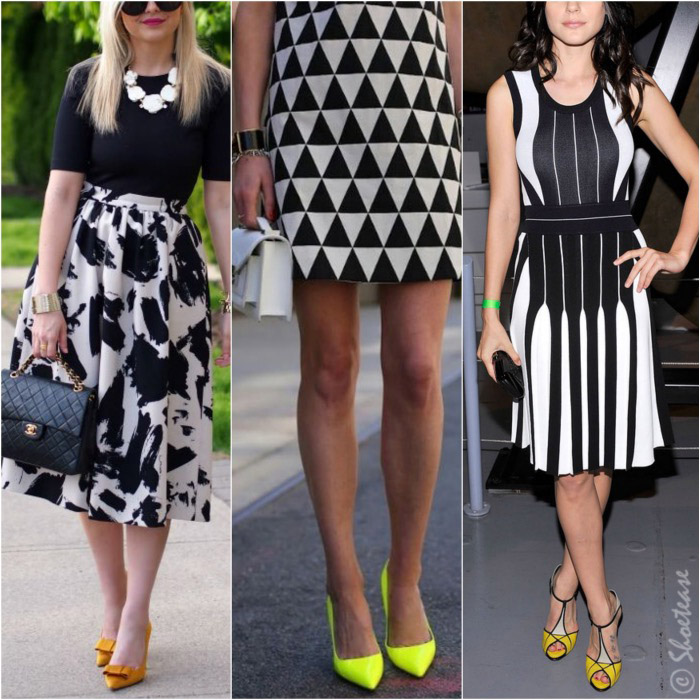 Yellow, whether an orangey hue, bright sunshine yellow or in-your-face neon looks spectacular with black & white outfits! I'm partial to a basic crayola yellow myself, but a mustard shade will also look fab.
11. Leopard Print Shoes with Black & White Dresses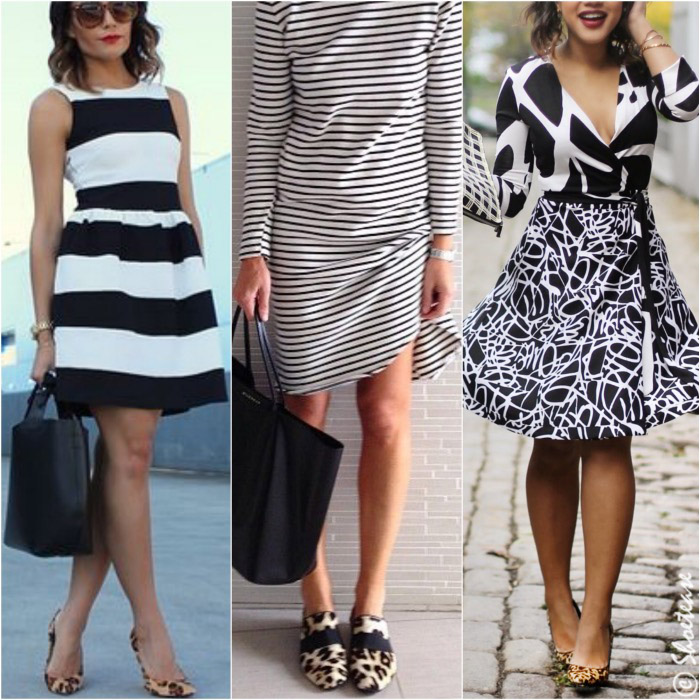 I was debating whether to include leopard print shoes with black and white outfits, as a styling choice, as this one can easily go in a yay or nay direction VERY fast.
How to wear leopard print shoes with this combo depends on the animal print itself. A larger leopard print with a more prominent contrast to the base color works best. And the less brown & general warmth in the print, the better.
This animal printed footwear looks awesome with black and white striped dresses. I'm just a sucker for a pattern on pattern, what can I say!
See how great these shoes are with the first two looks (even better paired with the first that has the wider striped dress?).
But a smaller leopard, or cheetah printed shoe, however, will feel a little 'cluttered' with black & white, especially when the print in the dress/outfit is a similar size to the shoe print.
See image on the far right, which doesn't quite right, as the wrap dress is just too busy to mesh well with also busy small dotted animal print.
One simply doesn't compliment the other & just looks a little blah (this, compared to what it might have looked with brilliant green or shimmering silver mirror high heel!).
Shoe Colors to Avoid with Black & White Dresses
Some of you by now might be asking yourselves if there's a shoe color that doesn't look good with black and white dresses.
Since I'm sure you feel as if I've mentioned all of them at this point! Well, actually, there are a few that aren't my first choices.
Of course, taste & style is relative, but the following are definitely not on my top 10 list for black and white outfits! These include:
Dark purple shoes

Almost-black navy shoes

Pastel shoes, especially very pale ones – look to similar, but not quite right with the white)

Gold shoes – it's not disastrous, but the warmer tone doesn't do B&W justice
Brown shoes – too similar to the black of the outfit to complement or contrast
Nude, off-white or beige shoes – makes a bold monochrome look boring. See below: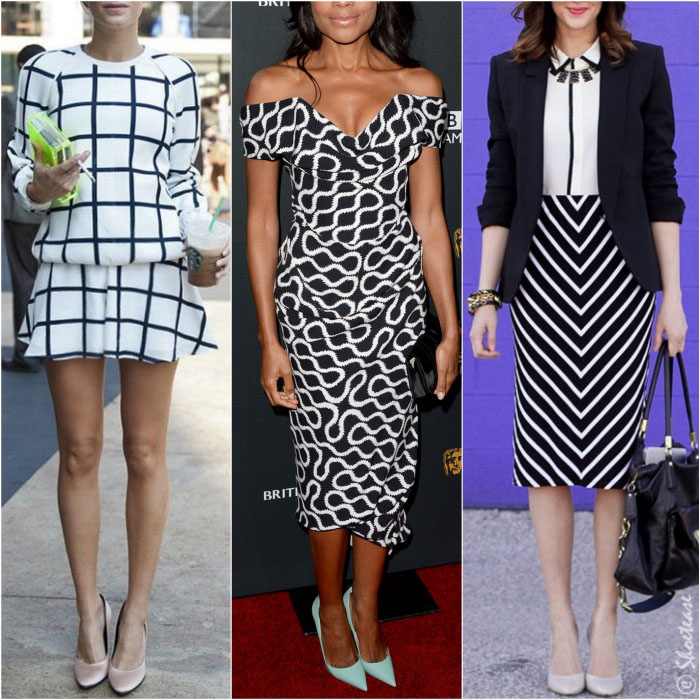 Now, it's not that these colors look TERRIBLE, but being so dark (or light!), they won't contrast well enough to liven up the outfit, nor will your shoes "pop", so to speak.
Most of all, you don't want people guessing if that beige shoe is white or not, or if that dark navy pump is a faded black that you're trying to match with the outfit.
I mean, the above shoe colors don't look bad, but they'll just look a little, "meh", if you know what I mean. This is a shoe blog after all and we're looking to make a bit of a statement with our footwear 😉
Final Words on What Color Shoes to Wear with a Black and White Dress
While I (hopefully!) still have your attention, you can take shoe & outfit style guide as way to accessorize black & white outfits, not just with your heels, but with your purses, jewelry, hats etc.
Just remember when pairing these monochrome looks with one bright accessory, such as shoes, you'll be best off to go neutral (black/white/beige) with the rest.
Conversely, you can choose to pair that bright accessory with another color that contrasts & enhances the other one.
Sunshine yellow with hot pink or green or turquoise with orange & so on. You can some examples of these in the images pictured above.
So if next time you're wondering what color shoes to wear with a black and white dress, come back to this page & get re-inspired 🙂
See more shoe styling & find out what shoes to wear with a white dress, here as well as the best types of shoes to wear with a black dress.
xo ShoeTease