What Color Shoes With a Hot Pink Dress? Let's Chat!
Looking at a fuchsia or hot pink dress for an upcoming bridal party, birthday back or Valentine's Day but don't know what color shoes to go with? No worries, I've rounded up the top 6 color shoes to wear with a hot pink dress, so you can put the perfect fuchsia outfit together for Love Day. Or any day, really!
It can't be ignored: the return of pink dresses & outfits has gone viral, so to speak. With so many fashion bloggers & celebrities donning the color, it's no surprise it's become one of the most sought out hues to add both to one's casual & glam style.
You can find some designer hot pink dresses from cutting edge styles to more classics from Net-a-Porter. Or shop fuchsia dresses in a slew of price-points & looks, below from Nordstrom.
---
Shop Hot Pink Dresses:

---
Hot pink, fuchsia, magenta (or whatever you'd like to call it!) is always a favorite to make a bold statement at a party and below are some of my favorite styles, both high end and high street, to tickle you…well, pink 😉
If you're looking for how to pair a lighter pink dress, check out my what "pastel pink dress what color shoes?" post too!
Fuchsia Pink Dress, What Color Shoes?
1. Dark Contrast Color Shoes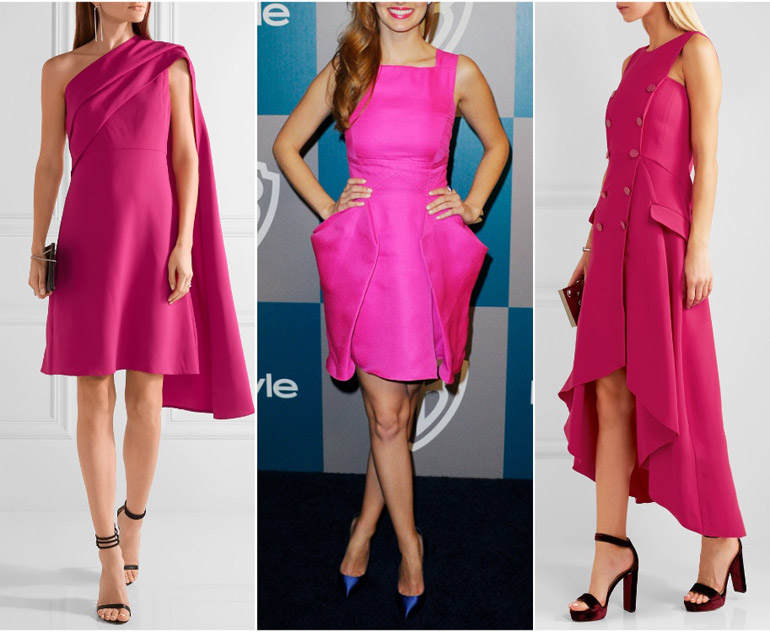 Hot pink dress with black shoes = a stunning combination! And an easy one to, because who doesn't have a pair of black sandals, pumps or flats to wear with their fuchsia outfit?
Some might call this pink and black combo boring, but it's a stark contrast to a bright colored dress that never gets old. Purse color with this combo? Seriously, anything but navy, so take your pick!
---
Shop Black Shoes:


---
If black for you is too blah, navy shoes are a great alternative and look spectacular with hot pink. We usually see more navy dresses with bright pink shoes pairings, but why not swap them to keep a fuchsia dress or outfit fresh? Go for a light colored or metallic purse here. I'd avoid a black purse with navy shoes and hot pink dress.
Something I've noticed lately is the mix of fuchsia or magenta outfits with deep burgundy shoes. Although at first you wouldn't think they'd do each other justice, these two warm shades contrast and compliment each other quite well. Just look at the hot pink dress with burgundy shoes (above right) and decide for yourself! A bright, white or metallic purse would look fab with this hot pink/burgundy combo.
---
Shop Burgundy Shoes:

---
2. Bright Contrasting Color Shoes
So if black or darker hued shoes with your hot pink dress don't do it for you, why not add a little whimsy with a bright, contrasting colored pair of heels?
Some of my favorite shoe colors that go with hot pink are:
Pink dress with yellow shoes
Lime or shades of citrus, including bright green
Cobalt blue & light blue
Bright orange can be just as fun too, although adds less contrast. But depending on which other accessories you pair the colors with, you can easily attain a look that is fresh & funky.
Purse Color Tip: Either add a completely different contrast colored purse to make it a head to toe color blocked outfit, or opt for a white purse. A metallic handbag can also look great, depending what your shoe color is.
3. pink dress and nude shoes
---
Shop Beige/Blush/Nude Shoes:

---
Of course, if you'd like a more neutral approach, you can't go wrong with a hot pink dress with nude shoes! And by "nude" here, ladies, I mean whatever shade of nude it is for you. Matching your shoes to your skin tone is always a good idea, as it elongates the legs & allow your hot pink outfit or otherwise, take the spotlight.
That being said, beige or blush shoes will work with any hot pink outfit and skin tone, making it a less stark contrast than a pair of white shoes.
Purse Color Tip: Black, White or brightly colored blue purse work best.
4. Metallic Shoes With Pink Dress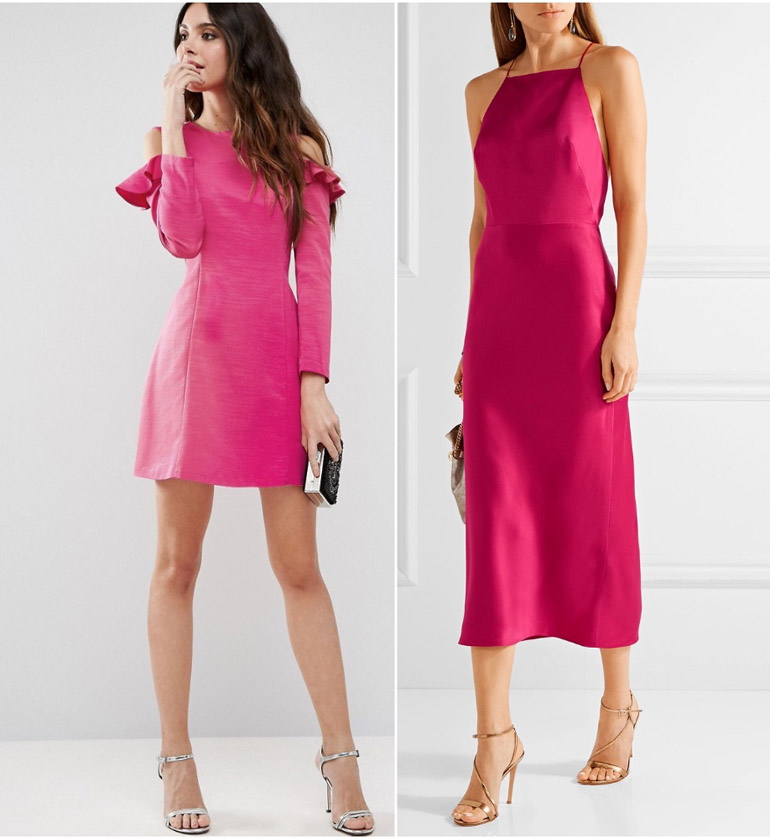 ---
Shop Silver Shoes:

Shop Gold Shoes:

---
A hot pink dress with silver shoes, gold shoes or somewhere in between always looks polished. My favorite would be silver shoes with a hot pink dress, because the cool tone of silver contrasts more strikingly with the warmer fuchsia shade.
However, gold or rose gold still looks fabulous and is the metal du jour, so with either, you can't go wrong. The only metallic shade I'm not a huge fan of with pink outfits is an orangey copper. Not that it's bad per se, but it'll be much less striking and it's not personally one of my faves.
Purse Color Tip: With a hot pink dress and metallic shoes, go for a white or black clutch to tie things together in a neutral way
5. White Shoes with Pink Dress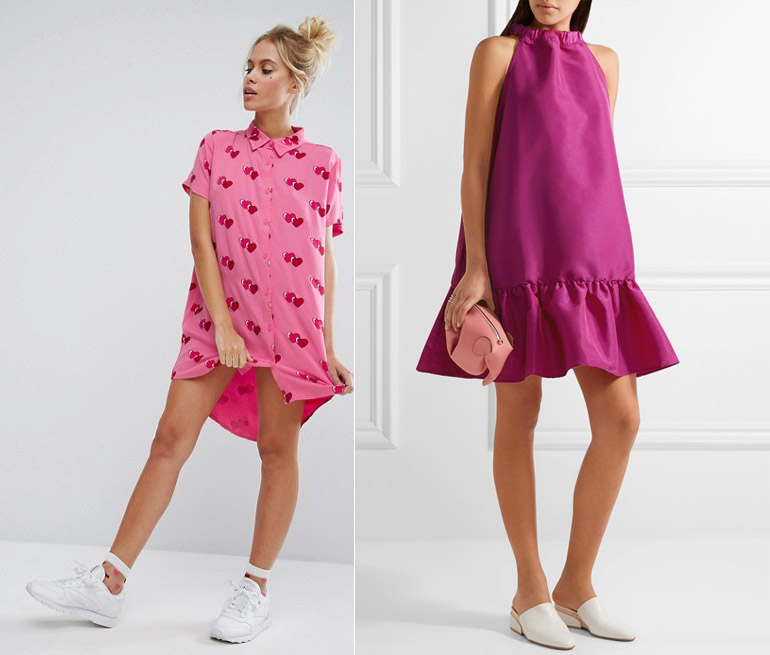 ---
Shop White Shoes:

---
If you're looking for a bright contrast with your shoes and pink dress, look no further than a pair of crisp, white or slightly off white shoes! White shoes with a hot pink dress are a great combo for Spring/Summer weddings, parties and depending on the dress & shoe type, casual looks as well.
Purse Color Tip: Mixing white shoes with fuchsia dress makes black the perfect purse color!
6. Black and White Shoes with Hot Pink Dresses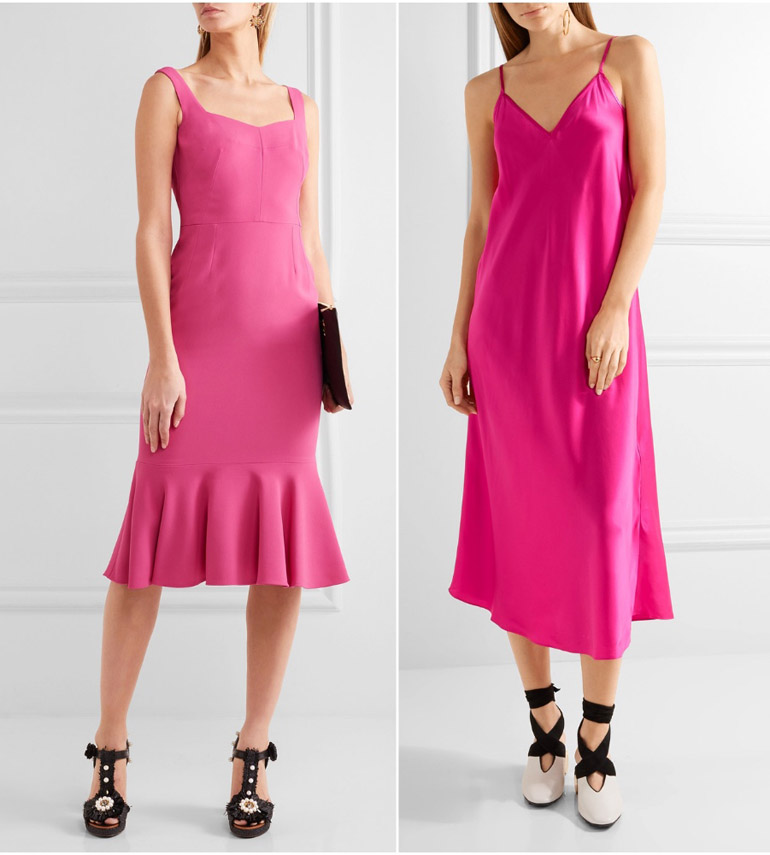 ---
Shop Black & White Shoes:

---
If you want to stray from the more "safe" shoe color options to pair with your fuchsia dress, why not take a double dose of neutrals to complete your outfit?
Since both black and white look fabulous with hot pink dresses & outfits, it comes as no surprise that a mix of black and white shoes would look great too. And most importantly, they will certainly make a statement!
Purse Color Tip: Go for a contrast color here to complete the look. Try a green, cobalt blue, or purple clutch or purse.
---
So I hope this post has helped you out in the "fuschia pink dress what colour shoes?" department! I'd love to hear what you think the best shoes with hot pink dress combos are? Any on this list that you'd go for that I may have missed? Let me know in the comments, below 🙂
xo Cristina
Image credits: net-a-porter.com, asos.com, mytheresa.com