Pastel pink dress what color shoes? I get asked this question a lot. Call it the pink effect, or the millennial pink effect. Blush pink dress effect?
Either way, the most resilient color trend over the past years that is still going strong is pale pink in fashion, beauty & home decor. This color literally isn't going away any time soon!
What Shoes to Wear with a Pastel Pink Dress
So it's only fitting that I should write a what shoes to wear with a pale pink dress post. And it doesn't really matter what you're calling it: pastel pink, pale pink, light pink or blush pink.
If you're looking for more orangey-hued light pink dresses, then my post about what color shoes go with peach dresses is a better fit. If your light pink dress is metallic, you can also check out my separate post about what color shoes go with rose gold dresses!
In this post wee're talking the same form of soft, blushing, often pink-meets-beige that looks good on everyone & makes for a strong fashion statement!
You can get some of the latest pastel pink dresses from Net-a-Porter, or shop blush dresses from one of my fave retailers, Nordstrom.
Blush Pink Dress and White Shoes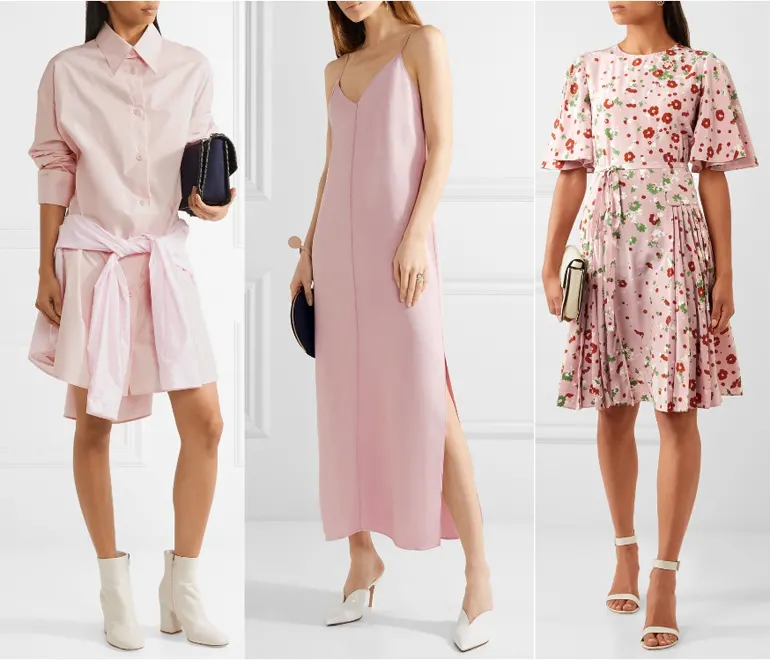 White shoes look great with a pale pink dress! It's look fresh & young and I just love how the pink really shines in contrast to the white.
A light pink dress with white heels makes for a great for a summer look. Blush pink dresses makes a fun look in winter with a pair of white booties!
Most of us don't have many white shoes in our closets, but it's a really great, often surprising shoe color to mix into our wardrobe. White shoes with light pink dresses work all year round – just use a protective waterproof shoe spray for snowy and wet days!
Purse Styling Tip: You can either match your purse color to a shade of color pop from your dress, black or metallic. I would stay away from blush or tan purses, as they may look "dirty" vs the brightness of your white shoes.
Favorite White Shoes & Boots:
Pastel Pink Dress with Nude & Beige Shoes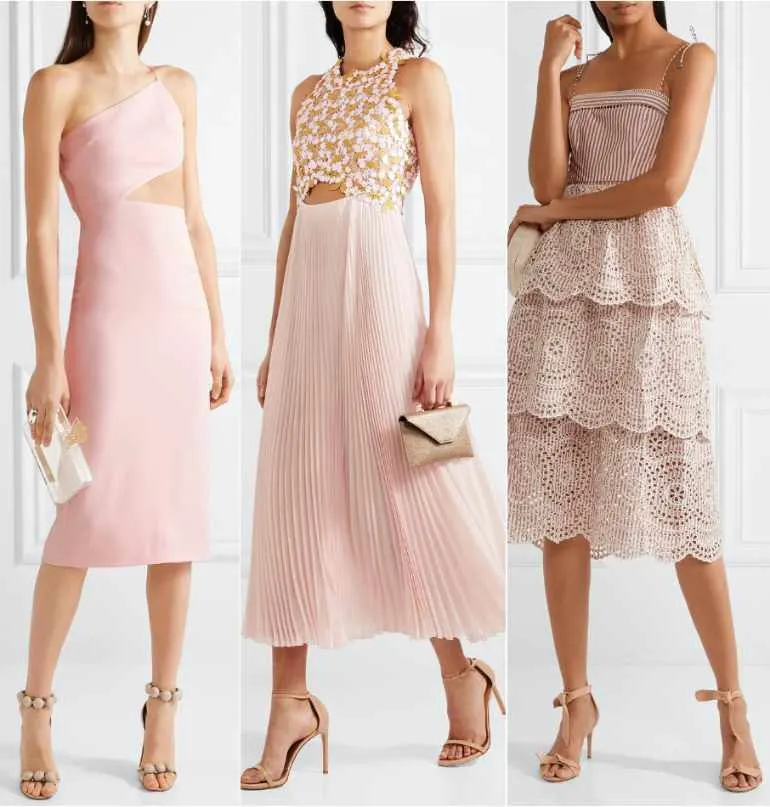 A pastel pink dress with blush or beige shoes is a really simple way to go. You can either opt for a light pink dress with matching light pink, beige-brown shoes or opt for a nude that matches your skin tone, whichever tone that may be!
Purse Styling Tip: You can either match with your shoes, or contrast with a black, white or even burgundy purse. A gold or rose gold is a nice match too!
Favorite Nude Heels – Each Available in Various Tones:
Favorite Beige Shoes & Heels:
Light Pink Dress with Black Shoes

One of the starkest contrasting shoes with a pastel pink dress is to black shoes. Likely you already have them in your closet, so it's a cinch!
Pair sleek black sandals or black pumps with a more formal dress or opt for a slide or flat to create a more casual look.
I always love a matte pink dress with black heels that are patent or shiny or the opposite: a silky shiny blush pink dress with matte suede shoes.
And don't fret, if you're looking to wear your light pink dress with black boots, that can work too! Just keep the black boots minimal with a slender heel if you're opting for a less casual look.
Purse Styling Tip: This one's fairly easy, because any color purse could go well in this pastel pink dress styling scenario. I would personally opt for a matching black, or white, burgundy, beige or a metallic purse.
Favorite Black Shoes & Heels:
Pastel Pink Dress with Silver & Pewter Shoes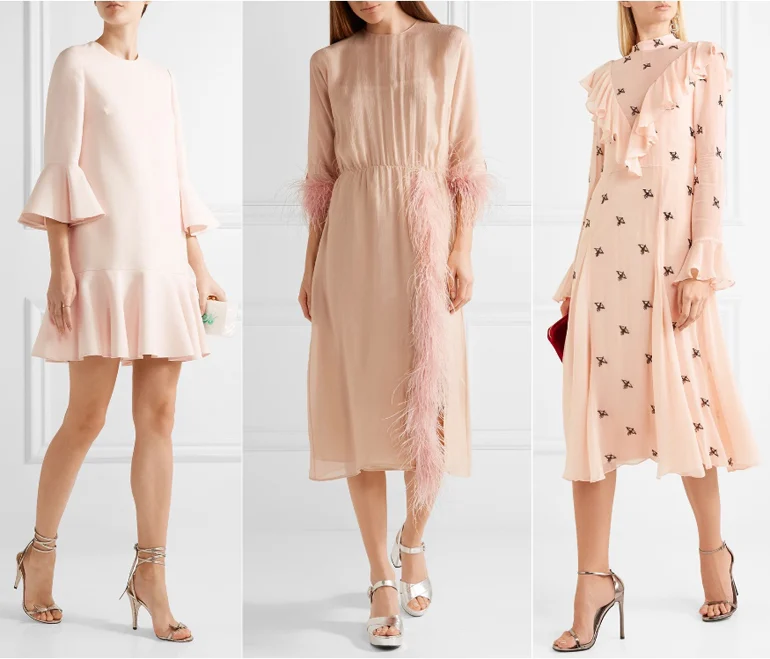 Metallics are classic & silver or pewter shoe colors look simply lovely with a blush dress, whether choosing, sandals, pumps, loafers or brogues!
If there is a metallic silver or pewter zipper or buckle to your dress, matching it to your shoes would be ideal!
Purse Styling Tip: A pastel pink dress with silver or dark silver shoes will work well with just about any purse color. My fave combo? Burgundy, white or black!
Favorite Silver Shoes & Heels:
Blush Pink Dress with Gold & Rose Gold Shoes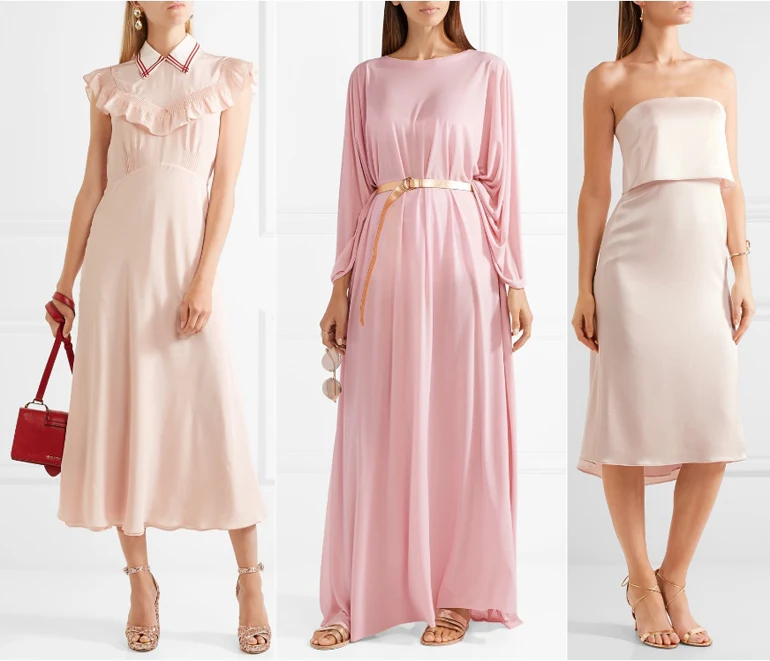 If you're looking to not deviate too far off your blush pink dress with a shoe color, rose gold or rose gold shoes will look lovely!
This will allow your shoes to sparkle, but not distract from the dress. Rose gold shoes are particularly fashionable right now and the metallics add a nice touch to a fancy pale pink dress outfit!
Purse Styling Tip: I would definitely pick a suble purse color for this blush dress and gold shoe combo.
My faves include: white, matching gold, or burgundy, for some drama that is still in a warm tone with the outfit.
Pastel Pink Dress with Red & Burgundy Shoes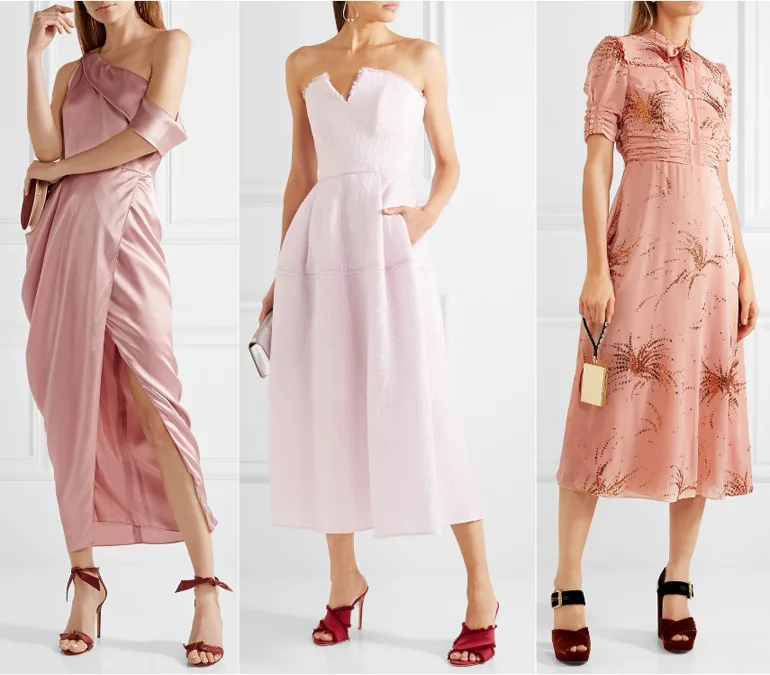 You may not think it a great combo at first, but red or burgundy shoes are a perfect color to pair with your pastel pink dress!
Light pink just plays so well off a deeper red & makes for an unexpected combo. I would avoid poppy/orange red shoes in this combo, as it won't give for as much as a tonal look, but will drastically clash.
Purse Styling Tip: Metallic purses would work great, especially a metallic color that matches the hardware in your shoes or dress. White would also work well.
Black with a deep burgundy shoe wouldn't look great, as the two shades would look too similar and not play well off of each other.
---
If you're looking to match your shoes with your blush pink dress, but want a little more contrast than a simple match, rose gold or gold shoes will work wonders!
They will let your pastel pink dress shine, while shining a little on their own 😉
Purse Styling Tip: White, burgundy, black or a matching purse (if you're off to a bridal event) would look refined & classy!
Favorite Red Shoes & Heels :
Final Thoughts – What Color Shoes to Wear with Light Pink Dresses
Of course, if another color shoe tickles your fancy, why not wear it? As style is so subjective, these are guidelines for the no-nonsense lady who prefers to keep her options by the book & simple.
But that doesn't mean that a navy blue, mint green or dark purple shoes won't work. A light pink dress with brown shoes is also a great option for summery or more casual boho looks.
In the end, it all depends on what you're comfortable pairing with your pastel pink dress, the rest of your outfit & the actual blush dress itself.
Looking for how to style a hot pink dress? Check out my shoes for fuschia dress post!
xo ShoeTease
Dresses featured from: www.net-a-porter.com