Canadian shoe brands that aren't directly related to winter boots are usually not the first ones that come to mind.
Of course, it's hard not to think about the more rugged, seasonal boot styles when you think about Canadian shoes!
Aren't Canadian winter boots world-renowned for their durable construction and their timeless style, you ask? Absolutely! I've even written a post about them, here.
But it would be wholly unfair to overlook all the Canadian footwear brands that offer other styles such as heels, dress shoes and sandals too.
Not to mention that many of these brands are revolutionizing sustainable and eco-conscious design and also offer vegan footwear.
As a Canadian-based shoe blogger, I'm obviously a big fan of Canadian-made and designed shoes. I've been lucky enough to try out and even work with many of these Canadian shoe brands over the years.
This, especially during my 14+ years of experience as a shoe designer and shoe blogger in this great country!
You might be surprised that some globally recognized shoe brands – loved by us regular folks and celebrities alike – are actually Canadian.
Whether you're looking for a pair of women's dress shoes, casual sneakers, slinky evening sandals or even wedding shoes, there's a Canadian shoe brand for your taste, style and need!
In a mission to help shoes lovers find the perfect pair of shoes – while supporting Canadian – I've put together an extensive list of made in Canada and designed in Canada shoe brands for women that the Great White North has to offer!
RELATED POSTS:
Best Canadian Shoe Brands for Women
---
Matt & Nat
Calling all vegans! Wedges, flats, flip-flops, you name it—Matt & Nat uses animal-friendly materials like recycled plastic bottles in all of their designs.
Launched in 1995 in vibrant Montreal, they have proudly pushed the boundaries of what Canadian footwear brands can do to make their overall process more eco-friendly and sustainable.
On trend and environmentally aware? Sign me up! You can find Matt & Nat shoes in over 800 boutiques across the world—Canada, the US, Australia, Japan, the UK, and Germany. They sell loads of waterproof shoes too!
Shop Matt & Nat shoes here.
---
Aldo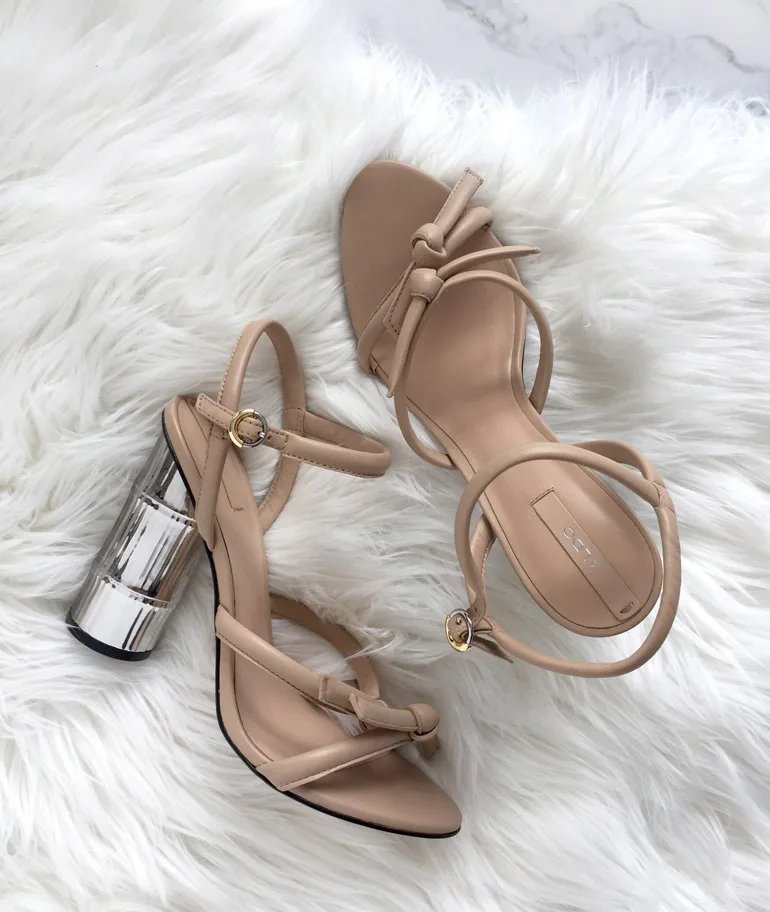 One of the most well known Canadian shoe brands is, hands down, Aldo. Some might even consider it the top Canadian shoe brand because of its vast word-wide distribution. And to think many don't even know it's Canadian!
Based in Montreal, this stylish Canadian shoe brand can be found in shopping malls all across the country as well as internationally. Inspired by high fashion runways, you can trust Aldo to keep things on-trend—and affordable.
In 2018, Aldo became the first fashion footwear company in the world to be certified as "climate neutral"—meaning that they offset 100% of their carbon emissions.
And to take things a step further, they launched a sustainable sneaker that is made from recycled plastic bottles. You can find a vast selection of Aldo shoes for women and men on Amazon.ca and shoes & accessories here and below:
---
Call It Spring
Call it Spring is the quirkier and more affordable little sister brand to Aldo. With a wide variety of sandals, stilettos and pumps to choose from, Call It Spring also features a heavy rotation of sneakers, boots, and slip-on styles—as well as handbags and accessories.
Not only will your feet stay up-to-date with the latest shoe trends, but your wallet will appreciate the approachable price point too. The brand can be found in most shopping malls near you.
Shop Call It Spring shoes, here.
---
John Fluevog
Quirky and off-beat, it's one of the Canadian shoe brands that you can't miss! John Fluevog bids adieu to trends while staying extremely relevant.
For over 50 years, the eponymous designer has been creating the funkiest shoes you can imagine.
All of the styles are designed in Vancouver and handcrafted all over the world in artisanal factories.
A popular style is the Pilgrim shoe with extra large buckles and the Canadian brand has a huge selection of Mary Janes, combat boots, ankle boots and brogues, just to name a few!
Fun fact: Beyoncé wore a pair of Seraphina boots in her Formation video and Lady Gaga has also been spotted strolling around Manhattan wearing a black pair of Cubist Cupcakes.
Shop Fluevog shoes here.
---
Vessi
Vessi is a Canadian sneaker company that was born out of necessity. The founders, three Vancouver natives, had gotten more than used to a little drizzle.
So they decided to take matters into their own hands and craft a knit running shoe that is waterproof, comfortable, breathable and completely vegan.
This season, ditch your tired rubber boots and lace up one of the brand's reimagined sneakers! The best part?
They have styles for the whole family. Vessi offers original sneakers and limited edition styles.
Shop Vessi sneakers here.
---
Brave Soles
Brave Soles is a female owned top shoe brand in Canada offering sandals and bags for women, men and kids. T
hey work with artisans in the Dominican Republic and ensure that everyone working for them is employed ethically.
A big motivation behind Brave Soles is to be as sustainable as possible. That means choosing high-quality leathers or recycled materials, like tires. At the time of this post, Brave Soles have up-cycled 2,452 tires!
Their styles include beautifully made sandals that are simple, timeless and stylish.
You can shop the brand online or at several boutiques across Canada, the US and Europe and at their website, here.
---
Hoyden Shoes
Hoyden's collection of funky wingtip derbies and Oxfords are all designed in Canada and exclusively handmade in Elche, Spain—a location famous for its footwear manufacturing hub.
The brand was launched in Montreal in 2019 by Melinda B. Her intent was to create core styles that transcend trends and remain relevant season after season.
Hoyden's small batch shoes are crafted from buttery-soft, high-quality leathers and avoid toxic processes in order to remain sustainable and environmentally friendly.
Shop Hoyden Shoes, here.
---
Poppy Barley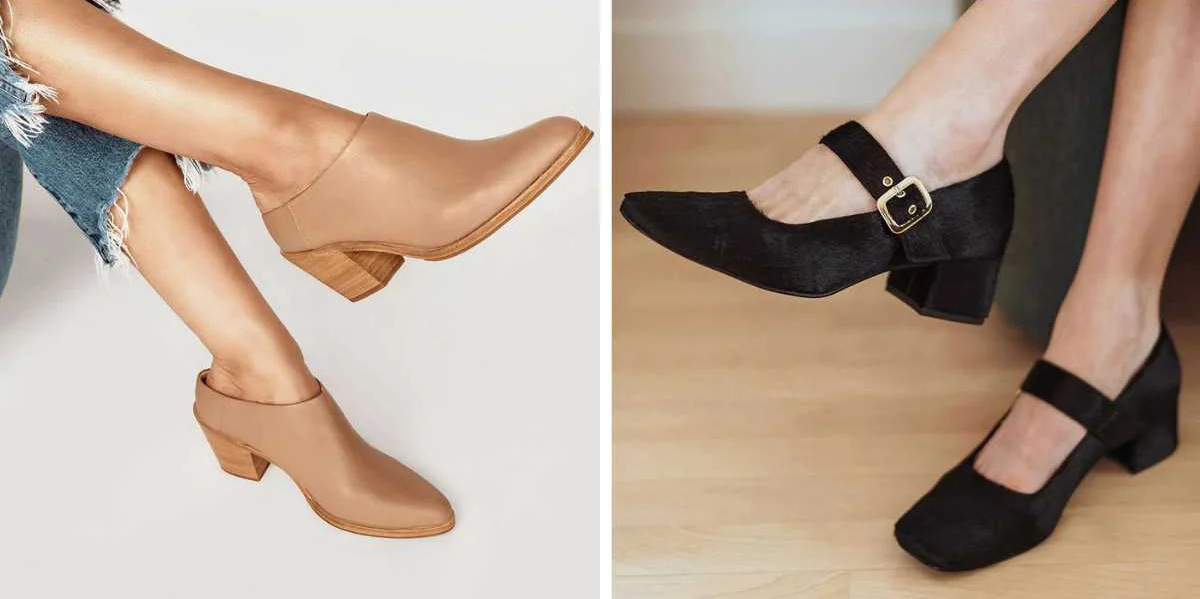 Poppy Barley is a certified B Corporation founded in Edmonton in 2012 by sisters Justine and Kendall Barber. It aims to rethink the fashion industry and the rapid pace at which we consume.
Through ethical production in fair-wage factories in Mexico and Brazil, environmentally friendly packaging and responsible materials, they're helping to save the planet one custom calf-fit boot at a time!
Their extensive size ranges—in both women's and men's—makes their footwear options more inclusive than most.
For bestsellers, check out their women's Daily loafers and for men's, their Toronto brogues are a classy addition to your rotation.
Shop Poppy Barley shoes here.
---
Native Shoes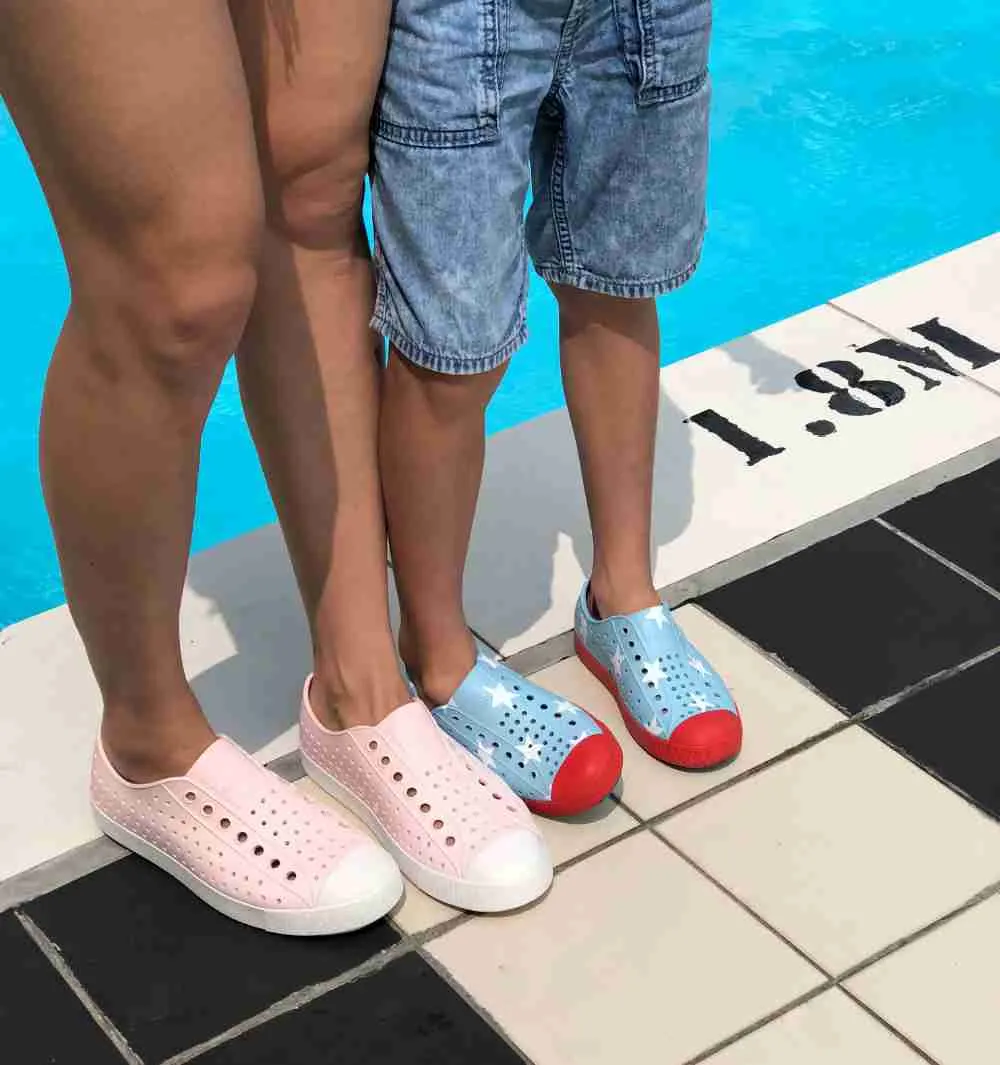 Based in Vancouver, Native Shoes are durable, washable, odour-resistant and great for the entire family.
They're lightweight—ensuring an effortless, comfortable stride—and incorporate innovative techniques and original designs. Extremely popular for the little ones, but I wear them too!
One of their bestsellers (featured above) is the Jefferson style. It's crafted from repurposed algae, using Rise by Bloom technology.
According to the brand, by 2023, their purposeful Remix Project will help to recycle your well-loved pairs into new projects! Their Mercury Lightknit knit sneakers are great too.
These are shoes that you and your kids will love slipping into for years. Trust me when I say I love ours!
Shop a huge selection of Native Shoes on Amazon and kids-specific shoes at Nordstrom and Saks 5th Avenue.
---
Alice + Whittles
Over 95% of the materials that Alice + Whittles uses are for their products are natural and recycled.
For example, all of their footwear is virgin plastic-free and they only use rubber that's sourced from sustainably managed forests.
Headquartered in Toronto, the brand works with a tight-knit, diverse group of people to accurately be able to represent a whole community of outdoor enthusiasts.
Ruggedly sleek and ready for any terrain, The Weekend boots are one of their bestsellers.
Shop Alice + Whittles shoes here.
---
Brother Vellies
Launched in 2013 by Toronto-native Aurora James, Brother Vellies creates one-of-a-kind designs that are meant to last in your wardrobe forever.
The Brooklyn-based brand's shoes are handcrafted globally—South Africa, Kenya, Mexico, Italy, Haiti, and New York City, to name a few—with the goal of keeping traditional African techniques alive and thriving and creating more artisanal jobs.
Vegetable-tanned leathers, soles cobbled from recycled tires and floral-dyed feathers are just some of the unique elements incorporated into Brother Vellies shoes.
Shop Brother Vellies shoes here.
---
Simons
Montreal is a hot spot when it comes to Canadian footwear brands. Simons is no exception!
While the massive department store carries many of the world's most renowned designers, they also feature a footwear collection of their very own, designed by their in-house team.
You'll find chunky sneakers, strappy sandals and minimalist loafers at reasonable prices.
Many of their styles for both women and men are fashionably crafted from sustainable materials like recycled cotton and supple leather.
You'll find Simons department stores in British Columbia, Alberta, Ontario, and Quebec. Shop Simons here.
---
L'Intervalle
When you're wanting to make a statement with your footwear, turn to Montreal-based L'Intervalle.
Founded in 2015 by a husband and wife team, the brand has gone from a small vision to a force to be reckoned with.
All of the Canadian brand's shoes are handcrafted in Spain, Italy, and Brazil and aim to defy trends. That means they'll stay relevant in your closet for seasons to come.
With over fifteen locations across Canada, the brand is accessible, yet rejects the typical "fast fashion" business model. Lots of vegan and leather styles to choose from! Shop L'Intervalle here.
---
Maguire Boutique
Montreal-based Maguire Boutique screams fashion. The female-led brand offers high-end designs at affordable prices thanks to their direct-to-consumer business model that cuts out extra costs like distributors and agents.
Their original designs are produced in hand-selected factories across the globe—many of which also manufacture for other top-tier designers.
Maguire recently launched their very first vegan sandal—it's effortlessly chic, comfortable, and leopard print. Lots of tips on how to wear leopard print shoes, if leopard is your thing!
From warm boots to butter-soft slides, you can shop the on-trend footwear online or at the brand's Toronto and Montreal boutiques.
Shop here.
---
WANT Les Essentiels
Founded in 2007 by twin brothers Byron and Dexter Peart, WANT Les Essentiels is proudly based in Montreal.
The Canadian shoe brand's philosophy revolves around the idea of wanting less and wanting better, to create more responsible consumers.
Many of their high-end designs are gender neutral, utilitarian and meant to easily cross between seasons. Every piece is crafted using carefully sourced materials to ensure longevity and top-notch quality.
With price points ranging from entry level to high-end, there's something for everyone!
Shop here.
---
Maison Bédard
Maison Bédard is Canadian luxury at its finest. Launched in 2016 by shoe designer Jessica Bédard, the brand focuses on creating high-end shoes that women can truly live in—from running errands to sprinting through the airport and heading out for cocktails.
All of the shoes are handcrafted in Italy in small batches from ethically sourced leather for maximum sustainability.
Also, keep your eye out for the brand's bridal collection. Each pair features something old, something new, something borrowed and something blue!
Shop here.
---
Love Jules Leather
This East Vancouver, BC-based companies is one of the few Canadian made shoe brands that manufactuers are their products in house.
Founders Julia Vagelatos and Joshua Blodans craft bespoke, make to order shoes in unique designs and pride themselves on their quality craftsmanship.
Every 3 months, Love Jules Leather announces their limited release of shoes for both men and women.
Orders are fulfilled on a first come, first serve basis, so make sure you're on their mailing list to be one of the first to know when the next stules are up for purchase!
Shop Love Jules Leather here.
---
Casca
Looking for a classic shoe with minimal detailing? Turn to Vancouver-based sneaker brand, Casca.
Founders Kevin Reid and Braden Parker took advantage of their city's natural terrain to test out their products—so you know their footwear is up for a challenge.
Their gender neutral sneakers feature waterproof, breathable and machine washable uppers alongside ultra-cushioned insoles (the same kind used by Olympic runners).
PS: You can upgrade your order with their SmartFit™ option to get your insoles 3D-printed for custom-fit cushioning that improves fit and feel, balance, and fights off fatigue.
Casca also gives back: with every shoe purchase, they donate $1 the non-profit CODE. org. It's dedicated to expanding computer science access in schools and increasing participation from underrepresented groups.
Shop Casca shoes, here.
---
Final Thoughts on Canadian Shoe Brands
Now that you've read through the extensive list of Canadian shoe brands that we have in Canada and abroad, are you ready for some shoe shopping?
If not, I hope I've at least opened your eyes to some of the best women's shoes in Canada that are either Canadian made or designed in the great white North.
If you have any favorite Canadian footwear brands and/or specific styles you want to add or share? Please free to leave a comment in the space provided, below!
Don't forget to peruse my popular post of the very best Canadian winter boots!
xo ShoeTease
Cristina is the chief editor, fashion & shoe expert here at ShoeTease. As a seasoned stylist and women's fashion & shoe designer, she boasts over 20 years of experience in the fashion industry. She loves crafting effortless outfits for ladies both online and off and believes that styling advice should be accessible to everyone. Whether you're a styling pro or just starting out, Cristina's here to guide you on your fashion journey! Learn more.