I may have written comprehensive posts about what shoes to wear with a sequin dress and what color shoes to wear with a gold dress, but many are unsure about what shoes to wear with a Champagne dress.
And I don't blame them. Champagne is such a specific color and the shoe color choices, as well as other accessory choices to go with, aren't the easiest to pinpoint.
In order to determine what color shoes go with a champagne dress, deciphering exactly what color "champagne" is, is a great place to start.
What Color is Champagne?
The color champagne definitely has roots in the bubbly beverage! Yet, depending on which "champagne" you choose, the hue can vary from yellowish-gold, to silver-gold to even a rosey-tinged gold.
The base color of champagne is beige in tone, so if your dress has a lot more pink than beige, best to check out my post about what color shoes for rose gold dresses go best!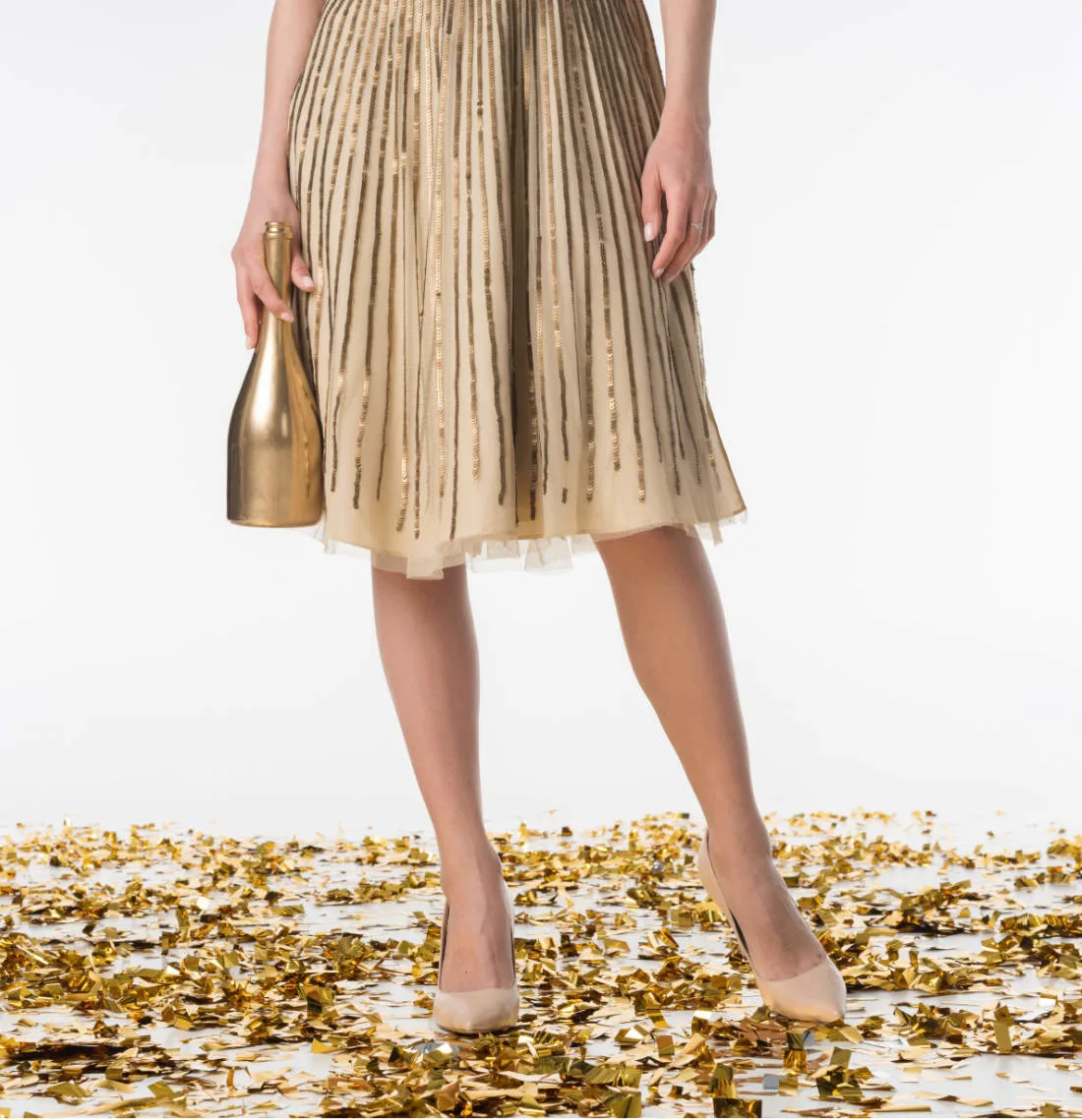 Since "champagne" is known as sparkly, 99% of champagne color dresses and fabrics are usually metallic and shiny. These can range from high shine sequin champagne dresses to champagne dresses with a subtle sheen.
For this last one, think metallic threads woven into the fabric to catch a bit of shine. Or a semi-matte satin dress.
A champagne dress that is matte vs shiny is more of a blush or beige dress. If that's the type of dress color you're trying to style, you can hop on over to my post outlining the best color shoes to wear with a blush pink dress!
That's why "champagne" is often considered a rose gold color. This variance of color makes it sometimes difficult to choose the right shoe color. But don't worry, I've got this for you!
Is your champagne dress closer to beige? I have a what color shoes to wear with beige dresses too! If your dress is more coppery in tone, go read my post on the shoes to match a bronze dress.
You can find some amazing designer shoes from Saks Fifth Avenue, Bloomingdale's, Net-A-Porter & more styles over at Nordstrom.
---
Shop Champagne Dresses, below:
---
In trying to figure out which shoes to wear with your champagne dress, one must know what color goes with champagne. These color choices that go with champagne, below, are also some of the shoe colors that go with everything!
Metallics (gold, silver, pewter, rose gold)
Nude (whichever that is for you)
Beige (great for all skin tones, but make it match your dress)
White (simple and great for summer)
Clear Heels (so you can feel like Cinderella!)
Grey (a great alternative to silver)
Black (high contrast, but will work with the right shoes and dress)
Navy (for those of you willing to take fashion risks!)
---
What Color shoes with Champagne Dress?
Later in this post I'm also going to be going over specific shoe styles with each shoe color. You can skip ahead here if you'd like.
Along with the color of the shoes, the shape and form of the shoe will also depend on which occasion you are wearing your champagne dress outfit to.
Champagne fabrics are primarily seen in women's lingerie and bridal attire. However, champagne dresses make a top choices for bridesmaid dresses, prom dresses and fancy soiree dresses.
These high octave dress code occasions make shoe color and style choices very important, as they can make or break your dress' look.
So this post is going to cover a lot of heels that go with champagne dresses! But don't worry: if you're looking for lower or even flat shoe choices, there are a few that also work for chic evening looks too.
1. Gold Shoes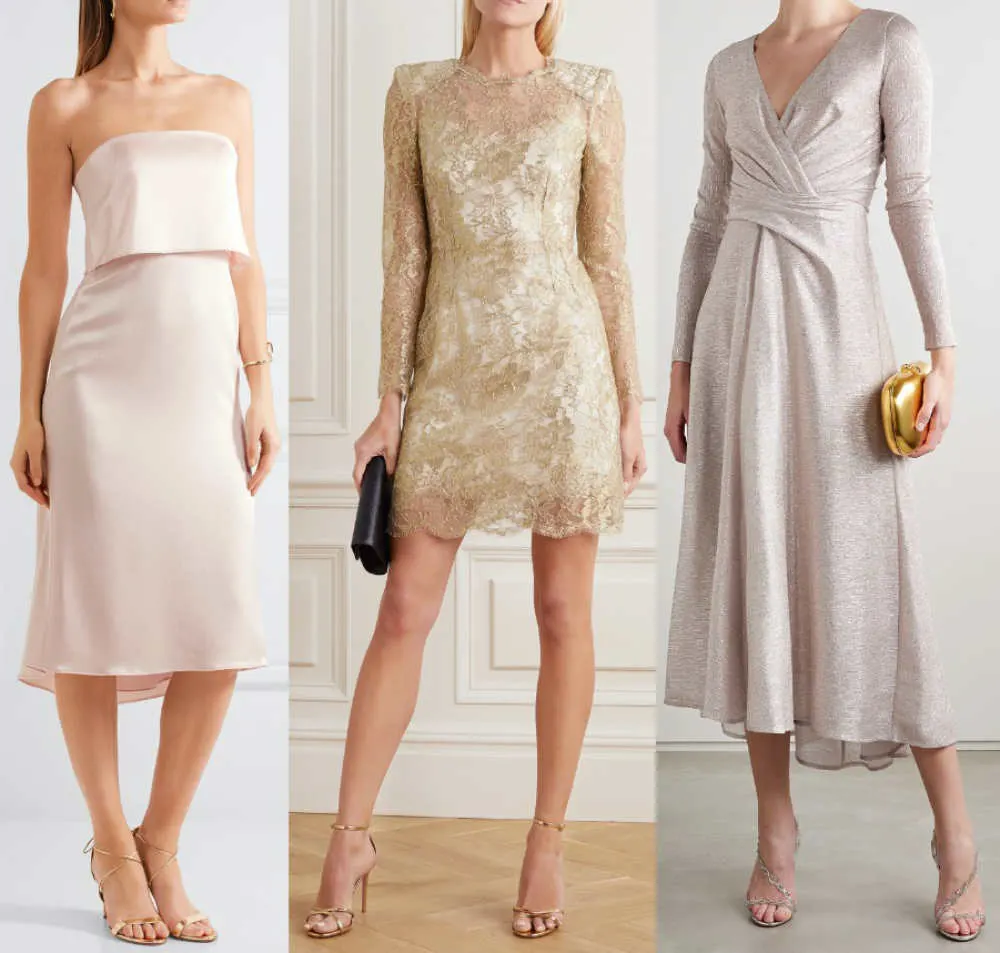 Since Champagne is a soft and shiny light gold color, gold shoes complement the color champagne well. Gold shoes are extra fancy and a great choices for bridal parties and proms! Opt for strappy numbers in this hue, like these pretties.
I would pick a gold that is light, not bright yellow, which could look gawdy with your dress.
Purse color choice: beige or white.
2. Silver Shoes + Pewter Shoes
Another metallic favorite to add extra glam by pairing with a champagne dress – especially if its more silver than gold – are silver shoes. You can choose either silver, the light metallic, or the dark silver version: pewtre.
Silver is obviously more subtle and will be a more delicate balance with your dress. Pewter is a bolder choice, but also a fun and unexpected one! Check out these pewter heels on for size!
Purse color choice: wearing a champagne dress with silver shoes, you can have your purse match in silver, or select a white or beige purse.
Shop Silver Shoes & Heels: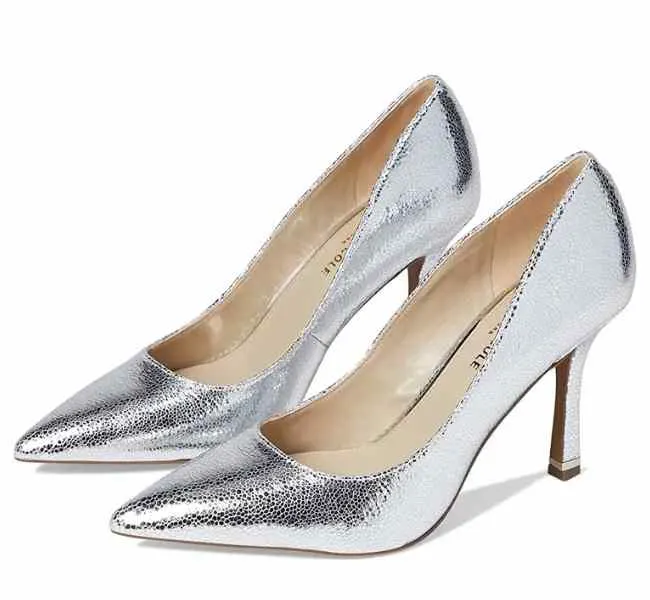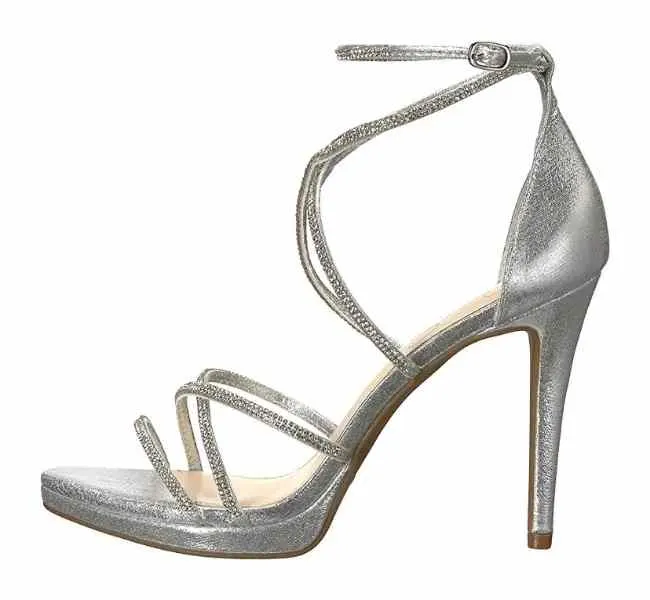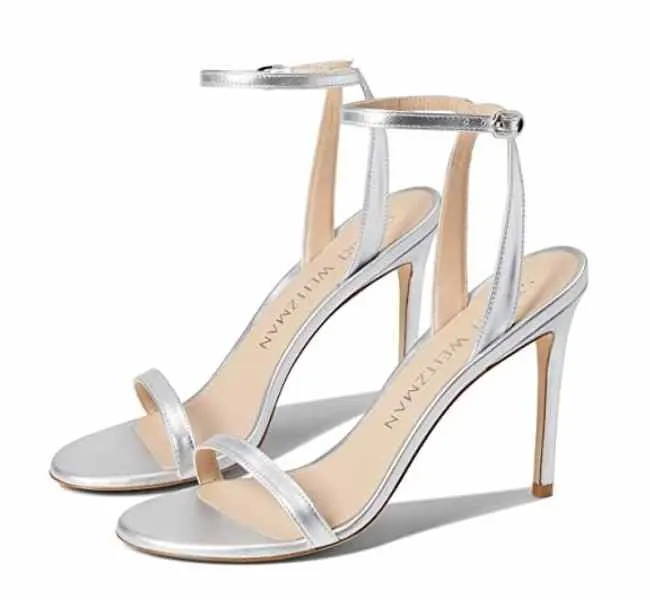 3. White Shoes
A favorite shoe that literally goes with everything, you can't discount a white shoe to look fab with your champagne dress! In stiletto pump form or strappy sandal, this is a great summery shoe to brighten your outfit with.
I own these white pumps and my readers love them too!
Purse color choice: gold, silver, beige or white
Shop White Shoes & Heels: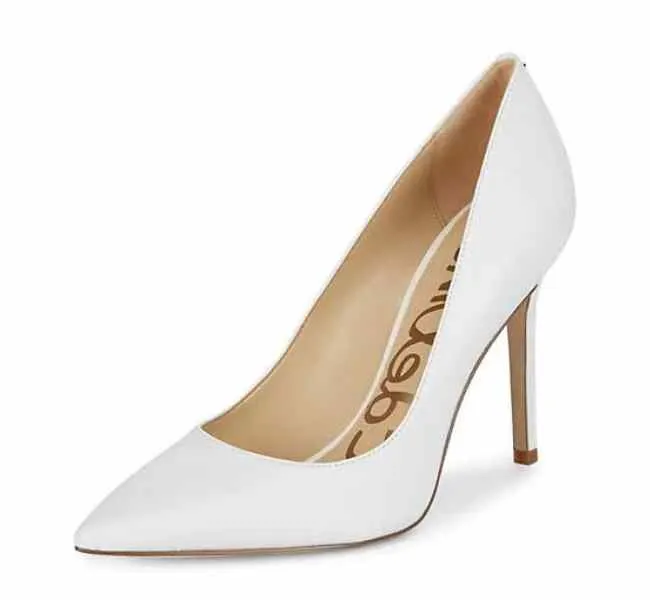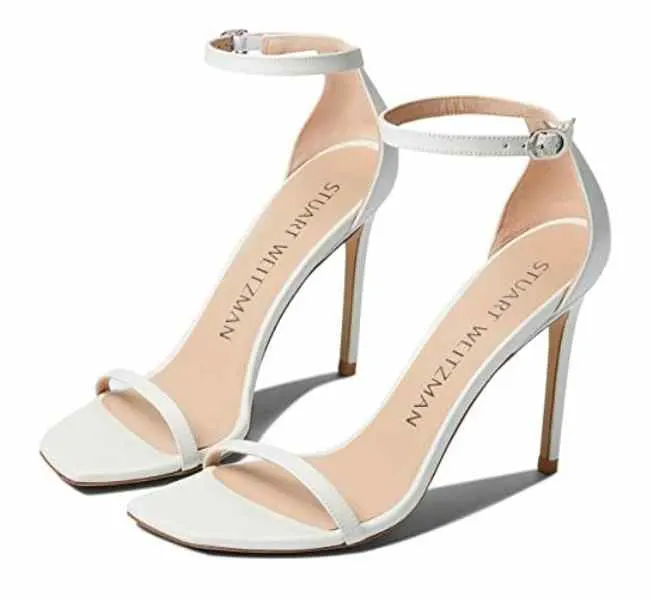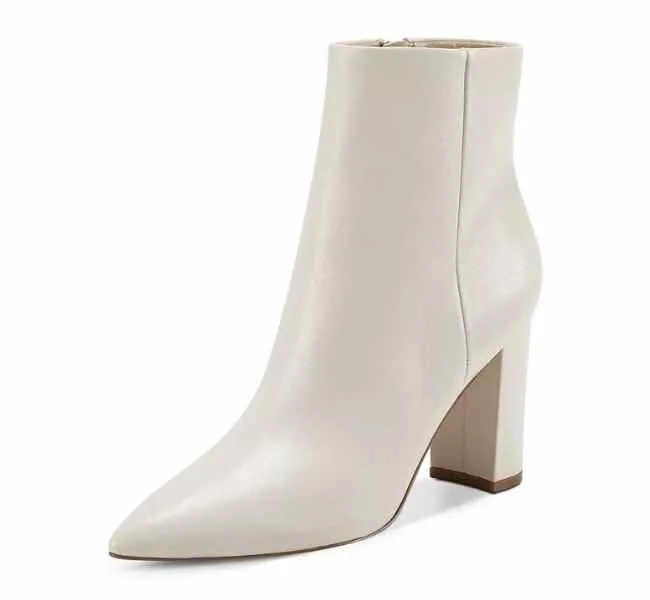 4. Clear/Transparent Heels
Colorless clear heels will look fabulous with your champagne dress! From fully transparent shoes to partially clear with a touch of white or beige, these are all great choices. Want to add some extra pizzaz to your look? Pick transparent heels with some sparkle! Mules, sandals or pumps are great choices.
Purse Color Choices: beige, white, glitter, silver, or match with a transparent purse!
Shop Clear Heels for Women: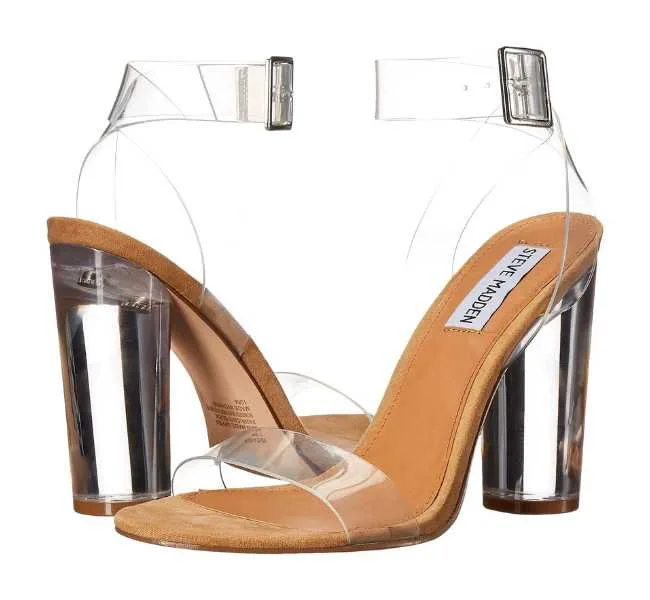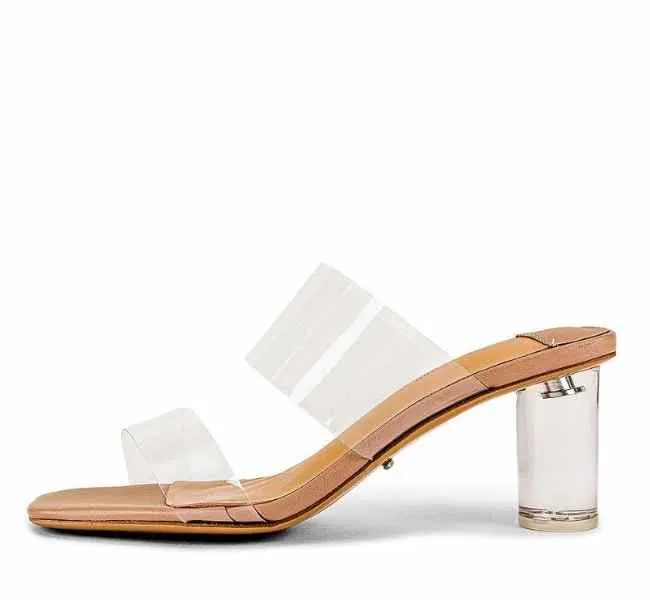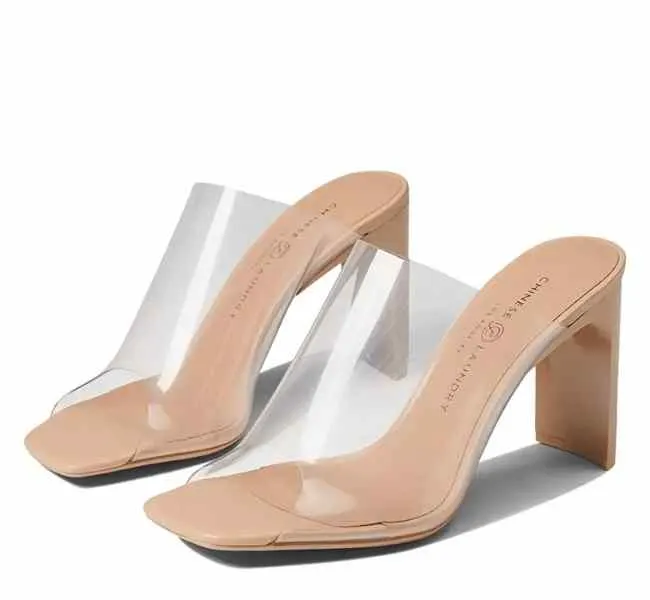 5. Grey Shoes
Piggybacking off of silver/pewtre shoes, you can also opt for grey. Grey is matte and won't be metallic, so it can be a solid choice if you don't want the shine of your dress to compete with your shoes!
A good choice for an unexpected pairing.
Purse color choice: beige, pewter, white or silver.
6. Nude Shoes
If you want your champagne dress to take centre stage, nude shoes – whichever that is for you – will be your best choice.
Chose a "nude" that is either an exact match to your skintone or at most a couple of shades darker/lighter.
Nude shoes are my secret weapon to elongate legs when wearing in a shorter champagne dress!
Purse color choice: because the nude shoes are barely visible, you can get away with any of the following purse choices: beige, pewter, white, gold, black, navy or silver.
Shop Nude Heels – Each Style is Available in Various Tones: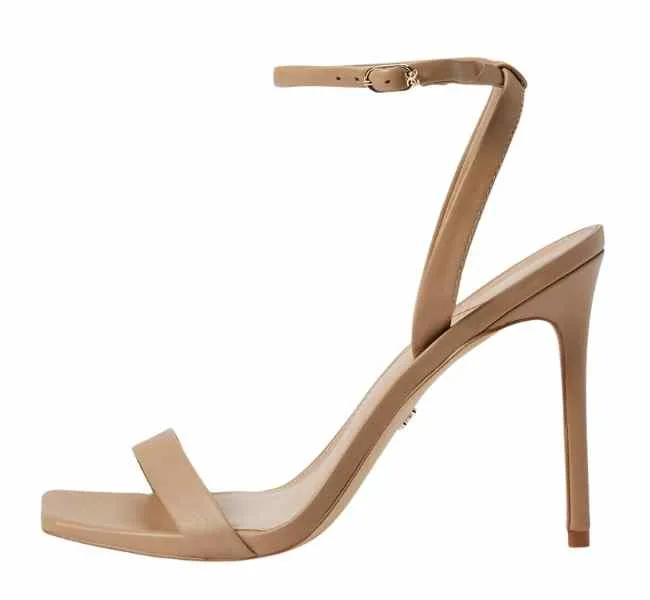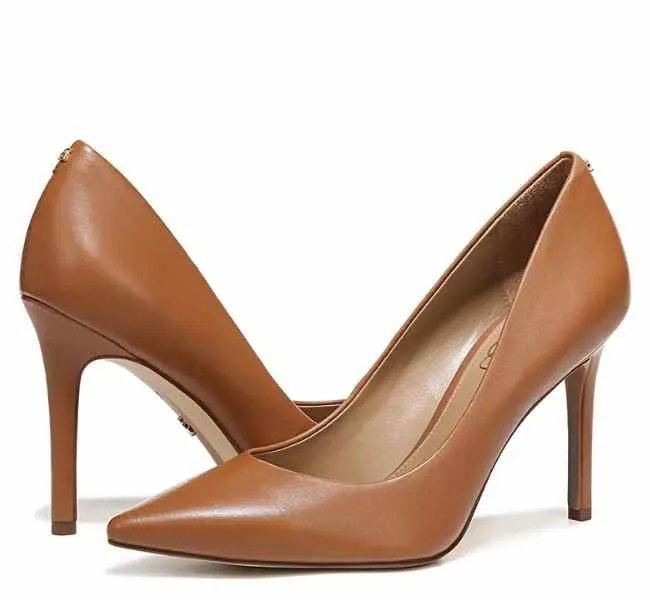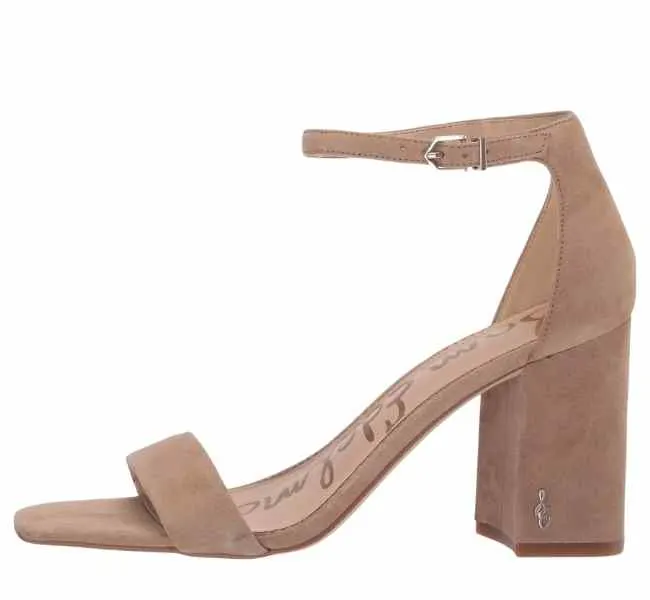 7. Beige Shoes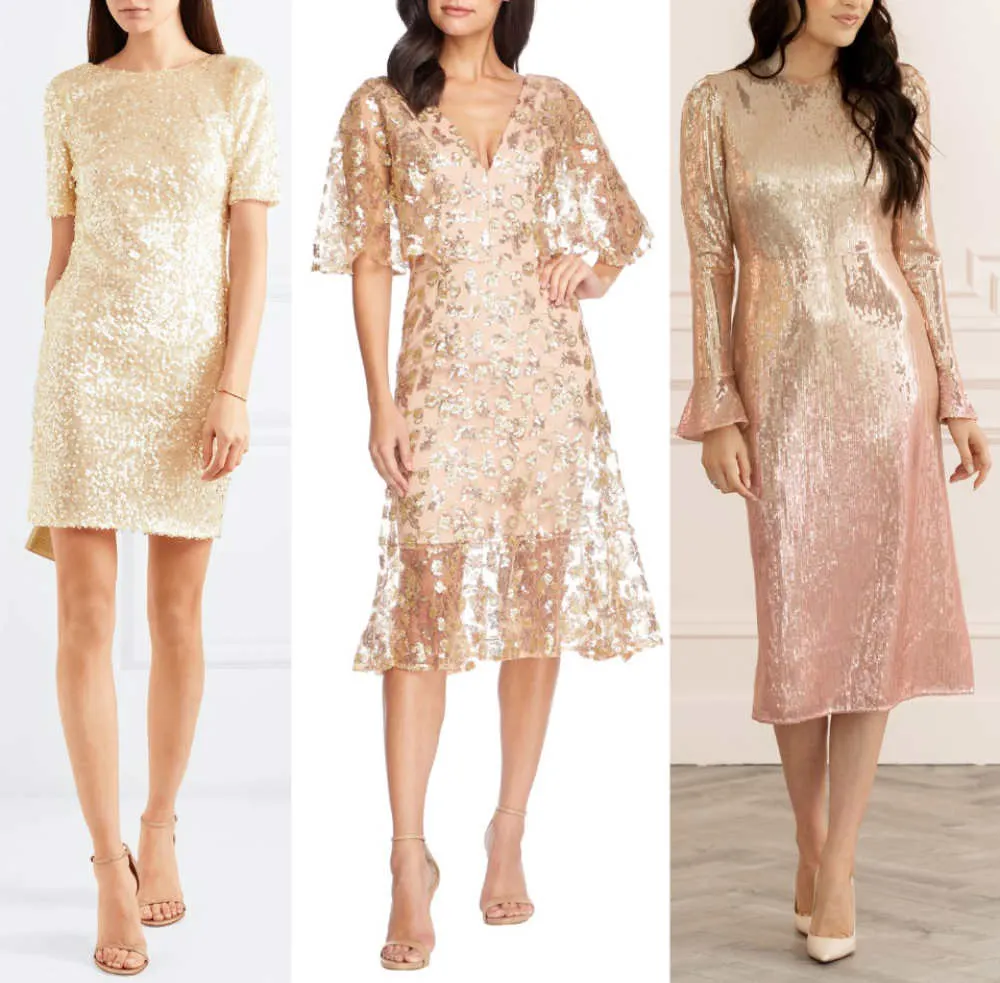 If you want to play matchy-matchy with your dress, but don't want to choose a metallic shoe option like gold, beige shoes are a fab option. Beige shoes will also not distract from your shiny dress.
Choose classic styles like these pumps or these minimal sandals.
Avoid beige shades that are much darker than your skin tone. I would suggest opting for beige shoes that closely, if not exactly, match your champagne dress' tone.
Purse color choice: matching beige, pewter, white, navy or gold.
Shop Beige Shoes & Heels: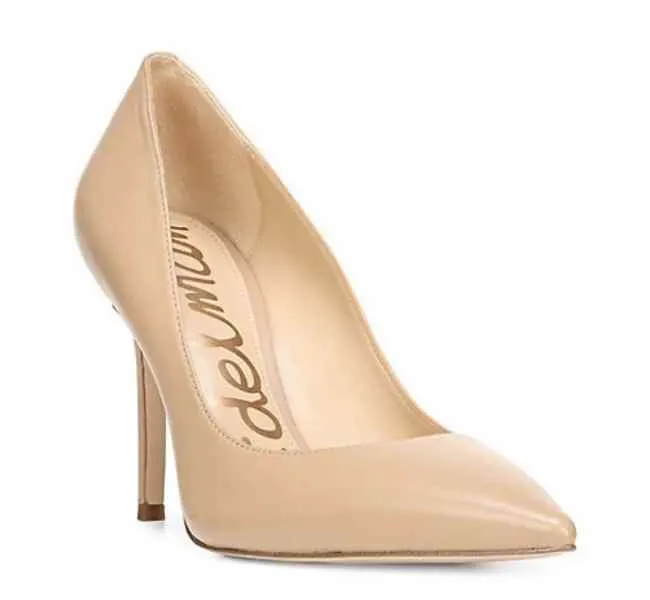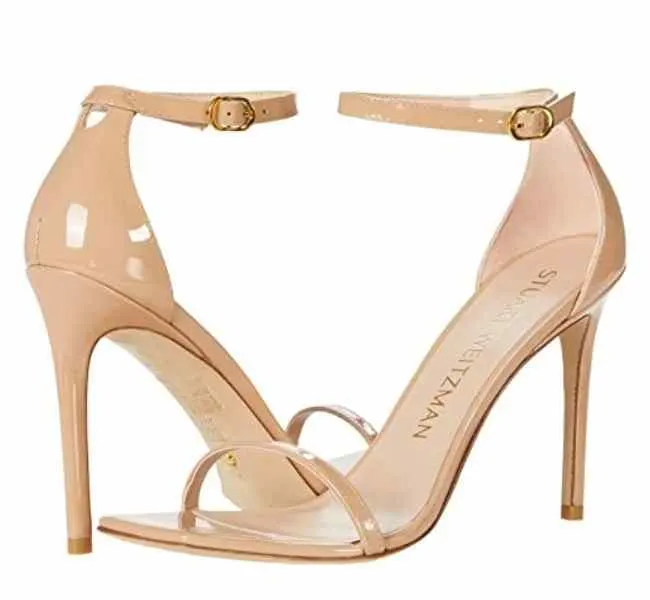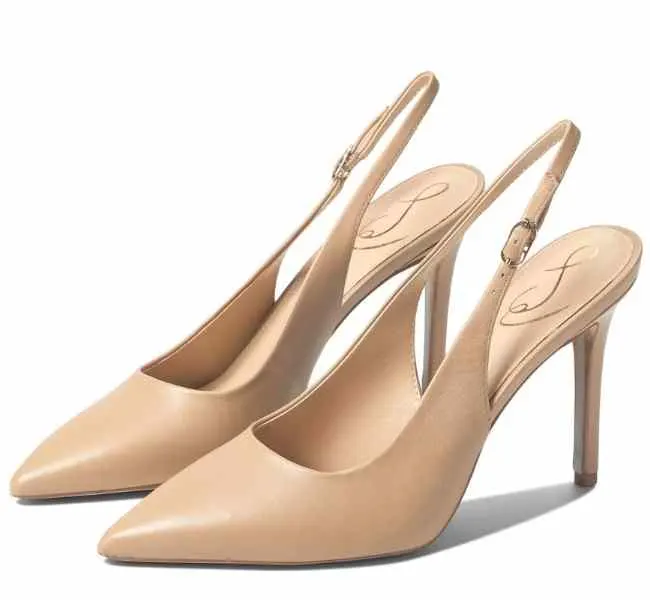 8. Black Shoes
This is one of 2 shoe colors with a champagne dress that is somewhat controversial, if I may say so myself! Because champagne dresses are light and flirty, black shoes add a stark contrast to the look.
If you're going for that look, though, then do it! However, for a more elegant function (black tie party etc) I would keep black shoes, minimal. Think minimal strappy sandals like these beauties from Stuart Weitzman or at most, a classic stiletto pointed toe pump.
However, black is a great color shoes to wear with champagne sequin dresses to give a strong for a rock 'n roll vibe. If that's what you're going for, keep the shoe style to a stiletto.
Only opt for more shoe coverage like a bootie, for cooler weather and less formal events. I like sock booties, like these for this!
Purse color choice: opt for matching your black shoes with a black purse, or go for a lighter hue in a tonality close to your dress color. Like beige, white or silver.
Shop Black Shoes & Heels: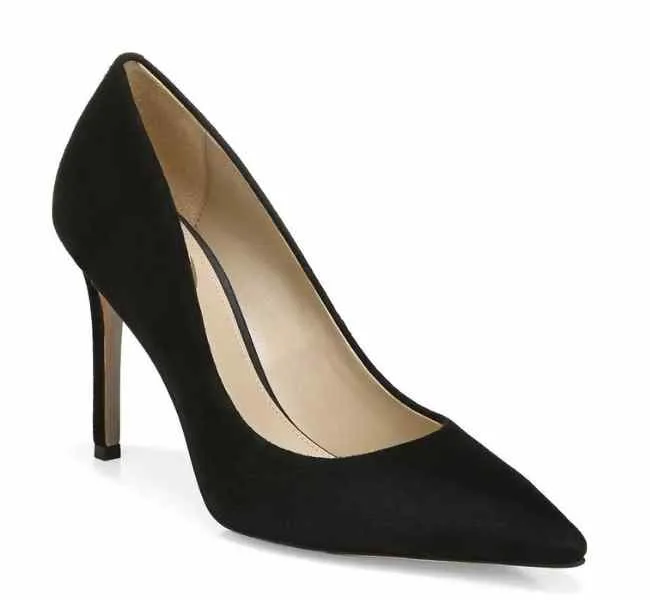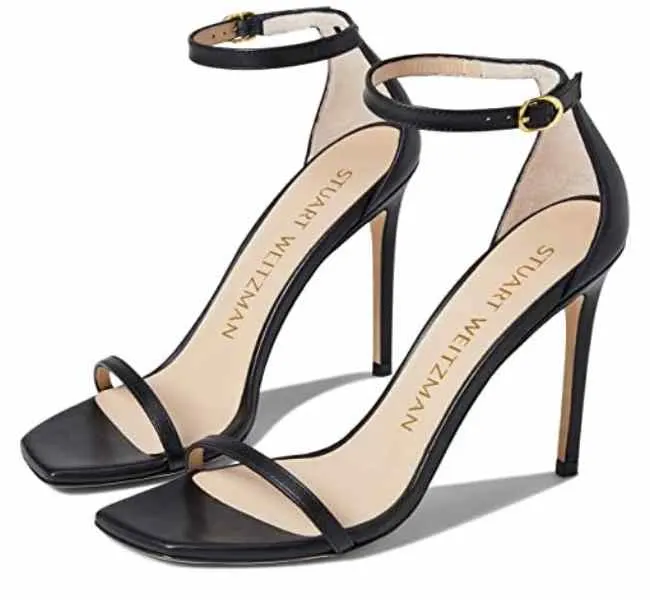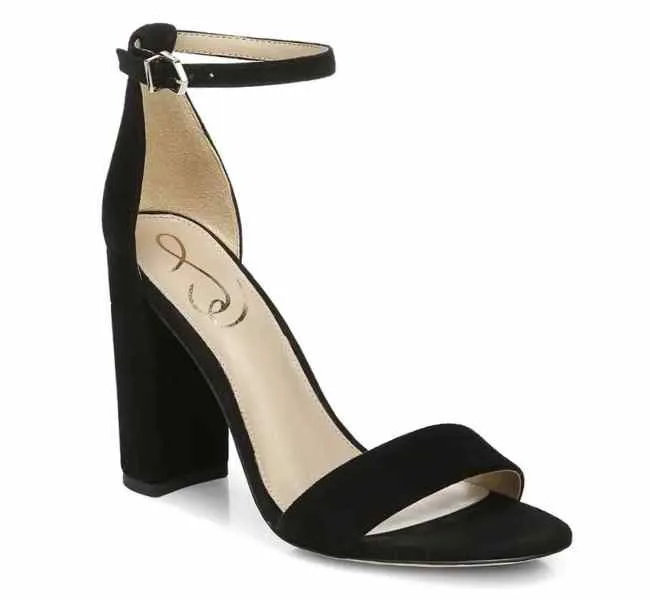 9. Navy Shoes
Maybe another controversial shoe color option: navy shoes for a champagne dress. Not a usual shoe color choices, especially not for champagne dresses, but why not? It adds contrast, but slightly less than black shoes do, but with more color.
Although matching navy with champagne really depends on both the 'champagne' and navy colors at hand. So proceed with caution! These navy sandals from Nina are really cute and you can find more at Nordstrom.
Purse color choice: keep things simple and choose beige, white or a purse color that matches your champagne dress.
What Color Shoes Not to Wear with a Champagne Dress?
Bold and vibrant shoe colors have no place being worn with a champagne dress.
Although taste and style is relative, I'd be hard-pressed to find anyone that thinks the following shoe colors are a great match with a delicate champagne dress!
Unless you have a clear styling direction, please steer clear of the following colors when wearing your metallic bubbly-inspired dress:
Orange Shoes
Red Shoes
Yellow Shoes
Hot Pink Shoes
Green Shoes
What Shoe Styles to Wear with a Champagne Dress:
---
Shop Shoe Styles for Champagne Dresses, below:

---
Although I've touched on shoe styles and heel types to wear with your champagne dress in each color section, here's a rundown of the best ones to choose.
Remember that if you're wearing a champagne dress, that the occasion is likely formal. Hence, your shoe choices should remain delicate and refined, such as these ones below:
Minimal Sandals
Thin top strap sandals (stiletto or thin heel)
Pointed toe flats (preferrably metallic, white or beige)
Pointed toe pumps with stiletto heels
Transparent pumps
Stiletto booties: I recommend these – particularly sock booties – in the fall/winter season for an event such as a New Year's party, without a black tie dress code. Although they can make your champagne dress look edgy (especially when paired with matte black stockings), they can also make your champagne dress outfit a lot more casual.
---
Final Words on Shoes with a Champagne Dress
To conclude, I hope I've given you a good idea of what color shoes goes with a champagne dress, along with the best shoe styles to wear it with.
Most of the shoe choices are on the safe side, but there are a few more daring ones, like navy, which I hope you can try out too!
Unsure which of your shoes match a champagne dress? Feel free to ask me in the comments, below!
xo ShoeTease