The answer to what shoes to wear with skinny jeans is hugely sought out online. Not at all surprising however, since shrink-wrapped jeans have been a huge (or should I say "skinny"? bwahahahah!) wardrobe staple for quite a few seasons. And if future trend research has anything to say about the subject, it's that them tight-@ss jeans are going absolutely nowhere!
So I've decided to address this fashion conundrum & have put together an easy style guide of what shoes to choose & which ones to avoid in order to be stylish while wearing your skinny jeans in 2016!
But first: a little skinny jeans update to take you into 2017. This jean style is going strong as mid to high waisted, and distressed versions and frayed hems are still very much trending. I suggest investing in a good quality pair that isn't going to loose it's shape or color easily, so it will stay with you for many seasons to come! Below are my favorites:
Shop Current Skinny Jeans:
Lucky for us, there are quite a few staple shoes & trendy footwear types that do look best with the shrunken pant silhouette. Now since these jeans not only taper but more often than not, tighten in & around the ankles, you want to choose a shoe type that is streamlined. This, as not to make the area around your feet/shoes too large/chunky & oddly proportioned vs your lower legs & ankles.
If you've got super-skinny legs and/or excessively big feet, this is an even bigger factor which I will touch upon as I take you through each shoe style. Because, really, most of us fashion-forward ladies prefer to look like a well-clothed street style fashionista snapped by Tommy Ton, rather than a clown.
It goes without saying that style & what is deemed 'best' in fashion or otherwise is entirely relative to personal taste & culture. If you want a guide to skinny jeans that is on-trend, classy & seeking more traditional proportions seen in street style pics during fashion weeks, then this guide's for you. Because let's face it: most of us have a hard time pulling off clunky, enormous shoes with such a dainty pair of jeans! So here's your go-to guide to the various types of shoes that go with skinny jeans:
Shoes to Wear with Skinny Jeans
1. Classic Pumps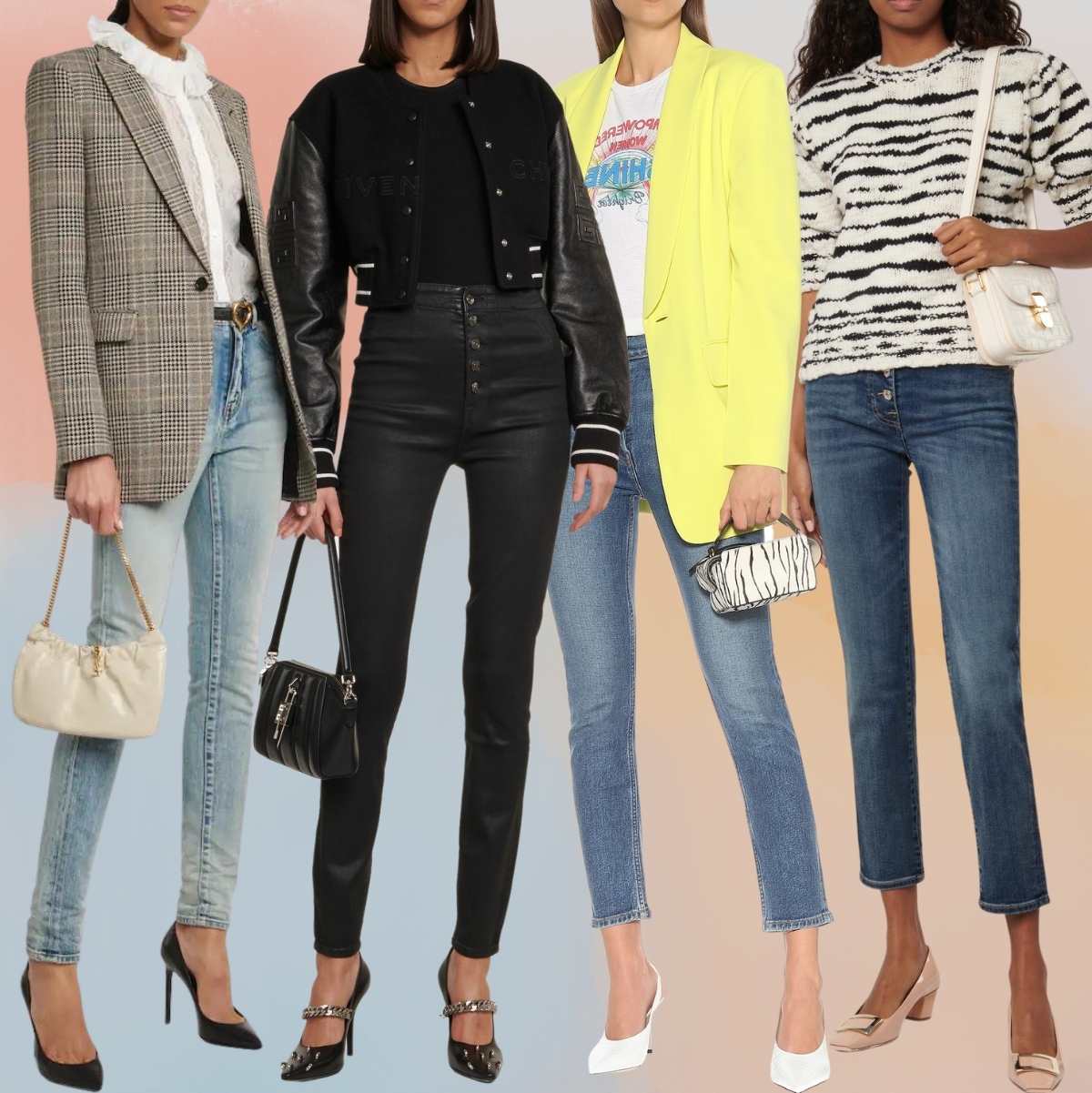 Single sole a.k.a. zero platform pumps with a pointed toe or slightly rounded toe are your best options. If you gotta have a platform, go for a minimal one. Pumps accentuate the curve of the ankle & look streamlined with the base of the jeans no matter if you've cuffed them or not. This high heel pump looks plain sexy, extremely on-trend & fabulously chic in my eyes.
I mean, it's no coincidence that retailers are currently showing off their skinny pant styles with this type of footwear, now it is?! Kitten heel pumps are also a more relaxed option if you have smaller feet. Chunky heeled version of these pumps are also a great update for Spring.
2. Ankle Strap & Cap-Toe Pumps
Another great variation of the classic pump is the ankle-strap pump with cap-toe structure. Love them in every color & pattern! Just make sure that the ankle strap is visible & not hidden underneath the jeans. Cuffing them up is a great way to show off that ankle, like I did myself, in the middle picture, above. Pumps are a great choice with skinny jeans for a casual work outfit & weekday date night or a fun night out with the girls.
3. Flats with Skinny Jeans
Your best options with wearing flats with skinny jeans is, as with pumps, a thinner sole with a tapered toe shape. Why? If you pair tight pants with a square or rounded toe shape, you'll look like a flat footed duck. Sorry for being blunt folks, but that's the hard truth!
It's also worth mentioning that if you've got a very long, lean foot, a pointed toe flat (especially in white or a bright color) is a huge (pun intended!) no-no. These will make your feet look extra long & awkward. Here below, are 3 of my favourite flat shoes to wear with skinny jeans.
Ballerina Flats & Pointed Pumps with Skinny Jeans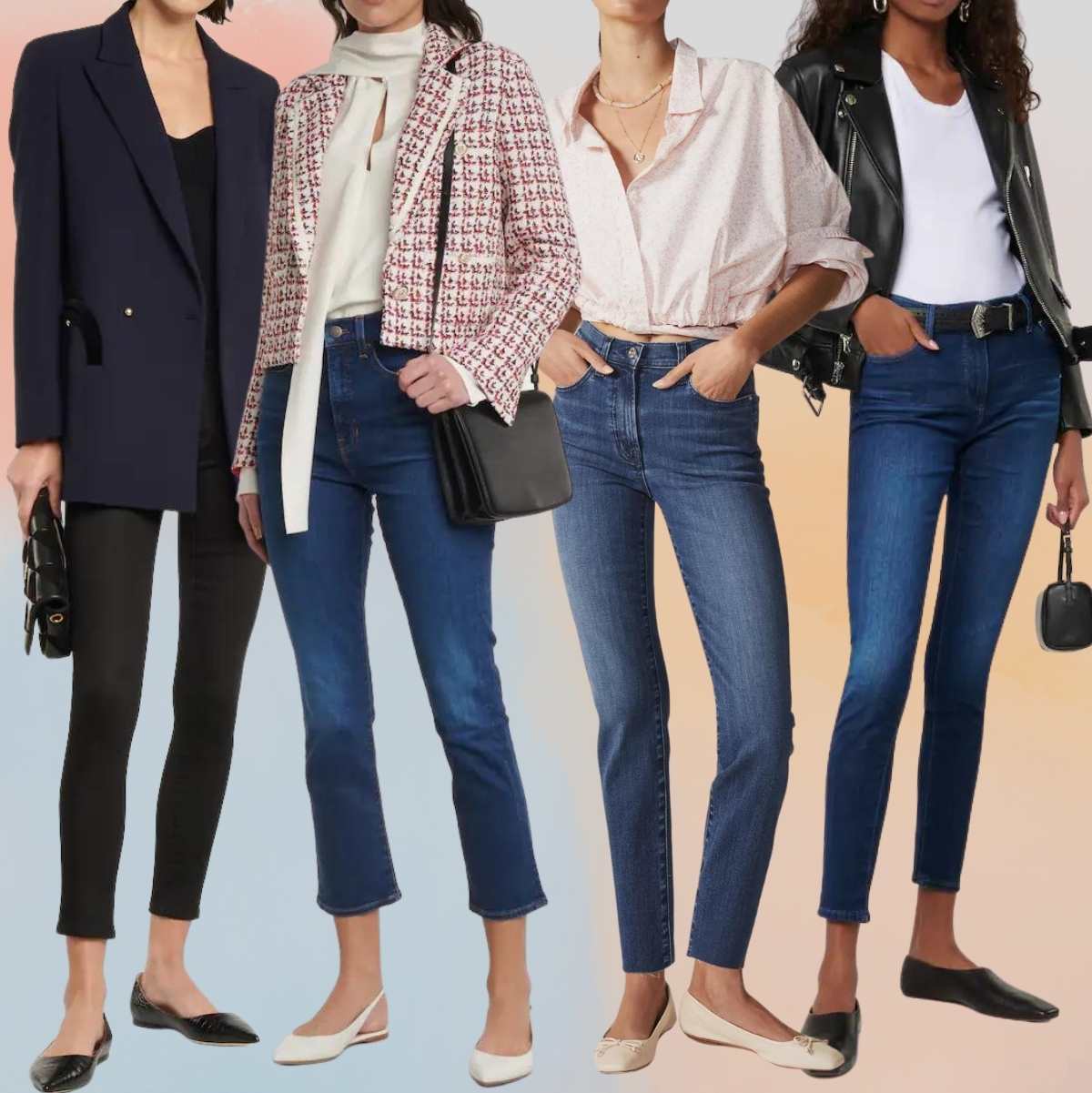 If you're going for a classic Audrey Hepburn skinny jeans & ballet flats look great. Or want to try on some new pointed toe flat pumps with straps, t-straps or otherwise? Go ahead! As long as the toe shape is not too rounded for a very small or very large sized foot. Also, watch out for pointed toe flats if you've got a ginormous foot: they'll just make them look bigger!
Classic Loafers with Skinny Jeans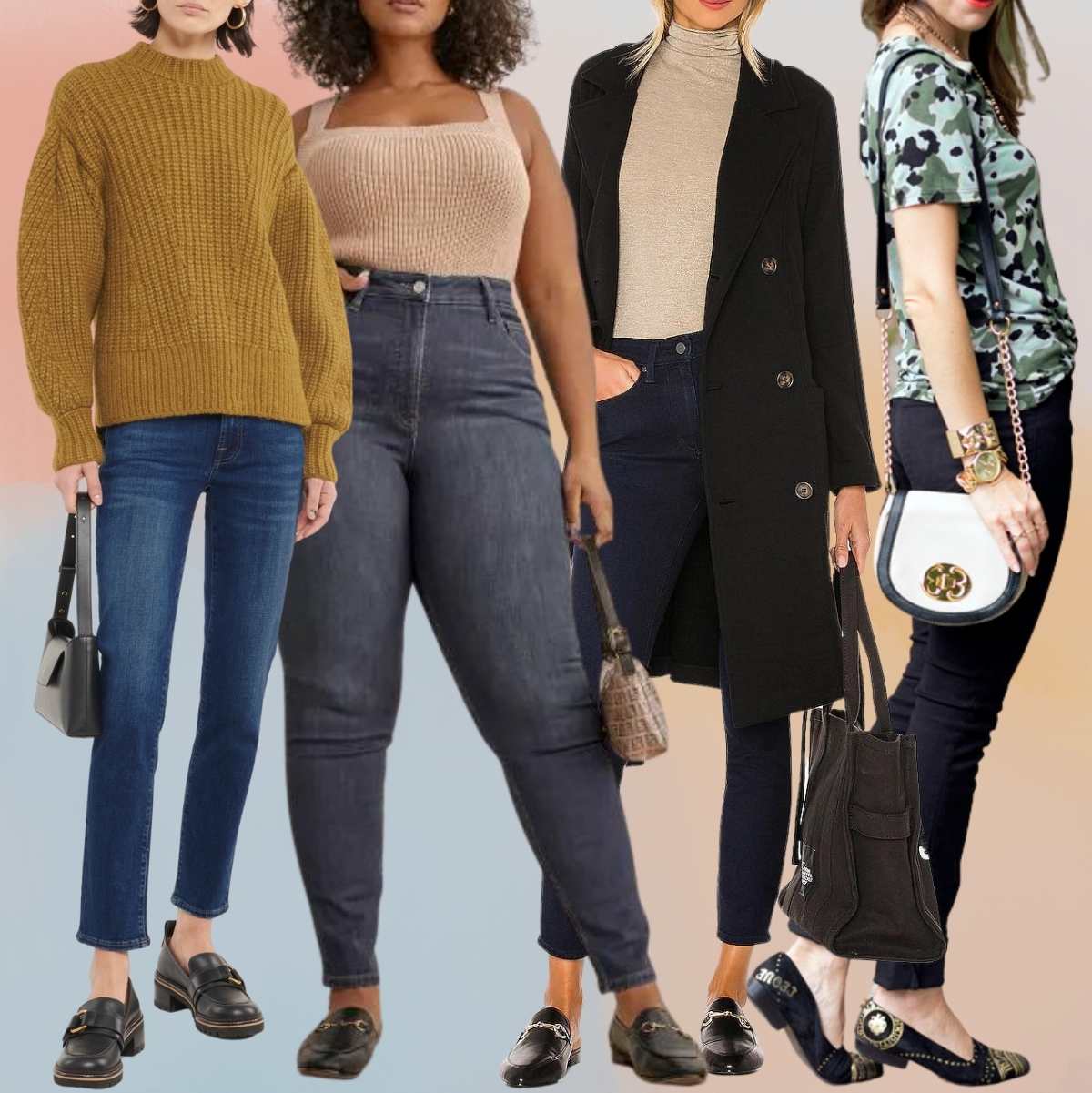 A trendy jean with a classic loafer give a slight geek-chic to your ensemble & is a great casual pairing for any occasion. Not to mention how comfortable it is. Well, depending how tight your jeans are, surely 😉
Slipper style loafers with Slim Jeans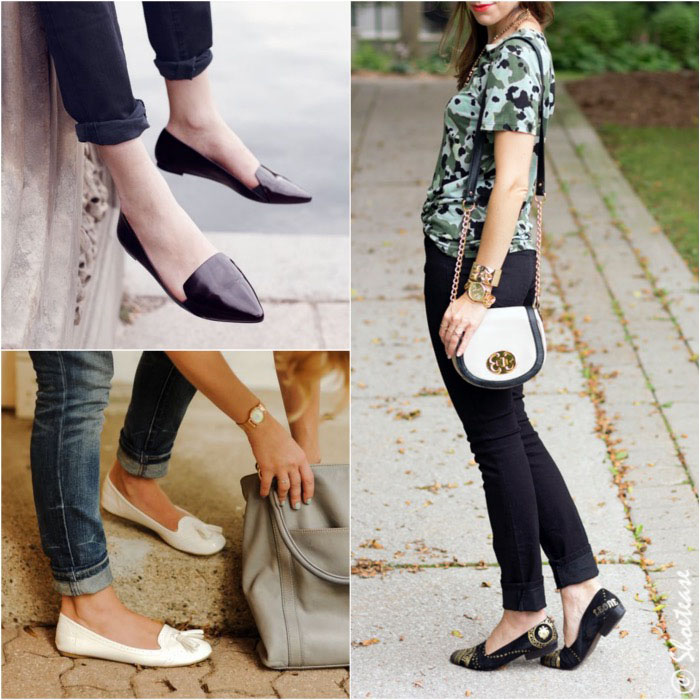 Also referred to as loafers & whatnot nowadays, I just love a slipper with my skinnies. It's laid-back, modern & chic. You can get quirky with fun styles such as with Charlotte Olympia's uber popular kitty flats! If you're opting for a pointed toe slipper flat, these shoes look best on small to medium sized feet. Pointy toe flats on large feet look oddly disproportionate to ankle hugging jeans.
Brogues & Oxfords with Skinny Jeans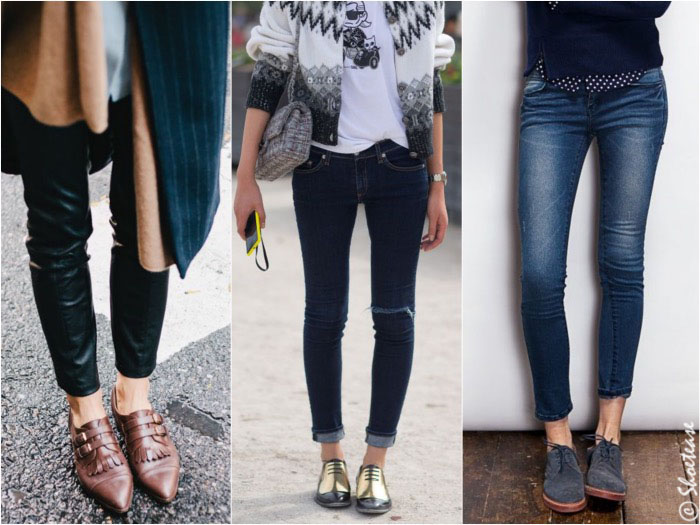 Another classic shoe that, with an updated look & modern twist (pointed toe, metallics, contrast outsole etc), will instantly update your skinny jeans. Brogues, Oxfords or any type of laced-up or buckled monk-style menswear inspired shoes work really well.
Now available in many shapes & sizes, I find the almond toe or pointed toe shapes to be best suited to this pant. But again, if you've got a long foot I'd opt for the former, rather than the latter toe shape.
4. Strappy Stiletto Sandals + Skinny Jeans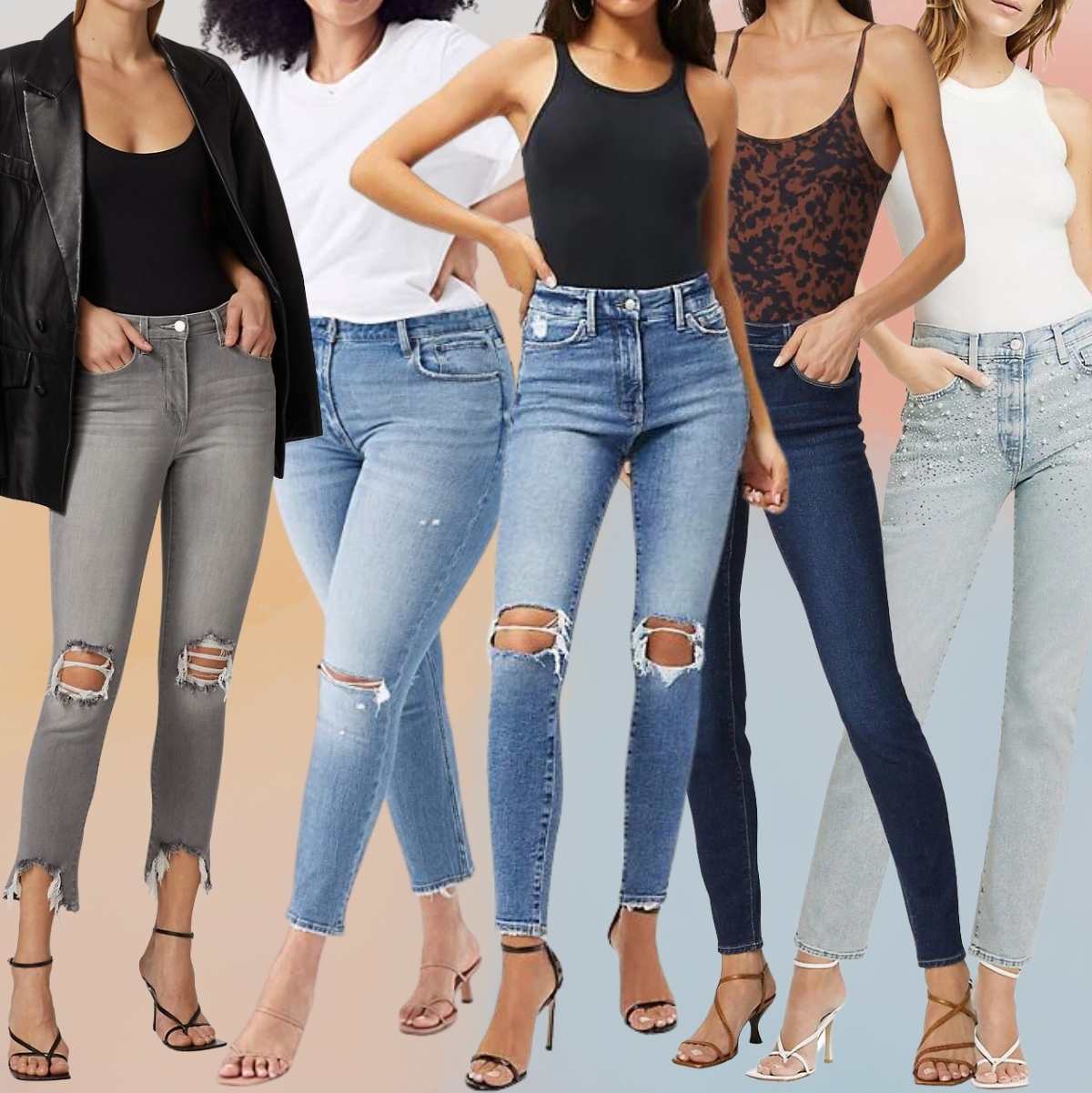 Strappy, lace-up sandals are not only a huge shoe trend for Spring & Fall 2016, but they look incredible with skinny jeans. They have a lot more going on than their pumped counterparts & give a fun textural quality to the bottom of the outfit. Both high heel styles & flats (see below) work great! The A+ grade PERFECT sexy shoes to wear with skinny jeans!
5. Skinny Jeans with Wedges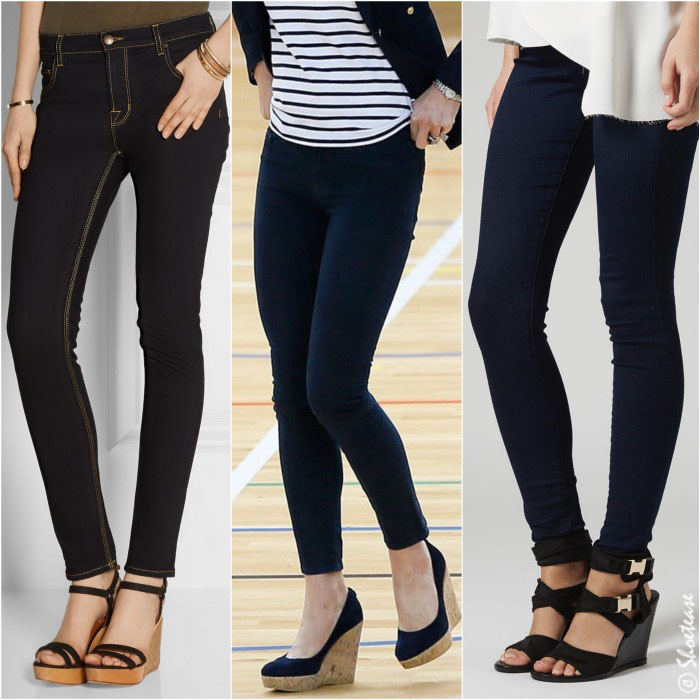 Platforms are a tricky type of shoe to wear with skinny jeans. Some can look good, like above, but other can look absolutely terrible (scroll down post to see which shoes not to wear with tight jeans!!). Skinny jeans with wedges look best with a sexy wedge.
Try to pair your skinnies with a wedge that has the following traits:
a lower platform at the front compared to the height of the heel
an almond or slightly pointed toe shape
an inward-curving heel shape, rather a blocky one that shoots straight down
6. Minimal Strappy Sandals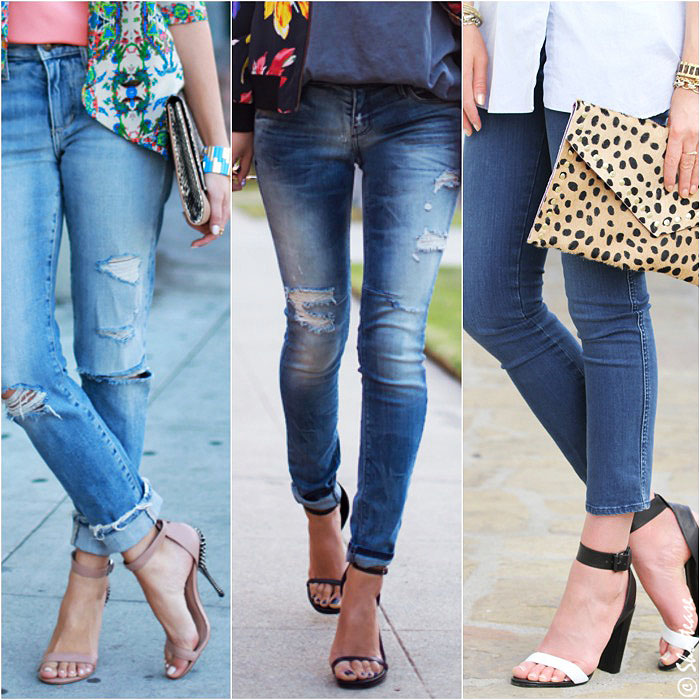 Didn't think I'd write up a "what to wear with" shoe post without including minimal sandals & Stuart Weitzman's Nudist, did ya? Always a a pretty shoe with a simple ankles & front strap that beautifully enhances the foot & leg. So, perfect with skinny jeans, and anything else, really!
Any color works, although with such dainty shoes, I prefer solid colors & color blocking. If your sandals have chunky heels or stilettos, they will look fab either way. Make sure to roll up those jeans to show off the ankle straps!!
7. Gladiator sandals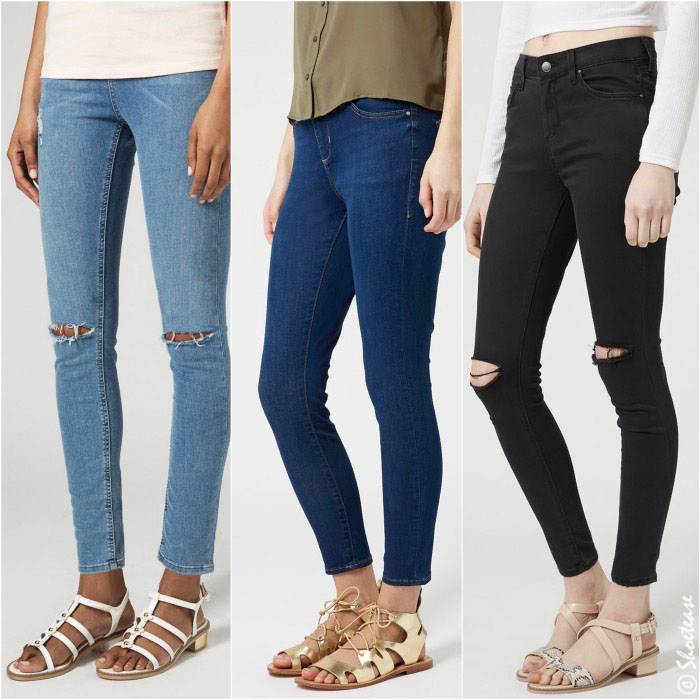 Another huge Spring to Fall 2016 fashion trend is the gladiator sandal, both knee & ankle high. But, please, please please avoid the high gladiators with any long pant. No one wants to see them laced over pants (so weird)! However, ankle height strappy low-heeled or flat gladiators are a heavenly look for with tight jeans: they're fresh, light & let you show off your pretty ankles!
8. Chunky Heels & Booties with Skinny Jeans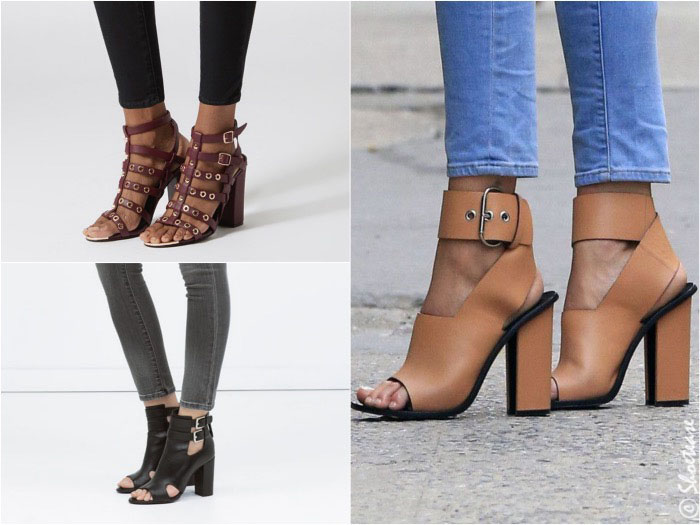 Chunky heel shoes & sandals are another enormous shoe trend continuing in 2016. Whether strappy or otherwise, chunky heels are a great choice for your skinny jeans. Single-soled are again best, but if you really want a platform, make sure it is a fraction the height of the heel, as pictured above. Otherwise your feet will look clunky & not in tune with the slim look of the pants.
Shoes NOT to wear with skinny jeans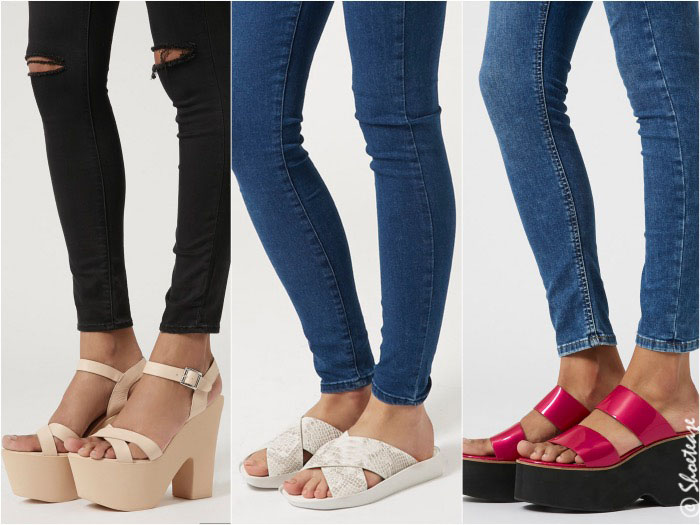 So again, if you're personal style calls for it and you can rock the look, go crazy. But generally speaking, the following shoes not to wear with skinny jeans will appear too heavy with respect to your tight jeans & do anything but flatter. How so? They'll make your feet look blocky, unattractive & stumpy. But if that's your style, then who I am to stop you?!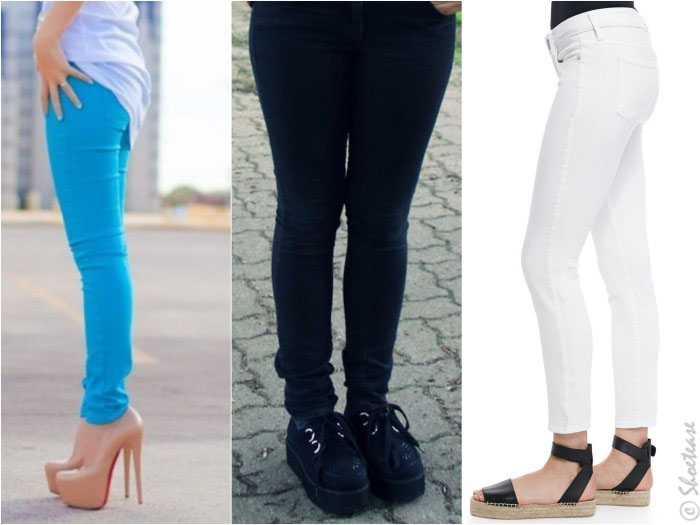 Flatforms: the higher & blockier, the uglier. They'll make your feet look really long, flat & unsexy.
Creepers: tall & rouded. Like loaves of bread. See above, middle image.
Platforms (see exceptions as listed in the above "Sexy Wedges" section)
Birkenstocks & the "Ugly Sandals": you'll appear to have duck feet in these
Rounded-toe platform pumps: Hey, if you want to look like Minnie Mouse or think Arianna Grande has great taste, then go nuts! But in terms of trend factor, this is a dated shoe which should probably be reserved for under your VERY long flared jeans. But with skinny ones, they look too clunky & a little trashy in my style books. See Louboutins, above, with pale blue skinny pants.
In conclusion, when figuring out what shoes to wear with skinny jeans, you want to go for shoes that won't make your feet look too large, long or pointy. The best heels to opt for are single-soled heels, or a platform that is much lower than the heel itself. When thinking about flats, again, foot size is very important & will ultimately figure into whether the shoes compliment the silhouette of the jeans.
But what about BOOTS? And SNEAKERS??? Why didn't you have a section on those types of footwear to wear with skinny jeans, you ask?! Well, folks, you're in luck: I've written up an in-depth post about which sneakers with skinnies look best & the most stylish boots with skinny jeans to wear the current & upcoming seasons. Just too many shoes to wear with skinnies to fit into one post!
Maybe you're ready to venture from your skinnies to some flares? If so, I've got you covered! Learn about the best shoes to wear with flare jeans here 🙂
xo Cristina
Photo Credits: google.com, zara.ca, topshop.com, asos.com, bananarepublic.com, netaporter.com