So winter is in full swing & you're itching to take a relaxing holiday, preferably somewhere warm, on a beach. I feel your winter blues pain, as I've been scouring for good deals to the Caribbean myself!
But what to pack, especially which shoes to pack for the beach has many of us scratching our heads. Hence, the need for a shoe-related beach vacation packing list!
Trust me, I was the first to require sorting one out, so I thought I'd share a few tips on the shoe blog from past lessons learned 🙂
Why do we worry about what shoes to pack when you're going to the beach? Because we don't want to pack too few, but don't want to pack too many pairs either.
Especially because shoes, unlike summer clothes & those itty bitty bikinis, take up loads of space & are often heavy.
What can I say; travel brings out the worst qualities in our shoes! And not to mention, most of us have to take those pesky baggage allowances into account, right!?
5 Shoes for Your Beach Vacation Packing List
So for you, here's a straightforward, no-nonsense shoe packing list with the top 5 shoes to pack for your next beach vacation that's helped me save a ton of time in the beach footwear sorting department. So happy reading & more importantly, happy packing!
1. Rubber Flip-Flops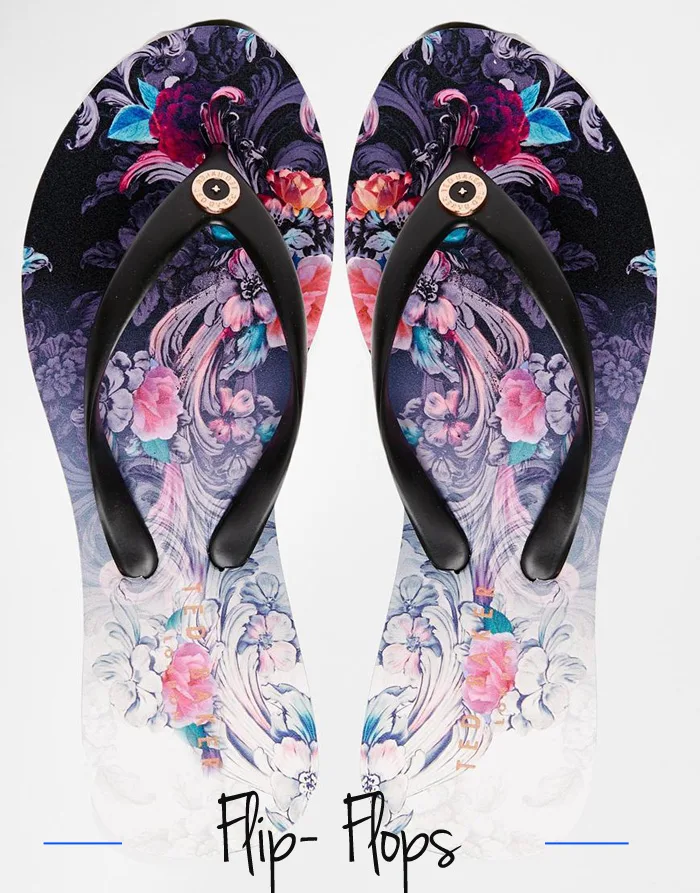 This one's an obvious no-brainer when thinking about what to pack for a beach vacation! That being said, there are often flip-flops (or "thong sandals" if you prefer) that aren't quite as practical for the beach as we'd think.
So when taking flip-flop sandals to the beach, you may want to take the following tips into consideration:
Bring a simple thong or slide that can be fully immersed into water & doesn't have any loose baubles, glitter or ornaments that may wash or loosen off
Make sure the upper is snug on the foot & has a bit of outsole traction to allow you to easily walk on sandy & wet slippery areas
Bring a pair made of non-absorbing materials. Let me explain: I have flip-flop sandals that I absolutely love to wear in & around Toronto, but the top is made of terry cloth. When I've brought them to the beach or pool, the upper part absorbed the water & took forever to dry. So annoying!
These are the shoes you will likely wear the most on your beach vacay, so make sure they can take a good beating. Sand is known to be "rough" for a reason!
Always pack an extra pair too, so if one craps out, or you lose one to the wind, you have a back-up plan! Also good to have an extra to use as slippers in your hotel room.
2. Light Sneakers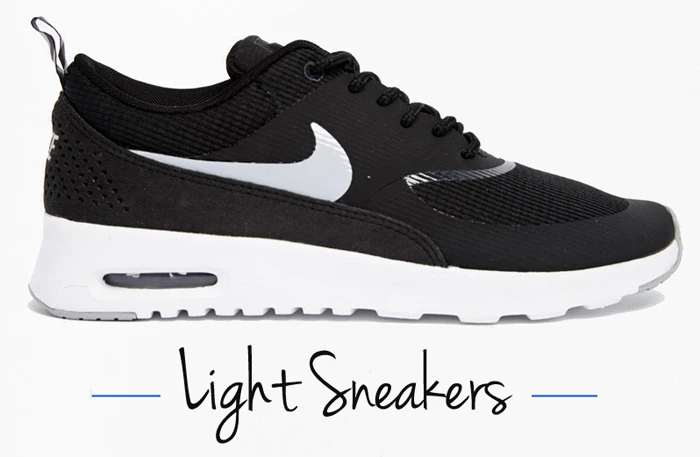 Sneakers might not be your first shoe choice when organizing what to pack for a beach vacation, but they're always and I mean always a good idea. Why? Because when travelling, it's always bring one closed toe shoe. Even when packing for the beach!
You never know what the weather will be like or what your actual needs will be when you get to your destination, so it's always good to keep your options open. Other reasons you may need running shoes on your feet:
One word: Travel.
Light, breathable sneakers are a sheer necessity for the actual travel portion of your trip, in my books. 3 reasons:
Not only might you be leaving from a snowy, cold place (like Canada, yay) & don't want to freeze your toes off.
Planes, trains & automobiles themselves can be cold. Like, really cold!
And 3? Sneakers will prevent you from seriously hurting your feet or toes during potential travel mishaps, such as luggage/cart toe rolling & foot stomping by other, unaware passengers (let's blame children primarily for this one shall we? 😉
Fitness:
Yes stylish running shoe are not just a great idea for the actual travel portion of your, well, travel, but they'll come in handy during related activities. This is obvious if you're wanting to hit the gym.
Maybe most of us get too lazy & would rather lounge on the beach all day, but wouldn't it be nice if we had the option if the mood swung in that direction (or we felt mighty guilty of those 3 servings of chocolate cake the night before!?).
And let's not forget about those rainy days that might keep you off the beach for hours at a time & into the weight training rooms.
Excursions:
But maybe there's an excursion you didn't think about going on that will require you to wear comfortable/closed toe shoes for long treks?
Or you didn't realize rock climbing/tennis/other was available (free of charge!) & you wanted to play? All the reasons you should definitely pack some running shoes for your next beach vacation!
3. Wedge Sandals
Of course, no leisure vacation, no matter what the location should omit a fashionable & fun pair of high heel shoes. Unless you're going on a safari or climbing Machu Picchu, of course!
Packing a walkable high heel with a wedge for your next beach vacation is a great idea, because they're an easy way to chic up even the most simple outfit, so you'll be easily prepared for romantic dinner or fun night dancing, to show your legs off!
Not to mention with the 70s trend in full force, they're an easy way to keep your look updated & stylish.
But because of the nature of a beach vacation & the variety of "grounds" you'll be stomping on, I'd recommend a sandal with a wedge & even some sort of platform, preferably in a woven, breathable material such as canvas or raffia (better for breathability in tropical climates).
I'm partial to cork & weave heeled wedges, which are more resistant to scrapes & scratches. If you're keen on leather or suede, choose smaller the straps, so your feet won't get too hot & sweaty. High heeled espadrilles are a great choice too!
4. Fancy Flat Sandals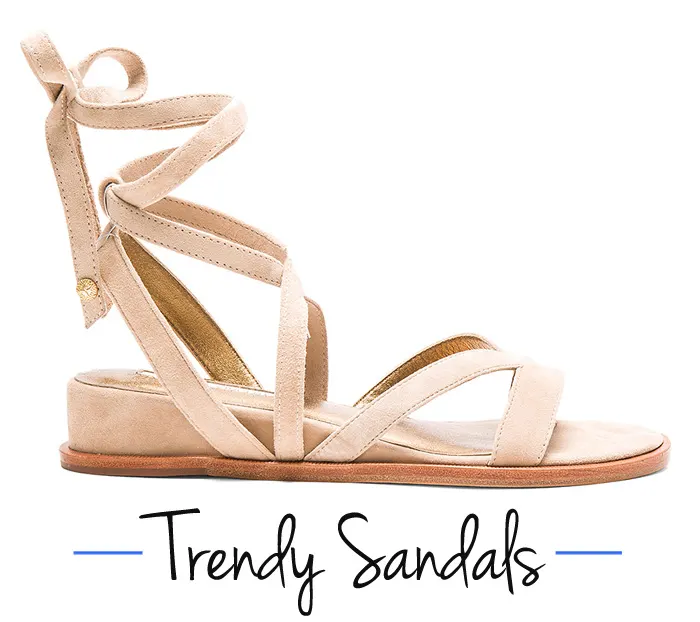 Because sometimes, folks, flip-flops just aren't going to cut it. And neither are our high heels. Maybe our legs are tired from too much lounging around or certain locations aren't conducive to a higher height? Who knows?!
Adding a trendy flat sandal to your beach vacation packing list is always a good idea in order to keep your footwear options open.
And a fun, trendy flat sandal is the perfect alternative to thong sandals, as they won't make you look like you just got off your lounge chair.
It's also a great shoe to wear on a stroll to the nearby city & not look like a tourist. I suggest a sandal, because hot climates & closed toe shoes really do not mix!
So what are the trendy flat sandals you should get your hands on? Well, it's all about statement flats & if you didn't grab the latest style from last Spring/Summer season, you've got loads of choice in the sale department right now!
Depending on your personal style, I'd suggest a chunky sporty chic slide or sandal or a sexy lace-up or gladiator sandal.
At this point, you can do no wrong with either an eclectic shoe that is comfortable, or a style that laces up at the ankles! I prefer the latter, but to each their own 🙂
5. Water Shoes for the Beach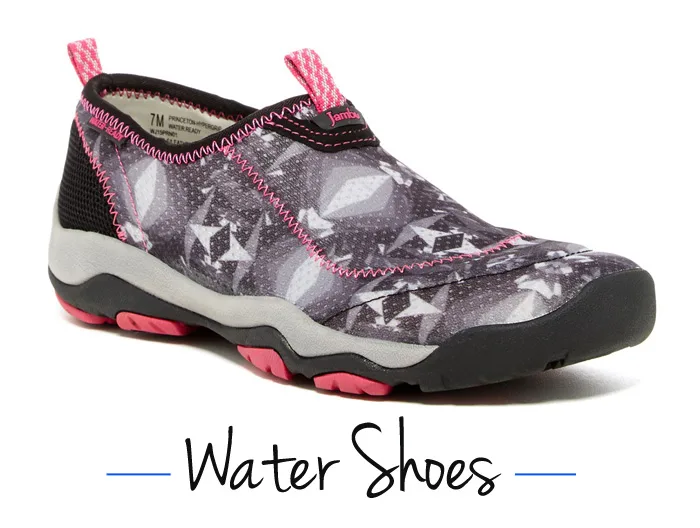 This one is often neglected as a shoe type to pack for a beach vacation. As with sneakers, you never know what activities or conditions you might run into. And if you don't do your research beforehand, you may more often than not be unpleasantly surprised.
For instance, not all the beaches in the Caribbean or other parts of the world offer solely powdery white sand.
Some shores are dark, coarse & rocky. Such as those in Costa Rica or the pebbly beaches of Nice, France, just to name a couple. And your feet may not like the feeling.
But in the event that you don't want to spend the money on a pair of water shoe, water socks are just a great & even lighter & easier to pack.
These are pretty much tough socks with shoe-like rubber outsole grips on them. Kayaking & wakeboarding are just a few sports where water socks or shoes are a good idea.
Why not just bring a Teva style sandal instead? Well, these being open, won't shield you from pebbles, rocks, glass & spikey coral. And it's always a good idea to have your entire foot covered & protected on certain terrain.
In addition, you won't have to worry about loose securing velcro fastenings, or any fastenings at all, really!
---
I hope that after reading this, I've lessened your shoe travel woes with respect to what to pack for a beach vacation!
I know that adding these 5 shoes to my own beach vacation packing list (& eventually my suitcase) does make my pre-travel life a little easier. So wherever you might be off to, have a wonderful vacation!
Want more shoe travel tips? Check out my recent post featuring 5 travel accessories for boots & shoes to help you pack & keep organized during your various jet-setting travels!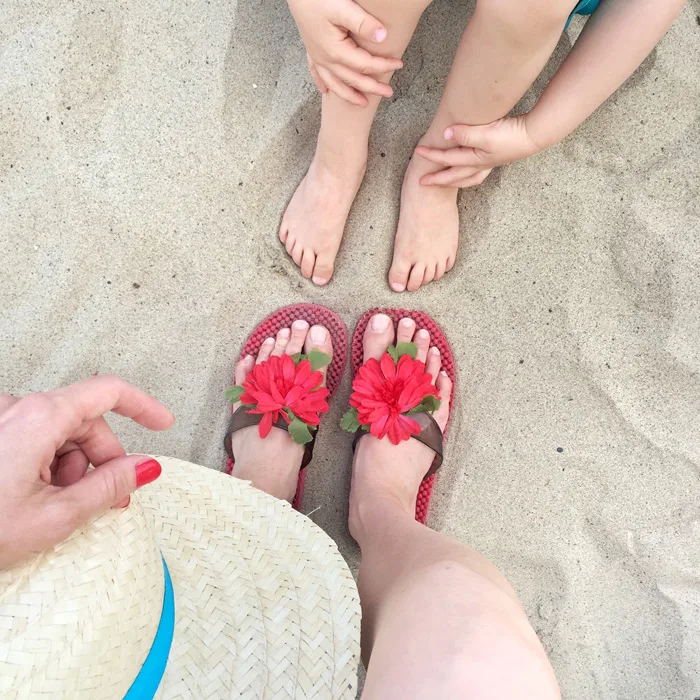 xo ShoeTease