Stuart Weitzman Nudist VS Steve Madden Stecy
Stuart Weitzman's "Nudist" Sandal has been the shoe trend phenomenon this past summer, worn not only by a multitude of celebrities during red carpet appearances (it's been the IT shoe since 2014 after all!) but also featured on a slew of fashion bloggers' feet.
The minimalist sandal will surely continue trending & even though we are transitioning into Fall, the barely-there sandal is a great staple to have in your wardrobe for indoor cocktail parties, special outings & a wedding reception or two!
These are exceptionally great shoes for gold dress es & sleek pairing when wondering what to wear with a sequin dress. It's the perfect shoe for when you'd like your clothes to speak louder than your footwear. For once! Oh & did I mention some of the copycat colours are now on sale?!
Although there have been a vast array of less expensive "nudist" copycats around, the knock-off sandal style that comes the absolute closest to Weitzman's more expensive version, is Steve Madden's "Stecy". Not surprising, really, as Madden could easily be crowned King of designer shoe knock-offs (well, maybe? possibly? second to Jeffrey Campbell? Of course, we can't forget Zara!).
The Madden brand is really, really good at their unrelentless copying (see its take on Brian Atwood here!), which is more than evident with the outcome of the "Stecy". Online reviews of Madden's $80, more affordable shoe version have been mixed, as it seems to fit a slimmer foot & ankle, which from what I understand is a close fit to the actual Nudist itself. A true look for less shoe, then!
Here is a rundown of the specs of each shoe style to give you a better idea, along with celeb & blogger street style imagery pinched from Pinterest for visual comparison.
Stuart Weitzman "Nudist"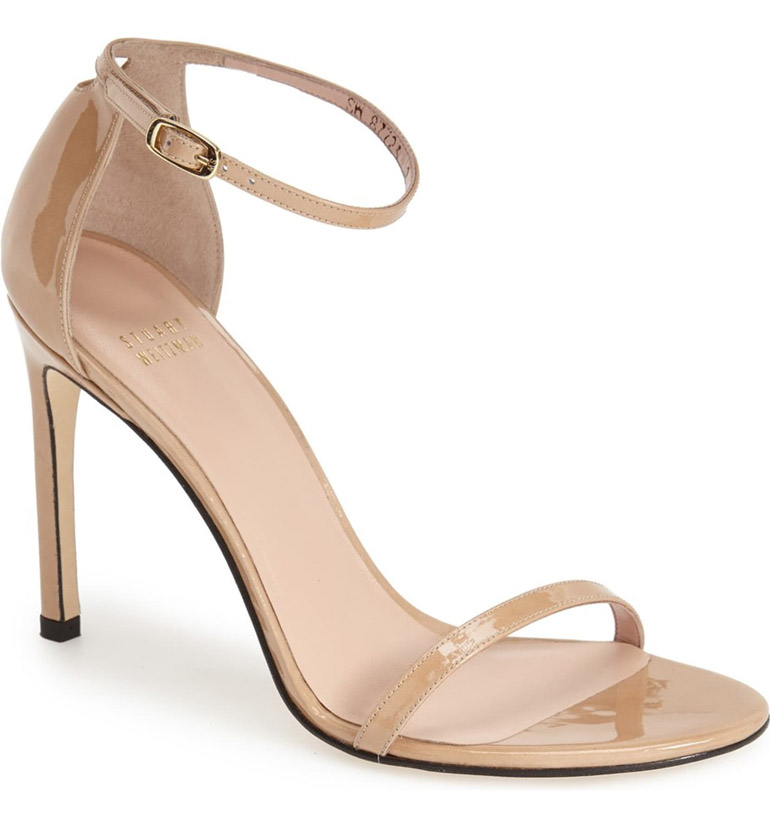 Materials: Leather upper, lining & outsole.
Heel Height: 4 1/2″
Other: Adjustable ankle strap with a buckle closure. No insole padding.
Retail Price: Starting at $400
So yes, the Madden version has a slightly lower heel & padded insole (which can be considered added value, allowing for greater comfort!). It has a synthetic lining & outsole vs. leather ones. The toe strap is slightly thicker. But all in all, it's an aesthetically pleasing duplicate & if the fit of the shoe works well for your foot, it's definitely a bargain at 1/5 of Weitzman's original.
Definitely a great look for less! Unless, of course, you've seen the Wolf of Wall Street & have a developed a deep-seeded issue with Madden's shady past 😉
UPDATE! An all NEW Nudist with 3.37″ heel named "NudistSong" is now available! Perfect for those (like me) who have trouble with heels over 4″ 🙂
Shop Stuart Weitzman "Nudist":

Shop Stuart Weitzman "Nudistsong":

Steve Madden "Stecy"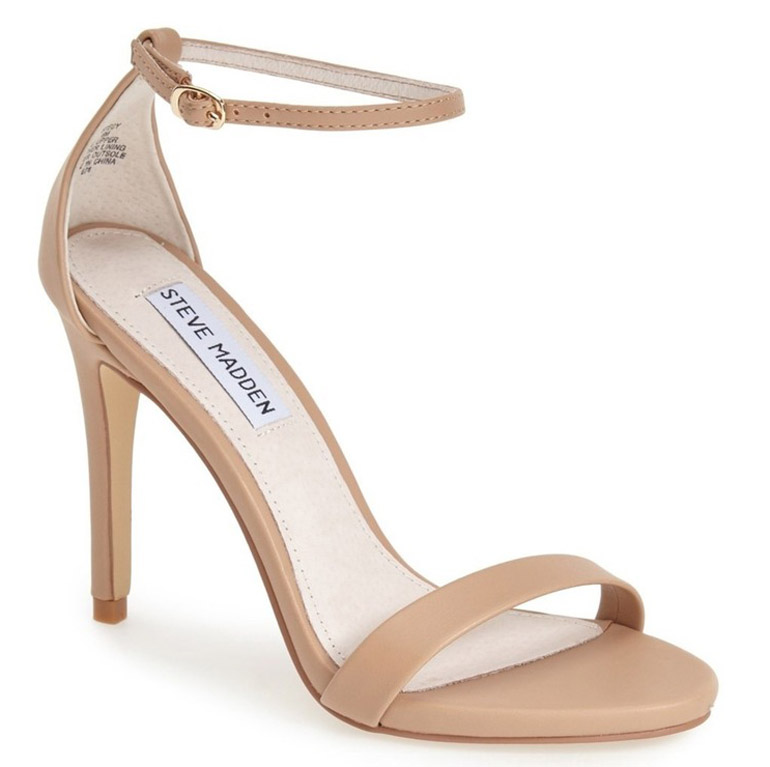 Materials: Leather upper. Synthetic lining & outsole.
Heel Height: 3 3/4″
Other: Adjustable ankle strap with a buckle closure. Lightly padded insole.
Retail Price: Approx. $86
Shop Steve Madden "Stecy":

xo Cristina