Looking for boyfriend jeans outfits, where the styling starts from your footwear? Then keep reading this post on shoe-tease.com! I'm going to be walking through what shoes to wear with boyfriend jeans with a variety of shoes.
There are many great shoes to wear with jeans, including your BF jeans. From boyfriend jeans with boots and heels, to boyfriend jeans with sneakers, flats and sandals, there are more than a few handfuls of shoes you can wear with your fave comfy fitted jeans.
I mean, most shoes go with boyfriend jeans. But how you wear them is fundamental!
What are boyfriend jeans?
Boyfriend jeans are mid to lower-rise jeans. They are a bit roomier in the hips and leg areas than, say, slim-fit jeans. Their more relaxed fit isn't quite baggy, but some versions can be.
Some retailers refer to them as girlfriend jeans, when the style is more tight fitting, especially around the hip area. Boyfriend cut jeans have continued to evolve since the late 1800s. There always seems to be a fit of these pants in style each season!
Some boyfriend jeans can be considered wide-leg jeans or baggy jeans. Others are somewhat tapered, and many have a straighter leg. You can find many cropped, ankle and just-below-the ankle versions too.
Are boyfriend jeans still in style in 2023? Yep, they are. Maybe mom jeans are a tad more popular at the moment, but boyfriend jeans have become a denim staple.
These can flatter everyone, including women of all shapes, sizes and ages. Especially with the right accessories – hi there shoes! These can bring you on-trend.
Although the preferred way of wearing boyfriend jeans with shoes is more casual, you can surely elevate a darker denim pair with the perfect shoes. Dressed up or down, boyfriend jeans with boots, sneakers or heels can look fab.
See the 22 best shoes to wear with boyfriend jeans below! I will also show you how to wear them with the right top, jacket and complete with the right bags & smaller accessories.
Wondering where to purchase boyfriend jeans? Have your pick from Saks Fifth Avenue, Zappos, MyTheresa and Revolve.
What Shoes to Wear with Boyfriend Jeans – 22 Options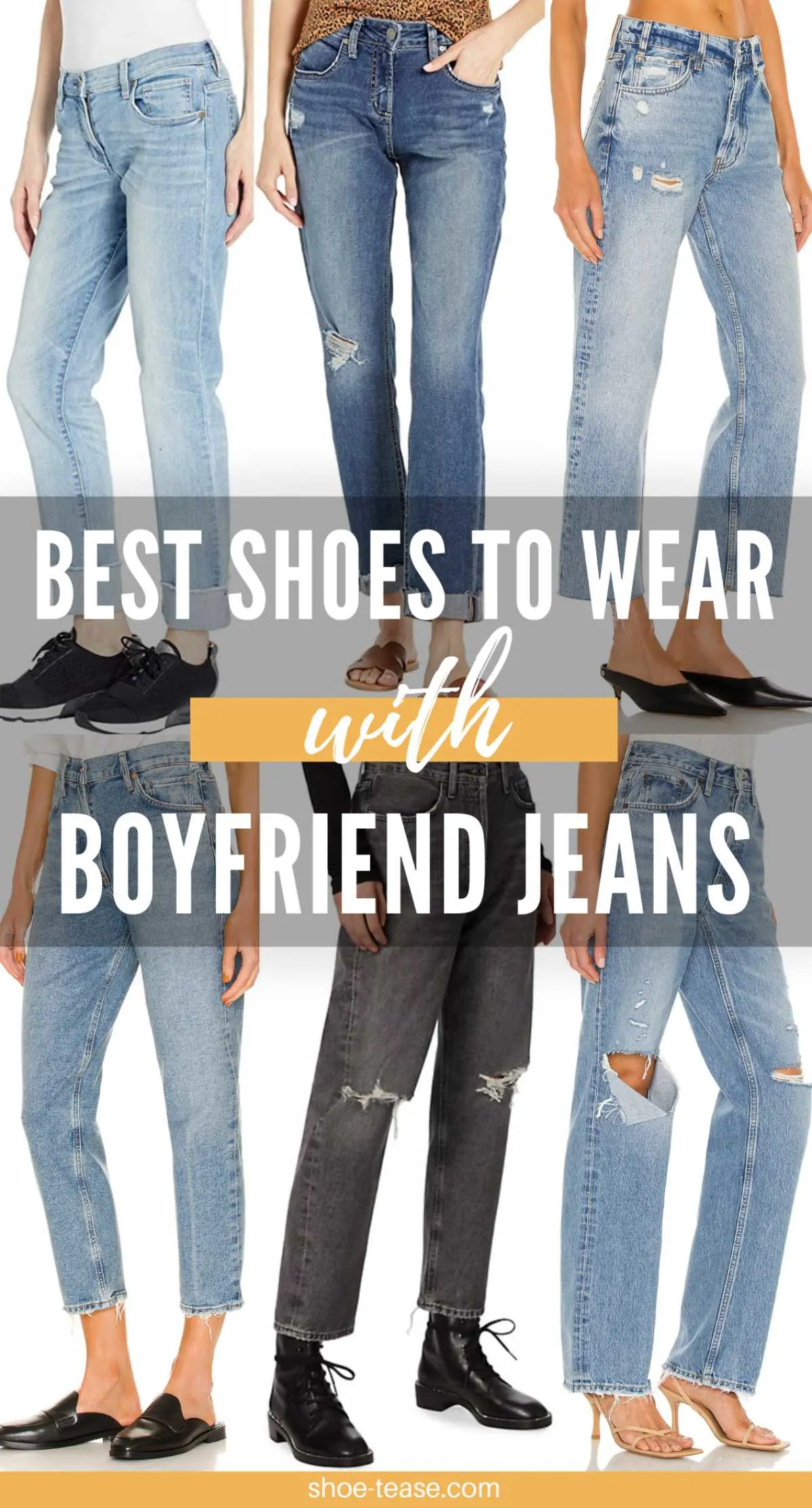 Boyfriend Jeans with Sneakers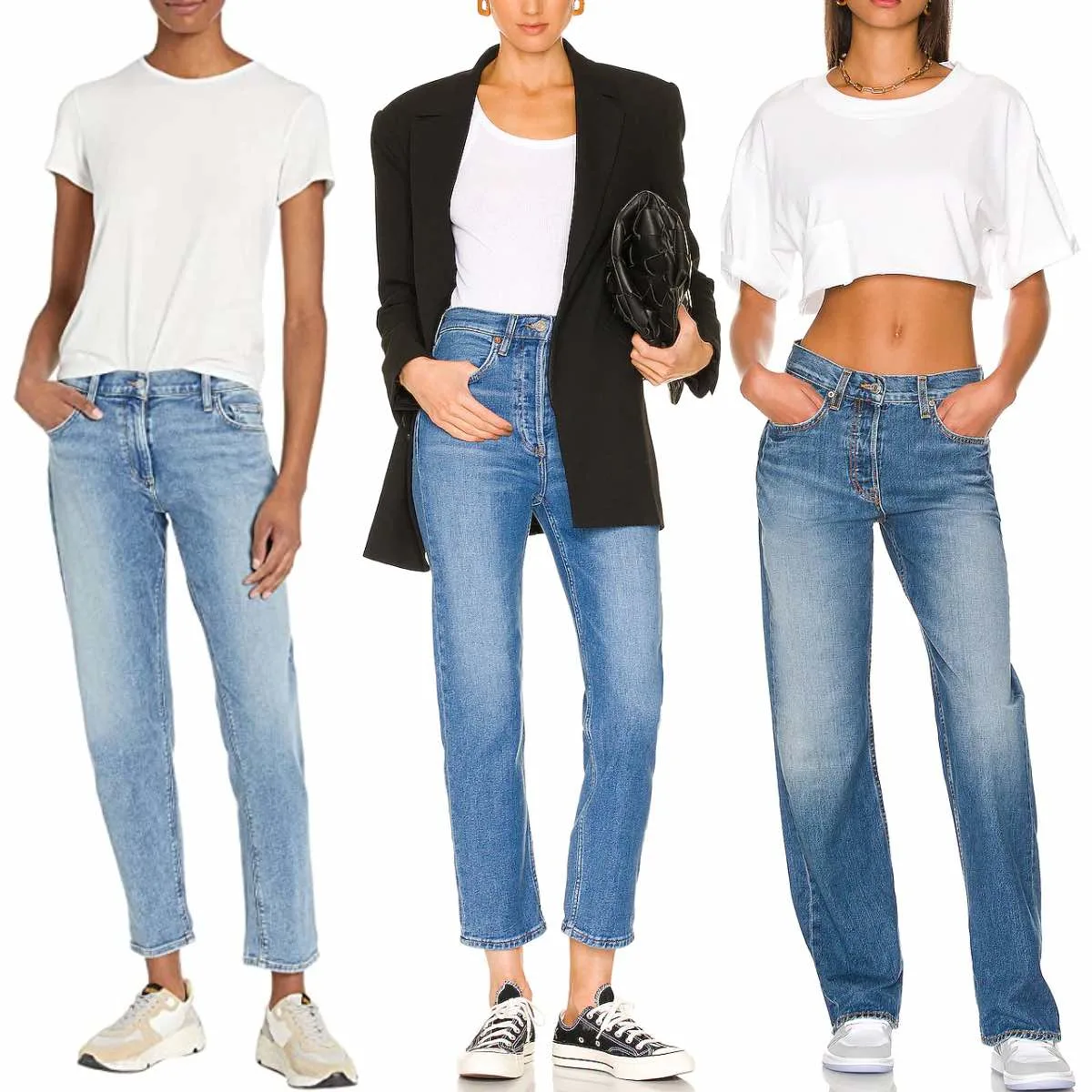 Who says style can't be comfortable? There are so just many different sneakers to wear with boyfriend jeans! Just to start, let's include retro, platform, sporty and high-top sneakers in the mix.
For casual outfits and beyond, sneakers and boyfriend jeans are an easy everyday go-to. Read on to learn how to style boyfriend jeans and sneakers and how to complete the look!
White Classics with Boyfriend Jeans
Some of the best sneakers to wear with boyfriend jeans outfits in the summer through fall — but can also work year-round — are classic white lace-up sneakers. Or, in other parts of the world, known as tennis shoes.
White sneakers – as long as you keep them squeaky clean – always look fresh. You can choose a classic pair from Veja, Superga, or Vans, or put on a trendy leather pair like luxury sneakers by Golden Goose.
There are many white sneaker styles to choose from, so you're bound to find a fave with your boyfriend jeans! Complete your look with a rocker tee, oversized blazer and gold hoops.
Retro Sneakers
So many sneaker brands have amazing retro sneakers to select. Some are fun & colorblocked, while others are grey toned and monochromatic if that's more your style.
This will add a cool vibe to your boyfriend jeans outfit and are perfect for when you want to keep things fun and casual.
Choose from trendy retro kicks from New Balance, Rebook, Nike and Adidas. Add a simple tee and minimal jewelry and layer with a trench and off you go!
Slip-On Sneakers
Slip-on sneakers with boyfriend jeans are a no-nonsense pairing. I love how easy they make completing an outfit and can be extra fun in snake print or metallic leather!
Even in non-white colors, they're so easy to wear and style. They'll take you from doing the groceries to school pick-us in total sync with your boyfriend jeans. Add a loose blouse, a leather jacket, a cross-body bag and you're all set.
Chunky Sneakers with Boyfriend Jeans
Chunky sneakers and boyfriend jeans are a stylish duo that adds a dose of youth to your look. Eye-catching and trendy, Gex X has taught us a thing or two about how to rock boyfriend jeans with sneakers that are chunky!
You can choose from a chunky dad sneaker, Alexander McQueen's oversized lace-ups to the new chunky Nike that just popped up in stores. Add a timeless touch to your look with a beige trench coat and leather handbag.
Platform Sneakers
You might not think of platform tennis shoes when you think of pairing boyfriend jeans with sneakers, but they will add extra fun, not to mention height. Your legs will look miles long when coupled with somewhat higher-waisted jean silhouettes.
Vans and Converse have made so many platform sneakers to choose from. Wear them with a simple black tank and leather jacket to keep things casual-cool.
Boyfriend Jeans with Boots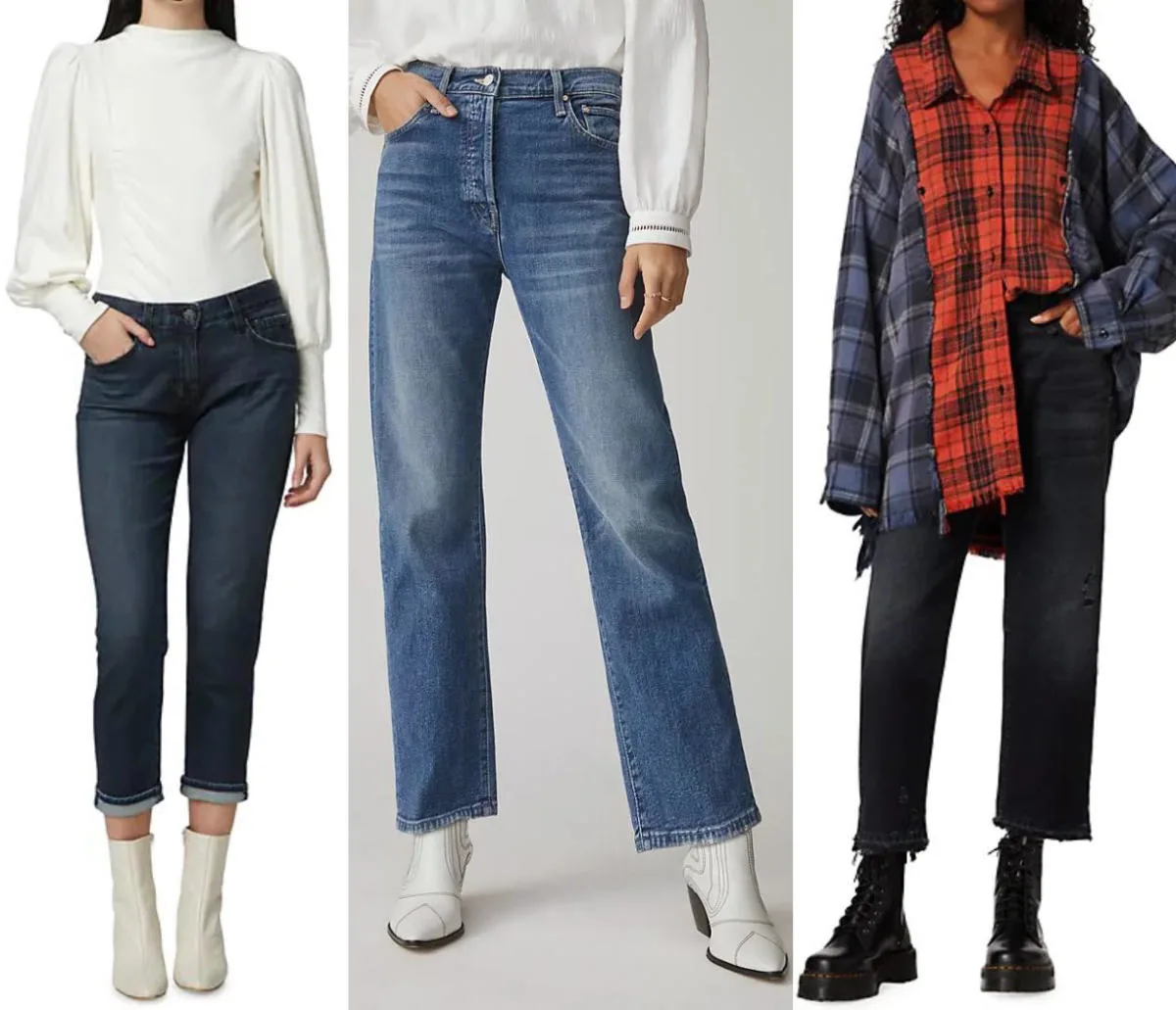 If you're interested in what boots to wear with boyfriend jeans, I've got you covered. From combat boots to ankle boots, there's hardly a pair that won't look great with boyfriend jeans. So many types of boots for women, but so little time!
Learn how to wear boyfriend jeans with boots so you can just slip into your boots and head on out! All the best boot styles, below.
Leather + Suede Ankle Boots
For cooler months, simple leather ankle boots or low boots will look fab with your boyfriend jeans. Roll them up to show off your ankles and make your outfit more casual.
You can pair high-heeled black leather ankle boots with dark frayed hem BF jeans, a white silky top with a slick blazer for a night out. Block, stilettos heels or low-heeled version? The choice is yours.
Learn about all the ankle boots to wear with jeans in my recent post!
Ankle Boots We Love:
Combat Boots with Boyfriend Jeans
Combat boots with boyfriend jeans outfit make for a great combo. They offer enough comfort that you can chase after a good deal at the mall – or your kids – and still look perfectly on point.
The trendiest combat boots have chunky outsoles at the moment, which will add a cool edge to your look. White, black or patent burgundy are great boot choices. Find great ones from Doc Martens and Steve Madden.
If you want your combat boots more classic, pick a timeless pair from a renown-quality boot company such as Taos, Frye or Rockport. In the summer months, opt for light wash boyfriend jeans with lazer-cut leather or canvas combat boots to keep cool.
In the winter, choose a darker boyfriend jean wash with waterproof combat boots to keep you dry. Both washes of boyfriend jeans will look great with any type of boots! Check my post about what to wear with combat boots for more styling inspiration.
Combat Boots We Love:
Cowboy Boots
Have you ever just felt like yelling yeehaw because your outfit looks so darn fabulous? That's the kind of effect that Western ankle boots can have. Whether you tuck in the hem of your jeans or let them simply flow over the boots, you'll create a winning look!
Western boots, whether knee high or ankle height, have chunky heels, so they're extra comfy. Choose a studded or snakeskin pair for an added la-di-da.
Add a western belt and crisp or denim shirt if you're wanting to take the western look all the way. Cowboy hat is optional!
Chelsea Boots
Chelsea boots look great with the casual appeal of boyfriend jeans. Cuff them right above the top of your boots, let them fall over the jeans, or tuck them in. For a more laid-back vibe, choose a pair of baggier boyfriend jeans. Learn all about styling Chelsea boots in my dedicated post!
Chelsea Boots We Love:
Knee Boots
More of a trendy look with mom jeans at the moment, but that doesn't mean these can't work with boyfriend jeans too! As long as your boyfriend jeans aren't super baggy, a knee boot can look amazing, even when BF jeans aren't skin tight.
Go for a black, white knee boot with a pointed toe with stiletto heel for elevated outfits. Square toe with block heel, reptile prints, and metallics especially will also add a bold look.
Complete the style with a bodysuit and loose cardigan. Add some gold jewelry and your boyfriend jeans with boots outfit is all set to go!
Boyfriend Jeans with Heels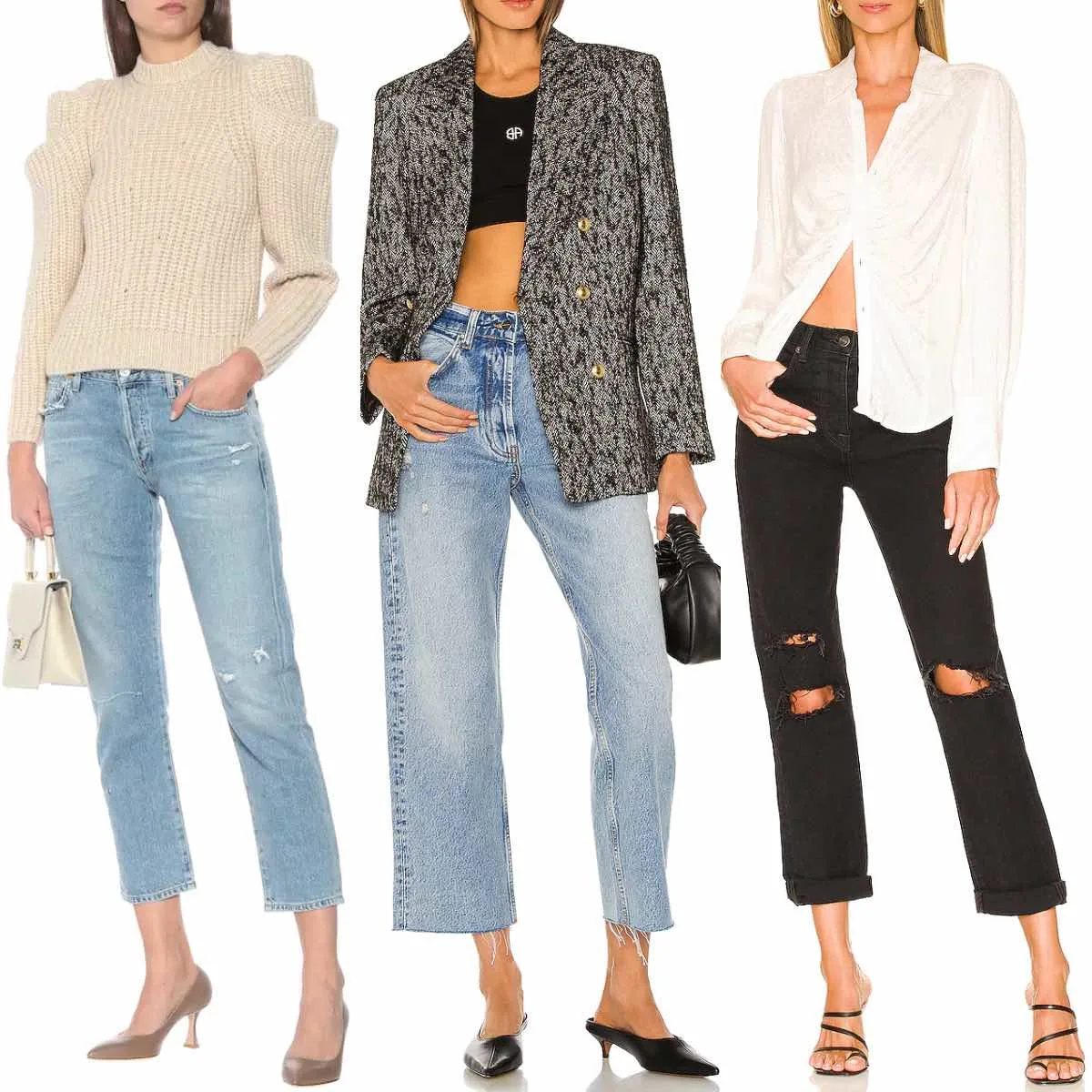 I love wearing boyfriend jeans with casual, rugged shoes, but adding a feminine touch to the original boy-fit jean makes for a stylish contrast. And sometimes, the higher the heel, the better! Thankfully there are many different types of heels that go with these jeans. Below you will find out how to wear boyfriend jeans with heels.
Strappy Heels
Strappy sandals are a fun summertime shoe choice. They are minimal but stylish heels that will keep your boyfriend jeans looking like they never belonged to a BF to begin with! And let's not forget about very trendy square toe strappy sandals.
There are also super strappy versions that are a lot of fun to wear. Roll up your boyfriend jeans if your sandals have ankle straps to show off.
Ad a button-up feminine blouse and grab a small colorful leather handbag. If you want to wear them when weather is chilly, throw on a blazer, chic coat or shawl.
Heeled Pumps with Boyfriend Jeans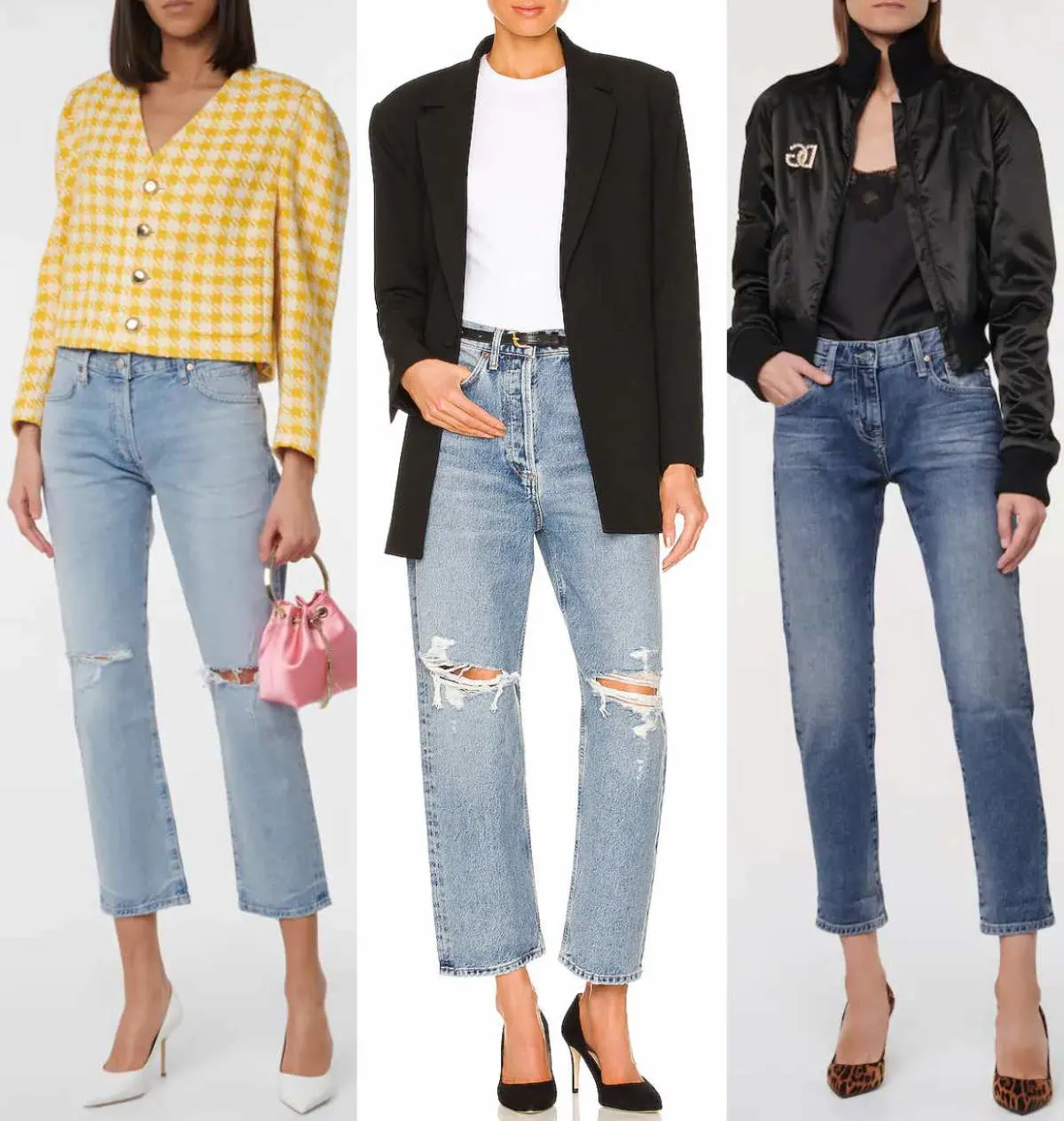 Pumps were made to be worn with everything, including boyfriend jeans. For all-day comfort, choose for a pair of almond toe pumps with a low to mid-height heel. A chunky heel will help too.
Square toe pumps are also a trendy style to watch, but my all-time favorite is a simple pump with a pointy toe. Take the pumps to maximum heights if you want. Heels with boyfriend jeans outfits are a winner every time!
Pumps with high heels work to elevate a casual jeans + tee outfit when worn with an oversize blazer. But you can also wear the look with darker BF jeans, a fancy top and a trendy purse for a fancier occasion.
Kitten Heels
From slides to sandals to super trendy slingbacks, kitten heels make a statement with anything you wear them with. And if you're looking for the trendiest heels to wear with boyfriend jeans, these are them!
With their dainty yet memorable silhouette, they will add a feminine je-ne-sais-quoi to your boyfriend jeans.
For a sophisticated vibe, show off your kitten-heeled slingbacks with your boyfriend jeans, blazer and heels with a crisp white t-shirt, just like Victoria Beckham.
You can even opt for a pair of kitten heels in a bold color to make them stand out. Red patent pumps or leopard print shoes will do the trick! Some ladies like to wear them with cropped and some with baggier BF jeans.
Espadrille Wedges
Perfect for warmer months to add some cottage vibes to your boyfriend jeans outfit, try a pair of espadrille wedges. From trendy studded versions to canvas classics from Soludos or Castañer, there are many to choose from.
I love how wedges add a good lift, but are comfortable to walk in, giving the comfort of boyfriend jeans run for their money! Tuck-in a floral blouse, add a straw hat, grab a leather shopper bag and you'll be ready to shine in that summer sun. More tips on how to wear espadrilles, here!
Clogs
Listen to the 70s and step into a great pair of clogs – but these are not just shoes for flare jeans! Whether colorful, neutral, patterned or simple leather — all clogs with boyfriend jeans look great. Clogs are making a strong comeback this season, so hop onto the trend before the rest of them!
Choose a pair of distressed jeans, even with a frayed hem for an extra casual look with your clogs. You can even find clogs that are lined with sherpa to keep your toes warm in the fall.
Add a soft tee, knit cardigan with a cross-body bag and you have your style bases all covered! Get all the deets on what to wear with clogs, here!
Boyfriend Jeans and Sandals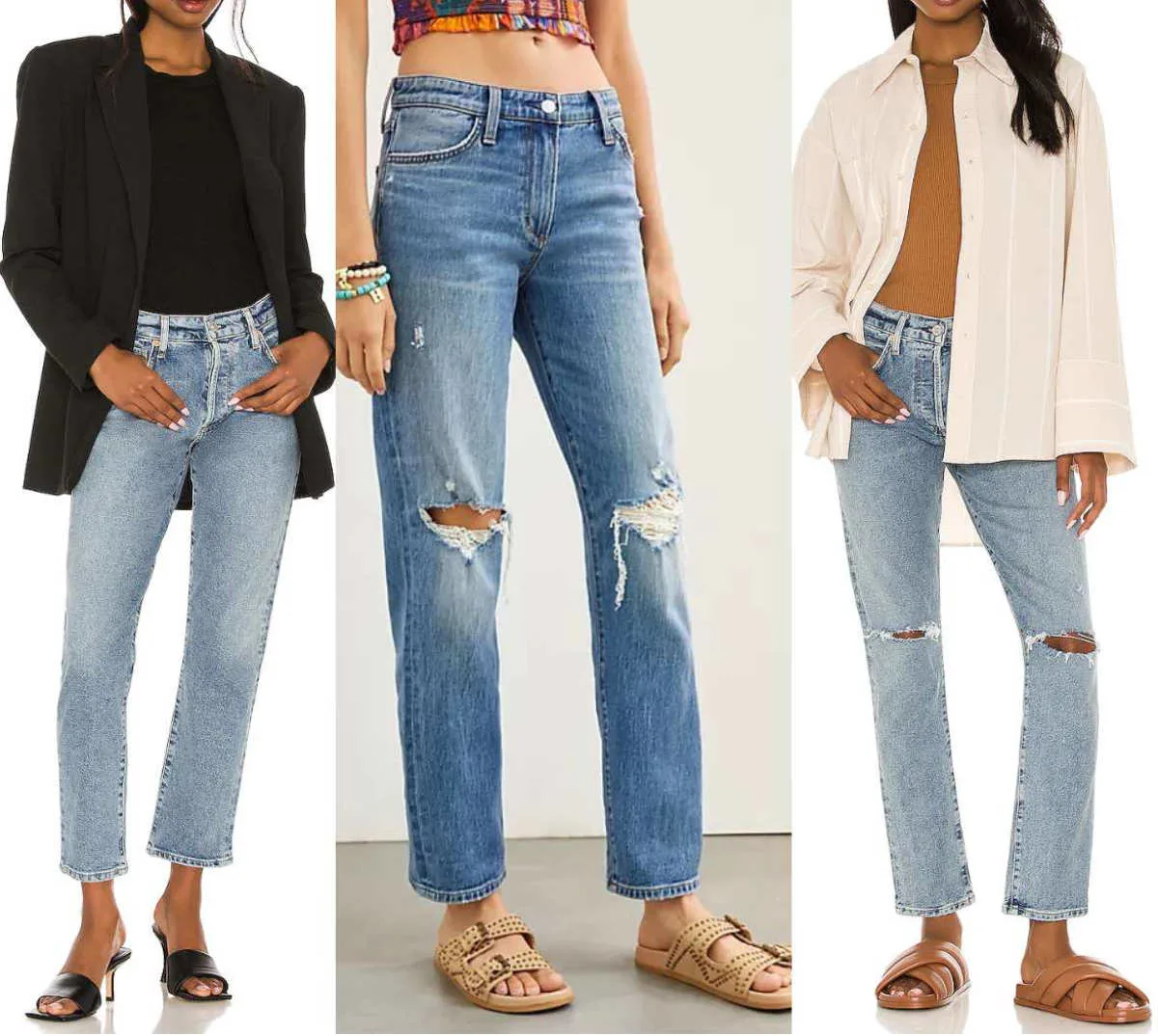 Minimal Slides
Sleek slides, the first cousin of sportier versions, will be your go-to in the summer months. With just a strap or two across the top of your foot, they're effortless to slide into 😉
For a low-key outing, try more baggy boyfriend jeans with a pair of soft leather puffy strap slides – which are all the rage. Opt for a minimal slide with a heel for a clean look. A minimal tank top under an unbuttoned white shirt will give you a crisp look!
Earthy Slides with Boyfriend Jeans
Earthy slides are casual, comfy, and Birkenstocks say it all. They're the perfect slip-on and go kind of slide with boyfriend jeans. their cork footbed will also keep feeling grounded all day long!
A worn-in pair of jeans with a rocker tee will look fab for a super casual look. As will a dark denim pair and a crip shirt to add chicness to the earthy look.
Try rolling up the jean hems for a fresh and casual take with your boyfriend jeans. Want to add some earthy quirk? Opt for sheepskin-lined earthy sandals. Check out more outfits with Birkenstocks in my separate post!
Sporty Sandals
Boyfriend jeans with flat sandals look great! When you're on the go, sporty sandals, like Teva strappy styles or Adidas and Nike slides are what you'll want to wear. They usually feature a soft footbed to add comfort and cushioning for each step.
With sporty sandals, you can get away with a more casual, more rugged and looser boyfriend jean. Roll up the cuff if the jeans are ankle length or choose a cropped pair. Top with a tight tee or tank a bomber or moto jacket.
Boyfriend Jeans and Flats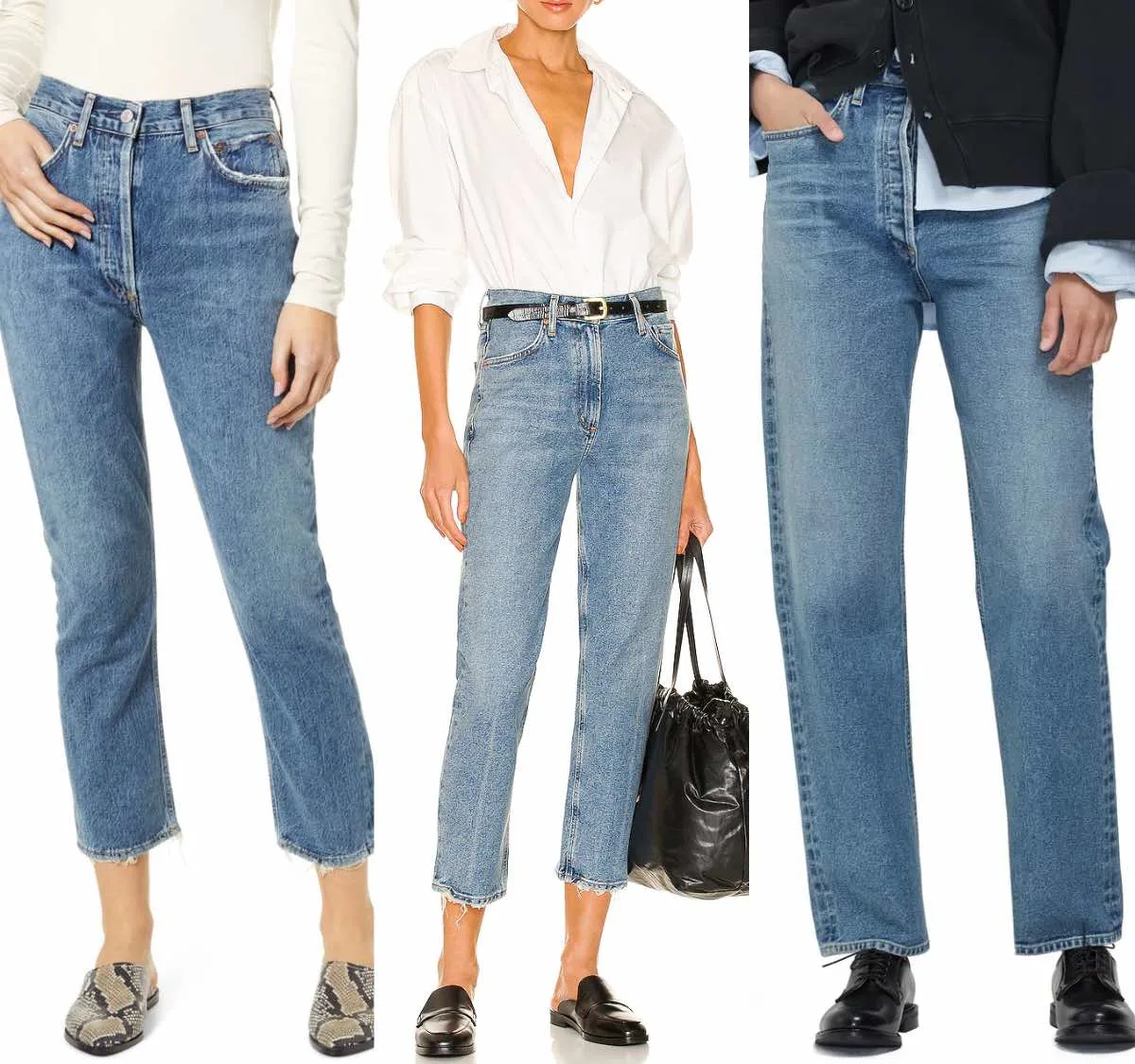 Ballerina Flats
Boyfriend jeans with flats will make any look classy. Both trendy and classic flats top my list of shoes that go with everything, so it would be a shame for your BF jeans to miss out!
With timeless silhouettes and endless different styles to choose from – some with straps, some not – you can literally have a closet full of ballerina flats and still want more.
Pointed toe flats scream sophistication and are a great substitute for heels if you want to elevate your outfit, but don't want the height.
Newest on the flats trend radar? Square toe ballet flats – they will give your outfit an edge. If you want more than just a simple ballerina flat, try a soft suede pair from Repetto. These are sophisticated shoes to wear with boyfriend jeans and any top and jacket combo.
Mules with Boyfriend Jeans
Mules come in many shapes, heels and sizes, and I love them all. Depending on how high your mules are heeled, they may or may not be for everyday wear. You can opt for a block heel version for that.
If you're heading for a night out, pointed-toe heeled mules are great shoes for boyfriend jeans. Add a sparkly top, black satin blazer with a metallic clutch and you're all set!
Loafers + Open Back Loafers
Loafers give off a conservative style, but not all loafers are made the same! Lug sole loafers are dominating the concrete runways. Worn with boyfriend jeans, a shirt and an oversized blazer, you can go to the office or for drinks!
A slightly cropped boyfriend jean leg or rolled cuff will help show off your loafers, especially if they're luxurious styles or have any fun detailing. Choose a pair with tassels, chains, or a statement buckle for extra oomph.
Get more info on how to wear loafers with all kinds of jeans and clothing in my dedicated post!
Oxfords
Channel your collegiate style with a pair of slick Oxfords. Katie Holmes has nailed the oxfords and boyfriend jeans look.
Take a page from her casual-cool style book and team your BF jeans and oxfords with a knit sweater, wool peacoat and leather handbag or satchel. A colorful scarf is a welcome added extra!
Flatforms
Flatforms are fun and have been a staple summer sandal of mine to wear for many seasons! Flatforms are an even wedge lift, giving you added height without hurting your feet as heels can. Their silhouette is chunky and fun, and this kind of flat, uplifted heel can be found on variety of different types of shoes.
Try a pair of boyfriend jeans and metallic flatforms with criss-cross straps for a night out. Wear a pair of flatform black leather boots with cropped BF jeans, a crisp shirt and a beige trench in the spring or fall.
Final Words on Shoes to Wear with Boyfriend Jeans
If you're looking for what shoes to wear with boyfriend jeans, there's no shortage of trendy and classic styles to go with your jeans.
Whether you're wanting to wear these laid-back jeans for casual lunch or on a date, there will be a great boot, sneaker, sandal and heel style to complete your boyfriend jeans outfit!
What kind of outfits and shoes with boyfriend jeans do you like to wear most? For me, it's white sneakers with a simple tee and moto jacket.
If I've missed one of your preferred shoe types to style with boyfriend jeans, let me know in the comments, below. That way, try to include them in this list!
xo ShoeTease