With many women stepping back into their jeans from a long hiatus (you know, from sweats and leggings!), a recap on how to style jeans – specifically what shoes to wear with jeans, is in order!
And before you ask, jeans continue to be fashionable for women (and men too).
While many generations have left skinnies behind for looser-fitting jeans, almost all jeans remain in style in many denim washes, colors and lengths.
But you need a flattering fit and to style them with the right shoes & outfits, of course!
I've written a slew of posts about what shoes to wear with specific jeans styles. Today on shoe-tease.com, I'm rounding all of these up in one post.
At first, you'll the best shoes to wear with jeans of all types, and then a focus on what boots & shoes to wear with individual jeans styles like wide leg jeans, straight leg jeans, bootcut & more!
RELATED POSTS:
Best Boots to Wear with Jeans
What Shoes to Wear with Jeans of all Styles
If you're looking for a quick list of the best, classic & trendy shoes to wear with all jeans styles for women, this is for you!
Some of these shoe styles are definitely shoes that go with everything. Even more so when you choose them in neutral shoe colors.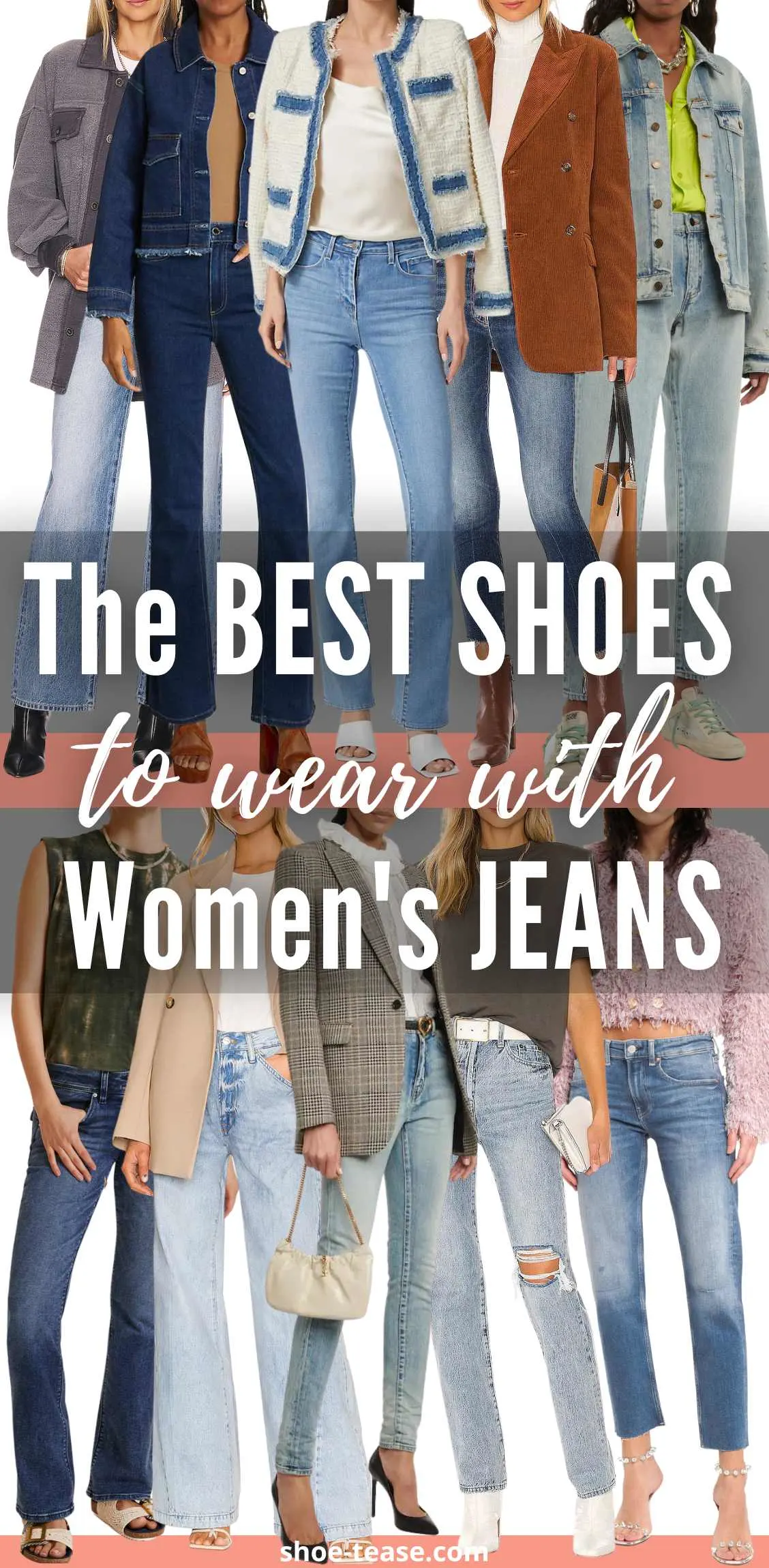 Shop trending women's jeans at these retailers:
Best Year-Round Shoes with Jeans:
1. White Sneakers
White classic styles will work with all jeans styles, as with retro tennis shoes and minimal slip-ons.
2. Loafers
There are so many types of loafers and many of them look fantastic with sneakers. Think penny loafers, horsebit loafers and loafer slides. Longer & wider jeans will suit platform styles as well.
Shop Loafers for Women :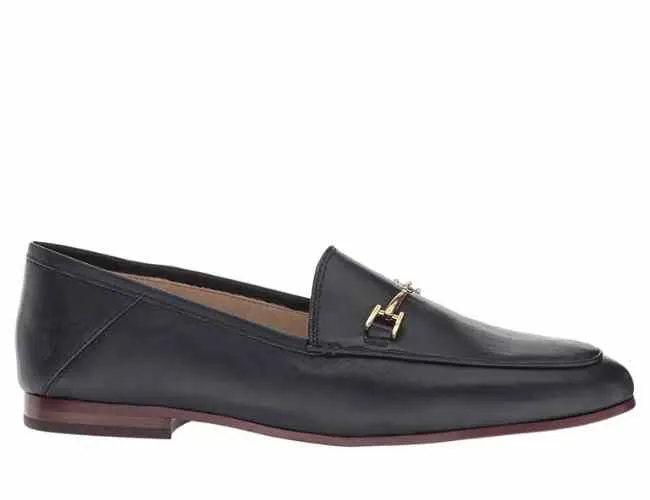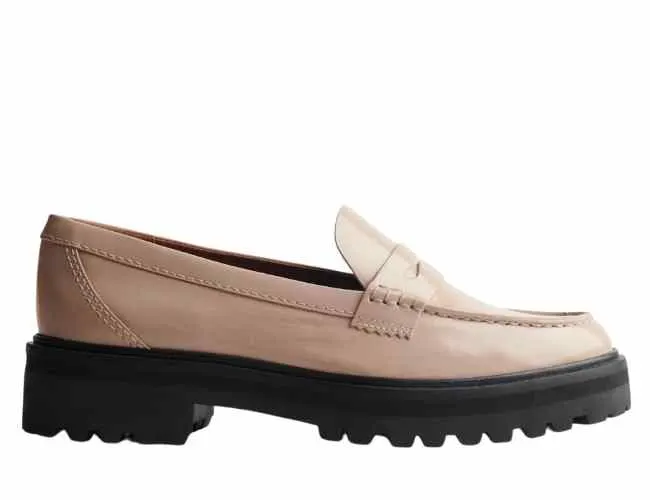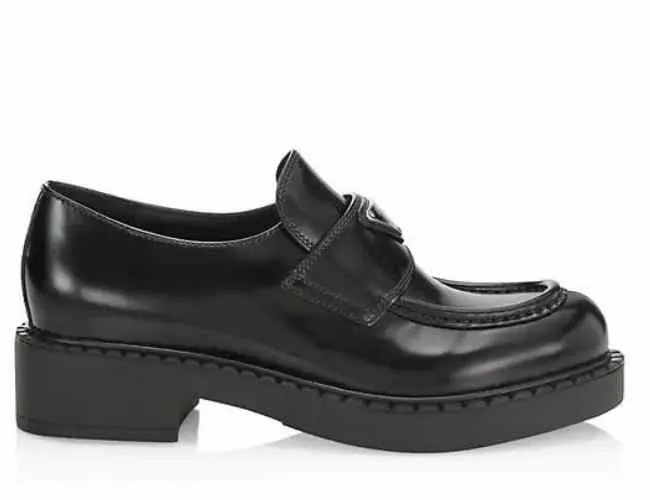 3. Clogs
You can't go wrong with classic clogs to suit any style of jeans. Steer clear from extra chunky clogs with super-skinny jeans!
4. Ankle boots
Classic ankle boots never go out of style or fail to look great with all jeans. Pick an ankle boot with a 2-4 inch block heel and slim toe that is just above ankle height for maximum versatility.
Shop Classic Ankle Boots for Women: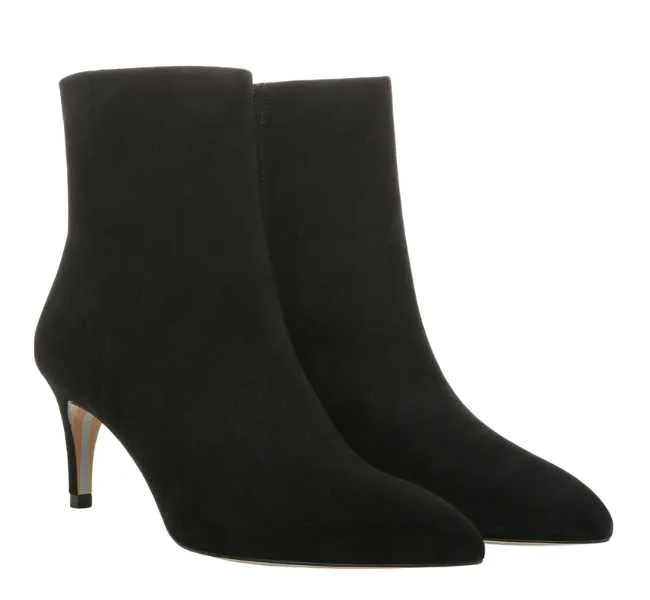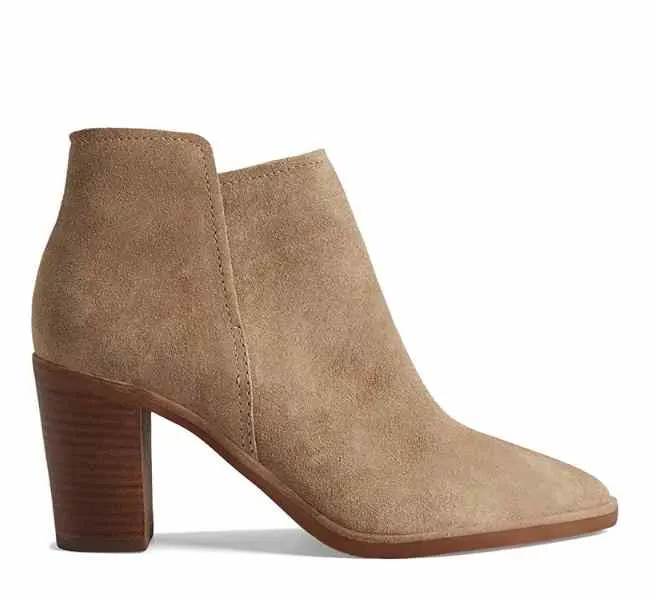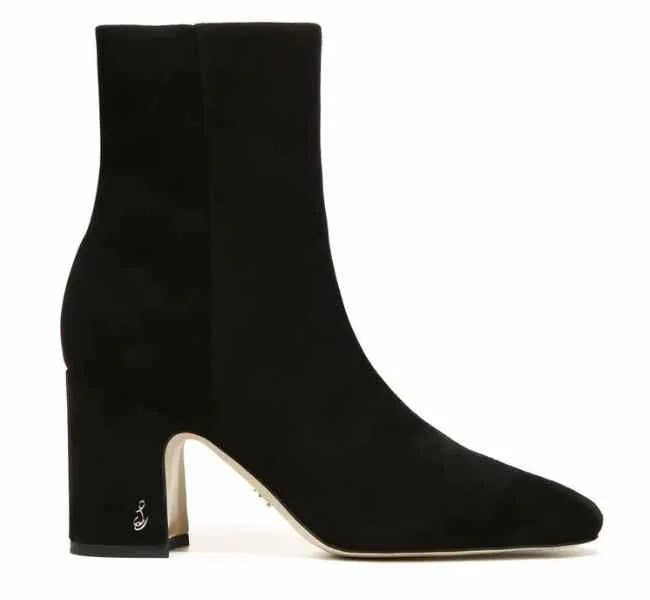 Best Summer Shoes with Jeans:
6. Strappy Sandals
Whether flat or with a block heel, strappy sandals are an easy shoe for jeans that you can dress up or down, depending on the occasion.
7. Sleek Slides
I'd be hard-pressed to find a type of jean that doesn't look fabulous with a minimal leather slide like Hermes' Oran sandals.
Best Shoes to Wear with 8 Different Jean Styles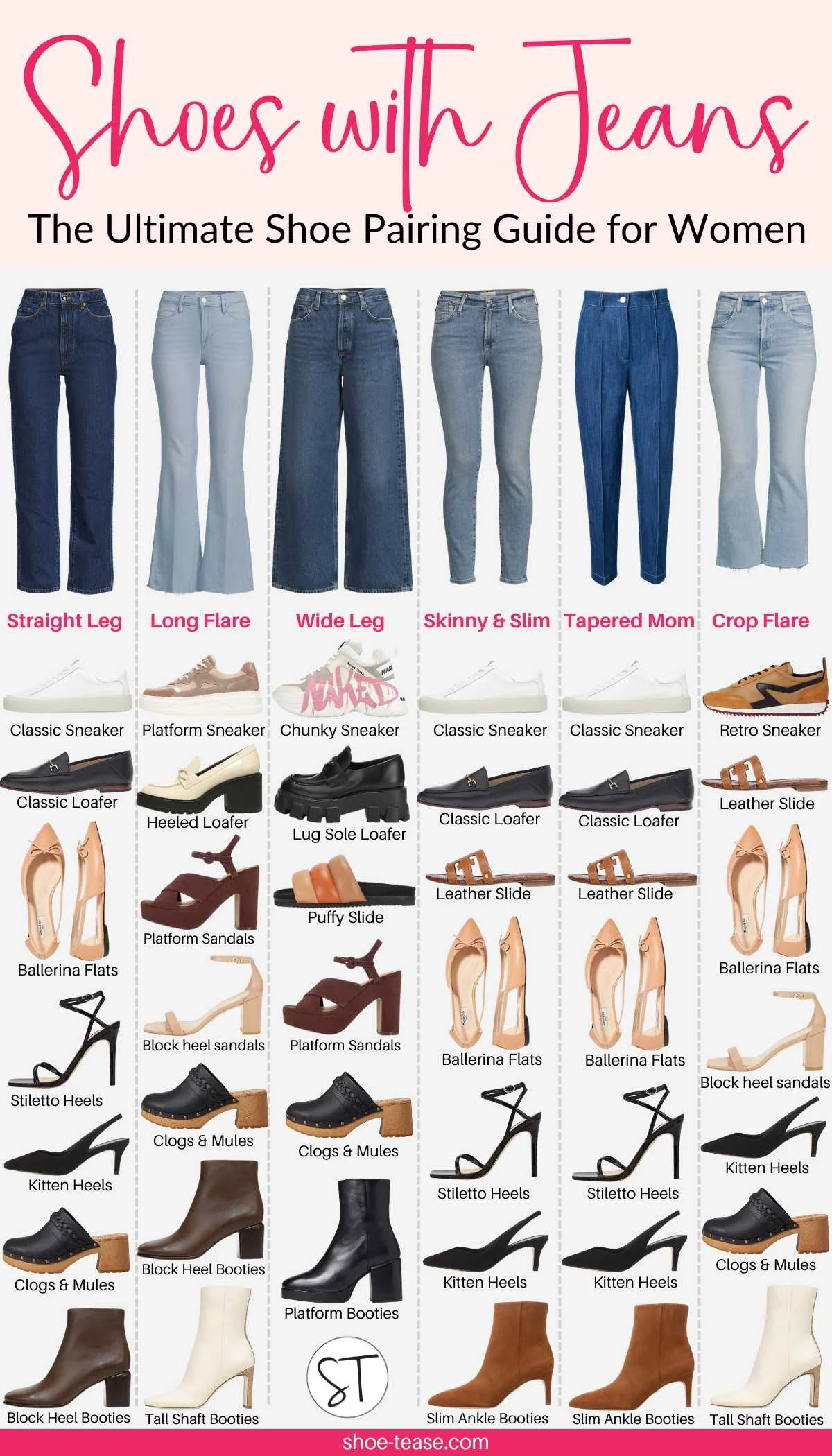 If what shoes to wear with jeans styles is what you're after, below are 6 of the most popular types of jeans for women, with a roundup of which shoes look best!
Straight leg jeans fall down the leg straight from the upper thigh area. And because straight leg jeans are roomier than skinnies, they can accommodate many more shoe and boot styles, especially with wider-width styles.
Do you have straight leg jeans that taper at the ankles? Then those aren't technically straight leg jeans but mom jeans. You can skip to that section here!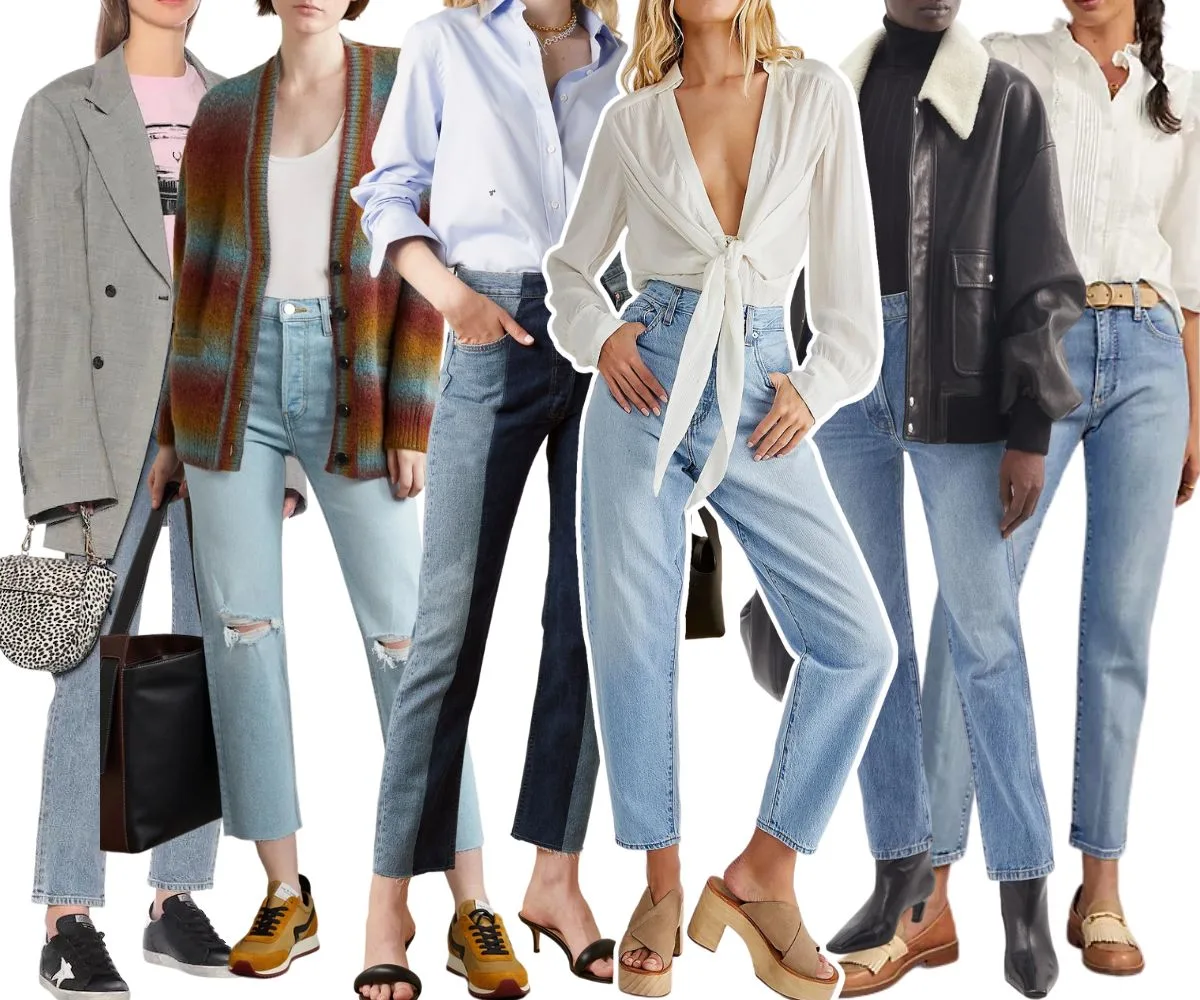 Loafers: these create a polished, effortless outfit, which is perfect for both casual and corporate occasions. Choose slip-on loafers, a chunky or classic style.
Flat Sandals: Wear them with long jeans or roll them up for a more laid-back look. Flat sandals with ankle straps look great with shorter style jeans.
Sneakers: Sneakers make for a relaxed look, and straight leg jeans pair well with any sneaker style!
Heeled Pumps: Elevate your straight leg jeans outfit by pairing them with heeled pumps, adding a sophisticated and chic element to your ensemble.
Strappy Sandals: For a breezy, summer-inspired look, try strappy sandals, which you can dress up or down.
Mules: A pair of heeled or flat mules for a modern shape will look effortlessly cool. Try a clog for a more laid-back vibe.
Espadrilles: Pair your baggy jeans with a wedge or flat espadrilles for a casual, beach-inspired look.
Sporty Sandals: from Adiletto slides to Birkenstocks to fisherman sandals, choose a pair with a lug sole for an edgy look, or go for a single-sole classic style.
Classic Ankle Boots: Roll up the hem to show off your boots, or keep your jeans down over them. If long enough, of course!
Skinny jeans are just that – skinny from top to hem. While some skinny jeans are so tight they can be considered jeggings, some have more room around the knee and/or ankles.
The exact fit depends on the skinny jean style and the wearer's calf & ankle size.
Many shoes and boots style well with skinny jeans. As a general styling 'rule,' I prefer more streamlined – aka tight – shoes with a slim toe shape and sleek heel.
You can show off a fun or intricate heel and even strappy pumps or sandals with cropped skinnies.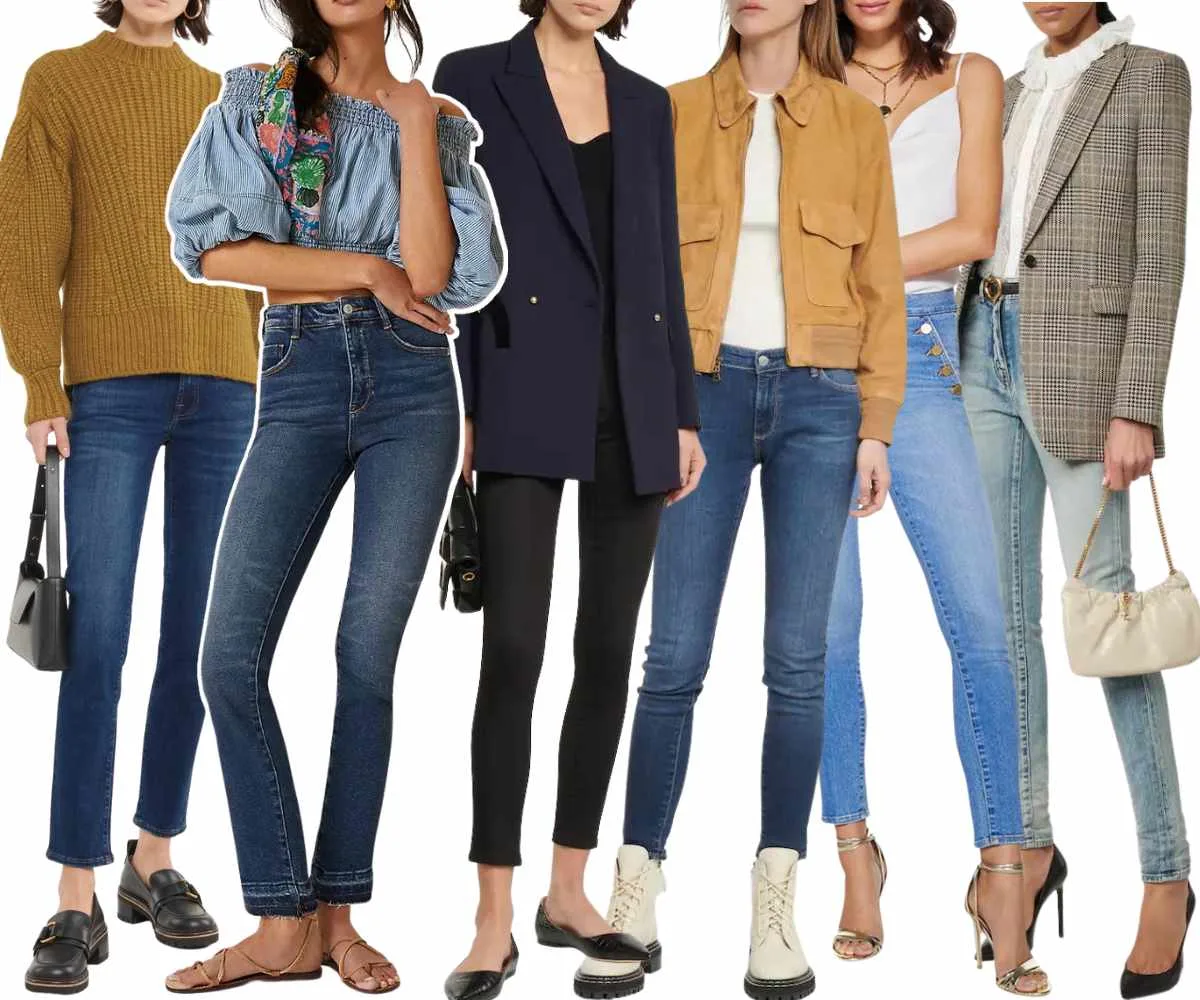 Chunky shoes tend to not look as great with slim jeans, as these can throw the whole look off balance.
That being said, if you like a more chunky look with your skinnies, the styling choice is ultimately yours!
Pointed-Toe Pumps – a sleek look that can be dressed up or down. I love stilettos, but an inward-curved block heel can also work.
Strappy Sandals – whether heeled or flat, strappy sandals are an easy pairing with skinnies.
Ballerina Flats – Pointed-toe versions will look modern, while classic ballerinas will give an Audrey Hepburn feel – especially with cropped skinny jeans.
Loafers & Oxfords – for a preppy outfit, choose a classic style, while a lug sole can make your look a bit more rugged.
Leather slides – with one or more straps, these shoes are chic for spring/summer dressing.
Sneakers – low-profile, slip-on, retro, and plain white sneakers look fab. Avoid ultra-chunky sneakers unless you compensate for the proportions by wearing an oversized shirt or sweater. Get in-depth styling in my post about styles of sneakers with skinny jeans.
Ankle Boots – Classic or combat boots of any shaft or heel height work with skinnies. Pull the boots over the jeans, or let your ankles show with cropped styles.
Wide leg jeans are extremely popular right now! They are the polar opposite of skinny jeans. Wide jeans can be baggy, long or cropped.
Wider straight leg jeans are also considered wide leg jeans, more so than straight legged. Skip to the shoes with wide jeans section for that!
For a flattering fit, opt for a wide leg jean that hugs well at the waist, hips, and top of your glutes. That will accentuate your midsection and create a nice fabric drop underneath.
Because wide leg jeans are also wide around the calves and ankles, block heels and chunkier sneakers and shoes look great and can help balance your outfit.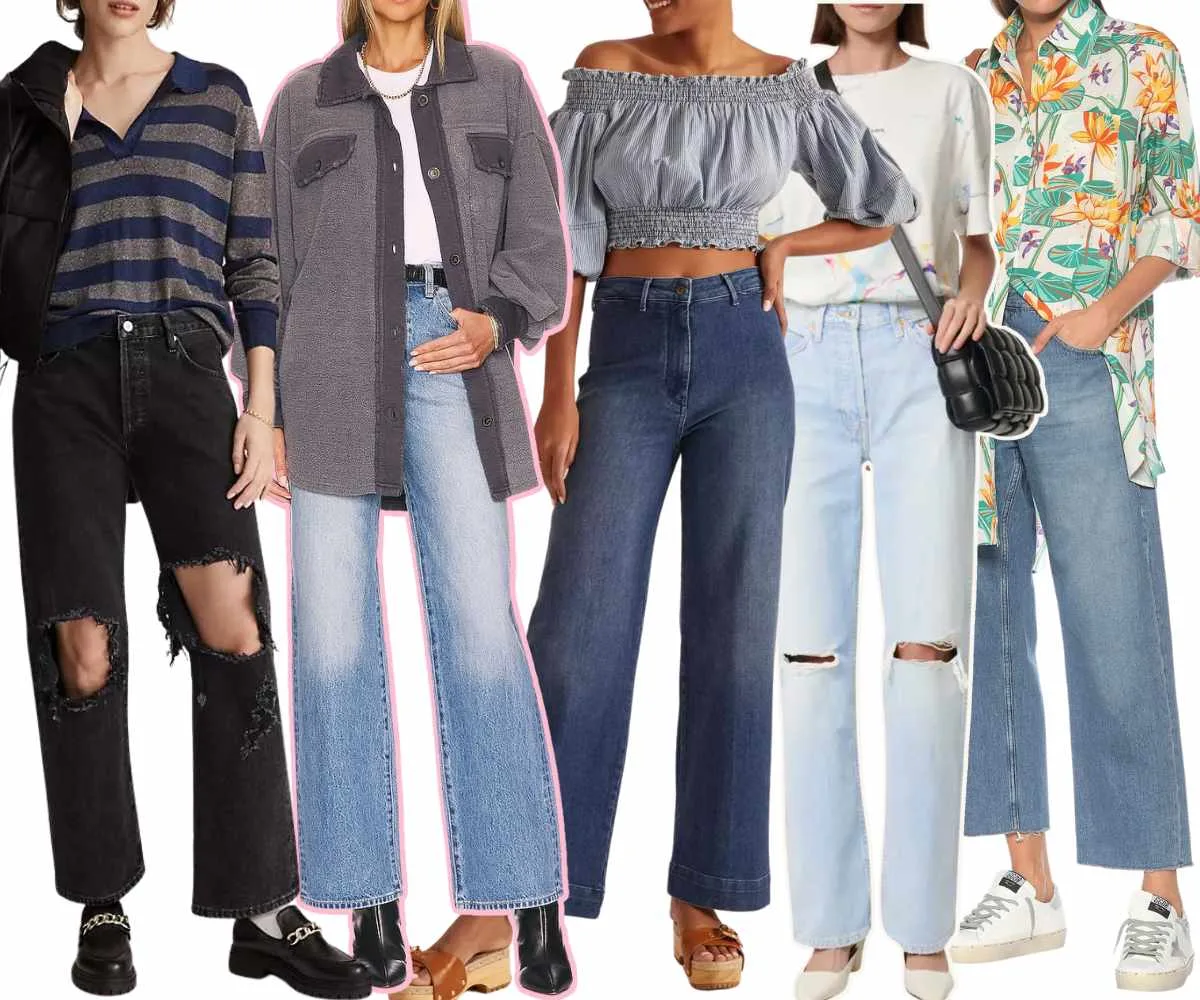 Block Heels: Opt for block heels on sandals or boots to give you a comfortable lift and create a proportionate balance with the wide leg jeans' voluminous silhouette.
Platform Sneakers: Pair your wide leg jeans with platform sneakers for a casual, street-style look while adding height without sacrificing comfort.
Platforms & Wedges: These heels with jeans elongate your legs and provide stability while seamlessly matching the jeans' flared structure.
Strappy Sandals: Wear strappy sandals to accentuate your feet in ankle length or cropped wide jeans for a more feminine touch.
Loafers: Pair your wide leg jeans with a chunkier loafer for a sophisticated yet trendy look.
Sporty or Earthy Sandals – From Birkenstocks to sport slides, these will give a laid-back feel to your wide leg jeans outfit in summer. Make it trendy with high-waisted jeans and a cropped tee.
Classic Ankle Boots: these look great with a bit of a heel and are trendy with a rounded square toe. My preference is to wear these with cropped wide leg jeans!
Bootcut jeans are characterized by a slim fit that gradually expands from the knee. Occasionally referred to as 'skinny flares,' these jeans showcase a sleek yet slightly flared profile, making them universally flattering for all body types.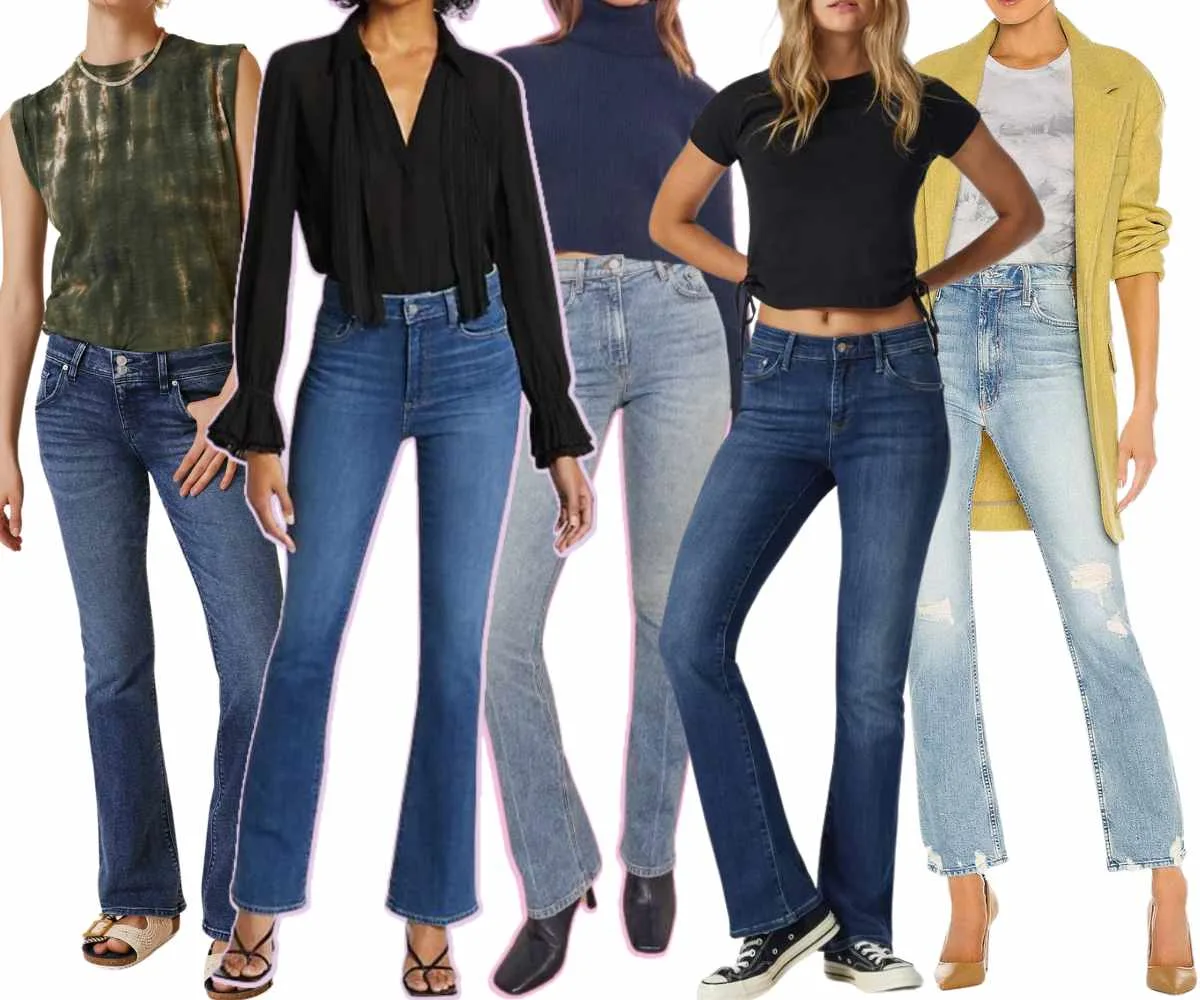 Bootcut jeans are versatile and available in a range of lengths, including cropped, ankle, and full-length.
I particularly favor ankle-length styles, as they easily adapt to a variety of footwear styles. Below are the best shoes for these types of jeans:
Pumps: A timeless & stylish combination that can be worn with longer or cropped bootcut jeans. A shorter pair is great to show off an ankle strap.
Platform Sandals & Wedges: As bootcut jeans aren't as wide as wider flares, sleeker platforms and wedges are recommended to fit perfectly under the jeans.
Strappy Sandals: Stiletto strappy sandals are great with ankle length bootcut jeans for a night out. Low or flat sandals work great for every day wear with either long or short jeans.
Loafers: Bootcut jeans allow all kinds of loafers to shine. From lug sole loafers to classic loafers, it's up to you which to choose!
Slide Sandals: from clogs to simple leather slides, these shoes suit both cropped and ankle length bootcut jeans.
Ankle Boots: I love a classic ankle boot that has a mid height block heel with bootcut jeans. You can play around with toe shape, but a rounded square is particularly trendy right now. Western boots are a great, casual pairing too.
Sneakers: I love retro styles like Chuck Taylors, but you can pair high tops, low tops and even platform sneakers with flares for a fun, youthful look.
Flare jeans do exactly as their name describes. However, flared jeans have a more accentuated flare. Bell bottoms, on the other hand, take it one step larger in the flare department.
Because of this, both flare jeans and bell bottoms look great with similar shoes.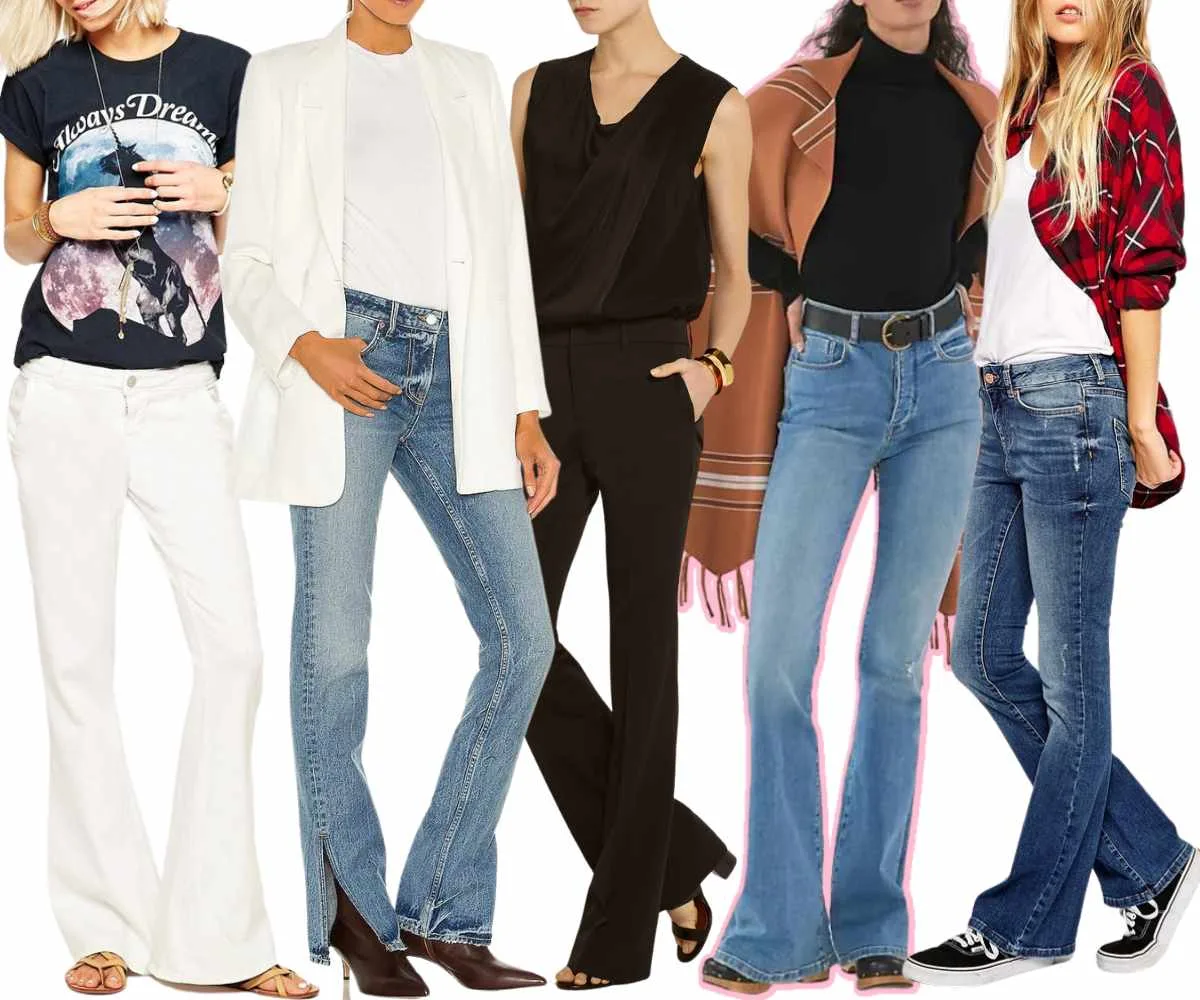 Ankle Booties: Choose ankle boots with a chunky heel or low-heel ankle boots. You can also opt for a high heeled bootie for longer flares.
Platform Sandals & Wedges: Opt for platform sandals to add height and maintain the elongating effect of flare jeans, perfect for a chic, summery look. The longer the jeans, the better!
Pointed-Toe Pumps: Pair your ankle or cropped flares with pointed-toe pumps. This will give a sleek and sophisticated look that visually elongates the legs. Best with ankle or cropped flare jeans.
Clogs & Mules: Clog mules, or kitten heel mules with a kick flare, especially will give you an effortless boho-chic feel.
Flat Sandals: For a casual, laid-back look, choose flat sandals. Strappy flat sandals are my favorite with ankle or cropped flares.
Sneakers: Classic or retro sneakers work for an easygoing, everyday outfit. Pick a chunky sneaker to make a statement.
Baggy jeans are wide, extra loose and comfy. The laid-back style pairs well with edgy/rugged and boho style shoes. It all depends on the look you're trying to achieve!
For high waisted baggy jeans, make sure the jeans sit well and snug on the waist. This will allow the jeans to look graceful, albeit baggy.
For lower waisted baggy styles, you'll want these to hug – at least the first 2-3 inches – of your waist/hips. Otherwise, you'll risk the jeans looking far too oversized, like you're wearing someone else's jeans.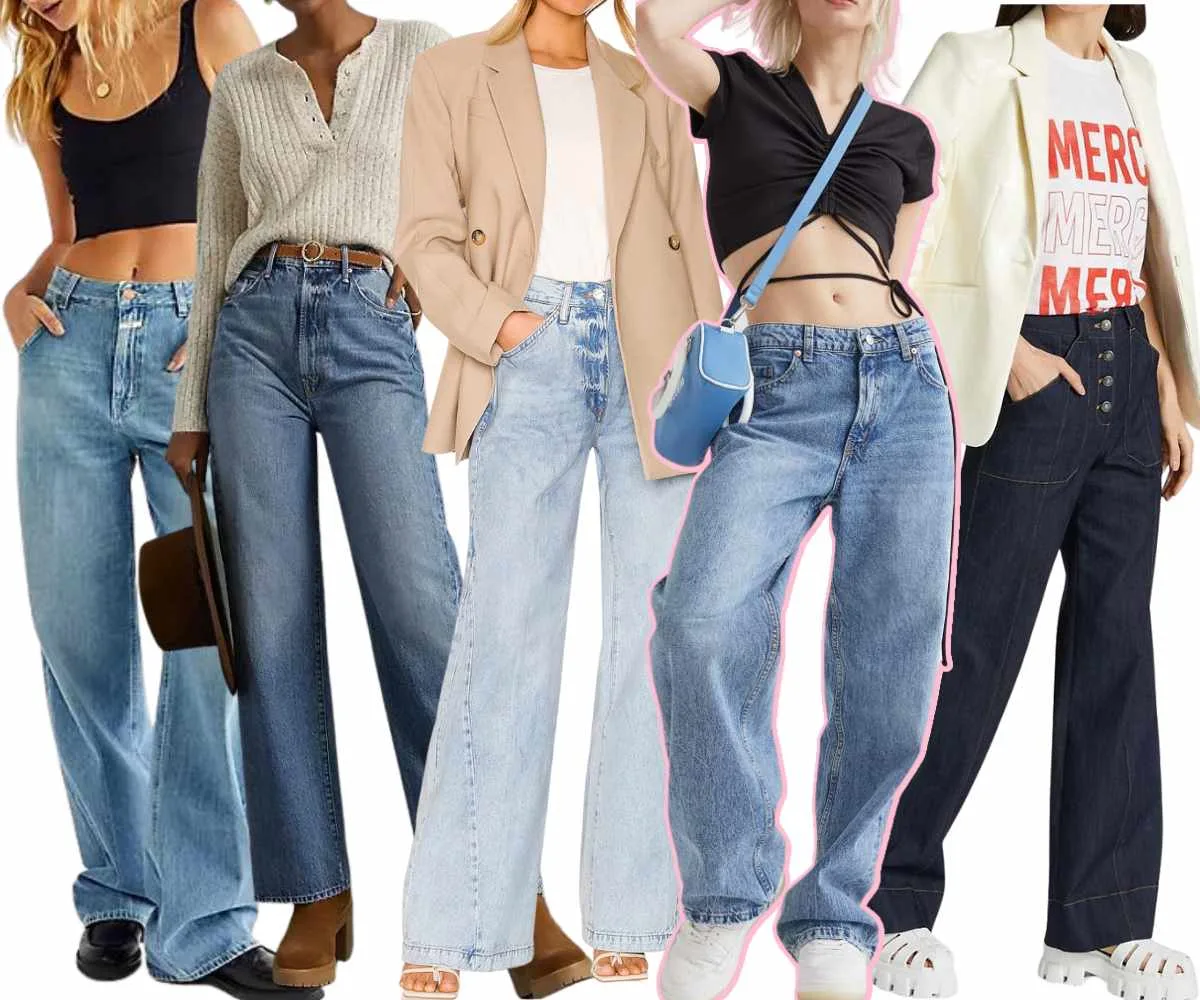 Platform & Chunky Sneakers: These will add height, volume & a touch of street style to your look. Dad sneakers work well too!
Flat Sandals: Multi-strap sandals or simple slides can look casual but polished paired with just-at-floor-length baggy jeans.
Kitten Heel Pumps – I love the look of slingback pumps with a low heel, as it gives a sporty yet trendy edge to the baggy jeans look.
Comfort Sandals: Embrace the boho vibe with chunky fisherman sandals, clog sandals, even Birkenstocks or Crocs if those are your style, as each of these work with the relaxed nature of the jeans.
Mules: Choose either low-heeled or flat mules to create a modern, chic look that works well with the loose fit of baggy jeans.
Chunky Loafers: In black or white, larger loafers with a block heel/lug sole elongate the legs and can look edgy with a band tee or sleeker with an oversize blouse.
Clogs: Emphasize a relaxed baggy jeans look with clogs. These offer both comfort and a hint of boho flair.
7. Best Shoes for Cropped Jeans
Cropped jeans can be wide-legged and loose, straight-legged and even skinny! Either way, they will hit right above the ankles or higher.
That gives room to show off fab ankle straps, detailing around the ankle, and an ornate heel.
Wider cropped jeans balance out well with lug soles or chunkier styles, while slimmer cropped jeans usually look best with a more slender shoe.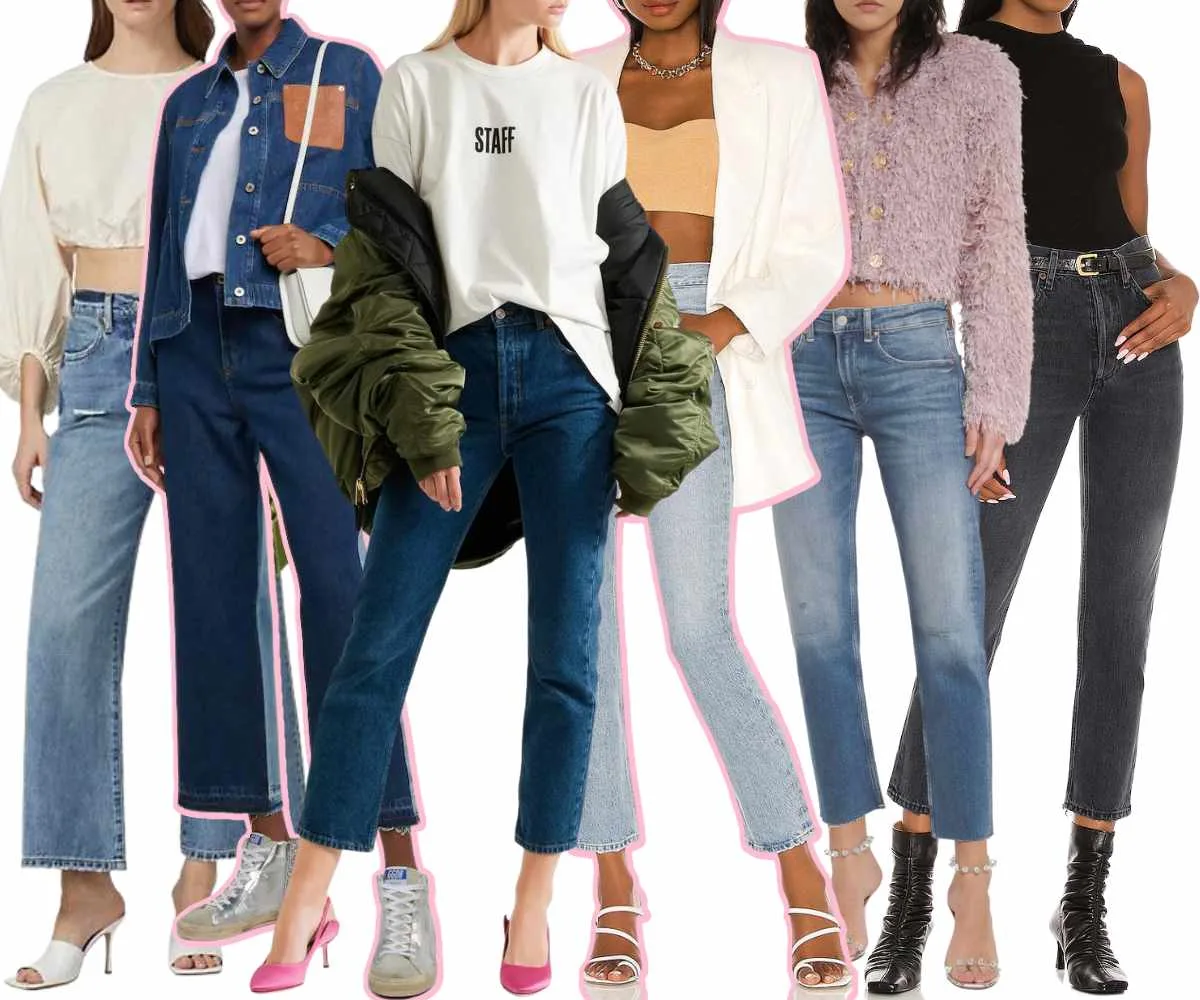 Slingback Heels: Slingback heels -especially kitten heels – highlight the ankle area and look sleek with cropped pants, including jeans.
Mules: Mules will look modern and the open-back style works with the shorter jean length.
Classic Loafers: Classic loafers offer a polished, preppy look with cropped jeans. Just add a striped sweater!
Espadrilles: These add a casual summer vibe to cropped jeans. Try a pair of ribbon espadrilles, high-waisted capris and a cropped puffed-sleeve blouse to feel like Marilyn.
Ballet Flats: Classic ballet flats look very Audrey Hepburn with cropped slim jeans. You can play around with a pointed toe for a modern, sleek look.
Strappy Sandals: the more straps, the better! Try bright colors or metallics for styling your cropped jeans for a night out.
Stiletto Heels: Clear stiletto heels will add a glamorous and fashion-forward look. Black or beige stiletto pumps and sandals are a classic alternative.
Flat Slides: Try leather slides to dress up your jeans or a sporty pair for an athletic look.
Slim Sneakers: whether high tops or low profile, a classic, non-bulky sneaker will go with skinny or wide cropped jeans, alike.
Mom jeans today offer refined and figure-enhancing silhouettes compared to the somewhat loose-fitting styles from the 1980s and 90s. As a result, they effortlessly pair with a wide range of footwear options!
Modern mom jeans are higher waisted jeans that are roomy in the leg and are either cut as a straight leg jean, or tapered slightly. Mom jeans can look great, cuffed or worn as is. That means they can work with many types of shoes!
In this section, I'll discuss shoes for a more tapered fit.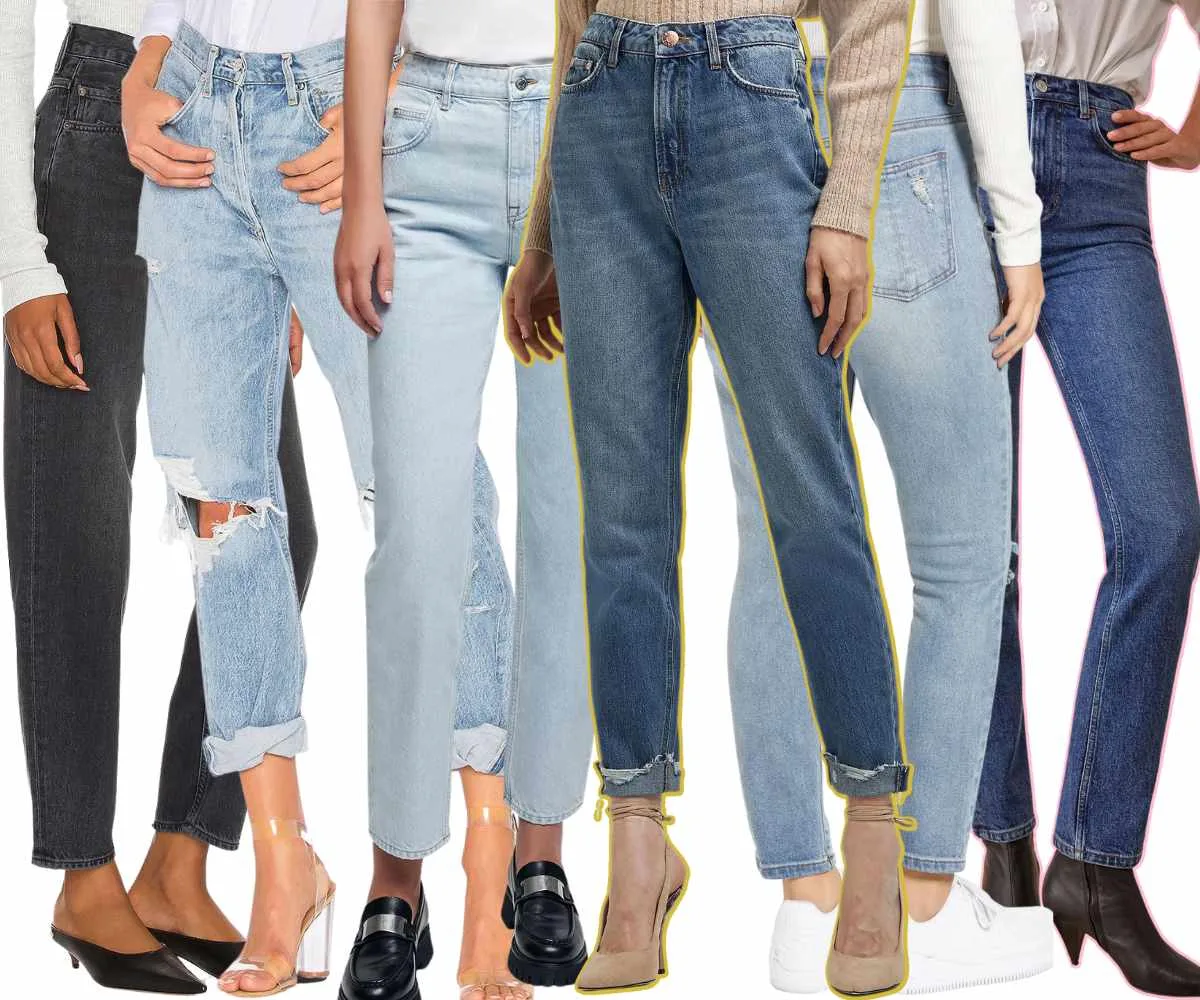 Sneakers: Perfect for busy moms! Try mom jeans with classic sneakers for a casual, laid-back outfit. Try them with chunky sneakers and an oversized top.
Loafers: Opt for loafers to create a polished, effortless look with your mom jeans that work well for casual and semi-formal occasions.
Ballet Flats: Wear ballet flats with your mom jeans for a timeless, feminine touch. Squared-toe flats will give an avant grade look.
Strappy Sandals: For a breezy, summer-inspired outfit, pair your mom jeans with strappy sandals, adding a touch of elegance while contrasting the jeans' relaxed cut.
Platform Sandals: These will give a retro-inspired look while adding height and interest.
Mules: Heeled or flat mules with a small heel will effortlessly elevate your mom jeans.
Espadrilles: These will give a beachy look. Perfect for warm weather holidays to add a touch of laid-back chicness. Especially when paired with an oversized shirt or tunic.
Block Heels: Choose block heels to lift your mom jeans outfit comfortably while creating a proportionate balance with a roomier and longer mom jeans.
Final Thoughts on Shoes to Wear with Jeans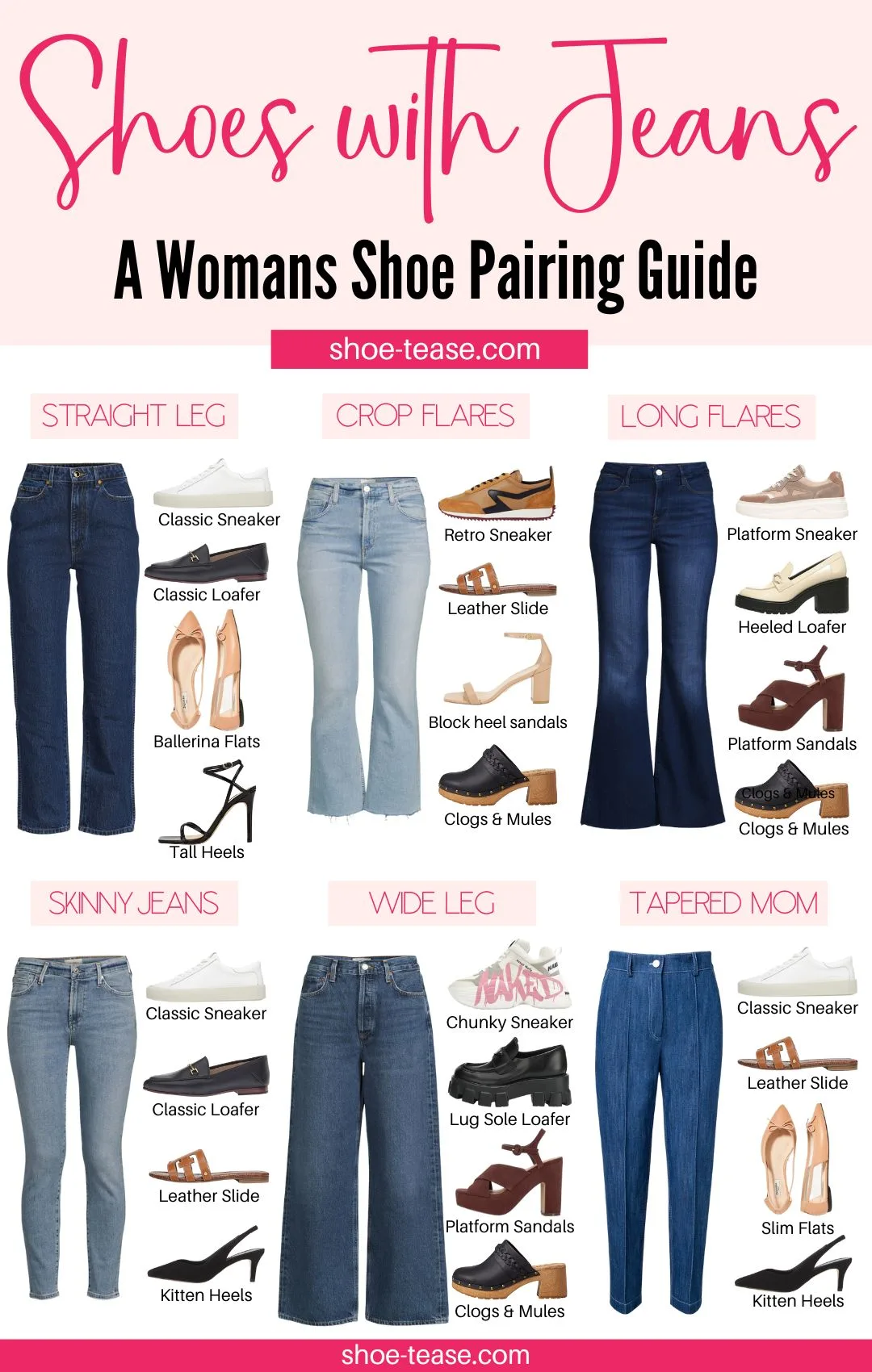 If you stuck with me until the end, congrats! You now know how to wear shoes with jeans of all styles, fits and lengths!
As we've seen, making a style statement with jeans is about more than just the denim itself. It's also about how you pair it with the right shoes.
Jeans are a magic piece of clothing due to their versatility! Understanding how to wear shoes with jeans helps unlock their styling potential.
From casual sneakers to stylish heels, your choice of shoes can entirely transform your outfit, adding personal style to different cuts of jeans.
Be it a classic straight leg, a retro-inspired flared cut, or a timeless cropped jean, there's an ideal shoe (or three!) out there to complete your look.
So let your shoes and jeans take center stage, and don't forget: confidence is your most attractive accessory. Wear what makes you happy!
xo ShoeTease